In the last few years, we've seen an increasing amount of great LGBTQ films. Moving pieces of filmmaking, like Moonlight or Portrait of a Lady on Fire, have charmed critics and audiences, with their proudly queer stories.
But this change in film production is only a reflection of a change in the world as a whole. Through years of fighting for the right to be openly proud of one's own sexuality and gender identity, LGBTQ people are finding their place in the world and media.
Yet today's LGBTQ community owes a lot to the people who came before. The sad reality is that a lot of queer lives were lived in secret. Even some of those who were openly queer were obscured, their queerness erased from history. That's why it's important to know and remember those LGBTQ figures that fought for their right to be themselves, and paved the way for future generations. These historical LGBTQ movies will help us understand the tumultuous lives and touching stories of these people.
Wondering where to watch? It depends on where you live in the world and which streaming services you have. We link to the streaming service we watch on in each case - be it Netflix, Amazon Prime, Apply TV+, or elsewhere.
You can get one month free of Amazon Pride (or a 6-month trial for students) of Amazon Prime and also get immediate access to FREE Two Day shipping, Amazon Video, and Music. While you won't be charged for your free trial, you'll be upgraded to a paid membership plan automatically at the end of the trial period - though if you have already binged all these, you could just cancel before the trial ends.
Apple TV+ also has a one-week trial, and Hulu has a one-month trial (which can be bundled with Disney!). Another option might be using a VPN to access Netflix titles locked to other regions. Netflix is now available in more than 190 countries worldwide and each country has a different library and availability. US Netflix is (understandably) one of the best.
While we wish everything could just be in one place - for now, it seems these are the best streaming platforms to watch on.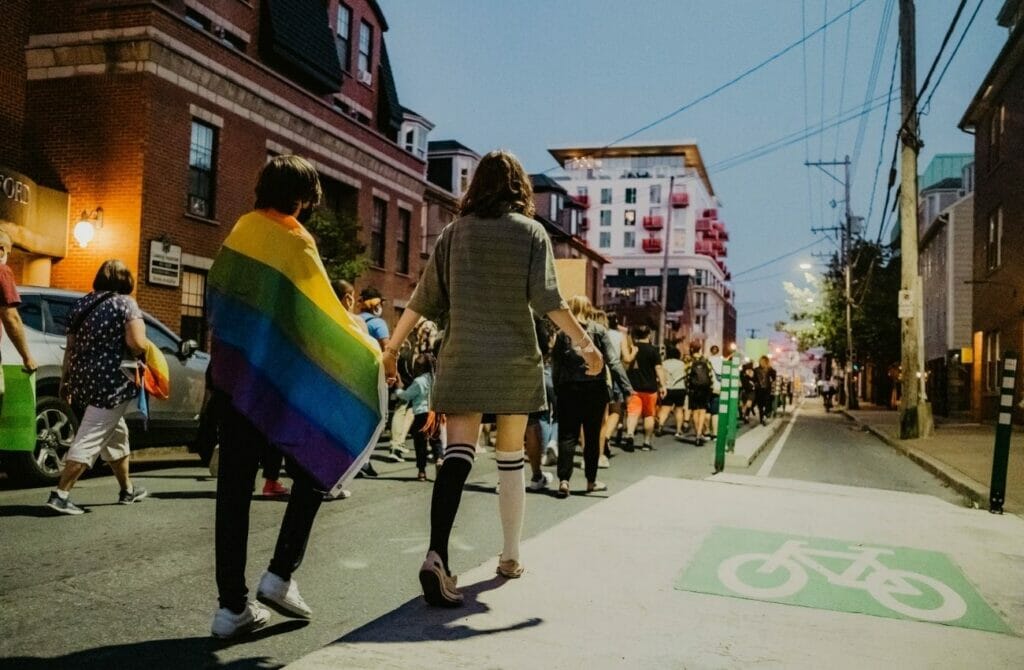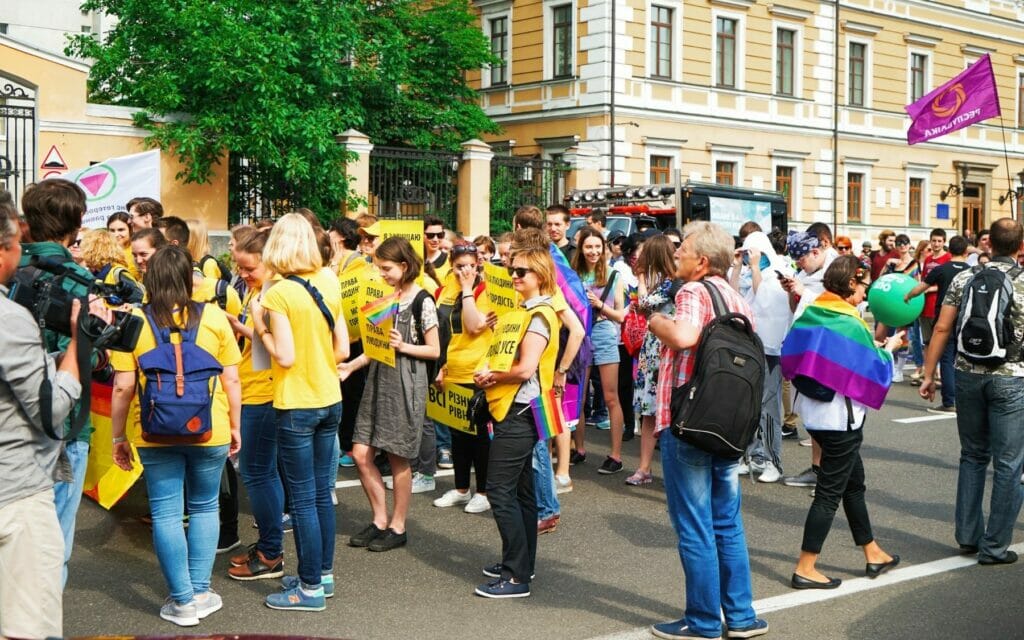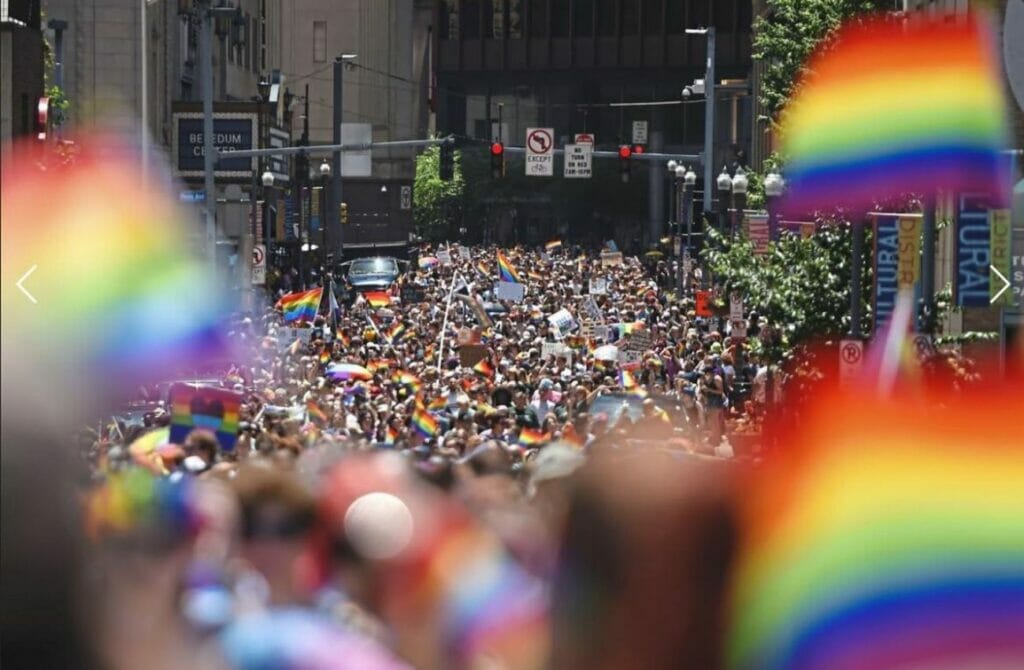 In this article we will cover...
Wilde (1997), by Brian Gilbert, is a biographical film about the life of Irish poet and playwright Oscar Wilde. Known for his eloquent wit and flamboyant attitude, Wilde was a disruptive figure during the late 19th century. He was highly regarded in London's high society; that is, until 1895 when he was put on trial for his intimate relationship with Lord Alfred Douglas, a young poet, and son of a distinguished British nobleman. Even though Wilde fought back with a daring speech defending same-sex love, he was indicted guilty of "gross indecency". He served his grueling sentence for two years and then went into exile, where he died in 1900.
Wilde was an amazing artist. His best-known work is, without a doubt, the magnificent The Picture of Dorian Gray (1890): a novel about a hedonistic noble who hides his sins under a beautiful façade. It touches on themes of duplicity and the interplay of what the British high society considered beautiful and what it considered corrupt. At the height of his success, he wrote two comedic plays: Lady Windermere's Fan (1892) and The Importance of Being Earnest (1895). The movie shows the creation of several of his works, including his last: after being released from prison, Wilde wrote a long poem about the starkness of prison life called The Ballad of Reading Gaol (1989).
The movie portrays Wilde's journey as he comes to terms with his sexuality. He is interpreted by the outstanding British actor and poet Stephen Fry, who is a gay man himself. Wilde offers great performances by some of the best actors of Great Britain: it stars Michael Sheen as Wilde's first lover, Robbie Ross, Jude Law as Lord Alfred, and Tom Wilkinson as Alfred's father, the Marquess of Queensberry. The screenplay for the movie was based on Richard Ellmann's Pulitzer Prize-winning biography, published in 1987.
The Secret Diaries of Miss Anne Lister (2010), by James Kent, is a BBC-produced biographical drama film set in 19th century Yorkshire. It stars Maxine Peake as the titular Anne Lister, with Anna Madeley as Mariana Belcombe, Susan Lynch as Isabella Norcliffe, and Christine Bottomley as Ann Walker. Critics praised the performances of these four actresses, as well as the captivating and honest portrayal of lesbian love. The Secret Diaries of Miss Anne Lister was written by Jane English, who worked with an expert in Lister's life in order to depict her in the most authentic way possible.
It follows the life of Anne Lister, a minor landowner in the small town of Shibden Hall who became famous due to her diaries. In these diaries, Lister wrote about her everyday life: from her dealings in the town to her financial endeavors. Yet a portion of the diaries' entries was written in code, and none of her family members could understand it. They only were decoded almost a hundred after her death and revealed that Lister had been a lesbian. Her search for love and a long-lasting relationship with another woman is chronicled throughout her diaries.
The Secret Diaries of Miss Anne Lister shows that Anne Lister is a woman who was completely ahead of her time. The movie depicts her as someone who knows who she is and who's not afraid of her own sexuality. Beyond that, after Lister inherited her uncle's state, she became an industrialist: seeking to make her hometown better, she invested in several developments that made Shibden Hall the charming town that it is today. If you want to get acquainted with the first modern lesbian woman or are a fan of LGBTQ movies, The Secret Diaries of Miss Anne Lister is a must-watch for you.
The Danish Girl (2015), by Tom Hooper, is a biographical drama film about Lili Ilse Elvenes, a Danish painter and transgender woman. The inspiring story of Lili Elvenes, called Lili Elbe in the movie, was not very well-known before the release of the movie. A book about her was written by David Ebershoff in 2000, although many details about her life were factually incorrect. Yet the success of this novelization led to the production of this movie, which made Lili part of popular culture. Now she's known for her courageous journey to express her gender identity.
It follows Lili's life as she discovers her gender identity and her continuous relationship with her wife Gerda Wegener (played by Alicia Vikander), also a painter and illustrator, who supported her through her transition. The part of Lili was played by Eddie Redmayne, a recognized British actor, and cisgender man. The movie has some outstanding performances by its main stars. Vikander's portrayal of Gerda won her the Academy Award for Best Supporting Actress, while Redmayne's was nominated for Best Actor, although he did not win.
While The Danish Girl is a great movie that brought a huge amount of visibility to the trans community, it has its problems. Namely, the fact that a transgender actress wasn't cast for the role of Lili: Redmayne has since admitted that he agrees with those who criticized the film in that the casting of a cisgender actor was misguided. It also suffers from several historical inaccuracies carried from the novel, namely two: Lili wasn't the first transgender woman who had sex reassignment surgery (that was Dora Richter) and Lili didn't actually take the name Lili Elbe, her post-transition name was Lili Ilse Elvenes. These problems aside, Lili's story finally being told on screen and in such a successful movie was something great for the community.
Another Country (1984), by Julian Mitchell, is a romantic historical drama loosely based on the life of Guy Burgess. During the Cold War era, Burguess was an openly gay British diplomat who was secretly working as a spy for the Soviet Union. In 1951, he left the country with fellow spy Donald Maclean and spent the rest of his days in the communist country. The movie delves into his school years, where two crucial things happened to Burguess: he began to discover his sexuality as a gay man and was exposed to Marxist philosophy. These two experiences would determine the course of his life. It won the award for Best Artistic Contribution at the Cannes Film Festival.
As said before, Another Country is a romantic story told with some liberties. It stars Rupert Everett as the main character, Guy Bennett, whose name was changed for the film. His first major role, his portrayal of Guy won him a British Academy of Film and Television Award. It was also the feature film debut of renowned British actor Colin Firth, who played Tommy Judd, Guy's lover.
The movie follows their romance as they deal with the oppressive machine that was the British educational system. They start as friends since both of them are outsiders: Guy because of his sexuality and Tommy because of his Marxist politics. Soon they become more. Another Country's main characters suffer under the social mandates of British society and struggle to find a place to truly be who they want to be. By the end of the film, Guy realizes that Britain is all about appearances and that being a gay man will make his life as a diplomat harder. This moment of sad truth is shown as Guy's first step towards turning against his country.
The Imitation Game (2014), by Morten Tyldum, is a biographical historical drama about British mathematician and cryptanalyst Alan Turing. This legendary figure was crucial in the war effort against Nazi Germany: he was responsible for decrypting German intelligence messages. He was also a gay man and, for this, his government treated him horribly. It was a big commercial and critical success, winning several awards, both American and British. At the 87th Academy Awards, it garnered eight nominations and won the award for Best Adapted Screenplay. Even though Turing's homosexuality has a small part in The Imitation Game, the fact that such a successful film told his story was praised by the Human Rights Campaign, the largest LGBTQ advocacy group in the United States.
The movie shows how Turing (played by Benedict Cumberbatch), with funding from Winston Churchill, designed a machine that could decipher the German messages. He built this machine with the help of a trained cryptography team and of Joan Clarke (Kiera Knightley), a young Cambridge graduate who has a talent for numismatics. Yet suddenly they get word from the British intelligence that they believe one of them is a soviet spy.
At the end, the movie shows the worst moments in Turing's life. Like Oscar Wilde and many other homosexual men before, he was convicted of gross indecency. But, instead of going to jail, he was given the option to undergo chemical castration. He chooses the latter, yet the pain of what was done to him leads him to take his own life in 1954. It wasn't until decades later that the British government acknowledged their awful mistake: in 2009, Prime Minister Gordon Brown publicly apologized on behalf of the government and, in 2013, Queen Elizabeth II granted him a Royal Pardon.
Colette (2018), by Wash Westmoreland, is a biographical drama about the life of French novelist Sidonie-Gabrielle Colette. Now a feminist and bisexual icon, Colette started writing at the behest of her husband, Henry Gauthier-Villars (Dominic West), known by the pen name "Willy". He had published several books under this name yet all of them had been written by other people. When he found he couldn't pay his ghostwriters, he decided that Colette should be the one to write his books. Her first work, Claudine at School (1900), became a bestseller with a predominantly female audience. The success of Claudine elevated Willy and Colette to the world of successful Parisian authors.
Is in these higher circles that Colette discovers her attraction toward women and begins an affair with Louisiana debutante Georgie Raoul-Duval (Eleanor Tomlinson). The movie documents Colette's journey as she explores her sexuality and gender identity. One of her new lovers is Mathilde de Morny (Denise Gough), a gender-ambiguous aristocrat who went by the names "Missy" and "Max". Colette took to dancing and miming in the Moulin Rouge, developing a few acts of her own. One of them, "Rêve d'Égypte", concluded with Colette and Mathilde kissing on stage. They performed the act in 1907 and a riot ensued in the famous cabaret. The scandal changed Colette's life forever.
Colette is a story a real-life woman who found who and rose over those who held her back. It's an inspiring tale that's made all the more moving by Knightley's incredible acting skills. A must-watch for those looking for more LGBTQ writers, and also for those interested in French theater.
Capote (2005), by Bennett Miller, is a biographical drama chronicling the life of novelist and non-fiction pioneer Truman Capote. Known for works like Breakfast at Tiffany's (1958) and In Cold Blood (1966), Capote was an outspoken and openly gay man. He was one of the few openly gay public figures during the fifties and sixties. The titular character was played by the late Phillip Seymour Hoffman, who thoroughly studied Capote's mannerisms and peculiar way of speaking in order to do his eccentric personality justice. For this portrayal, Hoffman won his first and only Academy Award for Best Actor.
The movie beings when Capote learns about the Clutter family killings in the farming community of Holcomb, Kansas. Fascinated by the crime, he informs The New Yorker editor William Shawn (played by Bob Balaban) that he will write about it. Capote and Nelle Harper Lee (Catherine Keener), a friend from his childhood, travel to Holcomb and interview the locals. The film shows how Capote became friendly with the people in the community, even with Perry Smith (Clifton Collins Jr.), one of the killers. The movie documents all the events in Capote's life that would then be part of his seminal book: In Cold Blood. This compelling piece of journalism is considered the first non-fiction book like we know it today.
Like Colette, Capote is a great watch for those interested in LGBTQ writers. We see him work, and dig deep into the lives of the people of Holcomb, with unmatched empathy for what they have gone through. His relationship with the murderer Perry Smith is incredibly touching: Capote saw himself in Perry, since both had come from a harsh and broken home. This movie truly captures one of the most genius minds in journalism.
Bessie (2015), by Dee Rees, is a biographical film made by HBO about the "Empress of the Blues". It stars singer and actress Queen Latifah as Bessie Smith, a young black singer from Chattanooga, Tennesee who rose to fame as the best blues female singer in the world in the 1920s. The movie surprised audiences and critics alike. It was the most-watched film that HBO had ever produced and won Outstanding Television Movie at the Primetime Emmy Awards.
Bessie begins with the "Empress of the Blues" working at vaudeville shows with her brother Calrence (Tony Kittles). When she hears that Ma Rainey's is coming to her town, she sneaks into her train cart and begs for Ma Rainey (Mo'Nique) to take her under her wing. There can't be a Bessie Smith story without Ma Rainey: Bessie's teacher was known as the "Mother of the Blues" and is regarded as the inventor of the genre. The movie portrays her first years as a show singer, her eventual departure from Ma Rainey's show, and eventual rise to fame. Through her journey, Bessie will have to deal with the racism in the music industry and the abuse of anti-black hate groups.
The movie doesn't shy away from showing Bessie's sexual identity. She was a proudly bisexual and, like Ma Rainey, her songs reflected her love for women. Even though she married a male security guard by the name of Jack Gee (Michael K. Williams) in 1923, over her life she had many other female sex partners. Although this caused much trouble in their relationship, they ended up breaking up in 1929. Nowadays she is regarded as an icon, both for her pride as a black woman and as a member of the LGBTQ community.
Milk (2008), by Gus Van Sant, is a biographical film about openly gay politician and gay rights activist Harvey Milk. A key figure in the LGBTQ movement, Milk was the first openly gay person ever to be elected as a representative in the public office of California in 1977. Sadly, Milk's name is also famous due to his tragic assassination, in conjunction with that of San Francisco's Mayor George Moscone, in 1978. The movie win Best Original Screenplay at that year's Academy Awards ceremony. For his performance as Harvey Milk, actor Sean Penn won his second Academy Award for Best Actor.
Milk was released on October 28, 2008, during a crucial time for the gay rights movement in California. The 2008 elections that Barack Obama would win were ongoing and tension was on the rise. After legalizing same-sex marriage in June of that year, representatives in the state introduced a ballot proposition known as "Proposition 8", which planned to ban gay marriage. One of the main conflicts explored in the movie is the 1978 "Proposition 6", which would have banned gays and lesbians from working in the public schools of California. While "Proposition 8" was passed in November of that year, it was luckily overturned in court.
Harvey Milk is considered a hero of the LGBTQ community. In his famous "Hope Speech", he said: "And you have to give them hope. Hope for a better world, hope for a better tomorrow, hope for a better place to come to if the pressures at home are too great. Hope that all will be all right". He was an inspiring figure who urged his peers to fight alongside him and end discrimination. After his assassination, the San Francisco Gay Democratic Club honored him by taking his name, and nowadays is known as the Harvey Milk Lesbian, Gay, Bisexual, Transgender Democratic Club. This movie is a great testament to one of the most important figures in the movement. It's a film that everyone should watch.
Rocketman (2019), by Dexter Fletcher, is a biographical musical centered around Elton John's life and music. One of the best-selling musicians of all time, John has been openly gay since 1988. The film depicts his struggle to come to terms with his sexuality and his drug addiction: in fact, it begins with John opening up to a rehabilitation group and telling them his story. After a long search for an actor who could portray Elton John with humor and charisma, the role was given to Taron Egerton, who won a Golden Globe Award for Best Actor.
The movie begins with John's childhood in 1950s Britain when he was still called Reginald Dwight. Rocketman shows him as he leaves the Royal Academy of Music to pursue a career playing rock and blues. John played for a while as a backup for several bands, until Roger Isley (of the Isley Brothers) told him to leave his life behind. Then he adopted his new name: Elton John. Though he wouldn't become the songwriter we know today without his friend Bernie Taupin (Jamie Bell). A young poet, Bernie didn't have any talent for singing or playing music, so the two of them began working together. Their collaboration resulted in the moving "Your Song".
Unlike other major biopics of the time, like Bohemian Rapsody, Rocketman embraced John's sexuality and search for love in its story. It depicts John's first love flings and his struggle against British homophobia. More importantly, the movie shows John's stormy relationship with manipulative music manager John Reid (Richard Madden). It may surprise some people, but Rocketman was the first film by a major movie studio to include a gay male sex scene. This is a great watch for any music fan. Filled with charm and magic, it perfectly captures the life of one of the most notable gay icons ever.