Savannah is Georgia states oldest city, and it has a rich history. The city is located 15 miles along the Savannah River inland from the Atlantic Ocean. It is a beautiful city with a distinct and is known for its vibrant arts and culture scene, historic homes, and landmarks that coastal vibe date back hundreds of years.
Sure, it's unlikely you will think of a thriving LGBTQ community when your thoughts travel to the Southern United States. However, Savannah is like the oasis in the desert you've been searching and longing for. If you're considering a move here, you are in luck because the city is home to an inclusive, welcoming, and thriving LGBTQ community.
Lap it up, honey, because Savannah has long been more open and welcoming to diverse things, so you will likely find a place to call home here.
As with Louisville, Birmingham, Asheville, and other Southern US cities, there is also a playful gay scene here (if you know where to look), and this is something a gay realtor in Savannah can help you navigate as you find your new perfect home here.
Once you throw in the well-preserved Antebellum architecture, hip boutiques, lively night scene, and reputation for Southern charm, Savannah will indeed have you hook, line and sinker. With all this in mind, it's then not hard to see why the city is famous for members of the LGBTQ+ community looking to move from their current locations.
Before we dig a little deeper to find out what the city has in store for you as a member of the LGBTQ community, let's first take a look at some of the highlights of moving to LGBTQ Savannah.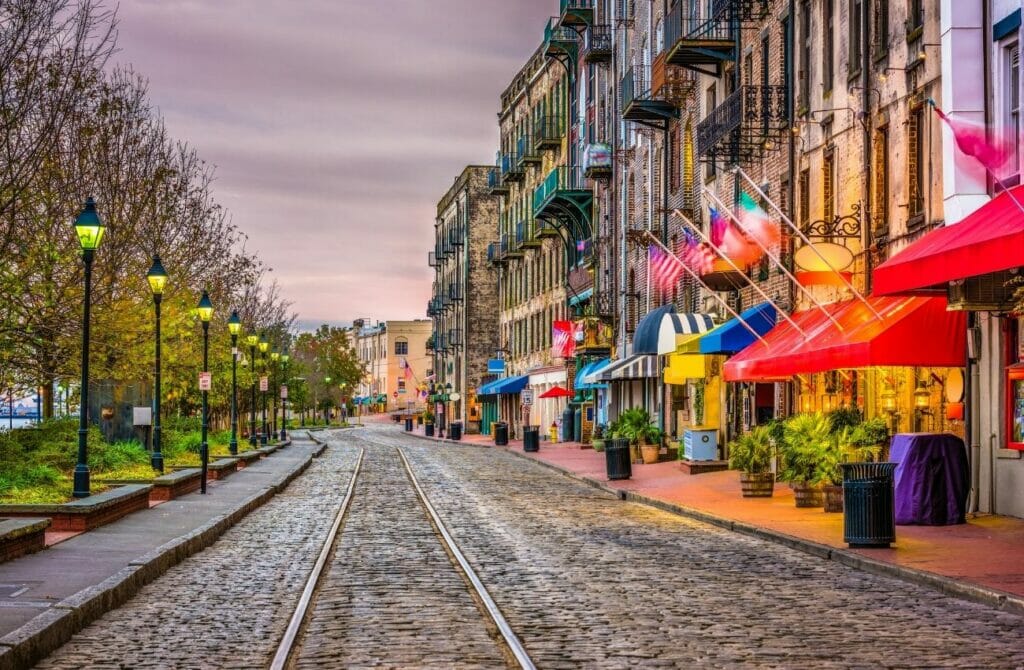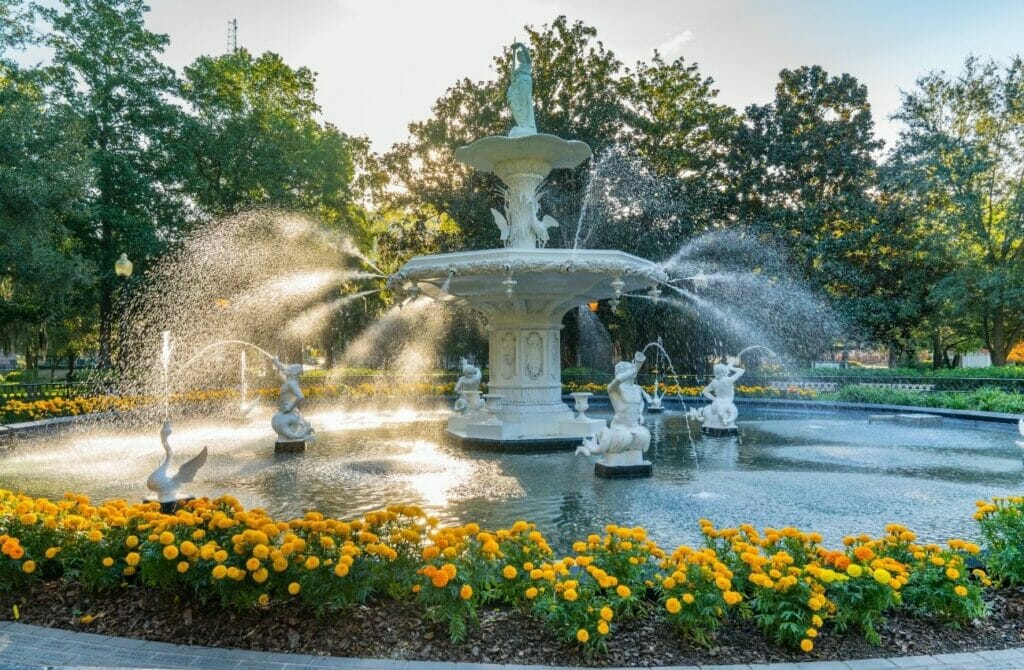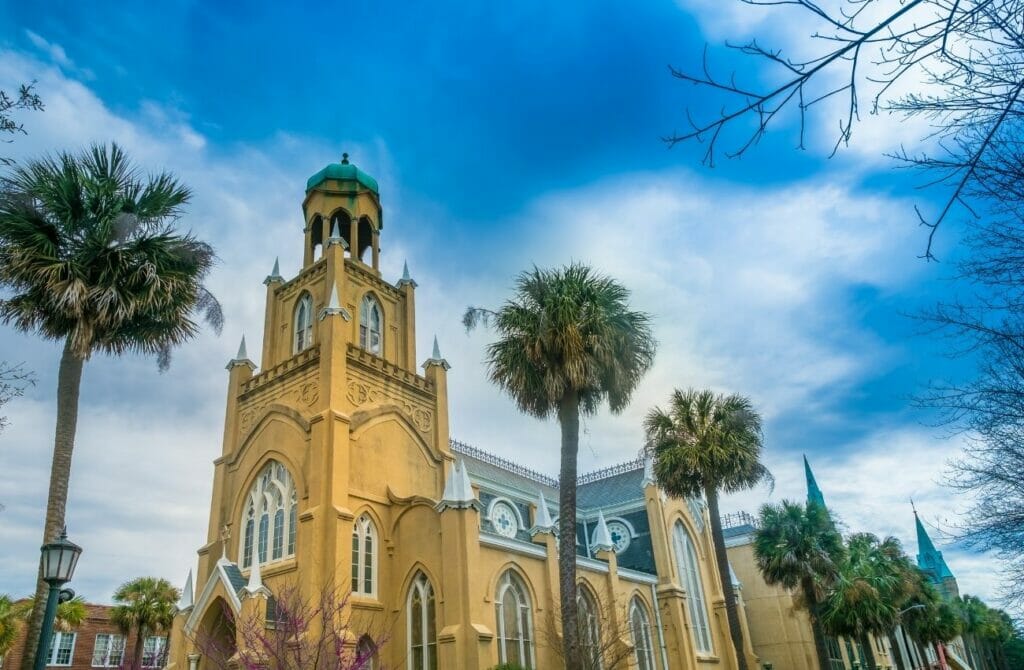 Highlights Of Moving To LGBTQ Savannah
Savannah residents are well aware that their city is an absolute knockout brimming with culture and beautiful sights just waiting to be discovered.
Whether you're moving for the job market, scenery, or community, there's something for everyone. Securing a relocation here will also allow you to meet others with similar interests, thanks to a quirky yet highly involved LGBT culture, including a few fantastic queer spots of interest in the city's most popular neighborhoods.
Almost anything that your heart desires can be found here. There are plenty of things to look forwards to when moving to LGBT Savannah, be it strolling a manicured garden, taking inspiration from the local artistic community, or meeting a friendly ghost (Savannah is America's most haunted city after all!)
Let's take a closer look at a few of the aspects that make up this incredible city before we get into the details.
Economy and Job Market in Savannah
Savannah has a lower unemployment rate than the rest of the country. The Memorial Health University Medical Center, Gulfstream Aerospace Corporation, and St. Joseph's/Candler medical system are among the city's major employers. Savannah's annual salary is $44,480.
That is less than the median annual salary in the United States, at $51,960. However, the city has a more vibrant job market than many similarly-sized metro areas in the United States, and living costs are significantly lower.
Plenty Of Restaurants
Savannah has a diverse range of restaurants. There are spots to fit everyone's budget and needs, from four-star dining to casual eateries. Savannah is the perfect location for classic Southern fares such as shrimp and grits, fried green tomatoes, and fresh Georgia peaches.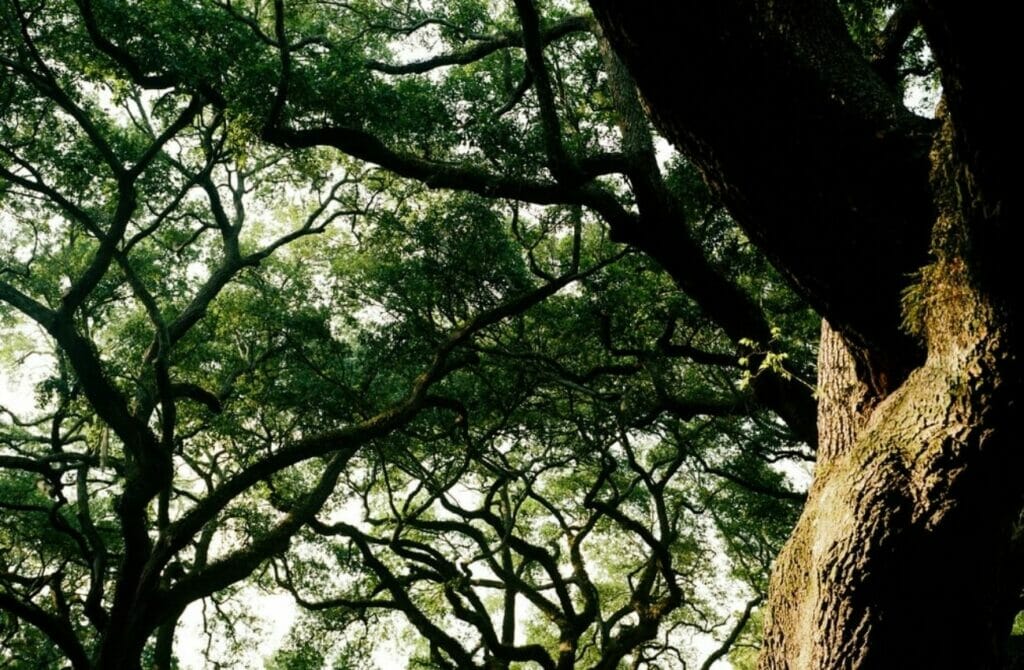 Landmarks in Savannah
Savannah has an abundance of historic buildings and homes that represent a variety of architectural styles.
Mickve Israel, the only synagogue in North America built in the Gothic style, is a genuinely memorable landmark. It was constructed in 1735 by Jewish immigrants. Another stunning example of Gothic architecture is the Cathedral Basilica of St. John the Baptist.
It's Easy To Get Around
Savannah is an excellent place for people who like to walk. With so many sights clustered in small sections within the city, it's effortlessly among the most pedestrian-friendly cities in the South! The League of American Bicyclists (L.A.B) rated the city as a bike-friendly town and has a distinct bike-loan process.
People who relocate to this city will also appreciate the city's excellent public transportation, including fifteen public bus routes and a no-pay shuttle service. The city can accommodate you regardless of how you prefer to commute!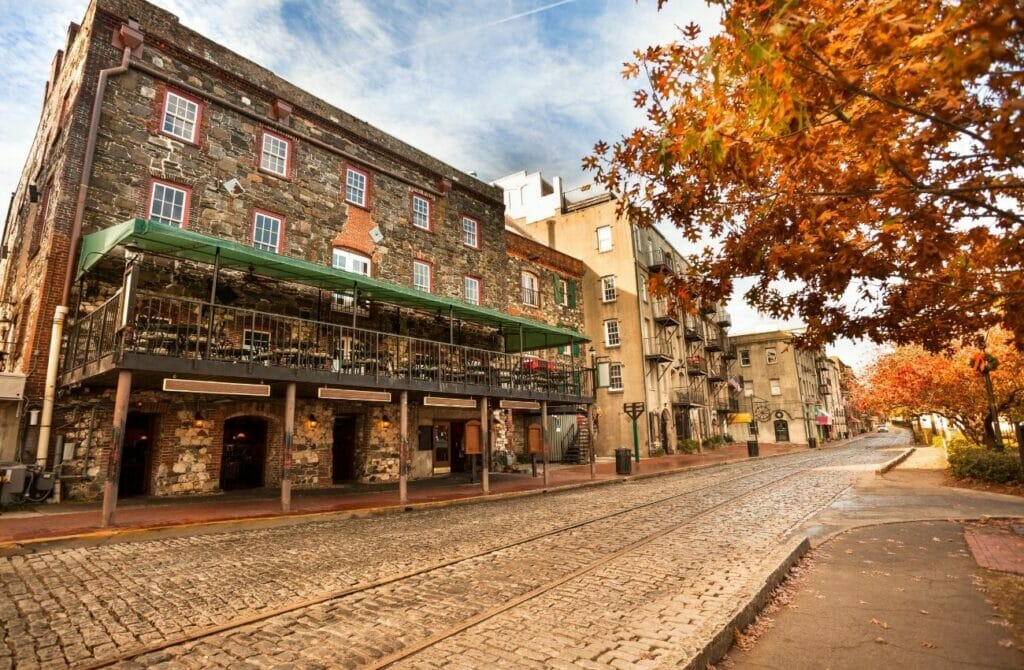 Does Savannah Embrace the LGBTQ Community?
Savannah has a flourishing LGBTQIA+ community, even though the gay scene isn't as vibrant as it is in bigger cities like Seattle and Salt Lake City. There aren't many LGBTQIA+ clubs and bars in Savannah, but this isn't necessarily bad. This is because local LGBTQIA+ residents believe they don't need to have their own drinking establishments.
Residents and visitors alike can go to any bar without the fear of repercussions because Savannah accepts the LGBTQIA+ community. There are plenty of businesses owned by members of the LGBTQIA community all over Savannah. This is most likely why, today, when any issues about LGBTQ+ rights come up, it usually isn't a big deal for the city.
For residents of Savannah, depriving anyone of their human rights and dignity is not condoned. In 1994, the city's mayor at the time, Susan Weiner, announced that the area was accepting for lesbians and gays to visit and make their homes as part of Human Rights Pride Week. Compared to other cities that were similar in size at the time, this was a progressive move.
Savannah has rich LGBTQ history and is proud to promote the contributions made by its LGBTQIA+ residents to the city. One of Savannah's most famous LGBTQ residents was Lady Chablis, the Queen of Savannah. Lady Chablis performed at the city's Club One for years before passing on in 2016.
Lady Chablis was popularized by the book 'Midnight in the Garden of Good and Evil,' based on real-life events of the alleged murder of a male sex worker Danny Hanford by Jim Williams, a famous antique dealer. Plenty of the scenes in this book are vital to the city's LGBTQ+ history.
Savannah is home to First City Pride Center, an LGBTQIA+ center that has flourished for years. The center provides a safe space for LGBTQ+ residents to meet, engage in youth programs, receive health services, access advocacy, and more.
All these factors come together to show that the city has a rich LGBTQ+ history of support and acceptance and is an excellent place for the community to call home and thrive in. Savannah is a thriving hotspot of LGBTQ+ life and welcomes all regardless of their identity or sexual orientation.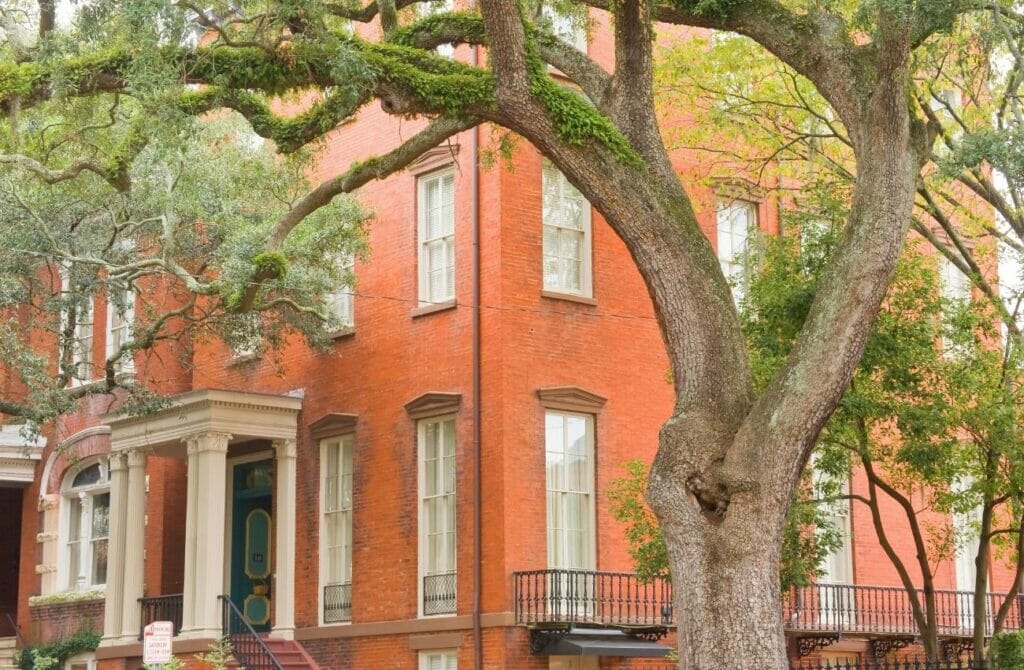 Is Savannah An Expensive City To Move To?
A single adult in Savannah could pay about $38,650 per year for housing, food, taxes, transportation, child care, health care, and other bare essentials, which is approximately similar to Georgia's annual cost of living of $38,488 and nearly in line with the national average of $38,433.
Savannah's average cost of living is $1796, placing it in the top 8% of the world's most expensive cities. Savannah's median after-tax remuneration is $2717, covering living expenses for about 1.5 months. The city is in the top 4% on the list of best places in the world to live. The cost of living in the city is 10% lower than the U.S average.
Housing, Utilities & Transportation: Housing expenses in Savannah are 33% lower than the U.S average, while utility costs are 9% higher. Transportation costs, such as gas prices and bus fares, are 3% less than the U.S. national average.
Food & Grocery: Groceries in Savannah are 6% less than the U.S average.
Healthcare: Savannah healthcare costs 2% less than the U.S national average.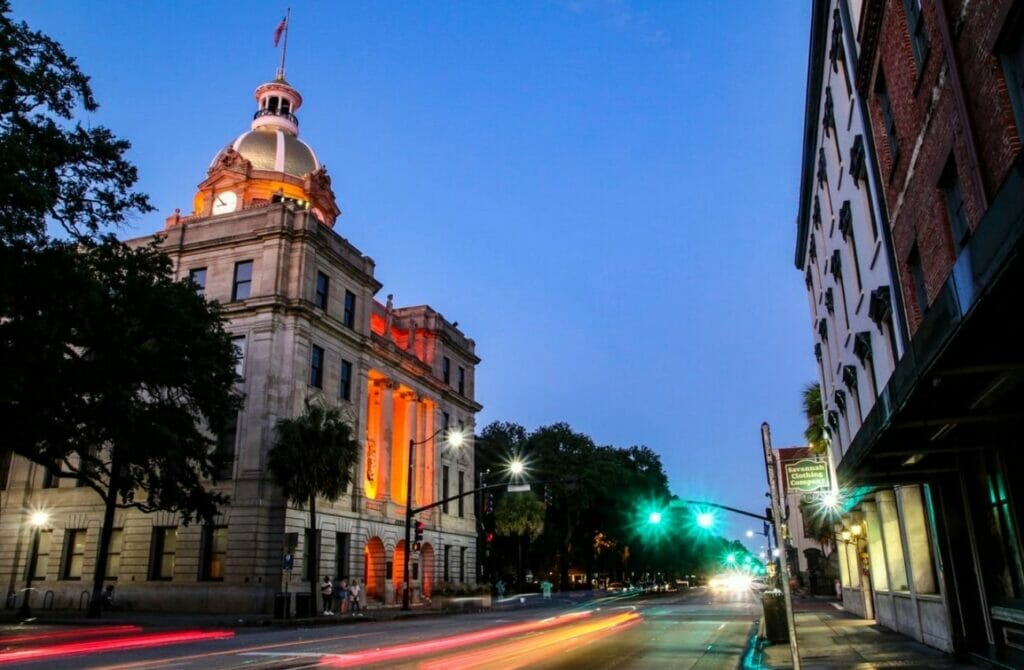 The Best Gay Neighborhoods In Savannah
Not all LGBT individuals want to live in the relative frenzy of the Historic Landmark District, the hub of downtown Savannah. Thankfully, there are many alternate communities for those who want a calmer, LGBT-friendly environment.
When relocating to LGBTQ Savannah, you should be aware that a few areas are close to all the fantastic gay happenings, allowing you to pull your U-Haul up to your new house in a gay-friendly neighborhood or part of town.
If you're a lesbian, gay, bisexual, transgender, or otherwise queer person seeking a welcoming neighborhood with facilities you'll cherish, commence with these top gay and gay-friendly Savannah neighborhoods to discover your perfect new home, each with its own distinct personality. Give yourself enough time to familiarize yourself with Savannah's multifarious personalities, and remember that this city offers something for everyone – LGBTQ or not!
Now let's take a look at the handful of fabulously gay areas in Savannah are and talk about the Savannah gayborhood where you might feel most at home! Or speak to a local LGBT real estate agent for a more detailed understanding of the best options today.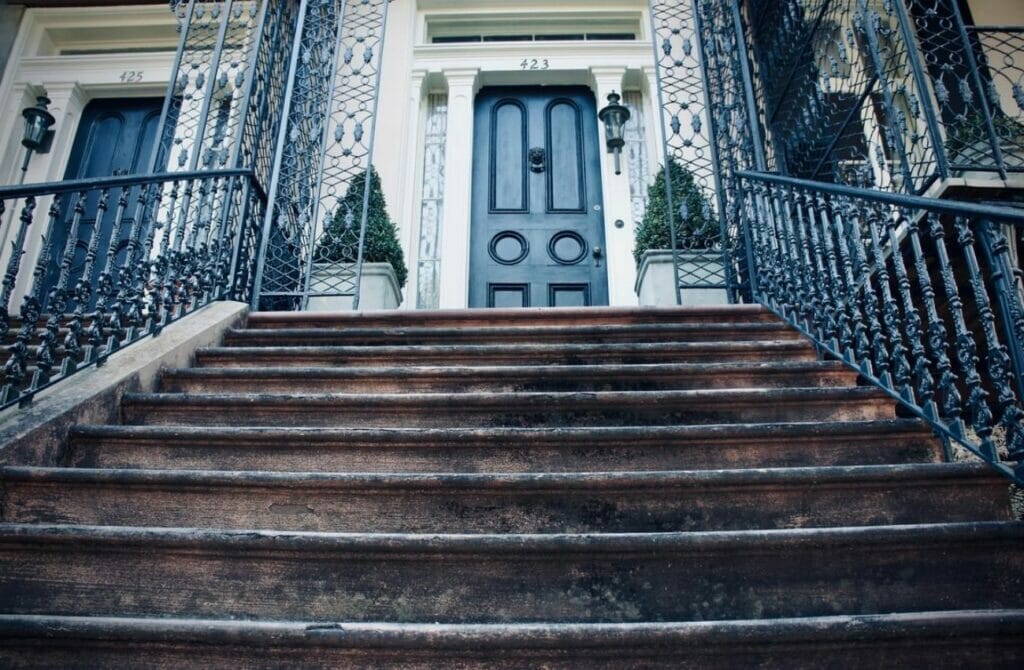 Starland District
The Starland District is located a mile south of Forsyth Park. The streets in this neighborhood feature art galleries and other establishments housing creative works. The area also has office buildings and beautiful homes that aren't your typical American home.
Victorian District
This neighborhood, located south of the Historic District, is densely packed with historic Victorian-style homes. The city's oldest subdivision, Ardsley Park, is a real treat for classic Victorian architecture. The 30-acre Forsyth Park, featuring a prominent white fountain, is the central focus of residents' and visitors' photographs and is located in the community.
Ardsley Park
Ardsley Park is one of the city's oldest neighborhoods and is best for those looking to start a family. It is full of super cute Craftsman-style cottages and bigger mansions that can accommodate large families. There are many walkable areas in this residential neighborhood, so kids can comfortably walk to school, and locals can walk to their favorite shops.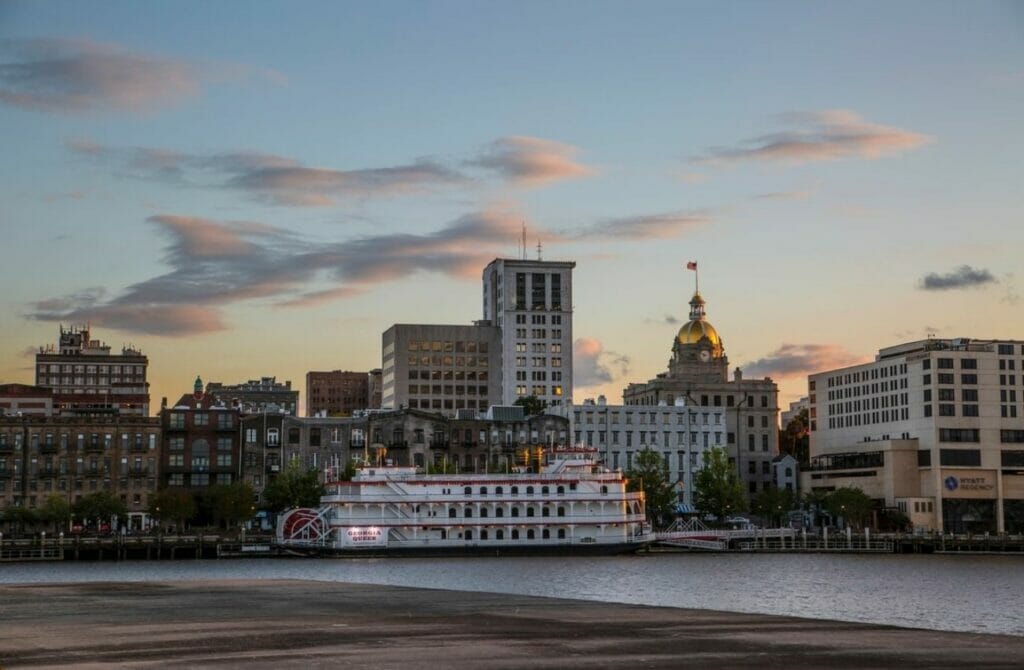 LGBTQ+ Community Organizations In Savannah
To advance the LGBTQ agenda, the LGBTQ community around the world frequently has to rely on donor organizations or non-profits. Thankfully, Savannah has an open and inclusive community; there are plenty of organizations and resources ready to support the queer community that resides here.
Wherever you live, you must assist such groups in any way possible so that they can continue to serve people in need – both in your community and beyond.
Check out some community organizations below if you're looking for LGBTQ groups in Savannah to join, make new friends, or volunteer for a cause you care about:
First City Pride Center
This is a community center whose mission is to advance, support, and celebrate the gay, lesbian, bisexual, transgender, and queer community in Savannah. The center provides different services such as health resources, training programs, events, and networking opportunities.
Savannah Stand Out Youth
Savannah Stand Out Youth is a center for the youth that believes anyone should have the freedom to be who they are or want to be without limitations and labels. The group's mission is to build confidence and pride through empowerment. It aims to achieve this through hosting events offering resources and support groups to LGBTQ youth in the city and nearby areas.
Proud Savannah
PROUD Savannah is a group created by the City of Savannah. The group is dedicated to ensuring that the LGBTQIA+ community in the city lives and works in a safe, inclusive, and welcoming environment. PROUD Savannah's task force mission is to ensure the city is at the forefront of addressing the needs of the LGBTQIA+ community.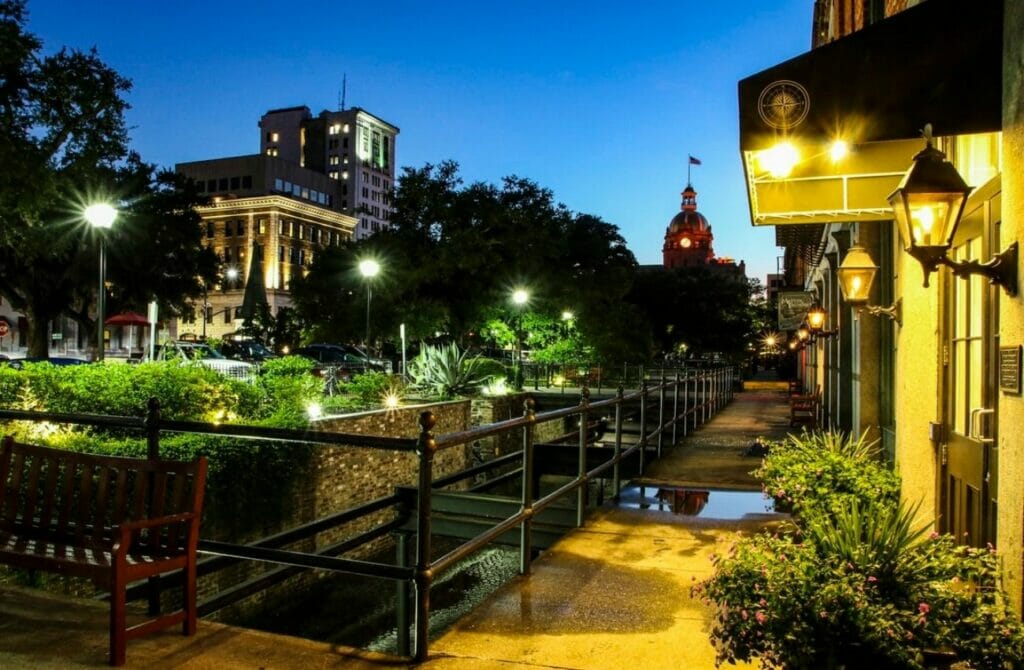 Regular LGBT Events in Savannah
You have to make new friends, meet people, and network after moving to a new city. Thankfully you can do just that as Savannah hosts plenty of events for the LGBTQ community to meet, have fun, or network.
Savannah Jazz Festival
The Savannah Jazz Festival is an eight-day event held each year. The festival offers an opportunity to enjoy the best of local and international jazz.
Diva Royale Drag Queen Show Savannah
The Diva Royale Drag Queen Show is a weekly drag show featuring some of the city's most passable drag and female celebrity impersonations. The event is held at the Diva Royale Restaurant, and here, you can enjoy a drag dining experience with the ladies of the show.
Savannah Pride Festival
Savannah Pride Festival is held each year and is one of the city's most popular LGBTQ+ festivities. The celebration has plenty of parties, parades, family-friendly activities, food and drink, and networking opportunities, so make sure you don't miss out.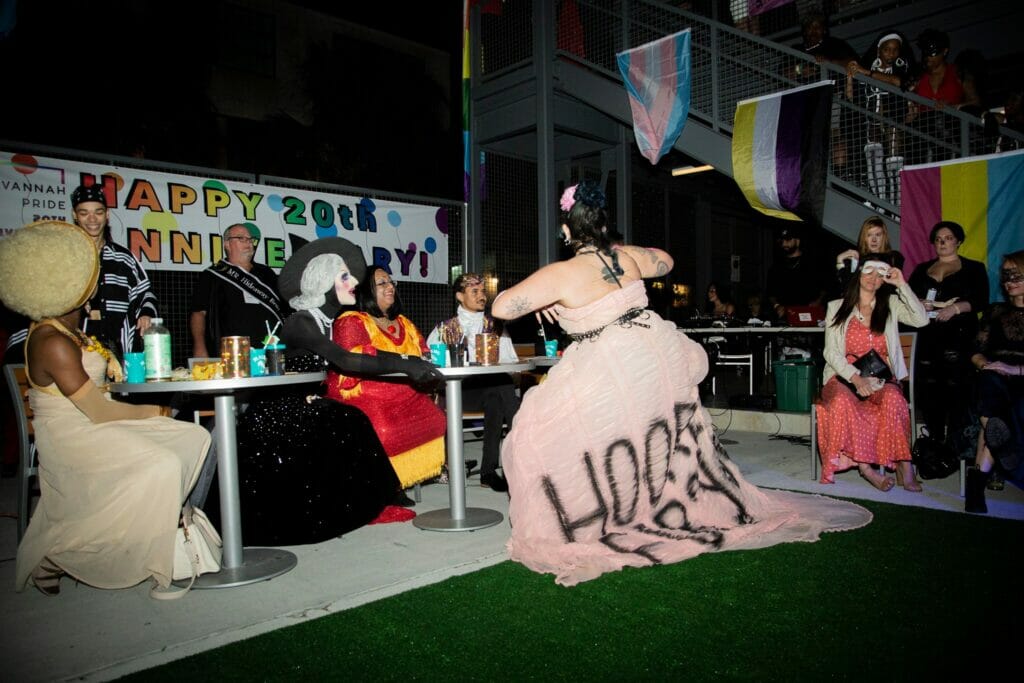 LGBT Owned Businesses In Savannah
After moving to LGBT Savannah, it's only natural to want to support queer businesses. One strategy to make a safer and more inclusive society is to establish a secure environment where individuals can rest, buy, eat, and socialize without fear – and this is precisely what LGBT businesses should seek to do.
Wherever you are, it is critical to support these endeavors to maintain the continuity and prosperity of the queer community. After all, there's nothing that says unity more than a community that comes out to support each other's businesses and establishments. With this in mind, here are just a few LGBTQ businesses in Savannah worth checking out.
This is one Savannah retail store you do not want to miss out on. Adam Turoni is queer and evokes both Southern flavors and culture into his high-quality, highly regarded, and artful creations. At a glance, Chocolat looks like a home library, only instead of books, there are trays of Georgia Peach truffles, Mint Julep, Red Velvet, and many more delights.
Club One is Savannah's ultimate LGBTQ+ club. The club is famous for its exemplary drag shows; it's a humongous 1,000 sq. ft. downstairs dance floor. The club offers cabaret shows from Thursday to Saturday at 10:30 pm, and 12:30 am. Many local gay clubs welcome straights, and Club One does the same.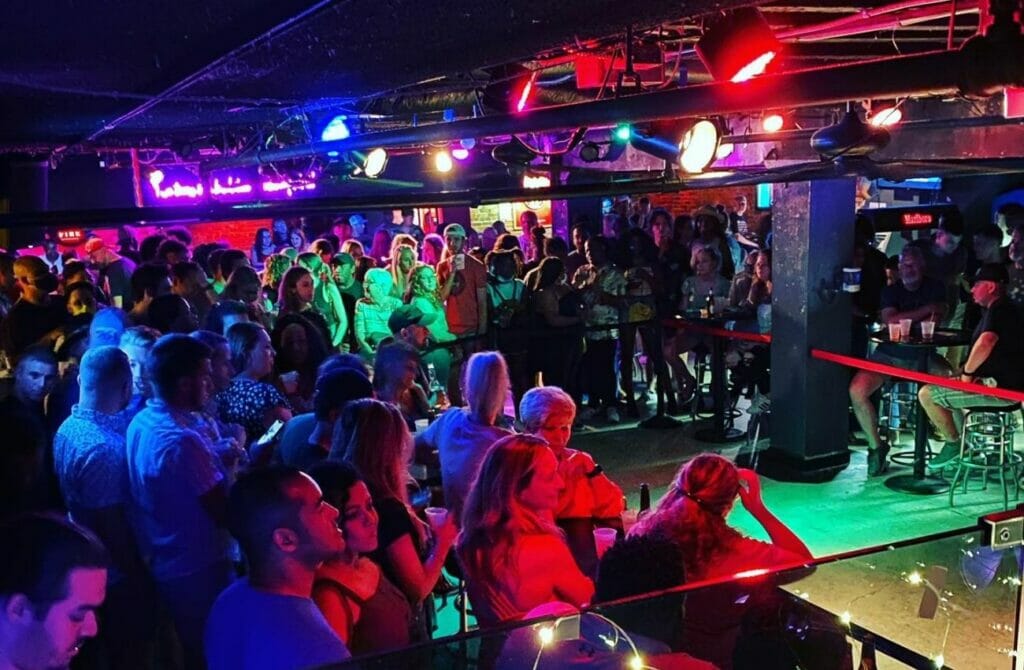 Blends offer hand-selected coffee from various parts of the world. They roast their coffee to come up with a unique profile you will enjoy. Blends want their patrons to know that they can cherish the coffee they make, whether enjoying it alone, with a colleague, a friend, or a date. Blends' mission is to encourage their consumer to experience good coffee, and when you visit the store, you can pick coffee from Sumatra, Colombia, Puerto Rico, Ethiopia, and Guatemala.
La Scala Restaurante is owned by Jeffrey Downey and Donald Lubowicki, local restauranteurs and owners of Circa 1875. If you're looking for fine Italian fare with an impeccable pairing of spirits and wine in a historic setting, this is it. The restaurant has a seating capacity of 120 people and has an outdoor patio ready to host you and your squad for an event.
The restaurant boasts six dining rooms, a wine cellar, and a third-floor chapel. Staff in this venue are exceptionally trained, so you can ensure that your orders for cured and aged meats, sauces, and artisan bread will be met by exceptional services and washed down with carefully selected wines.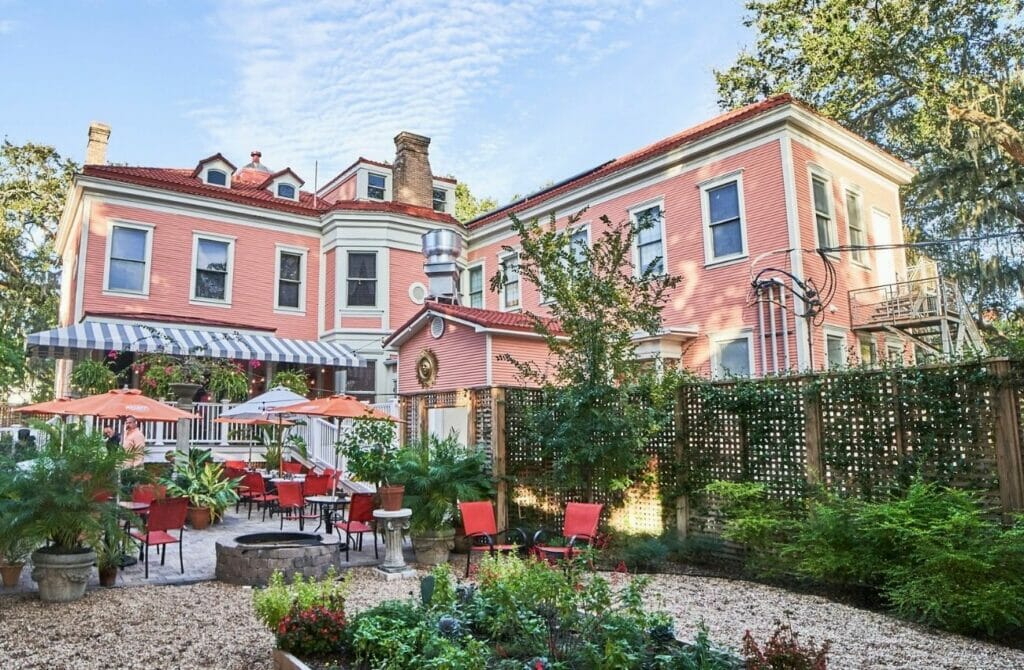 Final Thoughts On Moving To LGBTQ Savannah
Few things are as welcoming as a city that values the contributions of its LGBTQ+ community. While Savannah might not be the first city you think about when it comes to LGBTQ inclusivity, it is truly a haven that you should consider moving to. Here, you don't have to worry about walking hand in hand with your partner or celebrating PRIDE to the fullest. Whether LGBTQ or not, this city is a beautiful place to call home.
Whether you're relocating for employment, recreation, or family reasons, you can rest assured LGBTQ Savannah will provide you with a supportive atmosphere. There's a lot to see and do, as well as some fantastic communities to connect with.
Keep in mind that life is what you make it, and we hope you find the freedom and comfort you seek with whatever gay Savannah neighborhood you pick to begin your new life in.
The best way to learn about LGBT Savannah is to immerse oneself in the scene by living in a queer-friendly neighborhood, frequenting local LGBT businesses and events, and participating in queer community groups and sports teams.
If you do this, we guarantee that your transition to LGBT Savannah will be more joyful, and you'll rapidly meet like-minded people to join your chosen family.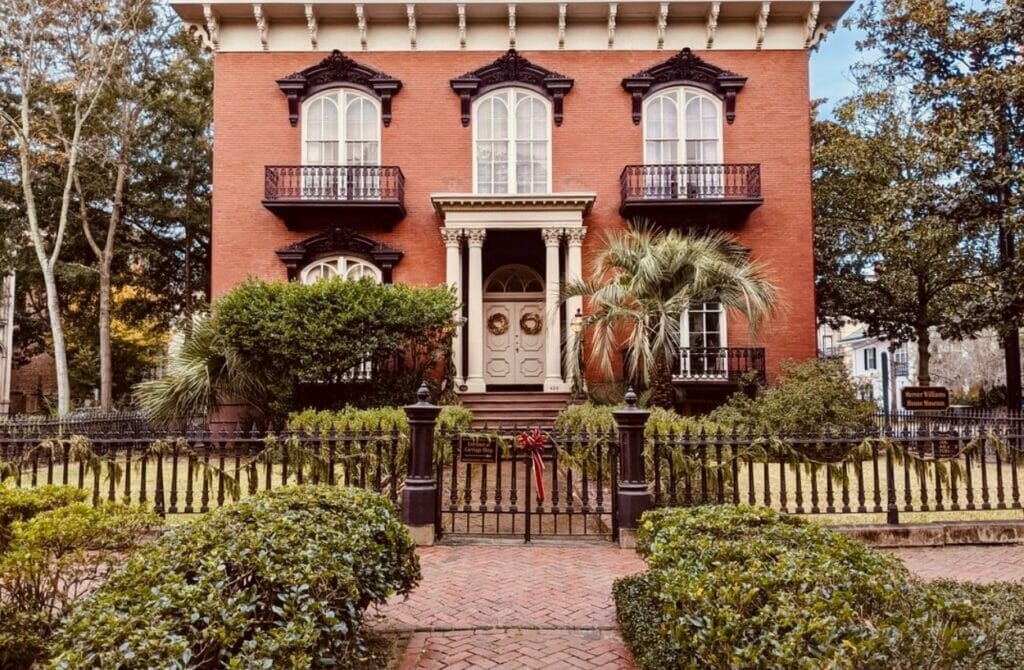 Finding Gay Realtors In Savannah Georgia
When looking for the ideal realtor, why would you consider someone's sexuality? This may seem strange at first, but there are several reasons why contacting a gay realtor in Savannah is a great way to find your dream house.
After all, when it relates to one of life's most significant transactions, it's not unreasonable to expect fair, equal, and honest representation from someone who understands the queer community's particular needs and wishes. Furthermore, unfortunately, many people (up to a third of Americans) believe that our community does not deserve protection and dignity in housing, adoption, employment, and other areas of life.
So it's no surprise that LGBT people who use mainstream realtors often describe feelings of discomfort, unnecessary trouble, unenthusiastic representation, or even antagonism or outright contempt. Everyone deserves a pleasant, stress-free home buying or selling experience while being adequately represented, and this is why we feel you should hire a gay realtor to assist you in finding your future home.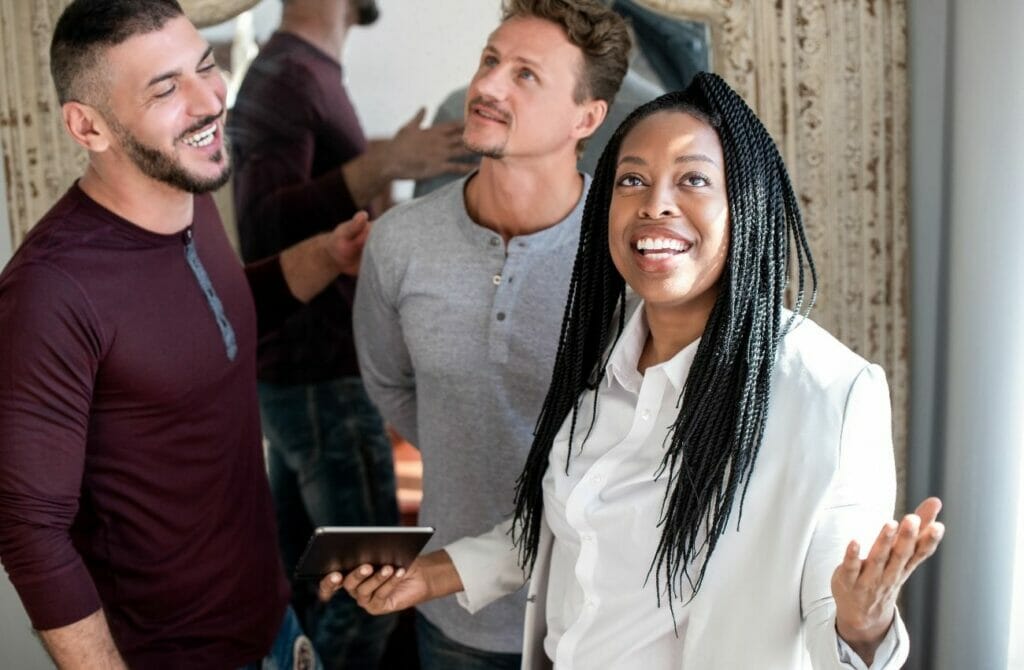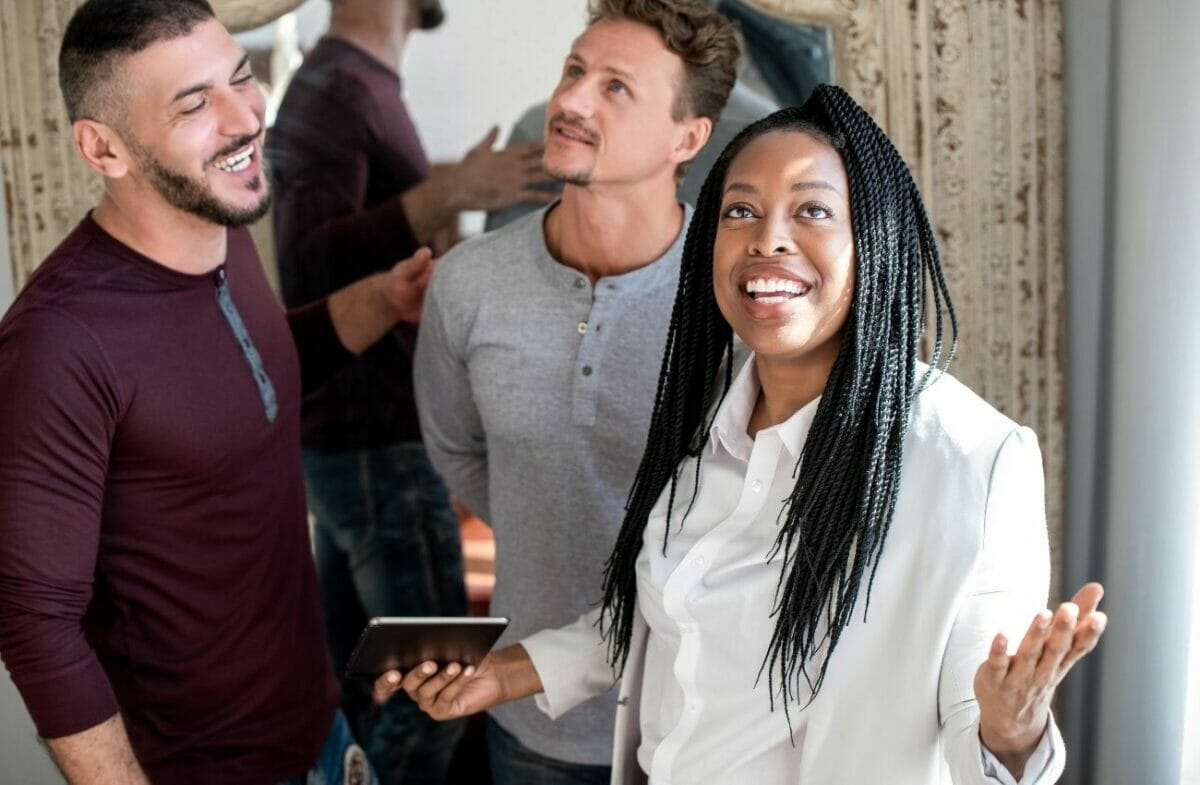 LGBTQ realtors are more likely to be familiar with the diverse communities in their area and know which ones may be best suited to you when looking for a home.
That's not to say a heterosexual realtor isn't capable, but they've probably never had to address many of the issues LGBT people face. Rather than just being concerned with how bustling, fashionable, or up-and-coming a neighborhood is (or what it may appear like), gay realtors conduct extensive research into the neighborhoods in which they sell homes to ensure that clients are safe.
It used to be challenging to locate professional LGBT-friendly real estate agents in Savannah, and it was virtually impossible to find one if you were relocating here from out of state and didn't have access to a local referral. You no longer have to search for a realtor without knowing whether or not they are accepting of others because you can use a list of gay, lesbian, and gay-friendly agents in Savannah to do all of your homework for you.
Simply go to the page, and you'll be presented with a free list of gay, lesbian, and gay-friendly agents who can help you with your relocation as well as other useful information like LGBT+friendly schools, shopping, storage firms, tradespeople, and more. Read the biographies of LGBT real estate agents, then choose the one who is right for you. It's critical that you find someone who will be by your side and support you and your family during one of life's most exciting occasions.
Even better, there is no hidden motive, cost, or obligation whatsoever!