Santa Marta, Colombia, has a tropical climate due to its location on the equator and near the Caribbean coast. Santa Marta is a friendly place for individuals of all identities, including thriving gay and lesbian communities. It has a warm and welcoming environment; the people will make you feel at home.
Santa Marta is Colombia's oldest city and is well-known for its beautiful surroundings, which include the snowy peaks of the Sierra Nevada mountains, the blue sea, and the verdant forest.
3Santa Marta's rhythm and flavor permeate the city, and its diversity is a consequence of the over 30,000 indigenous ethnic groups that call it home and make up its people. UNESCO has classified Santa Marta as a Biosphere Reserve and a World Heritage Site.
People who identify as LGBT in Colombia have full access to all rights, making it one of the more progressive countries in Latin America regarding LGBT rights. One might claim Colombia is one of the world's most evolved nations.
Since 1981, homosexuality has been acknowledged as a valid lifestyle option, and in 2011, breakthrough anti-discrimination legislation was enacted into law, establishing prison sentences for anyone found guilty of prejudice.
In reality, the penalties for breaking this regulation become more severe in some circumstances, such as when an infraction occurs in a public area or is carried out by a public authority.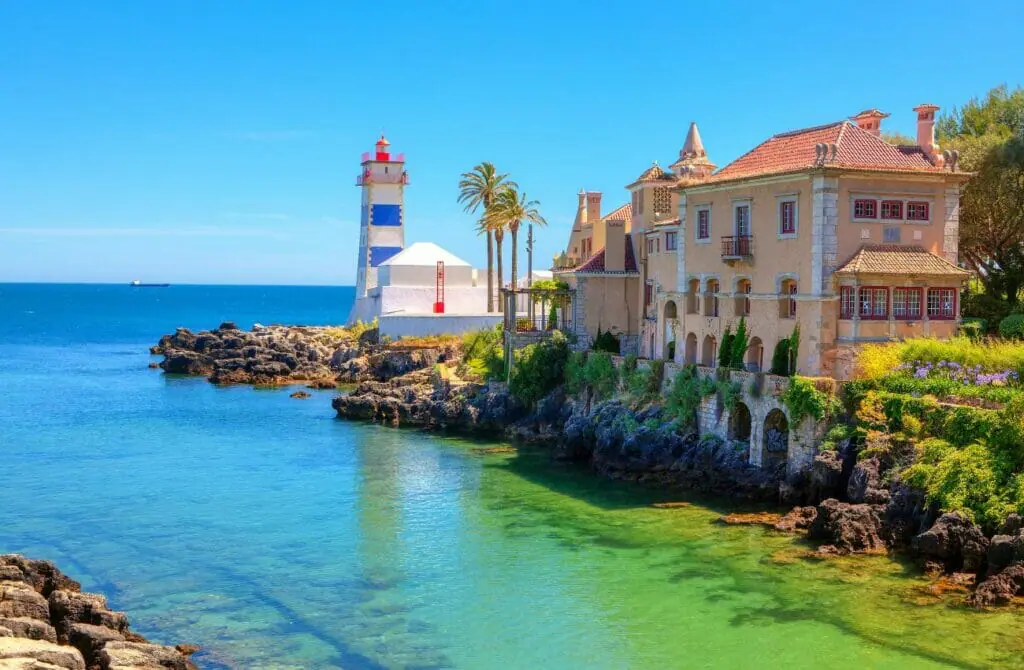 Moreover, the Constitutional Court has made several judgments to preserve the rights of gays and bisexuals to express themselves in public freely. In 2011, for example, a court ordered the administration of a shopping mall and the security firm with whom it contracted to attend a training teaching them not to suppress gays.
On Colombia's Caribbean coast, Santa Marta is one of the most accepting places for LGBT people. And, although there aren't many venues in the city where members of the gay community may meet and gather, the city as a whole has a high degree of tolerance and openness, to the point where 95 percent of establishments are gay-friendly.
Santa Marta is situated in the Magdalena department in northern Colombia, on the Caribbean Sea coast. In addition to being a busy port, it was the site of Colombia's first Spanish colony.
The Tayrona National Natural Park and the ancient site of the Lost City (Teyuna) are situated in the Sierra Nevada de Santa Marta mountains. This town is the starting point for multiday guided excursions to both locations.
Santa Marta is often regarded as Colombia's top beach resort, offering many thrilling activities and attractions. Santa Marta is, without a doubt, one of the most popular cities in Colombia. Even though it seems to have seen better days when you first arrive, there is much more to the city than meets the eye.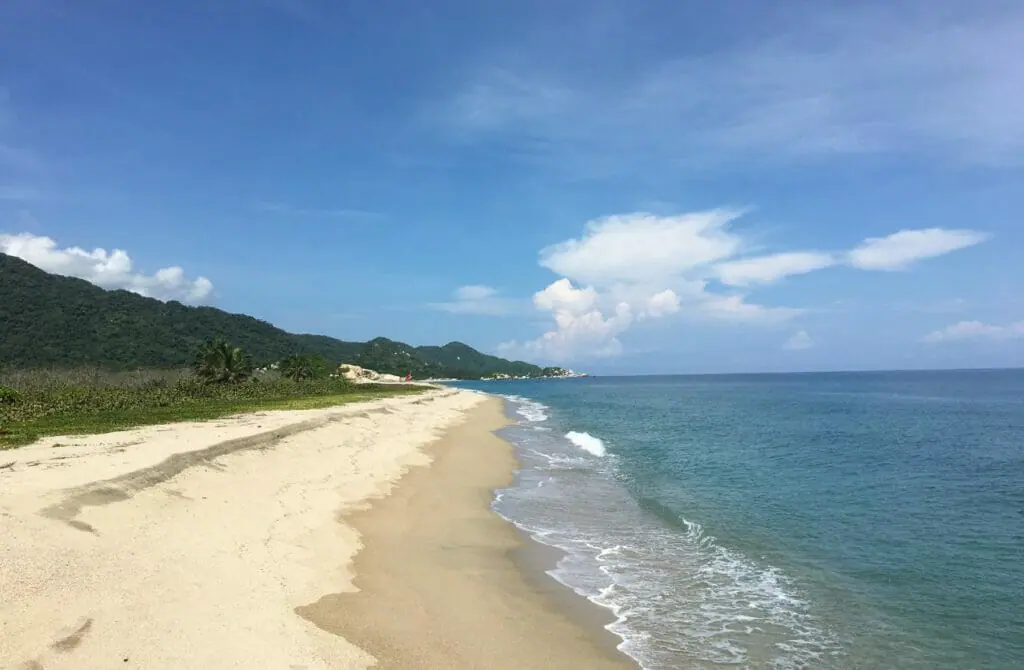 Attractions in Santa Marta, Colombia

Welcome to Gay Santa Marta, darling! While the city may not be the most welcoming to the queer community, fear not! There are still plenty of fabulous things for you to do while keeping things low-key. First and foremost, you simply must visit some of the city's most iconic landmarks and attractions, dahling!
Take in history and culture by visiting museums, art galleries, and historical monuments. And don't forget to marvel at the stunning architecture, explore parks and gardens, and indulge in the local cuisine. But that's not all, darling! Gay or straight, there's always something to do in Gay Santa Marta.
Immerse yourself in the local culture by attending cultural events like festivals, concerts, and shows. Trust us, there's always something fun and exciting happening in this fabulous city. Remember, discretion is key in a city that's not always welcoming to our fabulous community. So, keep it lowkey and enjoy all the wonderful things Gay Santa Marta has to offer!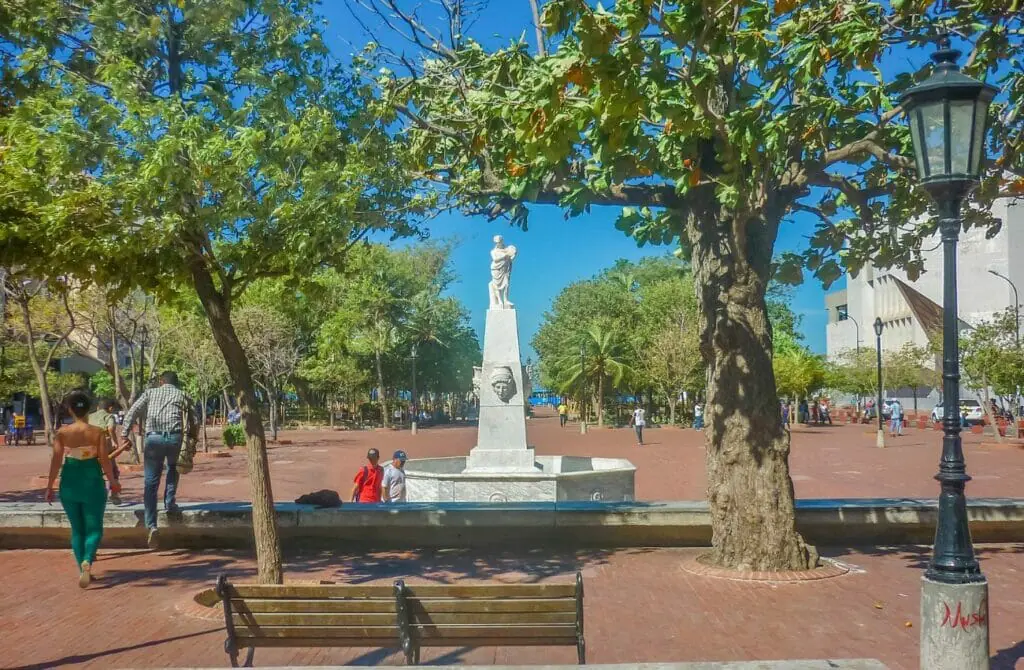 Several of the city's restaurants, bars, resorts, and hotels are situated in this modern and beachy district of Santa Marta. It is also where many visitors choose to stay during their visit. Excellent shopping, good nightlife, a broad range of seafood and souvenirs, and a good nightlife are all available.
Take a walk down the seashore, eat some excellent street food, and listen to the lively music that is performed nearby. The beach at Rodadero is big and easily accessible, but it may get crowded with people and merchants desperate to make a sale regardless of the reaction. It can still fulfill its tasks, and taking a water taxi to more isolated beaches in the vicinity is straightforward!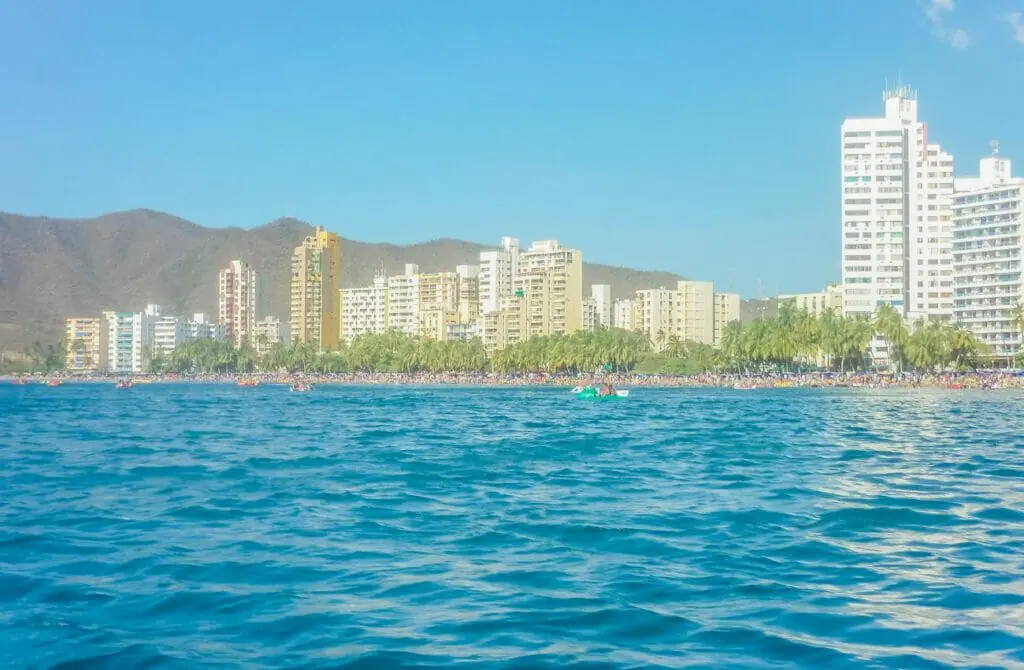 Parque De Los Novios
Although the park has shade trees, monuments, and park benches, the quantity of eateries adjacent to Parque de los Novios is the main lure for tourists. You may save money on lunch by heading to a local restaurant that provides either a conventional or more modern take on the menu del día.
On the other hand, this park comes alive at night, when many young people gather here before heading to local pubs and clubs. After watching the sunset at the harbor, you may come here to listen to the music playing in the nearby bars or to attend a live performance on the plaza. Stop for a drink before going out for the night and start up a chat with some of the locals.
Moreover, Santa Marta is the gateway to Tayrona National Park, generally recognized as one of Colombia's most beautiful natural locations. This park is well-known for its magnificent shoreline beauty, lush rainforest interior, and pre-Columbian archaeological sites.
There are several opportunities for swimming and walking on some of the world's most beautiful beaches, making this place excellent for individuals who like the outdoors and those seeking an exciting new experience.
The walk is not very challenging, but it is also not particularly easy. Yet, the end effect more than justifies the effort. If you fear that a journey like this would be too difficult for you, there is another option: you may ride a horse for the bulk of the treks in Tayrona National Park.
It will be quite hot during the day, so bring plenty of water and snacks. Prices within the park have risen due to the steady flood of tourists.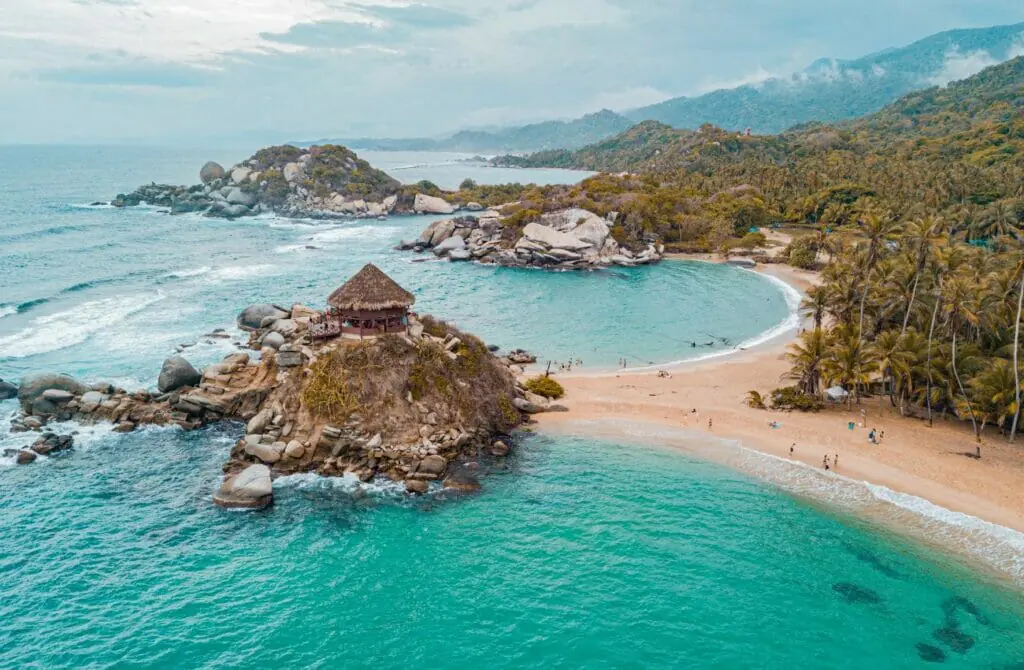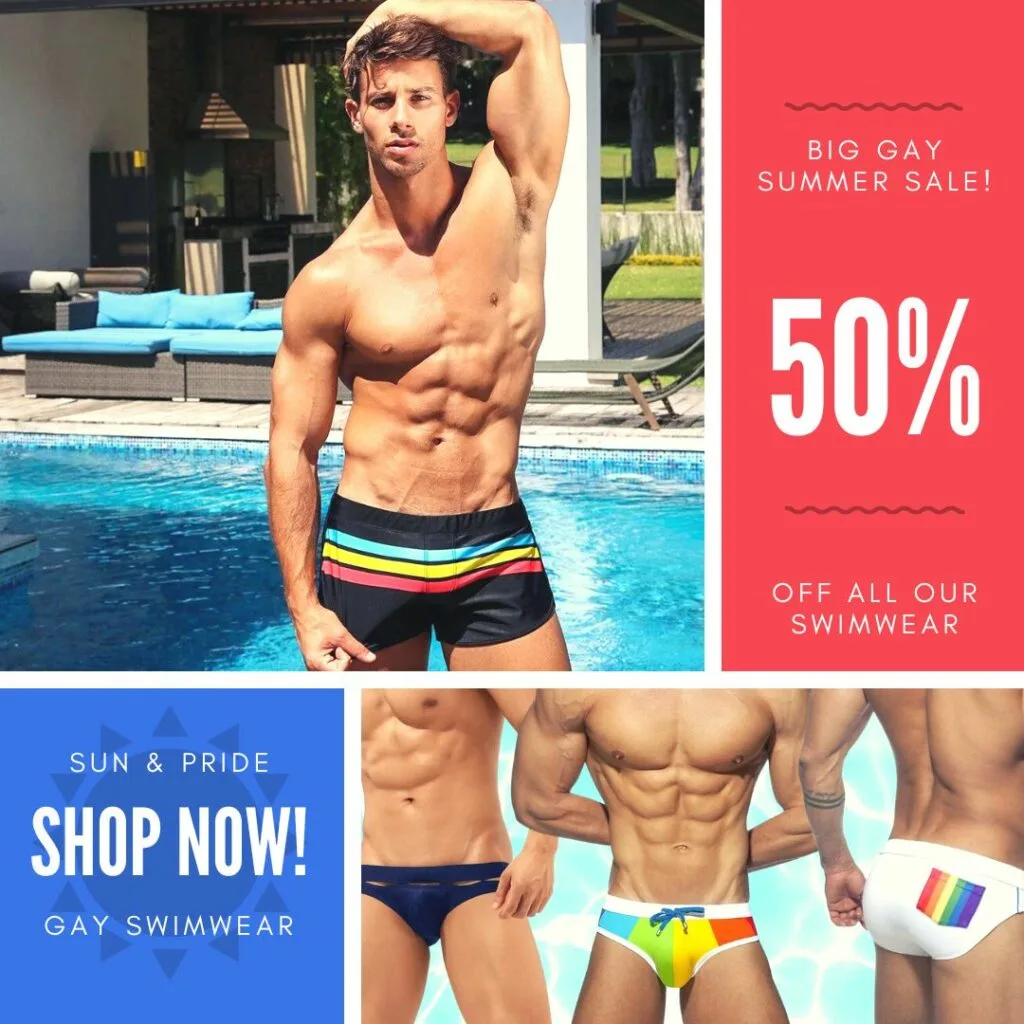 Playa Blanca is one of the most beautiful beaches accessible from Santa Marta. The water here is turquoise, and the beach is immaculate white (ish). Plenty of people with boats are waiting to take you there for a few dollars from Rodadero, and once there, you'll notice that the crowds aren't as fierce as they are in town.
You should go snorkeling here, but you should also take precautions to avoid sea urchins and take the time to go up to the viewpoint. There are also a few activities, such as zipline rides and banana boat rides, and many restaurants providing fried fish and pubs serving cold beer. A visit to this place may also be combined with a visit to the Rodadero Aquarium.
El Dorado Reserve, situated just outside of Minca, is generally recognized as one of Colombia's greatest spots for bird watching due to its abundance of rare, unusual, and endangered species. If you secure a stay at the nearby lodge, the staff will arrange for a private driver; alternatively, you may take a taxi from Santa Marta.
As you reach the cloud forest, you'll be welcomed by stunning views of the surrounding mountains, lush vegetation, and pristine natural surroundings. In terms of birding, you may expect to witness hundreds of hummingbirds and other species, including quetzals, trogons, and tanagers (among others).
Plan nocturnal hikes to view the local species, including frogs, lizards, possums, and monkeys. El Dorado Resort offers magnificent rooms that are environmentally friendly, as well as excellent food.
The Tayrona gold collection is a magnificent and free attraction at Santa Marta. Although it is significantly smaller than the gold museum in Bogotá, it nonetheless gives intriguing cultural information. The major focus of this article is on the ancient indigenous civilizations of the Sierra Nevada region, notably the Tayrona.
When you examine the gold and ceramic remnants obtained from earlier civilizations in Santa Marta, you will have a deeper grasp of the city's history. When you've done browsing the goods, you may unwind in the pleasant interior courtyard of the ancient property that houses the store.
Taganga
Taganga was originally a peaceful fishing village, but it has since been converted into a busy tourist center and a magnet for backpackers, partygoers, and divers. Although filthy and overdeveloped, the environment surrounding it, particularly Tayrona National Park, is breathtakingly beautiful.
If you're not in the mood for the location, you may want to restrict your time there to merely admiring the landscape from the vantage point or taking a boat out on the lake. This neighborhood has a few dive shops, great restaurants, hostels, and places to party late into the night.
This beach no longer has a decent bathing area; nonetheless, you may travel to Playa Grande or Bonito Gordo to locate prettier beaches; however, you should first ask the locals if it is safe to hike there, and you should not bring any valuables with you on the voyage.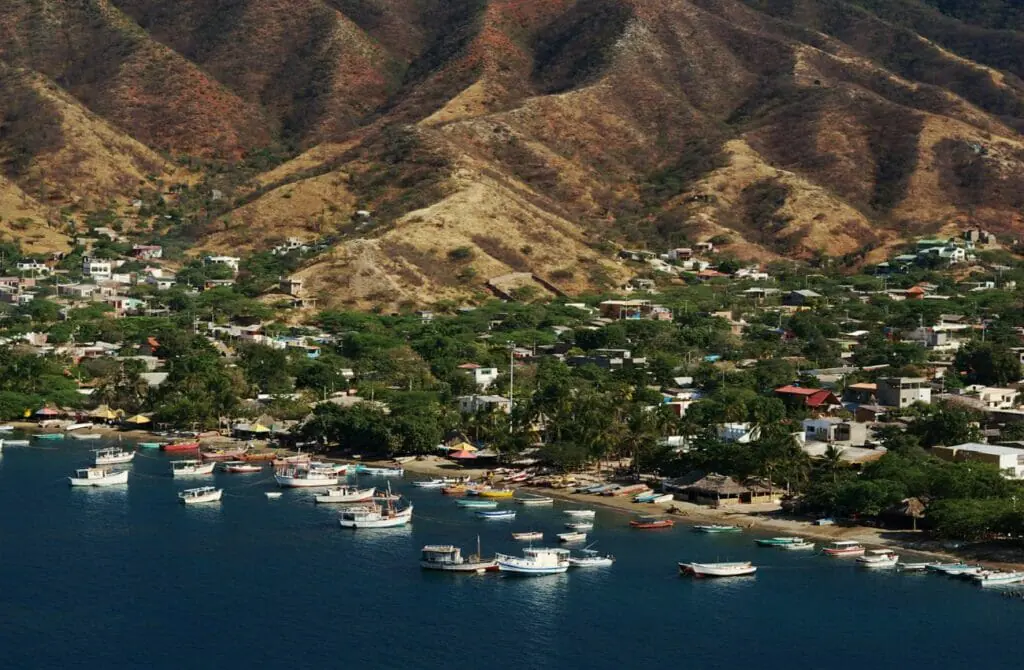 Paseo El Camellon
Santa Marta's waterfront promenade is lined with palm palms and spans from the old port to the new marina. It is worth your time to go for a stroll, especially around dusk, to grab something to eat or drink while admiring the panorama across the sea.
Guys selling ceviche, arepas, sweets, fresh coconuts, and exotic fruits can be found all along Avenida Las Bastidas. The larger-than-life indigenous people statues are a favorite picture opportunity for tourists, and you may even spot some locals swimming in this region.
La Quinta De San Pedro Alejandrino
A historic sugar cane refinery and hacienda dating back to the colonial period are located about five minutes outside Santa Marta. Exploring the property and learning about its history while hearing accounts of Simón Bolívar's last days is possible. The home is well-known for being where Simón Bolivar spent his dying days.
Exploring the botanical gardens and art galleries now located at the Quinta is a lot of fun since it blends history and nature nicely. You may also hire a tour guide, who are local high school students who donate their time. Because of the colonial architecture and furnishings, you'll feel transported back in time.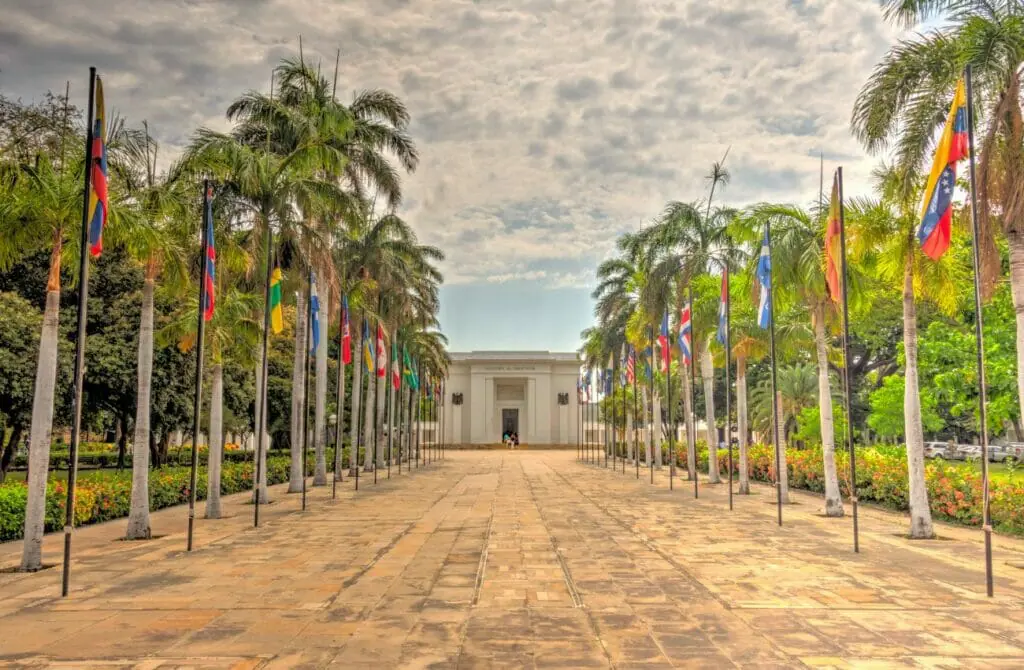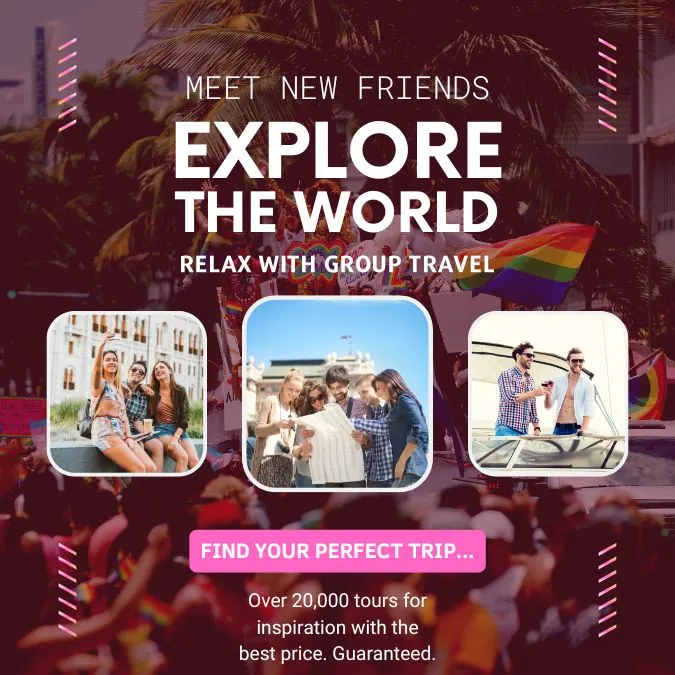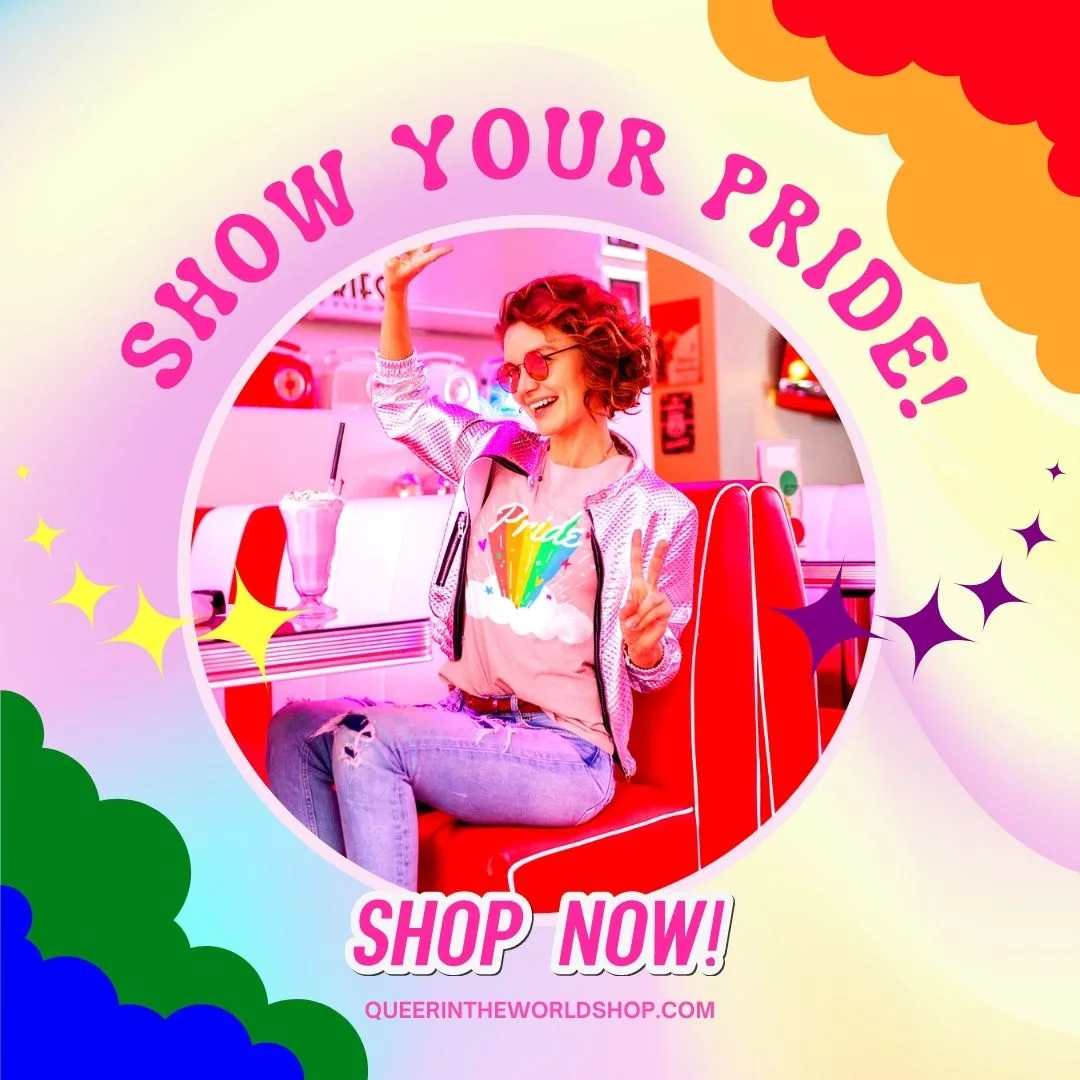 Gay-Friendly and Gay Hotels in Santa Marta, Colombia
Oh, honey, let me tell you about being fabulous and feeling welcome at these hotels in Santa Marta! Don't worry about other hotels that might not be as accepting, these gems are committed to being LGBTQ+ friendly and making sure that all guests feel like they belong.
Being gay-friendly isn't just about waving a rainbow flag or using the right pronouns, it's about creating a safe and inclusive space for all guests. From non-discrimination policies to providing resources for LGBTQ+ travelers, these hotels go above and beyond to make sure that you feel welcomed and supported. And honey, they don't stop there!
Some of these gay-friendly accommodations have extra amenities and literature about local LGBTQ+ events and resources. Plus, they might even be located in an area that's known for being LGBTQ+ friendly. Now, let me tell you about these fabulous hotels in Santa Marta. While there aren't any specifically gay hotels or resorts, these are the crème de la crème of gay-friendly accommodations.
And if these don't tickle your fancy, don't worry, there are hundreds of other options in Santa Marta to fit your budget and needs. So pack your bags, put on your most fabulous outfit, and get ready to feel welcome and accepted at these gay-friendly hotels in Santa Marta!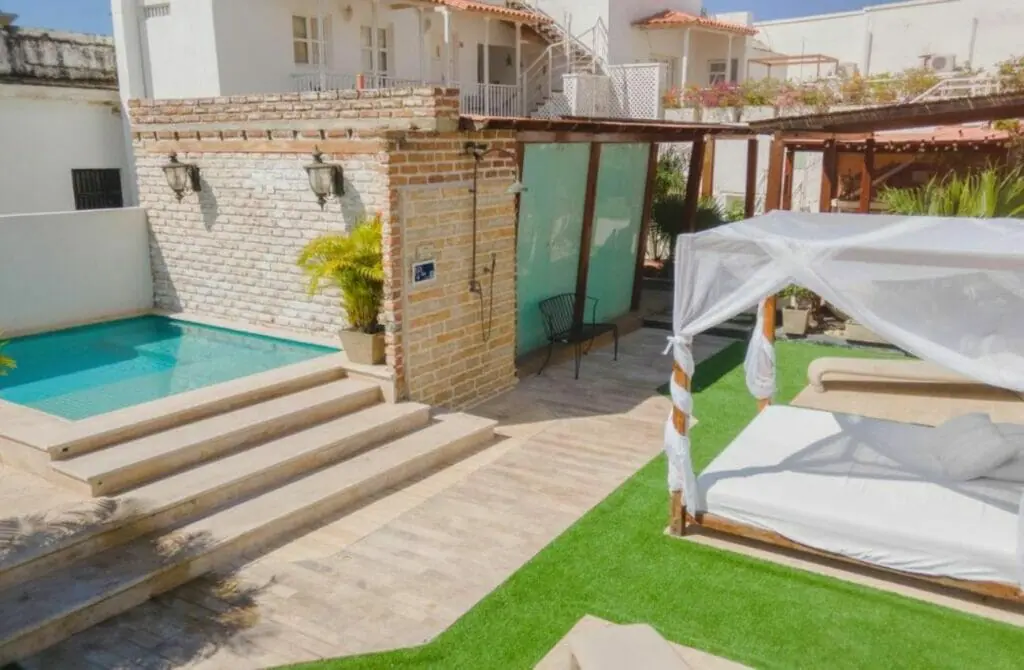 A gay visitor looking for a luxury location in Santa Marta can consider staying at the Hotel Boutique Don Pepe. The hotel offers holiday experiences that include leisure, learning about local history, and participation in local traditions.
The hotel's luxurious ambiance will surprise you the instant you enter through the doors. Don Pepe is, without a doubt, Santa Marta's most typical Luxury Hotel choice. It is located in one of the Caribbean's most beautiful bays, surrounded by the Sierra Nevada mountain range, which the indigenous people consider the center of the globe, and housed in a structure with a centuries-long history.
The hotel features 12 rooms that have been attentively constructed and arranged to provide maximum comfort. It includes private patios where people may walk out and enjoy the amazing views that surround them. If you wish to give your skin the attention it requires and deserves, you may book an appointment for a premium spa treatment at the hotel.
This hotel demands you to arrive prepared to delight your sense of taste since it delivers a range of extraordinarily high-quality cuisines. The Bacota restaurant serves food influenced by cuisines worldwide, and its staff is committed to delivering exceptional customer service. They are waiting to provide you with the service you deserve.
The restaurant may order gourmet food while changing art shows that can be seen in the gallery. A complimentary breakfast served a la carte, is also provided and may be personalized to your tastes each morning.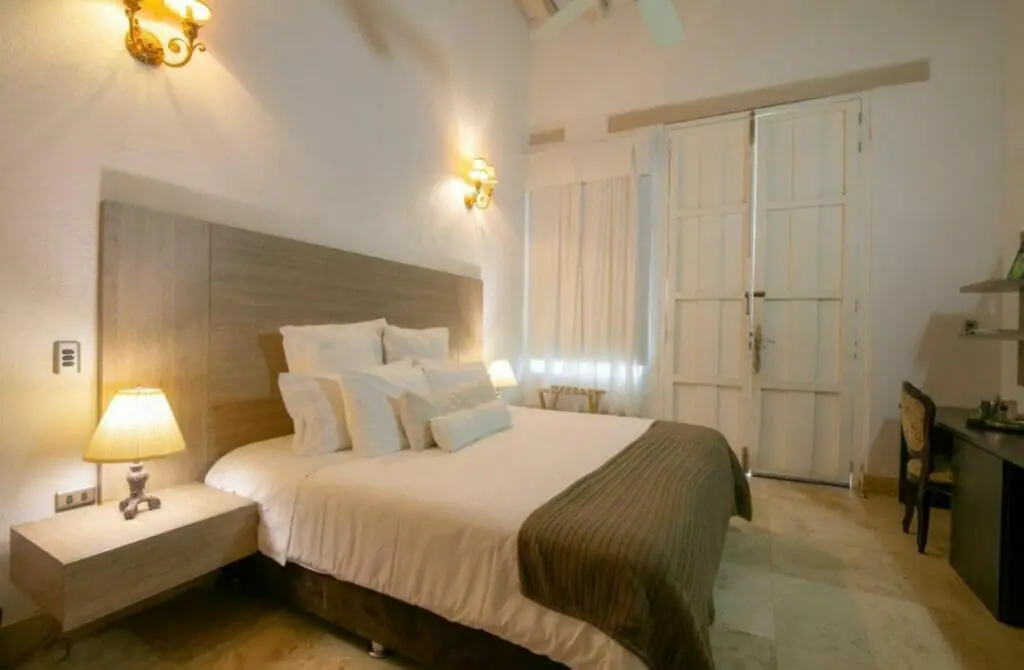 Santa Marta Marriott Resort Playa Dormida ☆☆☆☆☆
Your stay at the Santa Marta Marriott Resort Playa Dormida in Santa Marta will be one of the most pleasant and peaceful experiences conceivable due to the hotel's great selection of a range of key amenities accessible to you in the rooms.
The hotel offers complimentary private parking for visitors who arrive in their vehicles. This area protects your automobiles during your stay at the hotel. You may also stroll around the property to see the grounds and the natural environment surrounding the company.
You should not use your stay at this luxury hotel as an excuse to skip your gym program; thankfully, the hotel includes a well-equipped fitness facility where you can exercise and burn extra calories while you're there. The fitness center also has a high potential for new contacts and friendships. In addition to a community lounge, this resort provides guests with a bar and a balcony.
The hotel's rooms have been designed to give visitors essentials. Since the mattresses are so soft, you will feel driven to spend the whole day lying in bed doing nothing. If you need to take in the views of the hotel's surroundings, you may request a room with a balcony.
Breakfast is served daily, including à la carte, continental, and American options. The Santa Marta Marriott Resort Playa Dormida has a restaurant that provides local and international cuisine. You have the choice of ordering vegetarian, dairy-free, or gluten-free meals.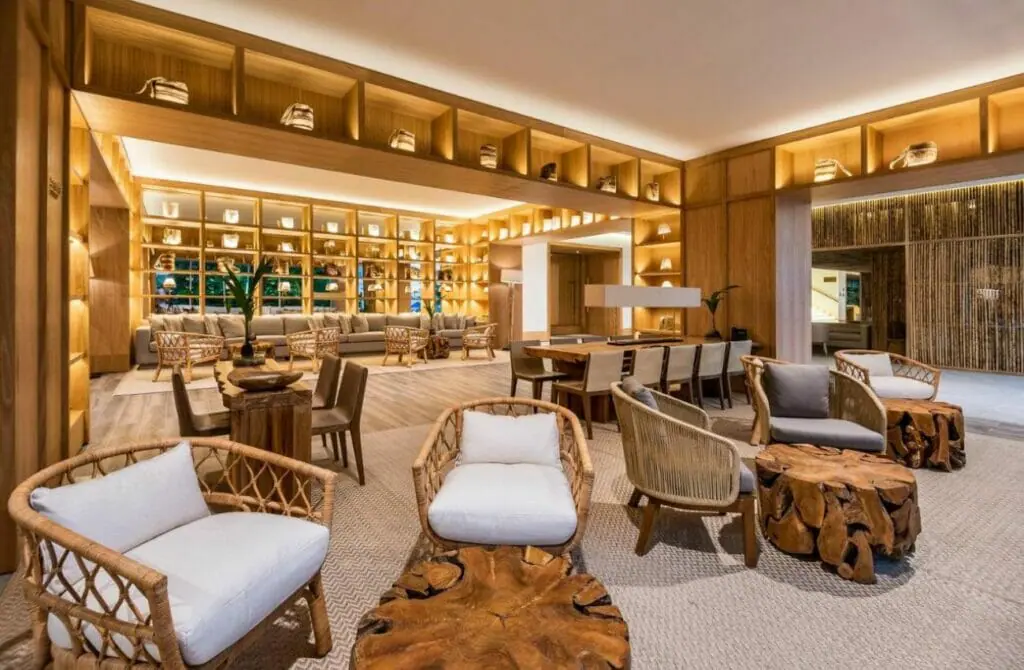 Mr. Baboon Hostel is generally recognized as one of the area's most respected and pleasant hostels. You can walk directly into the city's vibrant nightlife or relax at the rooftop bar, which overlooks the in-house pool and is surrounded by a spectacular view of the colonial neighborhood.
The youth hostel is well-known for having some of the area's biggest and most comfy bunk beds. Each bed is outfitted with a double mattress, a blackout curtain, a light, and power outlets.
The hostel is located in the city's Historical Quarter, near the Cathedral Basilica of Santa Marta. Consequently, it is flanked by some of the city's most upmarket taverns and restaurants. The Mr. Baboon Hostel gives visitors convenient access to the city center's historic, twisting alleyways.
These streets are teeming with young people's eateries and bars. This hostel offers a range of high-quality facilities in an accessible location, including a rooftop bar with the best ambiance, an unobstructed view, and beer served with music.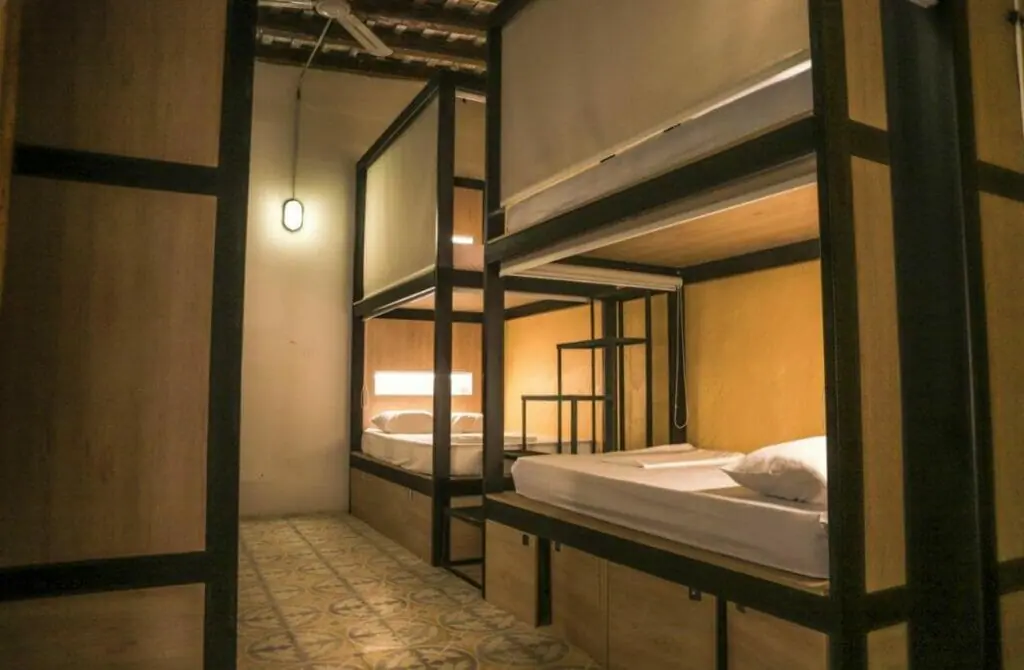 Gay Nightlife in Santa Marta, Colombia
Santa Marta, Colombia's nightlife, offers much to those searching for an entertaining experience. There are several lively pubs, music venues, and discotheques. This metropolitan setting has enough to offer every tourist.
After a long day of viewing Santa Marta's most well-known sites, you only want to locate a pleasant spot to dance. And before you hit the dancing, you may want to start the night with a beer, a cocktail, or perhaps a shot at one of the city's many beautiful pubs. There are clubs and bars to suit everyone's tastes and preferences.
Darling, let's talk about exploring the queer nightlife in Gay Santa Marta, shall we? It's true, this city might not be the most welcoming to our fabulous community, but fear not! Being gay is perfectly legal here, just remember to err on the side of caution when outside of queer-friendly spaces.
But let's focus on the fun, shall we? Exploring gay nightlife can be one of the most thrilling and enriching experiences while on the go. From dancing up a storm at a gay club to sipping cocktails and rubbing elbows with the locals at a gay-friendly bar, you'll have a chance to immerse yourself in the local culture and make memories that will last a lifetime.
And darling, we've got you covered with the best gay and gay-friendly spots in town. So don't be shy, step out of your comfort zone and explore the queer nightlife in Gay Santa Marta. Trust us, it'll be worth it!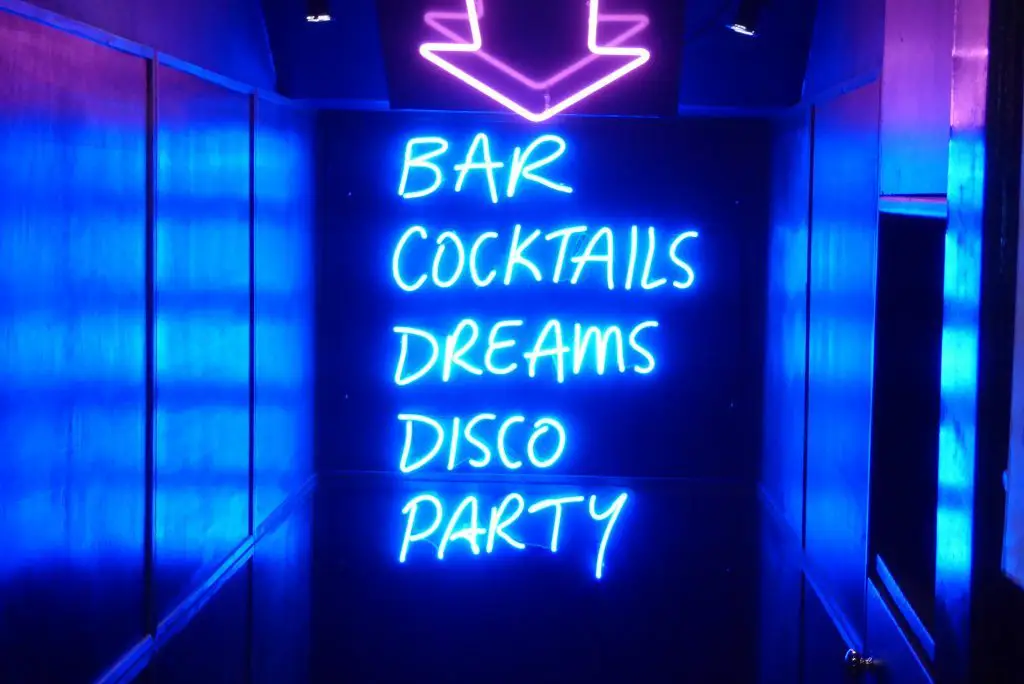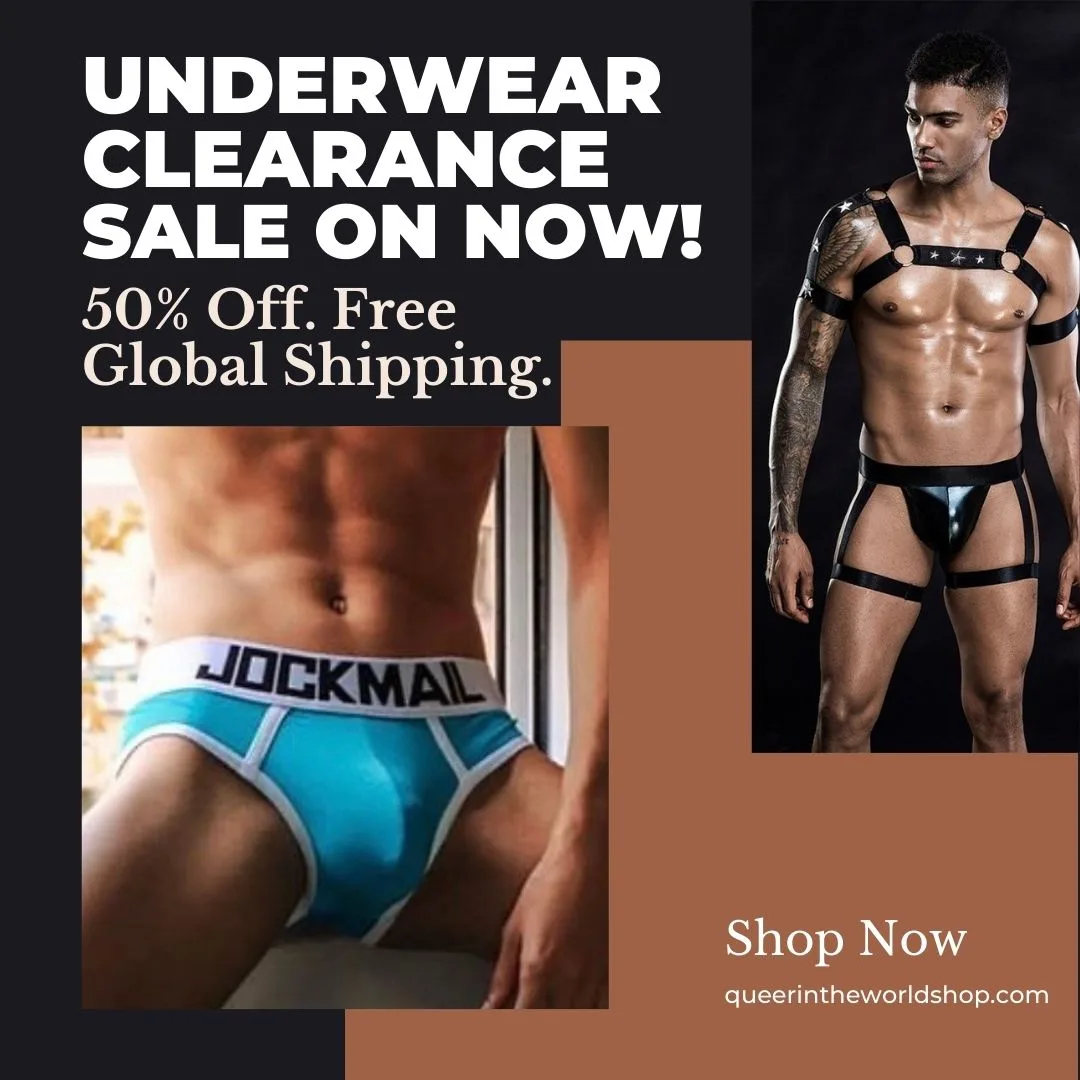 Gay Bars and Clubs in Santa Marta
The Voltaje Club, located in the city center, is, without a doubt, Santa Marta's most gay-friendly establishment. This is one of the city's oldest establishments, and on weekends, they host parties featuring go-go dancers and drag queens. The celebrations here go on until six o'clock in the morning.
Flamingos
(Temporarily or permanently closed. If you know something, please suggest an edit.)
Flamingos Purpura has just recently begun taking clients. This is another gay-friendly location with a vibrant nightlife scene that should not be neglected. There are also drag queen shows and themed parties to attend. Following a long and exhausting day of sightseeing in the city, you and your partner can relax and unwind in this location.
Gay-Friendly Bars and Clubs in Santa Marta, Colombia
Yet, despite being one of Santa Marta's newest venues, it has already proved to be rather popular. Although it is a relatively inconspicuous site, it is home to one of the most thrilling parties.
Servers and bartenders wear colorful flower shirts and will serve you all the drinks you desire while you dance to the rhythm of the finest Caribbean music so that you may enjoy yourself and party to the beat of the music.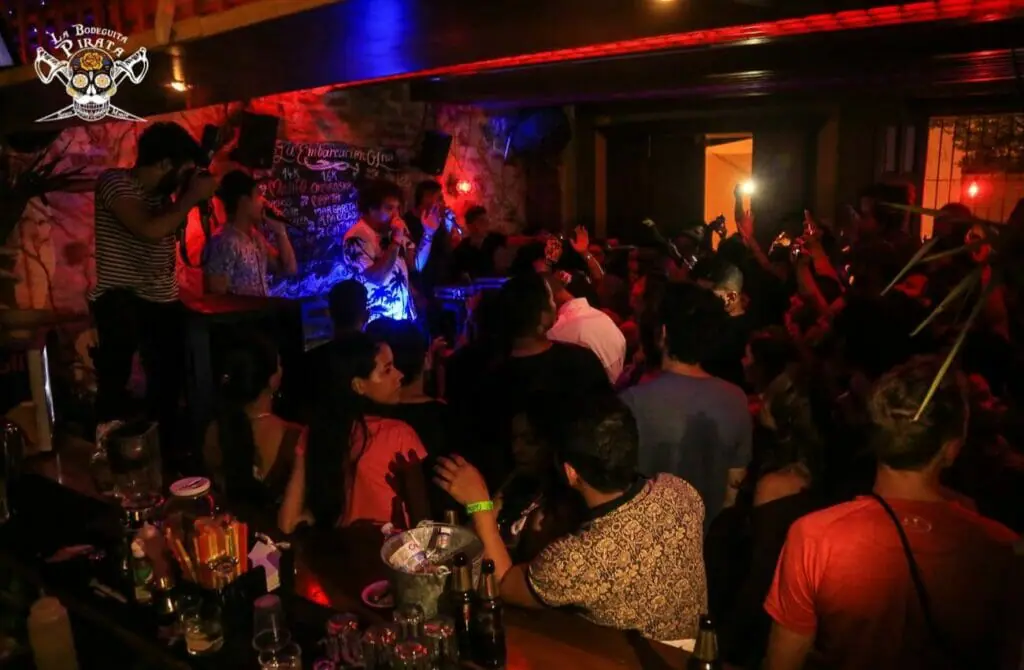 It is not only one of the most popular places to dance in Santa Marta, but it is also one of the most historic. Although it has been in the city for many years, the number of clients who visit it has not diminished; on the contrary, it has increased.
This is a popular site for locals and tourists from other nations, and the parties here can become wild, especially during the busy season. It is the finest example of an antique mansion that has been turned into a nightclub; it retains all of the original rooms, except that they are now used to enjoy oneself and move one's body to the pulse of the best Caribbean music.
You may relax at one of the patio tables and speak with your buddies while sipping a delicious mojito of the best quality. Even with no air conditioning, you may still have a great time at one of Santa Marta's most famous nightclubs.
Apart from that, the decoration is extremely magnificent; it is filled with images that feature sarcastic remarks and provocateurs that urge you not to take life too seriously and to have fun as if you only had a few days to live.
Crab's drinking places don't get much better than this one in Santa Marta. Its trademark hue of red offers the perfect environment for enjoying great rock 'n' roll, meeting fascinating new people, or deepening old friendships.
It has a billiard table, a variety of other table games, and a lot of cuisines if you want to take some shots that are a bit different from the standard. You'll be surprised by several things, including the mountain of records, paintings, and instruments exhibited around the museum and signed by rock stars.
Order a liter of beer, drink for life, and enjoy excellent music in the city's most stylish pub; it doesn't matter if you're not a lover of rock 'n' roll; it's a must-see bar in the city. Oh, and if you're sick of sitting on the same old chairs, take a seat in the bathroom sink.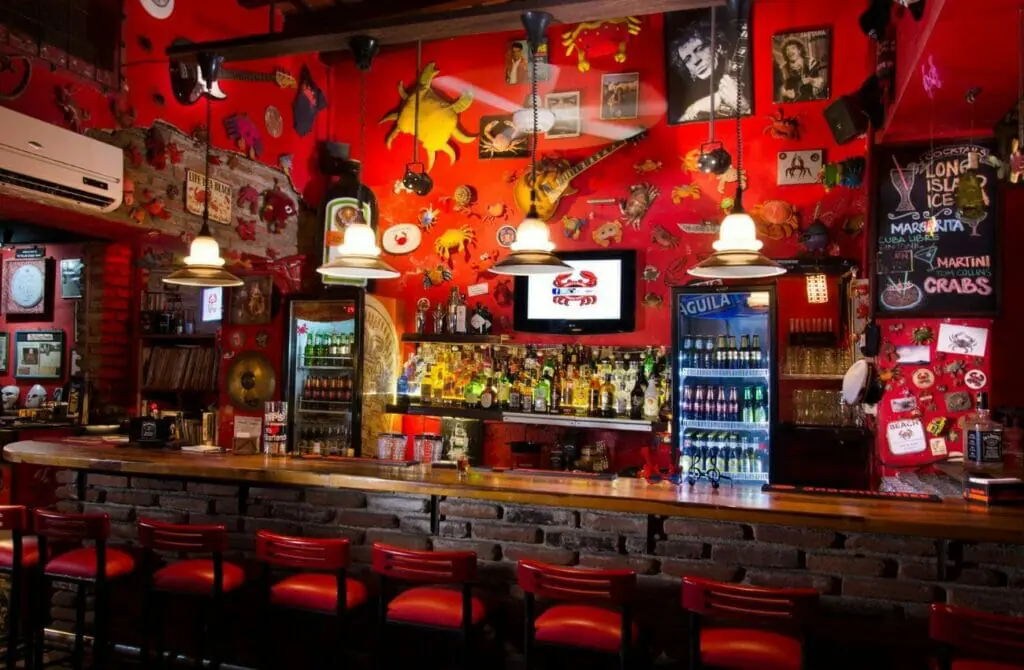 Another of Santa Marta's bars that makes drinking an experience due to its distinct offering, this is one of the greatest locations to visit. The place may not stand out, but the city is known for its breweries. Your Michelada is your specialty, and you provide a broad range of varieties, including those prepared with fruits, spicy spices, tequila, or the typical lemon and salt.
Music that is genuinely Caribbean contributes to an environment that encourages you to enjoy every minute of your life, to laugh until you can't longer, and to set aside your cares so that you may share the pleasure and spirit of Santa Marta with your friends.
Nothing is off limits in this modest pub where the proprietors also work; you may try pole dancing or spinning the wheel without hesitation and get the night started right.
Shots are available in a broad range of flavors, colors, and intensities, from mild to powerful, as well as flamed, sweet, jelly, or lie variants. But, you should proceed with care and caution since the titles of the different combinations of shots will entice you to attempt every one of them.
Another establishment with a welcoming atmosphere to catch up with old friends and meet new ones. The music is more commercial, and the tables have been relocated outside the bar and into the center of the pedestrian street. They provide a large selection of beers and beverages.
When the night progresses and the drinks run out, dare to take the challenge, gamble with you to win at gigantic Jenga, and let the pleasure and exhilaration consume you.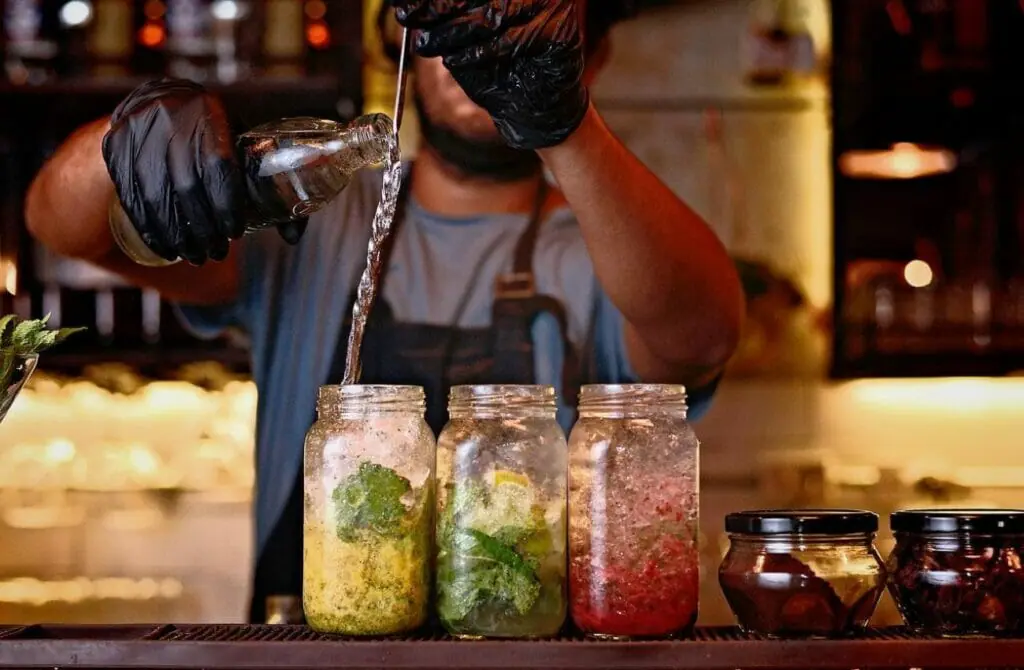 Gay-friendly Rooftop Bars and Clubs in Santa Marta
When the weather scorches along Colombia's Caribbean coast, nothing is better than resting on a rooftop with a nice breeze and fresh air. This business, situated on a rooftop in the heart of Santa Marta, has amazing drink mixes and a tremendous variety of music ranging from house to rock to hip-hop to salsa. It's like a finer version of Brisa Loca, a terrace with various styles.
Parties may quickly get out of hand, and it is usually busy, so after a certain hour in the evening, they do not allow anybody more to enter to keep it from being overcrowded. The music is more of a blend, with Colombian rhythms dominating, and the crowd primarily comprises locals. Undoubtedly, this is one of the most exciting places to dance in Santa Marta.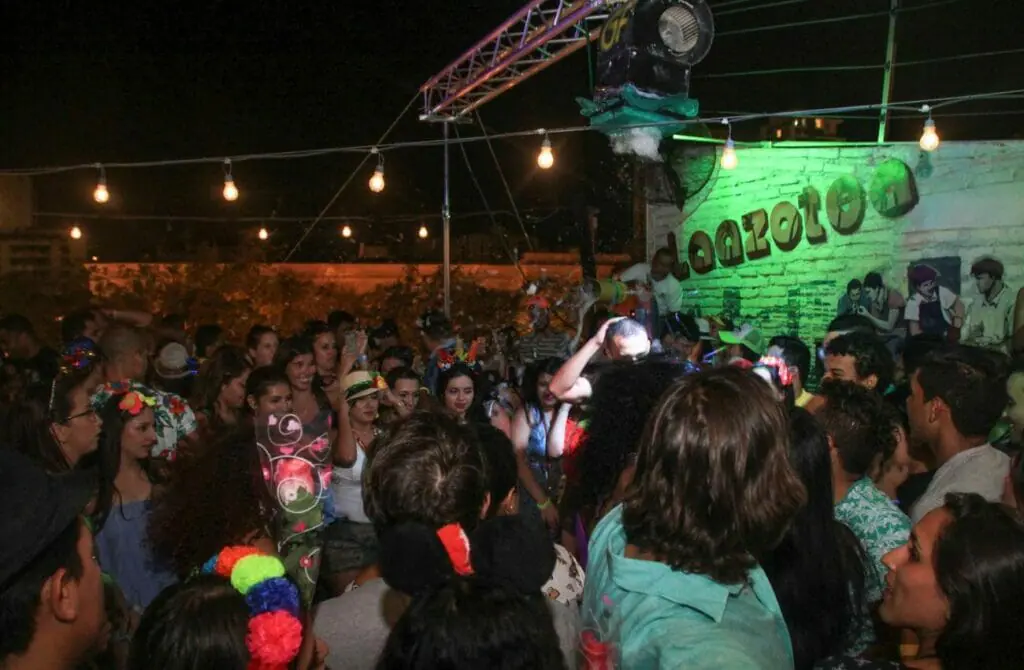 La Bodeguita Pirata is another of Santa Marta's top-rated alcoholic beverage establishments. It is a small establishment with a vast vibe, similar to the nearby Bodeguita del Medio in Havana.
It is generally known as one of the best places to party in Santa Marta and is well known for the quality of its music and its drinks. Yet, if you want to dodge the crowd and acquire a good spot, you should arrive early, dress to impress and dance like no one is watching.
This is a very elite club. It includes brick walls painted with lighted murals of renowned bearded individuals such as Abraham Lincoln, Ernest Hemingway, Rasputin, and many more who are witnesses to the legendary parties at this spot. The outside provides the idea that everything is normal, but the inside is nothing like what it looks from the outside.
A century-old tree in the garden derives its name from its branches resembling beards, as the name implies.
Gentle music is played at the night's start so guests can relax, drink a beverage, and talk to one another. Later in the evening, the fiesta begins and becomes crowded; moreover, you may go up to the terrace and have a great time. A dress code is in place, but you are not required to grow a beard to attend. One of the most interesting places to dance in Santa Marta is open to anybody with a cheerful attitude and a passion for crossover music.
Brisa Loca is a nice hostel where visitors may spend some relaxing hours. Nonetheless, if you're searching for a terrific place to dance in Santa Marta, this is the place to go.
The big rooftop club is outfitted with luxurious chairs, beds, and a wide dancefloor, and it will be packed just after eleven o'clock at night. This club shows visitors, Colombians on holiday, and locals how celebrations are conducted in Santa Marta.
Reggaeton, salsa, champeta, tropical music, and merengue are just a few of the Caribbean music genres performed on this patio, which also has the most relaxed and informal vibe. This place is wonderful not just because of its architecture but because it is where most visitors from various nations dance in Santa Marta.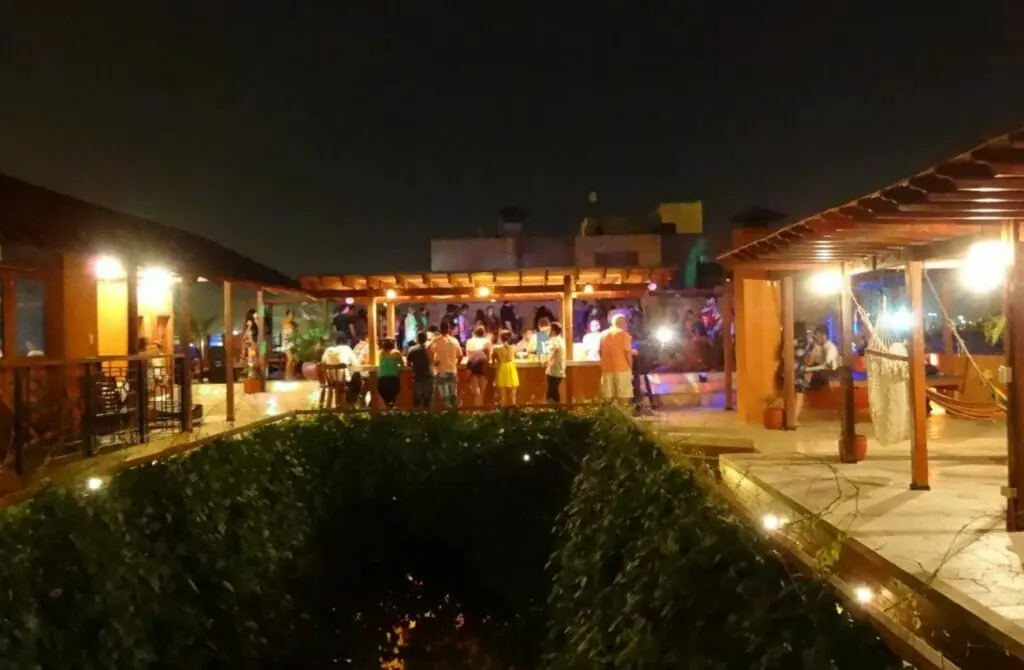 Cruising & Gay Saunas in Santa Marta, Colombia
When it comes to exploring Gay Santa Marta, there's more to life than just cocktails and beers. One aspect of the gay scene that many of us queens love are checking out the local gay saunas and cruising clubs.
Granted, Santa Marta isn't quite as wild as Amsterdam, Barcelona, or Berlin, but these steamy venues still offer the perfect opportunity to meet new people, socialize, and engage in some hot and heavy action without swiping left or right. However, remember that these venues can differ in terms of vibe, patrons, and rules, so it's a good idea to be informed before you dive in.
Gay saunas, sex clubs, and cruising have long been popular ways for queer men to meet and engage in sexual activity, particularly in countries where same-sex activity is not widely accepted or where it may even be illegal. In these places, gay saunas and cruising clubs provide a safe and discreet environment for queer men to explore their sexuality and connect with like-minded individuals.
Despite the rise of gay dating apps, many queer men still prefer the anonymity and physical connection that can be found in these spaces – so somewhat counter-intuitively you might have a hotter experience here than you would at home.
We recommend checking out our guide to cruising for first-timers before you get started, which should give you the lowdown, and always practice safe sex.
Keep in mind that local laws and customs regarding gay venues and sexual activity should be respected at all times. With a bit of forethought and an open mind, visiting gay saunas and cruising clubs can be a thrilling and steamy part of your gay Santa Marta adventure.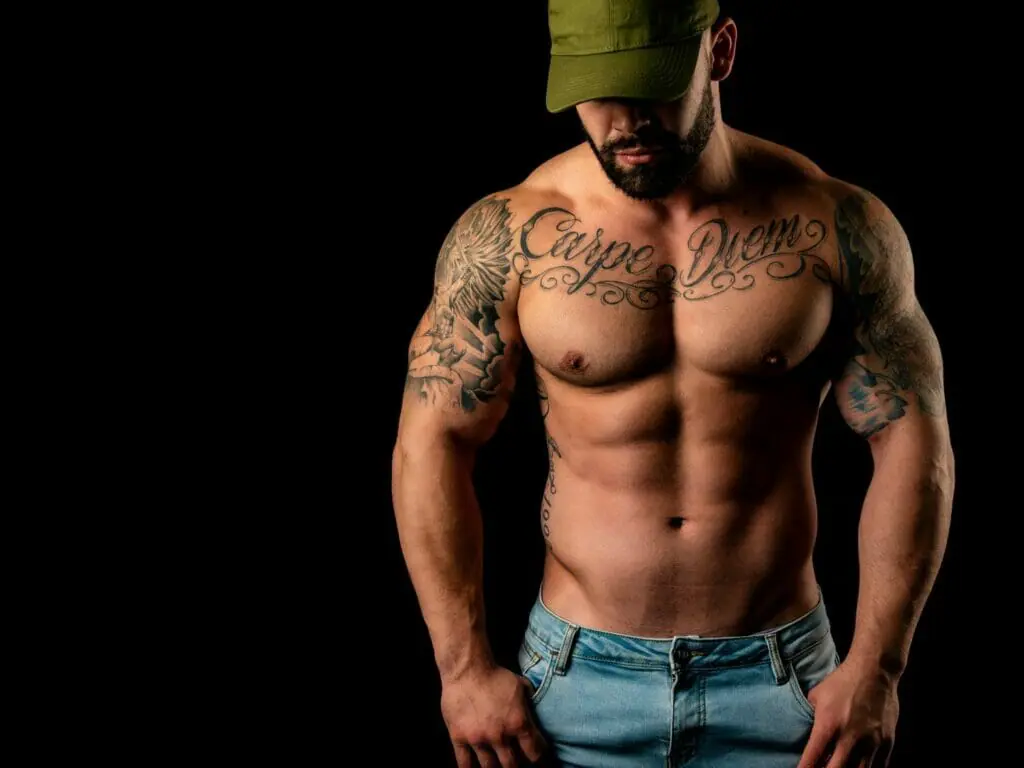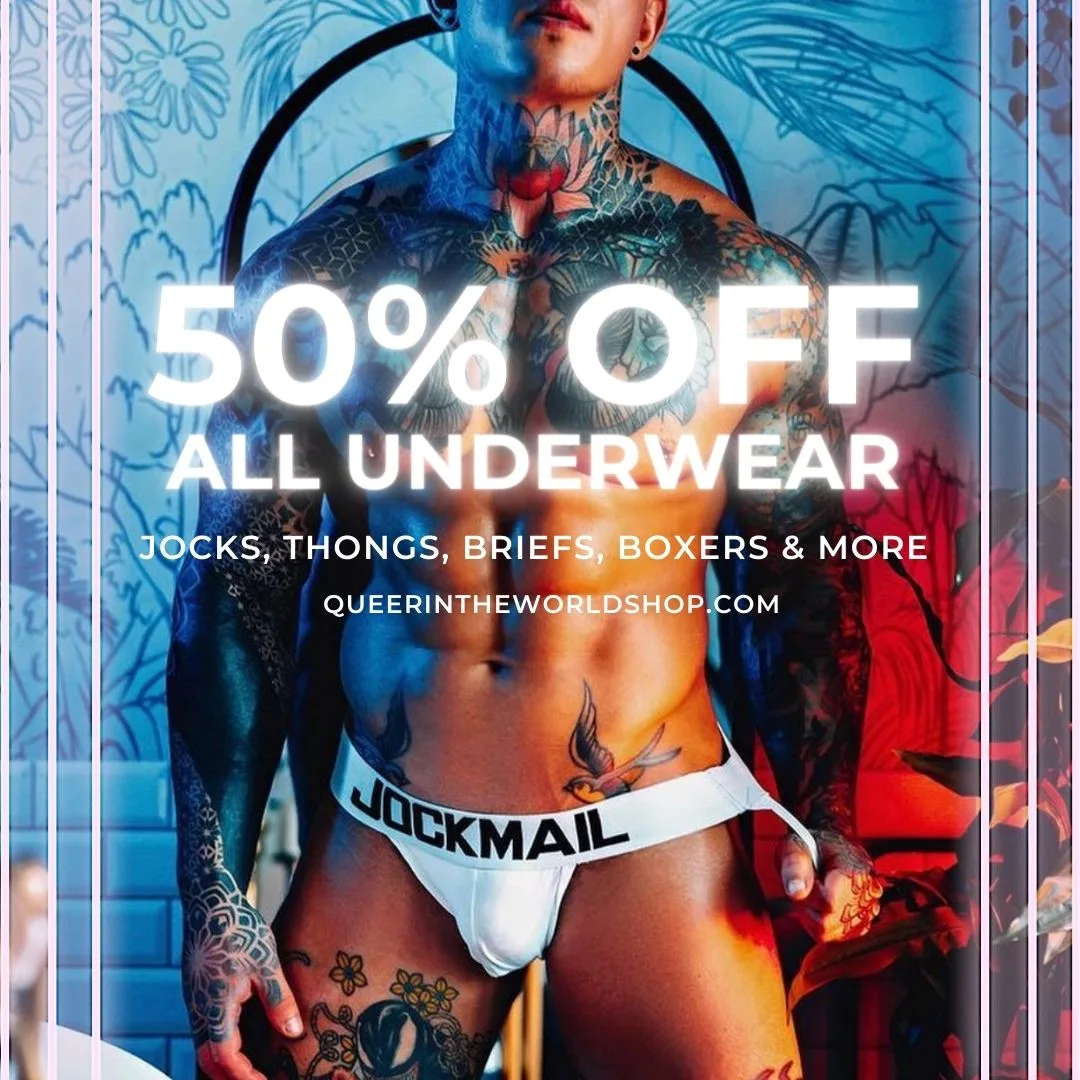 Flamingos Purpura
(Temporarily or permanently closed. If you know something, please suggest an edit.)
The gay sauna at Flamingos Purpura in Santa Marta is a must-visit. If you want to offer your body the gift of relaxation and pampering, you may visit Flamingos Purpura anytime between ten a.m. and seven p.m. The spa, jacuzzi, sauna, and Turkish treatments available at this venue are open to the whole LGBT population in Santa Marta, including gay tourists.
Gay Map Of Santa Marta
Finding it hard to envisage where everything is in Santa Marta? Hopefully, this queer-centric map helps where we have marked all the bars, clubs, parties, hotels, saunas, massages and more will help you stay in the spot best suited to you!