One of the oldest cities in South America, Salvador da Bahia is the place where travelers can get a glimpse into the Afro-Brazilian heritage of Brazil.
Salvador is a vibrant city in Brazil's northeastern state of Bahia. The city rests on a peninsula between the Bay of All Saints and the Atlantic Ocean. This location was a strategic point for Portuguese settlers, who declared Salvador their first colonial capital in 1549. From there, Salvador became a trading center for enslaved Africans.
Their culture, legacy, and descendants give the city its rich tradition of music, food, and art. While cities like Rio de Janeiro and São Paulo get most of the tourist attention, Salvador offers visitors a glimpse into the history and soul of Brazil.
Acceptance of the queer community has improved in the city, state, and country over the years. However, LGBT+ visitors must be mindful of safety in Salvador and the state of Bahia. A 2021 report noted that the state is one of the most dangerous for Brazilian LGBT+ people.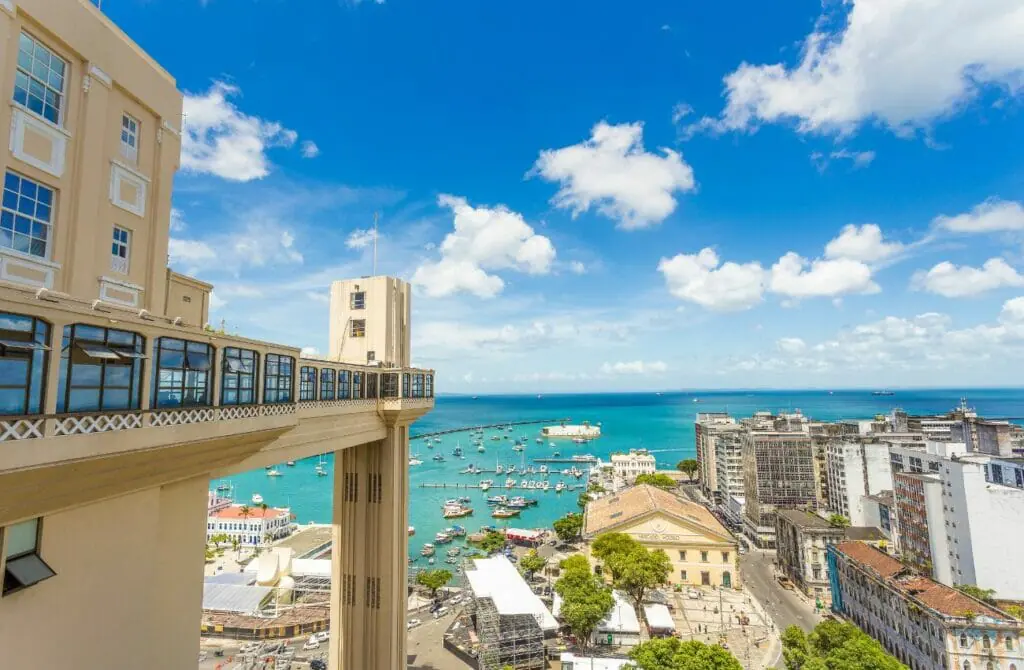 Despite marriage equality becoming legal at the federal level in 2013, anti-LGBT+ rhetoric and violence remain prevalent. In Brazil and particularly in Bahia, it's important to be mindful of one's surroundings and safety. Displays of queer identity are discouraged.
Nevertheless, there is a handful of hole-in-the-wall LGBT+ bars that offer a variety of experiences and spaces for the queer community and travelers in Salvador. The city's geographic placement means that travelers will have no shortage of beaches with beautiful views.
As the center of the country's Afro-Brazilian culture, visitors to Salvador will find a diversity of options to learn history, explore culture, and eat great food. Read on to check out our recommendations for top attractions, accommodations, and the gay nightlife in one of Brazil's oldest and largest cities.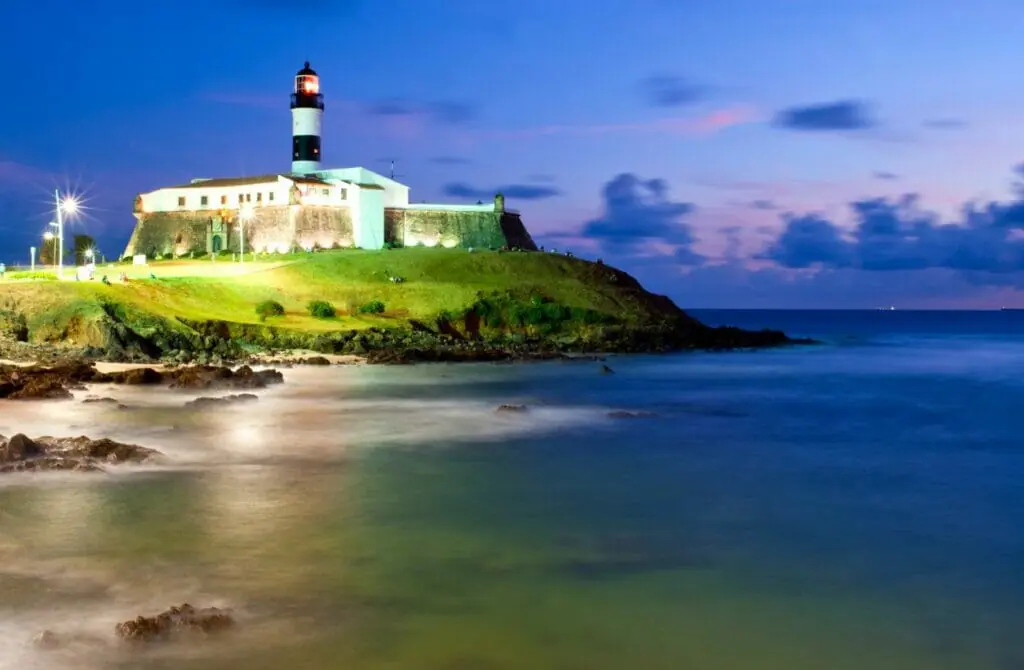 Attractions in Gay Salvador, Brazil
Welcome to Gay Salvador, darling! While the city may not be the most welcoming to the queer community, fear not! There are still plenty of fabulous things for you to do while keeping things low-key. First and foremost, you simply must visit some of the city's most iconic landmarks and attractions, dahling!
Take in history and culture by visiting museums, art galleries, and historical monuments. And don't forget to marvel at the stunning architecture, explore parks and gardens, and indulge in the local cuisine. But that's not all, darling! Gay or straight, there's always something to do in Gay Salvador.
Immerse yourself in the local culture by attending cultural events like festivals, concerts, and shows. Trust us, there's always something fun and exciting happening in this fabulous city. Remember, discretion is key in a city that's not always welcoming to our fabulous community. So, keep it lowkey and enjoy all the wonderful things Gay Salvador has to offer!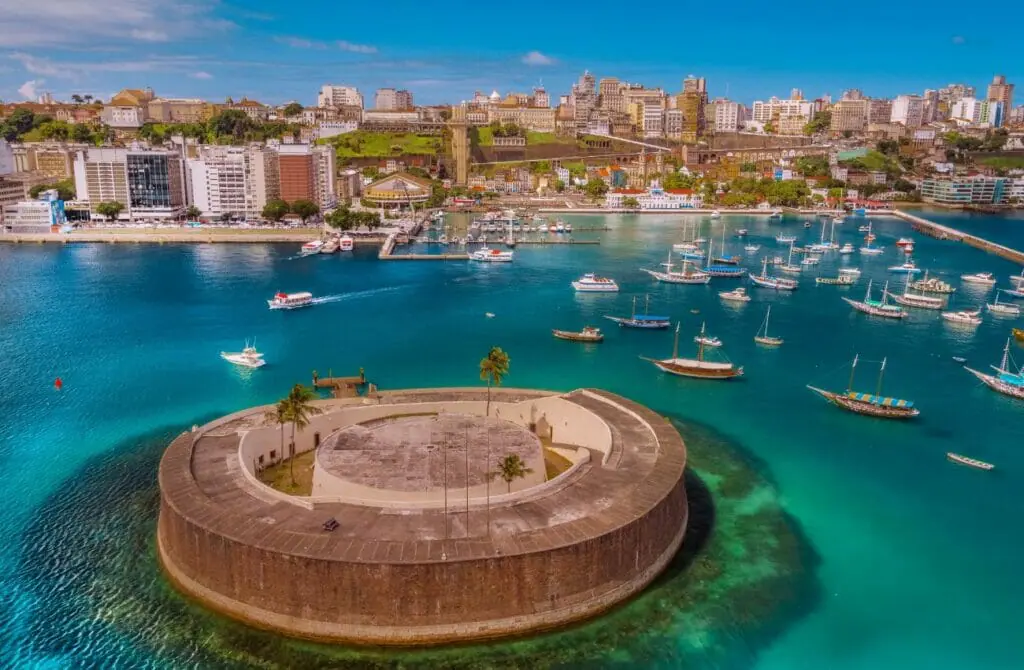 Salvador Carnival
Each major city in Brazil has its own take on Carnival, the famed celebration leading up to the Lenten season. In Salvador, expect a marathon of a street party with live music on major streets and in many neighborhoods. The city gave birth to the trio elétrico, which is essentially a moving freight line truck with a complete sound system and stage on top.
Local and international singers will bring up the energy and get you dancing. Revelers should purchase tickets in advance to have prime seating on balcony bars or to party alongside the cordoned-off trios elétricos. Going without a ticket can also be fun, but requires more vigilance for safety.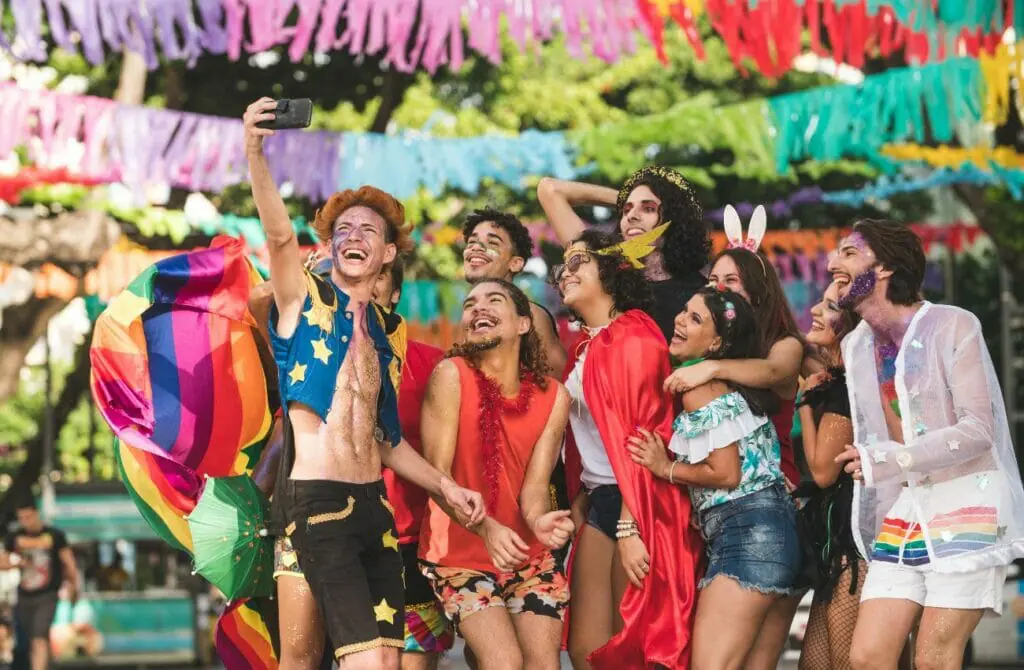 São Joaquim Market
Farmers' market lovers rejoice! If you're feeling adventurous and want to find anything from crafts to spices, check out this open-air market. While a bit hectic and somewhat disorganized, you can expect to see a wide variety of types of vendors.
Take advantage of the abundance of tropical fruit in Brazil by buying some passion fruit (maracujá) or cashew fruit (cajá). If the market whets your appetite, there are plenty of street food vendors around that sell local snacks.
The pastel-colored buildings and cobblestone streets of this historic district evoke Salvador's early history as the first colonial capital of Brazil. Nowadays, you'll find this district home to a variety of tourist shops, the beautifully ornate São Francisco Church, and bands of all genres.
On Tuesday nights, the Pelourinho bursts with even more music as different bands perform in public squares. Follow the rhythm and you'll find your way. Viator offers private tours of the Pelourinho so that you can start to understand the history of this vibrant city.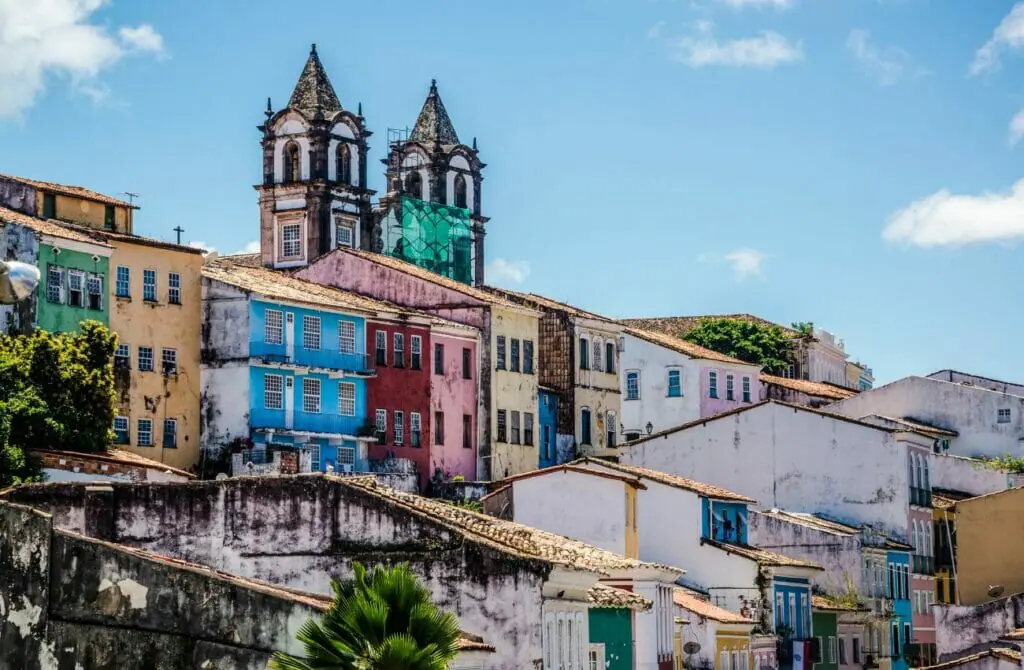 With a large Afro-Brazilian presence, a key to discovering Salvador is learning the legacy of slavery in both the state of Bahia and Brazil. Descendants of enslaved peoples have upheld many of the cultural, culinary, and religious traditions of their ancestors.
This heritage is what makes Salvador unique in its blend of indigenous, African, and European cultures. A group tour can offer you a more intimate understanding of this culture through stops at the Afro-Brazilian Museum and the Society for Black Protection.
Praia Porto da Barra
Known as the unofficial LGBT+ beach of Salvador, Praia Porto da Barra sits on the western side of the city on the Bay of All Saints. On this smaller beach situated in a cove, you'll find sunbathers and hawkers offering beer and snacks for you to enjoy right on the beach. If you're feeling thirsty, there are bars nearby and vendors who will cut open a fresh green coconut for you to drink.
Praia do Flamengo
On the other side of the city is Praia do Flamengo. While a trek, this top-rated sandy beach has food vendors and space to spread out and enjoy the view of waves washing in and out. You might also find more space here to play beach volleyball or soccer. Because it sits on the eastern side of the city's peninsula, you can catch the sunrise off of the Atlantic Ocean if you get there early enough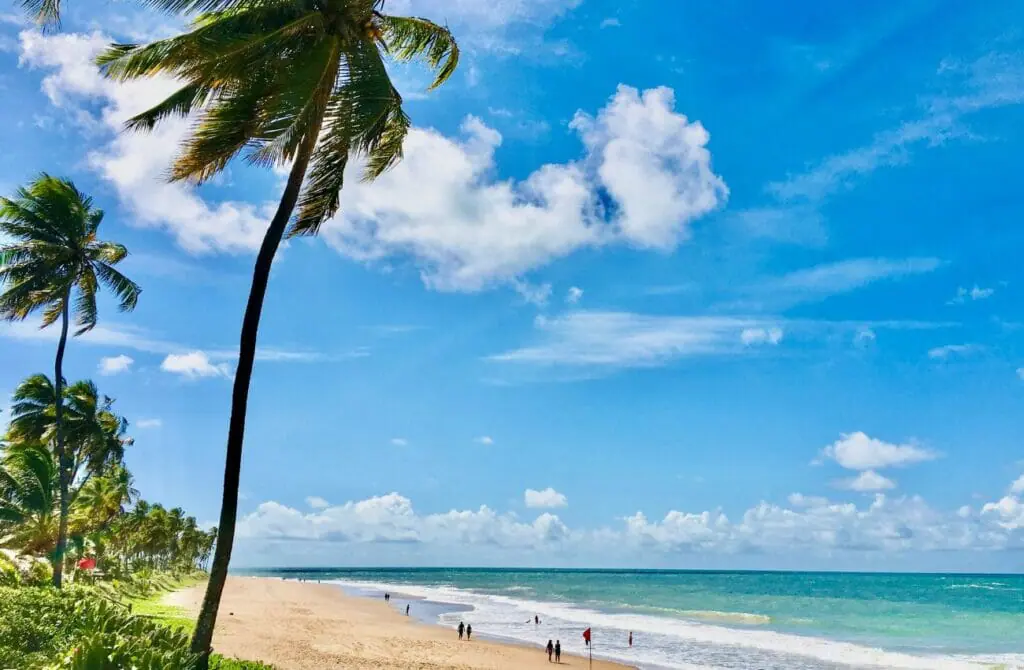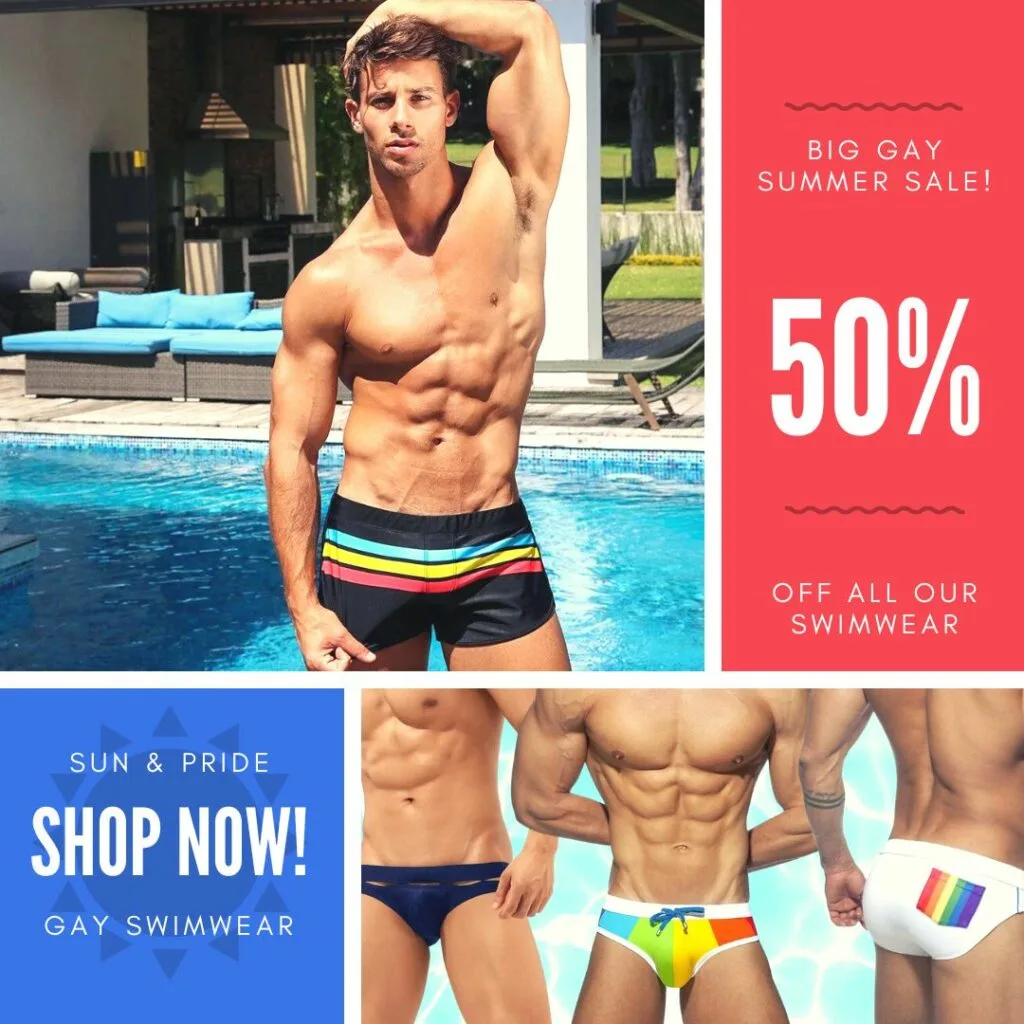 This museum happens to be the former home of beloved Brazilian writers Jorge Amado and Zélia Gattai. After living the early part of their lives in exile, the couple made their way back to Brazil in 1950.
Upon their return, they started their literary careers and became two of the country's most well-known writers. During a visit to their home, you'll find a quaint garden, their art collection, and more about their history as literary icons in Brazil.
Church of Our Lord of Bonfim
Completed in 1754, Salvador's most iconic church blends the traditions of Catholicism and Candomblé, an Afro-Brazilian religion. Every year in January, the church hosts the Festa do Bonfim. During this celebration, practitioners of Candomblé lead an eight-kilometer procession of hundreds from the Church of Conceição da Praia to the Church of Our Lord of Bonfim.
Once there, they wash the church's stairways with scented water. Observants also tie bright-colored bracelets onto the iron gates outside of the church as a wish for cures to illnesses.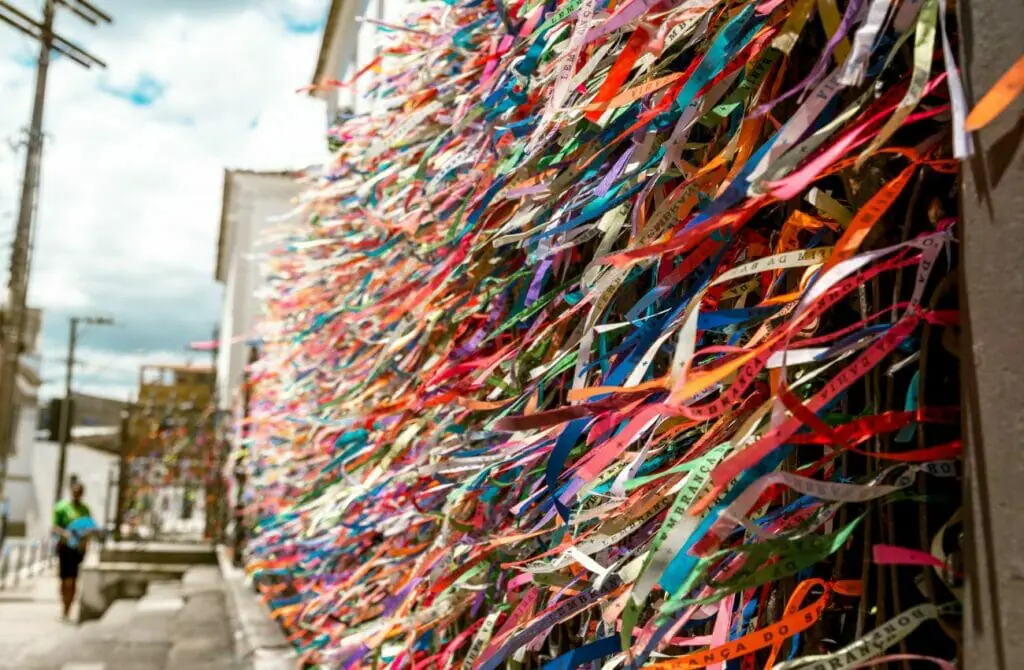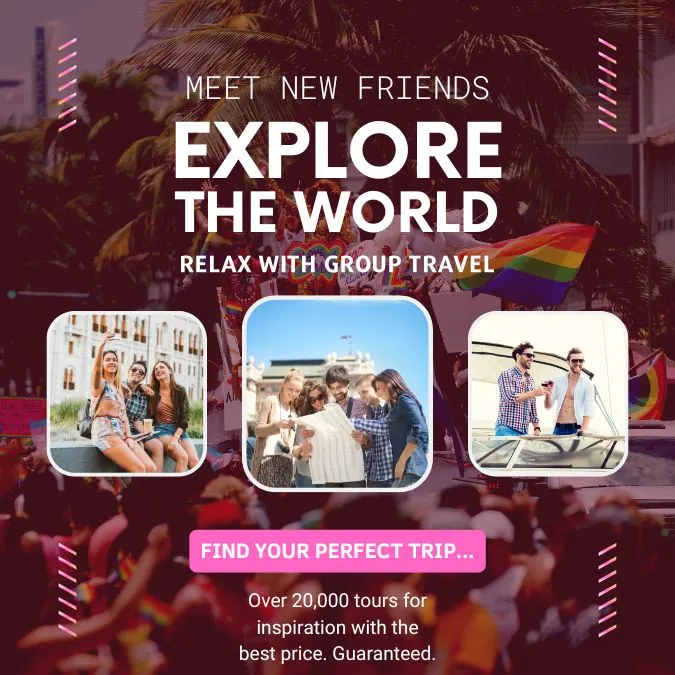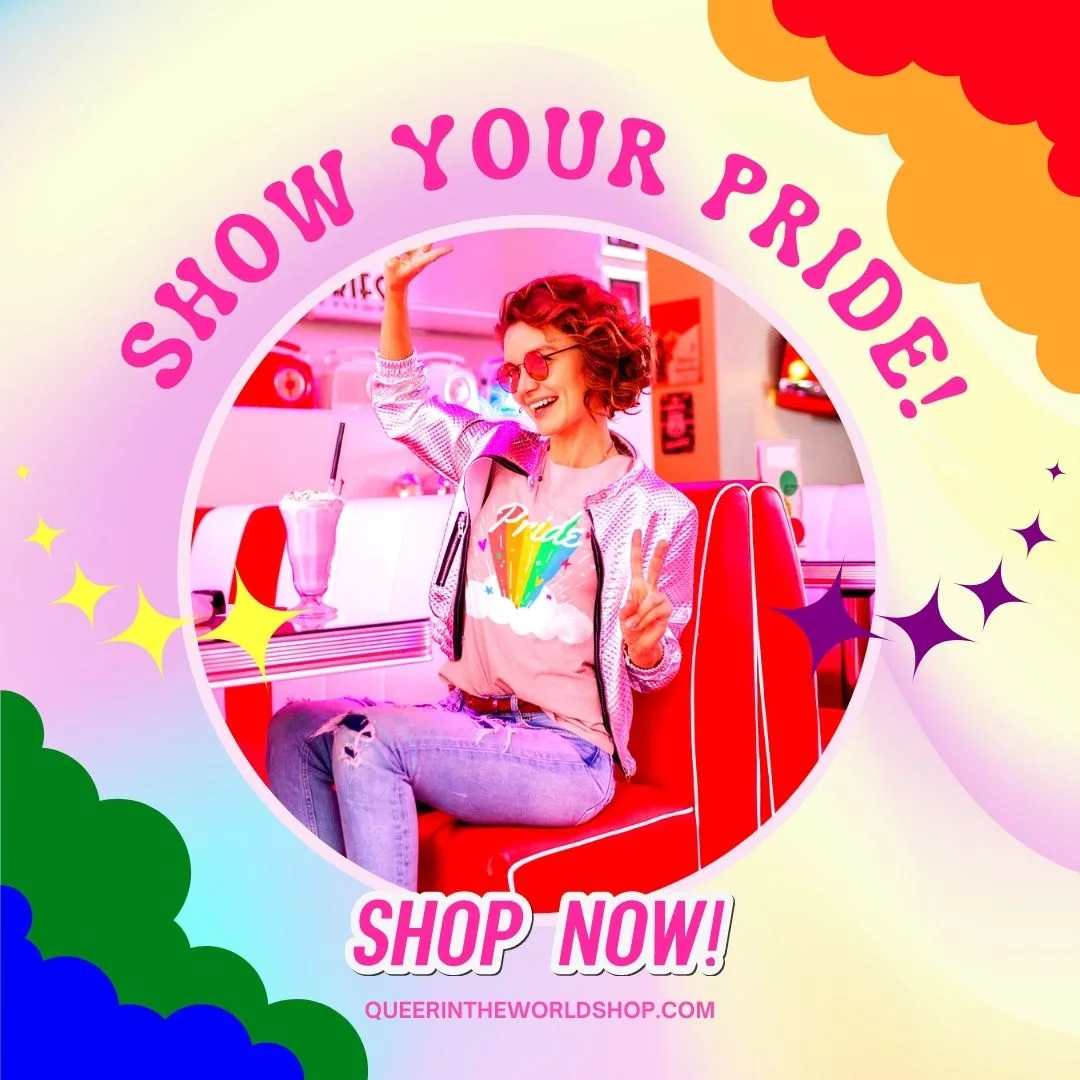 Gay-Friendly and Gay Hotels in Salvador, Brazil
Oh, honey, let me tell you about being fabulous and feeling welcome at these hotels in Salvador! Don't worry about other hotels that might not be as accepting, these gems are committed to being LGBTQ+ friendly and making sure that all guests feel like they belong. Being gay-friendly isn't just about waving a rainbow flag or using the right pronouns, it's about creating a safe and inclusive space for all guests.
From non-discrimination policies to providing resources for LGBTQ+ travelers, these hotels go above and beyond to make sure that you feel welcomed and supported.
And honey, they don't stop there! Some of these gay-friendly accommodations have extra amenities and literature about local LGBTQ+ events and resources. Plus, they might even be located in an area that's known for being LGBTQ+ friendly. Now, let me tell you about these fabulous hotels in Salvador.
While there aren't any specifically gay hotels or resorts, these are the crème de la crème of gay-friendly accommodations. And if these don't tickle your fancy, don't worry, there are hundreds of other options in Salvador to fit your budget and needs. So pack your bags, put on your most fabulous outfit, and get ready to feel welcome and accepted at these gay-friendly hotels in Salvador!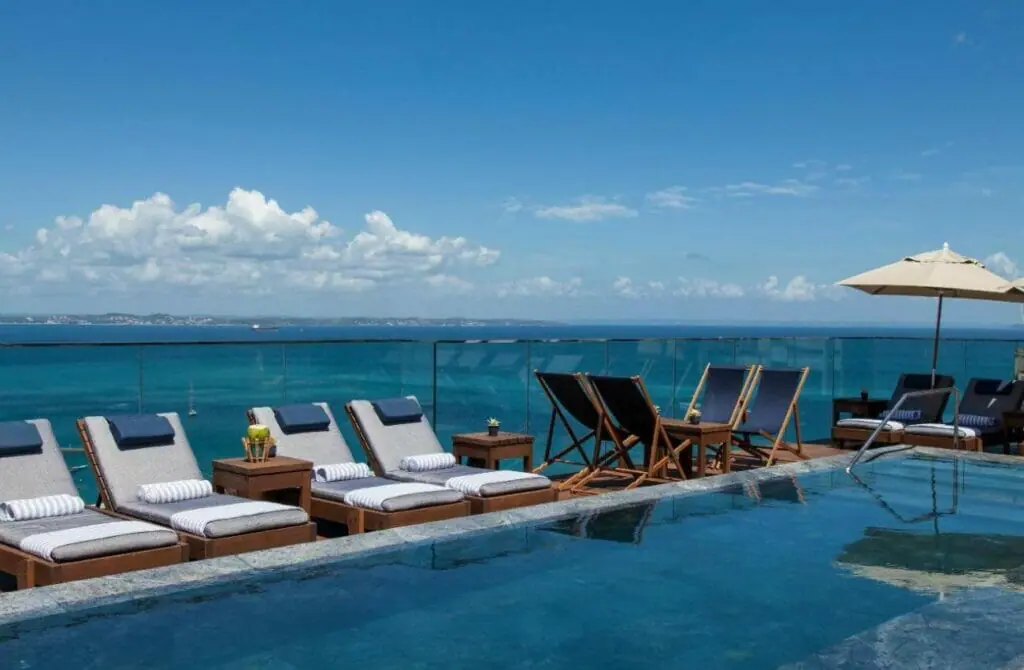 Although not specifically noted as LGBT+-welcoming, this five-star hotel offers both beautiful designs inside and outside the property. Staying at this hotel will provide easy access to popular destinations in the city, an exercise room, and a beautiful outdoor pool.
Be sure to get a room with a bayside view. When you're ready to explore, take the Lacerdo Elevator down to the lower city to visit the Modelo Market to pick up some arts and crafts to take home.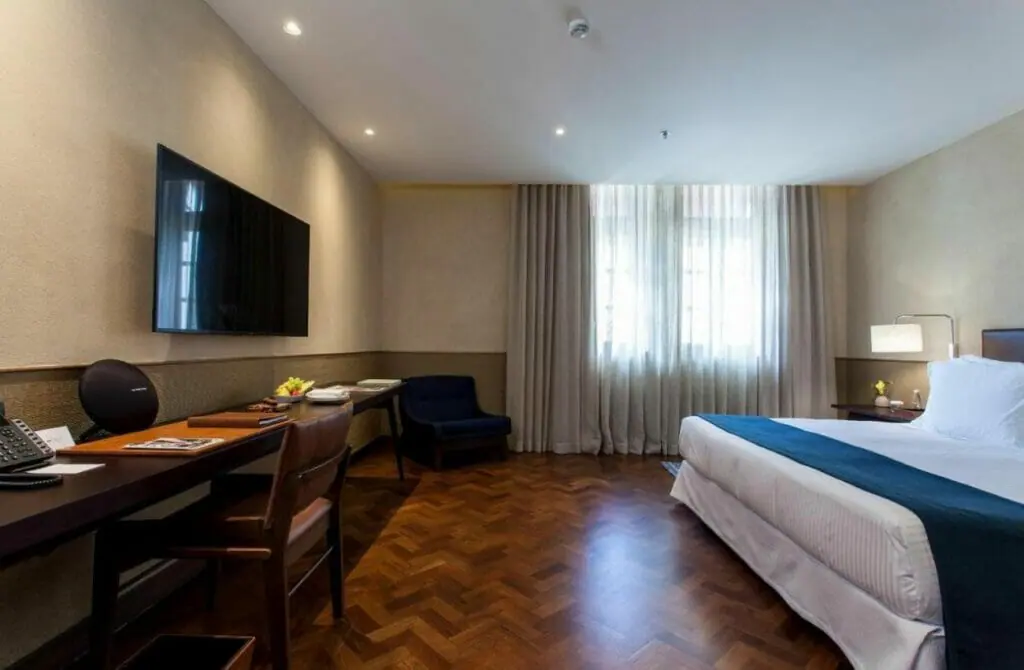 This hotel is located in the bustling and lively Rio Vermelho neighborhood. A rooftop outdoor pool gives you a view of the city and the ocean. The hotel's simple yet modern design offers space to breathe and relax after a day of exploring the city.
Once you're ready to go out again, head over to the nearby Praça da Dinha for live music and street food. You'll have plenty of options for acarajé, a bean fritter filled with shrimp, vegetables, and sauces, and tapioca, a chewy crêpe with sweet and savory fillings.
Near the Pelourinho neighborhood, this airy and lush hotel offers dynamic views of the Bay of All Saints. The rooms are spacious and some offer balconies to enjoy the views in private. You'll also have access to an open-air rooftop pool complete with a view of the Port of Salvador.
As you watch the boats go in and out, you can also catch the sun setting in the bay. You'll have no trouble walking to all the live music events and food stalls in this neighborhood.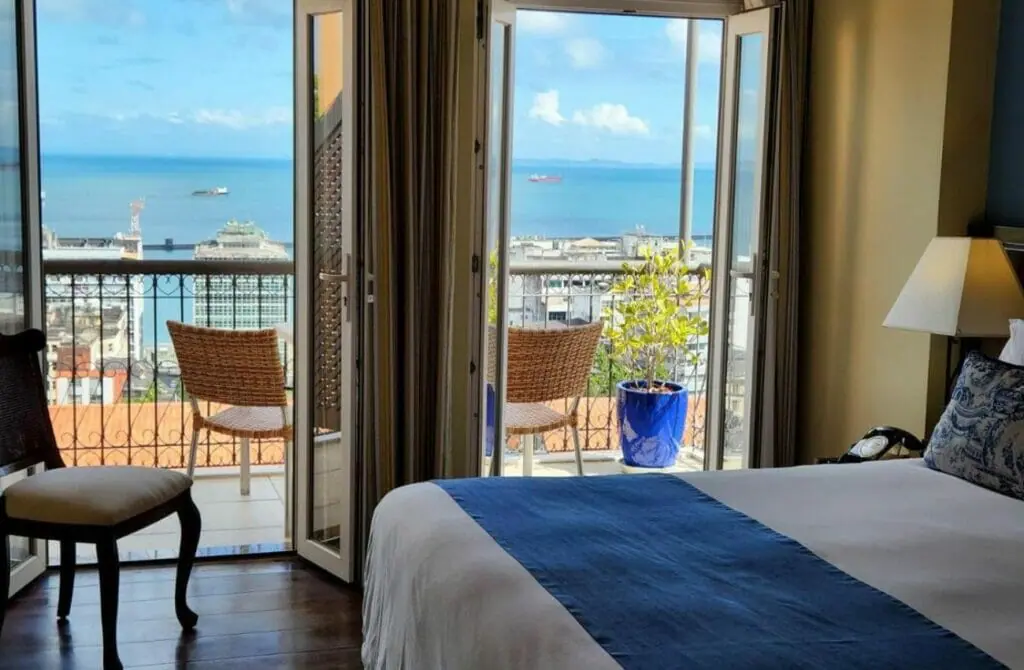 If you're looking for an escape, Casa do Vino offers a refuge with easy access to pristine and large beaches and even a private pool for guests. Casa do Vino's modern and bright design provides ample room to relax. While some of the rooms may need better noise-proofing, it's a cost-effective way to spend as much time as possible sipping fresh coconut water on the beach.
The hotel restaurant serves up moderately priced Italian food if you're hankering for risotto, pizza, and pasta while you're in Brazil. What's unique about this hotel is that there's even a small room dedicated to Brazilian poet Vinícius de Moraes, which is complete with his own typewriter.
Mercure Salvador Rio Vermelho Hotel ☆☆☆
This hotel puts you right up against the ocean. A bustling outdoor pool sits right next to craggy rocks that jut out into the Atlantic. The design, layout, and furniture of the rooms and the hotel are plain and need some updating, but the staff is welcoming. Don't let these drawbacks stop you from enjoying the views of the sea and staying at a hotel that is at the center of activities.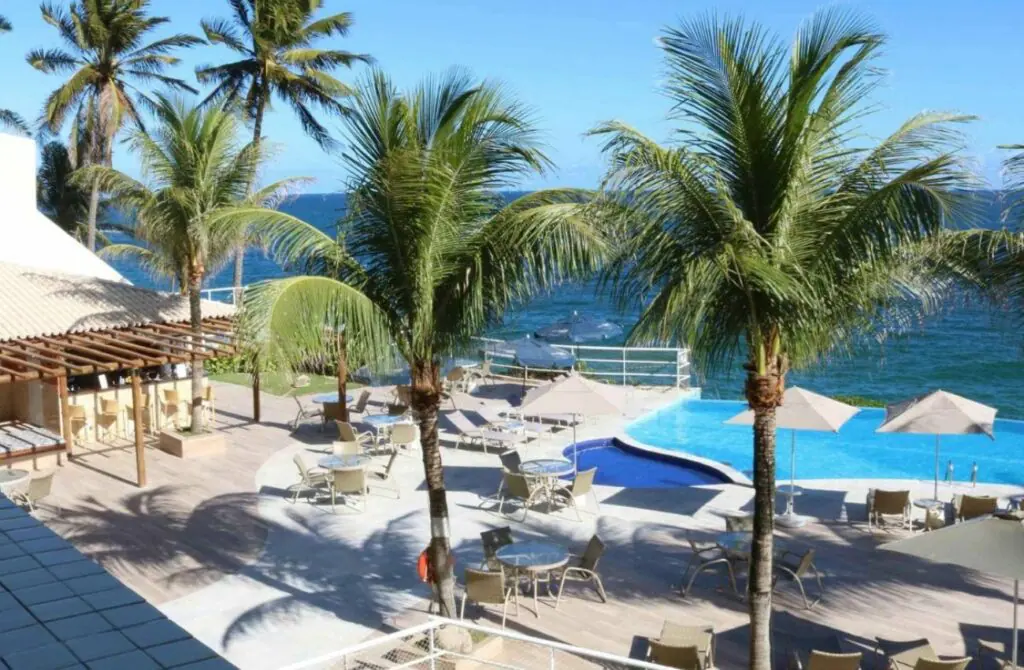 This hotel stands out in Salvador with its brightly lit wooden exterior. Inside, you'll find rooms with minimalistic furniture and even some that provide views of the ocean. If you're looking for a central location for many tourist attractions,
Hotel Bahia do Sol is situated close to the Barra Lighthouse and the historic Pelourinho neighborhood. This hotel provides good value for the cost and the staff is attentive. While it provides some food, it's best to venture out to explore the unique gastronomy of Salvador.
This hostel in the heart of the Pelourinho district has funky, colorful decor with wooden accents. The spot offers breakfast and free drinks to fuel your adventures or to cap off a great night. There's a small pool at the hotel where guests can get to know other travelers while enjoying a cocktail.
If you want to recharge and get away from the crowds, there's a small lounge area furnished with a Brazilian hammock and a sofa.
This right-of-the-beach hostel is great for those looking to spend as much time near the ocean as possible. There are lounge areas with views of the ocean for relaxation and even a shared kitchen should you want to cook your own meals. Rooms have double bunk beds and there are shared bathrooms.
Although simple, the hostel's central location provides a great launchpad to explore, go to beaches around the city, and party during Carnival.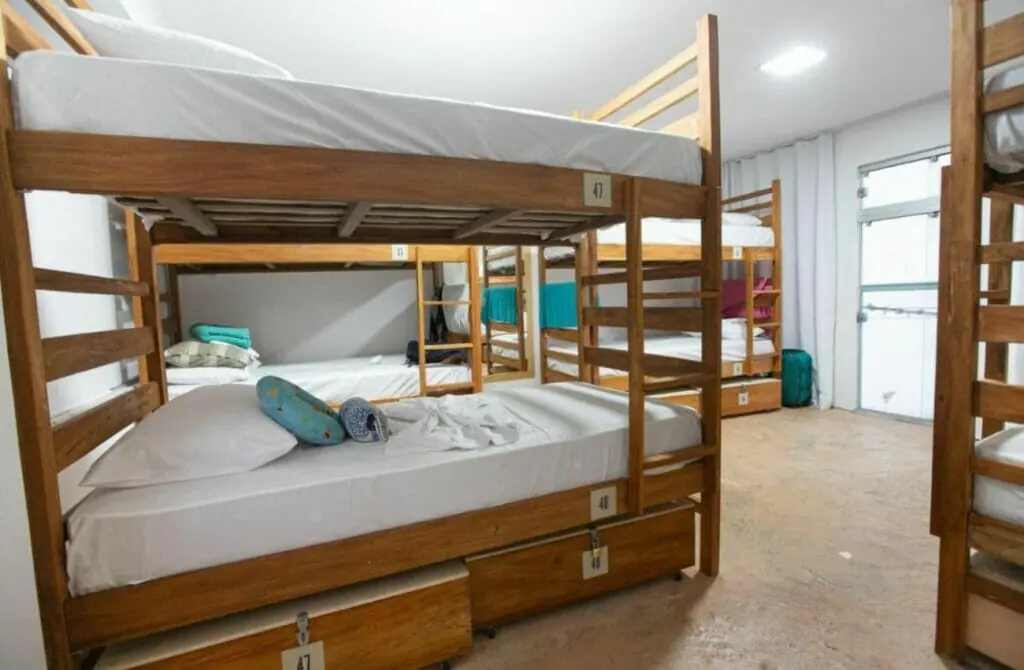 Gay Nightlife in Salvador, Brazill
Darling, let's talk about exploring the queer nightlife in Gay Salvador, shall we? It's true, this city might not be the most welcoming to our fabulous community, but fear not! Being gay is perfectly legal here, just remember to err on the side of caution when outside of queer-friendly spaces.
But let's focus on the fun, shall we? Exploring gay nightlife can be one of the most thrilling and enriching experiences while on the go. From dancing up a storm at a gay club to sipping cocktails and rubbing elbows with the locals at a gay-friendly bar, you'll have a chance to immerse yourself in the local culture and make memories that will last a lifetime.
And darling, we've got you covered with the best gay and gay-friendly spots in town. So don't be shy, step out of your comfort zone and explore the queer nightlife in Gay Salvador. Trust us, it'll be worth it!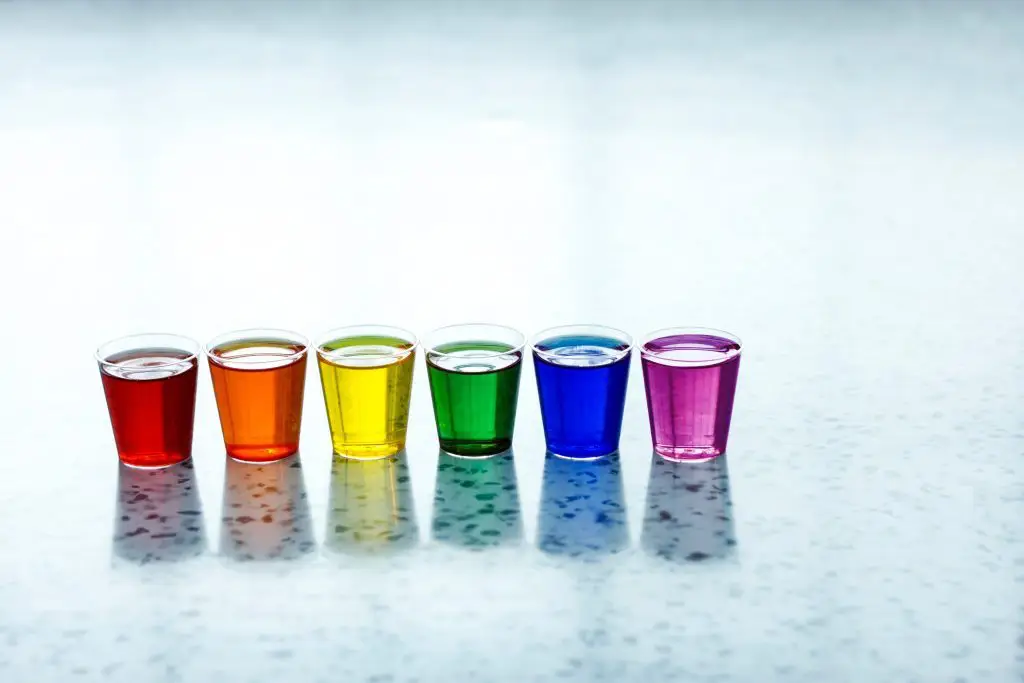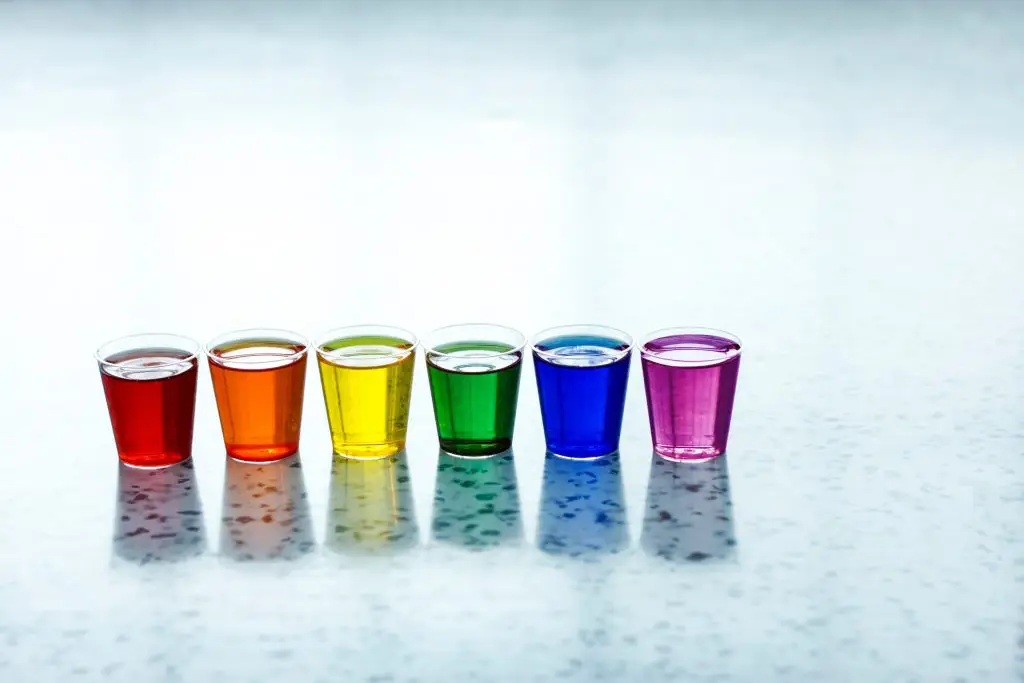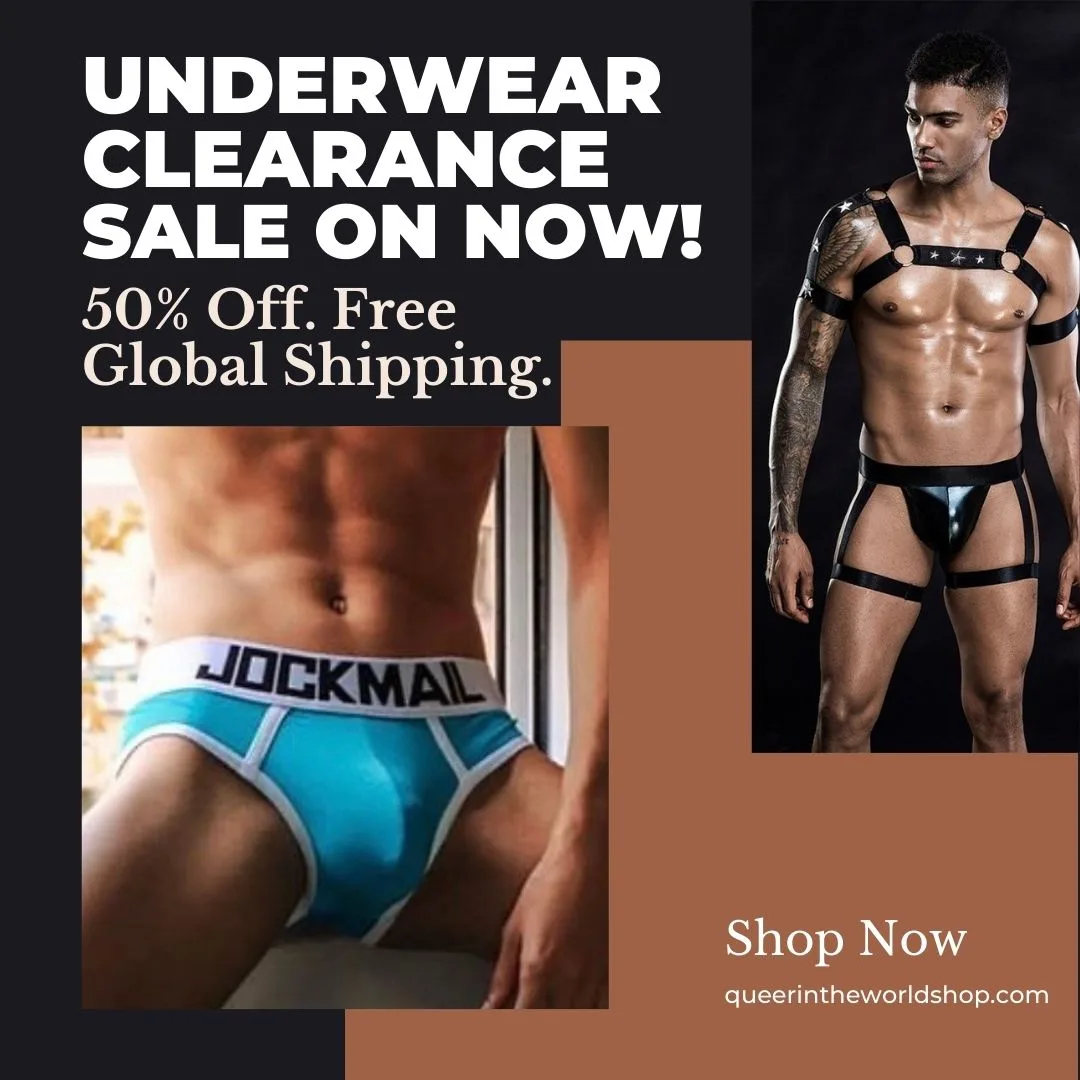 You won't miss this red-painted bar that hosts drag shows throughout the week in the Lapa neighborhood of Salvador. With a small cover charge, you'll be able to watch the city's drag queens perform live songs, as is common in many Brazilian bars.
This late-night spot is open Thursday through Saturday from 9pm to late. Bring some dollar bills for a small cover charge and tips, then grab a drink and enjoy the show! Regular acts include Tereza Skyper, Sissy Zeta-Jones, and Ferah Sunshine.
This top-rated gay bar has been around since 2000 and hosts drag shows on Fridays, Saturdays, and Sundays. This is a bar where some drag performances don't start until after midnight and end at 3am. Despite the small stage, the acts are energetic and boast some of the best talents in the city. While a variety of queens perform here, you'll find acts like Melanie Mason, Duda Baroni, and Saphyra Luz.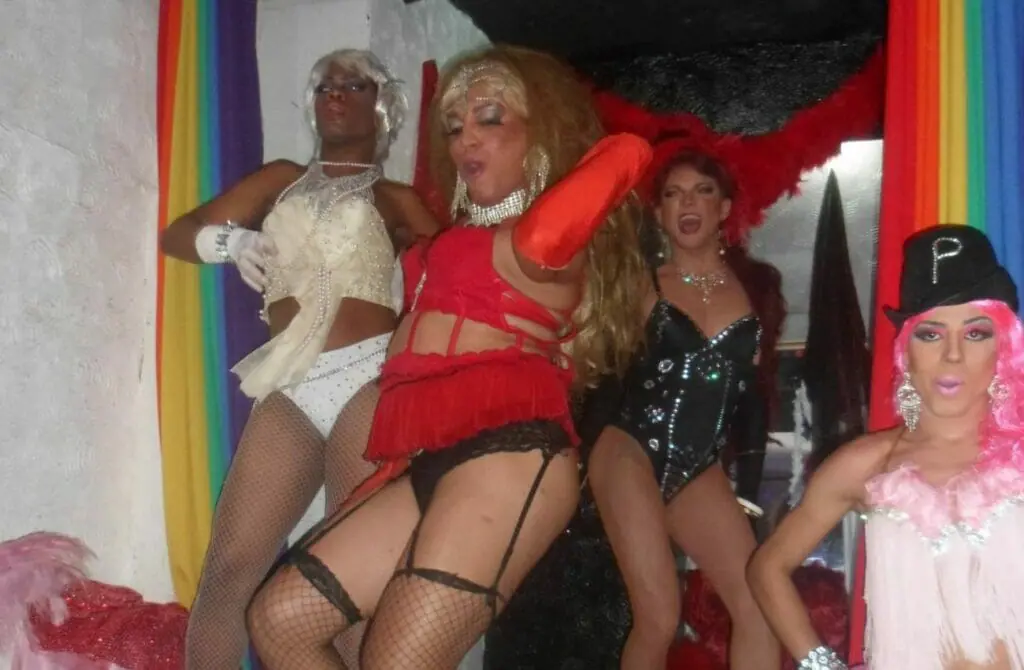 Down the street from Carmen Lounge Bar is Maximu's Bar. This brightly lit lounge bar hosts drag shows and provide great service. It attracts big drag names from the city and even serves up drinks named after famous Brazilian divas. Maximus gets the party going Thursday through Saturday from 10p to close.
Guests of this bar come for the drag shows and leave raving about the pastel, which is a fried pastry that comes with a variety of savory fillings. There's no stage for the drag queens who perform here, so expect to be immersed as they dance and sing next to you on the floor.
This is the spot if you want to eat good food while watching great entertainment. Boteco do Paulista is open in the evenings Wednesday through Sunday for all of your food and drag show needs in Salvador.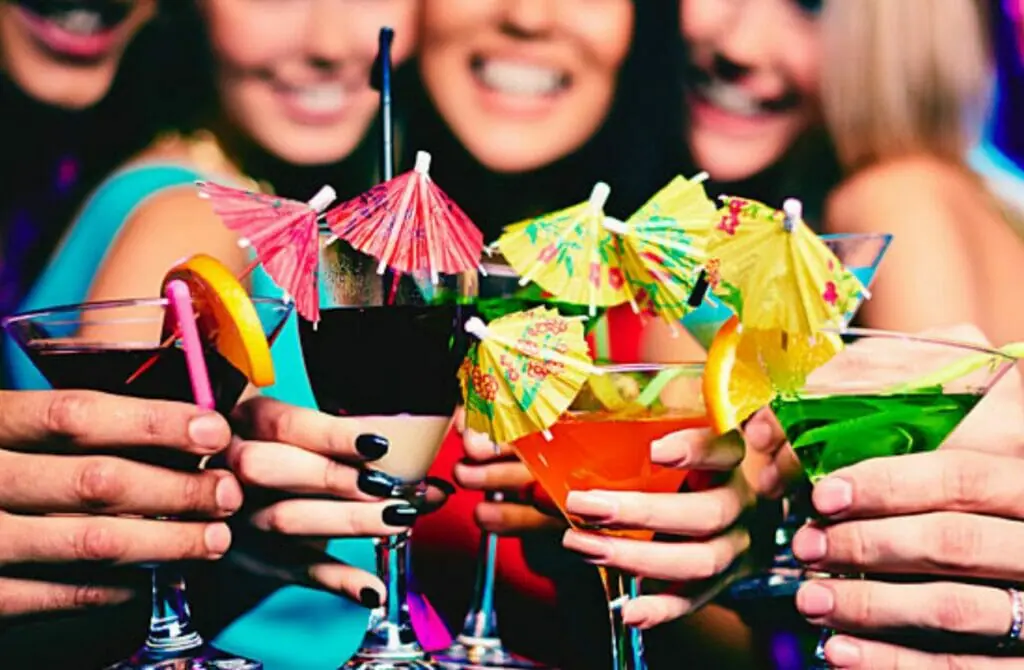 General Nightlife in Salvador
Although not catering specifically to the LGBT+ community in Salvador, there are other notable bars in the city worth checking out. We recommend finding a bar next to the beach or with a view of the water. If you want to be in the mix with lots of people, live music, and dancing, we recommend finding a town square like Praça da Dinha. These spots offer street food, drinks, and Brazilian bands.
For views of the city and the Bay of All Saints, it doesn't get much better than Rooftop 180°. Open Tuesday through Saturday from the afternoon to midnight, this chic and brightly lit bar offers tables for parties of two to six.
Order some beers and snacks, then grab a seat to enjoy live music. It's highly recommended that you make your visit during sunset to enjoy the best of the rooftop view. Grab your camera to take some Instagram-worthy shots.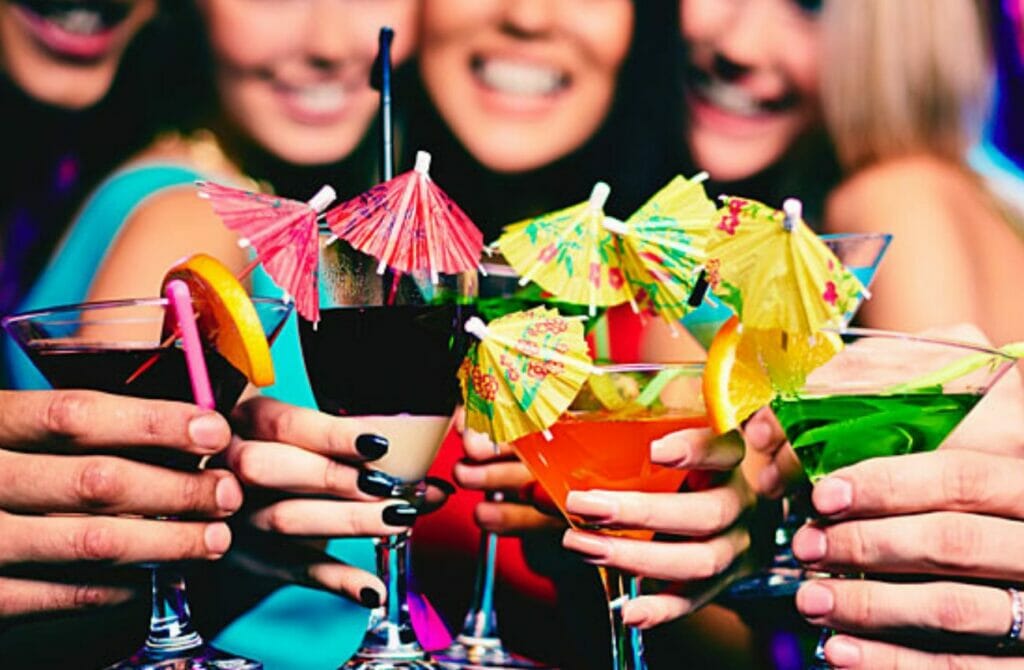 If you seek ocean views as you sip your caipirinha, seek the patio at Blue Beach Bar. This sprawling gastropub sits right next to the beach and offers a wide selection of foods. Seafood dishes like moqueca or finger foods like bolinhos are highly recommended.
When you're ready to hit the beach, just walk down the stairs and find a reclining chair under a beach umbrella. It's open every day from 9am to 7pm, which makes it a great place to spend a whole day eating, drinking, and relaxing on the beach with friends.
Located in the bustling Rio Vermelho neighborhood, this Western-themed bar is known for its live music acts. The space has tall ceilings, ample lighting, and space to relax with friends from 9pm to 5am Wednesday through Sunday.
When Brazilian music acts roll through, the lights dim and all ears are on the band. Expect to hear a popular genre of music called sertanejo, which is similar to country. Beyond classic Brazilian caipirinha cocktails, you'll also find whisky, tequila, and vodka drinks.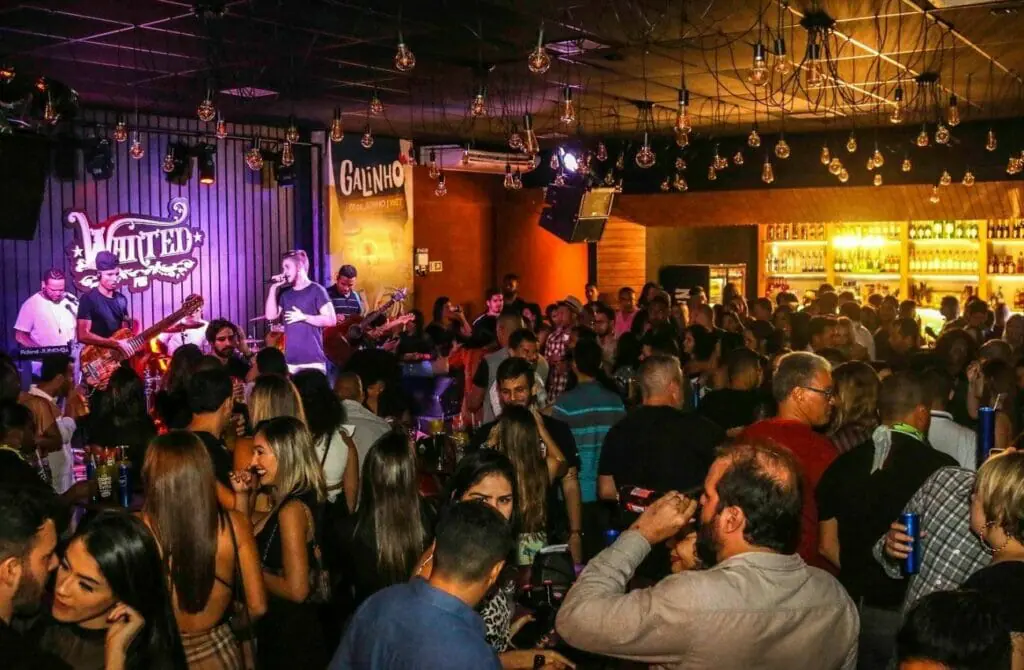 Beers abound at the Bunker! This bar has dark wood accents and offers a wide selection of food and beer, which you can enjoy Tuesday through Saturday from 3pm to 11pm. You'll find everything from Belgian imports to Brazilian brews. While you're there, you might want to order one of their thick pastrami sandwiches to pair with a beer.
Check their Instagram page to see what music acts and DJs pop up behind their bar. As you leave, check out the fridges full of beers and take one back to your hotel to top off the night.
Open Tuesday through Sunday from early evening onwards, the vibe at Pitaya Drink Bar is pink. You'll find pink lighting and pink cocktails at this lively outdoor bar.
Drinks include one inspired by the TV show Breaking Bad (think gin, strawberries, and cinnamon) and the popular pitaya cocktail, which is a mix of gin, concentrated dragon fruit juice, and lime. If you're hungry, Pitaya also serves snacks like churros, Brazilian cheese bread, and sandwiches.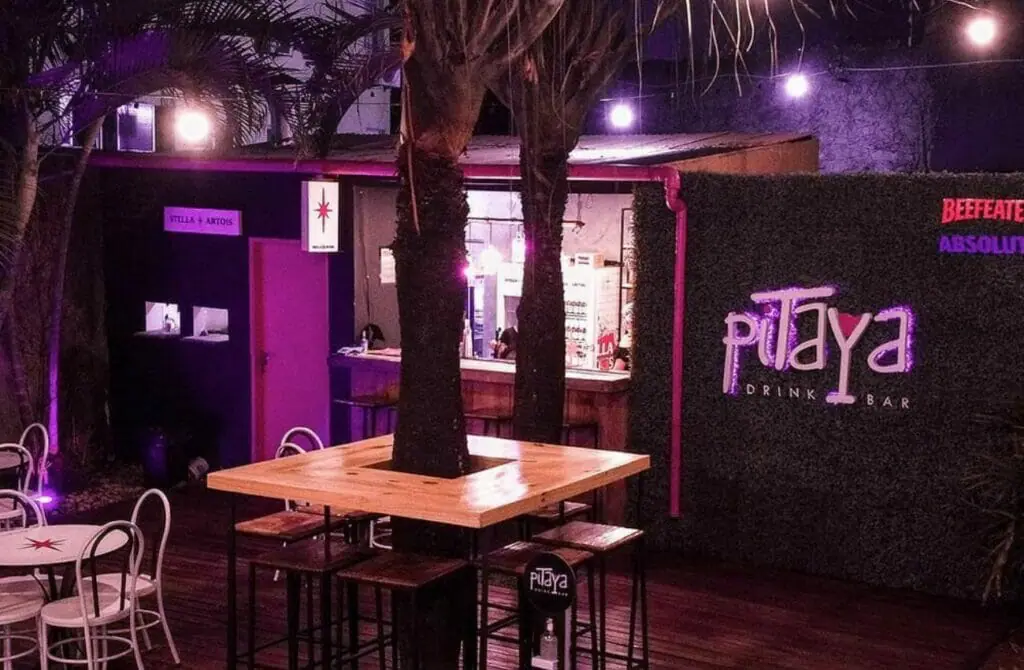 Cruising & Gay Saunas in Salvador, Brazil
When it comes to exploring Gay Salvador, there's more to life than just cocktails and beers. One aspect of the gay scene that many of us queens love are checking out the local gay saunas and cruising clubs.
Granted, Salvador isn't quite as wild as Amsterdam, Barcelona, or Berlin, but these steamy venues still offer the perfect opportunity to meet new people, socialize, and engage in some hot and heavy action without swiping left or right. However, remember that these venues can differ in terms of vibe, patrons, and rules, so it's a good idea to be informed before you dive in.
Gay saunas, sex clubs, and cruising have long been popular ways for queer men to meet and engage in sexual activity, particularly in countries where same-sex activity is not widely accepted or where it may even be illegal. In these places, gay saunas and cruising clubs provide a safe and discreet environment for queer men to explore their sexuality and connect with like-minded individuals.
Despite the rise of gay dating apps, many queer men still prefer the anonymity and physical connection that can be found in these spaces – so somewhat counter-intuitively you might have a hotter experience here than you would at home.
We recommend checking out our guide to cruising for first-timers before you get started, which should give you the lowdown, and always practice safe sex. Keep in mind that local laws and customs regarding gay venues and sexual activity should be respected at all times.
With a bit of forethought and an open mind, visiting gay saunas and cruising clubs can be a thrilling and steamy part of your gay Salvador adventure.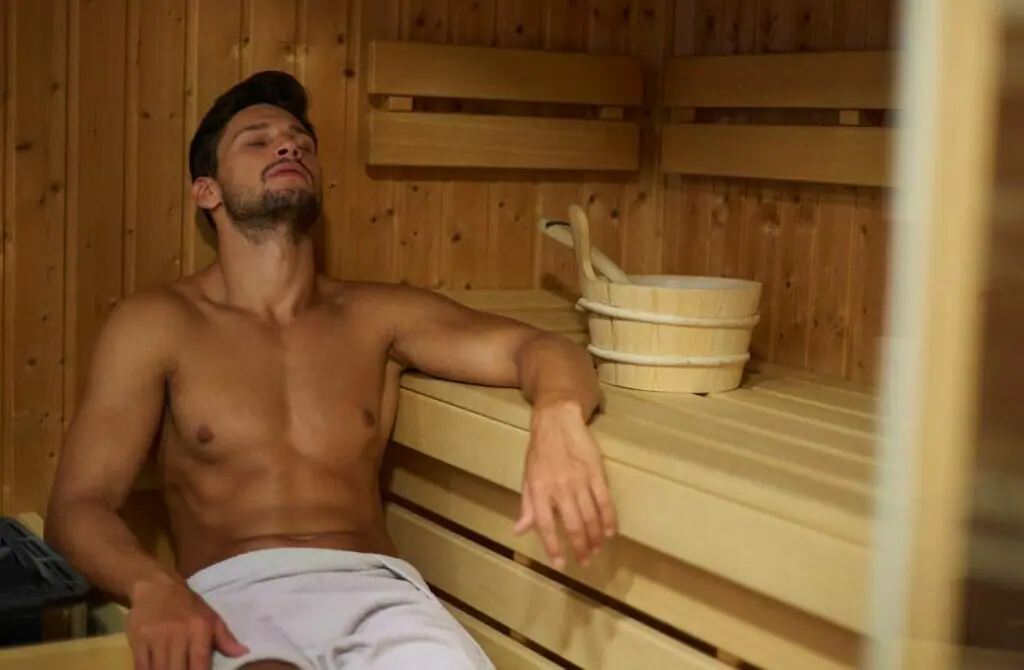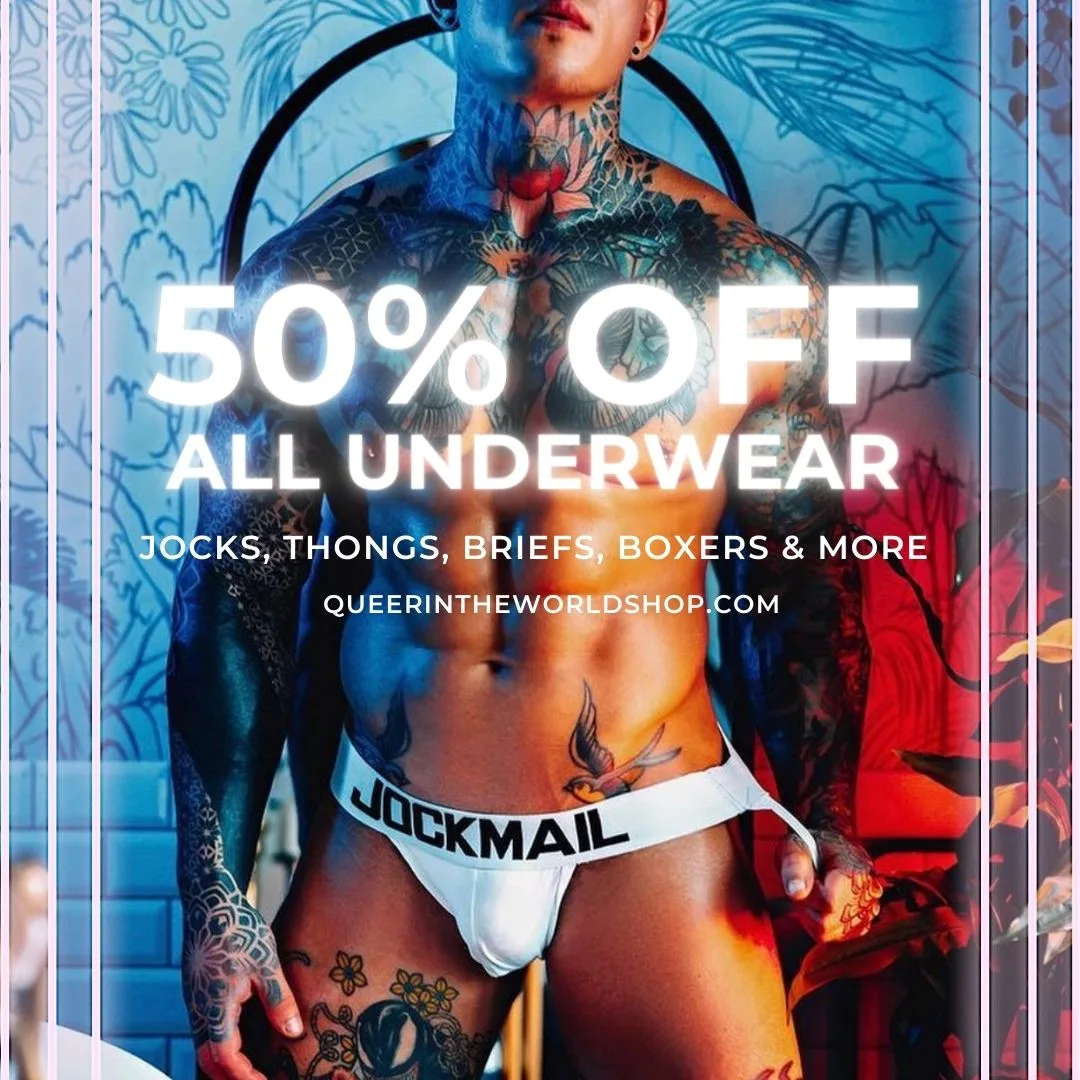 Established in 2000 and renovated in 2011, this discrete men's sauna also offers food and drinks. Inside, you'll find simple decor, a steam room, a dark room, and even a relaxing garden. In 2022, the club just opened a new, chic vapor sauna with dark accents and marble tiles. This sauna also hosts Carnival and New Year's parties if you find yourself in Salvador for those holidays.
Right off the beach in the popular Barra neighborhood, this discrete sauna has dry and vapor sauna options that attract an eclectic clientele. While the facilities are clean and the staff is friendly, some guests noted that the spaces need better air conditioning when it gets crowded. The sauna does not serve food or drinks, but there are plenty of options for dining in the surrounding Barra neighborhood.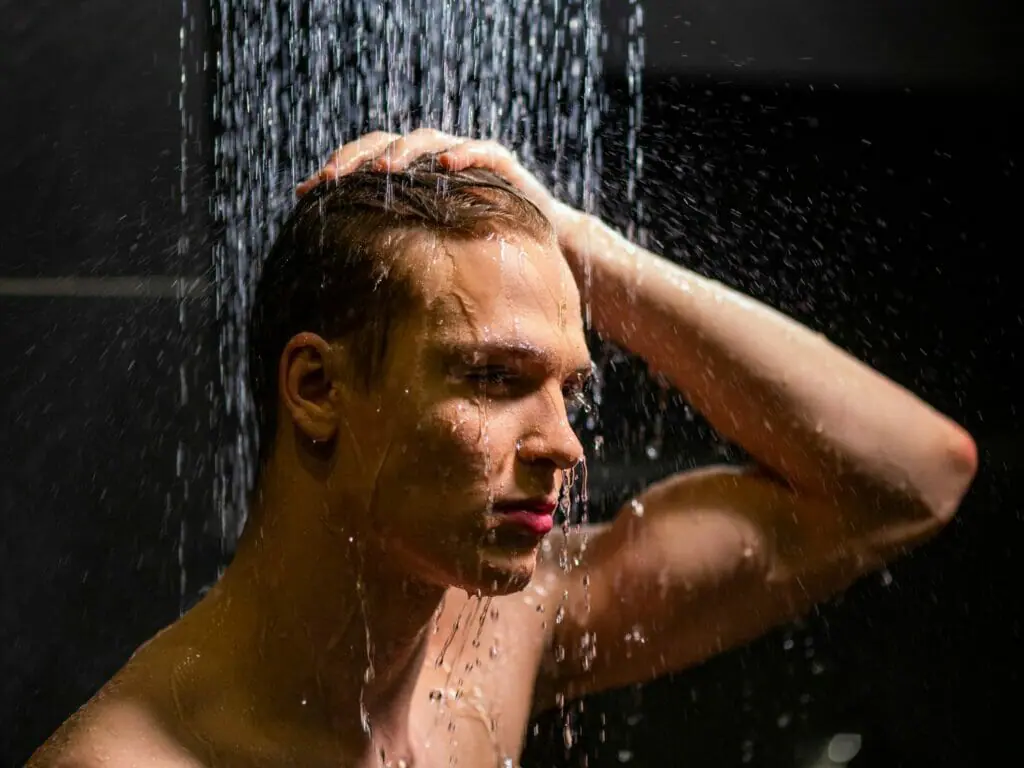 Gay Map Of Salvador
Finding it hard to envisage where everything is in Salvador? Hopefully, this queer-centric map helps where we have marked all the bars, clubs, parties, hotels, saunas, massages and more will help you stay in the spot best suited to you!