Guangzhou isn't on the same level of fame as China's gay capital, Chengdu; however, the locals swear by the gay-friendly atmosphere that has grown over the years, thanks to the efforts of a small group of people.
Unfortunately, some of the older generations and the conservative nature of China may have slowed this progress somewhat, causing many gay establishments that were open ten years ago to close. Even if it all seems like all hope is lost at times for the gay community of Guangzhou, you can still find a fantastic place to be yourself and meet incredible people in Guangzhou.
Along the Pearl River just north of Hong Kong is Guangzhou, China's fifth most populated city, with fifteen million people! You can find many incredible things to do and see in this metropolis as you experience China's rich culture and history.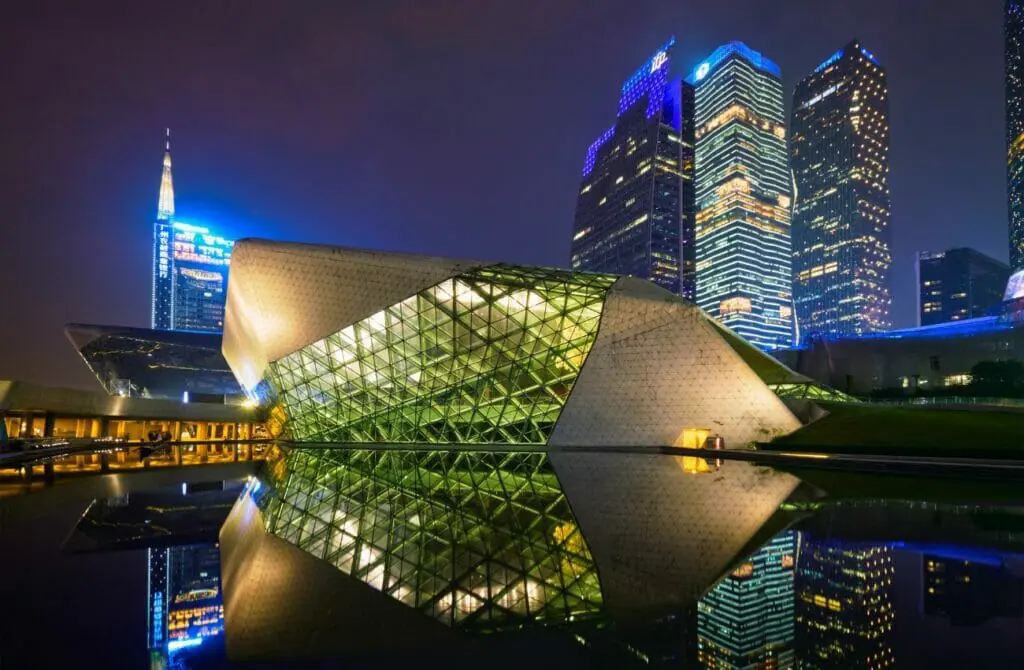 Notably, they are one of the biggest Chinese ports that have been an important maritime trading hub for over two-thousand years. Also, Guangzhou was one of the starting points on the Chinese end of the Silk Road, an inland trading route that connected Asia with the Middle East and the West. Today she is the Asia-Pacific commerce capital, home to billionaires and host of the annual Canton Fair.
However, most who visit the city today will be more impressed by her nickname 'Flower City' for her streets and parks lined with flora in all directions, making her a delight to explore and experience.
They also have many natural resources outside the city gates, from the Tiantang Peak to the Pearl River, so there is always something to do! No wonder many make Guangzhou a must-see destination when they visit China.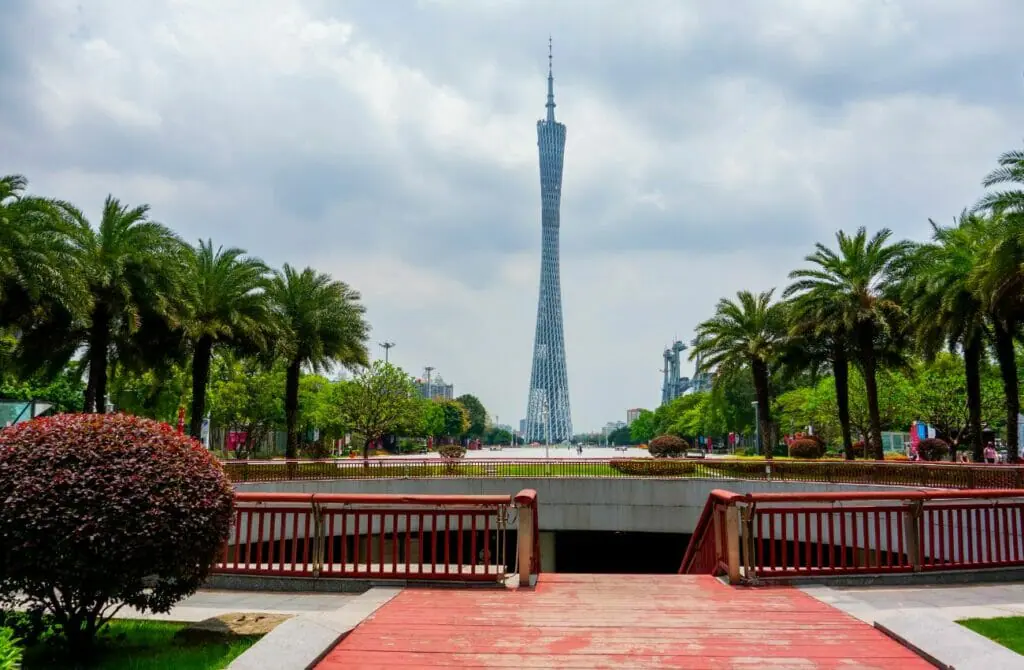 Attractions in Gay Guangzhou, China
Welcome to Gay Guangzhou, darling! While the city may not be the most welcoming to the queer community, fear not! There are still plenty of fabulous things for you to do while keeping things low-key. First and foremost, you must visit some of the city's most iconic landmarks and attractions, dahling!
Take in history and culture by visiting museums, art galleries, and historical monuments. And don't forget to marvel at the stunning architecture, explore parks and gardens, and indulge in the local cuisine. But that's not all, darling! Gay or straight, there's always something to do in Gay Guangzhou.
Immerse yourself in the local culture by attending cultural events like festivals, concerts, and shows. Trust us; there's always something fun and exciting happening in this fabulous city. Remember, discretion is key to a town that's not always welcoming to our great community. So, keep it lowkey and enjoy all the wonderful things Gay Guangzhou has to offer!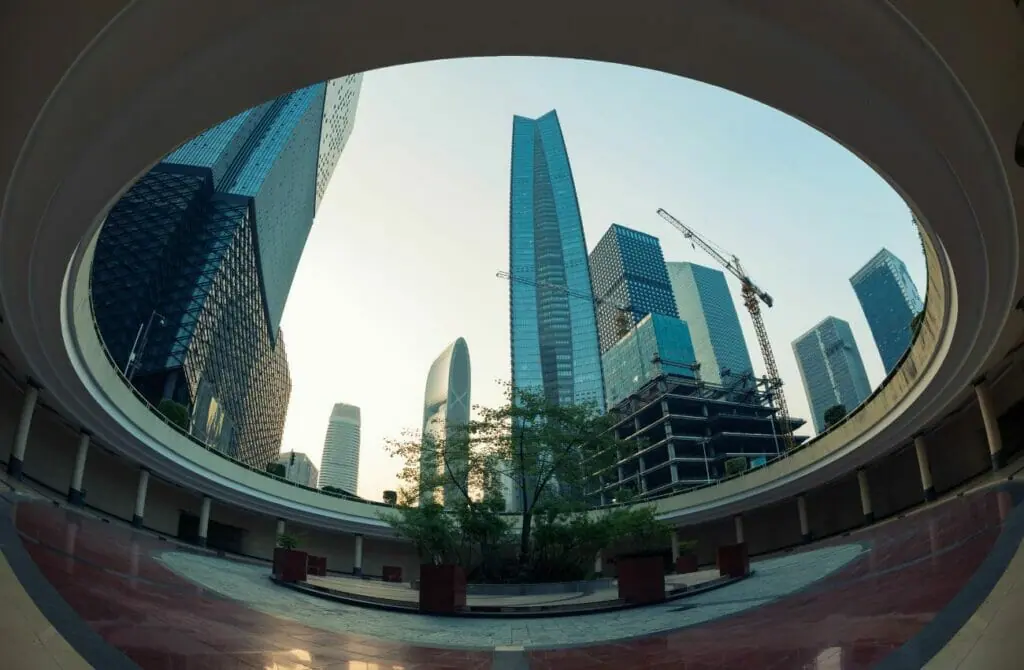 Guided Cycle Tour of Guangzhou
A great way to experience Guangzhou while getting some miles in is with a guided cycle tour of the city, where you can hit the top central city attractions with the help and wisdom of a great guide. This four-hour tour starts in the oldest part of the city, going through the market squares with chances to stop and see City God Taoist Temple, People's Park and Ersha Island.
Following that, you will visit the modern-day city's Guangdong Museum and Canton Tower. Part of this tour includes a rewarding history and cultural lesson and a stop to snack and take a breather before you finish the rest of the tour.
One of the most recognizable landmarks in Guangzhou is a tall observation tower that completed construction in 2010, holding at one time the tallest building in China and the world that larger structures have since surpassed. Today you can still get an exceptional bird's eye view of Guangzhou's city and surrounding lands, and it is a must on any visitor's agenda!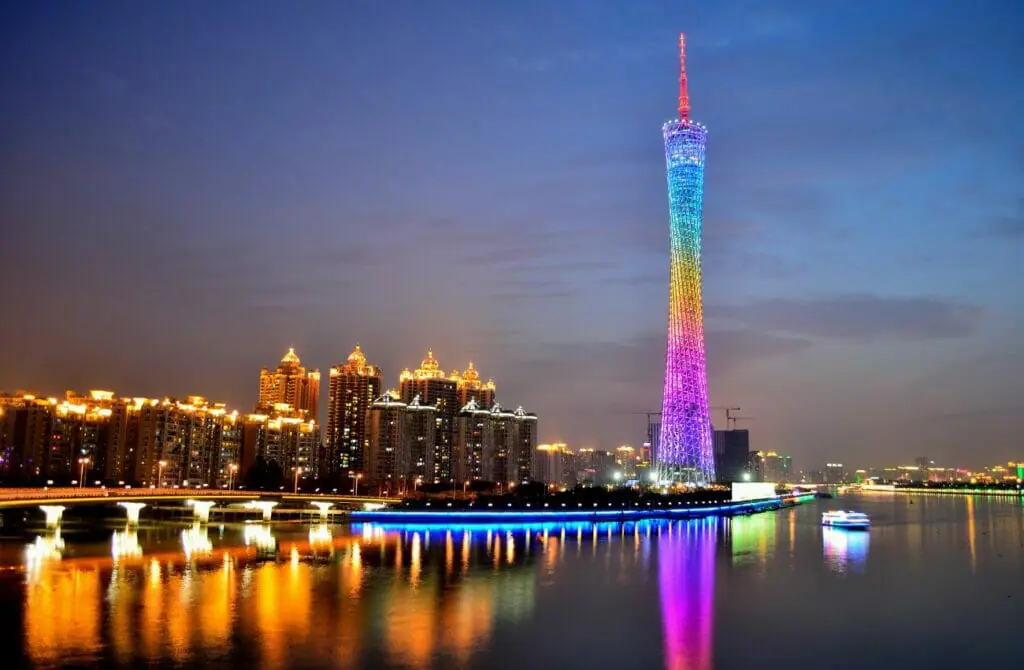 Guangzhou Zoo 长隆野生动物世界
In the center of Guangzhou, you will find their exceptional zoo and a tremendous gay excursion from the usual tourist attractions. You can see tigers, elephants, giraffes, pandas, and exotic birds, and visitors particularly appreciate their open exhibits, with some hands-on feeding experiences.
Chen Clan Ancestral Hall 广东民间工艺博物馆
Opened in 1894, the Chen Clan Ancestral Hall is a popular tourist attraction today, but when it was founded, it was built to stay and prepare for imperial exams to help select state officials. Nowadays, you can see where these scholars lived and studied, learn about the site's history, or wander and admire its architecture and relaxing grounds.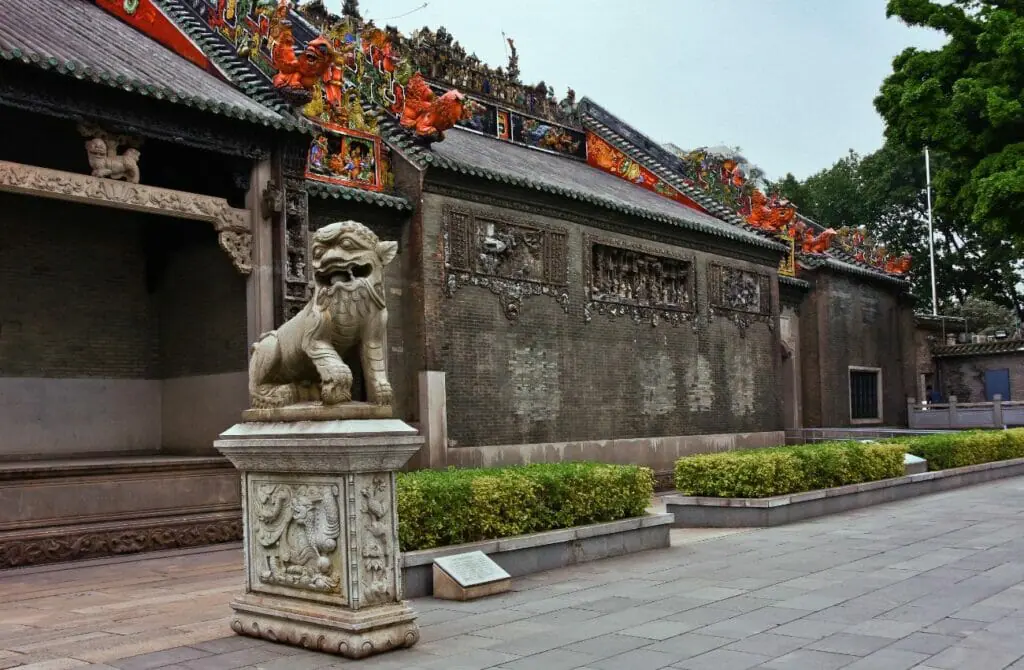 The Sacred Heart Cathedral 石室圣心大教堂
One of only a few cathedrals made entirely of granite; The Sacred Heart Cathedral is a neogothic cathedral you can behold when you visit Guangzhou.
It may seem unusual for a Western-style church to be found in a major Chinese city, but in the 19th century, the region was occupied by the British, so the result was the construction of some Christian structures. You can visit this marvel just along the Pearl River, taking in the exceptional design and unique views.
Temple of the Six Banyan Trees
Built-in 537 AD, this one-thousand-five-hundred-year-old temple is a monumental tower constructed during the rule of Emperor Wu. This Buddhist temple was built to house Cambodian Arhat relics and has had a tumultuous history through its over thousand years of towering over the skies of Guangzhou.
Unfortunately, it was victim to fire at some point, so it was rebuilt during the Song Dynasty around 1000 AD. This troubling time helped earn its nickname from a poem written as a dedication to a visit by the poet Su Shi called the 'Six Banyans', and it is still used today!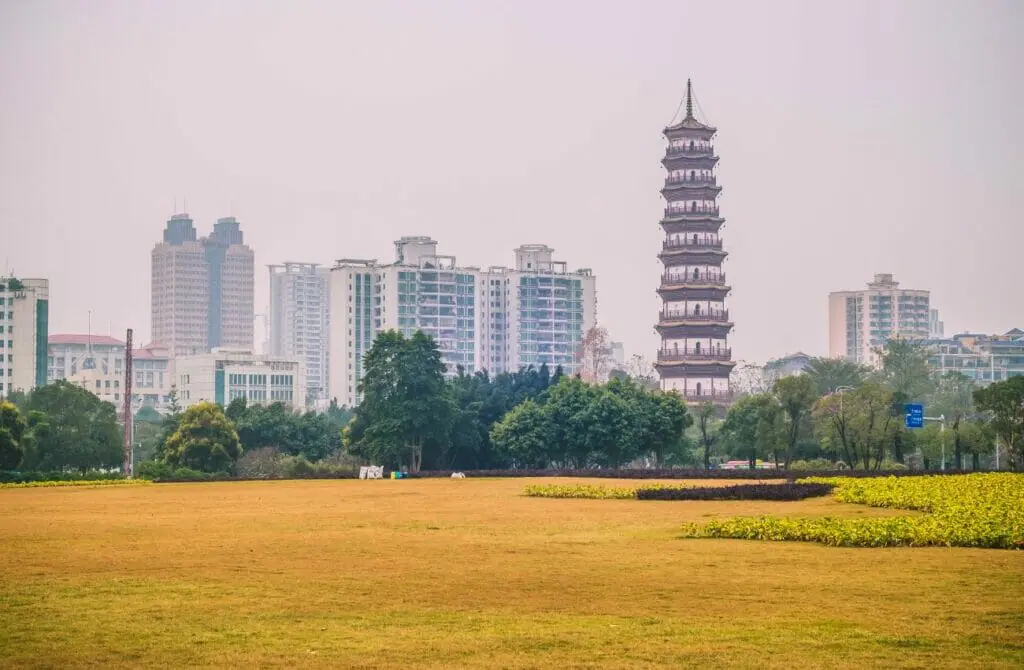 Guangdong Museum 广东省博物馆
Guangdong Museum is the perfect way to get first-hand experience with the history of this city in exceptional modern buildings. In addition, you can find galleries dedicated to art, archaeology, culture and nature, focusing primarily on the geographical regions of Guangdong and Cantonese culture.
Huacheng Square 花城广场
Known affectionally as Flower Square, Huacheng Square is the largest square in the city, so it is a popular spot for visitors and locals alike. This is a car-free and bike-free part of the city, so many people love walking through it, admiring the great views of Canton Tower, fountains, and parks. It is also a significant landmark for finding public transport to access other parts of the city.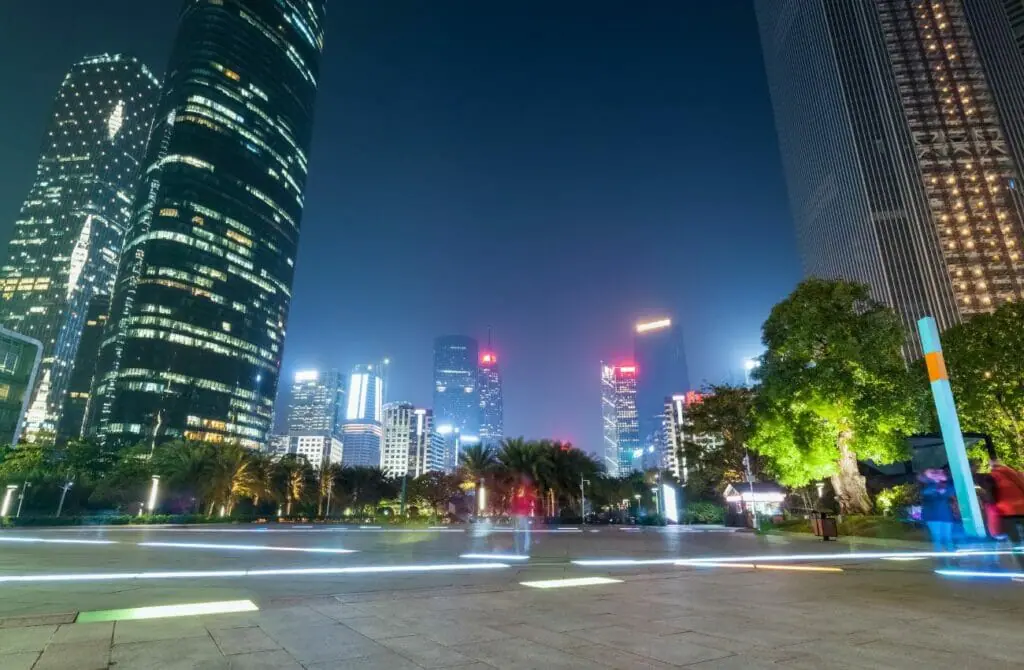 A foodie tour is a brilliant way to taste the culinary delights of Chinese food and see how Guangzhou's local dishes are so different from other parts of the country. You will get taken care of, and you must prepare for this fun outing with an empty stomach and an open mind to try something new!
This will be a walking tour of the Liwan district with a local guide that knows the best places to get a feed, and at the end of it all, you will gain a new appreciation for Asian food.
Shamiandao Island 沙面
Shamiandao Island is an artificial island built by the French and British while constructing the artificial river Shajichong. The sandbank island is found in the Liwan District.
It is integral to modern Guangzhou trading, with port developments and serving as a crucial defensive base during the Second Opium War. Today you can visit many incredible sights on the island, from cathedrals to picturesque river views.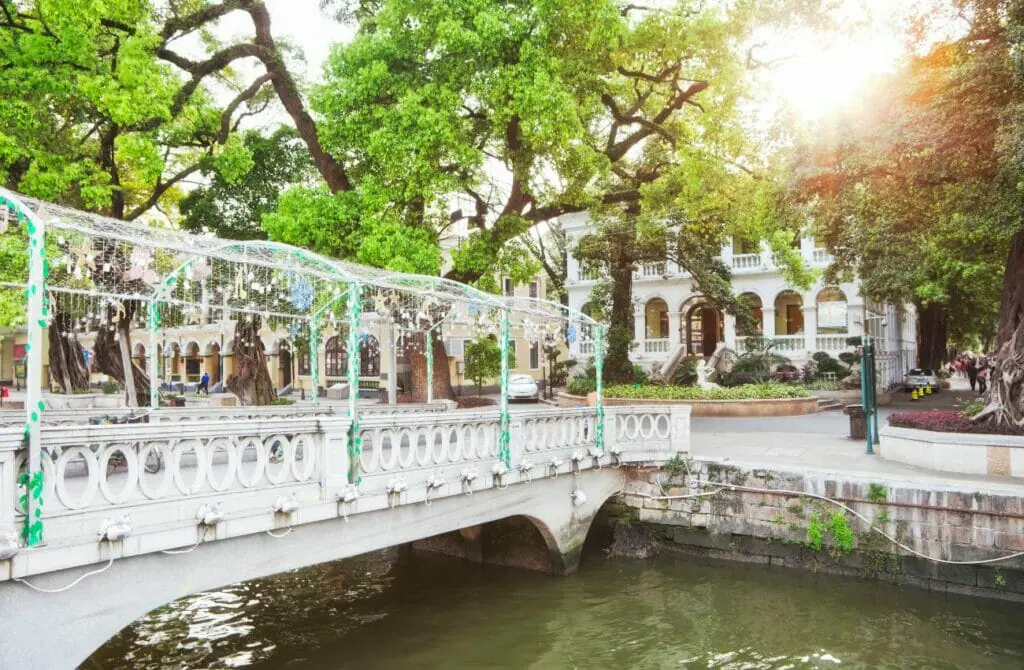 Guangzhou City Sightseeing Day Tour
There is so much to do and see in the City of Flowers that it might seem overwhelming initially, but if you opt to get a sightseeing day tour, it can take all the hassle out of choosing. This tour will show Chen Clan Ancestral Hall, Yuexiu Park, Temple of the Six Banyan Trees, and much more, including a special traditional Cantonese lunch.
In addition, you won't need to worry about finding a way to get around as they will pick you up and drop you off at the end of the tour from your hotel and show you around in their comfy car.
The Pearl River 珠江
The Pearl River is the major waterway running through Guangzhou and is very much where the heart of the city's industry and life originates. All should take an afternoon to walk along her banks or hire a cruise to take in the wonders that can be found along her shores.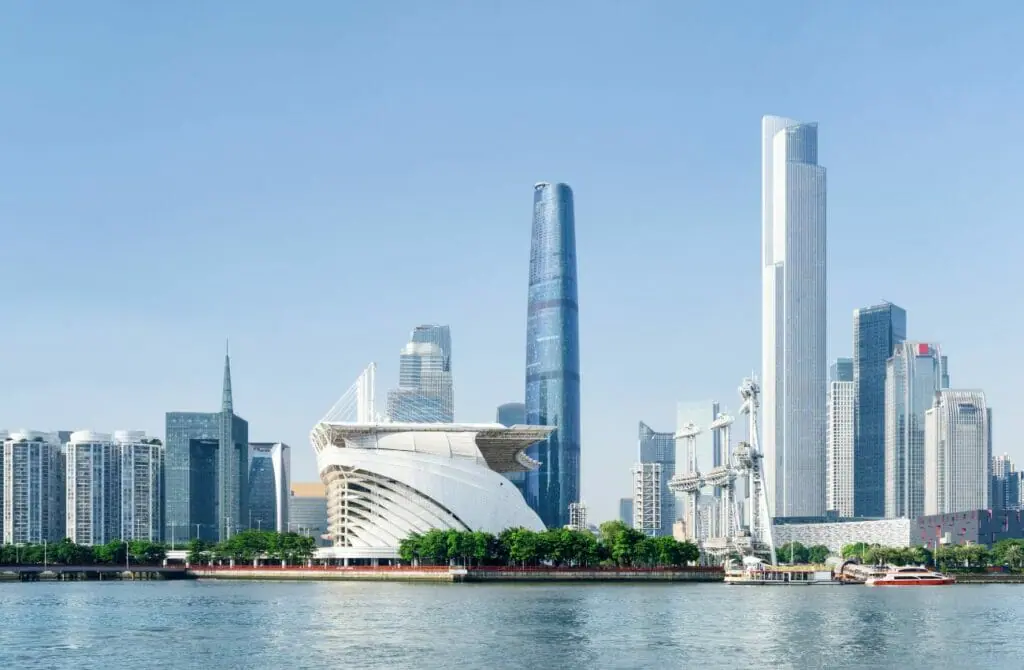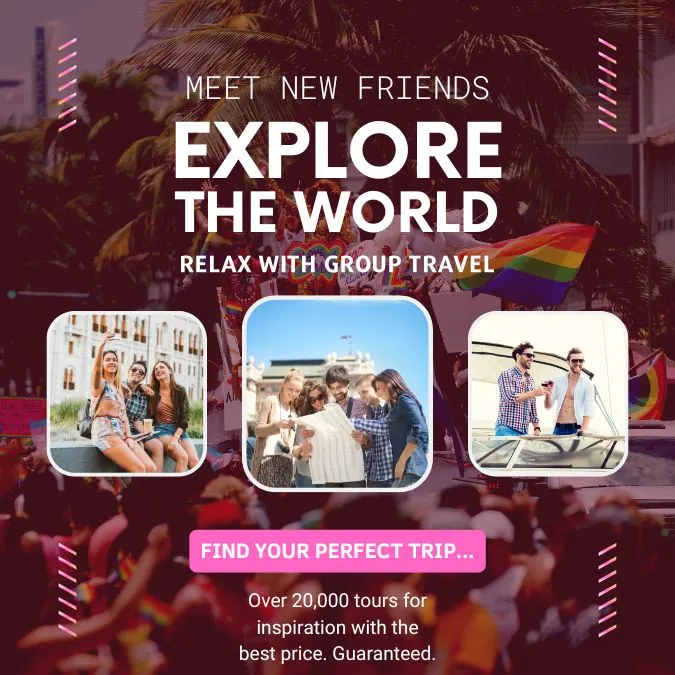 Gay-Friendly & Gay Hotels in Guangzhou, China
Oh, honey, let me tell you about being fabulous and feeling welcome at these hotels in Guangzhou! Don't worry about other hotels that might not be as accepting; these gems are committed to being LGBTQ+ friendly and ensuring all guests feel like they belong.
Being gay-friendly isn't just about waving a rainbow flag or using the right pronouns; it's about creating a safe and inclusive space for all guests. From non-discrimination policies to providing resources for LGBTQ+ travelers, these hotels go above and beyond to ensure you feel welcomed and supported.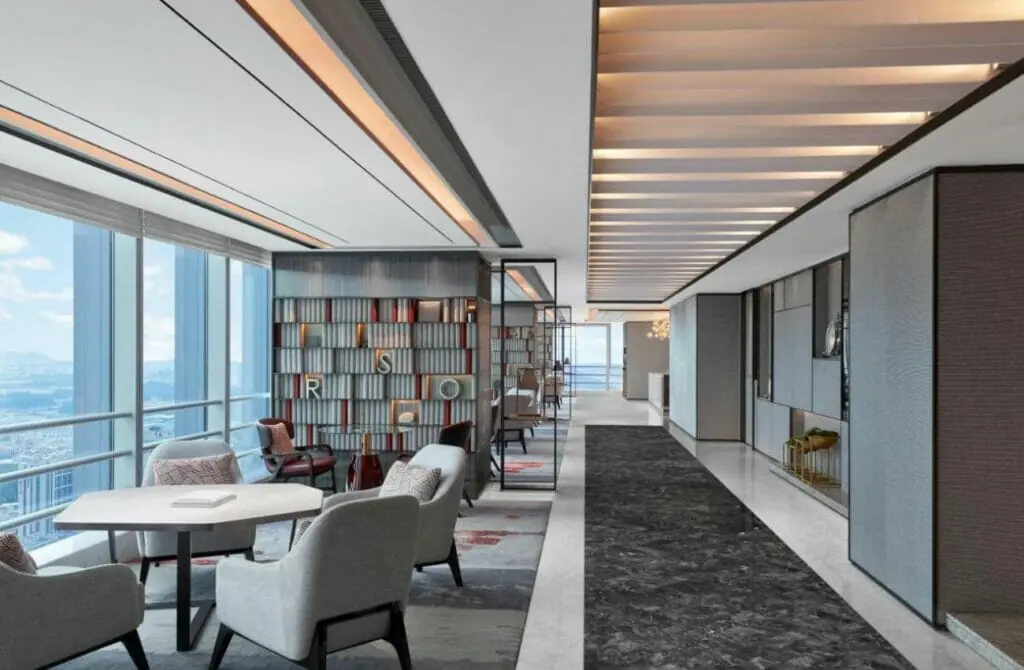 And honey, they don't stop there! Some of these gay-friendly accommodations have extra amenities and literature about local LGBTQ+ events and resources. Plus, they might even be located in an area known for being LGBTQ+ friendly. Now, let me tell you about these fabulous hotels in Guangzhou.
While there aren't any specifically gay hotels or resorts, these are the crème de la crème of gay-friendly accommodations. And if these don't tickle your fancy, don't worry; there are hundreds of other options in Guangzhou to fit your budget and needs. So pack your bags, put on your most fabulous outfit, and get ready to feel welcome and accepted at these gay-friendly hotels in Guangzhou!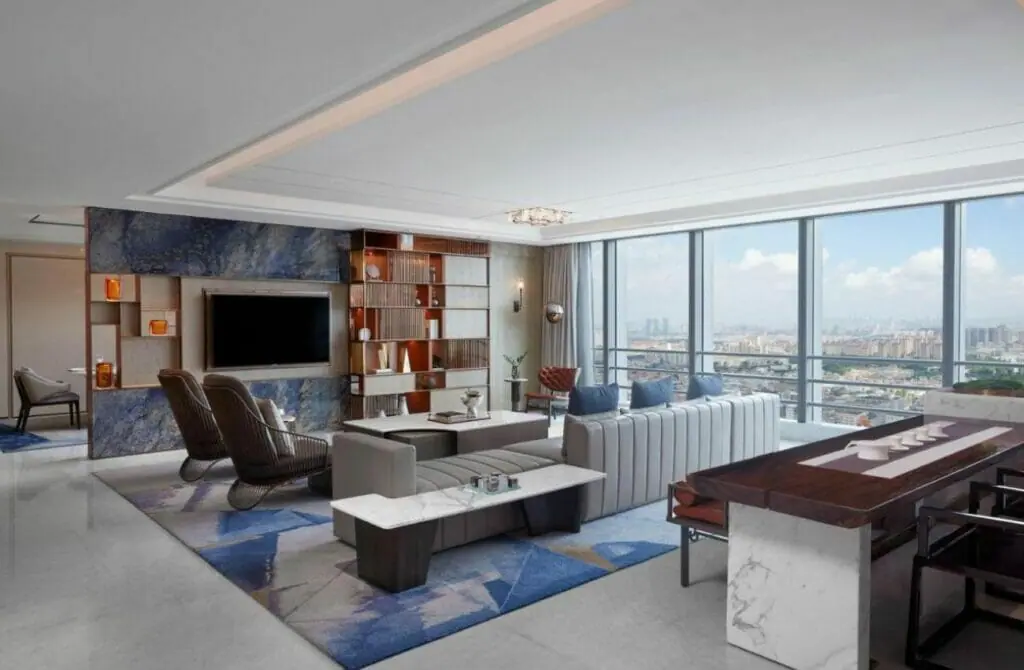 Sheraton Guangzhou Panyu ☆☆☆☆☆
In the heart of Guangzhou, you will find the luxurious five-star hotel Sheraton Guangzhou Panyu, which promises to give its guests a fantastic experience for those after comfort, relaxation, and entertainment. It is also super gay-friendly, and they will go out of their way to make them feel right at home.
You will be located extremely close to popular attractions like Chimelong Paradise and Chimelong Water Park while also providing careful attention to offering modern amenities in each of their 274 rooms.
These include the best bedding, an ensuite and a TV with cable, but that isn't all! Because outside the rooms, you can indulge in the indoor pool, sauna, and spa services to fully rejuvenate after a busy day.
No matter the type of traveler, you will feel well catered for by their family-friendly free kids' club or the business travelers' business services. Of course, everyone can appreciate the three on-site restaurants that serve brilliant food and a cool drink at their bar come evening. Knowing everything is sorted, you can fully relax on your holiday.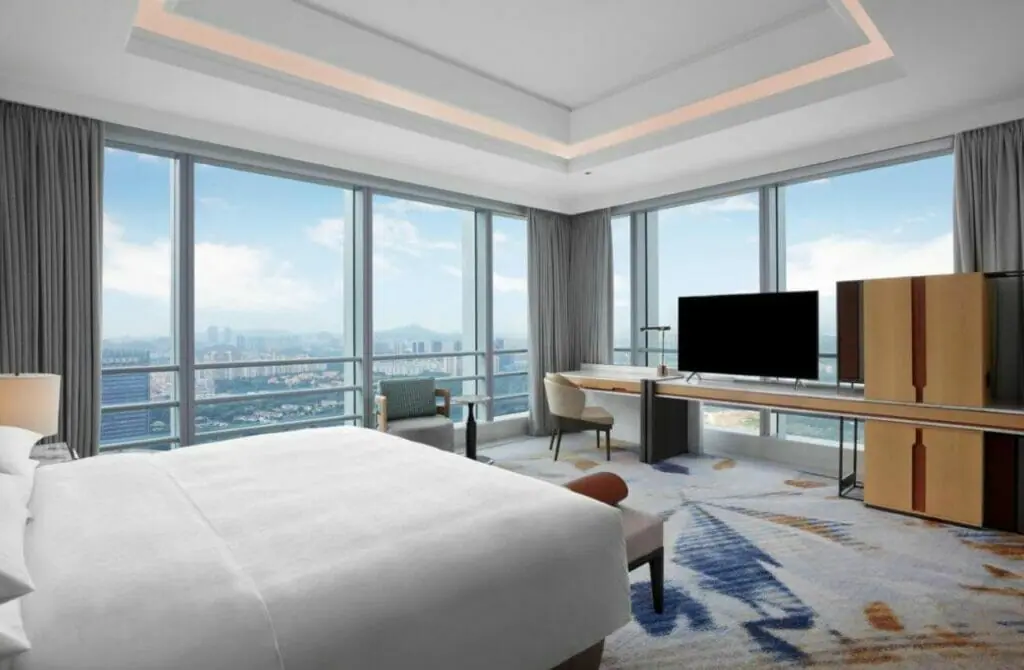 Crowne Plaza Foshan Nanhai, an IHG Hotel ☆☆☆☆
The Crowne Plaza is an excellent option for those planning to stay just outside Guangzhou and are not too worried about a short drive across the Pearl River to get to the heart of Guangzhou. This four-star hotel was recently renovated in 2020, so it is modern, clean, and home to many top amenities to make your stay exceptional.
This is seen in the 19 rooms you can choose from, each fully equipped with Wi-Fi, desks, sitting areas, ensuites, and so much more. However, what is so special about the rest of it?
Firstly, you won't need to worry about getting around as they offer various shuttle options, including to the airport. They are also family-friendly, with a playground and little extras to feel welcomed even when traveling with kids.
However, everyone else can take a relaxing dip in a sauna, steam room, or indoor pool, stay dry, and head to the gym for a good workout. Then everyone can enjoy the on-site restaurant, providing for a fee breakfast, lunch, and dinner to guests, taking the hassle out of worrying about where to eat. So, it doesn't matter what kind of travel you are; you will find something special here.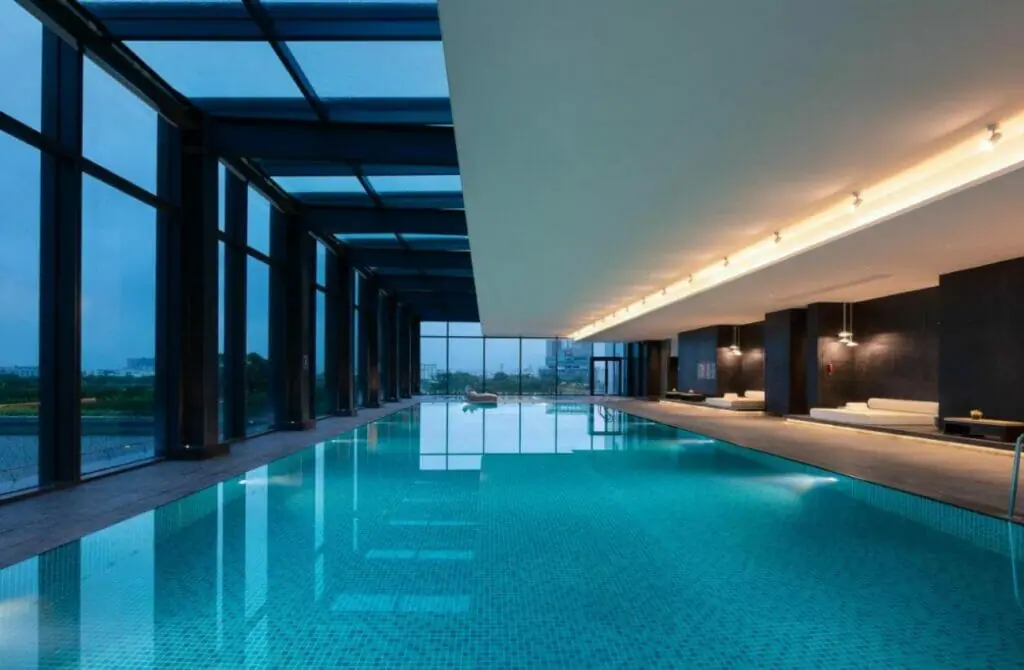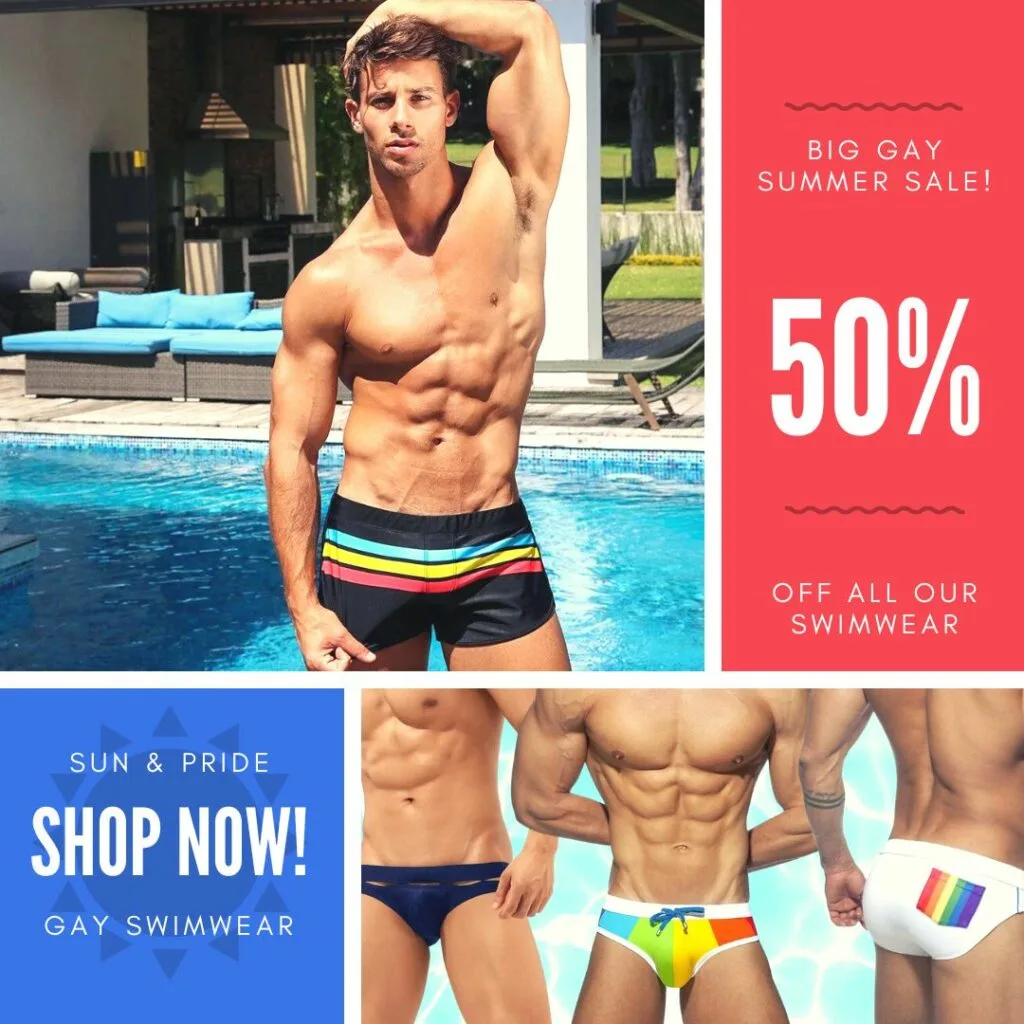 Located just a short drive from Guangzhou, the Hilton Garden Inn Foshan is an exceptional four-star hotel with amenities that make any stay in this part of China relaxing and cozy for gay tourists. The Hilton Garden Inn offers a corner shop or a restaurant for all your on-site food needs, leaving you more time to hit the gym while they cook.
After a busy day, you can get all cozy in your private room, using their 24-hour room service to bring you a late-night snack as you watch cable on your TV. Or maybe you are just pouring a bath and don't want to leave your room!
However, if you're going to make your meal to impress a date, you have the space to make basic meals with a fridge and kitchen utensils to make this process seamless. All in all, it's not a bad place to stay.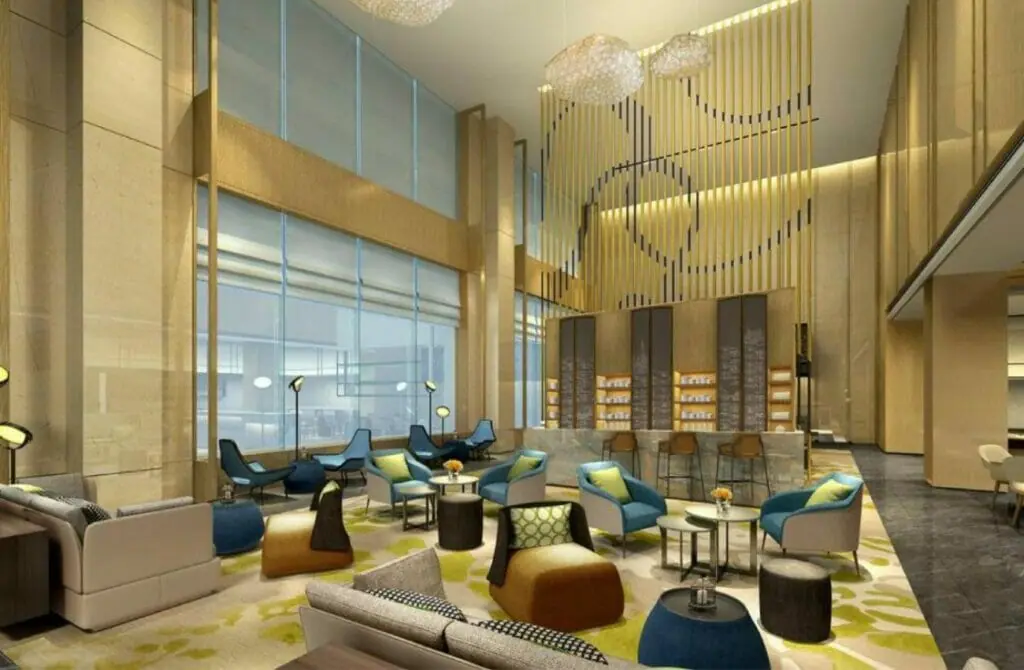 Holiday Inn Express Dongguan Marina Bay, an IHG Hotel ☆☆☆
Located near Guangzhou city is the Holiday Inn Express, a recently refurbished three-star hotel catering to business and leisure travelers. You can start your day with a complimentary breakfast before work begins, or you head off to explore the beauty of this region. When you return, you can have a warm drink in their cafe or a hearty dinner at the restaurant.
However, if you'd instead head to your private room, you can relax in the same luxury, with a peaceful night's sleep for all guests. All rooms come fully equipped with a TV with cable, air conditioning, comfy beds, and desks, with plenty of little extras to make your stay memorable.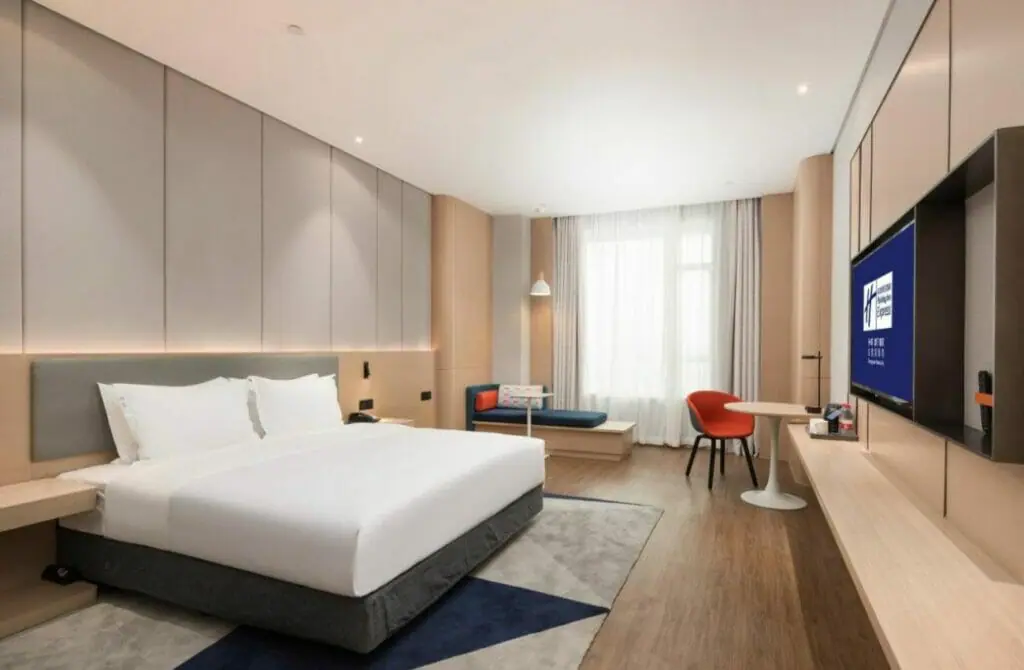 Gay Nightlife In Guangzhou, China
Darling, let's talk about exploring the queer nightlife in Gay Guangzhou, shall we? It's true this city might not be the most welcoming to our fabulous community but fear not! Being gay is perfectly legal here; remember to err on the side of caution when outside of queer-friendly spaces.
But let's focus on the fun, shall we? Exploring gay nightlife can be one of the most thrilling and enriching experiences while on the go. From dancing up a storm at a gay club to sipping cocktails and rubbing elbows with the locals at a gay-friendly bar, you'll have a chance to immerse yourself in the local culture and make memories that will last a lifetime.
And darling, we've got you covered with the best gay and gay-friendly spots in town. So don't be shy; step out of your comfort zone and explore the queer nightlife in Gay Guangzhou. Trust us; it'll be worth it!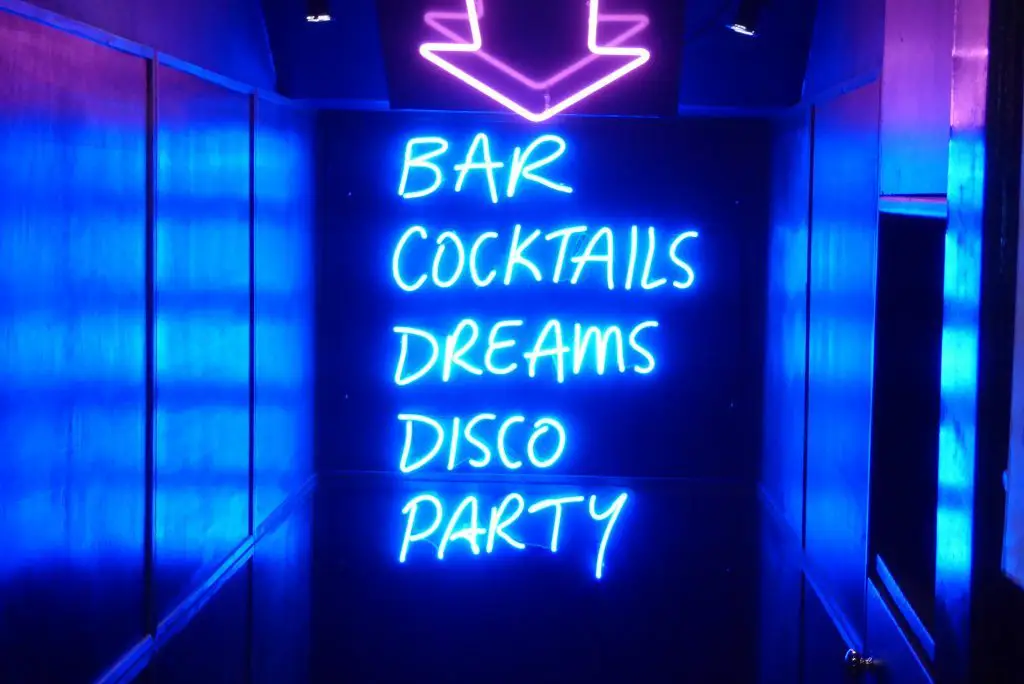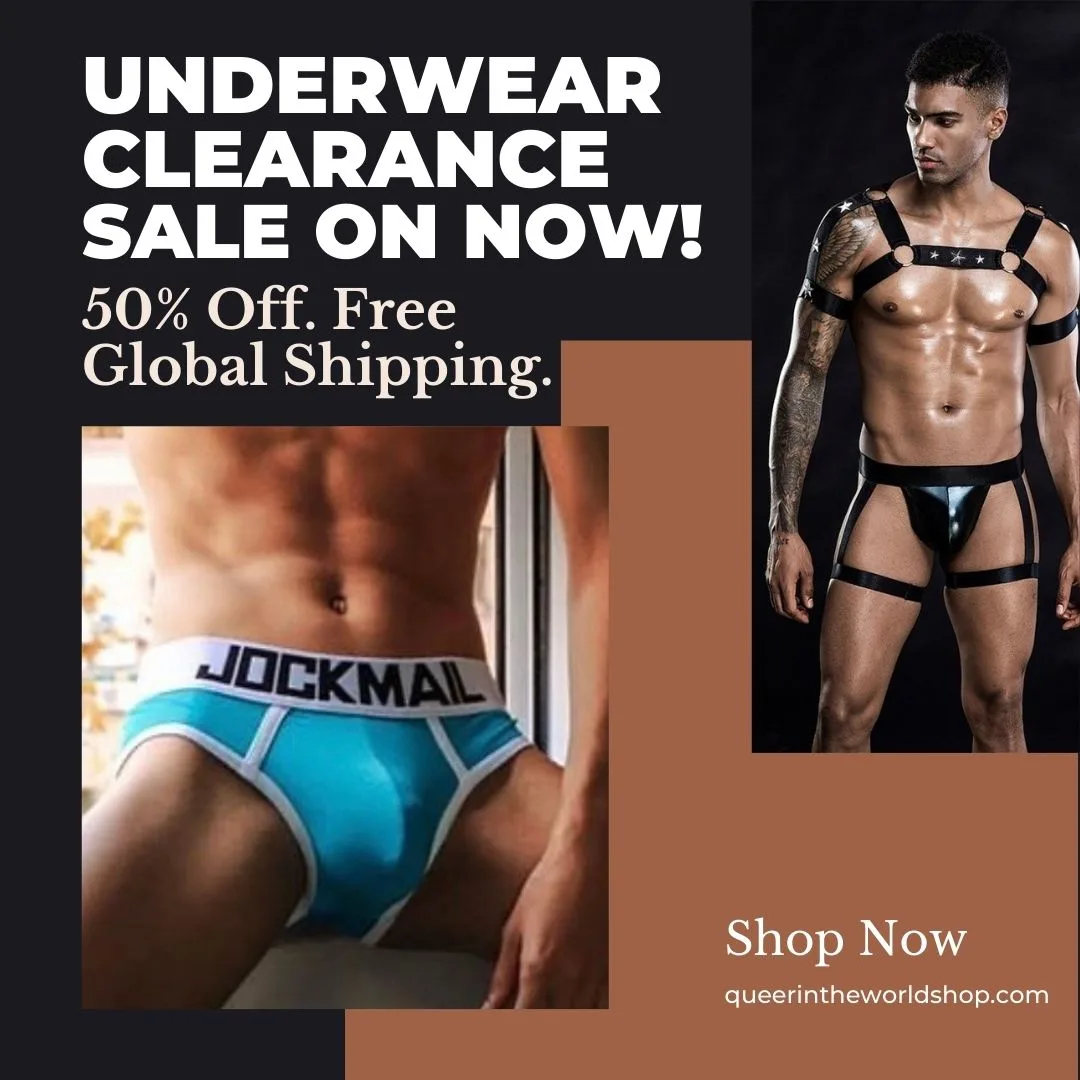 Gay Parties & Gay Clubs In Guangzhou, China
Comrade Hello Group
A gay Chinese group that could have some members in Guangzhou who could give you the local insight into the scene or meet up with you. It may be a little active, but taking full advantage of all these scarce online groups is excellent.
Out Gay Group
Another gay Chinese group with over three-hundred members is open to discussions and dialogues. You can make a post to get some advice on visiting Guangzhou, and you never know, you might meet some incredible people!
Middle-aged Gay Group
For those of the older generations, you can get social with other older gay people in this gay Chinese group. Like with the other listed groups, this is a great starting point to gain first-hand experience with the gay community in China.
Gay Outdoor Club In Guangzhou
Guangzhou is home to a gay outdoor club that you could contact if you are a keen hiker with any level of Chinese (you can use google translate to get started if you want local insight). In addition, you may find a keen local who is happy to be a walking buddy or give you excellent knowledge of the gay scene.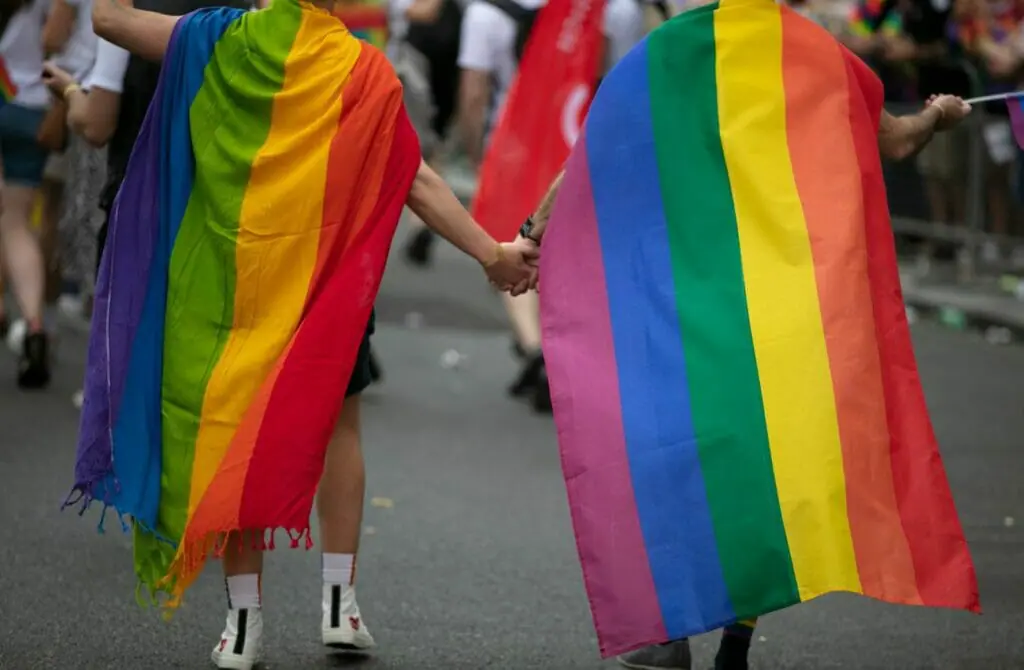 Film Gay Group
If you are practicing your Chinese or are an avid film fan, we have a gay film group for Chinese people, and without a doubt, they would also be willing to give advice and chat with prospective visitors to their beautiful country.
Selfie Lounge (Currently Closed, Former Queer Cocktail Lounge)
Although Selfie Lounge is a former queer cocktail lounge that has since closed, their previous posts and audience could be a way to get closer acquainted with the local queer scene. You also never know that they have finally opened back up with a new venue by the time you visit.
So even if she is no longer with us, it could be a fun play to stop by the former venue location and pay homage to a piece of queer history. If a tour like that sounds fun, you can find several directories online of former gay bars in Guangzhou that have since closed.
Although not very active, new members are still joining, so it's certainly worth a crack at making social connections with the Guangzhou Gay Facebook group. Send them a post and introduce yourself, and you may be pleasantly surprised to meet fellow gays to explore the city with.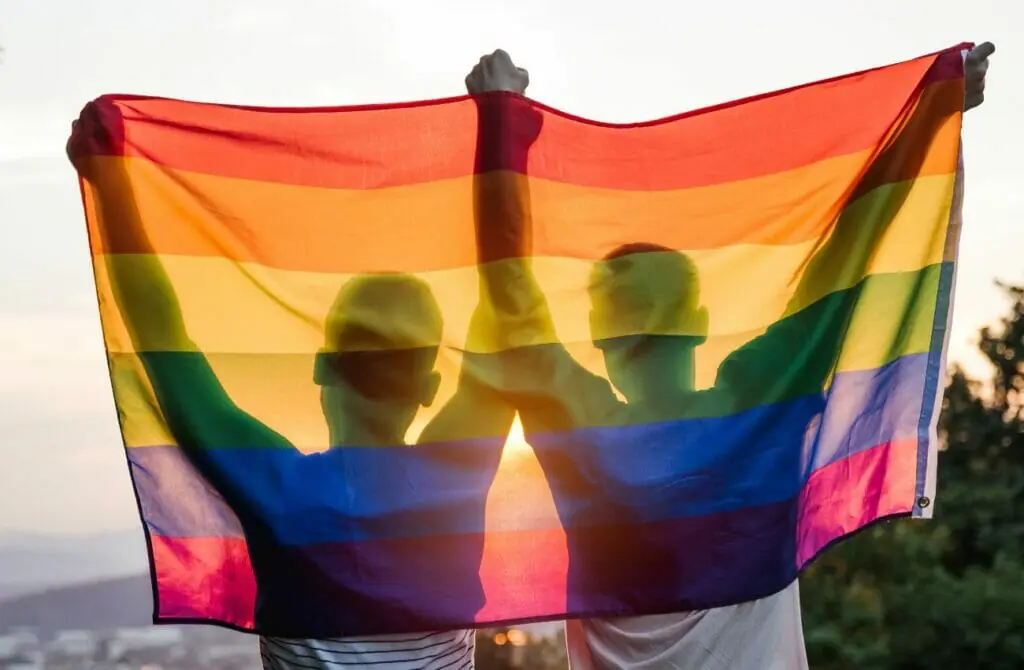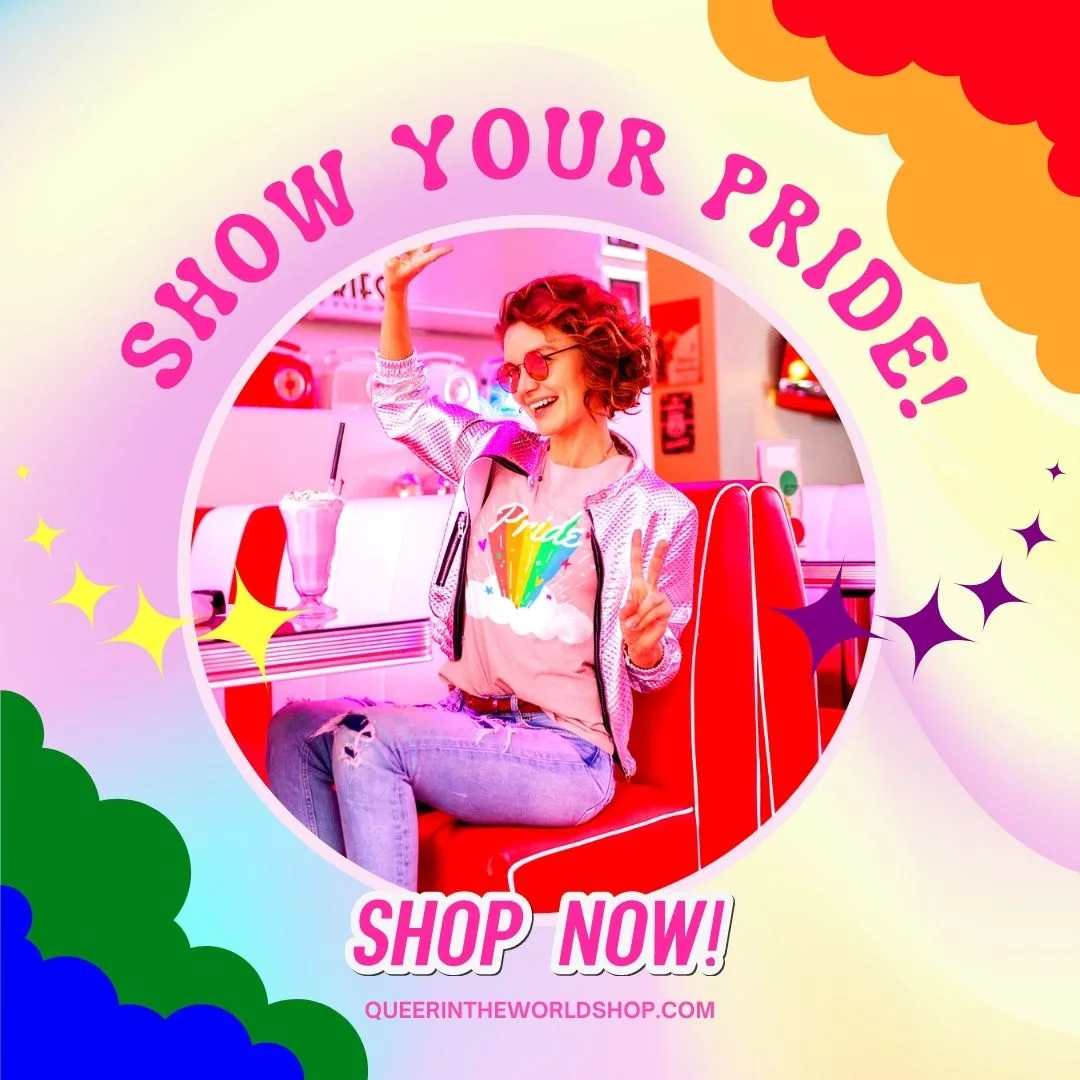 Gay-Friendly Nightlife in Guangzhou, China
Cave Club
The Cave Club is another quietly spoken gay-friendly spot for the queer community to visit in Guangzhou, with exceptionally modern spaces designed by a Chinese artist to make you feel like you are in a glassy cave.
But, even if you stop by for a drink or admire the unique building, you will find yourself with a good time, and leaving could be hard. So, make an event out of it and expect a couple of drinks in a space you won't find anywhere else in this city.
Something truly gold and not just in its name is the Gold Mango Bar & Cafe, a favorite place for locals and tourists to enjoy a classic Chinese dining and drinking experience. Don't expect a loud party scene here; they are all about providing an al fresco drinking experience for diners to feel at home.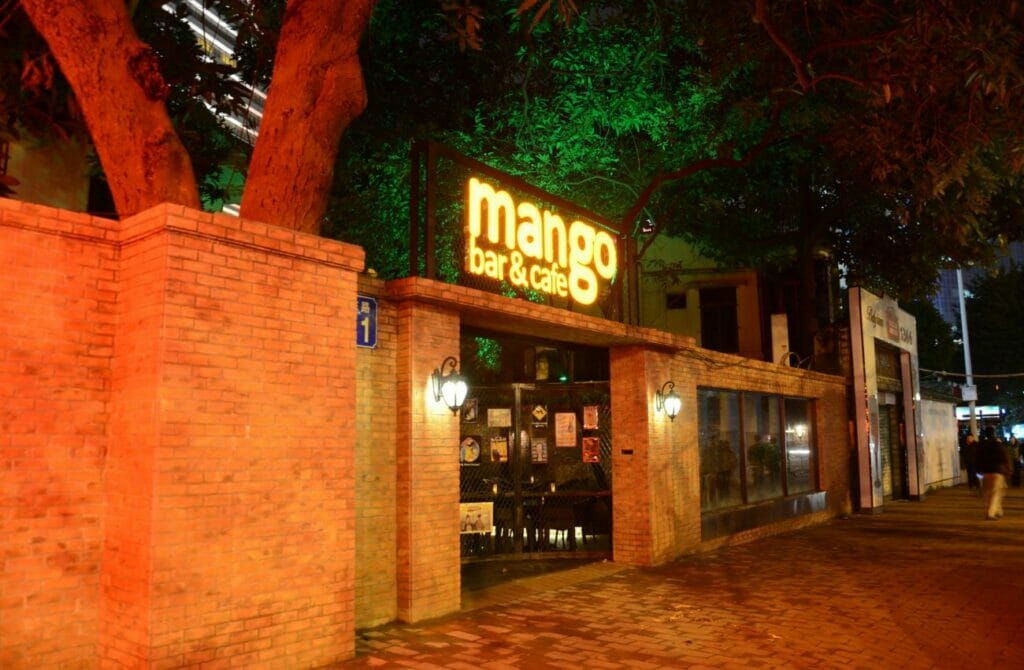 Kama Club is a favorite gay hang-out spot, even if they are not gay, with a relaxing and easy-going drink and club experience. You can come here to meet up with fellow gay people, or you can come here to get lost in the sea of people watching as you enjoy excellent service, drinks, and pumping tunes.
Hunting Bar
The Hunting Bar has been an unofficial gay hotspot in Guangzhou since the closure of many gay bars in the last five years. You may find it hard to spot fellow queer people, but you cannot doubt you will feel warm and cozy here.
Not only is it likely the only bar by the Pearl River to have a mixologist, but it is also a top cocktail lounge to lay back and enjoy an easy drinking experience. Its owner, Wing Fan, goes out of his way to ensure this space is tranquil and peaceful, like the quiet nature of a Buddhist temple, so if that sounds brilliant, Hunting Bar is perfect for you.
Those after an artsy, alternative party scene in Guangzhou can't go wrong with a visit to the Party Pier, where you can party day and night. This is an outside party zone located right up against the waterfront and is the perfect night out when it's warm and clear.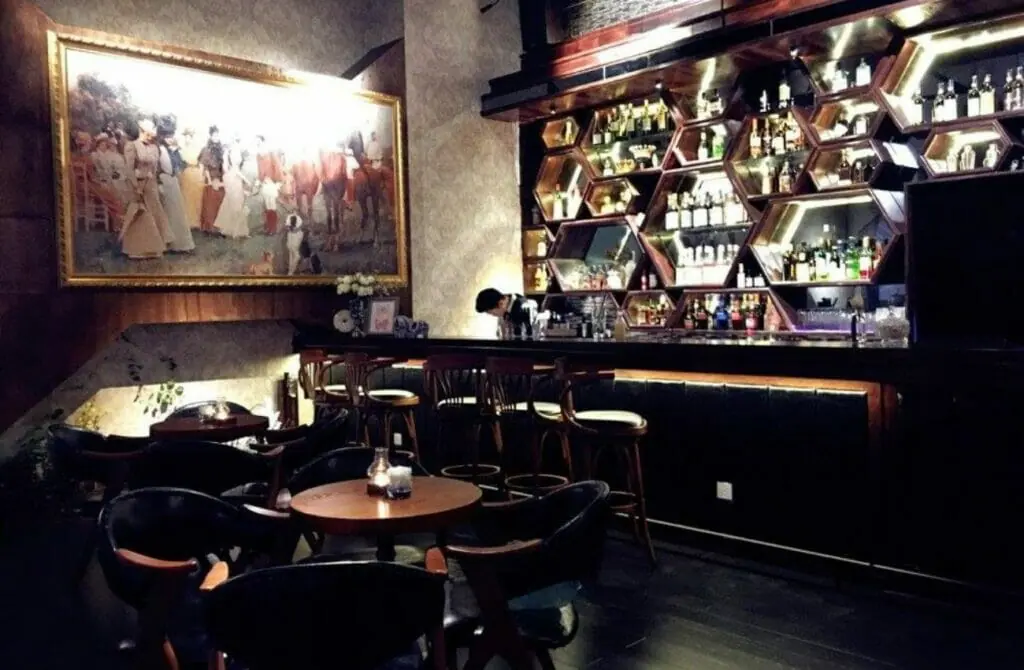 Cruising & Gay Saunas In Guangzhou, China
When exploring Gay Guangzhou, there's more to life than just cocktails and beers. One aspect of the gay scene that many of us queens love are checking out the local gay saunas and cruising clubs.
Granted, Guangzhou isn't quite as wild as Amsterdam, Barcelona, or Berlin, but these steamy venues still offer the perfect opportunity to meet new people, socialize, and engage in some hot and heavy action without swiping left or right. However, remember that these venues can differ in terms of vibe, patrons, and rules, so it's a good idea to be informed before you dive in.
Gay saunas, sex clubs, and cruising have long been popular ways for queer men to meet and engage in sexual activity, particularly in countries where same-sex activity is not widely accepted or may even be illegal. In these places, gay saunas and cruising clubs provide a safe and discreet environment for queer men to explore their sexuality and connect with like-minded individuals.
Despite the rise of gay dating apps, many queer men still prefer the anonymity and physical connection that can be found in these spaces – so somewhat counter-intuitively, you might have a hotter experience here than you would at home.
We recommend checking out our guide to cruising for first-timers before you get started, which should give you the lowdown, and always practice safe sex.
Keep in mind that local laws and customs regarding gay venues and sexual activity should be respected at all times. With a bit of forethought and an open mind, visiting gay saunas and cruising clubs can be a thrilling and steamy part of your gay Guangzhou adventure.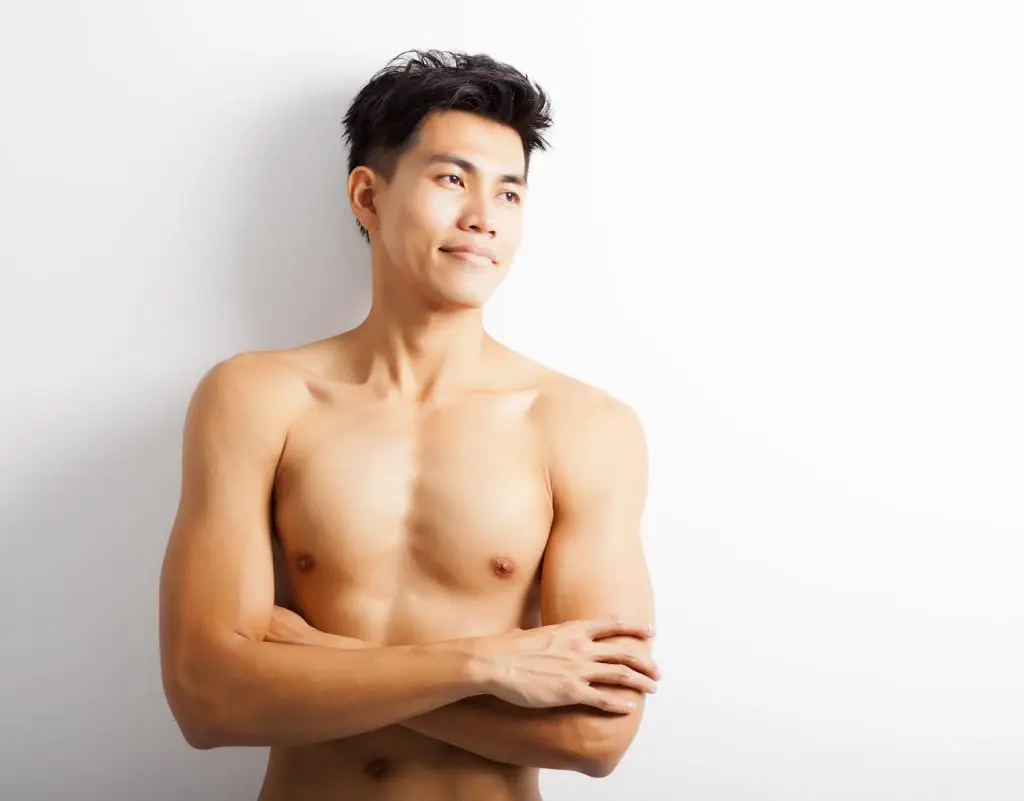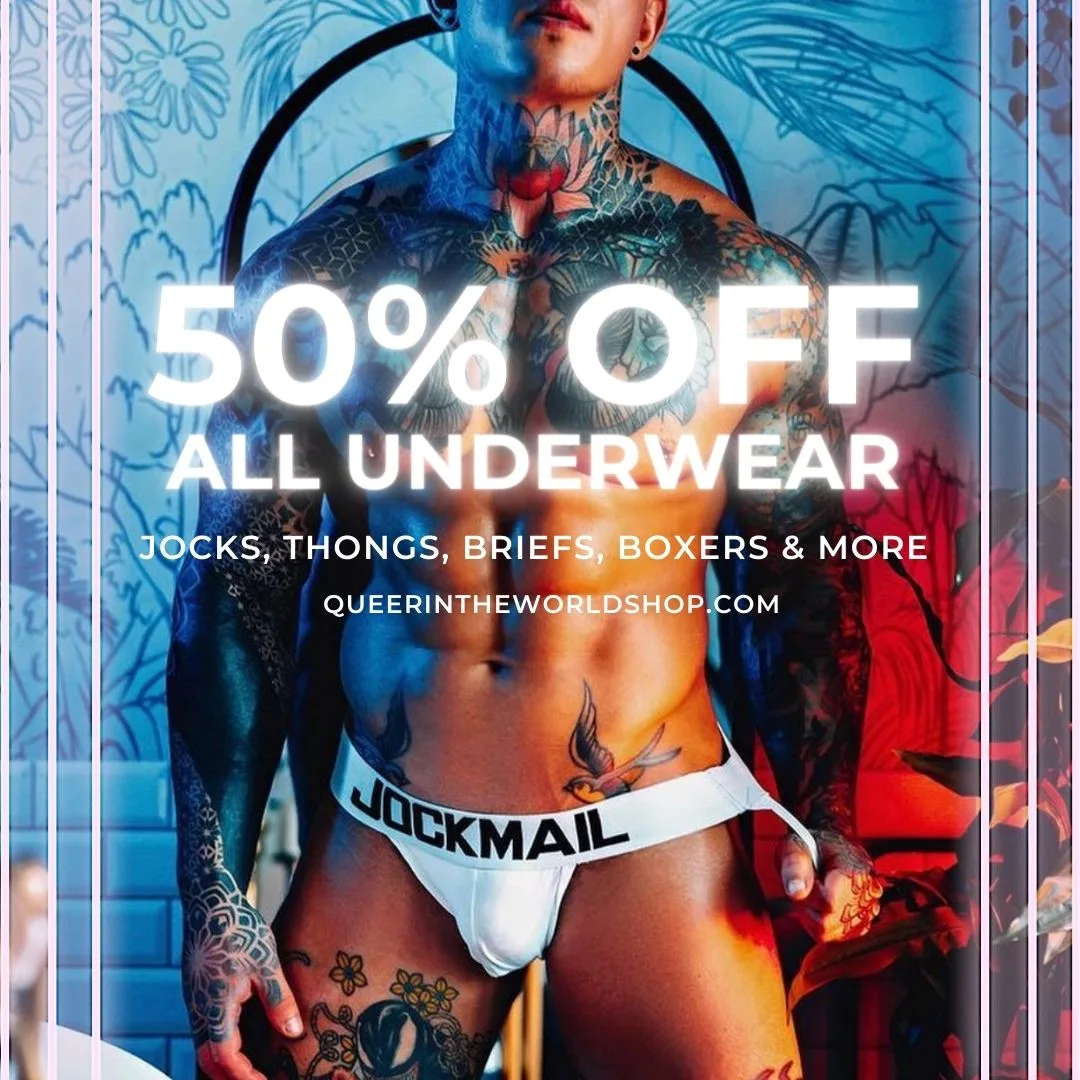 Gay Map Of Guangzhou
Finding it hard to envisage where everything is in Guangzhou? Hopefully, this queer-centric map helps where we have marked all the bars, clubs, parties, hotels, saunas, massages, and more will help you stay in the spot best suited to you!