Chengdu is the unofficial gay capital of China, but who could question why when here you can find some of the largest concentration of gay bars and clubs, making the queer nightlife one of the livest in the whole country, perhaps in all of Asia. These facts make it one of the best destinations in China for a gay holiday; as you can see, there is a fairly active community with queer spaces to feel at home.
Not only is their gay community growing, but Chengdu is remarkable for many other factors that make it a favorite tourist spot. For all history lovers, Chengdu was founded in the 4th century BC and served as the Shu Kingdom's capital until the 4th century AD when the Qin Dynasty conquered it.
It has maintained its name remarkably throughout the years despite living through many wars and falling to various conquerors. Still, it holds its character and history as a proud badge, a sign of its reliance.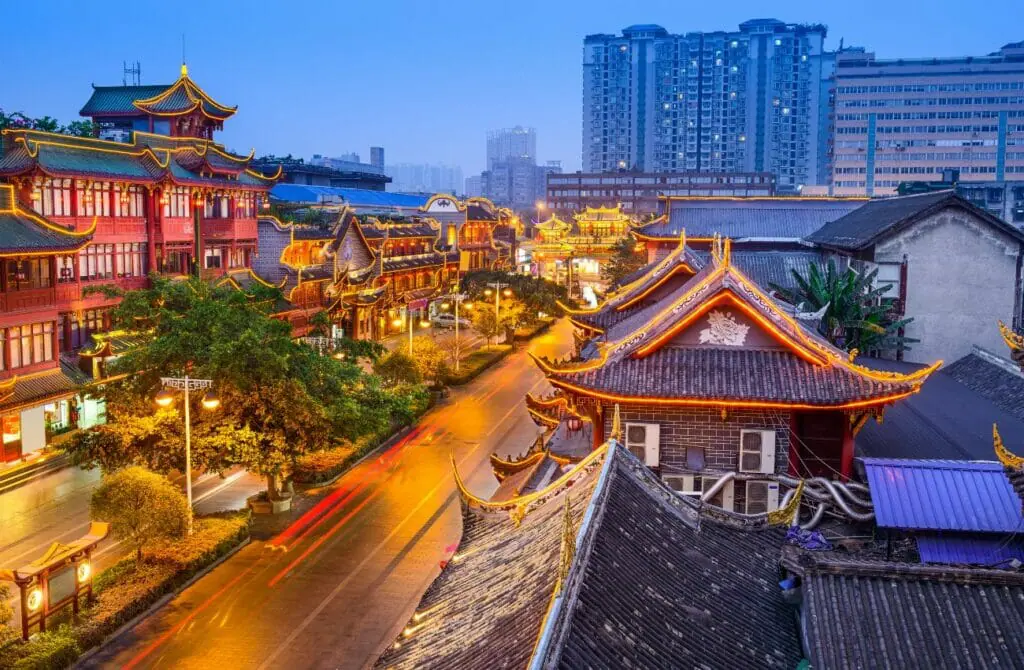 Outside of history, Chengdu is known today for its Panda research program, exceptionally relaxed way of life compared to other parts of China, and the capital of the Sichuan Province. So you can experience a unique piece of central Chinese culture vastly different from Beijing's eastern influences being on the fringe of other Western Asian countries.
These differences can be found in the distinct Sichuan cuisine, Buddhist statues and temples, and cultural elements that are still quintessentially Chinese. So those looking for a gay adventure in China that is a little different from Beijing, you can't go wrong with Gay Chengdu.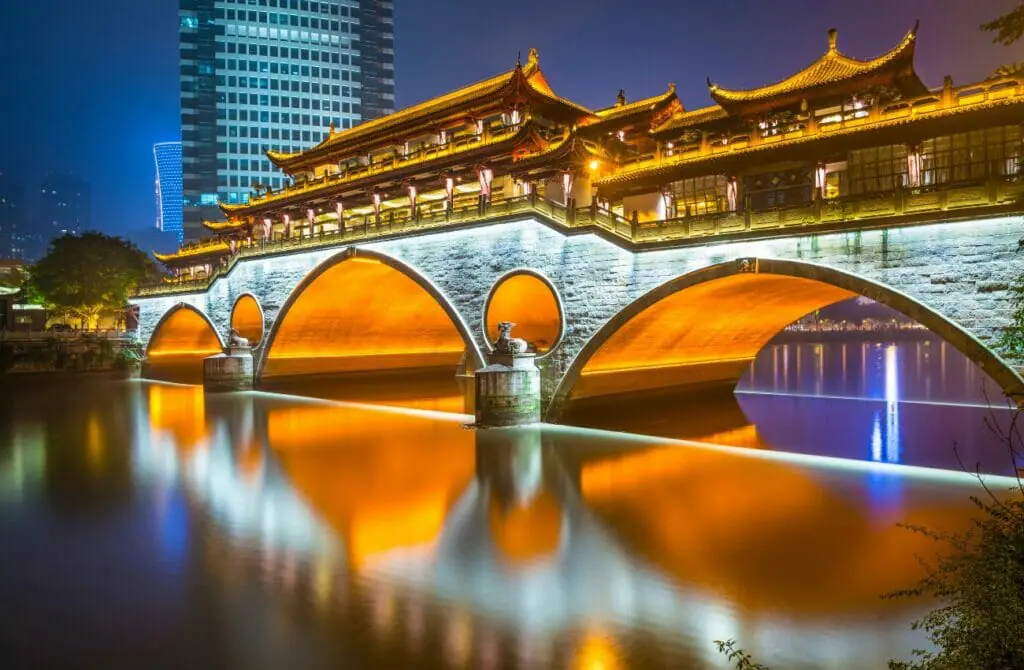 Attractions in Gay Chengdu, China
Welcome to Gay Chendu, darling! While the city may not be the most welcoming to the queer community, fear not! There are plenty of fabulous things for you to do while keeping things low-key. First and foremost, you must visit some of the city's most iconic landmarks and attractions, dahling!
Take in history and culture by visiting museums, art galleries, and historical monuments. And don't forget to marvel at the stunning architecture, explore parks and gardens, and indulge in the local cuisine. But that's not all, darling! Gay or straight, there's always something to do in Gay Chengdu.
Immerse yourself in the local culture by attending cultural events like festivals, concerts, and shows. Trust us; there's always something fun and exciting happening in this fabulous city. Remember, discretion is key to a town that's not always welcoming to our great community. So, keep it lowkey and enjoy all the wonderful things Gay Chendu has to offer!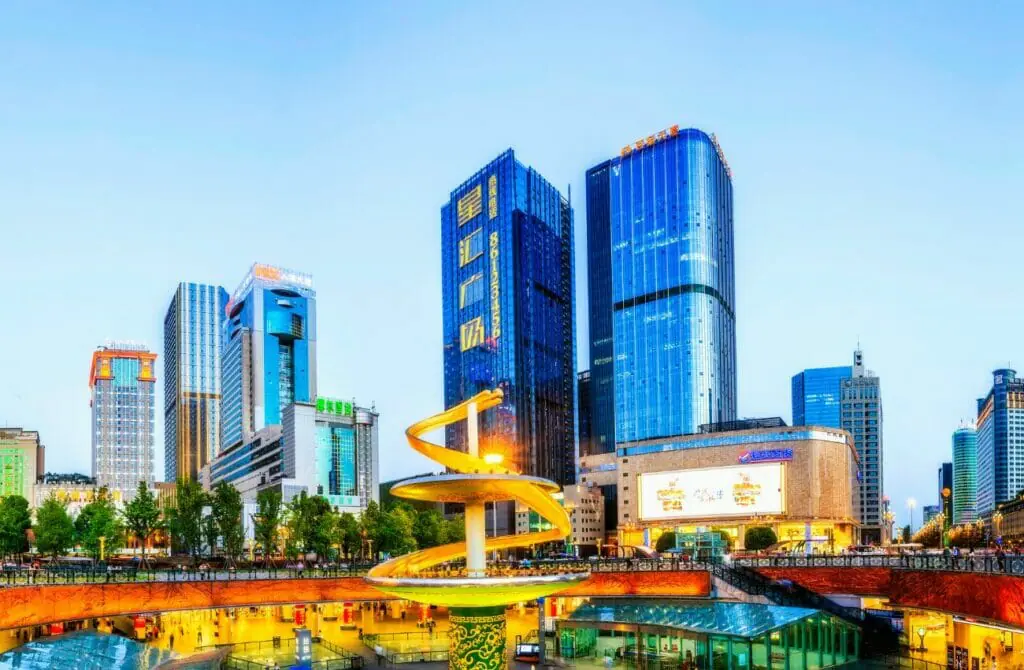 Mengdingshan Tea Plantation Private Tea-Making Tour in Chengdu
One of the age-old cultural traditions in China is the drinking of tea, and it is a widespread social engagement that is popular amongst friends and poet readers alike. Because of its social importance, it is worth visiting Chengdu's Mengdingshan Tea Plantation for a private tea-making tour.
You get to see the fields in which the tea plants are grown and the workers collecting, preparing and packaging to send to stores around China. Afterward, you can even sit down and taste their brilliant tea.
You must visit the Leshan Giant Buddha to make the most of your trip to Chengdu. There is a day tour opportunity that takes you right there to allow you to see this giant rock marvel in person, allowing you to gaze in awe at this 1,300-year-old sitting regally along the riverbank.
You can even climb steps alongside this massive statue, rising to a bank at its feet or ascending right to its head to observe it from above, offering you rich insight into the artist's history of the region and priceless landscape views.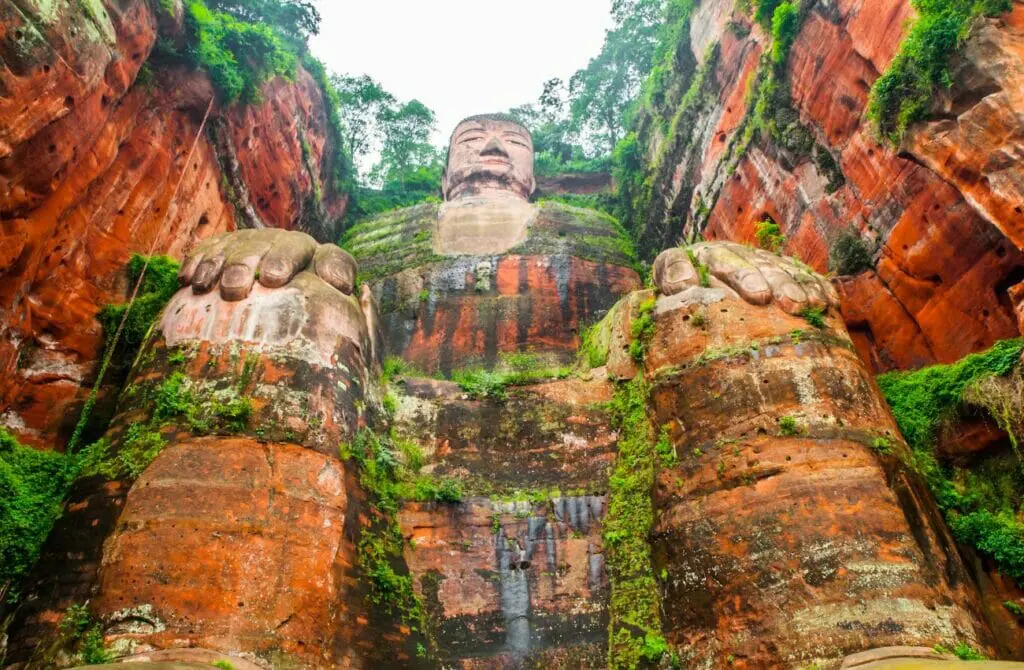 For those that want to see artifacts and exhibits catering to the earliest centuries of Chengdu during the Shu Kingdom, the Jinshu Site Museum focuses on these periods. You can see incredible artifacts from the excavated Jinshu Site, ranging from ivory to gold and jade.
This isn't just a museum, as you see an uncovered archaeological site stretching over five kilometers and showing the original capital's structural remains. Archaeologists have named this one of China's most important archaeological sites.
Tianfu Square
In Chengdu's heart, you can find the iconic Tianfu Square, where you can find some essential city attractions amongst this intersection between the business and commercial districts. At the center of the square, you will find a monumental spherical fountain, making it picturesque as it is a helpful landmark when making your way around the city.
In addition, you can find restaurants, several tourist shops, and even major metro stops nearby, so you can expect fellow travelers to enjoy a quick feed here as they wait for their train.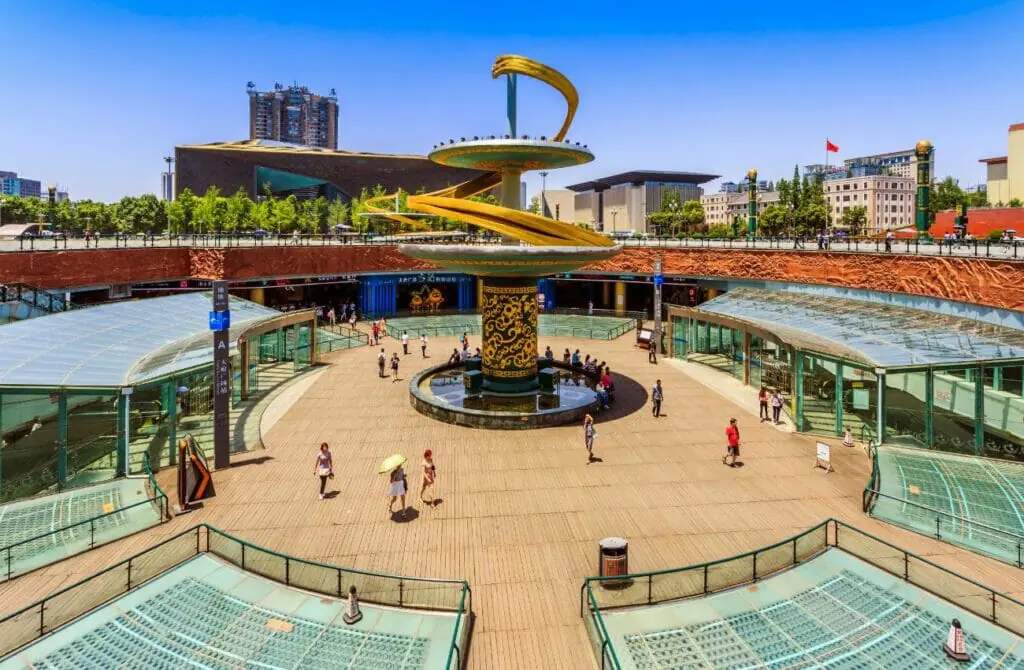 The Jinli Ancient Street is one of the oldest and most well-preserved streets with traditional wooden facades, overhanging wooden terraces lit by lanterns, and narrow passageways but with a modern, lively feel regardless of the day or night. You can find down this 350-meter street of the road a collection of restaurants and other venues that will make it a special place to visit.
Wuhou Temple was built in the 17th century during the Qing Dynasty as a dedication to Zhuge Liang, the military strategist, and his Emperor Liu Bei of the Shu Kingdom in the 2nd century AD.
It is better known as Wuhou Memorial Temple, open to visitors to come and pay tribute to the founding people in the city's history and incredible housing artifacts from inscriptions to statues relating to the two men's lives.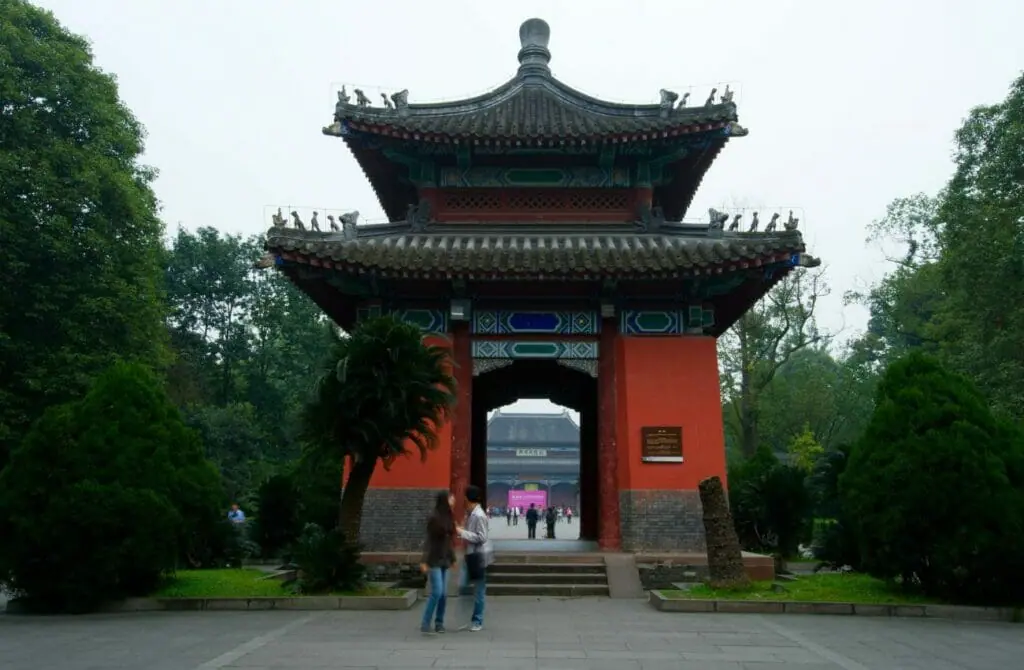 Chunxi Road
For a modern shopping experience, the wide pedestrianized street of Chunxi Road is the place to be for the complete shop experience, with over 700 outlets.
This trendy street is busy regardless of the time of day or night, with the day popular with daytime shoppers and night for the lively nightclubs and restaurants under the shadow of neon lights. You will always find something to do here, so if you have a dull moment, head down to Chunxi and see what you might discover.
It would be a shame to visit China and not see one of its cute black and white bears, so you must check out the Chengdu Panda Research Base. You can visit this zoo and pay the way forward to help fund their continued research and breeding programs to preserve the Panda population in China.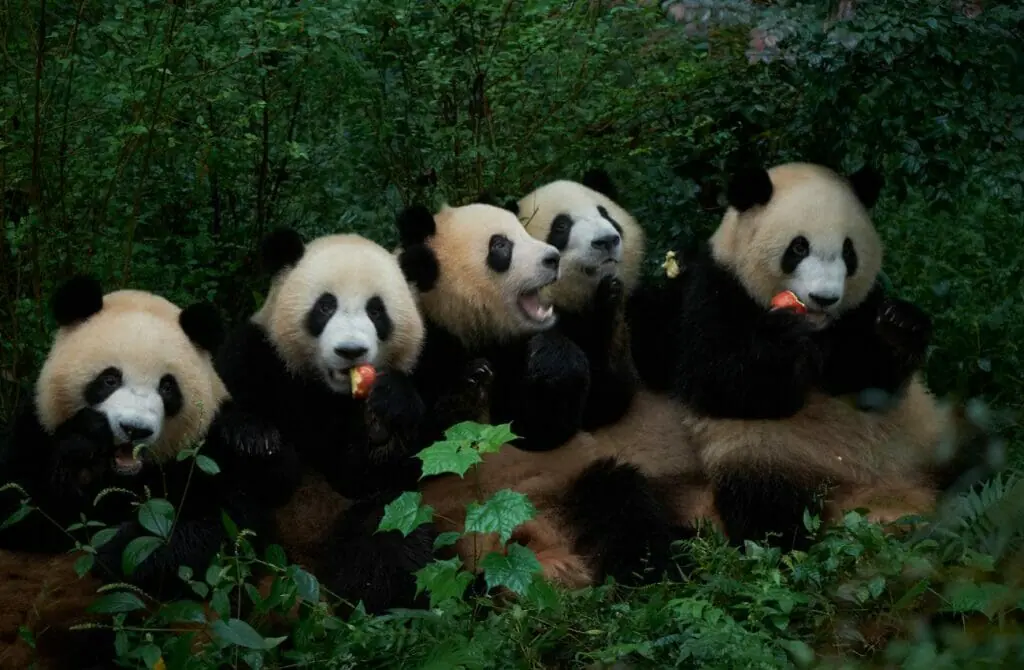 Qingcheng Shan
Located northwest of Chengdu is a mountain that is not just great for those wanting to hike during their stay in China. This mountain is one of the most sacred Taoist sites in the country, as this is where the significant spiritual movement was born. At its peak, you will find several major temples that are said to be where essential leaders of China studied the ways of the Taoist religion.
Chengdu is very true to its word as being a great tourist city with many things to do and experience, and this is very true with its fun-filled amusement park, Happy Valley. You can throw yourself into an incredible afternoon of riding rollercoasters, eating cart food, and partaking in other amusements you will have to discover.
Religion in China is rich and varied, so you can visit Wenshu Yuan Monastery to celebrate this difference. This Buddhist temple is located on the green gardens of its small enclosed grounds and is open to all to come and experience the sacred space of the Buddhist religion.
Built-in the 18th century, this three-hundred-year-old temple is a prime example of traditional Chinese architecture with several stories and curved rooves that make great photos!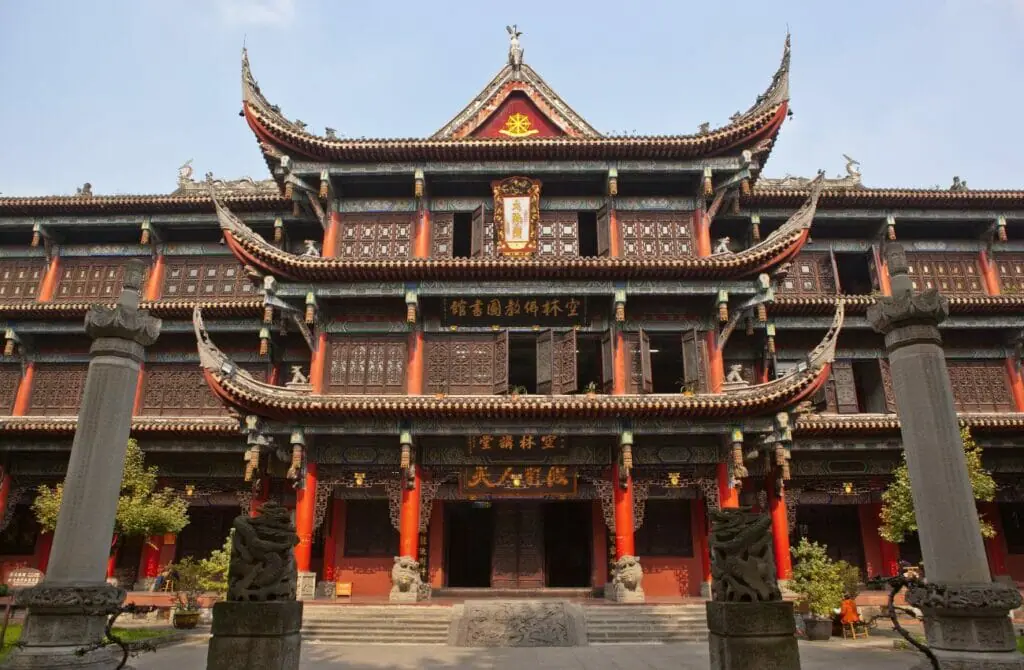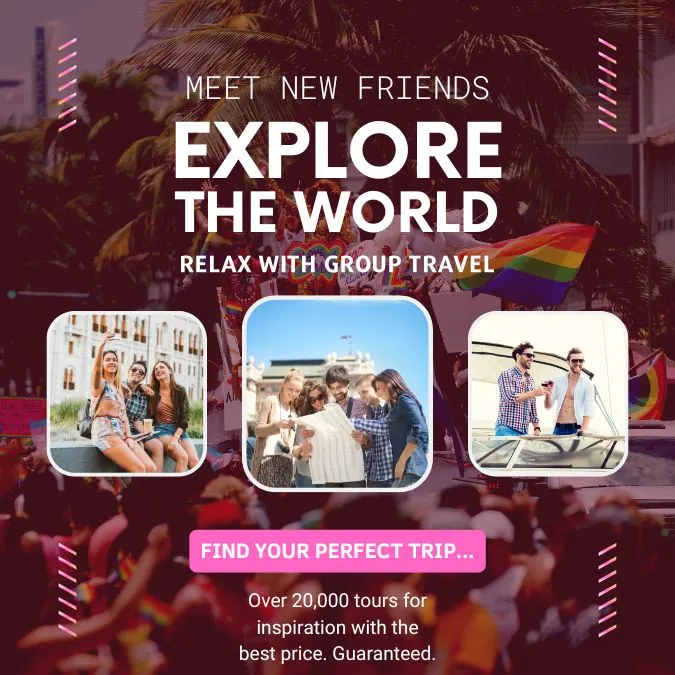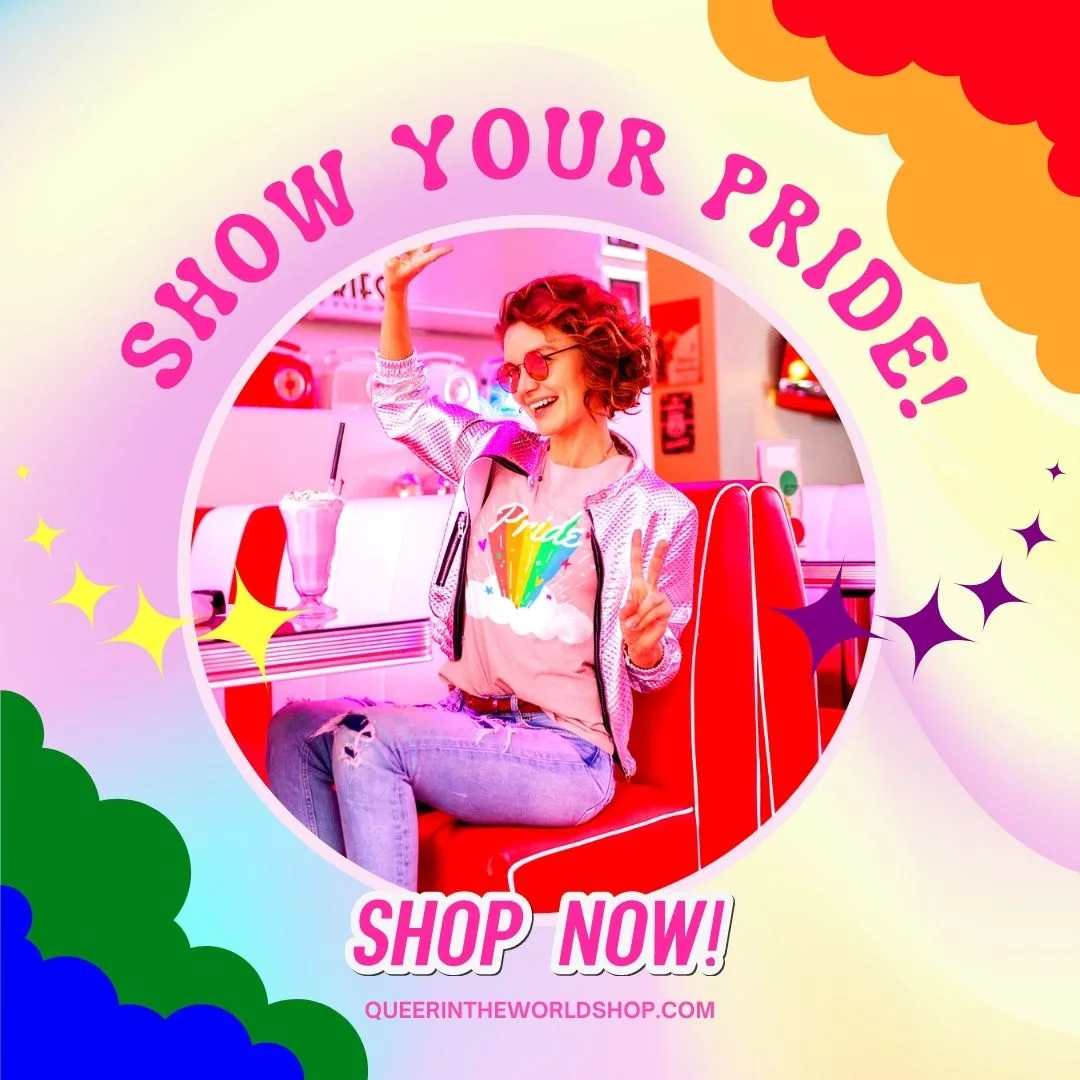 Gay-Friendly & Gay Hotels in Chengdu, China
Oh, honey, let me tell you about being fabulous and feeling welcome at these hotels in Gay Chengdu! Don't worry about other hotels that might not be as accepting; these gems are committed to being LGBTQ+ friendly and ensuring that all guests feel like they belong.
Being gay-friendly isn't just about waving a rainbow flag or using the right pronouns; it's about creating a safe and inclusive space for all guests. From non-discrimination policies to providing resources for LGBTQ+ travelers, these hotels go above and beyond to ensure you feel welcomed and supported. And honey, they don't stop there!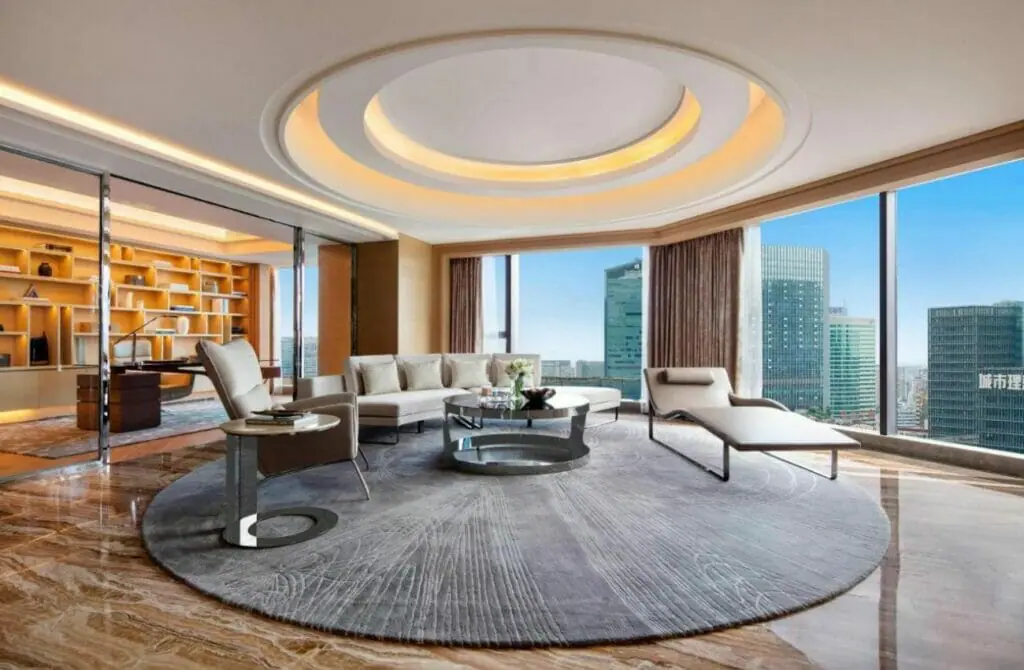 Some of these gay-friendly accommodations have extra amenities and literature about local LGBTQ+ events and resources. Plus, they might even be located in an area known for being LGBTQ+ friendly. Now, let me tell you about these fabulous hotels in Gay Chengdu. While there aren't any specifically gay hotels or resorts, these are the crème de la crème of gay-friendly accommodations.
And if these don't tickle your fancy, don't worry; there are hundreds of other options in Chengdu to fit your budget and needs. So pack your bags, put on your most fabulous outfit, and get ready to feel welcome and accepted at these gay-friendly hotels in Chengdu!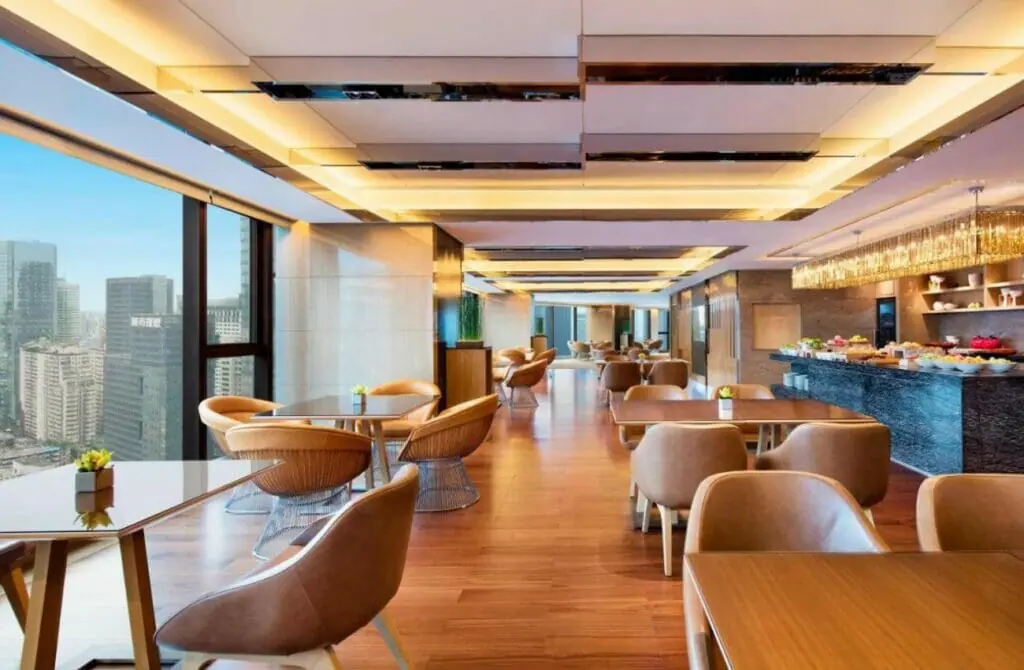 JW Marriott Hotel Chengdu ☆☆☆☆☆
In the heart of Chengdu, you will find the brilliant five-star JW Marriot Hotel, which you will find is not only gay-friendly but a luxurious experience like none other in this city. You not only have the most modern and carefully designed rooms, complete with warm baths and exceptional views, but the breakfast and 24-hour room services are a bonus.
However, if you think we're done here, you're surely mistaken as they have two restaurants and a bar to keep you fed, with brilliant dining spaces. They also have a 24-hour fitness center and pool to burn off those extra calories and a spa service with a hot tub to relax once all the hard work is done.
But many don't choose this place simply for its excellent facilities, but its prime city location in the Jinjiang District has easy access to top attractions.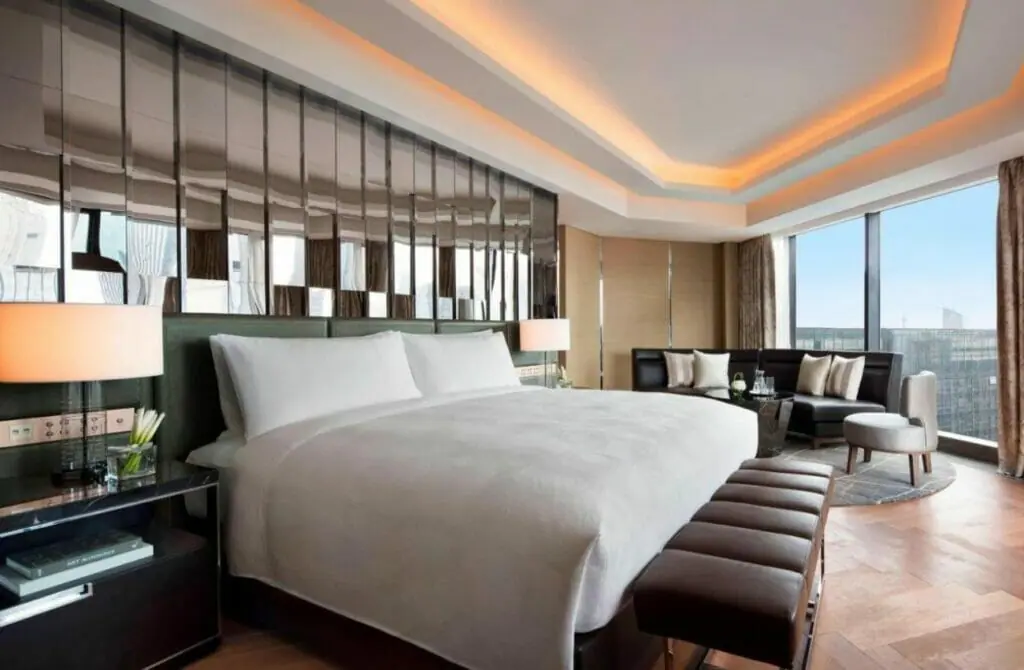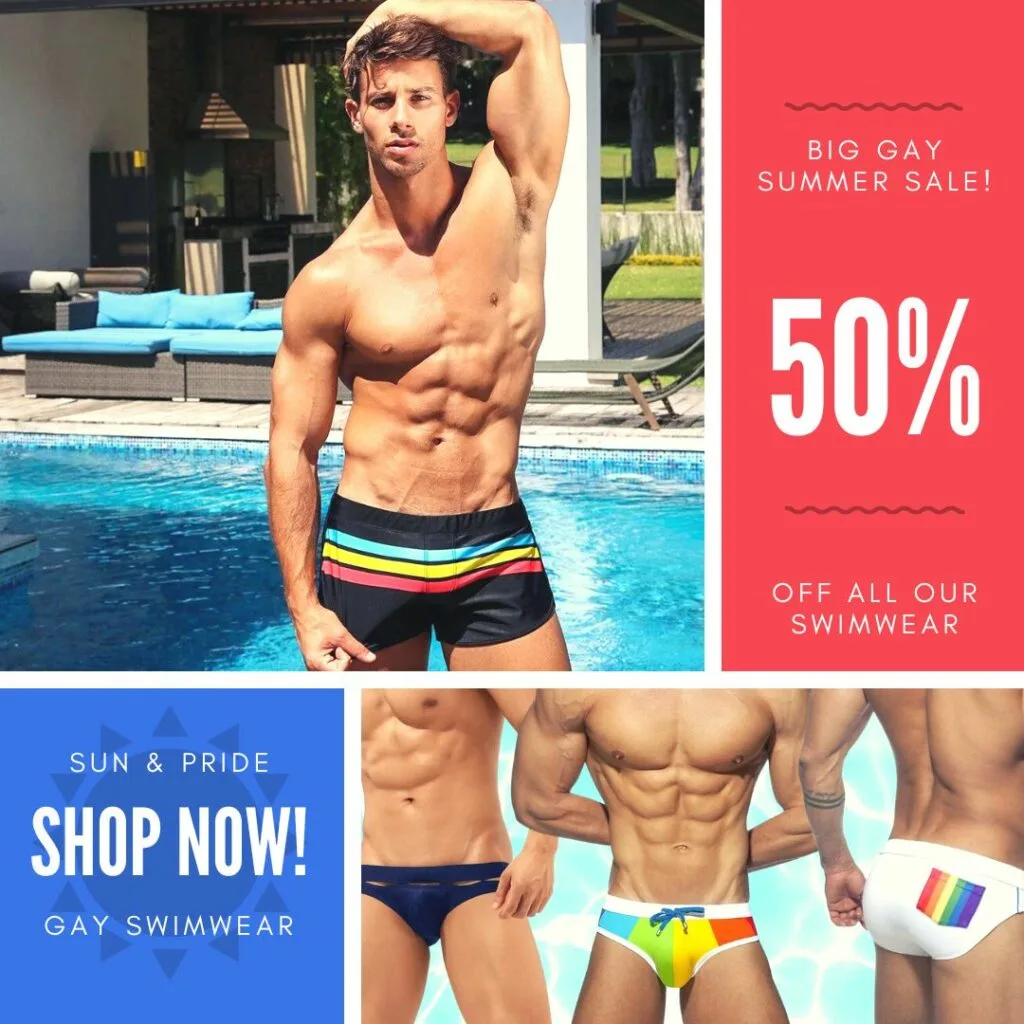 Holiday Inn Chengdu Oriental Plaza, an IHG Hotel ☆☆☆☆
Another gay-friendly hotel is the Holiday Inn Chengdu Oriental Plaza, which like many IHG Hotels, never fails to satisfy visitors. The prime location of staying in the Jinjiang District has many benefits as you are within walking distance of central city attractions like the Sichuan Science and Technology Museum and Park.
Staying at this hotel, you also have other incredible benefits with some cool extras for guests, whether the outside pool, gym, or three restaurants. Then the rooms, oh boy, are so cozy and homely you won't want to leave your soft bed.
DoubleTree by Hilton Chengdu Riverside ☆☆☆☆
DoubleTree is exceptionally close to the center of Chengdu, and for a four-star rating to match, you can betcha Hilton brings a luxurious hotel experience to the table. So settle in as we begin this by presenting that you will have easy access to the city nightlife and Jincheng Park and Jiufang Shopping Center.
Following that, you will be treated to a relaxing stay during your time away and services that evoke comfort and enhance your overall experience.
You can dine at their numerous restaurants, take their gym for a spin, taste all the cocktails at their bar, and if you still have energy at the end of the day, you can catch up on emails at your desk before you turn in for the night. Doubletree has something for everyone.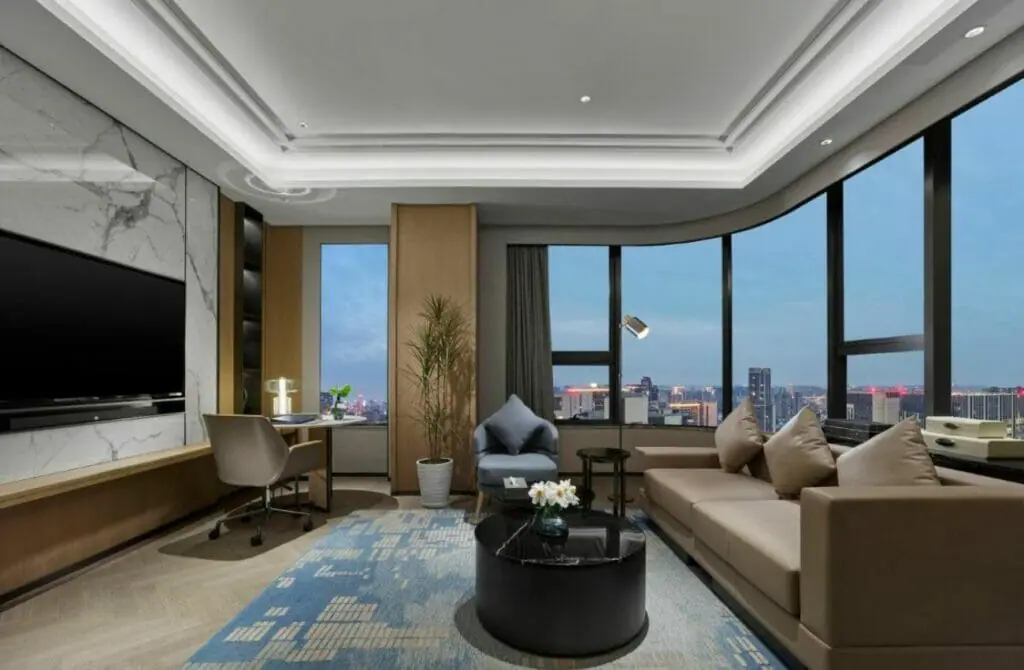 Aloft Chengdu Shixiang Lake ☆☆☆
Aloft Chengdu may be a little drive out of the city; however, this unique setting makes ver vastly different from the others in this showcase. Firstly you are surrounded by nature with easy access to incredible hikes and rural attractions, from the numerous Taoist temples to the Shixiang Lake, which resides nearby. You can't miss out on Aloft if you want the best of both worlds!
It isn't just her setting that causes guests to fall in love, as she hosts a large garden and an interior that is just as stellar. You can also dine in luxury with her complimentary breakfast and then the ability to eat at the restaurant and bar later in the day and well into the night.
Then there's also the gym and games room if you want to challenge your mind and not just your body. With so much to do, you will find it equally easy to recharge in your private room with an all-purpose space with a TV, desk, bed and ensuite.
Holiday Inn Express Chengdu West Gate, an IHG Hotel ☆☆☆
The Holiday Inn Express is a budget-friendly hotel with a three-star rating in west Chengdu, which is best suited for those who don't travel far to be amongst the hustle and bustle of the action.
Not only that, breakfast is complimentary for guests, and they also have a restaurant for an extra fee to feed you for the rest of your stay. This gives you more time to check out everything else this hotel offers, notably the business services, room service, and cozy rooms that will have you asleep the moment you hit the pillow.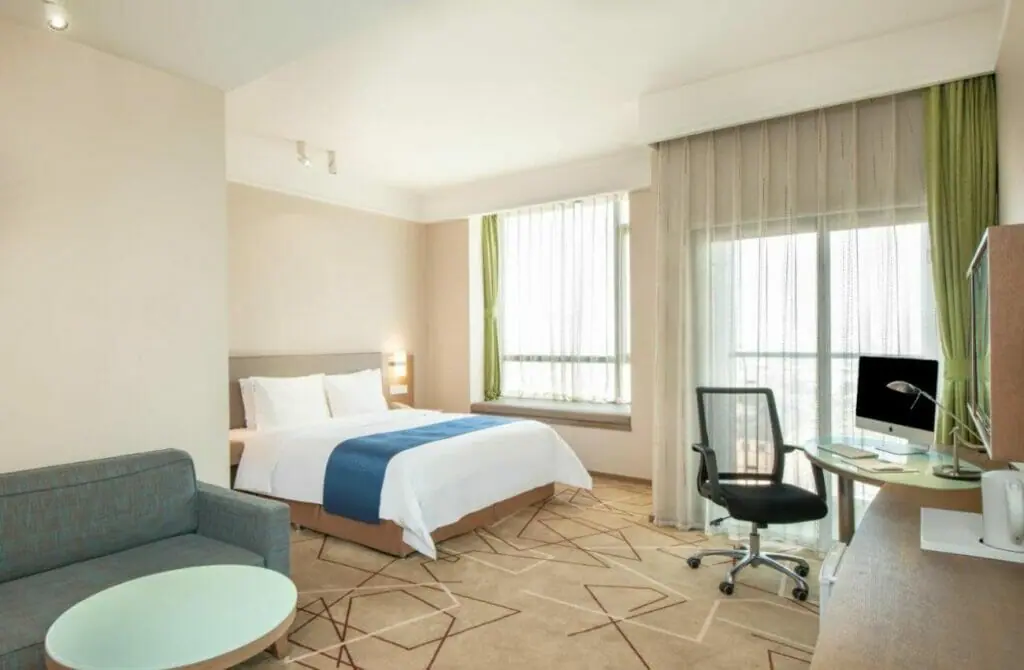 Gay Nightlife In Chengdu, China
Chengdu is the gay capital of China mainly because you will find many different gay clubs and bars during a night out, so of course, you will have an incredible gay night out. You can find hunky men, laid-back lesbians, and a mixed queer experience in between, with different venues catering to all interests. Just don't expect it to be as out there as queer parties in the West to the conservative nature of China.
Darling, let's talk about exploring the queer nightlife in Gay Chengdu, shall we? It's true this city might not be the most welcoming to our fabulous community but fear not! Being gay is perfectly legal here; remember to err on the side of caution when outside of queer-friendly spaces.
But let's focus on the fun, shall we? Exploring gay nightlife can be one of the most thrilling and enriching experiences while on the go. From dancing up a storm at a gay club to sipping cocktails and rubbing elbows with the locals at a gay-friendly bar, you'll have a chance to immerse yourself in the local culture and make memories that will last a lifetime.
And darling, we've got you covered with the best gay and gay-friendly spots in town. So don't be shy; step out of your comfort zone and explore the queer nightlife in Gay Chengdu. Trust us; it'll be worth it!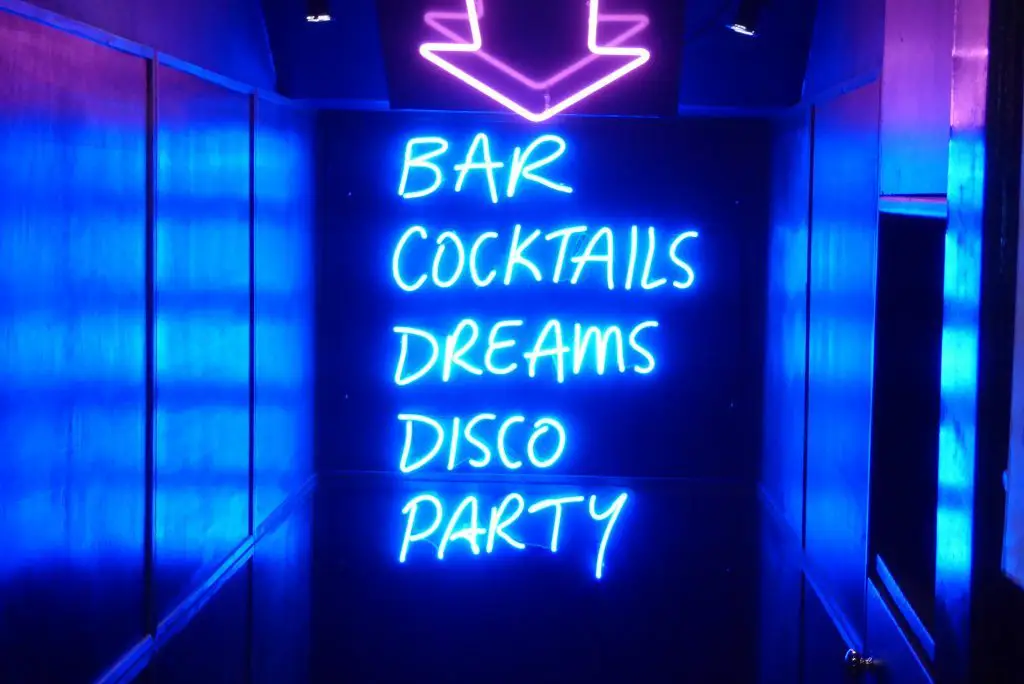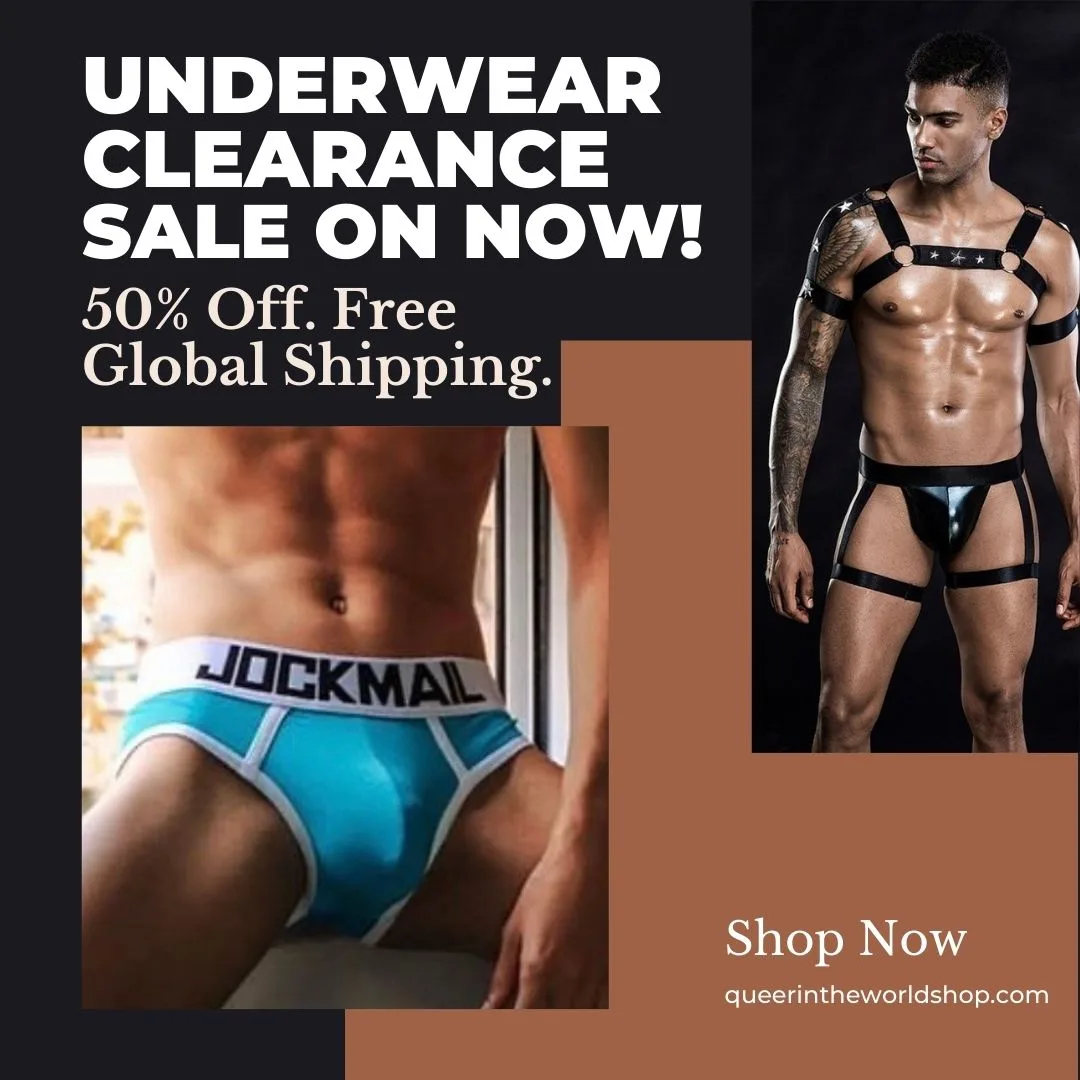 Gay Bars In Chengdu, China
Hunk Sky Bar
(Temporarily or permanently closed. If you know something, please suggest an edit.)
The Hunk Sky Bar is a famous gay bar in Chengdu, formerly known as simply the 'Hunk Bar' before it shifted to its new address, which you can now find at Taiping Nanxin St in the Wuhou District. Visitors have found it a little hard to find, but looking behind The Underground, you will find it hidden away. Plus, even if you have to pay to enter, the experience is worth it.
Although a top gay destination, it is usually quiet, making it a grand palace to enjoy a drink in a queer establishment before it turns a notch on their packed weekends.
While it won't be as wild a gay dance party as those you'd find in the West, if you are after a brilliant place that is queer-friendly, hosts weekly drag queens and live performances, plays a range of music both local and international, The Hunk Sky Bar won't disappoint.
Gent's Tavern
(Temporarily or permanently closed. If you know something, please suggest an edit.)
The online presence of Gent's Tavern is minimal, but you can find Gent's Tavern at 60 Meng Zui Wan, Chenghua District. Here you can expect to see a small gay bar with beautiful servers, incredible drinks and hilarious drag queens. This appears to be a slightly dirtier gay experience in the usually conservative setting of gay Chinese culture.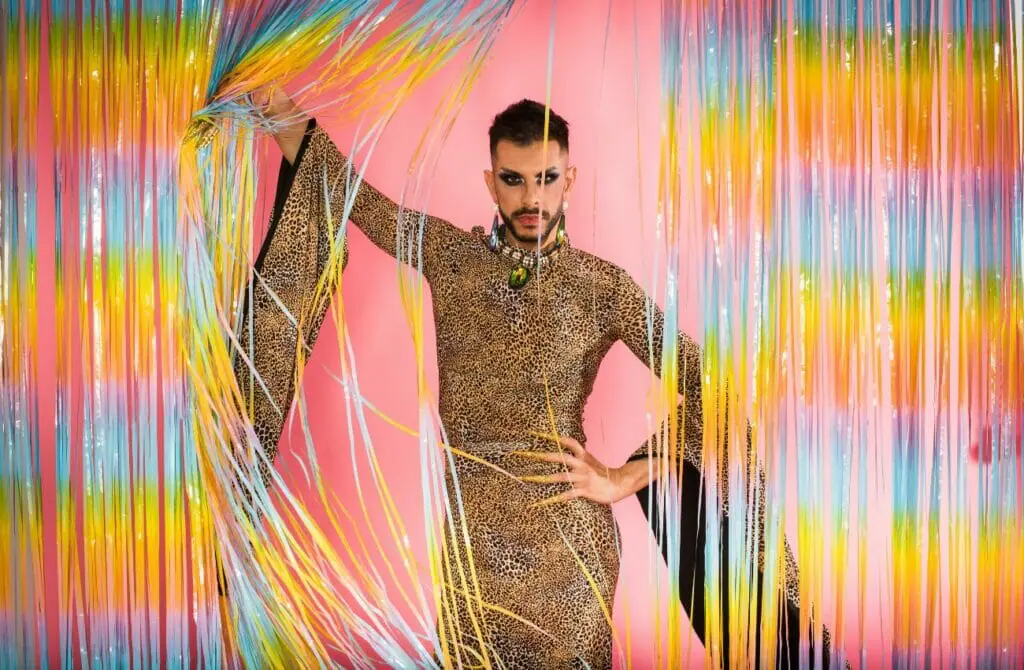 AMO-G
(Temporarily or permanently closed. If you know something, please suggest an edit.)
In a similar story to other gay bars in Chengdu, there isn't a huge online presence of AMO-G. However, you can find it at Cheung Chau Wan St, Causeway Bay No. 339, Cheung Fong Bld. Utopia-asia.com describes it as an underground gay club offering a bouncing dancefloor with a large crowd dancing to gogo dancers and live performances. There are also places to sit privately, hang out and get a drink.
Beatles Bar
(Temporarily or permanently closed. If you know something, please suggest an edit.)
Despite not having an official page, The Beatles Bar is much less elusive than others online! You will have a gay time at this queer bar serving the community of Chengdu in tNo. 67, 3rd Section Western First Ring Rd, near Mianyang Hotel.
They are best known as an excellent bar for drinking as they have an exceptional collection of foreign drinks and an even greater selection of Chinese drinks for tourists wanting to experiment with something new.
Best Life
(Temporarily or permanently closed. If you know something, please suggest an edit.)
Reported as a quaint gay bar popular with gay men that like to drink, and the servers wear shorts during Summer, so that is a bonus.
MAX Bar
(Temporarily or permanently closed. If you know something, please suggest an edit.)
Located on Jinjiang East 18th Street, East Gate Bridge, you will find MAX Bar, a popular gay bar and nightclub that has taken the former top-dog spot away from the infamous MC Club.
Here you can always find a mixed crowd of queer and straight allies looking for an incredible night out on the town. It is known for its laid-back attitude, pumping dance floor, cozy tables and great drinks to keep the night fresh and fuelled.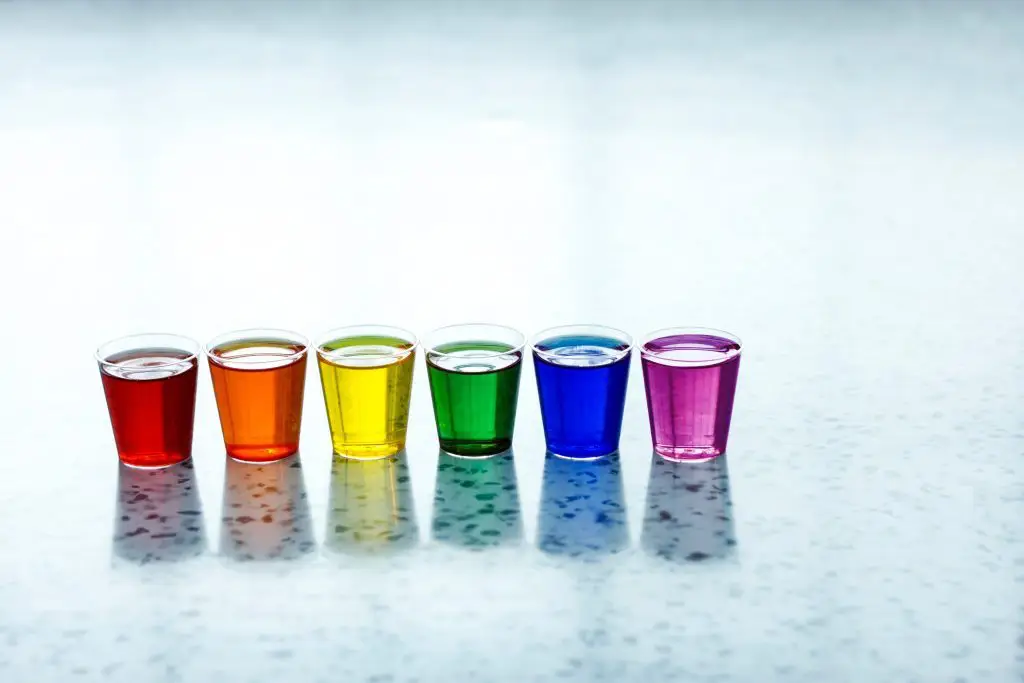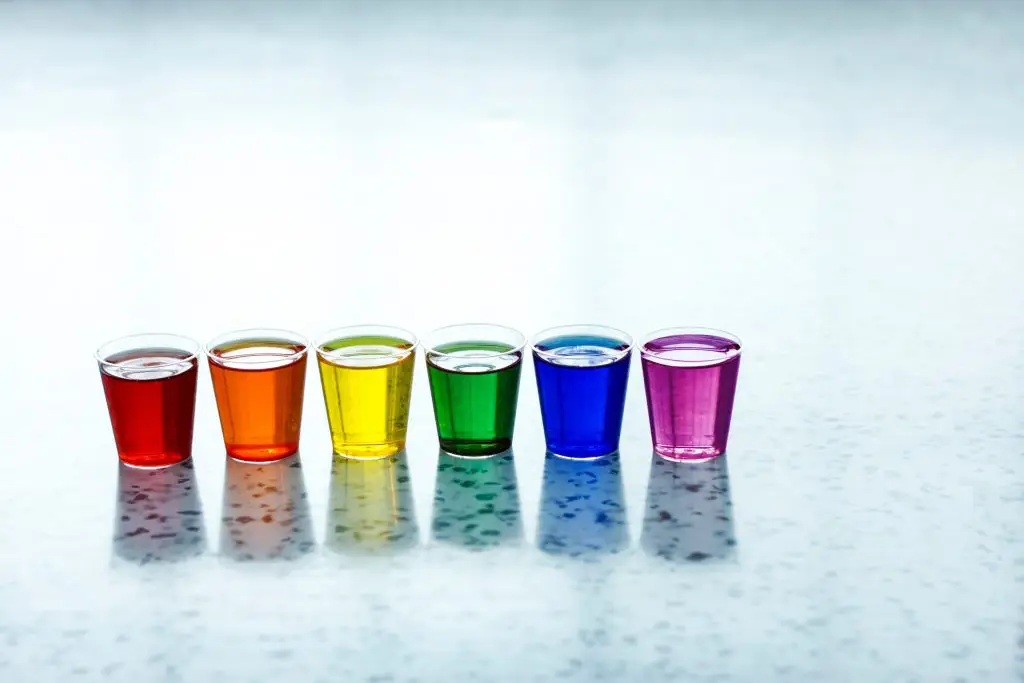 Gay Parties & Gay Clubs In Chengdu, China
A Useful Introduction To The Gay Scene of Chengdu
Much of Chengdu's gay scene transforms daily as one bar may shut, and another may pop up. In an article that interviewed one of the city's most critical queer names in 2018, a gay Chinese map was created with a list of some of the more popular gay destinations. It is certainly worth a look, using google translate or getting a Chinese friend to learn more about the history of the gay scene in the city.
Gay-Friendly Nightlife in Chengdu, China
Heming Tea House
Outside the pumping bars and steam saunas, the traditional gay culture of China is almost certainly closely connected with tea, poetry and socialization.
So one of the top ways to get a taste of this closely knitted tradition is to spend an evening at the Heming Tea House, a main drinking house with an atmosphere that makes you sink fully into the relaxing drink. This could be the perfect place to meet up with a queer friend after you connect via WeChat, or you could just come here as a quiet retreat. Either or, the tea is divine!
Qin Shanzhai
People love Qin Shanzhai in the heart of Chengdu for a delicious, healthy Chinese meal. You can taste many dishes designed from traditional Chinese medicine, ranging from twice-cooked chicken to all varieties of fungi. If you aren't afraid to try something new, this is a fun option for dinner, regardless of the occasion.
Here you will find a great cocktail bar at Bamboo Tropical Escape with its bamboo-themed decor with a modern twist of tropical music. Patrons love the variety of cocktails, the relaxing lounge, and the easy-listening tunes as they focus on the taste of their drinks and the quality of their company. There is also plenty of space and tables so that you won't feel squashed for space even during the busier times.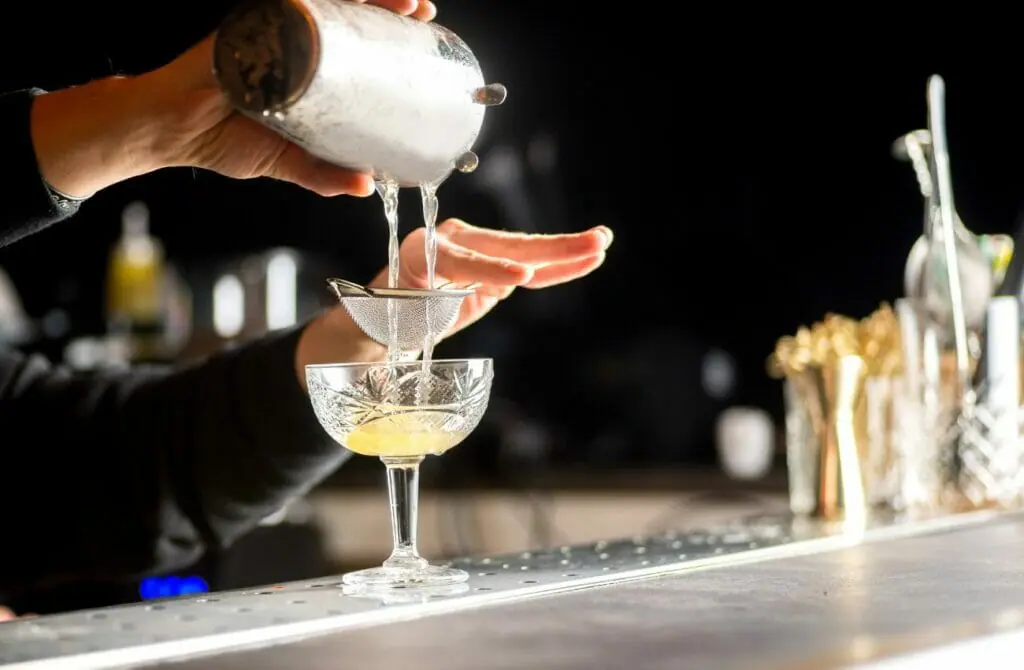 Cruising & Gay Saunas In Chengdu, China
Although Gay Chengdu has many gay venues, you shouldn't expect a massive cruising scene outside men-only spa spaces. Even then, it's best to use social media and dating apps (WeChat for China) to secure a date if you have to cruise on your mind, as you can guarantee better results and preplan where you will meet up and go for a private bit of fun. Unfortunately, no venues provide these spaces to be prepared to go to a hotel.
When exploring Gay Chengdu, there's more to life than just cocktails and beers. One aspect of the gay scene that many of us queens love are checking out the local gay saunas and cruising clubs.
Granted, Chengdu isn't quite as wild as Amsterdam, Barcelona, or Berlin, but these steamy venues still offer the perfect opportunity to meet new people, socialize, and engage in some hot and heavy action without swiping left or right. However, remember that these venues can differ in terms of vibe, patrons, and rules, so it's a good idea to be informed before you dive in.
Gay saunas, sex clubs, and cruising have long been popular ways for queer men to meet and engage in sexual activity, particularly in countries where same-sex activity is not widely accepted or may even be illegal. In these places, gay saunas and cruising clubs provide a safe and discreet environment for queer men to explore their sexuality and connect with like-minded individuals.
Despite the rise of gay dating apps, many queer men still prefer the anonymity and physical connection found in these spaces – so somewhat counter-intuitively, you might have a hotter experience here than you would at home.
We recommend checking out our guide to cruising for first-timers before you get started, which should give you the lowdown, and always practice safe sex.
Keep in mind that local laws and customs regarding gay venues and sexual activity should be respected at all times. With a bit of forethought and an open mind, visiting gay saunas and cruising clubs can be a thrilling and steamy part of your gay Chengdu adventure.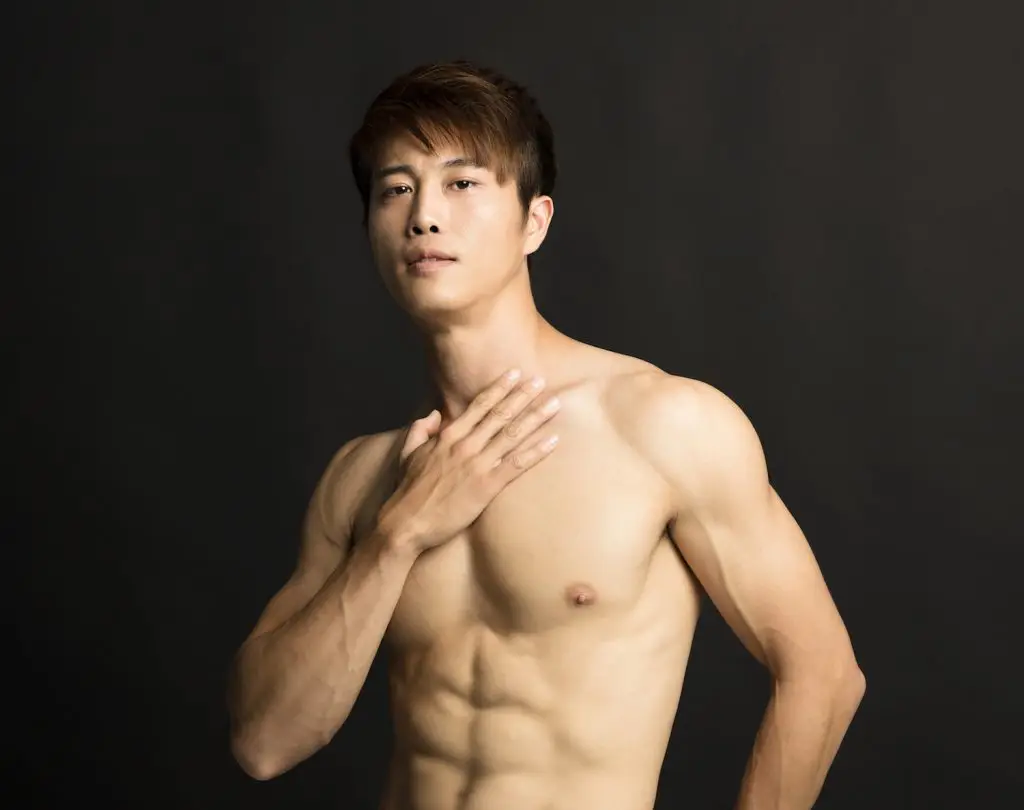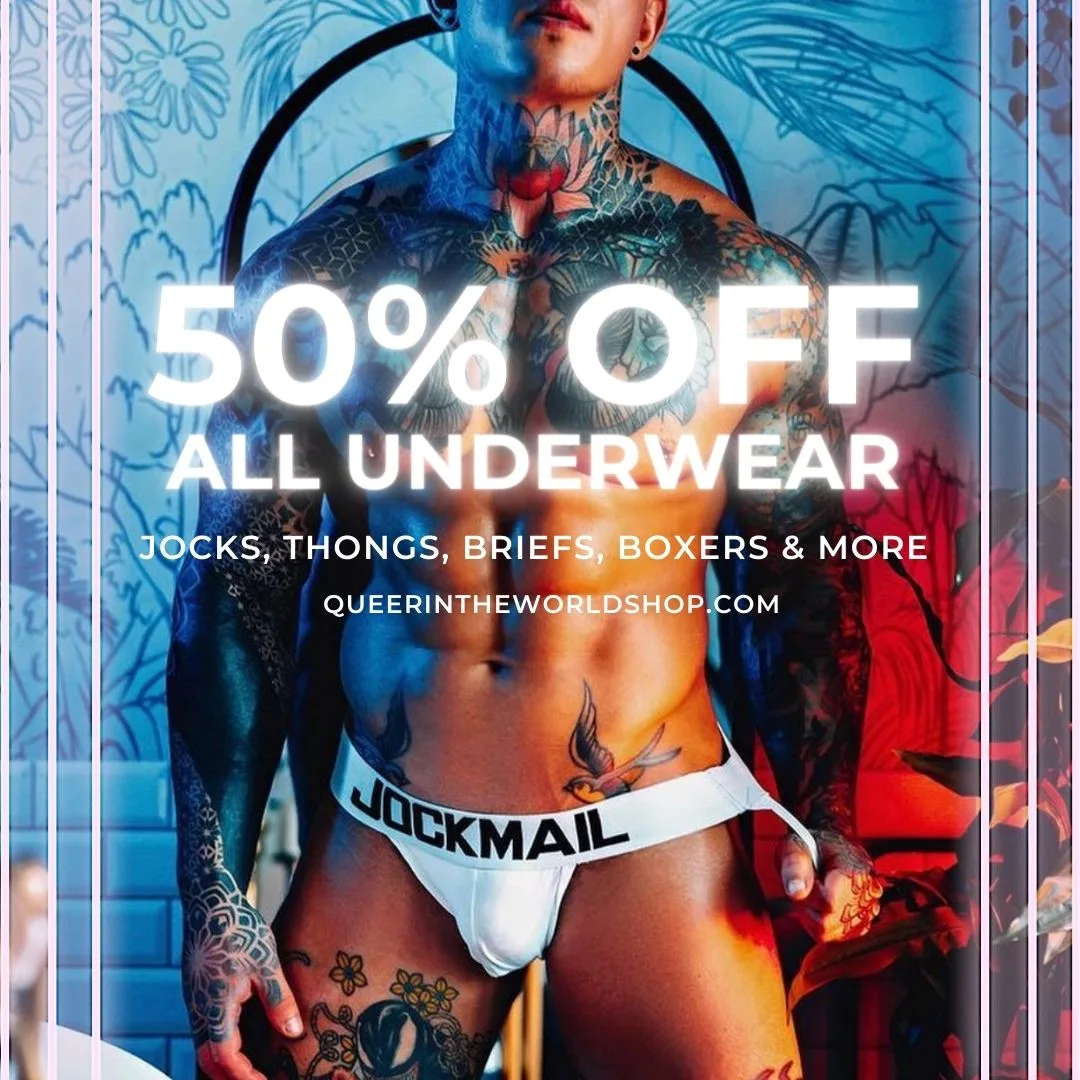 Gay Saunas In Chengdu, China
MC SPACE
(Temporarily or permanently closed. If you know something, please suggest an edit.)
Zhou Jin is a gay business pioneer in the gay entertainment spaces of China, and when he moved to Chengdu, he set about setting up the country's first gay entertainment hub. MC SPACE once has many famous gay bars like MC Bar and MC Sauna until their recent closures due to financial troubles.
However, Jin didn't give up his dream and refurbished the old space to be better than ever by turning it into a gay sauna. If you want to experience his vision, you can find it on the 1st Floor, Haicheng Building, No. 6 Tianxianqiao North Road.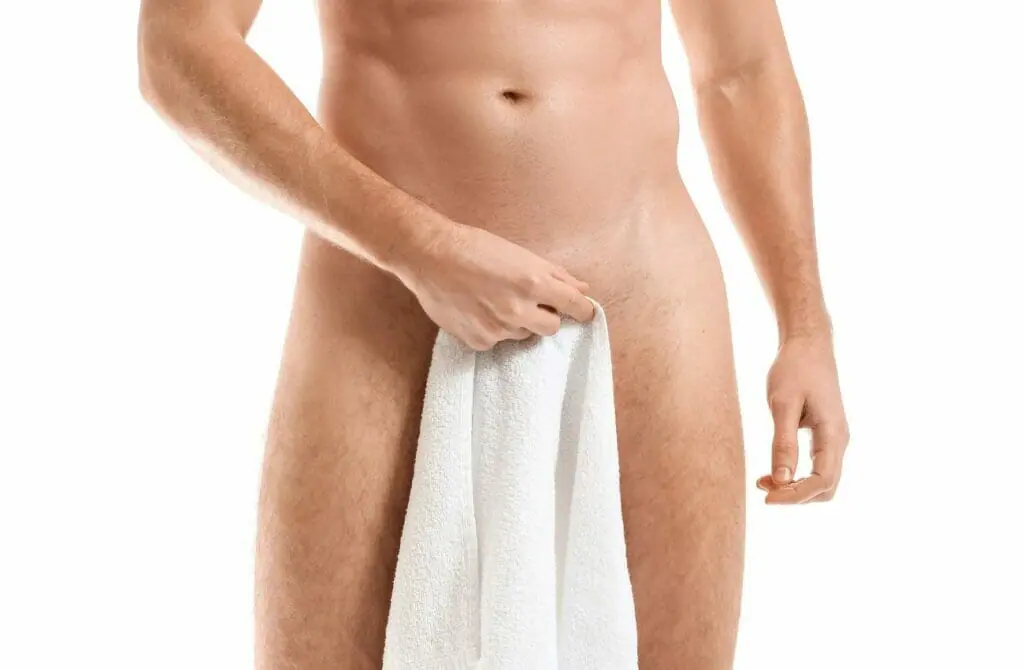 Gay Map Of Chengdu
Finding it hard to envisage where everything is in Chengdu? Hopefully, this queer-centric map helps where we have marked all the bars, clubs, parties, hotels, saunas, massages, and more will help you stay in the spot best suited to you!