For those seeking a quirky gay city just outside Washington DC, Baltimore in Maryland is the queer charm you may need. Not only is it the home of the gay filmmaker John Waters, but its has a thriving LGBTQ+ community with gay bars, nightlife, and shopping.
Not only that, but the city has many sightseeing options for gay tourists outside of the queer scene. So whether you crave history or incredible sights, you'll be pleased to know she comes to the table with this all.
Baltimore was settled in 1706 as an essential port to connect the tobacco trade between America and Europe. Still, well before that, it was the hunting grounds for the Susquehannock Native Americans.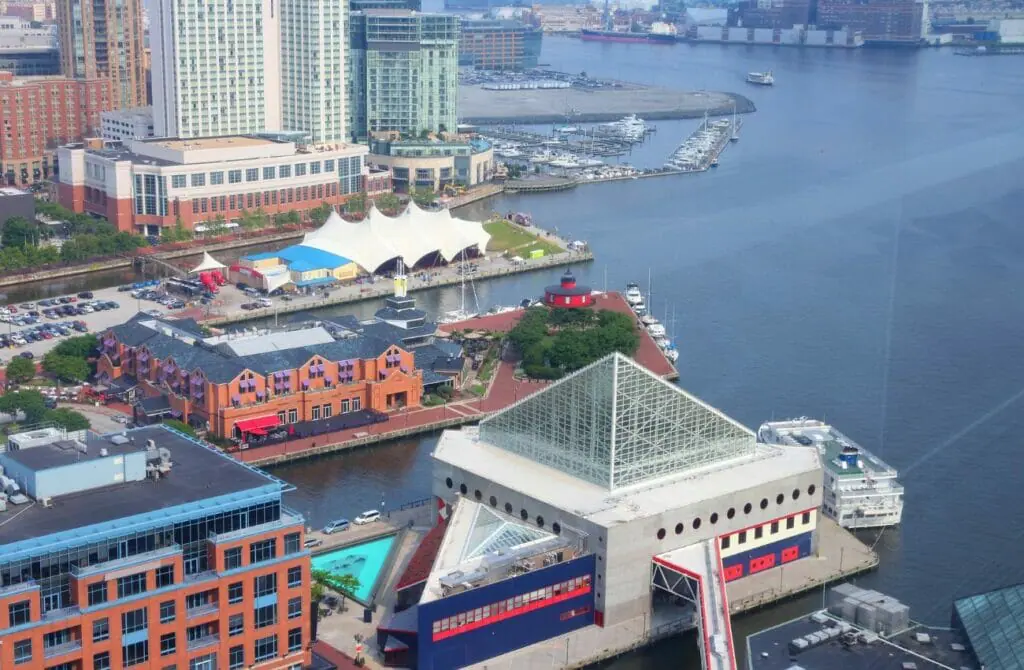 Colonized by the Province of Maryland, it quickly became a hub for more than just Native American hunters as Europeans flocked here to start their own American Dream.
Today, Baltimore is a city that boasts close to three million inhabitants and welcomes millions more each year to visit. Its large population and thousands of years of history make it a tourist destination. As a result, you will always be able to find something new to do and see that suits your interests, whether going on a ghost tour of haunted hotels or a day trip to Washington DC.
You can let your imagination run wild. All these reasons why gay tourists love Baltimore as they have countless gay bars and other attractions that make Baltimore a popular queer destination.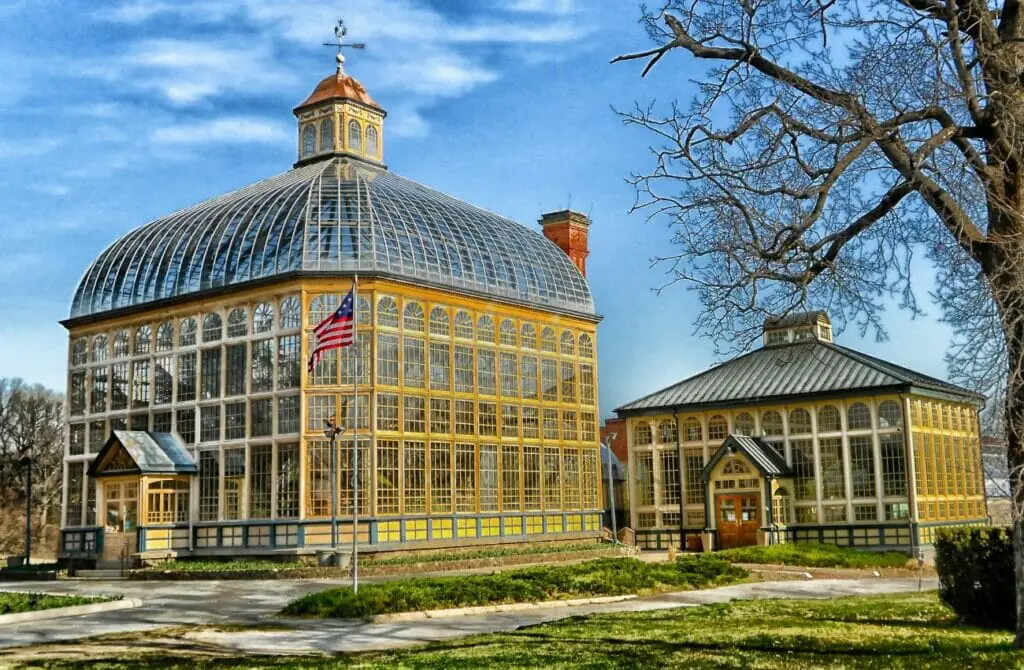 Attractions in Gay Baltimore, USA
Those that visit Baltimore will be glad to know that Baltimore is a diverse and inclusive city that offers a welcoming atmosphere for gay tourists. You will find the city home to a lively queer community, with many events and venues to visit to get a full taste of the gay experience.
In addition, it has other attractions, such as the Baltimore Museum of Art and the National Aquarium. With so much to see, we have selected some highlights for you now.
As a new visitor to Gay Baltimore, there are plenty of things to see and do, regardless of your sexual orientation. One of the best ways to experience any new city is to visit some of its most iconic landmarks and attractions, including visiting historical monuments, museums, and art galleries.
We also love gazing at architecture up close, exploring parks and gardens, sampling the local cuisine, visiting local markets, and attending cultural events such as festivals, concerts and shows.
Even as the out-and-proud queer we are, we still love to just explore the city and its culture in the same way as everyone else. Doing so allows us the opportunity to learn more about the city and its people and gain a deeper understanding of the local culture. As such, these are our favorite must-see attractions in Baltimore.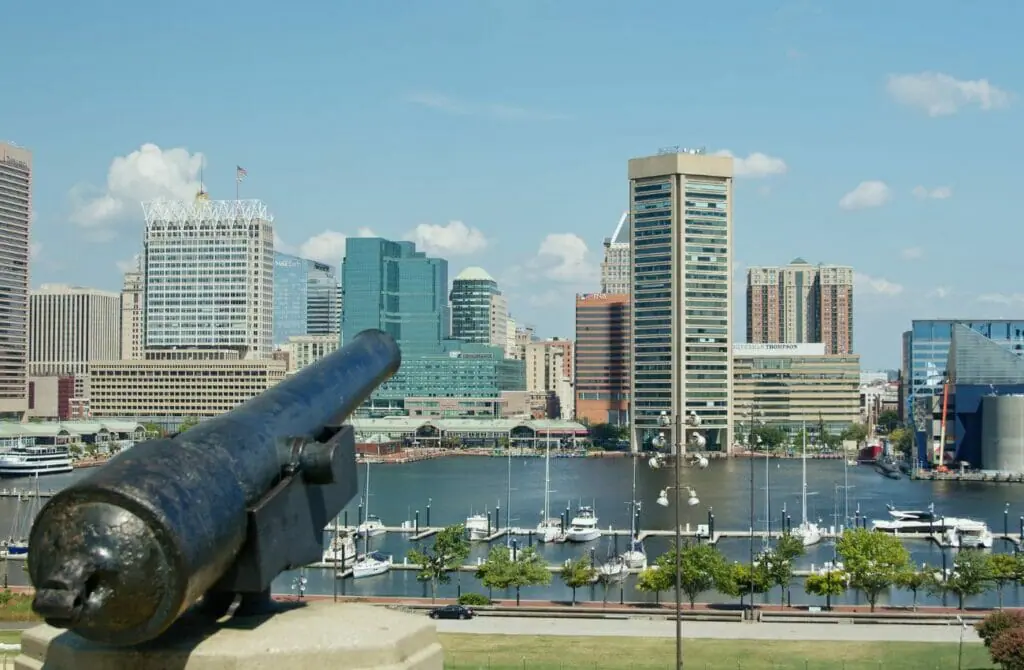 The Baltimore Basilica
Baltimore's Basilica is a must-see because it was the first Roman Catholic cathedral built in the USA (1821). It is a unique attraction that shows the importance of religion as a key founding philosophy of modern-day America, and it also looks striking with its neoclassical architecture.
You don't have to care much for faith to be left stunned at how it has stood the test of time as a prime example of American architecture designed by Benjamin Henry Latrobe, the movement's father.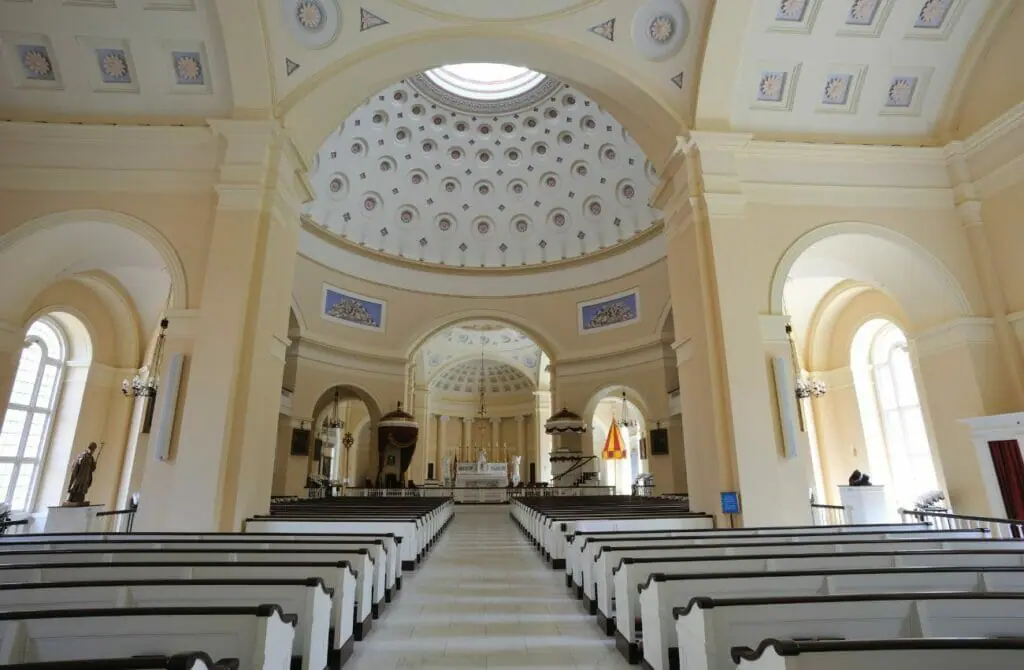 Signature Spirit of Baltimore Dinner Cruise with Buffet
The Signature Spirit of Baltimore Dinner Cruise with Buffet is a fantastic experience for those looking for a romantic night out (with yourself or a date). You can expect this three-hour cruise to take you past iconic Baltimore landmarks as you enjoy an all-you-can-eat buffet dinner with live entertainment and incredible ship service. Make sure you bring your best suit or dress, as this is a formal dress code!
Baltimore Dark History Haunted Walking Tour
You can always go with a nighttime ghost tour regardless of being a skeptic, a full-on believer or a chicken. The Baltimore Ghosts tour is a must-do for those that want paranormal tales of the city as it takes you through Fell's Point neighborhood, stopping at several haunted pubs, cemeteries, and hotels.
Learn about the haunts of some of the city's oldest buildings and even the mysterious death of the gothic writer Edgar Allen Poe. This is a great way to learn about Baltimore's dark and spooky side while having a thrilling and fun experience. You never know; you might see something that changes your life.
Edgar Allan Poe House & Museum & Edgar Allan Poe's Grave
Edgar Allen Poe is a famous literary name from Baltimore, so you should check out his former house (now turned museum) and Poe's grave site. To begin with, the house is a modest row home where he wrote his famous works, and you can experience it with a carefully restored and maintained museum.
Next, learn about how he lived, with various exhibits and memorabilia and get a taste of early Victorian life in Baltimore. Once you've got a taste for how he was in life, you can stop by his grave to pay homage to the mark he left on gothic literacy.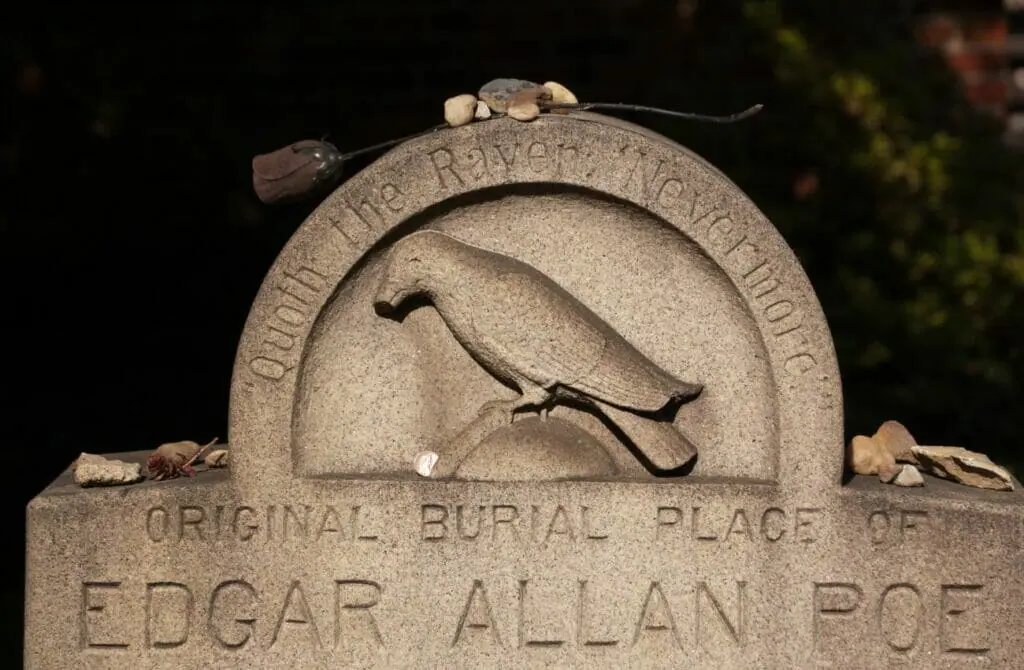 B&O Railroad Museum
If you're after a museum experience that is a little different, the B&O Railroad Museum showcases a rich collection paying tribute to the history of the region's railroads. Baltimore played a massive role in connecting the coast to the inland settlements and establishing trade and travel networks throughout America.
You can taste this history through many displays, including a scale model city with working trains. It's not all about reading; they have interactive exhibits and a tour guide to turn a typical museum experience into something new.
Oriole Park at Camden Yards
Baseball is one of the most important sports to come out of America, so of course, you'd want to celebrate it when you can. Oriole Park at Camden Yards is a famous stadium that hosts baseball games and is home to the local Baltimore Orioles baseball team. If you are an avid follower of the sport, just want to experience a little bit of Americana or see a retro stadium, this could be a great attraction.
Fort McHenry National Monument and Historic Shrine
As a testament to the American spirit and the courage of those that fought in the Battle of Baltimore War of 1812, Fort McHenry National Monument and the Historic Shrine were built. This site rests on the grounds of a ruined fortress that served as a pinnacle structure in the war efforts to defend the city during the Civil War and has been lovingly preserved as a reminder of this turbulent history.
Today you can visit the site and wander the park looking at the history or get great views of the city from the hill it sits atop. Daily you can witness the flag-raising ceremony, and if you come during national holidays, you may experience a lively gathering of those paying homage to the American spirit.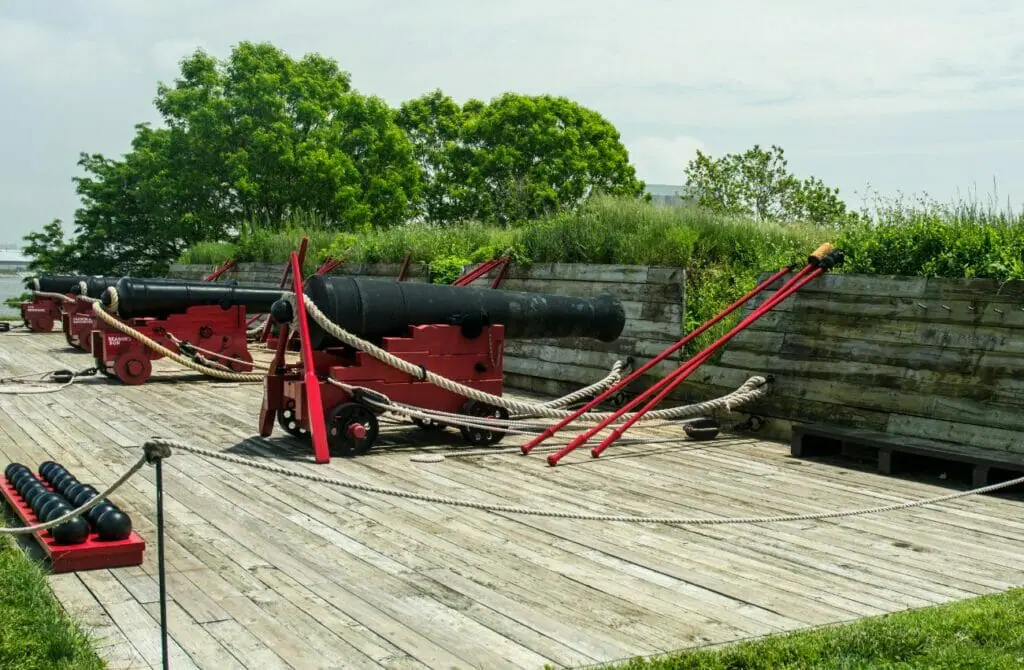 Babe Ruth Birthplace and Museum
Babe Ruth is one of the biggest names in Baltimore baseball and was arguably the first sports celebrity. You can visit his birthplace and a museum set up to pay homage to his life and the sport of baseball. They have a great collection of memorabilia and exhibits worth visiting for all who love sports and history.
The National Great Blacks In Wax Museum
You must stop by the National Great Blacks in Wax Museum as it acknowledges the eleven-thousand-year history of Native Americans living in America. You can experience incredible effigies of famous black figures in wax as the museum provides rich and informative historical context for how they helped transform modern-day America.
National Aquarium
For those animal lovers visiting Baltimore, you'll be ecstatic to learn the National Aquarium has over 20,000 aquatic animals to satisfy you. You can experience species from the Atlantic Coral Reef to the Upland Tropic Rain Forest, and to see them all, you could easily spend all day exploring their collections.
But, of course, a highlight for many is the dolphin shows, the shark tank corridor, and the option to see the aquarium at night; with so much more to offer, it's best to go there to see it all.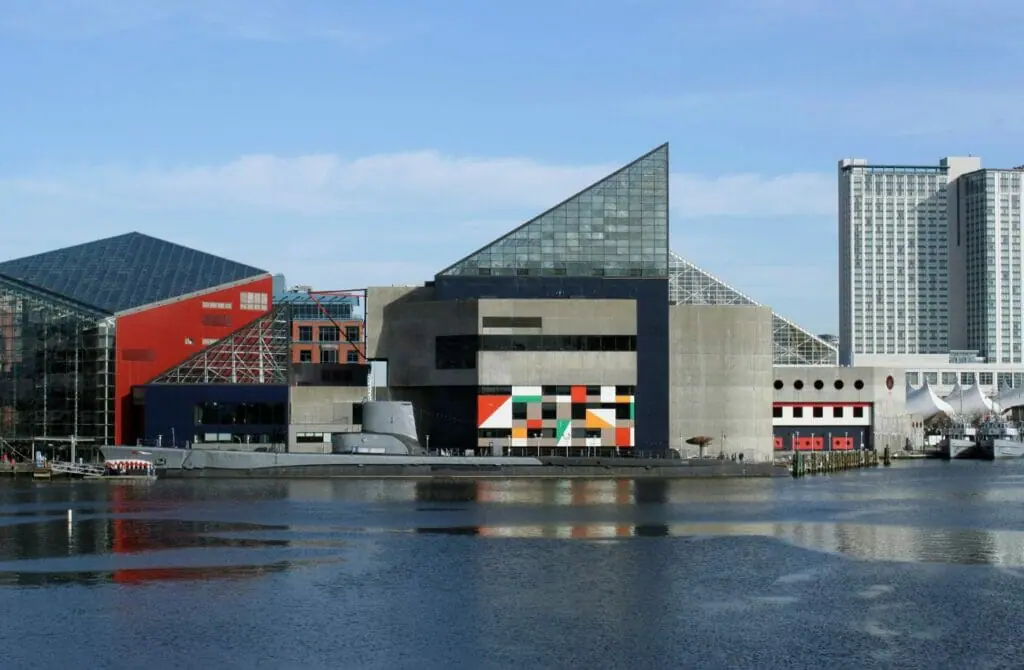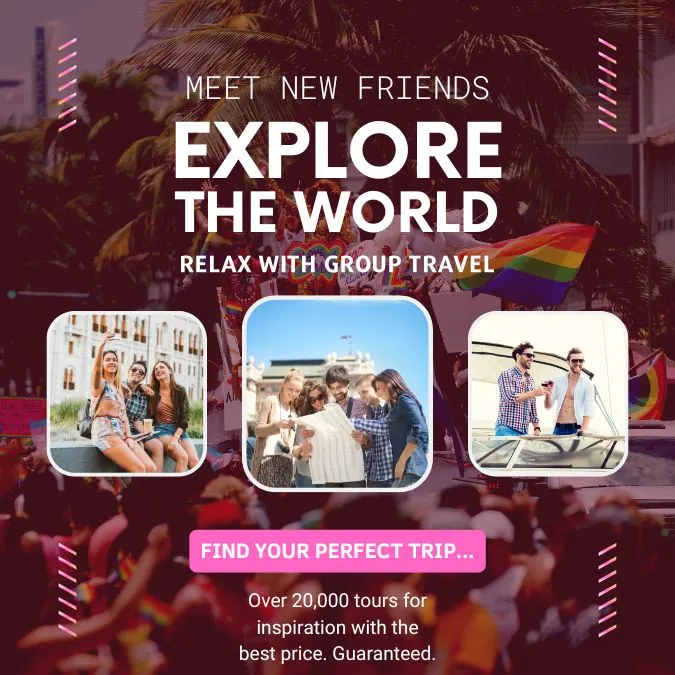 Gay-Friendly & Gay Hotels in Baltimore, USA
When you make your gay trip to Baltimore, you'll be after the highest quality queer-friendly accommodation. But, just as well, the city can provide a range of fantastic venues with easy access to local gay attractions and services that will make you feel like royalty.
Being gay-friendly accommodation means that the establishment is welcoming and inclusive to guests who identify as LGBTQ+. This can include but is not limited to, having policies and practices in place that demonstrate a commitment to creating a safe and inclusive environment for LGBTQ+ guests, such as non-discrimination policies, and providing support and resources for LGBTQ+ travelers.
Some gay-friendly accommodations may also provide amenities specifically catering to the LGBTQ+ community, such as rainbow flags or literature about local LGBTQ+ events or resources. Furthermore, gay-friendly accommodations may be located in an area that is known for being LGBTQ+ friendly.
While Baltimore does not have any specifically gay hotels or resorts, these are the most fabulous and pro-actively gay-friendly hotels in Baltimore. Needless to say, there are also hundreds more hotel and hostel options in Baltimore if none of these suit your desired budget, facilities or area – but these are the best hotels according to other gay travelers and us.
Whatever your needs are, Baltimore has you covered.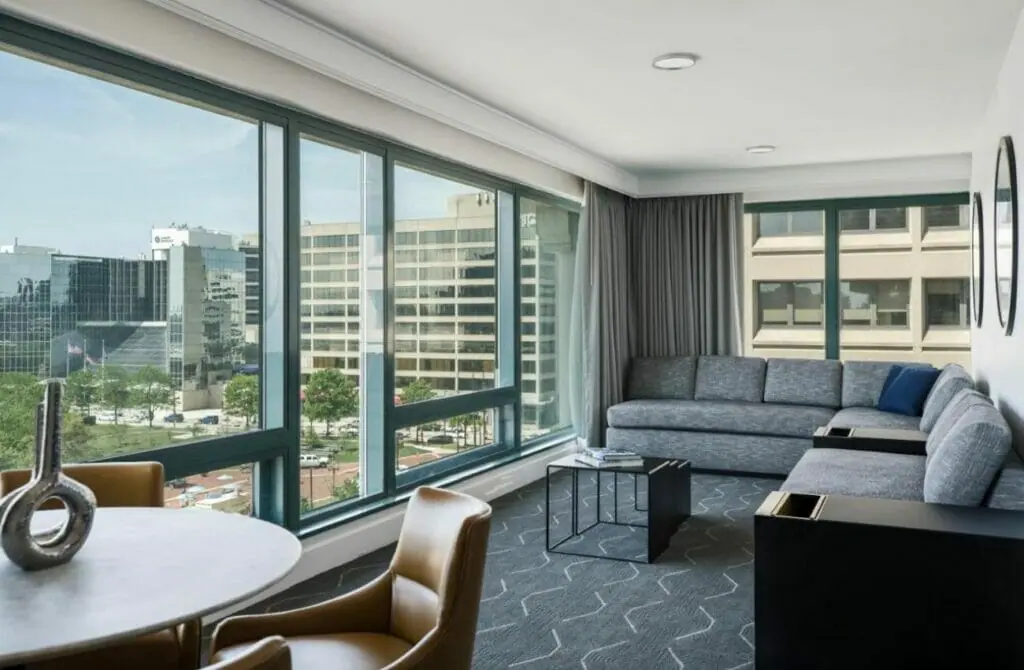 Renaissance Baltimore Harborplace Hotel ☆☆☆☆☆
For those seeking a classy experience that is a five-star experience of what it feels like to be a king or queen, The Renaissance Baltimore Harborplace Hotel is an excellent choice. To begin this showcase, you will find it has prime access to top city attractions, whether the National Aquarium, Oriole Park or various queer venues; you will not require much effort to get from place to place.
The hotel offers luxurious services within steps from your private suite, including a 24-hour fitness center to keep the gains up and an indoor pool to spice things up regardless of the weather.
Moreover, when you desire a feast, they provide a waterfront restaurant offering stunning inner harbor views and delicious American drinks with the cuisine. But if you seek a place to work outside your room, they also have plenty of space for working holidays and meeting rooms.
Your private suite is just as incredible as the shared ones as they are modern and the height of comfort, with large screen TVs, Bluetooth, extensive and comfy beds, and great views from your loungers. Essentially, she is a fantastic option for a memorable gay-friendly stay in Baltimore.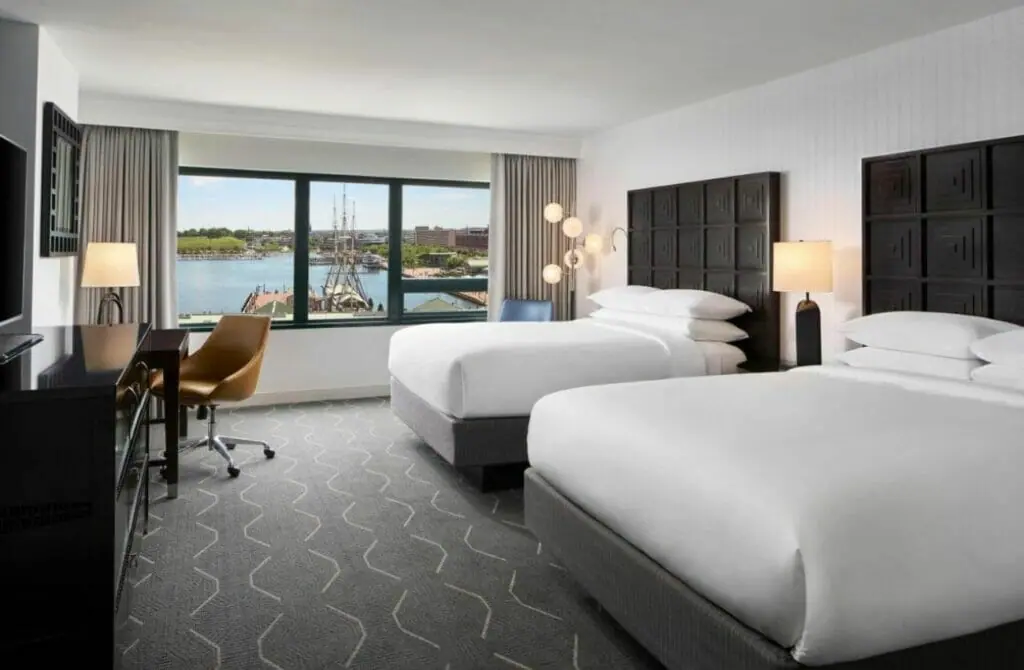 Royal Sonesta Harbor Court ☆☆☆☆
During your visit to Baltimore, the four-star Royal Sonesta Harbor is another excellent accommodation. By its name alone, you can see that this hotel is located exceptionally close to the harbor and is close to famous landmarks like the Maryland Science Center and Ripley's Believe It or Not. This makes it a stellar option for those that don't want to travel far to get around the city.
The hotel boasts a grand style and gracious hospitality, providing services to meet business and general tourists' needs. You will find a fitness center and massage service that want to find time in their busy schedules to get fit and relax.
Moreover, they have an onsite restaurant and bar to keep you stocked up and plenty of shared dining and working spaces to ensure variety if you decide to leave your room. Also, there's an indoor pool to plunge into to clear your mind.
Your private rooms are clean and spacious, offering incredible views inside and out from the soft pillows of your bed or seating. They have modern decor, with each room bringing to the table its unique theme that makes each visit unique. So if you seek elegance and modernity, you'll find it here.
One of the newer hotels in the city's bustling downtown area is the four-star Hilton Baltimore, conveniently located within walking distance of many of Baltimore's top tourist attractions. You can access the Inner Harbor, Oriole's Baseball and the National Aquarium!
But what makes this hotel so unique? Firstly, she offers a range of services to guests, including a fitness center, indoor pool, whirlpool, sauna, and business facilities. Plus, if you want to bring your car, they have onsite parking for easy access to attractions outside of town.
It isn't just the shared services that will make this stay at the Hilton special, but the private suites that offer some of the best hotel room experiences. Based on your chosen room, you will get a cozy bed with couches, incredible views from expansive windows, and rustic patterned carpet complimented by a plain pallet of chique grey. It is certainly one place you shouldn't miss out on.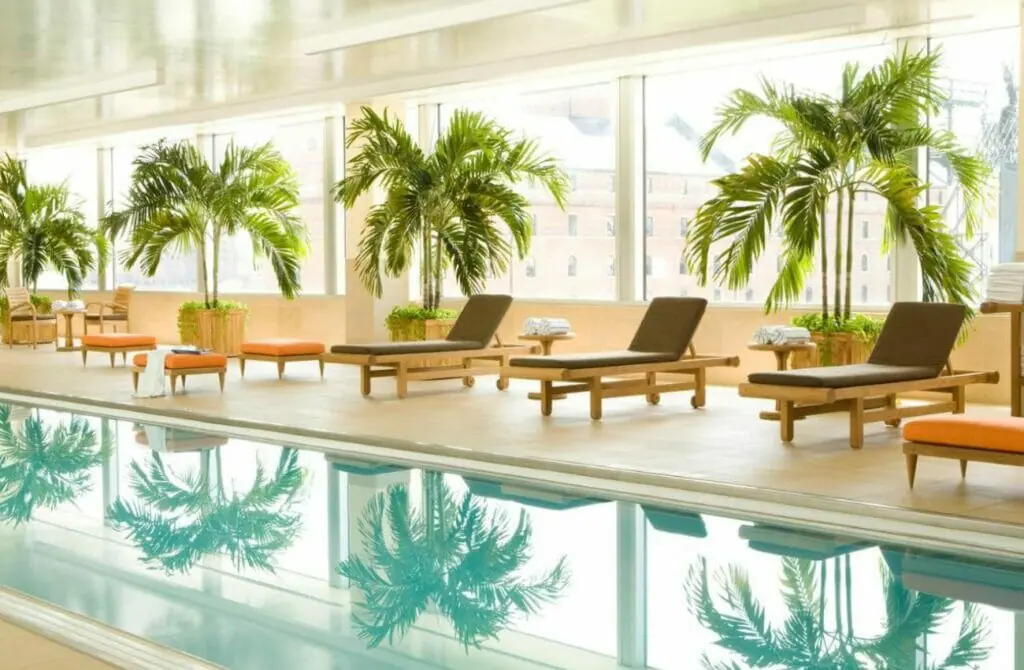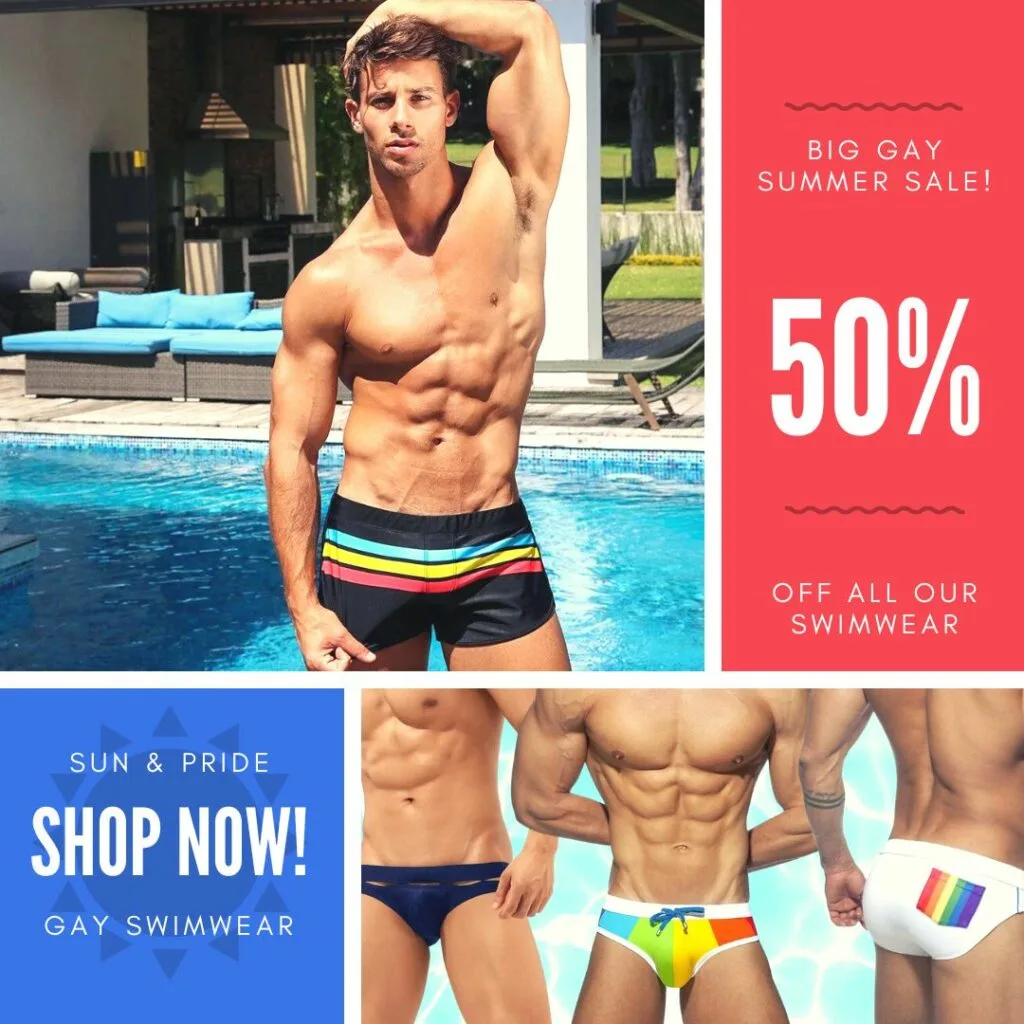 For those seeking a simple gay-friendly accommodation experience in the heart of Baltimore, you can't go wrong with the three-star Comfort Inn and Suites. Guests can talk to iconic landmarks just a stone's throw away and bring their pets along if they get lonely.
Who could ask for much more with free wi-fi, breakfast, a gym and a restaurant? The rooms are just as fantastic, spacious and modern amenities as flat-screen TVs, microwaves, and refrigerators. Those gay travelers seeking the basics will get a kick out of this hotel as it might be lower on the list but still offers excellent services.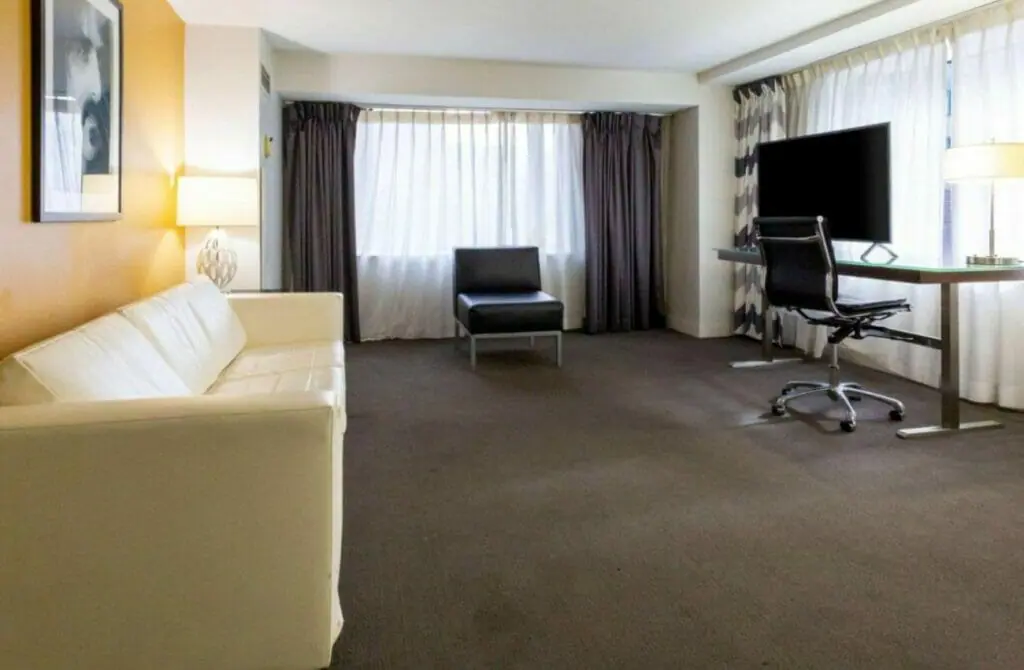 Gay Nightlife In Baltimore, USA
Most gay experiences start amongst a city's queer nightlife, whether through organized events that draw the tightly knitted community to a Pride night or through formally recognized gay bars or nightclubs.
When it comes to experiencing the gay nightlife in Baltimore, this is just as true with a population of three million, and there are a lot of queer faces to meet. So as a gay tourist, you'll find this part of the city is pulsing with life.
Exploring the gay and gay-friendly nightlife in a new city can be one of the most exciting and rewarding experiences while traveling – and Gay Baltimore is no exception. Not only will you have the opportunity to meet new people and make friends, but you'll also get a taste of the local culture and learn more about the city's LGBTQ+ community.
Going out and experiencing the queer and queer-friendly nightlife in a new city can also be a great way to break out of your comfort zone and try new things. Whether it's dancing the night away at a gay club or mingling with locals at a gay-friendly bar, you'll have the chance to make memories and create lasting connections.
So, don't be afraid to step out of your comfort zone and explore the gay and gay-friendly nightlife in Baltimore. You'll be glad you did!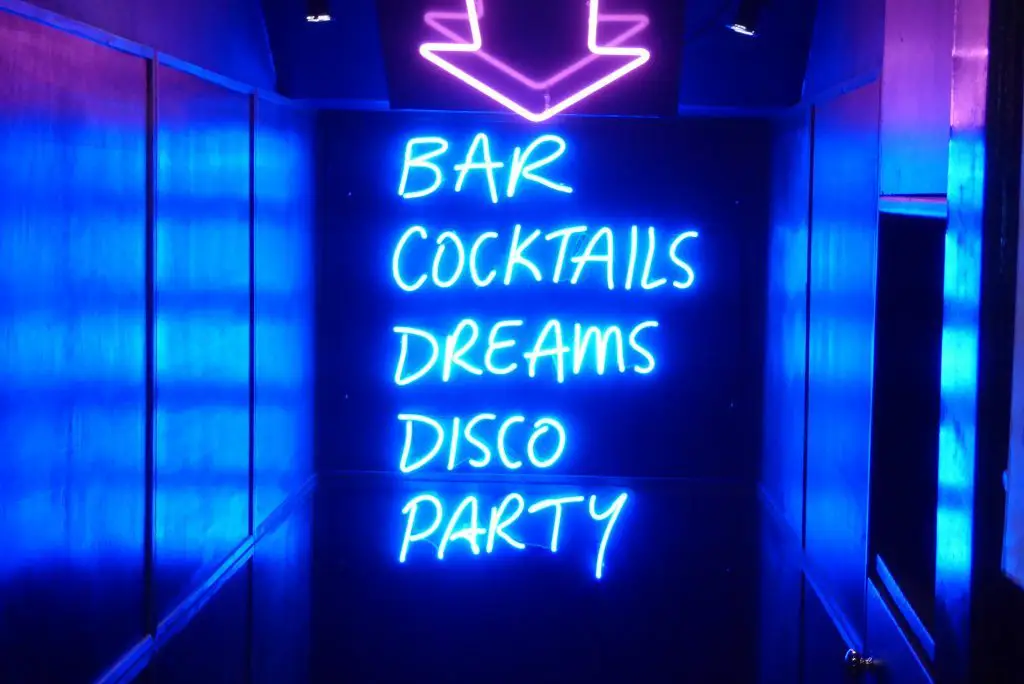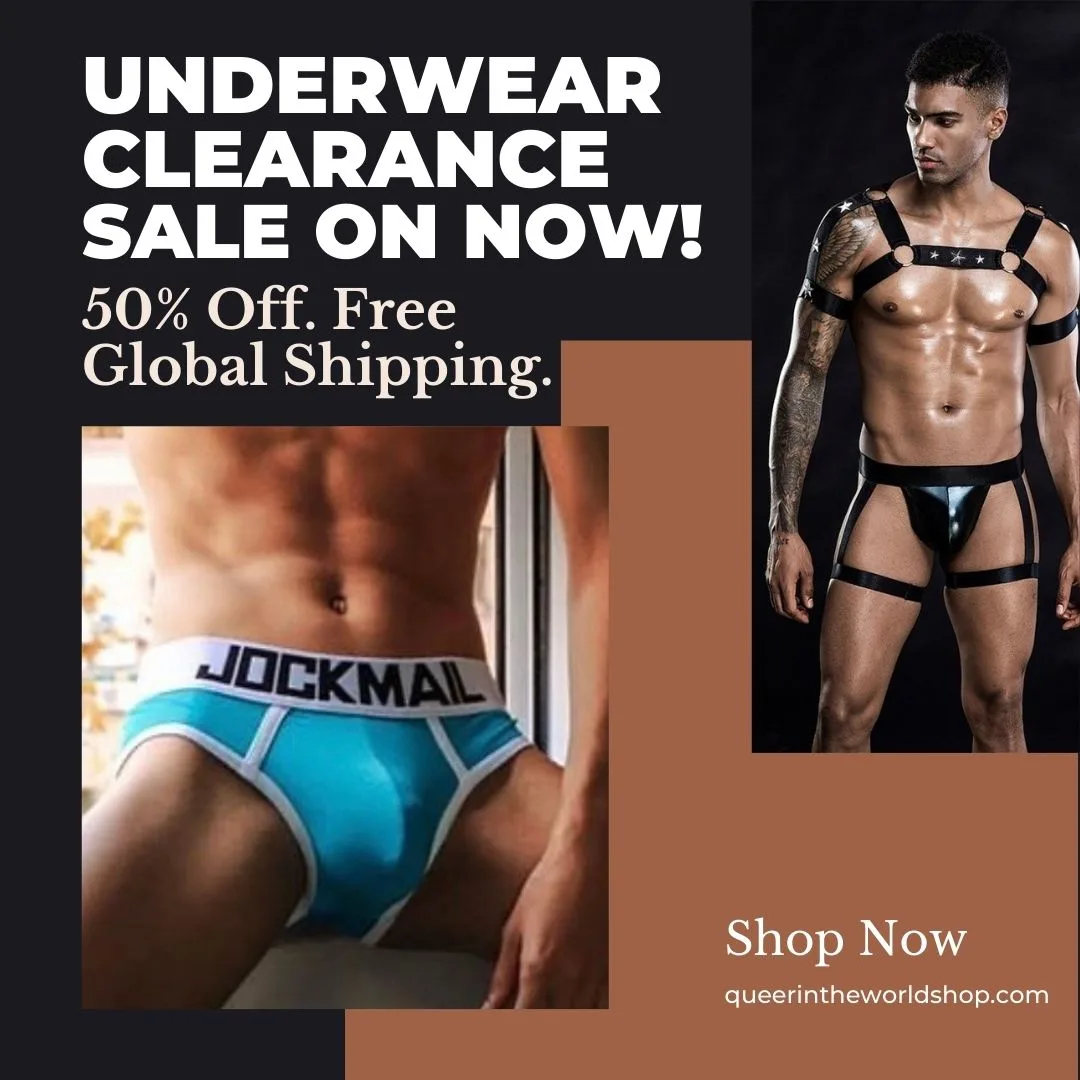 Gay Bars In Baltimore, USA
For those seeking a gay dive bar with a relaxed environment and a great selection of jukebox tunes and karaoke, you must head down to The Drinkery. Get amongst a mixed crowd of gay patrons and take full advantage of the unapologetically queer bar, which provides refreshing drinks with local craft beer.
What makes this all so fantastic is they have been serving the Baltimore community for 49 years, making them one of the oldest gay bars in the area.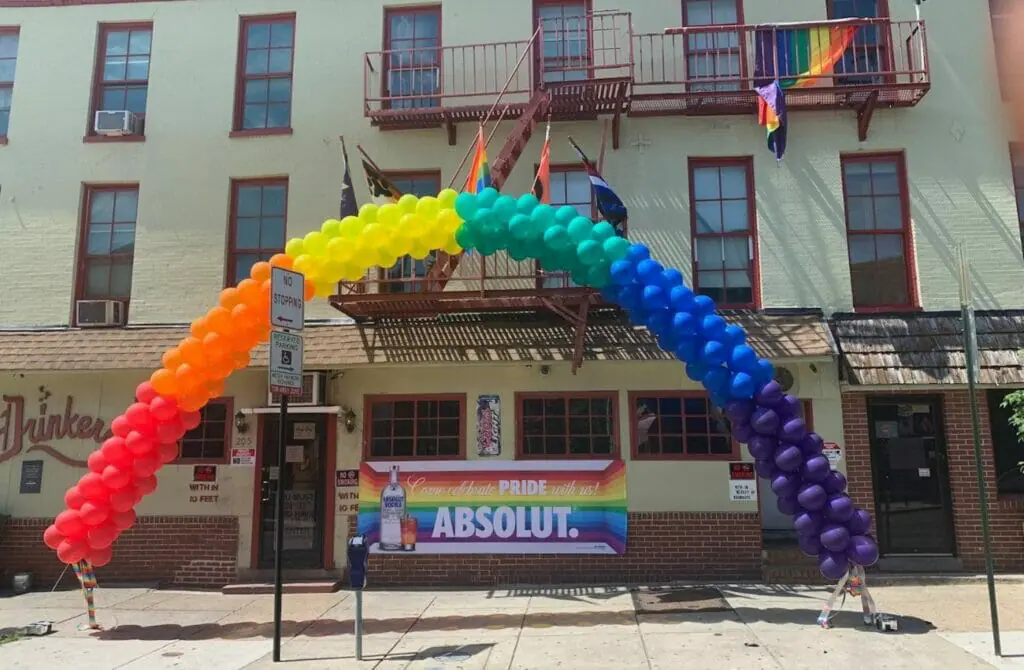 If you are looking for a modern queer bar in Baltimore, Mixers comes to the table to provide a tightly knitted experience to make your night out unforgettable. The venue may be small, but it makes complete use of all this space with a fully-stocked bar, bright lights, and a quaint dance floor to be blown away by the music or their regular drag shows.
It isn't just the drinks and shows you'll be blown away by; they regularly host brief-only events for queers wanting to get their kit off and meet other gays whilst doing it.
With over fifty years of experience serving the queer community in Baltimore, it's no wonder Leon's of Balto is a favorite amongst the gays! You can expect a low-key vibe as a great place to relax and dine with drinks, bar food and good conversation.
Compared to other gay bars in town, Leon's tends to attract the older gay crowd, especially 'bears' and those who are now happy just to spend a quiet evening with chit-chatter.
Baltimore Eagle Bar & Nightclub
The Baltimore Eagle is a classic leather bar in Baltimore and one of Maryland's oldest. It has a range of indoor and outdoor services, with a welcoming space for all, regardless of their kink.
You can expect a night here full of fun events ranging from a king and queen pride pageant and a RuPaul's Drag Race watch party. You can expect most clientele here to be men, a popular cruising zone, but they are open to those of all genders and sexualities!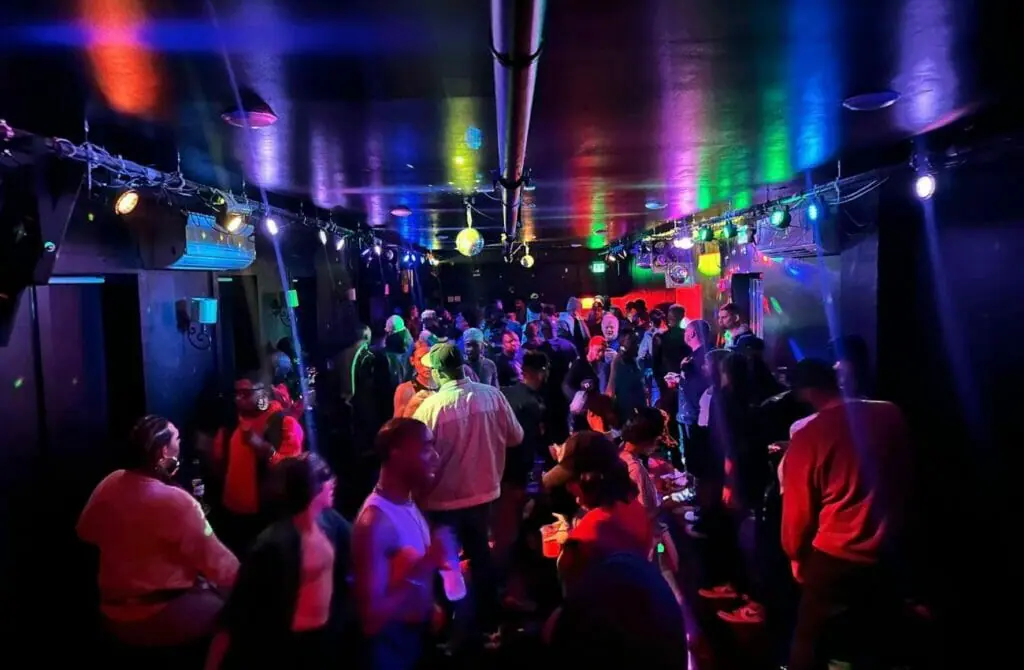 Gay Parties & Gay Clubs In Baltimore
Baltimore isn't just home to various gay bars and other establishments; they also have gay clubs to help draw you to places around the city. Baltimore Pride is a yearly festival hosted by the local Pride Center, drawing the queer community out to celebrate their pride in the streets and other establishments.
It has occurred yearly since 1975 and has become a major event that hosts more minor events, such as the Pride Parade, The Block Party, and Pride in the Park. In 2022, some 50,000 people were in attendance, so expect this to increase in the following years!
If you're after a stop by a well-known gay space open during the day, the Pride Center is a great way to achieve these goals. You can make great connections with the local queer community, gain insider advice, and even attend social events in town. In addition, they provide a heck of a lot of services, so you should stop by regardless of the reasoning.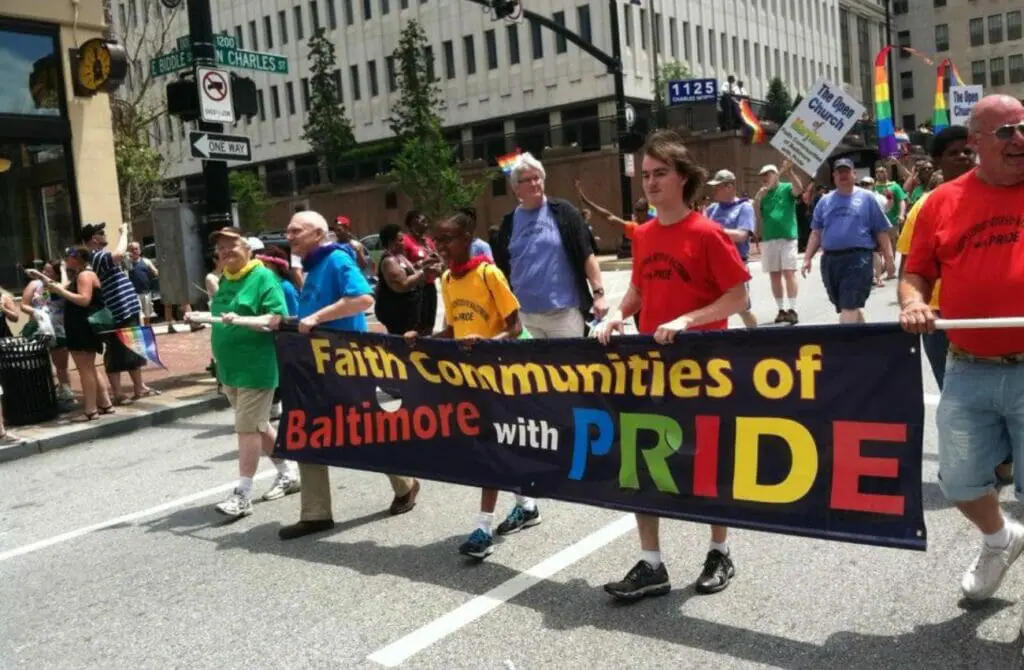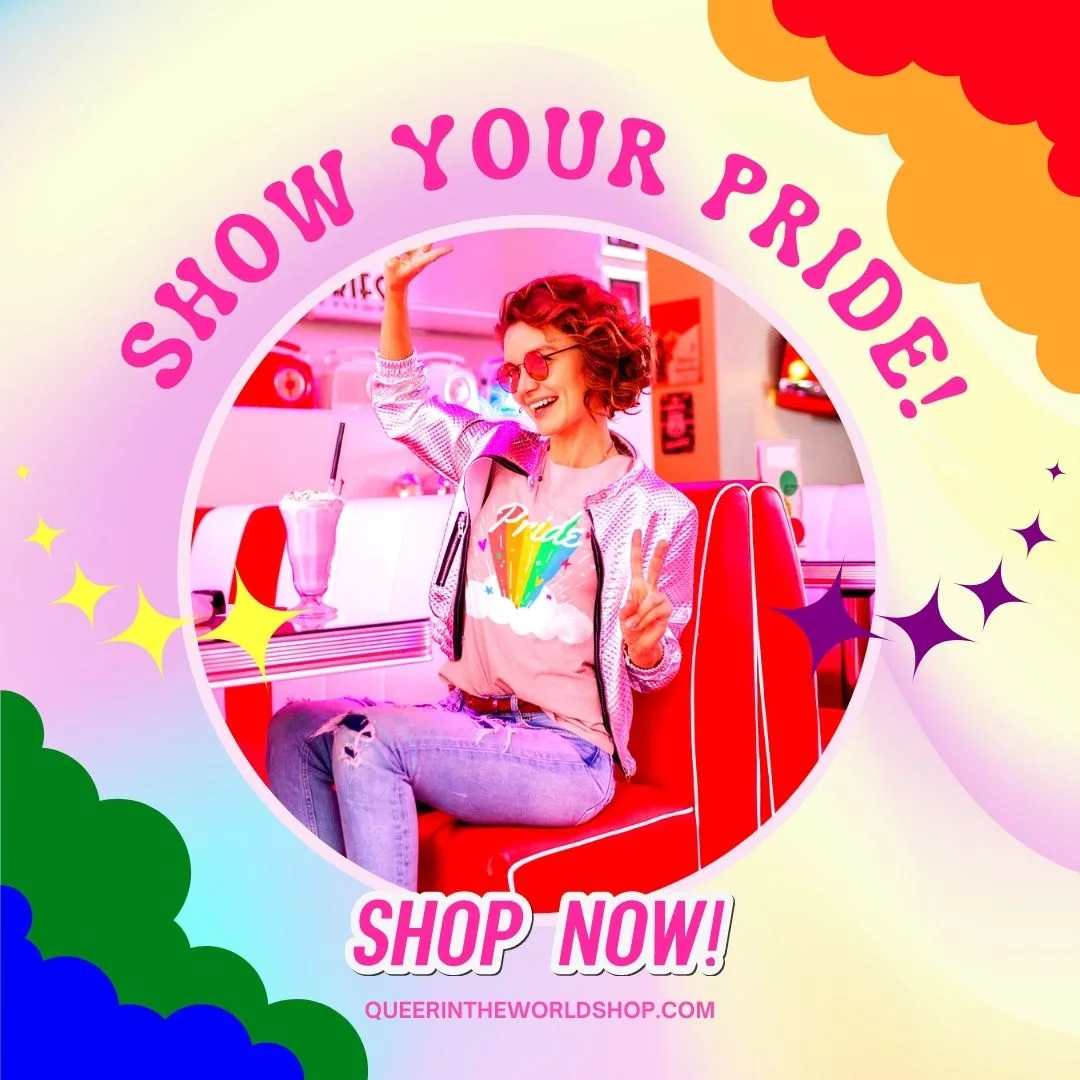 Other Gay-Popular Nightlife Spots In Baltimore
Leon's is a quaint, artsy bar that pays homage to local artists with its black canvas calls adorned by artworks. You can expect a visit to Leon's, including drag, live sports events by the bar, great drinks, plenty of space to dine and chat, and so much more! It's an exceptionally gay-friendly space, so it's no wonder it's popular with us queers.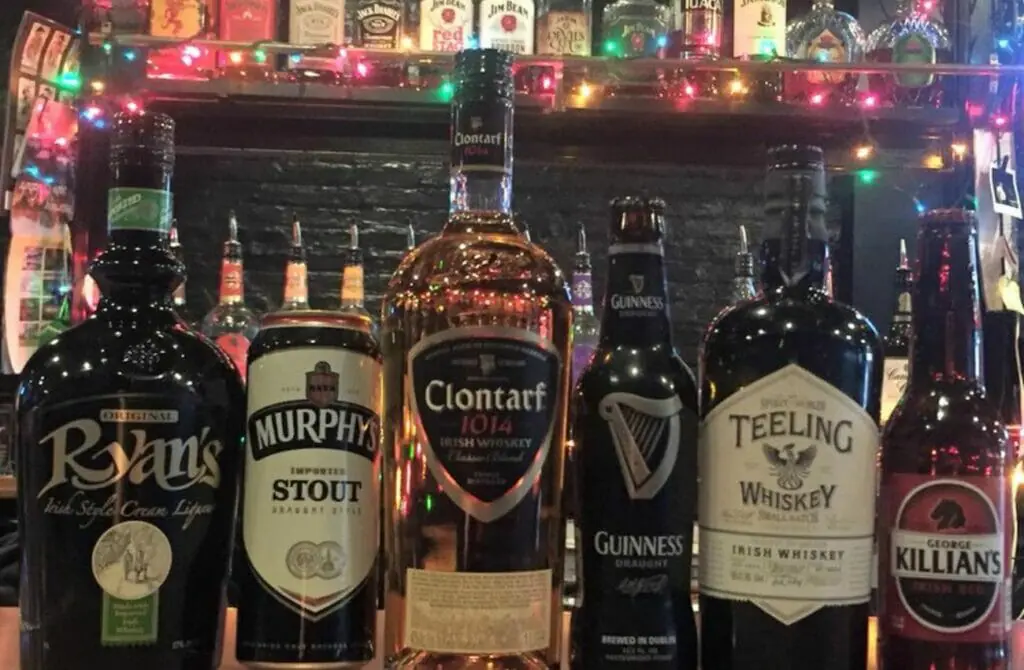 For a classic pub grub experience, you can't go wrong with Pickles Pub, which has been serving the Baltimore area since 1988. This classical American experience with great beer, crispy fries and other great delights is one people wear by. You can enjoy a chilled-out dining experience both day and night.
This flourishing cocktail bar is one of the top drinking experiences in Baltimore, with a wide selection of drinks and talented drink makers.
Set in a romantic, open, and modern setting, you can enjoy a cooling sip or icy delights on a date or as a light refresher before you get stuck into the louder establishments dotted around the bustling nightlife of the city. The soft lighting and low-level music will remind you how tranquil life can be!
The LGBTQ+ community swears by the lively nightclub and dancehall Mosaic, featuring spinning top DJs, incredible dancing and an experience you'll never forget. So forget your life's troubles at the door and embrace the house music as your party the night away.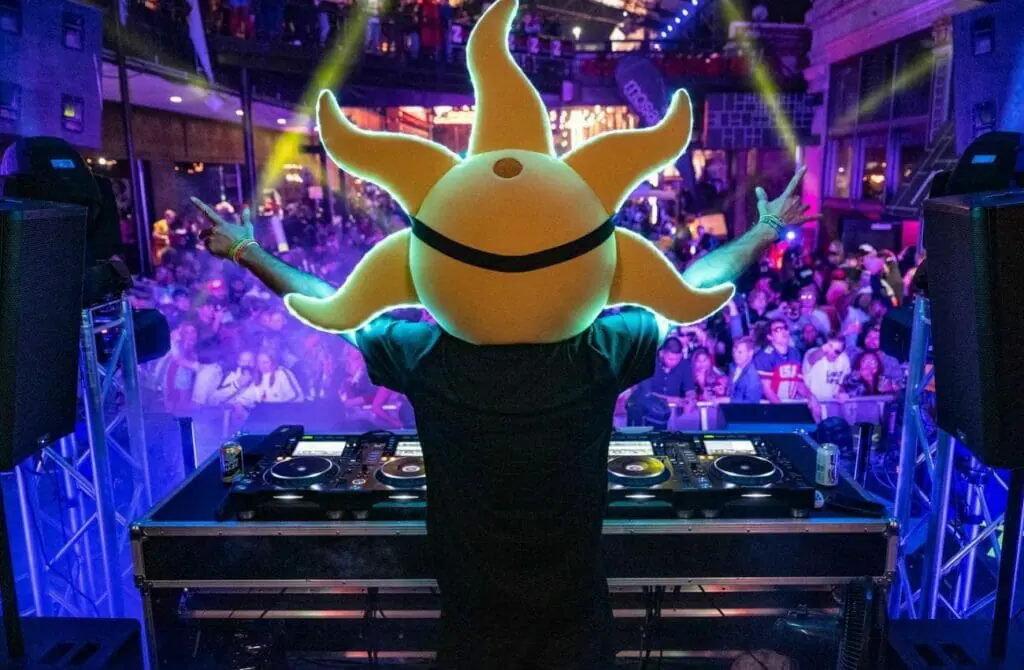 Cruising & Gay Saunas In Baltimore, USA
Unfortunately, there are no gay saunas, gay cruising bars or gay sex shops (or regular sex shops, for that matter) in Baltimore.
The closest bet to finding the cruising bar is the Baltimore Eagle Bar & Nightclub. However, they have made steps in recent years since its 2017 founding to become more inclusive and step out of the shadows of being 'gay man' exclusive. Despite these steps, the vast majority who visit are gay men, so you have an excellent chance to meet someone.
The best option for those that want to stay in Baltimore for the gay cruising experience is to hit the other gay bars or take to Grindr, tinder, she, and other apps. The community is buzzing with a large population of queers to choose from.
When traveling to a new city, it can be exciting to head out for more than just a stiff drink. One aspect of the Gay Baltimore scene that many queer men enjoy is visiting gay saunas and cruising clubs.
Sure, the sauna culture in Baltimore is not as hedonistic as in Amsterdam, Barcelona or Berlin, but these venues still offer a chance to meet new people, socialize, and engage in sexual activity – without resorting to gay hookup apps.
However, it's important to keep in mind that these venues can vary greatly in terms of atmosphere, clientele, and rules, so it's a good idea to prepare yourself before visiting. If you are apprehensive, we advise studying our guide to visiting a gay bathhouse for the first time, which should help set your mind at ease, and always practice safe sex.
Additionally, it's important to be aware of and respect local laws and customs regarding gay venues and sexual activity. With a little bit of planning and an open mind, visiting gay saunas and cruising clubs can be a fun and exciting part of your gay Baltimore travel itinerary.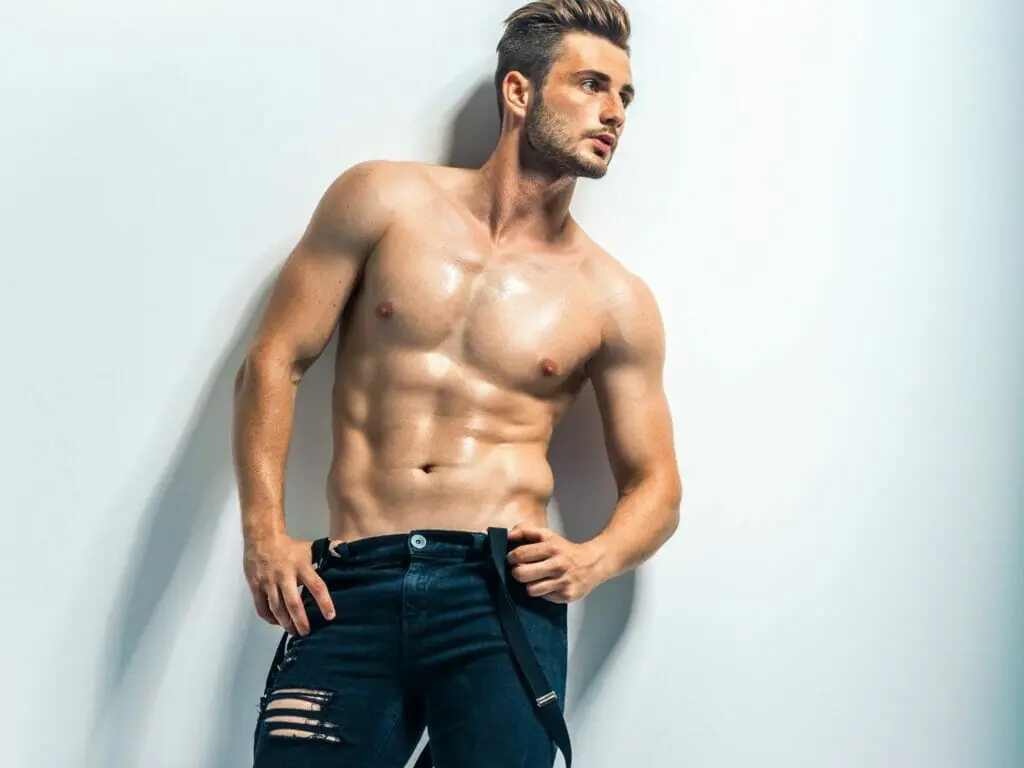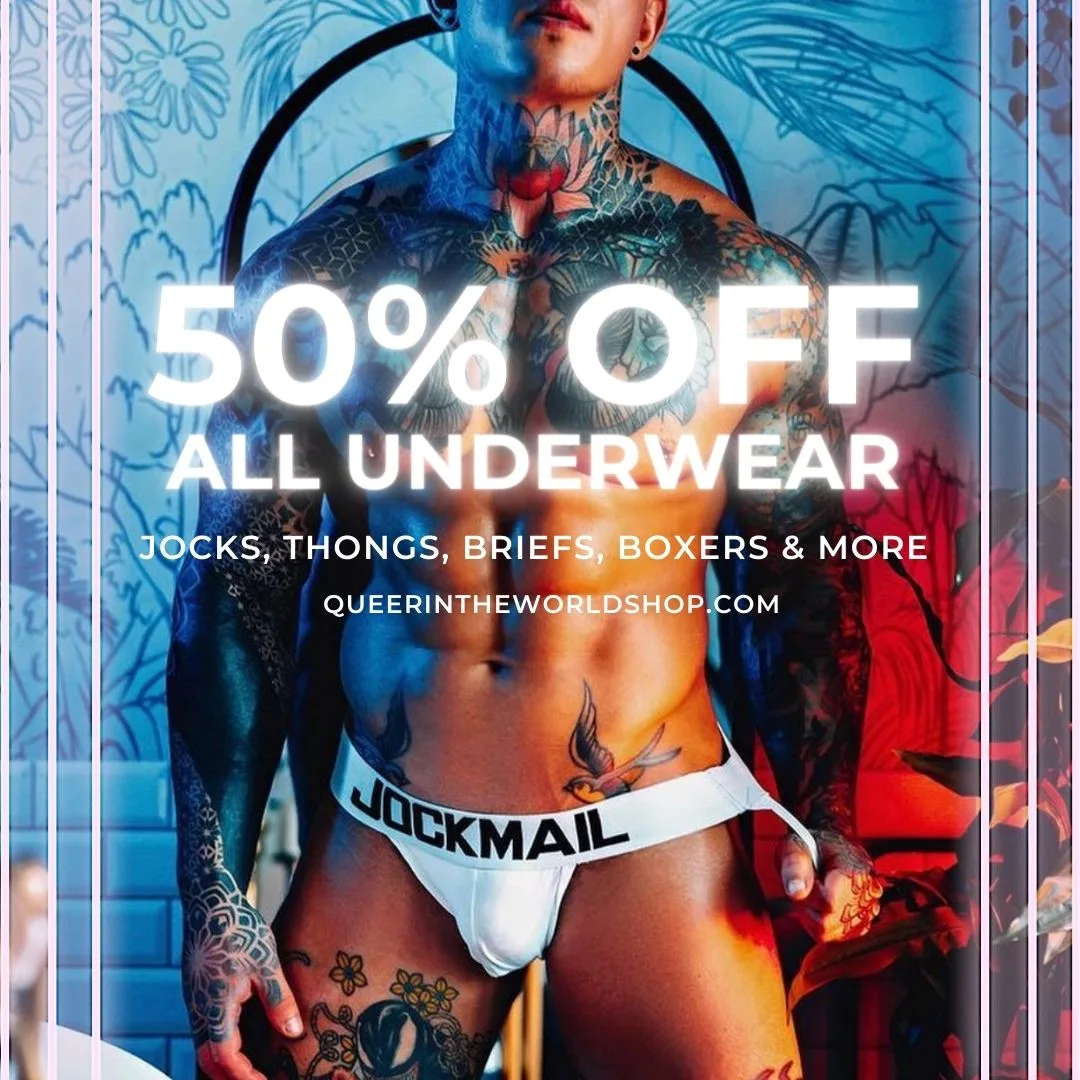 Gay Map Of Baltimore
Finding it hard to envisage where everything is in Baltimore? Hopefully, this queer-centric map helps where we have marked all the bars, clubs, parties, hotels, saunas, massages and more will help you stay in the spot best suited to you!