Savannah is an exceptionally gay-friendly city with a visit history dating back to 1733 when it was established as a settlement along the Savannah River. Although the lands well before they were occupied by the Native American tribe, The Yamacraws. Today you can catch a welcoming and inclusive gay scene with many queers throughout the city.
River Street, in particular, is where you'll often see gay-owed establishments. However, there is no official queer district. However, for the annual Savannah Pride event in October, the whole city becomes blanketed in the rainbow for a few weeks.
This charming city hosts more than just a thriving queer community; it offers so much to do for tourists and locals alike. So whether you want to check out their history and see some 18th and 19th-century buildings or museums, or enjoy a stroll in nature and see what makes this city so beautiful, Savannah has all this and more.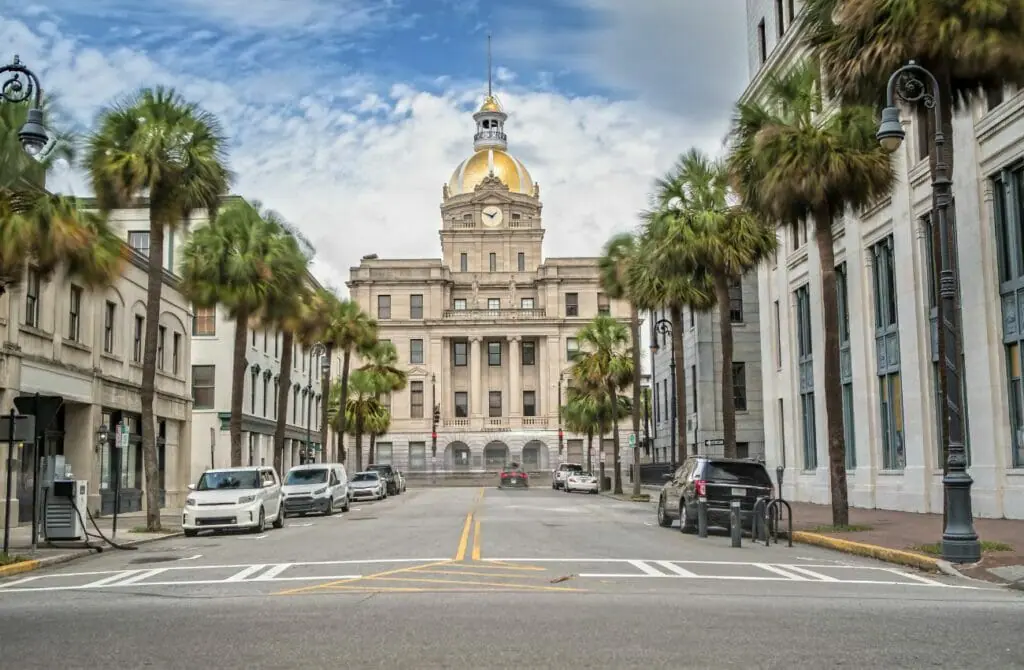 If you are a massive movie buff, Savannah was where Forrest Gump filmed their most famous scene with Forrest sitting on a bench, recalling his story and saying, "life is like a box of chocolates". You can see this bench for yourself at Chippewa Square. So what is the best time to see her?
If you like being busy, Summer is the best time to fill your calendar with events and see the streets alive with visitors, but if you prefer less congestion, Winter brings with it not just that but cheaper hotel rates. So consider adding Savannah to your gay traveling bucket list; she is beautiful.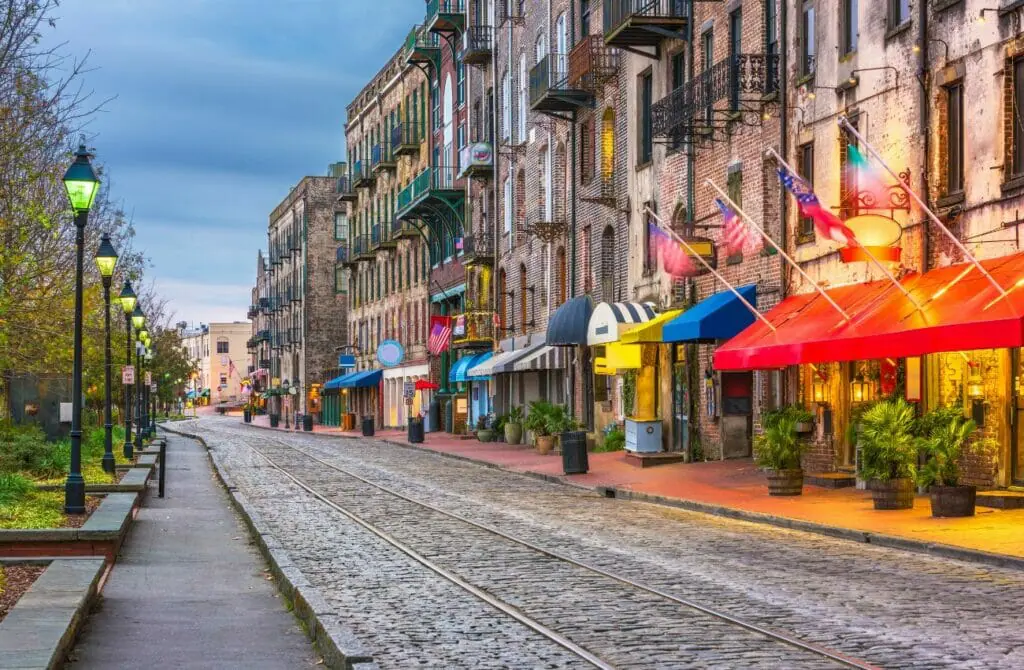 Attractions in Gay Savannah, USA
Savannah offers a vast pallet of the unexpected for the would-be visitor; she welcomes the queer community and has so much to provide tourists with that you'll be stretched to see it all. From iconic movie locations to the rich history of the three-hundred-year-old English settlement, there is much to be seen and experienced.
As a new visitor to Gay Savannah, there are plenty of things to see and do, regardless of your sexual orientation. One of the best ways to experience any new city is to visit some of its most iconic landmarks and attractions, including visiting historical monuments, museums, and art galleries.
We also love gazing at architecture up close, exploring parks and gardens, sampling the local cuisine, visiting local markets, and attending cultural events such as festivals, concerts and shows.
Even as the out-and-proud queer we are, we still love to just explore the city and its culture in the same way as everyone else. Doing so allows us the opportunity to learn more about the city and its people and gain a deeper understanding of the local culture. As such, these are our favorite must-see attractions in Savannah.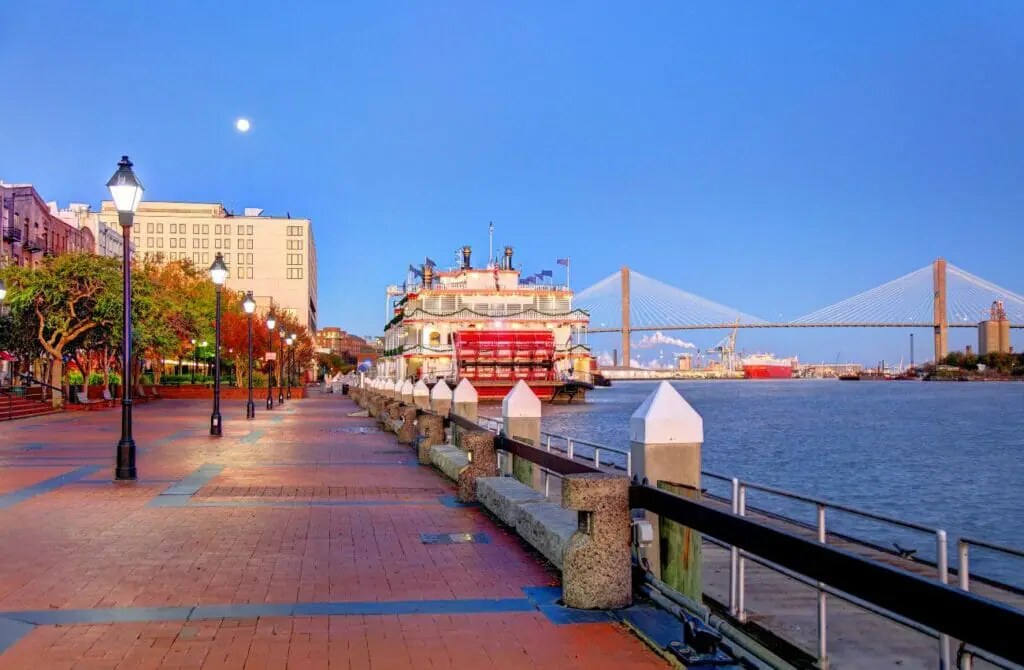 Owens-Thomas House & Slave Quarters
In the depressing parts of Savannah's history, you can visit the historic Owens-Thomas House and Slave Quarters. This English Regency-style home was completed in 1819, and you can learn about the lives of the enslaved people who lived and worked on the property.
Chippewa Square
One of the most famous movies starring Tom Hanks is none other than Forrest Gump. Whether you like it or not, you can't deny the impact this film had on the viewers of its time, and today is a classic.
And, as it turns out, the most famous scene where Forrest is sitting on a park bench telling his story and meditating about life and chocolates was filmed in Chippewa Square. So you can visit this exact bench and even see a Forrest statue!
Tybee Island
For those looking for a fun trip outside town, consider a short 18-mile escapade to Tybee Island. This little getaway is a popular destination for local queers as it has incredible beaches and places to host a beach party or potluck, with warm sands and refreshing waters. One highlight of this area, away from the natural beauties, is the lighthouse which was the first one on the south Atlantic coast.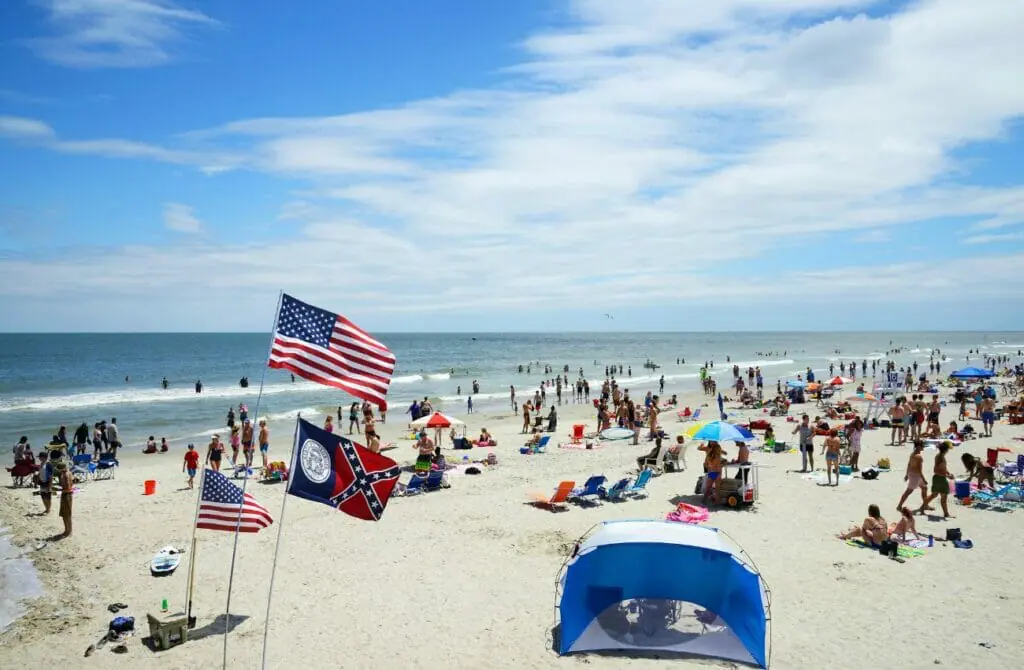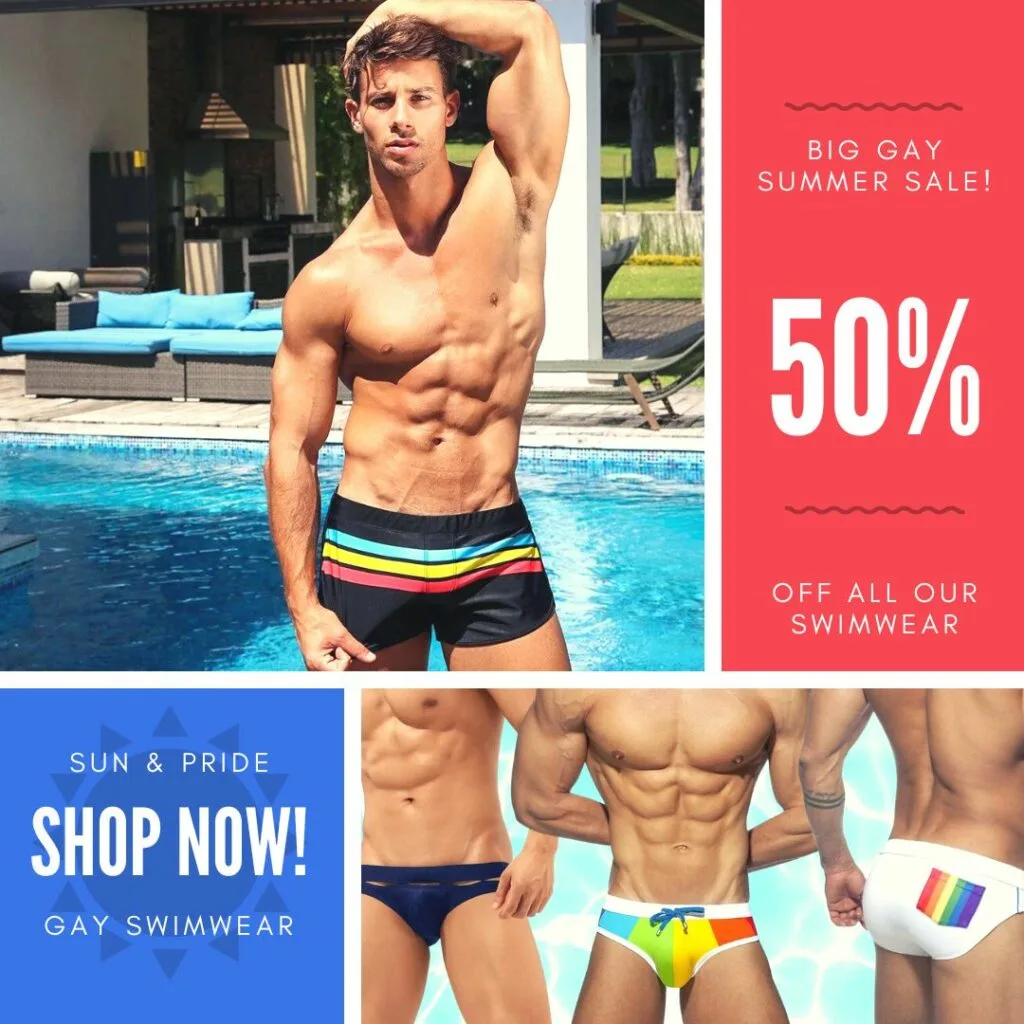 Savannah Ghosts & Gravestones Trolley Tour
You can't go wrong with a ghost tour for those seeking a mysterious, horrifying way to see the city. Visitors can ride the "trolley of the doomed" to explore the haunted city's former battlegrounds, historic cemeteries, and old mansions that are said to be inhabited by supernatural entities.
In addition, you will visit the legendary River Street, where it isn't just gay establishments you'll meet but possibly a roaming ghost or two! Finally, you will be treated to humorous spooky tales of Savannah's unnerving past as the guide takes you from place to place, with exclusive nighttime access to some iconic sites that take on an all-new air at night.
Returning to the city, you can still experience a slice of nature by stopping by Forsyth Park. This oasis spans thirty acres in the heart of the town, showcasing historic fountains, carefully managed gardens, and active sports courts for those who want to swing their bat and balls!
If you want to ensure you don't miss out on any sights, you can hire a tour guide or a self-guided audio tour to ensure you see it all.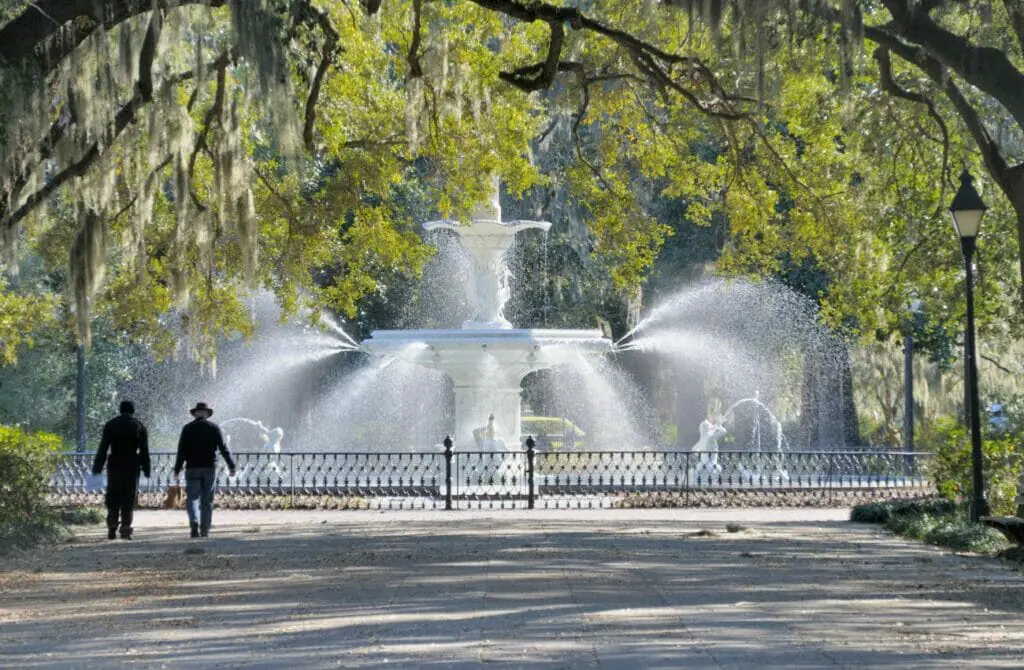 Historic Savannah Guided Walking Tour
In league with a local guide, set off on a walking tour of Savannah discovering the charm and history of this bustling coastal city. See national historic landmark districts or ages old, all whilst learning about an on-the-ground history of how these streets came into being.
This two-hour experience is a great way to see beyond the superficial and discover what makes this city unique.
Telfair Museum of Art
Don't leave town without visiting the Telfair Museum of Art, an iconic venue that art lovers will adore as much as they will be astounded by its 200-year-old history as being the first art museum in the Southern United States.
This quaint yellow building welcomes you to its halls by a central marble statue outside, reminding you exactly what you're in for: art. And this art is brilliant, showcasing a vast collection ranging from paintings by Kahlil Gibran to impressionist works by Gari Melchers.
The Cathedral Basilica of St. John the Baptist
One of the highlights of the rich historic landscape in Savannah is the St. John the Baptist Cathedral. This 19th-century cathedral is a neo-gothic structure with a momentous presence that towers amongst those around it.
When you visit its interior, you will be blown away by the decor and space and the stained glass windows transporting you to a new world. You can get lost in the peace of this place when not in service, and if you are religious, this is a great place to spend your Sunday when visiting the town.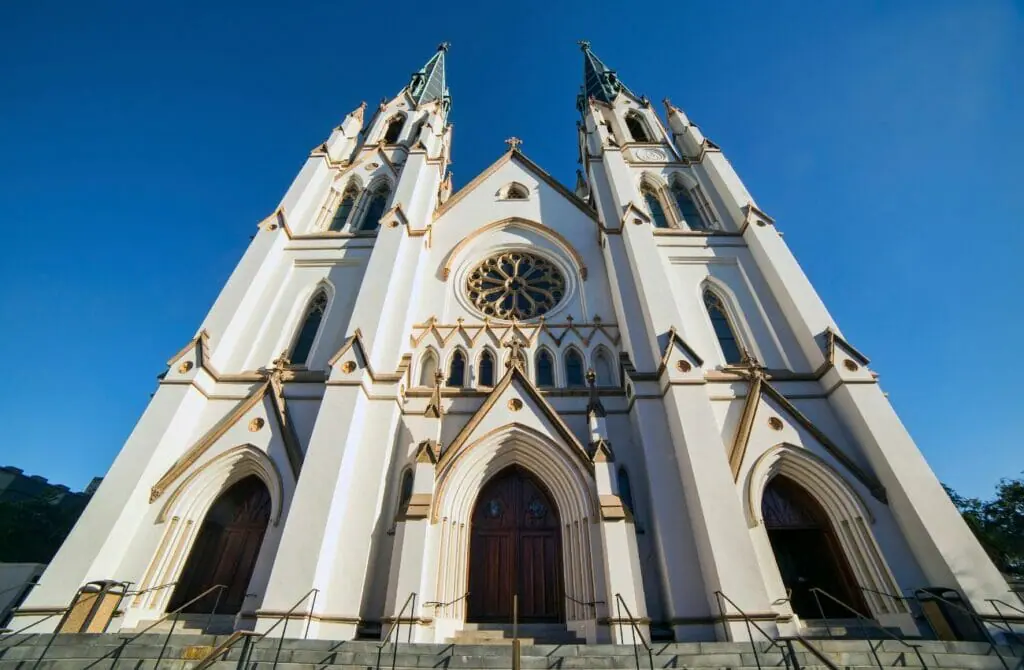 Leopold's Ice Cream
One of Savannah's most famous products is Leopold's Ice Cream, first set up as a historic ice cream parlor in 1919 by Greek immigrants. This original shop closed in 1969 but was reopened in 2004 by the co-owner and had been selling its original French pot recipes ever since. Enjoy their signature tutti frutti flavor, or get a tock out of former President Carter's favorite, butter pecan.
In the historic downtown of Savannah, Ships Of The Sea Maritime Museum showcases the important history of this port city. You can explore the galleries and learn about how the city developed into an important harbor, or go for a stroll in the gardens, with tours on offer for those that want to learn more about ships and other fun naval facts.
It's not every day we would advocate for a cemetery to be a top tourist destination, yet the Banoventure Cemetery is not just a place for the dead but the living. You will find a picturesque and serene location surrounded by the worn graves of lives that once walked the streets of Savannah and not lying eternally in the ground.
This cemetery was made famous by its appearance in a gay murder trial movie, Midnight in the Garden of Good and Evil. You can wander its winding paths, admire the mossy trees and verges, and take in the beautiful monuments that will help set your mind on a relaxing stroll.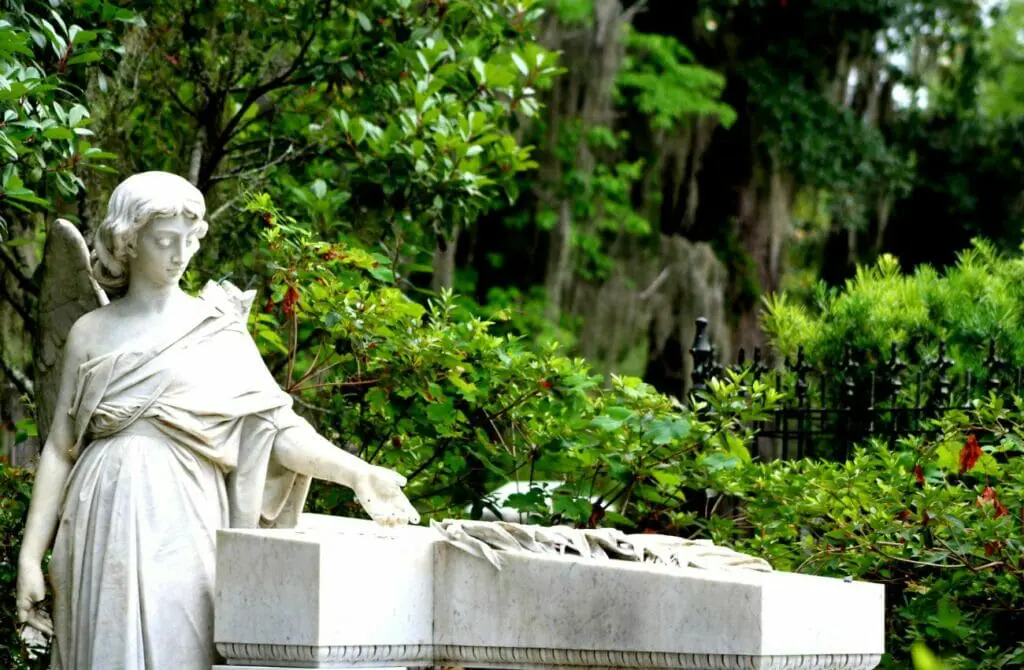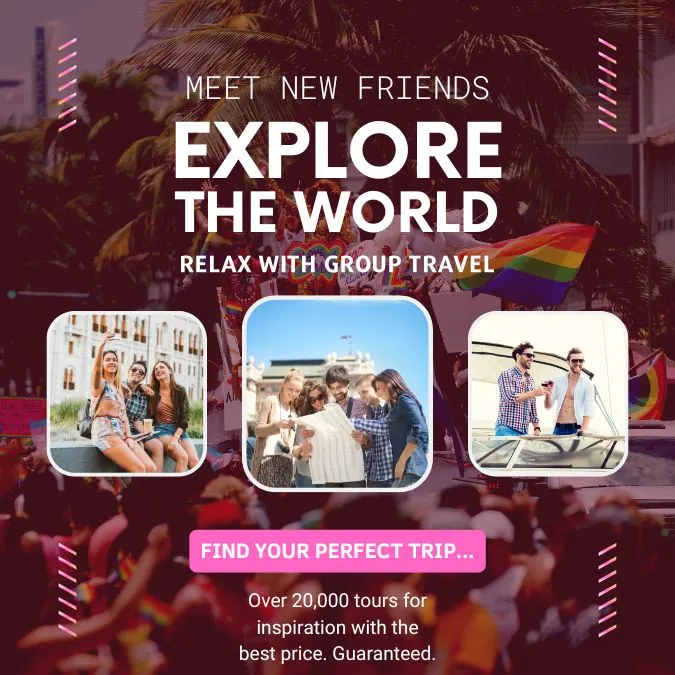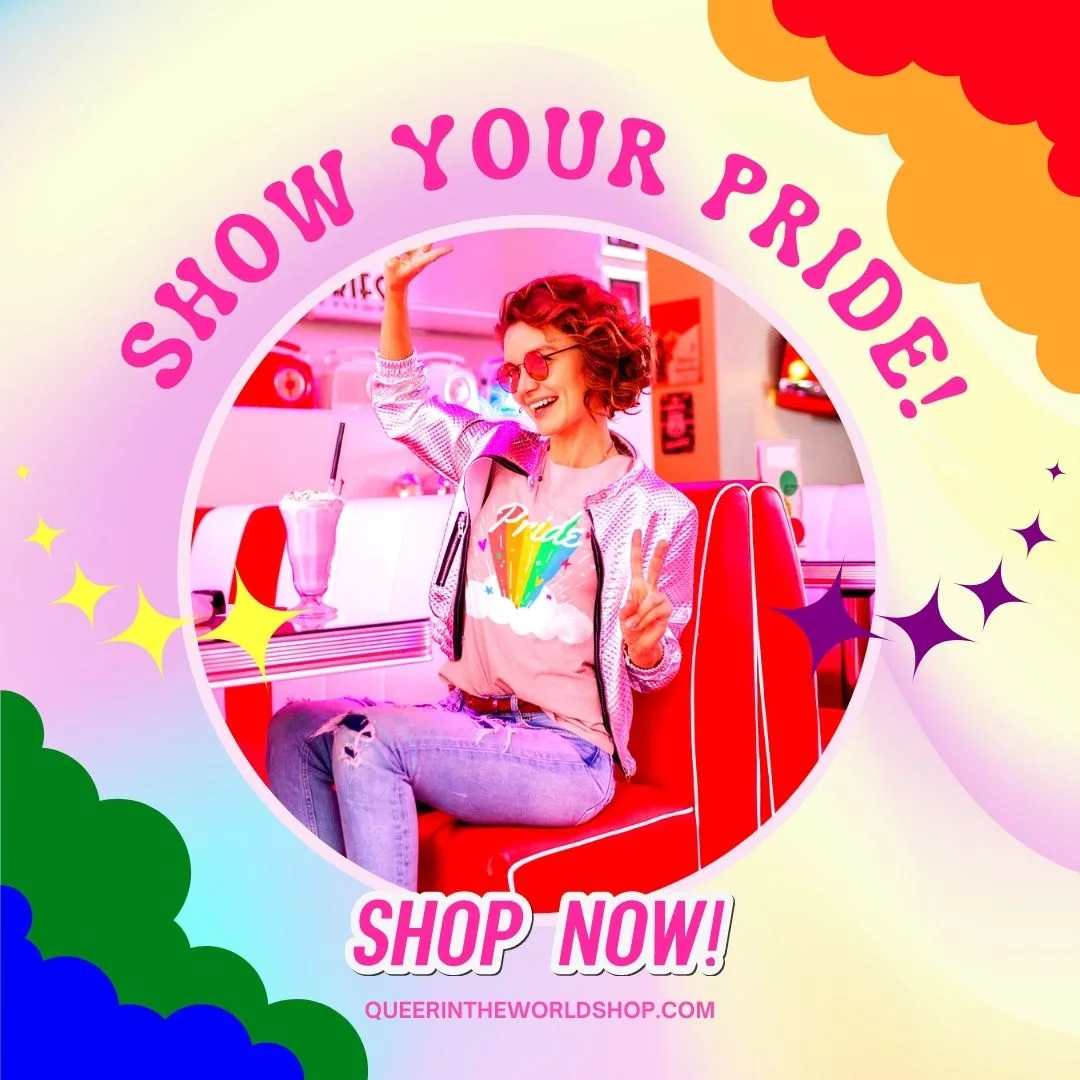 Gay-Friendly & Gay Hotels in Savannah, USA
A historic city with charming architecture, tree-lined streets, and rich cultural heritage, Savannah is the backdrop for a great holiday with incredible accommodations. Whether you seek the basics or the greatest experience money can buy, she will have you covered on both ends.
Being gay-friendly accommodation means that the establishment is welcoming and inclusive to guests who identify as LGBTQ+. This can include but is not limited to, having policies and practices in place that demonstrate a commitment to creating a safe and inclusive environment for LGBTQ+ guests, such as non-discrimination policies, and providing support and resources for LGBTQ+ travelers.
Some gay-friendly accommodations may also provide amenities specifically catering to the LGBTQ+ community, such as rainbow flags or literature about local LGBTQ+ events or resources. Furthermore, gay-friendly accommodations may be located in an area that is known for being LGBTQ+ friendly.
While Savannah does not have any specifically gay hotels or resorts, these are the most fabulous and pro-actively gay-friendly hotels in Savannah. Needless to say, there are also hundreds more hotel and hostel options in Savannah if none of these suit your desired budget, facilities or area – but these are the best hotels according to other gay travelers and us.
Whatever your needs are, Savannah has you covered.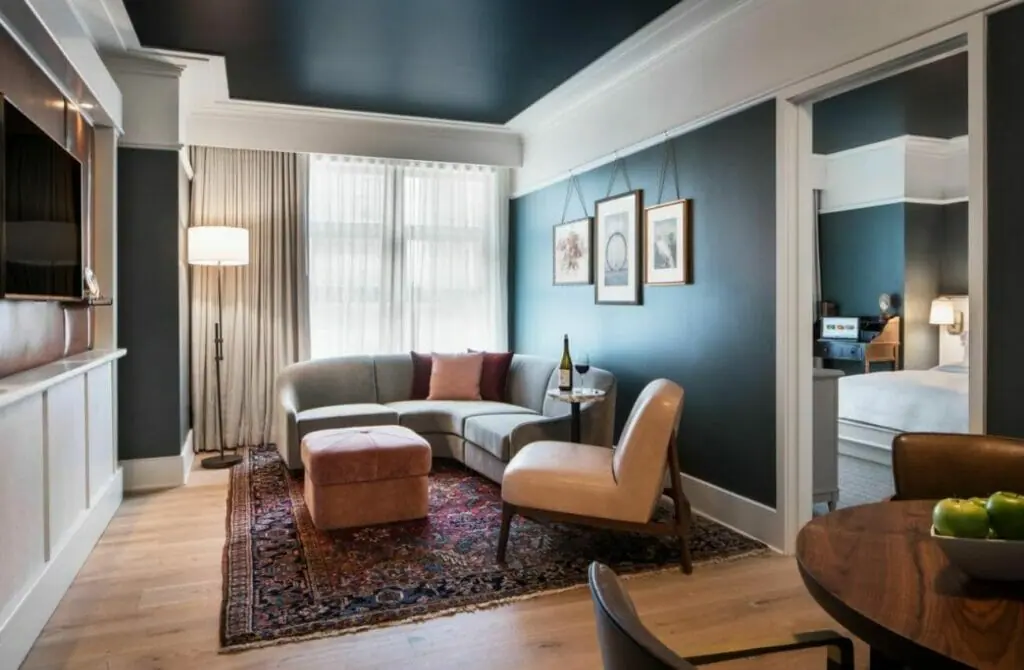 Perry Lane Hotel, A Luxury Collection Hotel ☆☆☆☆☆
One of the best gay-friendly hotels in Savannah is the five-star Perry Lane Hotel. Be offered a real treat with a full range of services and not only that be catered to a location that means you don't have to travel far to see the best sights and sounds of the city life.
You can spend your at-hotel days bathing in the full-service spa or cooling off on a hot day with a swim in the pool, but that is not all! If you want a hefty meal regardless of the time, you can order room service or go to the on-site restaurant to fill your belly right up. There is no need to worry about food and drink when you have them all on hand so close to your private quarters.
Now your room is yet another thing that stands out. Whether you select the Deluxe Room or the Grand Room, the service and quality of your stay will be the same. You get great views and have plenty of space to lounge around in the comfort and privacy of your room.
You could have a part in your room, although we wouldn't recommend it. The hotel is close to the famous nightlife spots of River Street, City Market and Forsyth Park, so you can have a good time even if your room is only suitable for a fun after-hours fling.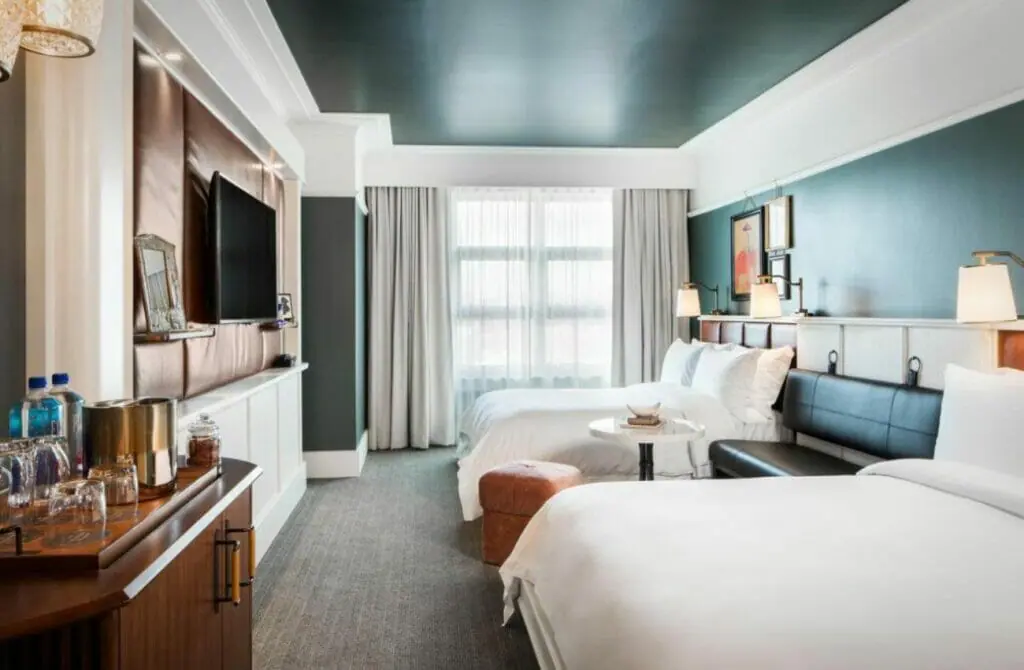 Hotel Indigo Savannah Historic District ☆☆☆☆
Heading into the four-star range of hotels in Savannah, you'll be glad to know that the one-less star doesn't mean you'll be losing any quality. Located in the heart of Historic Downtown Savannah, Hotel Indigo provides a world-class experience for tourists and business trips alike.
Whether you want to take full advantage of the extensive business facilities, the 24-hour fitness center or the on-site restaurant and cafe, you will be set for your time away.
Moreover, the hotel is only a short walk to other great nightlife destinations such as Chruchill's Gastropub and Sorry Charlie's. Your private quarters are one of 252 rooms offering fully equipped furnishings to make you feel at home, with plenty of wiggle room to ensure you get the perfect view and possible bang for your dollar.
Savannah's Historic District is home to a charming four-star B&B called Foley House Inn, just across the street from the iconic Forrest Gump bench at leaf Chippewa Square. You will stay in an 1896 redbrick home with a carriage house, sleeping in traditional rooms and modern whirlpool tubs.
Not only is this history and location incredible, but guests are given complimentary afternoon tea and breakfast as part of their package, so you can get a little warmth from home. She might not have a pool or as much space as the other hotels, but her unique history makes it an unforgettable stay for those looking for something different in Savannah.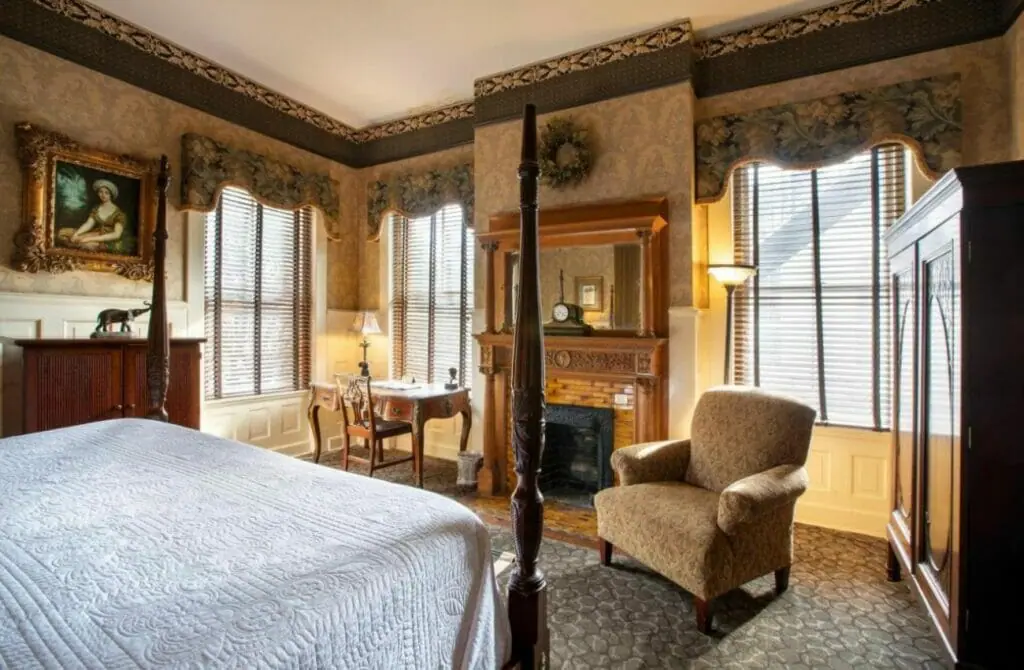 The Embassy Suites Savannah, found in the Savannah Historic District, is a three-star experience with all the basics in a room you could need without the bells and whistles of extras. These suites are self-contained, providing a kitchenette, microwave, dining area and bedroom.
What makes this even greater is the complimentary breakfast and the hotel's outdoor pool, fitness center and place for young families to play or dine outside. When you need to stock up on your food, you'll be glad they have a general store with other shops a short stroll away.
In the final showcase of hotels, a gem in the other three-star accommodation of Savannah is The Cotton Sail Hotel by Hilton. This can be found in Historic Downtown Savannah, providing guests with an on-site restaurant, bar, gym, and business services.
Also, rooms have great views and excellent facilities to make your stay as smooth sailing as a stormless sea so you can rest in your cabin seasick-free. Also, instead of the rooms being dreary and rustic like authentic ship cabins, the interior decor is modern and chique, with a simple white pallet being wrapped in a real cotton sail to fall asleep in a breeze.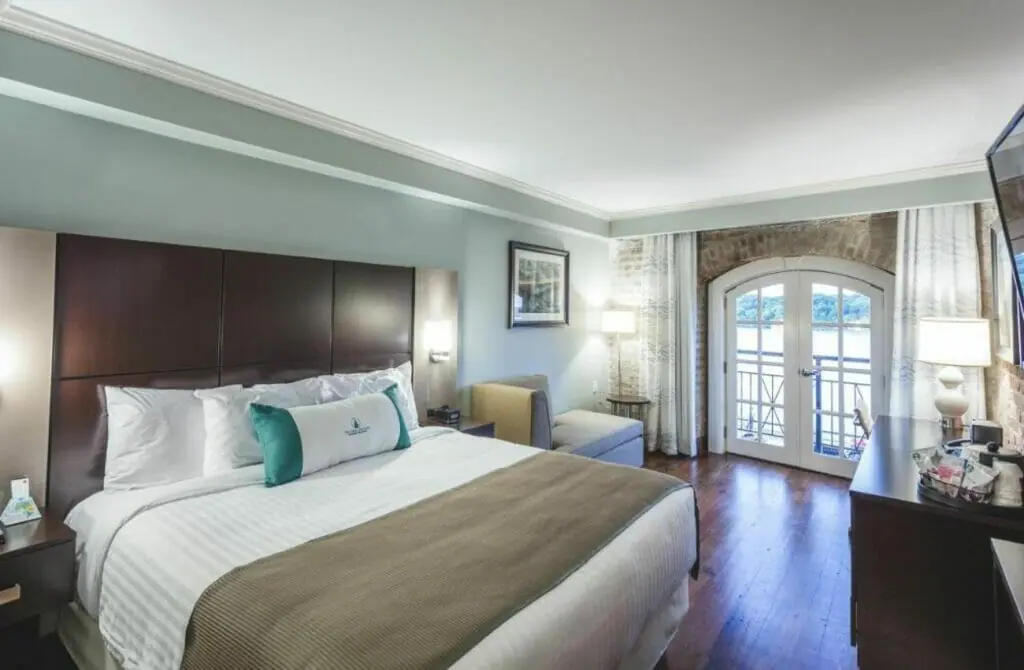 Gay Nightlife In Savannah, USA
Savannah doesn't have a gay district, but you can easily find many gay bars and other venues throughout the city, particularly in the Historic District and River Street. So whether you are looking for drag and drinks or dance and dating, Savannah's gay nightlife will have you sorted.
Exploring the gay and gay-friendly nightlife in a new city can be one of the most exciting and rewarding experiences while traveling – and Gay Savannah is no exception. Not only will you have the opportunity to meet new people and make friends, but you'll also get a taste of the local culture and learn more about the city's LGBTQ+ community.
Going out and experiencing the queer and queer-friendly nightlife in a new city can also be a great way to break out of your comfort zone and try new things. Whether it's dancing the night away at a gay club or mingling with locals at a gay-friendly bar, you'll have the chance to make memories and create lasting connections.
So, don't be afraid to step out of your comfort zone and explore the gay and gay-friendly nightlife in Savannah. You'll be glad you did!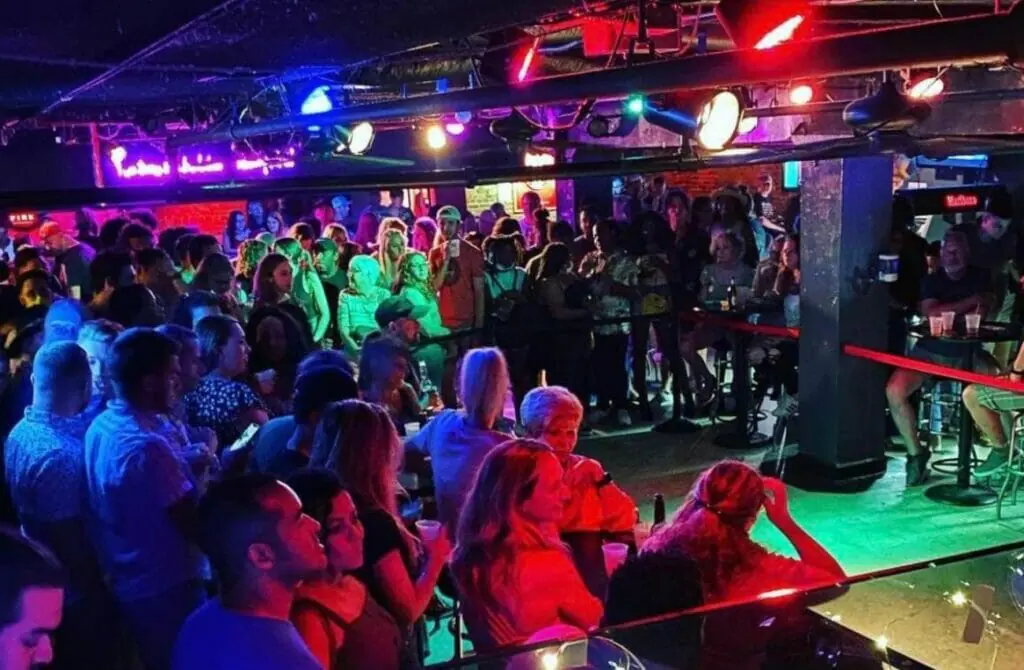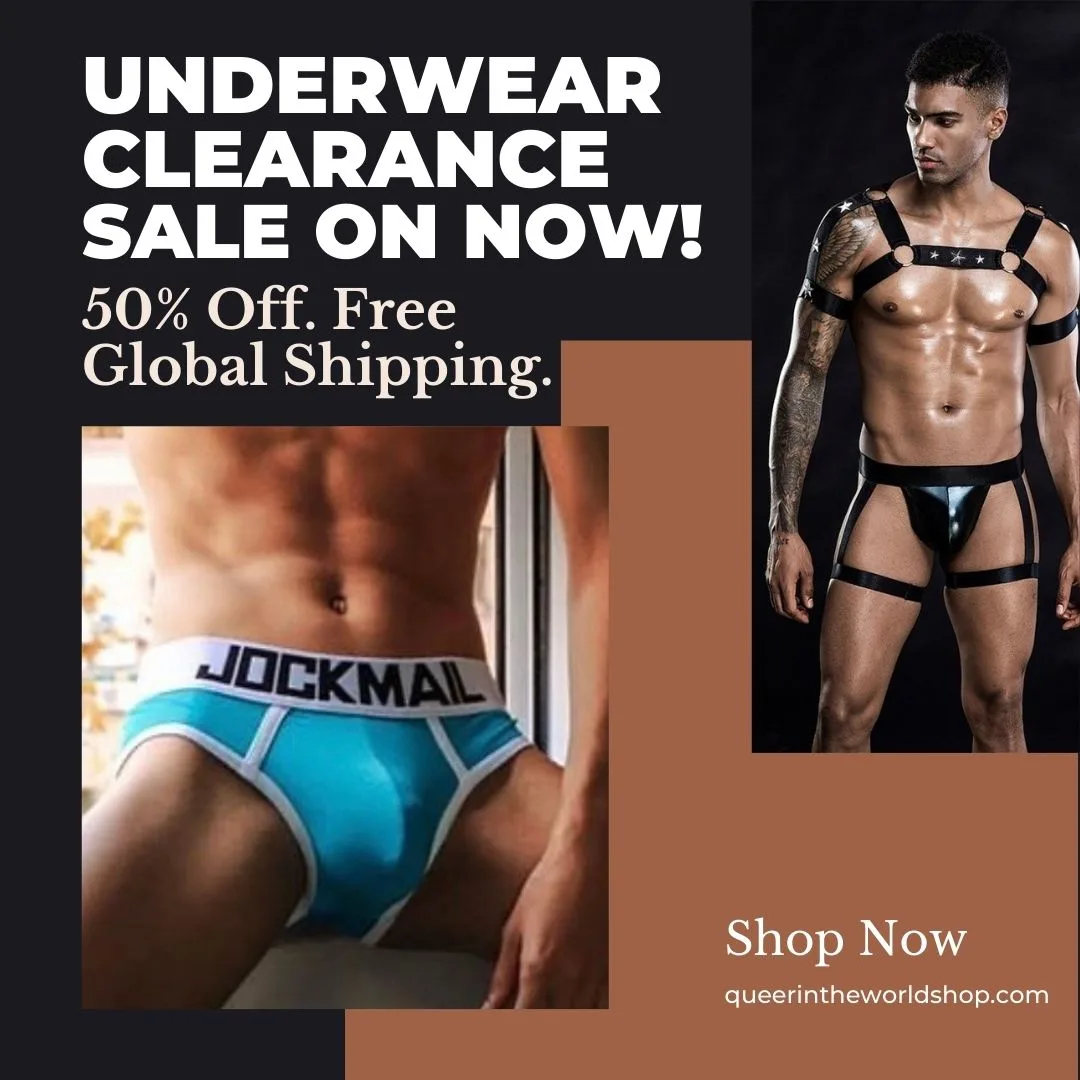 Gay Bars In Savannah, USA
Club One is the number one gay bar in Savannah (the only official one) that offers impressive drag shows and a fun part all night. This grand venue stretches across three levels and several bars, allowing you to enjoy a quiet drink in a corner with a date, get amongst the moshpit, and laugh or dance to the live entertainment. With gay galore, why start or end the evening anywhere else?
Gay Parties & Gay Clubs In Savannah, USA
Incognito LGBTQ Social Club – Gay & Lesbian Organization
Incognito is the local queer social club that provides a safe social space for the gay community. They organize regular events, including parties and social gatherings, to keep the spirit of their people alive and well-connected. If you are unsure about what to do whilst visiting Savannah, they are a great way to get in touch with the gay side of the city.
First City Pride Center is another gay social center in Savannah that is a great resource to take full advantage of. Whether you need one-on-one advice on problems that may arise during your stay or want to get well-informed about when the next Pride event will be held, they are the ones to help you with these needs and more!
Other Gay-Popular Nightlife Spots In Savannah, USA
Located between the sweet sandwich of River Street and the Historic District, this gay-friendly lounge and bar is a popular nightlife destination for queer people in Savannah. Here you will be greeted by a small, cozy Bar with unique decor reminiscent of a 1920s Great Gatsby extravaganza.
On the quiet nights when they don't host events, you will find semi-private booths to enjoy a drink, which is perfect for a date, and on others, you can be treated to various live performances.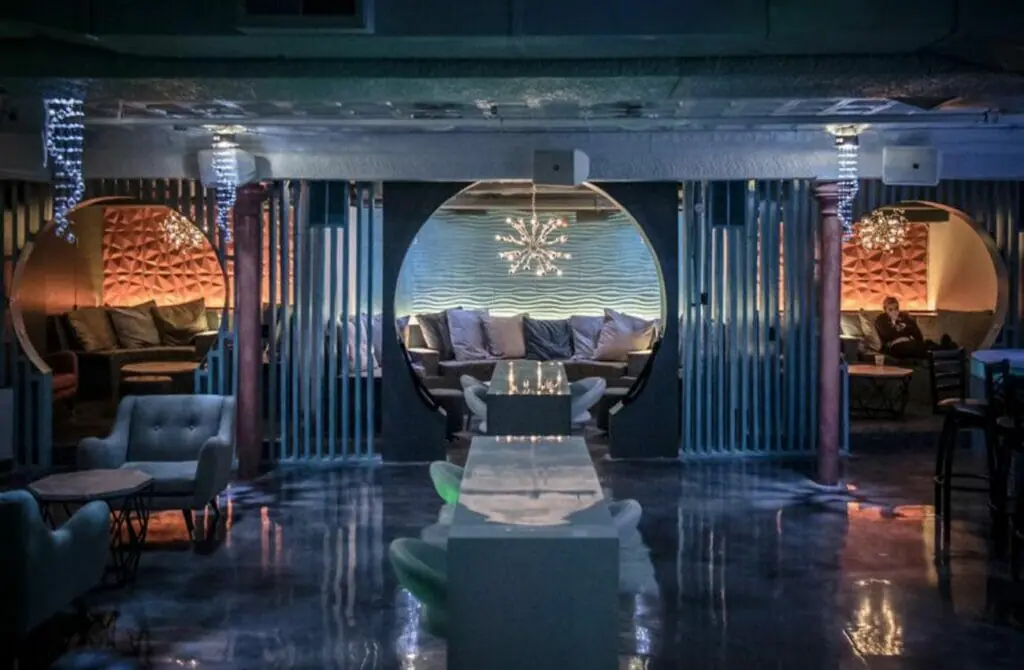 The Original Pinkie Masters Bar
Founded in 1953, The Original Pinkie Masters is a classic bar from the 1950s with jukebox music, reasonably priced beers, and an incredible history posted in the decor of the bar's walls. You will be treated to a little slice of Savannah's history as you get classic southern hospitality served at a rustic wooden bar with wooden booths to suit. A popular gay nightlife spot, so you can't miss it.
Bar Bar is a modern basement bar with neon signs and a great place to host a party. Whether you seek an area with a sleek dance floor with pumping tunes or board games and pool tables, with a break at the bar, Bar Bar bar is one to add to the to-do list.
In classic Savannah fashion, if you are after a little haunt, the Crypt Pub has you sorted. This bar is unique as it has spooky decor for all those ghost hunters and goths and is a popular gay retreat at night. You can expect a laidback vibe with great space to enjoy drinks, including cheap alcohol and green tea, perfect for a date or to become acquainted with locals whilst on holiday.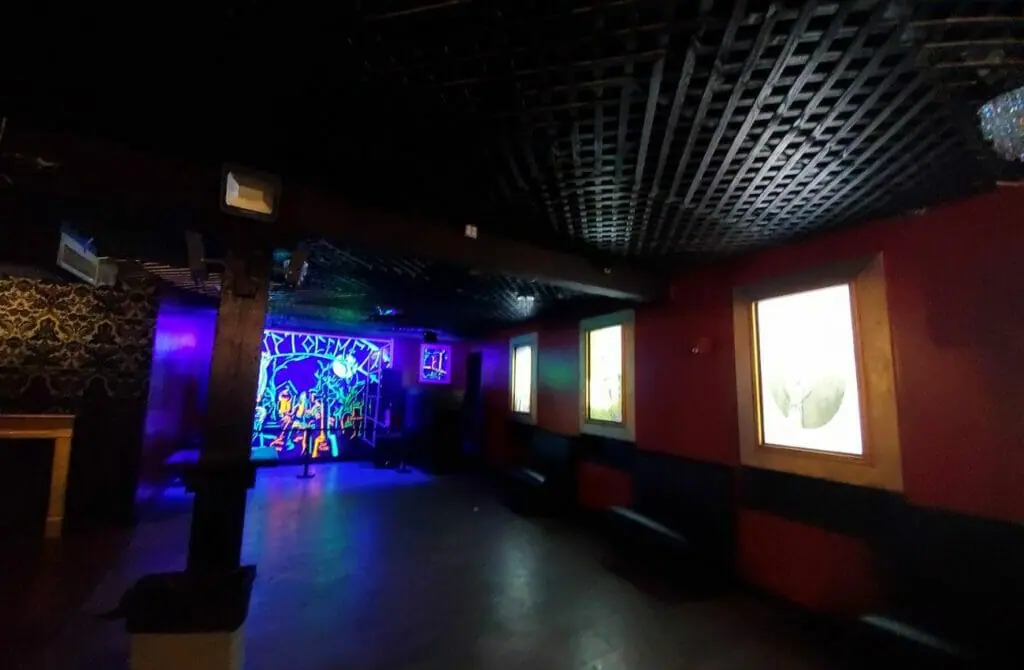 For those after a little tapas and drink, Jazz'd Tapas Bar offers a sweet blend of Americanize Spanish tapas with the ambiance of a chic cocktail bar with live music. However, despite its name, they have more than just jazz, including classic pop, rock, blues and swing. Although a little old school in concept, they offer a modern twist that makes it stand out from the older crowd in town.
Although once a former Greyhound bus stop, today, this chic space has two bars and a fine dining restaurant with modern Southern cuisine. If you want to taste what makes cuisine in this part of America unique, you have picked no better place than The Grey.
Highlights of their menu include the varieties of pasta, steak, and the local fish and shrimp, with just as many drinks to choose from. She is a great place to start your evening in Savannah, open from 5 pm until late.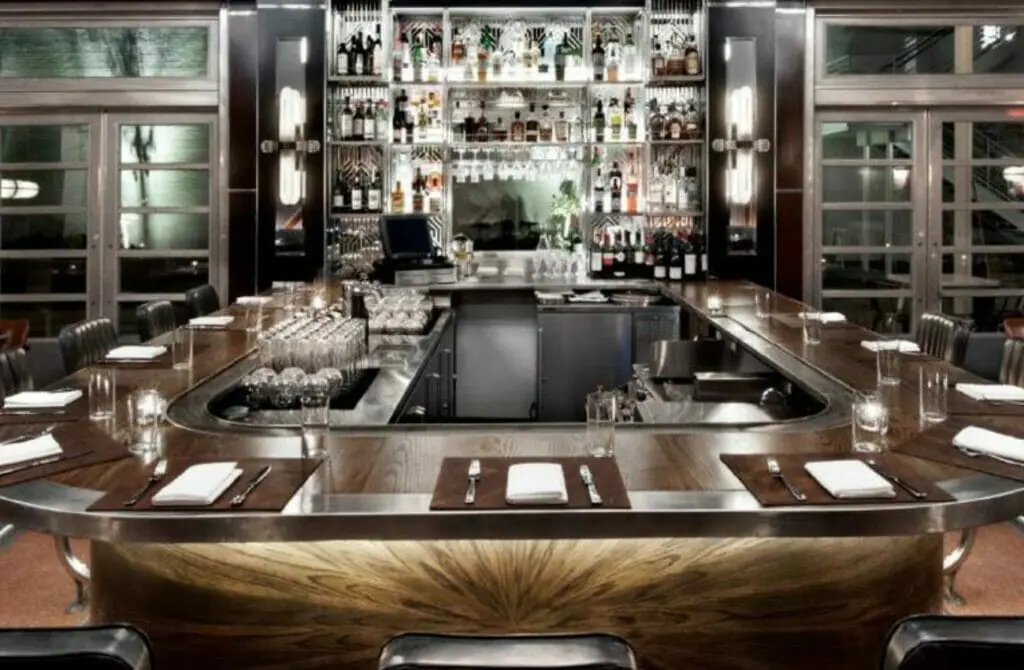 In a 19th-century mansion, 700 Drayton Restaurant offers six elegant dining rooms with classy southern cuisine from the Forsyth Park Hotel. You treat yourself to a royal experience with options of fine wine, incredible ambiance and decor, and delicious food you won't ever match in quality again. Dress for the part, secure a date, and you will have the time of your life.
Located in a lovingly restored known as DANIEL REED, Artillery is a cocktail bar that sits in this 1896 building that has an intense history serving the military. Today it is a peaceful spot to enjoy a light drink and celebrate the beauty and love of life, but the space she once sat in Georgia Hussars' armory for his cavalry's artillery.
Not only is this space unique, but the service and drinks are also top-notch, and all the more reason the queer community keeps coming back.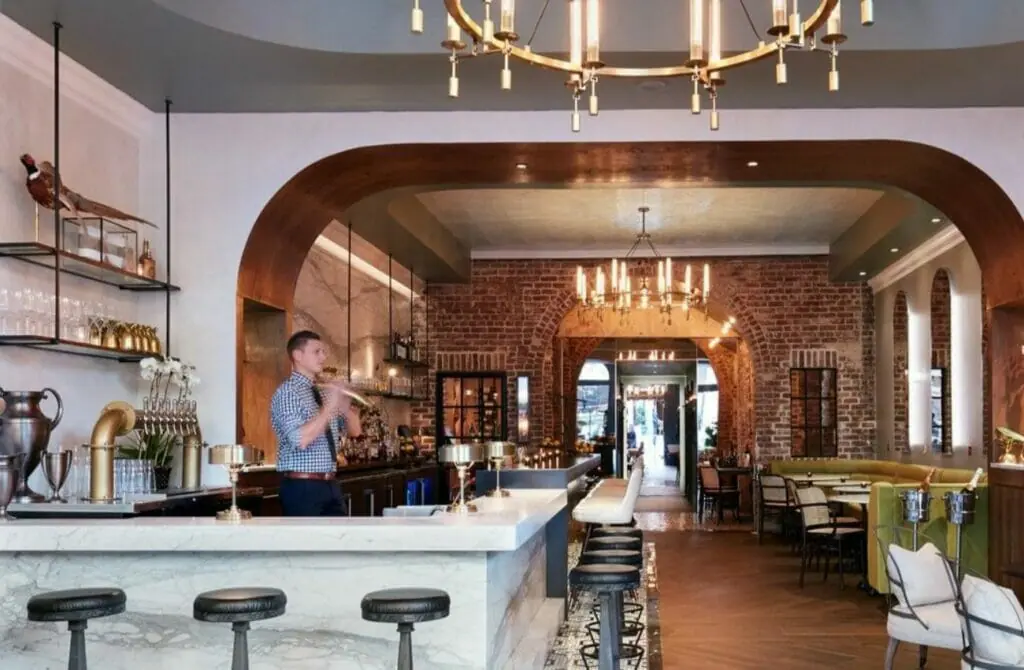 Cruising & Gay Saunas Savannah, USA
There are no gay saunas, cruising bars or sex shops in Savannah, although you will be glad to know there are all-rounder sex shops and saunas. But if you want the complete gay cruising experience, we recommend turning to your handy apps like grindr, she and tinder to hook up with a keen candidate or head out in person to the local gay bar One Club. Despite this lack of options, Savannah still has a lively gay population looking to meet you!
When traveling to a new city, it can be exciting to head out for more than just a stiff drink. One aspect of the Gay Savannah scene that many queer men enjoy is visiting gay saunas and cruising clubs.
Sure, the sauna culture in Savannah is not as hedonistic as in Amsterdam, Barcelona or Berlin, but these venues still offer a chance to meet new people, socialize, and engage in sexual activity – without resorting to gay hookup apps.
However, it's important to keep in mind that these venues can vary greatly in terms of atmosphere, clientele, and rules, so it's a good idea to prepare yourself before visiting. If you are apprehensive, we advise studying our guide to visiting a gay bathhouse for the first time, which should help set your mind at ease, and always practice safe sex.
Additionally, it's important to be aware of and respect local laws and customs regarding gay venues and sexual activity. With a little bit of planning and an open mind, visiting gay saunas and cruising clubs can be a fun and exciting part of your gay Savannah travel itinerary.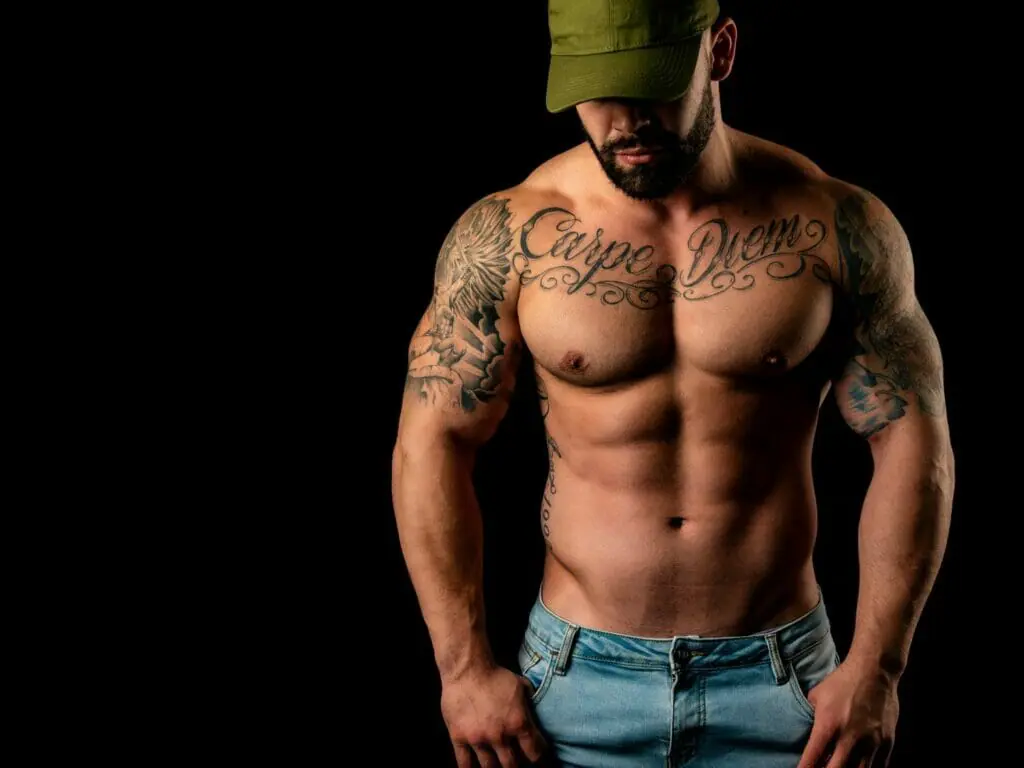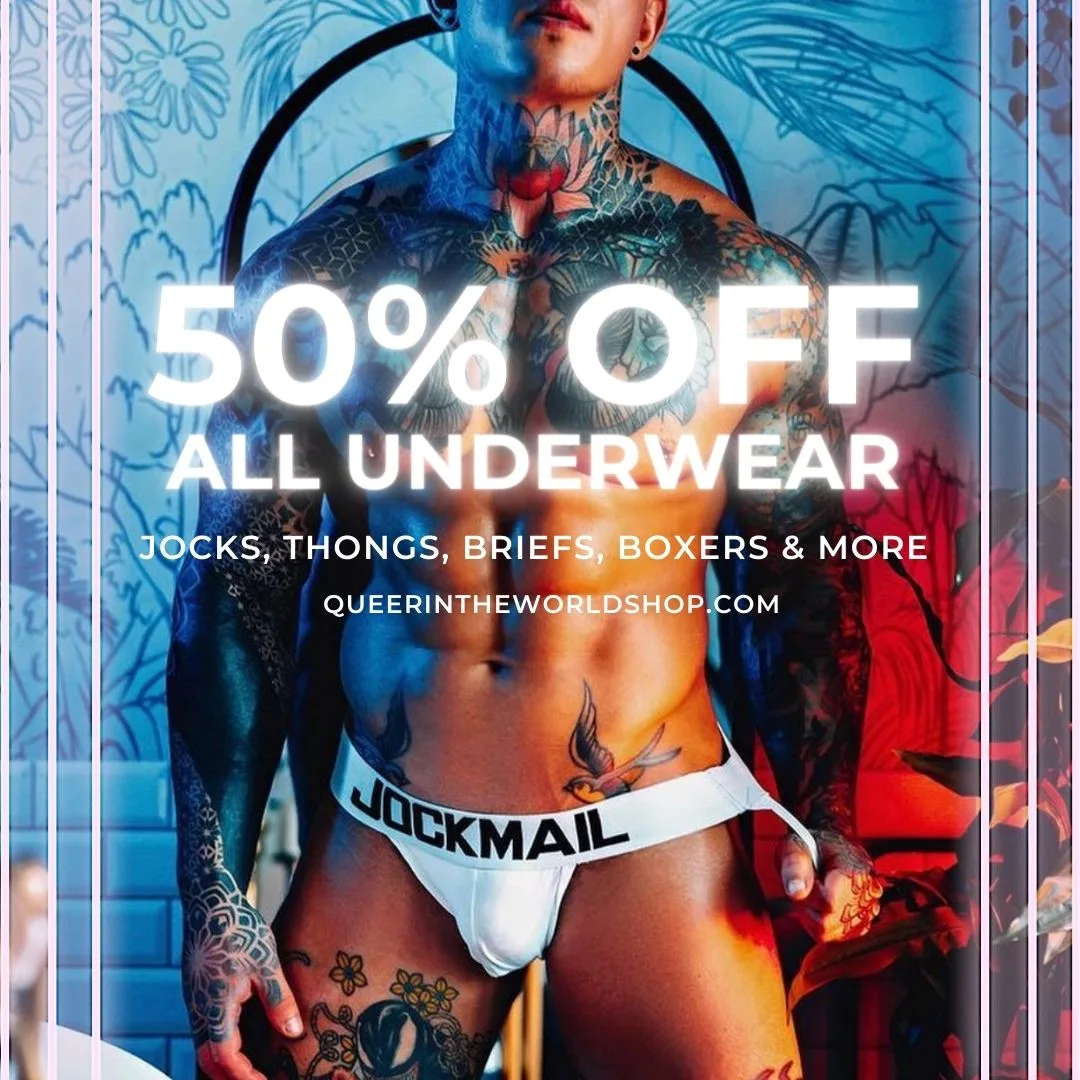 Gay Sex Shops In Savannah, USA
Voted the number one sex shop in Savannah, Sunset Novelties provides you with all the last-minute nighttime pleasures if you find yourself short on a night out. They have two stores in the south, with one open until 1 am every night. So whatever you may require, they are sure to have it.
Gay Map Of Savannah
Finding it hard to envisage where everything is in Savannah? Hopefully, this queer-centric map helps where we have marked all the bars, clubs, parties, hotels, saunas, massages and more will help you stay in the spot best suited to you!