Are you considering a move to LGBT Omaha, Nebraska? You should know that you're moving to a metropolis that has much more to offer than you would think at first glance. Whether it's social attractions, cultural experiences, or an affordable cost of living, Omaha comes with a vibrant economy that you will enjoy.
This Midwest city also boasts a forward-thinking and progressive community that is as vibrant as any other East Coast or West Coast City and one of the most welcoming LGBTQ communities in the Midwest, along with different cultural experiences and top hospitals. If you think Omahans are living just like a Little House on the Prairie episode, you could not be more wrong.
Like Baltimore, St. Louis, Pittsburgh, and other medium-sized U.S. cities, there is also a lively gay scene here (if you know where to look), and this is something a gay realtor in Omaha can help you navigate as you find your new perfect home here.
Once you throw in the fact that Omaha is one of the most affordable U.S. cities to live in, filled with an intriguing mix of college students and young families, trendy fashion, antique shops, and spontaneous underground clubs, Omaha will have you hook, line and sinker. It's not hard to see why the city is one of the most underrated destinations for members of the LGBTQ+ community looking to move from their current locations.
Before we dig a little deeper to find out what the city has in store for you as a member of the queer community, let's first take a look at some of the highlights of moving to LGBTQ Omaha.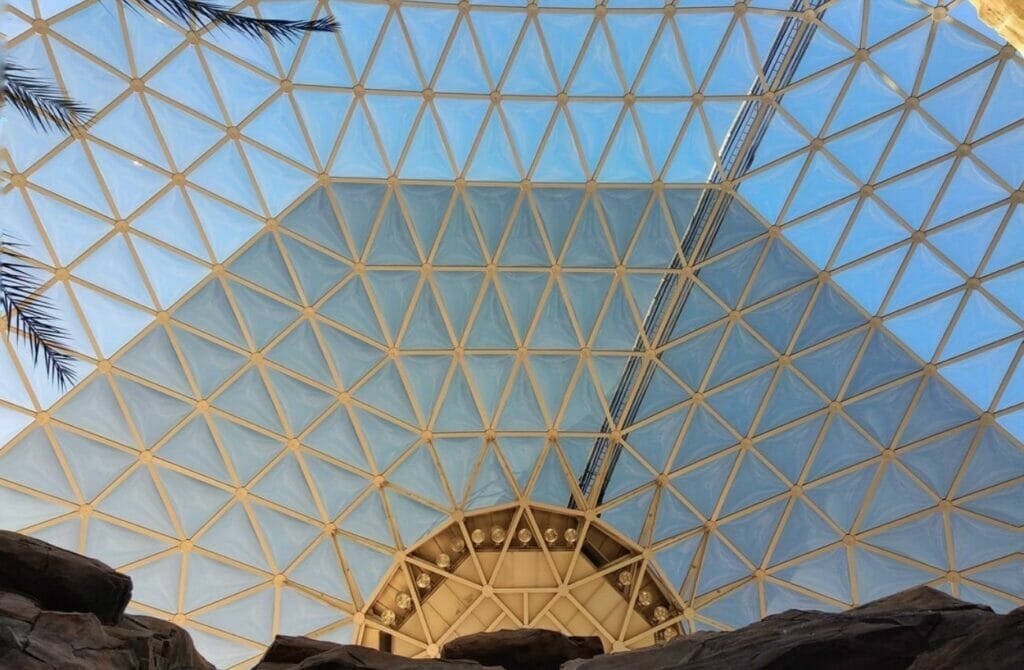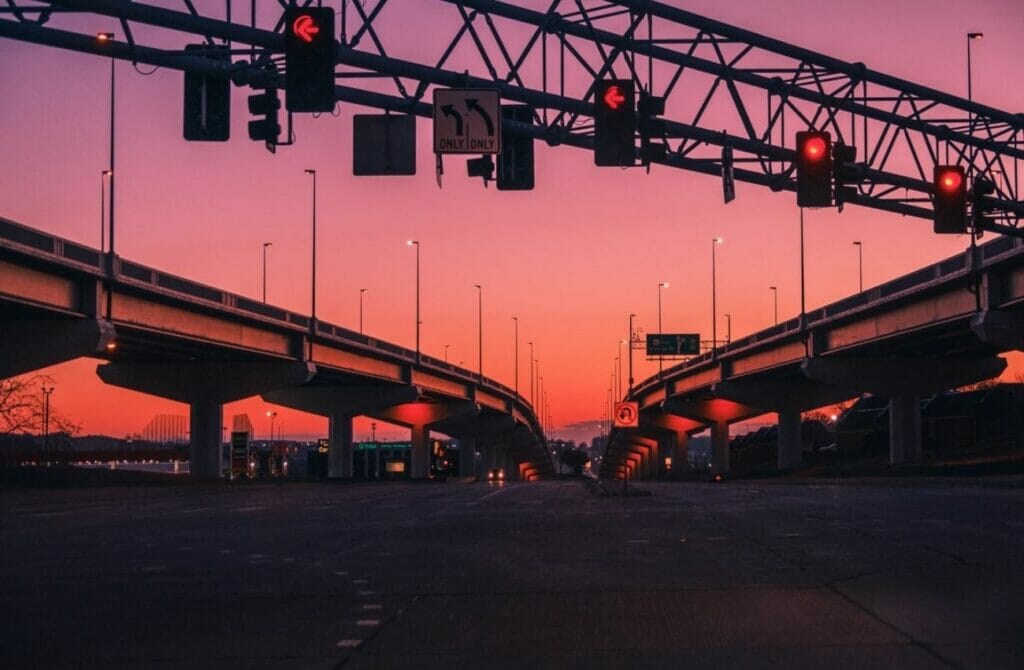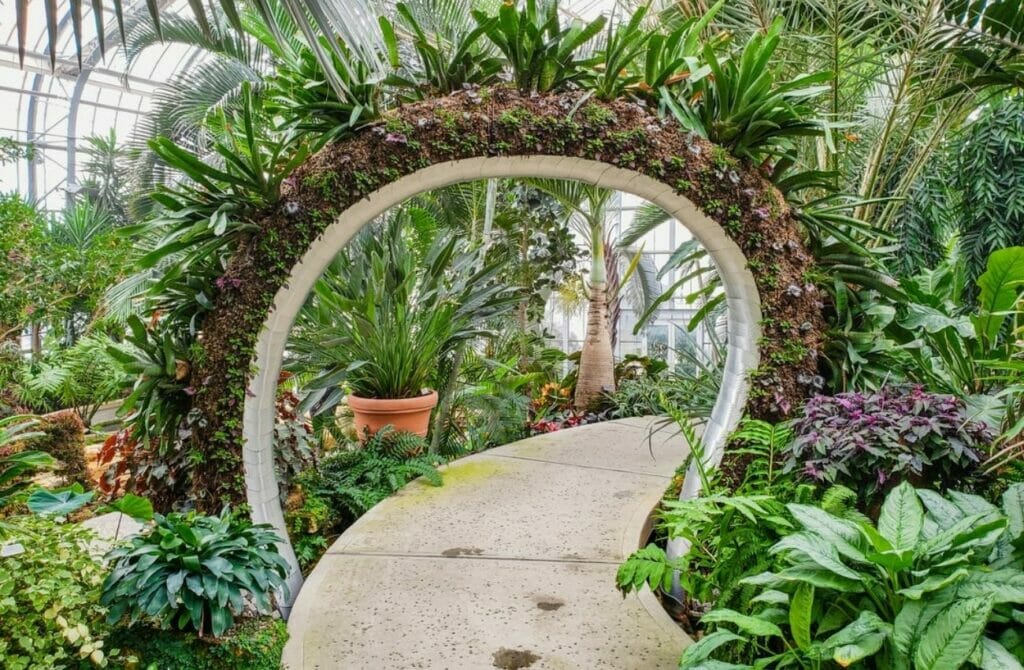 Highlights Of Moving To LGBTQ Omaha
Everyone moving to LGBTQ+ Omaha wants to know what the metropolis at the intersection of urbanity and nature has to offer. Other than the usual diverse food scene, four seasons, and great education opportunities, here are some highlights that are unique to the Midwest City of Omaha.
Check them out.
Business Is Booming
If you didn't already know, Billionaire extraordinaire calls Omaha home. And, the best thing about his home city? It is one of America's most recession-proof cities! Omaha is home to Warren Buffets' Berkshire Hathaway and other Fortune 500 companies such as Kiewit, Union Pacific, ConAgra, and Mutua of Omaha.
America's largest privately-owned bank, First National of Omaha, and several tech companies call the city home, so with all these employers on the field, you know that your job search might be more successful than you thought it would be.
Access To Top Hospitals
Omaha has some pretty well-known research centers and hospitals and is one of the nation's top healthcare destinations. In Omaha, you will find top-notch research facilities, medical education, and patient care at institutions such as the University of Nebraska Medical Center.
Boys Town National Research Hospital Children's Hospital and Medical Center Omaha are some of the institutions improving children's healthcare in the nation. Omaha is home to Methodist Women's Hospital, an institution focused on women's health, and is also the headquarters for CHI Health.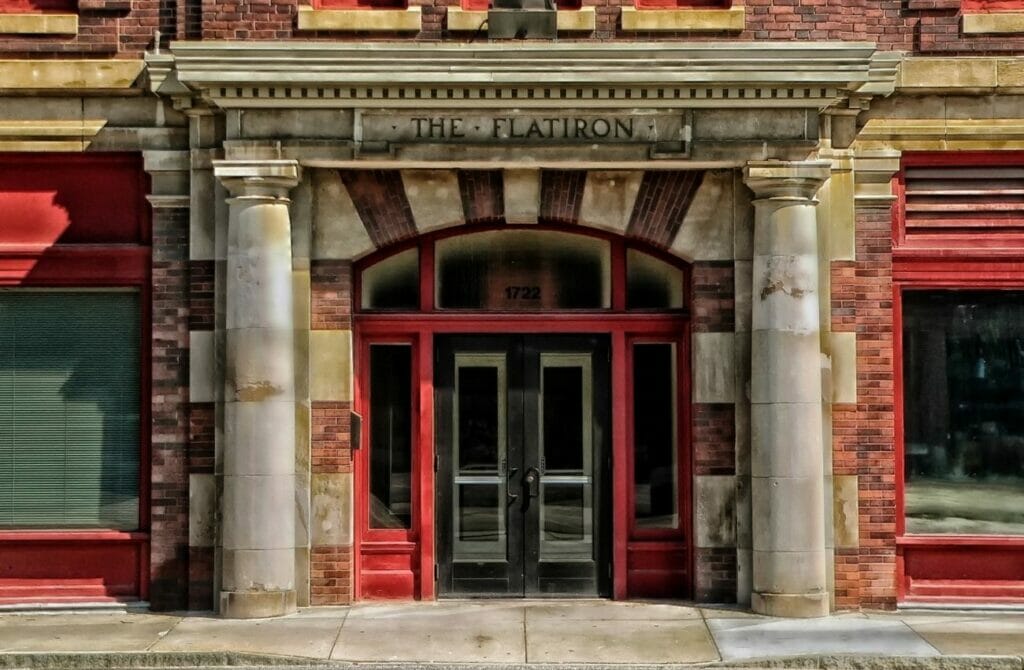 The Zoo Is World -Class
Omaha's Henry Doorly Zoo and Aquarium sits on more than 130 acres and is home to more than 1,000 species. The zoo is one of the largest in the world and houses the Desert Dome, which is the world's largest indoor desert, as well as the Suzanne & Walter Scott Aquarium, which allows visitors to walk through a tunnel tube and have a look at sharks, sea turtles, and fish swim above them.
The zoo is also home to a variety of monkey and macaw species you can spot as you walk through the Lied Jungle. That's not all there is to the zoo, though. The Scott African Grasslands lets you feed giraffes, and you also get to view primates at the Hubbard Gorilla Valley.
Steak Is In Plenty
There's a reason why Nebraska is called "Beef State." Omaha is the steak capital of Nebraska and is the home of Omaha Steaks, which has been one of America's largest beef marketers since 1917.
If you're not up to firing up the grill yourself, Omaha's best steakhouses will do the cooking for you. Whether it's an out-of-this-world Prime Rib or a Whiskey Filet, there's something for everyone to feast on and quench their appetite for some tasty meat.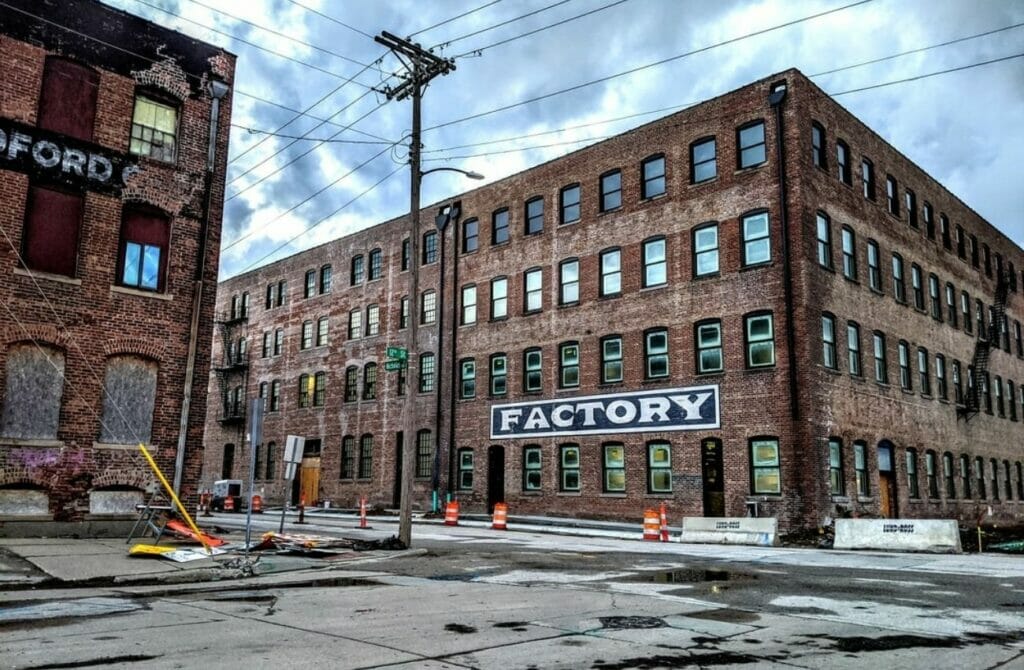 Does Omaha Embrace The LGBTQ Community?
Unfortunately, the LGBTQ community in the state of Nebraska has and continues to face some challenges that non-LGBT residents do not face.
Thankfully since June 2015, same-sex marriage has been legal as a result of Obergefell v. Hodges, which forced all fifty states, the District of Columbia, and the Insular Areas to perform and recognize the marriages of same-sex couples on the same terms and conditions as the marriages of opposite-sex couples, with all the accompanying rights and responsibilities. However, we would have liked it more if Nebraska and Omaha had recognized this fundamental human right on their own accord prior to being forced to
In addition, the state of Nebraska has made it illegal to discriminate due to gender identity and sexual orientation in regard to housing and employment – but only since the U.S. Supreme Court rules on Bostock v. Clayton County and a ruling following the Nebraska Equal Opportunity Commission ruling. Omaha, the state's largest city, has adopted further protections in public accommodations, and it is important to note that at the time, Omaha was the only Nebraska city with a law against discrimination in public accommodation and employment based on gender identity and sexual orientation. The Omaha City Council voted 4-3 in April 2012 to assent to an ordinance that extended the city's anti-discrimination laws to refer to LGBTQ+ residents.
While the victory seemed like it came a little bit late, keep in mind that it wasn't a small one considering the fact that no other city in the state had any anti-discrimination laws, and attempts to adopt state-level legislature failed in March 2019. Supporters of the Legislative Bill 173 of 2017 included Omaha Mayor Jean Stothert, Union Pacific, and the Omaha Chamber of Commerce. However, voting for the bill was put on hold until 2018.
Even so, such protections can still be drawn at the commercial level, and the LGBTQIA+ scene in Omaha continues to grow. It received a boost in 2019 when Megan Hunt was elected as the first openly LGBT member of the legislature in Nebraska. Later, a survey done in the entire state of Nebraska showed that 73% of the state's residents were in support of anti-discrimination legislation that served to protect the LGBTQ+ community.
Many people fail to pay attention to what Omaha has to offer in terms of a thriving LGBTQ+ scene. However, plenty of companies in the city are committed to inclusion and diversity and have also adopted non-discrimination policies that include gender identity and sexual orientation.
While moving to Omaha, Nebraska, the city's abundance when it comes to LGBTQ-friendly nightlife will give you a better idea of how the state and in extension, the city of Omaha, view the idea of inclusion. If you're looking for a drag show, plenty of establishments such as Flixx Video Bar, the Omaha Mining Company, and M'S Pub will cater to your needs and those of your LGBTQ+ friends.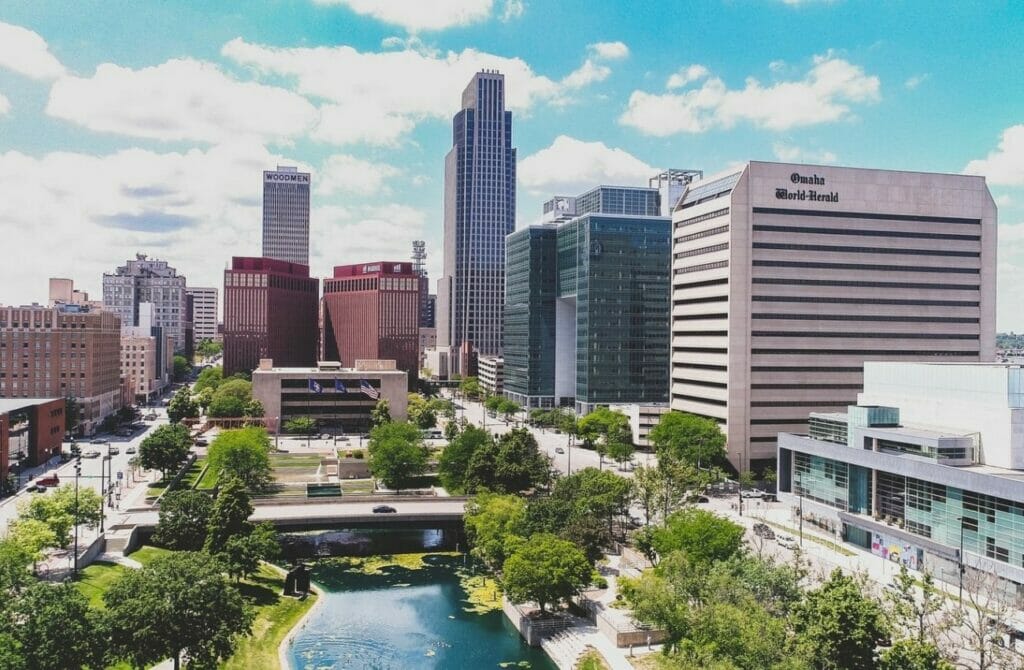 Is Omaha An Expensive City To Move To?
Omaha has a population of almost 500,000 and is considered one of the larger cities in the United States. While its size may drive potential movers away, it shouldn't, because the city has affordable housing and a low cost of living. The median price for a home in the city is $139,800 and the average rent per month is $819.
These figures give you a clear idea of why Omaha is one of America's most affordable cities to live in. As we try to put this into perspective with other factors that determine living costs, keep in mind that the cost of living in the city is 8% lower than the U.S. national average.
Housing, Utilities & Transportation: Housing expenses in the city are 11% lower than the U.S. national average while transportation costs such as gas prices and bus fares are 8% lower than the countries average.
Food and Grocery: Grocery prices in Omaha are 6% lower than the country's average.
Healthcare: Healthcare in the city is 1% more than the country's average.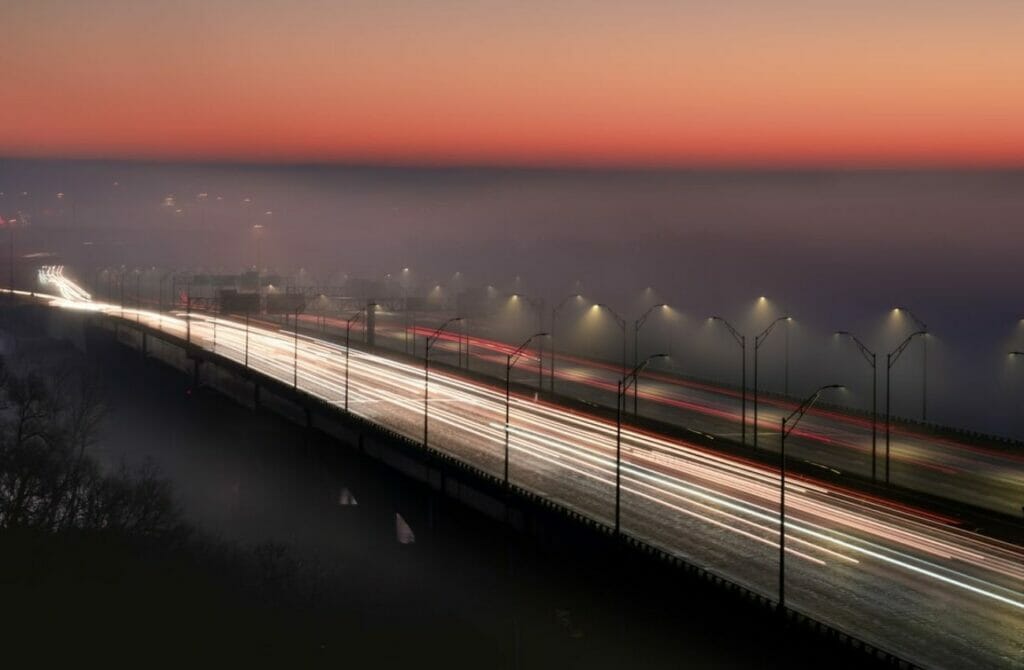 The Best Gay Neighborhoods In Omaha
Some LGBT individuals will want to live in the frenzy of Downtown Omaha, the city's business and culture hub, Downtown, which centers on cobblestone Old Market and is filled with galleries, restaurants, and boutiques in Victorian buildings. However, if this does not sound like you, rest assured there are plenty of alternate communities for those who want a more easygoing, LGBT-friendly environment.
When relocating to LGBTQ Omaha, you should be aware that some areas are much close to all the fantastic gay clubs and nightlife than others, and therefore selecting once will allow you to pull your U-Haul up to your new house in a gay-friendly neighborhood or part of town.
If you're a lesbian, gay, bisexual, transgender, or otherwise queer person seeking a welcoming neighborhood with facilities you'll cherish, commence with these top gay and gay-friendly Omaha neighborhoods to discover your perfect new home, each with its own distinct personality. Give yourself enough time to familiarize yourself with Omaha's multifarious personalities, and remember that this city offers something for everyone – LGBTQ or not!
Now let's take a look at the handful of fabulously gay areas in Omaha are and talk about the Omaha gayborhood where you might feel most at home! Or speak to a local LGBT real estate agent for a more detailed understanding of the best options today.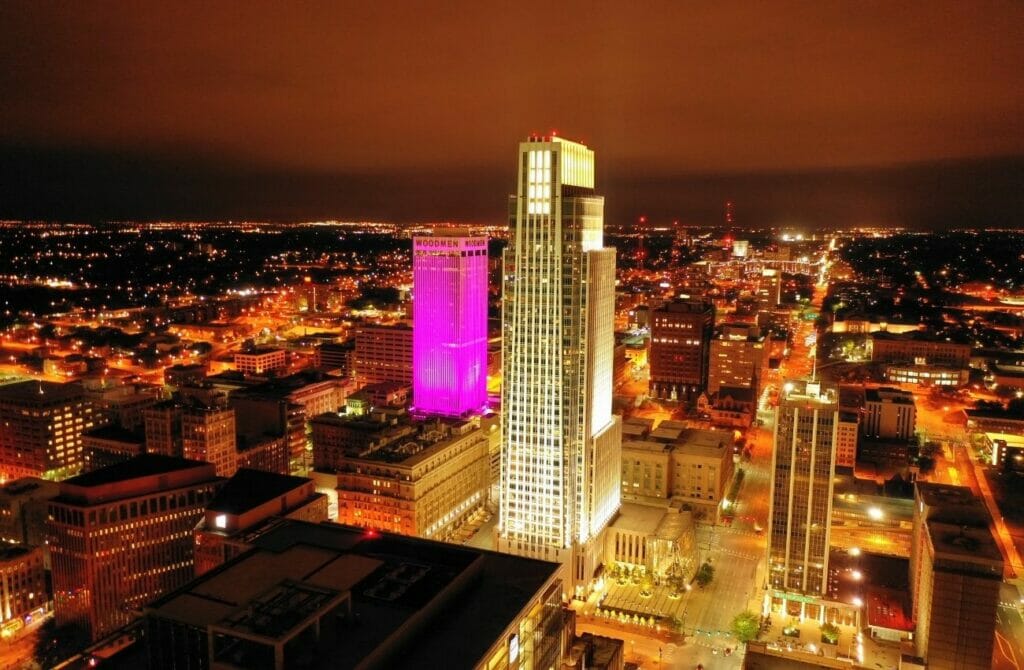 Old Market
Even though most parts of the city are welcoming to the LGBTQ community, Old Market is the neighborhood that's most popular with the LGBTQ+ community. Old Market features plenty of shops, bars, restaurants, and exciting nightlife. If you like to live in a neighborhood you can walk around in; you're in luck because Old Market will offer you just that plus a plethora of housing options.
Old Market is sometimes considered a part of Omaha's downtown area, and the result is that there aren't plenty of single-family homes for newcomers. If you're lucky enough, you might find one along with a number of townhome options, apartments, and condos. Downtown Omaha is home to some wonderful museums and Victorian-era architecture that you will love.
The area is extremely desirable and is large enough to have smaller districts of its own. Downtown is loved by many due to the neighborhood bordering and facing the Missouri River. The current median price for a home in the Old Market area is $416,000.
Morton Meadows
Morton Meadows is also known as Twin Ridge. If you love the feeling of living near fresh greenery, this is the neighborhood for you.
There are plenty of affordable yet charming houses in this part of Omaha, and if you're a biking enthusiast, you will enjoy the Field Club of Omaha. If golf is more of your thing, you're in luck because Elmwood Park is situated close by.
Prairie Lane
Prairie Lane will offer you all the good reasons to move to a neighborhood a little further from Morton Meadows. If you'd like to take a break to a different city, Prairie Lane hosts Millard Airport, which will get you away on your trips and back home faster. If you're looking for shopping options, Oak View Mall is a few minutes away.
You should know that the population of Prairie Lane is 43% millennials, so if this is the only age group you relate to, there are life-long friends and affordable housing waiting for you!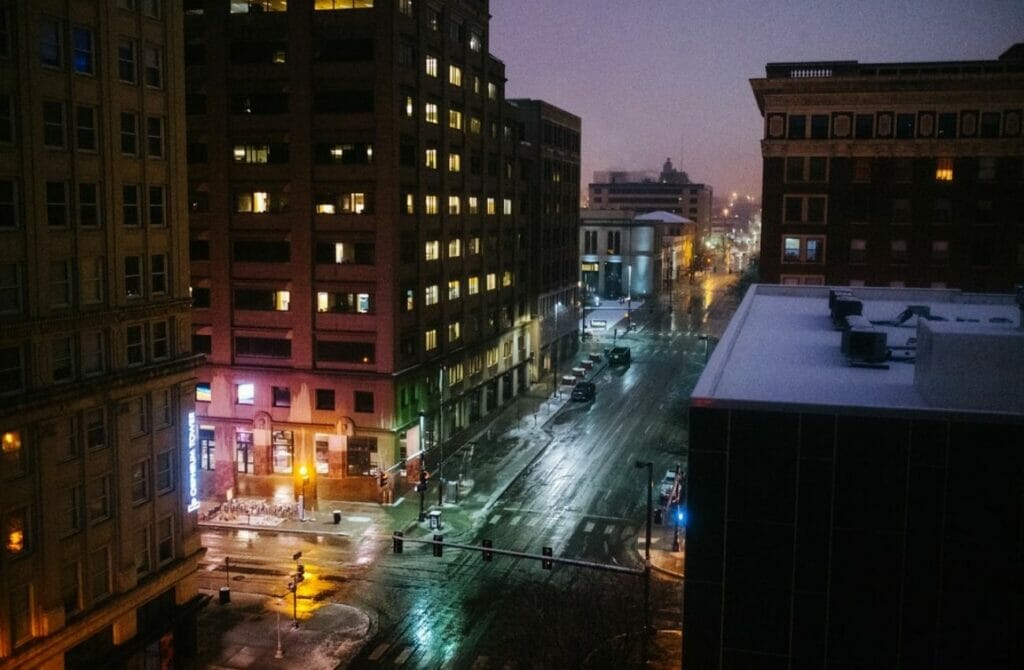 LGBTQ+ Community Organizations In Omaha
The LGBTQ community in Omaha depends on certain resources, organizations, and establishments in order to thrive and come together. You can be part of the bigger picture by donating, volunteering, or supporting a cause.
In fact, wherever you reside, it's critical that you assist such groups in whichever capacity you can so that they can benefit people in need – both in your community and beyond.
Check out some community organizations below if you're looking for LGBTQ groups in Halifax to join, make new friends, or volunteer for a cause you care about:
Heartland Pride is a support group and community resource whose goal is to promote civil rights, equality, and inclusiveness for the LGBTQ+ community in Omaha and its surrounding areas.
The group celebrates and promotes the diversity, advancement, and the history of the LGBT+ community through advocacy and support, education, events, and festivities all year round.
PFLAG Omaha is Omaha's local chapter of the largest grassroots organization of its kind in the United States. The organization has more than 200,000 members and 500 chapters in the country and plays an essential role when it comes to the provision of support, advocacy, and resources towards the LGBTQ+ community.
The organization offers support to members of the community and their allies and friends.
This organization offers activities, games, and events throughout the year for the LGBTQ+ community in Omaha as well as their allies and friends. The aim of the organization is to unite the LGBTQ+ and the straight communities through sports.
It doesn't matter what your experience or your ability is; you're welcome to be part of these events, make friends, have fun and exercise.
University of Nebraska Omaha Queer and Trans Services (QTS)
This agency is a student organization that offers support to students that identify as LGBTQIA2S+. You are welcome to join this organization regardless of your sexual or gender orientation. The agency provides community sexual health resources as well as LGBTQIA+ programming.
The students involved in the organization attend national, regional, and local conferences such as Camp Pride and MGBTLACC.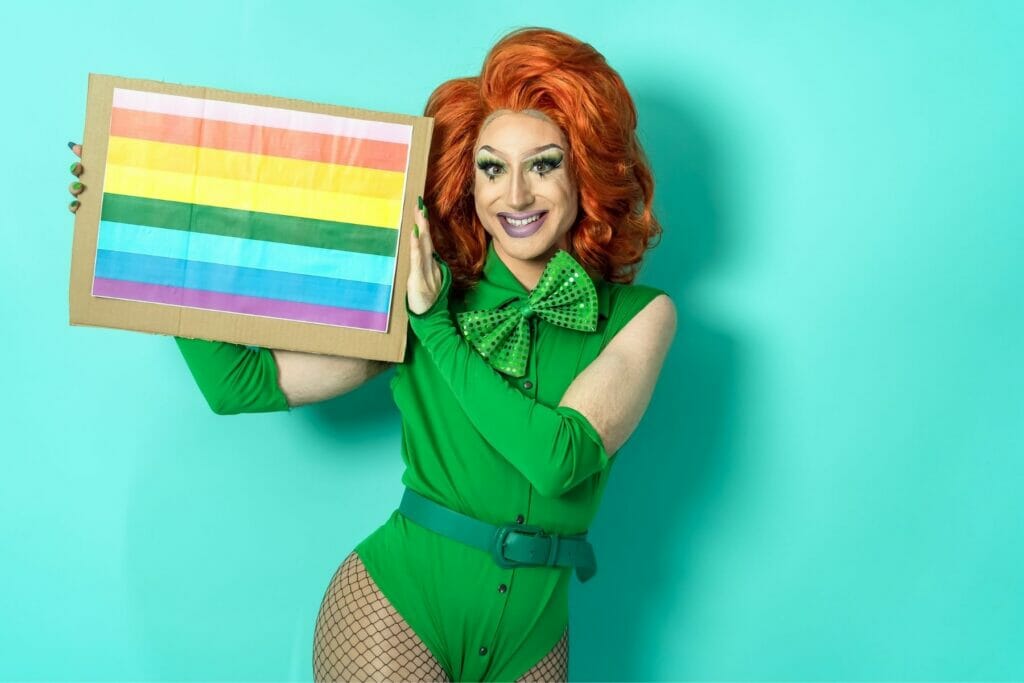 Regular LGBT Events in Omaha
You have to make new friends, meet people, and network after moving to a new city. Thankfully, plenty of events will help you do just that, and there's no shortage of possibilities in the city for the LGBTQ community to enjoy.
Here are just some of the annual highlights you can look forward to after moving to LGBT Omaha:
Heartland Pride Festival is also Omaha's annual pride celebration. The event occurs in a week and is full of fun festivities and celebrations that promote the future prosperity, diversity, and the history of the LGBTQ community that adds to the richness of the city.
The Heartland Pride Festival includes educational events, networking opportunities, parades, and much more, so make sure you don't miss any of it.
The Omaha GLBT Sports League Activities
The Omaha GLBT Sports League offers plenty of sporting events, games, and activities all year round. Whether it's a round of soccer or exhilarating tennis, you are welcome regardless of your sexuality or your experience.
The goal of the League's activities is to unite the straight and gay communities through the world of sports so join in the fun and get involved with the local community or make new friends.
OutNebraska's LGBTQIA+ Book Club is the place to be if you're mad about books. The club holds frequent meetings that are used to discuss LGBTQIA+ non-fiction and fiction literature as members go through assigned readings. Meetings are held every second Wednesday of each month.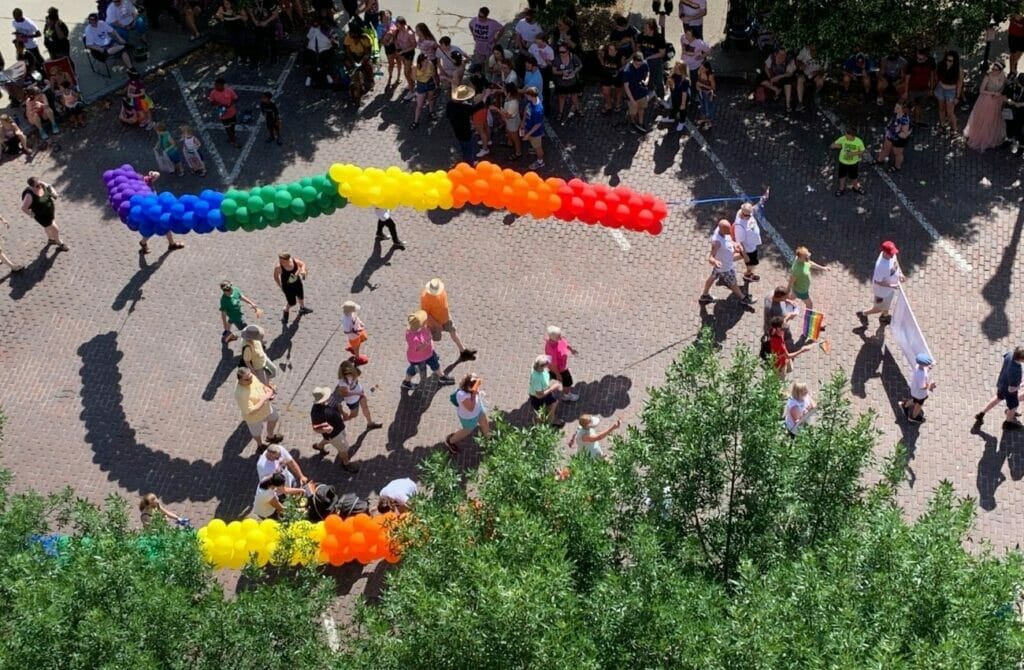 LGBT Owned Businesses in Omaha
After moving to LGBT Omaha, it's only natural to want to support queer businesses. One strategy to make a safer and more inclusive society is to establish a secure environment where individuals can rest, buy, eat, and socialize without fear – and this is precisely what LGBT businesses should seek to do.
Wherever you are, it is critical to support these endeavors to maintain the continuity and prosperity of the queer community. With this in mind, here are just a few LGBTQ businesses in Omaha worth checking out.
Since the late 1960s, the Omaha Mining Company has served as a home for the local gay community in various forms. The Omaha Mining Company has a fun, inclusive dive bar vibe on the inside.
It's a PFLAG-friendly, family-friendly bar that's a lot of fun for everyone. It's worth a visit if you've never been or haven't visited in a long time.
The 801 Restaurant Group is a family-owned business that began in 1993 with the opening of the first 801 Chophouse at 801 Grand Avenue in Des Moines, Iowa.
The establishment is a quintessential steakhouse, both timeless and modern. The restaurant only serves aged USDA prime cuts and Japanese-style Wagyu beef.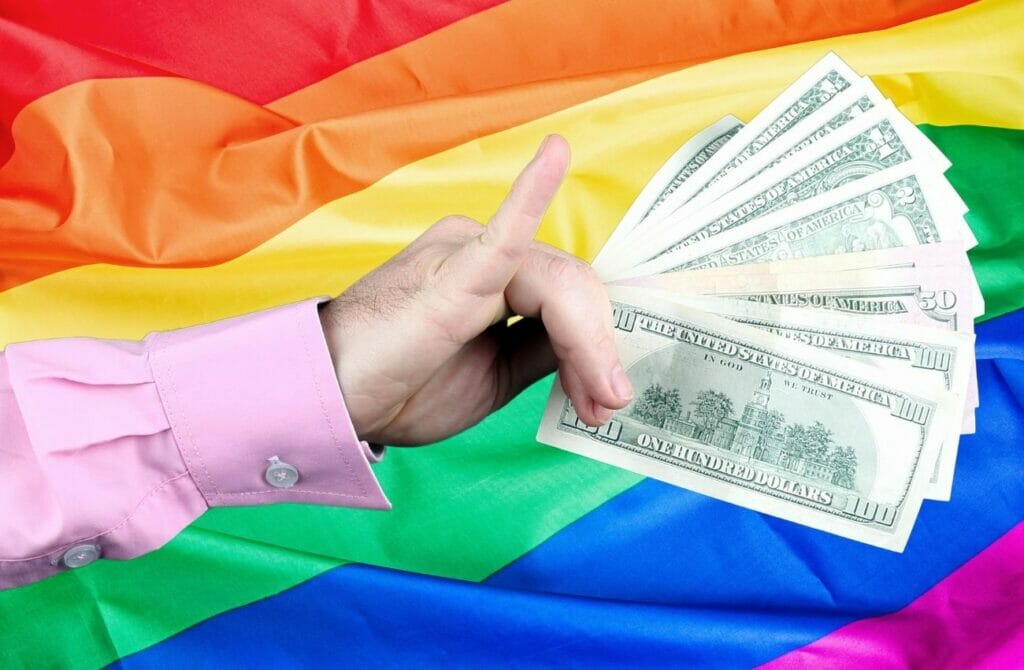 Final Thoughts On Moving To LGBTQ Omaha
Just because a city does not score perfect points on the Equality Index doesn't mean that it wouldn't be a conducive environment for you to grow. One of the best things about moving to LGBTQ+ Omaha is that the gay community is still growing and fighting.
While there are still some concerns about inclusivity here and there, we're sure that you can play a part in making this city more progressive. How about that? A city that's waiting for you and others like you to own and shape its future!
Whether you're relocating for employment, recreation, or family reasons, LGBTQ Omaha will provide you with a supportive atmosphere. There's a lot to see and do, as well as some fantastic communities to connect with.
Keep in mind that life is what you make it, and we hope you find the freedom and comfort you seek with whatever gay Omaha neighborhood you pick to begin your new life in.
The best way to learn about LGBT Omaha is to immerse oneself in the scene by living in a queer-friendly neighborhood, frequenting local LGBT businesses and events, and participating in queer community groups and sports teams.
If you do this, we guarantee that your transition to LGBT Omaha will be more joyful, and you'll rapidly meet like-minded people to join your chosen family.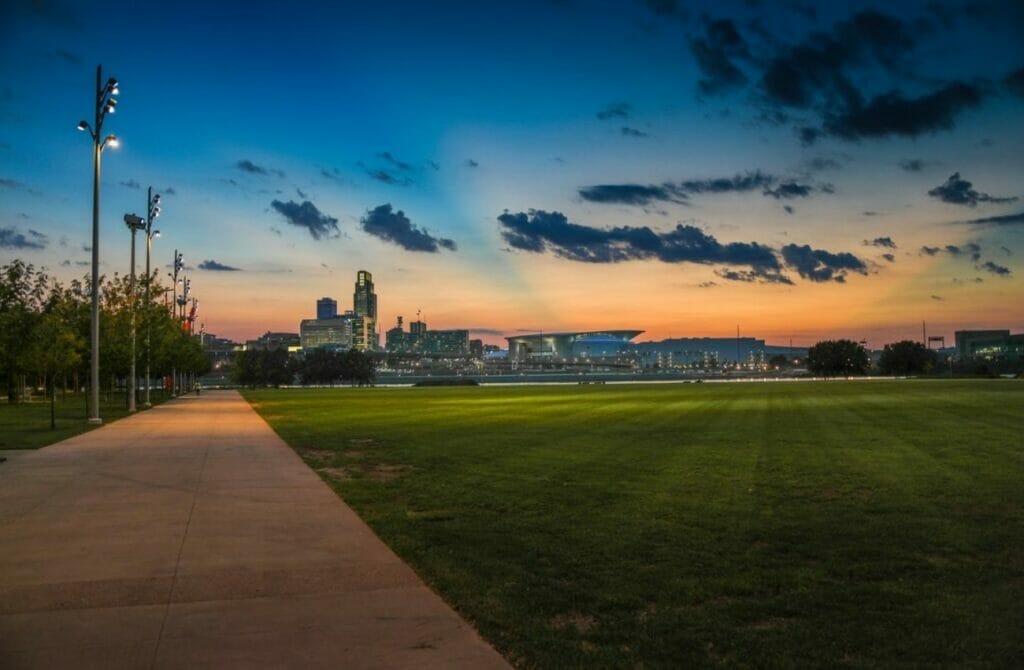 Finding Gay Realtors In Omaha Nebraska
When looking for the ideal realtor, why would you consider someone's sexuality? This may seem strange at first, but there are several reasons why contacting a gay realtor in Omaha is a great way to find your dream house.
After all, when it relates to one of life's most important transactions, it's not unreasonable to expect fair, equal, and honest representation from someone who understands the queer community's particular needs and wishes. Furthermore, unfortunately, many people (up to a third of Americans) continue to believe that our community does not deserve protection and dignity in housing, adoption, employment, and other areas of life.
So it's no surprise that LGBT people who use mainstream realtors often describe feelings of discomfort, unnecessary trouble, unenthusiastic representation, or even antagonism or outright contempt. Everyone deserves a pleasant, stress-free home buying or selling experience while being adequately represented, and this is why we feel you should hire a gay realtor to assist you in finding your future home.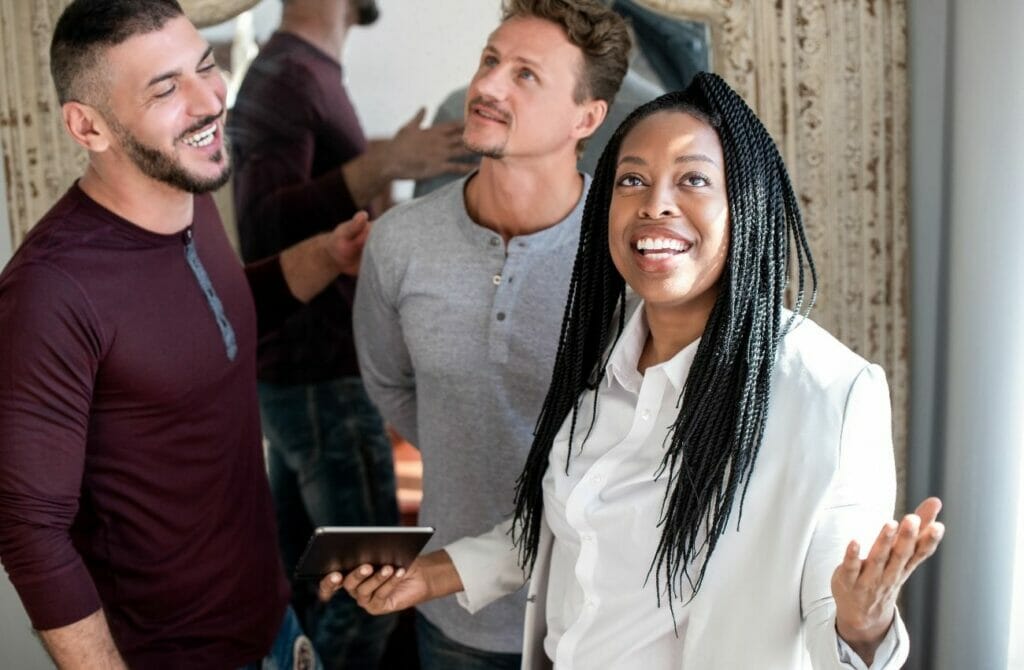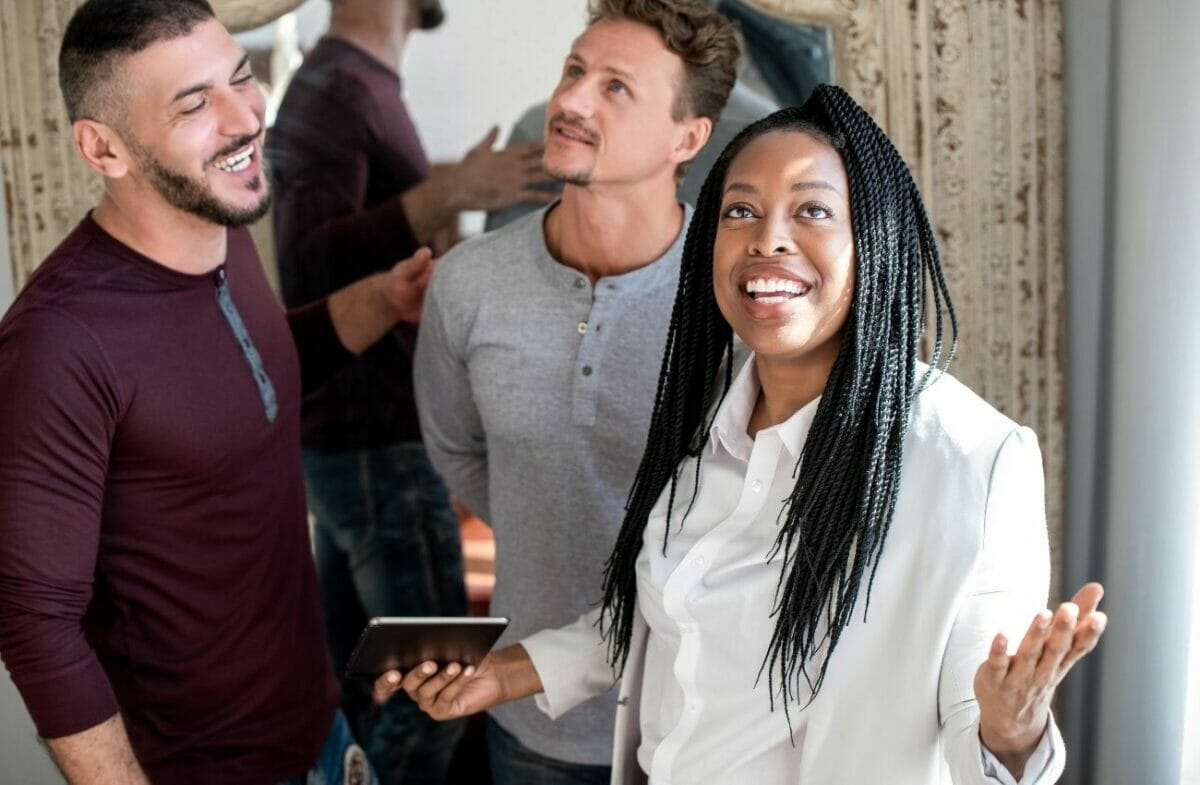 LGBTQ realtors are more likely to be familiar with the diverse communities in their area and know which ones may be best suited to you when looking for a home. That's not to say a heterosexual realtor isn't capable, but they've probably never had to address many of the issues LGBT people face. Rather than just being concerned with how bustling, fashionable, or up-and-coming a neighborhood is (or what it may appear like), gay realtors conduct extensive research into the neighborhoods in which they sell homes to ensure that clients are safe.
It used to be difficult to locate professional LGBT-friendly real estate agents in Omaha, and it was virtually impossible to find one if you were relocating here from out of state and didn't have access to a local referral. You no longer have to search for a realtor without knowing whether or not they are accepting of others because you can use a list of gay, lesbian, and gay-friendly agents in Omaha to do all of your homework for you.
Simply go to the page, and you'll be presented with a free list of gay, lesbian, and gay-friendly agents who can help you with your relocation as well as other useful information like LGBT+friendly schools, shopping, storage firms, tradesmen, and more. Read the biographies of LGBT real estate agents, then choose the one who is right for you. It's critical that you find someone who will be by your side and support you and your family during one of life's most exciting occasions.
Even better, there is no hidden motive, cost, or obligation whatsoever!