Skopje is both the capital and the largest city of North Macedonia. Despite the relatively small population of this city's gay scene, a handful of places welcome gay clients. Interestingly, Skopje hosted the city's inaugural Pride Week event in 2013.
Skopje is the most significant city in the country since it serves as the administrative, political, economic, cultural, educational, and scientific hub. Skopje is also the country's largest city. Throughout the bulk of its history, Skopje has been a simple Balkan city known for its colorful local culture, but during the last decade, the city center has been transformed into a strange set design for an ancient civilization.
The river Vardar flows through the center of the area, forming a natural divide between the two sides. The Vardar River runs through the city's heart, with the city's more old architecture on one side and its more modern ones on the other.
Even if there are LGBT people in Macedonia, no one wants to speak about them since they are ostracized for being different. If you come out as homosexual in Macedonia, you may be ridiculed in public, dismissed from your work, or even attacked the streets, albeit these occurrences are rare.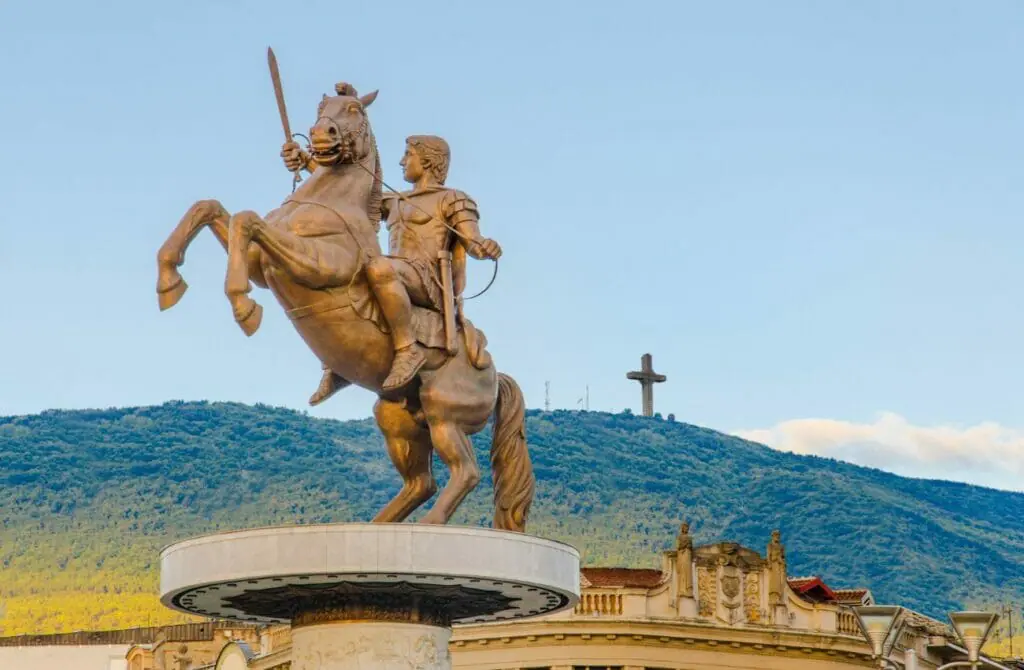 In principle, you may be homosexual since the rules allow it, but in fact, LGBT people have no means to celebrate their identities in public or expect protection from bigotry.
North Macedonia has not criminalized gay relationships since 1996. The parliament established a cross-party parliamentary group in 2017 to strive to improve the rights of LGBTQ people. Gays and lesbians can serve openly in the military; gay couples cannot adopt children jointly.
The lively city serving North Macedonia's capital is a fantastic destination for a weekend getaway. The city is well-known for its friendly residents and love of creating enormous monuments. An Arabian-style market is right over the river from the busy Debar Maalo district, home to several bars and nightclubs.
This area will have a cross-section of east and west. Even when you've exhausted your sightseeing choices in Skopje, you'll discover that the city is a great spot to relax and unwind.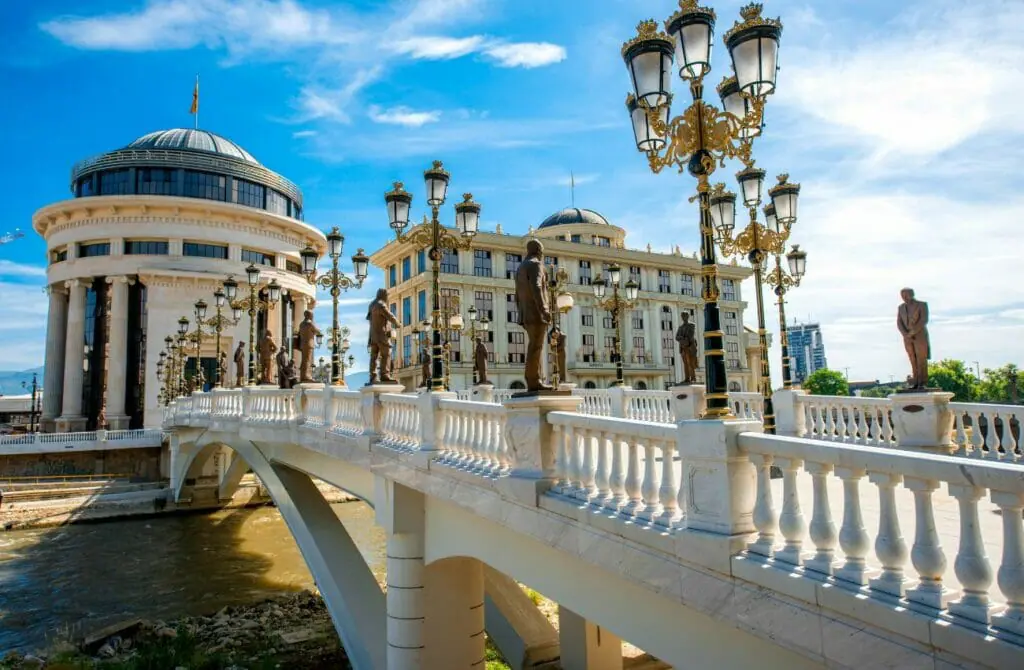 Attractions in Skopje, North Macedonia
Honey, welcome to Gay Skopje! Now, let's spill the tea – this city may not be the most welcoming to our rainbow community, but don't let that dim your sparkle! There are still plenty of fabulous things to see and do here, no matter who you love.
As passionate travelers and members of the LGBTQ+ community, we believe that queer travel is not only about having fun and exploring new places but also about promoting cultural understanding and spreading pride.
Through travel, we can learn about different cultures, histories, and perspectives and share our experiences and identities with others. We can also support LGBTQ+ businesses and organizations and work together to create a safer and more accepting world for all members of our rainbow family.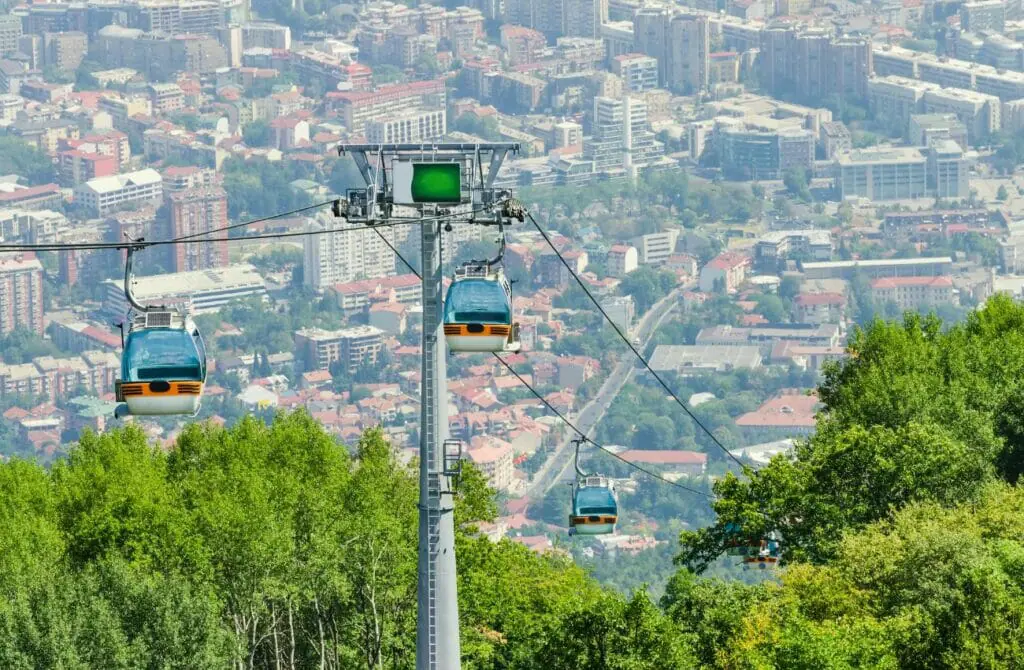 Unfortunately, homophobia and discrimination still exist in many parts of the world, and it is important to be mindful of the laws, customs, and attitudes of the places we visit. But by being visible and proud and by supporting local LGBTQ+ communities and allies, we can help to change hearts and minds and make a positive impact wherever we go.
So let's keep exploring, learning, and sharing, and continue to work towards a future where all travelers can feel safe and celebrated, no matter where they are in the world.
Check out the iconic landmarks and attractions, darling. Visit those historical monuments, museums, and art galleries like the true cultural connoisseur you are. And, of course, let's not forget about the architecture, parks, and gardens.
Trust us, the local cuisine will leave you gagging, and the markets are to die for. And, girl, let's not even start on the cultural events like festivals, concerts, and shows – they are simply sickening!
Now, while we are out and proud queens, we have to keep it on the down-low when we hit the streets, sis. Sadly, this city may not be as welcoming to us as we'd like. But no worries, we'll just have to slay discreetly, okay? Let's show these locals how to live our best lives, honey!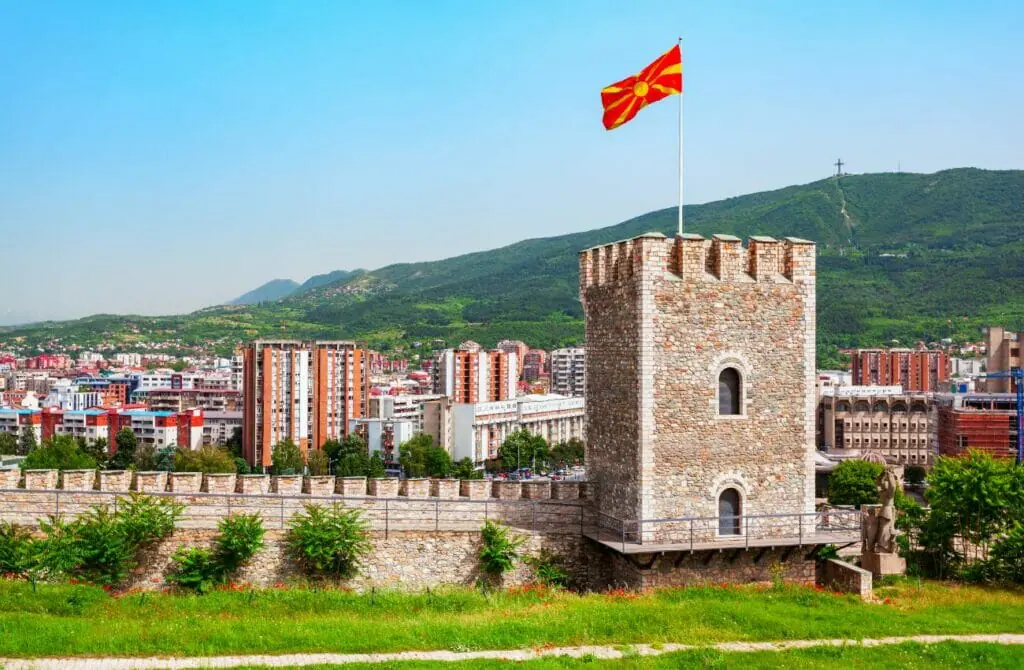 Since the Kale Fortress is located at the highest point in Skopje, tourists may enjoy stunning views of the city and the Vardar River from the fortress's pinnacle. Although the wall was still an essential element of the region's defense strategy, it is pretty astounding to see the world through the eyes of the guards.
It was built in the sixth century during the reign of the Roman Emperor Justinian I, although it sustained damage under the Ottoman era. The lighting atop the Kale Fortress at night radiates a serene and dignified calmness that is highly attractive.
The Old Bazaar in Skopje is a popular tourist site recognized for its vivid vistas and unique fragrances and sounds. Due to its importance as a trade center during the Ottoman period, this area is home to some of the largest and most diverse collections of Ottoman architecture worldwide.
If you ever find yourself in Skopje, you must explore the businesses in this bazaar, located in a labyrinth of meandering passageways paved with cobblestones. This business sells copperware, other keepsakes, jewelry, traditional attire, and a little bit of everything else.
There are also traditional eateries where you may eat kebabs while sipping Turkish coffee or tea. These establishments are also known as coffee shops.
During weekends, people visit some of the many good bars in the area, causing the Old Bazaar to become busier than normal. Although they are only separated by one bridge, the modern architecture and artworks in the city plaza starkly contrast the surrounding environment.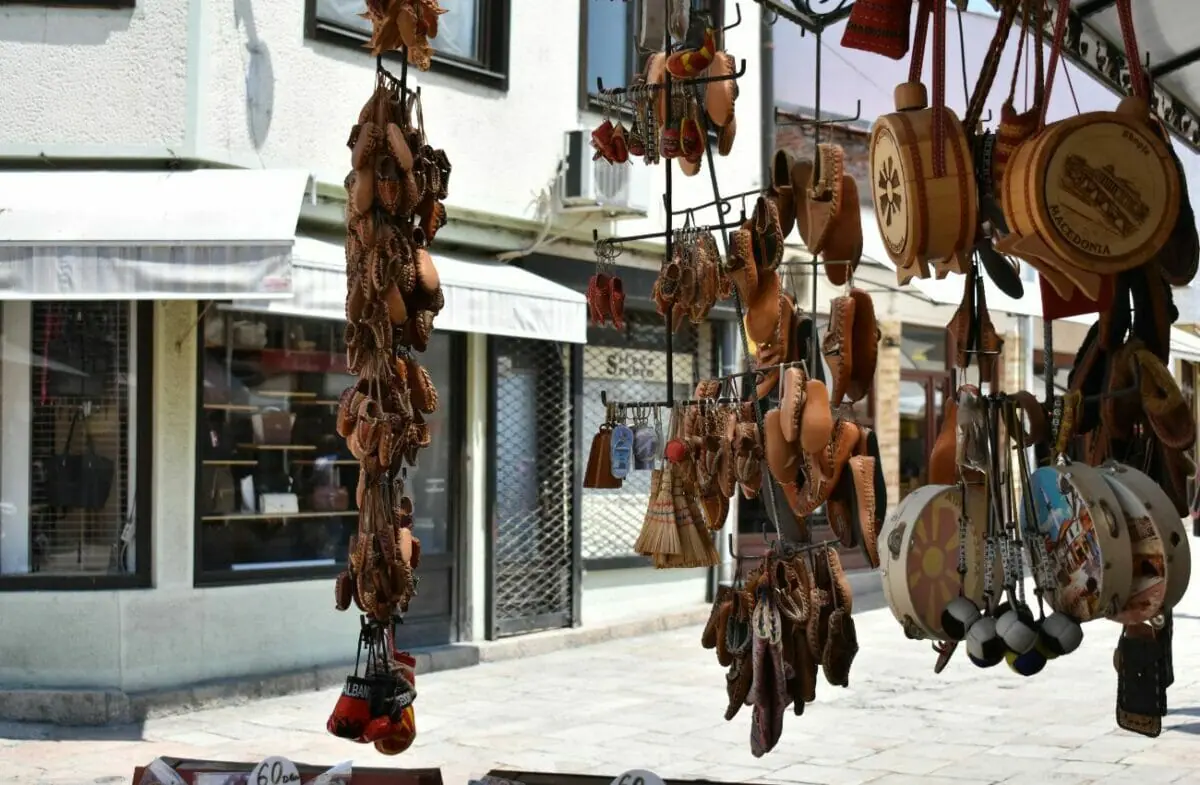 The climb up the mountain on Vodno may be arduous at times, but it will be well worth it when you reach the top and can have a good cup of coffee while admiring the spectacular view of the city below you. While a cable car may be used to reach the peak, trekking is the most enjoyable alternative.
If you've had enough of the city's statues, noise, and structures, Vodno is an ideal alternative for a fast getaway into the forest or soaking in some stunning views of the neighboring peaks.
Vodno is also an excellent choice for people who wish to take in the breathtaking views of the surrounding peaks. During your visit to Skopje, Vodno is a wonderful area for a picnic or resting for the day. People who prefer being outdoors will find this one of Skopje's most pleasurable activities.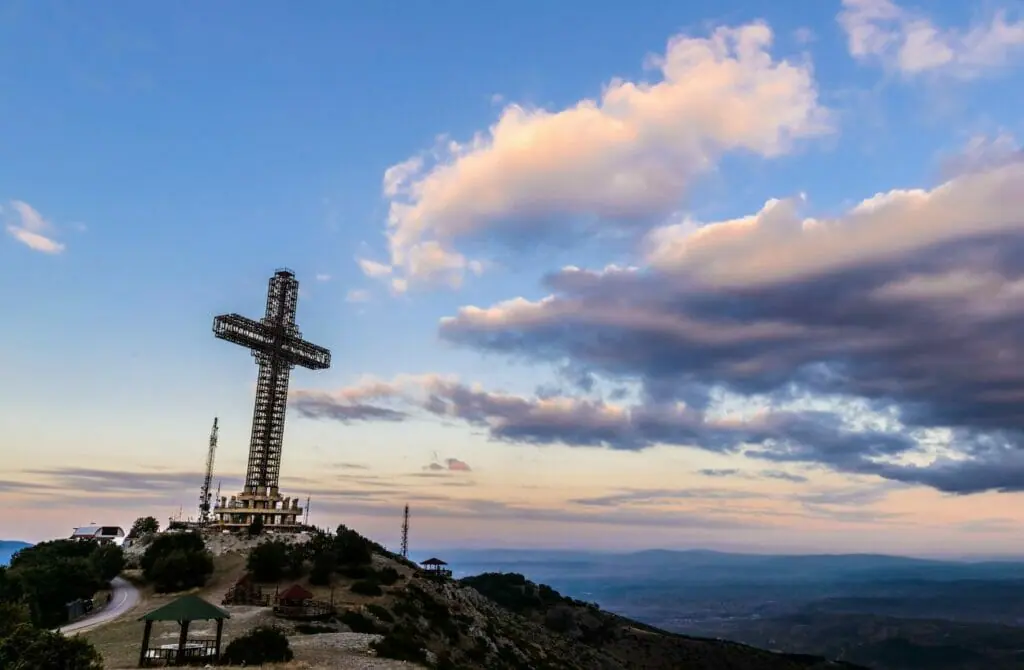 The Mother Teresa Memorial House
This creative church was built in 2009 to tribute to a Catholic nun born in Skopje in 1910. In the same year, she received the Nobel Peace Prize. It was constructed on the site of an ancient church, which is significant because it is where Mother Teresa was baptized the day after her birth.
A permanent exhibit focuses on the saint's early years when Skopje was still part of the Ottoman Empire. View one of the Catholic services held in a chapel with glass walls on the second level, or peruse the rotating exhibits housed in the multimedia center below ground.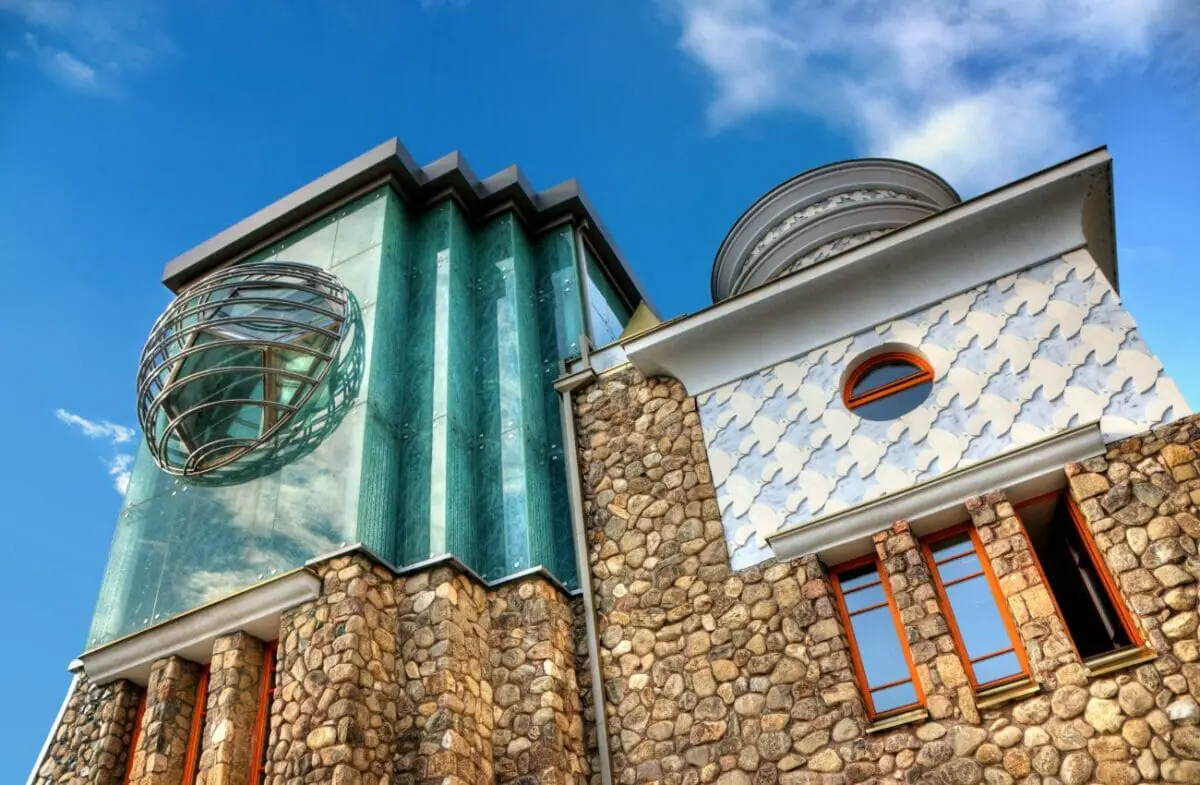 The Park Woman Warrior
Although not as vast as Skopje City Park, this park is significantly closer to the city center. It's smack in the heart of everything, so you may come here to unwind after a long trip. One of the many memorials in this region is named "Woman Warrior," It was created in 1970 to honor all Macedonian women who participated in World War II.
During the hot summer days, you may cool yourself with a nice drink of water from one of the park's few fountains while lounging in the heavy shade provided by the trees. People in this neighborhood consider this park revolutionary since it serves as the beginning or concluding place for all political protests and social cause rallies. This park is just across the street from the Macedonian parliament.
The Stone Bridge
A stone bridge connects Skopje's two sides, divided by the Vardar River. In reality, it links the contemporary sector of the city, known as Macedonia Square, to the ancient half of the city, known as the Old Bazaar. It was originally built during the reign of the Roman Emperor Justinian, but it was destroyed and rebuilt many times under the Ottoman administration.
You may admire the exquisite architecture of the bridge, built more than 500 years ago, while strolling over it or relaxing on one of the seats or coffee shops nearby. It's one of the nicest things to do in Skopje, particularly if you like architecture.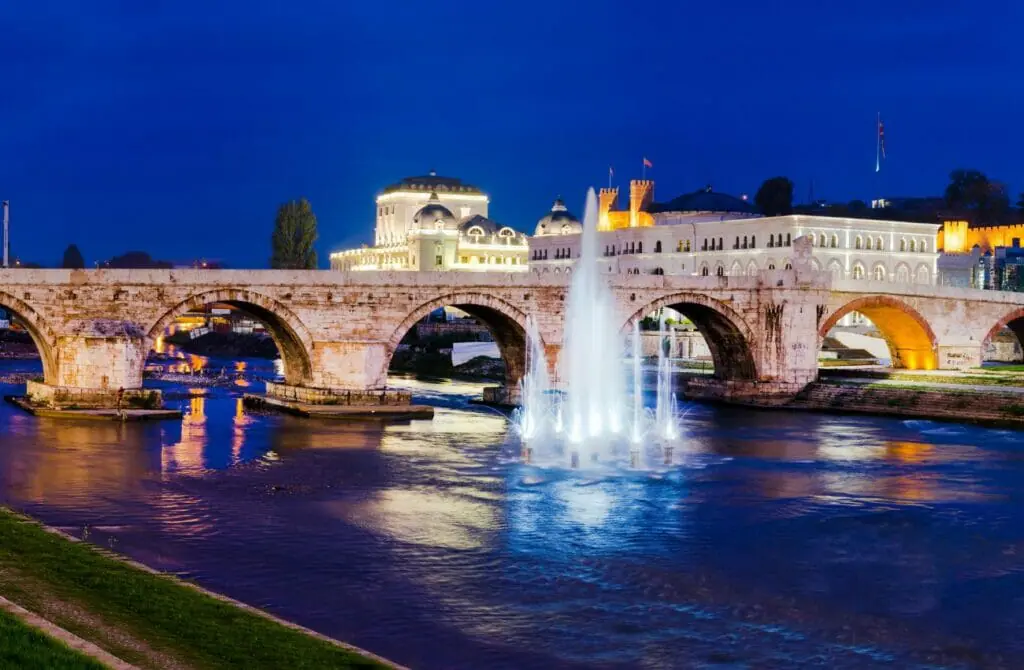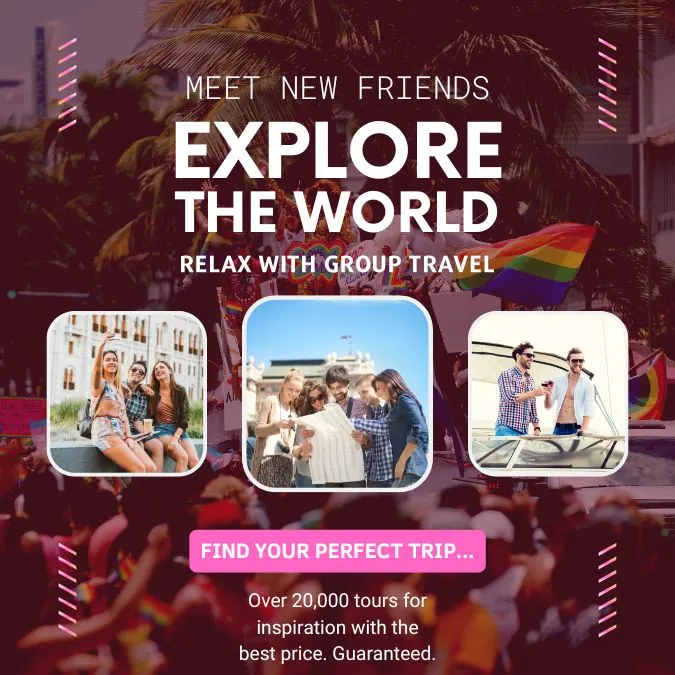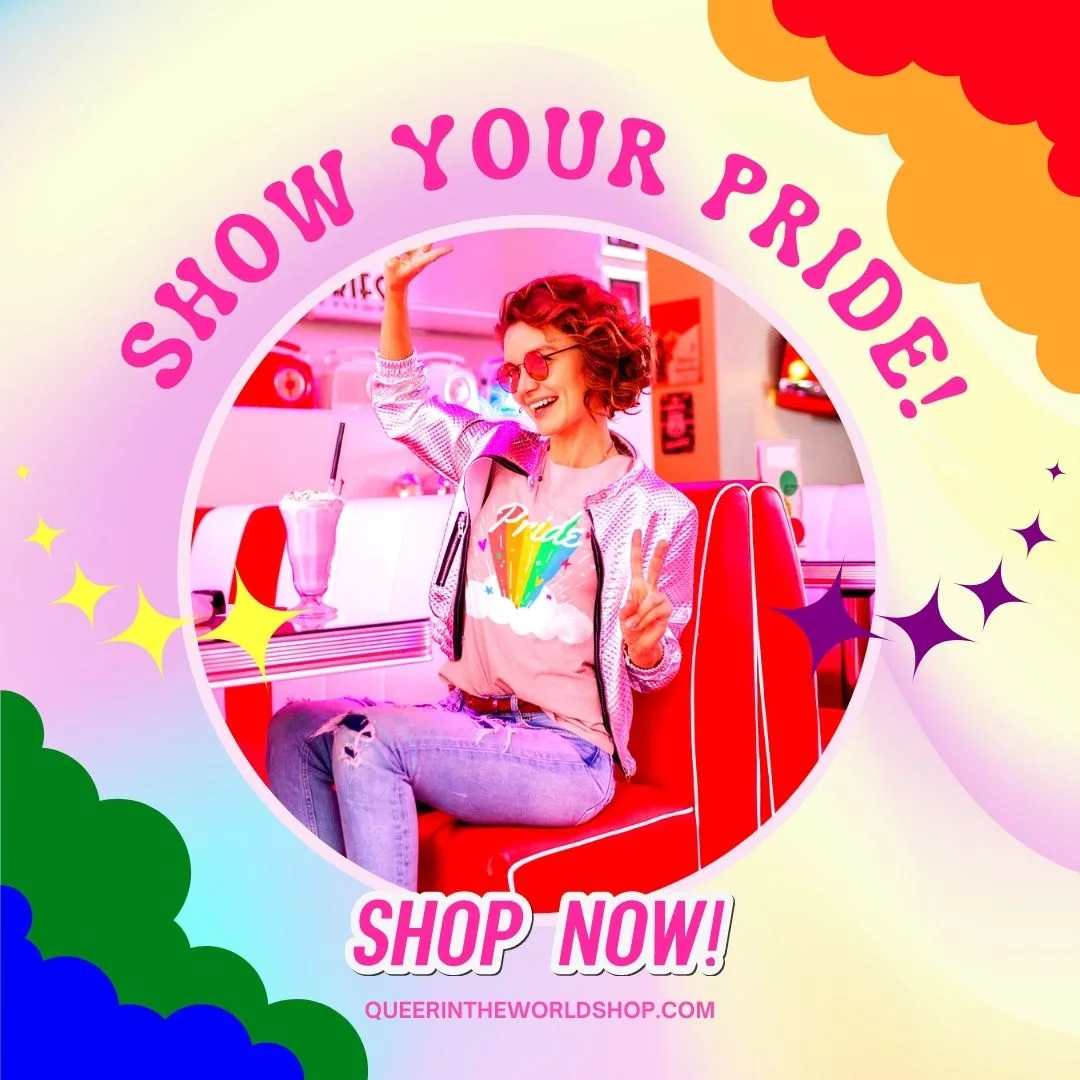 Gay-Friendly and Gay Hotels in Skopje, North Macedonia
Don't wait another minute to book your stay at one of Skopje's most fabulously queer-friendly hotels! While many establishments in town might not welcome our rainbow family, these hotels have all pledged to embrace our queer spirit with open arms.
From non-discrimination policies to LGBTQ+ resources and amenities, these hotels go above and beyond to create a safe and inclusive environment for all guests who identify as LGBTQ+. And if you're looking for a place to stay in an area known for being LGBTQ+ friendly, these hotels have got you covered too.
In addition to the locally-owned gay-friendly accommodations in Skopje, international hotel chains can also be great options for LGBTQ+ travelers. Many of these chains have implemented policies and training programs to ensure that their hotels are welcoming and safe for LGBTQ+ guests. They may also have LGBTQ+ affinity groups within the company, which can help to promote a culture of inclusivity and support for queer travelers.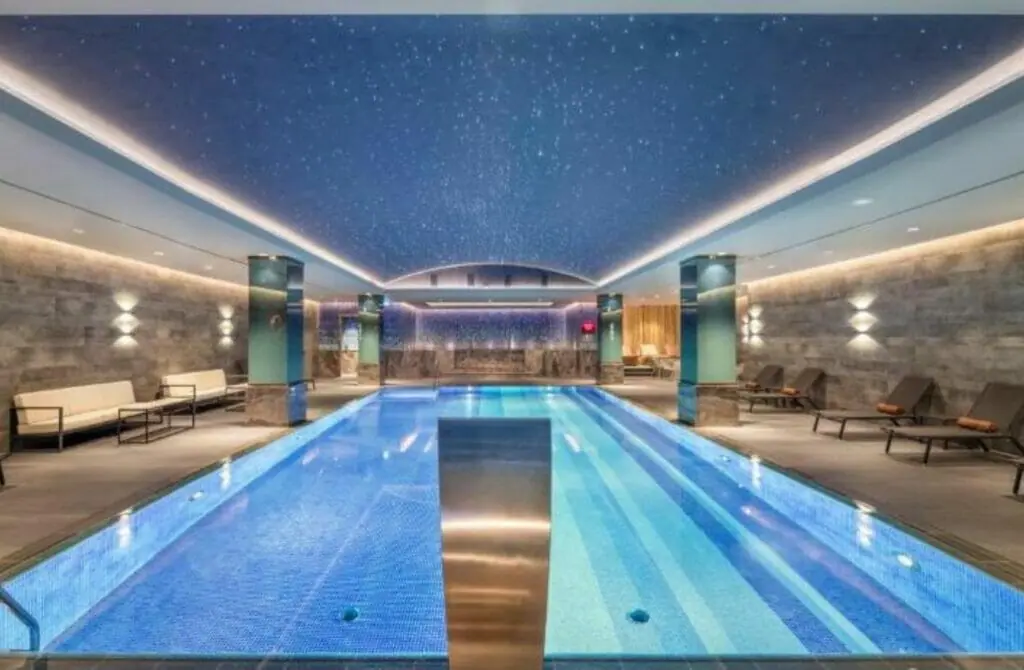 Moreover, international hotel chains are often known for their high-quality amenities and services, which can provide a more luxurious and comfortable stay for LGBTQ+ travelers. With a global presence, these chains can also provide a sense of familiarity and consistency for queer travelers who may be navigating unfamiliar destinations.
Whether you choose a locally-owned gay-friendly accommodation or an international hotel chain, it's important to do your research and choose a place that will make you feel welcome and comfortable during your stay in Skopje.
So why wait? Book now to experience the comfort, luxury, and acceptance these gay-friendly hotels in Skopje have to offer. With options to fit every budget and preference, you're sure to find the perfect home away from home.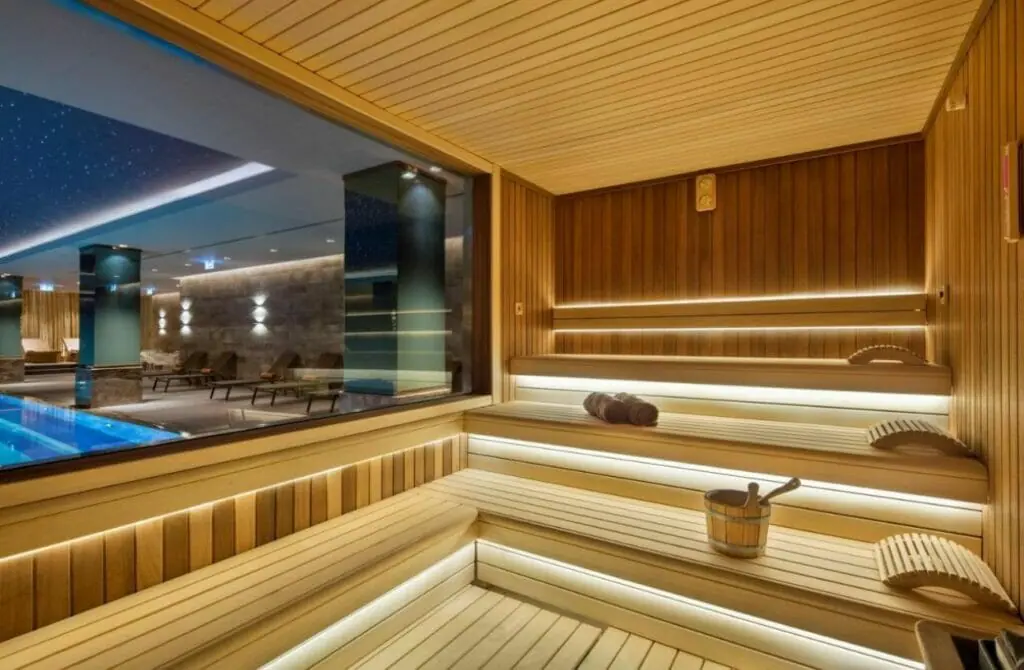 DoubleTree By Hilton Skopje ☆☆☆☆☆
The DoubleTree by Hilton Skopje is a five-star hotel with elegantly appointed rooms and suites. It is located in the city center, beside the Vardar River. Interested guests may also enjoy the hotel's large indoor swimming pool, which is available for their whole stay.
Guests of the hotel have access to a modern and well-equipped fitness center, which they can use whenever it is most convenient. This enables guests to exercise whenever it is most suitable for them, which helps them burn off those extra calories.
The newly constructed rooms and suites provide all the required amenities to ensure a pleasant stay. Air conditioning, Smart TVs starting at 43′, a kettle in every room, laundry service, and a range of additional services are among the features. Following a long and exhausting day, visitors may relax in one of the rooms and get a good night's sleep due to the well-stocked facilities.
The chef will take you on a gourmet tour of all five continents at the restaurant "Monte," where you may enjoy private dining or be amazed at the chef's table. You may have your party or business event in the well-appointed ballroom or any other conference and meeting space. You can wow your guests by organizing a reception around the lavish fountain.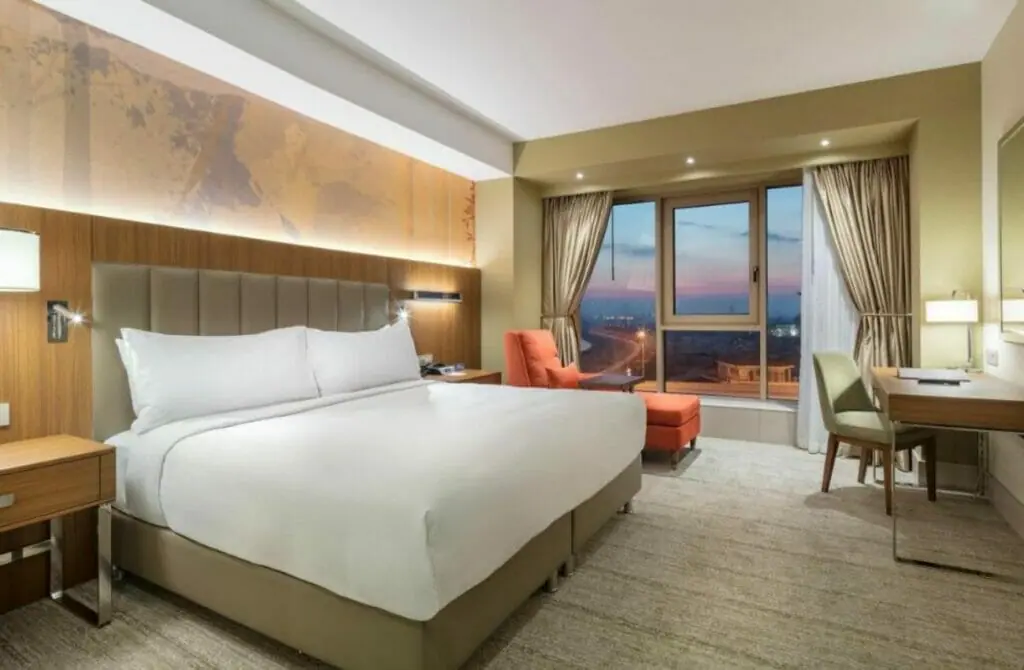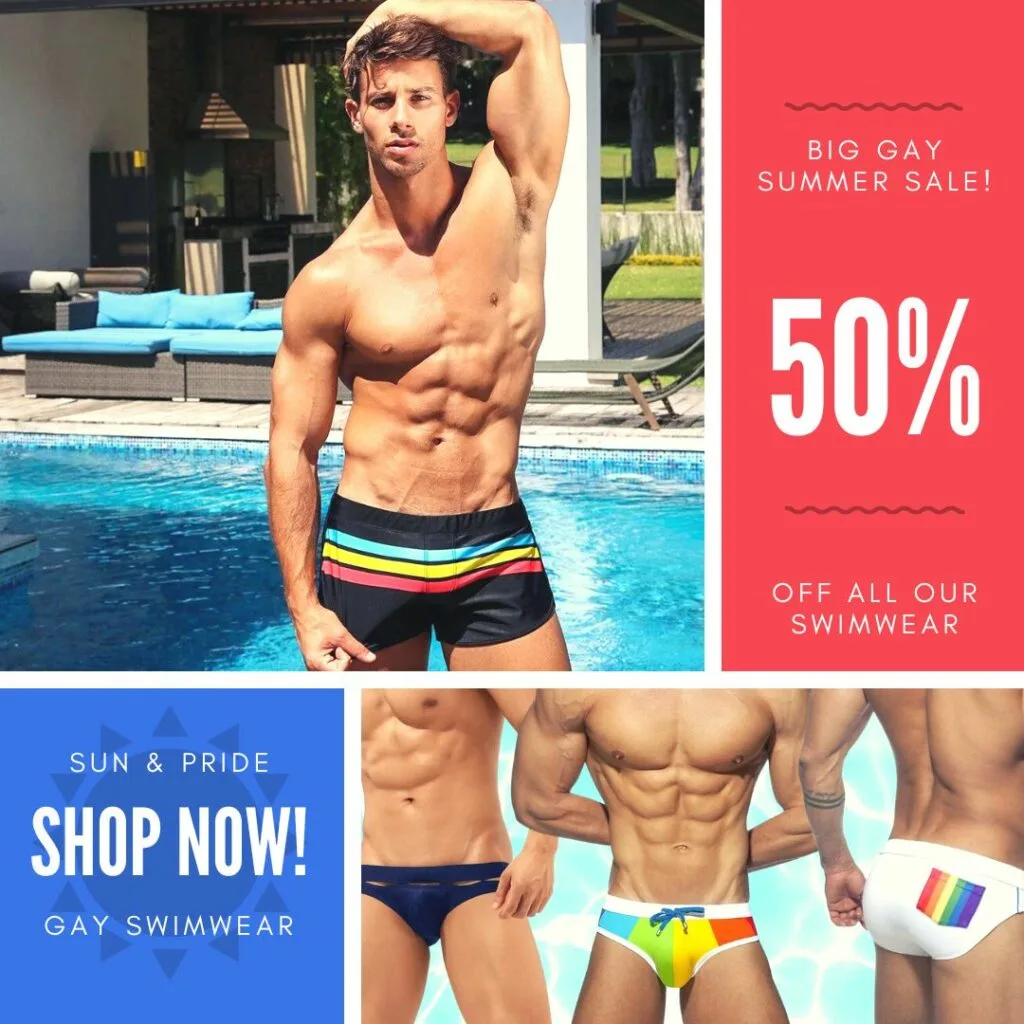 The Hotel Solun is the Balkans' first premium ECO-hotel. It provides a one-of-a-kind experience to each of its visitors, ensuring that they are entirely satisfied with every aspect of their stay, whether they are there for business or pleasure. The aesthetic value of art, design, and subtlety is highly valued at the Solun Hotel and Spa. This excitement can be seen throughout the hotel, and the Wellness Center is no exception.
The Solun Hotel & SPA is an environmentally friendly resort with modern rooms, an outstanding à-la-carte restaurant, and a gallery bar with a terrace. Visitors may relax here while admiring the wonderful views of the natural environment surrounding the property.
The spa and wellness center will be charged an additional price to Solun Hotel & SPA guests. Some features include a heated relaxation bed, aromatherapy rain showers, a steam room, a Himalayan salt room, and a sauna.
There is a fitness facility on-site and ten different types of massages, including a hot stone massage, a Swedish massage, and a sports massage. Visitors may mingle while also getting some exercise at the fitness facility, which is accessible both in the morning and evening.
Because of this service, you can maintain a healthy lifestyle while staying at the hotel. Wearing the most beautiful exercise clothing you own will put you in a position to meet some interesting new people at the gym. A gym is where you will almost certainly have the opportunity to meet new people.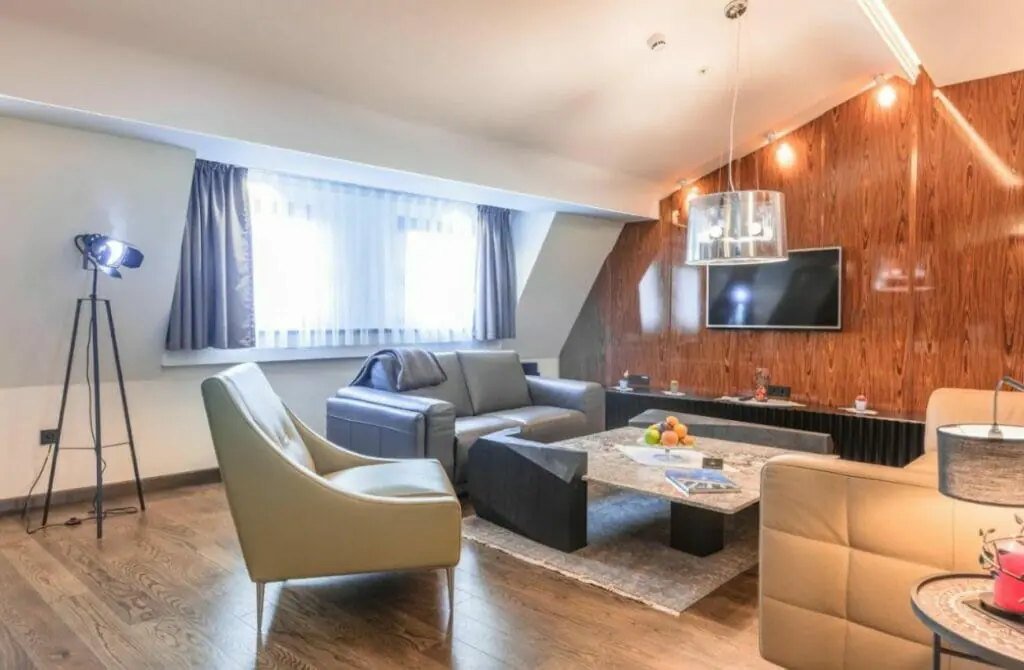 The Hi Skopje Hostel is in a calm and serene green zone at the foot of Vodno Mountain, away from the city's hustle and bustle. Since it is positioned on top of a hill, it is safe from harm and provides a fantastic vantage point from which to enjoy the sunrise, the fresh air, and the stunning vista of the surrounding city.
The staff at the hostel are kind, informed, and willing to answer any questions you may have. They are available around the clock and speak a variety of languages. Hi Skopje is a unique city site, with its 600-square-meter garden where you can relax, have a good stay, and meet new people from other cultures. Summer movies and lounge parties contribute to a nice atmosphere in the garden throughout the warmer months.
Each private room and mixed dorm in Skopje is beautifully clean, and each features a design element that respects Macedonia's gorgeous scenery. Personal things, lockers, and reading lights are given on each bed in each room.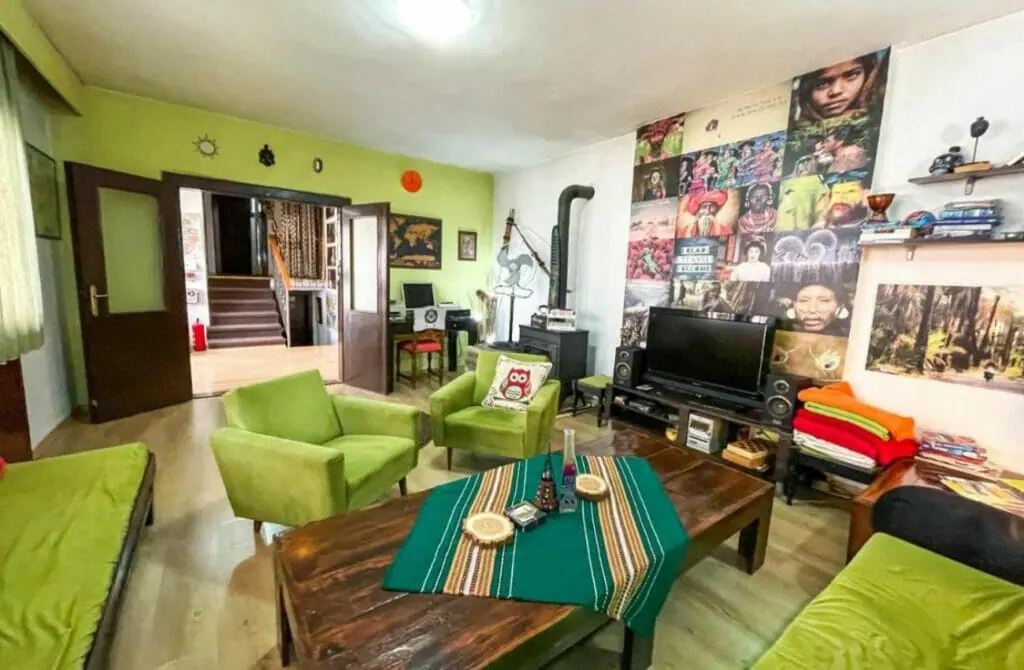 Gay Nightlife in Skopje, North Macedonia
Skopje, the capital of North Macedonia, is well-known for its long history, vibrant culture, and gorgeous architecture. Yet, if you want to let your hair down and have a good time, Skopje has a flourishing nightlife scene that will not disappoint. From fashionable nightclubs to calm pubs with wonderful music, the city features diverse venues that appeal to people looking to party.
Exploring the queer nightlife scene in a new city can be one of the most exhilarating experiences while traveling, and Gay Skopje is certainly no exception. Not only do you have the chance to meet new people and make friends, but you'll also immerse yourself in the local culture and learn more about the LGBTQ+ community.
Whether you prefer to connect with other queer folks in person at a gay bar or club or through a hook up app, Gay Skopje has plenty of options for you to explore. However, it's important to keep in mind that many of the public spaces in the city are not queer-friendly, and it's best to avoid displaying overt signs of queerness in certain areas due to the risk of discrimination or even violence.
So, go ahead and venture out to experience the vibrant and diverse queer nightlife in Gay Skopje, but always prioritize your safety and well-being. Take precautions when meeting new people, and be mindful of your surroundings. With a bit of caution and a lot of fun, you're sure to have an unforgettable time in this amazing city.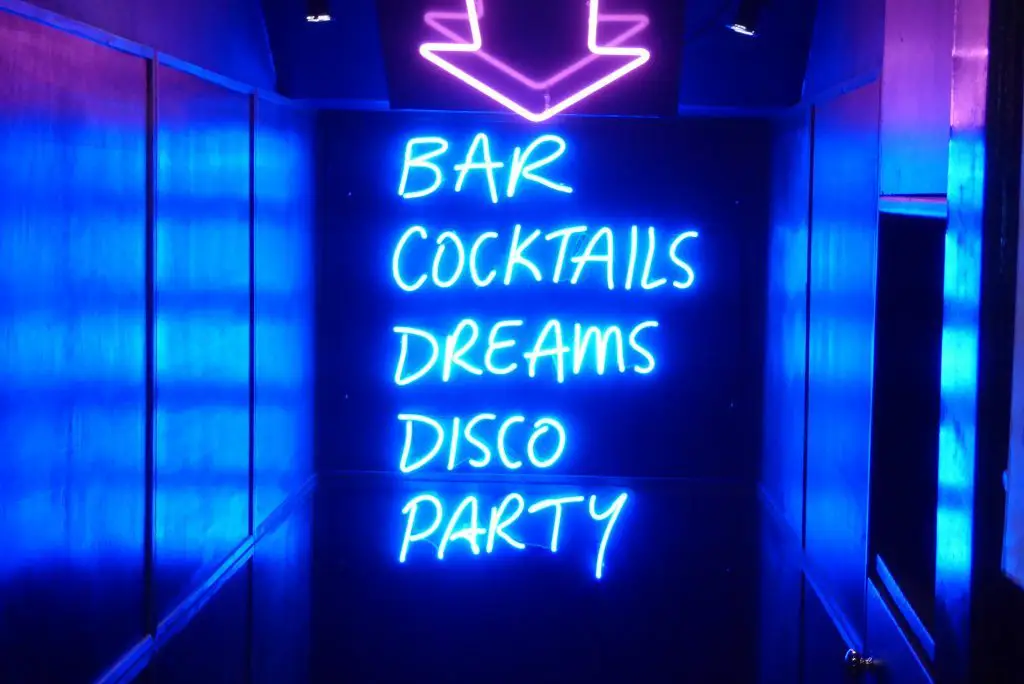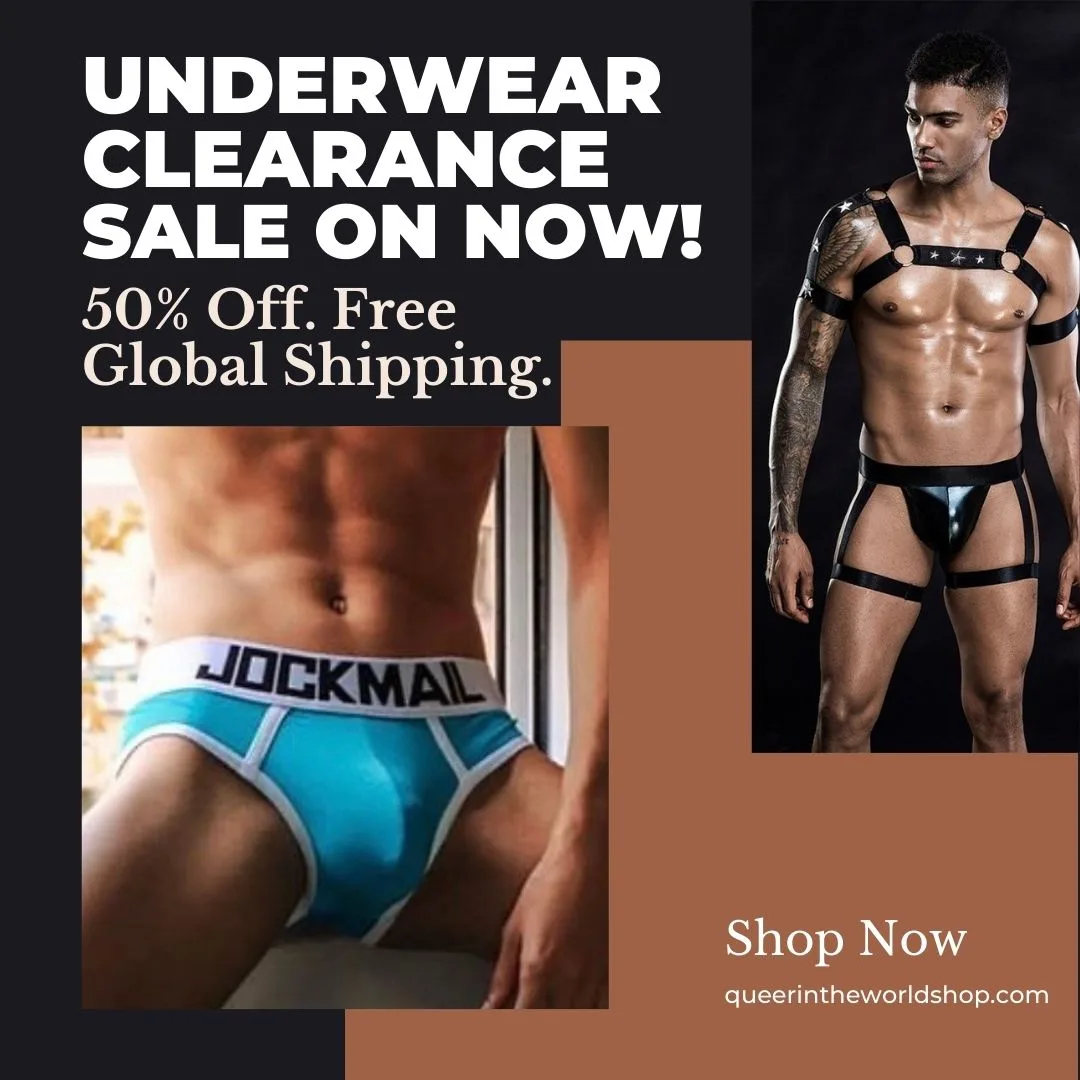 Gay-Friendly Bars and Clubs in Skopje, North Macedonia
This brewery is noted for the great quality of its craft beer and is intended to look like an antique mountain home. The family-owned firm adheres to the German Reinheitsgebot brewing system, which ensures that the beer in issue is as pure as humanly feasible.
Even if you aren't especially hungry, the bar is worth a visit since they provide a range of great items, including burgers and huge snack plates for numerous people to share. The environment is pleasant, the beer is good, and the music is fun.
Stanica 26, located just south of the city center, is recognized as one of Skopje's most popular clubs among young Macedonians. This should come as no surprise, given that it's a large, modern business filled with beautiful ladies, giving it the perfect setting for singles interested in dating and developing new relationships. The club often hosts local DJs, all eager to make each night special.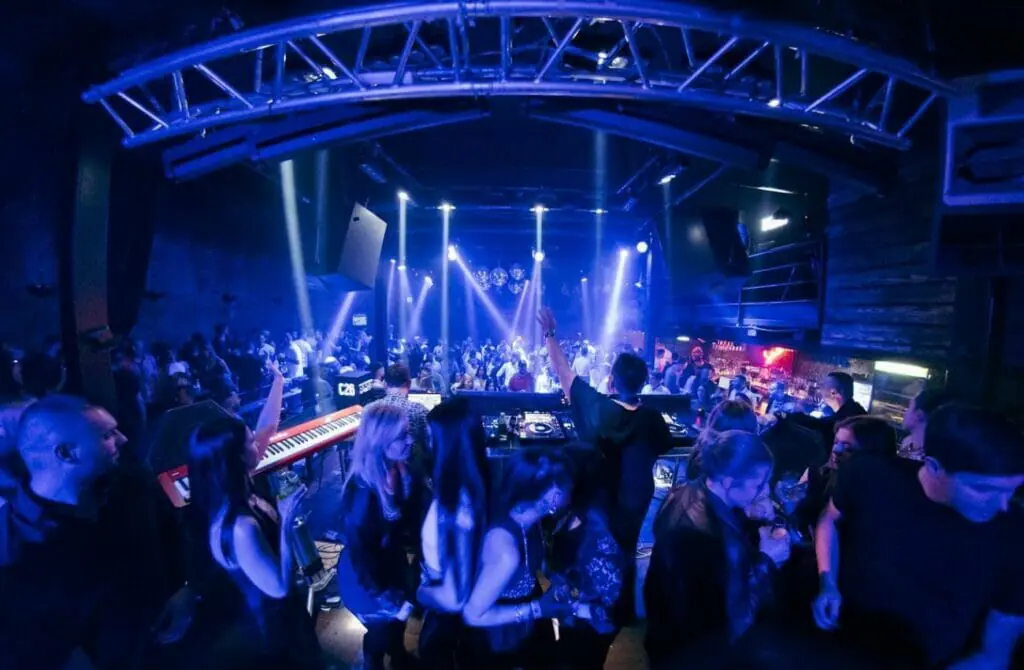 The Public Room, located in the city's heart, is a warm and friendly venue with brick walls and wooden furniture. This location is ideal for spending the night out with a group of close friends since it is frequented by local bands performing a wide range of musical genres. The Public Room's menu is written in an American style, presenting some great meal options.
Kapan An is a vibrant pub and restaurant in Skopje's Old Bazaar. It's a great place to try some of Macedonia's traditional cuisine and drinks. With its relaxed environment and friendly staff, this bar is the finest spot to unwind after a long day of sightseeing since it provides the best backdrop for relaxing.
The XL Summer Club is one of Skopje's "largest" summer clubs. This nightclub is regarded by many to be the greatest venue in the city to throw a summer party because of its handy position amid City Park, which makes it easy to get there from any region of the city.
The club is recognized as an important component of Skopje's nightlife and hosts performances by some of the region's most well-known DJs and bands.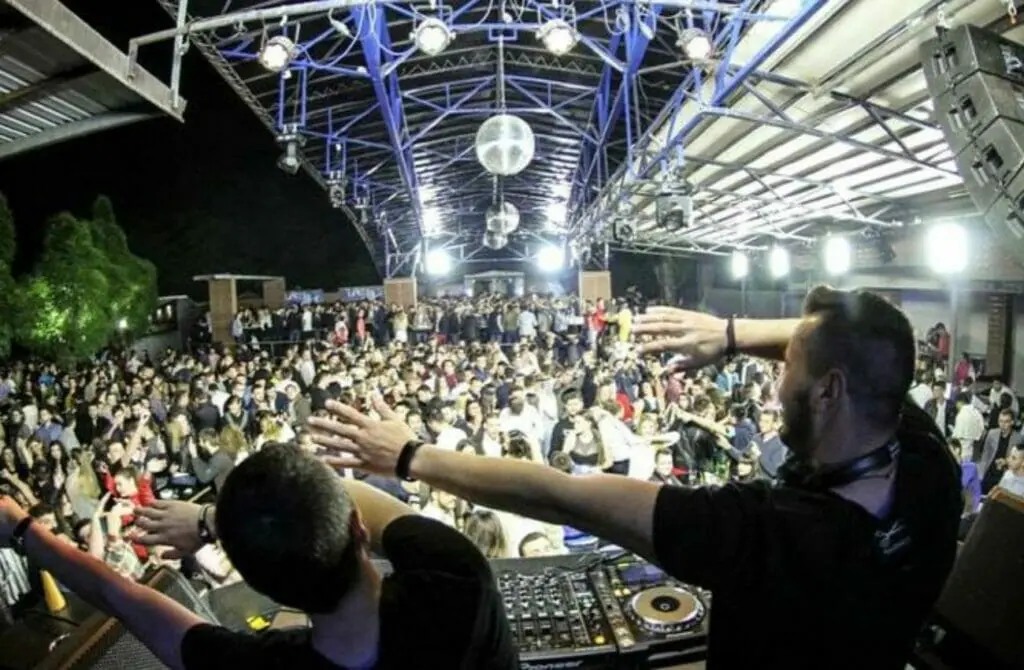 During the sunny summer months, the capital city of Macedonia enjoys thriving nightlife. The Havana Summer Club, one of Skopje's most popular nightclubs, is located in the heart of City Park. Our club is the most relaxed urban setting for many fun and wonderful summer nights.
Although there are no strict costume requirements, there may be a wait in front of the entrance, especially if you arrive after midnight. If you intend to visit a large group, booking a table in advance is strongly advised. This will make it much easier for you to get inside.
The city's wealthy citizens frequent this popular disco club in Skopje, and you can often find them here during famous weekend events. The bar is well-stocked with beers, spirits, and lots of champagne. This is one of the few places in town where foreign DJs keep the party going late into the night. It also attracts the city's most beautiful Macedonian ladies and guys.
Epicenter is an underground club located in the city's old Quarter. This setting is at the forefront of technological innovation, with its mind-blowing light displays and cutting-edge music system.
Lovers of techno, house, and disco will not be disappointed by the sound, making this a perfect pick. Epicenter hosts many events throughout the year, including DJ sets from local and international musicians.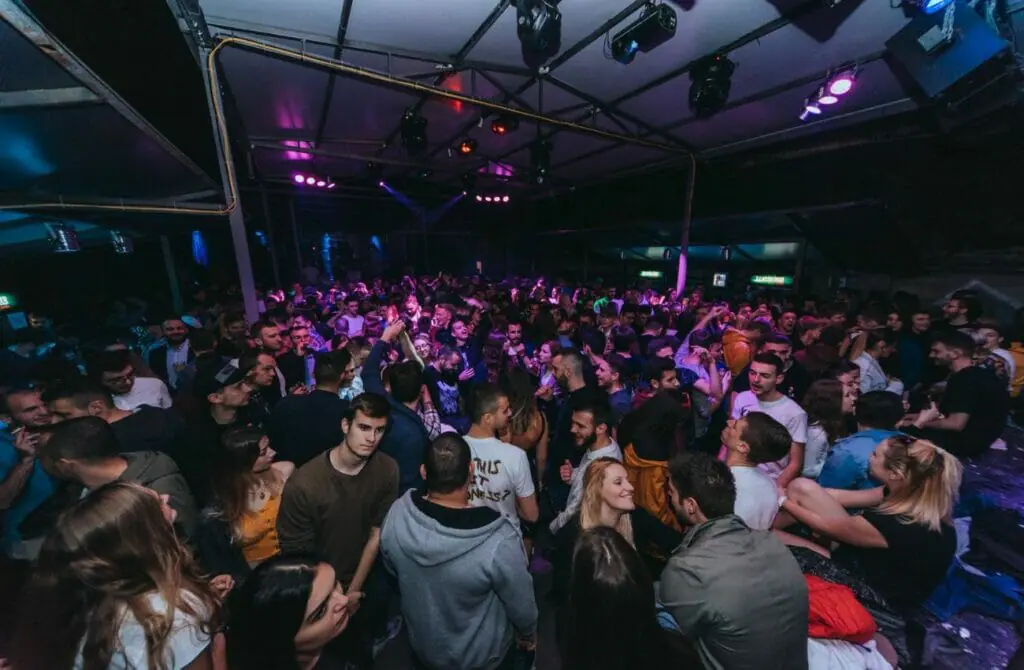 This City Park nightclub is recognized for specializing in live music every night of the week. Jazz and blues performers alternate on stage here. The Marakana venue features just enough room for people to stand, a wooden floor to smoke on and a small stage for performers.
The Saloon Bar is in the center of Skopje and is styled as a wild west saloon. It features all-night rock music and massive parties and is adjacent to the Komedija Theater. A Western-style lounge will be set amid communist-style buildings, creating a new nightlife experience.
Cosa Nostra is a trendy venue in the city's heart. The bar offers a great selection of bar food and a complete drink menu. If you're lucky, you could find yourself at an open mic night at Cosa Nostra, one of the numerous events that the club hosts to showcase local and international performers.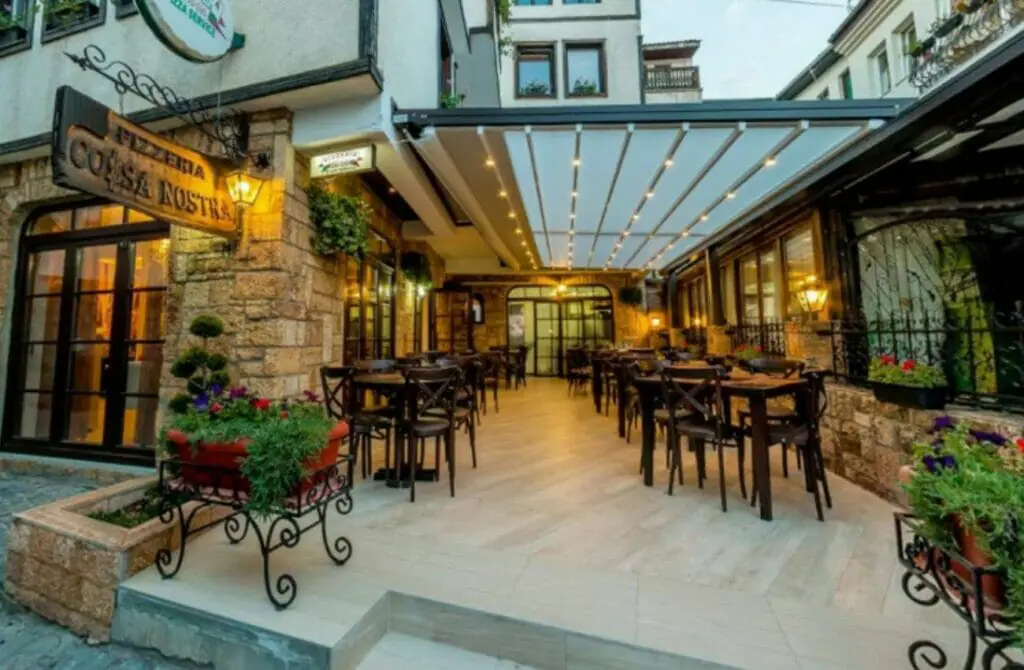 This friendly, comfortable, and inviting space hosts the best electronic music performances in town, performed by DJs worldwide. Consequently, it has become the only place in town where advanced electronic and techno music may be heard.
On the grounds, there is a little courtyard that is outfitted with tables of various kinds. The chairs are unique because they are secondhand items passed down through generations.
This business is generally recognized as one of the most relaxing venues in the city, thanks to its colorful interior design and excellent music with DJ sets. Most of the country's hip-hop parties, among the countless events held, are hosted by the country's most well-known rappers.
Van Gogh is a Skopje nightlife institution that has operated for over three decades. It is a well-known pub noted for its unique décor and a lively, artsy crowd. The week at Van Gogh is jam-packed with activities such as salsa dancing, live music, and DJ music. A beautiful tavern beloved by Skopje's young people despite its occasionally tumultuous environment.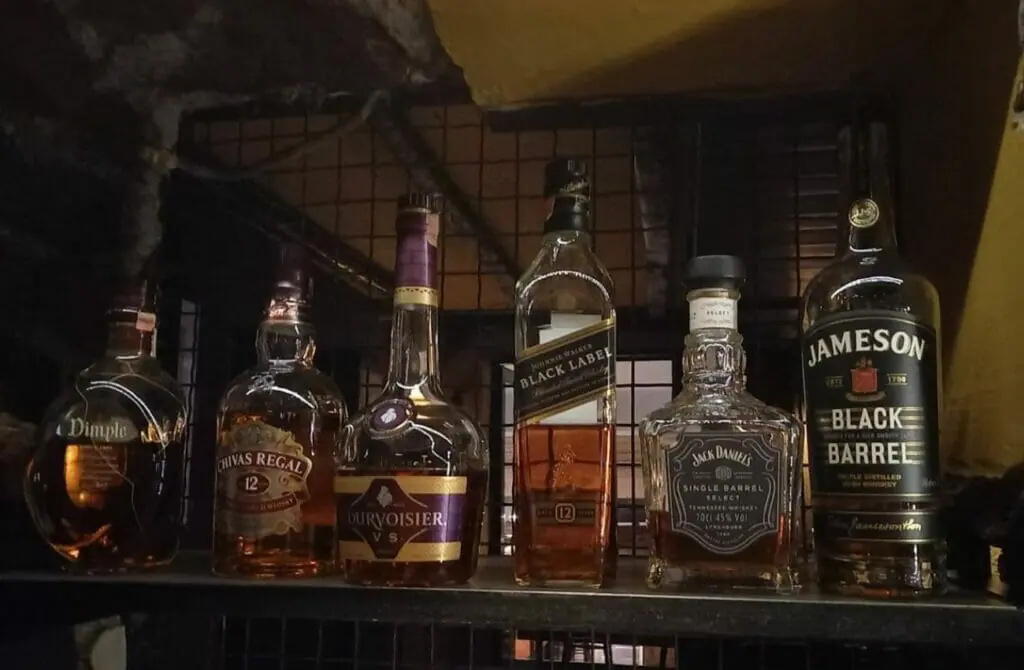 Although nestled in the city center like a small rainforest, Izlet is a true sanctuary amid Skopje. Because of the number of plants and its chairs both inside and outdoors, this location seems to be a little rainforest. Plants with relaxing green colors and warm brown tones assist in constructing an atmosphere favorable to total relaxation.
You may take in the backdrop of towering trees and vivid flowers while sipping a beverage and relaxing to the calming sounds of some good music. On a warm day, the atmosphere is great for a cup of coffee, a beer, and an evening drink.
Beertija, nestled on a side street amid the city, is regarded as the best place in Skopje to have a refreshing and tasty beer while listening to some of the most skilled local rock bands. Because of its devotion to comfort and good musical taste, this nightclub is fast becoming a favorite meeting place for people of all ages.
Rakija Bar Kaldrma is a bar outfitted in a rustic style with a Macedonian look. It is located in Skopje's historic market. You may pick from more than 30 types of Macedonian schnapps and other local spirits while enjoying a delectable hookah here.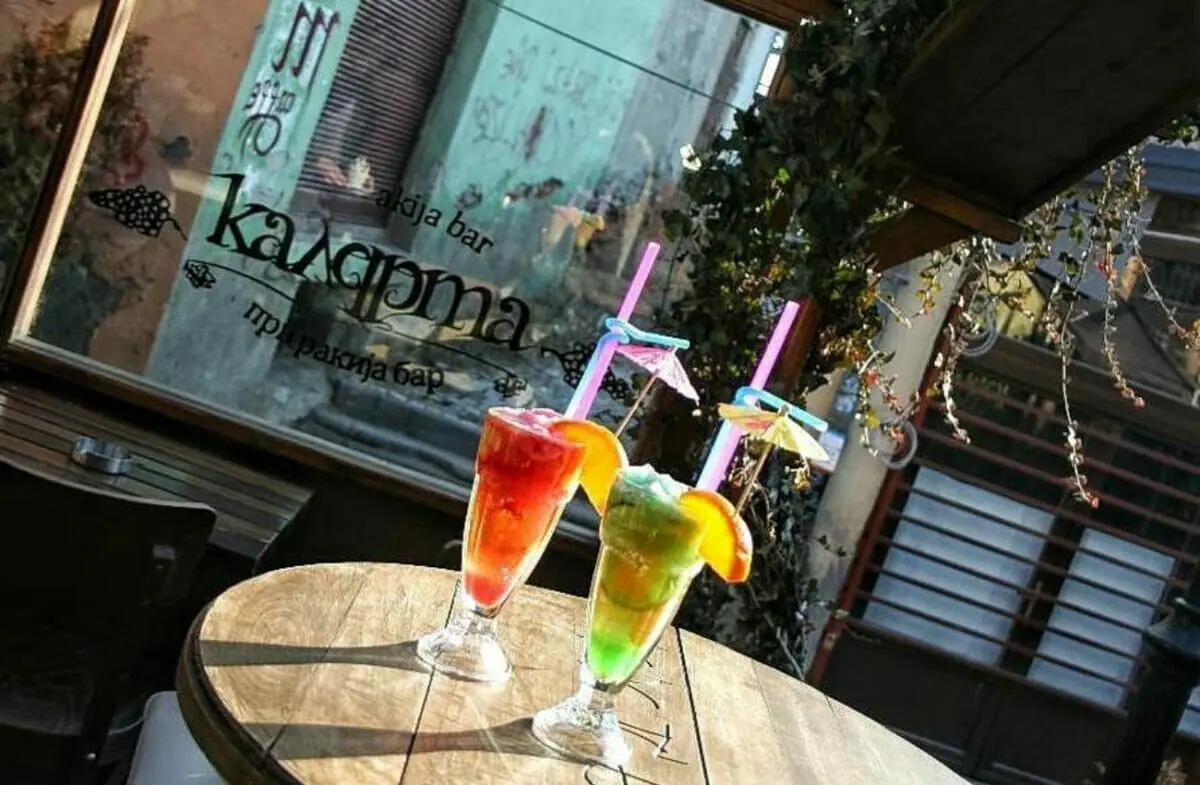 Gay-Friendly Cocktail Bars in Skopje, North Macedonia
The interior architecture of this renowned nightclub in Debar Maalo has more than a passing allusion to the entertainment industry. This is maybe not surprising.
The facility serves as a café during the day and a busy bar in the evening, and aspiring models and movie stars are often seen drinking beverages and watching DJs. A relaxed bar that is open seven days a week and serves various beers, malt whiskeys, and other luxury drinks. Every Monday, live music is played there.
Due to its accessible location in the middle of the city, this has been one of Skopje's most successful and popular cocktail bars for a long time. You can enjoy a broad range of delectable beverages here, varying in size and color. Let free and enjoy the evening till the early hours of the morning. If you like parties with Latin music and a garden that has been specially prepared for you, this is the place for you.
Speakeasy is a wonderful venue for meeting locals and trying out new cocktails; it is built in a historic structure that has been refurbished and is just adjacent to the city park. The Speakeasy is designed like a conventional American cocktail bar; you can go there alone without feeling awkward.
Don't worry if you don't know what to drink since there are many possibilities. After a quick and easy conversation, you will finally give up and let the man behind the counter choose the best beverage for you.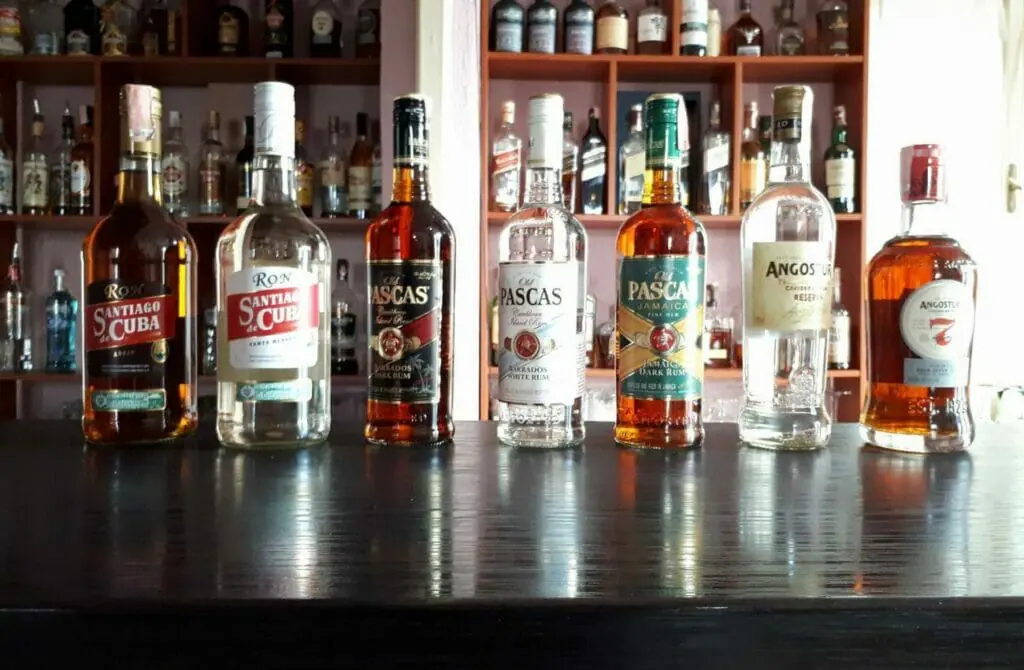 Gay-Friendly Rooftop Bars in Skopje, North Macedonia
Since it is positioned atop the Hotel Arka on the city's highest elevation, this Skopje rooftop bar is one of the best places to take in the beautiful view of the city.
It is one of the best settings for a romantic date since it offers a confidential environment, plenty of comfortable sofas and loveseats, and various seating options. They provide a range of beverages, including beer, wine, cocktails, and other alcoholic beverages, snacks, and full meals.
The Hotel Russia's Sky Bar, located on the eighth floor, offers visitors a stunning view over the whole city of Skopje, Mount Vodno, and the Vardar River. This opulent and sophisticated club is the place to go for a night out that will live long in the memory, owing to the exceptional music and environment.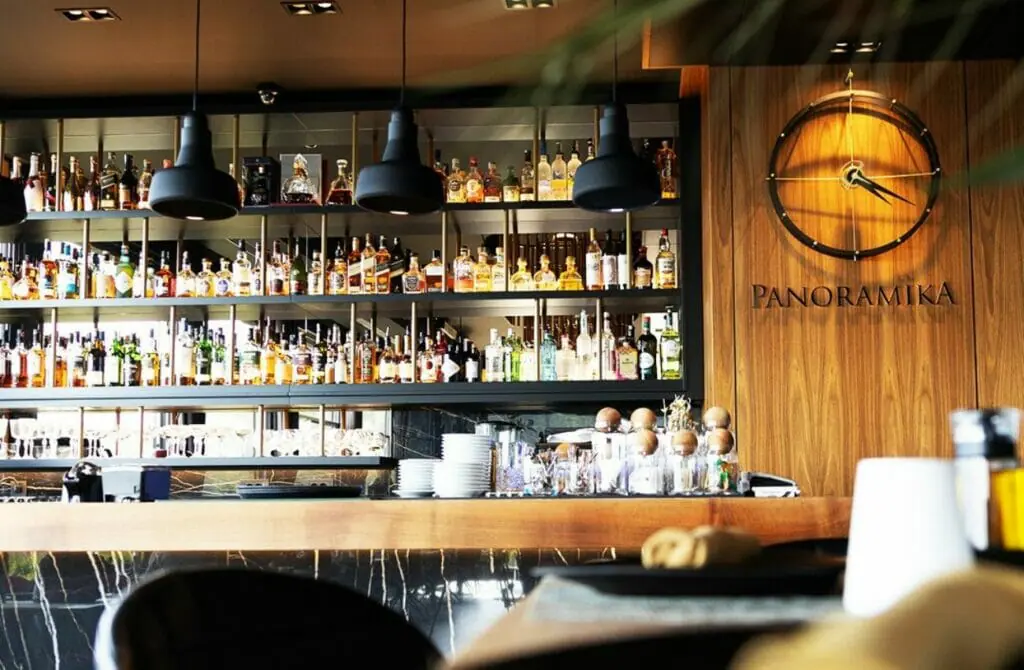 This vibrantly colored bar within the Park Hotel & Spa has an orange upright piano and a wide selection of alcoholic drinks, including several highly recommended cocktail alternatives. This is the perfect place to chill during the day or drink in the evening since it has an equally wonderful outdoor terrace that is quite popular during the summer.
This Cuban-themed tavern is situated on one of the numerous riverfront terraces east of Plotad, and it hosts a popular Latin night every Wednesday. Mojitos are available in medium sizes, and the restaurant's menu includes everything from Cuban food to spaghetti and steaks. If you borrow a magic marker, you may write your message among the hundreds already on the walls and ceilings inside.
An Irish pub in Skopje is decorated with a Victorian railway theme and sells Guinness beers on tap. It is located just across from the old market. There is plenty of bar food, live music on weekends, and a great riverfront outdoor terrace to enjoy during the nicer months of the year. Both local children and out-of-town visitors frequent the restaurant.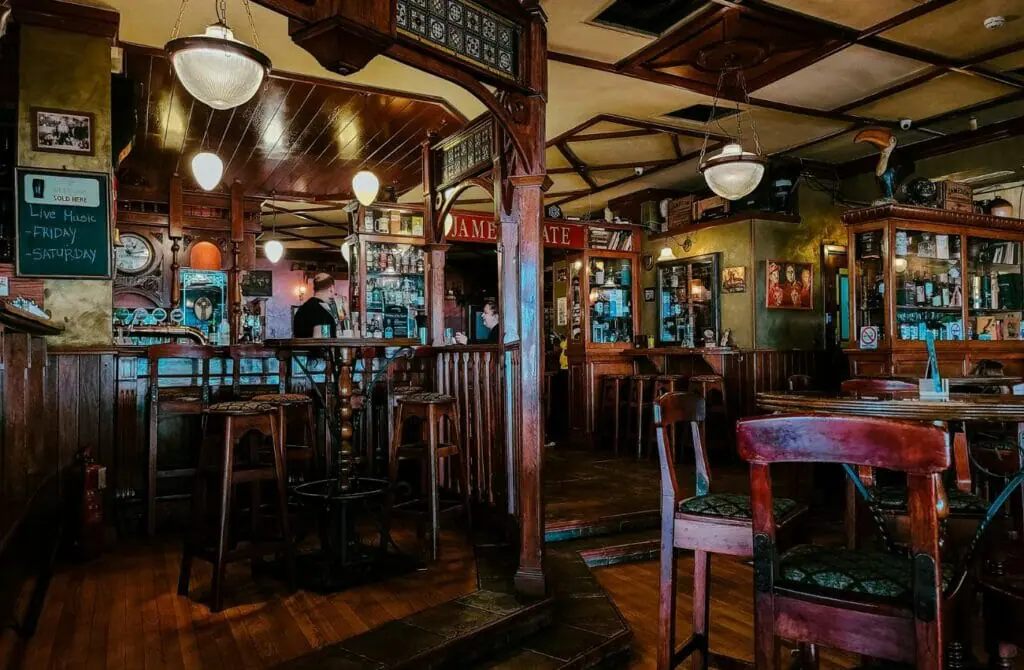 Gay Saunas & Cruising Clubs in Skopje, North Macedonia
When it comes to exploring Gay Skopje, there's more to life than just cocktails and beers. One aspect of the gay scene that many of us queens love is checking out the local gay saunas and cruising clubs.
Granted, Skopje isn't quite as wild as Amsterdam, Barcelona, or Berlin, but these steamy venues still offer the perfect opportunity to meet new people, socialize, and engage in some hot and heavy action without swiping left or right. However, remember that these venues can differ in terms of vibe, patrons, and rules, so it's a good idea to be informed before you dive in.
Gay saunas, sex clubs, and cruising have long been popular ways for queer men to meet and engage in sexual activity, particularly in countries where same-sex activity is not widely accepted or where it may even be illegal. In these places, gay saunas and cruising clubs provide a safe and discreet environment for queer men to explore their sexuality and connect with like-minded individuals.
Despite the rise of gay dating apps, many queer men still prefer the anonymity and physical connection that can be found in these spaces – so somewhat counter-intuitively, you might have a hotter experience here than you would at home.
We recommend checking out our guide to cruising for first-timers before you get started, which should give you the lowdown, and always practice safe sex.
Keep in mind that local laws and customs regarding gay venues and sexual activity should be respected at all times. With a bit of forethought and an open mind, visiting gay saunas and cruising clubs can be a thrilling and steamy part of your gay Skopje adventure.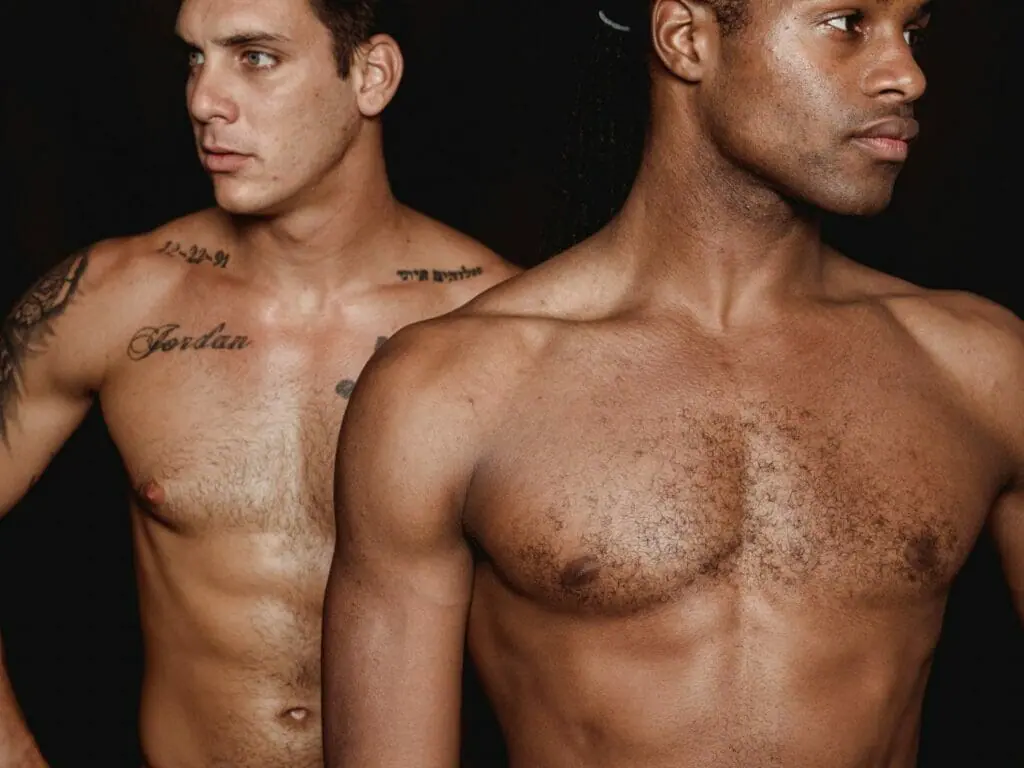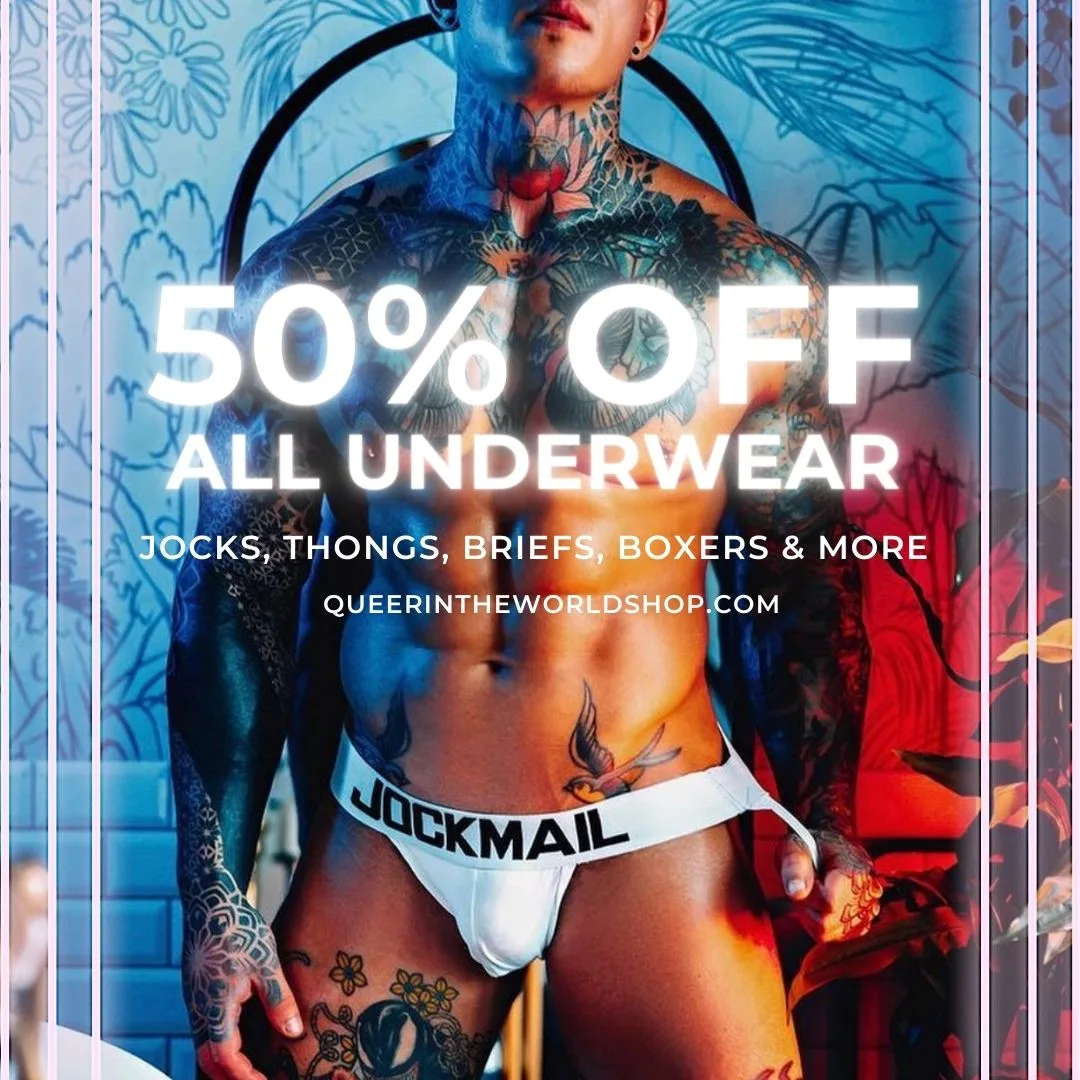 Gay Map Of Skopje
Finding it hard to envisage where everything is in Skopje? Hopefully, this queer-centric map helps where we have marked all the bars, clubs, parties, hotels, saunas, massages, and more will help you stay in the spot best suited to you!