Sarasota is a nature-lovers paradise with the Gulf of Mexico and warm stretching beaches, an excellent place for a gay holiday. Of course, it isn't just the scorching summers that queer tourists love about Sarasota. They have not just one gay bar but plenty of gay clubs, so you are guaranteed a gay night out when you visit. This is paired with an active queer community and their annual pride parade, which will be like nothing else in the rest of the region.
In the white beaches, mangrove forests, and parks, Sarasota offers more than just a brilliant gay holiday. They are best known for their countless adventuring opportunities, a prominent cultural center with a museum housing old masters, and the former Winter home of the Ringling Brothers Circus (which ceased operations in 2017).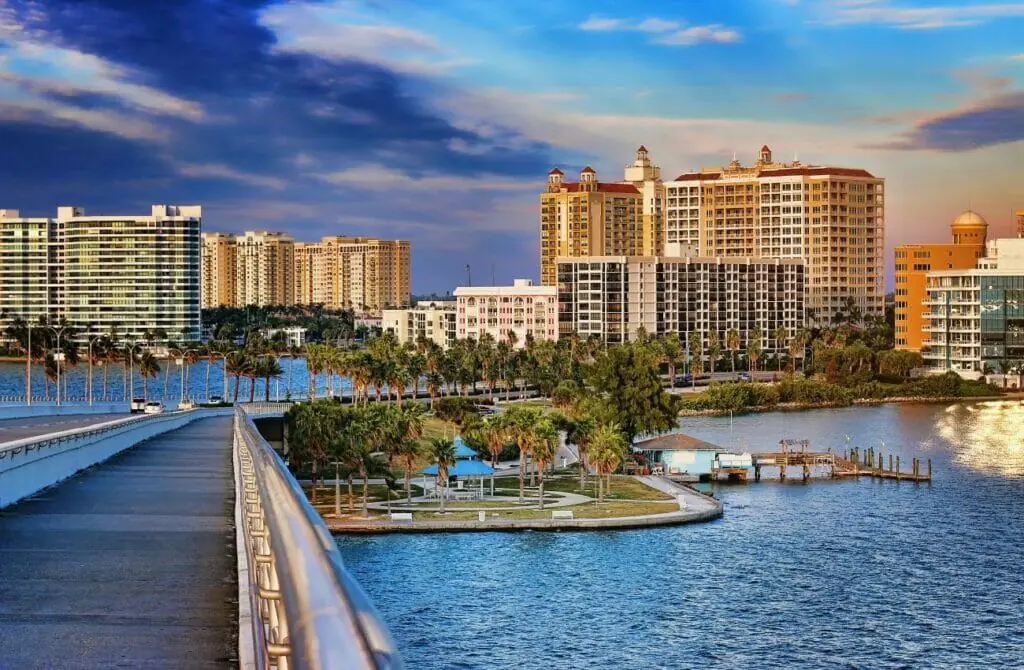 The history of Sarasota is another fascinating thing about this place, established as a settlement in the 19th century with an influx of Scottish settlers. By the mid-20th century, museums and theatres emerged as the 'place of dancing' and became cemented in its Spanish name.
So, a visit to Sarasota should be on the cards if you are after a gay escapade in Florida that also includes adventure sports and rich cultural history experiences! Of course, there is so much more to this place, brilliant beaches and sightseeing outside these attractions. No wonder Sarasota is becoming a gay paradise, not just for its gay bars or clubs!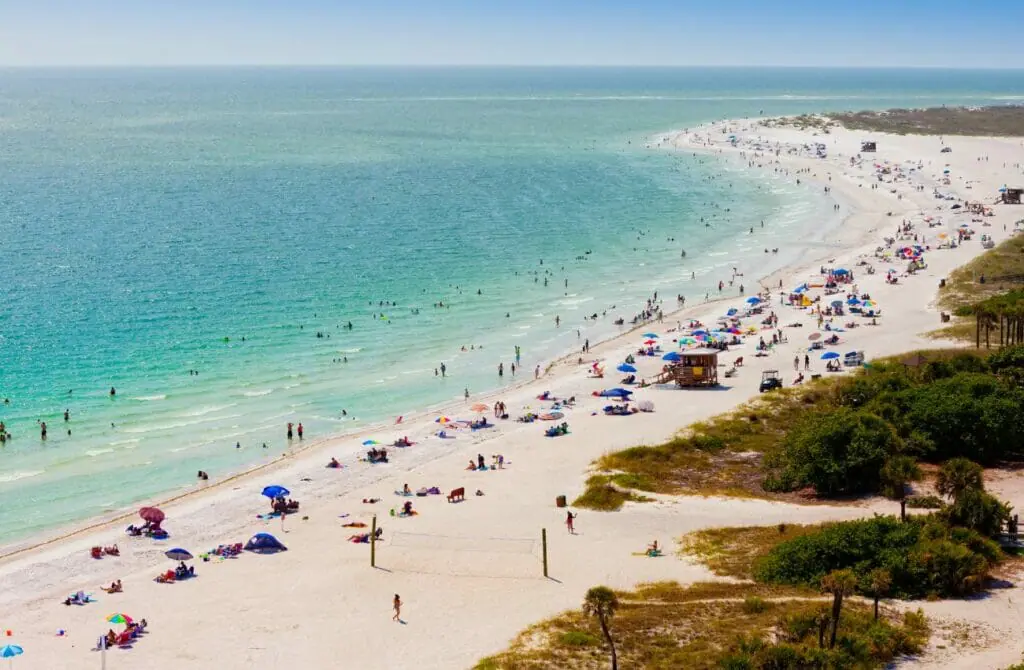 Attractions in Gay Sarasota, USA
As a new visitor to Gay Sarasota, there are plenty of things to see and do, regardless of your sexual orientation. One of the best ways to experience any new city is to visit some of its most iconic landmarks and attractions, including historical monuments, museums, and art galleries.
We also love gazing at architecture up close, exploring parks and gardens, sampling the local cuisine, visiting local markets, and attending cultural events such as festivals, concerts and shows.
Even as the out-and-proud queer we are, we still love to explore the city and its culture in the same way as everyone else. Doing so allows us to learn more about the city and its people and gain a deeper understanding of the local culture. As such, these are our favorite must-see attractions in Sarasota.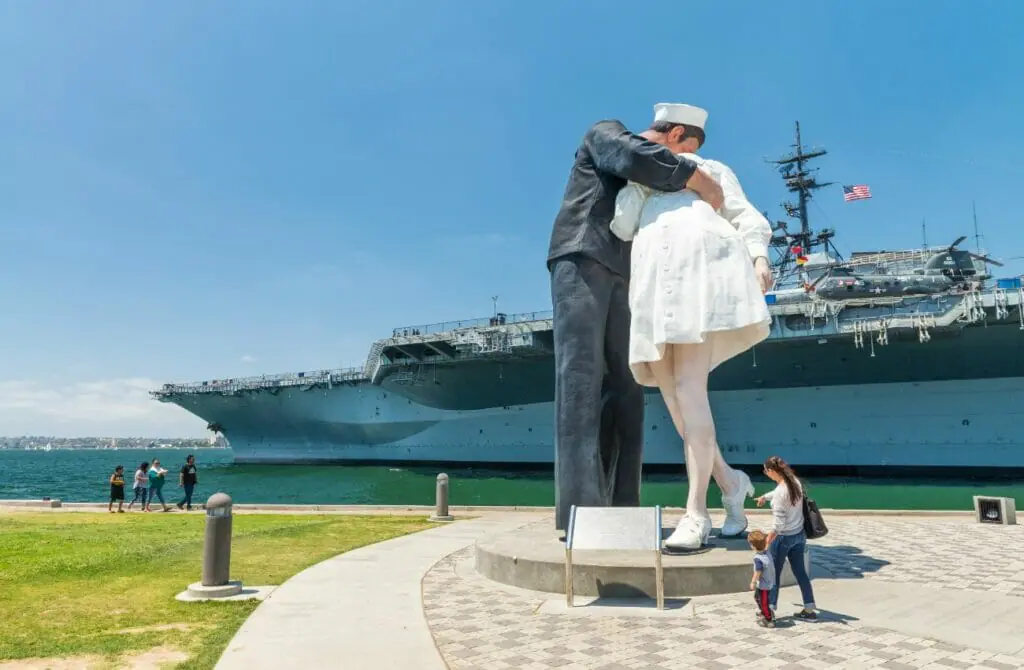 Unconditional Surrender Sculpture
Once your stop by the cemetery, it is also good to remember the good times and those living during times of peace.
The Unconditional Surrender Sculpture by John Seward Johnson II is a great way to celebrate these things as it depicts the moment a man and woman learned of the war's end during WW2. This is part of a series of works found all over the USA based on the famous 1945 photograph by Alfred Eisenstaedt.
Sarasota Guided Mangrove Tunnel Kayak Tour
Take an adventurous kayak tour through Sarasota's Lido Key, where you will get up close not just with mangroves and rugged rocks and shores, but you may see a manatee, dolphin, or stingray. What else could you ask for on a lazy boat around the bays?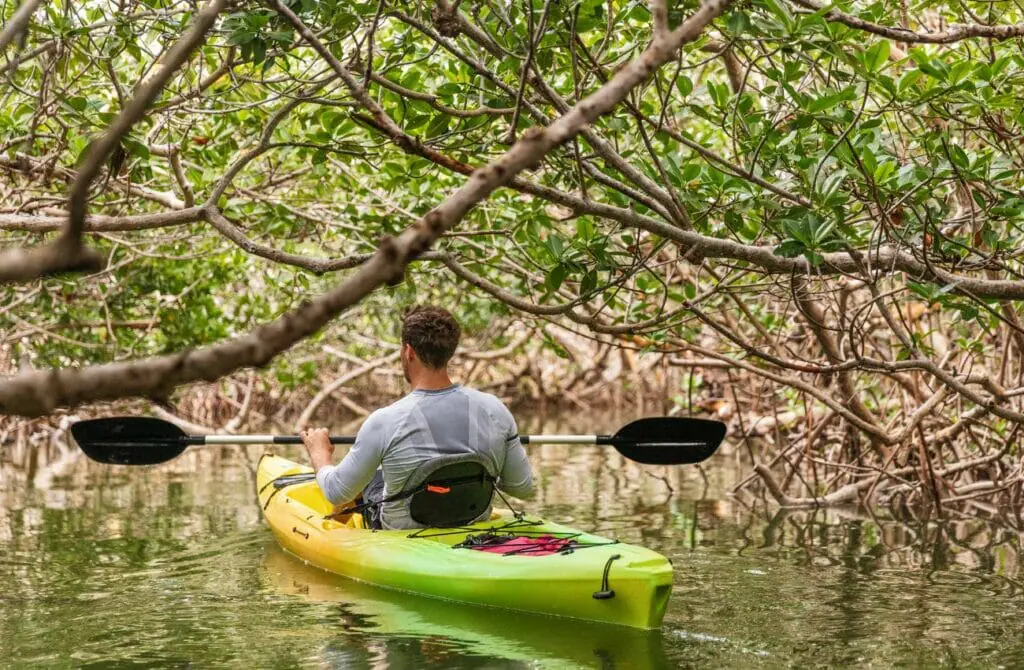 Sarasota City Sightseeing Tour
Whether in town for a day or a week, the first port of call should be a sightseeing tour to ensure you don't miss out on the main parts of the city.
This Sarasota City Tour takes you by bus past The Ringling and Marie Selby Botanical Gardens through Gillespie Park, Sarasota Opera, and Burns Court Neighbourhood, telling you all about these places. Although there is no stopping, it is a great introduction that will give you great tips from the local guide.
Siesta Beach
The best place to experience the beauty of the Mexican Gulf is Siesta Beach which is said to be one of the 'purest white beaches' in the world because its sand is 99% quartz! Of course, you won't be there to count particles as you'll be caught by the coast's beauty and countless summer activities.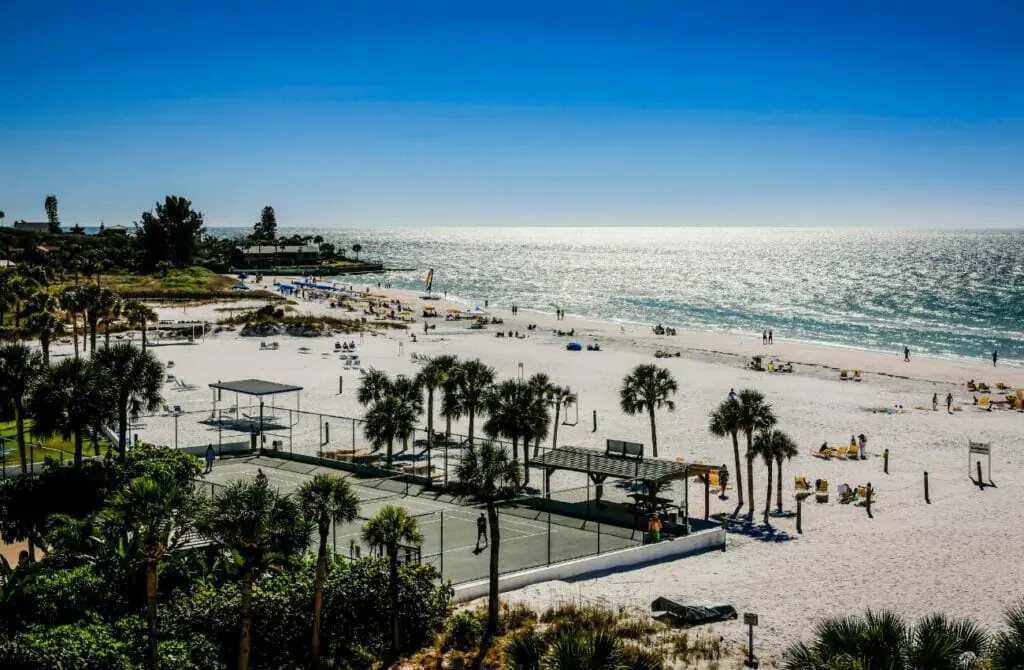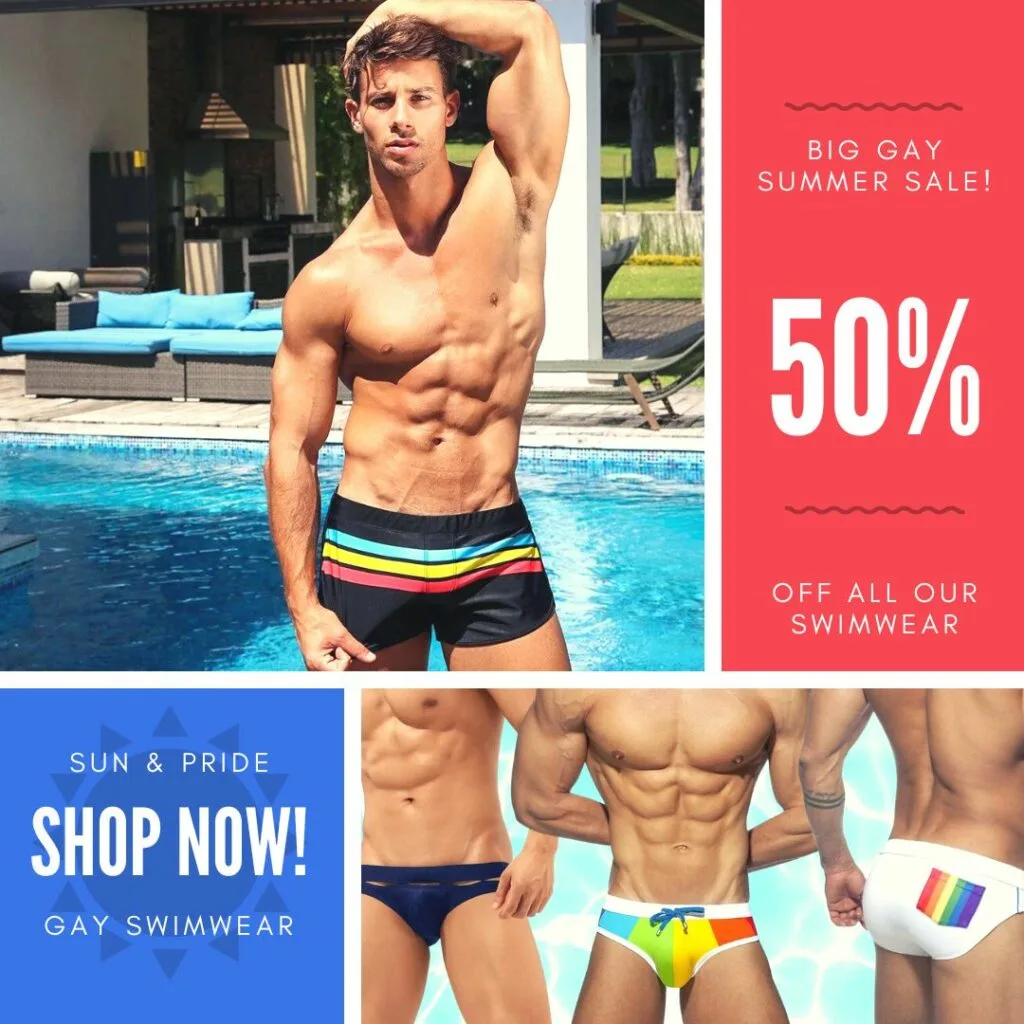 Van Wezel Performing Arts Hall
Looking out over Sarasota Bay, you will find Van Wezel Performing Arts Hall, which stands out as a mid-20th-century theatre that can't be missed. Here you'll find yourself sitting in an expansive hall that can house up to 1,700 spectators, and as you can imagine, all manner of show or special event has been held here in the past. It is built in honor of Frank Lloyd Wright, a prominent architect.
Cà d'Zan
Even if the era of massive traveling circus shows has passed, you can still experience some of that history at the Cà d'Zant. This iconic Mediterranean-styled building was the winter retreat of the circus businessman John Ringling, built in the 1920s. In its heyday, it was the party central for the wealthy, and now it stands as a famous attraction exploring the exciting life of its former owner.
The John and Mable Ringling Museum of Art
Take in one of Sarasota's most significant art collections at The John and Mable Ringling Museum of Art, which houses work from around the world and across many eras, ensuring an all-rounded arty experience. Some of their more famous works include The Triumph of the Eucharist by Peter Paul Rubens.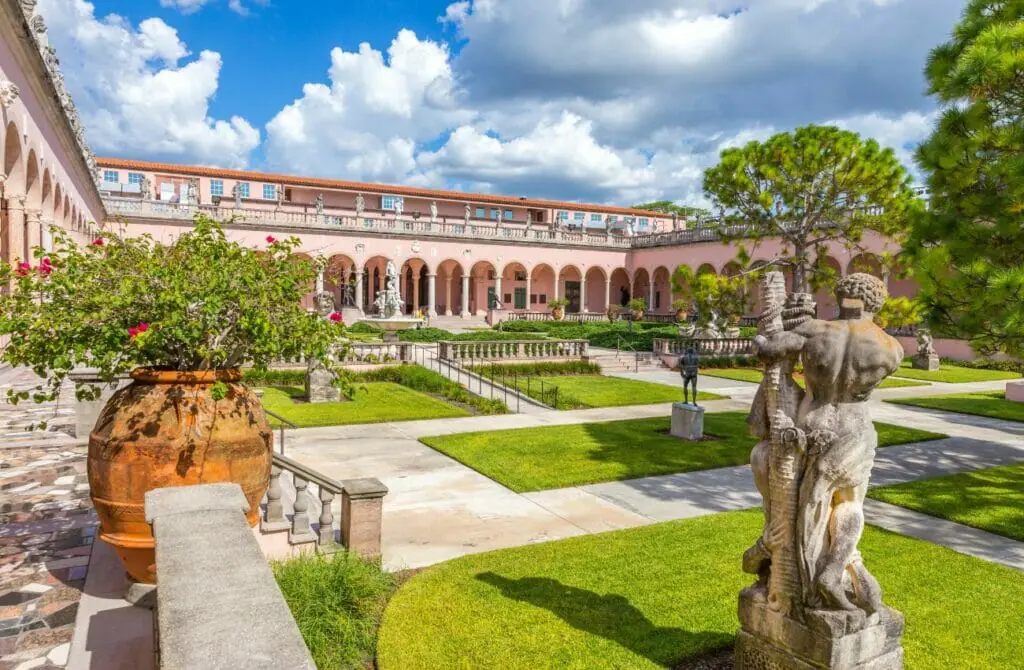 Ed Smith Stadium
It would be a shame to visit the USA and not catch a classic American pastime–baseball. The Ed Smith Stadium is a great way to tick this off your gay trip bucket list, as they regularly host games, even some major league ones.
Sarasota Jungle Gardens
Enjoy a beautiful trip to Sarasota Jungle Gardens and see flocks of flamingos busking about in the jungles and water features around its grounds. It isn't just these tall pink birds that draw visitors here, as they have many birds and flora to satisfy the eyes and mind.
Mote Marine Laboratory & Aquarium
Keep dry and enjoy the variety of marine life around Sarasota and further afield at Mote Marine Laboratory & Aquarium. This isn't just an aquarium; it's also a research center connected to prominent universities and scientists around the USA. You can see some fantastic creatures as you pay it forward with your entry ticket to aid in their research efforts.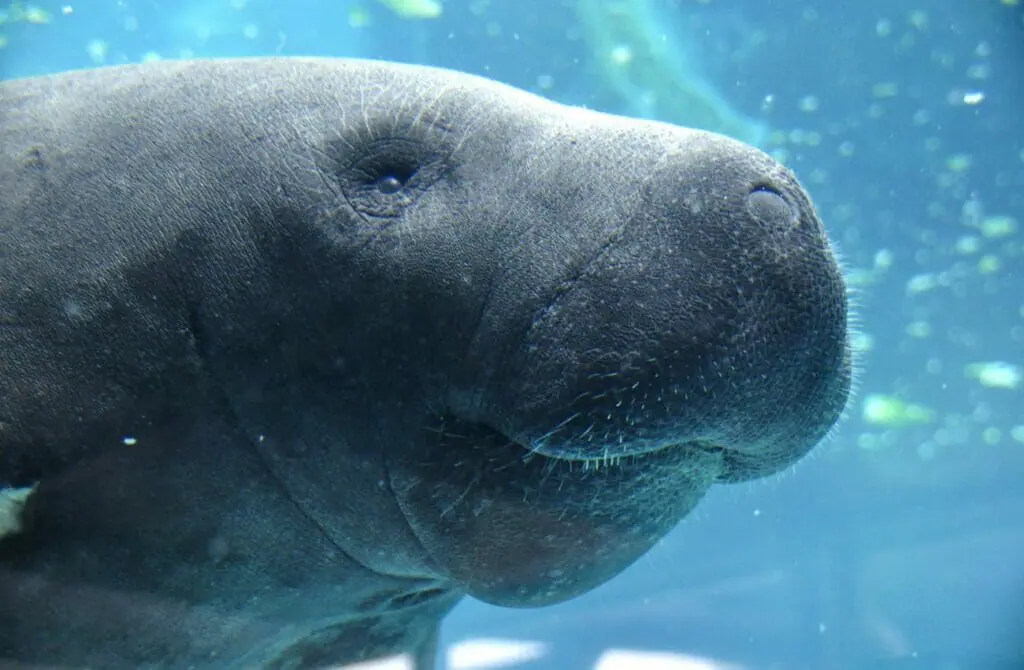 Sarasota National Cemetery
Pay tribute to the people that came before at Sarasota's National Cemetery, a peaceful place where you can walk between headstones and grassy grounds as you remember those lost in military conflicts. You will also find their memorial structures and daffodils, the beautiful bow that ties this emotional experience yet serene place together.
Marietta Museum of Art & Whimsy
Experience a colorful art gallery that is a fresh break from the traditional experience you're used to at the Marietta Museum of Art & Whimsy. This place was undoubtedly made for the gay art lover as it goes against tradition and is pink as Barbie's beach house.
Sarasota Classic Car Museum
Appreciate the car's history and take in some great classics with the Sarasota Classic Car Museum. You can bet their rich collection of cars will have you lost for hours in the specimens and stories they can tell!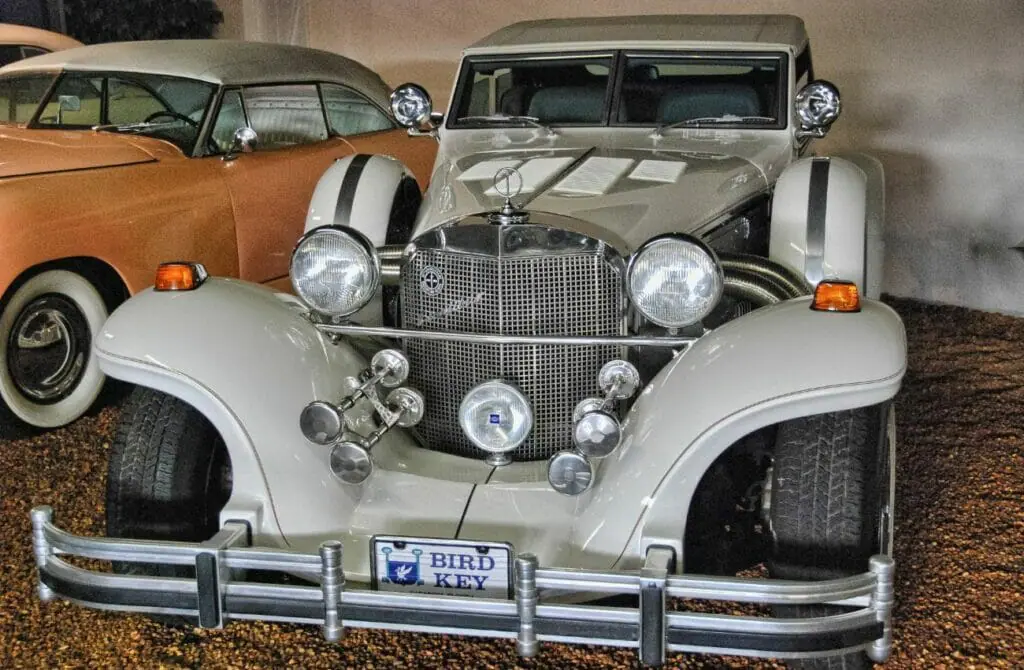 Lido Key Beach
Another favorite beachy destination in Sarasota is Lido Key Beach, where you can enjoy an easy sandy experience. They also have a nearby gift shop, picnic tables, and a swimming pool! Florida is famous for its beaches, and Lido Key is up there with the best of them!
Bird Key
A small island off Ringly Causeway, you'll find delightful parks, residential housing, canals, beaches, and a fascinating history of being the former home to the cousin of John Ringling, John Ringling North.
Get lost in one of the state's largest state parks at Myakka River! Explore over 37,000 acres of marsh and grasslands that will always unveil something unexpected, whether the range of wildlife or the numerous natural landmarks that spring up in your travels. The casual walker or the seasoned hiker will find something delightful in this place.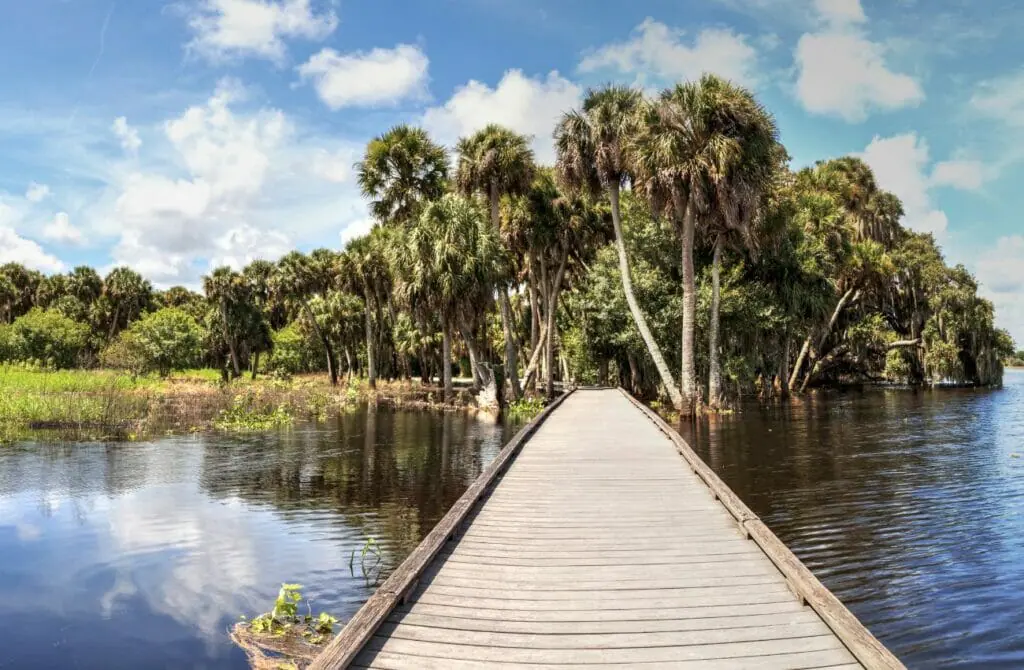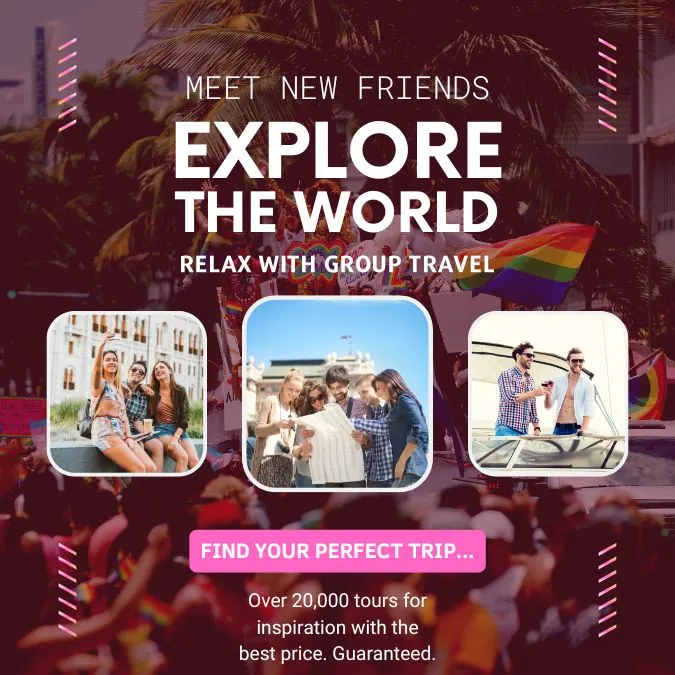 Gay-Friendly & Gay Hotels in Sarasota, USA
Being gay-friendly accommodation means that the establishment is welcoming and inclusive to guests who identify as LGBTQ+. This can include, but is not limited to, having policies and practices that demonstrate a commitment to creating a safe and inclusive environment for LGBTQ+ guests, such as non-discrimination policies and providing support and resources for LGBTQ+ travelers.
Some gay-friendly accommodations may also provide amenities specifically catering to the LGBTQ+ community, such as rainbow flags or literature about local LGBTQ+ events or resources. Furthermore, gay-friendly accommodations may be located in an area known for being LGBTQ+ friendly.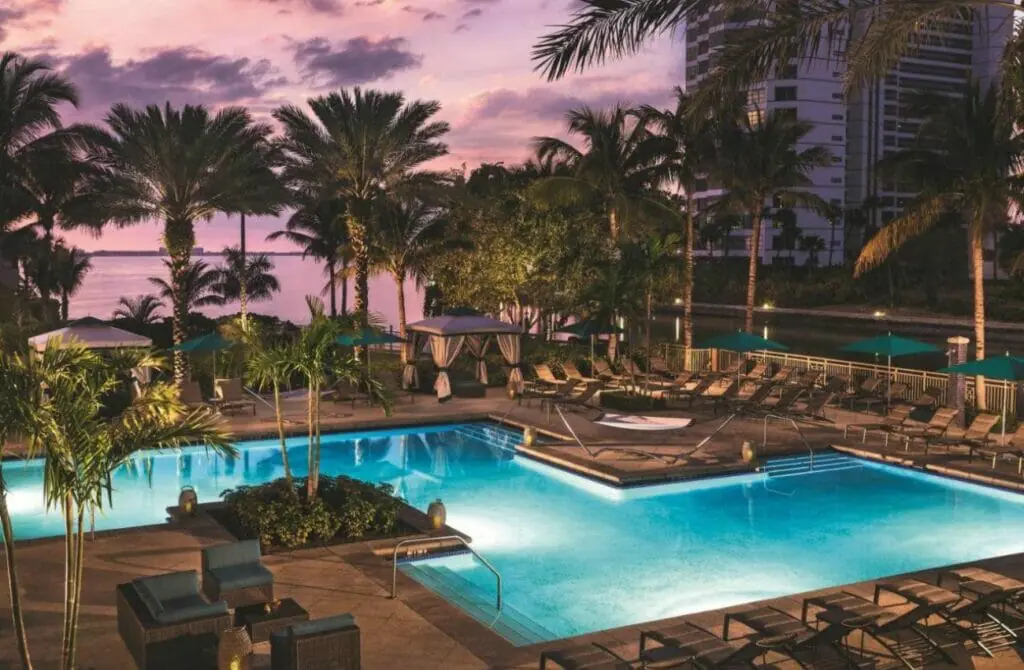 While Sarasota does not have any specifically gay hotels or resorts, these are the most fabulous and pro-actively gay-friendly hotels in Sarasota. Needless to say, there are also hundreds more hotel and hostel options in Sarasota if none of these suit your desired budget, facilities or area – but these are the best hotels according to other gay travelers and us.
Whatever your needs are, Sarasota has you covered.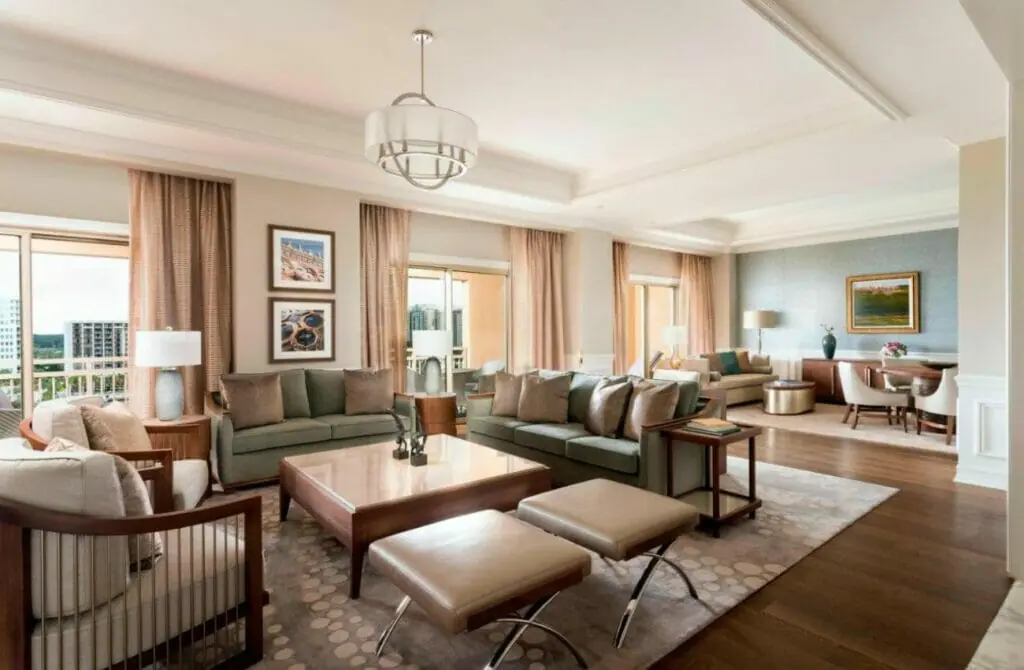 Stay at the exquisite Ritz-Carlton if you want only the best hotel experience in Sarasota, where you won't be afraid to throw away the budget to be treated like royalty.
Found in the Rosemary District of northern Sarasota, you will wake up each morning from your private balcony to priceless ocean views just a short walk away.
This is followed by breakfast in your cozy room or heading out to dine in their dining hall with excellent views from their expansive windows. You could even sneak in a cheeky drink at their bar before twelve; just be prepared to use their free shuttles to the beach or around the city.
We are just getting started on this place; you could spend a whole holiday here and feel well refreshed if you wanted, with their sauna, spa, pool, gaming room, sports facilities (inside and out), and so much more it may be hard even to appreciate just how big this place is.
If you stay here, make an event of it and set an afternoon aside to see it all, and then be sure to dine at their four restaurants during your adventures.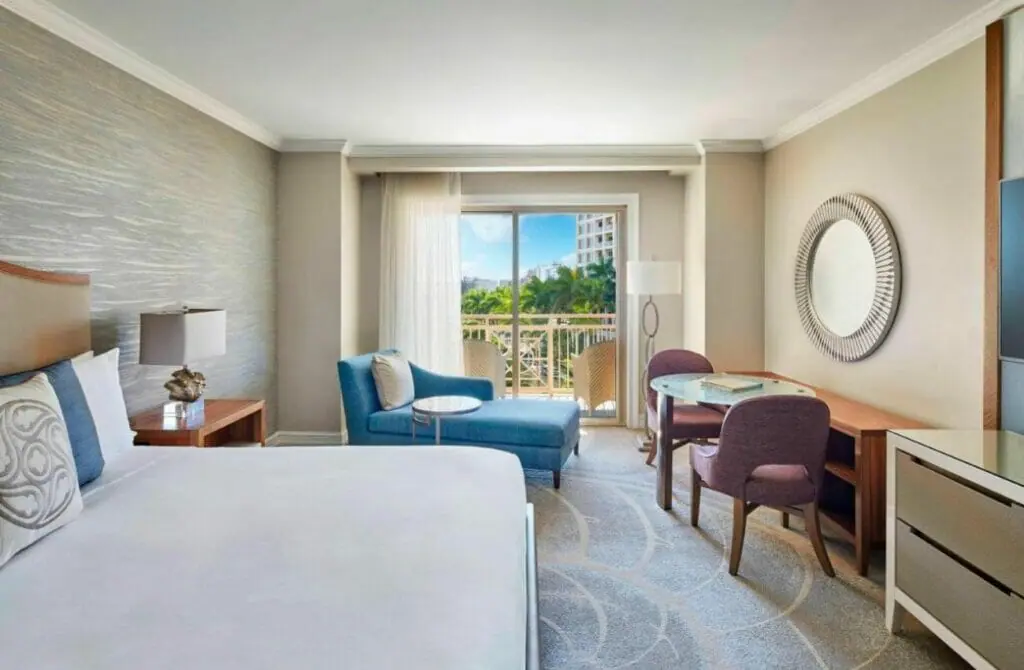 Art Ovation Hotel, Autograph Collection ☆☆☆☆
For luxury in the center of Sarasota, where you don't have to travel far to see the sights while feeling like you've got the four-star experience, consider the Art Ovation Hotel. Here you can enjoy a restaurant, a rooftop terrace, an art gallery, a poolside bar (with a pool, of course), and a gym with various classes for those wanting to keep fit even on holiday.
If you are on a working holiday, they also have business services to keep you on track and the space to get it done. However, the highlight of this place is the choice of 162 rooms to make yourself at home with cozy bedding and little extras that will make it hard to leave.
The Sarasota Modern, a Tribute Portfolio Hotel ☆☆☆☆
Another brilliant four-star hotel is The Sarasota Modern, where you will be treated to great summer-friendly treats such as their three pools, beachside loungers, and poolside bar.
Of course, it isn't just these that wow guests; their terrace, art gallery, and restaurant, the Wink Wink Modern Lounge, will make you want to spend your waking hours here. You can enjoy your rooms equally, including fluffy beds, ensuites, fifty-inch TVs, min fridges, and hot drink makers.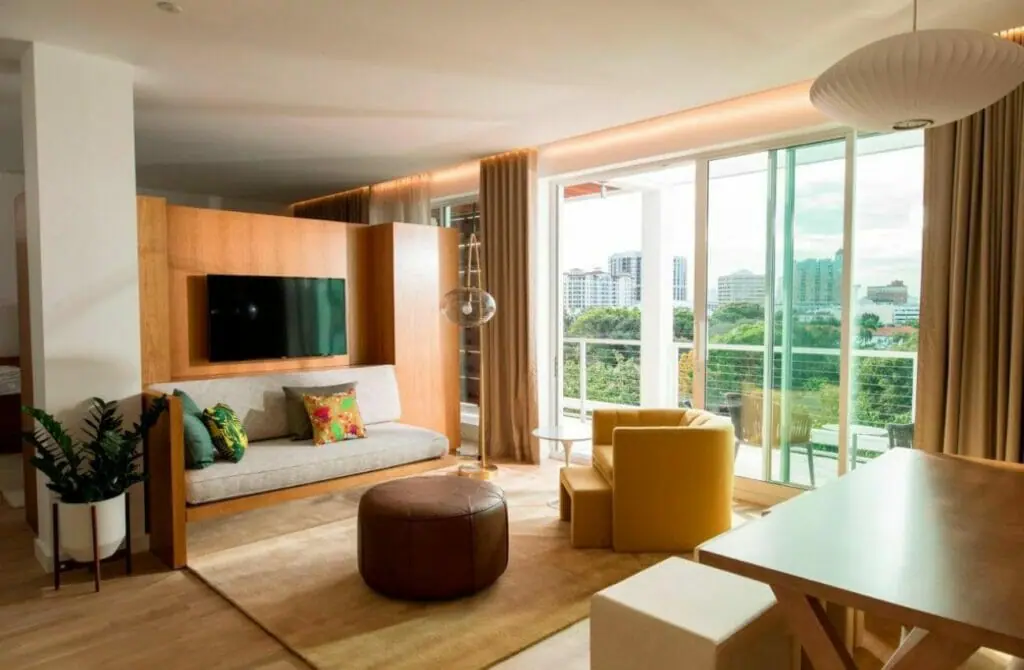 Experience a whole four-star experience in the modern Hyatt Regency Sarasota. Here you could find anything you ever want in a hotel, and then some, with services such as a pool, a hot tub, a gym, a restaurant with breakfast for an extra fee, and a bar for that relaxing drink in the evening.
Guests' quarters also live up to its high standards with great citywide views from the upper levels, a cozy bed, and private space to fully relax after a long day. However, this place stands out because of the marina, children's pool, and the lounging terrace around the outdoor pools.
Aloft Sarasota may not be as fancy as other hotels in town, but this three-star experience has several special services that make it unique. Firstly, you can't miss the rooftop terrace with pool and loungers, providing exceptional city views and privacy exceptions from fellow pool goers.
They also are pet-friendly and have a gym, two restaurants, and two bars, with breakfast for guests that pay an extra fee. The standout of the bars is the Splash Pool Bar because you can take a dip while enjoying a drink.
Americas Best Value Inn Sarasota Downtown ☆☆
It may not be the cheapest for a mid-range budget-friendly stay in Sarasota, but the Americas Best Value Inn does not disappoint. This two-star stay offers simple rooms with ensuites, mini kitchenettes with microwaves and fridges, and a TV so that you can easily cook and enjoy an evening in your room.
Course, this whole deal is even sweeter because guests' breakfast is complimentary. You may also be surprised to learn they also have an outside pool, so you get the best of many high-class worlds without having to speed as much.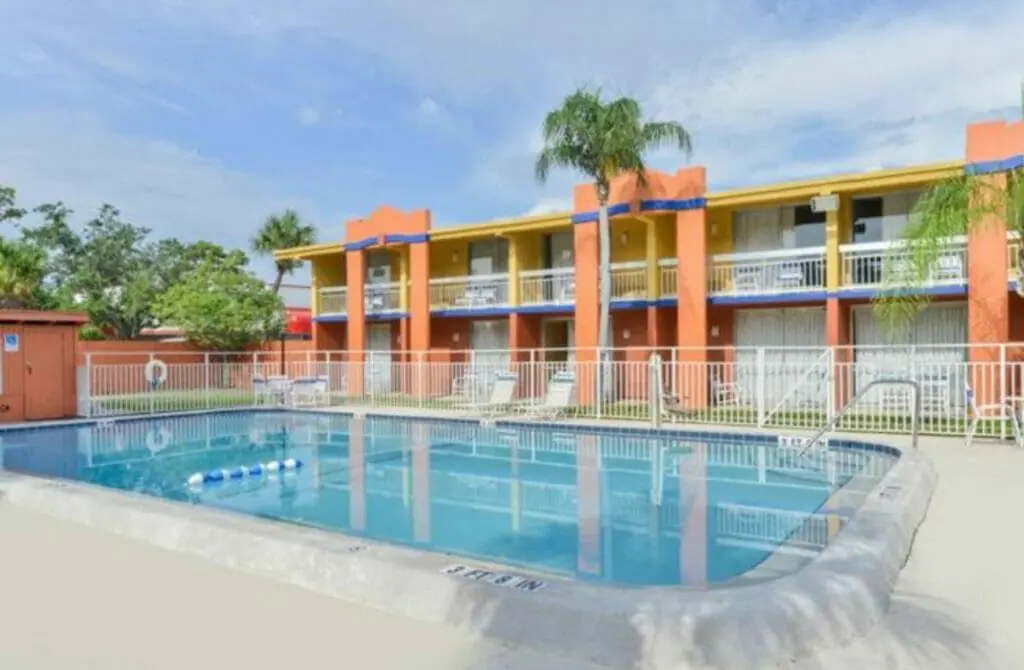 Gay Nightlife in Sarasota, USA
The loudest part of gay Sarasota is its queer nightlife, the primary draw for LGBTQ+ visitors to her city. Not only do they have a very active gay bar, they have a handful of gay clubs that regularly puts on fun social events to spice up the evening. So, you will never be without a great night out, with many more gay-friendly bars to explore once you've seen all the gay ones!
Exploring the gay and gay-friendly nightlife in a new city can be one of the most exciting and rewarding experiences while traveling – and Gay Sarasota is no exception. Not only will you have the opportunity to meet new people and make friends, but you'll also get a taste of the local culture and learn more about the city's LGBTQ+ community.
Going out and experiencing the queer and queer-friendly nightlife in a new city can also be a great way to break out of your comfort zone and try new things. Whether dancing the night away at a gay club or mingling with locals at a gay-friendly bar, you'll have the chance to make memories and create lasting connections.
So, don't be afraid to step out of your comfort zone and explore the gay and gay-friendly nightlife in Sarasota. You'll be glad you did!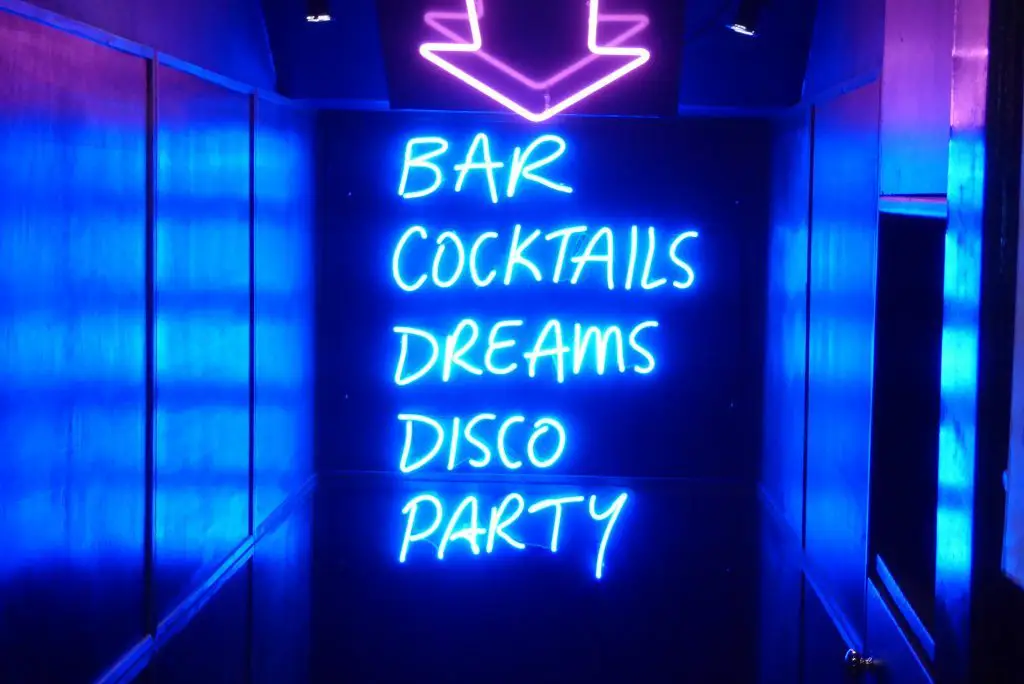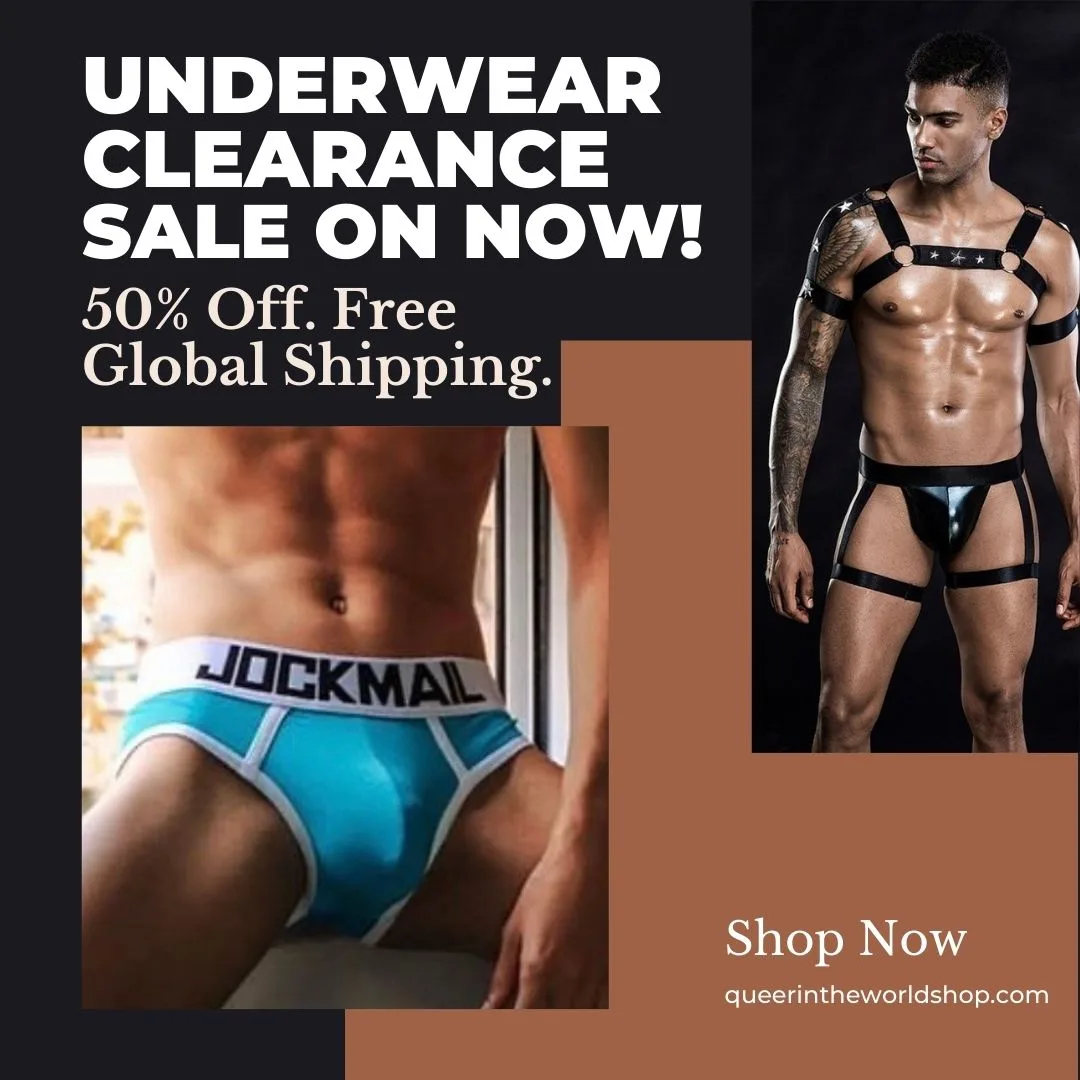 Gay Bars in Sarasota, USA
The oldest gay bar in Sarasota is the Purple Rhino, a laid-back place that still knows how to put on a good time. This place functions not just as a great place to spend an evening with fellow gay people but as a community center that is open to all and puts on events to bring the gay crowd together.
These events include leather bingo, Wednesday Burgers, and drag. It is even extra special because the staff are volunteers, and all their profits go to HIV charities. It's just a very welcoming, non-drama place with a homely atmosphere that is becoming a rarity.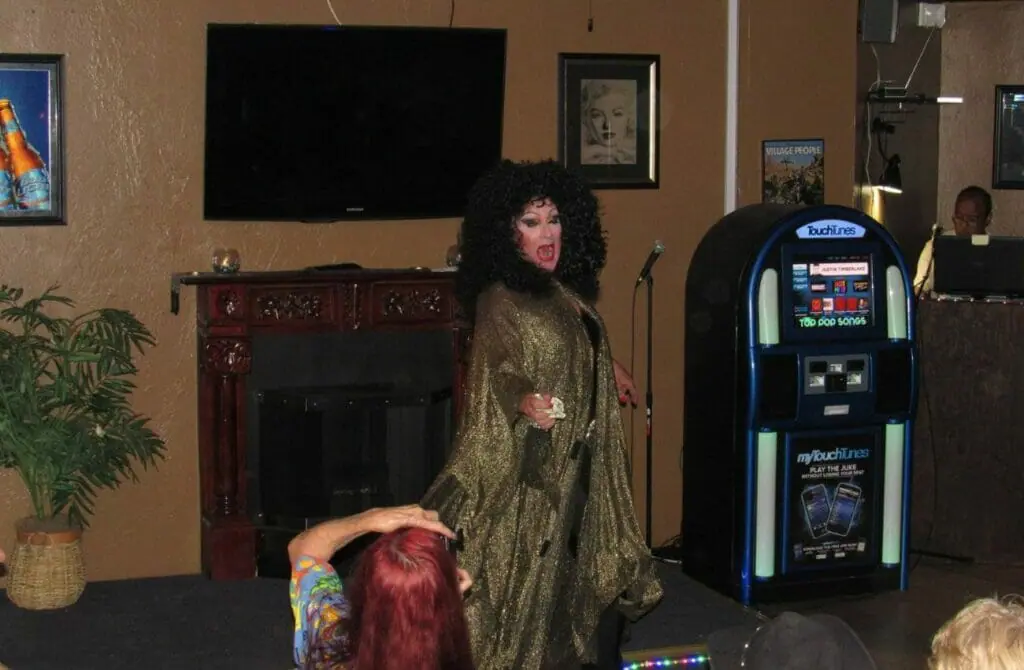 Gay Parties & Gay Clubs in Sarasota, USA
Drag Queen Bingo Bonanza
At the same time every month, McCurdy's Comedy Centre plays host to the local queen Beneva Fruitville who puts on a hilarious show like no one else in the city. Sometimes she even has a friend; however, every night, her off-beat naughty humor can be the icing on the cake for a great night out. You can get a meal, drink, and three-round bingo with your ticket.
LGBTQ+ Meetups at the Clever Cup
Clever Cup is a cozy little coffee shop in Sarasota that hosts a fortnightly queer social meet-up on a Sunday for an hour. Anyone can join, grabbing a hot drink and making the most of the gay-friendly open space to meet other queer people.
Queer professionals are lucky in Sarasota as they have their own working professional gay club, which is one of many great social clubs in the city. The older crowds will get a kick out of this club as they host events aimed at full-time working queer people, like their happy hour.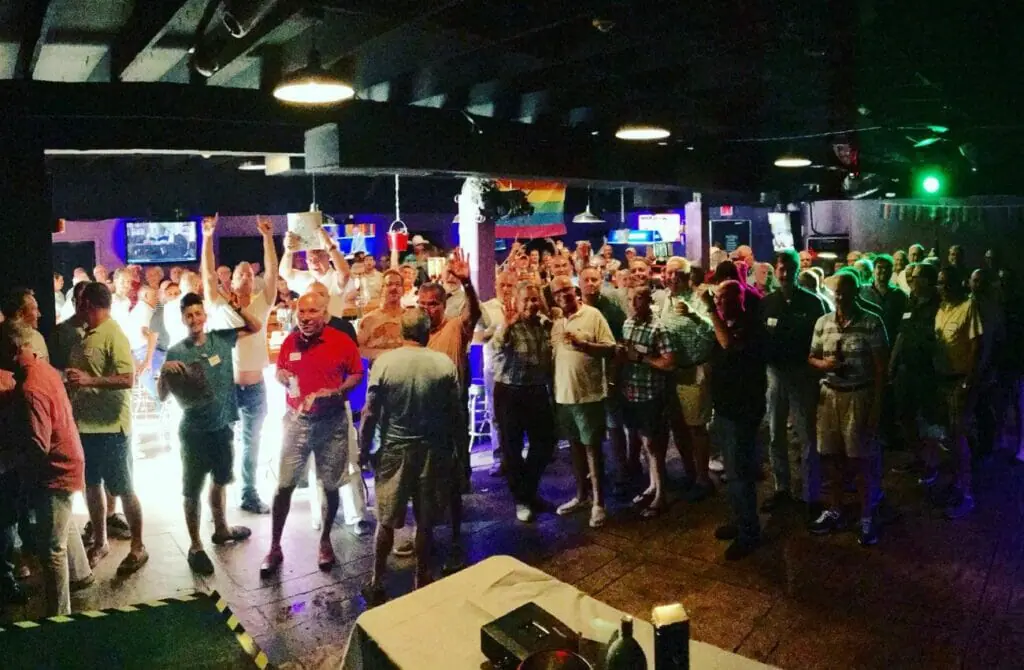 In honor of the first openly gay official in California, Sarasota pays homage to his tragic death yearly with their Harvey Milk Film Festival. You can watch some incredible films while celebrating important figures in pride history.
The Fabulous Arts Foundation is a queer art collective that hosts many artsy events around the city and nursing a tight gay art community. They are the organizers of the Harvey Milk Festival, amongst a handful of other events.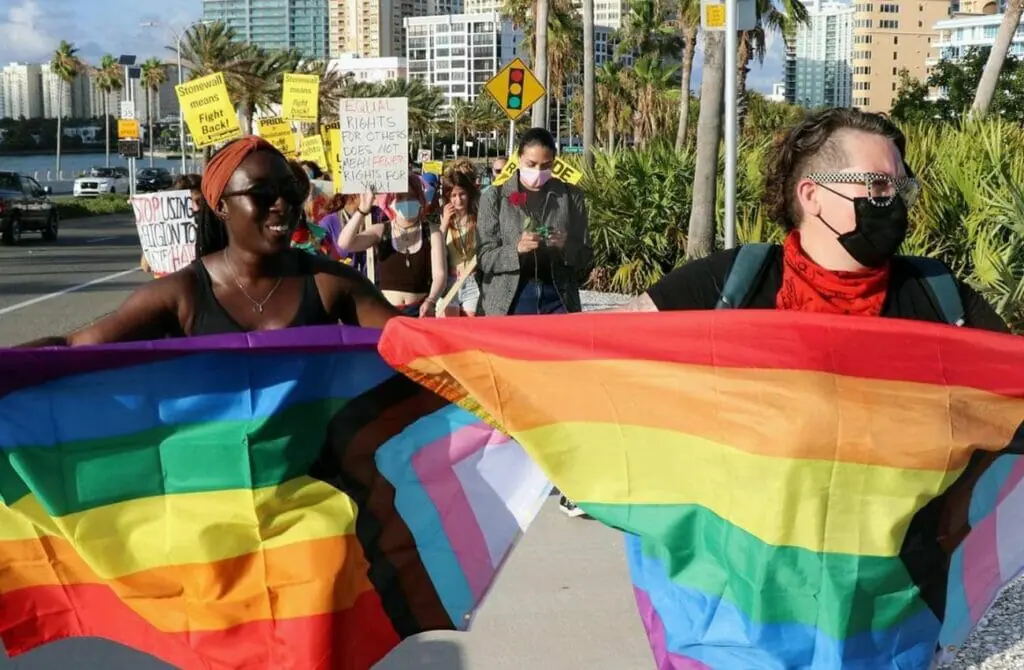 Sarasota doesn't just have a volunteer gay bar; they also have a queer bowling league that gives back to gay charities with its earnings. You can have an exceptional day or night out at Gulf Gate Lanes. Even if you are visiting and a novice, you will be welcomed by seasoned pros to try your hand at rolling some balls!
Sarasota's tight queer community, of course, would not rest until they had their annual pride parade like other major cities! So, you can enjoy their take on a pride festival with Project Pride every year.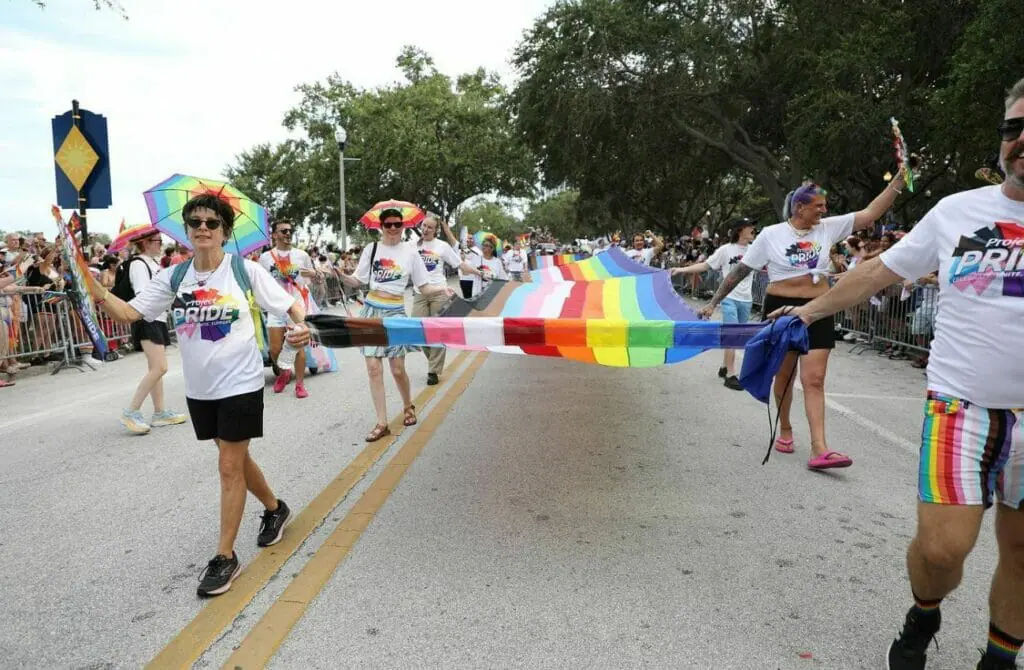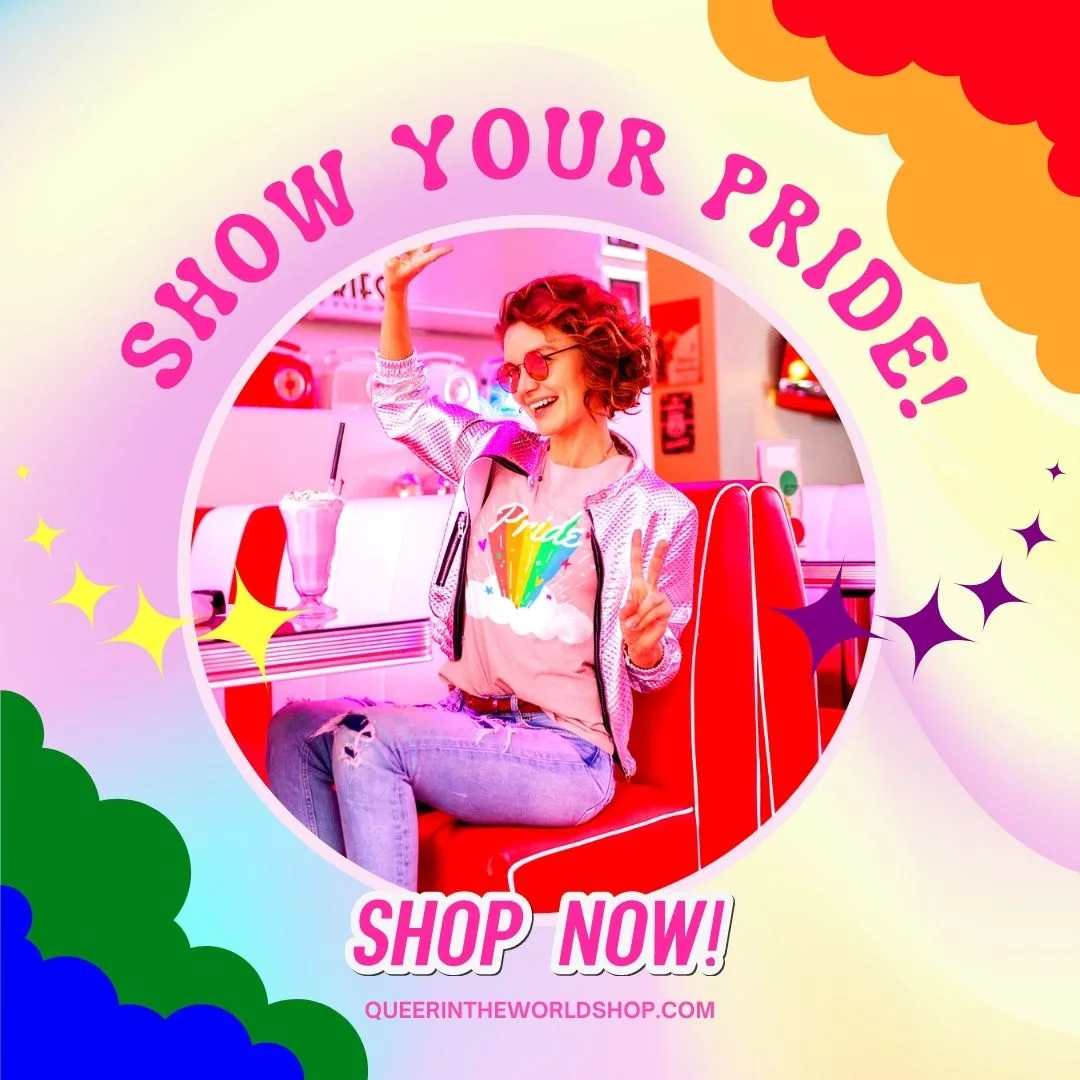 Gay-Friendly Nightlife in Sarasota, USA
Known for its diverse clientele, this super gay-friendly speakeasy is a unique piece of Europe in an All-American city. Those that adore a night out with crafty crafted cocktails and sleek modern lounges will be satisfied to experience Pangea.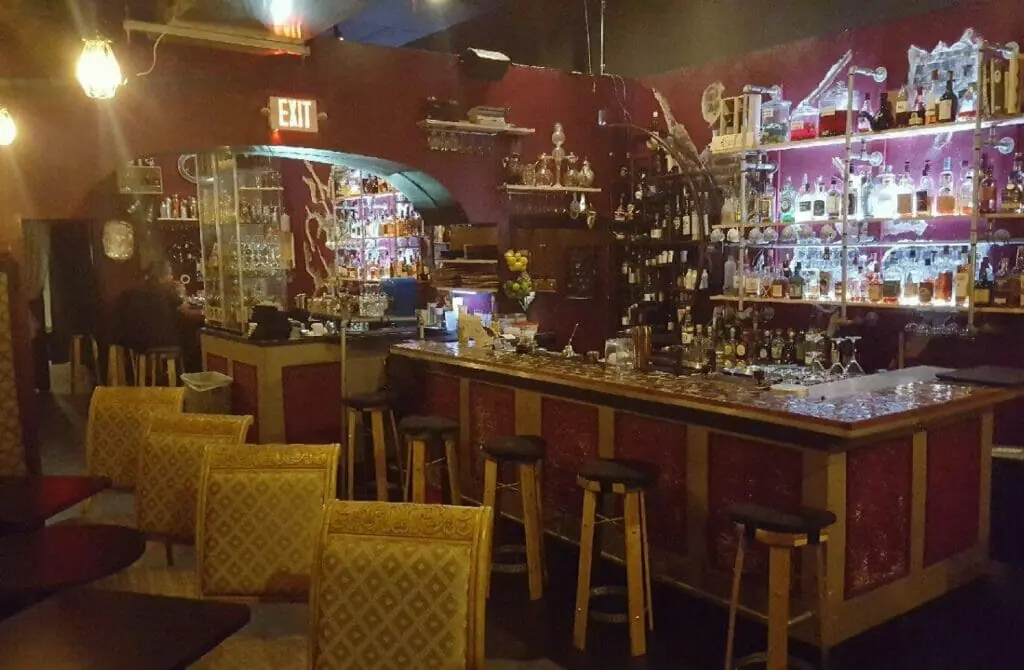 Calling all you whiskey lovers, here at The Gator Club, they have 500 different whiskeys. Did you hear that? 500! With such variety, you can never be bored, and you can dine with your favorite drink in a laid-back lounge perfect for a cozy evening social.
Of course, it isn't just their drinks and old-school pub vibes this place offers; five days a week, they also put on a gnarly party with DJs and a lot of dancing. So, you can have a best-of-two-worlds situation here.
Clever Cup isn't just a brilliant coffee shop where you can get your quick-start coffee in the morning; it's also a popular queer destination for their fortnightly gay social event on Sundays. They also open until six, so they are the perfect late evening stop-by for a drink before dark.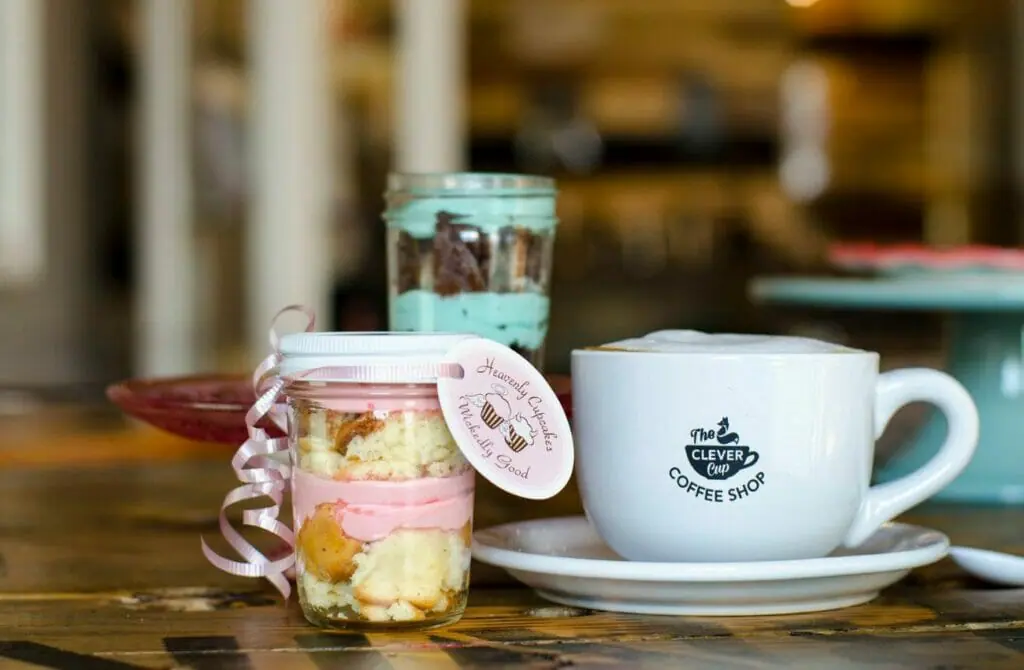 Get on down to Smokin' Joes Pub for a traditional no-thrills pub-drinking experience. They offer a wide range of drinks to suit your needs, with the bonus of local craft beers and even cigars, so it's the perfect social experience.
They also host regular events like a show, screenings, themed parties, and so much more. The queer crowd even supports the Harvey Milk Festival, so this place is a faithful ally to the community in multiple ways.
One of Sarasota's greatest outdoor drinking experiences is the Perfective Rooftop Bar, an outdoor colorful joint that is all about the drink and experience. You can enjoy a cocktail while looking out over the city and beach not too far away, perfect for a summer holiday.
There is even the option to splash in the nearby pool or lounge under the shade; this whole experience will require a day pass to enjoy it to its fullest.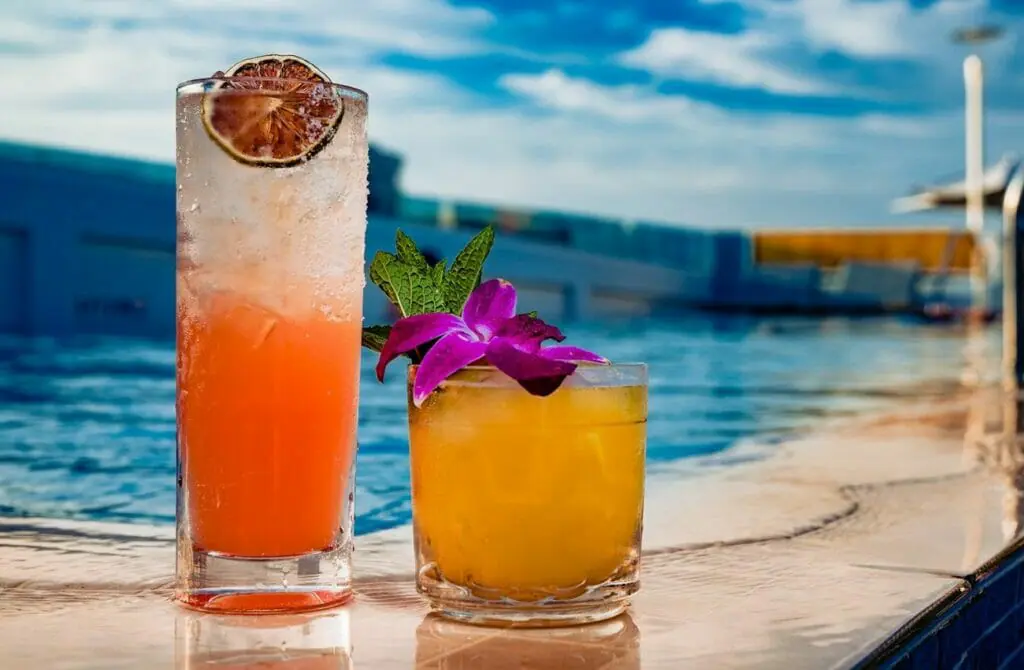 Cruising & Gay Saunas in Sarasota, USA
Despite the tight gay community, Sarasota surprisingly has no queer cruising bars. The same goes for gay saunas; there is simply none in sight. However, do not fear! This can be easily mended with a handy dating app such as Tinder or Grindr. Of course, you can always do it the old school away and get dressed up to try your luck at the gay bars. Just be open to not always finding that perfect match every time.
When traveling to a new city, it can be exciting to head out for more than just a stiff drink. One aspect of the Gay Sarasota scene that many queer men enjoy is visiting gay saunas and cruising clubs.
Sure, the sauna culture in Sarasota is not as hedonistic as in Amsterdam, Barcelona or Berlin, but these venues still offer a chance to meet new people, socialize, and engage in sexual activity – without resorting to gay hookup apps.
However, it's important to remember that these venues can vary greatly in terms of atmosphere, clientele, and rules, so it's a good idea to prepare yourself before visiting. If you are apprehensive, we advise studying our guide to visiting a gay bathhouse for the first time, which should help set your mind at ease and always practice safe sex.
Additionally, it's important to be aware of and respect local laws and customs regarding gay venues and sexual activity. With a little bit of planning and an open mind, visiting gay saunas and cruising clubs can be a fun and exciting part of your gay Sarasota travel itinerary.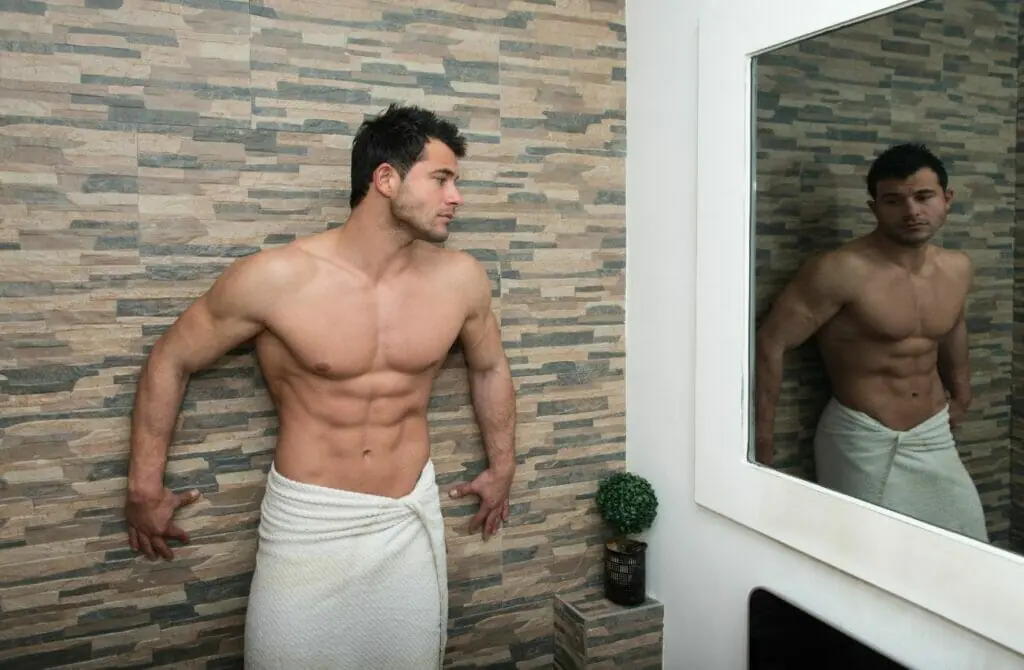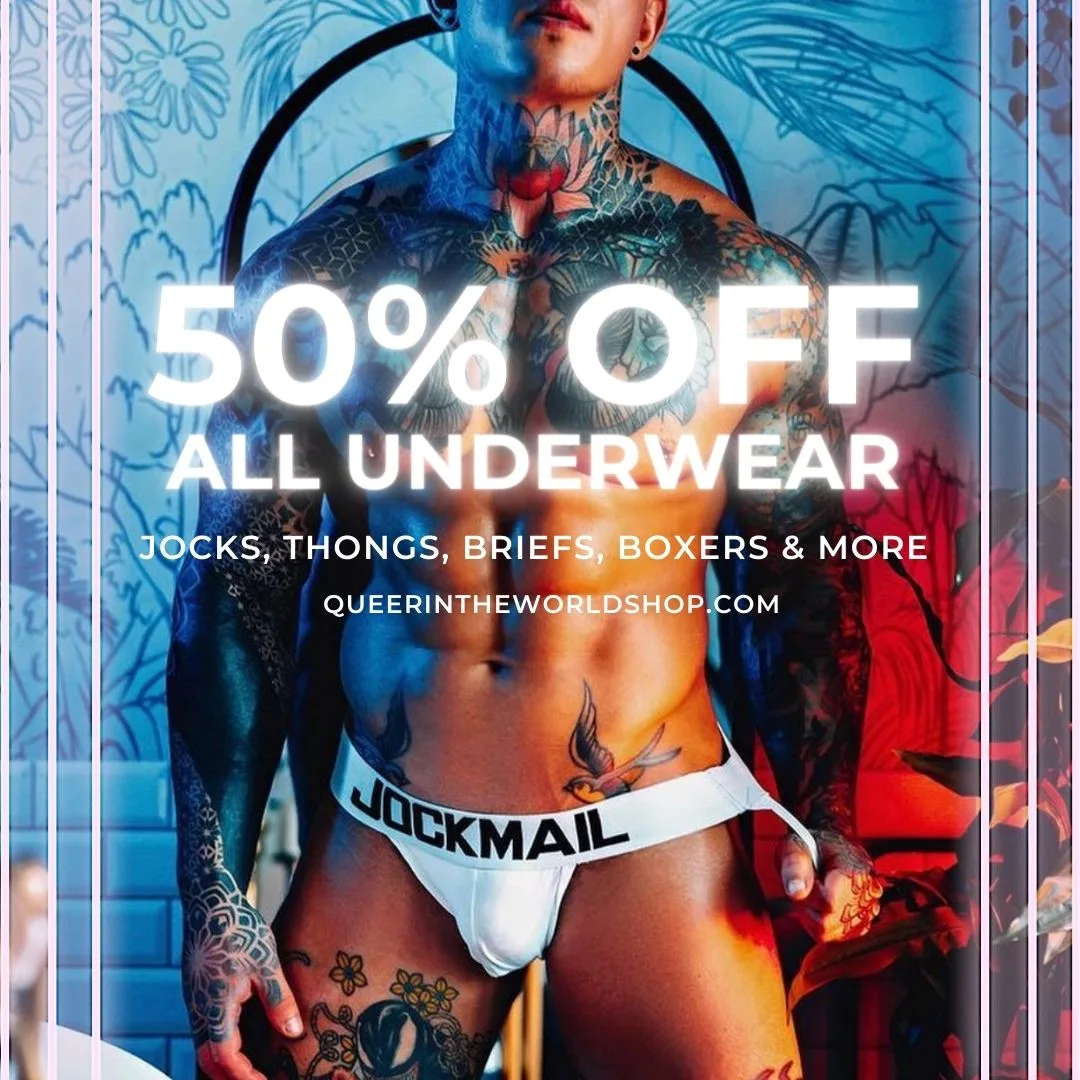 Gay Map Of Sarasota
Finding it hard to envisage where everything is in Sarasota? Hopefully, this queer-centric map helps where we have marked all the bars, clubs, parties, hotels, saunas, massages, and more will help you stay in the spot best suited to you!