With its striking blend of history, innovation, and cultural marvels, this captivating city is an absolute must-visit for any avid traveler. Nestled at the crossroads of tradition and modernity, Gay Karlsruhe boasts a rich tapestry of architectural wonders, world-class museums, verdant parks, and a vibrant arts scene that will leave you spellbound.
Whether wandering through the grand baroque palace, exploring the sprawling gardens, or indulging in the rich culinary scene, Karlsruhe promises an unforgettable journey into the heart of German culture.
Karlsruhe isn't just a city of the past; it is also a thriving center of innovation and education. Home to the renowned Karlsruhe Institute of Technology, one of Europe's largest research and educational institutions, the city attracts brilliant minds from around the globe.
This fusion of academia and technology has led to the emergence of an entrepreneurial spirit, making Karlsruhe a hotbed for startups and innovation.
Karlsruhe's cultural scene is vibrant, offering a plethora of artistic experiences. The ZKM | Center for Art and Media, located in a former munitions factory, is an avant-garde institution showcasing contemporary art, media, and technology.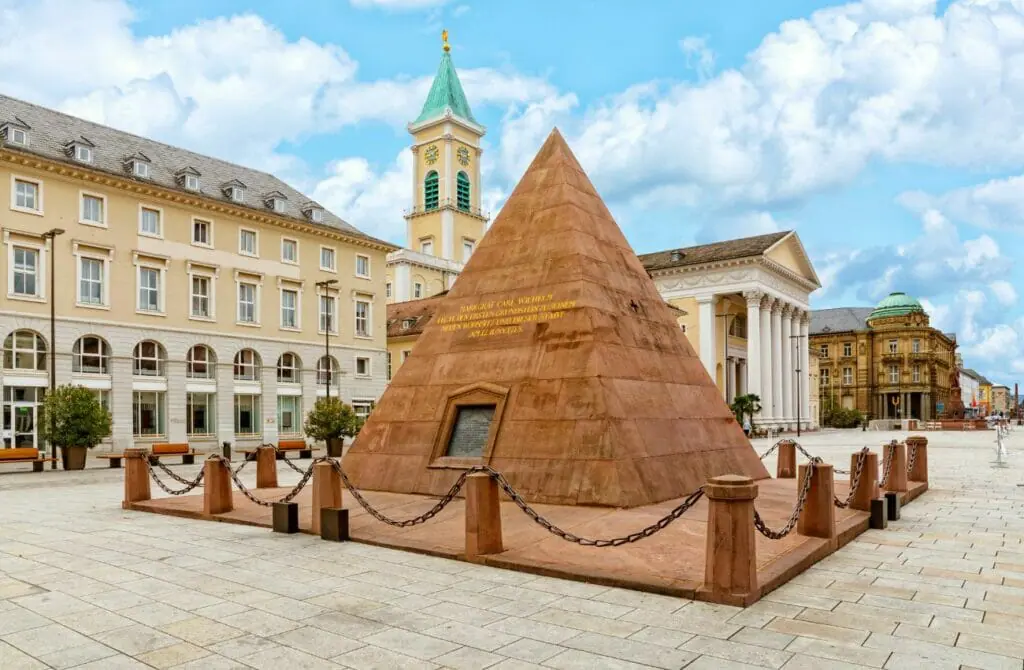 Art enthusiasts can explore the Kunsthalle, which hosts an impressive collection of modern and contemporary artworks. The Badisches Staatstheater, the city's state theater, presents a diverse program of opera, ballet, and theater performances, captivating audiences with its creative flair.
Karlsruhe, like many places worldwide, still grapples with discrimination against the LGBT community. Homophobic attitudes and prejudices persist, resulting in individuals facing verbal harassment, social exclusion, and even violence. Such experiences create an atmosphere of fear and hinder the ability of gay individuals to fully express themselves and embrace their identities.
While Germany has made significant strides in LGBTQ rights, some legal ambiguities persist. For instance, same-sex marriage was legalized in 2017, granting gay couples equal rights.
However, adoption laws for same-sex couples remain complex and vary depending on individual circumstances. These legal uncertainties can cause unnecessary challenges and emotional strain for gay individuals seeking to build families or have their relationships recognized.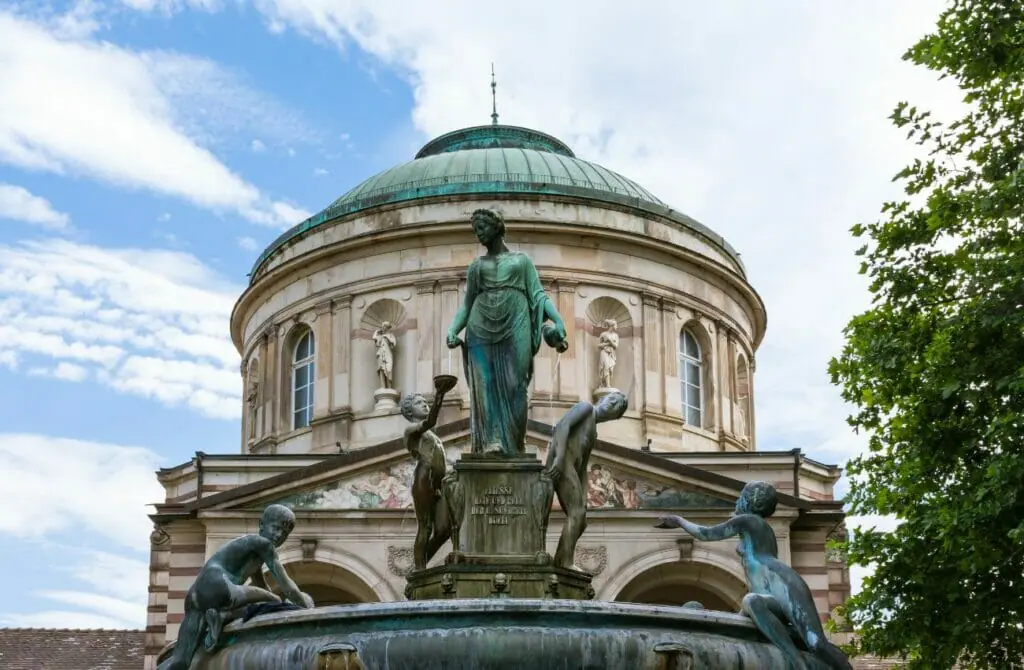 Attractions in Gay Karlsruhe, Germany
As a new visitor to Gay Karlsruhe, there are plenty of things to see and do, regardless of your sexual orientation. One of the best ways to experience any new city is to visit some of its most iconic landmarks and attractions, including historical monuments, museums, and art galleries.
We also love gazing at architecture up close, exploring parks and gardens, sampling the local cuisine, visiting local markets, and attending cultural events such as festivals, concerts and shows.
Even as the out-and-proud queer we are, we still love to explore the city and its culture in the same way as everyone else. Doing so allows us to learn more about the city and its people and gain a deeper understanding of the local culture. As such, these are our favorite must-see attractions in Karlsruhe.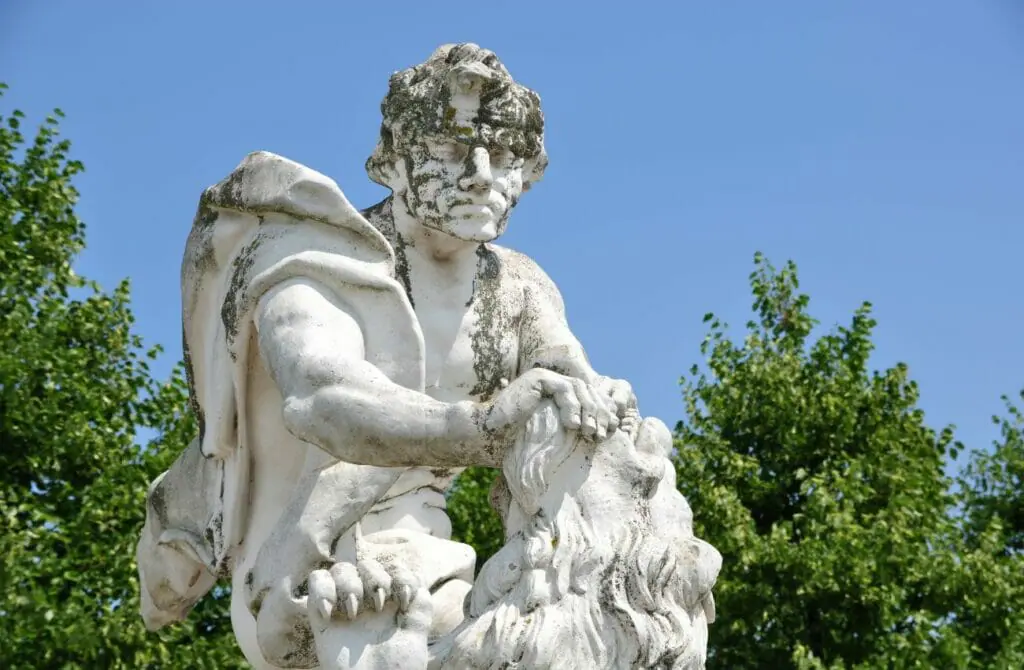 Karlsruhe Palace, also known as the Karlsruhe Residenzschloss, is a magnificent architectural gem in the heart of Karlsruhe, Germany. It stands as a symbol of the city's rich history and cultural heritage.
Built-in the 18th century, Karlsruhe Palace is a prime example of Baroque and Neo-Classical architecture. The palace was the brainchild of Margrave Charles III William, who envisioned a city radiating out from the court in a fan-like pattern. The layout of the town, known as the Karlsruhe fan, is still evident today.
The palace is a grand structure with an imposing facade adorned with intricate details and ornate decorations. Its central dome, crowned with a gilded statue, is a prominent landmark visible from afar. The palace underwent various expansions and renovations over the years, resulting in a harmonious blend of architectural styles.
Inside the palace, visitors can explore a variety of rooms and halls that showcase the opulence and grandeur of the past. The state apartments, adorned with lavish furnishings, elegant tapestries, and exquisite artwork, offer a glimpse into the life of the royal inhabitants. The ornate staircases, grand halls, and beautiful gardens add to the overall splendor of the palace.
Surrounding the palace, you'll find expansive gardens and parkland known as the Schlossgarten. This picturesque green space provides a tranquil escape from the bustling city and offers a serene atmosphere for strolls or picnics. The gardens are adorned with statues, fountains, and charming pathways, making them a popular spot for locals and visitors.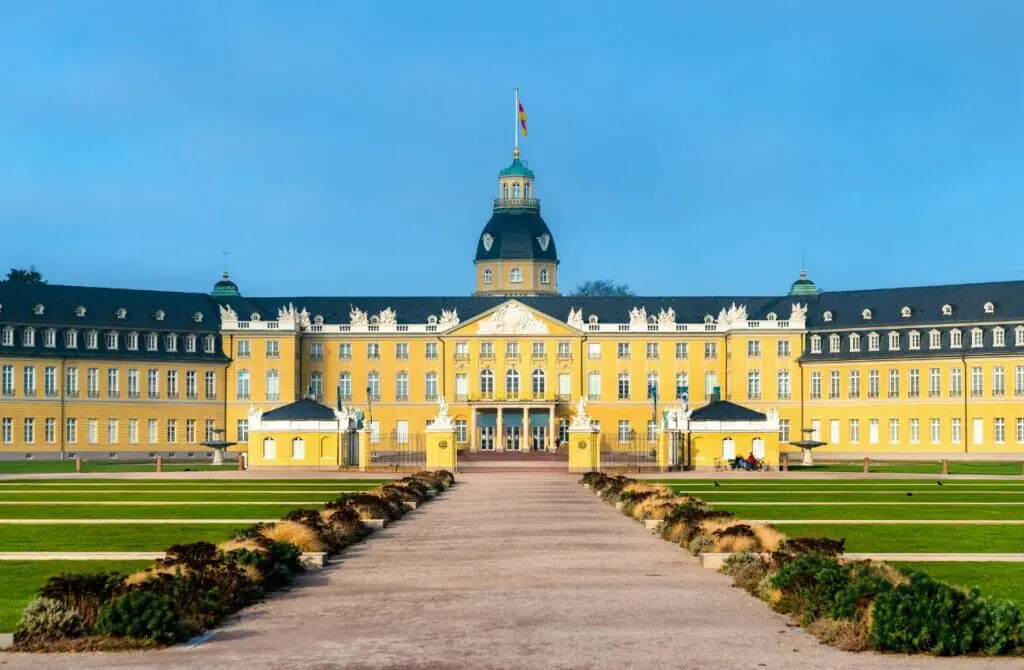 The State Museum of Baden, also known as the Badisches Landesmuseum, is a prominent cultural institution dedicated to preserving and showcasing the rich heritage and history of the region of Baden.
The museum's extensive collection encompasses a wide range of artifacts, artworks, and historical objects that span from prehistoric times to the present day. The exhibits provide visitors with a comprehensive understanding of the cultural, artistic, and historical developments that have shaped the region over the centuries.
One of the museum's main attractions is its archaeological collection, which showcases artifacts from ancient civilizations, including the Romans and Celts. Visitors can explore ancient pottery, tools, jewelry, and other archaeological finds, gaining insights into the daily lives and customs of the past.
The museum also houses a remarkable collection of medieval art, including paintings, sculptures, and religious artifacts. These artworks offer a glimpse into the artistic and cultural achievements of the Middle Ages, providing a deeper appreciation for the region's rich artistic heritage.
Schlossgarten
Originally designed in the 18th century as part of Margrave Charles III William's vision for the city, Schlossgarten combines elements of a Baroque-style garden with English landscape design. The result is a harmonious blend of geometric patterns, manicured lawns, charming flowerbeds, and shaded avenues.
The park is adorned with numerous statues, fountains, and ornamental features, adding a touch of elegance to the surroundings. The garden's central axis leads you to the foot of Karlsruhe Palace, providing a stunning view of this architectural masterpiece.
Schlossgarten is divided into different themed sections, each with its distinct charm. The Rose Garden, for instance, showcases a splendid array of roses, creating a captivating sensory experience with their vibrant colors and fragrant aromas.
The Botanical Garden, on the other hand, features a diverse collection of plant species from around the world, providing an educational and visually appealing experience.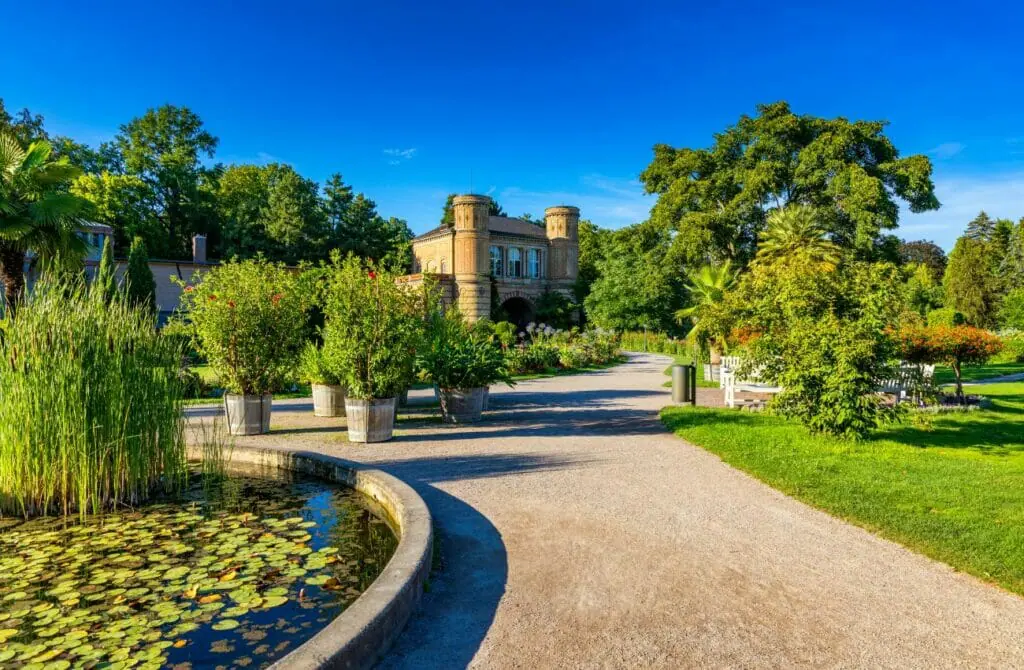 Zoological Gardens Karlsruhe
The Zoological Gardens Karlsruhe is home to a diverse collection of animals from various regions of the world, making it a fantastic destination for nature lovers and families.
The zoo's primary mission is to provide a safe and enriching environment for its animal residents while promoting conservation and education. Visitors can explore the zoo's carefully designed habitats, which aim to replicate the animals' natural habitats as closely as possible. This allows visitors to observe the animals in a setting that closely resembles their native environments.
As you stroll through the zoo, you'll encounter a wide array of species, ranging from large mammals to colorful birds and fascinating reptiles. The zoo boasts an impressive collection that includes elephants, giraffes, lions, tigers, gorillas, zebras, penguins, and many more.
Each animal enclosure is thoughtfully designed to ensure the well-being and comfort of the animals while providing visitors with excellent viewing opportunities.
The zoo also strongly emphasizes conservation efforts and participates in breeding programs for endangered species. These programs aim to protect vulnerable animals and contribute to their long-term survival. Visitors can learn about the zoo's conservation initiatives and how they can support these important efforts.
Magnificent buildings surround the square, each reflecting different architectural styles from various periods. The focal point of Marktplatz is the impressive City Hall, known as the Rathaus, with its distinctive red façade and beautiful clock tower. The Rathaus serves as the city's administrative center and is a prominent symbol of Karlsruhe.
The square is also home to a bustling farmers' market multiple times a week. Here, visitors can find a wide range of fresh produce, local specialties, flowers, and handmade crafts. It's a great place to explore and sample regional delicacies, interact with local vendors, and immerse yourself in the local culture.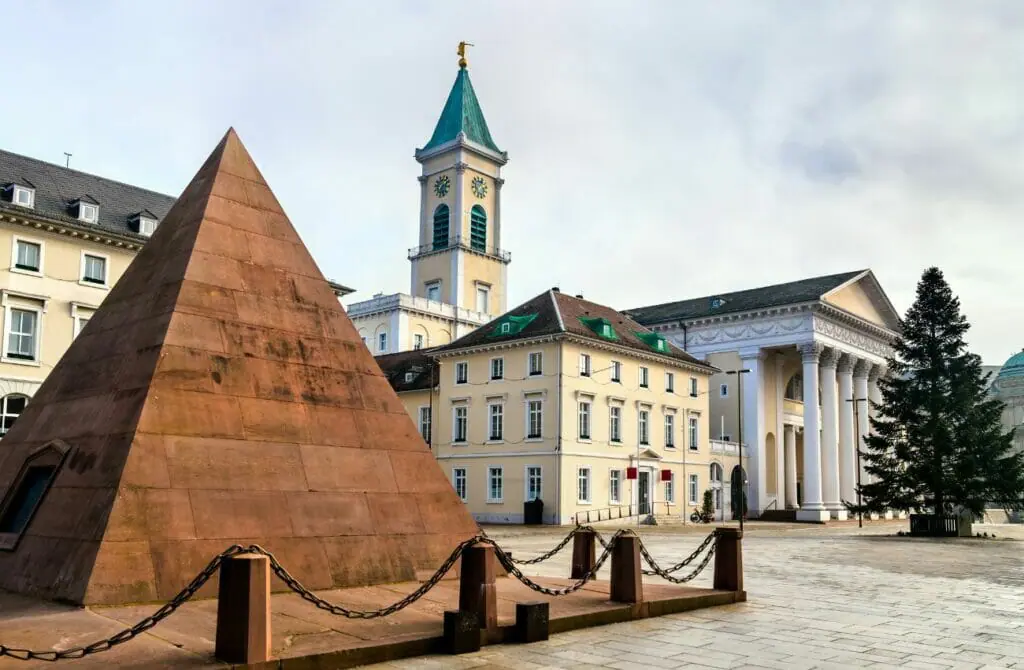 Staatliches Museum für Naturkunde Karlsruhe
The museum's collection covers various scientific disciplines, including paleontology, zoology, mineralogy, geology, and botany. Visitors can explore an extensive range of specimens, artifacts, and interactive displays that provide insights into the Earth's history, biodiversity, and geological processes.
The museum is a paleontological collection that features impressive fossils from different geological periods. Visitors can marvel at the skeletal remains of prehistoric creatures, including dinosaurs, marine reptiles, and ancient mammals. The exhibits provide a glimpse into the evolution of life on Earth and the fascinating organisms that inhabited our planet millions of years ago.
Turmberg is a prominent hill located in the city of Karlsruhe, Germany. Rising approximately 256 meters above sea level, it offers breathtaking panoramic views of the city and its surrounding countryside. The hill is crowned by Turmberg Tower, a striking observation tower that has become an iconic symbol of Karlsruhe.
Turmberg also offers a range of recreational activities for outdoor enthusiasts. The surrounding area features walking and hiking trails, allowing visitors to explore the hillside and enjoy nature. There are picnic areas where you can relax and have a meal while taking in the scenic surroundings. Additionally, the hill is a popular spot for paragliding, providing a thrilling experience for adventure seekers.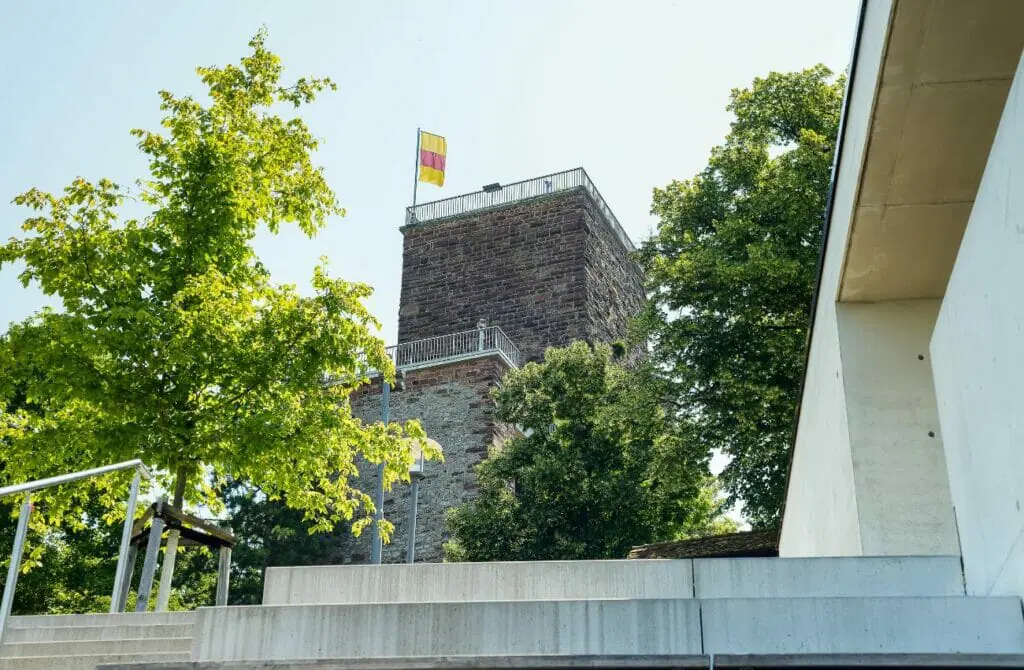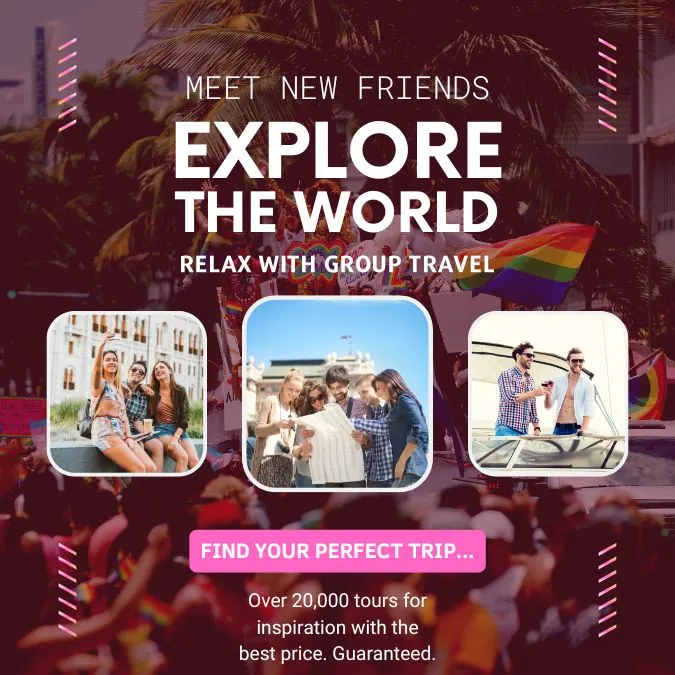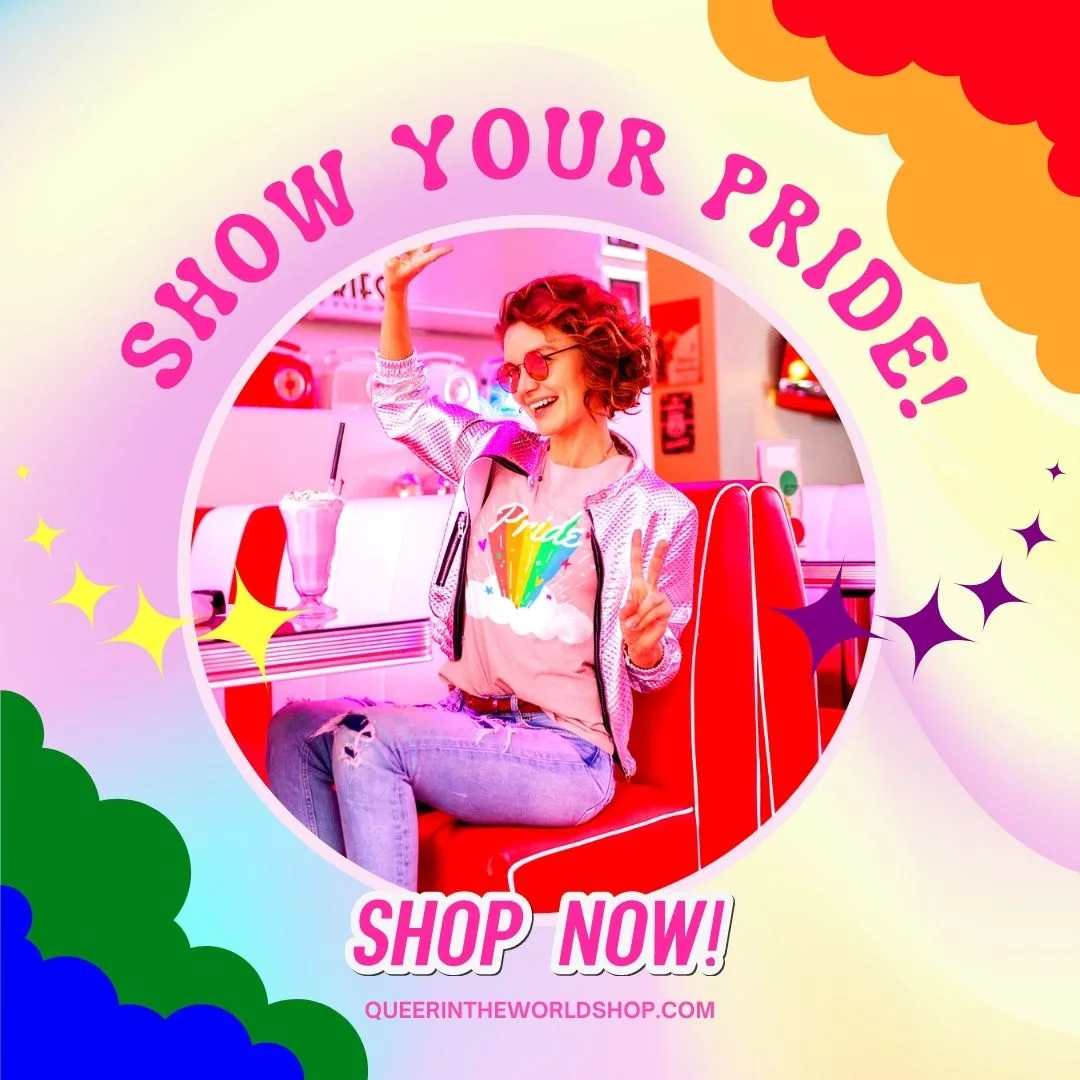 Gay-Friendly and Gay Hotels in Karlsruhe, Germany
Being gay-friendly accommodation means that the establishment is welcoming and inclusive to guests who identify as LGBTQ+. This can include, but is not limited to, having policies and practices that demonstrate a commitment to creating a safe and inclusive environment for LGBTQ+ guests, such as non-discrimination policies and providing support and resources for LGBTQ+ travelers.
Some gay-friendly accommodations may also provide amenities specifically catering to the LGBTQ+ community, such as rainbow flags or literature about local LGBTQ+ events or resources. Furthermore, gay-friendly accommodations may be located in an area known for being LGBTQ+ friendly.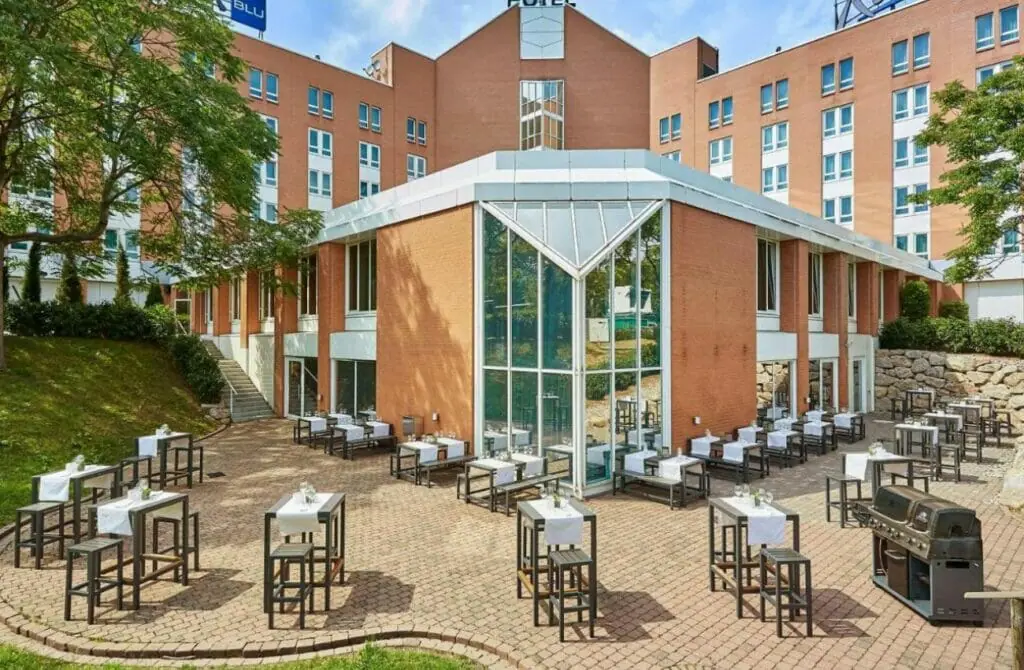 While Karlsruhe does not have any specifically gay hotels or resorts, these are the most fabulous and pro-actively gay-friendly hotels in Karlsruhe. Needless to say, there are also hundreds more hotel and hostel options in Karlsruhe if none of these suit your desired budget, facilities or area – but these are the best hotels according to other gay travelers and us.
Whatever your needs are, Karlsruhe has you covered.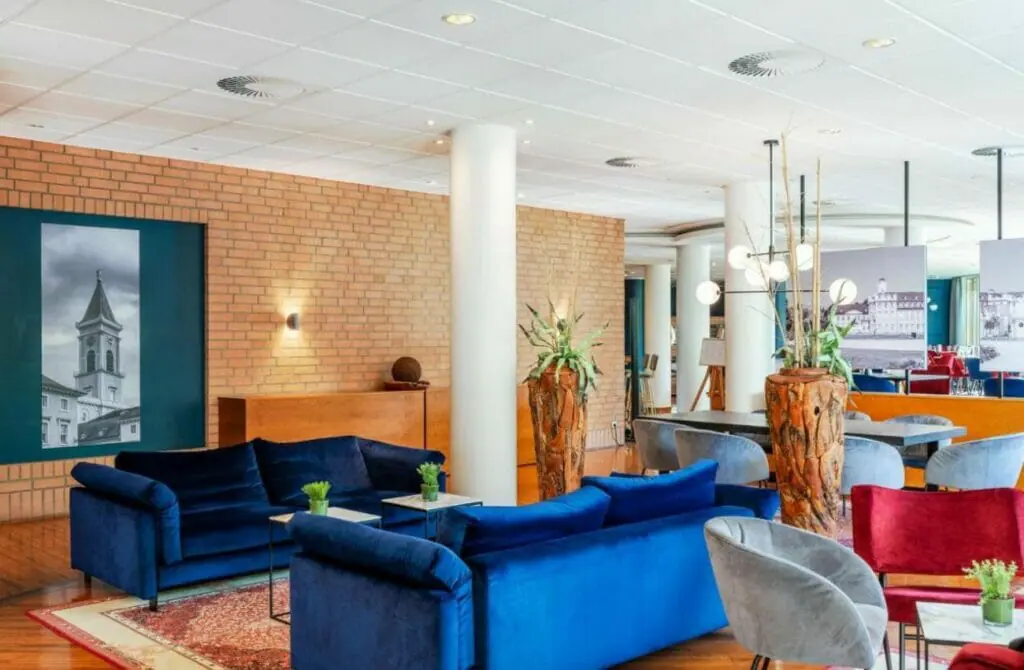 Radisson Blu Hotel, Karlsruhe ☆☆☆☆
a prestigious hotel that offers a delightful stay in the vibrant city of Karlsruhe, Germany. With 199 well-appointed rooms, the hotel provides guests with comfort and convenience.
Indulge in a culinary journey at the Radisson Blu Hotel, Karlsruhe, where you'll find a wide variety of dishes from all over the world. Start your day with an extensive breakfast buffet at the Rhapsody restaurant, offering a range of delectable options to suit every palate. From international classics to local specialties, you'll be treated to a gastronomic experience that will satisfy your cravings.
The hotel's commitment to exceptional service and attention to detail extends to every aspect of your stay. Immerse yourself in the stylish and contemporary ambiance of the hotel, designed to create a welcoming and comfortable atmosphere for guests.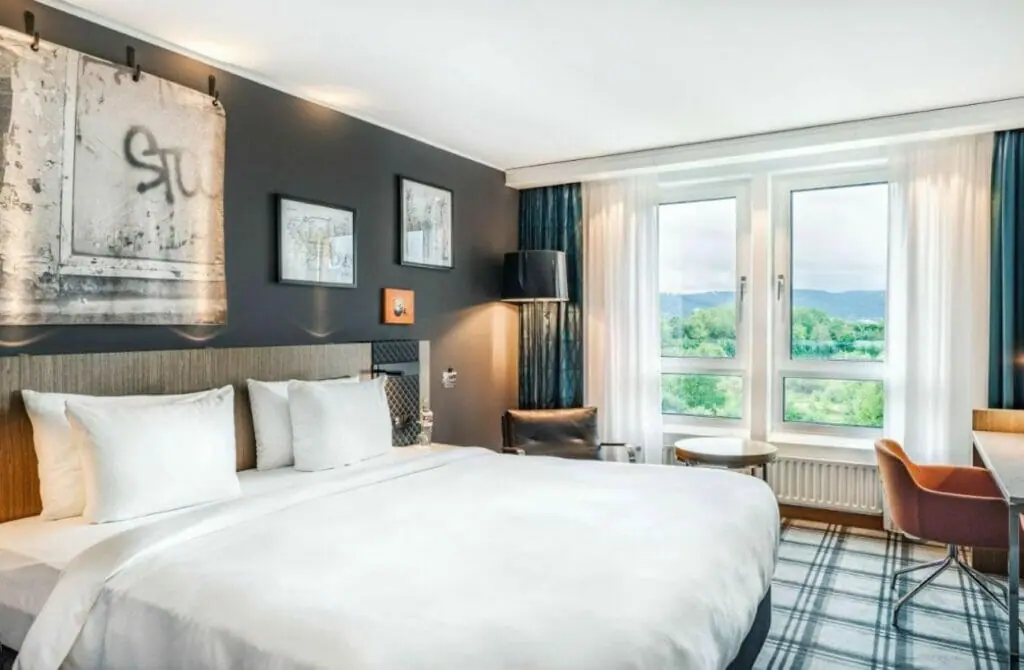 Step into the historic ambiance of Hotel Kaiserhof and experience a blend of traditional and contemporary amenities. Each room and suite has been thoughtfully designed to provide guests a welcoming and comfortable atmosphere. Enjoy the modern comforts and luxurious extras that await you, such as a roof terrace or whirlpool tub.
Immerse yourself in the hotel's unique character, appreciating the historic architecture and charming details preserved throughout the building. Let the warmth and elegance of Hotel Kaiserhof create a memorable experience during your visit to Karlsruhe.
From the moment you enter your room or suite, you'll find yourself surrounded by a harmonious blend of comfort and style. Relax and unwind in the inviting ambiance, taking advantage of the amenities provided to enhance your stay.
This hotel offers a comfortable and contemporary stay for guests, ensuring a pleasant experience during your visit.
The rooms at Novotel Karlsruhe City are designed with a focus on space and comfort, allowing you to relax and unwind in a bright and airy environment. Whether you're traveling for business or leisure, the rooms provide a tranquil retreat after a day of exploring the city.
The restaurant offers a terrace where you can enjoy your meal while enjoying the pleasant surroundings. In addition, the modern cocktail bar provides a stylish setting to unwind and enjoy a refreshing drink.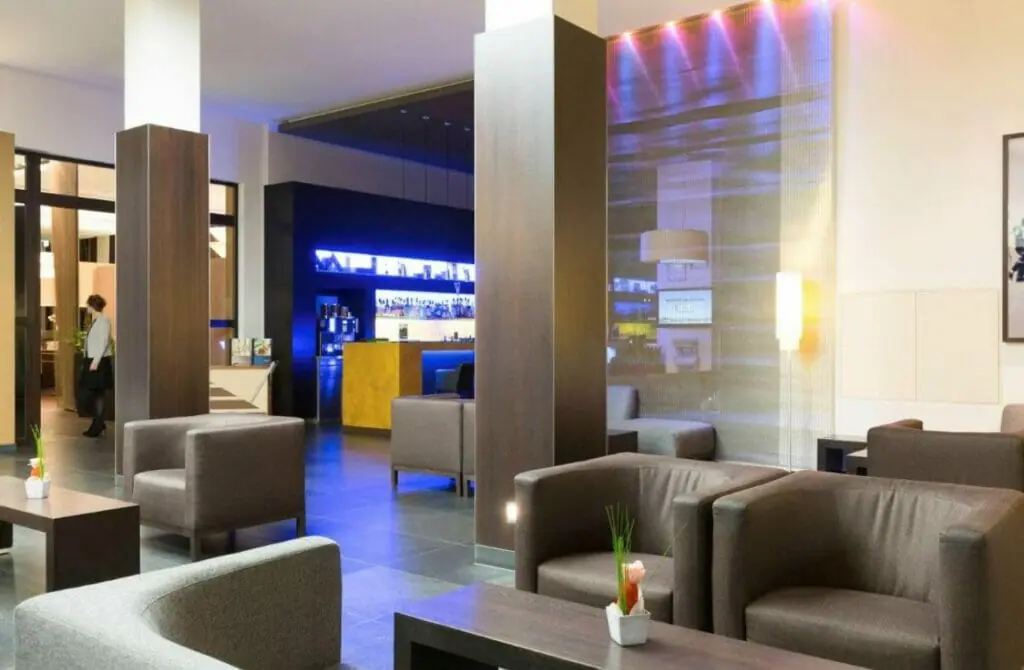 This hotel offers a stylish and comfortable stay, combining elegance with sophisticated details.
The guest rooms at Hotel Santo have been newly designed to create a contemporary and inviting atmosphere. Renowned Italian interior designers have carefully curated the spaces, ensuring a blend of elegance, comfort, and functionality. Experience the harmonious combination of modern design elements with thoughtful attention to technical details.
Hotel Santo strongly emphasizes ensuring guests have access to the latest technological conveniences. From high-quality sound systems to advanced lighting controls, the hotel incorporates sophisticated technical details to enhance your comfort and convenience throughout your stay.
Experience modern design and comfort as you enjoy the amenities and services Hotel Santo provides.
GenoHotel Karlsruhe offers 153 comfortable single and double rooms, ensuring a pleasant and restful stay for its guests. Each room provides a welcoming environment, allowing you to unwind and recharge after a day of exploration or business activities.
The hotel takes pride in offering a variety of dishes that will satisfy your taste buds. Enjoy a delightful meal in a relaxed and inviting setting where you can savor the region's flavors.
While the sauna is currently unavailable due to repairs, the hotel provides a fitness area where you can maintain your exercise routine and stay active during your stay. Take advantage of the fitness facilities and ensure your well-being at GenoHotel Karlsruhe.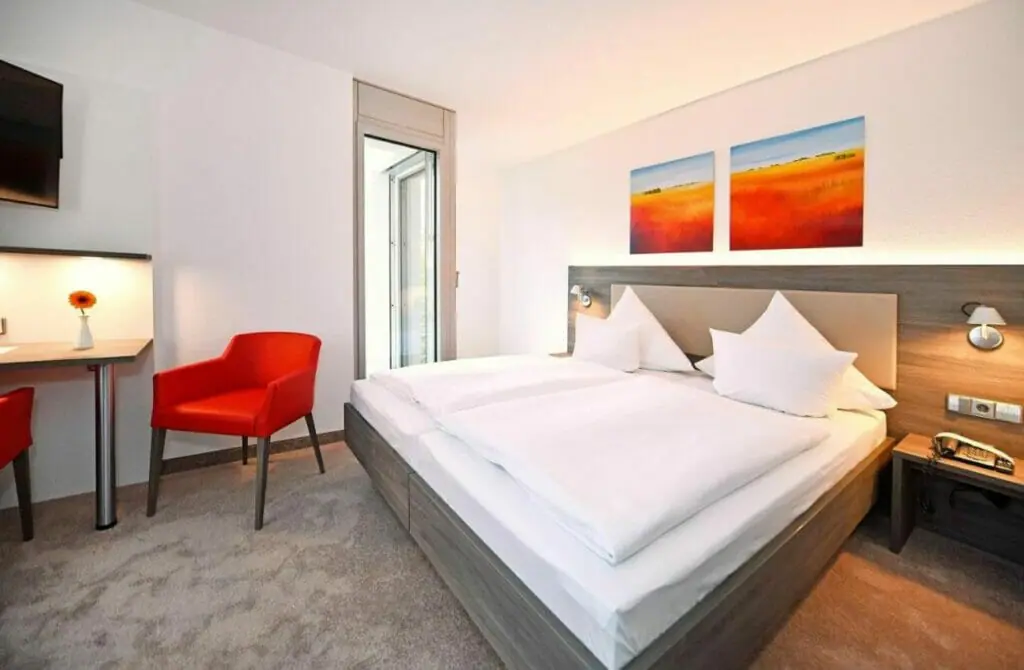 At Hotel Am Markt, the focus is on providing spacious accommodations ideal for longer stays.
The beautiful hotel rooms at Hotel Am Markt are equipped with all the essentials to ensure a comfortable and enjoyable stay. From cozy beds to functional furniture, you'll find everything you need for your everyday needs. The simple and clean design of the rooms creates a serene and uncluttered environment, allowing you to relax and unwind.
During your stay, take advantage of the hotel's amenities and services. Whether you need assistance from friendly staff or guidance on exploring the city, they are ready to assist you and make your stay as pleasant as possible.
ACHAT Hotel Karlsruhe City ☆☆☆
The 215 modern rooms at the hotel are designed to provide a relaxing and contemporary ambiance. From comfortable beds to modern amenities, each room is equipped to meet the needs of today's travelers. Whether you're visiting for business or leisure, you'll find a peaceful retreat to rest and recharge.
The hotel's optimal transportation connections make exploring the city and its surroundings easy. Discover Karlsruhe's attractions, cultural sites, shopping districts, and dining options conveniently and easily.
After a day of exploring or business activities, return to ACHAT Hotel Karlsruhe City and relax in the inviting and modern setting. Unwind in the cozy ambiance, enjoying the amenities provided for your comfort.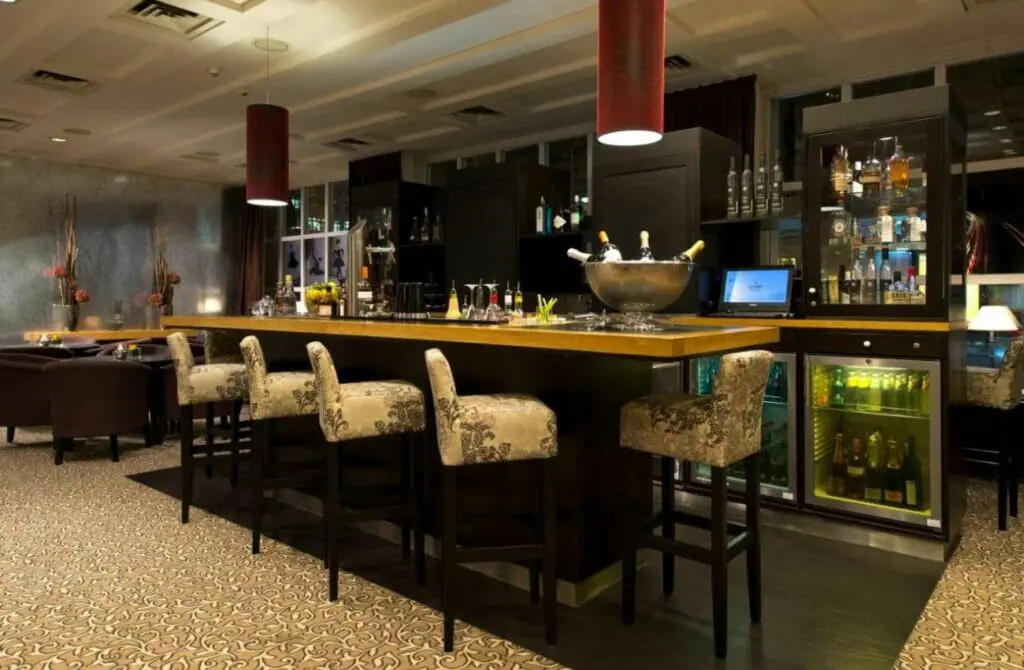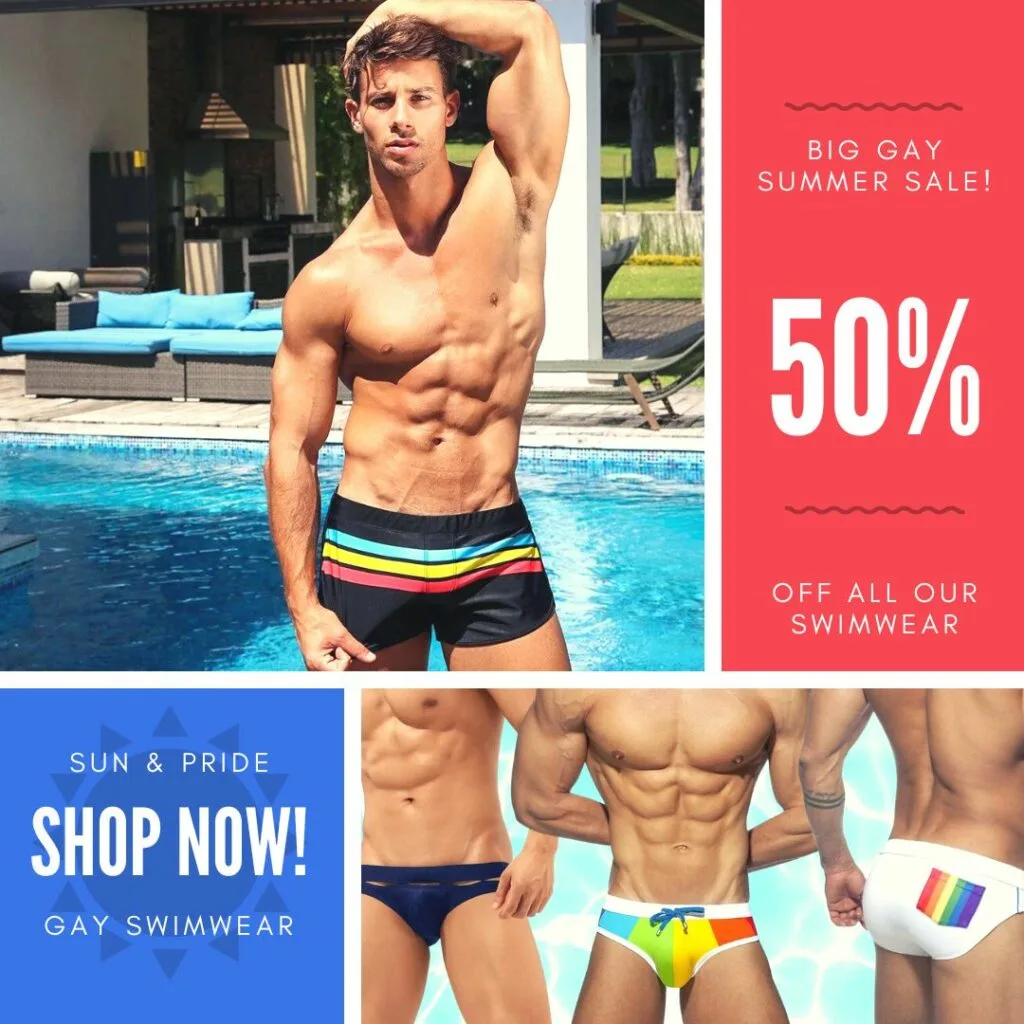 Gay Nightlife in Karlsruhe, Germany
Exploring the gay and gay-friendly nightlife in a new city can be one of the most exciting and rewarding experiences while traveling – and Gay Karlsruhe is no exception. Not only will you have the opportunity to meet new people and make friends, but you'll also get a taste of the local culture and learn more about the city's LGBTQ+ community.
Going out and experiencing the queer and queer-friendly nightlife in a new city can also be a great way to break out of your comfort zone and try new things. Whether it's dancing the night away at a gay club or mingling with locals at a gay-friendly bar, you'll have the chance to make memories and create lasting connections.
So, don't be afraid to step out of your comfort zone and explore the gay and gay-friendly nightlife in Karlsruhe. You'll be glad you did!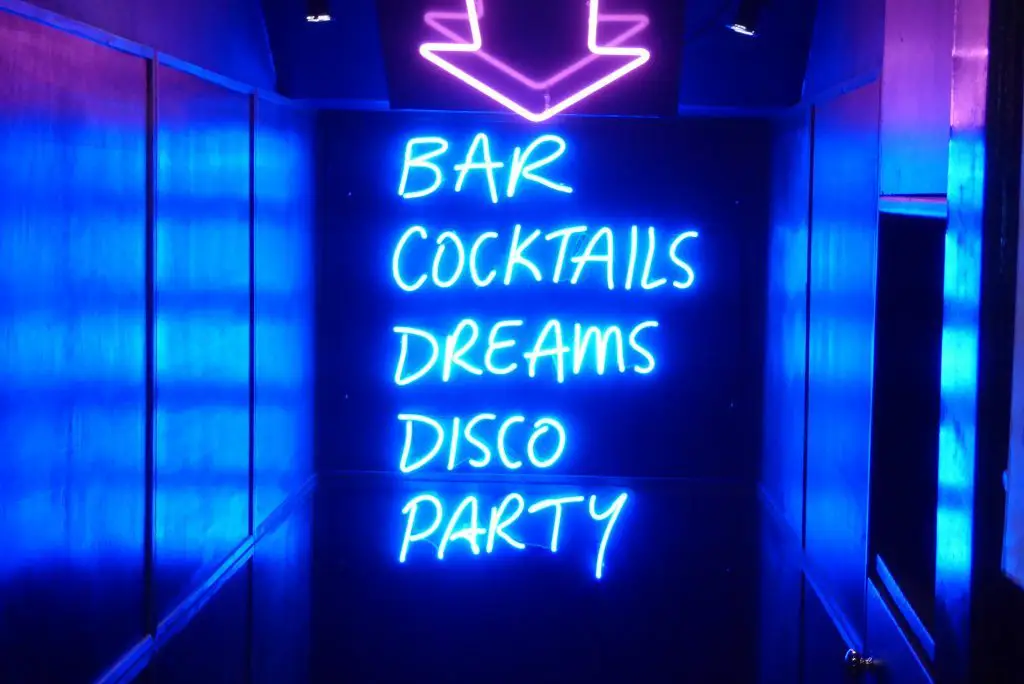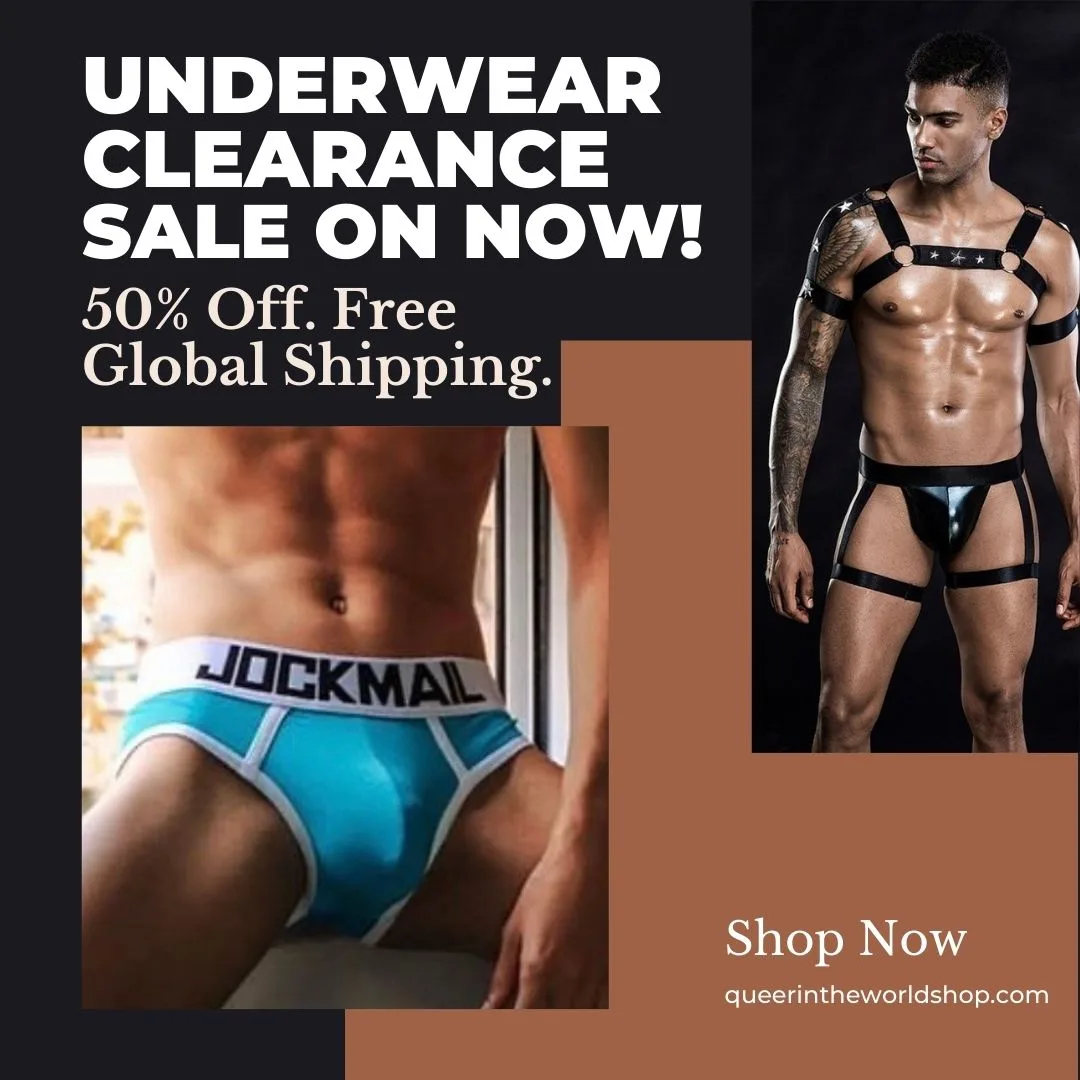 Gay-Friendly Bars and Clubs Karlsruhe, Germany
With its focus on techno music, Erdbeermund creates an electric atmosphere where guests can dance the night away to pulsating beats.
The club's comfortable and friendly environment makes it a welcoming space for everyone, allowing patrons to feel at ease and fully immerse themselves in the energetic ambiance. Erdbeermund's cozy setting adds to its appeal, providing a place where visitors can socialize, connect, and enjoy the company of like-minded individuals.
What sets Erdbeermund apart is its distinct style and ambiance. The club exudes a unique character and atmosphere that adds to the overall experience. From its carefully curated music selection to its tasteful decor, Erdbeermund creates an environment that combines style with comfort.
What sets Cafe Prinzs apart is its commitment to tailoring drinks to individual preferences. Whether you have specific flavor preferences or dietary restrictions, the skilled bartenders at Cafe Prinzs will create a drink that perfectly suits your taste. This personalized touch adds an extra layer of enjoyment and ensures that every sip is a delightful experience.
Cafe Prinzs provides a cozy lounge atmosphere indoors, where guests can relax and unwind comfortably. The inviting ambiance makes it an ideal place to socialize, catch up with friends, or enjoy some downtime. Additionally, the cafe features a spacious terrace with radiant heaters, creating a cozy and inviting outdoor space for those looking to enjoy the fresh air.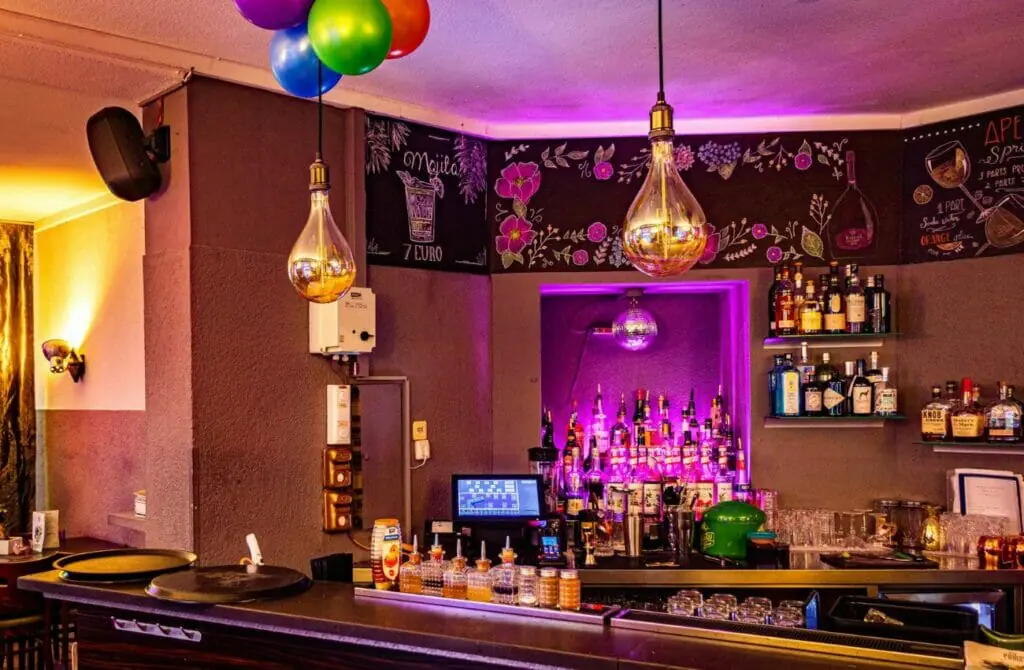 The club prides itself on providing a seamless blend of good music and refreshing cold drinks. With talented DJs at the helm, En Vogue ensures that the dance floor is filled with infectious beats, creating an electrifying atmosphere that keeps the party going all night long.
En Vogue Nightclub has become a beloved institution in Karlsruhe, drawing in a diverse crowd of music lovers and creating a vibrant and inclusive community. Its dedication to good music and great drinks has solidified its reputation as a destination for those seeking an unforgettable night out.
The club's talented DJs curate an exceptional playlist, ensuring guests are immersed in pulsating beats and irresistible rhythms.
Hello, Club is renowned for its vibrant and diverse party scene. The club organizes regular parties that attract a lively crowd, fostering a sense of community and celebration.
Whether you're a fan of reggaeton, Latin music, or retro hip-hop, Hello Club provides an inclusive space where everyone can come together and dance to their heart's content. With its sleek design and lively ambiance, Hello Club offers a stylish and modern setting that sets the stage for an exhilarating night of music and movement.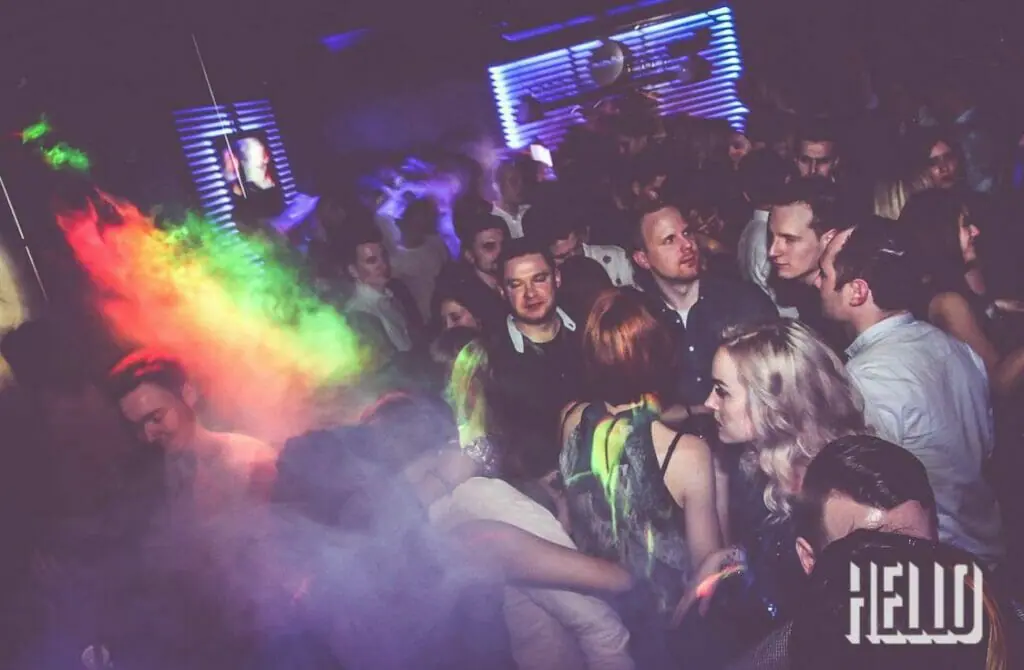 Rheingold Nightclub, Cabaret, Tabledance
With a rich history dating back to 1937, this establishment has a unique charm that adds to its appeal. Originally used as a cinema, Rheingold has transformed over the years into a vibrant nightspot that hosts gay cabaret performances. The club embraces its past while offering a contemporary twist, creating a captivating atmosphere for guests to enjoy.
The cabaret shows at Rheingold Nightclub transport patrons into a world of entertainment and spectacle. From dazzling performances to captivating acts, the club's talented performers bring the stage to life with their artistry. The combination of live performances, lively music, and the historic setting creates an immersive experience that showcases the diversity and talent of the LGBTQ+ community.
As a hub for music lovers, Nachtwerk boasts an impressive lineup of DJs who curate a selection of good music that keeps the dance floor buzzing. The club's dedication to providing a memorable experience is reflected in its well-crafted drink menu, ensuring that patrons can enjoy quality libations as they dance the night away.
With its sleek design and tasteful decor, SINS Club & Bar creates a visually stunning environment that appeals to the discerning tastes of its clientele. The club's ambiance exudes a certain allure, making it an ideal destination for those seeking a sophisticated and upscale nightlife experience.
The attention to detail, from the lighting to the furniture, adds to the overall aesthetic and creates a refined and captivating atmosphere.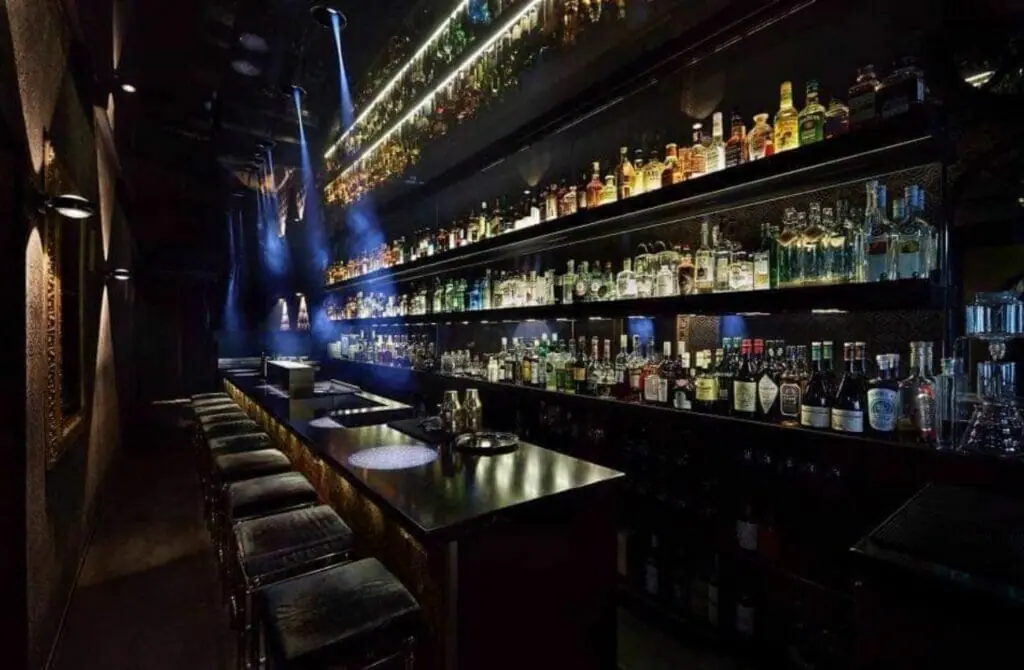 Gay Saunas & Cruising Clubs in Karlsruhe, Germany
When traveling to a new city, it can be exciting to head out for more than just a stiff drink. One aspect of the Gay Karlsruhe scene that many queer men enjoy is visiting gay saunas and cruising clubs.
Sure, the sauna culture in Karlsruhe is not as hedonistic as in Amsterdam, Barcelona or Berlin, but these venues still offer a chance to meet new people, socialize, and engage in sexual activity – without resorting to gay hookup apps.
However, it's important to remember that these venues can vary greatly in terms of atmosphere, clientele, and rules, so preparing yourself before visiting is a good idea. If you are apprehensive, we advise studying our guide to visiting a gay bathhouse for the first time, which should help set your mind at ease and always practice safe sex.
Additionally, it's important to be aware of and respect local laws and customs regarding gay venues and sexual activity. With a little bit of planning and an open mind, visiting gay saunas and cruising clubs can be a fun and exciting part of your gay Karlsruhe travel itinerary.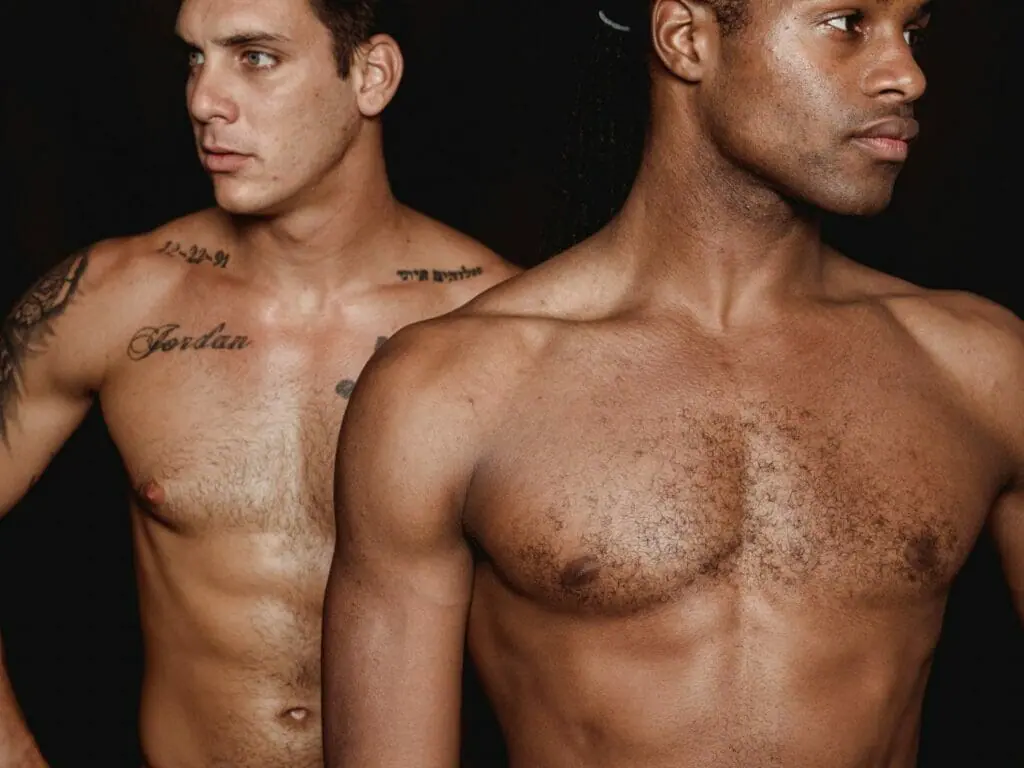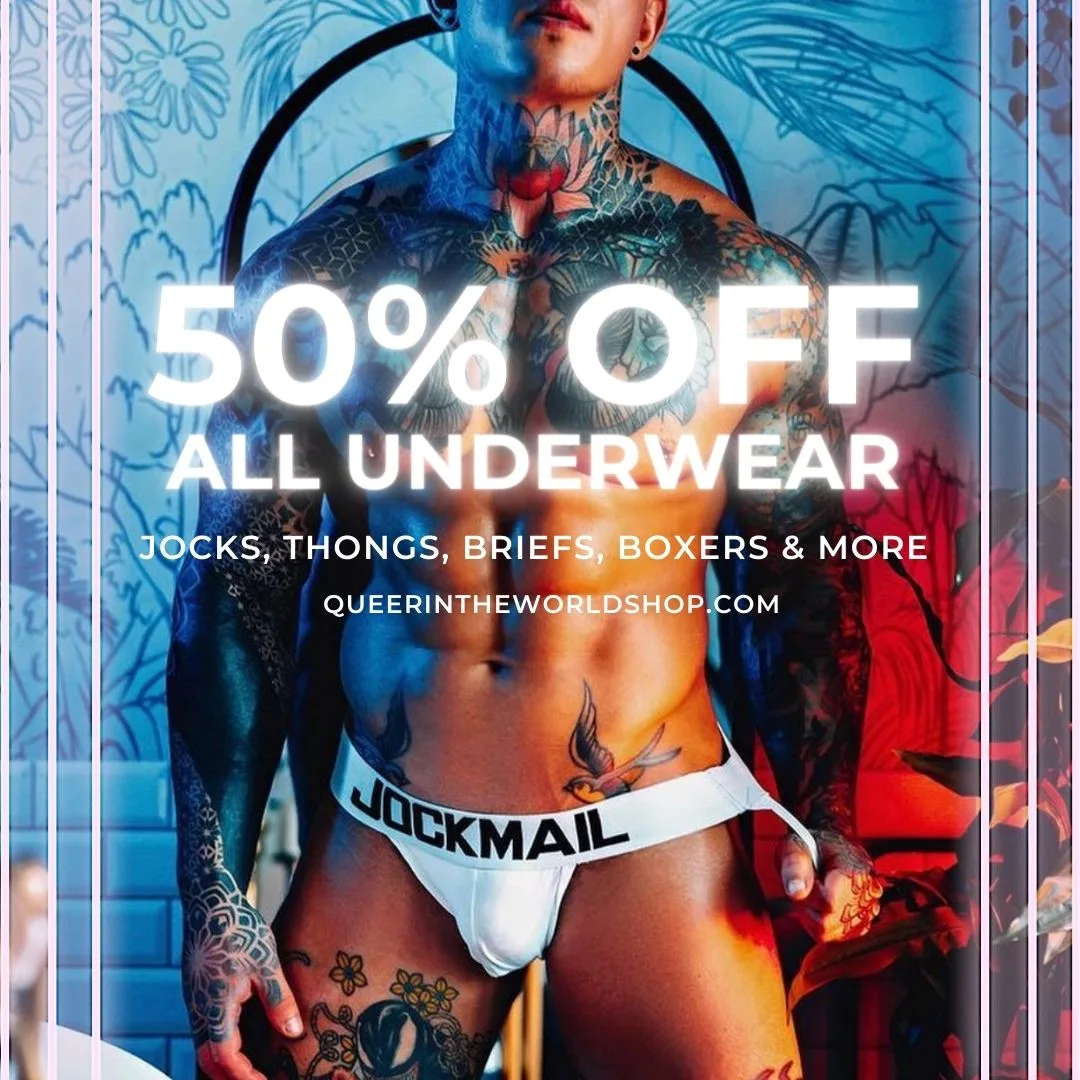 Gay Map Of Karlsruhe
Finding it hard to envisage where everything is in Karlsruhe? Hopefully, this queer-centric map helps where we have marked all the bars, clubs, parties, hotels, saunas, massages, and more will help you stay in the spot best suited to you!