Sacramento is a welcoming city for gay visitors with a rich history and diverse population. You'll be pleased to learn that the gay scene is centered in the Midtown neighborhood, particularly around Lavender Heights.
Gay-owned restaurants, cafes, bars, clubs, retail stores, and other service-oriented companies are abundant in this neighborhood and cater to the queer community. So if you want to find a gay place to settle down for an evening, you won't be disappointed to have many options.
The city came into being around 1850 with European settlement; however, well before that, it was home to the Nisenan (Southern Maidu), Modoc, and Plains Miwok Native Americans. Sacramento is also proud of its rich history, which is reflected in the abundance of historical sites and museums there, including the California State Capitol, the California Museum, the Crocker Art Museum, the California State Railroad Museum, the California Hall of Fame, and the Old Sacramento State Historic Park.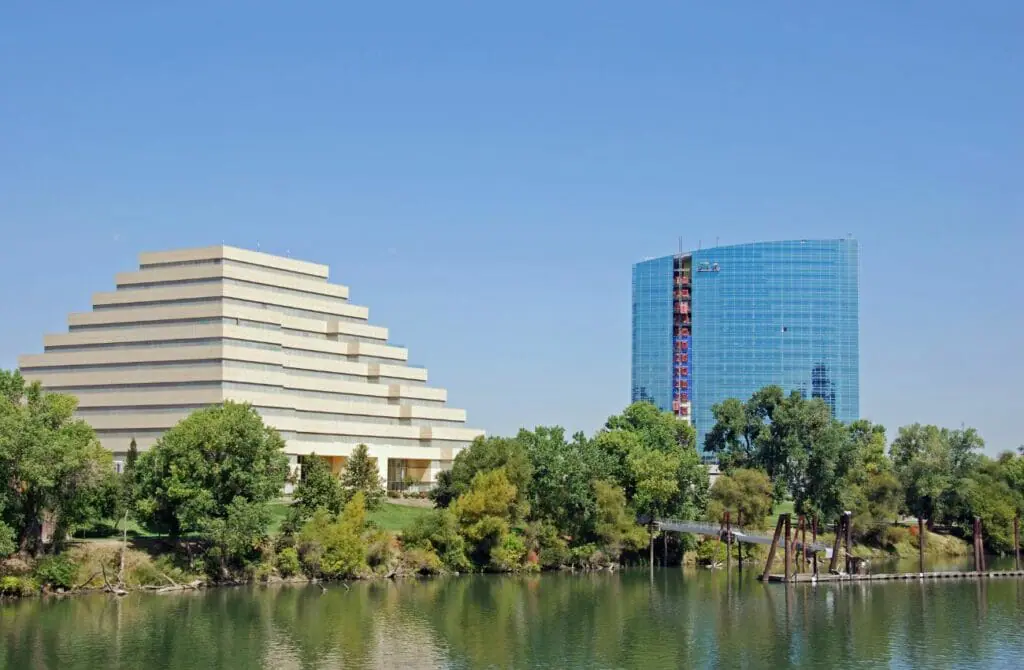 You can see they love celebrating their unique Californian heritage just as much as they are proud of being the capital of their state. Then, of course, you would find their government buildings and might run into a politician or two during your travels.
Returning to the gay Sacramento scene, the city hosts several annual LGBT festivals and events, including the Rainbow Festival and Street Faire, the Sacramento International Gay and Lesbian Film Festival, and the Sacramento Gay Pride Festival and Parade.
These gatherings attract visitors from all over the world, filling the streets with raucous crowds and rainbows. So, with these vibrant events and an active gay community, you'll have a fantastic gay stay in Sacramento.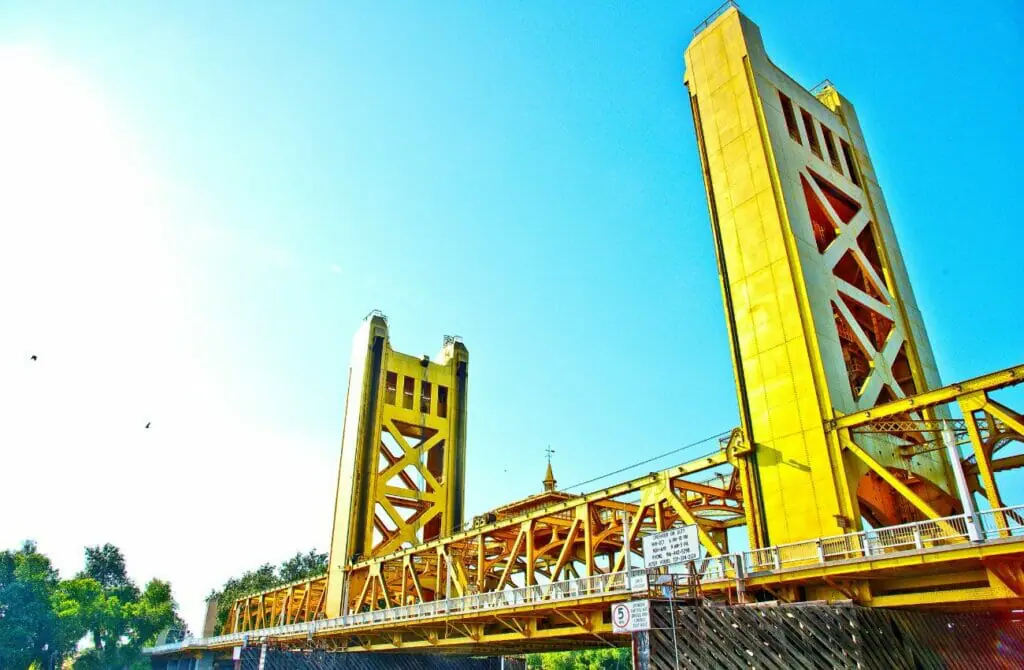 Attractions in Gay Sacramento, USA
Those after a great day trip to Sacramento will be satisfied by the range of attractions to fill their calendars. The city has a rich history, with museums and landmarks like the California State Capitol and the Old Sacramento State Historic Park.
She is also a hotspot for farm-to-table dining and craft beer, and nearby wine country offers tastings and tours. With things to see both inside and outside the city, she is the city not to be missed in a queer tour of California.
As a new visitor to Gay Sacramento, there are plenty of things to see and do, regardless of your sexual orientation. One of the best ways to experience any new city is to visit some of its most iconic landmarks and attractions, including visiting historical monuments, museums, and art galleries.
We also love gazing at architecture up close, exploring parks and gardens, sampling the local cuisine, visiting local markets, and attending cultural events such as festivals, concerts and shows.
Even as the out-and-proud queer we are, we still love to just explore the city and its culture in the same way as everyone else. Doing so allows us the opportunity to learn more about the city and its people and gain a deeper understanding of the local culture. As such, these are our favorite must-see attractions in Sacramento.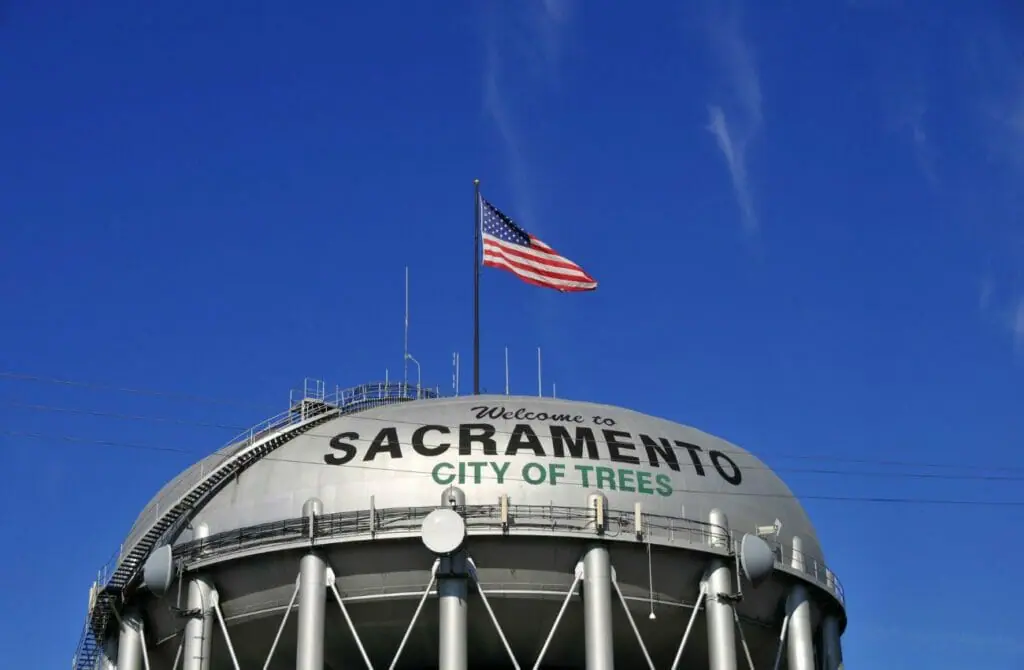 Rock the Yacht Cocktail Cruise
The Rock, Sacramento's Yacht Cocktail Cruise, is a one-and-a-half-hour party cruise that sails down the Sacramento River. Sit in a boat providing stunning city skyline views while a local DJ spins Top 40's or Guest DJ's music, and purchase drinks from the cash-only bar. This is the perfect trip for small groups or as a single, where you can experience a dining option like no other.
Downtown Sacramento Historical Food Tour
Sacramento isn't just known as the capital of California; it is famous for its food. So if you are a foodie, you should take the Downtown Sacramento Historical Food Tour to learn about the history of food industries and get a taste of modern eateries.
This three-hour walking tour takes you to establishments to try small taster's treats and restaurants that locally source all ingredients. Relish in great food and tantalizing tales as you dive into a culinary adventure.
Sacramento Historic River Cruise
Yet another great adventure on the water is the Sacramento Historic River Cruise because it offers a pleasant way to see the landmarks of Old Sacramento from the main city river. This one-hour yacht cruise includes a narrated tour by the captain as you learn about the history of this part of the city and take in the fantastic views.
See iconic sights such as the Old Tower Bridge, the historic district of the gold rush era of cobblestone buildings, the I Street Bridge built in 1911, and the American River.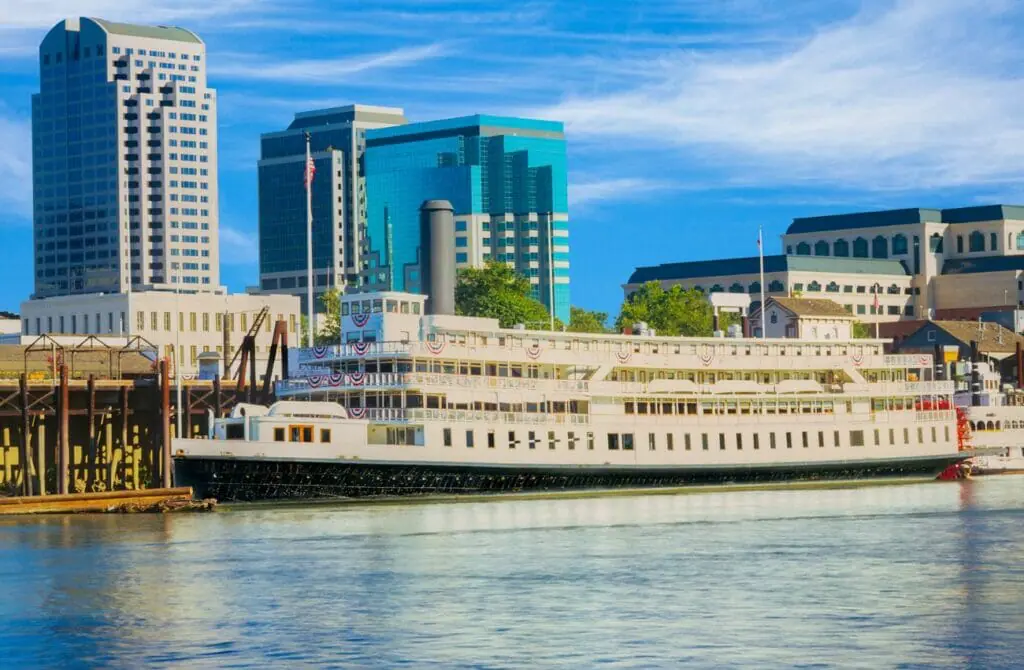 Lavender Library
For a gay tour of the city, you must stop by the Lavender Library for a daytime community space catering to the queer community. Here you can relax during a busy day in the town or come to see what kind of gay media they offer, whether that be books or films. Then if you want to be social, they host regular social groups and advise the locals on the local LGBTQ+ scene.
California State Capitol Museum
The Capitol Museum is the stand-out museum for telling people about the history of Sacramento, with exhibits and carefully selected artifacts on display. This neoclassical building houses more than just pieces of history, including the chambers of the California State Legislature and the governor's office, giving you a chance to see where history is being made now in the present! The museum is free to visit, and you can spend several hours inside.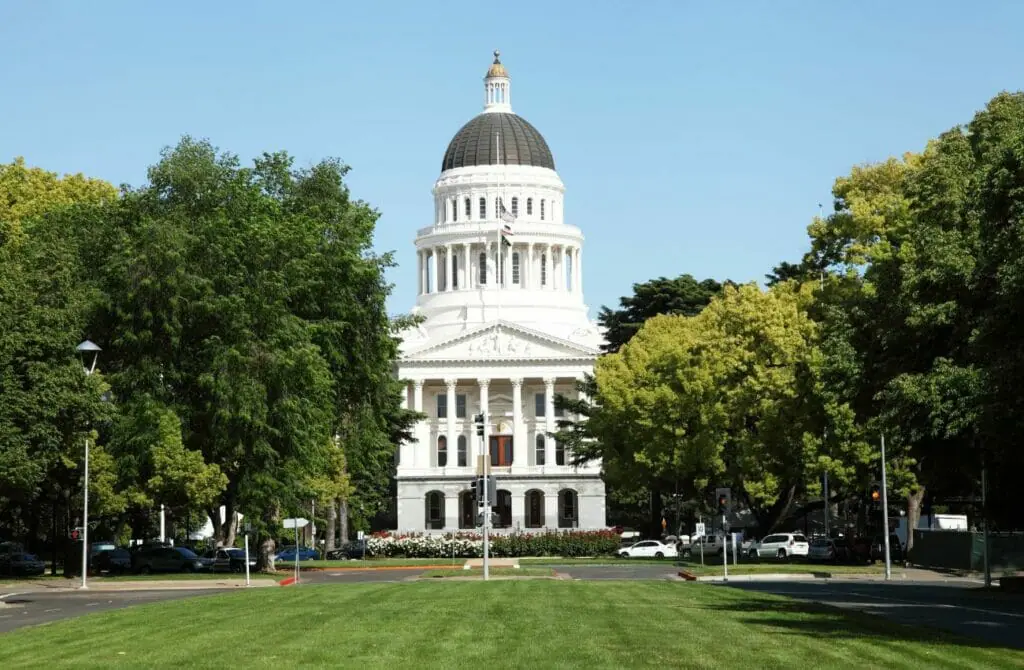 The Crocker Art Museum
Another tremendous historical museum is the Crocker Art Museum displaying incredible modern art from local artists, European classics, and international ceramics. Not only is this the oldest art museum in the Western United States, but it is also housed in a Victorian Italian building and a Classic contemporary building, with free entry to all.
Waterfront in Old Sacramento
The city is near the Sacramento River, so you must check out the Old Waterfront. Here you can find a charming place to wonder, taking in the views of historically restored buildings straight out of a wild west movie hosting specialty shops, little museums, and a collection of dining options.
You can see this day and night and be surprised by the transformation of light and dark as the bars and clubs come alive as the sun goes down.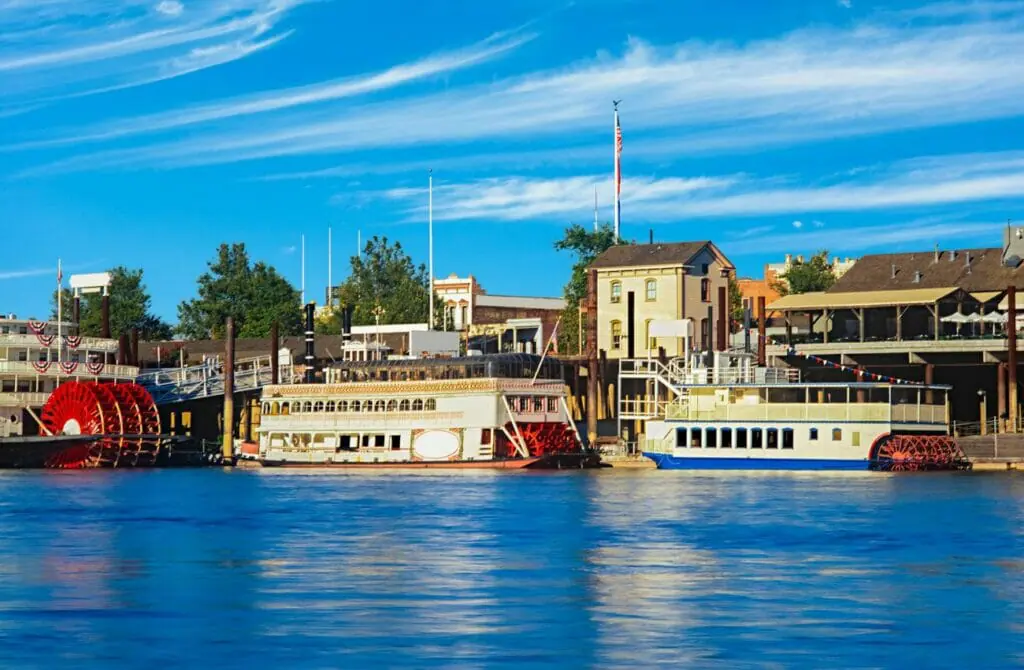 Sacramento Zoo
If you want a little taste of nature, the Sacramento Zoo at William Land Park has around 500 animals just for you. You can enjoy encounters with African giants like the giraffe, try your hand feeding some of the farm animals, or learn about the exhibits from knowledgeable zookeepers.
Of course, this isn't just a place to see animals but wander through the open park, enjoy a day out, and refresh yourself at the on-site restaurant with drinks and a meal.
Sutter's Fort State Historic Park
Founded in 1850, Sacramento has a long history of pioneers that ventured to California to find a new life. Sutter's Fort State Historical Park is a must-visit showcasing the pioneer life of the 19th century through costumed reenactors, exhibits, and other programs for visitors.
As the oldest restored fort in the US, it's an important landmark that should be appreciated as a testament to the past (whether that history is good or not). Moreover, the park features a museum and other buildings and gardens across a two-hectare site. Thus it isn't just great for education but also a fun day out.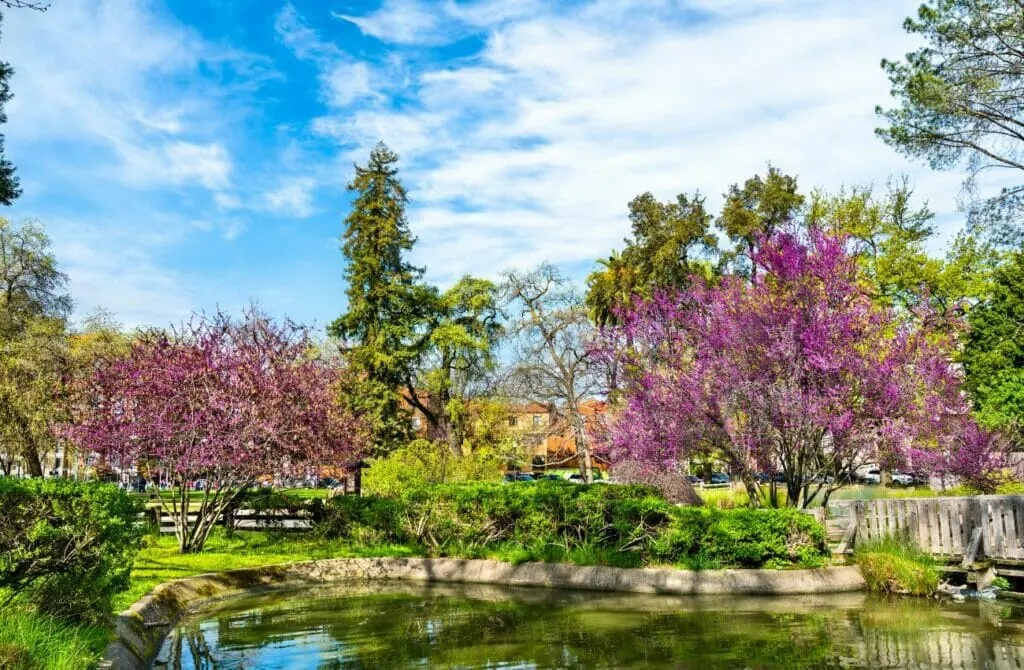 McKinley Park
McKinley Park is a famous central city slice of nature that breaks up the concrete jungle. You can get lost in the stretching grasslands, various parks and other recreational activities, playgrounds, tennis courts, walking trails, a seasonal pool and an exceptional rose garden.
So take a book and find a little place to relax under the shade of a tree as you take in the wonder of a more quiet part of Sacramento.
Cathedral of the Blessed Sacrament
A cathedral that decorates the city skyline of Sacramento is the Blessed Sacrament, built-in 1889. Those religious or just wanting to experience a Catholic service will enjoy a great Sunday experience, complete with excellent sermons and a massive seating capability of 1,400 people.
The cathedral also has stunning architecture presenting intricate wood carvings, a towering spire, glowing stained glass windows, and a little gift shop for tourists.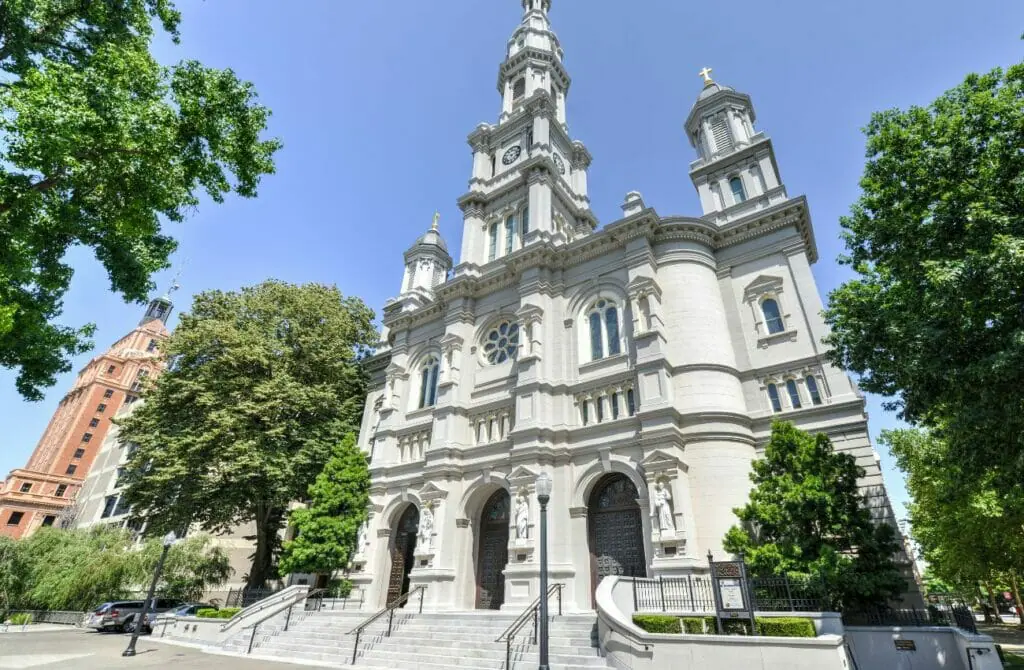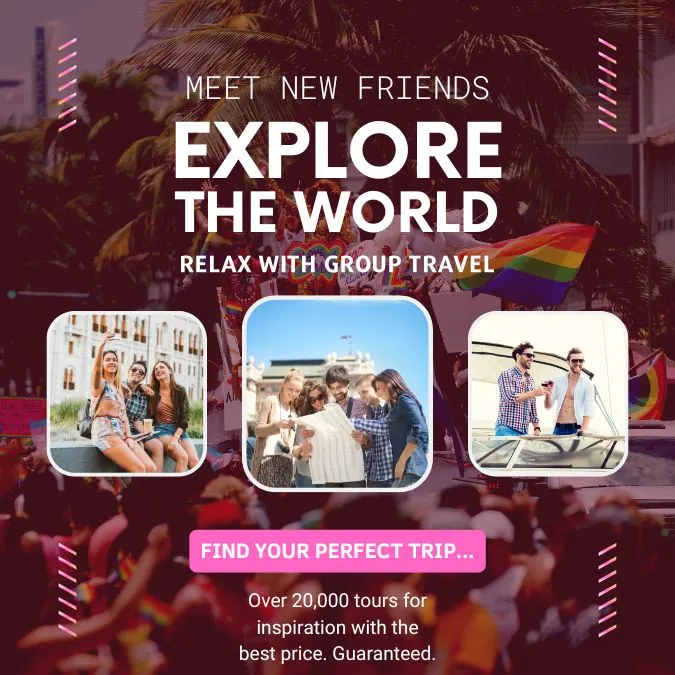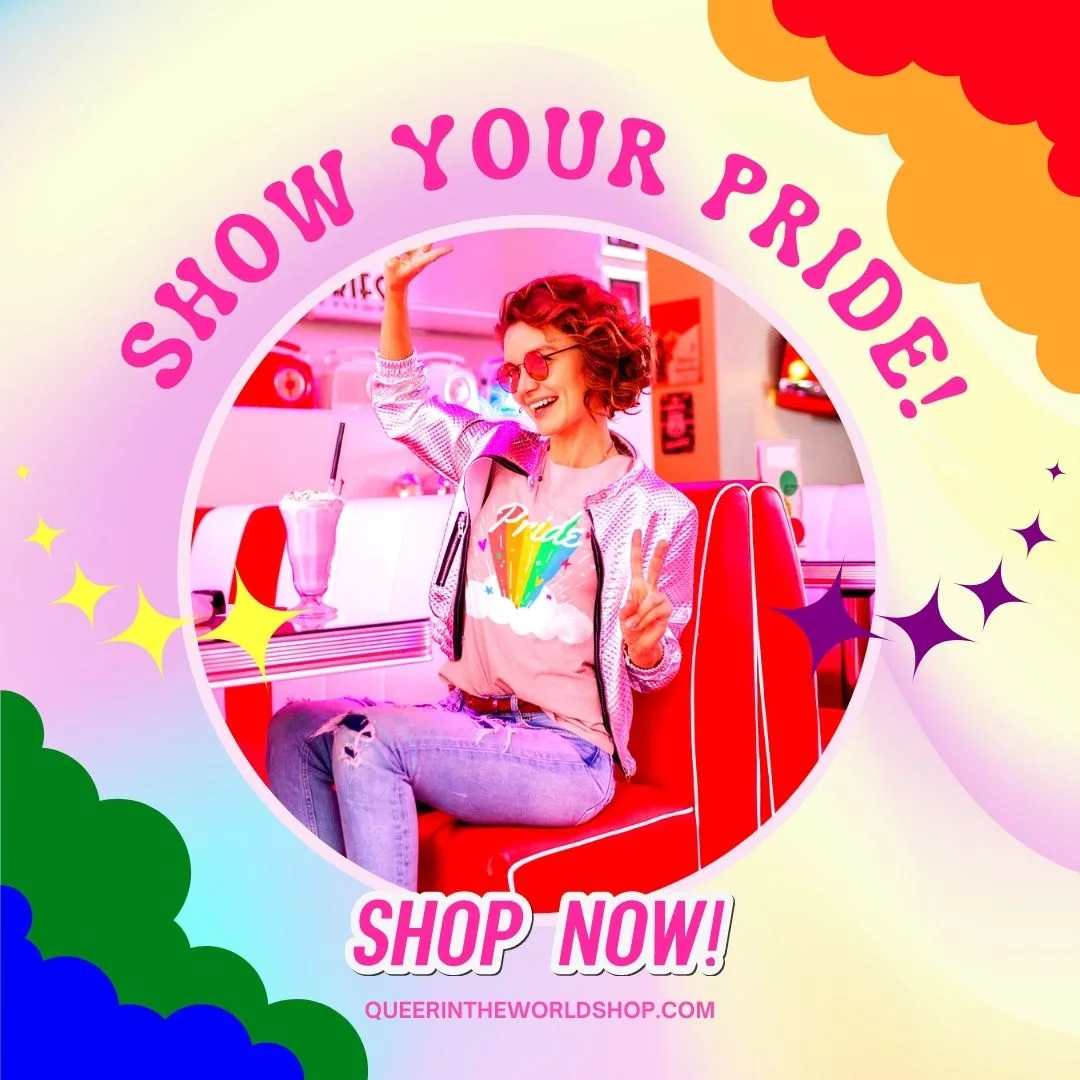 Gay-Friendly & Gay Hotels in Sacramento, USA
Located in the heart of Sacramento are many accommodations for gay travelers, from budget-friendly to luxury hotels. They might not have a five-star experience in the city's hub, but for those that want gay-friendly places to stay within her city walls, she keeps you from being down with four-star hotels and lower catering to all types of people and budgets.
Being gay-friendly accommodation means that the establishment is welcoming and inclusive to guests who identify as LGBTQ+. This can include but is not limited to, having policies and practices in place that demonstrate a commitment to creating a safe and inclusive environment for LGBTQ+ guests, such as non-discrimination policies, and providing support and resources for LGBTQ+ travelers.
Some gay-friendly accommodations may also provide amenities specifically catering to the LGBTQ+ community, such as rainbow flags or literature about local LGBTQ+ events or resources. Furthermore, gay-friendly accommodations may be located in an area that is known for being LGBTQ+ friendly.
While Sacramento does not have any specifically gay hotels or resorts, these are the most fabulous and pro-actively gay-friendly hotels in Sacramento. Needless to say, there are also hundreds more hotel and hostel options in Sacramento if none of these suit your desired budget, facilities or area – but these are the best hotels according to other gay travelers and us.
Whatever your needs are, Sacramento has you covered.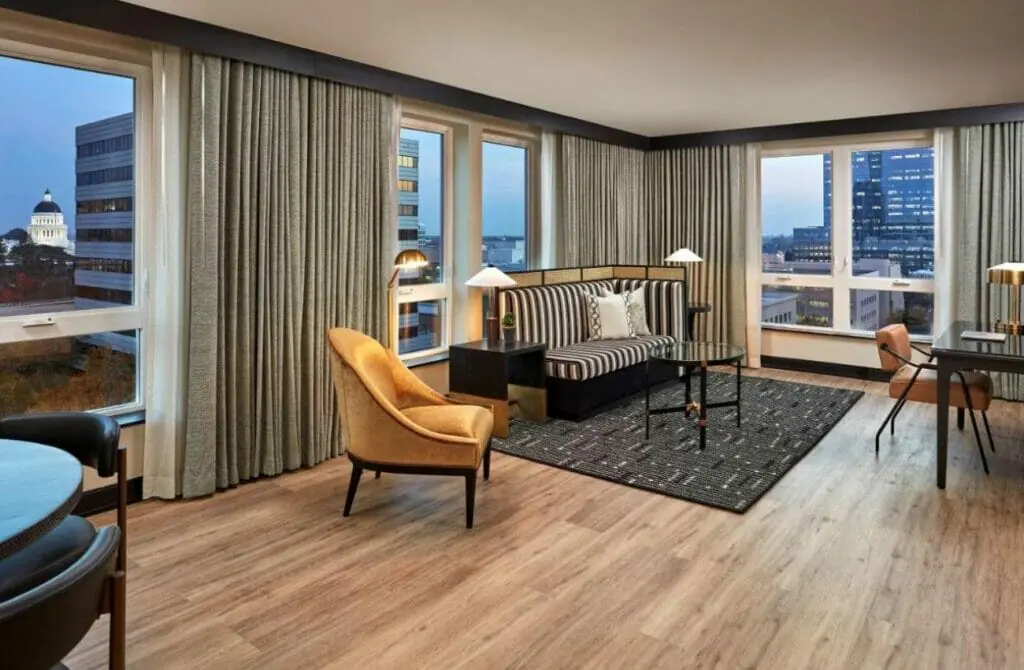 Hyatt Centric Downtown Sacramento ☆☆☆☆
A top pick for a four-star experience in Sacramento is the Hyatt Centric Downtown, such offers a range of amenities, including an on-site restaurant and bar to serve you breakfast and other needs and a gym. However, the waterfront location in the middle of town makes it a popular place to stay, as you can easily access many top attractions, such as Sutter's Fort and the local zoo.
You'll also be happy to know that the hotel is pet-friendly, has wifi and air conditioning, and has incredible suites to make you feel like royalty. Whatever room you pick, you'll be treated to large king-sized beds, ensuites, great views from the higher floors, and fitted out with all you could ever need.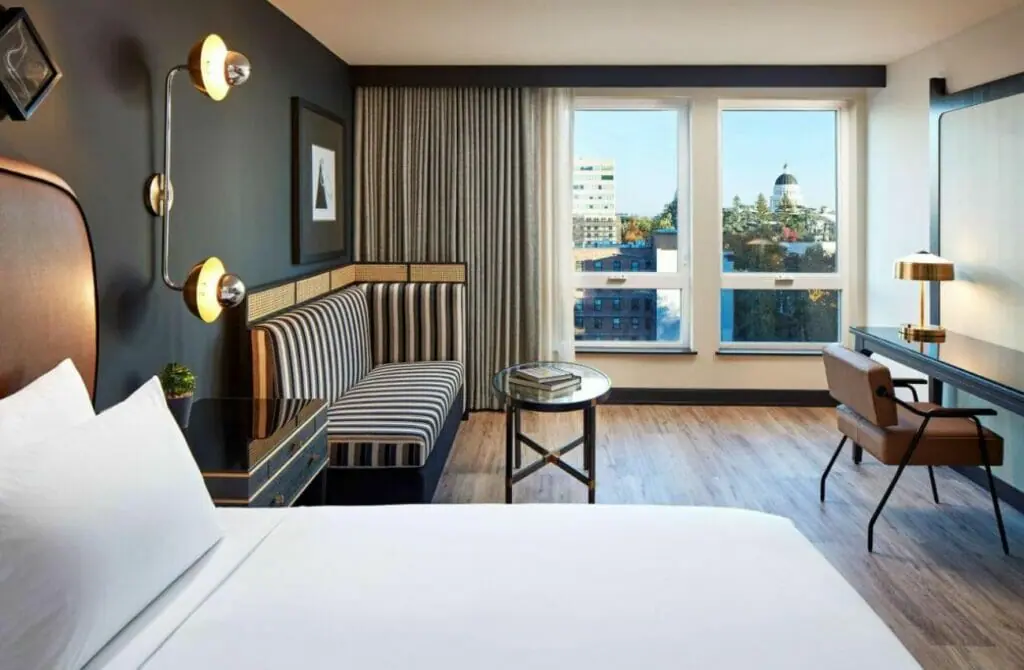 If you're looking for another top-notch four-star accommodation option, the Westin Sacramento is worth considering. From the moment you walk through the doors, you'll be impressed by the Spanish villa feel of this modern and royal decor, with spacious and constable rooms with all the amenities you need for a comfortable stay.
When you aren't living it up in the cozy nest of your room, you can venture out for a snack at the on-site bar, dine at the outside terrace, play pool, use the gym, or stroll in the surrounding grounds. Then if that wasn't incredible enough, the hotel is so close to the heart of Sacramento and the river you can explore the city at your leisure.
DoubleTree by Hilton Sacramento ☆☆☆☆
You can always go right with a four-star experience at DoubeTree, as they provide a comfortable stay for all guests. So whether you come for the pool, the gym or the restaurant, you will be treated to all these incredible things and more.
Then you can take full advantage of your private dwellings with comfortable beds, free wifi, great views, and room service. But most people love the views and the ability to choose from many rooms that cater to all types of travelers. Not only that, the central location makes it easy to see Sacramento from the ground, but also with parking if you plan to travel outside on your terms.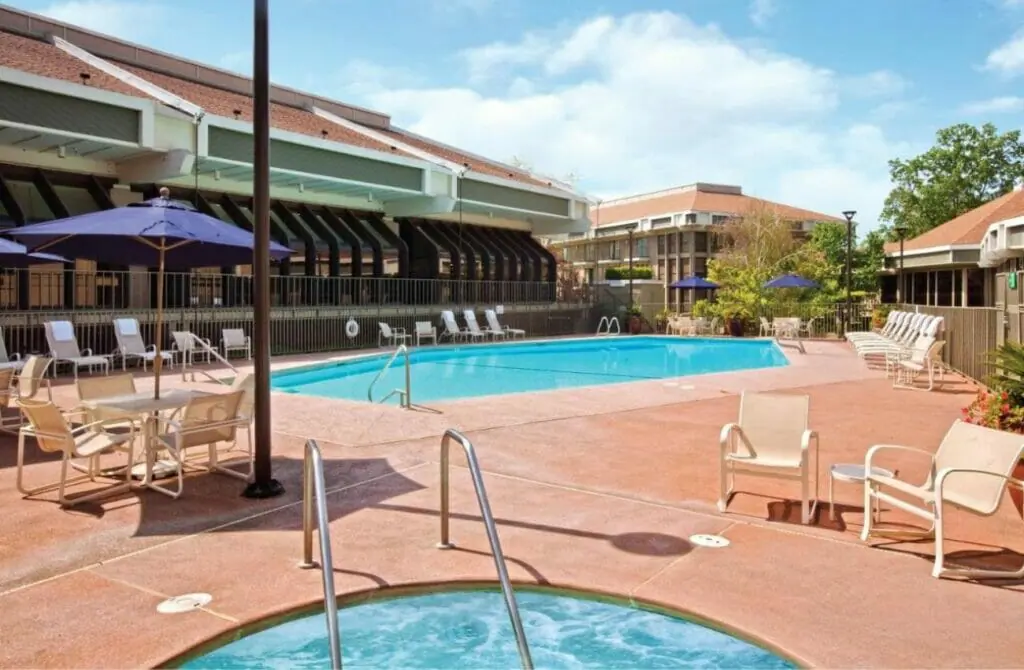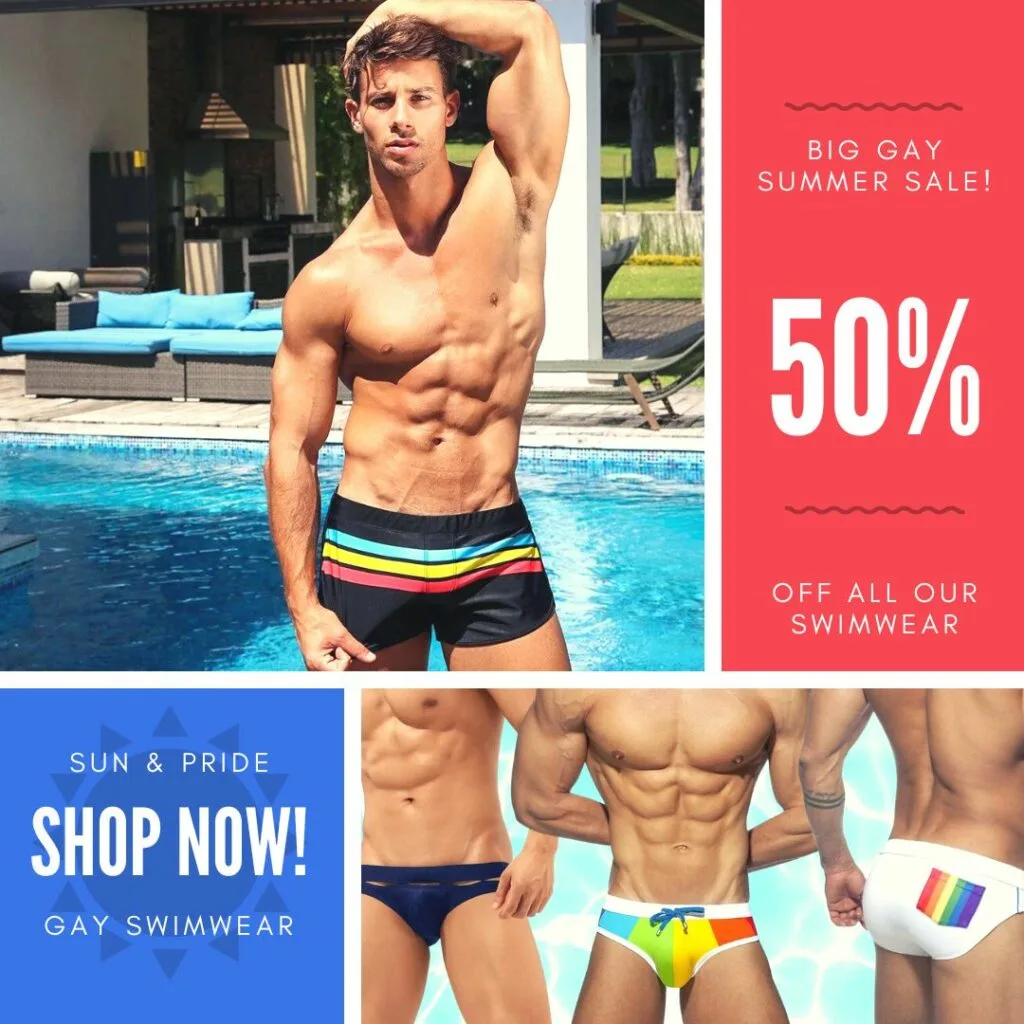 Home2 Suites by Hilton West Sacramento ☆☆☆☆
An excellent hotel for a gay holiday is the three-star Home2 Suits, which offers the basics without all the flair. Of course, you still get a pool, but the fully equipped rooms with a kitchen, bedroom, lounge and dining area make this place so great.
Not only that, you get complimentary breakfast, so you only have to worry about nibbles and other meals throughout the day. That is fine as you have the facilities to make food, or you can walk a short way down the road to find many restaurants and other eateries. Then with a full stomach, you are just a stone's throw away from Tower Bridge and other great tourist attractions that make travel a breeze.
Another charming hotel that stands out is a unique property that offers a historical experience with a modern touch. Delta King Hotel is a restored riverboat permanently docked on the Sacramento River, making it an exciting place for those who want a three-star experience that stands out from others around it.
You can feel like you are on the water, without being on the water and still with land being so close by! If you love boats, this could be an incredible experience, providing free wifi, air conditioning, a restaurant, breakfast, business services, and parking. Also, your room offers all you could ever need, allowing you to relax on the water, knowing that it's not far away if you want to go into town.
Offering a quaint gay-friendly accommodation experience, the Courtyard Hotel is a popular place for gay tourists to stay in Sacramento. Located in Mid-Town, you are just a short journey away from the gay center of town, and if you don't want to go out, the site has a pool, sauna, bistro and cafe, with plenty of dining.
But if you want to return the coffee to your room, that is also possible as you can relax in your bed, at your work desk or dining room. So if you want a hotel with it all, the Courtyard has most of it.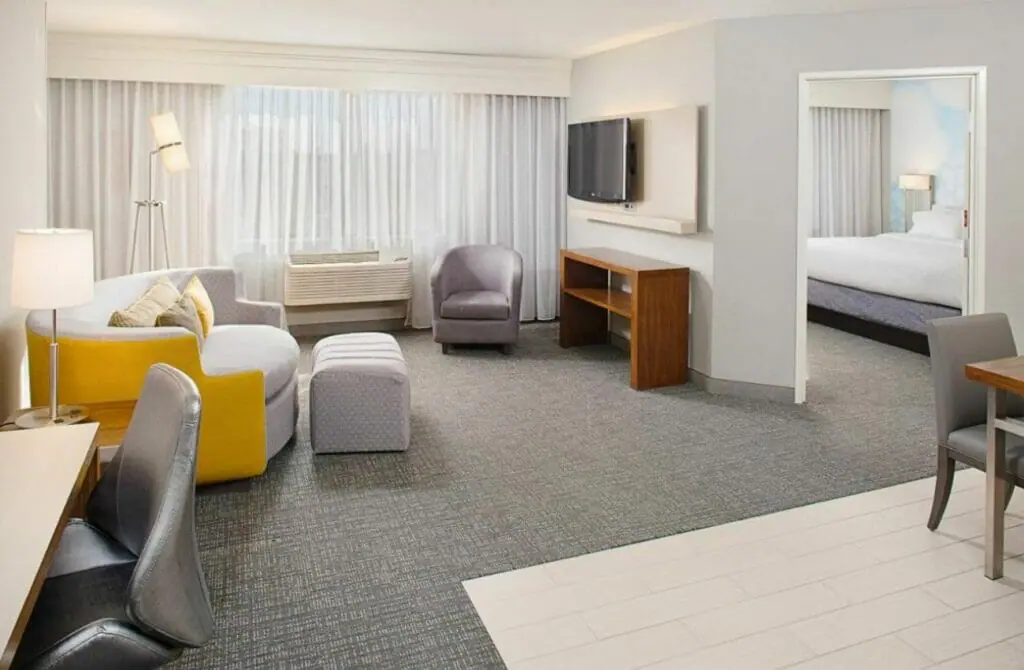 Gay Nightlife In Sacramento, USA
Sacramento has a thriving nightlife scene with live music venues, bars, and nightclubs. The Midtown area is famous for its nightlife, with plenty of bars and restaurants.
Other popular destinations include the Old Sacramento Waterfront, which offers riverfront dining and entertainment, and the R Street Corridor, which features hip bars and art galleries. So where to begin? The answer is up to you as they have soo many bay bars to choose from!
Exploring the gay and gay-friendly nightlife in a new city can be one of the most exciting and rewarding experiences while traveling – and Gay Sacramento is no exception. Not only will you have the opportunity to meet new people and make friends, but you'll also get a taste of the local culture and learn more about the city's LGBTQ+ community.
Going out and experiencing the queer and queer-friendly nightlife in a new city can also be a great way to break out of your comfort zone and try new things. Whether it's dancing the night away at a gay club or mingling with locals at a gay-friendly bar, you'll have the chance to make memories and create lasting connections.
So, don't be afraid to step out of your comfort zone and explore the gay and gay-friendly nightlife in Sacramento. You'll be glad you did!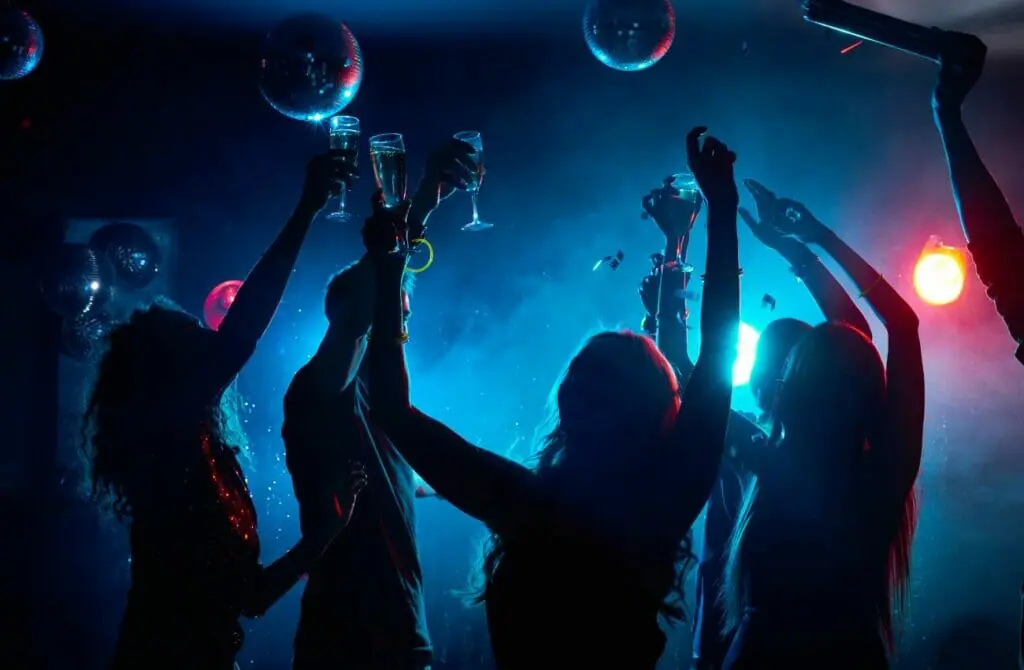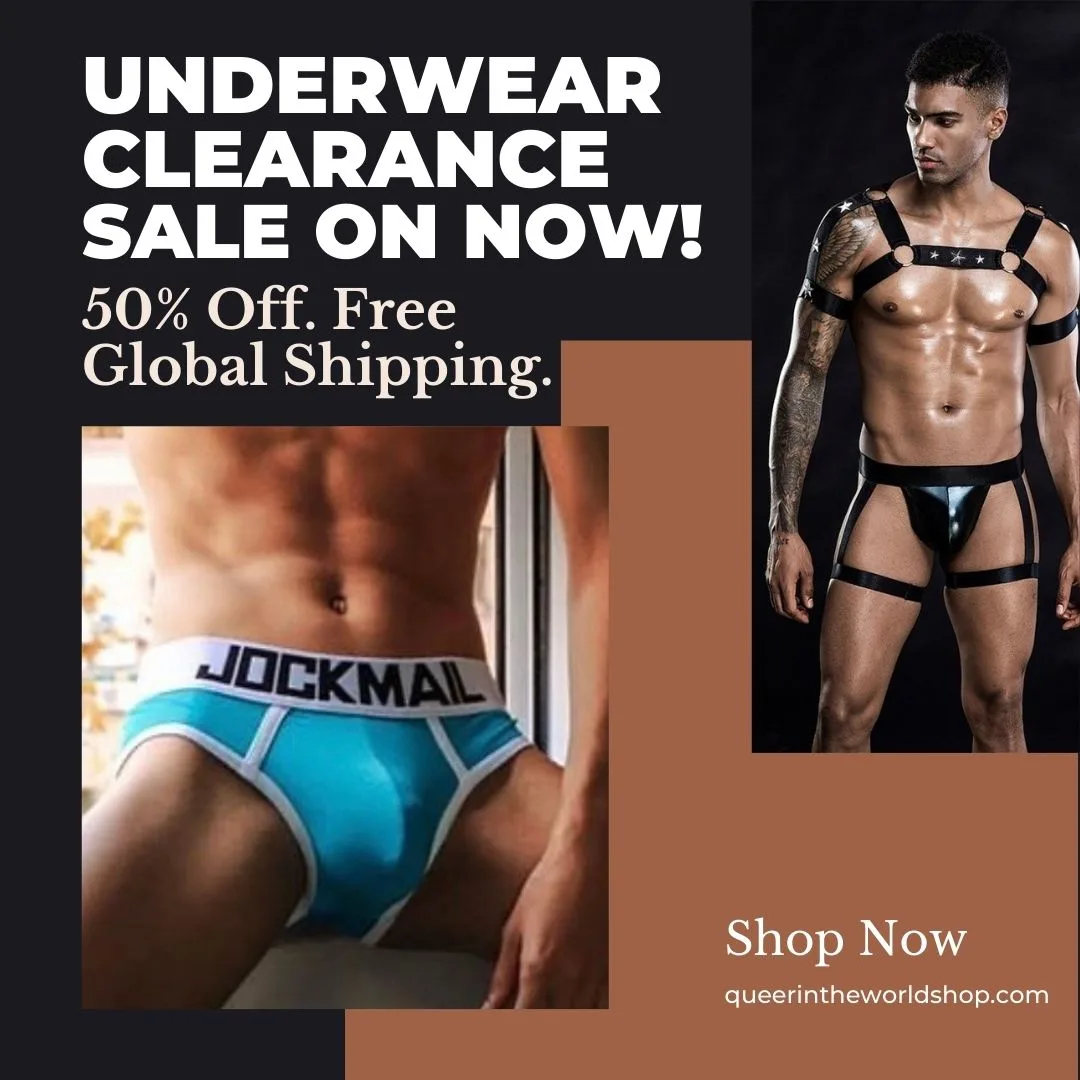 Gay Bars In Sacramento
If you're after a gay bar with a casual, down-to-earth vibe, the Depot is a popular choice that ticks these boxes. The bar offers a great variety of drinks, from cocktails to draft brews, and one of the highlights is the patio area, where you can dine with a mixed clientele.
You can expect it to be more than just a young crowd as the older members of the gay community love to frequent here, enjoying the relaxed tone compared to other popular gay night attractions. Here rainbows hang high, and drag is a classic entertainment piece, so if these all appeal to you, Depot is for all.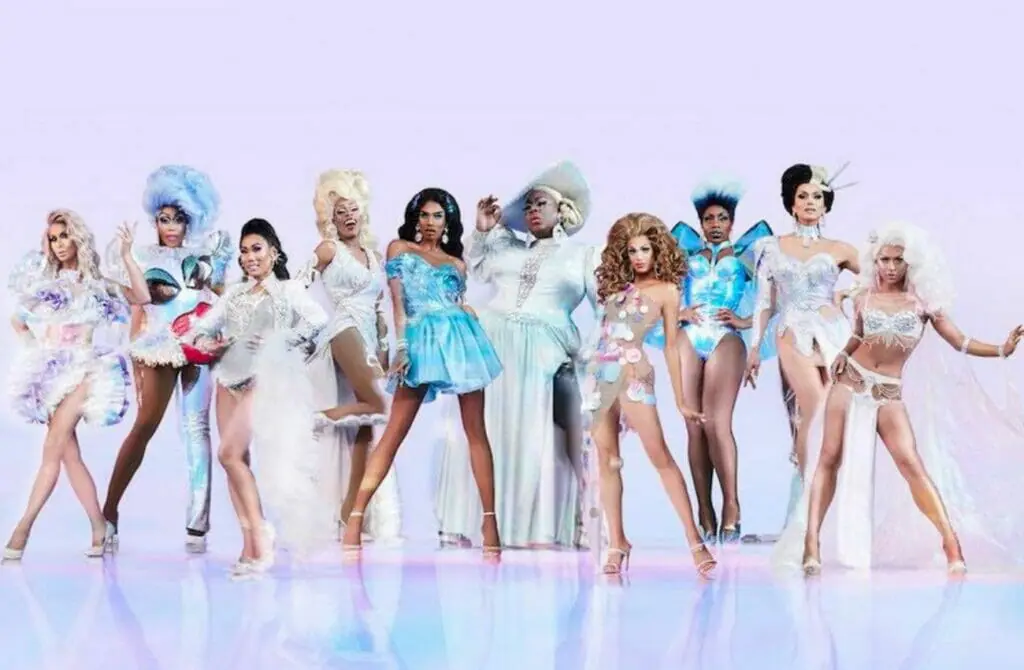 Inspired by the wild west culture of Californian past, the Mercantile Saloon is a popular gay bar known for its relaxed and friendly atmosphere. It offers excellent drinks from a bar that looks like it was pulled directly out of the 1850s and light entertainment with a pool table and music.
You can dine at the bar, find a table, or head out to the outdoor patio to experience a good night's beauty. However, they clarify that they don't sell food but provide a jukebox with equally good drinks from their handsome historical building.
If you consider yourself a gay manly man who loves a classic beer-drinking bar experience, BearDive is suitable for you. They are a gay bar in grill with a diverse beer and food menu to keep you full all night, as well as providing a standard pub experience with the highlights being the sports tv, karaoke, drag shows, pool table, pinball machine and jukebox.
You can dine inside and watch a game or outside and watch the stars, with the bar open to midnight and takeaways also an option. The big bear is perfect for those gay bears out there!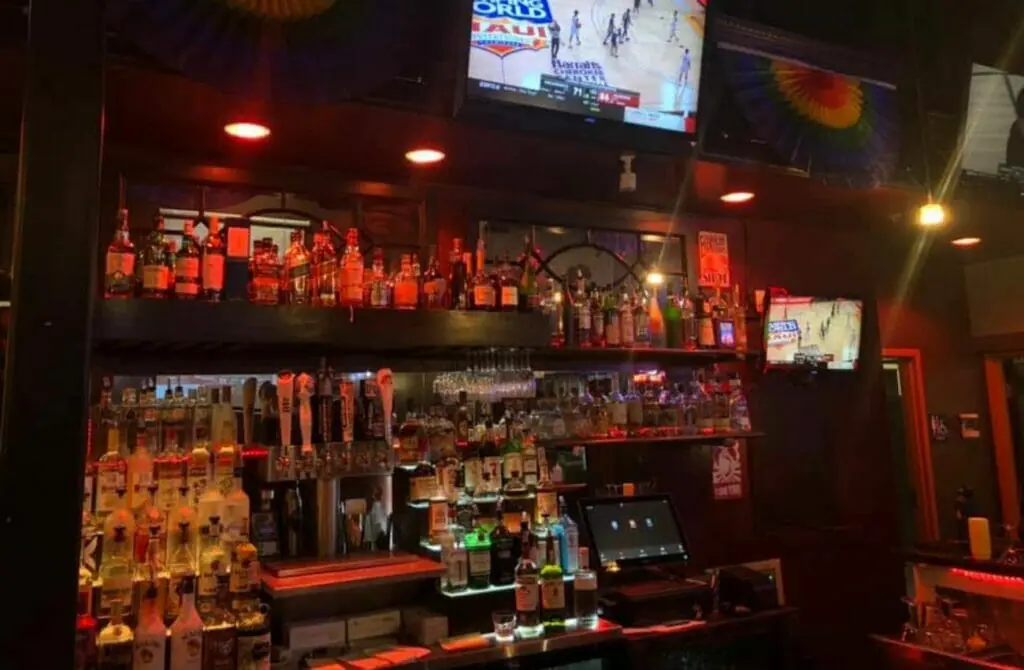 Gay Parties & Gay Clubs In Sacramento
One of several gay nightclubs in town, Faces stands out because it has an indoor pool and a venue for dancing open seven days a week, offers regular themed dance events, a RuPaul watching party, and so on. So if you want to dance your socks off in a gay venue with fellow queers, you can't miss out on Faces.
Inspired by the local terrain of the state, Badlands is a top gay club tied to the Depot gay bar, serving as their nightclub extension. You can expect drag nights, DJs, many bars on multiple dance floors, a disco dance floor, and so much more here. Although outwardly a gay venue, they are open to all people, and they hope to throw their beautiful rainbow shine on all that stop by for a good night out.
Sacramento LGBT Community Center
You can find tremendous social support at the Sacramento LGBT Community Center, dedicated to helping bring the queer community together. They don't just offer a great place for gay people to spend time; they host events around the city and provide excellent information about the local queer community for would-be travelers.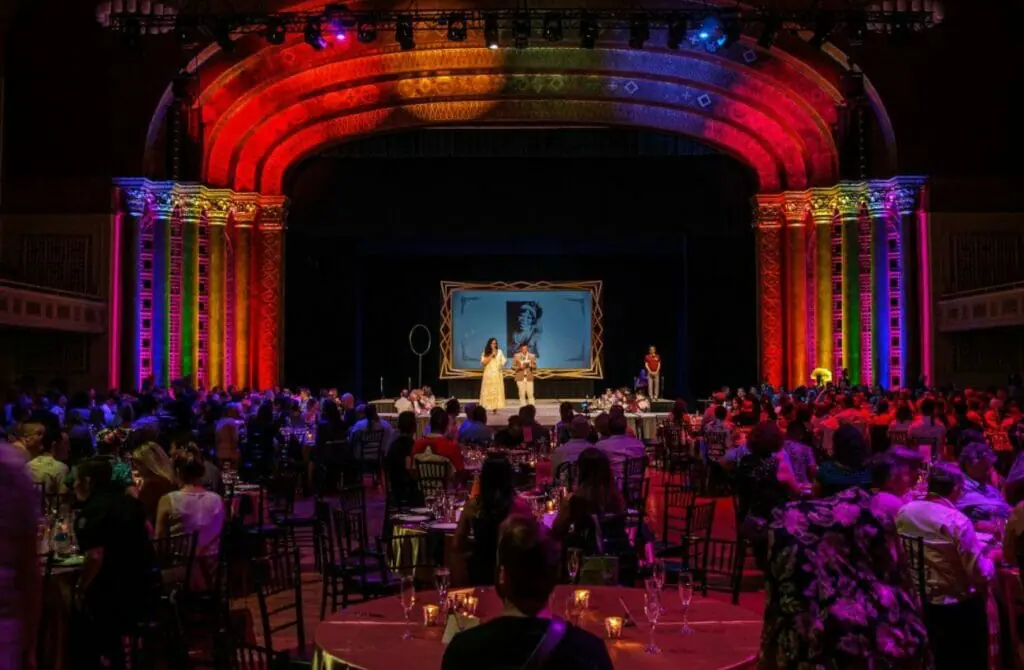 The Capital City Squares is a queer square dancing club that invites all that would like to join them for their weekly dancing and workshops on Wednesday evenings, regardless of skill. Of course, you could just visit for a week, but they will still gladly have you and show you how kind and friendly the gay scene in the city can be.
If you love music and want to experience a gay man's chorus that's been running since 1984, you may find such a club here. Even if you're here for a week or so, you should see some of their performances. So just flick them a message; you could be some fascinating people and a part of the scene you'd have missed otherwise.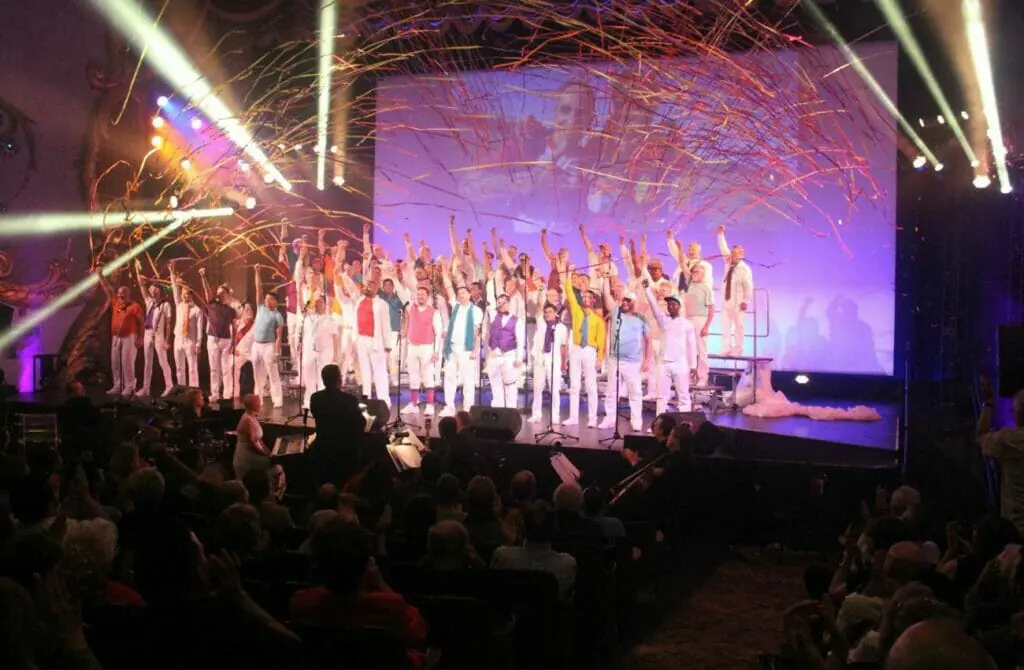 Cruising & Gay Saunas In Sacramento, USA
There is as much a lively gay bar, singing and dancing scene as a gay cruising and gay sauna scene in Sacramento. So you'll be glad to know that the nightlife isn't just decked out for the gays that like to place it friendly and easy, but also devious and dirty. So whether you are looking for a fling, a nice drink and chat, or a naked dive in a sauna with a friend, you'll be covered with the cruising venues.
When traveling to a new city, it can be exciting to head out for more than just a stiff drink. One aspect of the Gay Sacramento scene that many queer men enjoy is visiting gay saunas and cruising clubs.
Sure, the sauna culture in Sacramento is not as hedonistic as in Amsterdam, Barcelona or Berlin, but these venues still offer a chance to meet new people, socialize, and engage in sexual activity – without resorting to gay hookup apps.
However, it's important to keep in mind that these venues can vary greatly in terms of atmosphere, clientele, and rules, so it's a good idea to prepare yourself before visiting. If you are apprehensive, we advise studying our guide to visiting a gay bathhouse for the first time, which should help set your mind at ease, and always practice safe sex.
Additionally, it's important to be aware of and respect local laws and customs regarding gay venues and sexual activity. With a little bit of planning and an open mind, visiting gay saunas and cruising clubs can be a fun and exciting part of your gay Sacramento travel itinerary.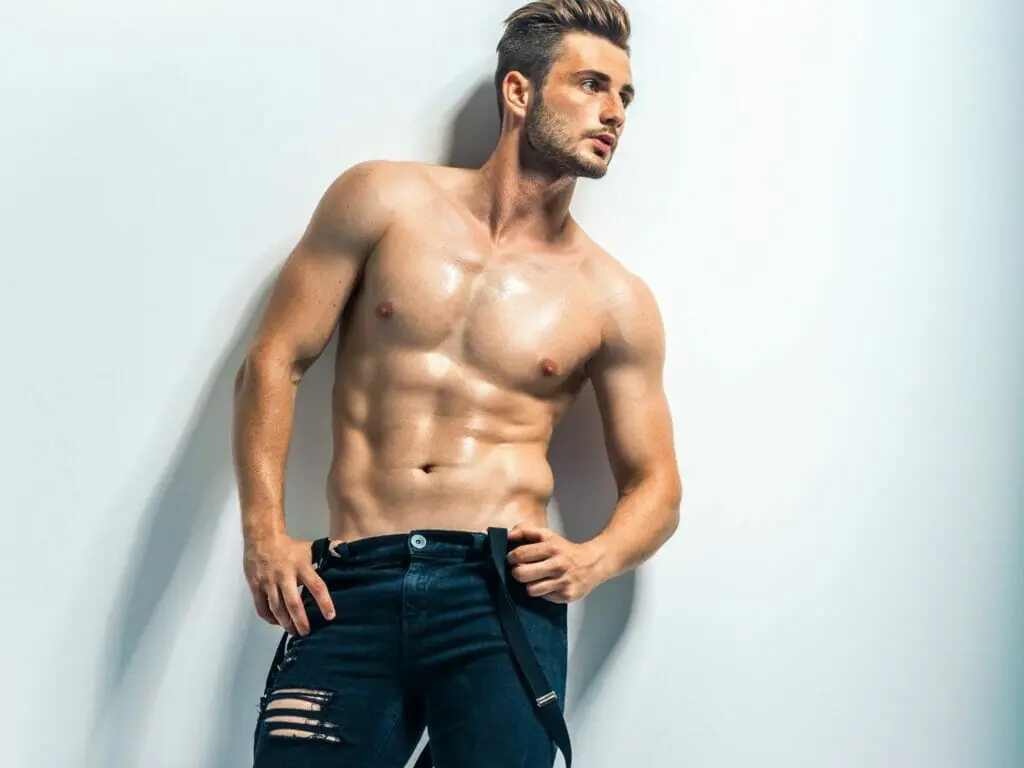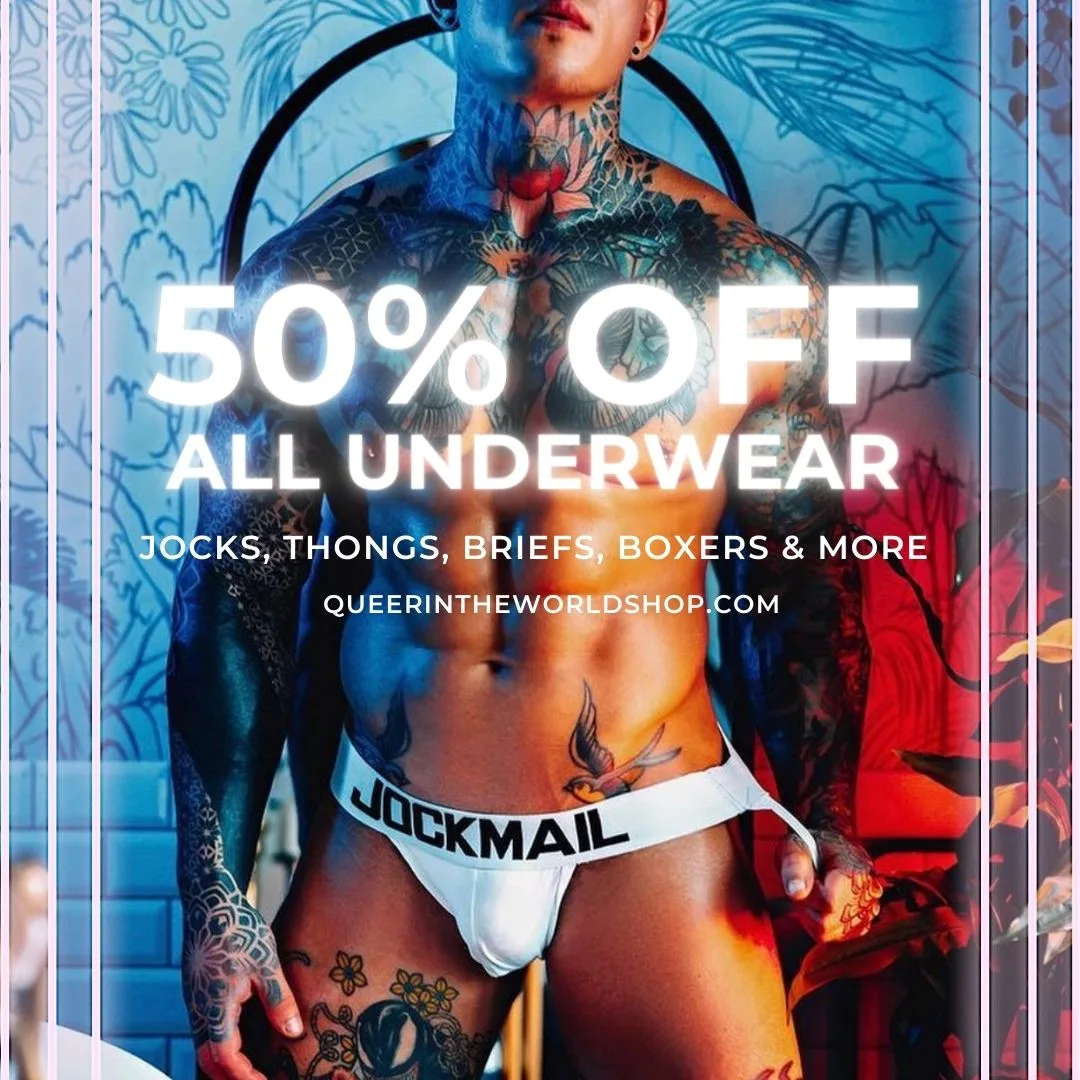 Gay Cruising Bars In Sacramento
The number one gay cruising bar in Sacramento is The Bolt, offering a leather-cowboy-bear aesthetic. You can expect the bar to be open daily from 2 pm to 2 am, with a wide range of activities from pool and darts with the hottest staff in town.
Here you can meet other gays and hang out in the easy-going atmosphere with a large backyard and picnic area. Moreover, with every day of the week being different, you can expect something fun, whether their monthly Gaymer event or Sunday BBQ.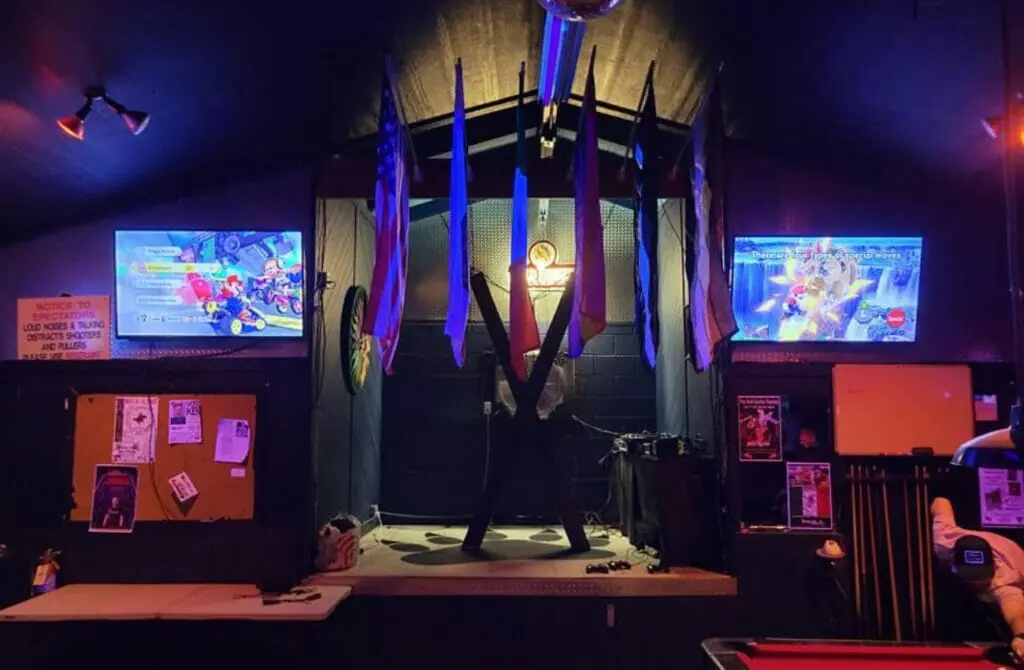 Gay Saunas In Sacramento
Sacbuddies is the number one all-male club that gives men the ultimate adult playground to have some fun and explore their sexuality. They regularly host themed outfit events on nights but otherwise offer a male-only fitness and relaxation center with both private and public areas.
Sex Shops In Sacramento
If you're looking for a great sex shop in Sacramento, you won't find an exclusively gay one, but you will find a reliable place with KissNTell, a famous shop for all. Here you can find a range of products that all can admire and get behind, with a wide range to suit all.
Gay Map Of Sacramento
Finding it hard to envisage where everything is in Sacramento? Hopefully, this queer-centric map helps where we have marked all the bars, clubs, parties, hotels, saunas, massages and more will help you stay in the spot best suited to you!