A Southern city with many, many surprises for gay visitors. From the sights to the nightlife that never ends, gay Charlotte may very well be the haven other havens look up to.
Nestled among rolling hills and lush greenery, gay Charlotte boasts an impressive skyline that glimmers in the sun. The city is home to some of the most beautiful parks and gardens, such as the UNC Charlotte Botanical Gardens and Freedom Park. Walking through these parks, you can marvel at the colorful flowers, tranquil lakes, and winding trails that make up Charlotte's natural beauty.
A great thing about Charlotte is its inclusive attitude toward the LGBTQ+ community. The city has made significant strides toward equality and has become a safe haven for LGBTQ+ individuals.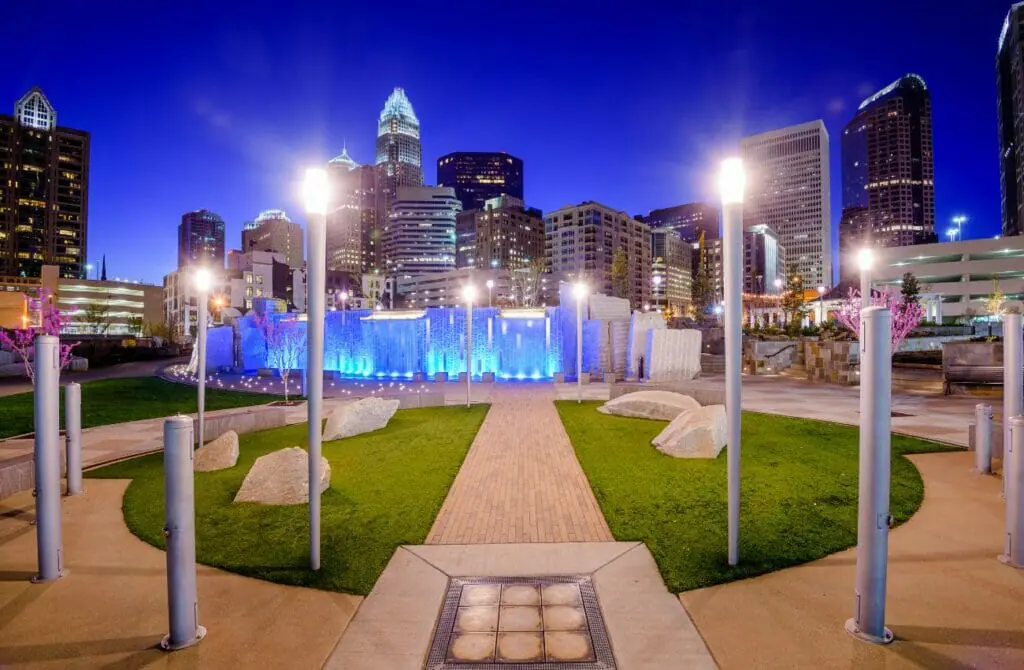 The Charlotte Pride Festival and Parade bring together people from all walks of life to celebrate love and diversity. The city's LGBTQ+ community is vibrant and welcoming, with a number of bars, restaurants, and organizations catering to their needs.
If you're a sports fan, Charlotte is the place to be. The city is home to several professional sports teams, including the Carolina Panthers (NFL) and Charlotte Hornets (NBA). The NASCAR Hall of Fame is also located in Charlotte, making it a popular destination for racing fans. Plus, this has a queer sports bar where you can watch your favorite games and also check out other guys.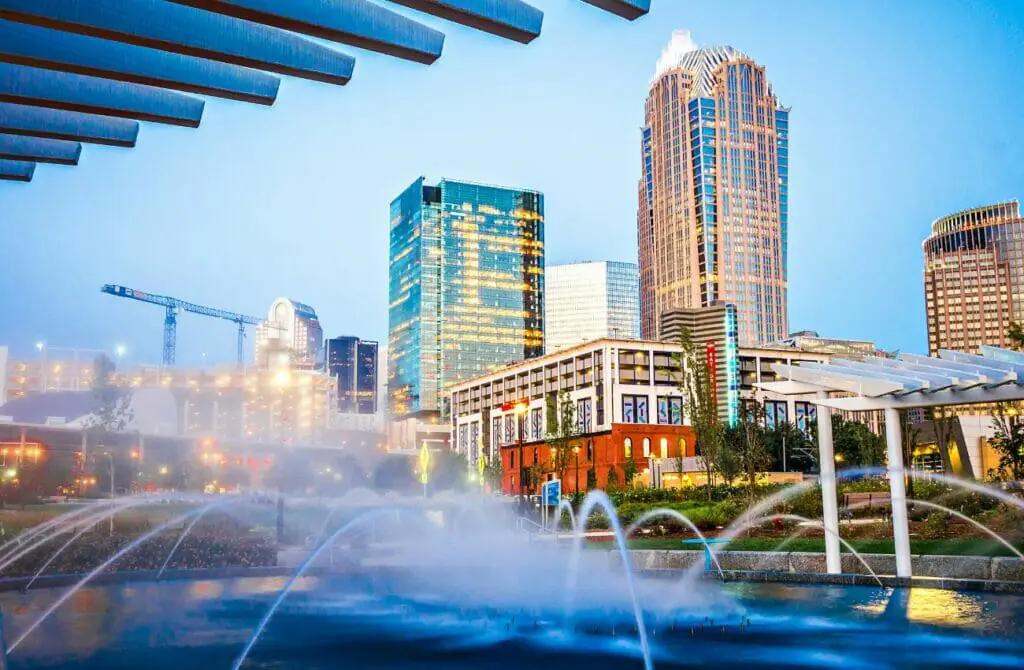 Attractions in Gay Charlotte, USA
As a new visitor to Gay Charlotte, there are plenty of things to see and do, regardless of your sexual orientation. One of the best ways to experience any new city is to visit some of its most iconic landmarks and attractions, including visiting historical monuments, museums, and art galleries.
We also love gazing at architecture up close, exploring parks and gardens, sampling the local cuisine, visiting local markets, and attending cultural events such as festivals, concerts and shows.
Even as the out-and-proud queer we are, we still love to just explore the city and its culture in the same way as everyone else. Doing so allows us the opportunity to learn more about the city and its people and gain a deeper understanding of the local culture. As such, these are our favorite must-see attractions in Charlotte.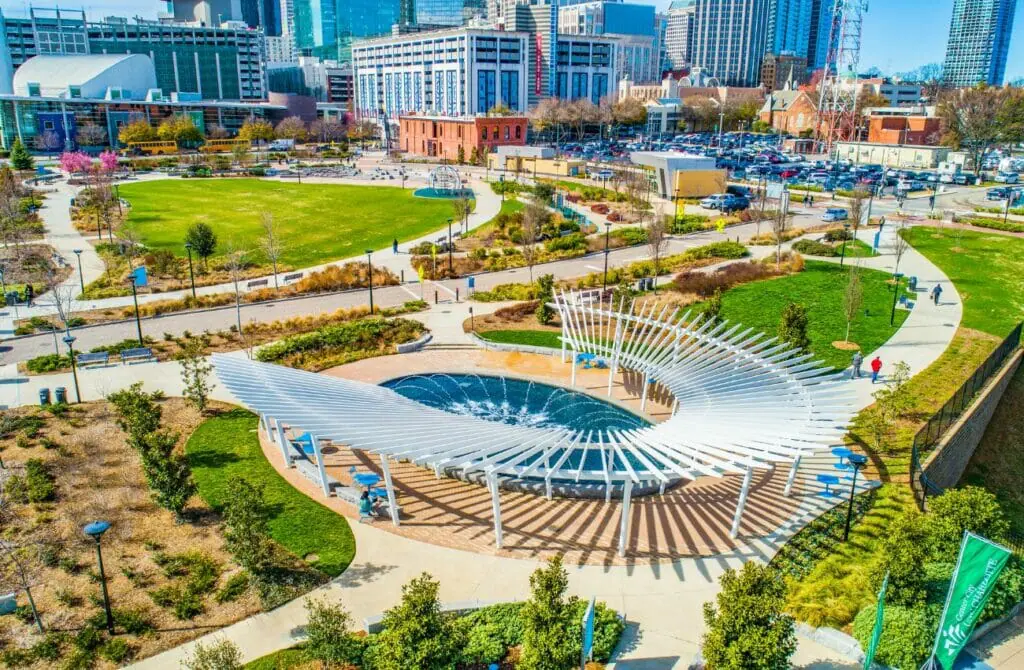 NASCAR Hall of Fame
The NASCAR Hall of Fame is a museum and exhibition center located in Charlotte, North Carolina, United States. It celebrates the history and culture of NASCAR, a popular American motorsports organization that is best known for its high-speed races and iconic cars. The museum opened its doors in 2010 and has since become one of the premier destinations for NASCAR fans from all over the world.
The NASCAR Hall of Fame is designed to be an immersive experience, taking you on a journey through the history of the sport. The museum's exhibits showcase some of the most iconic cars and drivers in NASCAR's history, as well as the innovations and technologies that have made the sport what it is today.
One of the museum's most popular exhibits is the Hall of Honor, which features the inductees of the NASCAR Hall of Fame. This includes some of the sport's most legendary drivers, such as Richard Petty, Dale Earnhardt, and Jeff Gordon. The Hall of Honor also includes displays that highlight each inductee's achievements and contributions to the sport.
In addition to the Hall of Honor, the museum also features several other exhibits that explore different aspects of NASCAR's history and culture. These include exhibits on the evolution of the sport's cars and technologies, the impact of NASCAR on popular culture, and the experiences of fans and drivers alike.
The museum is also home to a state-of-the-art theater that screens films and documentaries related to NASCAR, as well as a variety of interactive exhibits and displays that allow visitors to experience the thrill of racing firsthand.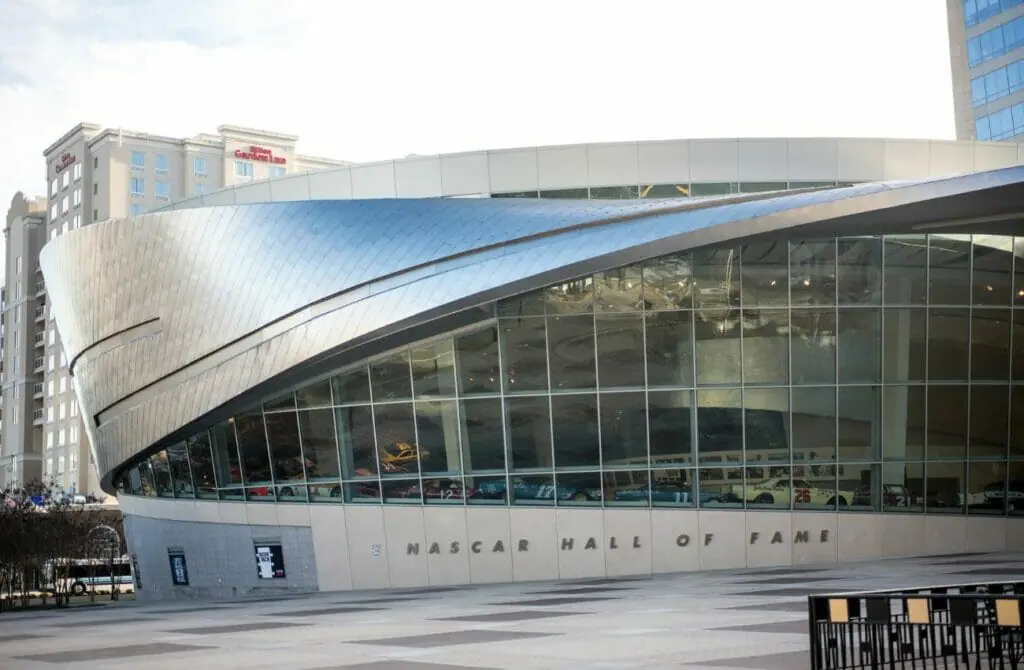 Billy Graham Library
The Billy Graham Library is a museum and educational center located in Charlotte, North Carolina, United States. It is named after Billy Graham, one of the most influential Christian evangelists of the 20th century, who was born and raised in Charlotte.
The library opened its doors in 2007 and has since become a popular destination for people of all ages and faith who are interested in learning about Graham's life and legacy.
The museum's exhibits showcase some of the most significant moments and events of Graham's life, as well as the impact of his ministry on the world.
One of the most popular exhibits at the Billy Graham Library is the Journey of Faith, which features a series of interactive displays and exhibits that explore Graham's life and career.
Visitors can walk through replicas of the cabin where Graham was born, as well as the tent where he held his first revival meeting. The exhibit also features a replica of Graham's office, where visitors can see some of the personal items and artifacts that were important to him.
In addition to the Journey of Faith exhibit, the Billy Graham Library also features a number of other exhibits that highlight the impact of Graham's ministry on the world. These include exhibits on his role as an advisor to US presidents, his work in promoting racial reconciliation, and his efforts to spread the gospel around the world.
The library is also home to a beautiful outdoor garden, where you can walk through a series of paths and gardens that showcase the beauty of nature and the peace and tranquillity that can be found in faith.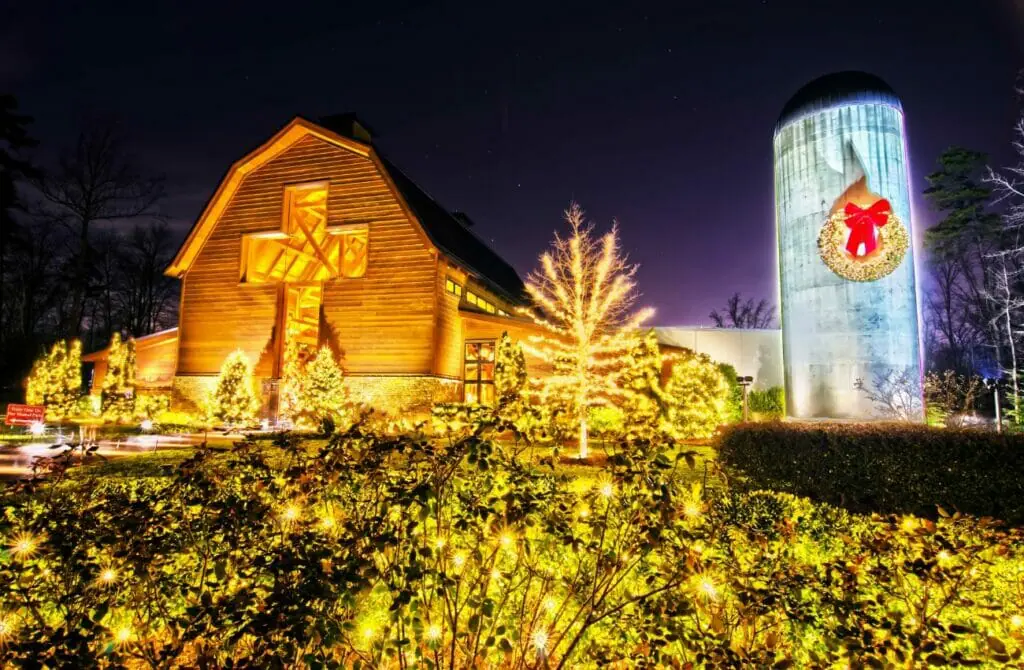 Discovery Place is a science museum and educational center located in Charlotte, North Carolina, United States. It is dedicated to promoting science education and inspiring curiosity in people of all ages. The museum first opened its doors in 1981 and has since become one of the most popular attractions in Charlotte.
The museum's exhibits cover a wide range of scientific topics, from physics and chemistry to biology and ecology. One of the most popular exhibits is the World Alive, which features a variety of live animals, including birds, reptiles, and insects. You can also learn about the behavior and habitats of these animals through interactive displays and exhibits.
Another popular exhibit is the Cool Stuff, which showcases some of the most fascinating and innovative technologies in the world, from 3D printing to robotics.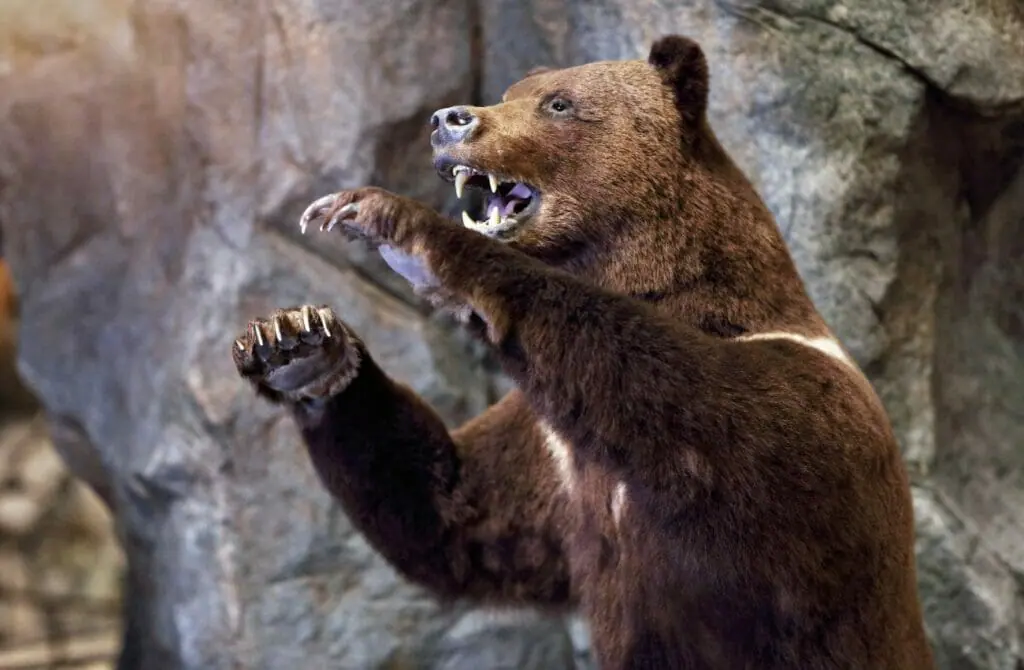 Uptown Charlotte is the central business district of Charlotte, North Carolina, United States. It is the city's cultural, financial, and entertainment hub, and is home to many of Charlotte's most iconic buildings, parks, and attractions.
One of the most prominent landmarks in Uptown Charlotte is the Bank of America Corporate Center, which stands 871 feet tall and is the tallest skyscraper in the city. The building is a symbol of Charlotte's importance as a major financial center and is an impressive sight to behold.
Another popular attraction in Uptown Charlotte is the Levine Center for the Arts, which houses several of Charlotte's premier cultural institutions, including the Bechtler Museum of Modern Art, the Mint Museum Uptown, and the Harvey B. Gantt Center for African-American Arts and Culture. The Levine Center for the Arts is a must-visit destination for anyone interested in contemporary art and culture.
Uptown Charlotte is also home to many of Charlotte's top restaurants, bars, and entertainment venues. The area has a vibrant nightlife scene, with a variety of live music venues and clubs that cater to all tastes and interests. Visitors can also enjoy a wide range of culinary options, from upscale dining to casual street food.
One of the most popular outdoor spaces in Uptown Charlotte is Romare Bearden Park, which features a variety of recreational activities, including a splash pad, playground, and outdoor amphitheater. The park is a popular destination for families, joggers, and anyone looking to enjoy the outdoors in the heart of the city.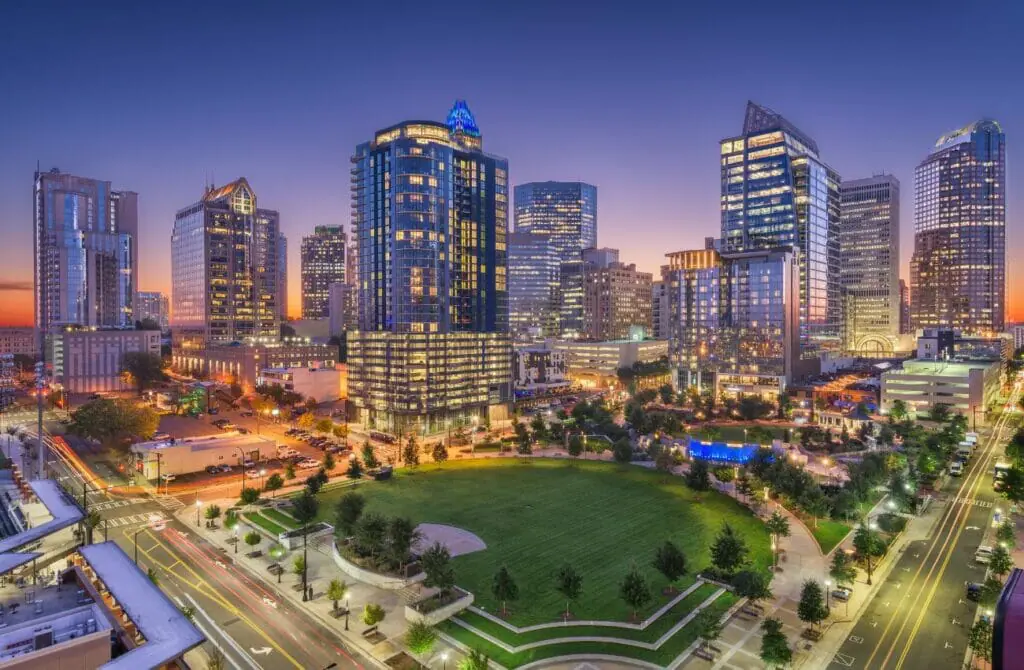 The Levine Museum of the New South
The Levine Museum of the New South is a history museum located in Charlotte, North Carolina, United States. The museum's mission is to tell the story of the American South from the Civil War to the present day, with a focus on the social, economic, and cultural changes that have shaped the region.
The museum's exhibits showcase a range of artifacts, photographs, and multimedia displays that explore the history of the American South. One of the museum's most popular exhibits is Cotton Fields to Skyscrapers, which traces the region's transformation from a rural, agricultural economy to an urban, industrial powerhouse.
The exhibit features a variety of artifacts and displays, including a life-size cotton gin, a recreated textile factory, and a replica of a storefront from Charlotte's historically black neighborhood, Brooklyn. Visitors can also learn about the experiences of immigrants and African Americans during this period and the ways in which they helped to shape the region's culture and identity.
Another popular exhibit is K(NO)W Justice K(NO)W Peace, which explores the history of police brutality and social justice in the American South. The exhibit features photographs, videos, and interactive displays that examine the ways in which communities have responded to incidents of police violence, and the ways in which these responses have shaped public policy and cultural attitudes.
The museum also offers a variety of educational programs and events, including workshops, lectures, and film screenings. The museum is dedicated to promoting understanding and dialogue around issues of race, class, and culture, and encouraging visitors to reflect on their own experiences and perspectives.
U.S. National Whitewater Center
The U.S. National Whitewater Center is an outdoor recreation center located in Charlotte, North Carolina, United States. The center is dedicated to the promotion of outdoor adventure sports, with a focus on whitewater rafting, kayaking, and other water-based activities.
One of the center's main attractions is the man-made whitewater river, which features a series of rapids ranging from class II to class IV. Visitors can take part in guided rafting or kayaking trips, or rent their own equipment and explore the rapids on their own. The center also offers a variety of other water-based activities, including stand-up paddleboarding, flatwater kayaking, and zip-lining over the water.
In addition to its water-based activities, the U.S. National Whitewater Center also offers a range of land-based adventure sports, including mountain biking, rock climbing, and high ropes courses. Visitors can test their skills on the center's many trails and courses, which range from beginner to advanced levels.
The center also hosts a variety of events throughout the year, including music festivals, outdoor film screenings, and adventure races. The center's main event is the annual Tuck Fest, which features a variety of outdoor competitions, live music, and food and drinks vendors.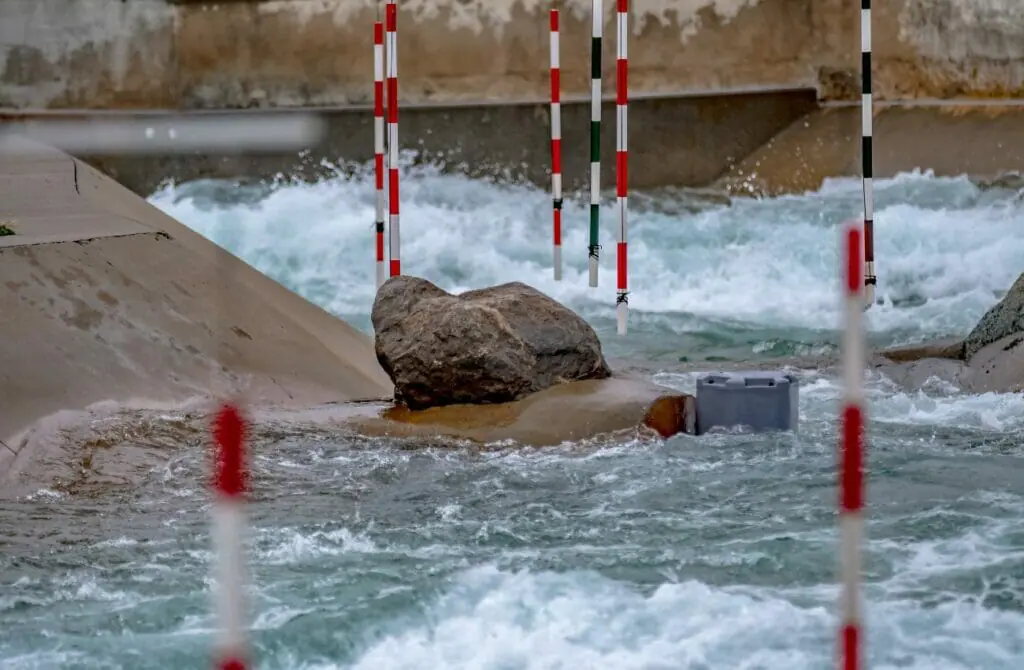 Explore the City's, Fourth Ward
Fourth Ward is a historic neighborhood in Charlotte, North Carolina, located just west of Uptown Charlotte. The neighborhood is known for its beautiful Victorian-era homes, tree-lined streets, and vibrant community atmosphere.
Fourth Ward was one of the city's first residential areas, and many of the homes in the neighborhood date back to the late 1800s and early 1900s. The homes in Fourth Ward are known for their unique architectural styles, including Queen Anne, Italianate, and Victorian.
In addition to its historic homes, Fourth Ward is also home to a variety of restaurants, shops, and cultural institutions. The neighborhood is home to several popular restaurants and bars, including Alexander Michael's, a beloved neighborhood pub, and Mert's Heart and Soul, a Southern-style restaurant that has been featured on the Food Network.
Fourth Ward is also home to several cultural institutions, including the Mint Museum of Craft and Design, which features a collection of contemporary craft and design, and the Fourth Ward School Museum, which tells the story of the neighborhood's history.
Freedom Park
Freedom Park is a popular urban park located in Charlotte, North Carolina. The park spans over 98 acres and is a favorite spot for locals and visitors alike to enjoy outdoor recreation, community events, and natural beauty.
The park features a variety of amenities and attractions, including sports fields, playgrounds, walking trails, picnic areas, and a large pond. The pond is home to a variety of aquatic life, including ducks, geese, and fish, and visitors can rent paddle boats or bring their own kayaks or canoes to explore the water.
One of the most popular attractions in Freedom Park is the Charlotte Nature Museum, which features interactive exhibits, live animals, and educational programs focused on the natural world. The museum is a favorite among families with young children and is a great way to learn about the local flora and fauna.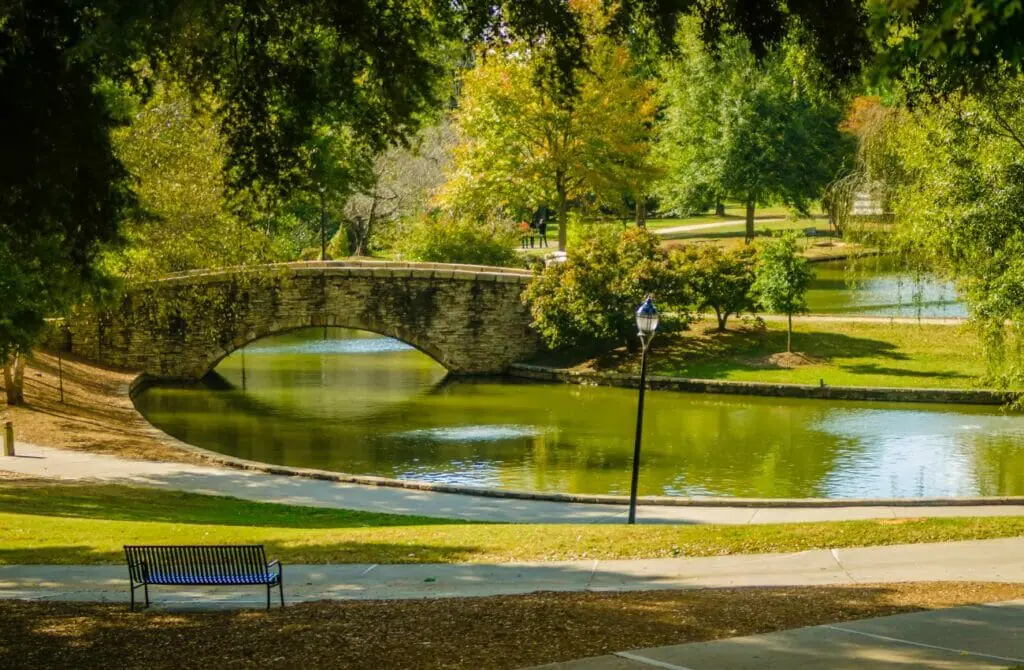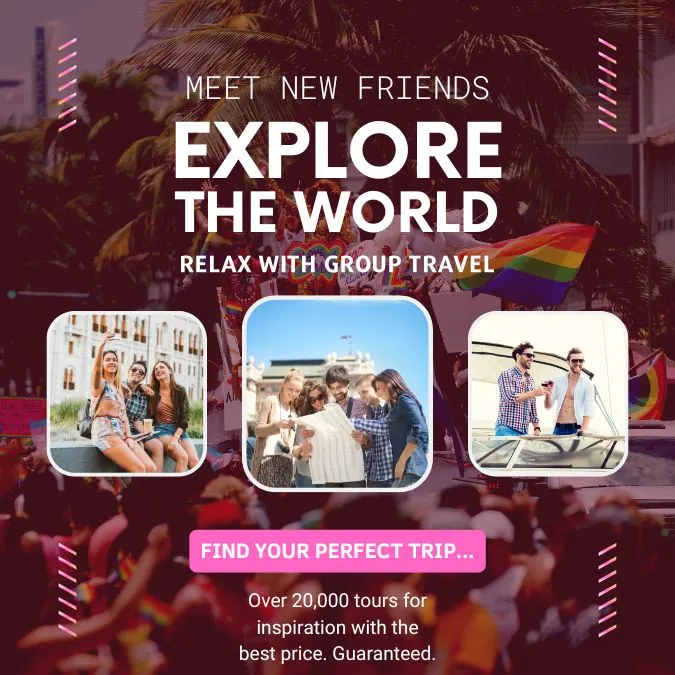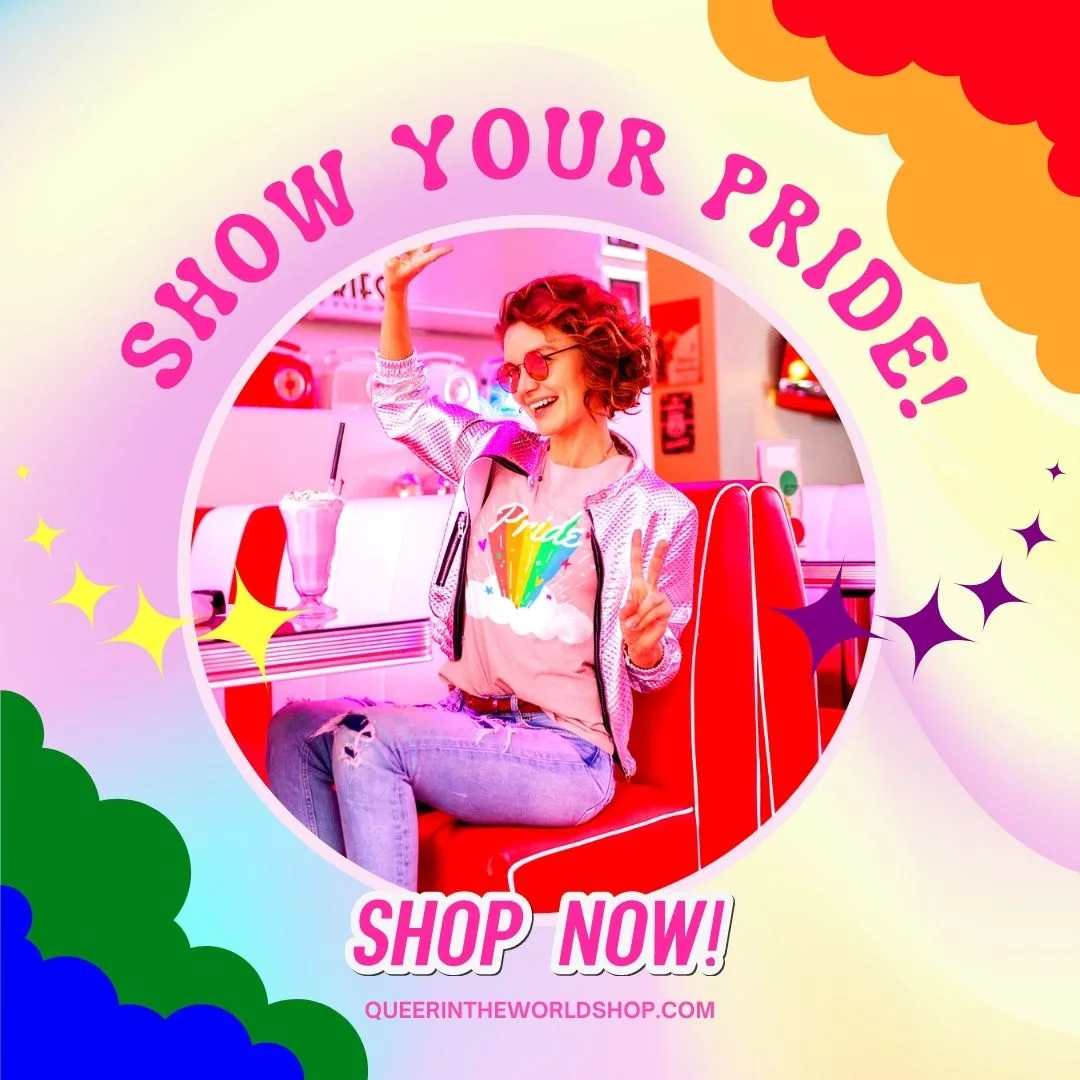 Gay-Friendly and Gay Hotels in Charlotte, USA
An inclusive place where you can be yourself and feel safe is all any of us wants and gay Charlotte does not disappoint in providing hotels from different ranges that are allies and friends to the gays -locals and visitors.
Being gay-friendly accommodation means that the establishment is welcoming and inclusive to guests who identify as LGBTQ+. This can include, but is not limited to, having policies and practices in place that demonstrate a commitment to creating a safe and inclusive environment for LGBTQ+ guests, such as non-discrimination policies, and providing support and resources for LGBTQ+ travelers.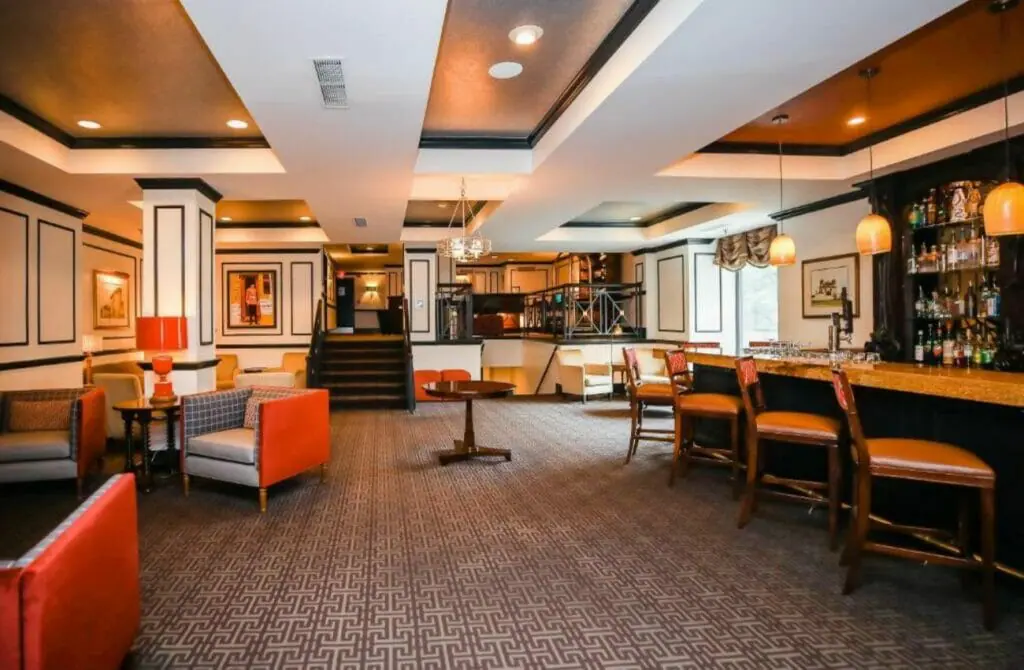 Some gay-friendly accommodations may also provide amenities specifically catering to the LGBTQ+ community, such as rainbow flags or literature about local LGBTQ+ events or resources. Furthermore, gay-friendly accommodations may be located in an area that is known for being LGBTQ+ friendly.
While Charlotte does not have any specifically gay hotels or resorts, these are the most fabulous and pro-actively gay-friendly hotels in Charlotte. Needless to say, there are also hundreds more hotel and hostel options in Charlotte if none of these suit your desired budget, facilities or area – but these are the best hotels according to other gay travelers and us.
Whatever your needs are, Charlotte has you covered.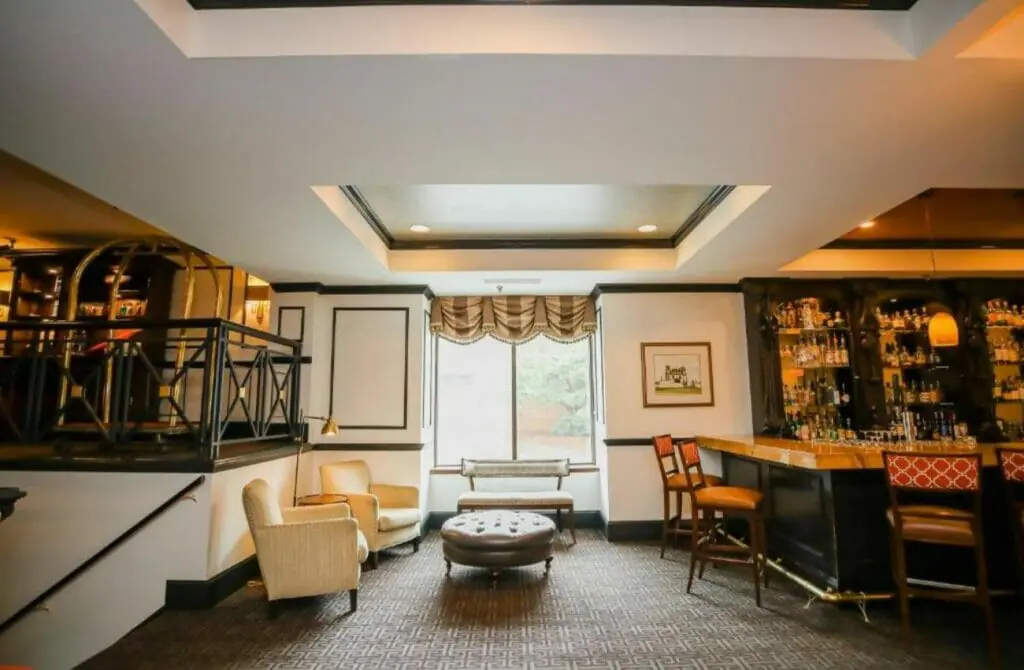 Discover lodgings that have modern conveniences for today's travelers while evoking the 1920s. In each of the 60 exquisitely furnished guest rooms, you'll find a writing desk, an armoire, triple-sheeted beds, and new, opulent bedding. Enjoy luxurious marble baths, robes, turndown service, and chocolate-covered strawberries from the distinctive Beekman Collection.
Also, the visitors like flat-screen televisions, iPod docking stations, Keurig coffee makers, voicemail, and wireless internet access, which are subtly incorporated into the classic ambiance. With two step-out balconies and a bistro set to enjoy the views of Uptown Charlotte, the penthouse suite is unique in Charlotte.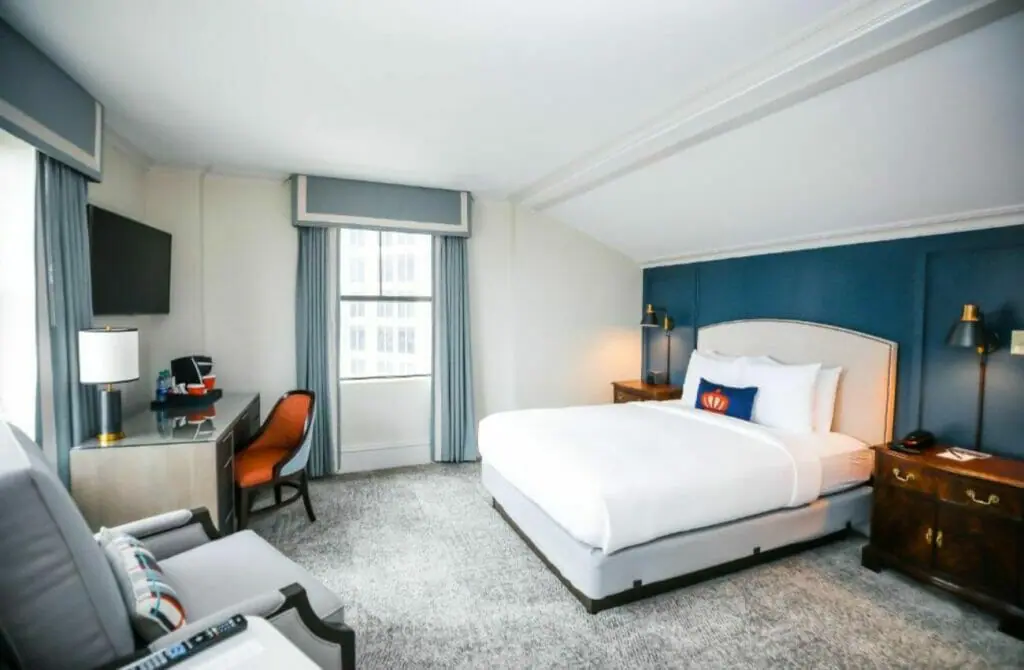 At the Westin Charlotte, unwind and revitalize your body, mind, and spirit. the hotel enjoys a prime location in the Uptown neighborhood of the city, just a short distance from the Charlotte Convention center and Bank of America Stadium.
You'll feel at home in the 4-star rooms and suites with wellness-improving features like the Westin Heavenly Bed and Heavenly Bath, as well as high-speed Wi-Fi, desks with ergonomic chairs, and 24-hour room service, whether you're here on business or for pleasure.
The Méridien Charlotte offers thought-provoking experiences to unlock Uptown. The Charlotte Convention Center, Bank of America Stadium, downtown establishments, and lively nightlife are all accessible to guests of the hotel.
Later, catch up at Cloud Bar by David Burke, the newest rooftop destination, where specialty drinks are served alongside some of Uptown Charlotte, North Carolina's best sunset views and light appetizers. Red Salt by David Burke offers modern American cuisine and a seasonal menu that features steak cuts that have been dry-aged in Himalayan sea salt, making it the perfect place to round off your day.
Travelers on the road can keep energized in the cutting-edge exercise facility or at the seasonally open outdoor pool with cabanas. the venues, which can accommodate up to 1,800 guests, are the perfect setting for imaginative meetings, weddings, and parties.
The interior decor of hotel rooms and suites is creative, and there are many more appealing features. Explore Uptown Charlotte, North Carolina, from the vivacious and sensual hotel.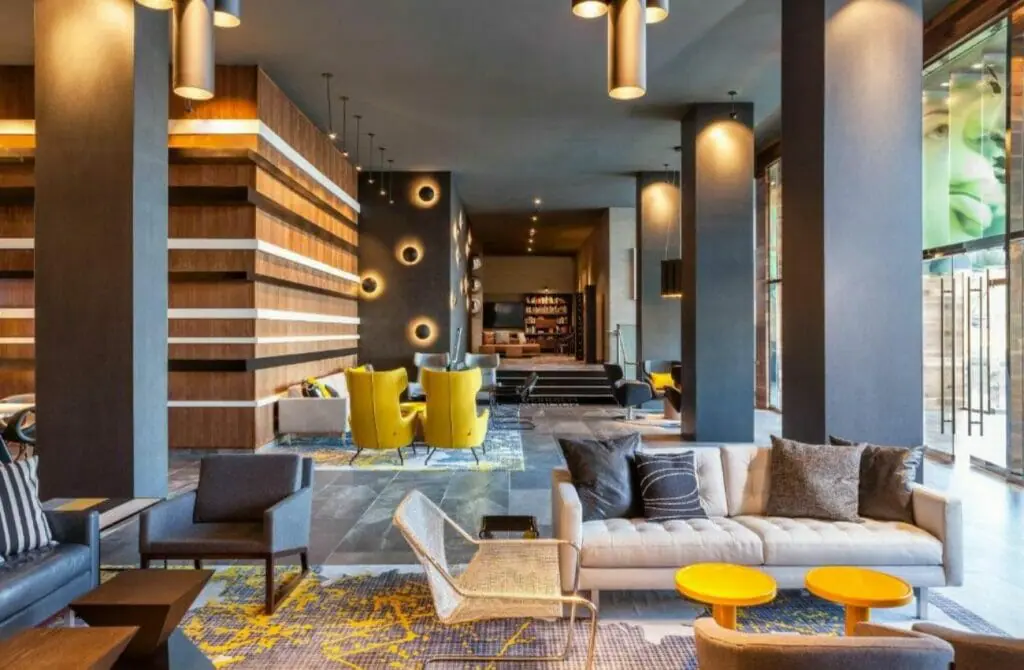 In addition to offering a continental breakfast in the Library Lounge and complimentary WiFi, this upscale boutique hotel is situated in the heart of Downtown Charlotte. 328 feet away is the Mint Museum of Craft and Design. Custom cocktails and light nibbles are available at Sophia Cocktail Lounge.
Locally produced pastries, freshly brewed coffee, and complimentary local and national newspapers are all part of the Library Lounge breakfast. A minibar, a 55-inch 4K flat-screen TV, and an all-white marble bathroom are included in each room.
There is a floating bathtub in some rooms. Italian Frette linen and a single-serving Nespresso coffee maker are extras. Treadmills, ellipticals, and weight training equipment are all accessible.
This premium hotel offers the ideal location for both business and leisure travel in the center of Charlotte's walkable Uptown financial district. The Omni Charlotte Hotel, which is connected to 12 city blocks by a sky bridge, is close to popular attractions like Discovery Place, the Charlotte Convention Center, and the Spectrum Center.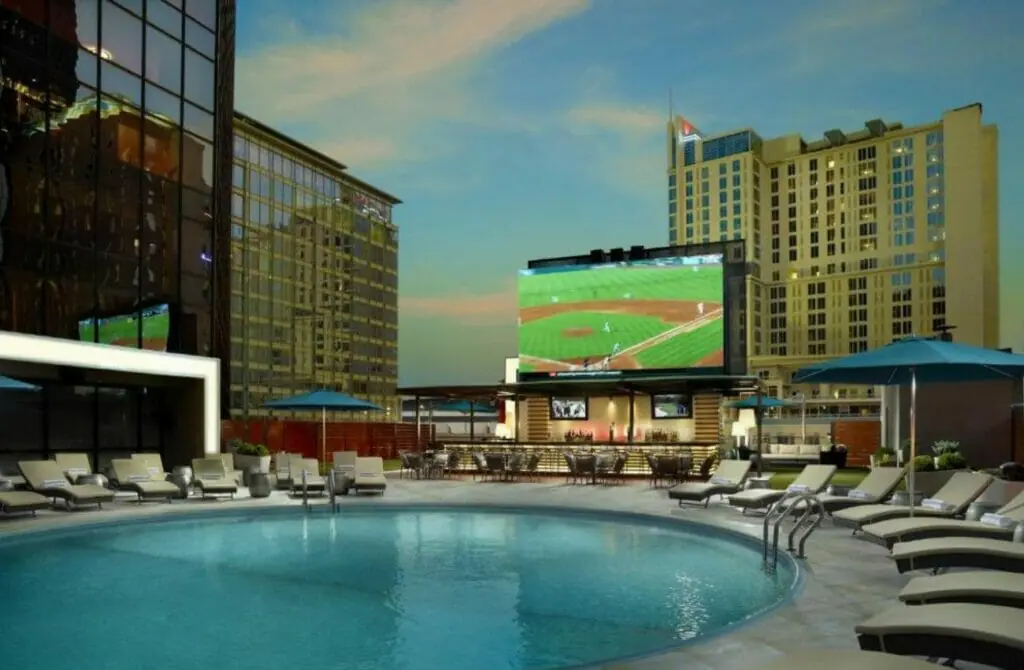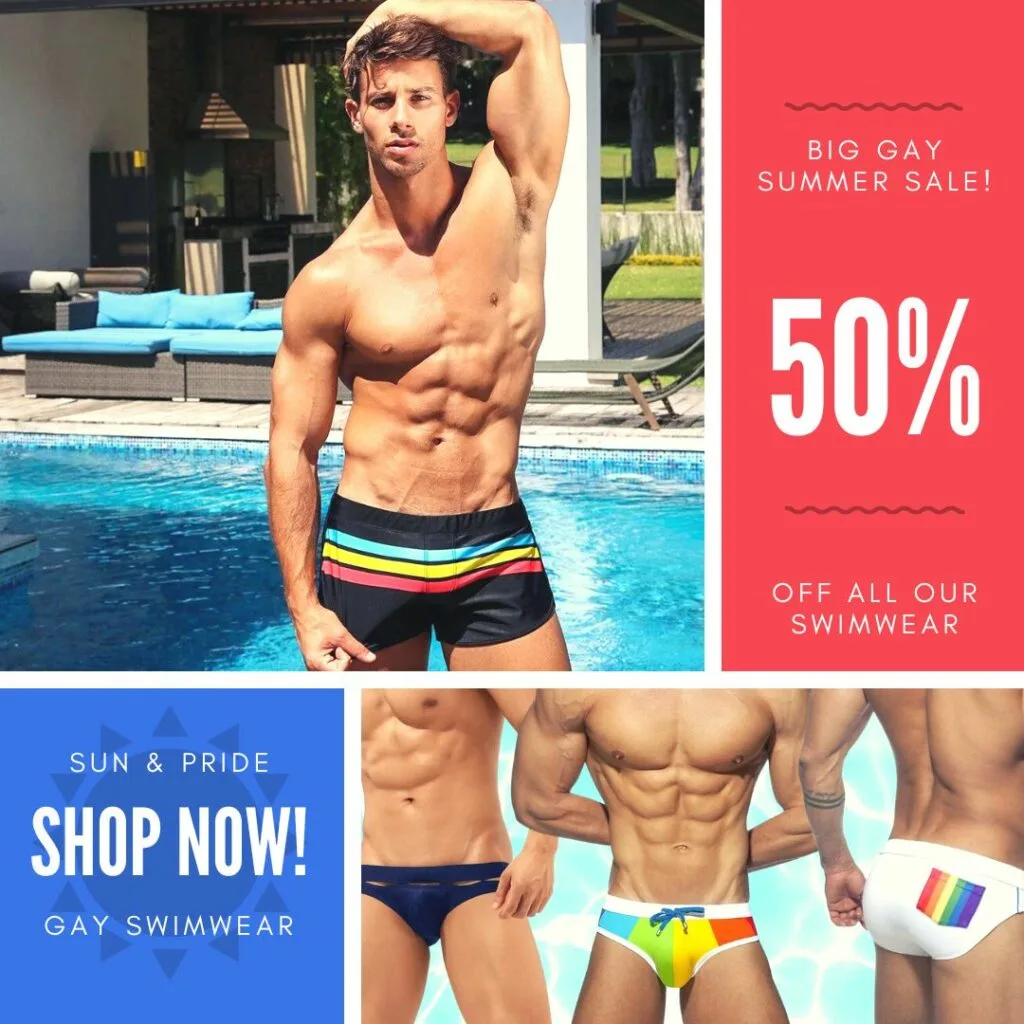 Country Inn & Suites by Radisson ☆☆☆
Country Inn & Suites by Radisson, Charlotte I-85 Airport, NC is a charming hotel that offers guests a comfortable stay in a warm and welcoming atmosphere. The hotel's ambiance is characterized by its cozy, homely feel, which is designed to make guests feel relaxed and at ease.
From the moment you step into the lobby, you are greeted with a warm smile and a welcoming atmosphere that is sure to put you at ease. the guest rooms are also decorated with attention to detail. The rooms are spacious and well-appointed, with comfortable beds, plush bedding, and beautiful artwork that adds a touch of personality to the space.
Bposhtels Charlotte is a unique hostel located in the heart of Charlotte, North Carolina. The hostel stands out not only for its affordable rates but also for its impressive design and relaxing ambiance. The use of natural wood throughout the hostel adds warmth to the otherwise industrial design.
The communal areas, including the kitchen and lounge, are open and spacious, with plenty of natural light streaming in through the large windows. If you're looking for a budget-friendly place to stay in Charlotte that doesn't compromise on style or comfort, Bposhtels Charlotte is definitely worth checking out.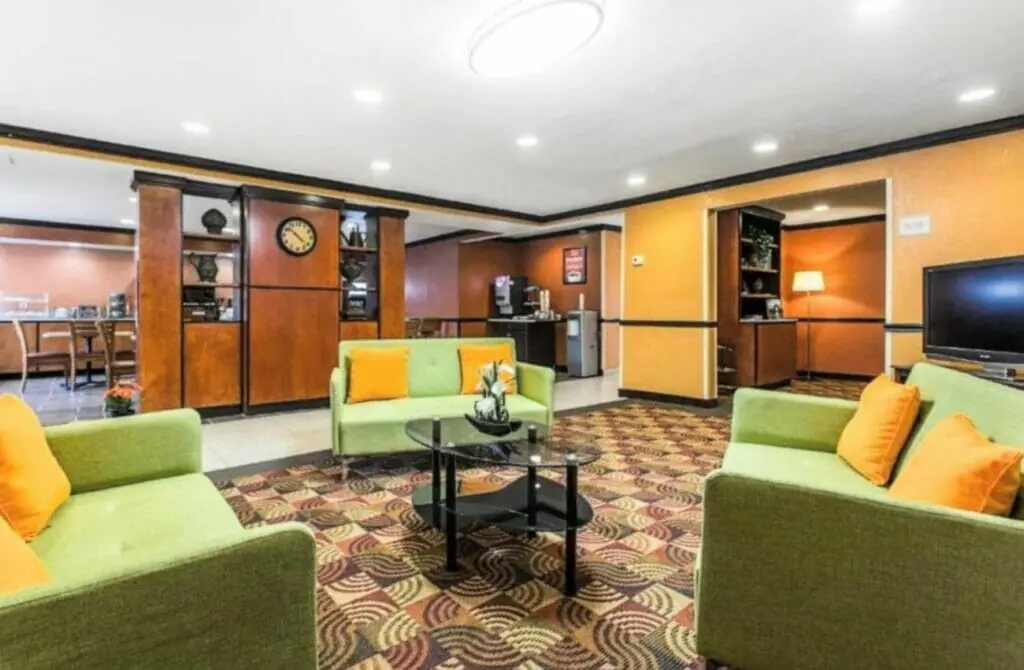 Gay Nightlife in Charlotte, USA
Exploring the gay and gay-friendly nightlife in a new city can be one of the most exciting and rewarding experiences while traveling – and Gay Charlotte is no exception. Not only will you have the opportunity to meet new people and make friends, but you'll also get a taste of the local culture and learn more about the city's LGBTQ+ community.
Going out and experiencing the queer and queer-friendly nightlife in a new city can also be a great way to break out of your comfort zone and try new things. Whether it's dancing the night away at a gay club or mingling with locals at a gay-friendly bar, you'll have the chance to make memories and create lasting connections.
So, don't be afraid to step out of your comfort zone and explore the gay and gay-friendly nightlife in Charlotte. You'll be glad you did!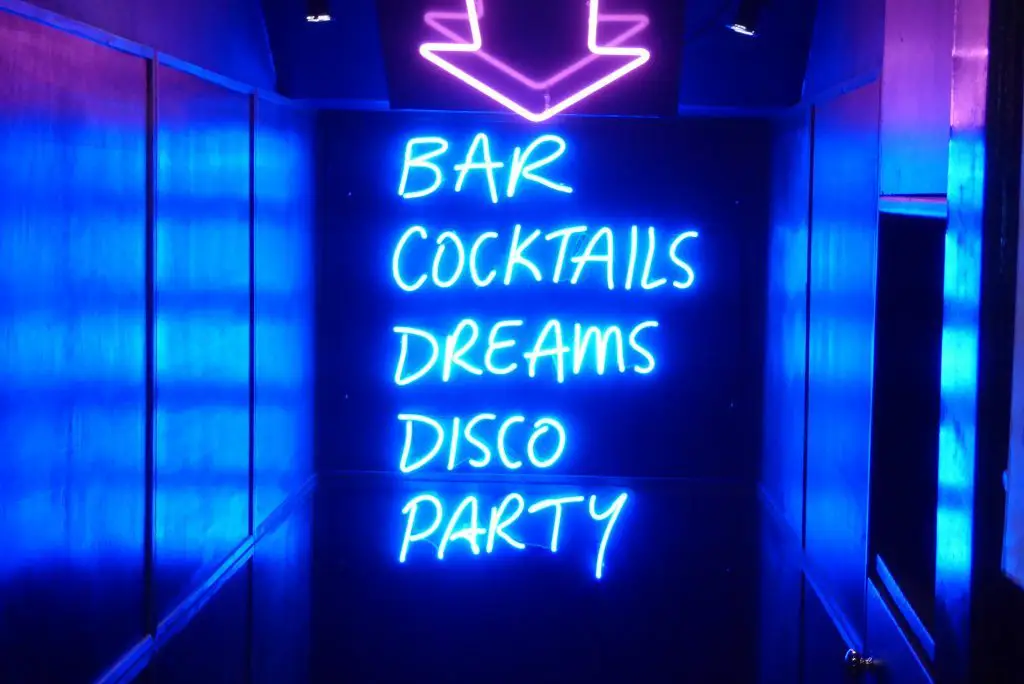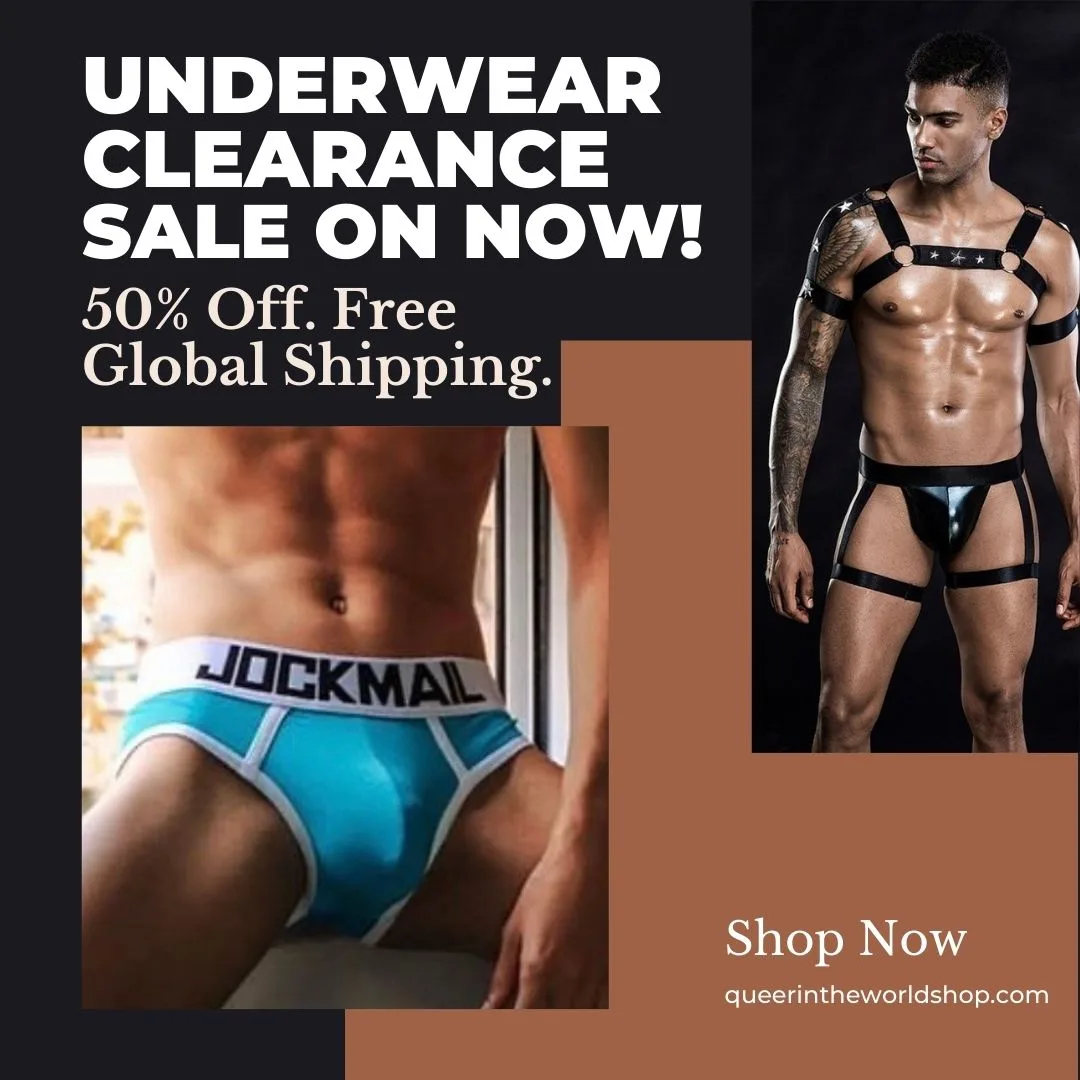 Gay and Gay-Friendly Bars
When it comes to nightlife, this city goes down hard. The streets are painted with every color of the rainbow flag -figuratively speaking. From drag shows, quiet nights and jazz to hard parties clubs and EDMs, gay Charlotte has it all.
This is known as the symbol of the queer community in Charlotte. Chasers have been open for over 30 years and it welcomes everyone. They are open from Wednesdays to Sundays from 4 pm to 2 am. They host unique fun nights "gayming" nights on Wednesday, twerk it Thursday, EDM parties and more.
Chasers are known nationwide for leaving memorable moments for every guest that visits. Saturdays are known as Sinful Saturdays when all your wildest fantasies are indulged.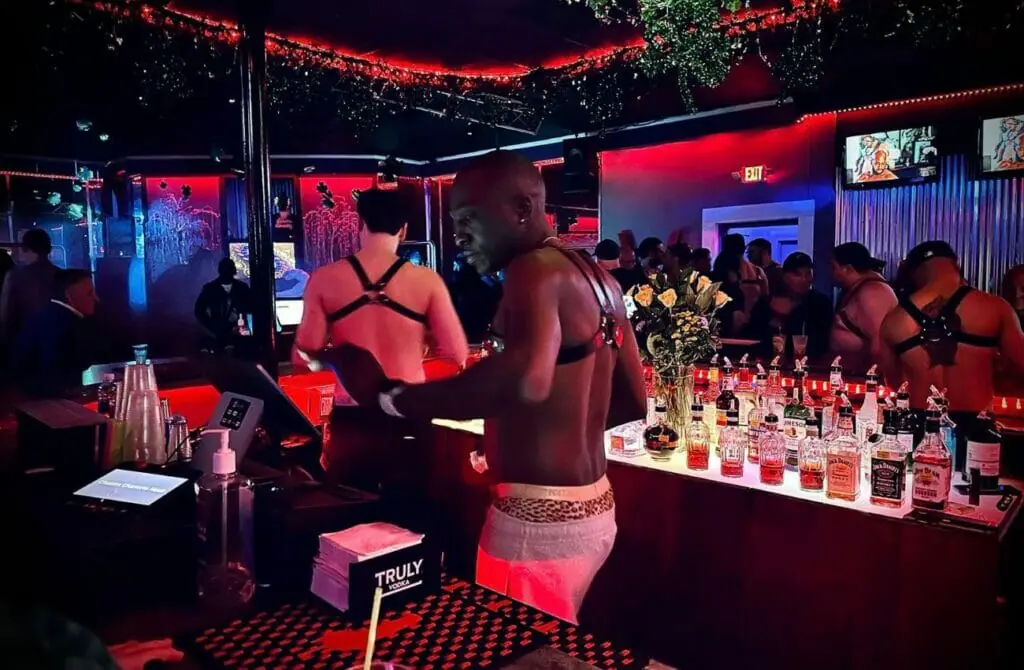 Starlight on 22nd is a neighborhood pub that caters to individuals who desire a more laid-back atmosphere. Escape the crowds and unwind in a creative atmosphere on the outskirts of Charlotte's art-driven NoDa area. Although it is not a gay bar, Starlight is very inclusive and inviting to the queer community.
Charlotte's only LGBTQ+ video lounge and dance bar is Bar Argon. Argon offers a Video Lounge, Dance Floor, Specialty Cocktails, Wine, Craft Beers, Several Drafts, and a broad selection of domestic and imported beers to its guests. Everyone is welcome.
Argon's drag shows are to die for because it puts a little twist to them. They combine the drags with a race. It is absolutely stunning to witness. Argon also hosts karaoke parties and Dj parties where things become very interesting quickly.
The Bar at 316 is a place to gather with your friends and have a drink in a non-smoking home-like environment. The goal of the bar is to provide a relaxed neighborhood pub with great drinks and pleasant music, as well as intimate chat rooms to meet with friends and they succeeded.
The Bar at 316 is of one the best Gay club/bar in Queen City, offering the best in entertainment, drag performances, and bar service. The pub features weekly karaoke, video bar, game night, drag show, pool, dancing, special entertainment, and more. It is referred to as the "local" LGBTQ bar because it is a "friendly" location for guests and regulars.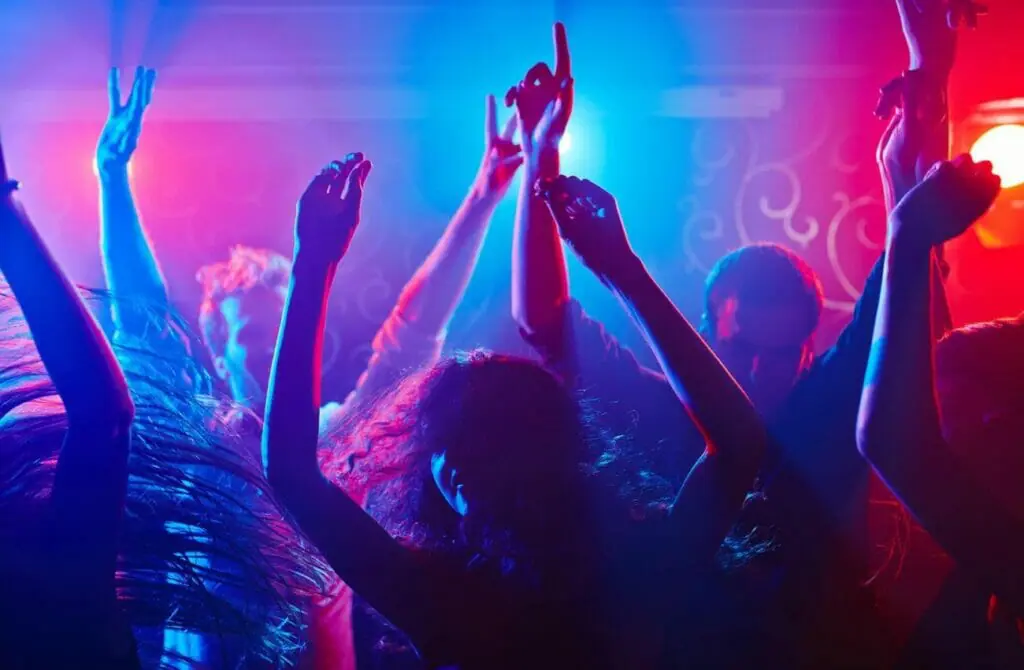 Illusions: The Drag Queen Show
The funniest drag queen hosts you'll ever have the pleasure of meeting perform in magnificent burlesque flair at Illusions the Show, which features performances by the top celebrity impersonators in the business.
This celebrity tribute drags queen dinner and brunch performance will blow you away with its excellent food, outrageous humor, and sophisticated entertainment. Other Drag Queen Shows are nothing compared to this fantastic cabaret!
The Scorpio is Charlotte's longest-running live entertainment complex for the LGBT/Bisexual/Transgender community. Be sure to follow their socials for updates on events because they are always changing.
The Woodshed Pub is a welcoming neighborhood bar in a terrific location. Everyone is welcome in this friendly bar! The Woodshed offers daily drink deals, pool tables, a large patio, and two outdoor bars for fun during the week and on weekends.
The owner and bartender, Timothy are the friendliest. Woodshed also throws one of the most intimate pride parties so if you are in Charlotte during pride, be sure to check it out.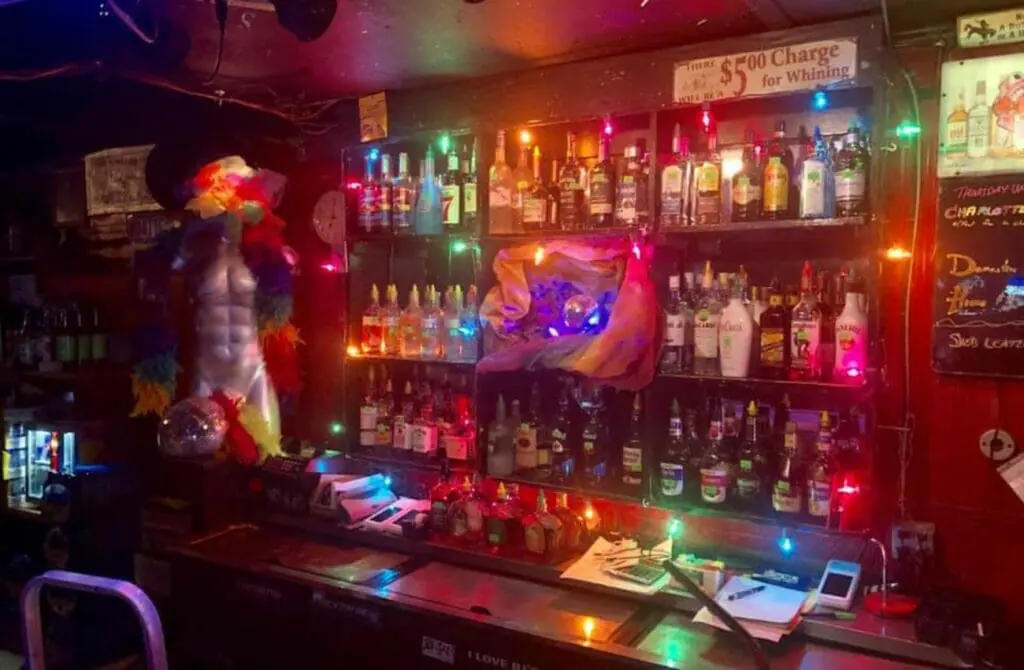 This is the newest gay nightclub in the city. They serve wonderful drinks, and good parties plus hot boys seem to never get enough of this place. The fact this place is new does not mean they don't give the veteran's gay bars a run for their money! Their drinks are some of the best you'd ever taste and their fierce Friday parties are just that fierce.
One of Charlotte's largest and original gay venues is Azucar Latino. Azucar provides a large dance floor, an improved sound and lighting system, a VIP section, and much more. Azucar is the definition of South America in Charlotte.
Latinos are known for their culture, their food and their parties and oh my, do they know how to party? Every day is "Funday" in this magnificent bar. The dance floor never runs out of cute boys and the bottles never run dry.
Sidelines Sports Bar and Billiards
This is the only gay sports bar in the Carolinas. You can play foosball, play pool, play darts, and watch your favorite game on any of the 12 screens at Sidelines, and also have some great drinks. They mix simplicity and honesty.
Sidelines Sports Bar & Billiards is the place to go for providing a warm and accepting atmosphere to all Queen City queer folks, you will even find non-members of the LGBTQ+ community here having a nice cold beer and watching the game on a Sunday evening.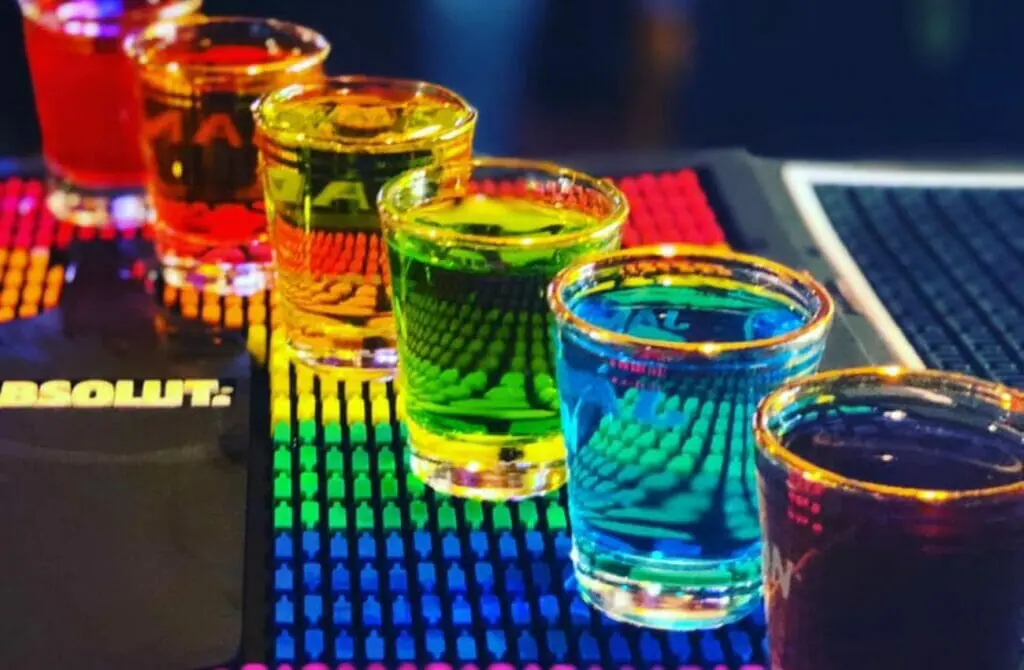 The best hookah lounge in Charlotte encourages a calm, welcoming atmosphere for everyone. A 150″ projection screen with streaming music videos and movie nights is available at The Peace Pipe, along with luxury hookahs, free use of board games and playing cards, and a full bar with specialty cocktails, beer, wine, munchies, and candies.
The Peace Pipe is the place to be if you are looking to blend in with a young crowd. We also recommend you try out their shisha, it is top-notch.
Since 1989, The Hide-A-Way has been a long-standing Private-alternative bar in Rock Hill, SC. Drag shows, pool games, and karaoke are regularly hosted here and on special nights, they host "knotty parties".
The Artisan's Palate is a NoDa restaurant, cocktail & wine bar, and art gallery with a spotlight on art and those who create it. The Artisan's Palate is a one-stop shop if you are looking for everything in one place. They offer it all from local coffee throughout the day to rustic-yet-refined meals and handpicked cocktails and beers at night, as well as savory and sweet brunches on Sunday.
There is also a gallery and the total ambiance of this bar is tailored towards art and the artists that make the art. The clientele is usually calm and reserved, so if you want a quiet evening out at one stop place, the artisan's palate is the place for you.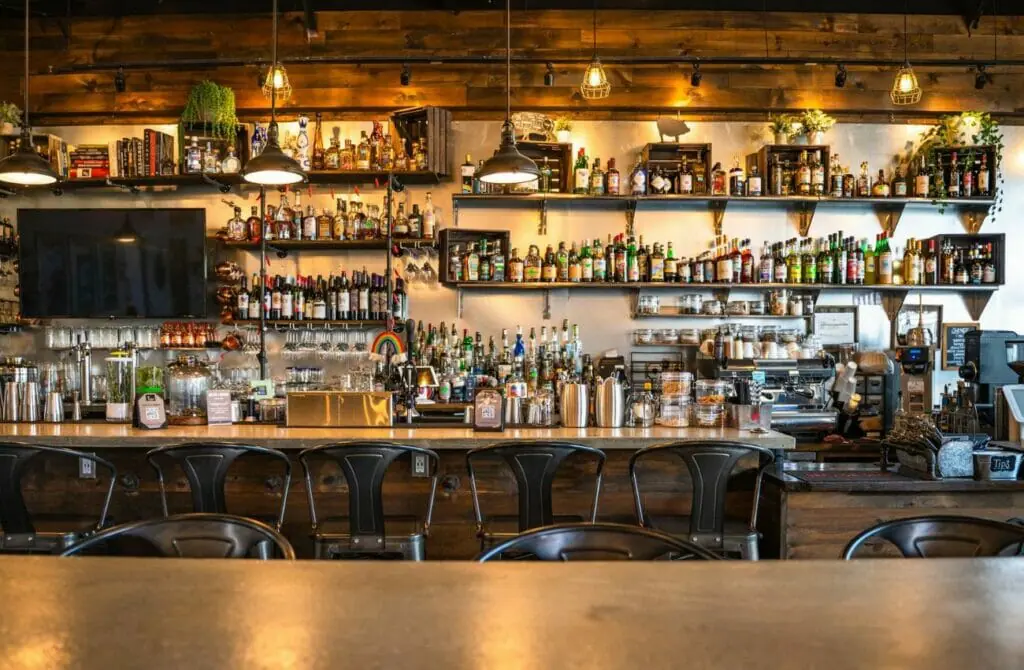 Cruising and Gay Sauna in Charlotte, USA
When traveling to a new city, it can be exciting to head out for more than just a stiff drink. One aspect of the Gay Charlotte scene that many queer men enjoy is visiting gay saunas and cruising clubs.
Sure, the sauna culture in Charlotte is not as hedonistic as in Amsterdam, Barcelona or Berlin, but these venues still offer a chance to meet new people, socialize, and engage in sexual activity – without resorting to gay hookup apps.
However, it's important to keep in mind that these venues can vary greatly in terms of atmosphere, clientele, and rules, so it's a good idea to prepare yourself before visiting. If you are apprehensive, we advise studying our guide to visiting a gay bathhouse for the first time, which should help set your mind at ease, and always practice safe sex.
Additionally, it's important to be aware of and respect local laws and customs regarding gay venues and sexual activity. With a little bit of planning and an open mind, visiting gay saunas and cruising clubs can be a fun and exciting part of your gay Charlotte travel itinerary.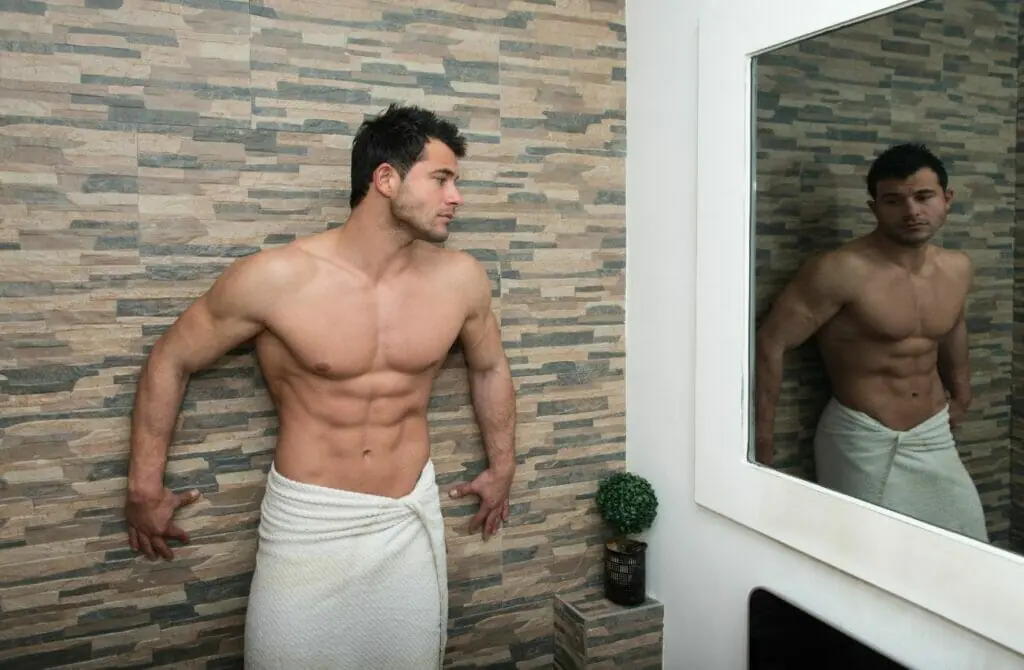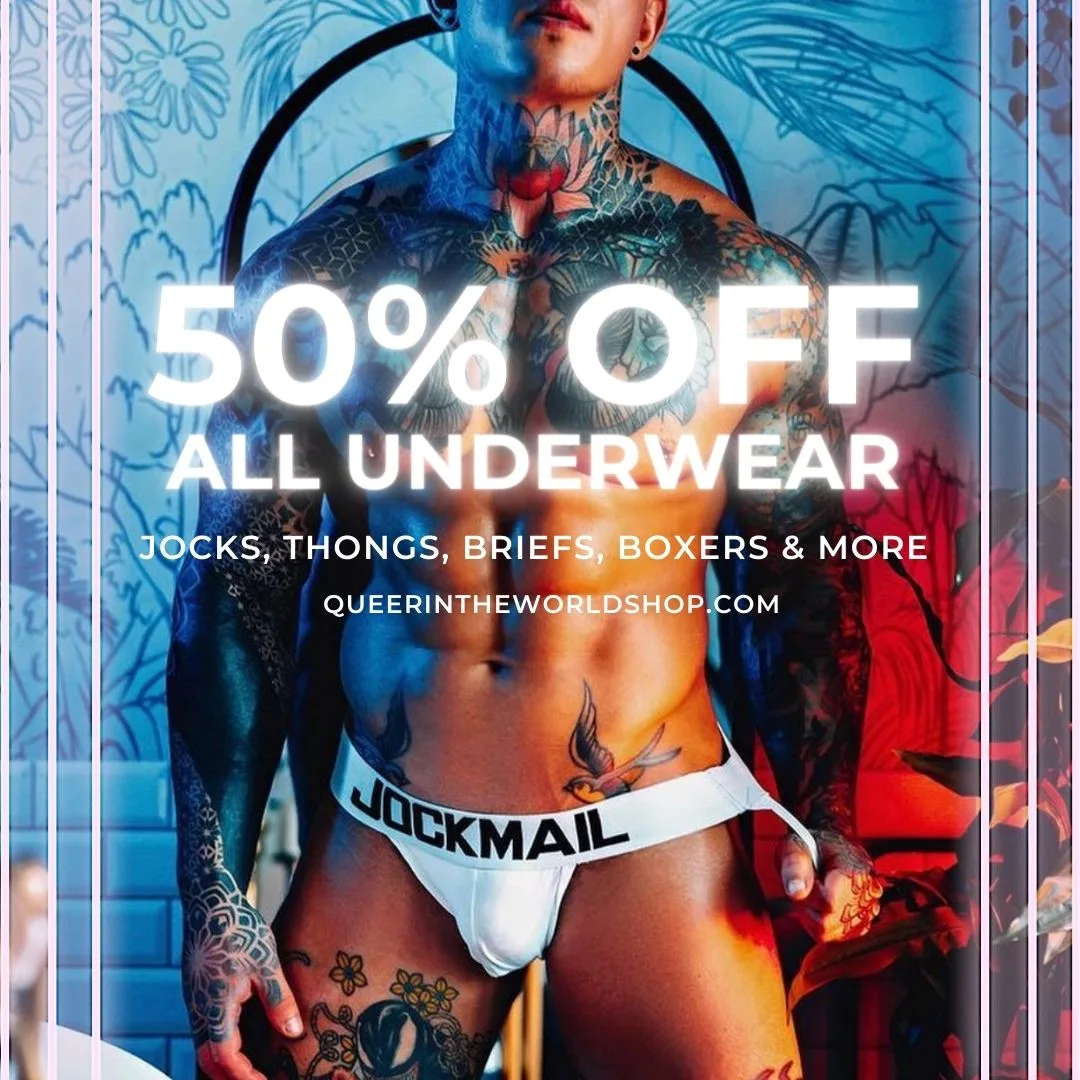 Gay Sauna
Only men are allowed into this amazing spa and sauna. It features dry saunas, hot showers and baths and massages. Everything is tailored perfectly to ensure you are relaxed and taken care of. You can mingle with other guests and make new friends. Every single knot in your body will be gone by the time you leave this place. They are open Wednesday through Sunday from 11 am to 7 pm.
Gay Map Of Charlotte
Finding it hard to envisage where everything is in Charlotte? Hopefully, this queer-centric map helps where we have marked all the bars, clubs, parties, hotels, saunas, massages and more will help you stay in the spot best suited to you!