With countless gorgeous blue lakes, towering skyscrapers, vibrant entertainment and cultural scenes, a series of lakes dotting its cities, and lip-smacking food; Minneapolis undeniably is the most entertaining and beautiful city in the United States of America.
With the stunning setting and the Mississippi River running through the city, there is no doubt that every traveler ends up falling in love with the town just like the locals. And that is why every couple must visit Minneapolis whether they are on a getaway, honeymoon, or vacation. The city's magic will surely rekindle the romance!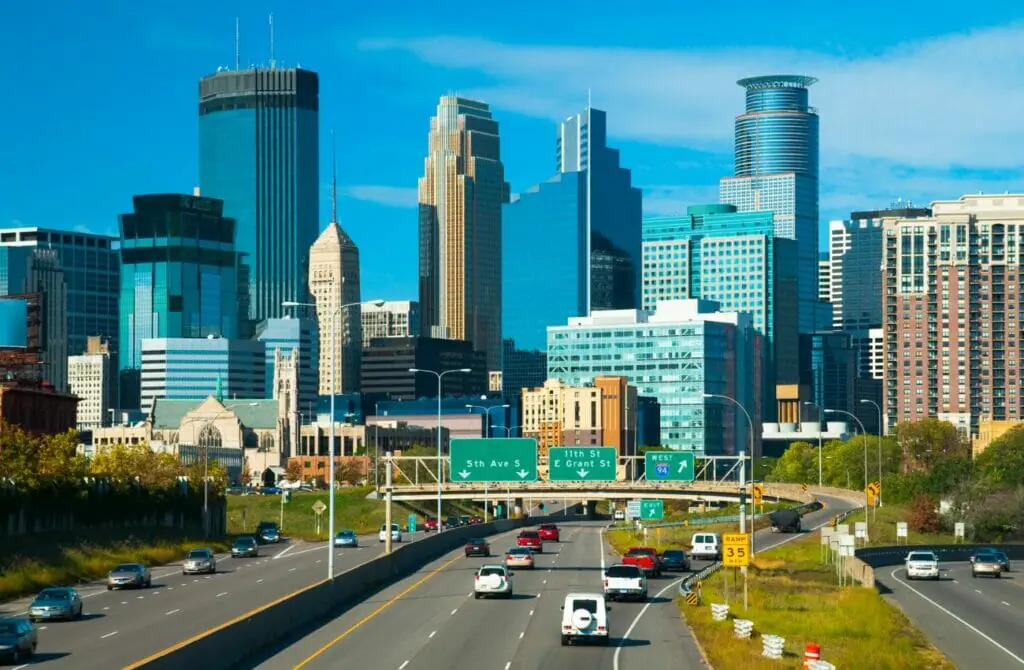 Couples who want to travel together and experience a distinctive fusion of urban and natural attractions will love Minneapolis. Many romantic pursuits are available in the city, such as strolls along the riverbank, candlelit meals at acclaimed eateries, and visits to museums and art galleries.
Minneapolis is often regarded as a very gay-friendly city and has a strong LGBTQ+ population. It has a strong history of defending the rights of LGBT people and hosts several pubs, clubs, and events for the community. In a list of the gay-friendliest cities in the US, Minneapolis came in third place in 2013.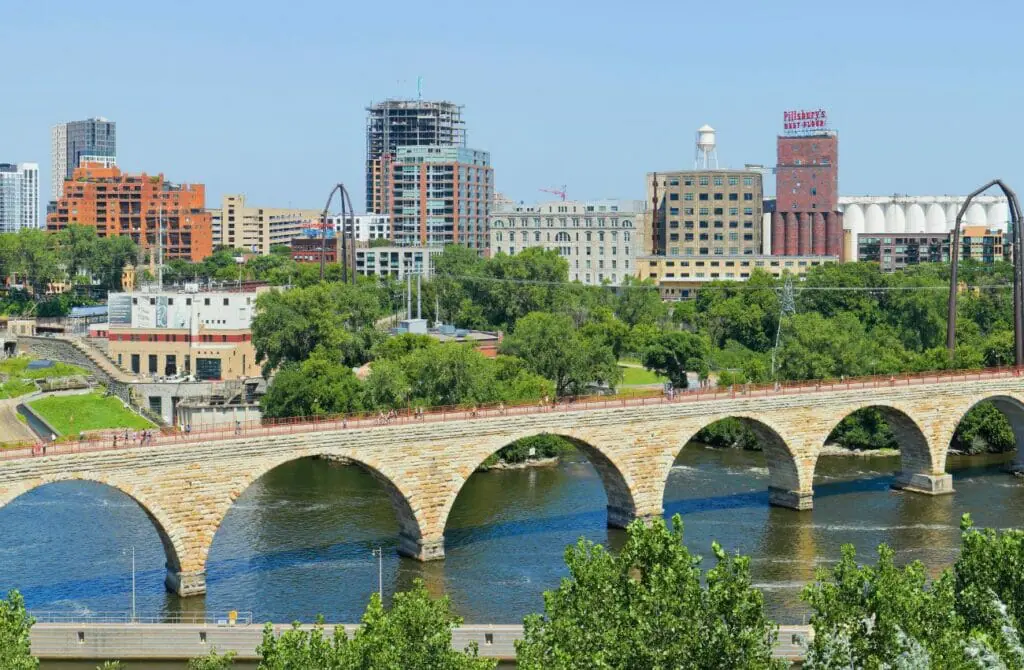 Attractions in Gay Minneapolis, USA
The City of Lakes, known for its welcoming and inclusive community, has long been a popular destination for members of the LGBTQ+ community. Its thriving arts and culture scene, rich history, modern landmarks, and of course the magnificent natural beauty is why every year millions of gay couples pick Minneapolis for a romantic getaway.
As a new visitor to Gay Minneapolis, there are plenty of things to see and do, regardless of your sexual orientation. One of the best ways to experience any new city is to visit some of its most iconic landmarks and attractions, including visiting historical monuments, museums, and art galleries.
We also love gazing at architecture up close, exploring parks and gardens, sampling the local cuisine, visiting local markets, and attending cultural events such as festivals, concerts and shows.
Even as the out-and-proud queer we are, we still love to just explore the city and its culture in the same way as everyone else. Doing so allows us the opportunity to learn more about the city and its people and gain a deeper understanding of the local culture. As such, these are our favorite must-see attractions in Minneapolis.
Read below to find the not-to-miss spots in the city.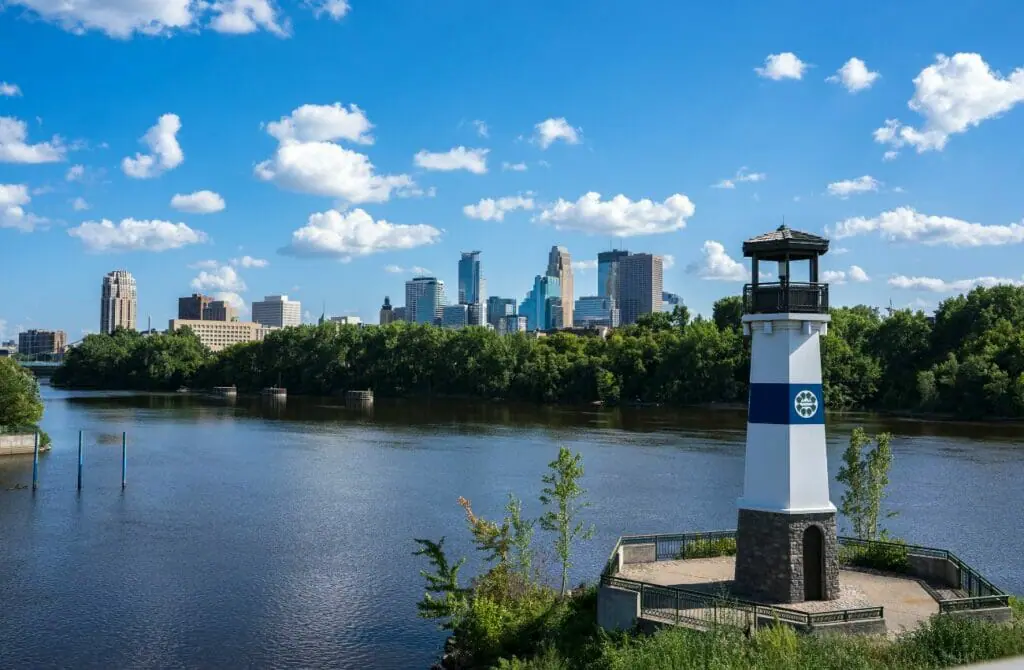 Midtown Global Market
Midtown Global is a modestly large marketplace featuring a variety of regional sellers and a handful of restaurants.
The Midtown Global Market is a hub for cultural exploration. Around 50 vendors may be found in the international public market, including a variety of eateries, specialized produce and groceries, and locally produced crafts and souvenirs.
The market was established when Hispanic business owners in the area persuaded the City to rescue the abandoned Sears building and transform it into a location that would reflect Minneapolis' enormous ethnic variety. Almost 1.5 million people now attend the market annually.
Crystal clear water, lush green forests, stunning vistas of sky, and the picturesque landscape; Mississippi River is all this and all. Renowned for its breathtaking scenery, the river has often forgotten its historical significance and cultural diversity. Running through 10 states of the United States, the Mississippi is nick-named for this reason as "Father of Waters."
The tranquil scene is not the only thing the river offers, if you are planning a date at this pristine site, here are a few ideas: take a scenic tour of the river and enjoy the views of the wildlife and river banks, go for fishing with your partner, check out the parks and museums along the river, or indulge in an adventurous water sport. Whatever activity you choose for your evening, don't forget to take pictures with the serene landscape as a backdrop.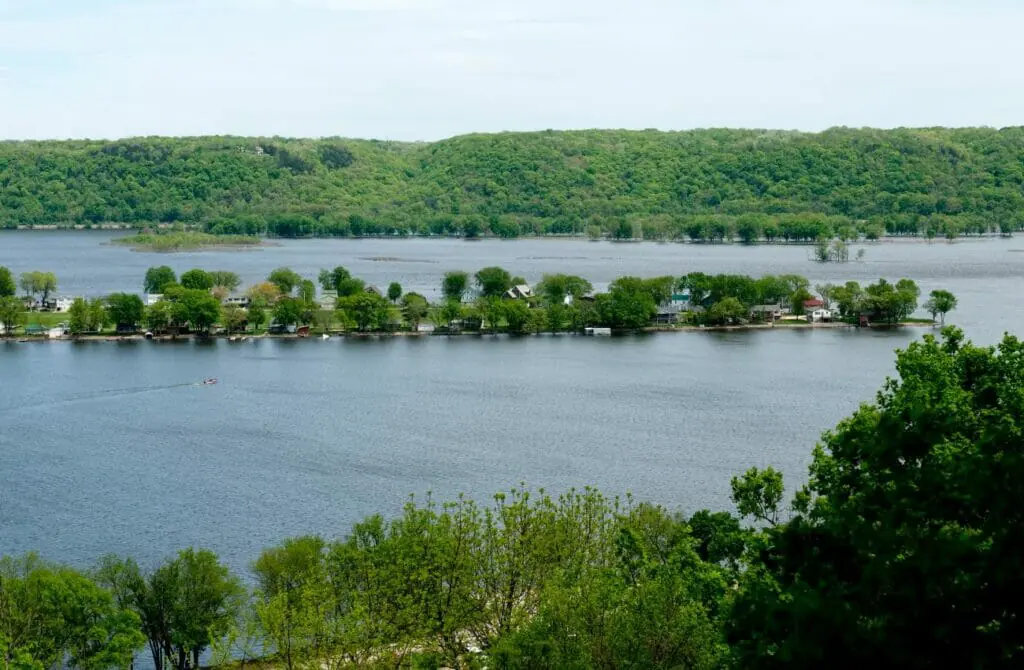 Fair State Brewing Cooperative
The third brewery in the nation and the first in Minnesota to be operated by a cooperative is Fair State Co-op. They are renowned for their creative small-batch brews made using uncommon and regional ingredients.
The craft beer produced by Fair State Brewing Cooperative, which comes in a variety of tastes and types, is well renowned. The brewery produces a varying range of flagship, seasonal, and experimental beers in addition to its regular offerings.
Fly, float, hover above the ground, dance in the air, or feel the adrenaline rush of free-falling without a parachute or plane at the iFly Indoor Skydiving Adventure. You can experience the thrill of skydiving in a secure indoor wind tunnel whose walls are transparent, making it easier for you to be recorded live or for the spectators to see.
A quick training session and safety orientation are given by certified instructors to help you prepare for soaring through the air!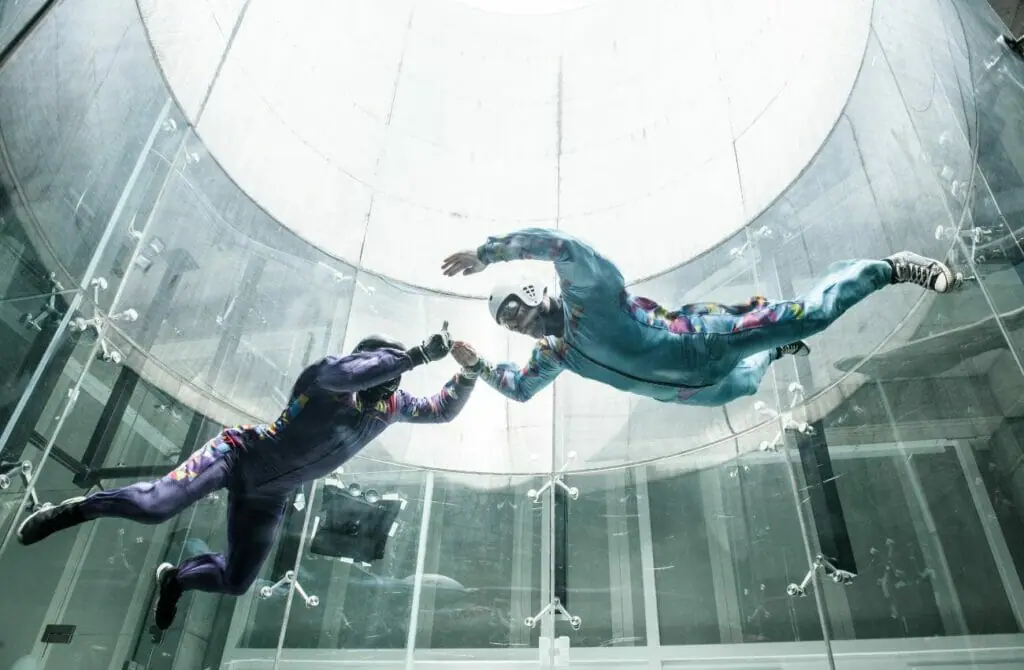 The famous Dunn Brothers Coffee originated in this very city in the late 1980s by brothers Ed and Dan Dunn. At this original coffeehouse find the roasted in-house range of styles and flavors of coffee with a varied selection of artisan baked goods.
The aroma of freshly brewed coffee adds to the cozy atmosphere.
Loring Park
Loring Park, the biggest park in the downtown area, is well known as the location where the Twin Cities Gay Pride Festival celebration goes wild. Moreover, it contains a wading pool, picnic areas, a garden, a playground, a pond, and a bandstand. It also has basketball and tennis facilities.
Overall, Loring Park is a stunning and warm location that has many unique features for gay couples. Anyone may find something to enjoy at Loring Park, whether they're looking for a romantic spot to go on a date, a peaceful place to unwind, or perhaps to host a vibrant event.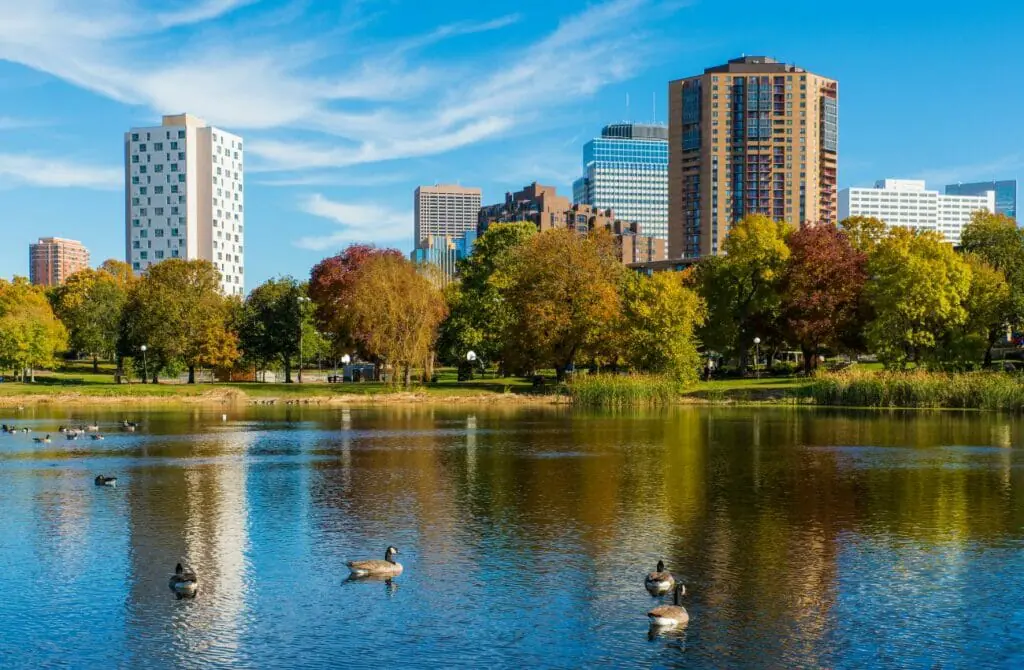 The Mall of America – where you can find almost everything. From shopping to dining, theme park to the aquarium, this mall has known to have it all.
Among many unmissable spots, the Sea Life Aquarium comes at the top. Due to their housing of more than 10,000 sea creatures, an underwater tunnel, an Octopus Garden and never before seen mesmerizing animals; expect the place to be crowded.
If you want to stop for food, try the famous rock 'n' roll memorabilia of Hard Rock Cafe and we promise you will leave while licking your fingers.
Appreciate the view from the top of the 53-foot waterfall, munch at the snacks at their picnic table, stroll through the Minnehaha Park, hike on the trails, or watch the sunset at the sandy beaches; the options are endless when it comes to the oldest and most mesmerizing sight of the city. Additionally, you can also enjoy the live music performances and other events held at the park throughout the year.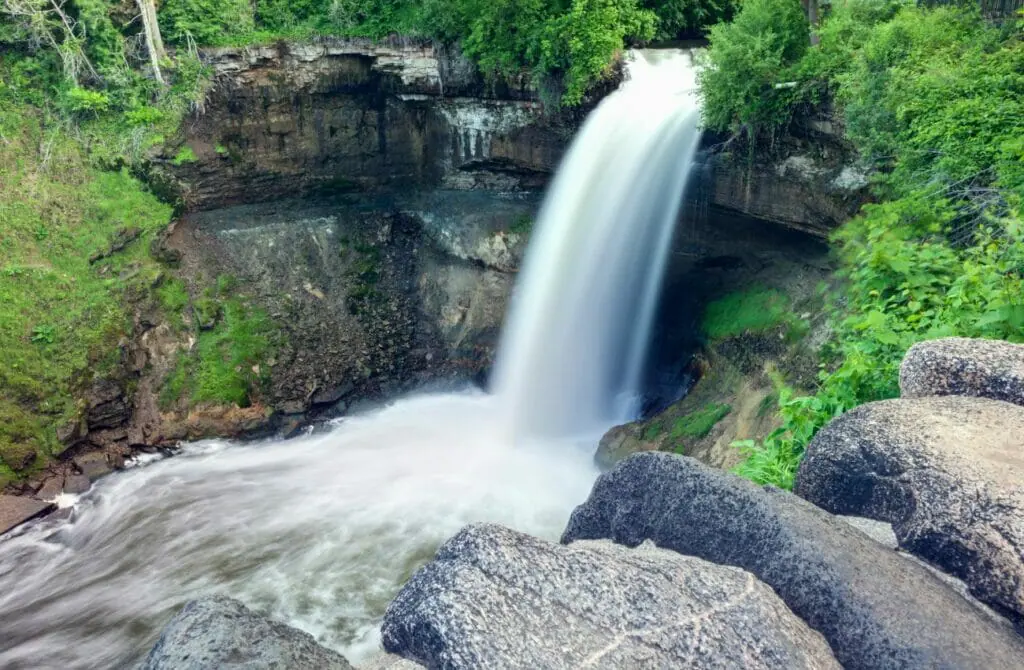 Minneapolis for 50 years was referred to as "Mill City" due to the huge flour milling industry in the city. Eventually, the building closed; however, a fire in 1992 almost completely destroyed the structure, leaving just the ancient building's shell standing. The Mill building's ruins served as the foundation for the 2003 opening of the Mill City Museum.
Visitors may now delve into this area of Minneapolis' rich history and take part in the local storytelling. See a breathtaking view of St. Anthony Falls and the Stone Arch Bridge, sample fresh bread, watch a model mill explosion, and climb the Flour Tower.
Around 40 pieces of art by local, national, and international artists are shown at the 11-acre Minneapolis Sculpture Garden, one of the biggest urban sculpture parks in the nation. From traditional bronze statues to modern installations and multimedia pieces, the park showcases a variety of creative genres and media.
Several famous landmarks may be found at the Minneapolis Sculpture Garden, including the sculpture "Spoonbridge and Cherry" by Claes Oldenburg and Coosje van Bruggen, which has come to represent the city. A variety of interactive experiences are available to Minneapolis Sculpture Garden visitors, including walking tours, artist presentations, and hands-on art projects.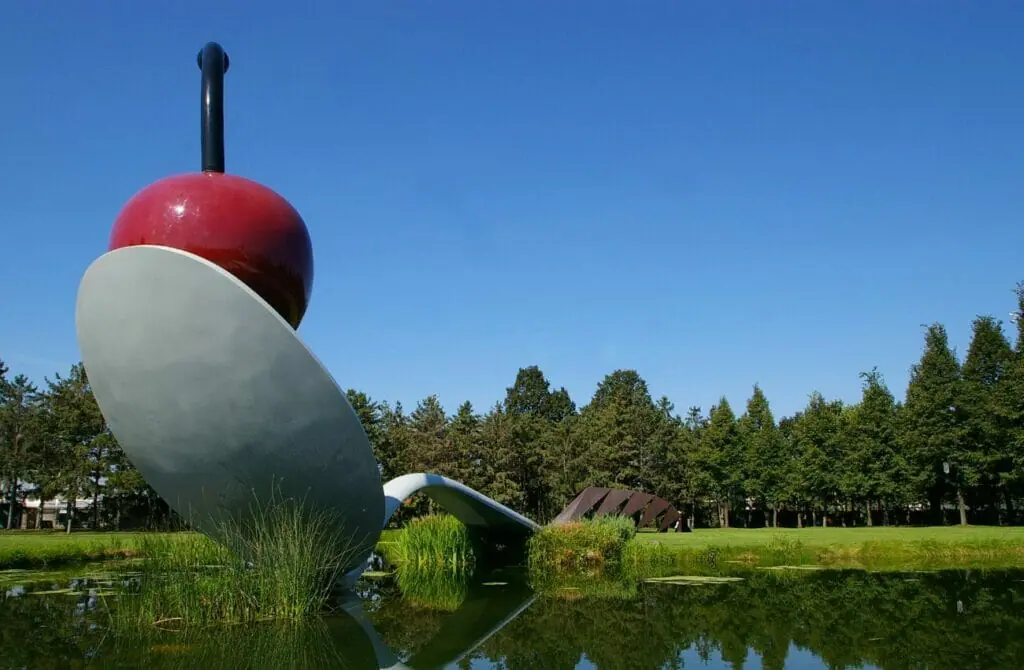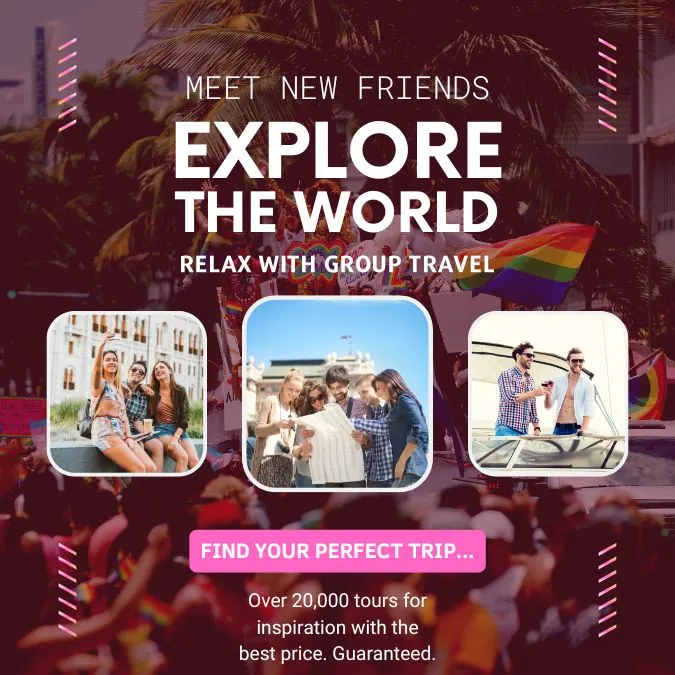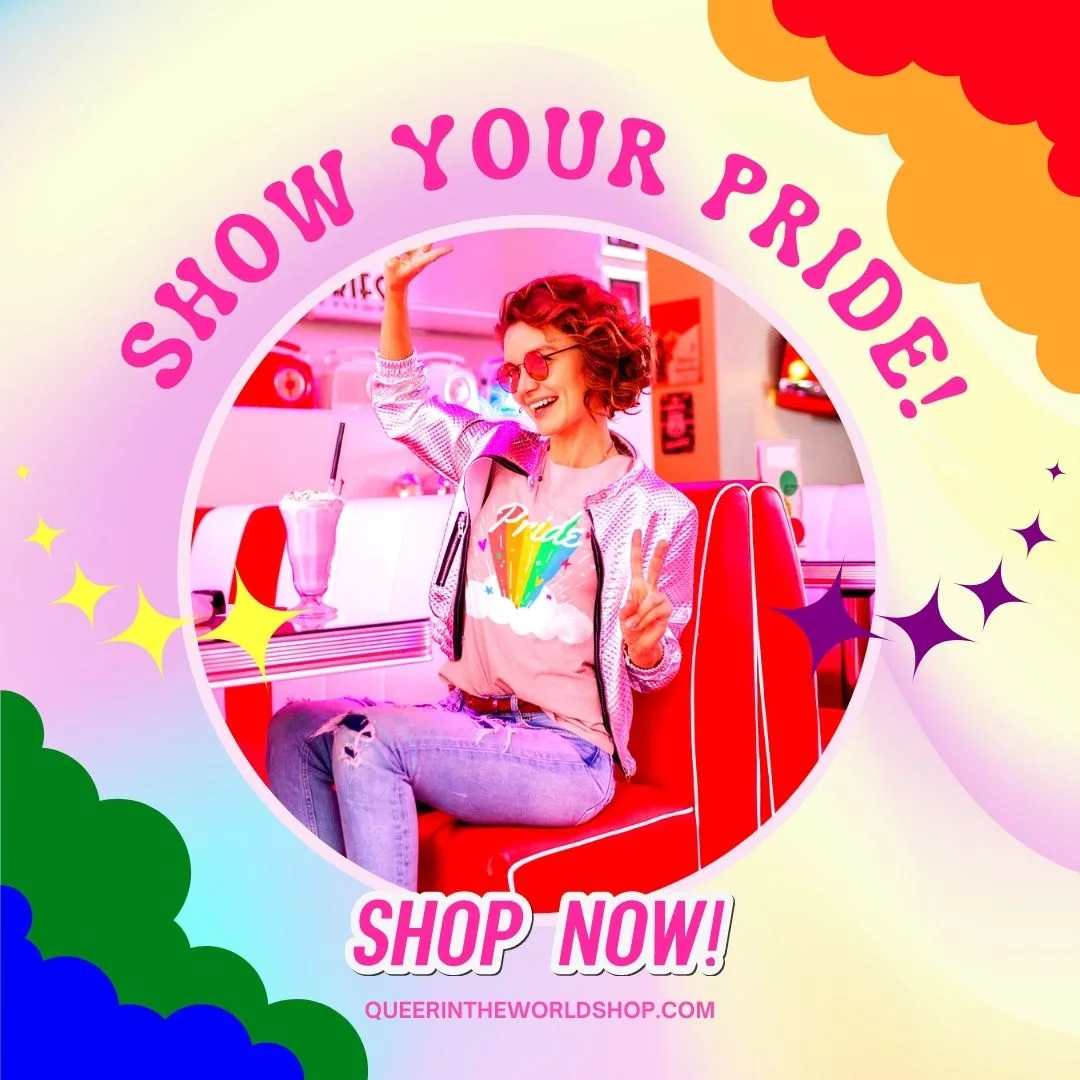 Gay-Friendly and Gay Hotels in Minneapolis, USA
Being gay-friendly accommodation means that the establishment is welcoming and inclusive to guests who identify as LGBTQ+. This can include, but is not limited to, having policies and practices in place that demonstrate a commitment to creating a safe and inclusive environment for LGBTQ+ guests, such as non-discrimination policies, and providing support and resources for LGBTQ+ travelers.
Some gay-friendly accommodations may also provide amenities specifically catering to the LGBTQ+ community, such as rainbow flags or literature about local LGBTQ+ events or resources. Furthermore, gay-friendly accommodations may be located in an area that is known for being LGBTQ+ friendly.
While Minneapolis does not have any specifically gay hotels or resorts, these are the most fabulous and pro-actively gay-friendly hotels in Minneapolis. Needless to say, there are also hundreds more hotel and hostel options in Minneapolis if none of these suit your desired budget, facilities or area – but these are the best hotels according to other gay travelers and us.
Whatever your needs are, Minneapolis has you covered.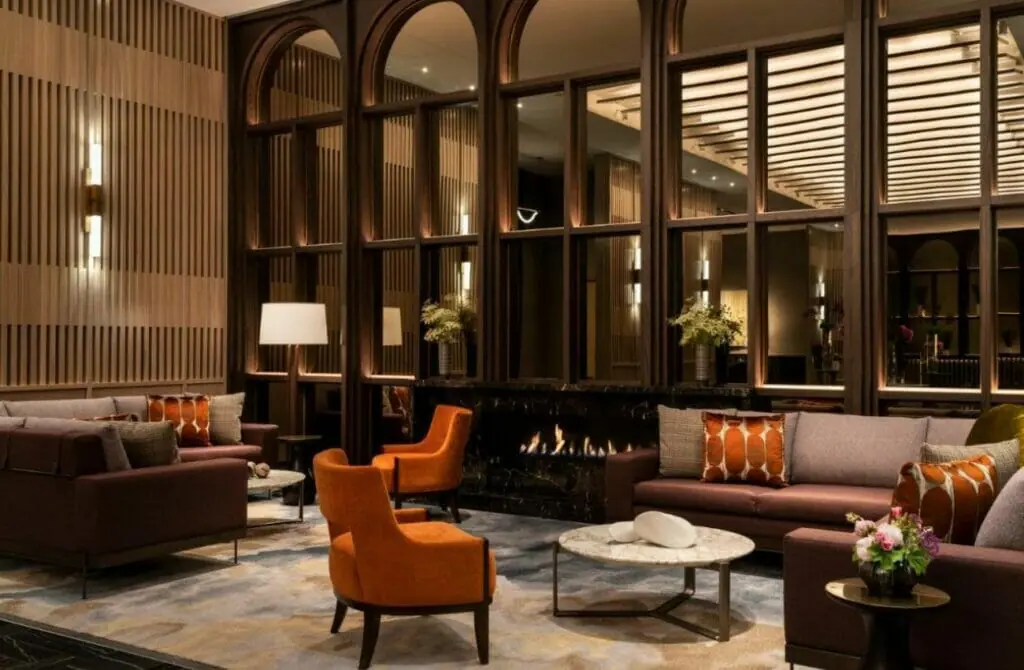 Four Seasons Hotel Minneapolis ☆☆☆☆☆
The only 5-star hotel in the city offers luxury, class, and splendor like no other. This oasis of indulgence offers everything you could possibly require to feel loyalty during your vacations. The 5-star hotel with exquisite amenities and services can be found in the center of Minneapolis, Minnesota's downtown. The hotel is housed in a historic structure that was first constructed in 1928 as the Minneapolis Athletic Club's main office.
Our favorite highlight of the hotel is the restaurant, named "Spoon and Stable," led by award-winning chef Gavin Kaysen which features a menu of contemporary American cuisine. Furthermore, after bathing all day in the paradise of comfort and tranquillity, find entertainment in "The Marquee" their lounge offering light bites and drinks in a chic and stylish environment.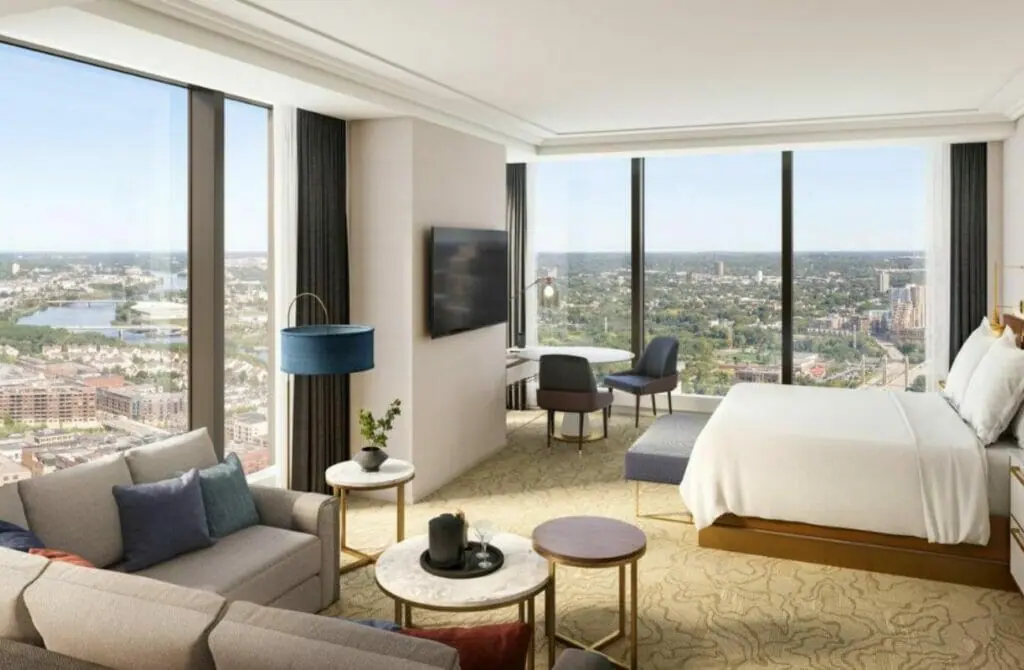 Featured in the articles among the Best Food Lovers' Hotels and Romantic Midwest Getaways, the Hewing Hotel is a chic and sophisticated urban oasis that transports you to a world of luxury and refinement.
Housed in a 1900s historic brick and timber warehouse building in the North Loop neighborhood of Minneapolis, this timeless marvel has been restored to its former glory, offering a glimpse into the past to its guests with all the modern comforts of today.
But that's not all, the blend of vintage and modern elements, with exposed brick walls, reclaimed wood accents, and contemporary furnishings gives the hotel a distinctive and stylish atmosphere.
Go no further than Hotel Ivy if you're searching for upscale, traditional luxury in Minneapolis that is gay-friendly. The hotel lies in the heart of Downtown Minneapolis and is a stone's throw from its gay nightlife.
The International Gay & Lesbian Travel Association (IGLTA), which promotes LGBTQ-welcoming travel worldwide, counts Hotel Ivy as one of its members. LGBTQ visitors who have stayed at the hotel have also given it favorable evaluations, with many praising its welcome and inclusive environment.
The added benefits are the 10-foot floating ceilings, floor-to-ceiling windows offering spectacular Minneapolis views, and the overall sexy vibes of the hotel.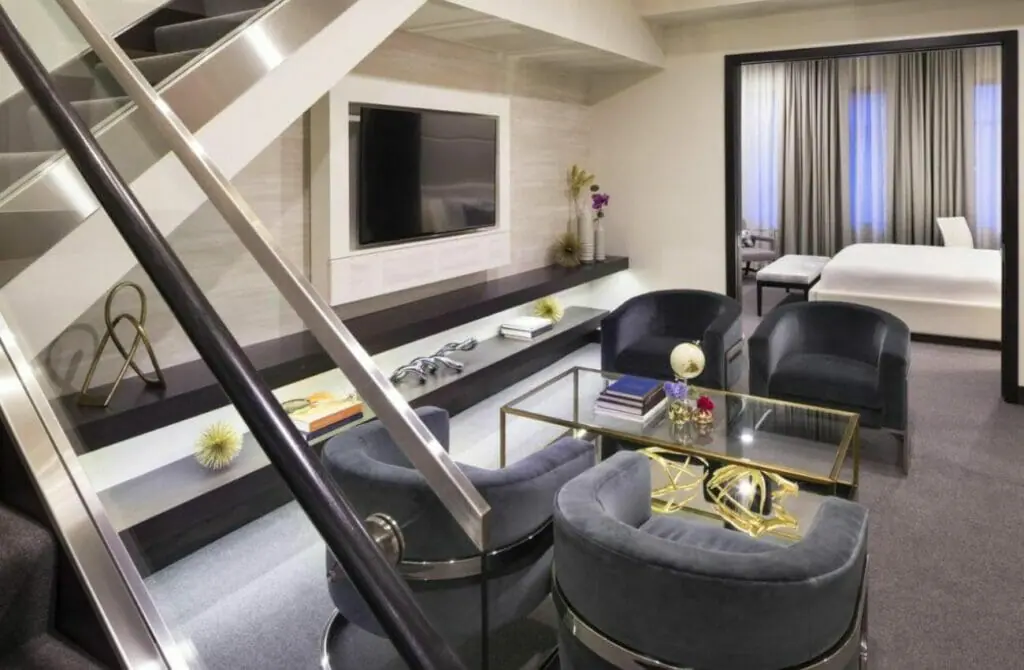 Seeking a more intimate and personalized experience? Then the W Minneapolis Hotel is a perfect choice. Unarguably one of the sexiest gay hotels in Minneapolis, W lies in the heart of the Minneapolis' gay scene.
Here's what you will find upon entering the hotel: the sensuous theme suites with pink minibars, restaurants and a bakery filled with delicacies, a pink-hued lobby, and the centerpiece – the Prohibition Bar on the 27th floor.
Moreover, this eco-friendly hotel is committed to sustainability and offers a guilt-free way to enjoy your stay.
Tucked in between the gay nightlife and some of the most remarkable sights of the city, this 3-star place is a valued hotel that doesn't skimp on quality or comfort.
Bagging the spot as one of the "Best Hotel Pools in Minneapolis," they feature not one but two hot tubs where you can soak for a calming and restorative experience and an indoor pool perfect for a refreshing swim.
That is not all, Hyatt's 24/7 StayFit Gym features modern cardio and strength training equipment and this is one of the most favorable highlights of the hotel.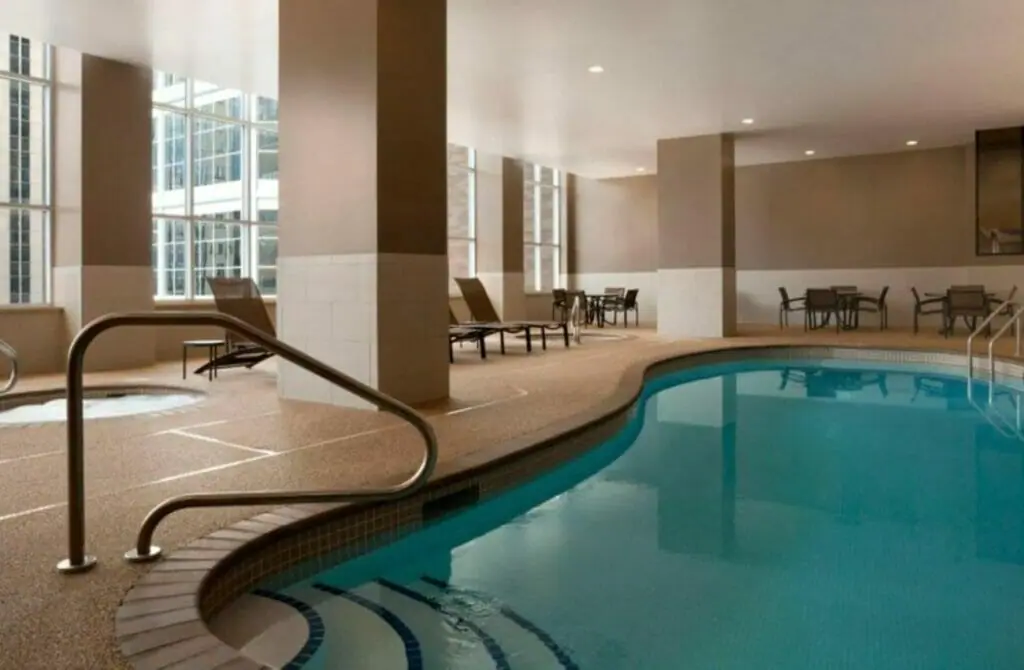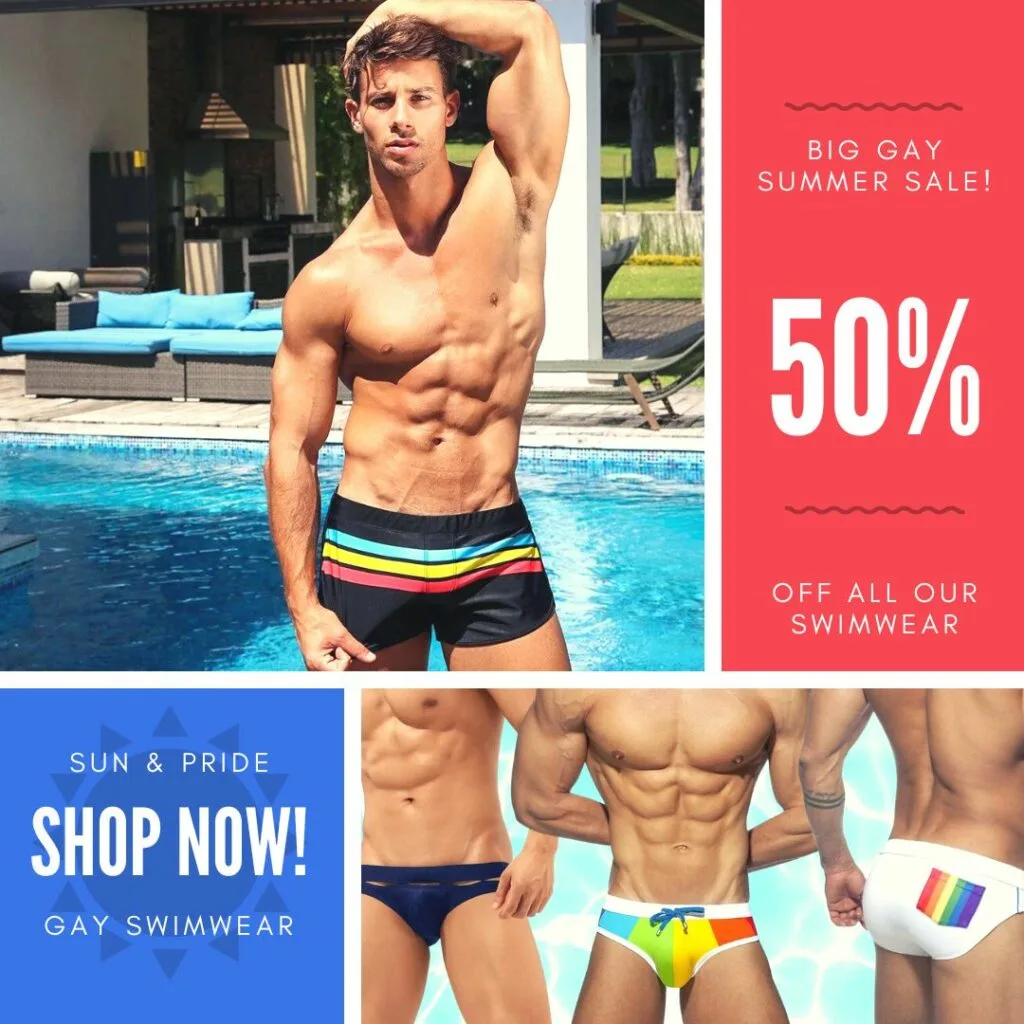 Seeking a good night's rest without paying a premium price? Or perhaps you are looking for a simple and practical accommodation that offers excellent value for the price. In these cases, LeBlanc House Bed & Breakfast is your stop.
Here are the features of the guest house: four comfortable rooms enclosed with private baths, farm-fresh breakfasts lined on the tables, a spacious common area, and a friendly couple as managers who are committed to providing an inclusive and respectful environment for all guests.
Double Tree Suites By Hilton Minneapolis ☆☆☆
Watch a movie in the hotel's private theatre for an immersive experience or de-stress and re-energize by getting a soothing massage at the spa at the Double Tree. This boutique hotel boasts a unique charm and character that sets it apart from other accommodations.
The hotel's convenient location makes it easy for guests to explore the downtown areas and gay nightlife. The most profitable supplementary perk; however, is the onsite Starbucks, cause a day without caffeine is like a day without sunshine! Oh, and don't miss the complimentary chocolate chip cookies offered at the check-in.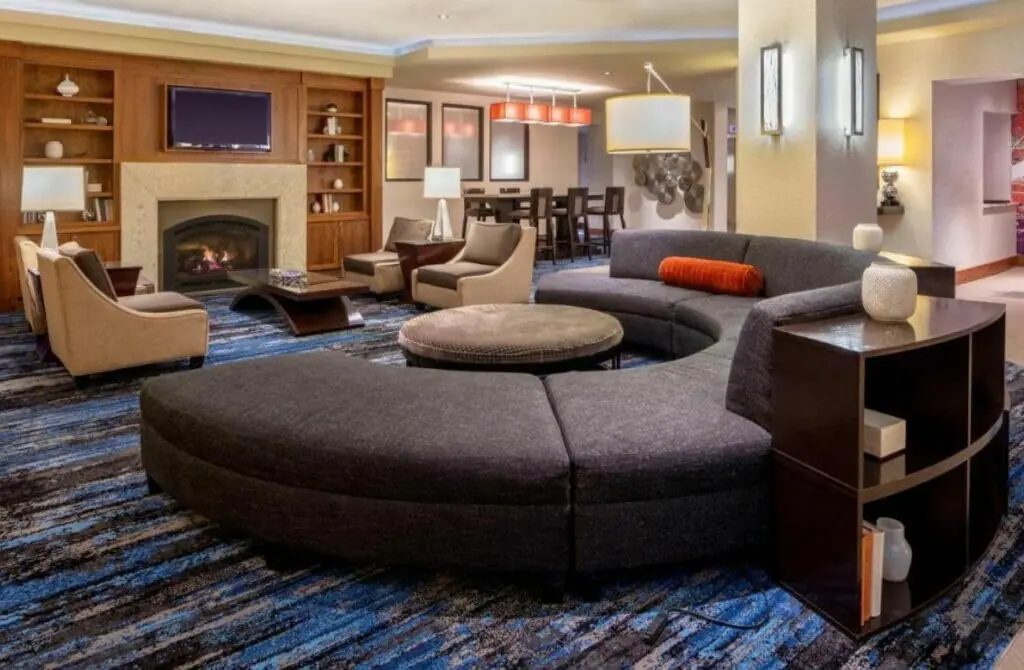 Gay Nightlife in Minneapolis, USA
Being around other queer folks for some reason is soothing and comforting right? Right! Several gay bars and clubs make up the heart of Minneapolis' unexpectedly vibrant LGBT culture. Gay clubs and pubs in the city's nightlife help keep the energy up with DJs on dance floors, amazing drag performances, and tasty bar food to fuel the fun till dawn. You can choose anything between comfort food and high-Volume bass.
Well! There are places for everyone, including loud entertainment and dancing as well as bars with dimly lit booths and vintage arcade games. Plan ahead, drink responsibly, and make sure you have transportation to go home or use Lyft, the official ride-sharing partner of Meet Minneapolis.
Exploring the gay and gay-friendly nightlife in a new city can be one of the most exciting and rewarding experiences while traveling – and Gay Minneapolis is no exception. Not only will you have the opportunity to meet new people and make friends, but you'll also get a taste of the local culture and learn more about the city's LGBTQ+ community.
Going out and experiencing the queer and queer-friendly nightlife in a new city can also be a great way to break out of your comfort zone and try new things. Whether it's dancing the night away at a gay club or mingling with locals at a gay-friendly bar, you'll have the chance to make memories and create lasting connections.
So, don't be afraid to step out of your comfort zone and explore the gay and gay-friendly nightlife in Minneapolis. You'll be glad you did!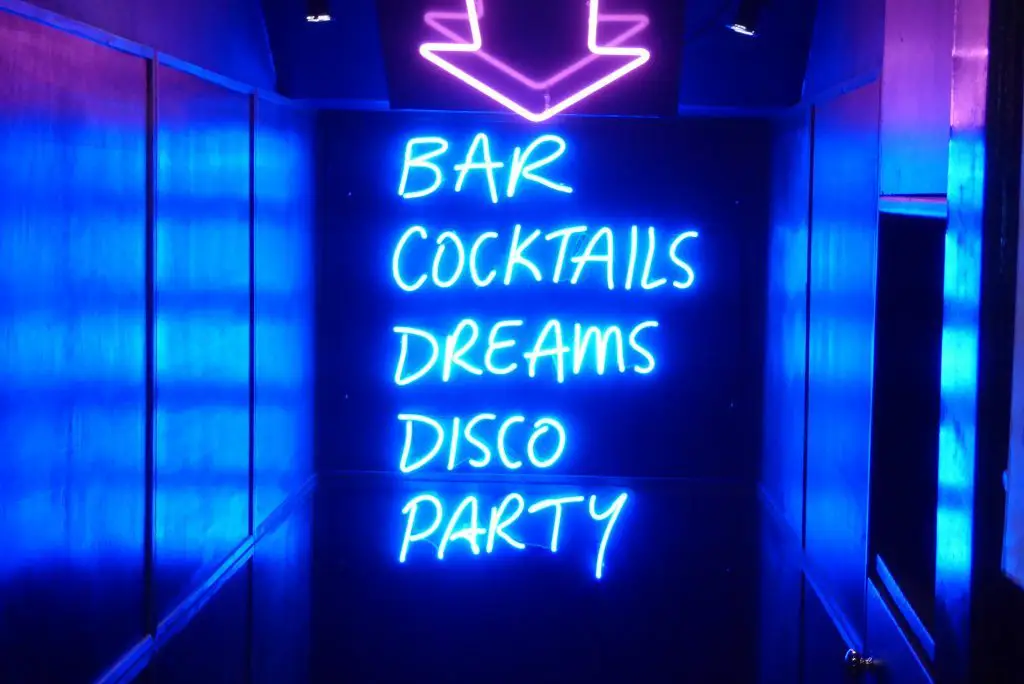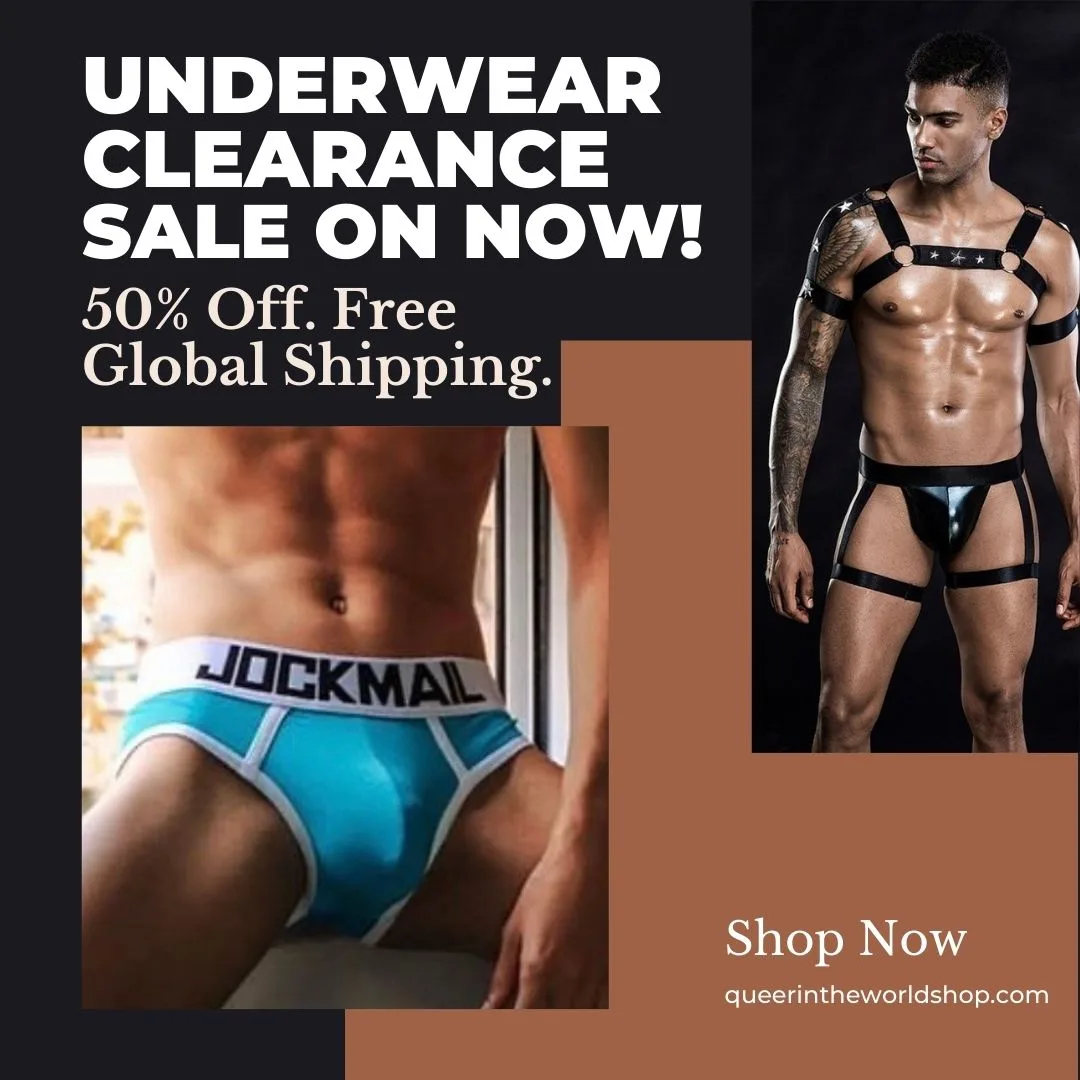 Most People immediately think of The Gay 90s whenever they consider a gay bar in a city, and with good reason. It is located in the city's center and is a fantastic option for a gay night out in Minneapolis. It's been around forever and has given LGBT individuals all around the state a place to feel comfortable. It has a variety of events every day of the week, including drag performances and male dancers.
The "Infamous LaFemme Drag Show" and the beginner's favorite "So You Think You Can Drag talent show" are just two of the many events and performances they provide. Mercedes Iman Diamond, a contestant in Season 11 of RuPaul's Drag Race, is also a resident of the Gay 90s.
The wide, circular stage makes this performance space excellent since it allows many people to see the dazzle and glamour of these amazing queens. So pay your visit where nobody judges you wink!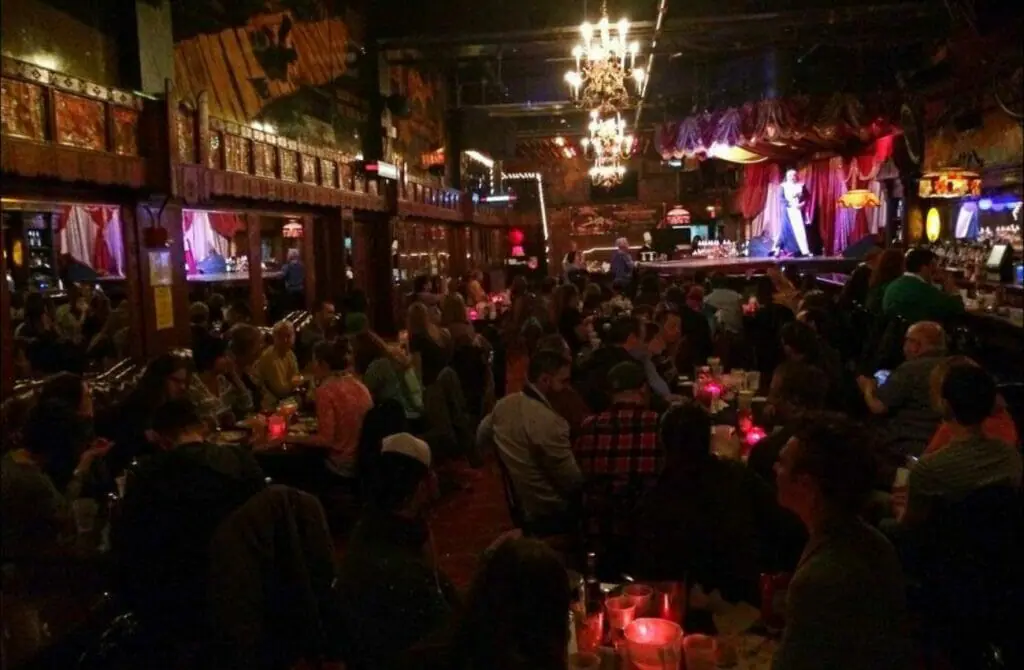 An elegant dance club and a laid-back lounge are both featured at The Exchange and Alibi Lounge. It features a dance floor, two fully stocked bars, and cutting-edge audio equipment. Dance to mixes created by local and foreign DJs. To view the whole calendar of activities, visit the website.
Up to 125 guests may be seated at the Alibi Lounge. Drink artisanal cocktails as you mingle and socialize. This nightclub has a distinctive feel thanks to the original limestone walls, marble floors, and furniture that was specially made.
A Holy hidden gem! Located only a few blocks away from First Avenue's historic district. It has been proudly serving the city for more than 35 years and is well-known for hosting enormous block parties during Pride.
Due to its expansive dance floor, entertaining lighting, and fantastic DJs, this LGBT establishment off Hennepin Avenue is the greatest for dancing in the Twin Cities. You can bet that the best new remix of your favorite recent pop hit is already playing there.
You will feel fantastic because they have so many little bars and a variety of nice bartenders. If dancing isn't your thing, don't worry—they frequently have brunch, drag shows, comedy shows, and content nights! Make sure to check it out if visiting the cities! Most nights have a sickening drag show with energetic and diverse performers!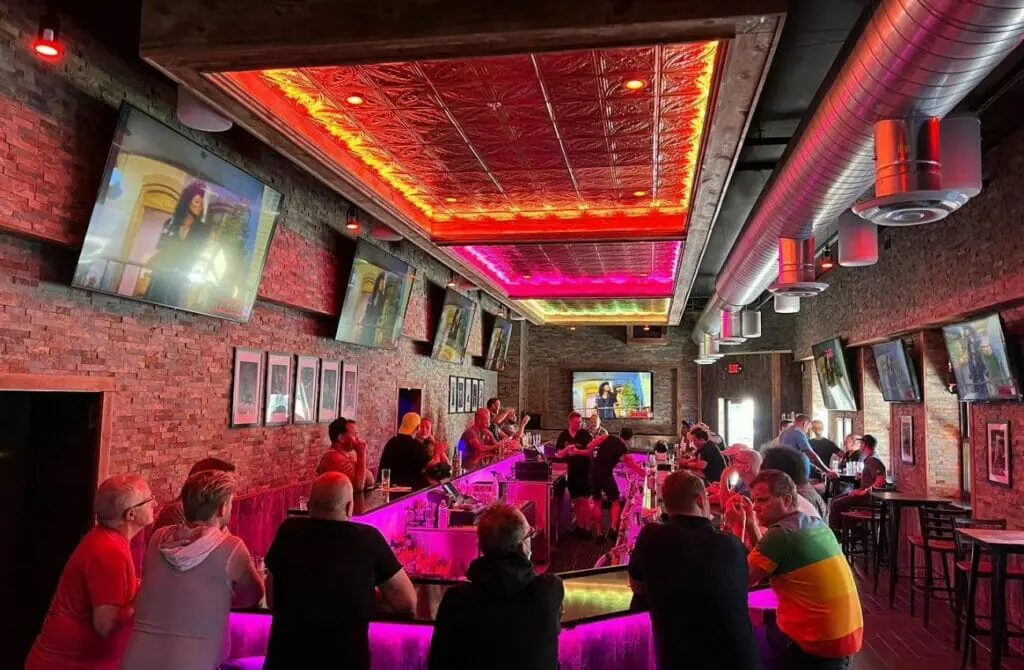 On Nicollet Mall, a section of Nicollet Avenue, there is a full-service restaurant and a performance venue called The Dakota Jazz Club. Music enthusiasts can view it all from a variety of stages and vantage points thanks to its multi-level architecture.
At this Minneapolis jazz club, performers like Lucinda Williams, Ronnie Spector, Amiee Mann, and that renowned local (who preferred watching events as much as performing), Prince, play.
Best Touches anywhere! This cool pub, located a short distance from the famous Guthrie Theater, sits halfway between being a welcoming neighborhood bar & grill and an exciting gay nightclub. They offer bar food for a satisfying late-night snack along with an outdoor patio that is perfect for summer and fall nights.
You'll have amusing buff guys, a year-round smokers' patio, a pool table, lunch, and also food nightly that will soothe your soul in any way. Oh and also on the 2nd Saturday enjoy its Leather Gear Nights, underwear nights, dancing, and special party events.
A TRICK OF THE TOWN: The Eagle also offers Show Tunes every Sunday at 4 p.m. You're going to desire to sing along to "Don't Cry for Me Argentina" from EVITA as much as possible while you're here.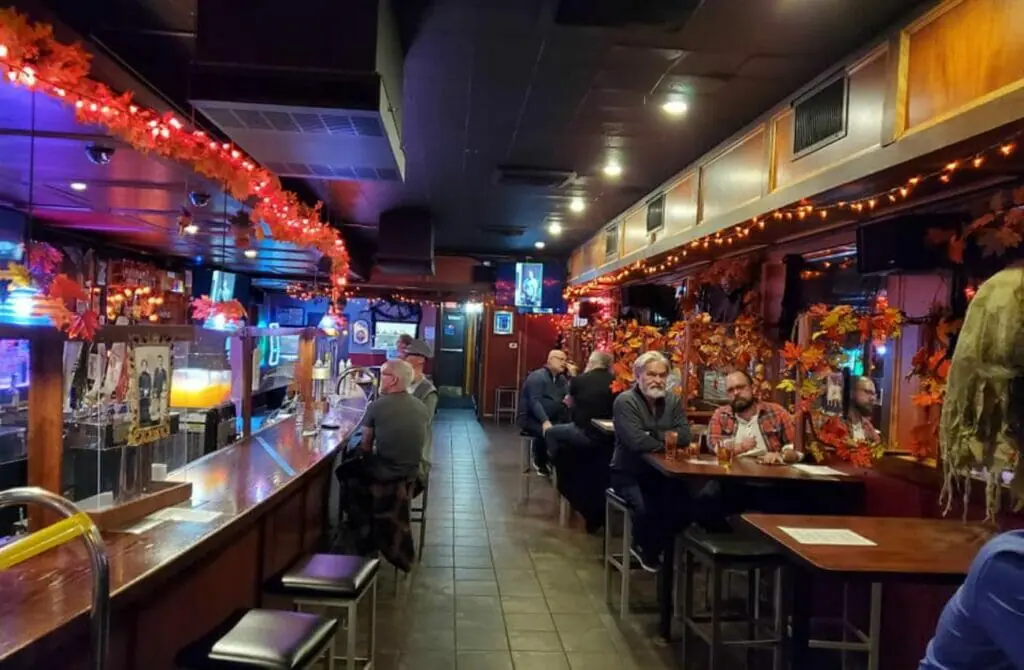 Another fantastic gay-friendly meeting place with outdoor summer patios, pool tables, darts, and a jukebox. For those who prefer a relaxed, softly lit bar instead of a club, 19bar is the ideal setting. People who come here are so friendly and nice and present a very comfortable atmosphere.
Holy staff! Like even when the bar is full, the bartenders are always courteous and friendly. You'll be grateful to all five of your senses, with taste and hearing coming out on top.
Up-down: Minneapolis' Arcade Bar
Whether you want to accept it or not, video games have always been essentially queer. Gay Mondays at Up-down is a queer takeover and haven for the LGBTQ+ community. It first began in 2018, and City Pages named it the Best LGBTQ Event.
Up-down is ideal for a night out with pals, Gay Monday or not. All of the games, including your favorites like Smash Brothers, Dig Dug, Donkey Kong, and even four lanes of Skee-Ball, are only 25 cents each.
ProTip: Up-down is a wonderful location for your upcoming Instagram photo if you're a social media whiz. Just be careful not to block too many people's paths because it might get busy at times!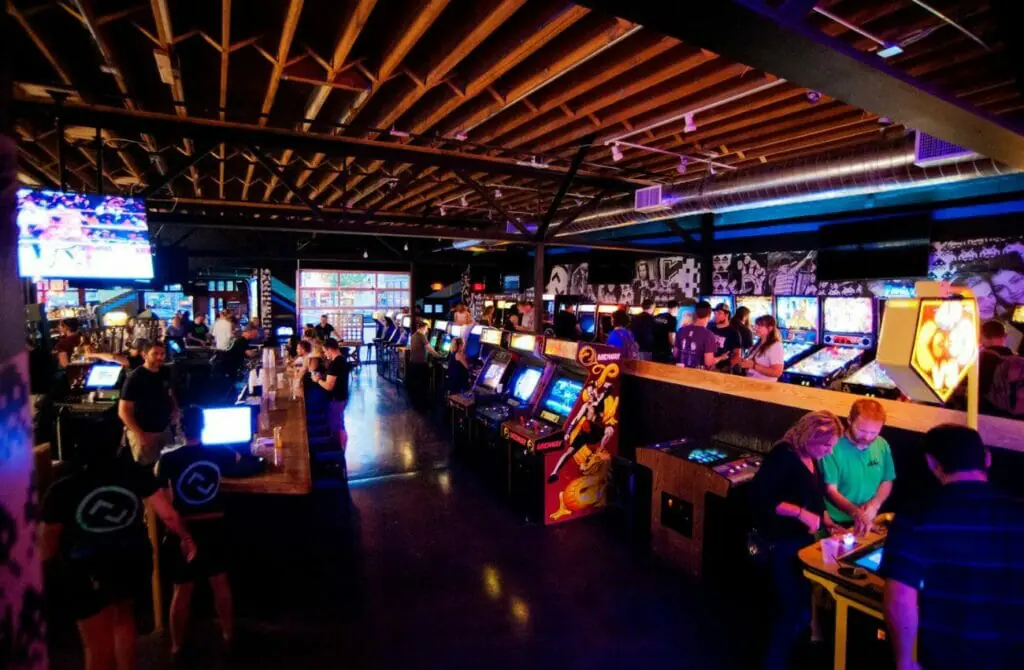 Gay Suana and Gay Cruising in Minneapolis, USA
Although Minneapolis is a homosexual community that generally welcomes foreigners. Open the GPS and find the best route to a captivating match, and move to the most private location, such as Public bathrooms, Lodges, or Sex toy shops.
It is amazing to go gay cruising and meet other people who are looking for non-committal sex if you just want to have a good time. Going gay cruising and meeting someone else who is merely looking for fun is one of the simplest methods to remove some pressure.
When traveling to a new city, it can be exciting to head out for more than just a stiff drink. One aspect of the Gay Minneapolis scene that many queer men enjoy is visiting gay saunas and cruising clubs.
Sure, the sauna culture in Minneapolis is not as hedonistic as in Amsterdam, Barcelona or Berlin, but these venues still offer a chance to meet new people, socialize, and engage in sexual activity – without resorting to gay hookup apps.
However, it's important to keep in mind that these venues can vary greatly in terms of atmosphere, clientele, and rules, so it's a good idea to prepare yourself before visiting. If you are apprehensive, we advise studying our guide to visiting a gay bathhouse for the first time, which should help set your mind at ease, and always practice safe sex.
Additionally, it's important to be aware of and respect local laws and customs regarding gay venues and sexual activity. With a little bit of planning and an open mind, visiting gay saunas and cruising clubs can be a fun and exciting part of your gay Minneapolis travel itinerary.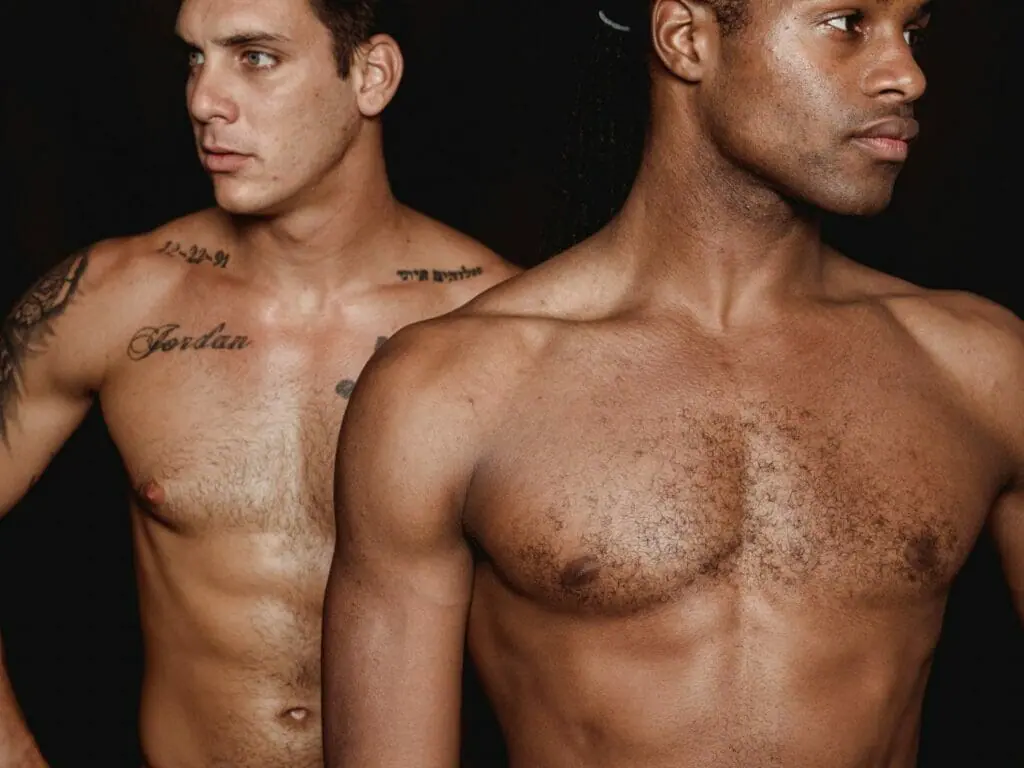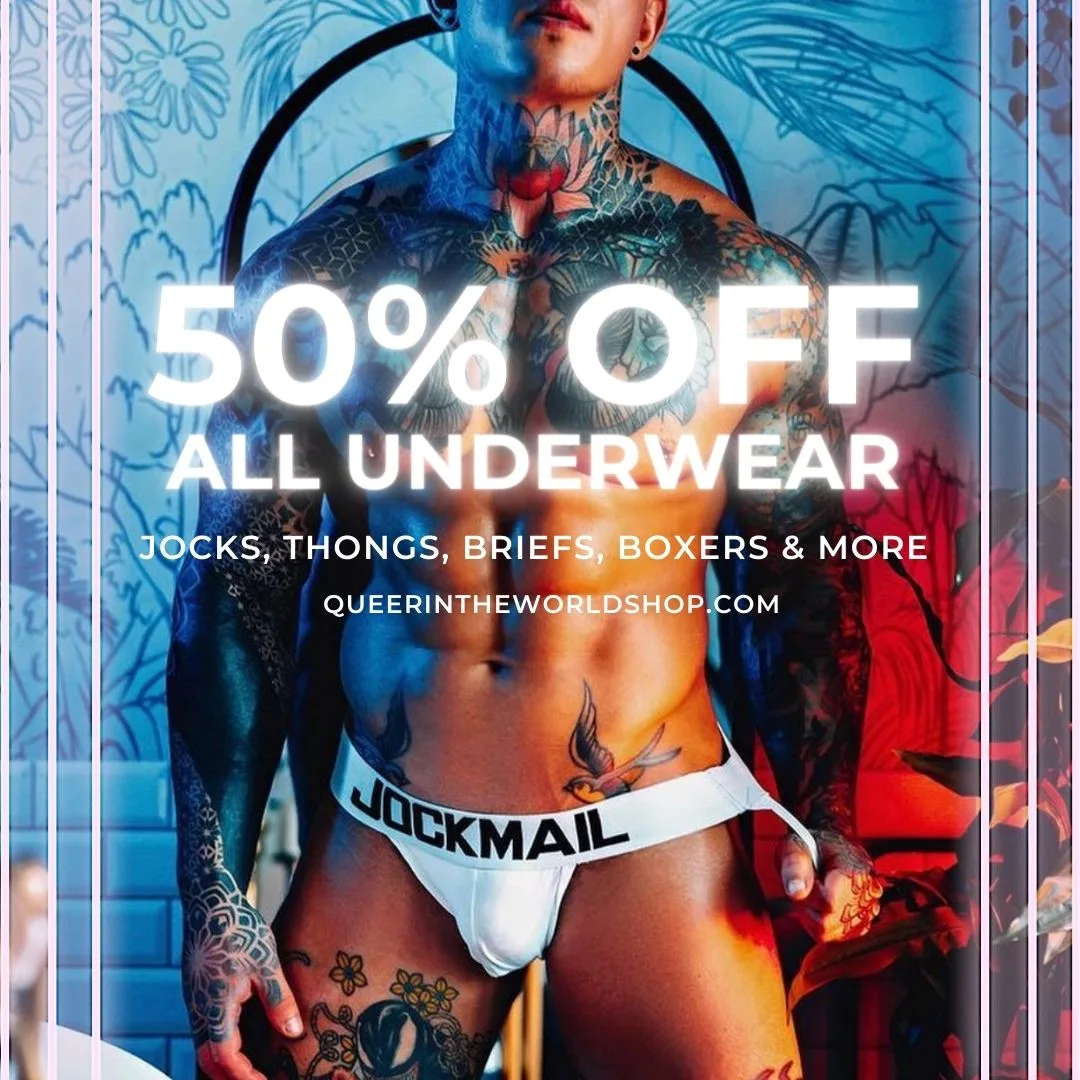 Rainbow Road
(Temporarily or permanently closed. If you know something, please suggest an edit.)
A so cute, gay-friendly little boutique! Wanna shoot the breeze with fun and friendly people? Want to see some fun and relevant male undergarments? RR has you covered for anything from a Cock rings, lube, enhancers, toys, porn, ga(y)g gifts. And lots of happy people who will assist you in choosing something! Additionally, they feature a selection of swimwear, changing rooms, and a wide range of lubricants.
Overall, it is a worthwhile visit where you can find a range of products from porn CDs to LGBT gifts.
Are you unsure about what you can do tonight to have a good time? Possibly meet some new guys? Get loose and check out MN 55401, The Brass Rail. There are a lot of things to enjoy in this relaxing and cozy setting, including wonderful music and opportunities to meet new people. With a diverse population that includes both young muscle and cuddly bears, the city is renowned for having the best places to live.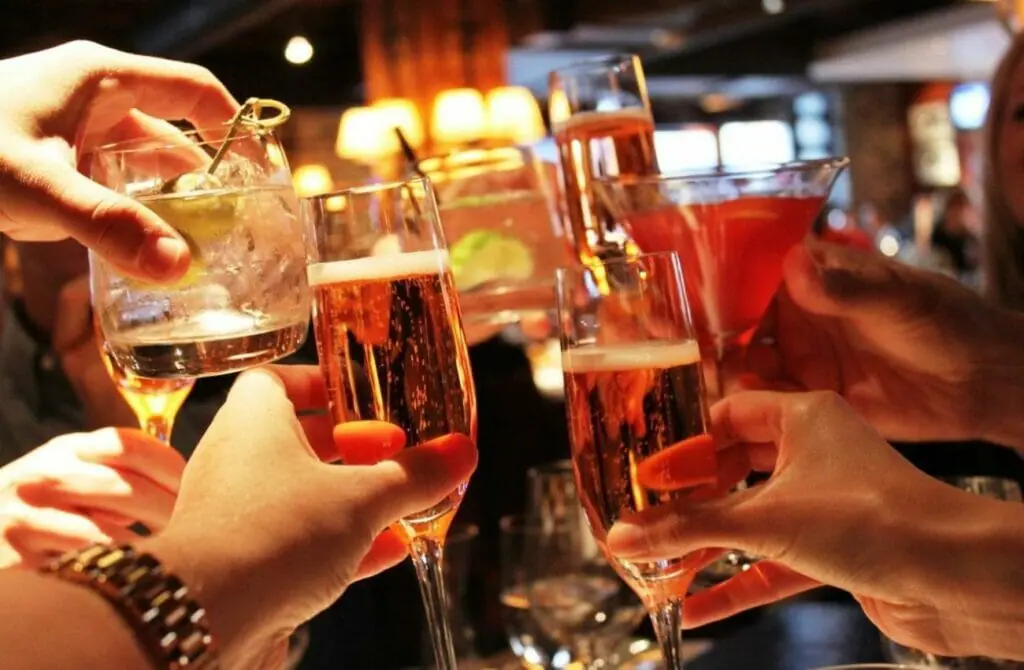 Sex World is a well-known gay cruising destination and is regarded as the top retailer of adult lingerie. You must visit sex world for cock rings and lubes in the same way that you would go to Target for dish soap LOL! The facility is spotless and has an enormous selection! They offer movies, video booths, live girl's peep show booths, apparel, accessories, adult toys, a bedroom where you can make love and what else you want?
This cool spot provides escorted sauna excursions with a sweeping view of Lake Superior. Whether you choose a men-only Sunday steam, a private group session, or a midweek communal sauna, all Cedar + Stone visits are conducted by a skilled "sauna meister" and end with a properly steeped mug of regional tea.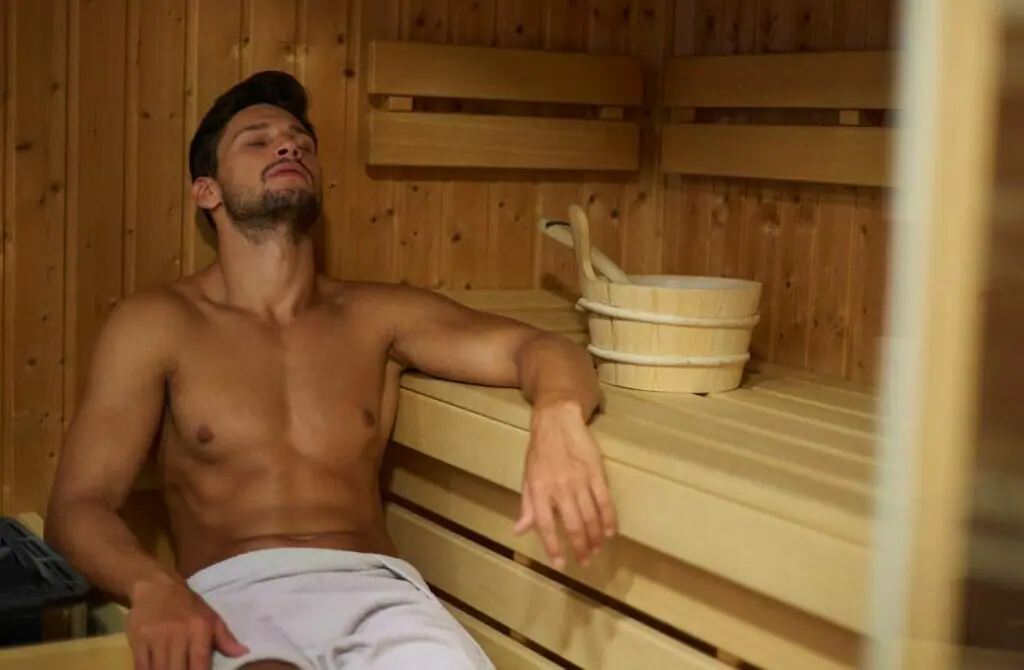 Gay Map Of Minneapolis
Finding it hard to envisage where everything is in Minneapolis? Hopefully, this queer-centric map helps where we have marked all the bars, clubs, parties, hotels, saunas, massages and more will help you stay in the spot best suited to you!