Welcome to the heart of the Big Apple, Queens, New York! This city pulsates with electrifying energy that embraces diversity and pumps up visitors. The area's dynamic history and rich culture elevate this borough as a haven for travelers seeking an authentic and inclusive experience.
Queens don't pretend to be anything other than what it is. It is a heavily Latin-influenced cultural melting pot with a healthy gay scene. Explore its neighborhoods, each with distinct character and charm, from Jackson Heights to the eclectic Astoria, and uncover hidden destinations at every turn.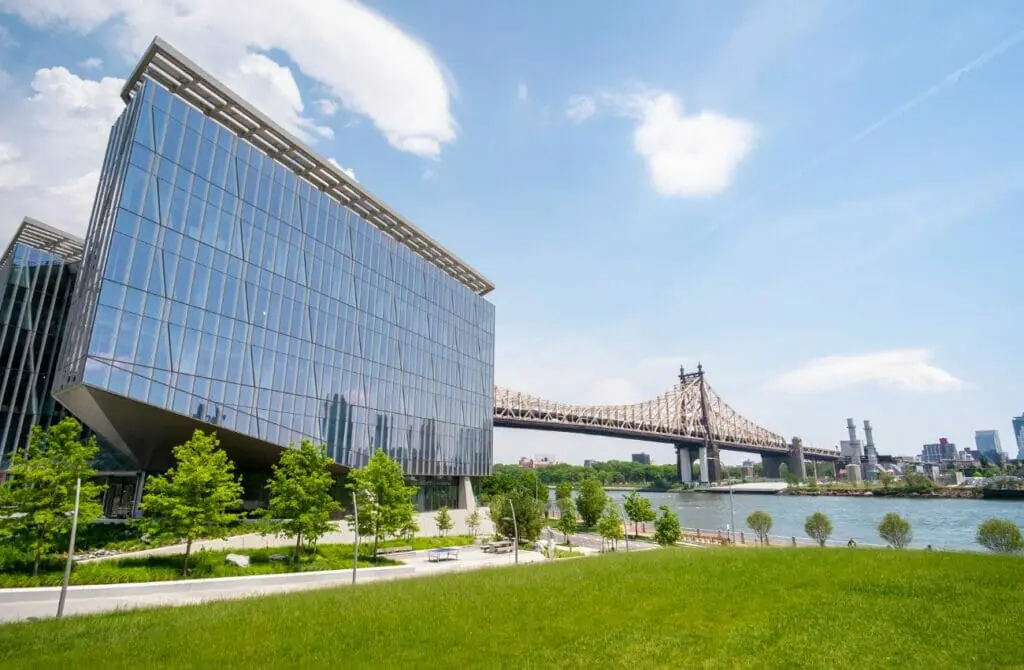 Surround yourself with cultural treasures, from world-class museums and cutting-edge art galleries to tantalizing culinary adventures that span the globe. Queens is a paradise for food enthusiasts, where the aromas of international cuisines fill the air and tantalize the taste buds.
Join the colorful parades and celebrations that ignite the borough with an unmistakable spirit of inclusivity and pride. From the growing gay nightlife to the local arts scene that thrives with creativity, Queens offers a kaleidoscope of experiences for every traveler. Prepare to be captivated by the magic that unfolds in this great borough.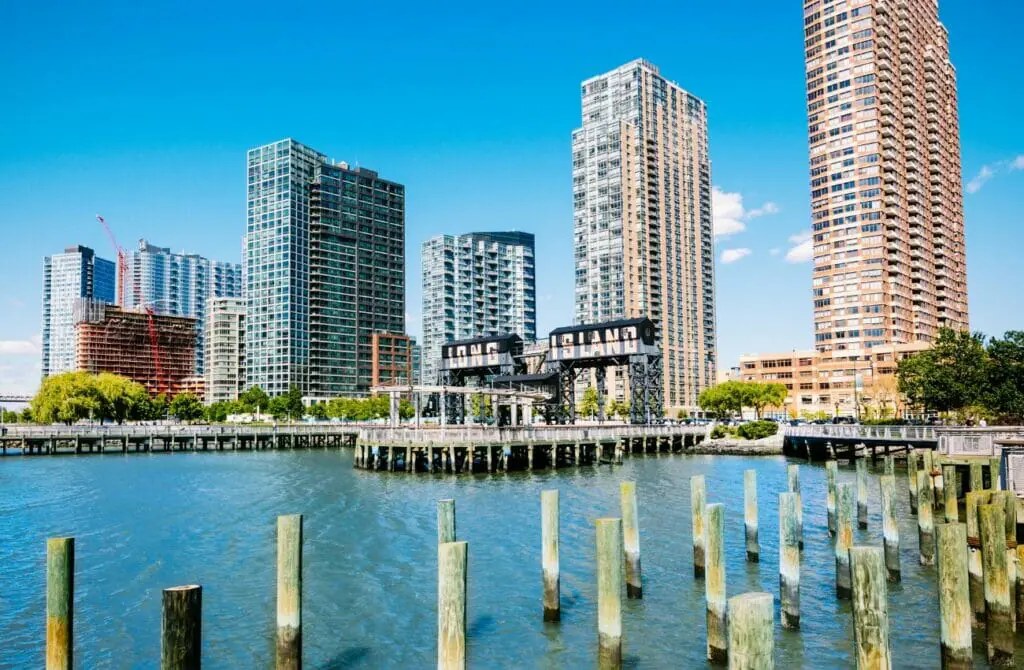 Attractions in Gay Queens, USA
In Queens, New York, a world of possibilities unfolds for the discerning gay traveler. I mean, the name alone is just perfect. Queens offers many attractions that embody the spirit of diversity and artistic expression. From its music scene to the eclectic street art that adorns its walls, Queens is a testament to the boundless creativity that thrives within its borders.
Adventure into the verdant oasis of its parks and gardens, where moments of tranquility await amidst the urban hustle. Explore the city's museums and galleries, which showcase an extensive art, history, and innovation collection. Embrace the warmth and hospitality of Queens' LGBTQ+ community. It's healthy here.
Queens is an unforgettable journey of discovery, connection, and straight-up flavor. In Queens, the city's rhythm moves through you, urging travelers to embrace its spirit and discover the hidden treasures that make this borough an unforgettable destination for all who grace it.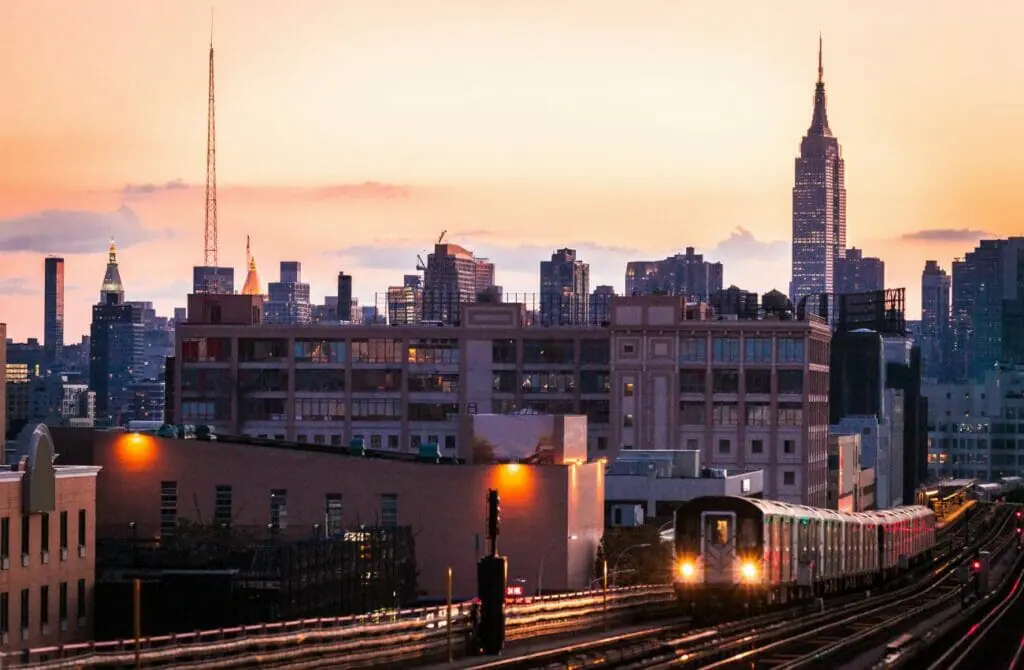 MoMA PS1 is a haven for groundbreaking ideas and daring creativity. For nearly half a century, this visionary institution has provided a platform for artists to share their unique perspectives with the world. It is a cultural icon and a must-experience destination for contemporary local art.
Once a public school, it was resurrected by a local non-profit as a dynamic studio and exhibition space, now proudly affiliated with New York's Museum of Modern Art (MoMA). True to its countercultural origins, MoMA PS1 continues to champion emerging artists and foster public engagement.
Unmissable programs like Sunday Sessions showcase NYC art collectives, DIY spaces, and community organizations. At the same time, the Courtyard Commission unveils captivating interactive installations and hosts outdoor shows year-round.
Purchasing a ticket to MoMA grants you access to MoMA PS1, allowing you to immerse yourself in the exciting indoor exhibits for an hour or so before leisurely enjoying the tranquil courtyard with a soothing cup of tea and indulging in some well-deserved reading.
Exploring NYC's Largest Chinatown
Queens has some of the best Chinese cuisine in the country. Blend history, flavors, and exploration with this exclusive guided tour in Flushing, Queens. Immerse yourself in the city's largest Chinatown, immersing yourself in its rich cultural heritage. Accompanied by an expert guide, savor a delectable array of local delicacies.
Along the way, behold remarkable landmarks like the Free Synagogue of Flushing and the Flushing Quaker Meeting House as you absorb their captivating stories. This intimate experience, limited to a cozy group of only seven, ensures a personal adventure. Delight in mouthwatering tastings, refreshing beverages, and a genuine exploration of Flushing's cultural gems.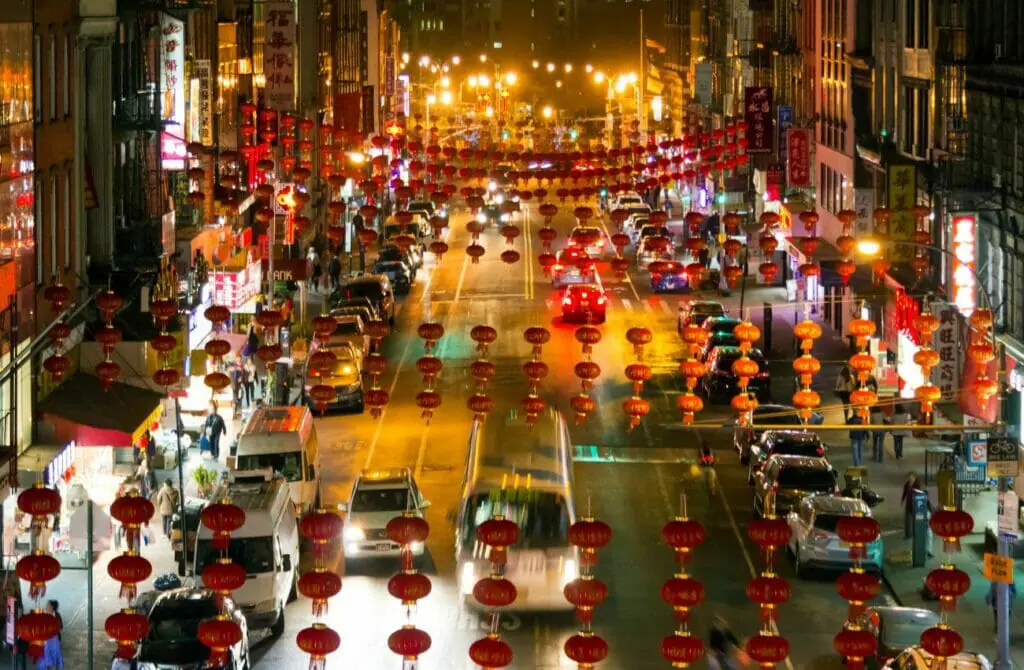 Escape the urban hustle and immerse yourself in the serene haven of the Queens Botanical Garden. Spread across 39 acres, this verdant oasis promises an enchanting retreat from the concrete jungle of NYC. It ranks among the most breathtaking outdoor sanctuaries, making it an absolute must-visit for anyone seeking solace in Queens.
The garden proudly showcases historic plantings dating back to the revered 1939 World's Fair, remarkably transplanted from its original location to its present home on Main Street in Flushing.
Each corner of this enchanting sanctuary pays homage to the diverse communities that thrive in Queens. The Circle Garden pays tribute to Korean culture with its beautiful plants. At the same time, a blossoming orchard bursts into a tapestry of cherry blossoms each spring.
The Herb Garden weaves together Native American and Asian flora; there's a fragrance walk, arboretum, rose garden, bee garden, and a charming children's garden. Once you step foot in this mesmerizing paradise, you may never want to leave its embrace.
Escape the crowds and discover a hidden spot of a beach, far from the bustling scenes of Coney Island and Orchard Beach. With a vast expanse of 120 acres of sandy shoreline, you'll have ample space to unwind and bask in the sun's embrace. If you're seeking thrilling waves, Beach 92nd Street, Beach 67th Street, and Beach 69th Street are the go-to spots for surfing. Beach 92nd offers the most exhilarating swells, although it can get busy.
Waves typically reach up to three feet, providing the perfect playground for beginners and seasoned surfers. Embrace the opportunity to tick off a quintessential Queens experience by taking lessons at the Locals Surf School, available year-round.
After an invigorating session on the water, reward yourself with the refreshing tang of a seasonal sour beer at Rockaway Brewery. Located just a short skip and hop from the beach, it proudly holds the title of Queens' first beachfront brewery.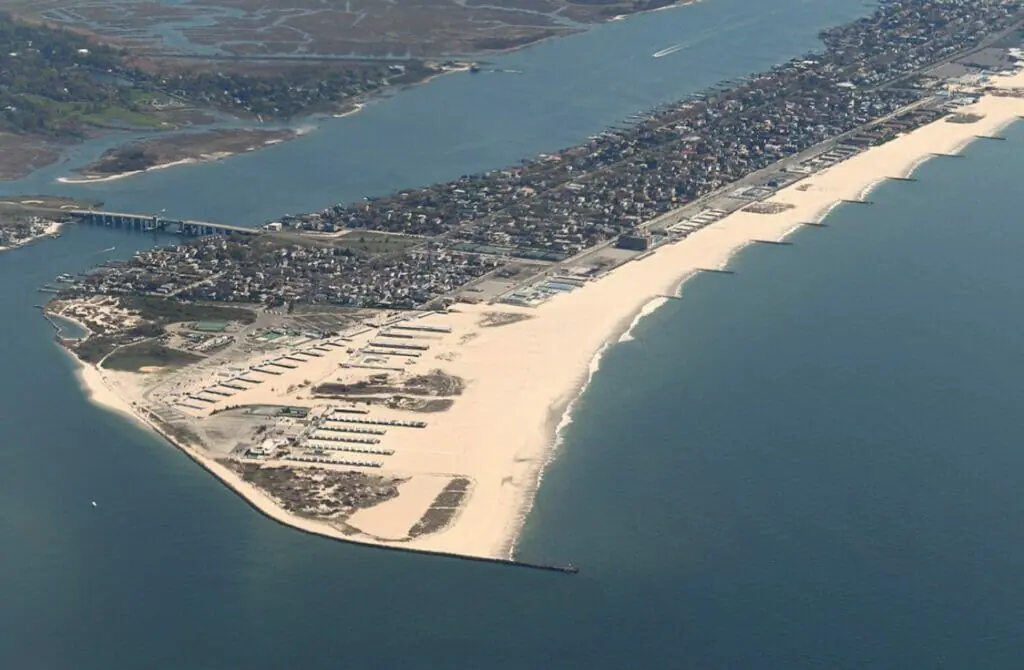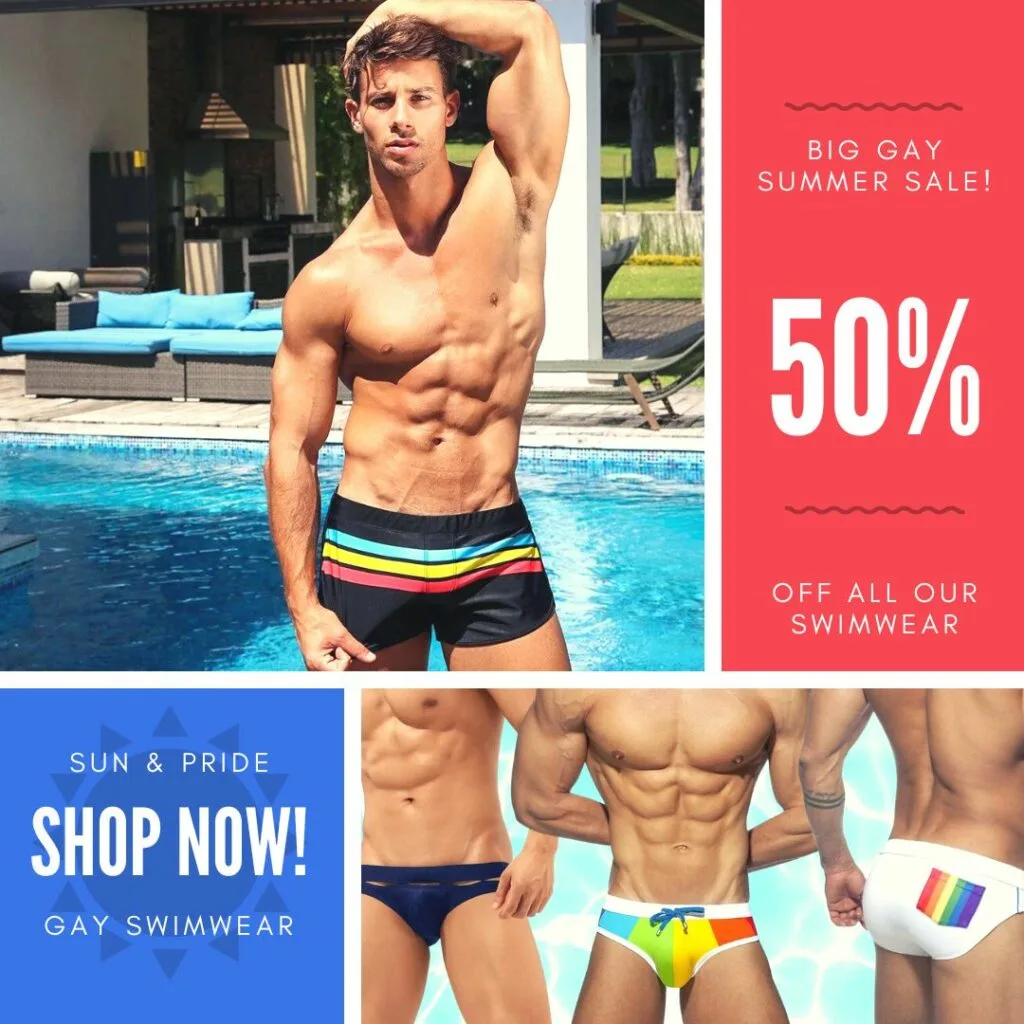 The Museum of the Moving Image reigns as one of Queens' finest cultural institutions, and it's a visual masterpiece in its own right. The architecture of the building sets the stage for your moving images, creating a stunning backdrop.
Prepare to have your perception of movies forever transformed as you explore exhibits that delve into filmmaking's artistry, history, and techniques. Witness the incredible evolution of this captivating medium from its modest beginnings to its present glory.
Special exhibitions offer immersive experiences, whether delving into Jim Henson's ingenious practical effects, the creation of educational science films, or the behind-the-scenes production of The Walking Dead.
Make a day of it and treat yourself to exclusive weekend screenings, providing a taste of film school. Prepare to be enthralled by a curated selection of Golden Age classics, experimental animation, cult favorites, and foreign cinema, each month presenting a fresh thematic exploration.
Astoria is the epitome of hip, trendy, and cool. This quiet neighborhood in Queens is positively bursting with personality that captivates all who venture here. Be dazzled by the array of small boutiques adorning the streets, offering unique jewelry, stylish stationery, exquisite beauty products, and various handmade craft treasures.
Just a skip across the East River from Midtown, this neighborhood is a melting pot of diverse cultures and tantalizing cuisines, boasting a long-standing Greek presence and a touch of Little Egypt.
But that's not all. Astoria holds a rich film history that will leave cinephiles in awe. And here's the best part, going out in Astoria won't break the bank.
Prices are refreshingly budget-friendly compared to Manhattan, whether you're dining at its fabulous eateries or indulging in retail therapy at its independent boutiques and record stores. Move over, hip Brooklyn, Astoria is here to claim its place as the affordable and effortlessly cool destination of choice.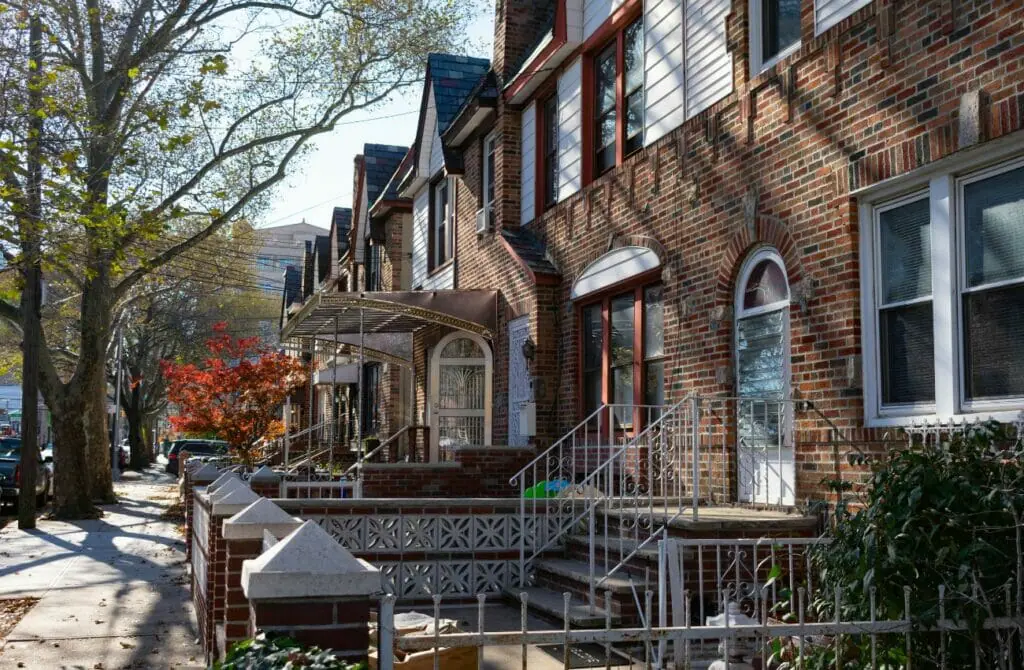 So, you may need some zen-like calm after a few days in the city. There is a place for that. Noguchi Museum is a stunning creation envisioned by the brilliant Isamu Noguchi to showcase his extraordinary work.
No blurbs clutter the space here, allowing for a personal and experiential connection to the art and surroundings. Surround yourself in the presence of grand, larger-than-life sculptures thoughtfully arranged in open spaces that dance with natural light and textures.
Special exhibitions pay homage to Noguchi's profound impact on contemporary artists. Housed within a repurposed 1920s factory, the museum boasts a serene outdoor sculpture garden inspired by Zen principles. It's the perfect haven to unwind and share a peaceful moment with fellow travelers. Let the Noguchi Museum transport you to a world where art speaks volumes without saying a word.
If you're coming to New York, no matter what borough, you must find a good view. One of the best and most iconic views you'll find is in Queens. Gantry Plaza State Park, or just Gantry Park, is a 10-acre urban oasis. Every inch is designed for your enjoyment, from the playground to the playing fields, picnic tables to the riverside walk. And oh, the views!
Enjoy the breathtaking midtown Manhattan skyline and the iconic United Nations Building. Shutterbugs flock here to capture the day, sunset, and nighttime magic. But wait, there's more! Bars, restaurants, and summer hammocks beckon you to unwind and savor the deliciousness of this incredible spot. Gantry Park is the ultimate blend of city vibes and riverside charm—get ready to bask in its beauty!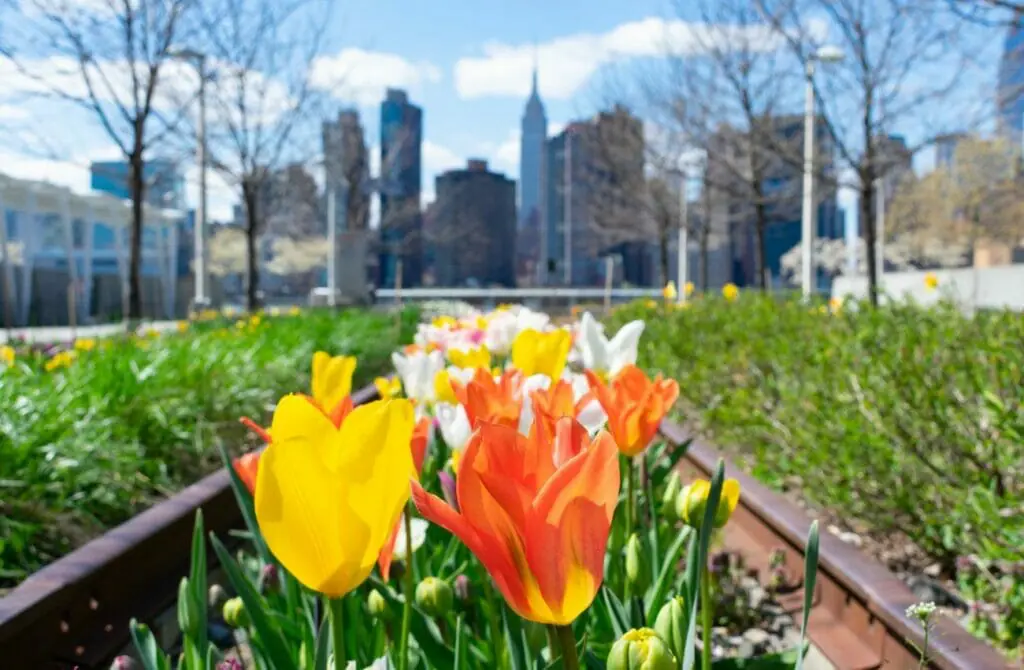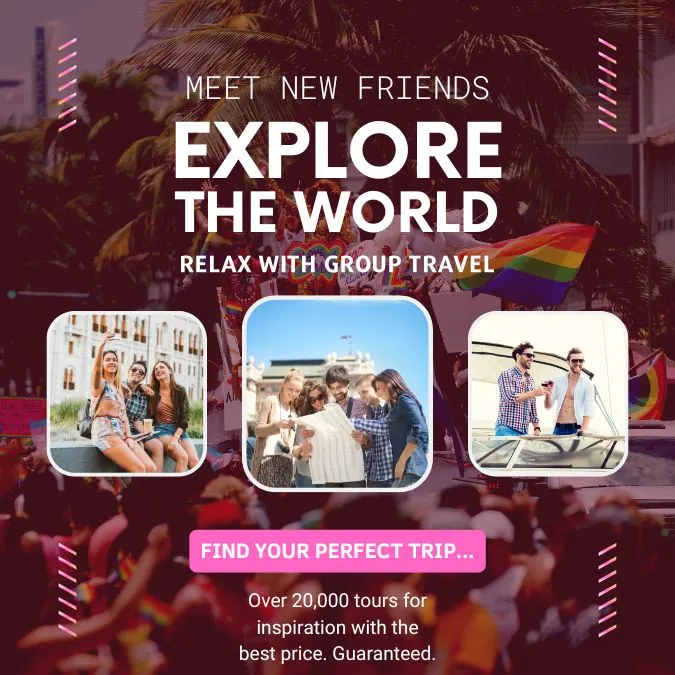 Gay and Gay-Friendly Hotels in Queens, USA
Being gay-friendly accommodation means that the establishment is welcoming and inclusive to guests who identify as LGBTQ+. This can include, but is not limited to, having policies and practices that demonstrate a commitment to creating a safe and inclusive environment for LGBTQ+ guests, such as non-discrimination policies and providing support and resources for LGBTQ+ travelers.
Some gay-friendly accommodations may also provide amenities specifically catering to the LGBTQ+ community, such as rainbow flags or literature about local LGBTQ+ events or resources. Furthermore, gay-friendly accommodations may be located in an area known for being LGBTQ+ friendly.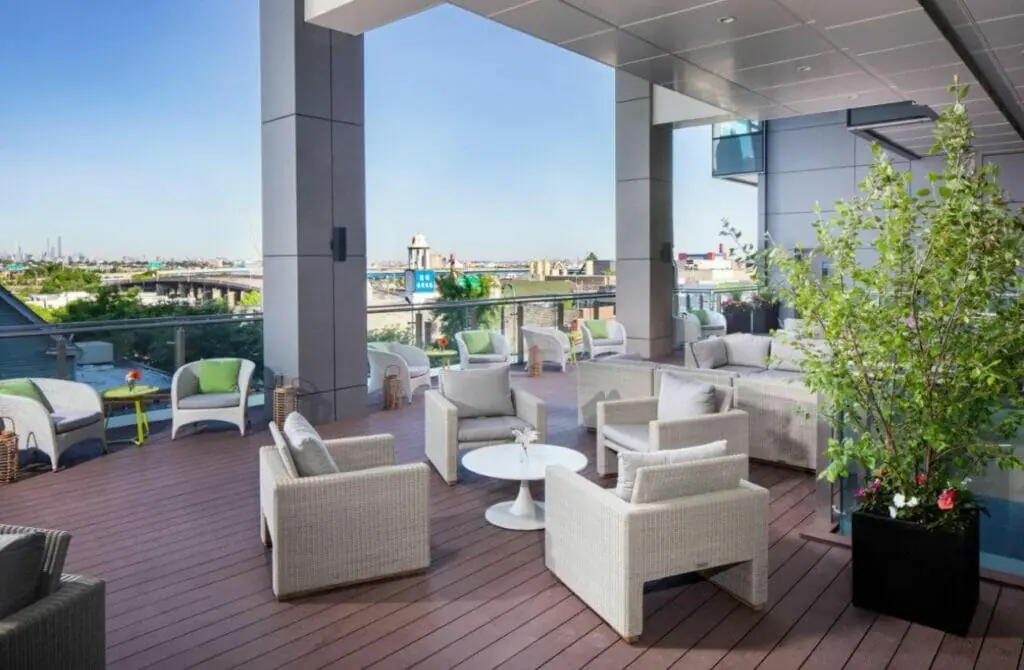 While Queens does not have any specifically gay hotels or resorts, these are the most fabulous and pro-actively gay-friendly hotels in Queens. There are also hundreds more hotel and hostel options in Queens if none of these suit your desired budget, facilities or area – but these are the best hotels according to other gay travelers and us.
Whatever your needs are, Queens has you covered.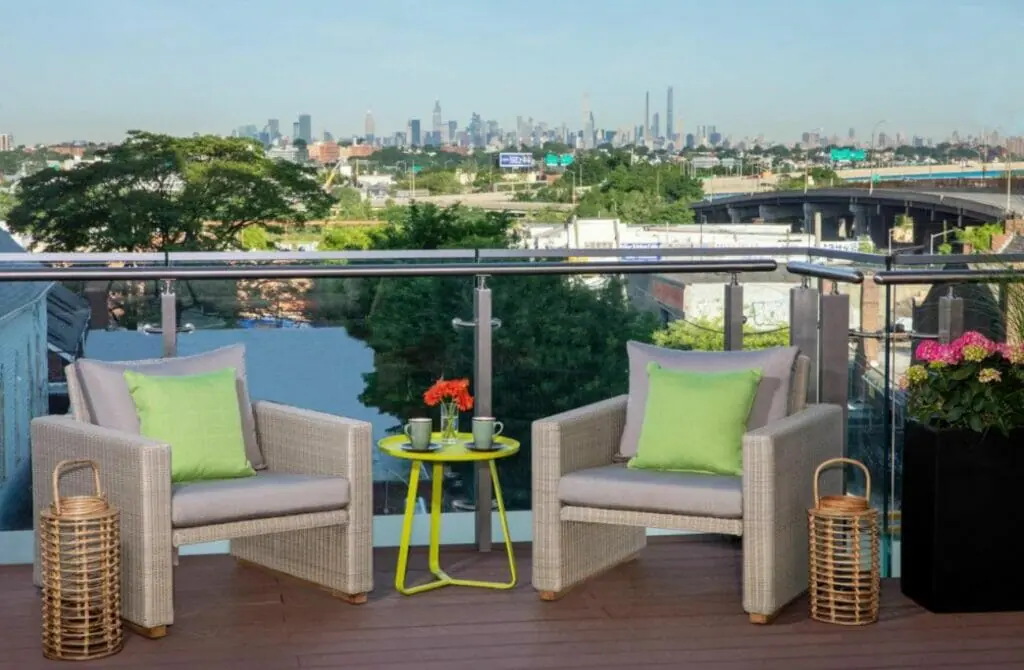 Hotel Indigo Flushing, an IHG Hotel ☆☆☆☆
Who doesn't love NYC hotels? Ah, the stylish allure, elegant curves, and class abound at the Hotel Indigo Flushing. This delicious stay is all about sleek modern decor and charm. The rooms are expensive and spacious, a rarity in bustling New York City. The beds?
Absolute perfection for a dreamy night's sleep. And let's talk about the view because it's simply jaw-dropping. Feast your eyes on the stunning New York skyline. Oh, and the location? Perfectly situated near Citi Field, with a free roundtrip airport shuttle for added convenience. Hotel Indigo Flushing is the epitome of modern luxury, with a terrace and a fabulous bar.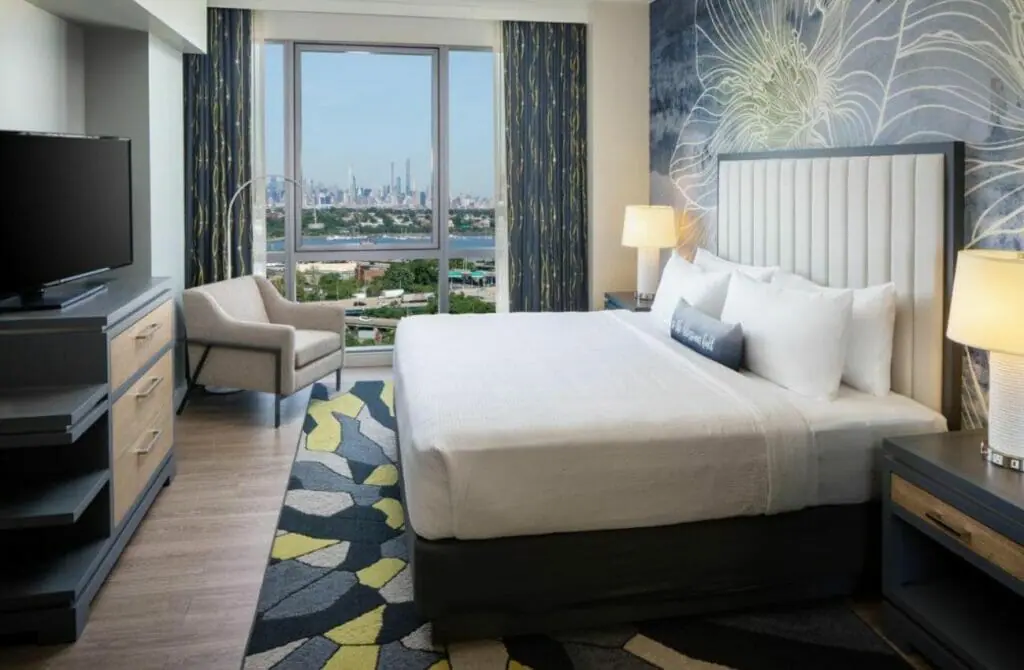 This lovely stay is a home away from home packed with charm. The rooms are not just rooms—they're actual apartments! And oh, what apartments they are. Spacious, clean, and oozing with character, they offer everything you need for a perfect stay.
The location is a dream. Convenient and walkable, with easy access to the wonders of midtown. And fear not, noise-sensitive souls, for the only sounds you'll hear are the gentle hum of the subway. The staff even provides a white noise machine for your peace of mind.
This building is a stunning piece of history, adorned with gilded-era elegance. Relax in style with a flat-screen TV, a kitchen fit for a culinary master, and all the amenities you could ask for. It's a true home away from home.
New York LaGuardia Airport Marriott ☆☆☆
Treat yourself to the New York LaGuardia Airport Marriott for a fabulous stay. The location is unbeatable, just a stone's throw away from the airport. The hotel is a stylish blend of modern and classic design, with clean lines and vivid pops of color.
The staff is welcoming and helpful, ensuring your comfort every step of the way. They have a free roundtrip airport shuttle, a 24-hour gym, and dry cleaning services. And when hunger strikes, head to Ditmars Bar & Grill for a delicious meal. This is the perfect choice for a chic, hassle-free stay in Queens.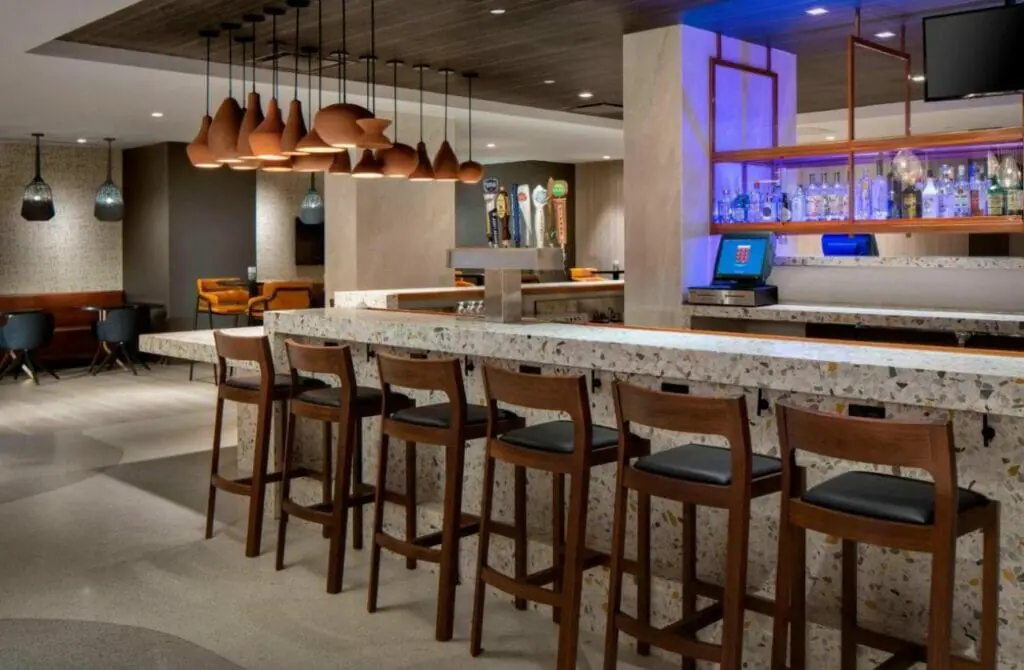 Vista LIC Hotel, BW Premier Collection ☆☆☆
Can you say understated modern elegance? This hotel is perfectly situated, offering easy access to both Manhattan and Long Island, with the bonus of breathtaking views of Manhattan. The rooftop bar is a must, providing an excellent vantage point to soak in the cityscape.
The location is unbeatable, surrounded by shops, and close to public transportation. The staff is attentive and exceptional. The hotel exudes sophistication and class with its high-end decor and ambiance. Located near 5th Avenue and Grand Central Terminal, this hotel features a rooftop terrace, onsite shopping, and two fantastic restaurants serving delectable Asian cuisine in an al fresco setting. Get ready for a luxurious experience!
Many hostels talk a big game about community and friendship. The Local truly means it. The Local's amazing staff will ensure your most memorable stay in NYC. They'll help you plan your day, packing it full of the standard NYC attractions and unique local experiences you won't find in your guidebook.
They'll plan events at the hostel to help you meet fellow travelers – live concerts, standup comedy, movie nights, trivia, wine/beer tastings, creating opportunities to connect with fellow travelers. The hostel is incredibly comfy, offering clean rooms, comfortable beds, a rooftop common area with an incredible view, a computer lounge, and an event area. Get ready for a fabulous time! The staff at this lovely hostel will help ensure it!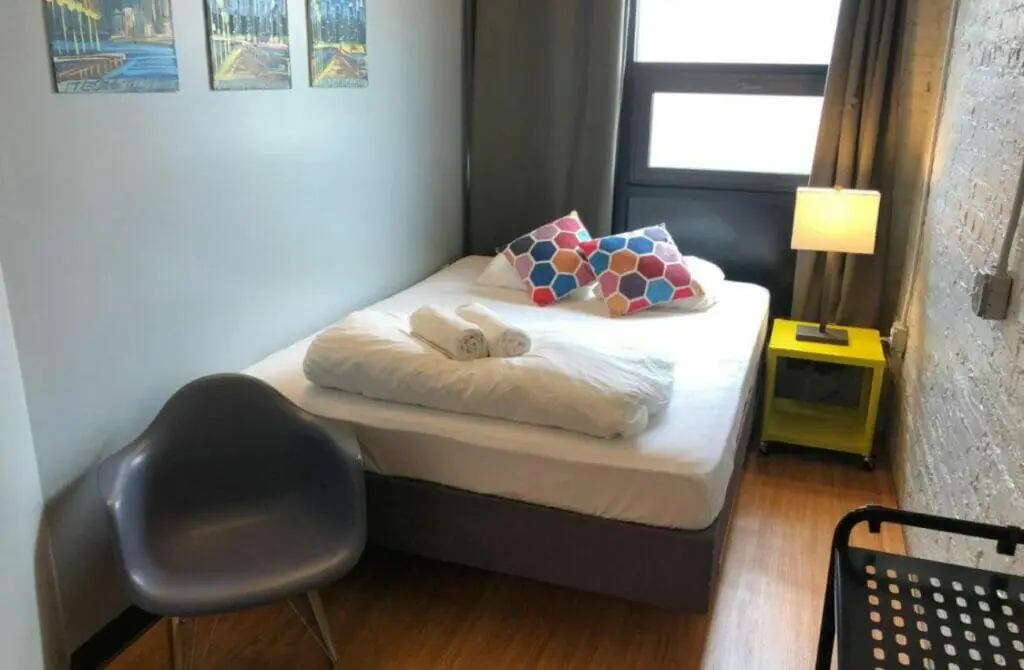 Gay Nightlife in Queens, USA
In the gritty borough of Queens, New York, the gay bars pulse, and the city howls like a wild beast. Queens, known for its unapologetic spirit and diverse communities, offers many exhilarating experiences for gay night owls.
As the sun sets, the streets come alive with a kaleidoscope of colors, pulsating music, and electrifying energy. Queens beckons with a cornucopia of queer-friendly spaces where self-expression knows no bounds, from trendy bars to hidden underground venues.
Venture into the heart of Queens' gay nightlife and dance to the rhythm of liberation. Immerse yourself in the community's many events, drag shows, and exhilarating performances celebrating individuality and unity.
With a dynamic mix of local talent, welcoming atmospheres, and a healthy LGBTQ+ community, Queens' gay nightlife invites you to embrace the raw, unfiltered essence of queer culture. Get ready to paint the town with your true colors, and let the nocturnal playground of Queens ignite your wildest dreams.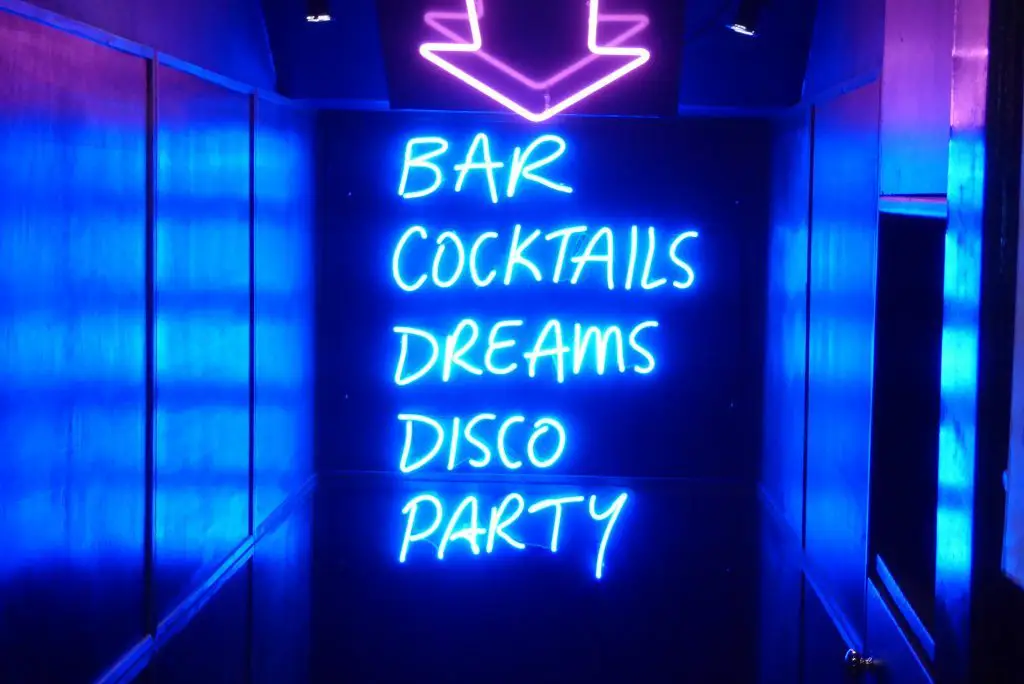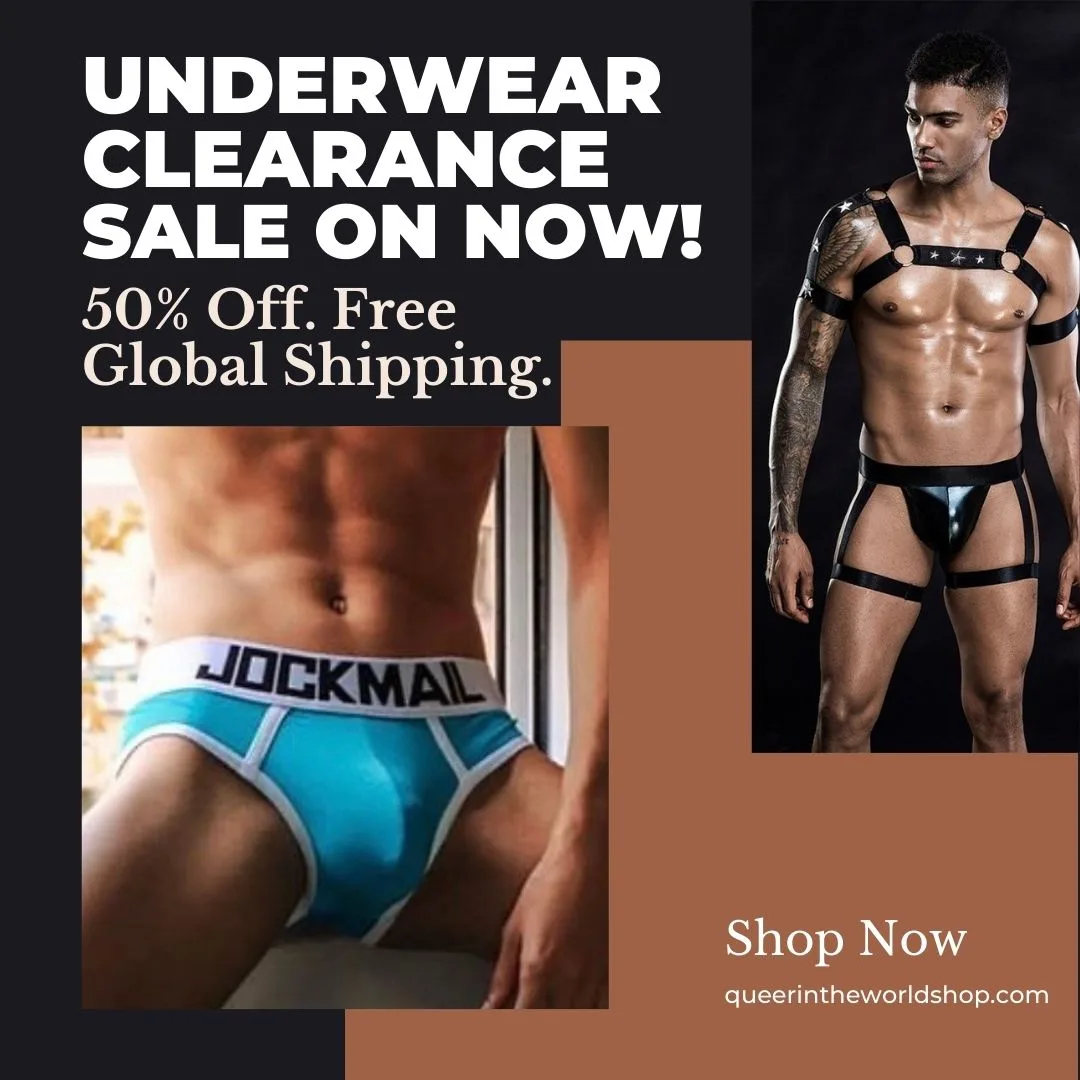 Gay Clubs in Queens, USA
This place is about living it up with a Latin vibe in Queens. They have regular happy hours, karaoke nights, and themed dance parties. Hombres Lounge knows how to keep the energy high. The team here at Gombres also actively collaborates with local LGBT+ and Latin organizations to promote awareness and equality. They have a serious message to go with their serious fun.
The interior is stunning, with a look that changes every week to match their exciting party themes. It's a feast for the eyes! And please ogle the handsome and talented men who keep the party going; that's why they're there. With outstanding decoration, incredible music, and top-notch service, Hombres Lounge offers a unique experience you won't find anywhere else in Queens. Get ready to dance the night away!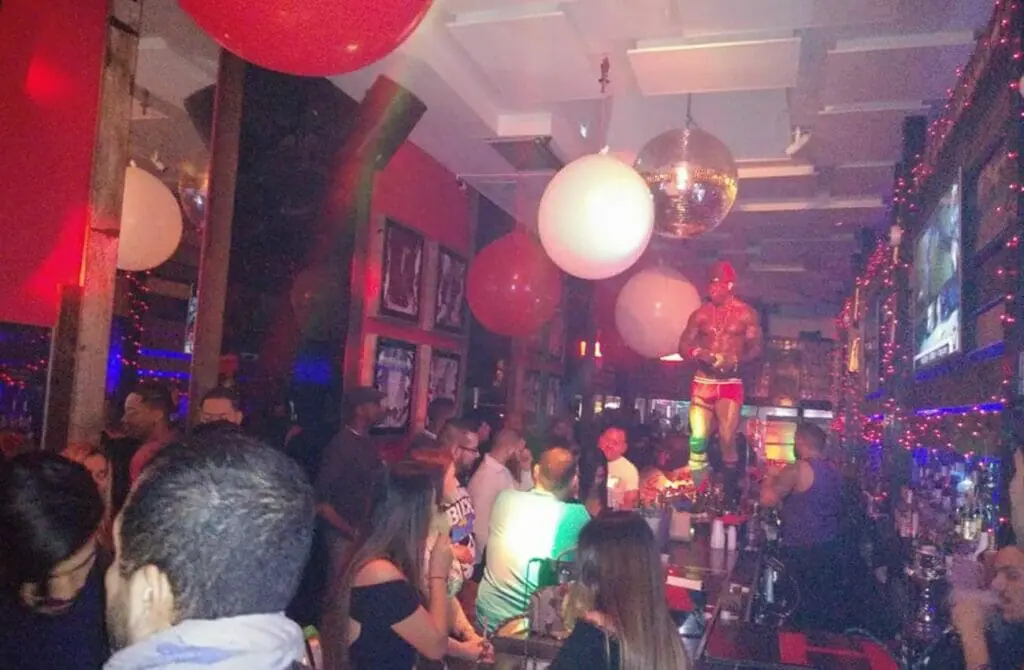 Oh, let's talk about Friend's Tavern! It's an iconic gay bar in Jackson Heights, Queens, and it is a breath of fresh air. With a history dating back as the oldest gay bar in the borough, Friend's Tavern exudes a relaxed and inclusive vibe. This place celebrates diversity, welcoming a fabulous mix of locals and visitors. Sip on their strong cocktails and let the music transport you.
From toe-tapping beats to sultry melodies, they've got a playlist that covers all genres. The staff is super friendly and helpful! They're attentive and ready to make your night unforgettable. And the Latino flair adds that extra sabor to the experience. Get ready to dance, mingle, and make lifelong friends at Friend's Tavern. It's the place to be!
Albatross Bar is the friendliest gay bar in the heart of Astoria, Queens. The super cozy venue has pool tables, dartboards, and a jukebox that sets up the perfect chill vibe. Their full bar serves delicious cocktails that the locals are in love with.
They have karaoke nights, shows, and drag bingo, and Albatross Bar offers a variety of other entertainment throughout the week. You might even catch open mic nights, stand-up comedy, or trivia events. With its charming atmosphere, lively music, and fabulous performers, this quaint dive is the ultimate spot to enjoy a cocktail and witness the talents of incredible queens.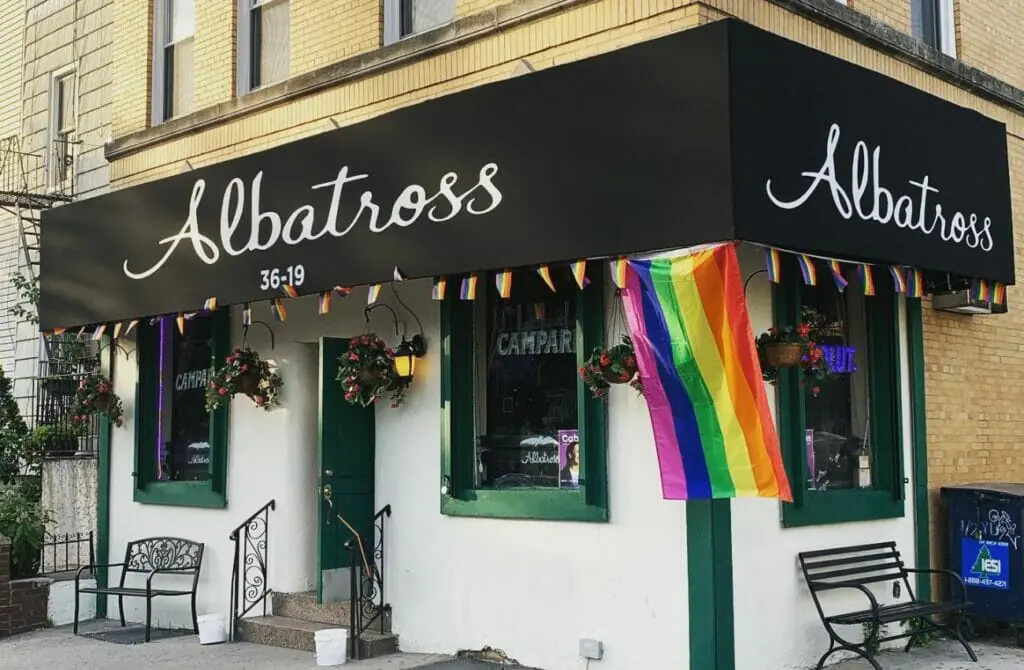 This is one queer cocktail bar where you'll feel like a true queen. Prepare for a sensory delight as you immerse yourself in the pink decor, sip on delicious drinks, and revel in the inclusive and safe atmosphere for the LGBTQ+ community.
This bar is a selfie sensation adorned with captivating artwork, an abundance of crowns, and even an Instagram-worthy pink throne. Indulge in Latin fusion cuisine and savor hand-crafted cocktails. Check out the drag brunches on weekends, a must-do activity in Queens.
The energetic staff adds to the fun, being incredibly friendly and interactive with the crowd. Prepare for a truly great experience with fantastic food and drinks.
Head to True Colors, the most awesome gay bar in Jackson Heights, Queens. This is where the party never stops. True Colors is a welcoming hotspot and local hub for diverse crowds seeking a night of fun and fabulousness. With friendly bartenders serving tasty drinks and energetic music filling the air, True Colors sets the stage for unforgettable dancing and mingling.
They have hot dancers, DJ nights, and pumping dance parties. This is where everyone can let loose and have an incredible time. Grab your friends, or meet some new ones, and get to dance the night away at True Colors!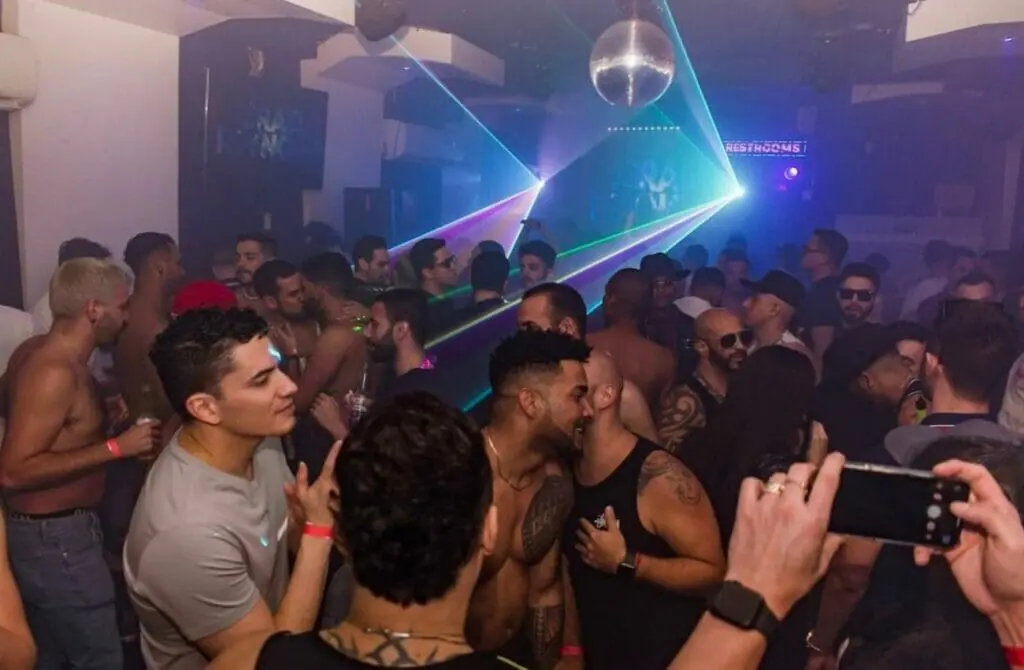 Experience the no-frills, laid-back, gay-friendly mixed bar at Diamond Dogs. This Queens, New York, bar offers an exquisite selection of craft brews and inventive cocktails in a stylish setting. Bring your food and enjoy a fun date night, sipping signature creations served by the sexiest bartenders.
Diamond Dogs shines as a beacon of flavor, passion, and joy in Queens's colorful and diverse community. Don't be fooled by its unassuming exterior; step inside, and you will be transported to a craft beer wonderland. While not exclusively gay, it's undoubtedly one of Astoria's best bars, with an impressive beer selection, cozy seating, inviting lighting, and always-friendly bartenders.
Soak up Viva's energy and fantastic atmosphere, the sensational club nestled in the heart of Queens. This is such a fun night out you will want to hit this spot more than once during your trip! Sip on exquisite cocktails crafted by the stunning and welcoming bartenders.
You can relax with hookah, soak in the electric ambiance, or dance the night away to the infectious beats. Prepare to be amazed by the incredible staff, the exquisite venue, and the unforgettable combination of music, food, and drinks. Viva is where the party truly comes alive!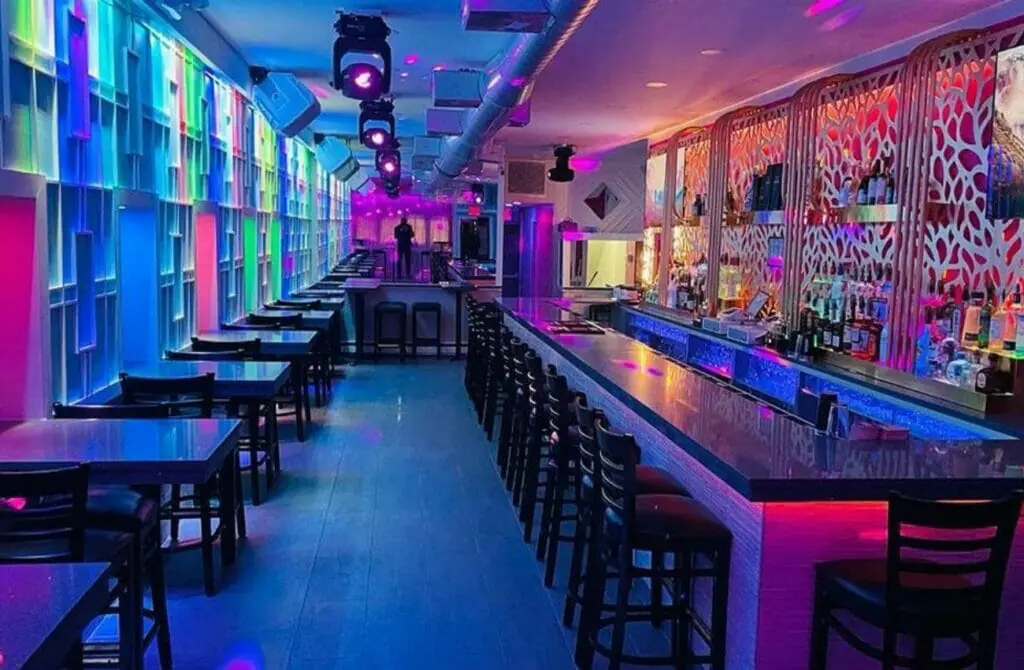 Gay Parties in Queens, USA
Celebrate diversity and love at the iconic New Queens Pride Parade and Multicultural Festival! As the second oldest and second largest pride parade in NYC, it has been a vibrant tradition since its establishment in 1993.
On the first Sunday in June, join the electrifying festivities on Jackson Heights' 37th Avenue. Prepare for spectacular drag performances, non-stop dancing, mesmerizing professional dancers, and the pulsating beats of live music and talented DJs. It's an event that radiates love, unity, and pure joy.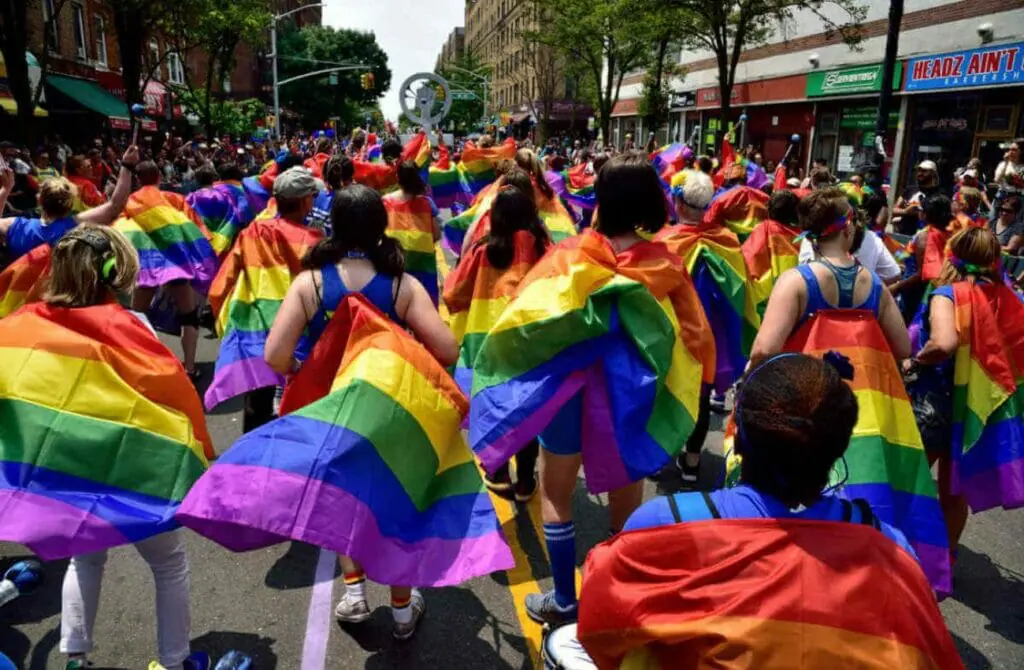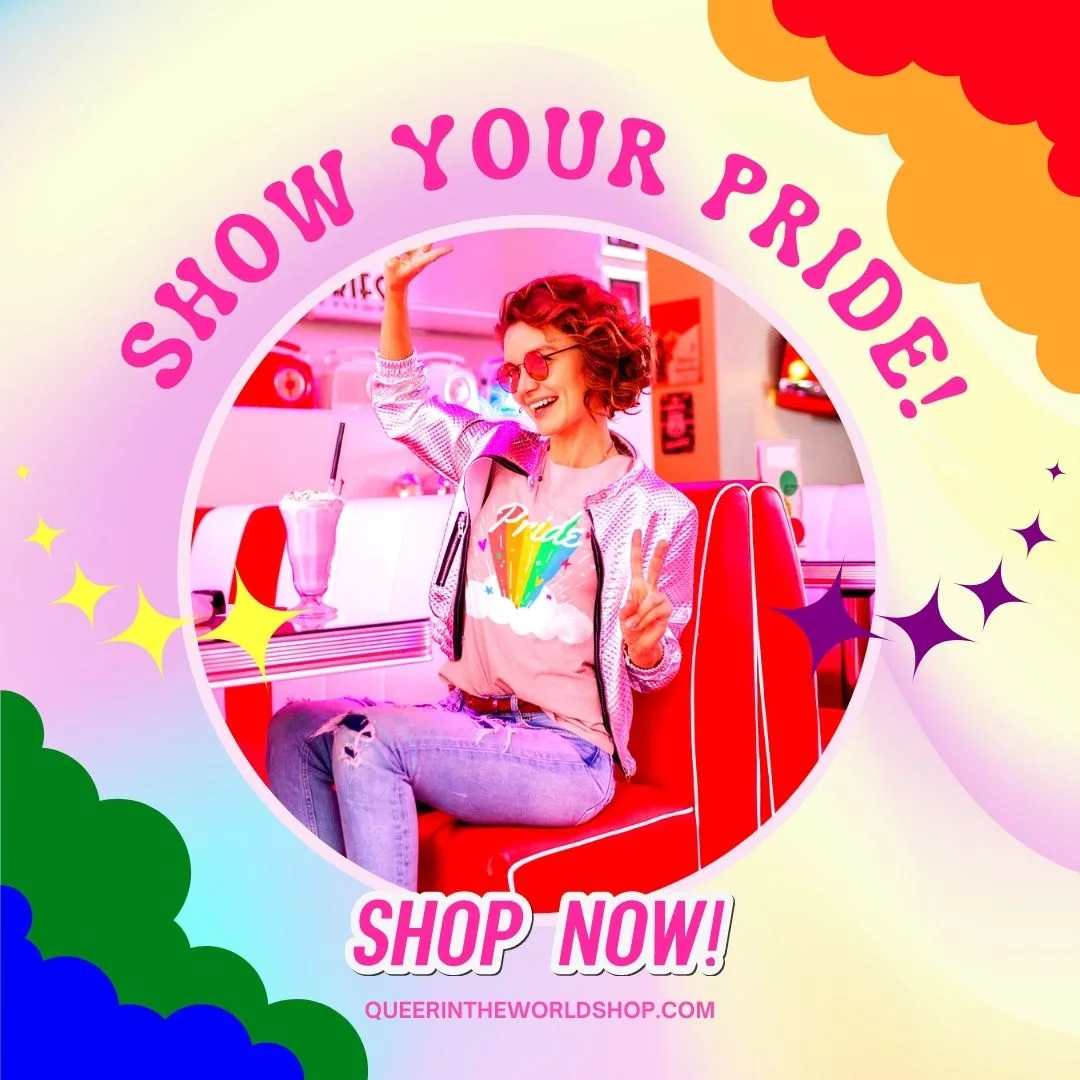 Gay Saunas & Cruising Clubs in Queens, USA
When traveling to a new city, it can be exciting to head out for more than just a stiff drink. One aspect of the Gay Queens scene that many queer men enjoy is visiting gay saunas and cruising clubs.
Sure, the sauna culture in Queens is not as hedonistic as in Amsterdam, Barcelona or Berlin, but these venues still offer a chance to meet new people, socialize, and engage in sexual activity – without resorting to gay hookup apps.
However, it's important to remember that these venues can vary greatly in terms of atmosphere, clientele, and rules, so it's a good idea to prepare yourself before visiting. If you are apprehensive, we advise studying our guide to visiting a gay bathhouse for the first time, which should help set your mind at ease and always practice safe sex.
Additionally, it's important to be aware of and respect local laws and customs regarding gay venues and sexual activity. With a little bit of planning and an open mind, visiting gay saunas and cruising clubs can be a fun and exciting part of your gay Queens travel itinerary.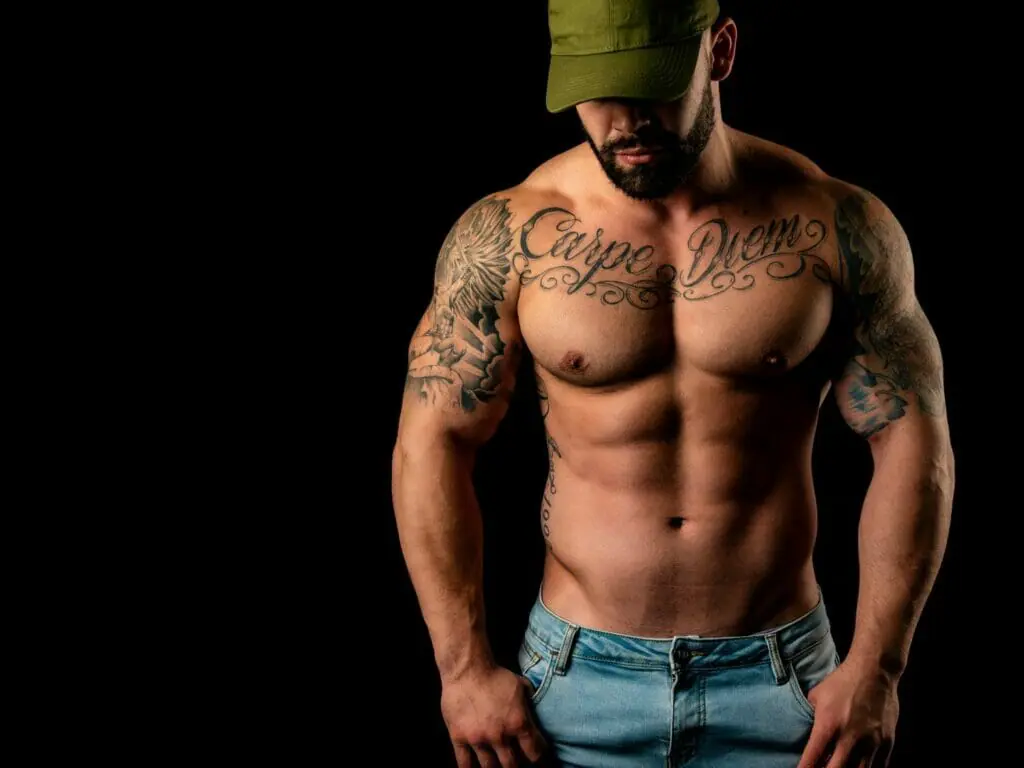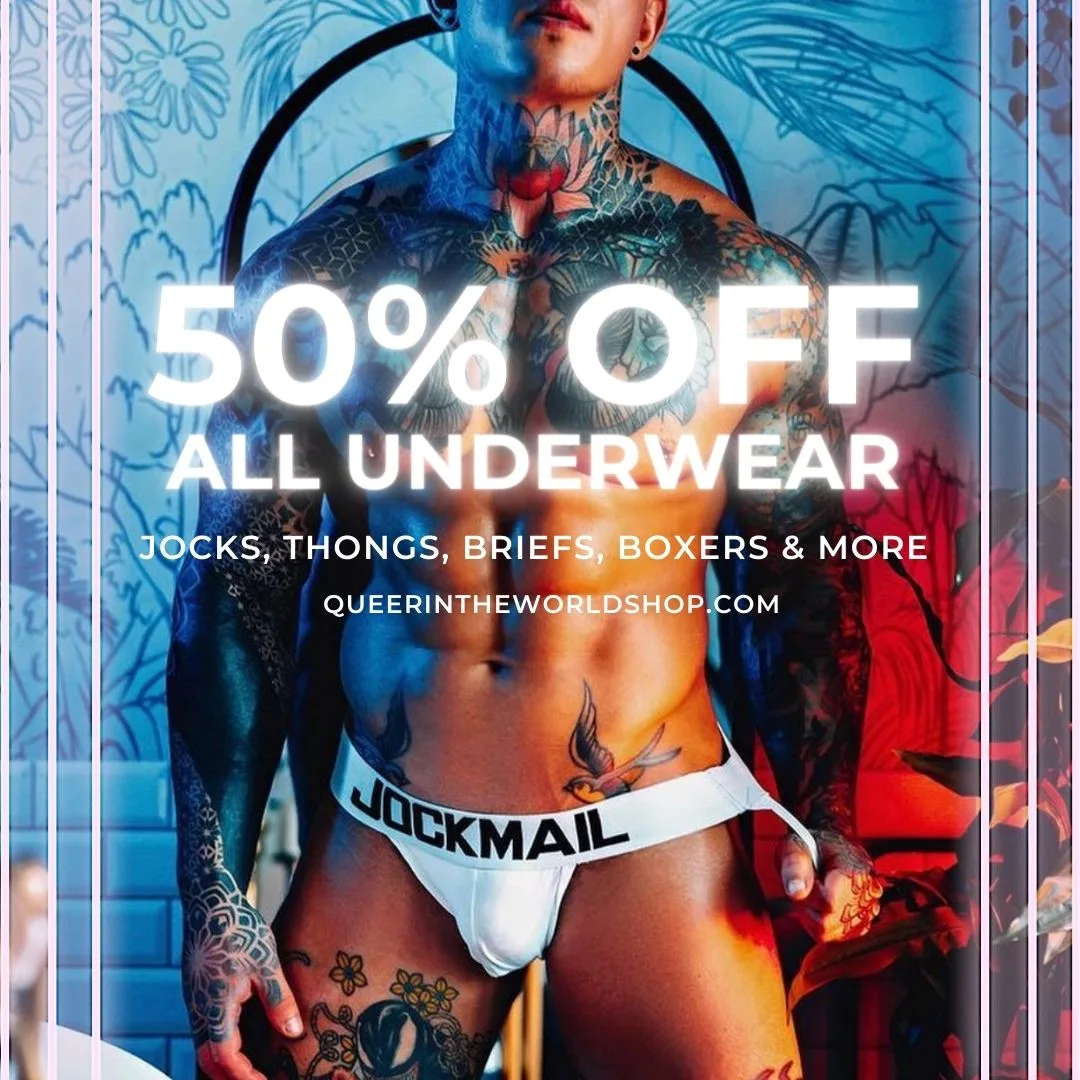 Gay Map Of Queens
Finding it hard to envisage where everything is in Queens? Hopefully, this queer-centric map helps where we have marked all the bars, clubs, parties, hotels, saunas, massages, and more will help you stay in the spot best suited to you!