In the picturesque seaside town of Ogunquit, Maine, the cold shores, warm currents, and charming coastal streets welcome gay travelers with open arms. Known for its inclusive and progressive atmosphere, Ogunquit has long been a haven for the gay community seeking a retreat filled with beauty, culture, and unapologetic authenticity.
Walk the iconic Marginal Way, hand in hand with your loved one, as the ocean breeze caresses your skin. Explore the art galleries and boutiques that line the streets, showcasing the town's creative spirit. Enjoy delectable cuisine at diverse restaurants, each offering a unique culinary experience.
Whether you're seeking a romantic getaway or a lively adventure, Ogunquit offers the perfect blend of natural beauty, gay-friendly establishments, and a warm sense of community that will make your visit unforgettable. Let the enchantment of Ogunquit capture your heart and leave you yearning for more in this coastal haven.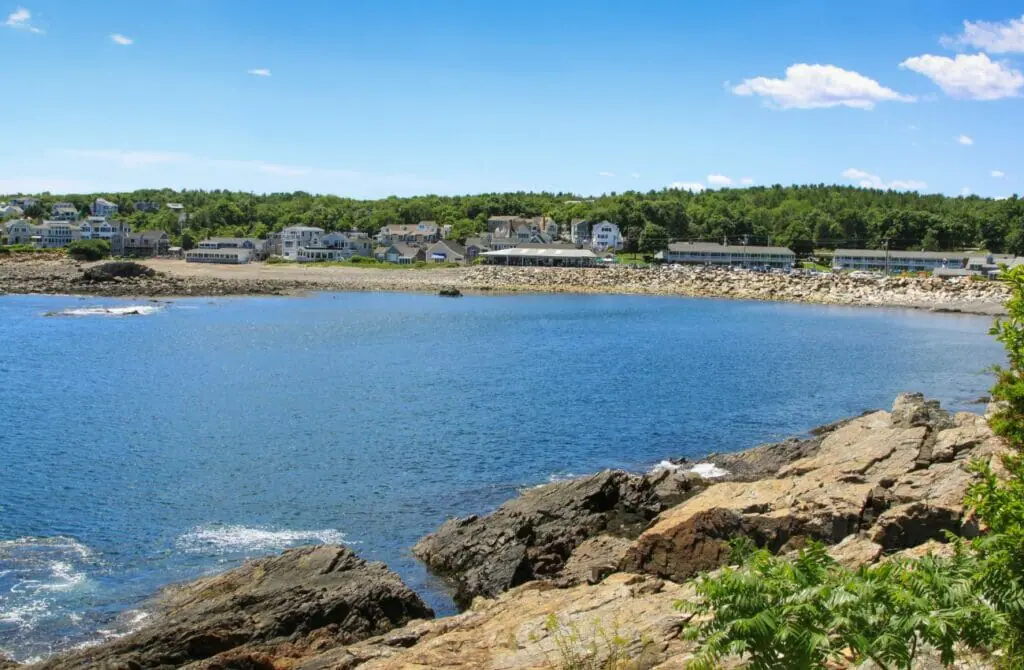 Attractions in Gay Ogunquit, USA
As a new visitor to Gay Ogunquit, there are many things to see and do, regardless of your sexual orientation. One of the best ways to experience any new city is to visit some of its most iconic landmarks and attractions, including historical monuments, museums, and art galleries.
We also love gazing at architecture up close, exploring parks and gardens, sampling the local cuisine, visiting local markets, and attending cultural events such as festivals, concerts and shows.
Even as the out-and-proud queer we are, we still love to explore the city and its culture in the same way as everyone else. Doing so allows us to learn more about the city and its people and gain a deeper understanding of the local culture. As such, these are our favorite must-see attractions in Ogunquit.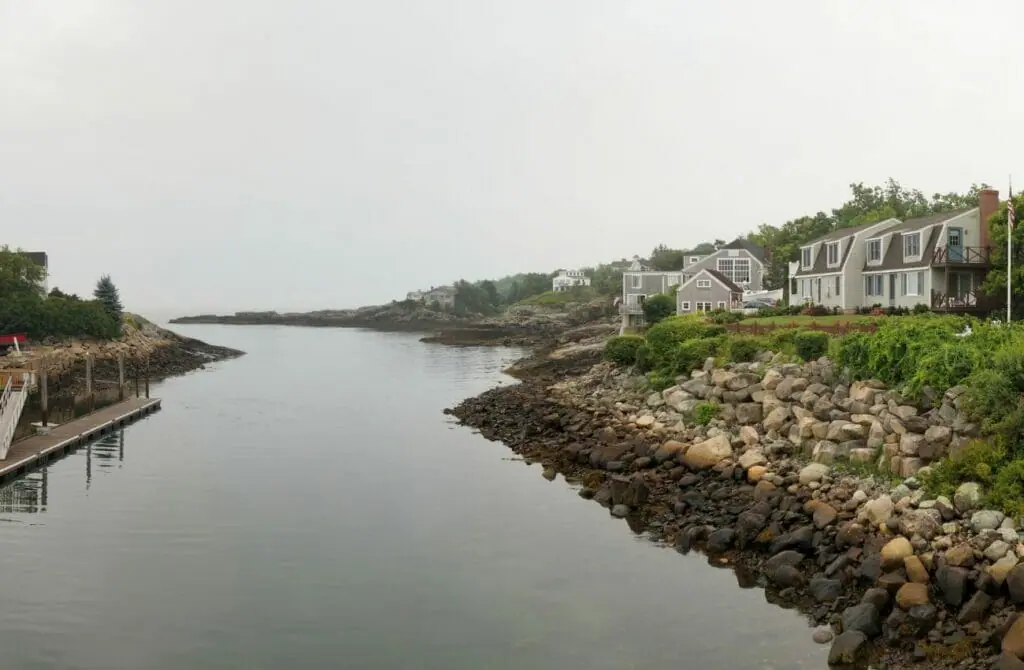 Partake in Ogunquit's culinary delights at Barnacle Billy's, the ultimate seafood haven! This top-rated restaurant is renowned for its mouthwatering lobster dishes and refreshing rum punch, making it a must-visit for any foodie.
Barnacle Billy's offers daily lunch and dinner, with waterfront dining options and abundant outdoor seating. Established in 1961 by the Tower family, it quickly became a beloved landmark in Perkins Cove, attracting seafood enthusiasts from all over.
The family's success led to the opening of a sister restaurant, Barnacle Billy's Etc., in 1989. Prepare your taste buds for the freshest seafood imaginable, from the delectable lobster roll to the hearty clam chowder. With mid-range prices and an inviting atmosphere, Barnacle Billy's promises an unforgettable dining experience in Ogunquit.
A Tasty Lunchtime Walking Tour
Experience a culinary journey that intertwines history, flavors, and coastal allure in Kennebunkport and Lower Village. Embrace an explosion of taste as the culinary scene captivates your senses. Stroll alongside knowledgeable guides, traversing a leisurely half-mile path from Dock Square to the lower village, discovering the essence of Maine.
Delight in the freshness of lobster straight from the boat, savor Maine's famous clam or fish chowder, sip on handcrafted ales or refreshing fruit sodas, relish the original Maine whoopie pie, and savor freshly roasted coffees paired with delightful macaroons.
This unique walking tour unveils Maine's culinary heritage and heavenly food scene. Let your palate guide you through this sensory adventure as each bite reveals the delectable treasures of the region.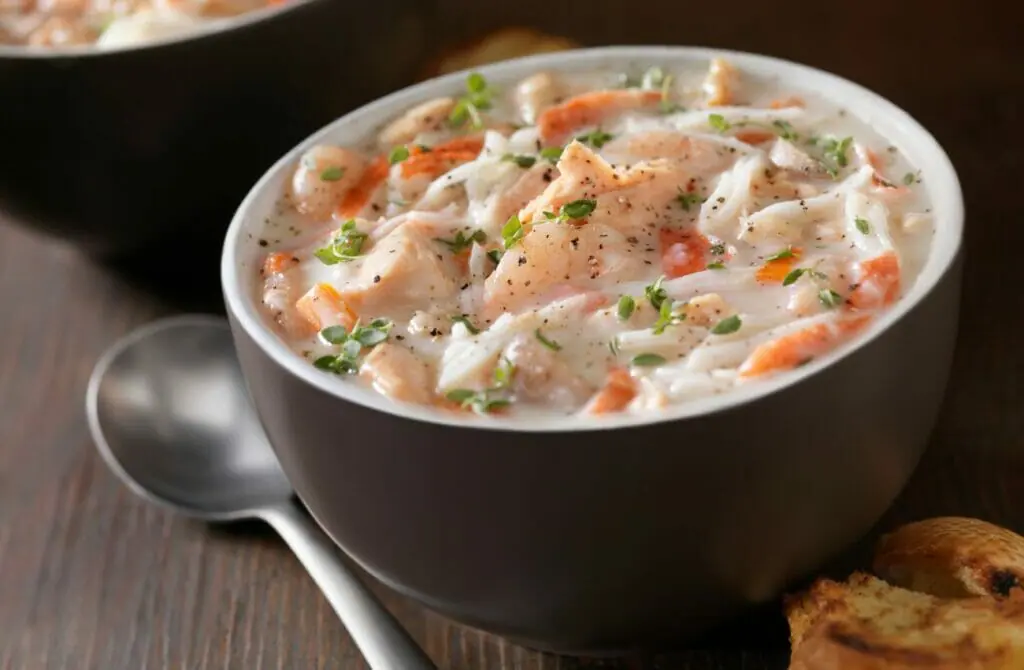 Located at the mouth of St. Anna Bay, Riffort Village is a bustling hub that offers a perfect blend of shopping, dining, and entertainment. This waterfront mall attracts visitors from nearby cruise ship terminals thanks to its tempting array of shops and restaurants. The historic 1828 Rif Fort, once a vital part of Willemstad's defenses, has been transformed into a chic shopping center.
The fort's thick coral walls now house upscale eateries, unique boutiques, trendy bars, and exuberant nightlife venues. Take advantage of the opportunity to soak in breathtaking views of the city, sea, and Otrobanda district from the fort's commanding vantage point. Riffort Village promises an unforgettable experience with its fusion of history and contemporary allure.
This 1.25-mile cliff walk begins near The Sparhawk Oceanfront Resort, winding past hotels, inns, and rocky beaches to Perkins Cove. Take time to admire the inspiring Atlantic Ocean, sketch the sights, or explore nearby beaches and coves. Reach Perkins Cove to witness lobster boats and enjoy dining at the harbor's restaurants. Marginal Way's brevity invites you to turn around and experience it again.
Catch the sun setting to the west or savor an early morning ocean sunrise. It's the perfect way to spend a peaceful morning on a hot summer's day in Ogunquit. Breathtaking ocean views and more than thirty-five benches await you on this quiet coastal cliff walk. Pack a picnic lunch for a romantic Ogunquit date and find a scenic spot to enjoy a lovely meal by the sea.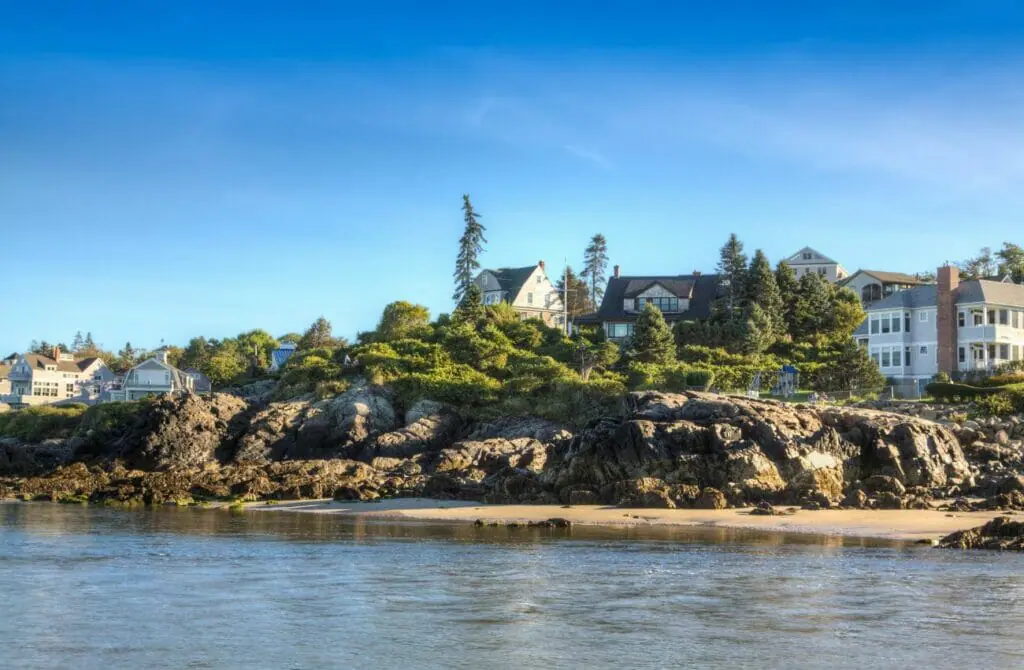 Ogunquit Museum of American Art
The Ogunquit Museum of American Art is found along the picturesque coast of Ogunquit, Maine. With over 3,000 captivating pieces in its collection, this small art museum celebrates modern and contemporary American art.
Explore paintings, sculptures, graphic arts, photography, and new media. Located at 543 Shore Road, the museum's original building offers breathtaking views of Narrow Cove from its sculpture garden.
The garden has a serene oasis overlooking Maine's iconic coves and outcroppings across three scenic acres. Discover works by renowned modern artists such as Marsden Hartley, Yasua Kunyioshi, and Walt Kuhn.
Experience the dynamic essence of American art through ever-changing special exhibitions, engaging lectures, and art classes led by local artists. Immerse yourself in Ogunquit's artistic legacy at this center of creativity.
Once a humble fishing community turned vibrant artists' haven, Perkins Cove beckons with its undeniable charm. Nestled between the majestic Atlantic Ocean and a picturesque harbor, it is a haven for local shops, independent eateries, and scenic vistas.
Explore the rocks, basking in the crashing surf, and revel in a stroll across the footbridge, taking in the sights of boats bobbing in the harbor. Enjoy picturesque dining, treating your palate to southern Maine's most delectable flavors while savoring breathtaking views.
Perkins Cove also marks the southern end of the Marginal Way. Thicharmingng village, once solely dedicated to fishing, has blossomed into a popular tourist destination of shops and galleries. Take the chance to sample salt-water taffy, a must-try delight. Perkins Cove invites you to immerse yourself in its unique blend of coastal enchantment and artistic spirit.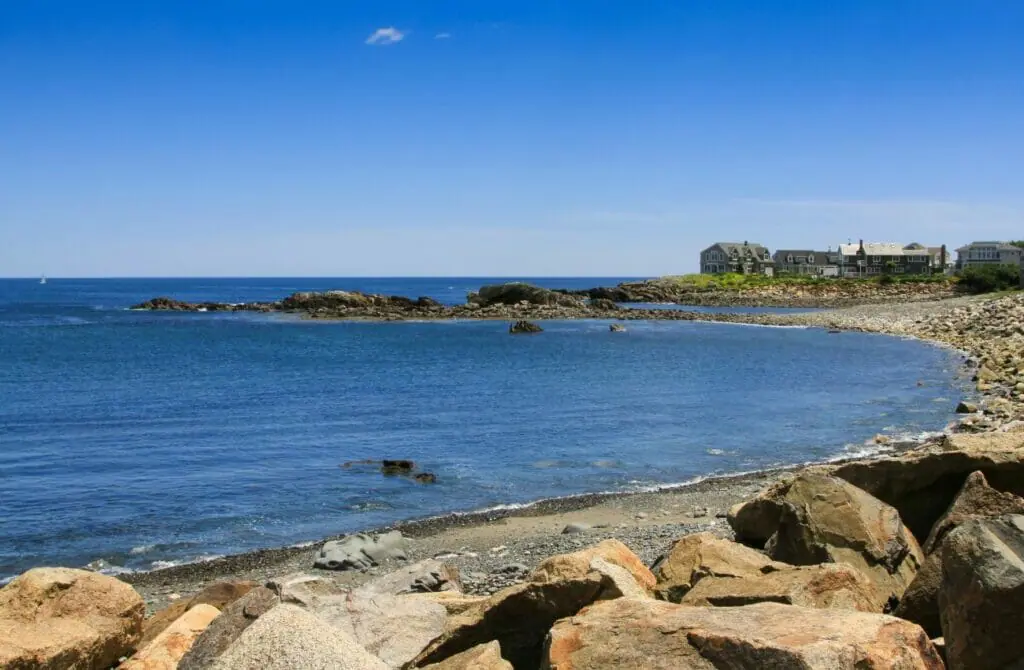 Beach Plum Farm, a tranquil haven of natural beauty, awaits those seeking a peaceful escape. With its expansive 22 acres, this enchanting destination offers captivating vistas of dunes, the ocean, green gardens, and abundant beach plums.
Embark on a delightful 0.5-mile trail that weaves through the gardens and fields, accompanied by charming benches that invite relaxation and reflection. Take a moment to absorb the scenery, indulge in a captivating book, or capture the surroundings on paper.
In addition to its rustic allure, Beach Plum Farm invites you to partake in guided tours and exquisite farm-to-table dinners, showcasing the freshness of their locally sourced meals. Delight in the diverse community gardens comprising over 50 plots while the array of flowers, plants, and gentle wildlife add to the enchantment.
Birdwatching enthusiasts will be in awe of the avian wonders that grace this idyllic sanctuary. The best part? Admission is free, granting you unrestricted access to this fascinating slice of nature's paradise.
No trip to Ogunquit is complete without a glorious beach day! Immerse yourself in the exhilarating crash of waves and the velvety sands that define the area as you settle into your spot at Ogunquit Beach.
Follow Beach Street from the town center and head straight until you reach the captivating sand and surf. With its expansive stretch of soft sand, Ogunquit Beach frequently secures a place on the prestigious "best beaches in the US" lists.
It's the perfect destination for basking in the sun's warm embrace, building magnificent sandcastles, or simply dipping your toes into the rolling surf. Keep an eye out for the occasional surfer, adding to the relaxing coastal atmosphere. This large, white sand beach is an idyllic summer hotspot for swimming, sunbathing, picnicking, and capturing breathtaking sunsets.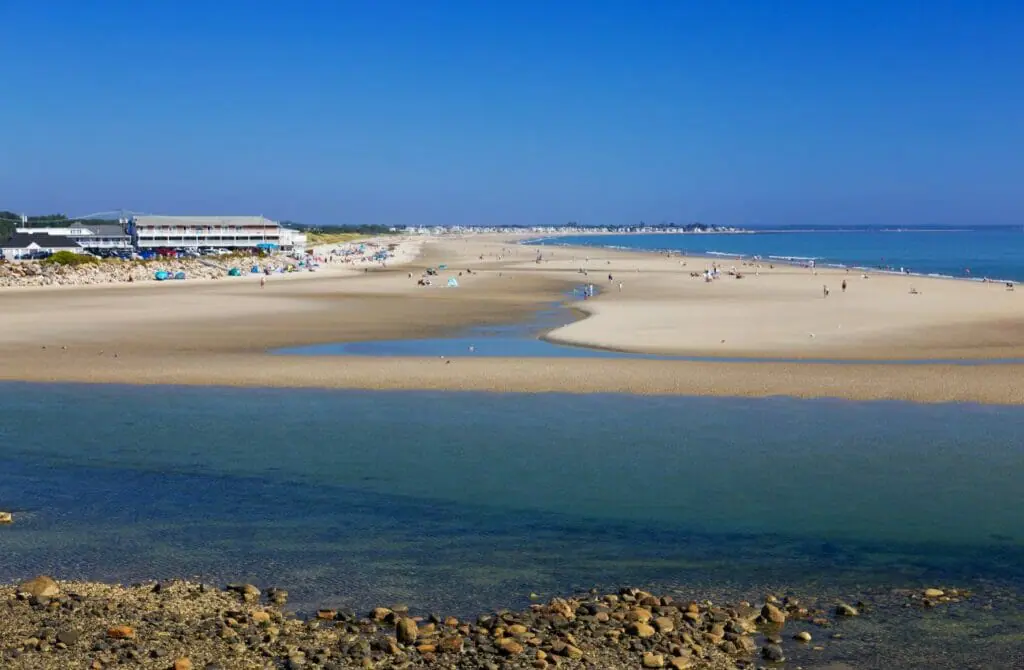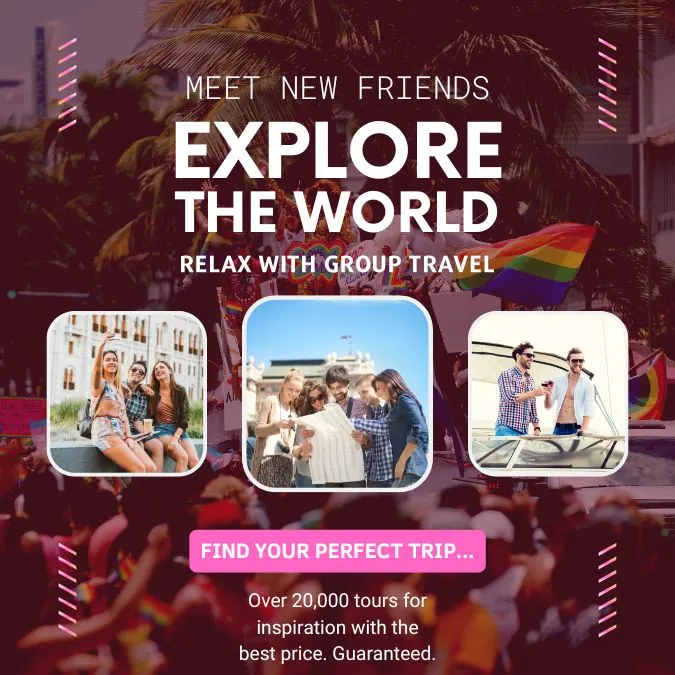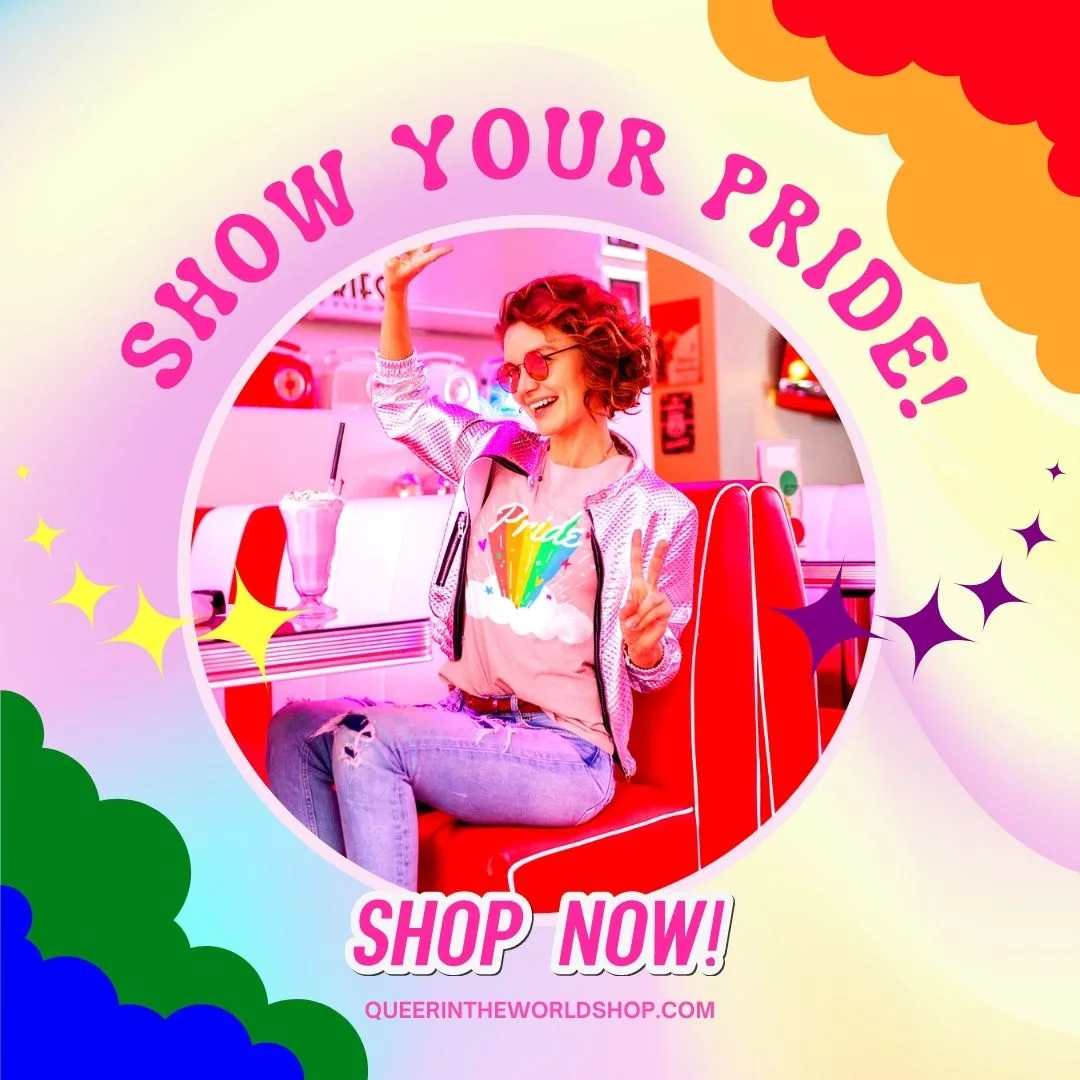 Gay and Gay-Friendly Hotels in Ogunquit, USA
Being gay-friendly accommodation means that the establishment is welcoming and inclusive to guests who identify as LGBTQ+. This can include, but is not limited to, having policies and practices that demonstrate a commitment to creating a safe and inclusive environment for LGBTQ+ guests, such as non-discrimination policies and providing support and resources for LGBTQ+ travelers.
Some gay-friendly accommodations may also provide amenities specifically catering to the LGBTQ+ community, such as rainbow flags or literature about local LGBTQ+ events or resources. Furthermore, gay-friendly accommodations may be located in an area known for being LGBTQ+ friendly.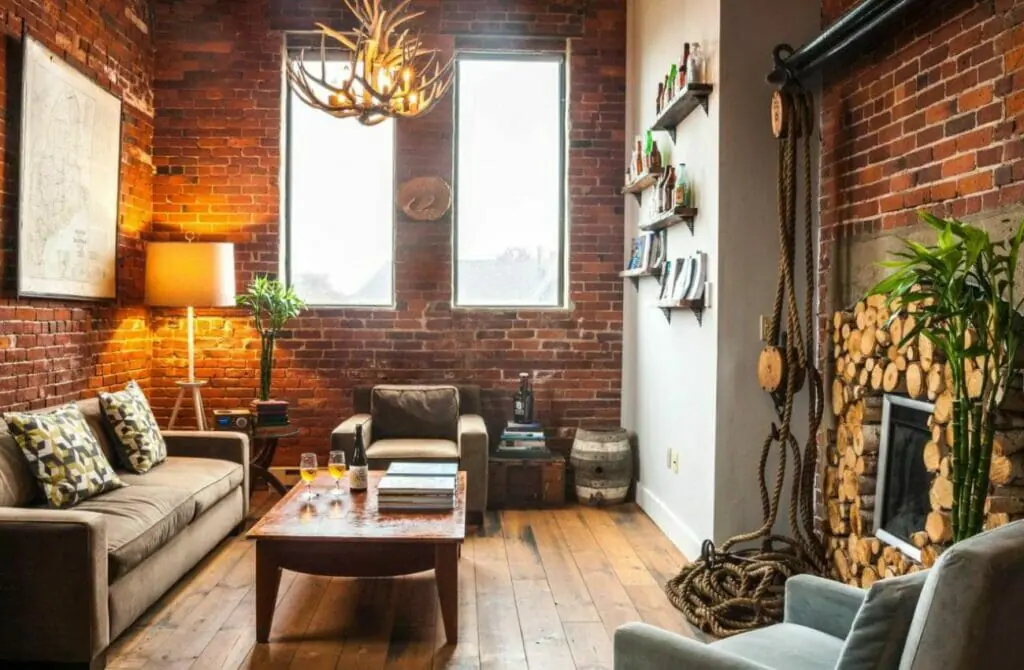 While Ogunquit does not have any specifically gay hotels or resorts, these are the most fabulous and pro-actively gay-friendly hotels in Ogunquit. There are also hundreds more hotel and hostel options in Ogunquit if none of these suit your desired budget, facilities or area – but these are the best hotels according to other gay travelers and us.
Whatever your needs are, Ogunquit has you covered.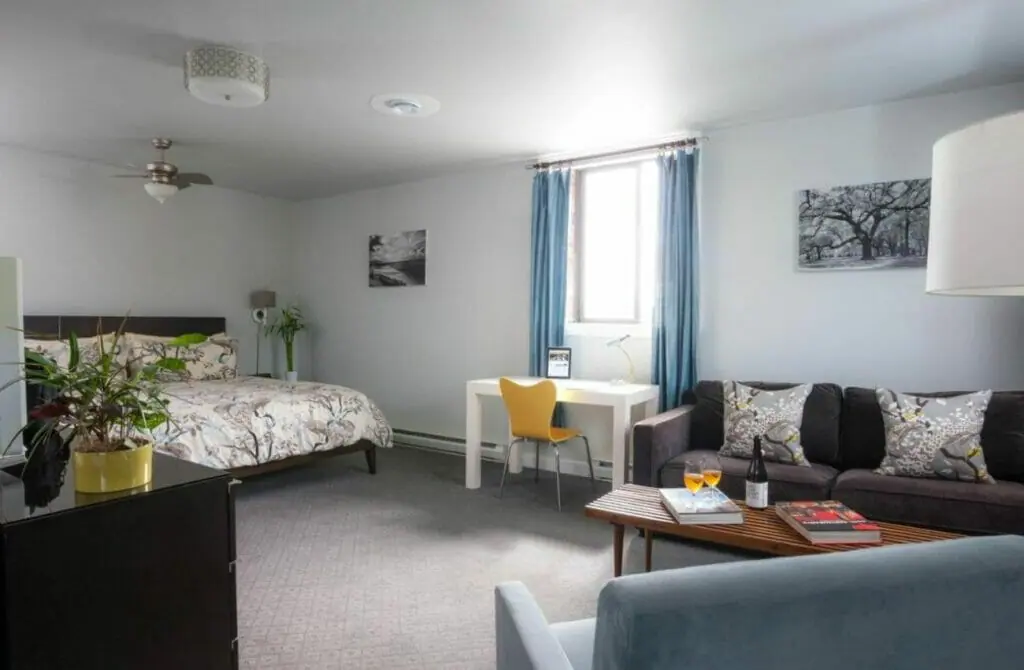 Relax and breathe on retreat at the Ale House Inn, nestled outside Ogunquit. This local spot offers the utmost privacy for a truly exclusive experience. The impeccable staff ensures your every need is met with kindness and assistance.
Prepare to be enchanted by the cozy and cleverly decorated spaces adorned with tasteful touches of classic Americana. The rooms are a delight, exuding charm and comfort. Located near the Warner House and Market Square in Portsmouth, the Ale House Inn is the epitome of refined elegance. Treat yourself to a lavish escape like no other.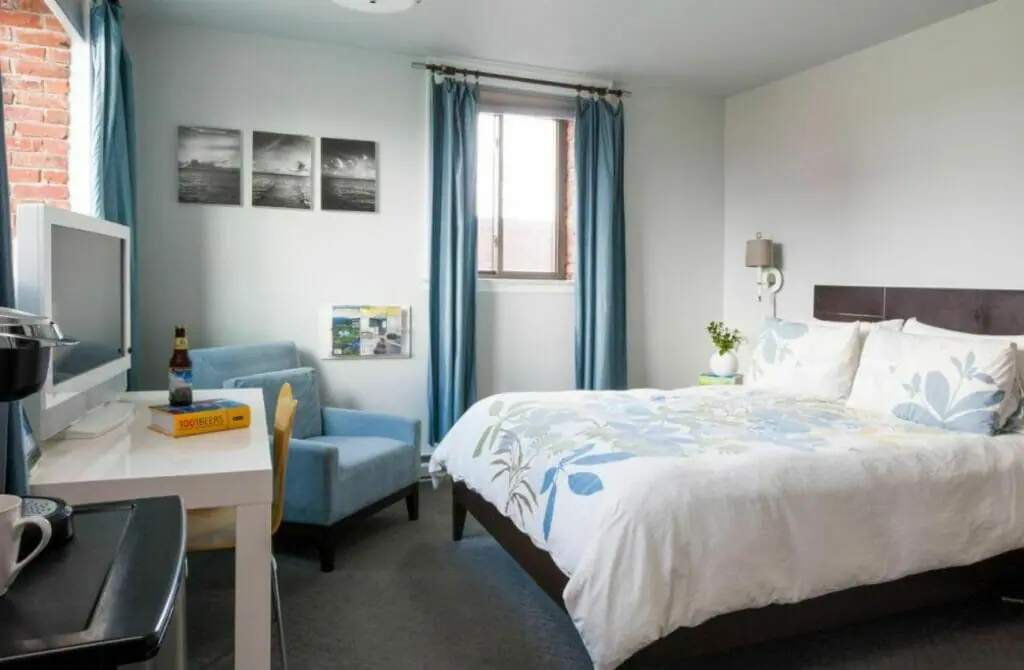 Step into a world of luxury at The Lady Mary Inn, a stunning Victorian masterpiece. From the exquisite custom wood finishings to the period details that adorn every corner, this historical landmark exudes elegance. Each room is meticulously decorated, offering both beauty and comfort.
The gracious host goes above and beyond, treating guests to a delectable farm-to-table breakfast and delightful homemade sangria. Immerse yourself in the rich history with fascinating property tours and admire the works of local artists showcased throughout.
Conveniently located near Hackmatack Playhouse, this lavish haven also boasts a breathtaking garden, a true sanctuary for tranquility and beauty. Prepare for an unforgettable experience at The Lady Mary Inn.
Enjoy a fantastic stay at Sea Rose Suites, where luxury and comfort await. The exceptional staff, prime location, and plush beds ensure an unforgettable experience. Enjoy the spacious suites that feel like your very own chic apartment. With three charming buildings nestled in a picturesque setting, this quaint resort offers the perfect blend of elegance and relaxation.
Explore the nearby Perkins Cove and Ogunquit Beach, then retreat to Sea Rose Suites and unwind at the beach bar, soak up the sun on the terrace, or revel in the tranquility of the lush garden. Get ready to bask in the epitome of luxury at Sea Rose Suites.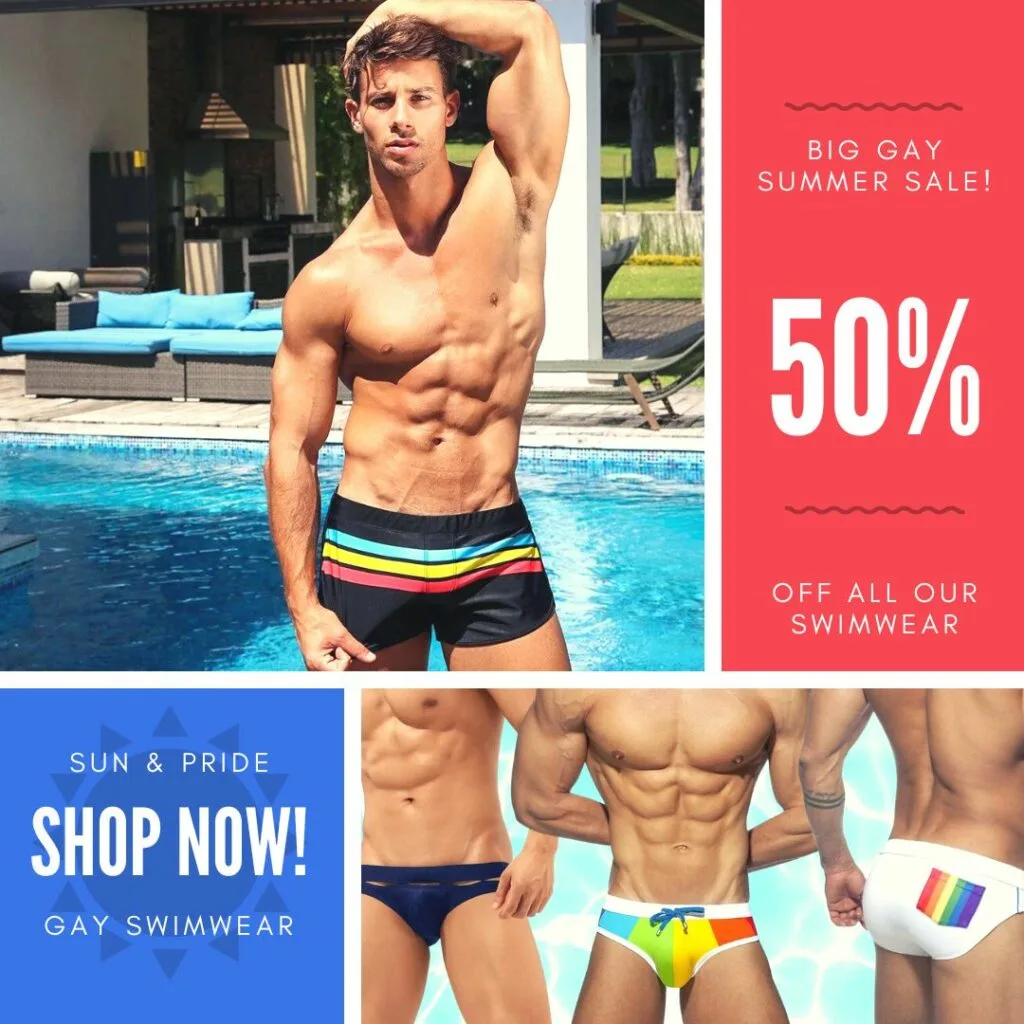 Stones Throw is a beachfront oasis that will exceed your expectation. Enjoy the delights at the outdoor restaurant, where the culinary creations and handcrafted cocktails are exquisite.
The impeccable staff at the hotel and the restaurant will cater to your every desire. Immerse yourself in the breathtaking beachfront location while savoring mouthwatering cuisine and refreshing drinks. Stones Throw has amenities, including a terrace, bar, and restaurant. Soak up the sun, treat yourself to the finest dining, and embrace the beachfront beauty at this perfect seaside haven.
Get ready for a budget-friendly getaway at Ogunquit's Milestone! This well-maintained motel's friendly staff and pristine cleanliness will leave you feeling super cozy. Start your day with a clean continental breakfast and sip some delicious hot coffee.
The rooms are inviting, with fresh linens and a clean bathroom. Located near Footbridge Beach and Ogunquit Beach, you can easily access the sun and sand. Take in the fresh air on the terrace or stroll through the garden. With convenient laundry facilities, The Milestone offers comfort and convenience without breaking the bank.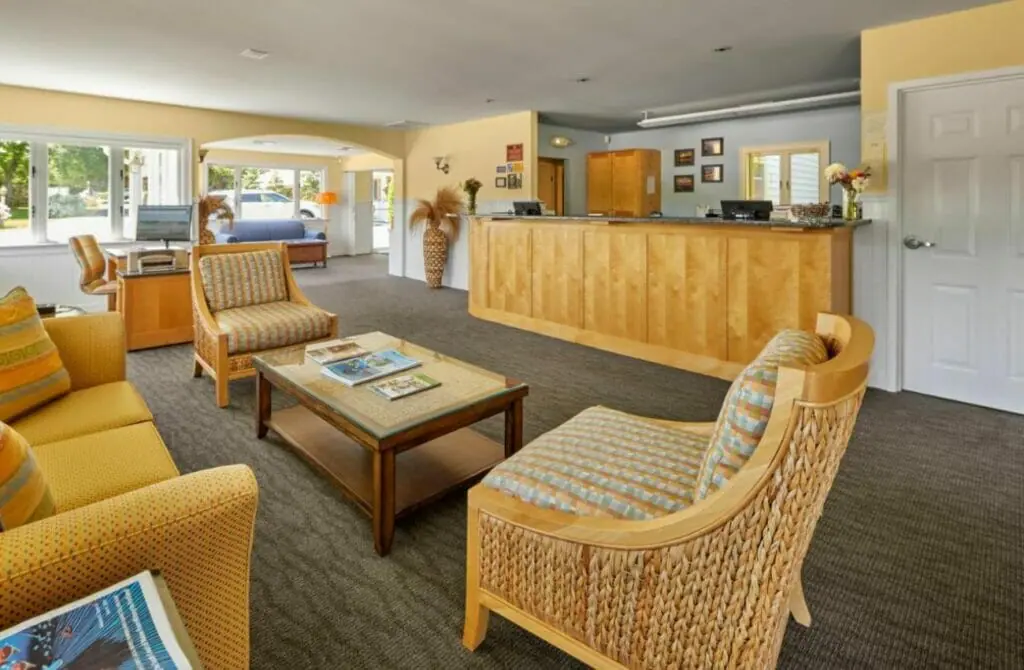 Gay Nightlife in Ogunquit, USA
Exploring the gay and gay-friendly nightlife in a new city can be one of the most exciting and rewarding experiences while traveling – and Gay Ogunquit is no exception. Not only will you have the opportunity to meet new people and make friends, but you'll also get a taste of the local culture and learn more about the city's LGBTQ+ community.
Going out and experiencing the queer and queer-friendly nightlife in a new city can also be a great way to break out of your comfort zone and try new things. Whether dancing the night away at a gay club or mingling with locals at a gay-friendly bar, you'll have the chance to make memories and create lasting connections.
So, don't be afraid to step out of your comfort zone and explore the gay and gay-friendly nightlife in Ogunquit. You'll be glad you did!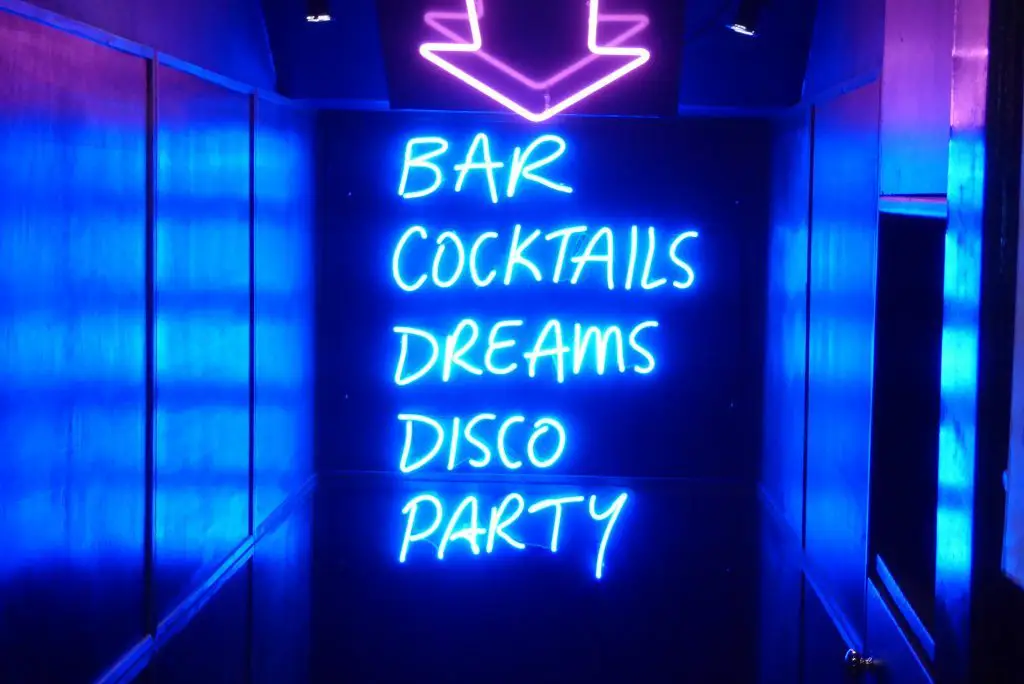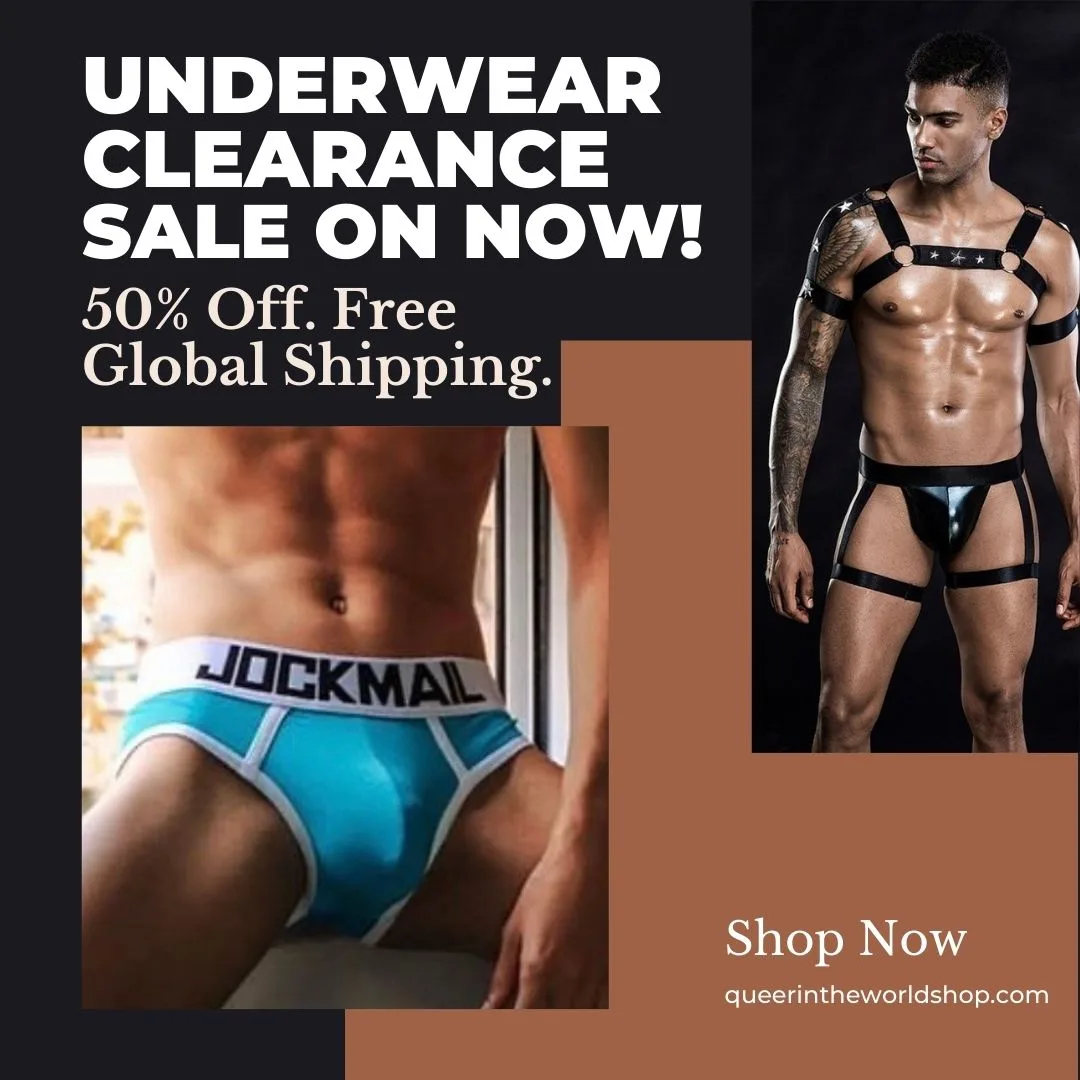 Gay Clubs in Ogunquit, USA
MaineStreet finds itself in the exciting role of accommodating the diverse desires of the gay community. This versatile establishment aims to please everyone from the guys to the girls, sports enthusiasts to music video enthusiasts, and drag queens to drama enthusiasts. With its inherent ability to adapt and an insatiable drive for constant evolution, MaineStreet consistently delivers.
This year, a thrilling addition comes in the form of a captivating dance club, yielding truly remarkable results. While maintaining its budget-friendly appeal, MaineStreet channels the spirit of P'town's iconic Paramount. And, with a few well-deserved libations, the pulsating music seamlessly unites all in amazing harmony.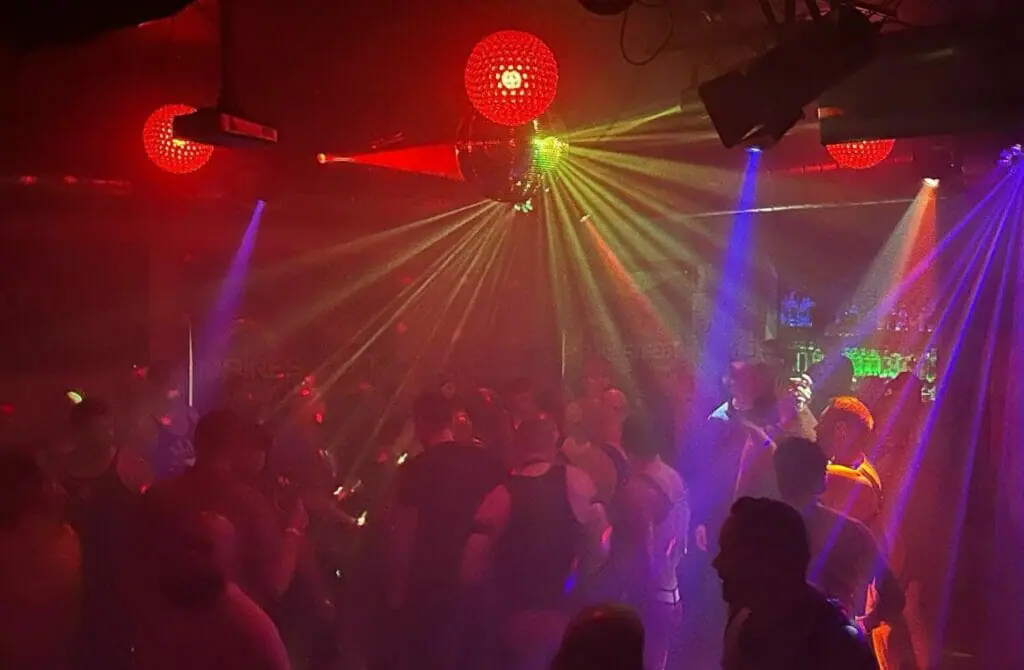 Transformed under the visionary ownership of Wayne Wescott, the renowned Front Porch Piano Bar has undergone a remarkable evolution. Embracing a more refined ambiance, the bar has left behind its casual roots and now boasts elegant acrylic tables and chairs.
Packed with patrons, the programming has expanded to include captivating performances by comedians and other entertainers. For years, the Front Porch Piano Bar has been a special gathering spot for the local gay community, where they can revel in show tunes, taste delicious meals, and enjoy the inviting outdoor seating area.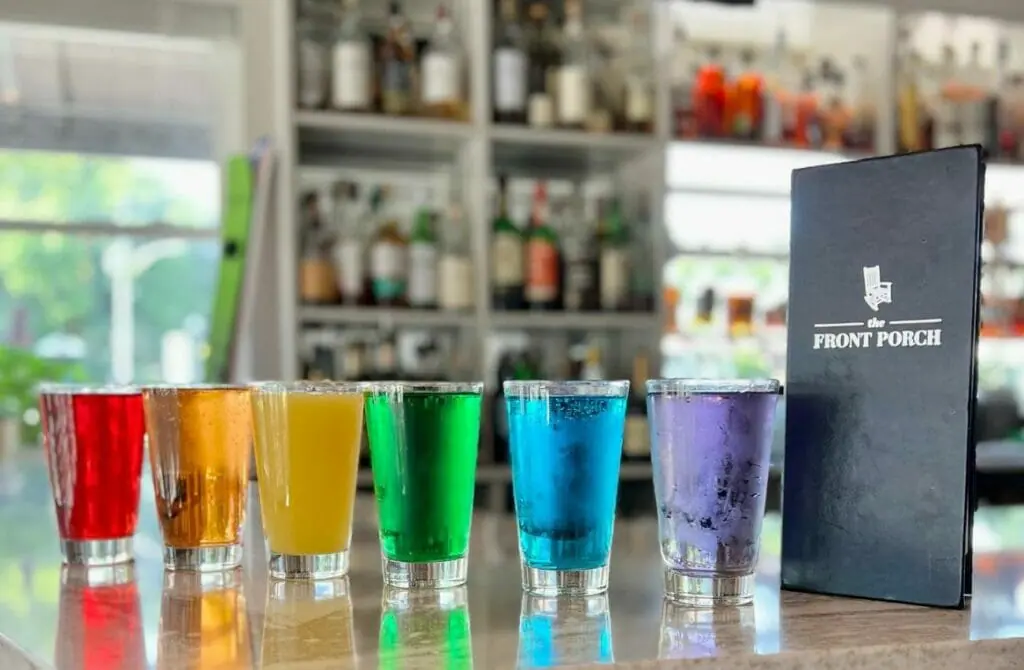 While not exclusively catering to the gay community, this establishment embraces inclusivity. The lounge is a perennial favorite despite the tight quarters, inviting patrons to savor delicious martinis and relish a late-night menu.
Occasionally, a restaurant emerges that encapsulates the true essence of a locale like no other. Five-O embodies the spirit of an unforgettable evening in Ogunquit. With a refined flair, we exude elegance, and abundant joy, deliver impeccable service, and serve outstanding cuisine.
This beloved English-style pub reigns supreme in Gay Ogunquit. Prepare for a pulse-raising atmosphere with weekend entertainment and captivating shows that will leave you craving more. Their expansive food menu offers a delightful array of options. Seek solace in the traditional English Country Pub, where you can relish burgers, sandwiches, and delectable appetizers.
Alternatively, the bistro beckons with tempting offerings such as braised short ribs, lobster rolls, grilled salmon salad, and other mouthwatering dishes. Indulge your taste buds and let the flavors transport you to culinary bliss.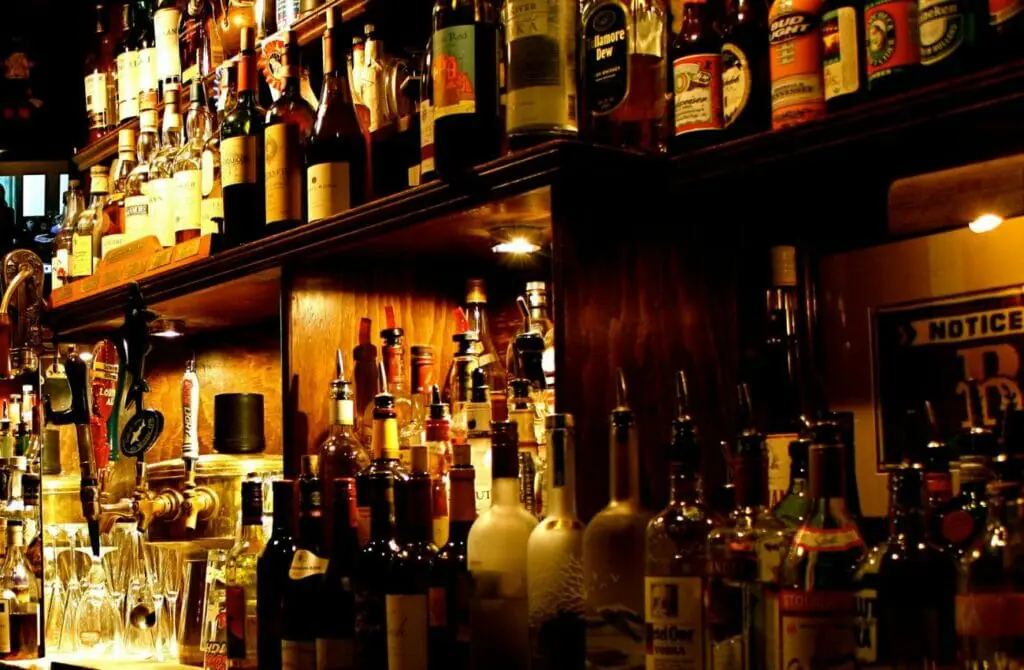 This laid-back dining spot sets the scene all year round with its expansive fire pit and inviting front patio, creating the perfect ambiance. Whether you prefer to enjoy your cocktail by the crackling fire or at the well-stocked bar inside, you'll be spoiled for choice with an impressive array of libations to complement your meal.
Their expertise in smoked meats and BBQ ensures a mouthwatering culinary experience. You'll feel at home in this wonderfully inclusive and gay-friendly establishment with delightful service, a fantastic assortment of beers, and craft cocktails.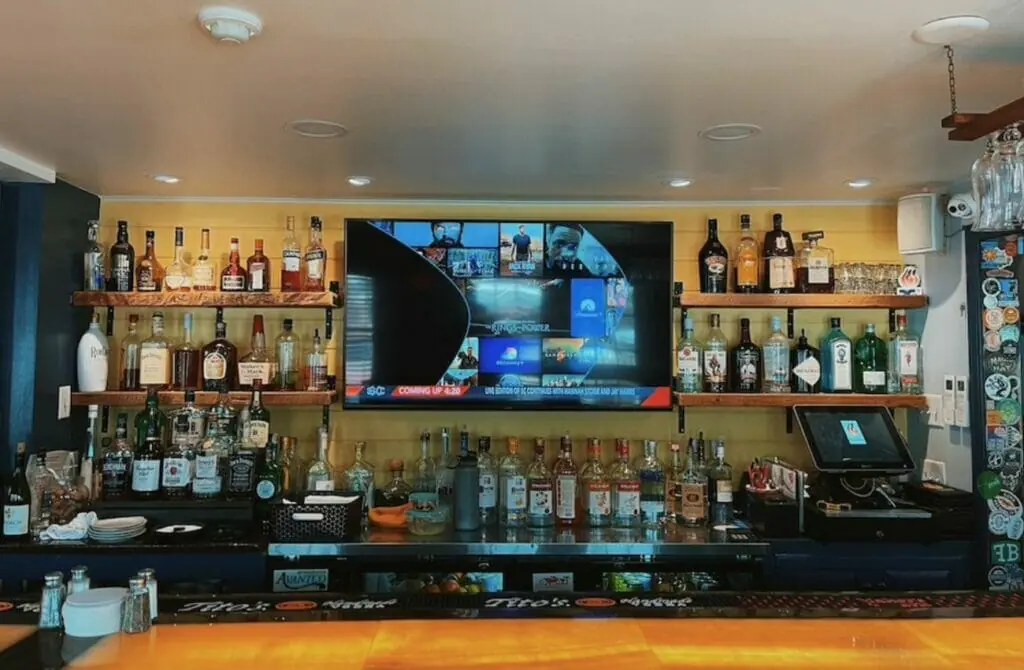 Branded as a "sing-along, dance-along restaurant/bar," CREW exudes a stylish coastal ambiance, featuring an imaginative cocktail menu and inviting bar seating that promises an unforgettable experience.
Don't miss the opportunity to try their unique "Choose Your Own Adventure" cocktail, where you select your preferred spirit, one of CREW's house-crafted syrups, and a zesty citrus twist. With an incredible atmosphere, exceptional staff, expertly crafted libations, and delectable cuisine, this place will leave you craving more.
Angelina's effortlessly marries the charms of a seasonal, intimate Italian eatery with the allure of a hip lounge and bar. They were voted "Best Wine Bar" and "Best Italian Restaurant" in Ogunquit. They feature an impressive selection of 27 wines by the glass and an extensive array of 90 wines by the bottle.
This relaxed and inviting wine bar sets the stage for an exquisite experience. Savor a few glasses of exceptional wine, a delectable meal, and a fully stocked bar. Whether you choose the main dining room, ultra lounge, garden terrace, or intimate wine room, Angelina's offers a setting to suit every preference.
Gay Parties in Ogunquit, USA
Mr. Gay Ogunquit Speedo Pageant
Experience the sizzling excitement of Ogunquit as it ignites with the annual Mr. Gay Ogunquit Speedo Pageant. This thrilling spectacle, typically held on the Sunday of Labor Day Weekend, showcases a parade of hot guys confidently strutting their stuff in skimpy swimwear, their physiques in peak condition.
Whether you participate or bask in the visual feast, this event promises a dazzling display of eye candy. Join the hundreds of captivated onlookers, relishing the pleasure of witnessing this electric celebration. Embrace the sheer enjoyment of being part of the crowd that delights in this enticing experience.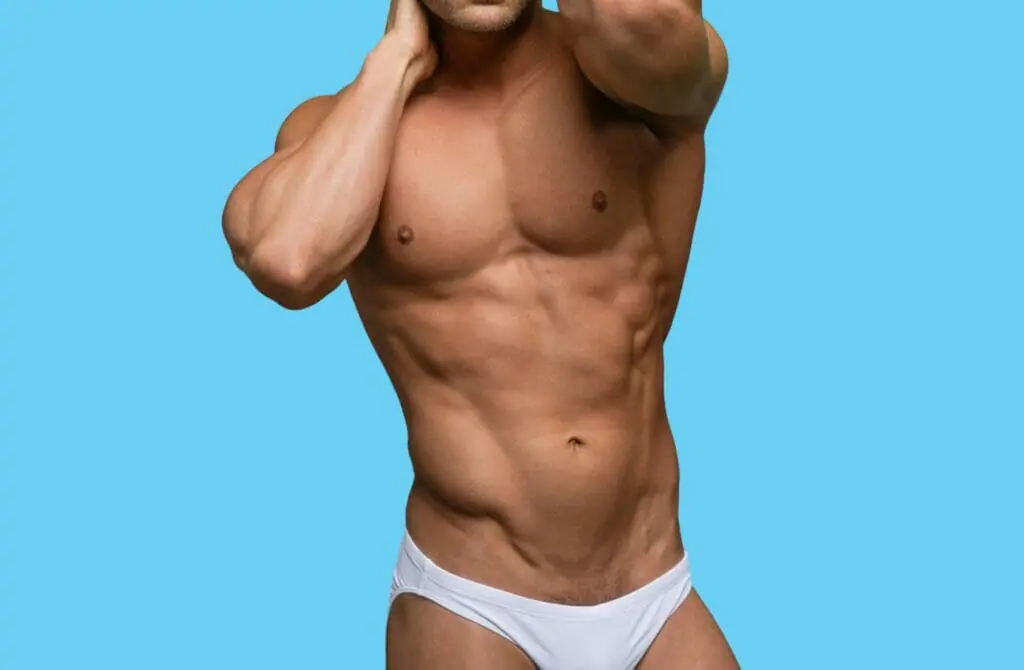 Gay Saunas & Cruising Clubs in Ogunquit, USA
When traveling to a new city, it can be exciting to head out for more than just a stiff drink. One aspect of the Gay Ogunquit scene that many queer men enjoy is visiting gay saunas and cruising clubs.
Sure, the sauna culture in Ogunquit is not as hedonistic as in Amsterdam, Barcelona or Berlin, but these venues still offer a chance to meet new people, socialize, and engage in sexual activity – without resorting to gay hookup apps.
However, it's important to remember that these venues can vary greatly in terms of atmosphere, clientele, and rules, so it's a good idea to prepare yourself before visiting. If you are apprehensive, we advise studying our guide to visiting a gay bathhouse for the first time, which should help set your mind at ease and always practice safe sex.
Additionally, it's important to be aware of and respect local laws and customs regarding gay venues and sexual activity. With a little bit of planning and an open mind, visiting gay saunas and cruising clubs can be a fun and exciting part of your gay Ogunquit travel itinerary.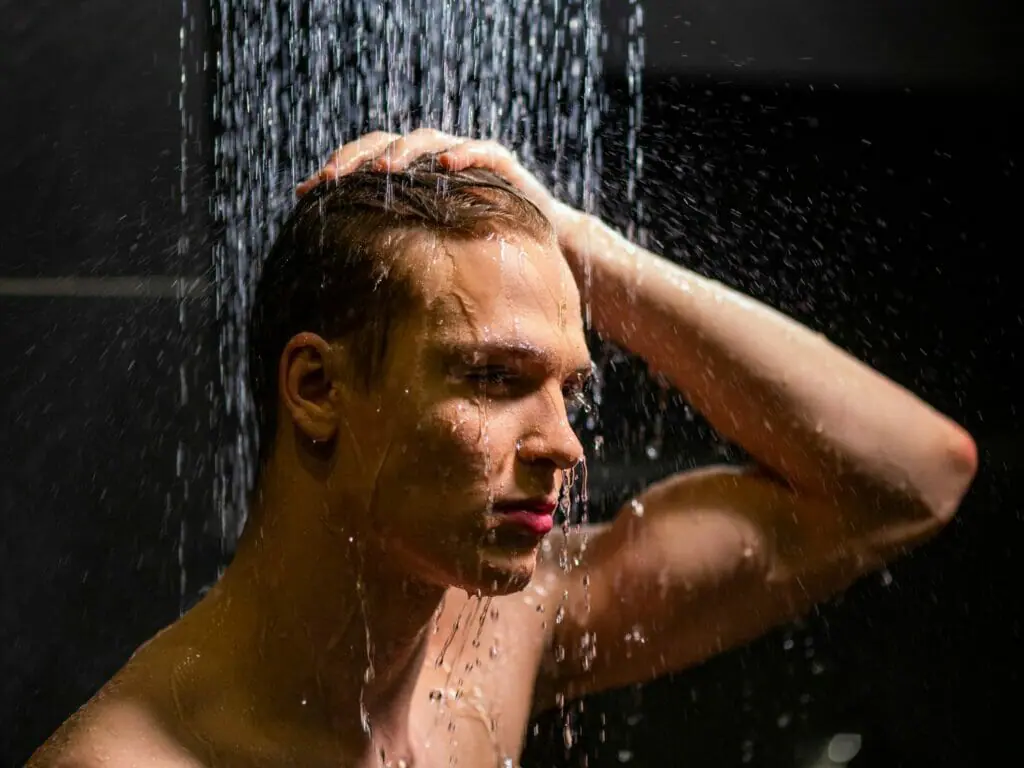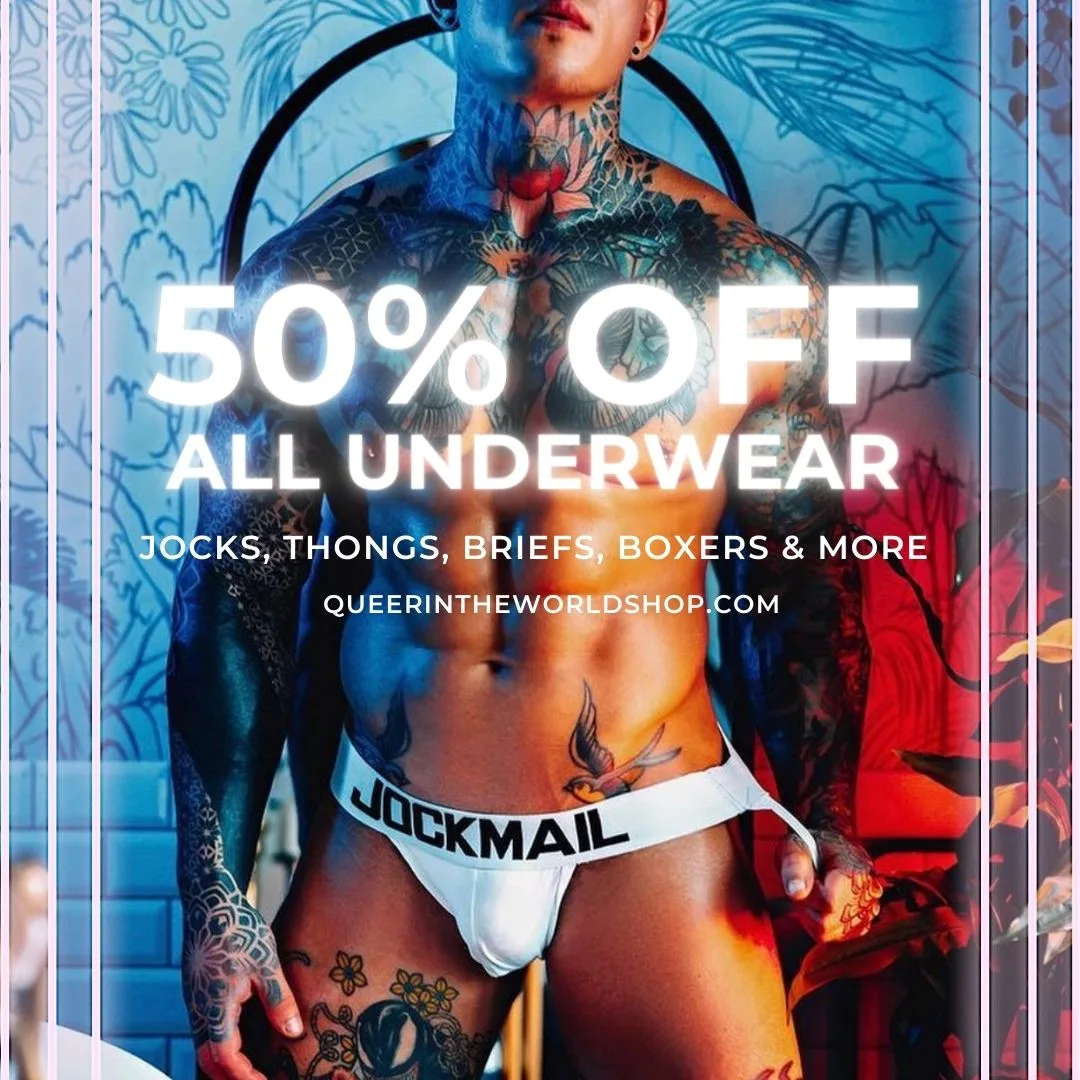 Gay Map Of Ogunquit
Finding it hard to envisage where everything is in Ogunquit? Hopefully, this queer-centric map helps where we have marked all the bars, clubs, parties, hotels, saunas, massages, and more will help you stay in the spot best suited to you!