A gay trip to Palermo, the capital of the Italian island of Sicily, is promised to come with plenty of gay sights, sounds, tastes, and experiences unlike anywhere else on the island. So, if you are queer and want to see what is so exceptional about this ancient place, you must experience gay Palermo for yourself!
You can begin by taking a GAILY tour of the city, aimed at welcoming gay and lesbian people to the beautiful Palermo, and then come evening. Then, you can hit the busy nightlife with various gay bars and saunas. There is so much to do that the choice can make it easy to get overwhelmed. However, we are here to help guide you.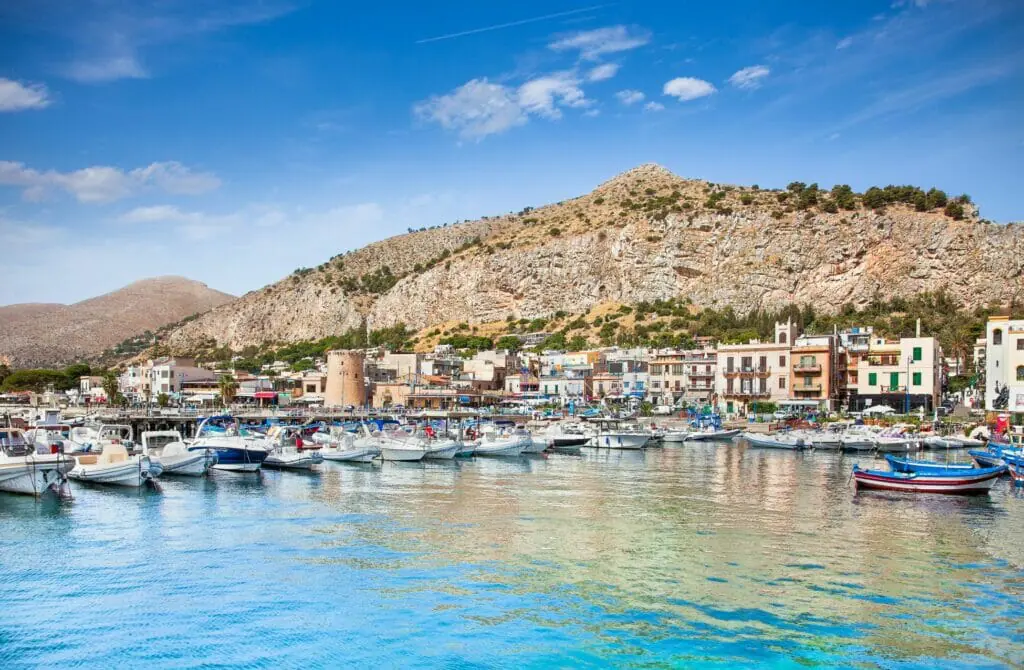 Outside of Palermo's gay scene, the city is an ancient classic of Italian history with some truly amazing sights from its long history. Founded in 736 BC by the Phoenicians as an overseas territory, the city passed from the hands of Ancient Greeks to the clutch of the Romans, growing to become the independent capital of Sicily eventually.
The city witnessed Ancient Rome, Ancient Greece, 5th-century Arabic rule, the Norman conquest in 1130, and finally, in 1816, when it became the city we now see today. Of course, they speak Italian here, and by all degrees, they consider themselves Italians.
Still, Sicilians have their own unique culture that is worth appreciating outside of Italy, so as you see, there's a lot to understand about Palermo, so you should take the chance to meet her in person.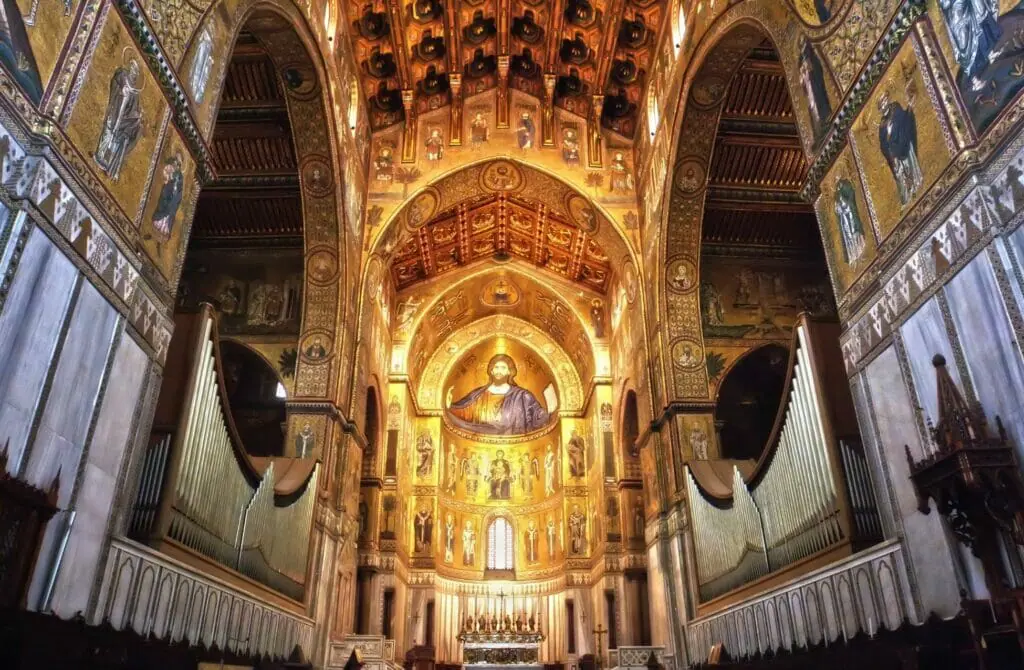 Attractions in Gay Palermo, Sicily
As a new visitor to Gay Palermo, there are plenty of things to see and do, regardless of your sexual orientation. One of the best ways to experience any new city is to visit some of its most iconic landmarks and attractions, including historical monuments, museums, and art galleries.
We also love gazing at architecture up close, exploring parks and gardens, sampling the local cuisine, visiting local markets, and attending cultural events such as festivals, concerts and shows.
Even as the out-and-proud queer we are, we still love to explore the city and its culture in the same way as everyone else. Doing so allows us to learn more about the city and its people and gain a deeper understanding of the local culture. As such, these are our favorite must-see attractions in Palermo.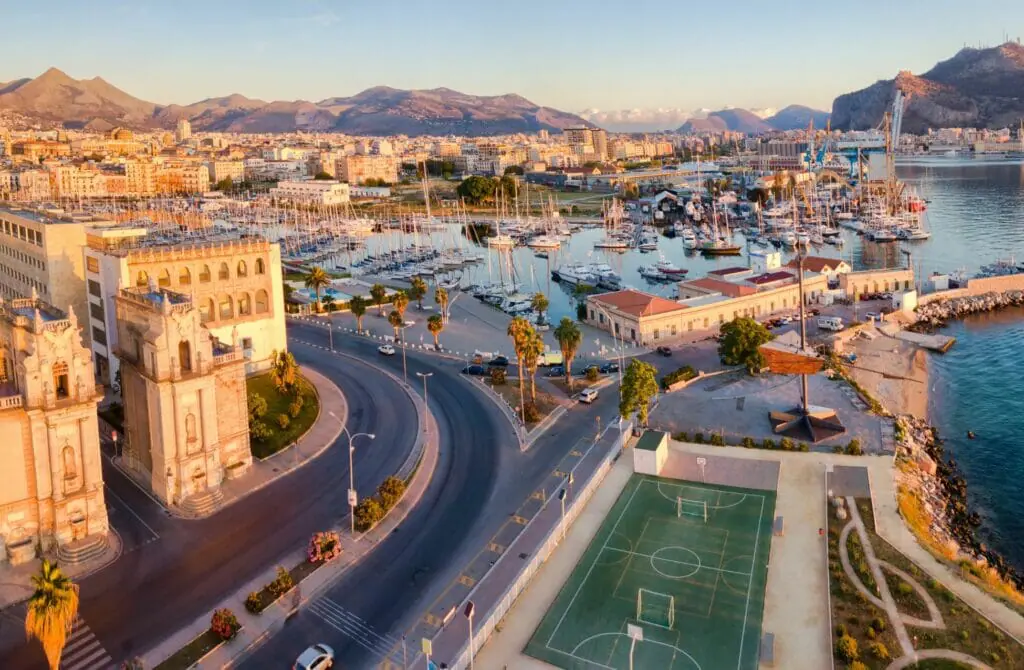 Gaily Tour in Palermo – Gay & Lesbian Tour
You can experience Palermo with the special gay and lesbian tour GAILY TOUR. At the end of the tour, you can see some of the often-unpublished histories and lives of the locals in this city and feel a little closer to the community. In addition, you get a tremendous gay-friendly tour with a queer guide who takes you through some of the city's best sights.
Palermo Morning Street Food Walking Tour by Streaty
Streaty offers this incredible street food walking tour through Palermo, giving you a local insight into the best places to eat while tasting what makes Sicilian food unique. This early morning tour allows you to experience markets, get closely acquainted with the producers, and cut the middleman. This raw experience will make you see why people love fresh foods!
This cathedral is an iconic part of the cityscape of Palermo, built in the 12th century and becoming a surviving example of exceptional Medieval architecture running alongside the river. This expansive complex was extended in the 18th century, and you can visit the whole church for free.
You will find beautiful artworks, notably the sarcophagus of Emperor Frederick II of Hohenstaufen. Then outside is a famed portico by Antonio Gambara, a stretching courtyard famous for city-goers wanting to admire the building without other buildings destroying the view.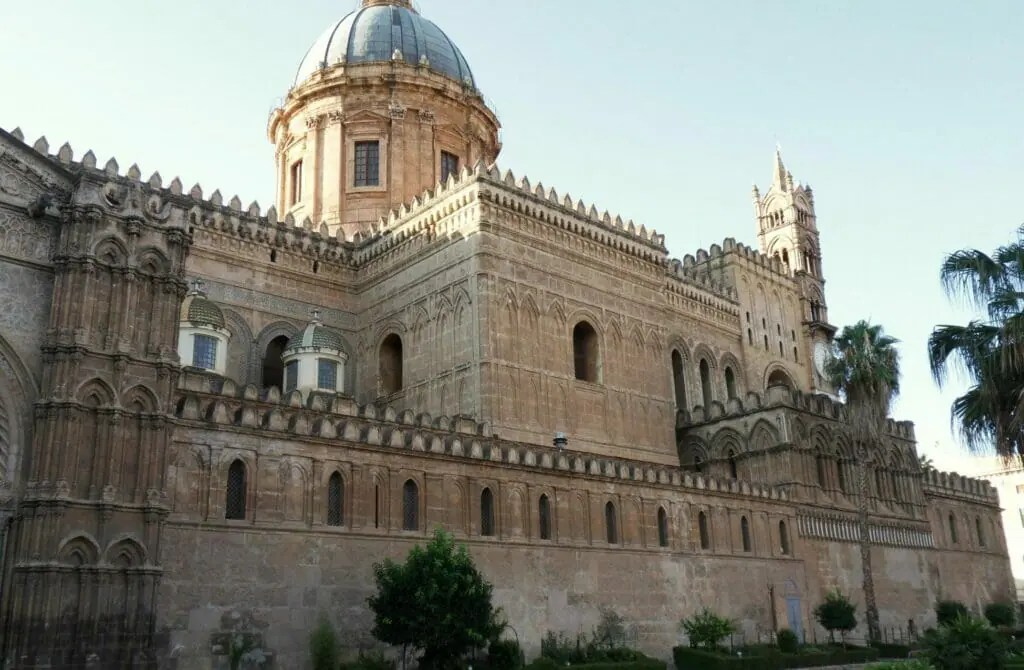 A public urban park in Palermo is a delightful place to enjoy a little slice of nature in a busy city. You can find several exedras, fountains, palms and original gardens designed almost three hundred years ago. This garden runs alongside Palermo's Botanical Gardens, so once you check out this, you should also head over to see its rich floral collections!
Teatro Politeama Garibaldi
Built-in 1891, the famous Teatro Polieama Garibaldi is one you can't miss out on, even if to glimpse her unique structure from the outside. However, suppose you want to have the whole experience. In that case, it is worth going to a show to see the fantastic interior of the theatre with live performances from bands and singers to musicals and other incredible concerts.
The Roman amphitheater inspires the natural design of the circular structure and makes it easy to exit within minutes, and the sound is always grand.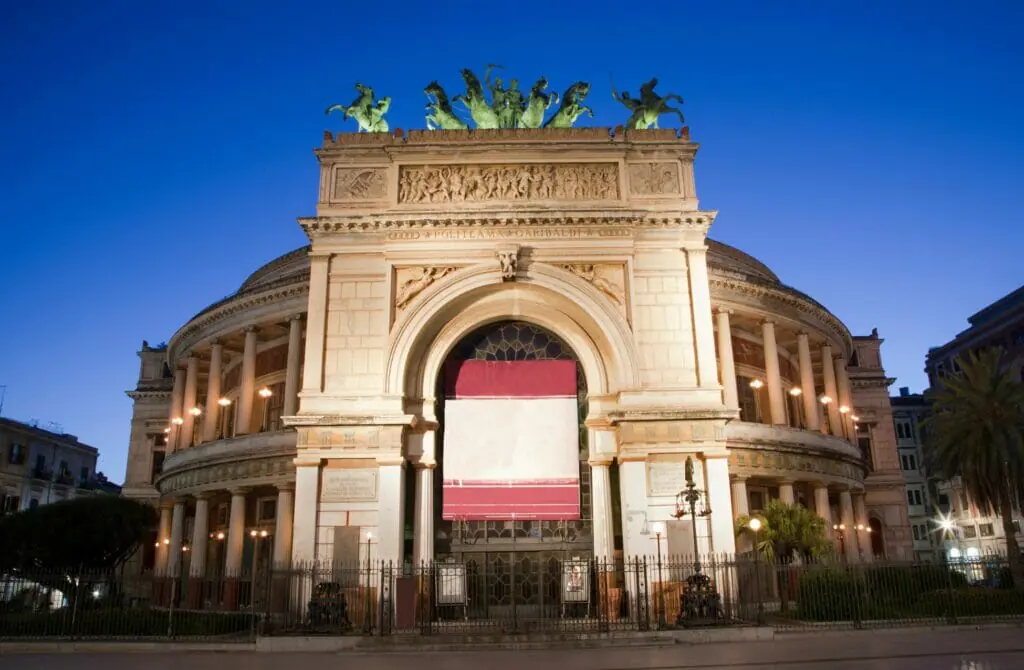 Regional Archaeological Museum Antonio Salinas
To experience Sicily's long and ancient history, visiting the local archaeological museum is worth visiting. Here you can explore rich collections of artifacts coming to understand the region's history, the cities founding and how it evolved.
The of the oldest and most famous markets in Palermo is the Vucciria Market which is often described as a chaotic shopping experience but in a good way! You will find various products, produce and some craft stores in this market, making it an essential part of any visit to Palermo.
Royal Palace and Palatine Chapel
This breathtaking building is one not to be missed! This royal palace and chapel were built by King Roger II in 1130 and has become famous for its mosaics and spectacular ceiling paintings. Its architectural elements combine Byzantine, Islamic and Latin elements, with a domed ceiling depicting Christian imagery and outside courtyards to walk and admire its exterior facade.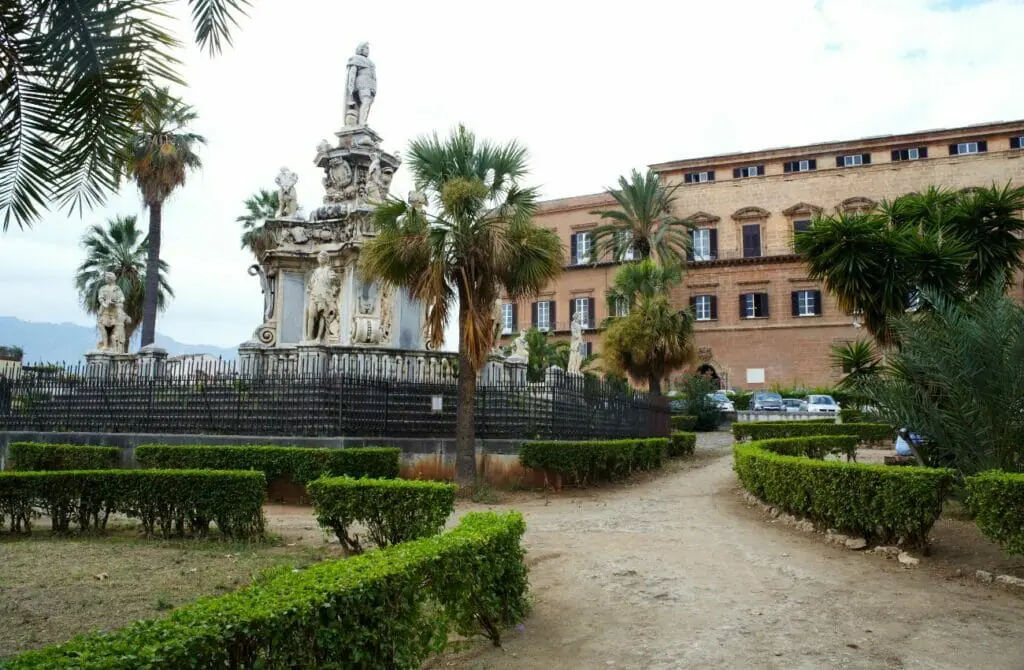 If you love an underground experience like the Paris catacombs, with a nice touch of the macabre, the Catacombes dei Cappucchini are a must! Walk deep below the grounds of Palermo and experience tunnels of upright burials of thousands of skeletons dressed in their clothes from the day they went underground.
Experience a wide array of shapes and sizes, clothing and eras in a way that few get to experience with so many skeletons in one place.
Fontana Pretoria
Fontana Pretoria is a massive fountain in the heart of Piazza Pretoria which is undoubtedly a great place to take photos! It was built in Florence but was reassembled in Palermo in 1574, and apart from being a fountain, it has many sculptures depicting famous mythical characters from the region.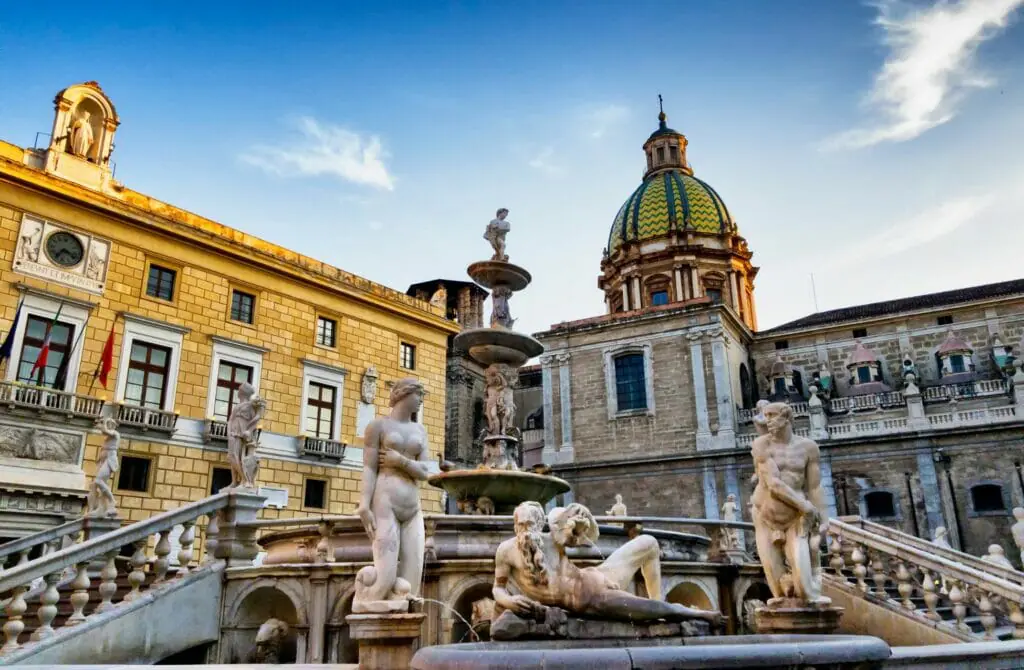 Quattro Canti (Piazza Viglien) is a Baroque square in Palermo and is considered the center of the historic district. So if you are unsure where to start the tour of the city's comprehensive history, this is the place to begin! You will be treated to four towering buildings bordering the square, with statues looking inwards from their facades.
The large mountain you can't miss in the middle of Palermo is the iconic Mount Pellegrino, a great excursion from the busy city and hike up the path to get some great views from its summit. At its peak is a sacred cave where a shrine dedicated to the city's patron saint, Saint Rosalia, resides.
Massimo Theater
One of Italy's most famous opera houses, the Massimo Theater is a momentous piece of architecture that brings a show of such a grand scale and often matches the classy events that play inside it. It is renowned for its natural acoustics, towering floors and ceilings, and ability to house up to 1,387 people simultaneously. So if you want a night at the opera, this is the place to be!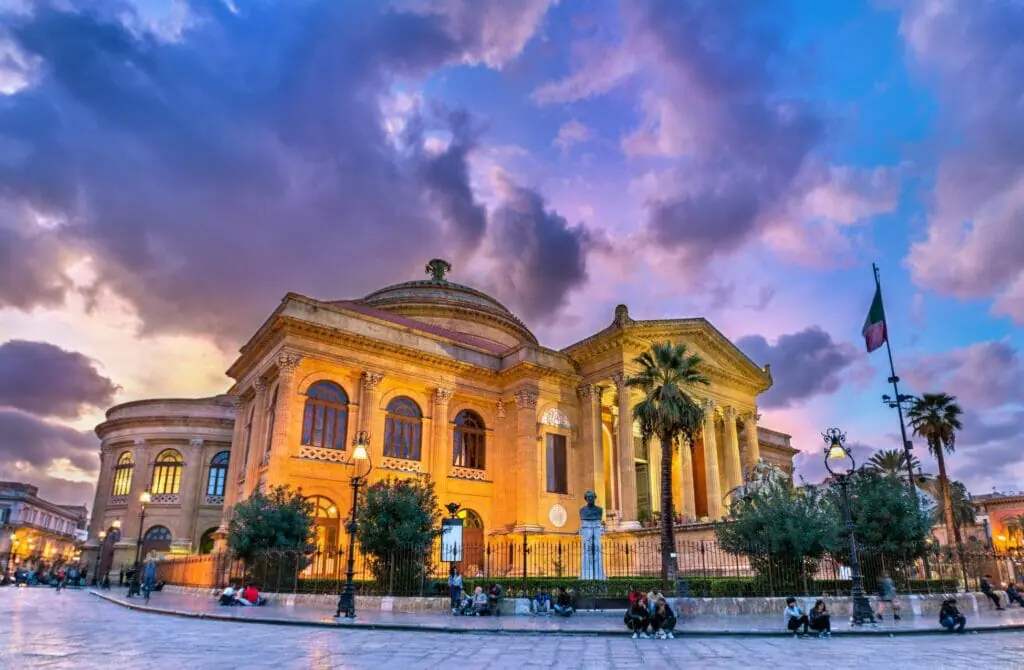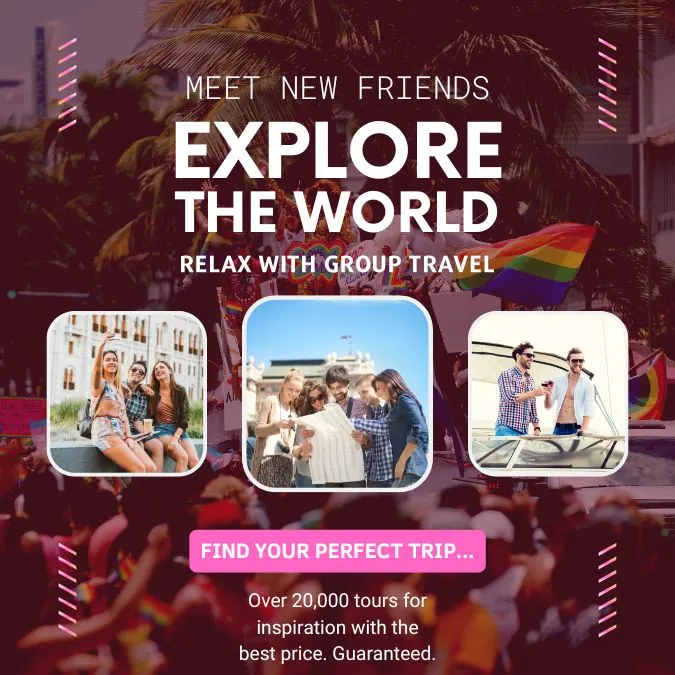 Gay-Friendly & Gay Hotels in Palermo, Sicily
Being gay-friendly accommodation means that the establishment is welcoming and inclusive to guests who identify as LGBTQ+. This can include, but is not limited to, having policies and practices that demonstrate a commitment to creating a safe and inclusive environment for LGBTQ+ guests, such as non-discrimination policies and providing support and resources for LGBTQ+ travelers.
Some gay-friendly accommodations may also provide amenities specifically catering to the LGBTQ+ community, such as rainbow flags or literature about local LGBTQ+ events or resources. Furthermore, gay-friendly accommodations may be located in an area known for being LGBTQ+ friendly.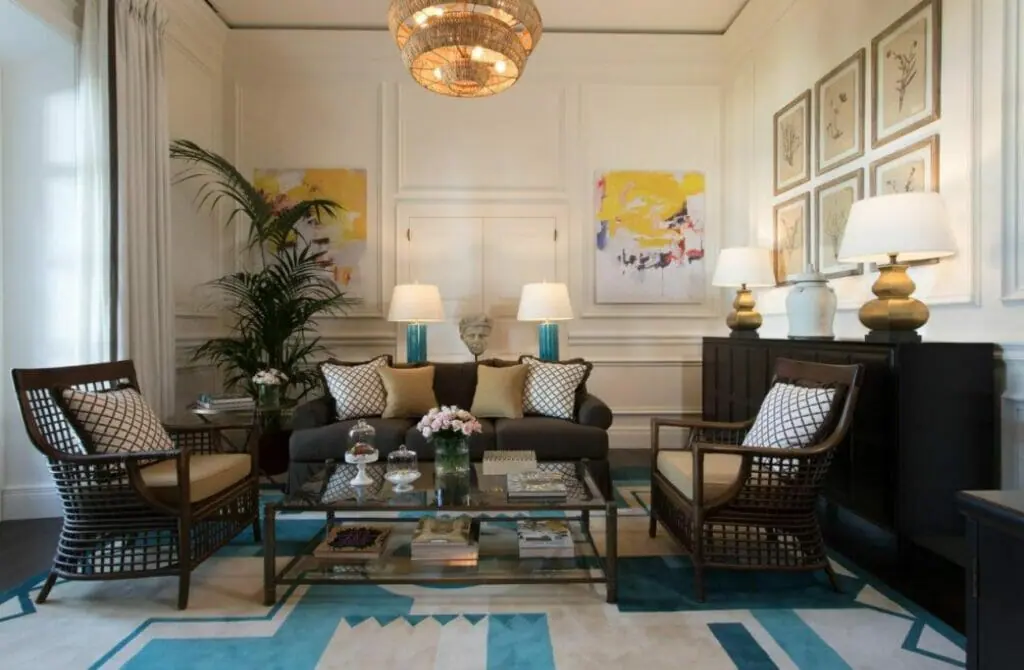 While Palermo does not have any specifically gay hotels or resorts, these are the most fabulous and pro-actively gay-friendly hotels in Palermo. There are also hundreds more hotel and hostel options in Palermo if none of these suit your desired budget, facilities or area – but these are the best hotels according to other gay travelers and us.
Whatever your needs are, Palermo has you covered.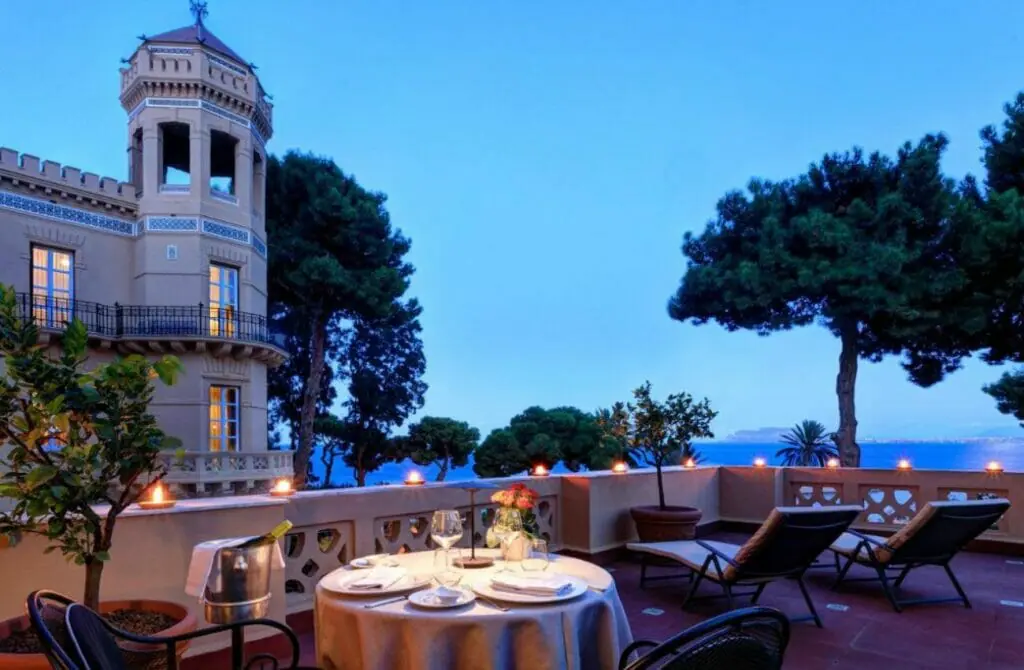 Rocco Forte Villa Igiea is in the heart of Palermo, with easy walking to the best central city attractions negating the need for wheels. Not only that, this five-star hotel is a beautiful sight, seen through a perfect modern reflection of the local Sicilian architecture and turning it to the degree of a royal villa by the sea.
Without a doubt, here, you will be treated like the elite class with not just look but top services that are easy to beat anywhere else. Firstly, you will find the exceptional pool, gym, spa and 24-hour service to fill your downtime with something productive or to relax.
Then they also have a restaurant and dining options that make the evening a breeze, so you don't need to worry about cooking or picking a place to eat.
And this villa isn't just fantastic for leisure travelers because it has business services, and your private room even provides adequate workspace. But, of course, the best thing about any hotel needs to be the room, and here it won't disappoint, with notable features being that some of the higher-end suites have their outside terraces with relaxing loungers, with all rooms being high comfort and class.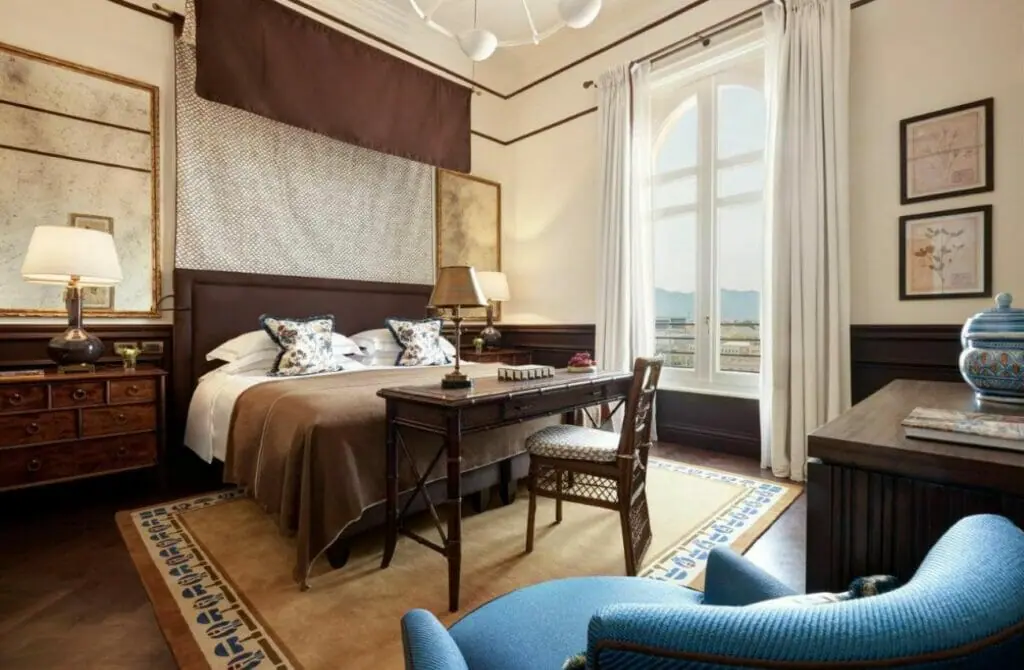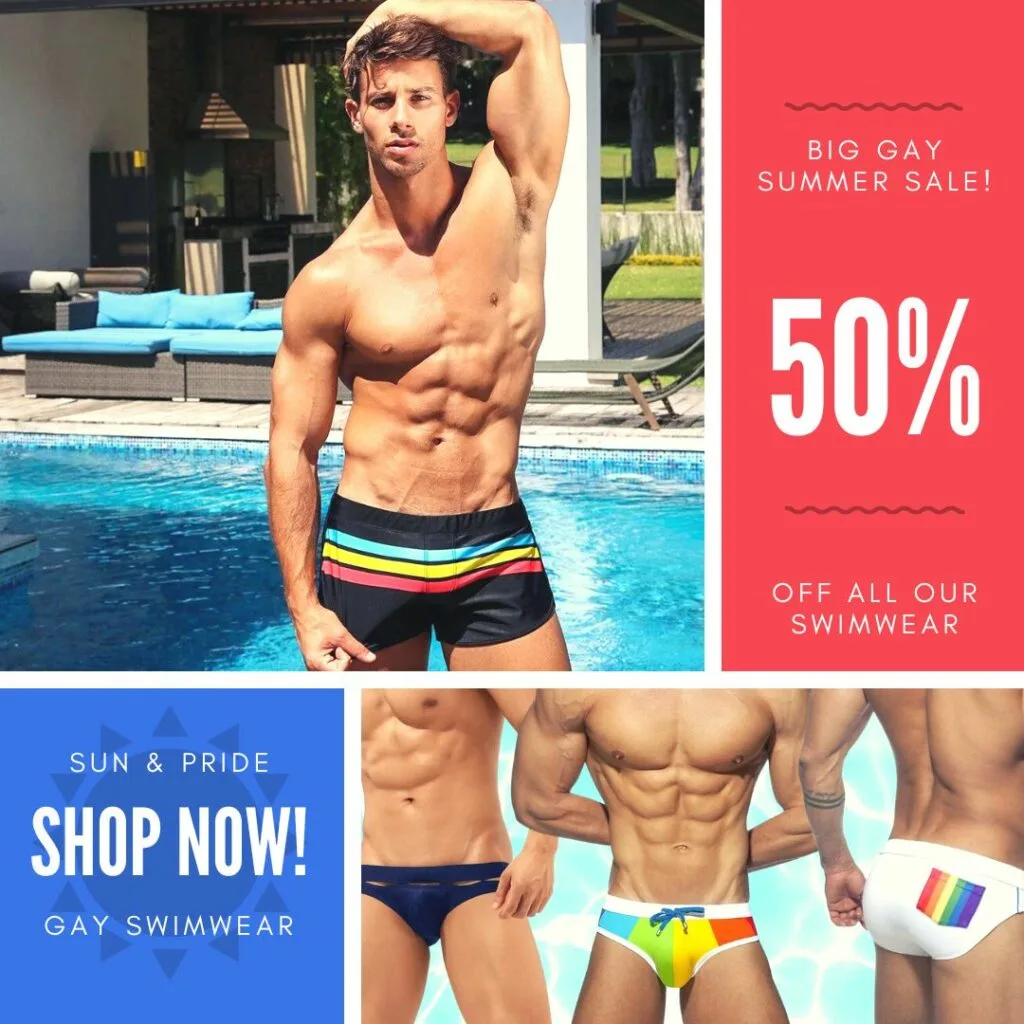 Hotel Principe di Villafranca ☆☆☆☆
A brilliant modern four-star hotel in Palermo is Hotel Principle di Villafranca, where you can experience a cozy place for your stay in Sicily and high-end services worth the extra price compared to budget-friendly options. Firstly, this gay-friendly hotel is exceptionally close to the coast, with the port and sea a short walk away.
However, if you don't want an early morning walk, you can get your walks in with an on-site gym. They also have complimentary breakfast for guests, with restaurants providing various food options to feed you all day and night. But if these facilities don't impress you, the rooms' highlights are why people enjoy their stay.
You will be treated to expansive minimalistic rooms with soft beds, TVs with cable, dining and working space, ensuite, and the ability to ask for extras to best suit your needs.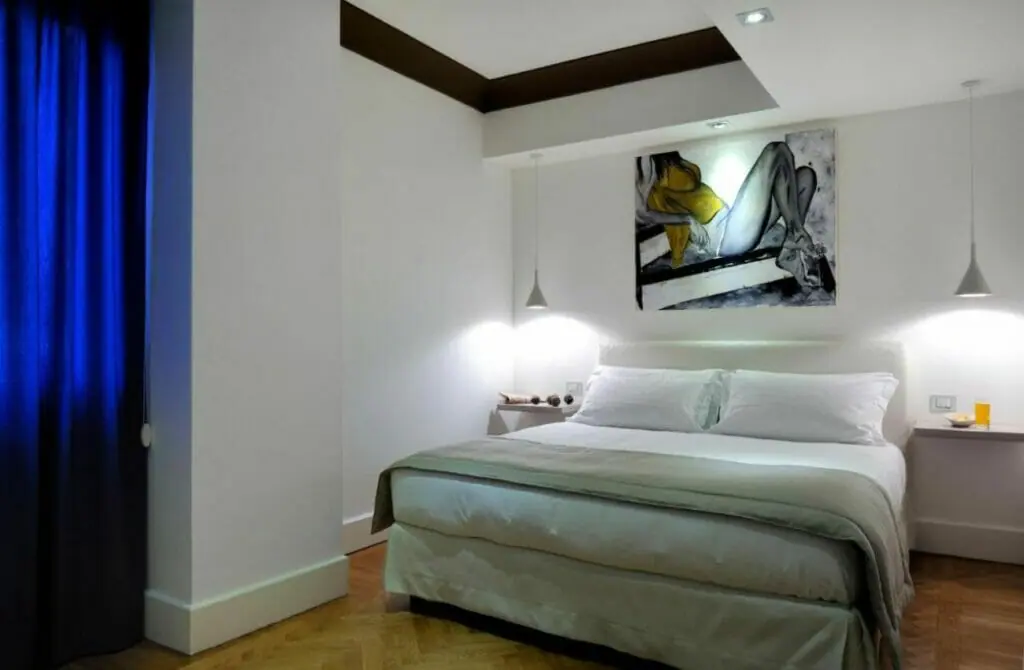 Another great four-star gay-friendly hotel in Palermo is the Astoria Palace Hotel, notable for its gardens and a three-minute walk to Favorita Park. It is a perfect retreat for those adventure seekers. However, they can also be the cozy home away from come for others who prefer a more relaxing hotel experience with their indoor and outdoor lounging areas and food from expert chefs at their restaurant.
There are also so many rooms to choose from, with the top pick being the top-floor room with a private balcony to get fresh air without worrying about making space for other people. All these rooms come with little extras like this to provide you with a place to sleep and feel at home and safe when you return from a busy day out adventuring.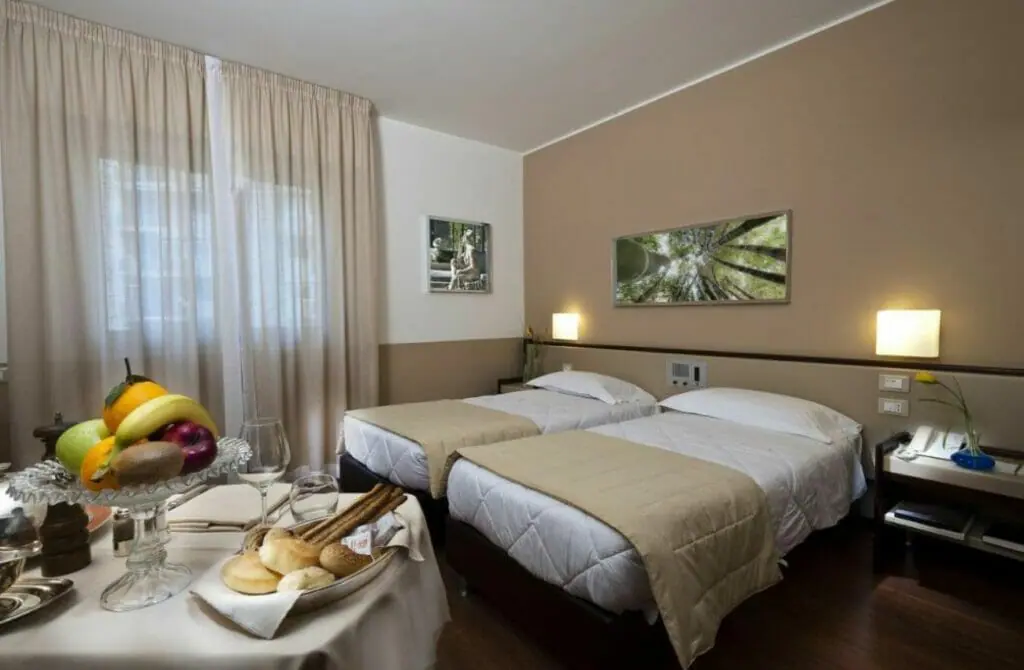 This place is genuinely jolly, being a three-star hotel that gives you a classy early 20th-century central city apartment with views of the cityscape to drive for from the top levels. You will be charmed by the building's facade and feel at home at the service of the staff, all while being exceptionally gay-friendly and ready to make all visitors feel at home.
Significant parts of Hotel Joli include the artsy decor, the private outside dining terrace when enjoying food from their top restaurant, the classy indoor dining area and bar, working facilities, and the spacious royal rooms.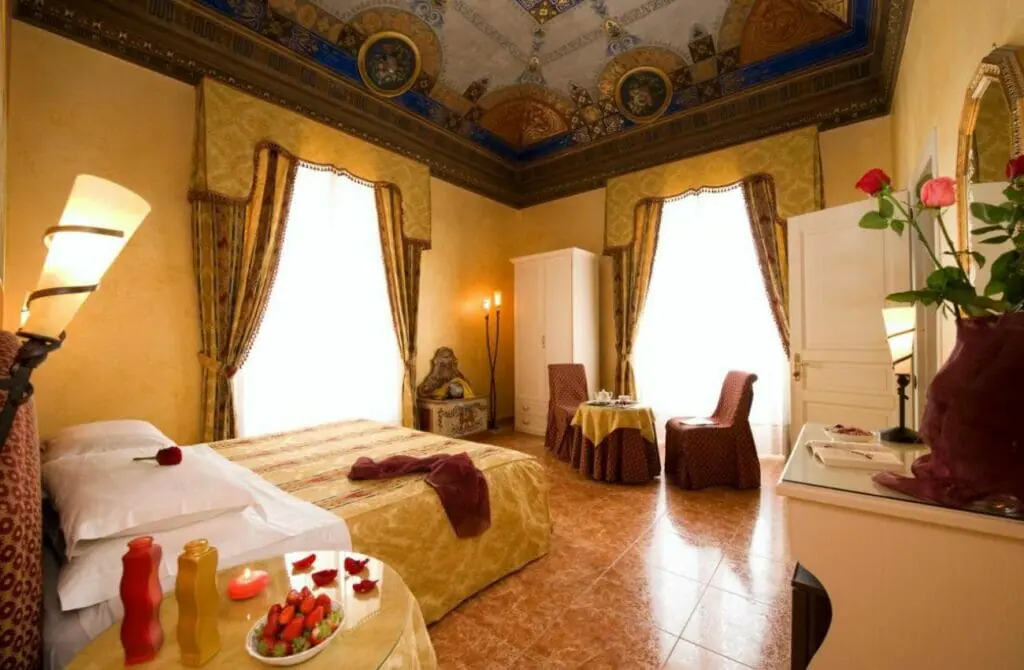 Casena Dei Colli, Sure Hotel Collection by Best Western ☆☆☆
The Casena Dei Colli is a three-star gem close to the Palermo coast. Here you can enjoy the comfort of a towering modern hotel and easy access to the heart of city life. The best highlights of this gay-friendly hotel are the vast number of rooms, several restaurants, a bar, room service, and the rooftop terrace with great city views, making it perfect for those wanting options on the low end.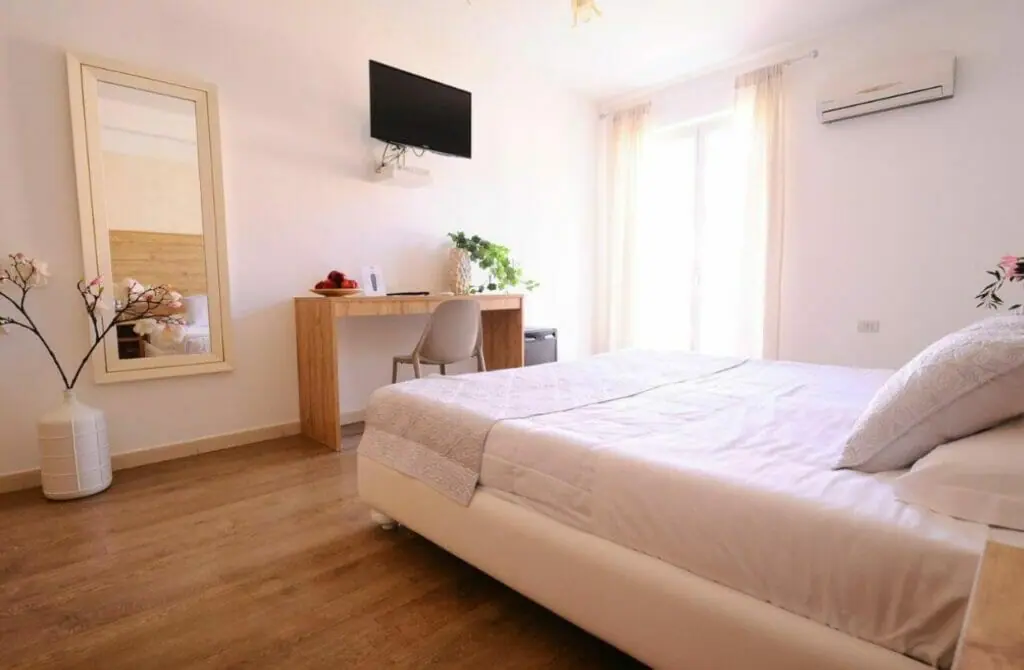 Gay Nightlife In Palermo, Sicily
Palermo is the gay capital of Sicily, as much as she is the natural capital of the island. This is made plain in the several gay bars and clubs that can be found throughout the city, with a thriving gay community that is only growing! Then if that wasn't enough, they also have a small gay cruising scene that allows those who love a little fun to 'get some'.
Exploring the gay and gay-friendly nightlife in a new city can be one of the most exciting and rewarding experiences while traveling – and Gay Palermo is no exception. Not only will you have the opportunity to meet new people and make friends, but you'll also get a taste of the local culture and learn more about the city's LGBTQ+ community.
Going out and experiencing the queer and queer-friendly nightlife in a new city can also be a great way to break out of your comfort zone and try new things. Whether dancing the night away at a gay club or mingling with locals at a gay-friendly bar, you'll have the chance to make memories and create lasting connections.
So, don't be afraid to step out of your comfort zone and explore the gay and gay-friendly nightlife in Palermo. You'll be glad you did!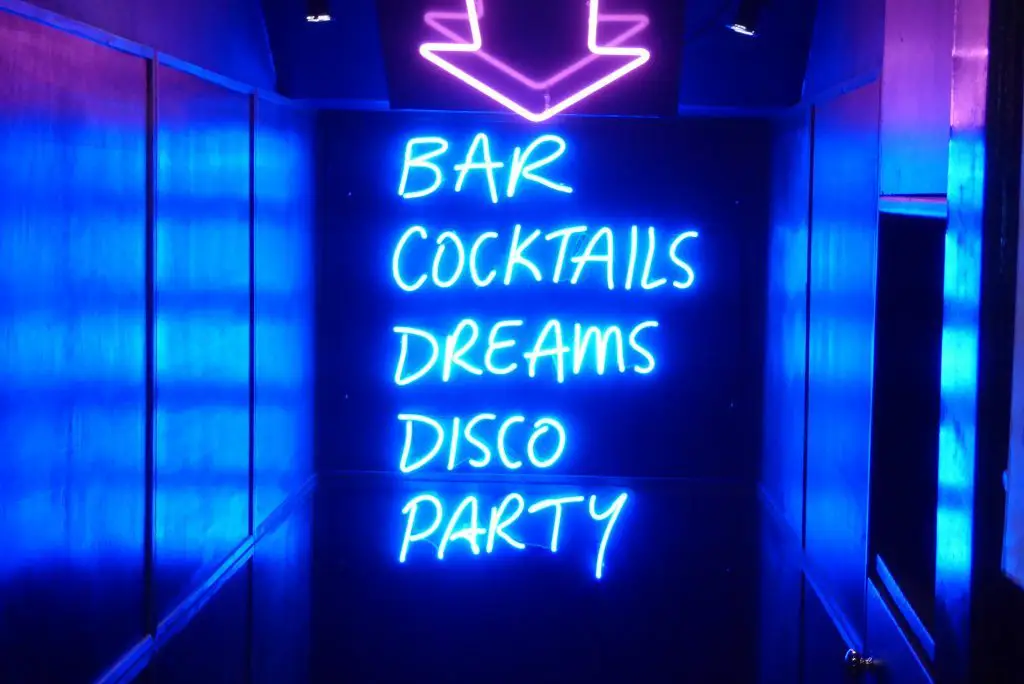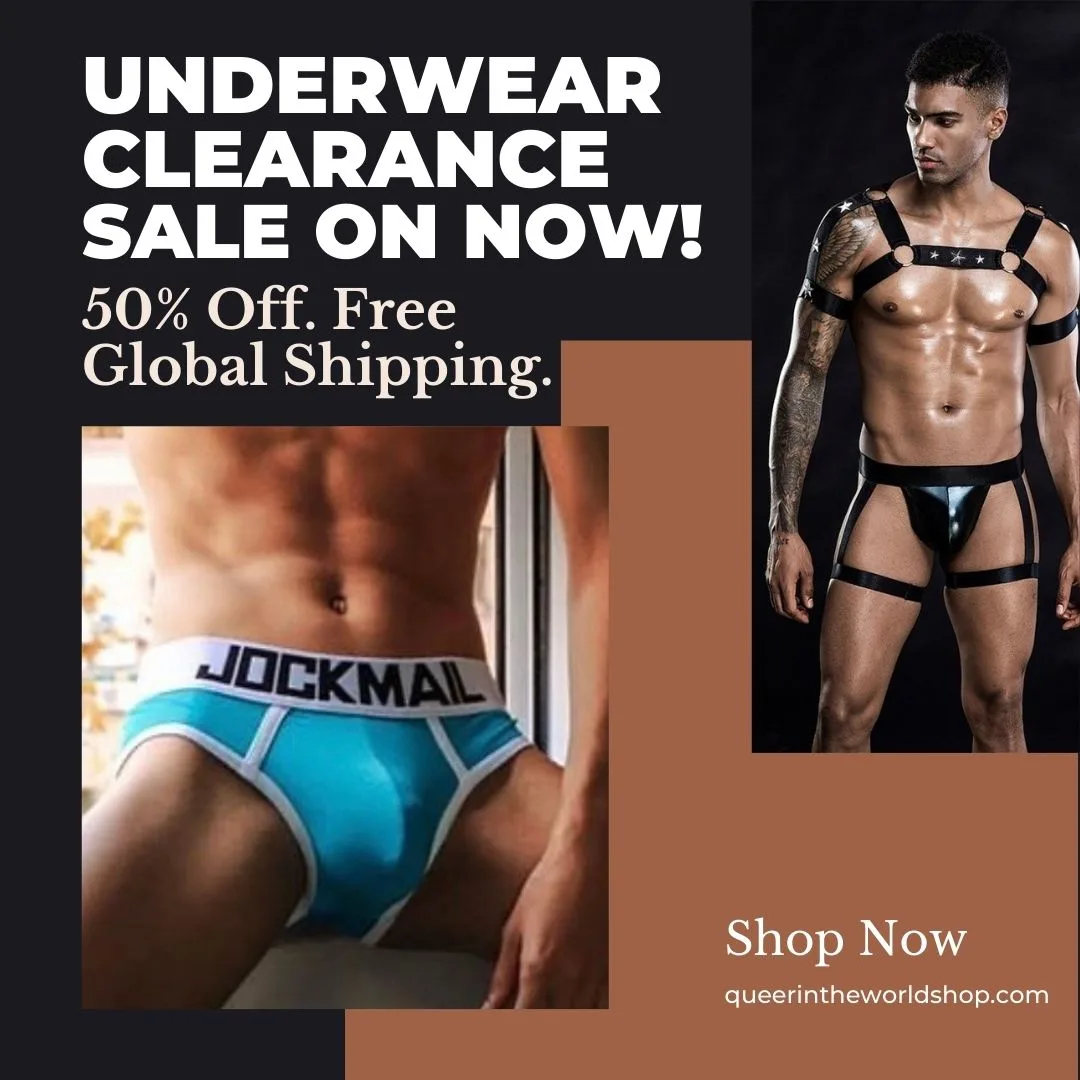 Gay Bars In Palermo, Sicily
One of the only gay bars in Palermo is Shut Up, where you can expect loud music so loud you better shut up because no one can hear you while on the dance floor. Here people come to experience a wild gay party without the small talk.
However, if you need a break, they have a cozy bar with some dining areas to catch a breath. You can try talking to your friends, but you will be shouting, so it's better to come earlier in the evening to find somewhere quieter.
The crowd here is young and queer, and the entertainment is exceptional drag queens and prominent DJs that know how to command a dance club. So you can expect a party here if you are after it.
Gay Parties & Gay Clubs In Palermo, Sicily
Palermo is a welcoming host for the yearly Sicilia Queer Filmfest, which celebrates the gay stories of notable queer films. You can experience up-and-coming directors and writers or old names in the industry across a couple of days and get closely acquainted with creative gay spaces in Sicily. Many of the attendees are also queer, so it could be a great way to meet a fellow gay person that is a film buff!
Arcigay Palermo is one of several gay organizations that host a digital resource on all aspects of the gay community in Palermo. You can use their resources to find out the latest gay news, connect with locals, or find the best places in town to visit while on holiday.
Palermo is home to EXIT10&LOVE, a gay-friendly venue that hosts their weekly Saturday queer disco bringing out all the assets to bring you an exceptional and unquestionable gay experience. You can expect drag, queer flags, rainbows, loud parties, and more!
Palermo Pride is the yearly gay pride parade held in the city, offering one of the best times to visit Sicily during the gayest time of year. You will find a plethora of fun events that cater to the celebration and socialization of the queer community. Outside of the event, you can find information about the gay scene on the island and other social occasions going down when you are in town.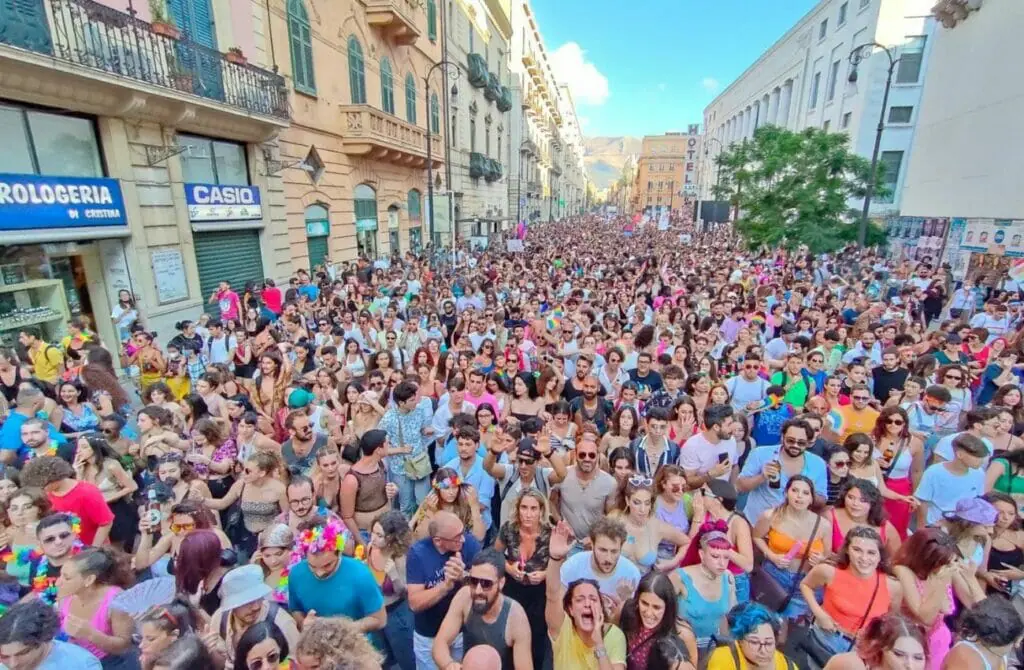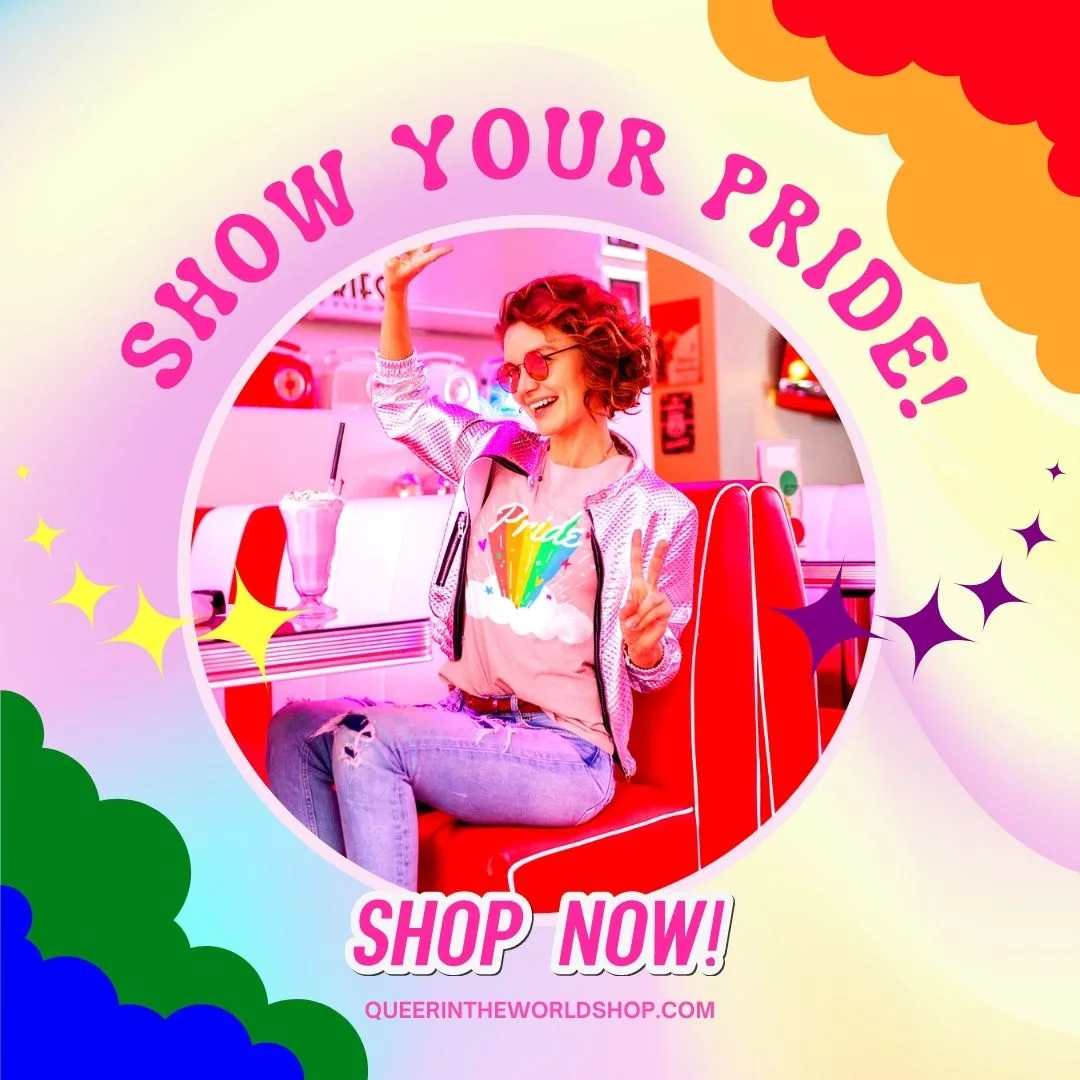 Gay-Friendly Nightlife in Palermo, Sicily
Rise Up is a top gay-friendly place to visit when browsing Palermo's nightlife. This favorite dance and nightclub are loved by locals because it has not just one but two dance floors, so it never feels cramped and stuck for choice. It is not only a place for a disco, it even has several indoor and outdoor sitting options, with a pretty garden on the terrace.
It may be a little far from the town center and require transport to get to it, but it makes up for this being very popular with the queer community.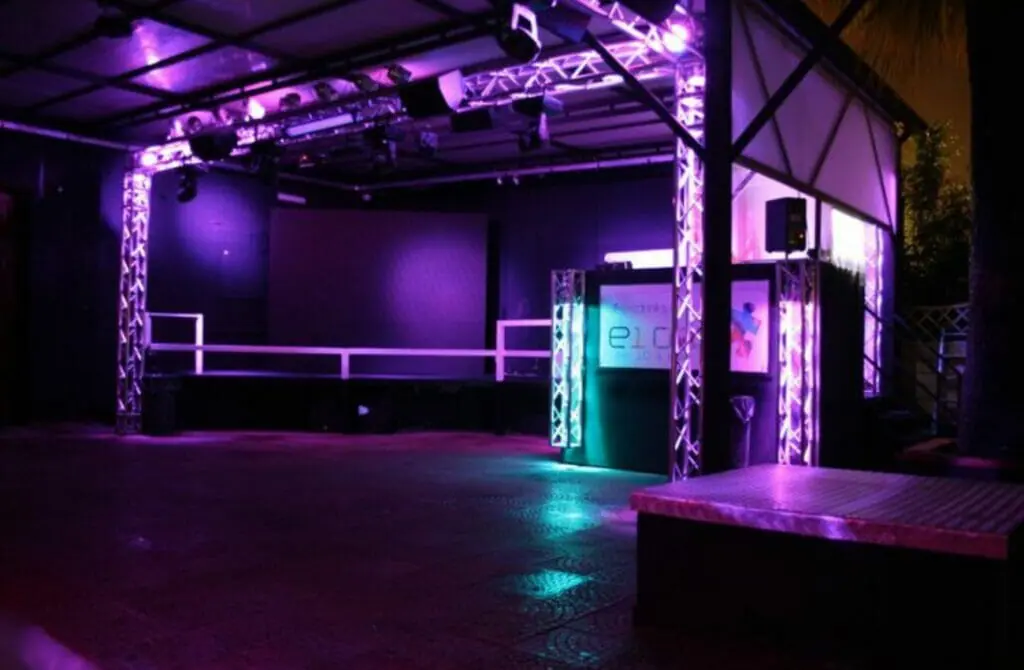 Since 1998, Amici di Caterina Pub has been a popular beachside nightlife venue in Palermo. Here you can find yummy food, delicious drinks, karaoke, live music, games, and much more! This is the perfect place for a dine-in with an affluent space to spend time alone with a friend and have deep conversations.
It is also lively on the maturing night as when the dinner patrons go. Then, the singers arrive to use the karaoke and laidback atmosphere.
One of the local favorites in town is a laid-back bar with a great atmosphere, Vinile Bar, where you can expect cold barrel beer fresh from the tap and just as delightful pop art lining the walls. People come here to relax in the friendly atmosphere of easy listening vinyl music, with some live events in place of the classics come evening on the weekend.
This is undoubtedly a music-lovers heaven, with a library of vinyl to pick from lining one of the walls and the opportunity to listen to your favorite tunes. It is just as brilliant for those wanting a cocktail lounge to relax and enjoy a drink, one of the best in Palermo.
The Gatto Nero disco club is a sleek black cat in the heart of Palermo nightlife, offering a great variety of techno and house music in the city's core. It won't be bad luck to visit, as she is small compared to other dance clubs, but every stop-by is like a little black cat sitting on your lap and making you feel warm and relaxed (when you aren't dancing!).
She also lives up to the glistening coat of such a feline as she is modern and sleek, so she is one if you want to dress up for a night out!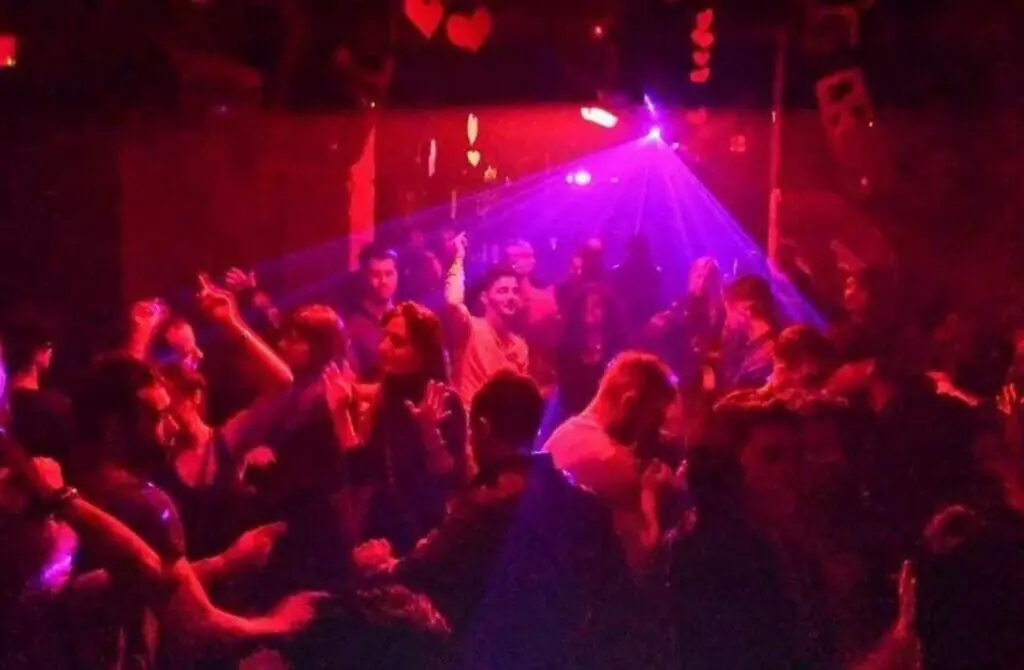 Cruising & Gay Saunas In Palermo, Sicily
Although Palermo doesn't have a gay cruising bar, they have a gay cruising sauna for gay men to have naughty fun. You will find safe spaces to meet other gay men, find private cabins for some alone time, and brilliant spa services to make you relaxed and refreshed.
However, if you want to cruise without getting wet, you may be disappointed, so the easy way to get around this is to get on your handy dating apps to scratch the itch!
When traveling to a new city, it can be exciting to head out for more than just a stiff drink. One aspect of the Gay Palermo scene that many queer men enjoy is visiting gay saunas and cruising clubs.
Sure, the sauna culture in Palermo is not as hedonistic as in Amsterdam, Barcelona or Berlin, but these venues still offer a chance to meet new people, socialize, and engage in sexual activity – without resorting to gay hookup apps. However, it's important to remember that these venues can vary greatly in terms of atmosphere, clientele, and rules, so it's a good idea to prepare yourself before visiting.
If you are apprehensive, we advise studying our guide to visiting a gay bathhouse for the first time, which should help set your mind at ease and always practice safe sex.
Additionally, it's important to be aware of and respect local laws and customs regarding gay venues and sexual activity. With a little bit of planning and an open mind, visiting gay saunas and cruising clubs can be a fun and exciting part of your gay Palermo travel itinerary.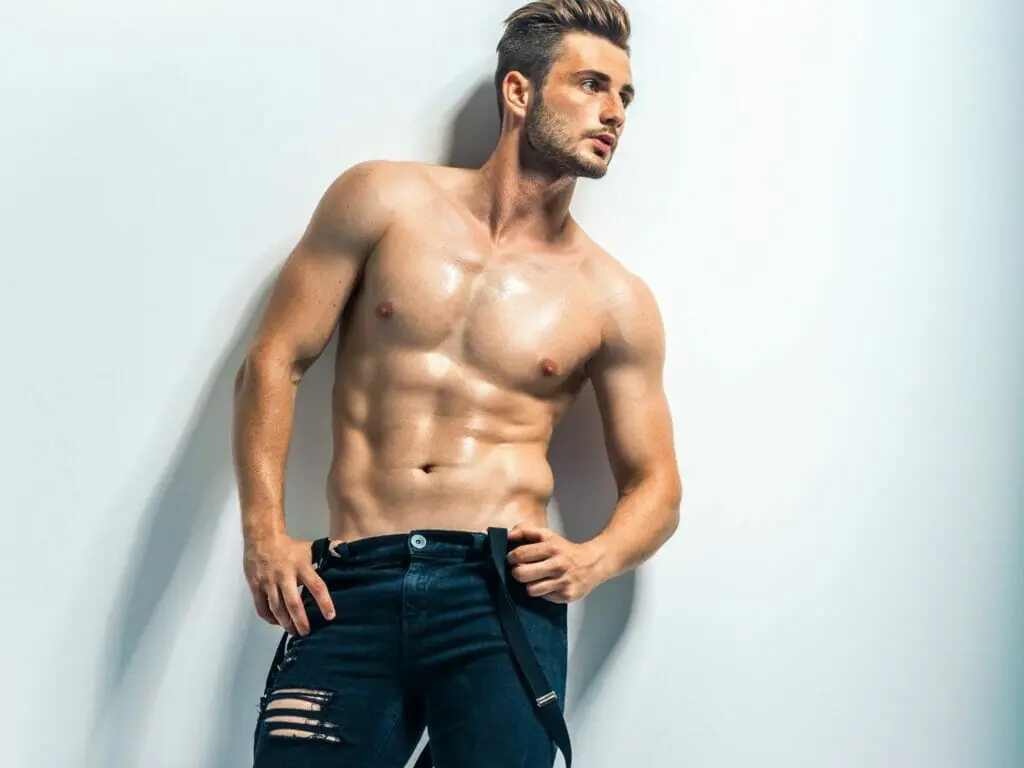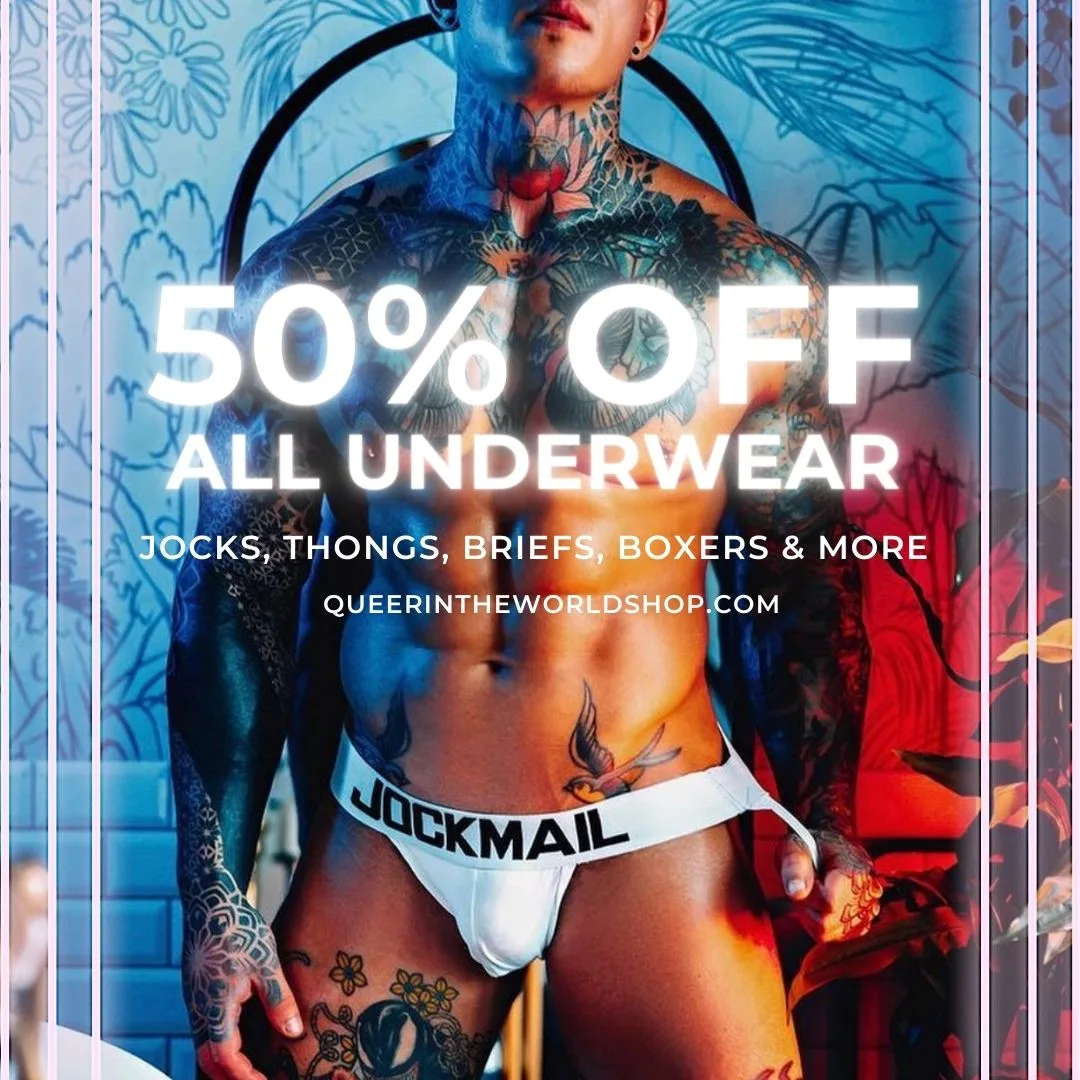 Gay Saunas In Palermo, Sicily
Maximum Time
The only gay cruising zone in Palermo, Maximum Time, is a gay sauna in the heart of the city, offering a Finnish-style sauna, Turkish baths, and a lounging area. It isn't just a relaxing time you will find here, but an opportunity to spend time with gay men and have a little fun in their dark room cruising spaces. It is quiet during the week, but come Saturdays, the party starts!
Gay Map Of Palermo
Finding it hard to envisage where everything is in Palermo? Hopefully, this queer-centric map helps where we have marked all the bars, clubs, parties, hotels, saunas, massages, and more will help you stay in the spot best suited to you!