Explore Okinawa's gay scene! Find the best gay bars, LGBT-friendly hotels, and top attractions for an unbelievable trip!
Welcome to Okinawa, Japan, where the sun shines bright, and the people are warm and welcoming. Okinawa is not just a tropical paradise with its crystal-clear waters, white sand beaches, and lush greenery. It is also a hidden gem in the world of gay travel, with its vibrant LGBTQ+ scene that is a testament to its open-minded and inclusive culture.
Okinawa's history is unique, having been an independent kingdom for centuries before being annexed by Japan in the late 1800s. This history has created a culture that is distinct from mainland Japan, with its own cuisine, music, and art. Today, Okinawa is known as a popular tourist destination, attracting visitors from all over the world with its mix of traditional and modern attractions.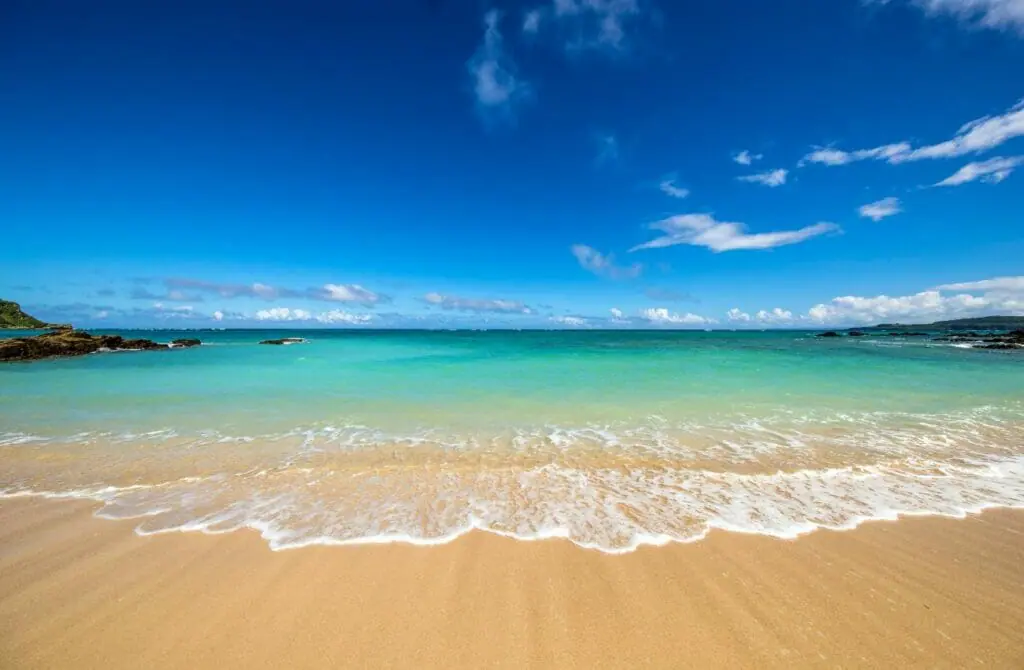 When it comes to the LGBTQ+ community, Okinawa is known for being gay-friendly, with a large number of gay bars and gay-friendly restaurants located in the Sakurazaka region of Naha. Whether you're looking for a lively night out or a quiet evening with friends, Okinawa has something for everyone.
The food in Okinawa is also a highlight, with its unique blend of Japanese, Chinese, and Southeast Asian flavors. From the local specialty, goya champuru, to the fresh seafood, visitors are sure to enjoy the delicious cuisine on offer.
So, whether you're interested in exploring the rich history and culture of Okinawa or simply looking to soak up the sun and enjoy the vibrant LGBTQ+ scene, Okinawa is the perfect destination for your next adventure. Join us as we discover the best of what this beautiful island has to offer!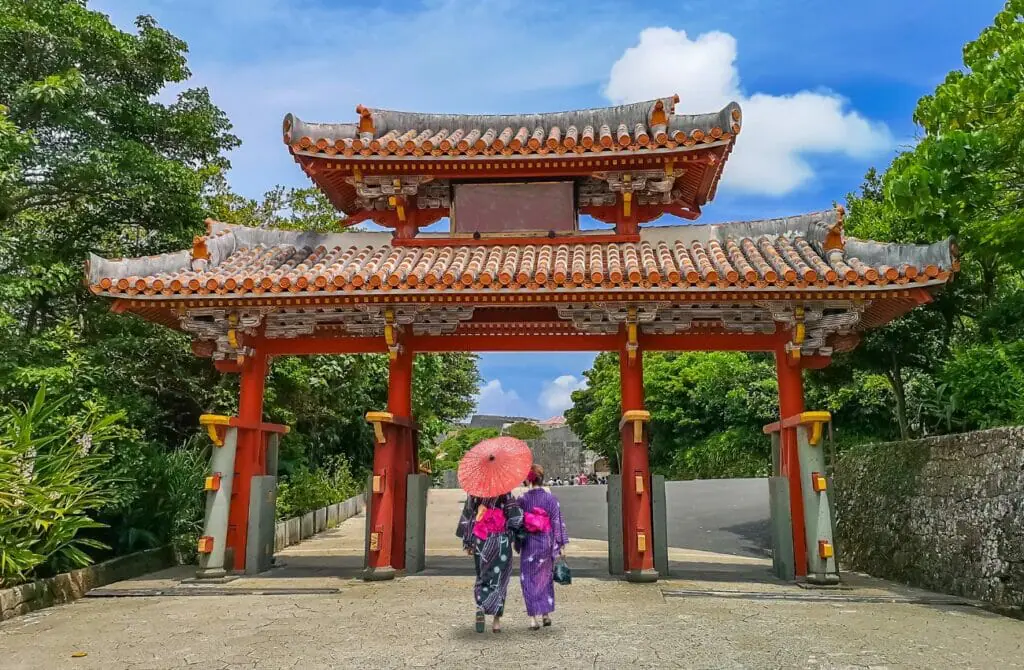 Attractions in Okinawa, Japan
Okinawa, Japan, is a paradise for tourists, offering a plethora of attractions ranging from shopping and dining to sightseeing and cultural experiences. For the fashion-conscious traveler, Okinawa's shopping scene is a must-visit.
From luxury boutiques to streetwear shops, the island offers a diverse range of retail options for all tastes and budgets. And for those interested in immersing themselves in the local culture, Okinawa's tourism scene boasts unique experiences.
Traditional Ryukyu dance performances, visits to Shuri Castle, and hands-on workshops in conventional Okinawan crafts are all waiting for you.
The LGBT community is welcome to explore all that Gay Okinawa has to offer, with its friendly locals and vibrant atmosphere creating an inclusive and welcoming environment for all. Whether you're looking for a relaxing vacation, a cultural adventure, or a lively night out, Okinawa has something for everyone.
As a new visitor to Gay Okinawa, there are plenty of things to see and do, regardless of your sexual orientation. One of the best ways to experience any new city is to visit some of its most iconic landmarks and attractions, including visiting historical monuments, museums, and art galleries.
We also love gazing at architecture up close, exploring parks and gardens, sampling the local cuisine, visiting local markets, and attending cultural events such as festivals, concerts and shows.
Even as the out-and-proud queer we are, we still love to just explore the city and its culture in the same way as everyone else. Doing so allows us the opportunity to learn more about the city and its people and gain a deeper understanding of the local culture. As such, these are our favorite must-see attractions in Okinawa.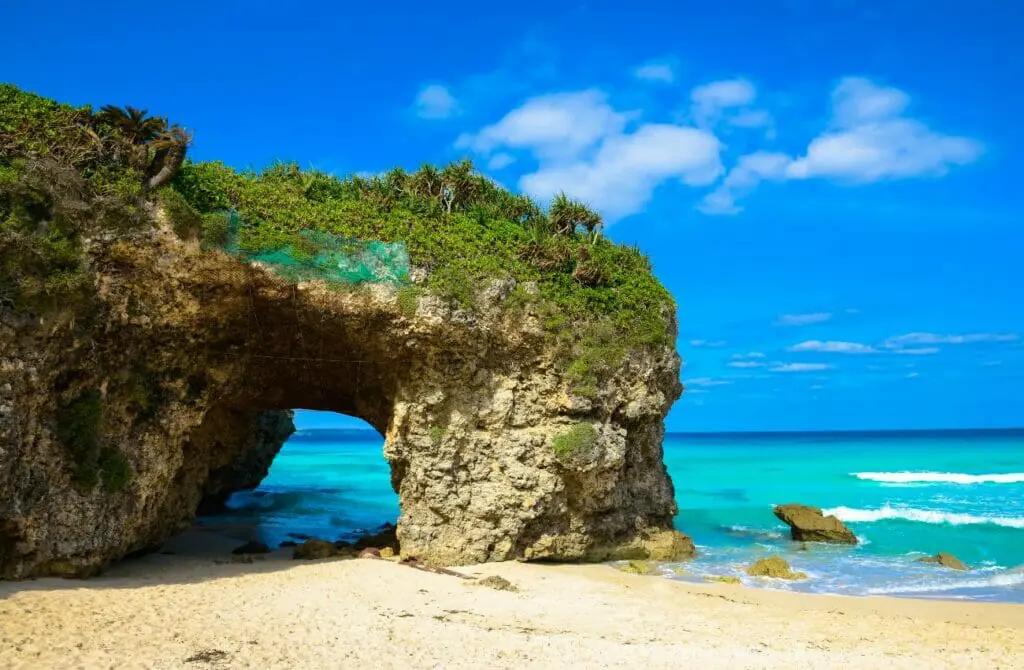 Head out and explore Naha, the lively capital of Okinawa prefecture, on this all-inclusive full-day guided tour. Customize your own itinerary and visit must-see destinations such as Shurijo Castle, Hiji Waterfall, Nakagusuku Castle ruins, and Kokusaidori Street with the help of a knowledgeable, licensed guide.
Learn about the rich history and unique culture of the region while seeing Naha's most famous landmarks. With almost 20 points of interest to choose from, this tour offers a personalized experience that caters to your interests. Come and discover Naha's hidden gems and iconic sights on this unforgettable adventure!
Get ready to step back in time and explore the history of the Ryukyu Kingdom at Shuri Castle in Naha City, Okinawa, Honto! This architectural gem was once the home of the ruling class and served as a religious sanctuary for the Ryukyuan people.
The castle's unique gusuku architecture, built in the traditional Okinawan style, is a sight to behold. Although the original castle was destroyed during the Battle of Okinawa in 1945, it was restored in both 1958 and 1992. Take your chance to experience this historical masterpiece!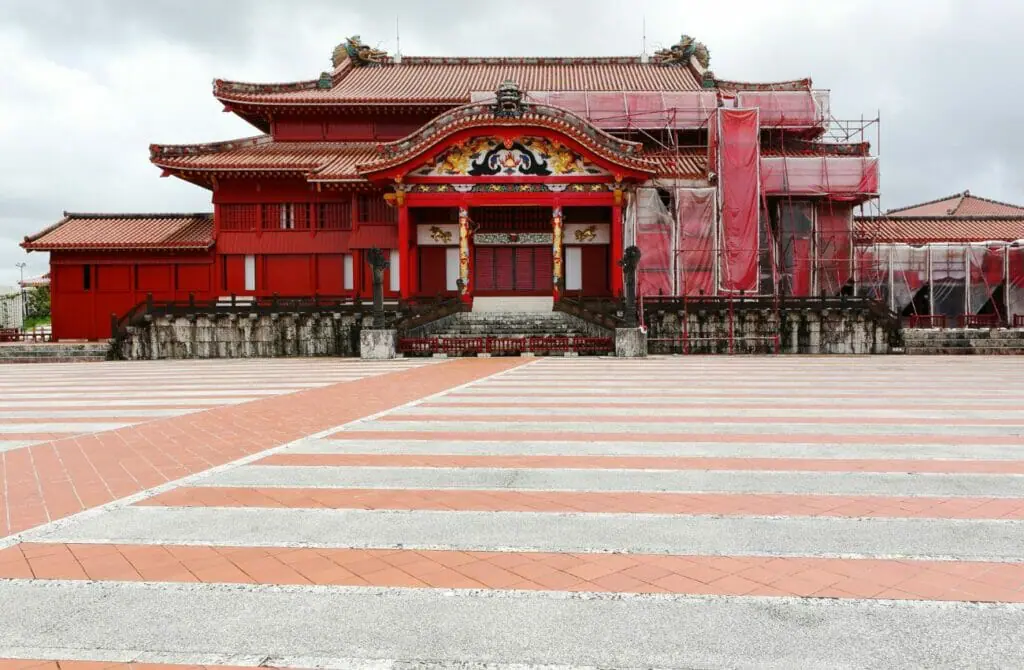 Makishi Market on Okinawa Honto is the ultimate foodie destination! Known as 'The Kitchen of Okinawa,' it offers an impressive selection of local produce and delicacies that will make your mouth water. Established during World War II, it is now home to around 400 shops selling everything from preserved sea snakes to seaweed.
But it's not just a market. There are also several cafes and restaurants serving up traditional Okinawan dishes made with locally sourced ingredients that you won't find anywhere else in Japan. This makes Makishi Market a must-visit for anyone looking to get a taste of Okinawan cuisine.
Okinawa World is more than just any old theme park. Located on Okinawa Honto, it's home to the Gyokusendo Cave, an awe-inspiring underground chamber filled with stunning stalagmites and stalactites. And that's not all, folks. Outside the cave, you'll find souvenir stalls selling local trinkets, including snake liquor. Yep, you read that right. If you're curious about how it's made, check out the neighboring snake exhibition. But wait, there's more!
Traditional Crafts Village offers the chance to create your own craft item in old, beautifully preserved local houses. And if you're lucky, you might catch a glimpse of the heroic Eisa dance or Habu vs. Mongoose Show. So what are you waiting for? Come experience the unique Ryukyu Kingdom culture and attractions at Okinawa World.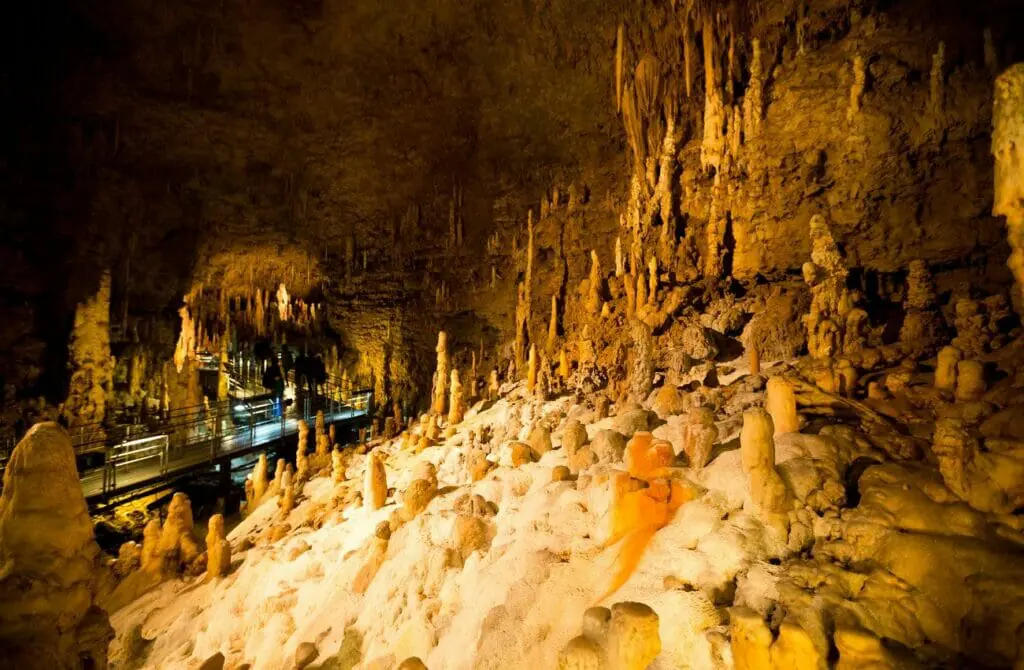 Step back in time and discover the hidden gem of the Futenma Shrine. Tucked away amidst modern architecture in Okinawa, this tranquil Shinto shrine has stood for centuries and even survived World War II. Immerse yourself in Japanese and Okinawan architecture as you explore this sacred site. Upon entering, feel free to participate in a purification ritual and make a wish at the entrance of the main hall.
The friendly staff is also available to give you a brief tour of the sacred caves beneath the shrine. Remember to be respectful of worshippers and services and keep your photography to the exterior of the building. Come experience the peacefulness of Futenma Shrine and connect with the history of Okinawa.
Hold onto your flippers, folks! Churaumi Aquarium is not only one of the biggest in Japan but also in the entire world! It's so amazing that it attracts crowds like moths to a flame. Once you set your eyes on the colossal Kuroshio Sea tank, filled with many sea creatures like the mammoth whale shark, you won't want to leave.
If you're searching for a place to escape the scorching Okinawa sun or to have a blast with your family on a rainy day, Churaumi is the perfect spot. Just remember to pack your comfiest walking shoes since the aquarium spans over 2 hectares! Get ready for a whale of a time!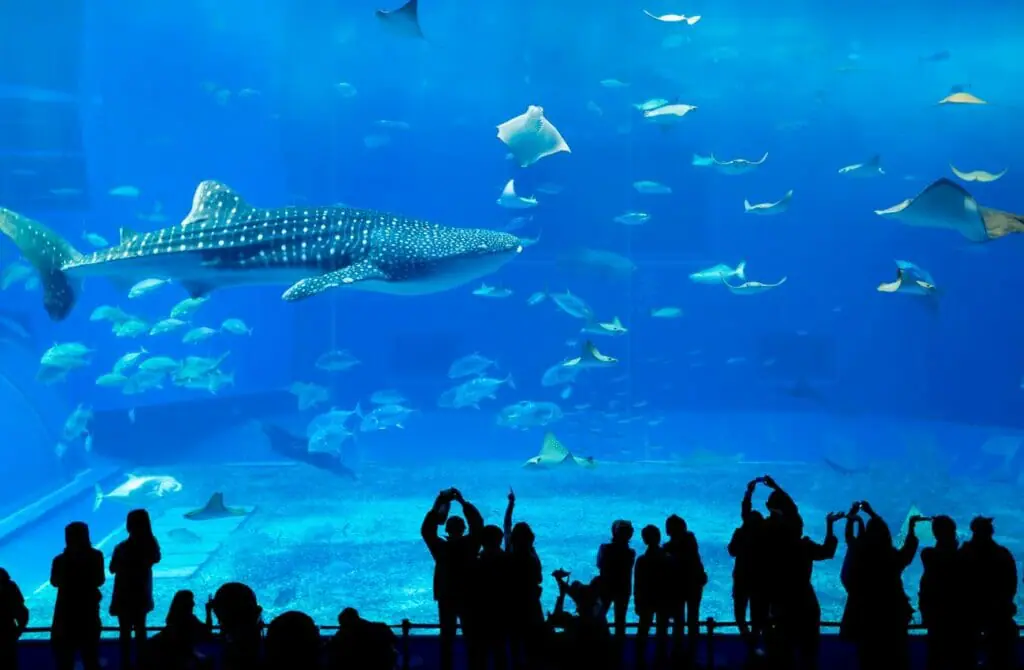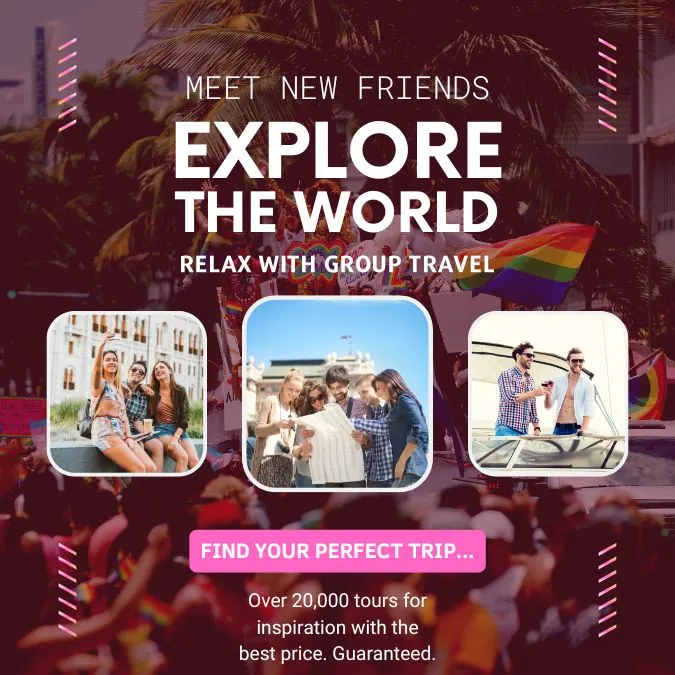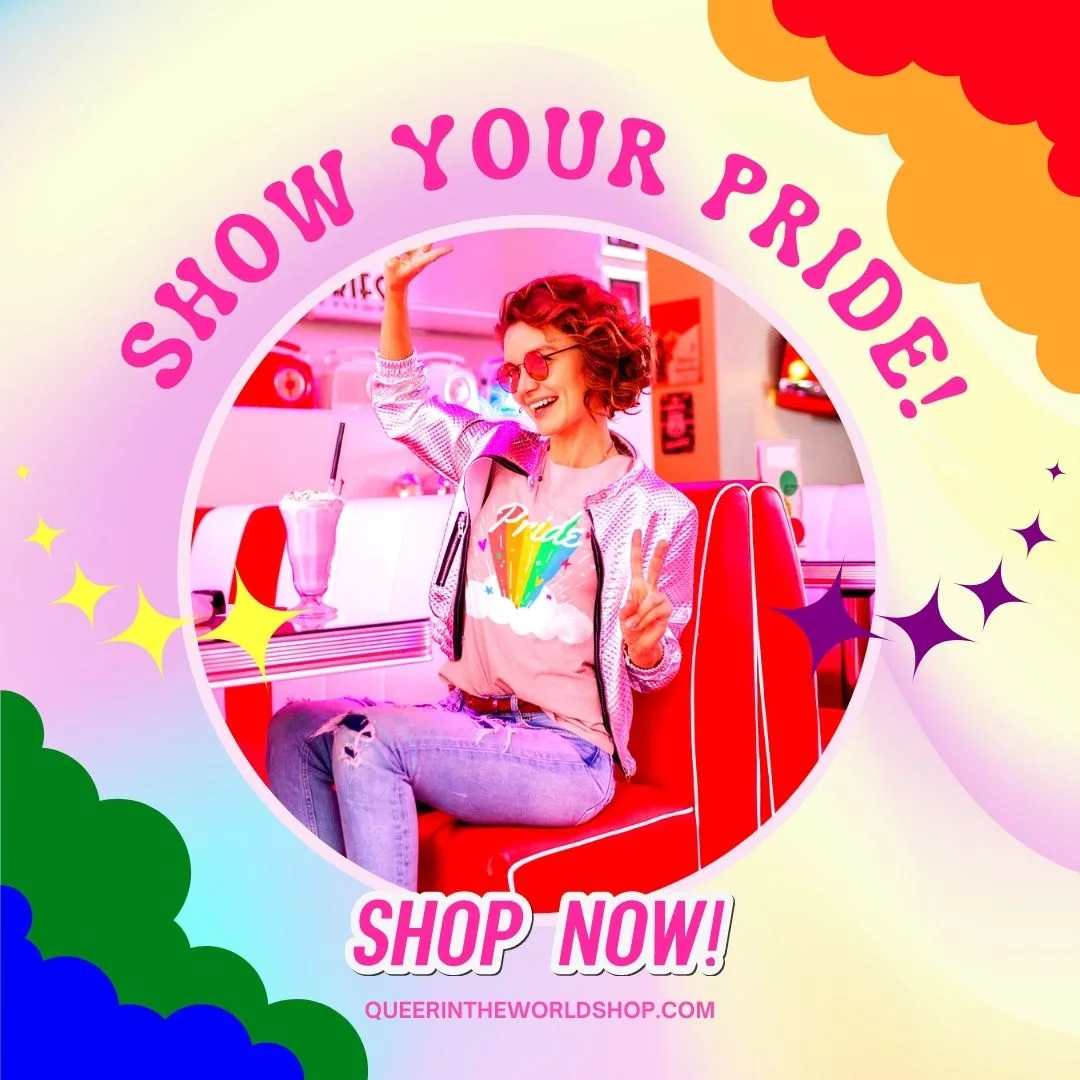 Gay and Gay-Friendly Hotels in Okinawa, Japan
When it comes to planning a trip, choosing the right hotel is essential. For fabulous travelers, finding a gay-friendly hotel can make a massive difference in the overall experience. Fortunately, Okinawa, Japan, is home to a wide range of hotels that welcome LGBTQ+ guests with open arms. From luxury resorts to boutique hotels, there is something for everyone.
In addition to comfortable accommodations, many of these hotels offer amenities such as on-site restaurants, bars, and spas, as well as proximity to popular tourist attractions. Whether you're looking for a romantic getaway or a fun-filled vacation with friends, you're sure to find a welcoming and inclusive home away from home in Okinawa's gay-friendly hotels.
Being gay-friendly accommodation means that the establishment is welcoming and inclusive to guests who identify as LGBTQ+. This can include but is not limited to, having policies and practices in place that demonstrate a commitment to creating a safe and inclusive environment for LGBTQ+ guests, such as non-discrimination policies, and providing support and resources for LGBTQ+ travelers.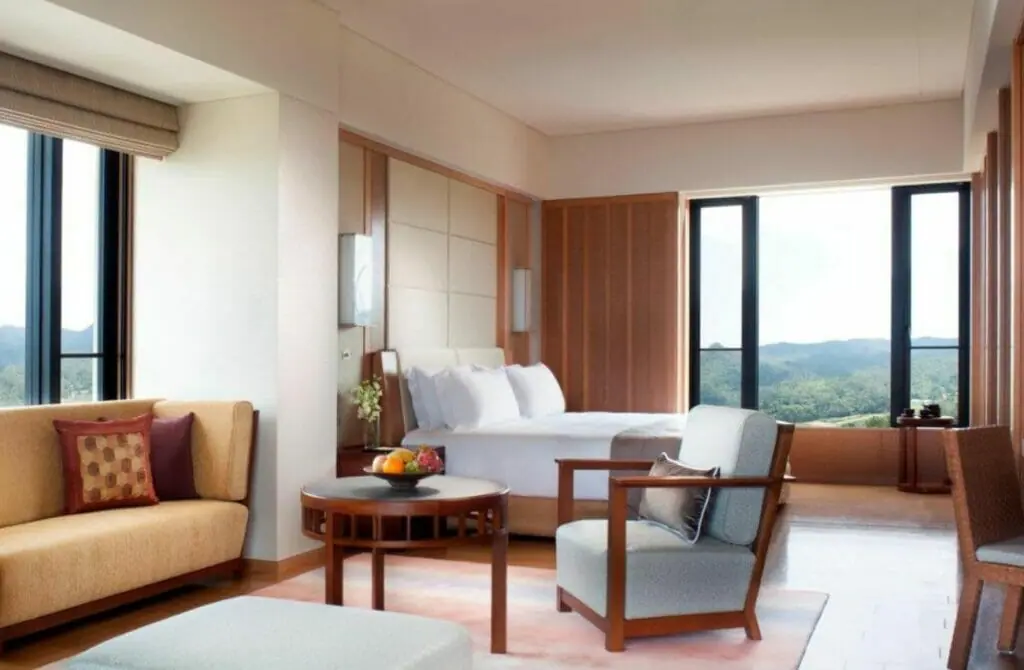 Some gay-friendly accommodations may also provide amenities specifically catering to the LGBTQ+ community, such as rainbow flags or literature about local LGBTQ+ events or resources. Furthermore, gay-friendly accommodations may be located in an area that is known for being LGBTQ+ friendly.
While Okinawa does not have any specifically gay hotels or resorts, these are the most fabulous and pro-actively gay-friendly hotels in Okinawa. Needless to say, there are also hundreds more hotel and hostel options in Okinawa if none of these suit your desired budget, facilities or area – but these are the best hotels according to other gay travelers and us.
Whatever your needs are, Okinawa has you covered.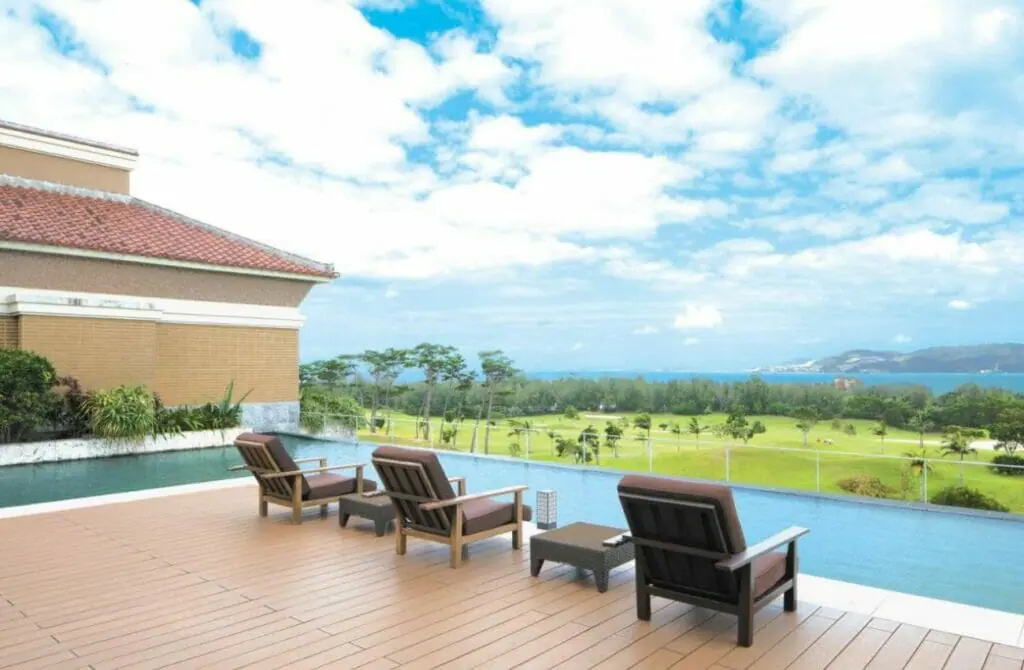 The Ritz-Carlton, Okinawa ☆☆☆☆☆
Nestled near Kariyushi Beach and Busena Marine Park, The Ritz-Carlton, Okinawa, boasts a luxurious experience with every amenity imaginable. Enjoy 18 holes of golf, a poolside bar, and a roundtrip airport shuttle.
Sunbathe on the immaculate white sand beach with the convenience of a free beach shuttle and sun loungers. Revitalize your senses with a body wrap, a manicure/pedicure, or a deep-tissue massage at The Ritz-Carlton Spa, the onsite spa.
Savor Italian cuisine with a breathtaking ocean view at any of the 3 onsite restaurants. Take part in yoga classes at the 24-hour gym or unwind on the terrace. Shop on-site or enjoy a cup of coffee at the cafe. Relax with a swim in the seasonal outdoor pool or indoor pool. Wake up to a delicious cooked-to-order breakfast and ride in style with limo/town car service.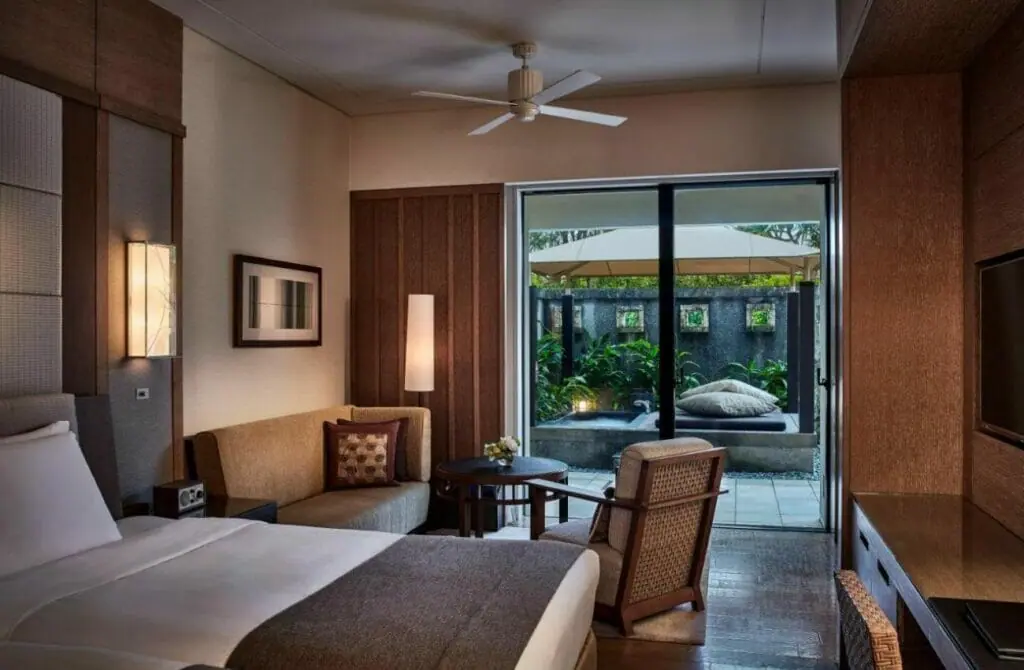 Kafuu Resort Fuchaku Condo Hotel ☆☆☆☆☆
Amidst breathtaking vistas and serene landscapes, Kafuu Resort Fuchaku Condo Hotel is a luxurious escape that exudes style and sophistication. Guests can indulge in a range of top-notch amenities such as 9 holes of golf, a grocery/convenience store, and a stunning terrace that offers sweeping views of the surrounding beauty.
Unwind in style at The Green Spa, where you can pamper yourself with rejuvenating body treatments, aromatherapy, or body scrub. The hotel boasts 4 onsite restaurants serving succulent barbecue and featuring mesmerizing ocean views.
The 24-hour gym offers yoga classes, and the property also boasts a chic coffee shop/cafe, a lush garden, and a well-stocked library. Bask in the sun with beach towels, take a dip in the seasonal outdoor pool or the children's pool, and savor a delicious buffet breakfast each morning.
Each room at Kafuu Resort Fuchaku Condo Hotel is a luxurious condo that provides the ultimate privacy, style, and comfort. It's like having your own luxury home in the lap of paradise!
DoubleTree by Hilton Okinawa ☆☆☆☆
DoubleTree by Hilton Okinawa Chatan Resort is the perfect place to indulge in luxury, located near Sunset Beach and Camp Foster. This resort provides a roundtrip airport shuttle, a poolside bar, and a terrace. Take some time to unwind with a body treatment, aromatherapy, or a facial at AMMAMI SPA, the onsite spa.
Enjoy ocean views while dining at MaTiira, the onsite restaurant. Stay fit with aerobics and yoga classes at the 24-hour gym. DoubleTree by Hilton Okinawa Chatan Resort also features a beautiful outdoor pool with a waterslide, sun loungers, and an indoor pool. Relax and recharge with a delicious buffet breakfast. This resort also has a coffee shop/cafe, a playground, and dry cleaning/laundry services.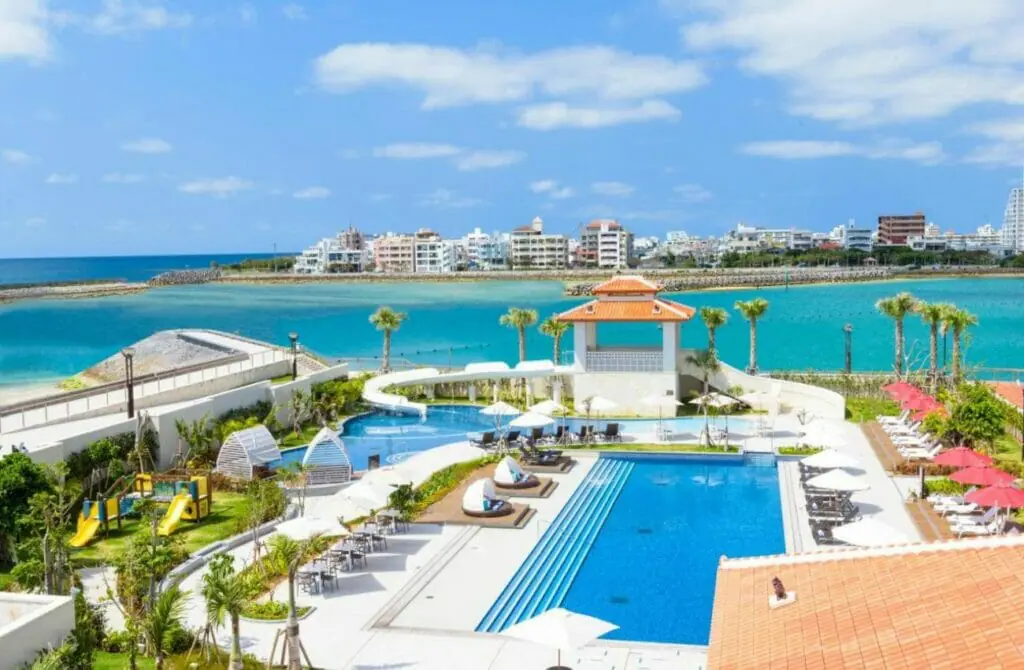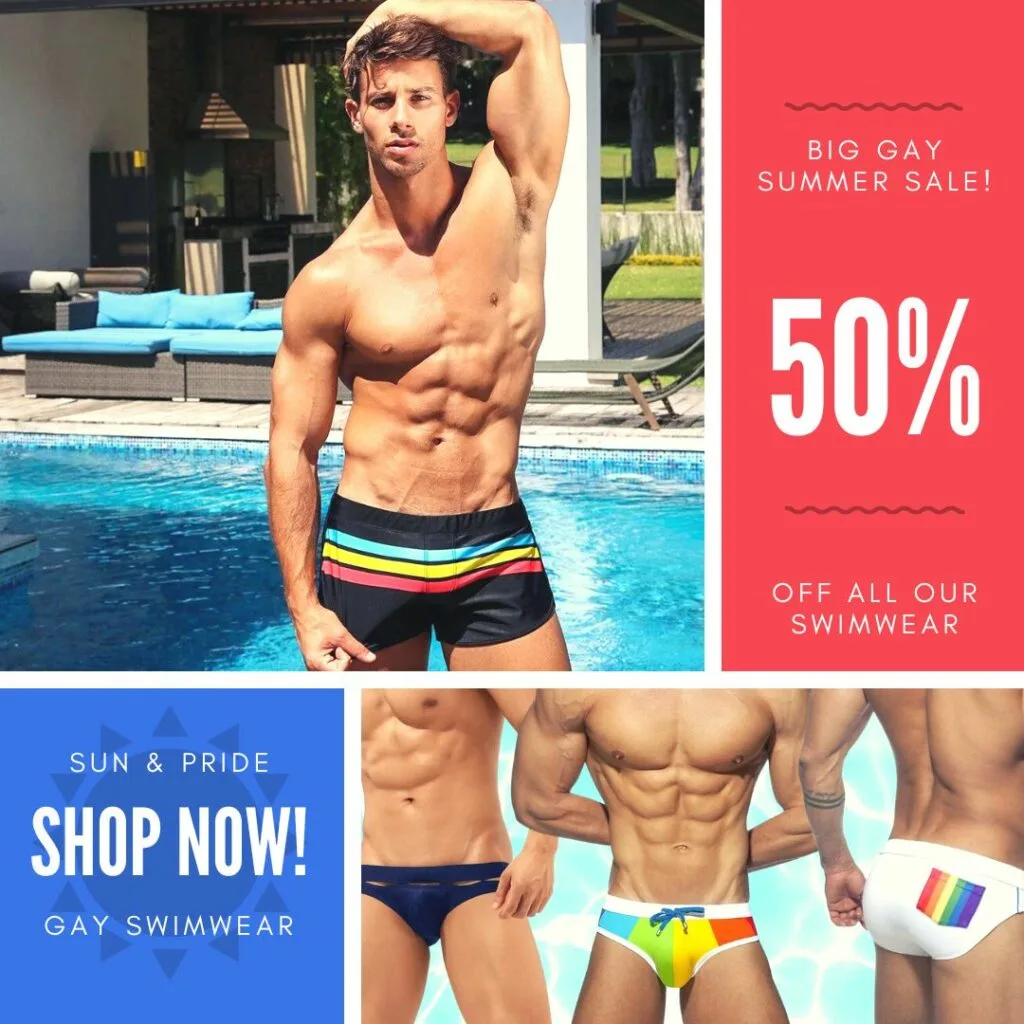 Hotel Anteroom Naha is a luxurious and cultural hotel where guests can indulge in the essence of the city. The name Anteroom refers to the comfortable space where guests can prepare for their adventures in the city.
Throughout the hotel, you'll find an impressive array of art and cultural expressions that capture the essence of the modern era. The hotel offers numerous amenities, such as laundry facilities, a bar, and an exquisite restaurant.
The ultra-chic interiors are decorated with stunning works of art that create a serene and luxurious ambiance. The rooms are spacious and comfortable, providing the perfect sanctuary for rest and relaxation. A sumptuous buffet breakfast awaits you each morning, adding to the luxurious experience of your stay.
In the heart of Naha City, Okinawa, this welcoming hostel is just steps away from the Bus Terminal and Asahibashi Station. With a fresh renovation that highlights Japanese design and harmony, it's a perfect home-away-from-home for backpackers seeking comfort and community.
Though not a party hostel, the social atmosphere is inviting and friendly. The beds are luxuriously comfortable, and the staff is exceptional. The bathrooms and kitchen are impeccably clean. Conveniently located close to the airport and bus stops, this hostel is an excellent choice for those looking to explore the city.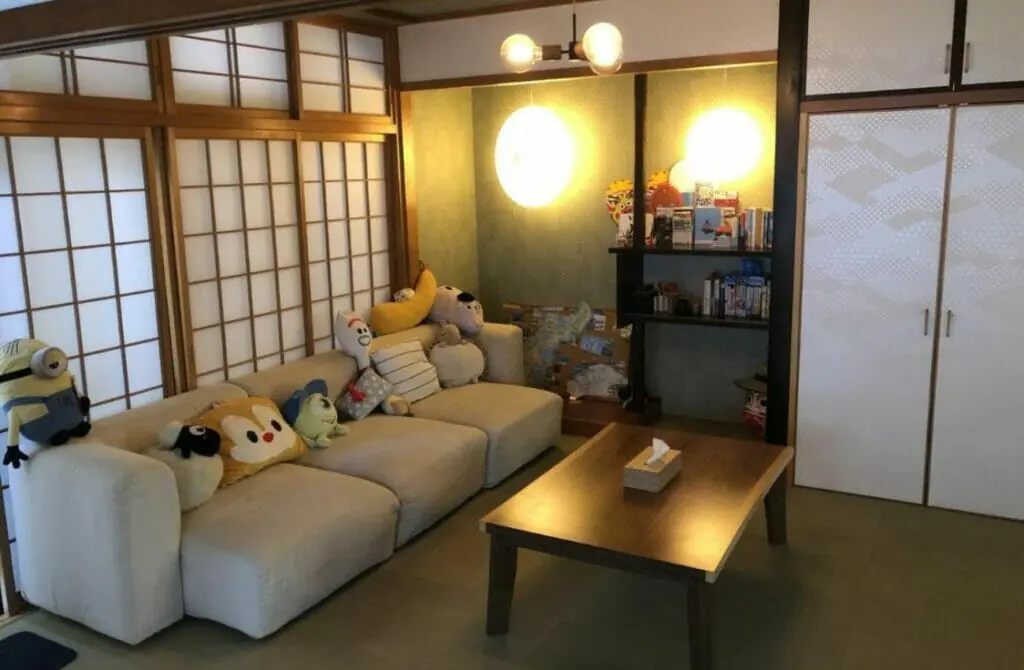 Gay Nightlife in Okinawa, Japan
Okinawa's gay nightlife scene is an exciting blend of local culture, friendly hospitality, and vibrant entertainment options. With dozens of gay bars and clubs spread throughout the Sakurazaka region of Naha, visitors can experience everything from chic and trendy venues to classic and traditional hangouts. But the city's gay nightlife scene is more than just bars and clubs – it's also a thriving cruising.
Exploring the gay and gay-friendly nightlife in a new city can be one of the most exciting and rewarding experiences while traveling – and Gay Okinawa is no exception. Not only will you have the opportunity to meet new people and make friends, but you'll also get a taste of the local culture and learn more about the city's LGBTQ+ community.
Going out and experiencing the queer and queer-friendly nightlife in a new city can also be a great way to break out of your comfort zone and try new things. Whether it's dancing the night away at a gay club or mingling with locals at a gay-friendly bar, you'll have the chance to make memories and create lasting connections.
So, don't be afraid to step out of your comfort zone and explore the gay and gay-friendly nightlife in Okinawa. You'll be glad you did!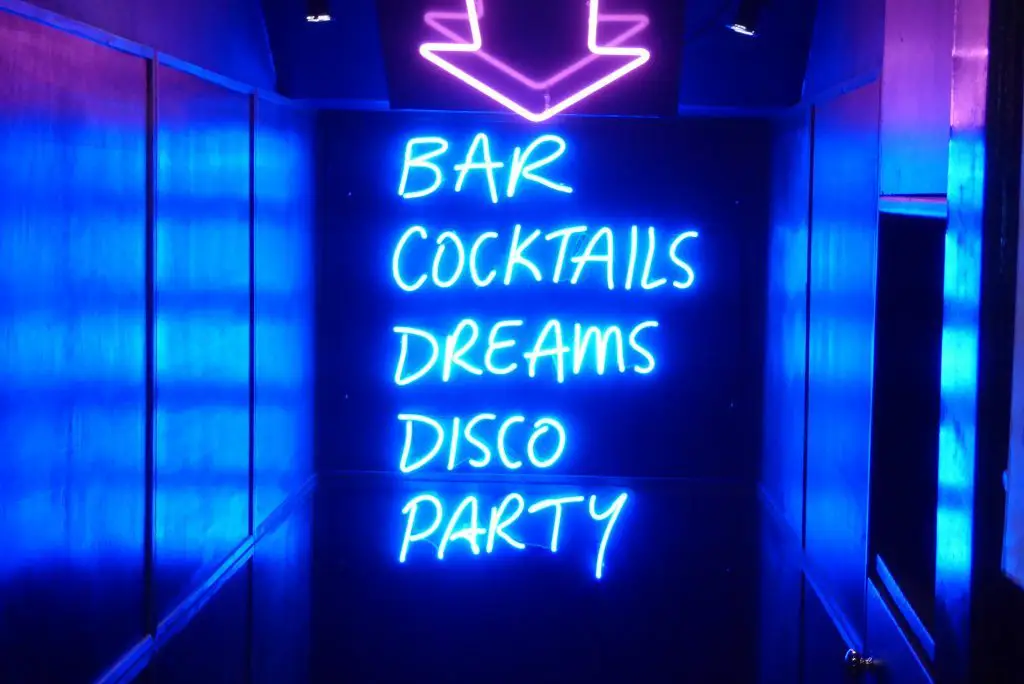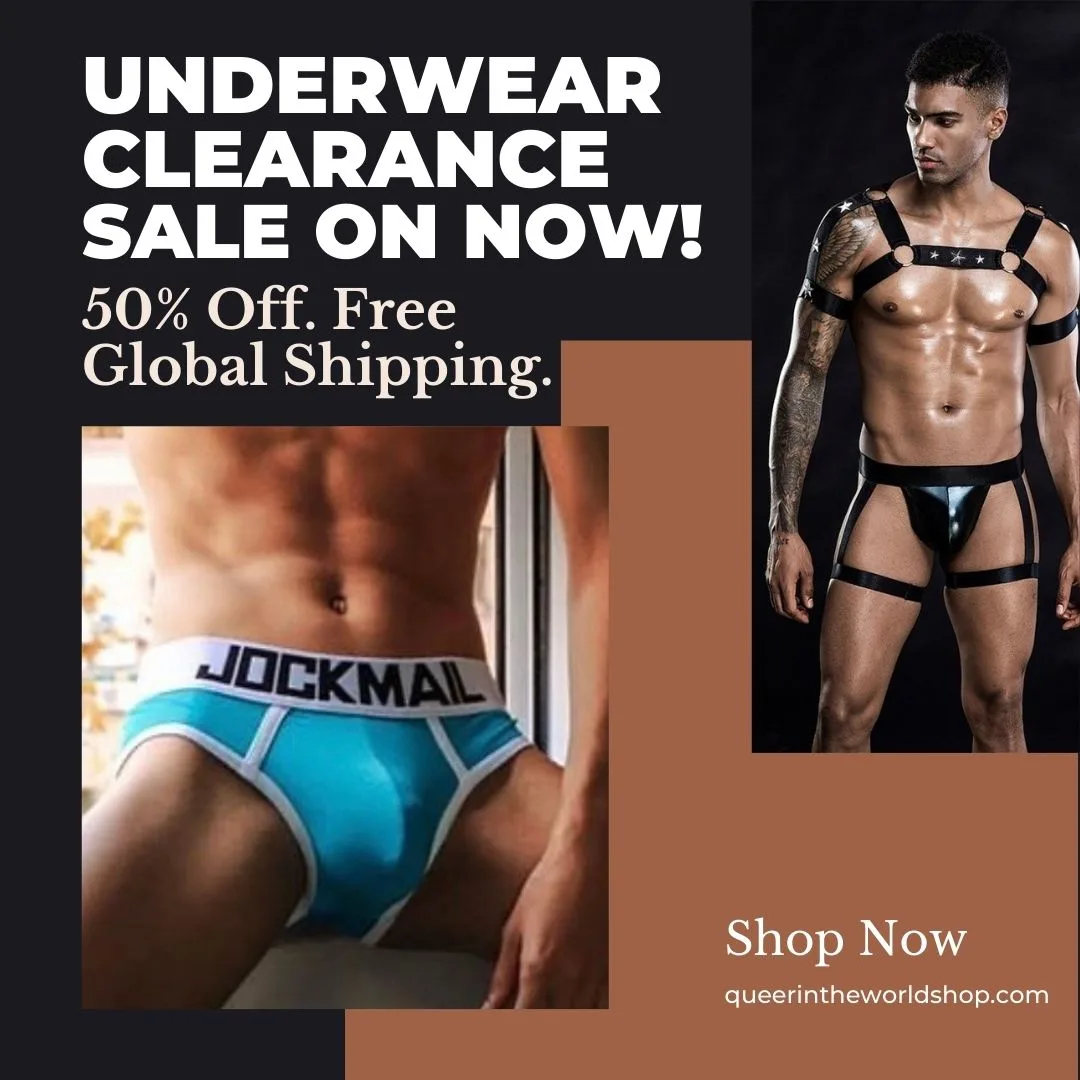 Gay Clubs in Okinawa
Need a trendy and lively gay bar in your life? Look no further than this male-exclusive hotspot, open year-round for your partying pleasure. With 3-4 energetic and cheerful staff on weekends, you're guaranteed a good time. And don't worry, if you're not into alcohol, there are plenty of non-alcoholic drinks to choose from.
The bar's manager Tsuyoshi, along with a team of young local Okinawan staff, are eager to welcome you with open arms. Plus, keep an eye out for the gay Japanese model on staff. With a clean and inviting atmosphere, this bar is the perfect spot for karaoke lovers and anyone seeking some hot boys to party with.
Looking for a fabulous night out in Naha? Look no further than this LGBTQ-friendly shot bar on Okiei Street! No matter how you identify, you'll be welcomed with open arms – and no pesky cover charge. With a wide selection of drinks and a stylishly lit interior, you'll feel like the star of the show.
And don't worry about language barriers – the staff is English-fluent and always eager for a chat. When you're ready to step outside, take a seat and enjoy the cool Okinawa breeze. With friendly locals and a lively atmosphere, this bar is the perfect spot to relax, mingle, and let your hair down.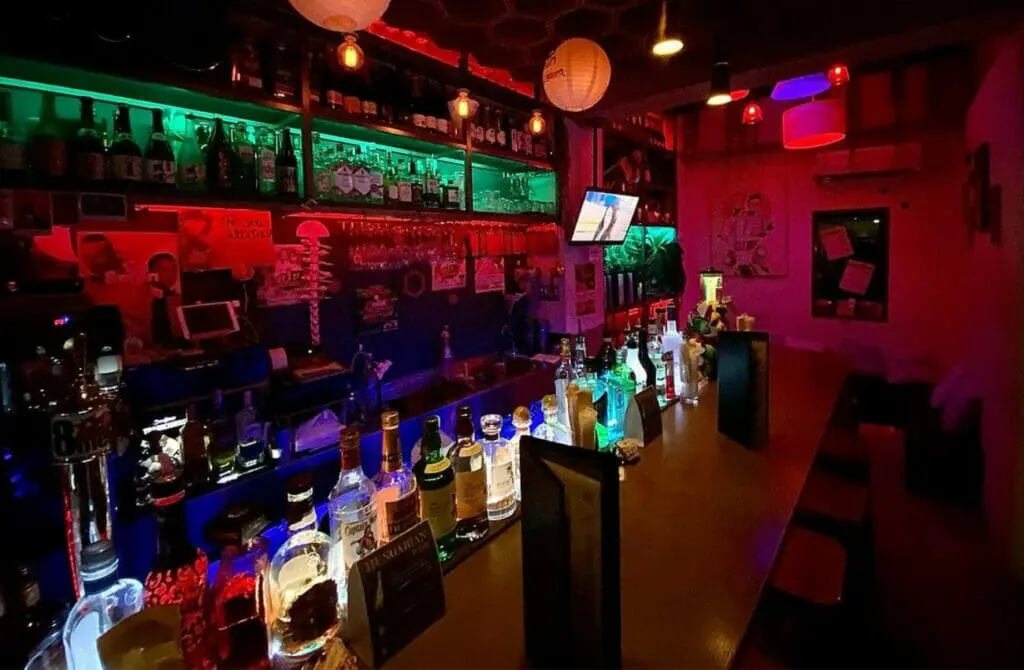 Green is a stylish gay bar exclusively for men, which has been open since August 2016. They have a unique Karaoke offer where if you score more than 95, you get a free glass of sparkling wine, and if you hit 100, you get a bottle of nice champagne! On every third Saturday, they also offer an all-you-can-sing and all-you-can-eat menu for a modest fee.
Jumpei, the barkeeper, is from Ishigaki Island and is always friendly and welcoming to guests. This bar is a favorite spot for Namie Amuro, a popular Japanese recording artist, fans, as her songs are always free to sing. The clientele here is mainly in their 20s to 40s.
This bar is a superstar in the gay bar scene! Located at the entrance of Sakurazaka, where all the fabulous bars are, you can't miss the impressive green-lighted stairs that lead you to the second floor. The bar also hosts the famous "Okinawa Renaissance" event, which attracts over 600 people every year! That's a lot of rainbow power, honey!
And if you need more than that, they have beach parties and club events every first Saturday in July! Look out for the banana signboard, and you'll find the happiest barkeeper and staff waiting to welcome you with open arms. So come on down, mingle with the 30s and 40s crowd, and get ready for a night to remember!
Sing your heart out at this male-only gay bar in Sakurazaka! Karaoke lovers will be in heaven as songs are played all opening hours long, and depending on your score, you can receive gifts ranging from free bottles of booze to discounts on in-store purchases.
The barkeeper, Tatsu, is an energetic and talkative host, and the bar attracts many tourist customers with lots of keepsake bottles lining up the interior. Don't miss the annual Kijimuna Cup, a gay tennis tournament organized by Tatsu every fall that draws over 200 participants. Come for the karaoke, and stay for the fun and lively atmosphere!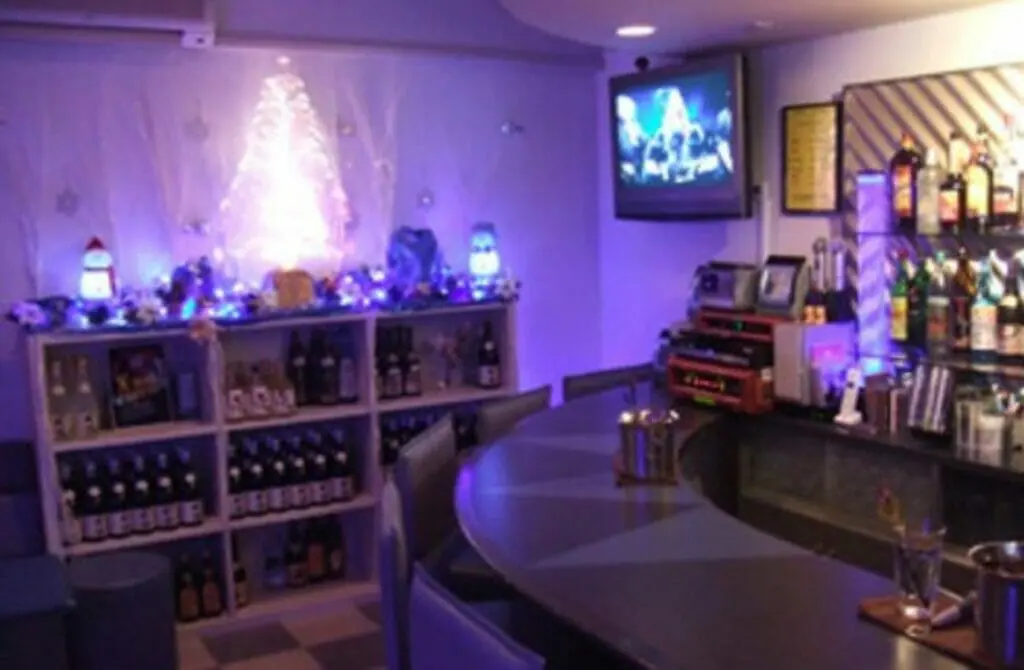 If you're looking for a stylish gay bar in Sakurazaka, CORIOLIS is the spot for you! Not only is the interior design impressive, but the bathroom is stylish too! Plus, the handsome host and staff make for a great atmosphere. And if you're a foreign customer, you get a complimentary welcome tequila drink!
The barkeeper, Eddy, is from Osaka and is not only easy on the eyes but also skilled in the art of banter. CORIOLIS is a popular spot for tourists looking to have a good time with Okinawa's most attractive locals.
Cruising and Gay Saunas in Okinawa, Japan
When traveling to a new city, it can be exciting to head out for more than just a stiff drink. One aspect of the Gay Okinawa scene that many queer men enjoy is visiting gay saunas and cruising clubs.
Sure, the sauna culture in Okinawa is not as hedonistic as in Amsterdam, Barcelona or Berlin, but these venues still offer a chance to meet new people, socialize, and engage in sexual activity – without resorting to gay hookup apps.
However, it's important to keep in mind that these venues can vary greatly in terms of atmosphere, clientele, and rules, so it's a good idea to prepare yourself before visiting. If you are apprehensive, we advise studying our guide to visiting a gay bathhouse for the first time, which should help set your mind at ease, and always practice safe sex.
Additionally, it's important to be aware of and respect local laws and customs regarding gay venues and sexual activity. With a little bit of planning and an open mind, visiting gay saunas and cruising clubs can be a fun and exciting part of your gay Okinawa travel itinerary.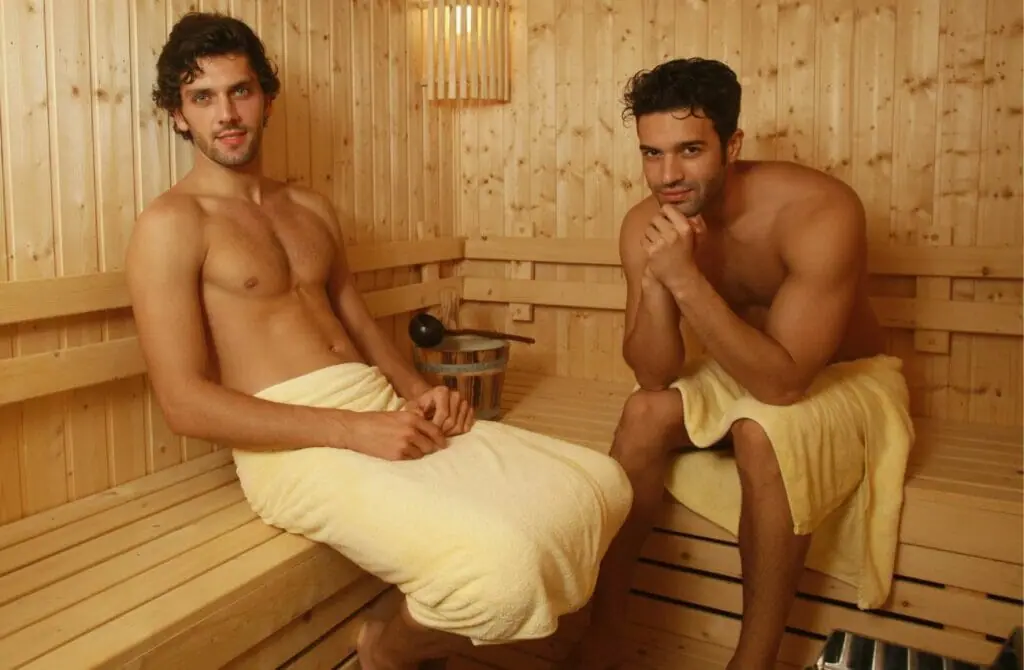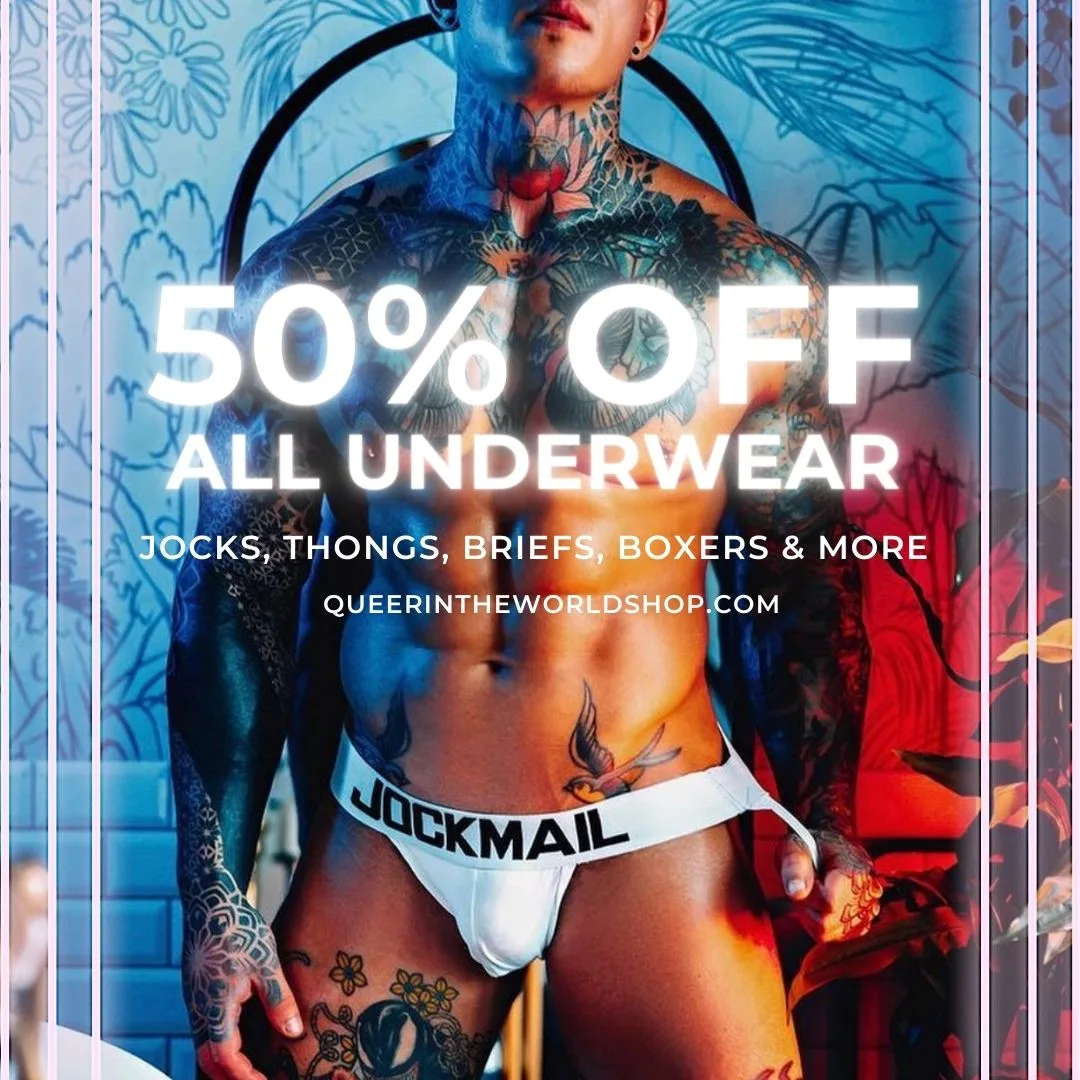 This Naha sauna is the most legendary cruising spot in all of Okinawa. Equipped with all the essentials, including private rooms, baths, saunas, razors, toothbrushes, and even condoms, you're sure to have everything you need for a steamy good time. You can even grab some cup noodles and beer while you're there!
This long-established gay sauna, located near Kokusai Dori Street, is popular with middle-aged and older patrons. With two levels and a range of rooms, including mixed and private rooms, relaxation areas, and more, there's something for everyone.
Other amenities include lockers, dry saunas, showers, and a snack bar serving up refreshing beverages. Remember to purchase your ticket from the vending machine before heading in.
Gay Map Of Okinawa
Finding it hard to envisage where everything is in Okinawa? Hopefully, this queer-centric map helps where we have marked all the bars, clubs, parties, hotels, saunas, massages and more will help you stay in the spot best suited to you!