Marbella may not be the first city you think of when looking for a perfect Spanish gay holiday. However, despite the first impressions, she is the ideal choice for such trips as a gay-friendly city with a thriving queer scene.
You can find a couple of gay bars and other gay nightlife that makes a night out in town an incredible rainbow affair, or you can contact the gay clubs and hope your trip coincides with a daytime social fair. Regardless of what you choose, Marbella is a city for all!
Outside of the gay sphere, Marbella is renowned for its coastal resort tourist attractions on par with it being a popular shopping destination for the rich and royalty.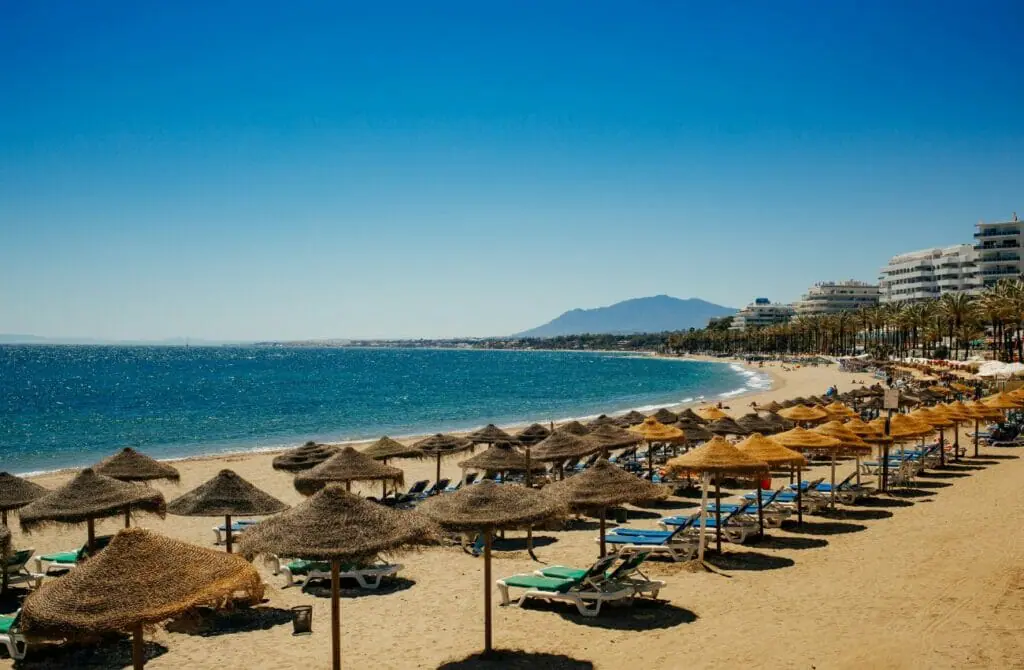 However, well before it was a top tourist destination, it was a Roman settlement later built upon by Moorish fortified walls, both of which can still be experienced in some form today. She was a thriving settlement during the Medieval Times.
When the Industrial Revolution came along, she was a prime location for Iron imports, allowing her to flourish and make her mark on the international stage. In the early 20th century, the first hotels sprung up along her coastline with rising tourism, and today, she is most famous for being a popular Summer hotspot for visitors from around the world.
This eclectic population allowed her to grow into one of the most friendly places. These factors make her a great choice to add to your gay touring agenda in Spain.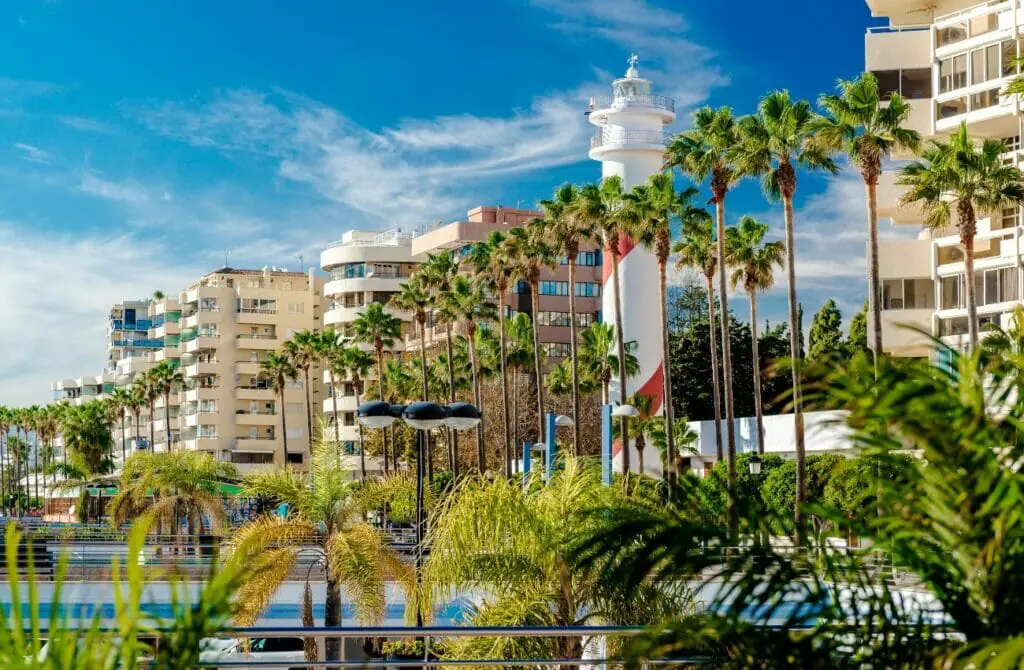 Attractions in Gay Marbella, Spain
As a new visitor to Gay Marbella, there are plenty of things to see and do, regardless of your sexual orientation. One of the best ways to experience any new city is to visit some of its most iconic landmarks and attractions, including historical monuments, museums, and art galleries.
We also love gazing at architecture up close, exploring parks and gardens, sampling the local cuisine, visiting local markets, and attending cultural events such as festivals, concerts and shows.
Even as the out-and-proud queer we are, we still love to explore the city and its culture in the same way as everyone else. Doing so allows us to learn more about the city and its people and gain a deeper understanding of the local culture. As such, these are our favorite must-see attractions in Marbella.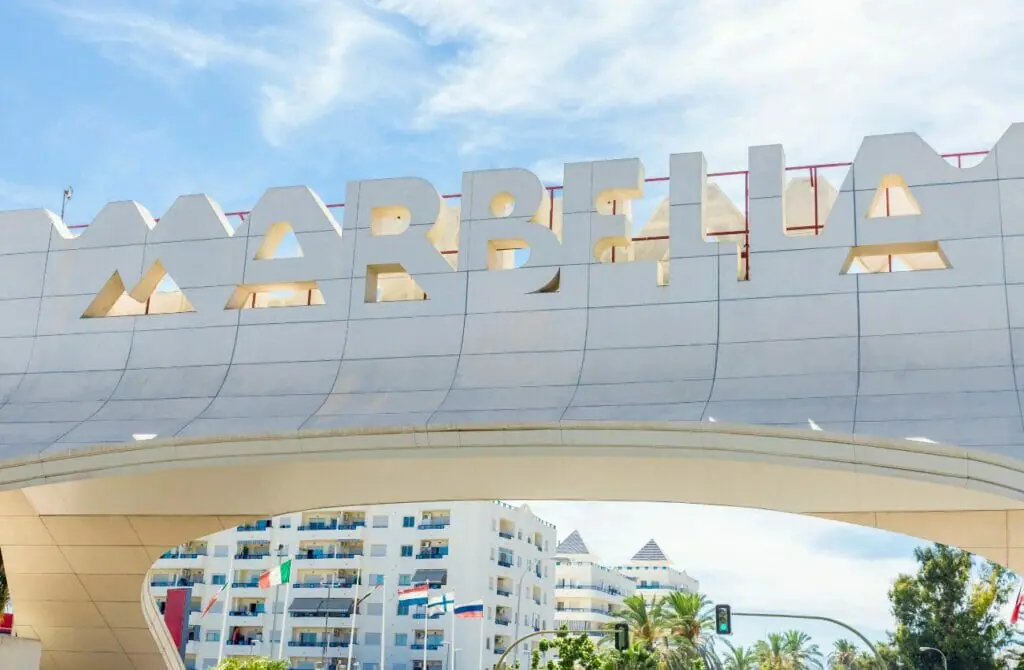 2-Hour Boat Trips, Dolphin Sightings, Drink Included
You can make the most of Summer by hitting the waves with a two-hour boat trip allowing you to sight dolphins and other wildlife with a free drink on the side.
This is the height of luxury for boat watching as not only is the group small, but you can ship real champagne and feel like an exclusive patron on your private jet. The best thing is you have an informative guide, and you don't have to do much work except enjoy the lovely scenery.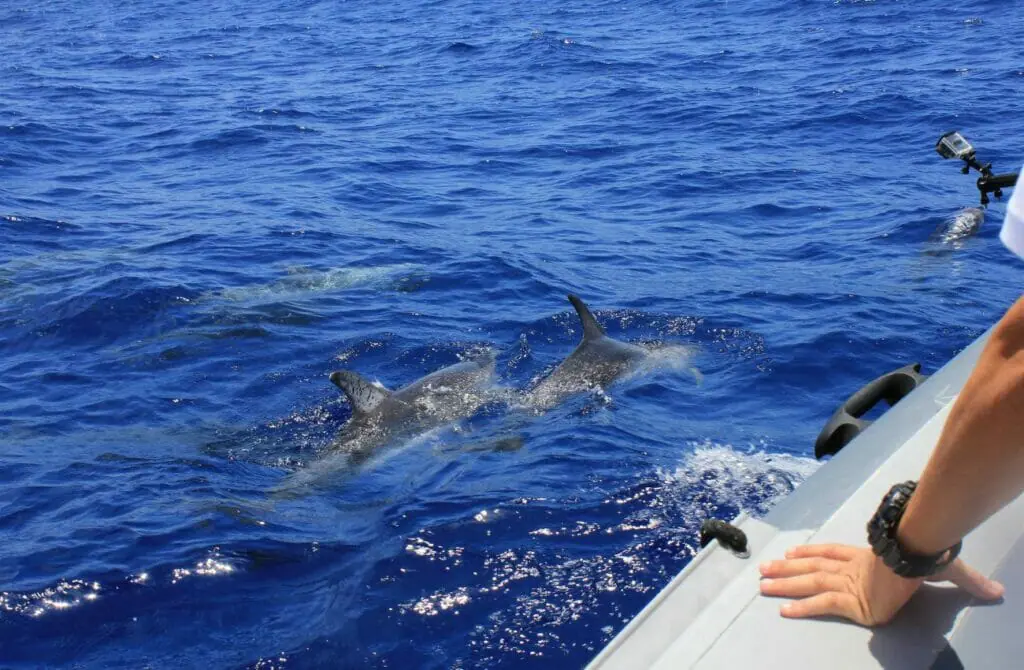 Ronda Private Full-Day Wine Tasting Tour From Marbella
When you visit Spain, you will be well aware, either from personal experience or word of mouth, that Spanish wine is some of the best in the world. If you are a wine consumer, a full-day wine-tasting tour from Marbella to Ronda should be on the cards.
You can enjoy the lush rural countryside by visiting a private winery and tasting various brilliant wines. You will learn about the culinary history of this part of Spain and how wine is made, and you may have a new favorite drink by the tour's end. Not only that, but you will be a free tapas lunch and plenty of free time to explore at your leisure.
Alameda Park is a famous botanical garden in the heart of Marbella. Standing at the gates to the historic part of the city, you can enjoy this garden while taking a stroll in the older parts of Marbella.
Here you can find tropical plants lining wide open paved paths, and different themed gardens, including the crowning jewel, the Oasis of Peace. Visitors appreciate the little break between the concrete jungle to get a taste of nature, and many come just to see the fountain built in 1792.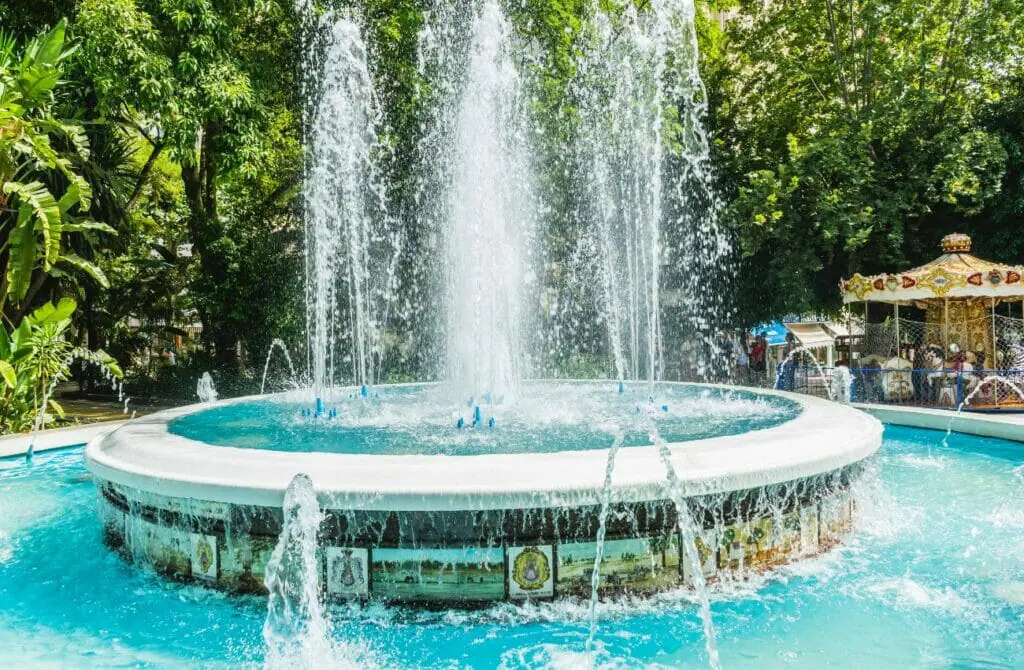 Plaza de los Naranjos
There are many excellent signs in the old part of Marbella, yet many gush about the Plazza de los Naranjos as a special space for social life to bloom. Here you can find many excellent restaurants, cafes and other attractions which breathe life into the city.
The plaza dates back to 1485, created as a public center after the conquest against the Moors. Many of the original buildings around it remain, including the Casa Consistorial de Marbella, Casa del Corregidor, and Ermita de Santiago.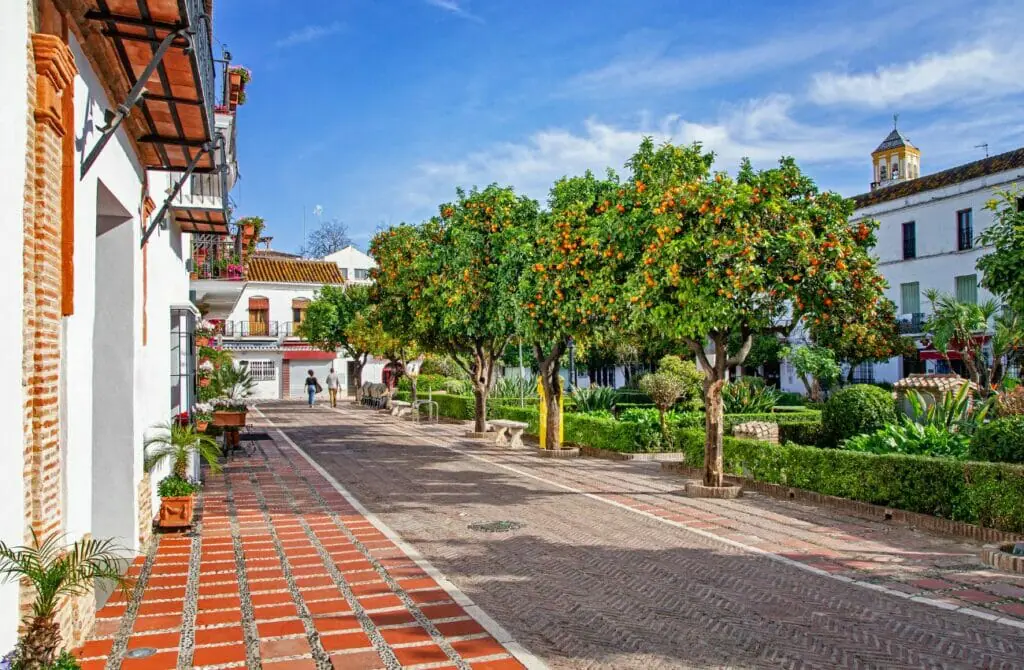 Mountain Hiking up Mirador de Juanar and Mirador de las Águilas
Natural sights sandwich Marbella on all fronts, and if you aren't one for swimming or sand, the next equally great attraction is the island mountains which offer fantastic hikes and views when you reach the summit. Mirador de las Águilas and Mirador de Juanar are just two of the many peaks you can conquer on a day trip out of town, with observation decks and enjoyable sights along the way.
Puerto Banús
Located just southwest of Marbella, Puerto Banus is a quaint fishing and boating town popular with tourists and sailors alike. You can see a port covered in docked white boats with fantastic photo opportunities along the shoreline. You may even find one of the many boat tours to see even more of the far southern Spanish coast.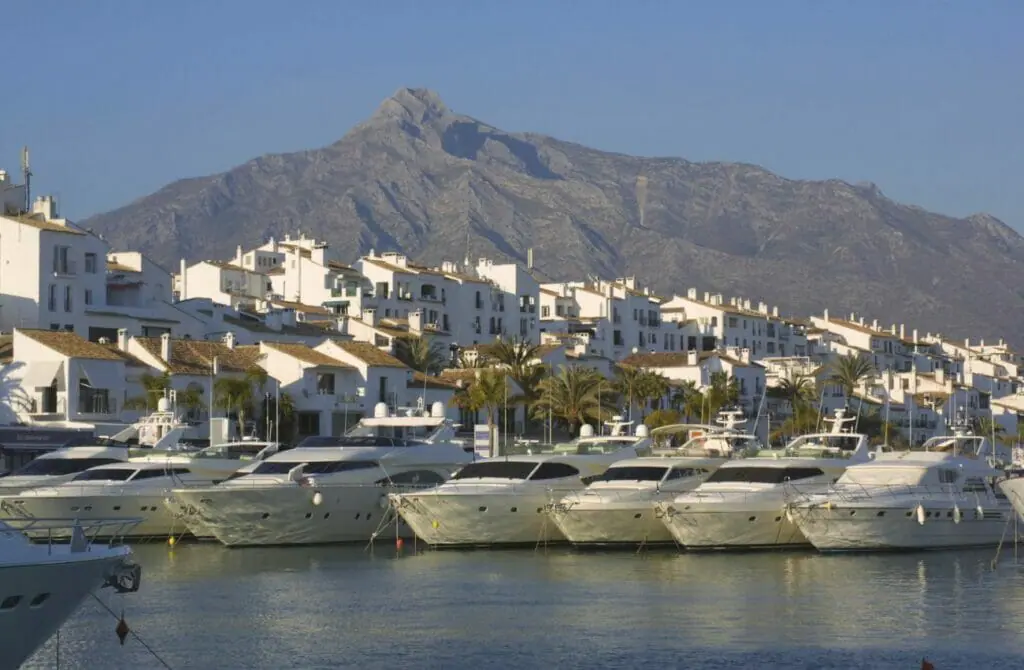 Museo del Grabado Español Contemporáneo
Those wanting to experience and celebrate the fantastic printed art of local and international artists cannot miss this art museum. Here you will see the donated art collection of over 1,400 pieces by Don José Luis Morales Marín, a prominent Spanish art collector.
The building and gallery spaces are just as impressive as the works of art they contain. They are a repurposed historic building with unique architectural elements you'll run by during the tour. From hanging column to exposed brick walls, this rustic space add to the pleasure of viewing the artworks.
Avenida del Mar
As Marbella is a coastal city, you can expect they also have an expansive beachside avenue with incredible things to do and see, and Avenida del Mar fits this job brilliantly. You can take an evening stroll with the salty sea, and breathtaking views of the setting sun will allow you to stop and take it all in.
During daylight hours, you will see beachgoers, numerous gardens and statues, and shops or restaurants lining the stretch of the coast. So it's a perfect place to visit regardless of the time.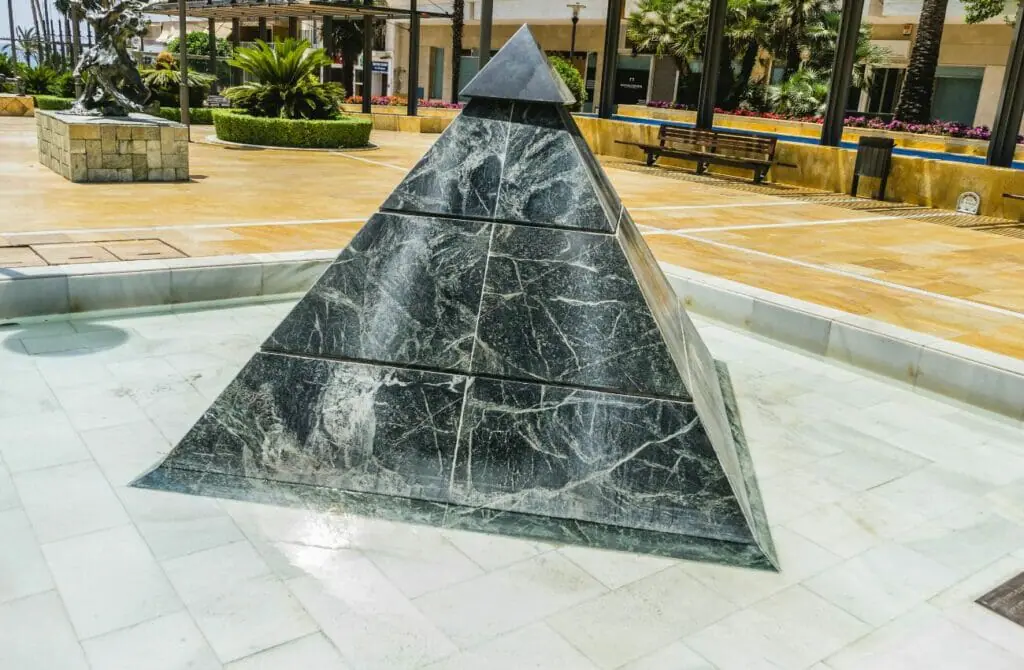 Iglesia de Nuestra Señora de la Encarnación
Built-in the 15th century, The Church of Incarnation is an old church still used by the locals today as a religious hotspot in the town center. Here you can admire its picturesque facade and then head inside to pay spiritual tribute or admire the skill of the builders five hundred years after their deaths. It is momentous, as you could spend hours gushing at the details of each element.
Old Town
The oldest part of Marbella can be found in the district of Old Town, where you can experience a wide range of experiences. It is a great way to get lost in the back streets of Marbella, allowing the city to take you on unplanned adventures to discover something you least expect. Moreover, visitors swear by the dining options are the various squares as a highlight of drinking in Marbella.
However, because of its name, many may be drawn to find the oldest buildings still standing in the city, and Old Town has many. You will find attractions dating back to the 15th century—old churches and Plazas. Old Town has so much you'll want to see it yourself.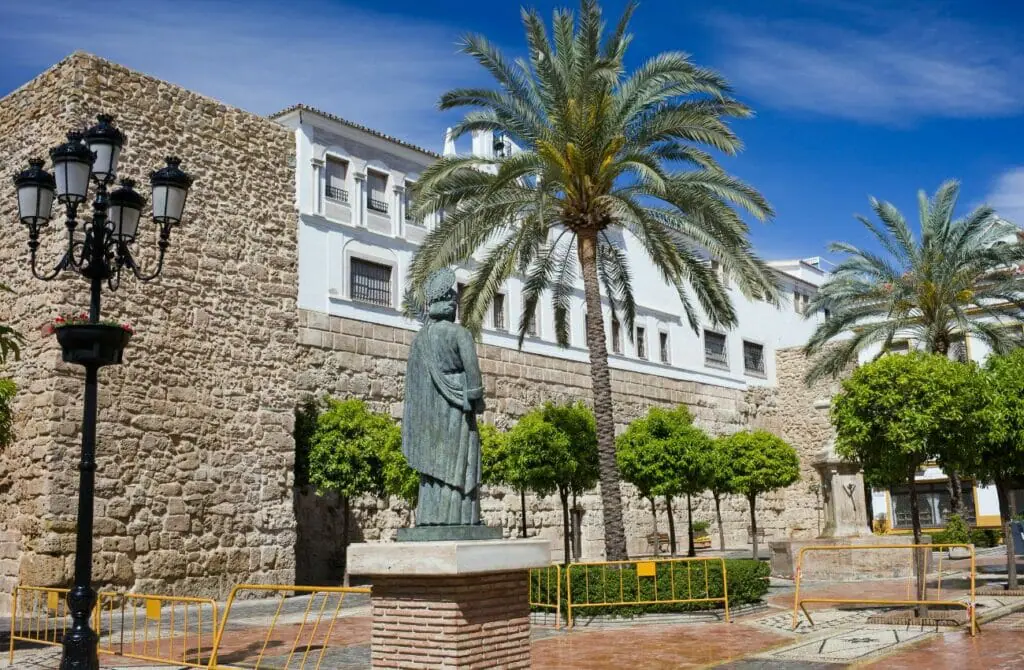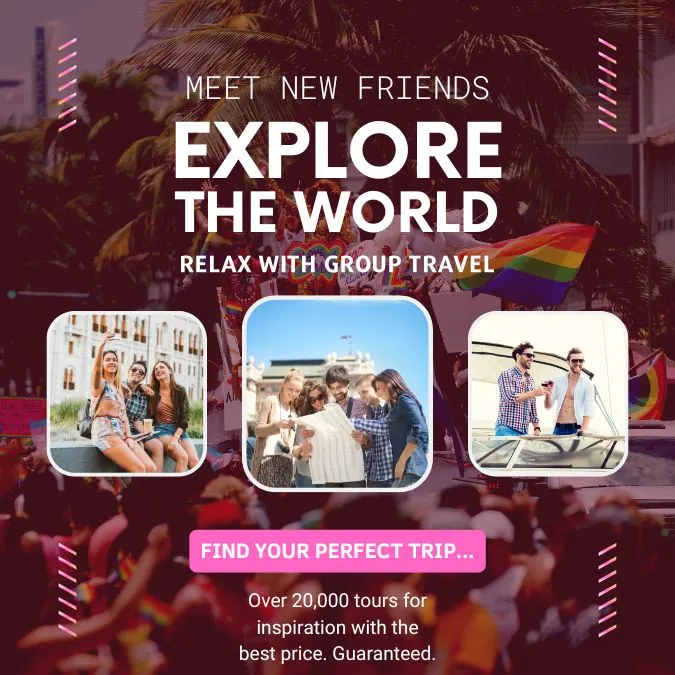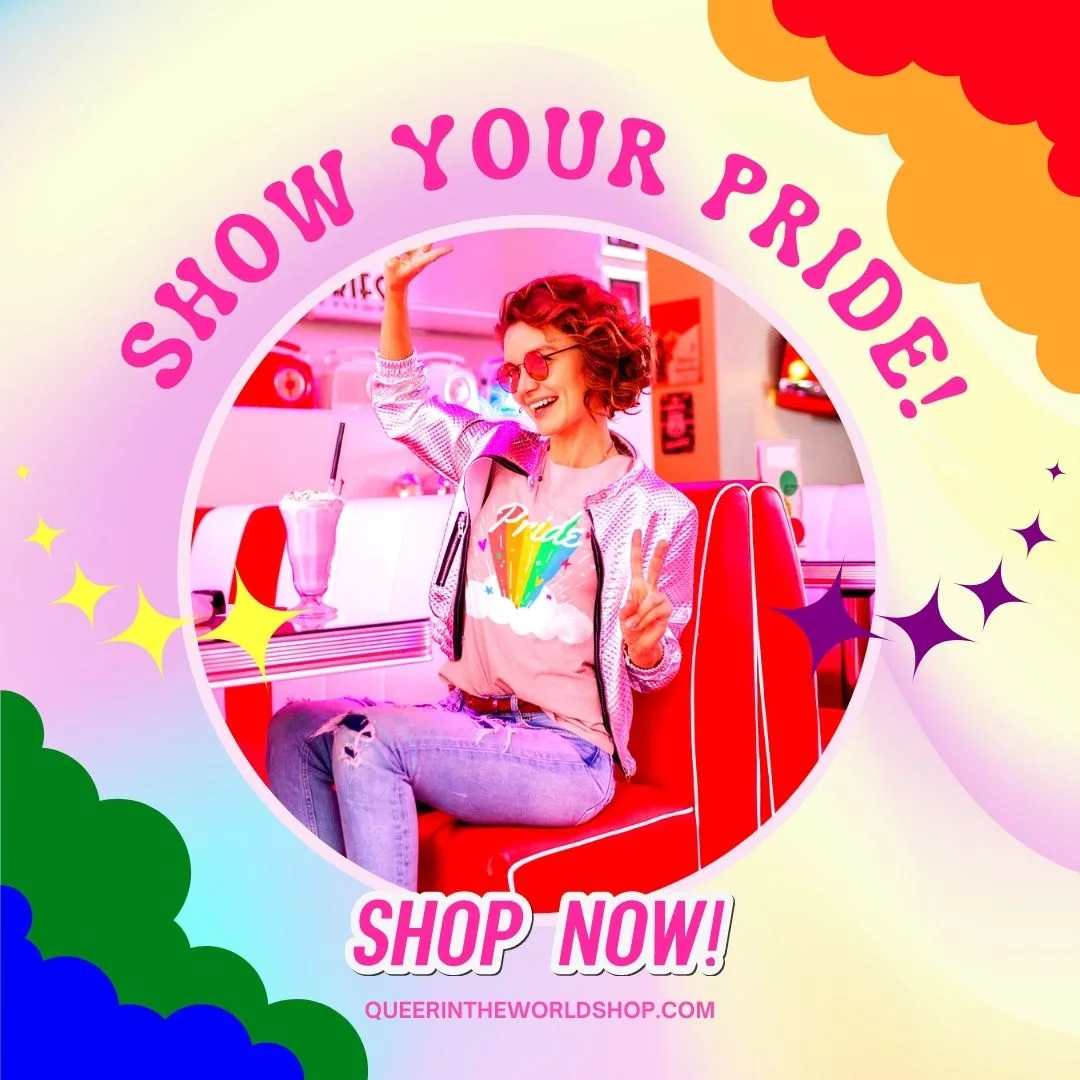 Gay-Friendly & Gay Hotels in Marbella, Spain
Being gay-friendly accommodation means that the establishment is welcoming and inclusive to guests who identify as LGBTQ+. This can include, but is not limited to, having policies and practices that demonstrate a commitment to creating a safe and inclusive environment for LGBTQ+ guests, such as non-discrimination policies and providing support and resources for LGBTQ+ travelers.
Some gay-friendly accommodations may also provide amenities specifically catering to the LGBTQ+ community, such as rainbow flags or literature about local LGBTQ+ events or resources. Furthermore, gay-friendly accommodations may be located in an area known for being LGBTQ+ friendly.
While Marbella does not have any specifically gay hotels or resorts, these are the most fabulous and pro-actively gay-friendly hotels in Marbella.
There are also hundreds more hotel and hostel options in Marbella if none of these suit your desired budget, facilities or area – but these are the best hotels according to other gay travelers and us.
Whatever your needs are, Marbella has you covered.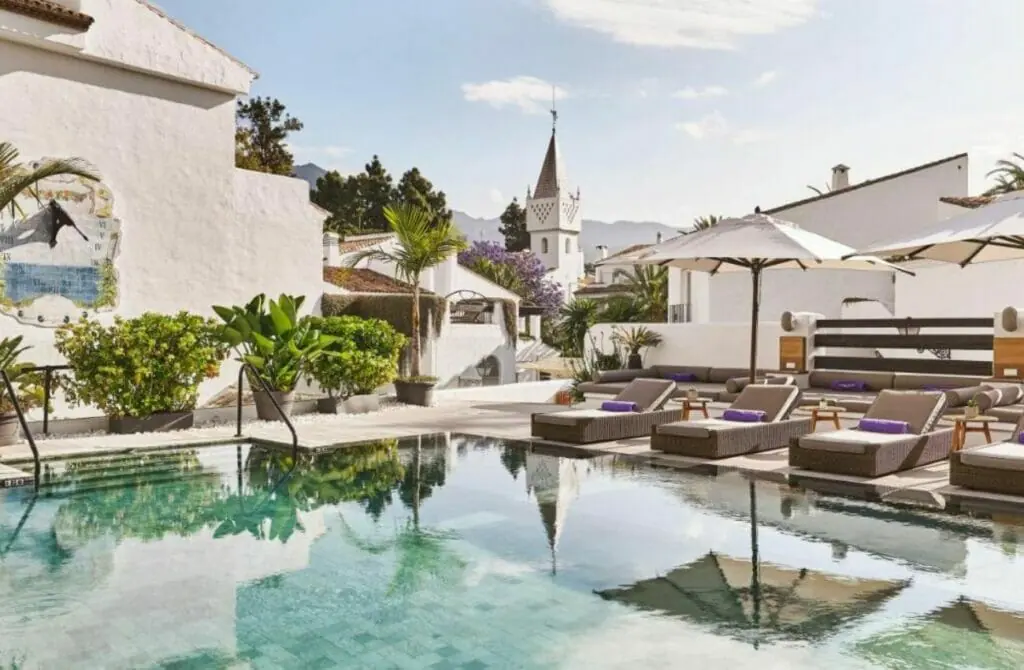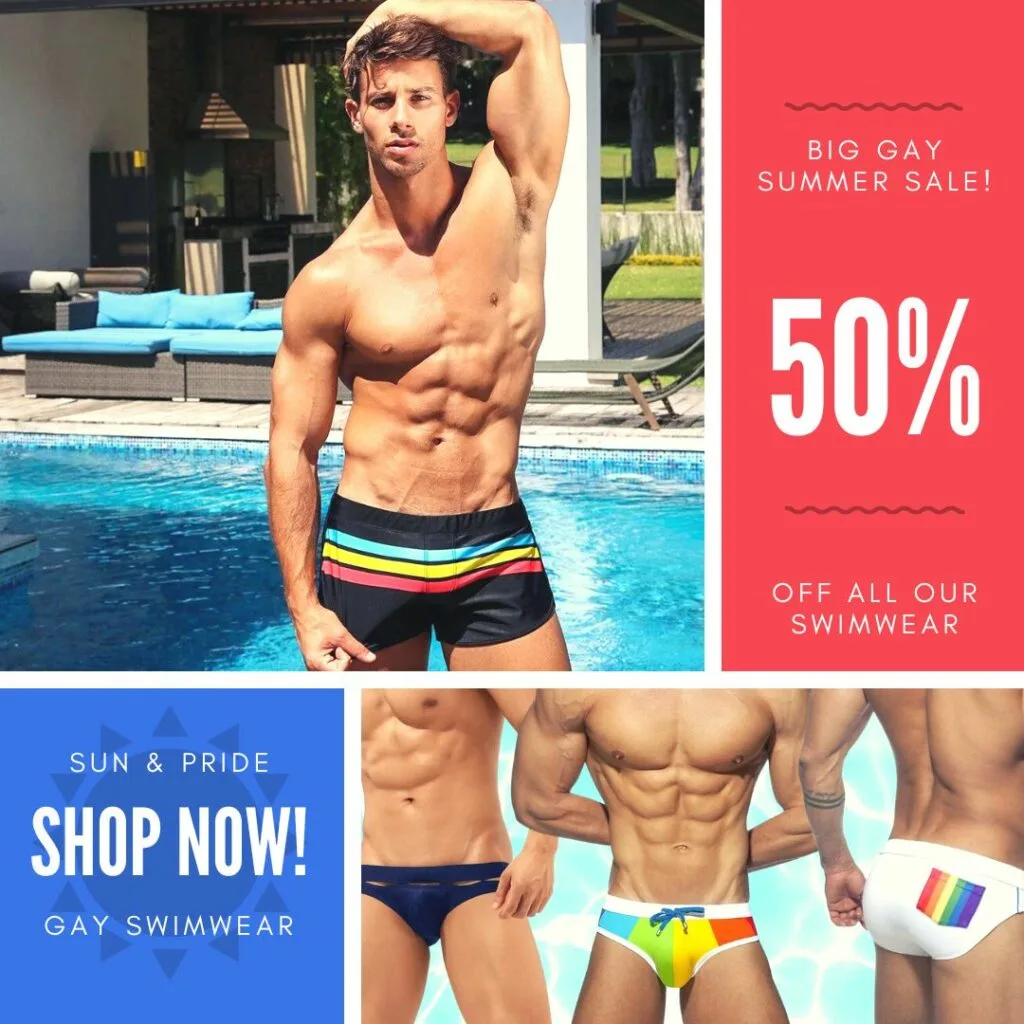 This five-star hotel is the crowing jewel, coming at you like a luxury Spanish villa. Here you will find a brilliant list of shared services in a unique setting that makes it stand out from other options on this list.
First, you can begin this tour by admiring the spacious modern decor mixed with traditional Southern Spain charm, with the dining hall and other shared spaces providing enough space for all patrons.
Secondly, you will experience the wonder of the garden outside the five pools, each with side loungers and umbrellas, allowing you to make the most of those Summer months to their fullest. Not only are you surrounded by nature and close to the sea, but you can also enjoy a full-service spa, access to a gym, and quality dining at their on-site restaurants.
So not only is relaxation and food covered, but you don't need to be concerned about the quality of your private dwellings. You can select from a range of suites that give you the space and facilities required to get work done, relax, and make the most of your holiday.
For example, their Deluxe Suites have a minibar, lounging area, kitchen, ensuite, and great views from their expansive windows. All in all, you will have a great time when you trust Nobu Hotel for your stay.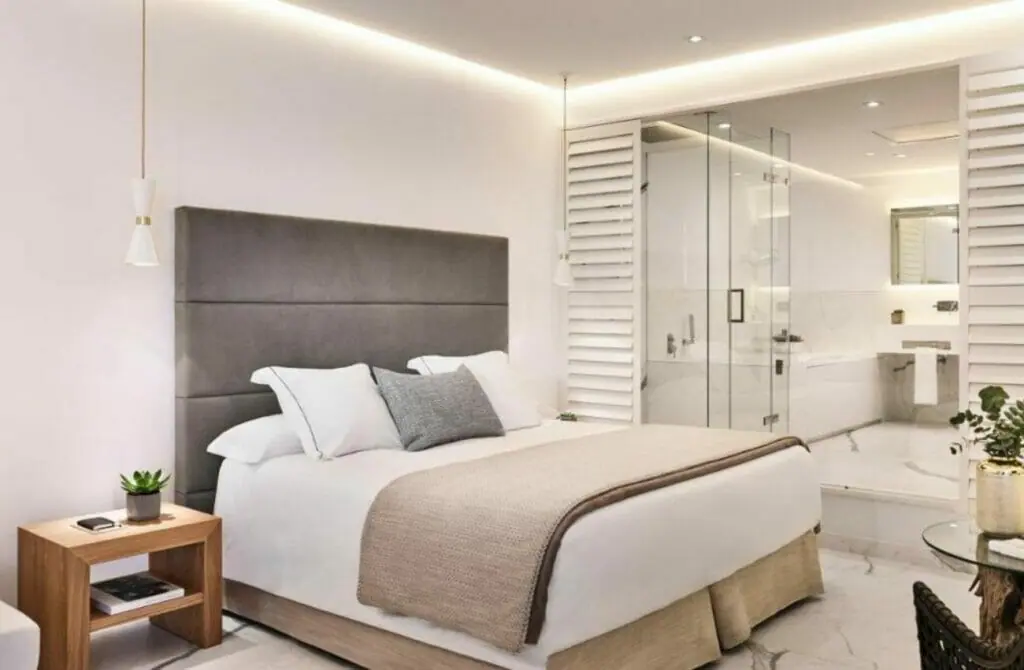 Apartamentos Princesa Playa ☆☆☆☆
Looking at the four-star hotels in Marbella, you will be satisfied with the Apartamentos Princesa Playa. Here you can gush about how close to the city you are, so getting around town isn't a problem and not only that, the beach is right at your doorstep! The hotel has a shared pool, spa, cafe and plenty of places to dine inside and out.
However, the highlight of these apartments is that you get your home away from home with all you could need in a living space. These come with a kitchen, lounge, bedroom, and ensuite, with key points of interest being the private balconies in some rooms, free Wi-Fi, and cable TV, making it a top stay in Marbella.
Hotel Lima – Adults Recommended ☆☆☆☆
Another four-star hotel in Marbella that makes any stay brilliant is Hotel Lima, which is excellent for travelers who want an adult-only experience.
Here you can fully take in the mystique of the central city as you relax on the rooftop terrace under private loungers or take a dip in their outside pool with a poolside bar. However, if you are in the realm of food, you can take full advantage of the on-site restaurant for daily meals, which also does breakfast for a fee.
But the best part of Hotel Lima is the city location, with easy access to crucial nightlife and city attractions, such as Venus Beach and Orange Square.
However, we are far from done, as we also need to talk about the rooms! You will sleep in the best bedding on the market, waking up fully refreshed no matter how loud your neighbor is, and you can take in the beautiful cityscape from your room as you prepare for the busy day ahead.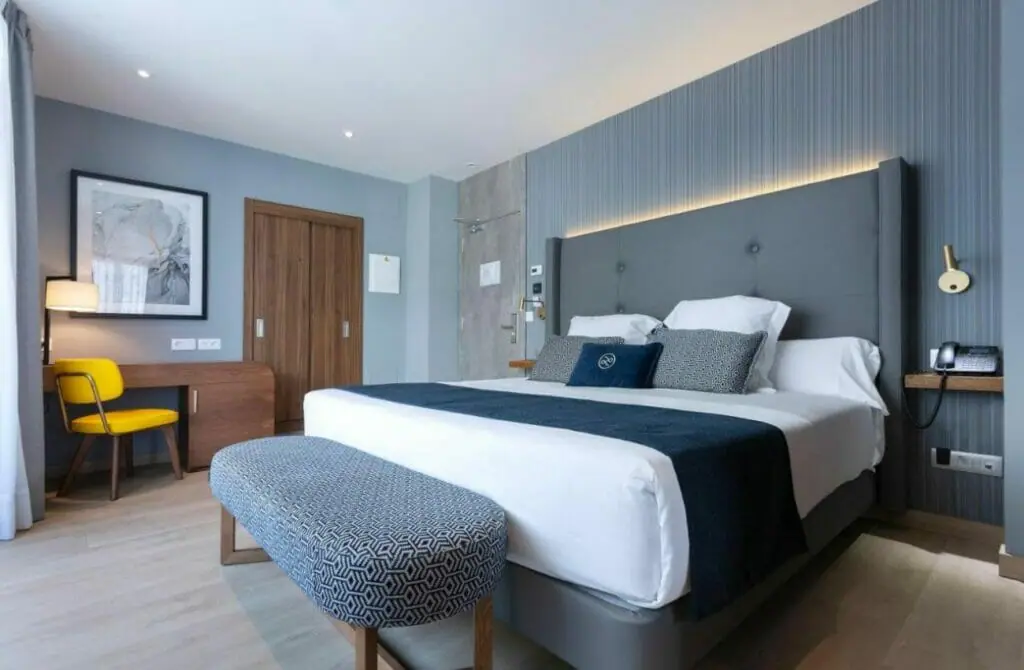 HC6 Boutique is an upmarket three-star hotel in a quaint white building close to key landmarks like Parque de la Represa. Here you will be treated to an elegantly decored hotel with various trinkets, artworks and artifacts paying homage to the culture and history of Marbella.
Also, the shared seating areas are small yet cozy, and you will always feel your needs are well met. Each room is loveling and designed with unique quirks that make them stand out, including one with a private courtyard and all with seating areas alongside an ensuite and bedroom. All rooms come with breakfast, which is brought to your room in an elegant display to match the hotel's character.
Another pristine three-star hotel in Marbella is the Hostal Boutique Princesa. Here you can expect a superb budget-friendly option with a comfy room and ensuite in the city's heart.
It may not be as flashy as other hotels on this list, but many love the fact it is so close to Marbella Marina and Orange Square, amongst many others! So you don't need to worry about getting to town to see it all when it's at your doorstep.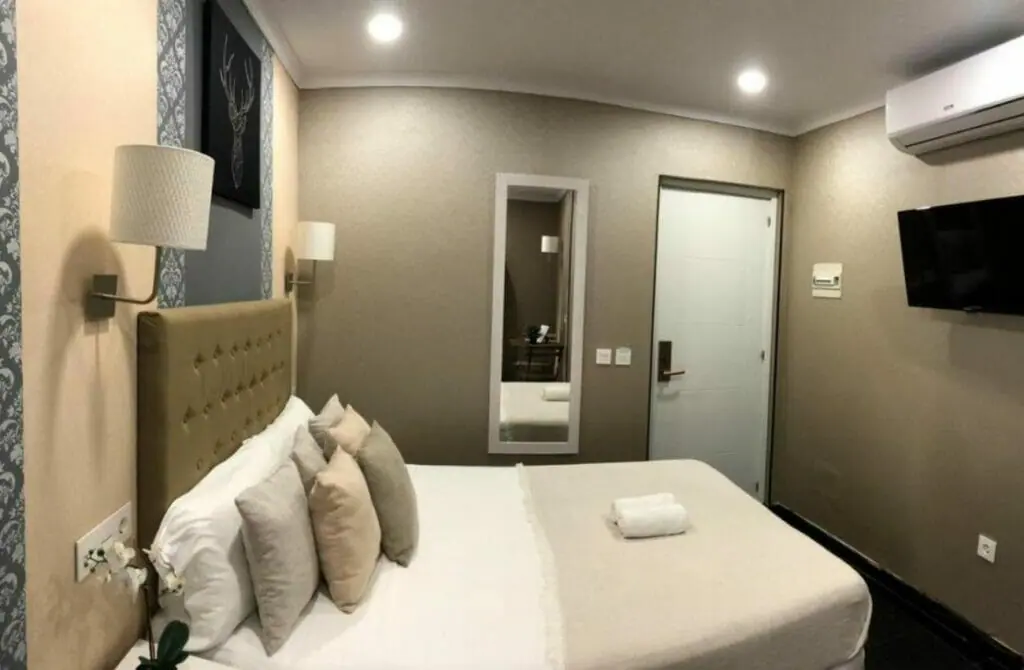 Gay Nightlife In Marbella, Spain
Exploring the gay and gay-friendly nightlife in a new city can be one of the most exciting and rewarding experiences while traveling – and Gay Marbella is no exception. Not only will you have the opportunity to meet new people and make friends, but you'll also get a taste of the local culture and learn more about the city's LGBTQ+ community.
Going out and experiencing the queer and queer-friendly nightlife in a new city can also be a great way to break out of your comfort zone and try new things. Whether dancing the night away at a gay club or mingling with locals at a gay-friendly bar, you'll have the chance to make memories and create lasting connections.
So, don't be afraid to step out of your comfort zone and explore the gay and gay-friendly nightlife in Marbella. You'll be glad you did!
Marbella may not be home to a loud gay population. However, gay tourists need not worry, as a dedicated small queer community comes out every night. In addition, you will always see fellow queer people at their only gay bar in town, MAXTUR, and various other famous gay-friendly venues that prove the community is very much alive.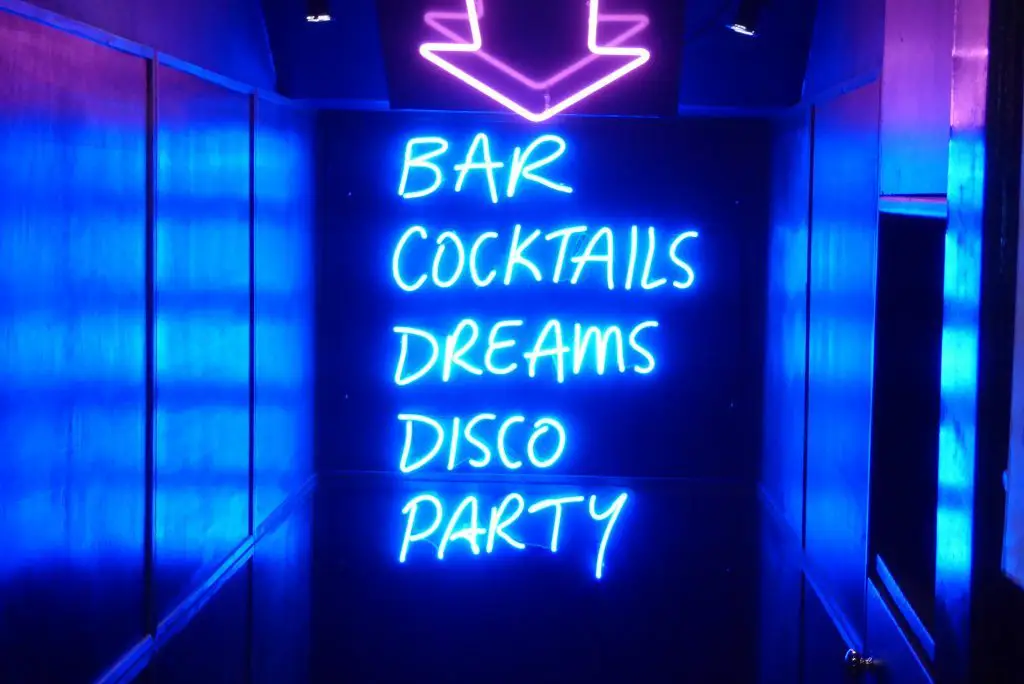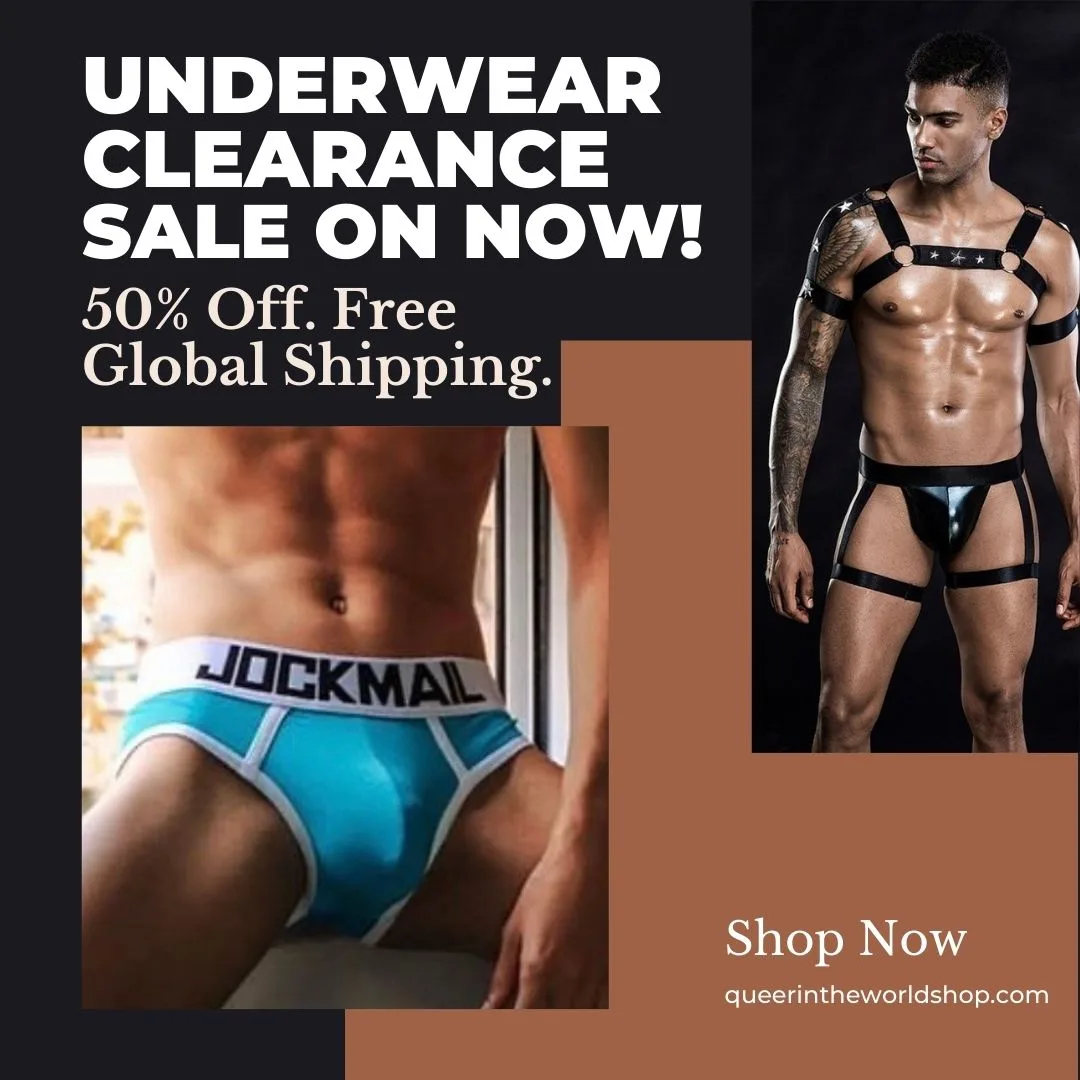 Gay Bars In Marbella, Spain
Welcome to MAXTUR, the only gay bar in all of Marbella, and they wear this fact proudly on their shirt. You will find the heart of gay nightlife drifting out of this place, whether in pride-flag bearers, gay, merry tunes, or the occasional drag queen after her completed show.
Heading inside, you will encounter a colorful pub decorated in framed 1950s drinking-related advertisements and a bar operated by friendly faces with a fully stocked lot behind them.
The patrons and entertainment are also agreeable; you can relax and enjoy music or converse with local queer folk. And if you are lucky, they could host a gay event, increasing your odds of connecting with gay Marbella.
MAXTUR is the first port of call for gay nightlife in Marbella, as you can get local perspectives on the best places to go after a drink here. In addition, you may discover some untampered gay-friendly venues that have been kept lowkey so that you won't hear about them online.
Gay-Friendly Nightlife In Marbella, Spain
Gay locals love the self-proclaimed Night Temple of Marbella, Olivia Valre. Here you will feel like you've stepped into a modern dancing craze with a large and loud club to cater to all your nightlife needs.
You will experience a dancing experience like none other as the entertainment varies throughout each night, from DJs to burlesque dancers, all while fueling you will good drinks and equally pounding tunes.
The design of the dancefloor is also something else as it is designed like a Roman colosseum with you on the slaughter ground, ready to dance to the celestial lights and entertainers on stage. Thankfully no one needs to be sacrificed to ensure the continued tradition of a good night.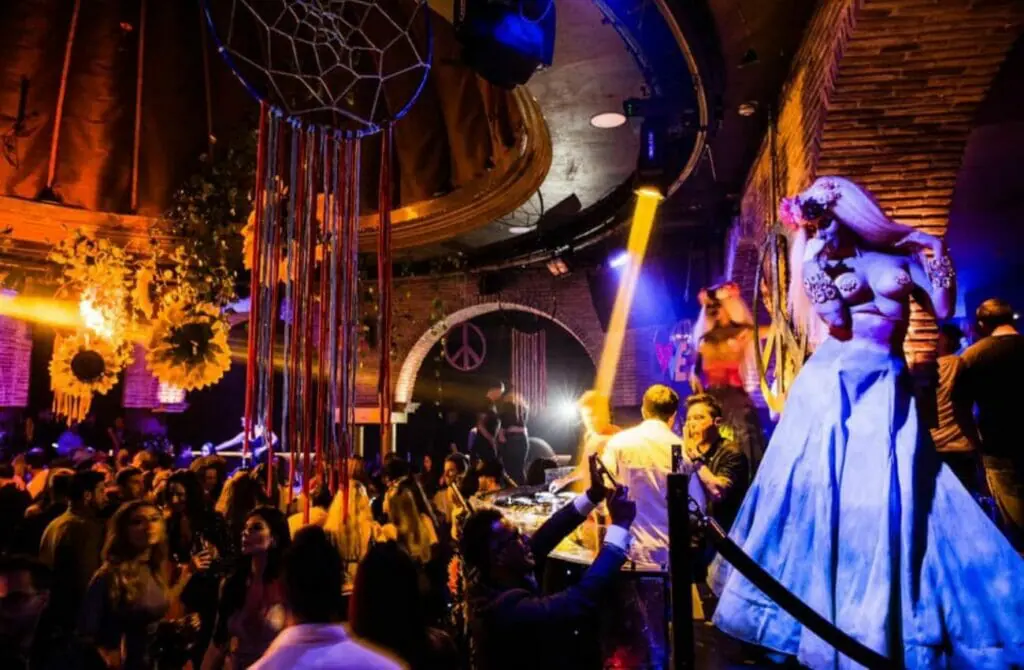 Mirage Marbella seeks to be an experience you've never seen before, bringing together the best night entertainment and DJs that Marbella has ever seen. Think Las Vegas levels of showmanship and service, tied with a classic Spanish flair in a show that's all about thrills and flair with a dark, seductive overcoat.
You have Mirage! Arriving, you can choose from two dance clubs and a range of drink and dining options, with the possibility of going further and going all-out VIP to make the most of your visit.
Pangea Club is another pumping dance club with expertise in live DJ tracks that vary in genre from night to night. However, patrons keep coming back not just for the great dancing experience but the classy dress code, light tropical decor, and the outside party terrace.
Plus, this sleek club is located portside, so you can get some incredible views from the terrace if you want to take a break from the main event with a drink.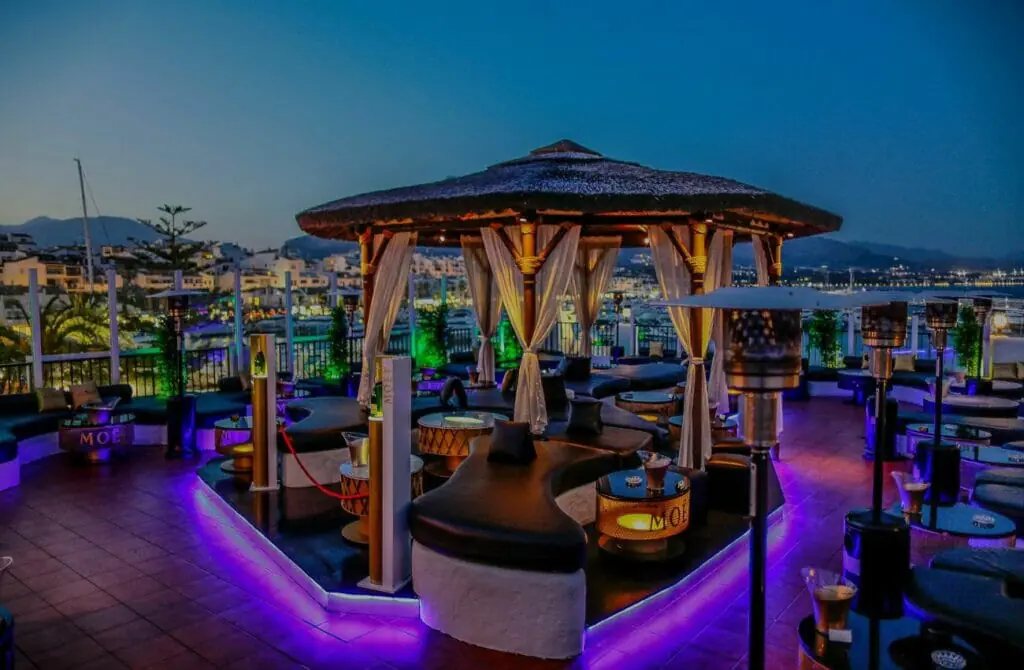 Those who are massive fans of Ernest Hemingway or looking for a cozy cocktail lounge with something a little different will love La Habana de Hemingway. You will have the best of both worlds with a great drink area and space to dance disco during the later hours of the night as everyone becomes more mellow.
In her name, Joys Live offers some of the best live entertainment around Marbella. This piano bar has been a staple of Marbella nightlife for over fifty years, catering to the night crowd that enjoys a good drink, conversation and a quiet evening being serenaded by musicians. Not only is the music amazing, but the cocktails and other drinks add to the charm of this old-standing name in the city.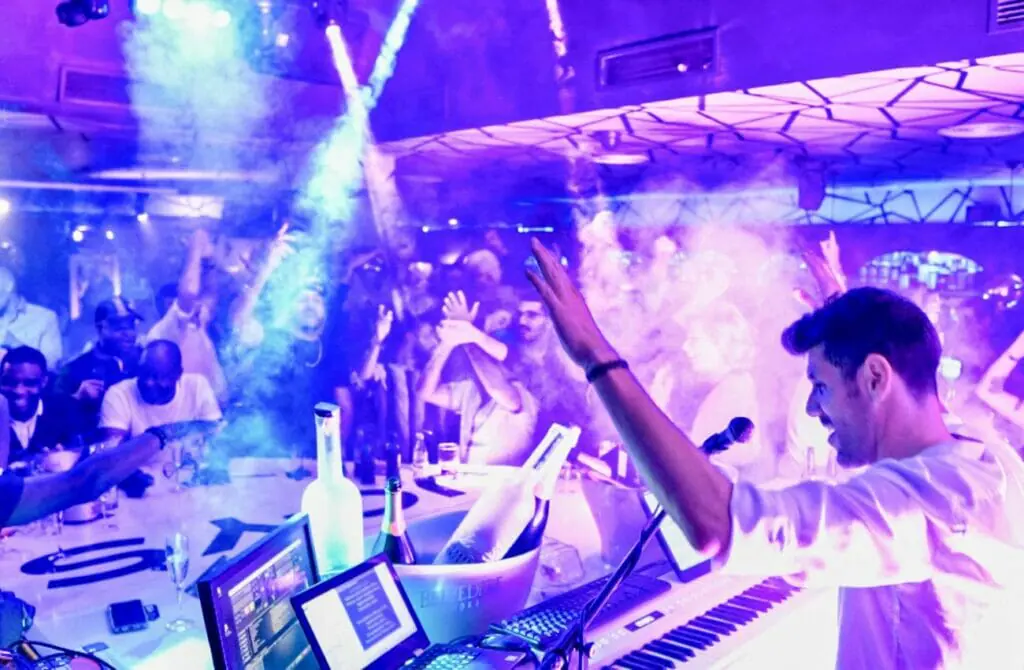 Here is a beautiful jungle-themed nightclub in the heart of Marbella known for its vibrant dancing club and equally agreeable drinks. The bar is a key aspect of the decor, showcasing low-hanging lighting amongst fake vines and wooden symbols, showing the lengths they go to embrace their theme and name.
However, don't expect the music to be anything but drums or tribal chanting, as they are a modern club with a pristine sound system and talented DJs. With every night pitched to be something different with the same class of the Jungle Club bar and dancing experience.
Another top cocktail dance club is Aqwa Mist, where you can get stuck right into a modern nightlife experience with the best selection of drinks and an expansive dance room in the center.
This is the choice of drinking experiences that can be enhanced further with their VIP options, such as dining in a private hot tub or a daytime lounge and hot tub with drink close to the beach. For a date to impress, this is a great place to try your luck!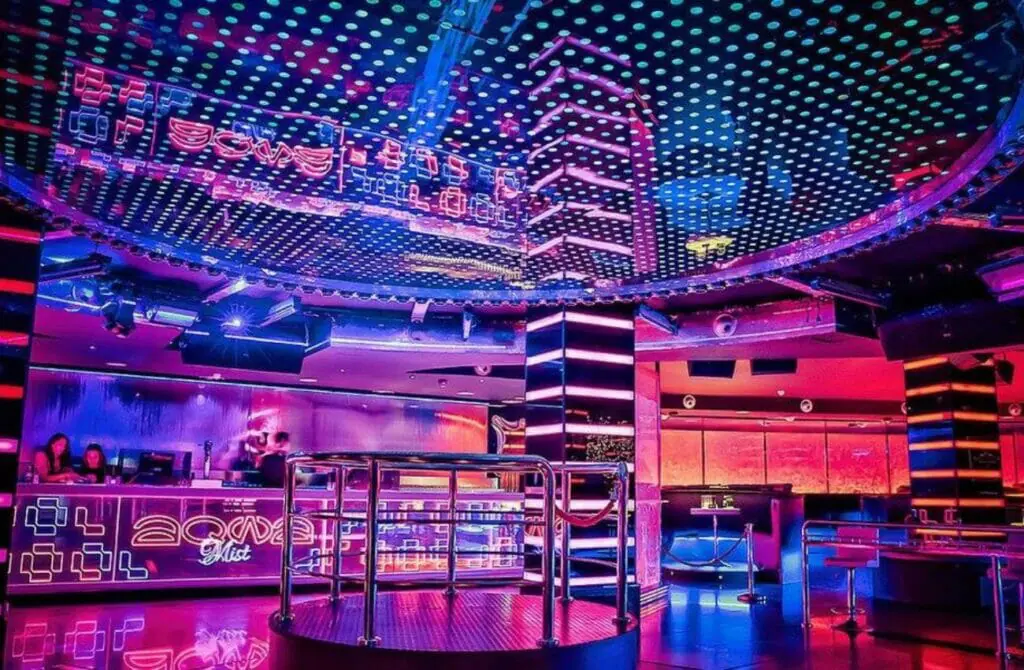 Cruising & Gay Saunas In Marbella, Spain
There is no formal gay cruising scene in Marbella, so your best bet for a little late-night fun is to find someone at the many gay-friendly venues, the only gay bar, to get ready to hit the dating apps.
You will find a range of options that will be up for the same type of fun as you, and if you get lucky, you could take them back to your hotel or theirs. However, there is no neutral ground for frisky fun, so these will be your only options, so keep this in mind.
Marbella doesn't have gay saunas, so if you hope to cruise there, you will be sorely disappointed; however, it isn't all doom-and-gloom as you can enjoy the regular sauna experience around the city, just without the 'fun'.
When traveling to a new city, it can be exciting to head out for more than just a stiff drink. One aspect of the Gay Marbella scene that many queer men enjoy is visiting gay saunas and cruising clubs.
Sure, the sauna culture in Marbella is not as hedonistic as in Amsterdam, Barcelona or Berlin, but these venues still offer a chance to meet new people, socialize, and engage in sexual activity – without resorting to gay hookup apps.
However, it's important to remember that these venues can vary greatly in terms of atmosphere, clientele, and rules, so it's a good idea to prepare yourself before visiting. If you are apprehensive, we advise studying our guide to visiting a gay bathhouse for the first time, which should help set your mind at ease and always practice safe sex.
Additionally, it's important to be aware of and respect local laws and customs regarding gay venues and sexual activity. With a little bit of planning and an open mind, visiting gay saunas and cruising clubs can be a fun and exciting part of your gay Marbella travel itinerary.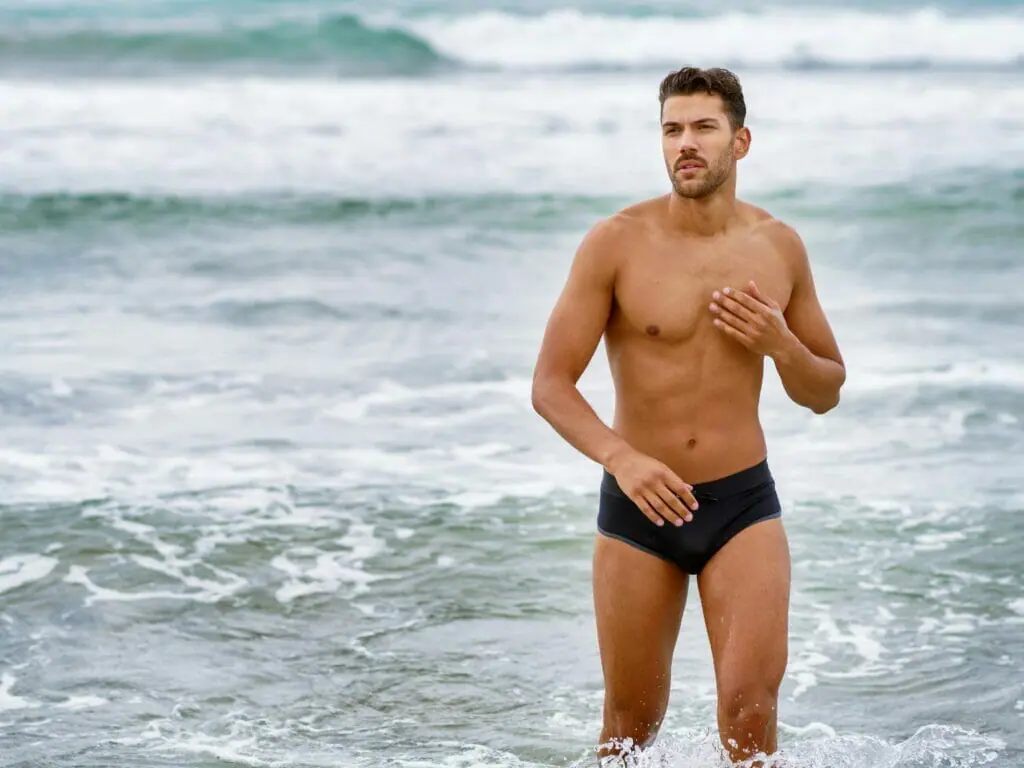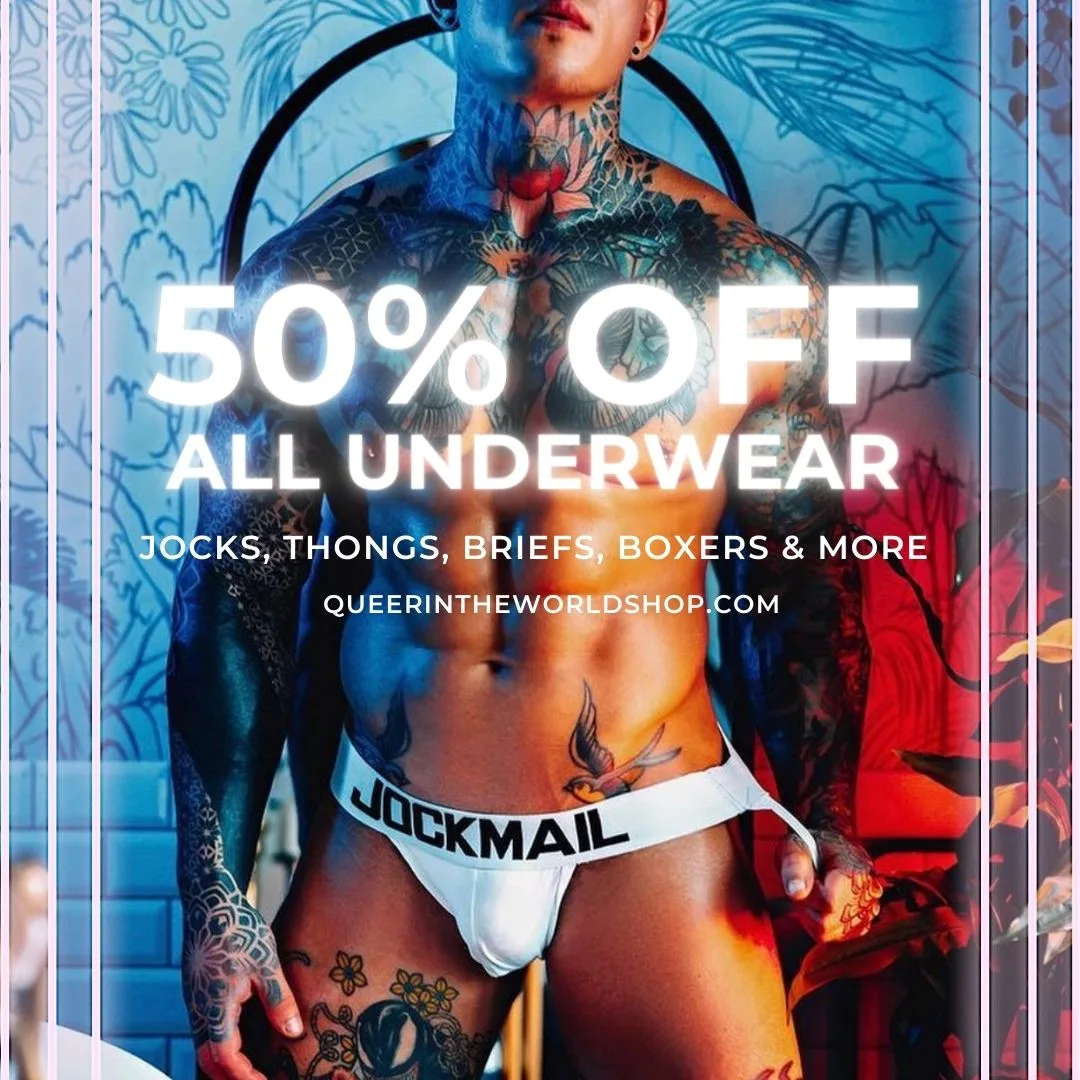 Gay Map Of Marbella
Finding it hard to envisage where everything is in Marbella? Hopefully, this queer-centric map helps where we have marked all the bars, clubs, parties, hotels, saunas, massages, and more will help you stay in the spot best suited to you!