Ready to escape the mainland grind? Cyprus beckons with its enchanting island atmosphere and balmy climate! You'll discover myriad historical sites, and cultural nuggets of knowledge – even gorgeous surprises hidden away in every corner! However, some unique government difficulties make it a place you should carefully consider before visiting.
Let's dive right in with a breakdown of things to consider before visiting Cyprus.
Something important to note about visiting Cyprus is to be mindful of which side of the country you find yourself in. While both sides are relatively safe for the average straight traveler, this is not always the case for queer travelers.
Cyprus was invaded by Turkish forces in 1974 following a coup d'etat and they have occupied northern Cyprus ever since. This distinct line makes visiting Cyprus a delicate task. The Turkish Cypriot government and Cyprus have different policies and legislation on LGBT+ rights and there are two very different cultures. For clarity, we will refer to them as Cyprus and Northern Cyprus.
We are going to focus on things to do in the more accepting and typically safer Cyprus proper. While there are very fun things to see in Northern Cyprus, it is not a very friendly place for the gay traveler. That is unless they want to go back into the closet. Hate crimes have been on the rise in both the north and the south and it was decriminalized in the north in only 2014, with other rights still not available.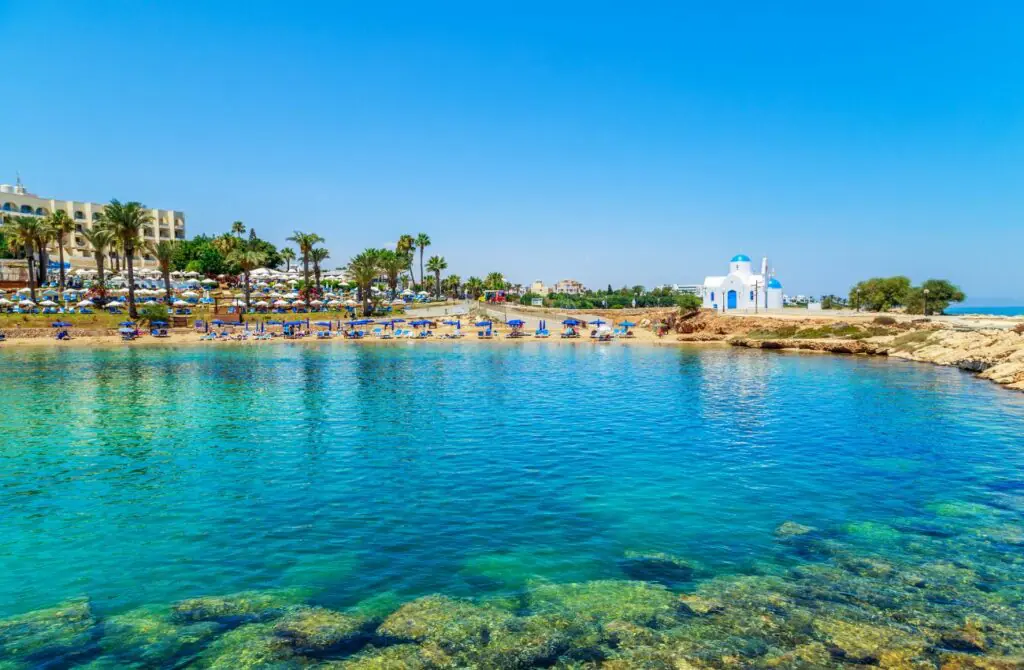 Cyprus changed its legislation in 2002 to match EU standards before they were allowed into the union, but there is still a taboo about queer people and their existence in society.
There is a lot of misinformation about things like HIV/AIDS, stereotypes, and gender identities, but it is slowly changing. In 2022, there were several bills introduced to recognize nonbinary people as a legal gender, legalize gender changes, and ban conversion therapy.
Northern Cyprus is not bound to the same rules since it is not recognized as a legitimate country or government. They typically follow Turkish policies towards the LGBT+ community, which are notoriously conservative.
While it is a bit more accepting than main Turkey, there is still intense discrimination in Northern Cyprus. Homosexuality was decriminalized for only gay men in 2014, with other parts of the community still considered arrestable. In addition, other key rights remain illegal.
It is for this reason that we cannot in good faith recommend travel to Northern Cyprus, especially for queer women and gender-nonconforming members of the community. Instead, visit Cyprus and specifically the city of Paphos (also known as Pafos).
While you should explore the capital of Nicosia, do not stay there, especially if you are a couple. In addition, try to avoid staying in the smaller villages since they tend to be more conservative, no matter what side of the island you are on.
These tips, plus your basic travel safety knowledge, will keep you and your traveling companions safe as you explore everything this beautiful country has to offer.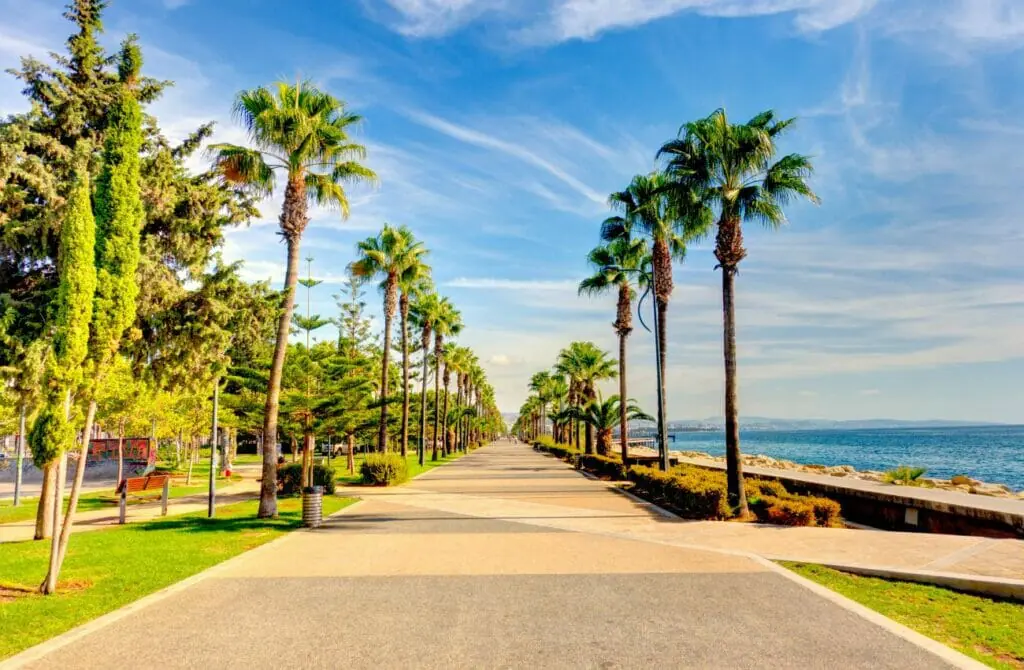 Attractions in Gay Cyprus, Europe
As a new visitor to Gay Cyprus, there are plenty of things to see and do, regardless of your sexual orientation. One of the best ways to experience any new city is to visit some of its most iconic landmarks and attractions, including visiting historical monuments, museums, and art galleries.
We also love gazing at architecture up close, exploring parks and gardens, sampling the local cuisine, visiting local markets, and attending cultural events such as festivals, concerts and shows.
Even as the out-and-proud queer we are, we still love to just explore the city and its culture in the same way as everyone else. Doing so allows us the opportunity to learn more about the city and its people and gain a deeper understanding of the local culture. As such, these are our favorite must-see attractions in Cyprus.
Cyprus has so many amazing things to offer to travelers. They have incredible museums and art galleries, decadent restaurants and candy shops, and sweeping natural vistas. You can find all kinds of hidden gems in every village and corner of this wonderful place. Here are a few highlights.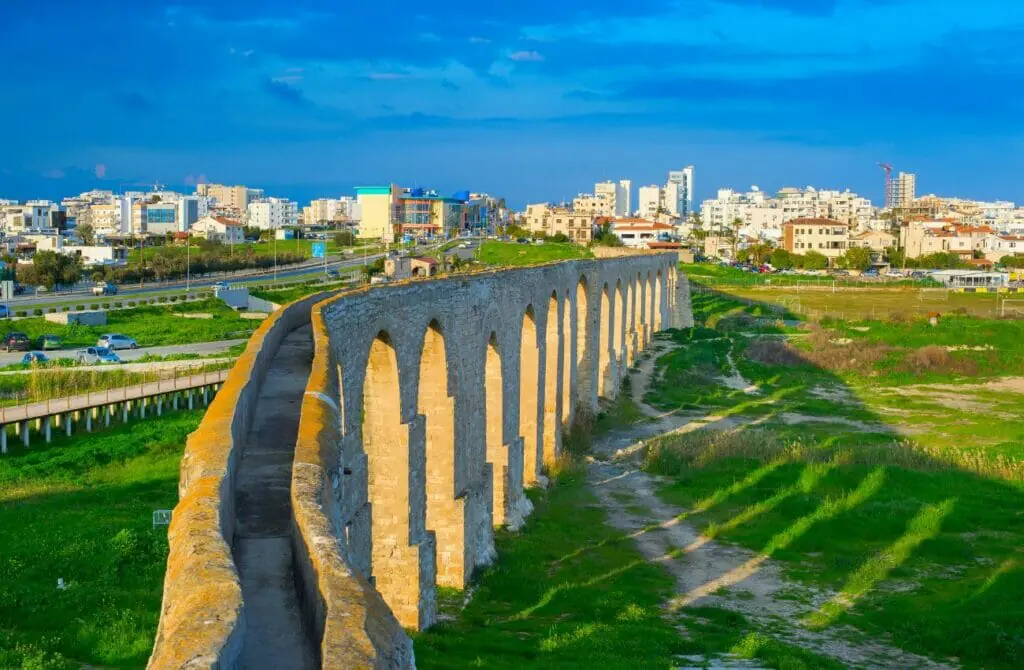 Arts and Culture
Located on the Cyprus side of Nicosia, this museum has the largest collection of Cypriot artifacts in the country and is a must-see if you are a history fan. The museum is arranged in chronological order from some of the earliest human settlements to the early Byzantine era.
Also in Nicosia, this museum highlights the fight for independence from Great Britain. This war for independence is still in living memory in Cyprus and was founded after the war. This new building, built in 2001, is a great spot to learn more about the underground revolutionary movement.
This expansive park is outside of modern-day Paphos and features a dig site that studies the historic Greek and Roman Paphos. This park is great if you love to study this era and want to dive into the mythological and physical history of Cyprus.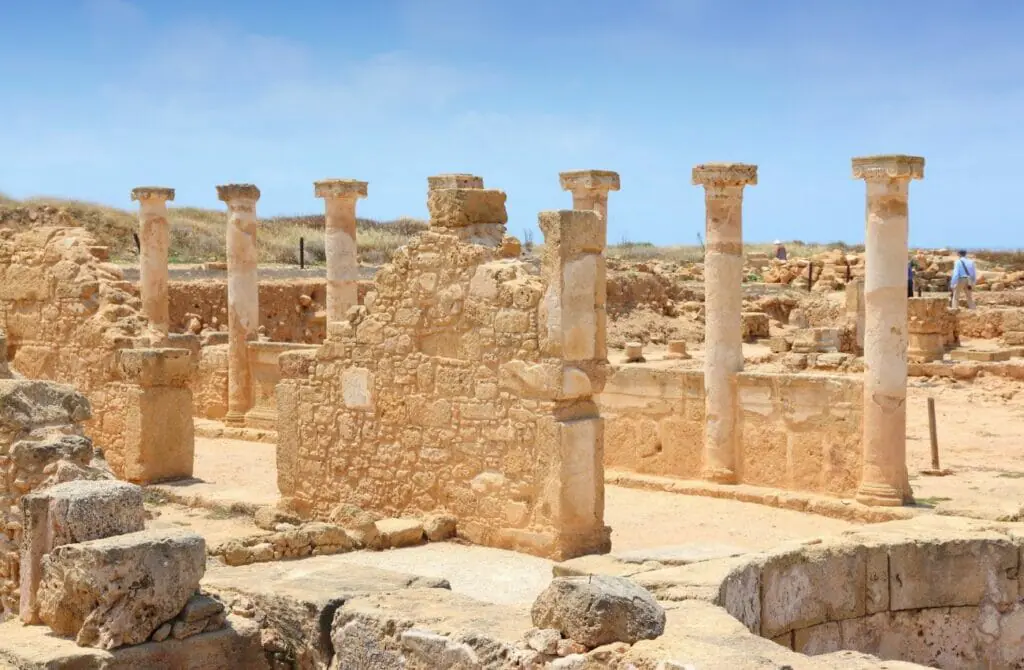 Museum of Traditional Embroidery and Silversmith Work
This museum is a great place to stop and learn all about traditional Cypriot crafts. Located in Lefkara, this museum is inside a historic home that is still maintained in the traditional style. It is a perfect spot to find master artisans who sell Lefkara lace and Trifourenio, also known as Cypriot filigree.
The first museum of Cypriots studies the social history of Cyprus through the original Ottoman Turk occupation into the medieval era. It is another great destination if you are a history buff.
Another spot in Paphos, the Paphos Castle dates back to the Byzantine empire and is at the end of the boardwalk along the shore in Pafos. You can also buy all-day passes to many of the archaeological sites here.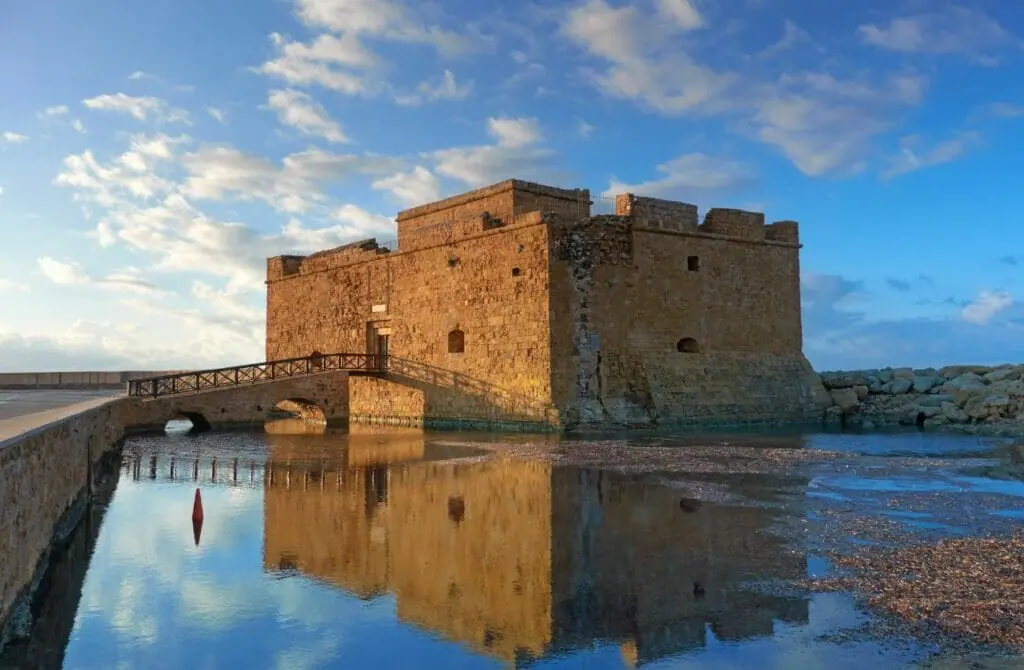 Restaurants and Food Experiences
Loukoumi
Also known as Turkish delight, this treat can be found throughout Cyprus. There are countless flavors to try and you can find stores all over Cyprus, not just in the Turkish enclaves or the north.
This Nicosia shop is an incredible place to stop in and get some delicious local treats. A woman-owned chocolate shop, this store has been in the family for several generations and everything is made on-site. You can't miss their iconic triangle bars or their sculpted chocolate bowls!
With only three tables, this restaurant is the perfect spot for a more intimate get-together. The menu changes daily depending on what is available and is made with 100% fresh ingredients. This, along with being next door to a historic monastery make it a great choice.
This historic wine is one of the oldest in the world that is still in production. There are many wine tours you can take that highlight all kinds of wines, including this Cypriotic specialty.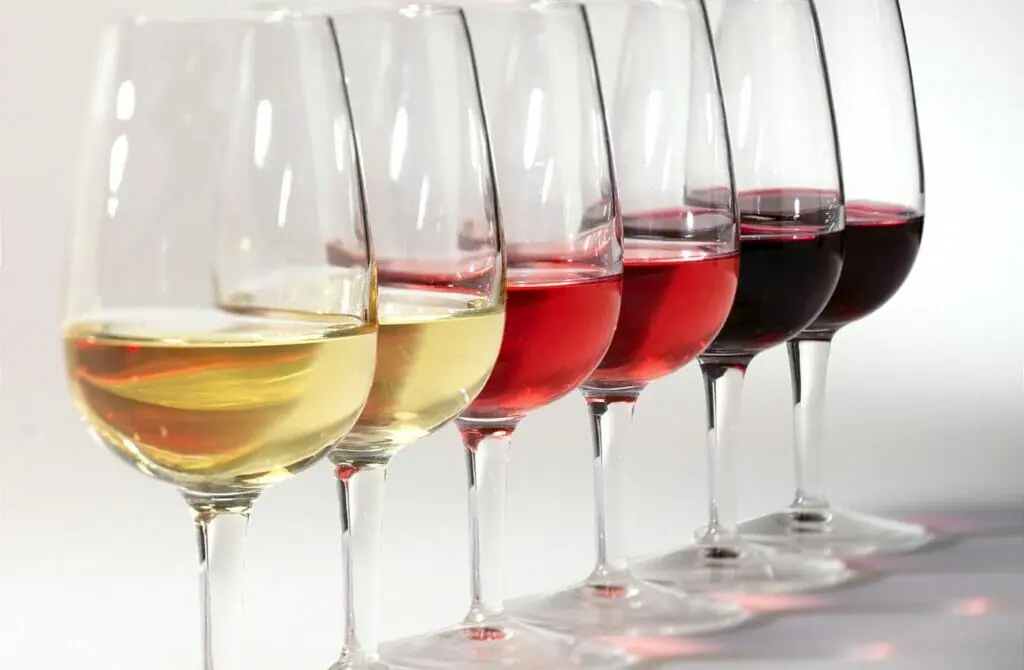 Natural Attractions
Larnaca Salt Lake
This lake outside Larnaca is a natural wonder that you can swim in and is also known for the population of flamingos that migrate there each year. This is the smaller of the two salt lakes in Cyprus, the other being the Limassol Salt Lake.
The Rock of Aphrodite
In Greek mythology, the goddess Aphrodite rose from the water off the coast of Cyprus near Paphos. This rock symbolizes where she rose from the sea and took her place as a goddess. Supposedly, if you swim around the rock three times, you will find true love and be blessed with eternal beauty.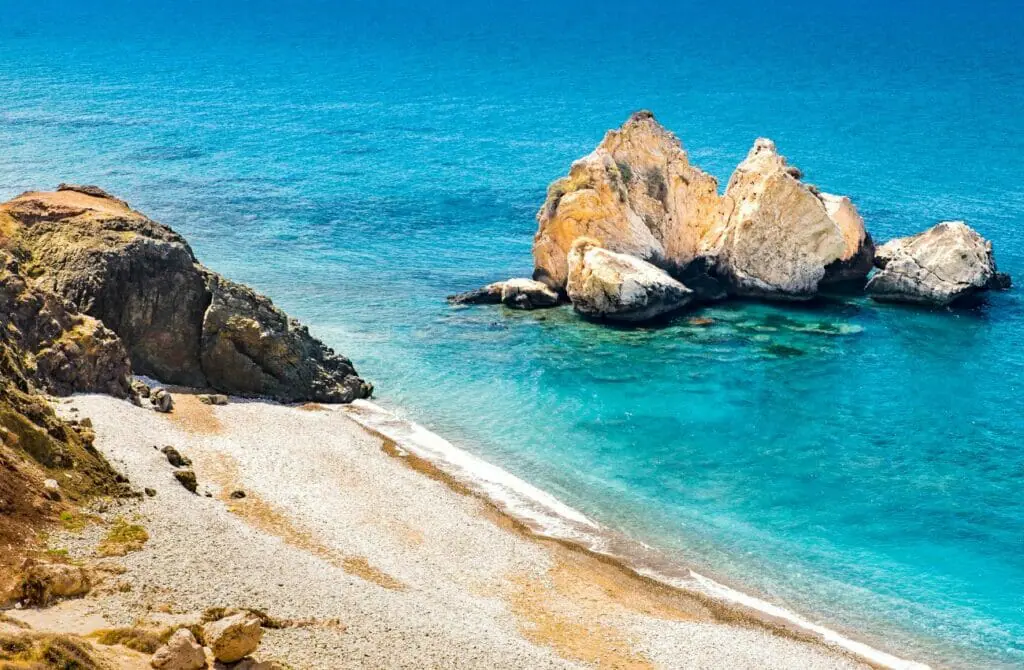 Venues, Theaters, and Festivals
Happening for two days every summer on Paradise Beach, this festival is a highlight reel of reggae artists from around Cyprus and the world. It is a bit smaller than other reggae festivals, but that just means you can get to know the artists.
This cultural festival held in late September is a great time to examine local theatrical performances of classic hits and the most modern, experimental works. These shows are often held in historical amphitheaters and done in a traditional style.
Held in Limassol, this carnival is a celebration of Cypriot culture and the storied history of Cyprus. This is the oldest festival held on the island and a massive masquerade event, similar to Mardi Gras.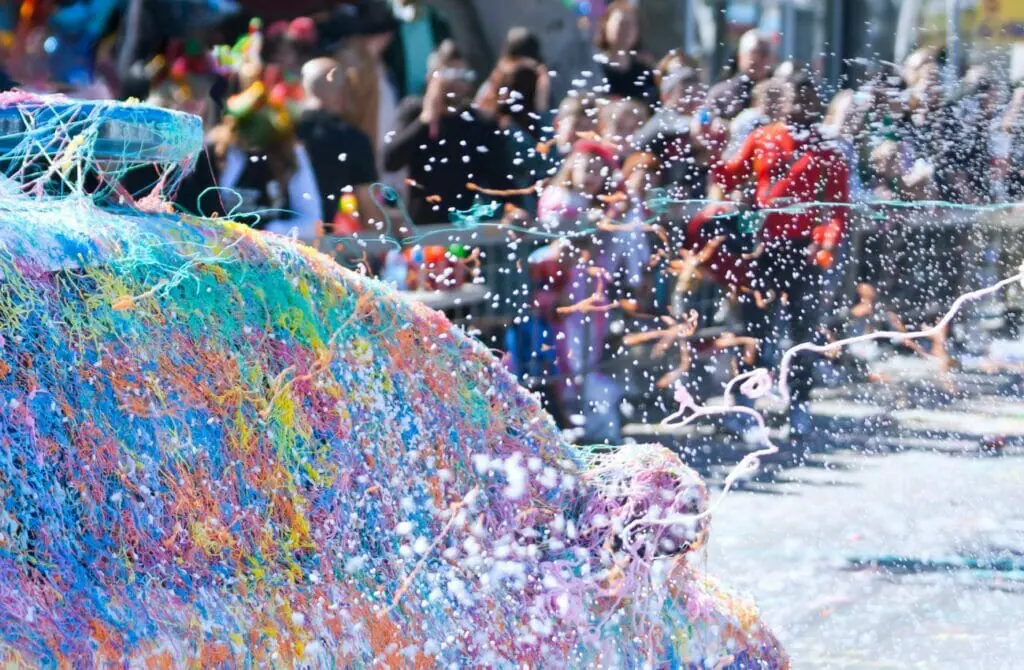 In the Old City part of Nicosia, this theater is the biggest theatrical venue in Cyprus. Not only that, but this theater also has small galleries for guests to examine before and after shows.
Home of the Cyprus National Orchestra, this building was originally a movie theatre before it was bought by the Cultural Services of the Ministry of Education and Culture. It underwent massive renovations and is now available for rent and puts on live performances.
Hosting mostly local theater, this is a great spot to see the rising talent and local productions. These include new works and reinterpreted classics. These shows are almost exclusively performed in Greek, so it might be a good idea to dust off Duolingo before you attend.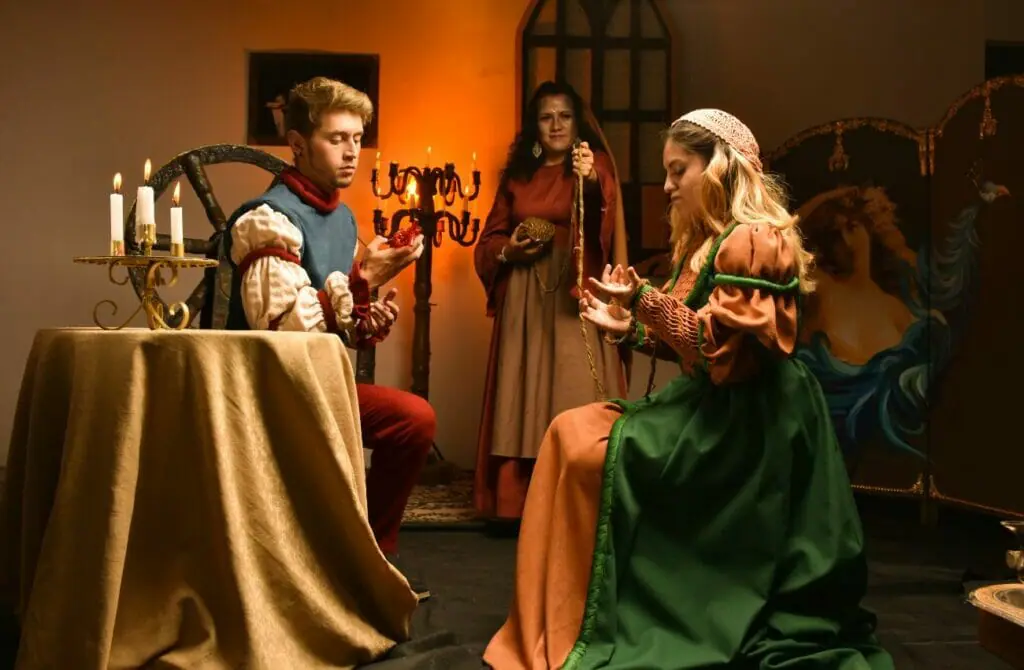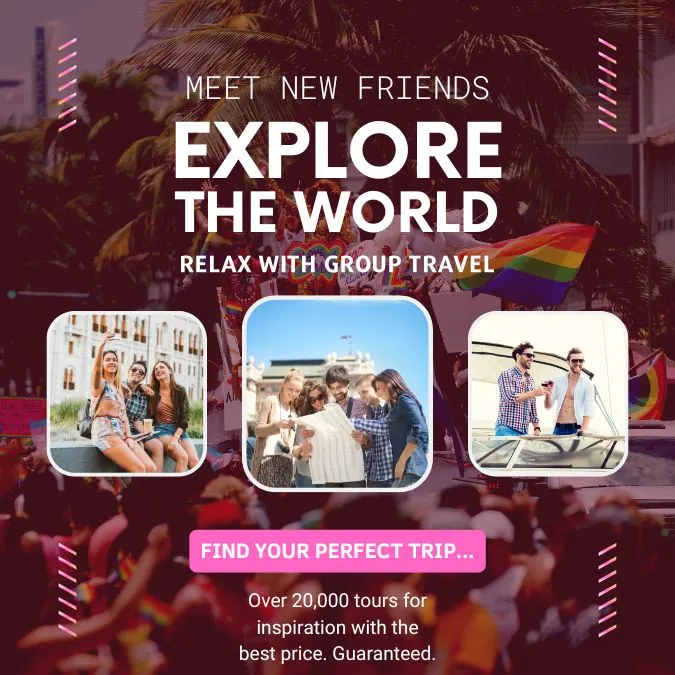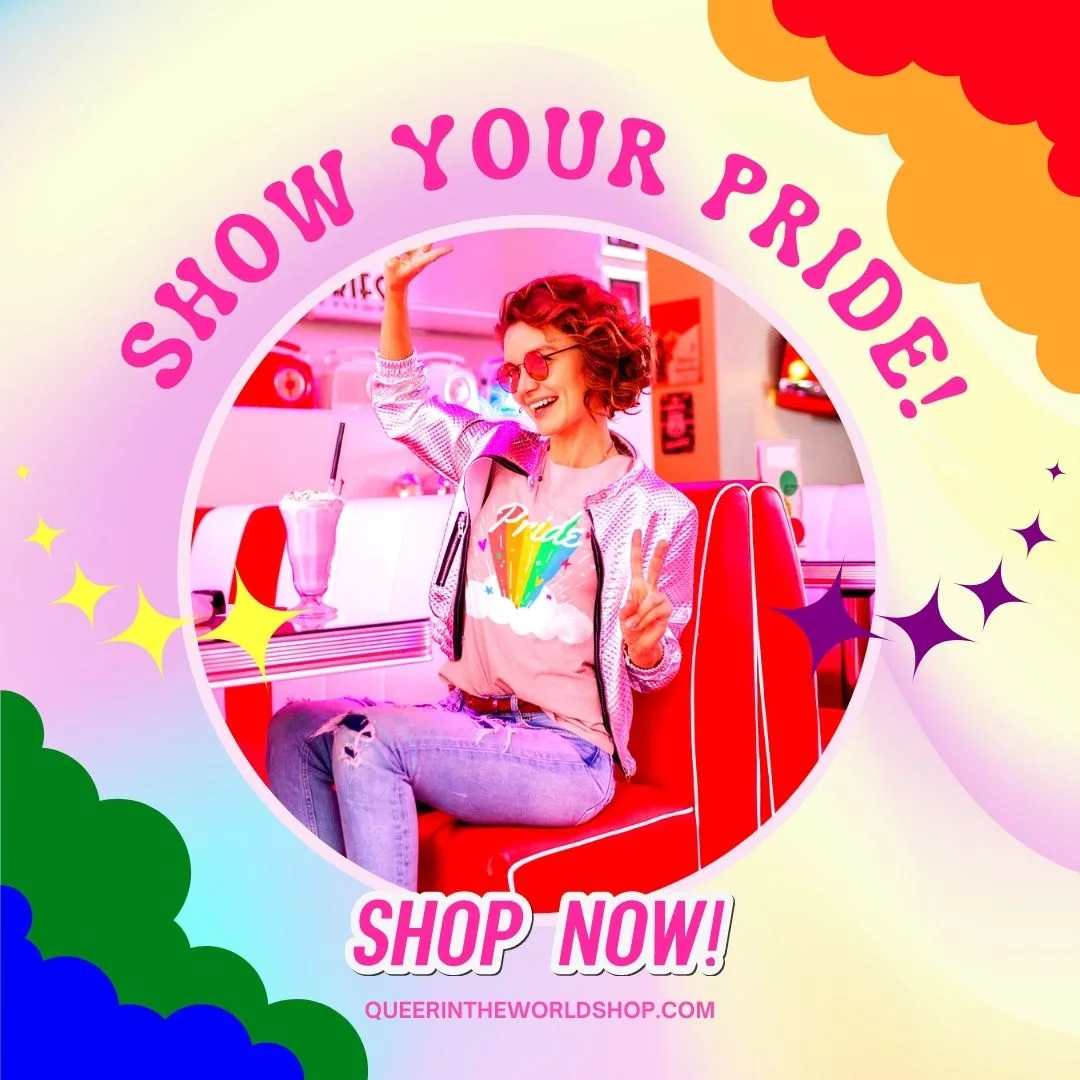 Gay and Gay-Friendly Hotels in Cyprus, Europe
Being gay-friendly accommodation means that the establishment is welcoming and inclusive to guests who identify as LGBTQ+. This can include but is not limited to, having policies and practices in place that demonstrate a commitment to creating a safe and inclusive environment for LGBTQ+ guests, such as non-discrimination policies, and providing support and resources for LGBTQ+ travelers.
Some gay-friendly accommodations may also provide amenities specifically catering to the LGBTQ+ community, such as rainbow flags or literature about local LGBTQ+ events or resources. Furthermore, gay-friendly accommodations may be located in an area that is known for being LGBTQ+ friendly.
While Cyprus does not have any specifically gay hotels or resorts, these are the most fabulous and pro-actively gay-friendly hotels in Cyprus. Needless to say, there are also hundreds more hotel and hostel options in Cyprus if none of these suit your desired budget, facilities or area – but these are the best hotels according to other gay travelers and us.
Whatever your needs are, Cyprus has you covered.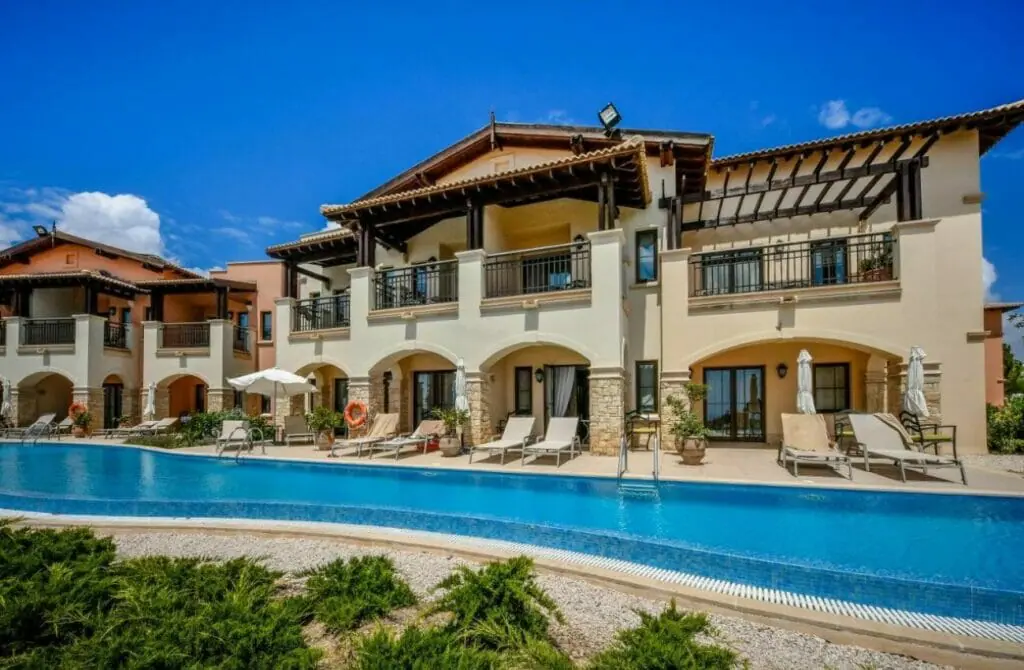 First-class accommodations come in the form of the Aphrodite Hills Resort of Paphos. This resort has stunning and sweeping views of Paphos and top amenities. These include a children's clubhouse, a riding club, a PGA title golf course, a full spa, a waterpark, and an archery pitch.
Featuring eleven restaurants and six bars, this resort has everything you can think of. From local Mediterranean eats to classic Indian cuisine, you can find a little bit of everything. Aphrodite Hills' many bars offer all kinds of vibes to explore, from classy high-end cocktail lounges to a local tavern in Cypriot style.
There are three main types of rooms: villas, suites, and basic rooms. Even the basic rooms are nothing but. They offer balconies and swim-up room options for guests to choose from. If you are looking for a once-in-a-lifetime experience, this is the hotel for you.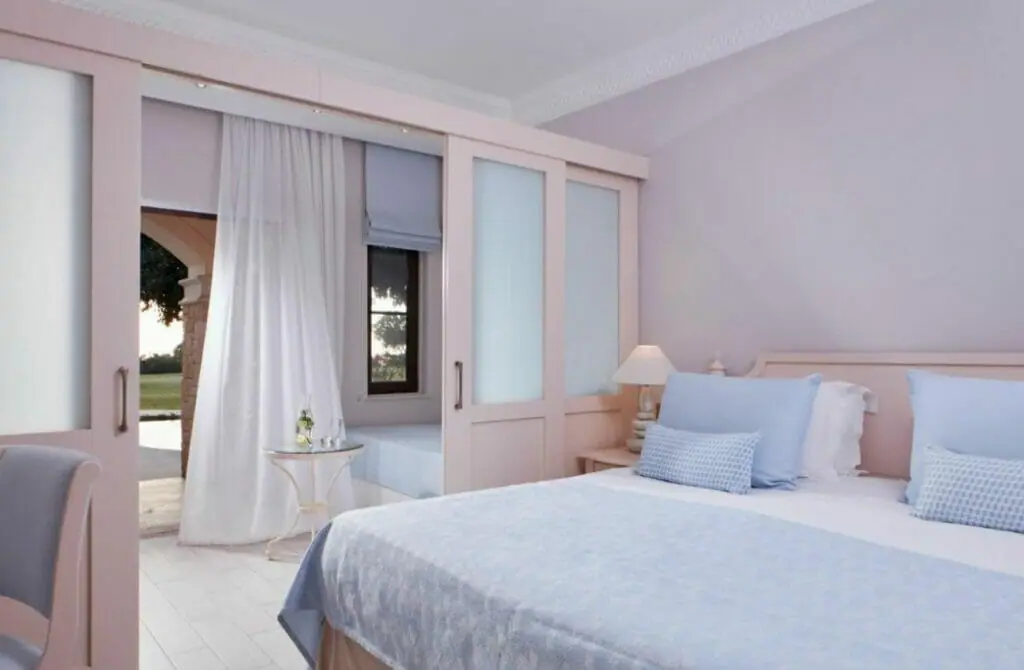 Anassa is a great choice for the discerning traveler. They were recognized by Conde Nast as one of the 2022 Gold List hotels and are a member of Leading Hotels of the World. This hotel is in the heart of Neo Chorio and is a perfect spot for a couple who wants to get out of the main cities.
You can start your visit with complimentary airport pick-up and drive over to the magnificent, massive resort complex. With three outdoor pools and four restaurants, the only resort bigger than Anassa is Aphrodite Hills. All rooms are suites of varying sizes and you can also rent villas.
This hotel has the kind of clean, semi-minimalist aesthetic you expect from Mediterranean resorts. Rooms are done up in ivory, pale yellows, and rich blues to accent the natural colors of Cyprus. Anassa sets the gold standard for resorts in the region.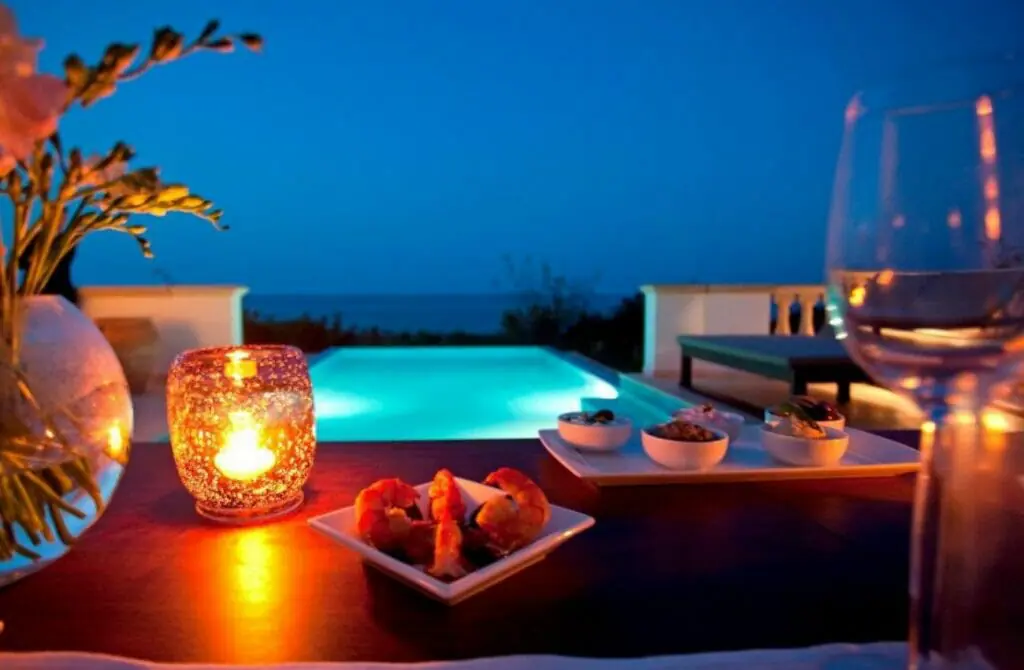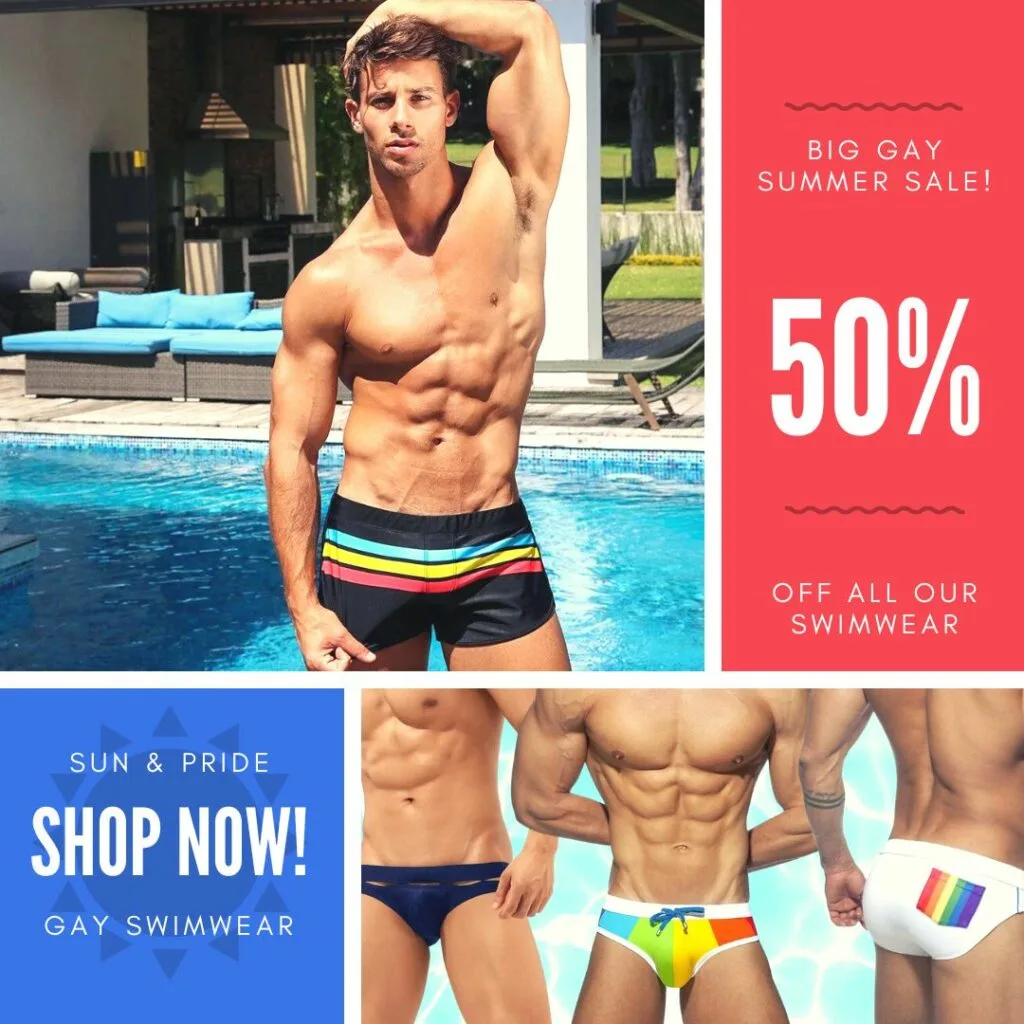 Another excellent option in Paphos is the Columbia Beach Resort is large, vast, and has many incredible amenities. They have three restaurants, six bars (including two swims ups), and a full-service spar. Their kids' club is incredible and they even offer babysitting services if you want to go out without the little ones.
One of their shining jewels is the golf course, designed by golfing legend Sir Nick Faldo. They offer special golfing packages with a week-long stay and lessons for guests who are just starting or who need to brush up before tackling the 71-par course. They also offer access to other local golf courses, including Aphrodite Hills.
Not only that, but they are currently undergoing a major renovation, as of March 2023. Their already stunning rooms are getting another facelift to bring them up to the 2020s. All rooms are suites and many feature pools and balconies for guests to enjoy.
Napa Mermaid Hotel & Suites ☆☆☆☆
This hotel located in Aiya Napa is a perfect spot for someone who wants the glitz of Miami with a more laid-back atmosphere. They have complimentary airport shuttle services and a full-service spa along with indoor and outdoor pools. This hotel is also steps away from top attractions in the area, such as the Cape Greco National Forest and the Love Bridge.
This hotel has multiple bars and restaurants to choose from, or you can go into Aiya Napa to taste the local fare. Rooms range from two twin beds all the way up to their largest Grand Suite with an outdoor, private jacuzzi.
This hotel has less room for families, but if you are willing to rent multiple rooms for a larger group, you'll have a great time. Since this is a newer resort, the facilities are top-of-the-line and full of modern amenities, like free WiFi and multiple outlet options for USB and standard electrical hookups.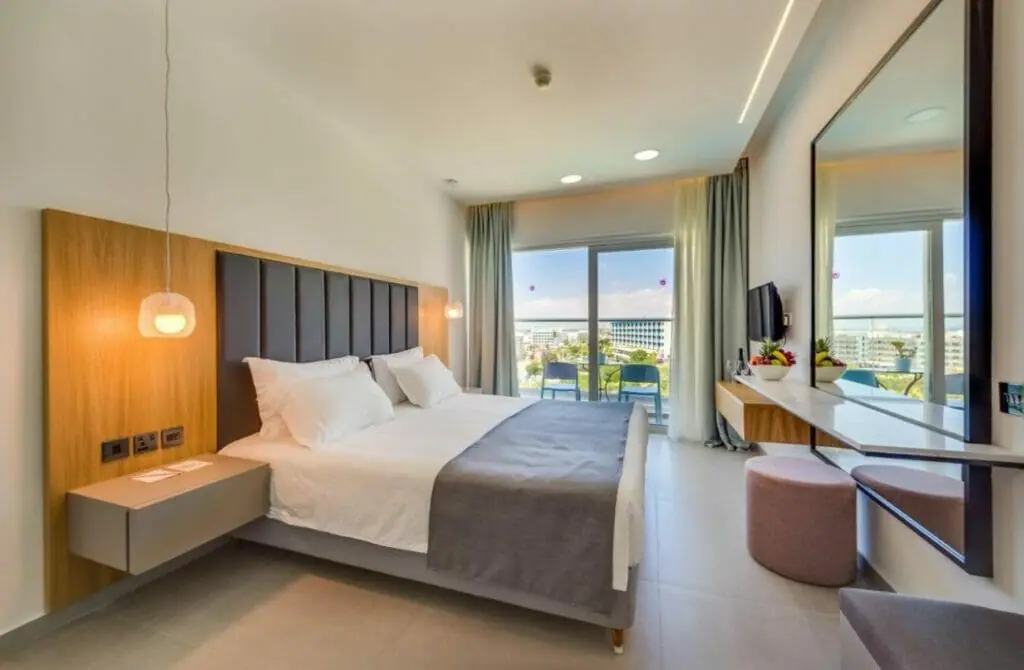 Located in the center of Paphos, this hotel is a cluster of apartments that you can rent for your duration. These apartments are outfitted with plenty of lux touches, like granite countertops, complete coverage WiFi, and a full collection of kitchen utensils and pans. There are also a total of four pools for guests to enjoy.
This option is perfect if you want to stay for longer than a week, have a larger party, or want to save money by cooking your own food. A grocery store is right around the corner.
These apartments can typically hold up to six people. They offer a wide variety of options for bed situations, so you can pick whatever will be best for you and your family. All apartments come with a balcony too, so everyone can kick back and enjoy.
The service team operates as a concierge with options to book local adventures, rent bikes and cars, and even deliver food. They will even buy groceries for you and have the food waiting for you in your room when you arrive!
Petit Palais Platres Boutique Hotel ☆☆☆
This small hotel with 32 rooms is the perfect family-friendly hotel for you and your loved ones to stay in. Tucked away in the mountains and in a small village called Plano Platres, this hotel opened in 2020 inside a building from 1935.
Rooms are quite small, but they are filled with excellent amenities, like complete toiletries, complimentary wake-up calls, 43-inch televisions, and minibars. Also, many rooms have balconies and sweeping views of the Troodos National Forest and the ocean beyond.
They offer breakfast every morning and have two restaurants on site. Reviews mention how reservations are crucial for getting into the restaurants, especially the Garden. They also have a bar for guests at the hotel to enjoy mixed drinks.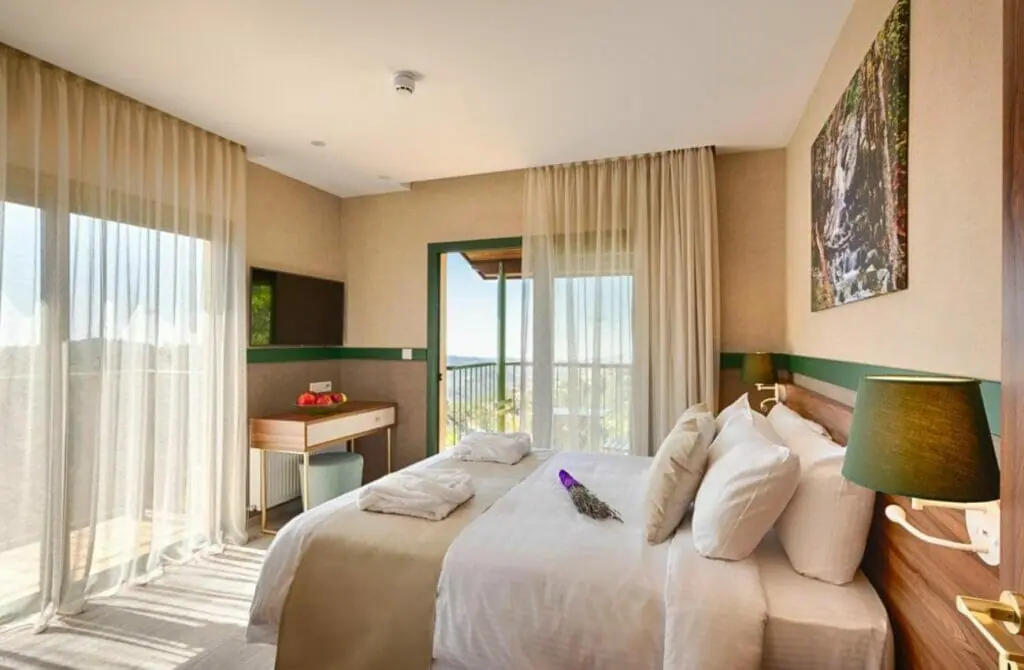 Located in Lanarca, this hostel is a great choice for travelers on a budget. It is right next to Finikoudes beach and meters from the St. Lazarus church. It is 18+, so this is not the place to bring your children. There is also a stunning courtyard inside the historic building.
Not only do they have a simple check-in service, but there is a concierge if you want to rent any bikes or get tips and bookings for the local area. The hostel managers are locals who know all about what's going on nearby and can point you toward all kinds of cool things that are off the beaten path.
One important note, you need to cancel bookings two weeks before your arrival date. This can be frustrating if an emergency crops up, but if you think you can roll with the punches, then this might be the best spot for you to stay.
Gay Map Of Cyprus
Finding it hard to envisage where everything is in Cyprus? Hopefully, this queer-centric map helps where we have marked all the bars, clubs, parties, hotels, saunas, massages and more will help you stay in the spot best suited to you!
Gay Nightlife in Cyprus, Europe
There are not very many bars that are explicitly gay-friendly in Cyprus, no matter what side of the demilitarized zone you are on. However, there are still some scattered around and more that are gay-friendly. We'll talk about a few options that are out there for gay travelers.
Exploring the gay and gay-friendly nightlife in a new city can be one of the most exciting and rewarding experiences while traveling – and Gay Cyprus is no exception. Not only will you have the opportunity to meet new people and make friends, but you'll also get a taste of the local culture and learn more about the city's LGBTQ+ community.
Going out and experiencing the queer and queer-friendly nightlife in a new city can also be a great way to break out of your comfort zone and try new things. Whether it's dancing the night away at a gay club or mingling with locals at a gay-friendly bar, you'll have the chance to make memories and create lasting connections.
So, don't be afraid to step out of your comfort zone and explore the gay and gay-friendly nightlife in Cyprus. You'll be glad you did!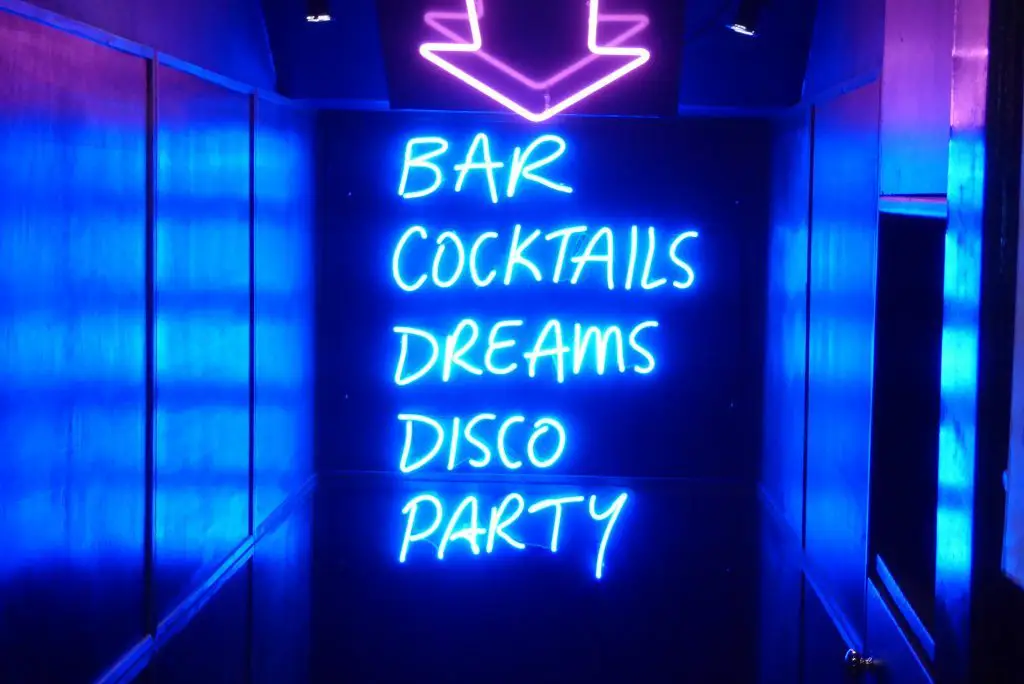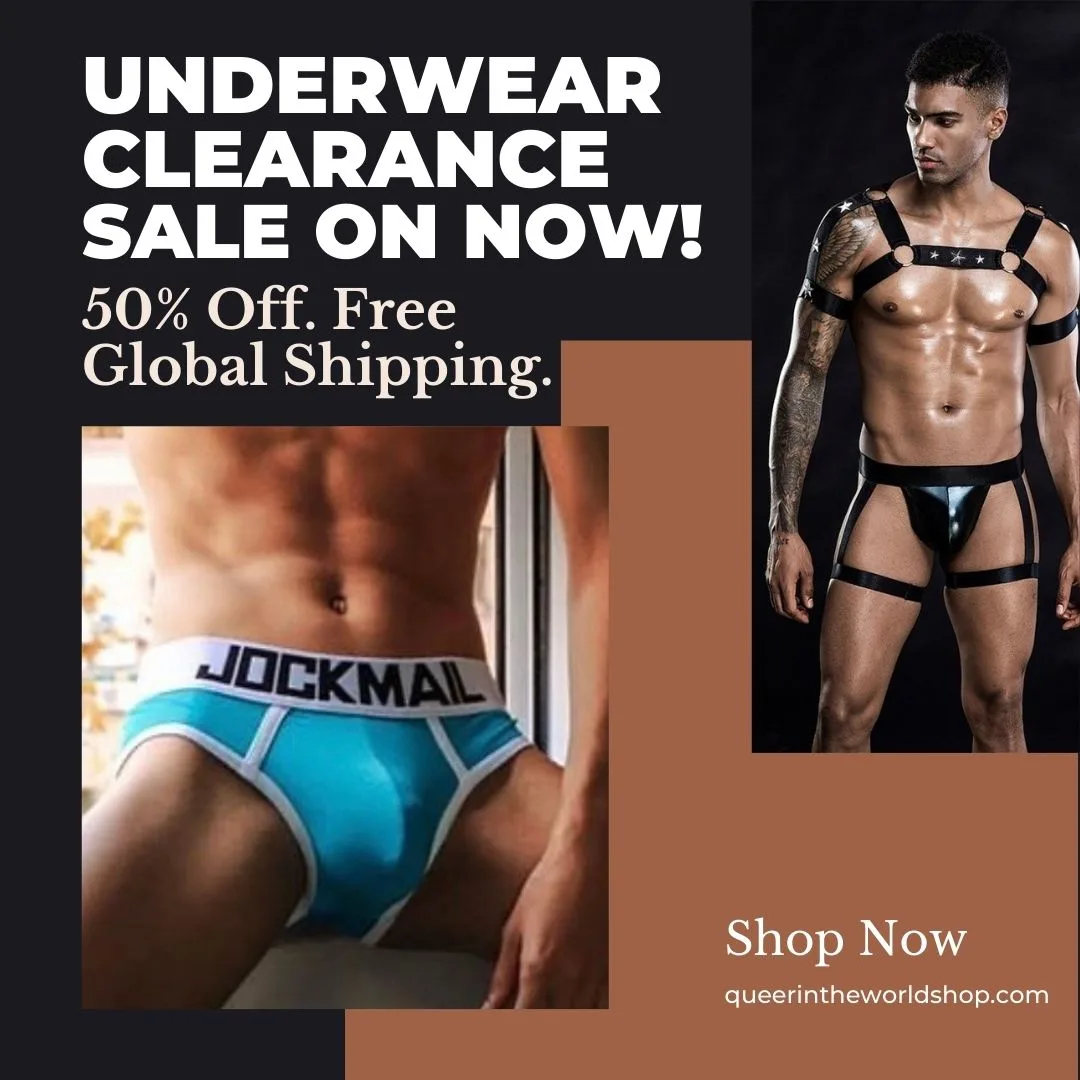 This new addition to the scene in Cyprus is a great addition. Another fully out venue, you can come by in style and enjoy your night out. This is the successor to the popular Secrets Freedom Club that closed in 2021.
They have extensive events for Carnival and even speed dating nights to meet local men. This is not the destination for drag events, but that could be said about all clubs in Cyprus. There are not many reviews since it is so new, but it looks promising!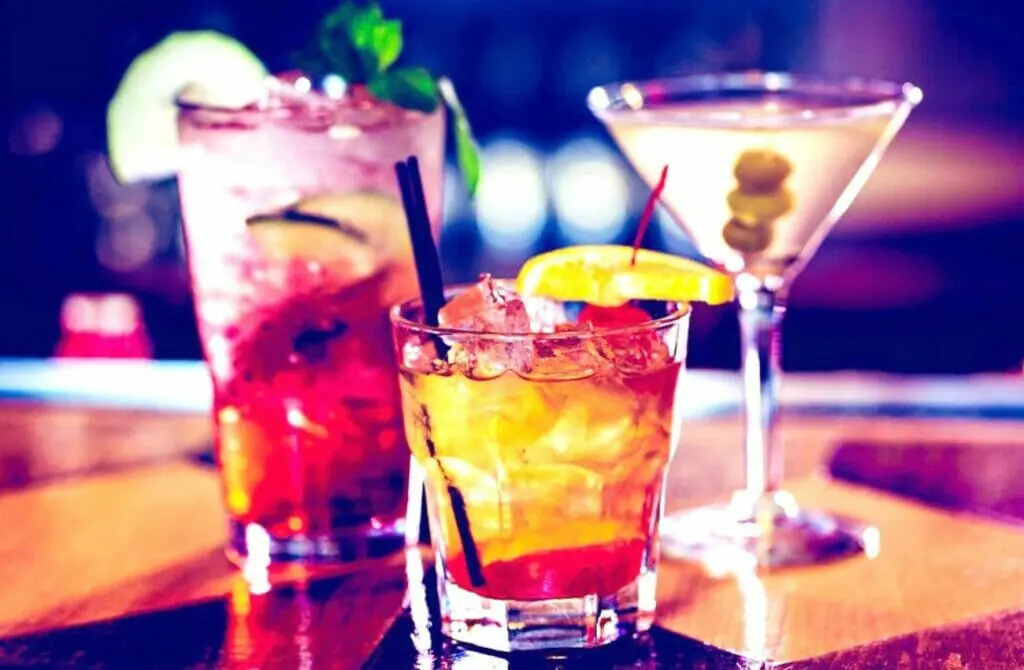 While this venue in the heart of Nicosia is small, it has a lot of heart. One of the oldest gay-friendly bars in Cyprus, Ithaki is known for its good drinks, good staff, and excellent music. They have been open since 1998.
While most of their events have been shut down due to COVID restrictions, they will hopefully reopen later in 2023.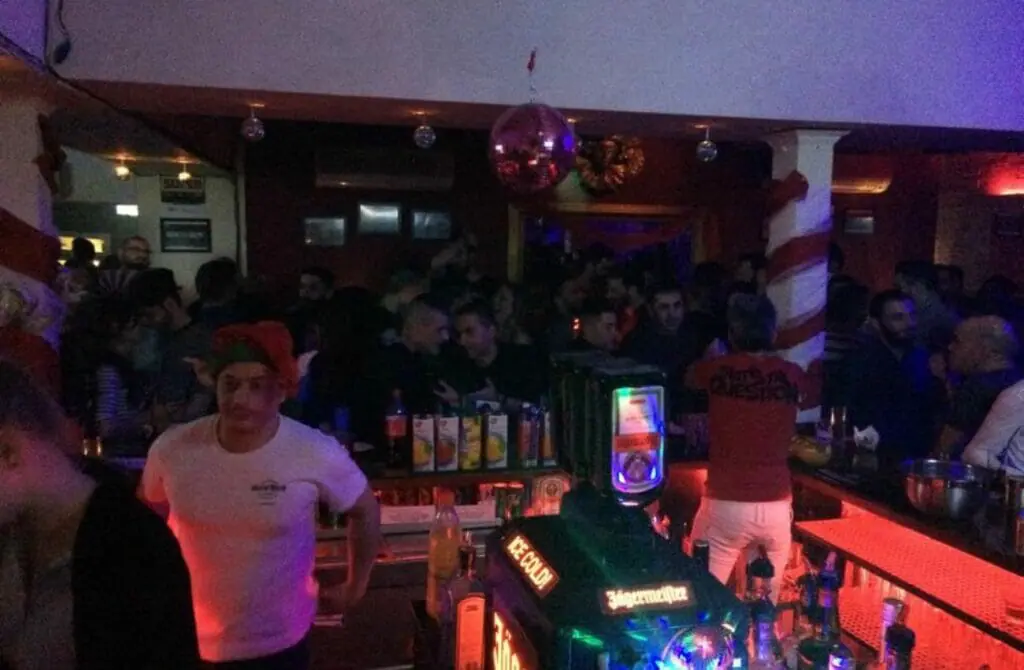 In Limassol, right on the coast, is Sousami, a gay-friendly bar. However, it's not just a bar. This building also serves as a small concert venue and coffee shop. Popular with locals and tourists alike, they do tons of different events.
Most events are catering to a more general crowd, so you won't see many drag events. However, if you are looking to blend right in, this is the bar to do that in. Reviews mention the accepting atmosphere and great music for dancing.
The oldest gay bar in Cyprus, this bar has it all. Not only do they have excellent drinks and a great local reputation, but they also offer explicitly gay-friendly accommodations. This bar is located in Paphos and has been open since the 70s.
Not only that, but since this is one of two gay bars on the island, it is popular with all sorts. The crowd does tend to skew older, but you will see lesbians and gender non-conforming people with Different rights alongside cisgender gay men.
They have little to no social media presence, so the best way to see what's going on is to drop by. They typically have Eurovision screenings, cabaret and burlesque nights, and happy hours.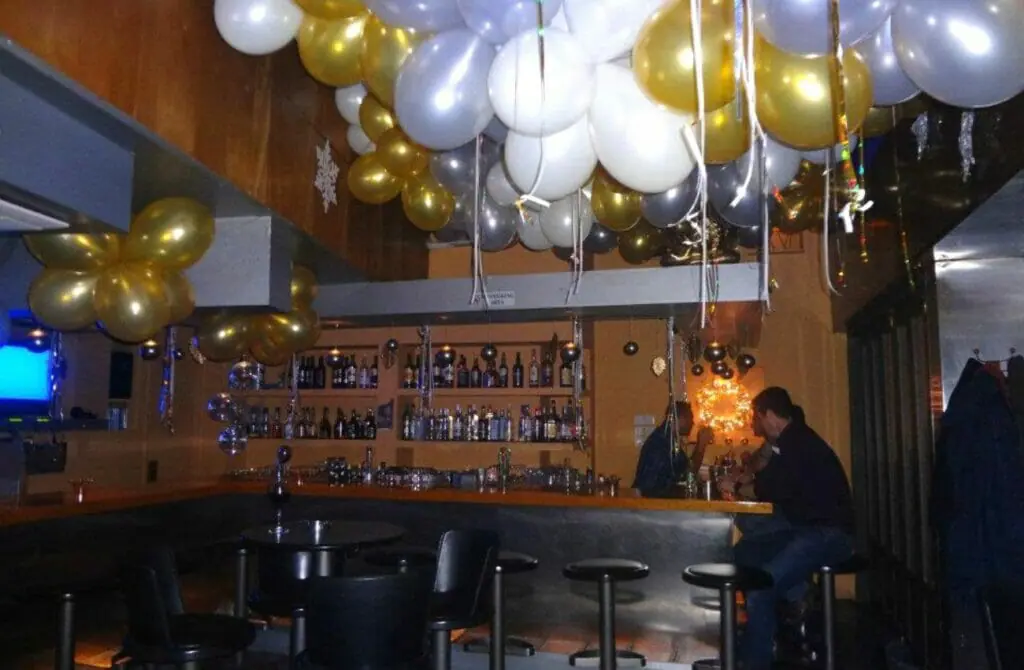 Cruising and Gay Saunas in Cyprus, Europe
As we discussed above, there are not many places for the community to gather. In fact, the only gay sauna on the island closed in February of 2022. It is unlikely that another one will open with the current political climate. The newest president of Cyprus is a centrist with ideologically right leanings, so it is unlikely that he will sign off significant advances in LGBT+ equality.
When traveling to a new city, it can be exciting to head out for more than just a stiff drink. One aspect of the Gay Cyprus scene that many queer men enjoy is visiting gay saunas and cruising clubs.
Sure, the sauna culture in Cyprus is not as hedonistic as in Amsterdam, Barcelona or Berlin, but these venues still offer a chance to meet new people, socialize, and engage in sexual activity – without resorting to gay hookup apps.
However, it's important to keep in mind that these venues can vary greatly in terms of atmosphere, clientele, and rules, so it's a good idea to prepare yourself before visiting. If you are apprehensive, we advise studying our guide to visiting a gay bathhouse for the first time, which should help set your mind at ease, and always practice safe sex.
Additionally, it's important to be aware of and respect local laws and customs regarding gay venues and sexual activity. With a little bit of planning and an open mind, visiting gay saunas and cruising clubs can be a fun and exciting part of your gay Cyprus travel itinerary.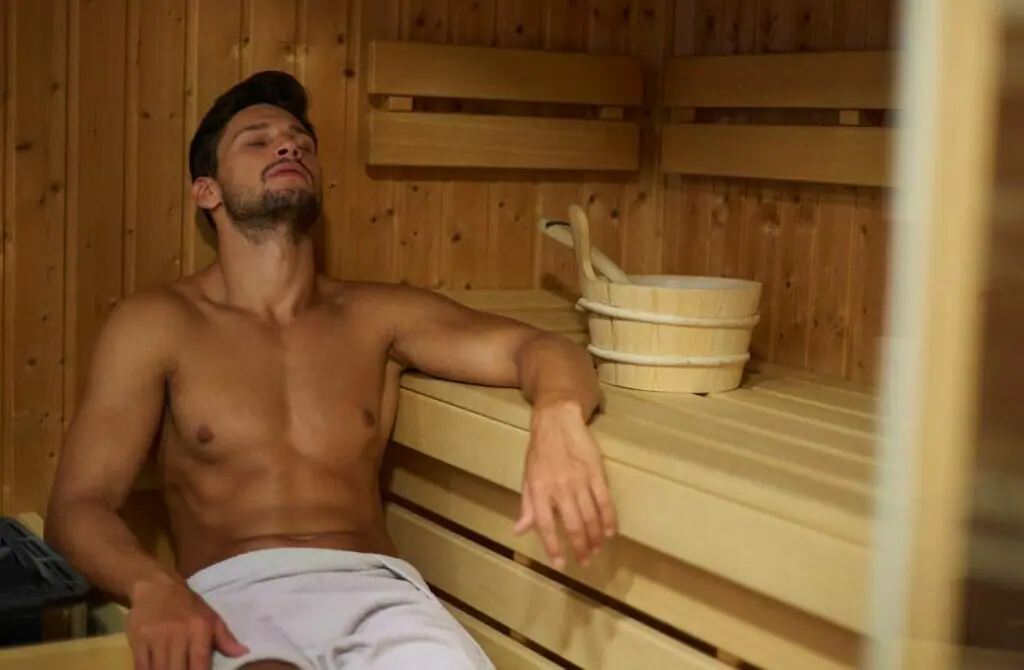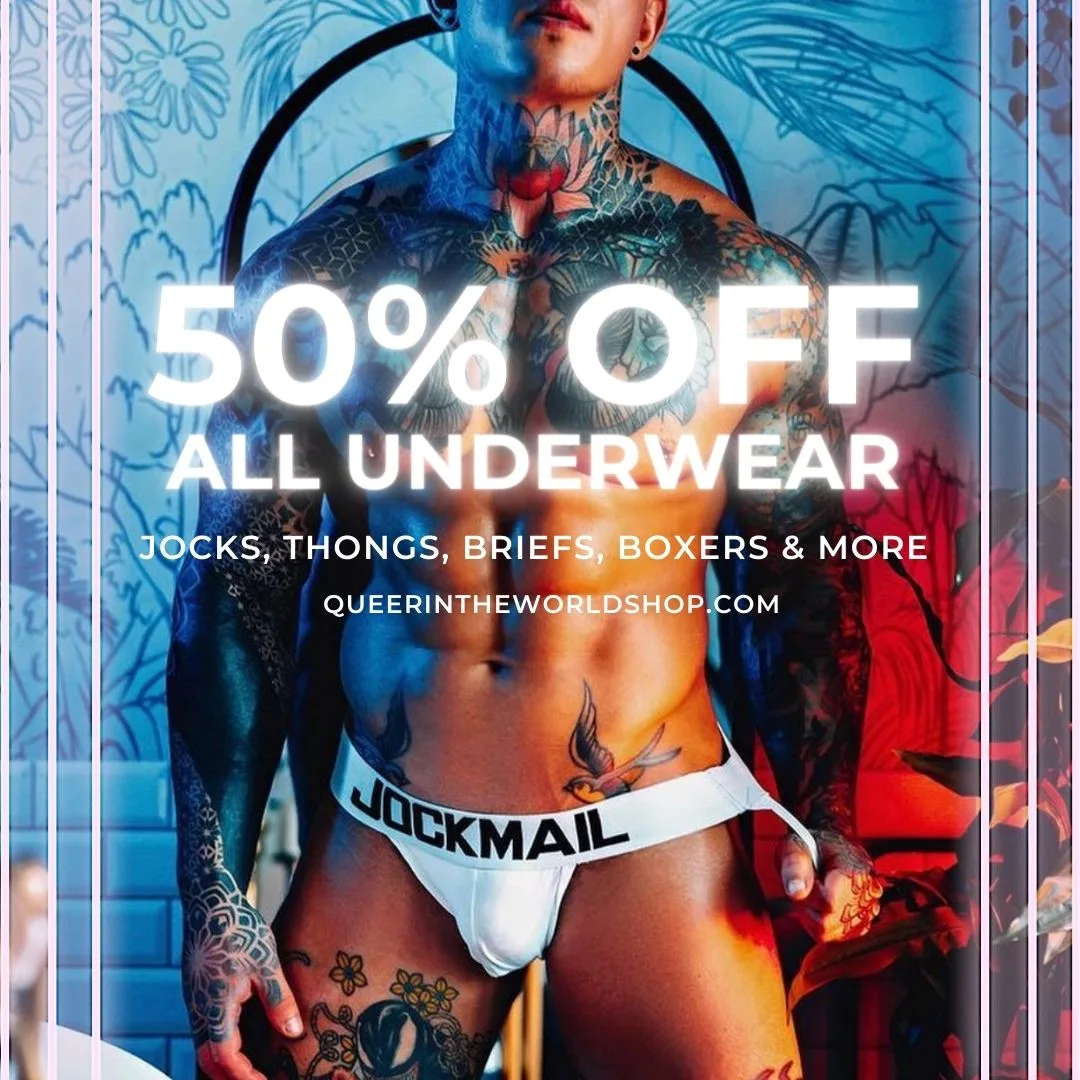 Gay Map Of Cyprus
Finding it hard to envisage where everything is in Cyprus? Hopefully, this queer-centric map helps where we have marked all the bars, clubs, parties, hotels, saunas, massages and more will help you stay in the spot best suited to you!