One of the original thirteen colonies, Pennsylvania is steeped in history. From the Liberty Bell in Philadelphia, the state's largest city, to the old battleground of Gettysburg, anyone fascinated by the past could spend a lot of time unraveling the stories of Pennsylvania.
Even now, up-and-coming entrepreneurs live side by side with aspiring artists, agriculture farmers and avid sports fans. For a small state, it's an extremely diverse place and its inhabitants are both proud and welcoming.
As well as the history and art, you'll also find some incredible landscapes, from the woods of the Pennsylvania Wilds to the soaring mountains to wide stretches of farmland. It's the kind of exhilarating nature that makes you want to strip off and dive in – and only a few hours drive from wild New York.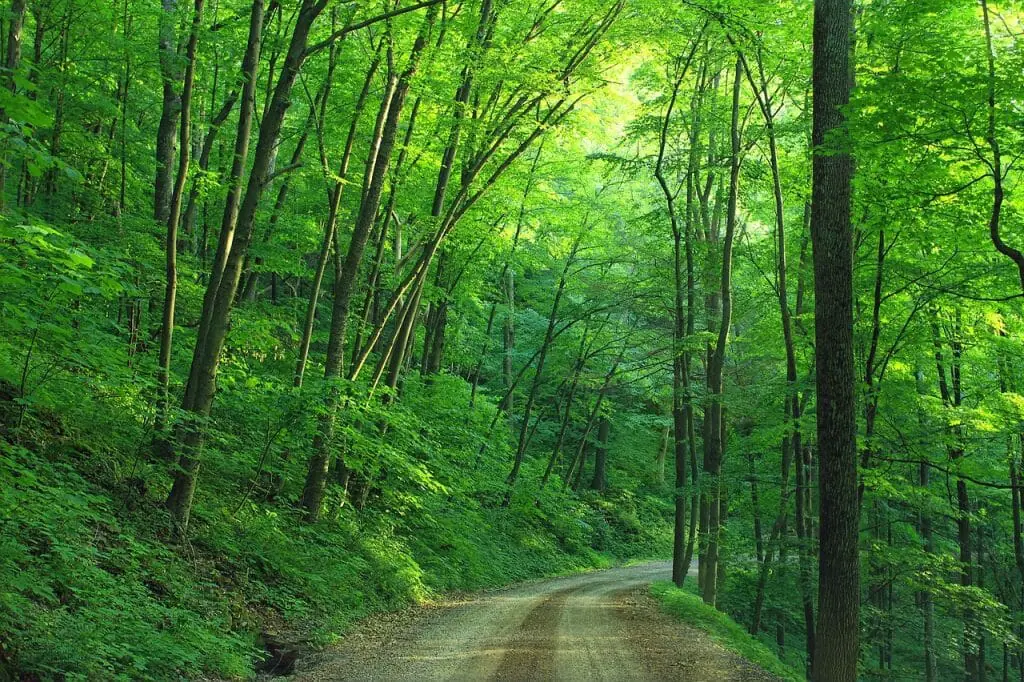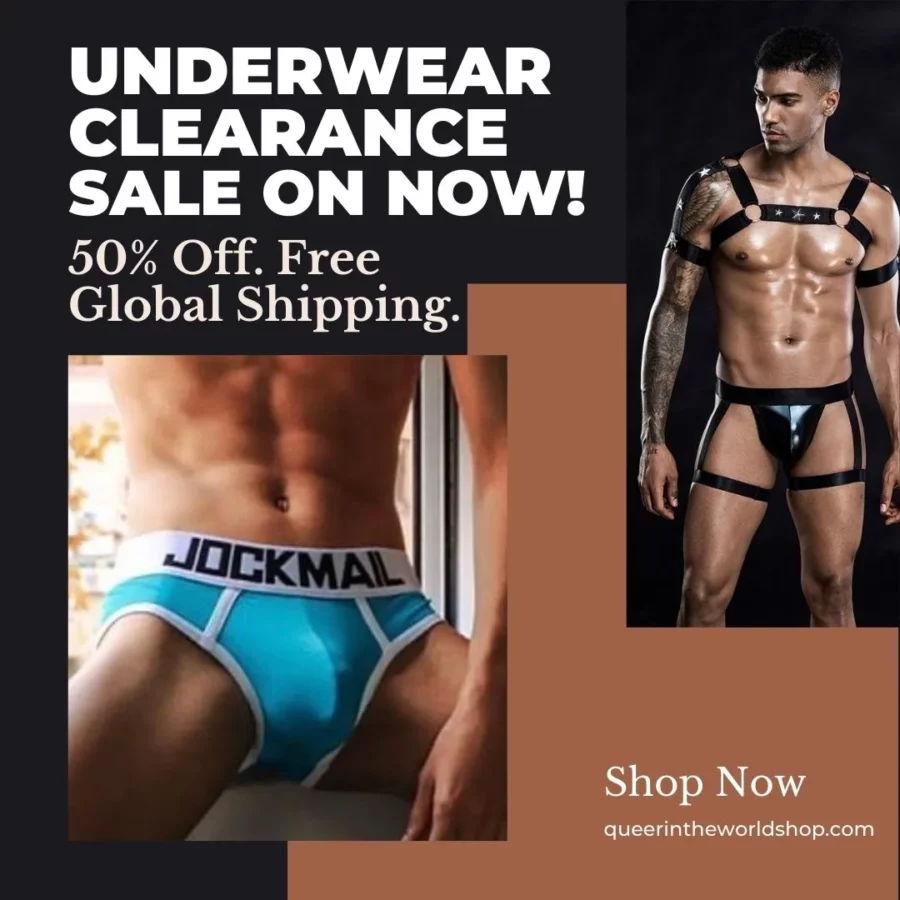 Luckily, others have felt this before so there are some well-established nudist resorts in Pennsylvania for both the experienced and the uninitiated naturist alike. It will come as no surprise to those of you who know the weather here that these are mainly seasonal, but in the summer they are really glorious.
The nudist way of life is about freedom and discovering who you are, not about sex, so unless otherwise mentioned these resorts are open to everyone and family-friendly. It's all about feeling comfortable in a non-judgemental environment. These offer you that; and the opportunity to explore the beautiful Pennsylvanian scenery in the most natural way possible.
So pack light and enjoy the experience!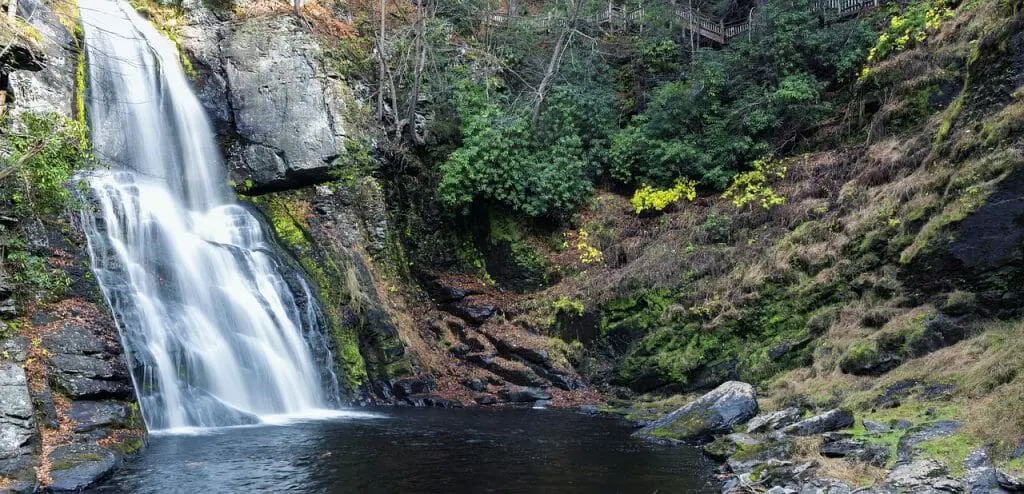 In this article we will cover...
Amazingly, Sunny Rest Resort was established back in 1945, making it presumably among the oldest nudist resorts in Pennsylvania. With such a history it, there's no surprise that a stay here is a great experience with naturism, whether it's your first encounter with that world or you've been nuding up for years.
In the heart of the Pocono Mountains in the northeast part of the state, Sunny Rest offers incredible views over rolling hills and a wealth of amenities among the woodlands. There's a great sense of humor here with 'Streakers' poolside bar and 'Flashers' nightclub adding to the facilities. The pool area offers plenty of space to float about in, or lounge around the edge chatting to the friendly guests. Or try some morning yoga if your priority is staying fit while on vacation!
Among the 190 acres you will find attractive hiking and biking trails where you can walk au naturele (the perfect way to commune with nature!) as well as tennis courts, sand volleyball courts and a spa for those days of rest. There are compact wooden cabins to rent, hotel rooms if you'd prefer to be closer to the action and plenty of space to pitch a tent as well.
With annual events including beer fest, 5k road races, boat regatta, 4th July celebrations and hippy fests, they cater for all tastes and ages. It's family friendly and there are clear rules of behavior ensuring everyone feels safe and comfortable. Nudity is required in the pool and spa area, optional elsewhere; you'll be amazed at how quickly you stop noticing it and just enjoy the freedom!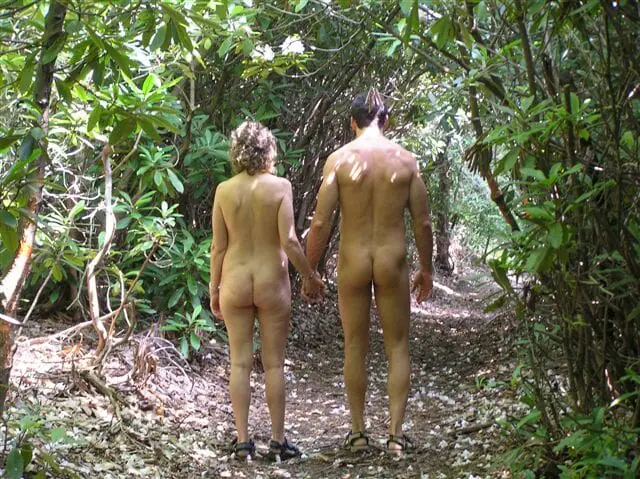 Open from Memorial Day (May) to Labor Day (September), White Thorn Lodge is a family nudist resort where you can camp or stay in a cabin and enjoy the fun and freedom a nudist lifestyle can bring. The team here believe passionately in the positive things nudism can bring, including improved body image, confidence and embracing the fact that our bodies are not offensive things – an attitude we can definitely get on board with!
We love how welcoming the staff and members at White Thorn are; particularly great is the focus on ensuring female guests feel involved and comfortable. They even arrange a buddy system for first-timers to learn a bit more about the experience. Rules are clear and boundaries are set for all guests so that behaviour remains appropriate and no one feels uncomfortable.
In this haven of acceptance, guests can take part in daily activities such as volleyball, games nights, pot luck dinners and water aerobics. There are also annual weekend events like 4th July celebrations and the 'State Line Streak' (it's in Western Pennsylvania, not far from the Ohio state line).
Choose whether you camp or stay in a cabin. Spend your days chatting with new friends in the clubhouse or stretching out by the gorgeous pool. It's a place that will revive and renew you with its positivity and free spirit.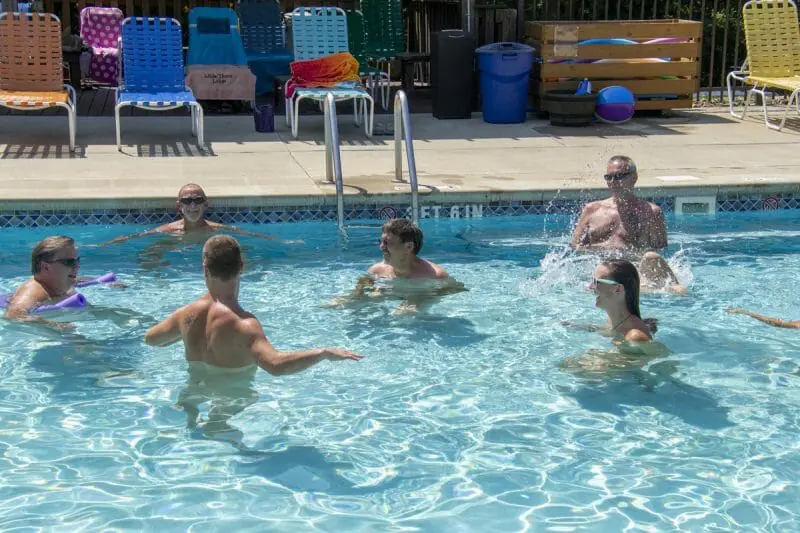 In the heart of Pennsylvania Dutch Country you'll find this jewel of a nudist resort ready to welcome you into their family of owners and members. There's 130 acres of space for you to roam around free of your clothes and free of your cares. With so much on site, there's little reason to ever leave camp; but if you do want to do some sightseeing there are plenty of attractions nearby including Hopewell Furnace and the Crystal Cave.
On the grounds at the Penn Sylvan Health Society you'll have cosy accommodation in the cabins or motel rooms, all of which are clear and bright. If you prefer to get even closer to nature then you can camp under the trees or set up your RV. There are discounts for AANR members and great facilities to keep you comfortable.
There are amazing amenities with both an indoor pool and an outdoor one (so you can enjoy the skinny dipping no matter the weather), a luxurious hot tub and a sauna where you'll end up chatting away the days with the friendly guests. If you'd rather keep active, have a game of tennis, shuffleboard or volleyball – then cool off with a dip in the pool.
Among all the glories of nature that surround you here, it feels totally natural to get rid of your clothes. It's a form of total escape and the team here ensure you feel safe and comfortable. The atmosphere is family friendly so they want to make sure that all guests and members are respectful and polite.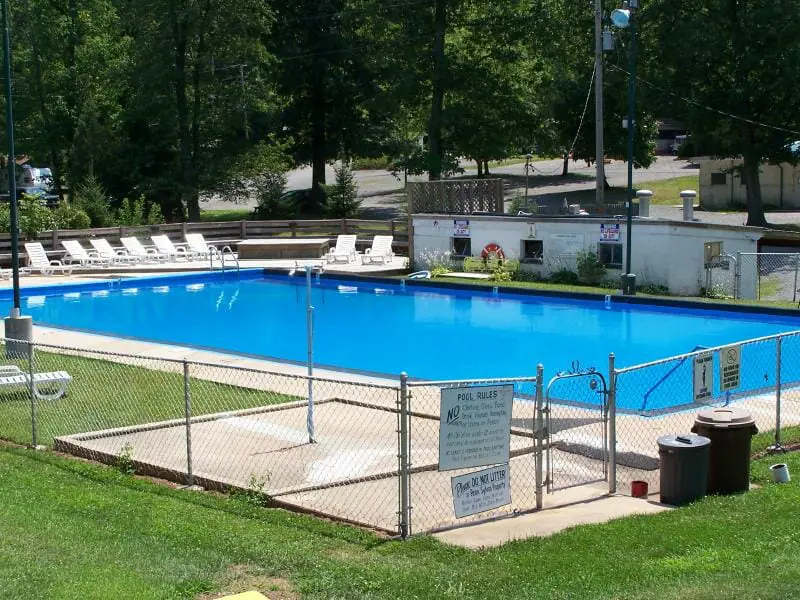 Now, this is slightly different from the other nudist resorts in Pennsylvania that we've mentioned, as there are some restrictions on guests. It's members-only, LGBT and for people aged 18 and up; so the vibe is less family-friendly! However, we still think it's worth mentioning because it's such a brilliant resort (if you don't fit their requirements, sorry!) and shows that Pennsylvania is a welcoming, gay-friendly travel destination everyone can enjoy!
161 acres of beautiful landscape in the Pocono Mountains, the Woods Campground includes woodlands, spacious campsites and even a lake with serene waters and wooden decking to dangle your feet from. You can easily spend endless lazy days walking the nature trails, on a paddle boat or enjoying all the action at the spacious pool.
As well as the compulsory clothing-optional resort volleyball tournaments, there are also weekend events to keep guests entertained, from Bear appreciation weekends to Pride parties to leather fetish parties (see what we mean about the different vibe here?). Even when there's not a particular event, you'll find plenty going on at the Clubhouse patio or in the dance club.
Rent a park model house, a wood cabin or stay in one of the luxury trailers. All of them are well-equipped and comfortable. Camping season is from May to October and there's plenty of space. It's a wonderful feeling to wake up in the morning, not have to put on clothes and step out into these natural surroundings – relish it.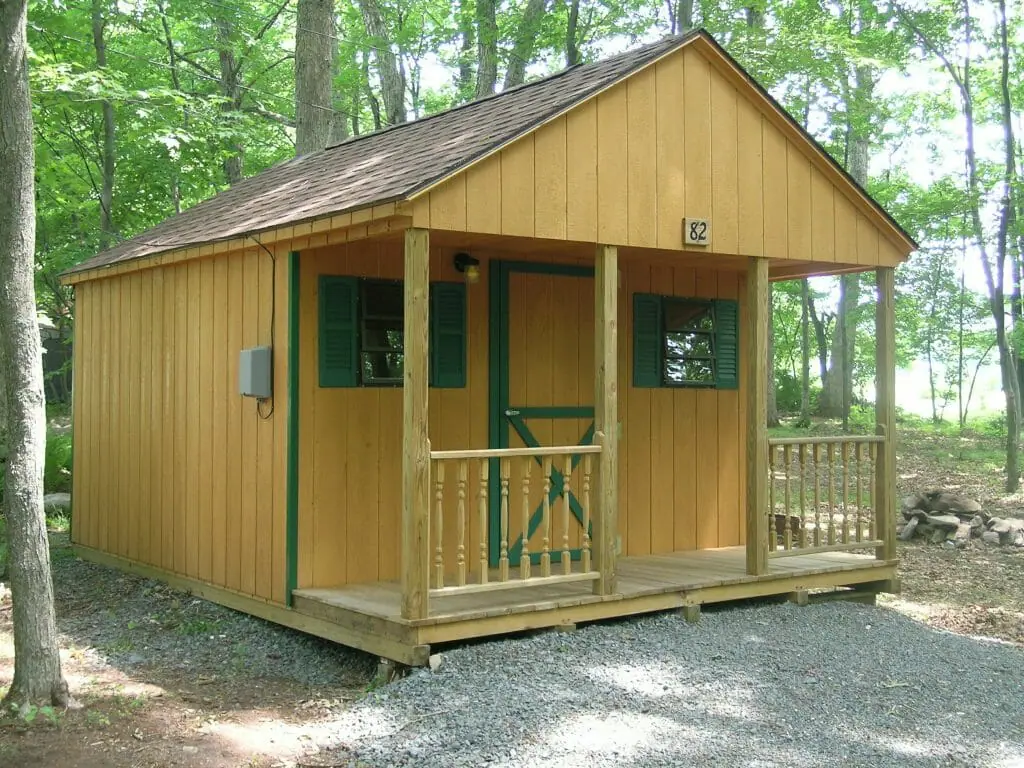 In the south of Pennsylvania near the border with West Virginia, nudists or budding nudists will find this secluded idyll of wooded land where they can make new friends and enjoy the natural beauty around them without the restrictions of clothing. It is member-owned and operated, which adds to the sense of family that you feel when you visit. Speaking of family, this is a family-oriented resort so all are welcome but rules for behavior are strict. While nudity is the norm, it is not compulsory so people can wear as much or as little as makes them comfortable.
The grounds here are quite rustic, which adds to the charm. There are plenty of options for overnight accommodation, from the cosy rentals (our fave is called 'Bare's Den' – got to love a pun!) to the RV lots and campsites. All of these are nestled among the trees, creating an intimate and private atmosphere.
Enjoy days by the pool, playing volleyball or fishing in the catch-and-release pond; spend nights at the campfire getting to know the other guests and members. There are tournaments every Friday, Saturday, and Sunday as well as potluck meals throughout summer, wine and cheese parties and some old-school 4th July celebrations.
The beautiful grounds, clean facilities, and warm welcome all combine for a trip that you won't forget, so don't be surprised if you find yourself visiting again.
Once you try nudism, it's easy to get hooked and these nudist resorts in Pennsylvania are a good place to start the addiction!