Considering moving to LGBT Jacksonville Florida? This vibrant city is home to approximately one million people is famed for hosting the states' largest seaports, sandy beaches, abundant waterways, and eclectic neighborhoods, and it has a lot to draw you in.
If you are seriously considering moving to this beautiful city, you should know that it comes with plenty of business opportunities, ideal neighborhoods, vibrant culture and arts scene, and a thriving LGBTQ community. The Advocate recently voted the neighborhood in the top 5 upcoming cities for lesbians and gays. There's plenty to love about Jacksonville, as you're about to discover in this article – so consider this your guide to what living in LGBT Jacksonville is like and how to get involved with the local queer community.
Yes, just like in Reno, Columbus, Oklahoma City, and other smaller U.S. cities, there is also a tight-knit gay scene here (if you know where to look), and this is something a gay realtor in Jacksonville can help you navigate as you find your new perfect home here.
Once you throw in the outstanding dining and craft beer scene, the largest urban park system in the nation (with ten state and national parks), and a plethora of outdoor activities, you can begin to see why Jacksonville is one of the most underrated destinations for members of the LGBTQ+ community looking to move from their current locations.
Before we dig a little deeper to find out what the city has in store for you as a member of the queer community, let's first take a look at some of the highlights of moving to LGBTQ Jacksonville.
Highlights Of Moving To LGBTQ Jacksonville
As the locals call it, JAX is home to more than 850 square miles of sandy beaches, natural beauty, and stunning attractions. Below are some reasons why you should move to Jacksonville.
Always A Good Time To Enjoy The Beach
Jacksonville is home to the most extensive urban park system in the United States, with around 337 locations spread over 80,000 acres. Besides municipal parks, the city contains national facilities, ten state parks, and a couple of gardens and arboretums.
Jacksonville is for those who love the water, with its myriad of waterways, gorgeous beaches, and availability to hundreds of piers.
Great Eats
You're guaranteed some unique flavors of the coast when moving to Jacksonville. It's safe to say that no other city in the region has the same culinary scene, unique flavors, and world-class chefs like Jacksonville. Whether it's kid-friendly restaurants you're looking for, locally-sourced seafood, or sandwich shops, there's everything for everyone here.
Excellent Schooling
Jacksonville is home to more than 300 schools, and more than 50% of them are public schools. The city also hosts many higher education institutions with various fields to study. Some of the higher institutions you will find here include Jacksonville University, the University of North Florida, and The Art Institute of Jacksonville.
Does Jacksonville Embrace The LGBTQ Community?
On February 14th, 2017, The JaxHRO, which modifies the Jacksonville Human Rights Ordinance to guarantee that LGBT individuals are treated somewhat based on gender identity and sexual orientation, was passed by the Jacksonville City Council.
Jacksonville is the United States' twelfth biggest city and among the few major cities where LGBT individuals are not explicitly safeguarded from prejudice. According to the findings of a 2017 survey, around 75% of lesbian, gay, bisexual, transgender, and intersex people in Northeast Florida suffered severe contempt, intimidation, or discrimination because of their sexual identity or gender.
In the year leading up to the study, nearly 700 persons reported discrimination in the workplace, at home, and at the bank, as well as unjust treatment by law enforcement agencies. According to the findings released, nearly 40% of the entire sample and 65% of gender minorities had been rejected for a job for which they were skilled, 23% were struggling financially or "near the poverty line" conditions, 20% of gender minorities were jobless and homeless.
Nearly 30% of the total count and 66% of gender minorities met the criteria for clinical depression.
At the time, the president of The LGBT Community Fund, Northeast FL, noted that the LGBTQ community in Jacksonville is diverse, successful, and vibrant and that it's vital for the community to feel welcome in the city. LGBT individuals are vital contributors to the community, and we should respect them.
According to the research study, more than half of all participants reported that they didn't feel like the city embraces diversity, and they did not feel welcome. Unfortunately, this can be interpreted as a lost opportunity, and the city's residents still have much to do in achieving full inclusion of the LGBTQI+ community.
The results of this study should be taken seriously and be the foundation of a broader discussion on issues that have a significant impact on the LGBTQ community in Jacksonville.
Researchers from the UCLA School of Law Williams Institute performed the Jacksonville Community Assessment, considered the most extensive study of Northeast Florida LGBTI adults ever published, with financing from the LGBT Fund.
The goal of this study was to learn more about the LGBTI community's makeup, their experiences, and their health. Approximately 70% of those polled identified as gay or lesbian, 18% were bisexual, 14% identified as gender minorities, and 2% were intersex. In addition, 72% were white, 13% black, and 8% were Hispanic. Young, middle-aged, and older people were also among the group.
The fund utilized the information to make grant decisions and shared it with the LGBT community, community leaders, and service organizations. The information could also be used to promote other similar efforts and the execution of Jacksonville's Human Rights Ordinance, which forbids discrimination based on sex, race, gender identity, sexual orientation, and other personal attributes.
Currently, no protections exist for gender identity or sexual orientation under Florida's statutory nondiscrimination legislation. As a result, t According to Taylor Brown from the Williams Institute, these data could be beneficial in creating statewide rights for LGBTI individuals.
The majority of the sexual minority participants reported they had told their LGBTQ family members, friends, and health care professionals that they were lesbian, gay, or bisexual. As per the study, they indicated they were embraced by all, most or some of the individuals aware of them being a sexual minority.
That many people feel safe coming out and that their sharing is being accepted is a positive thing. However, health-related data about gender minorities, particularly transgender people, was found to be disheartening. About 40% of them indicated they were experiencing poor or fair health, while 11% claimed they had attempted suicide the previous year. In addition, the transgender community is much poorer than the general population and reports a high level of prejudice.
Sadly, as well, we need to restate that this is still Florida – a deeply divided state with very conservative rural areas, and so while queer rights are not as safe in the future from erosion as places like San Jose or Provincetown, if this is a consideration for you.
Is Jacksonville An Expensive City To Move To?
The cost of living in this area is 5% lower than the U.S average. For many people, Jacksonville is the finest city on the planet. It has fantastic weather, a stunning coastline, and varied culture. But how much does it cost to live in Jacksonville? How does it compare to the rest of America? Let's find out.
Housing, Utilities & Transportation: Jacksonville's housing costs are 11% lower than the U.S average, while utility costs are 8% lower than the nation's. Transportation costs, such as gas prices bus fares, are 3% lower than the U.S average.
Food & Grocery: The grocery prices in the city are the same as the U.S average.
Healthcare: Jacksonville healthcare is 13% less than the country's average.
The Best Gay Neighborhoods In Jacksonville
Not all LGBT individuals want to live in the relative frenzy of Jacksonville Downtown (the cities main business district), so thankfully, there are lots of alternate areas to live for those who are seeking a calmer-yet-still-LGBT-friendly environment.
When relocating to LGBTQ Jacksonville, keep in mind that some neighborhoods are closer to all of the exciting queer events and happenings than others. Knowing them in advance will ensure that you arrive at your new home in the most suited gay-friendly area of town.
Start with these top gay and LGBT-friendly Jacksonville communities to find your fabulously perfect new home, each with its own individual personality, welcoming community, and amenities you'll adore. Allow ample time to become acquainted with Jacksonville's diverse personalities, and keep in mind that this city has plenty to offer everyone – LGBTQ or not!
Now let's take a look at where the handful of marvelous gay areas in Jacksonville are and talk about the Jacksonville gayborhood where you might feel most at home! Or speak to a local LGBT real estate agent for a more detailed understanding of the best options today.
Riverside
If you're searching for the right LGBTQ district in the city, Riverside is an excellent place to start. This area hosts an LGBTQ community center and the annual pride parade. The median price for homes in the Riverside area is around $333,000.
San Marco
The San Marco neighborhood is an older and classier area of town situated on the south bank of the St. John's River. The area has many upmarket businesses and old plantation-style housing that have been converted into apartment buildings or retirement and vacation homes for affluent residents. The district also has plenty of architecture and housing in different price ranges. The median price of homes in this area is around $380,000.
Old Ortega
Another welcoming and absolutely gorgeous neighborhood in Jacksonville is Old Ortega. Many homes in this neighborhood are listed on the National Registry of Historic Districts. The residences here are sizable Southern-style estates, and they are deemed among the most stunning and extravagant locations to live in the state. The current median price for homes in this area is around $480,000.
LGBTQ+ Community Organizations In Jacksonville
The LGBTQ community frequently has to rely on donor organizations or non-profits to push the LGBTQ agenda further.
Wherever you live, it's vital that you give your support in any way you can go to such organizations so that they may reach others and help other people within the community. You might need their help now – or at some point in the future.
Here are some community organizations in Jacksonville doing amazing work. If you're looking for LGBTQ groups to join, gain support, meet new people, or volunteer with towards a cause you like, these are a great place to start.
PFLAG Jacksonville is the local branch of the national organization. The organization's mission is to offer education, support, understanding, and advocacy of LGBT people to the Jacksonville community. The organization helps p the community by holding monthly meetings, offering educational material, scholarship programs, and more.
Onslow County LGBTQ+ Community Center
The Onslow County LGBT Community Center is driven by making the world a better place for everyone. Comprehensive studies and data evaluation lead the organization's decision-making process. It strives to create and develop relationships and positively impact all their pursuits.
Jacksonville Coalition for Equality
The Jacksonville Coalition for Equality is made up of involved citizens committed to ensuring the Human Rights Ordinance in the city is updated. This ordinance includes protections for gender identity and expression in employment, sexual orientation, public accommodation, and housing. The organization believes in hard work, mutual respect, and transparency.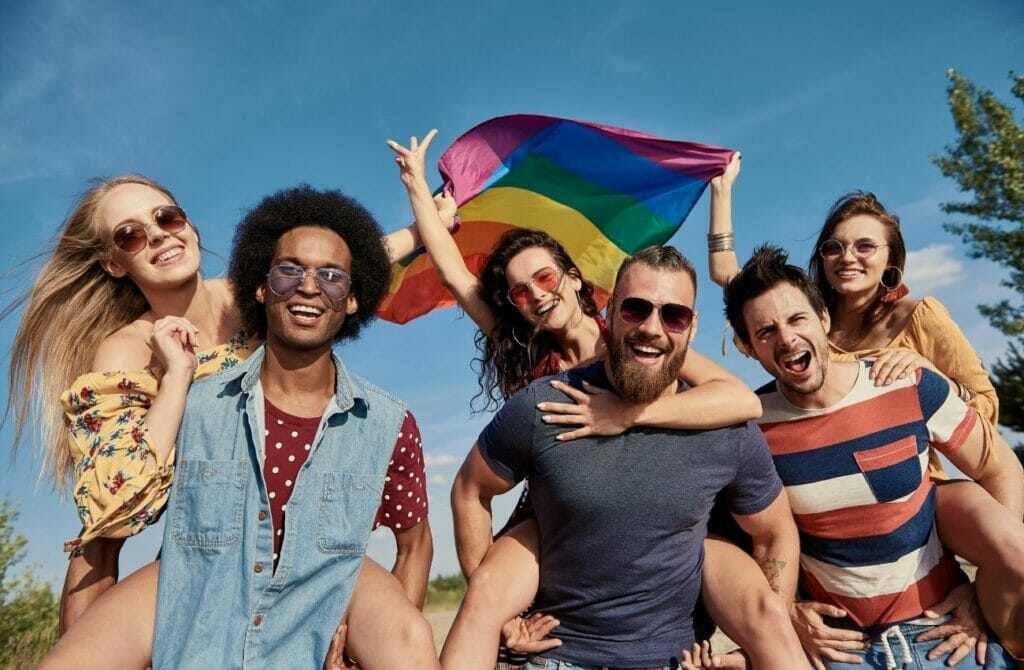 Regular LGBT Events in Jacksonville
You have to make new friends, meet people, and network after moving to a new city. Thankfully, plenty of events, gatherings, and activities that target the queer community will help you do just that, and, as a result, there's no shortage of possibilities in the city for LGBTQ residents to enjoy.
Here are just some of the annual highlights you can look forward to after moving to LGBT Jacksonville:
Strides for Pride is a run/walk. It is a live event whose aim is to benefit LGBTQ youth at Jasmyn, a neighborhood safe place. Registration for the event is tiered and open up to race day. Strides for Pride is an exciting family-friendly event filled with rainbows and fun.
Every first Tuesday and third Wednesday of the month, the LGBTQ Center hosts Q Chats. This biweekly discussion touches on all aspects of the LGBTQ community, including Aro, Grey community, Ace, sex, dating, and relationships.
River City Pride, AKA Jacksonville Pride, is the city's annual Pride event. The festival spans over a weekend and celebrates the LGBTQ community in Jacksonville and its contributions to the city. You will definitely enjoy this celebration if you enjoy parties, family-friendly activities, networking opportunities, or parades.
LGBT Owned Businesses in Jacksonville
The LGBTQ community in Jacksonville is vibrant and continually growing. As a result, one cannot ignore their buying power or the businesses they create.
It's only natural to want to support gay companies after arriving in LGBT Jacksonville. Establishing a secure environment where people may rest, buy, dine, and interact without fear is one strategy for making a safer and more inclusive society, and this is exactly what LGBT businesses should strive for.
It is vital to support these efforts wherever you are in order to ensure the queer community's survival and success. With that in mind, here are a few LGBTQ-friendly companies in Jacksonville worth visiting.
The Coliseum of Comics is a comic store whose mission is to offer its clientele the ultimate experience in their shop. The business intends to do this by ensuring there's always a friendly face to serve their customers and having affordable prices on the shelves.
Brightway Insurance (owned by Michael Miller and his brother) is a national property insurance distribution organization with yearly written premiums of $815 million and above. It is one of the country's biggest Personal Lines agents.
Brightway focuses on creating win-win results for consumers by providing tailored insurance products. Those who want to sell insurance have access to lucrative business opportunities ranging from single agency to multi-unit companies. Whatever path you choose, Brightway will give you the support you need to outsell other insurance providers routinely.
Michael Miller lobbies for the LGBTQ community by backing the University of North Florida's LGBT Resource Center, the LGBTQ Community Fund for Northeast Florida, Equality Florida, and the Human Rights Campaign while running a successful business. He is also a member of the JASMYN Community Trustee Council.
Rainbow Notary and Nuptials was established in 2018 and has since grown into a dozen Notaries spread across Florida State. The organization has Notaries that can notarize your documents remotely regardless of where you are in the world. All this is made possible with the implementation of innovation and legislation.
The business also provides Wedding Officiant services since being a Florida Notary accords you the ability. Rainbow Notary and Nuptials provide free consultations and the ceremony with a couple to curate the perfect experience for their big day. They will ensure your license is appropriately filled because this is what they do best!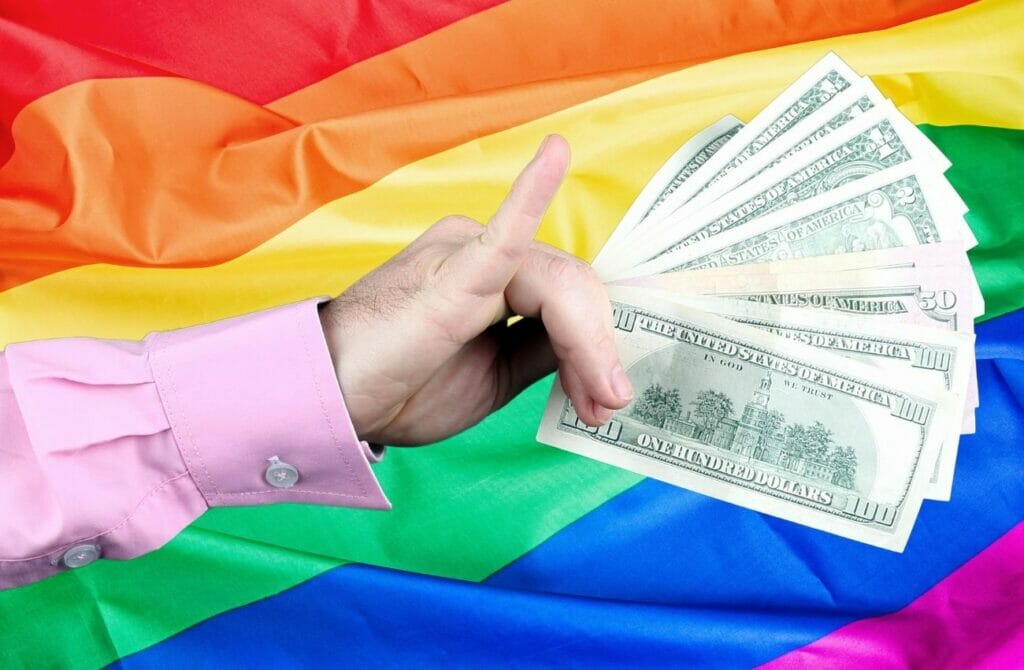 Final Thoughts On Moving to LGBTQ Jacksonville
If you, your loved one, or your family have chosen to move to LGBT Jacksonville and enjoy world-class attractions, a vibrant nightlife, exciting games and times on the water, and a welcoming community, this city is for you. Whether it's the schooling opportunities or the low cost of living, Jacksonville has something for everyone, so pack your bags; your new chosen family is waiting for you!
Remember that life is what you make it, and whatever gay Jacksonville area you choose to start your new life in, we hope you find the freedom and comfort you desire.
Living in a gay-friendly neighborhood, frequenting local LGBT businesses and events, and joining in queer community groups and sports teams are the best ways to learn about LGBT Jacksonville.
We guarantee that if you do this, your transition to LGBT Jacksonville will be more enjoyable, and you'll meet like-minded people quickly to join your chosen family.
Finding Gay Realtors In Jacksonville Florida
When looking for the ideal realtor, why would you consider someone's sexuality? This may seem strange at first, but there are several reasons why contacting a gay realtor in Jacksonville is a great way to find your dream house.
After all, when it relates to one of life's most important transactions, it's not unreasonable to expect fair, equal, and honest representation from someone who understands the queer community's particular needs and wishes. Furthermore, unfortunately, many people (up to a third of Americans) continue to believe that our community does not deserve protection and dignity in housing, adoption, employment, and other areas of life.
So it's no surprise that LGBT people who use mainstream realtors often describe feelings of discomfort, unnecessary trouble, unenthusiastic representation, or even antagonism or outright contempt. Everyone deserves a pleasant, stress-free home buying or selling experience while being adequately represented, and this is why we feel you should hire a gay realtor to assist you in finding your future home.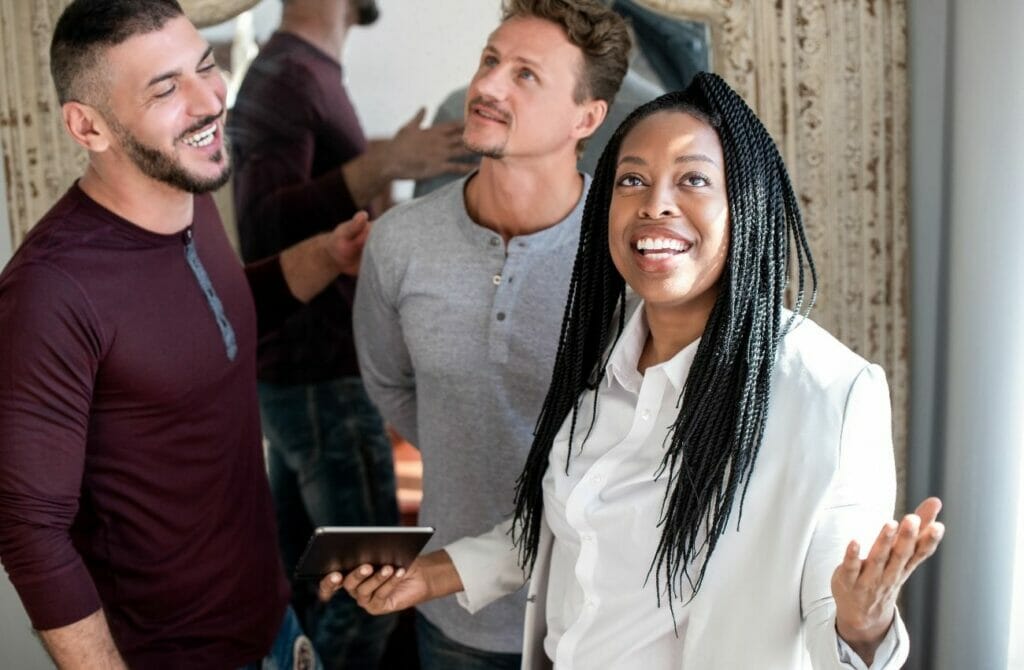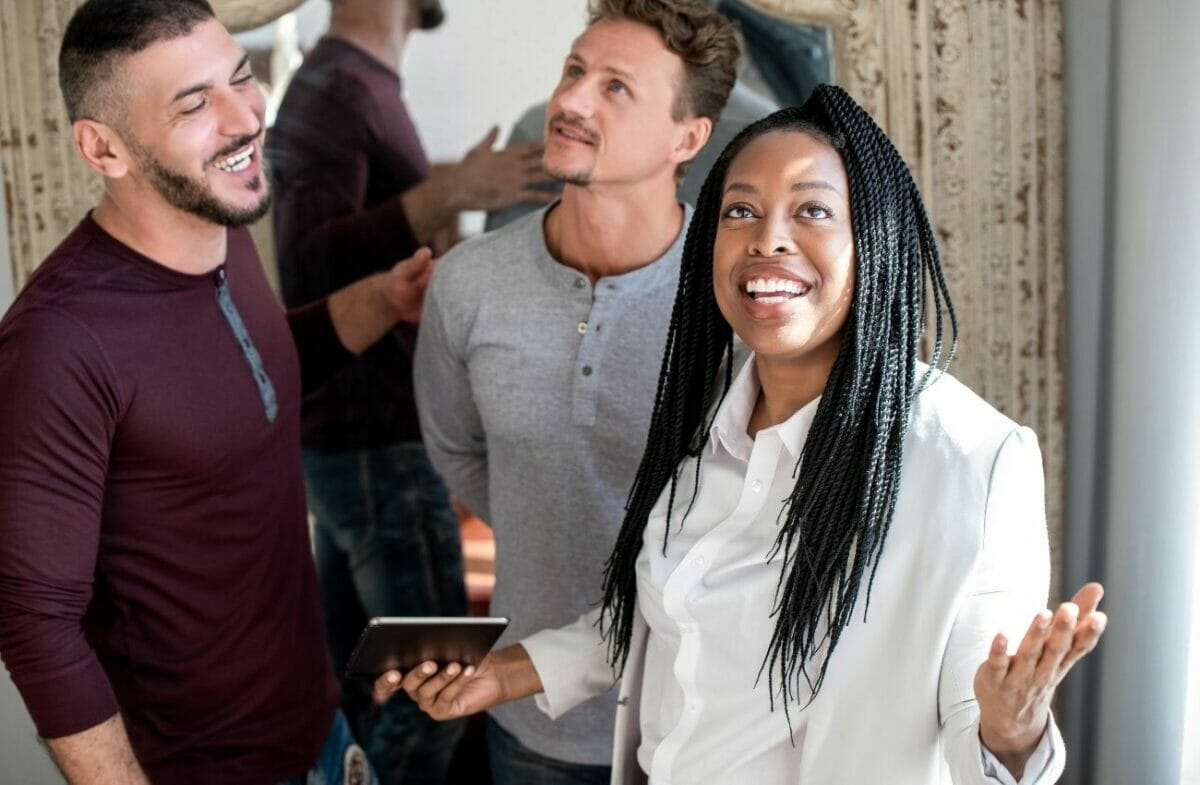 LGBTQ realtors are more likely to be familiar with the diverse communities in their area and know which ones may be best suited to you when looking for a home. That's not to say a heterosexual realtor isn't capable, but they've probably never had to address many of the issues LGBT people face. Rather than just being concerned with how bustling, fashionable, or up-and-coming a neighborhood is (or what it may appear like), gay realtors conduct extensive research into the neighborhoods in which they sell homes to ensure that clients are safe.
It used to be difficult to locate professional LGBT-friendly real estate agents in Jacksonville, and it was virtually impossible to find one if you were relocating here from out of state and didn't have access to a local referral. You no longer have to search for a realtor without knowing whether or not they are accepting of others because you can use a list of gay, lesbian, and gay-friendly agents in Jacksonville to do all of your homework for you.
Simply go to the page, and you'll be presented with a free list of gay, lesbian, and gay-friendly agents who can help you with your relocation as well as other useful information like LGBT+friendly schools, shopping, storage firms, tradesmen, and more. Read the biographies of LGBT real estate agents, then choose the one who is right for you. It's critical that you find someone who will be by your side and support you and your family during one of life's most exciting occasions.
Even better, there is no hidden motive, cost, or obligation whatsoever!