St Petersburg, Florida, is a top gay tourist destination for many reasons, not just because it is sunny most of the year! Here you can find gay bars and other queer attractions, making the scene a lively night out on the town.
They are also gay-friendly, so most places you visit will welcome you openly. Also, if you thought the gay pride event in Stonewall was big, St Petersburg is even bigger with a large gay community out and proud!
Outside of the gay scene in St Petersburg, Florida, this city has a lot to offer visitors regardless of why you may pick her as a place to visit—beginning with the fact she has much history going way back to thousands of years of occupation by the Safety Harbour Native American culture famous for their over twenty known burial mounds.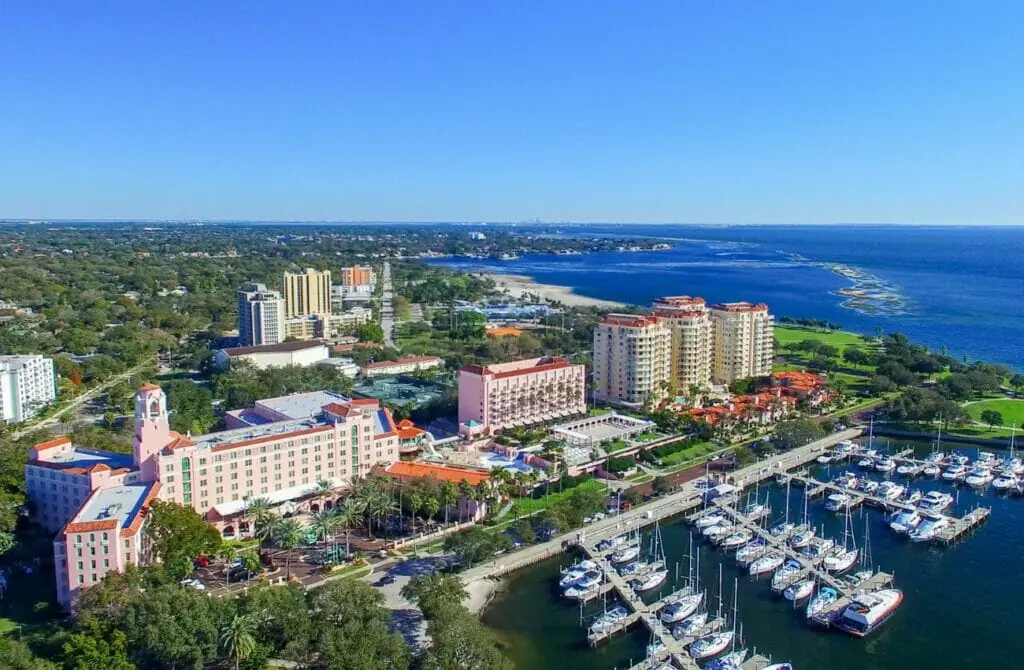 In 1528 Spanish explorers, it landed in the area, recording native settlements and leading to colonial settlers that spread around the region. The City of St Petersburg became a formal town in 1892 and quickly developed into a large city due to its coastal presence and growing tourist industry by the 1950s.
She is also famously known as the Sunshine City for recording almost 360 days yearly of sunshine, so if you are looking for a warm place with just a few days of rainfall, this is the best place to come to Florida and a warm gay holiday.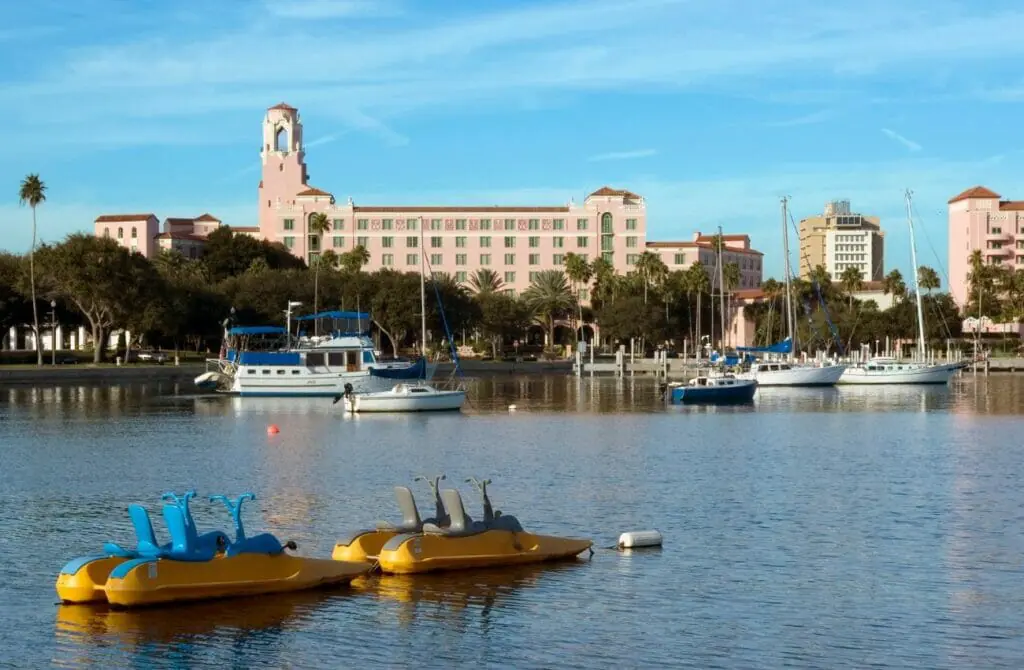 Attractions in Gay St Petersburg, USA
As a new visitor to Gay St Petersburg, there are plenty of things to see and do, regardless of your sexual orientation. One of the best ways to experience any new city is to visit some of its most iconic landmarks and attractions, including historical monuments, museums, and art galleries.
We also love gazing at architecture up close, exploring parks and gardens, sampling the local cuisine, visiting local markets, and attending cultural events such as festivals, concerts and shows.
Even as the out-and-proud queer we are, we still love to explore the city and its culture in the same way as everyone else. Doing so allows us to learn more about the city and its people and gain a deeper understanding of the local culture. As such, these are our favorite must-see attractions in St Petersburg.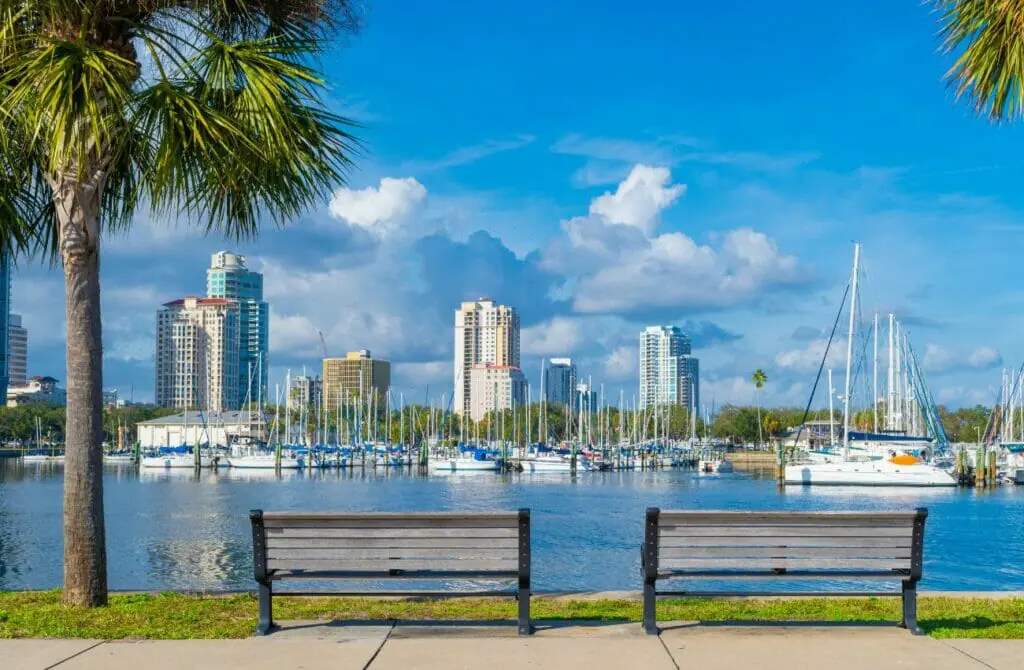 Tampa Bay Dinner Cruise from St. Petersburg with Dance Floor
Those after a romantic cruise can look no further than Tampa Bay Dinner Cruise from St. Petersburg for a night you will never forget!
Start the evening aboard the beautiful 'Starlite Sapphire' yacht and be prepared for a sunset dining experience with delicious food and drink, followed by a romantic dance on their dance floor, and all the whole, be serenaded by classical easy-listening music. They even have a bar for after-dinner drinks and exceptional coastline views even after sundown.
St. Petersburg Small-Group Jungle Prada Site History Tour
Uncover the rich Native American history of St Petersburg at a tour of the Jungle Prada Site as you are led through beautiful bush and experience history at your fingertips with a guide to show you the way.
Part of this tour will take you to a well-preserved burial mound associated with the Tokunaga tribe and then see ruins and artifacts at their museum. This is a must to get up close and personal with the Native American culture.
The Dalí (Salvador Dalí Museum)
Visit an incredible art museum that stands as a true testament to the brilliant works of Salvador Dali, a French artist who moved to America in the 1940s and found worldwide fame for his unique works of psychological drama.
Explore this unmatched collection of one of modern art's greatest artists, from melted clocks to twisted cityscapes; you will never get a better experience in person for Dali than this.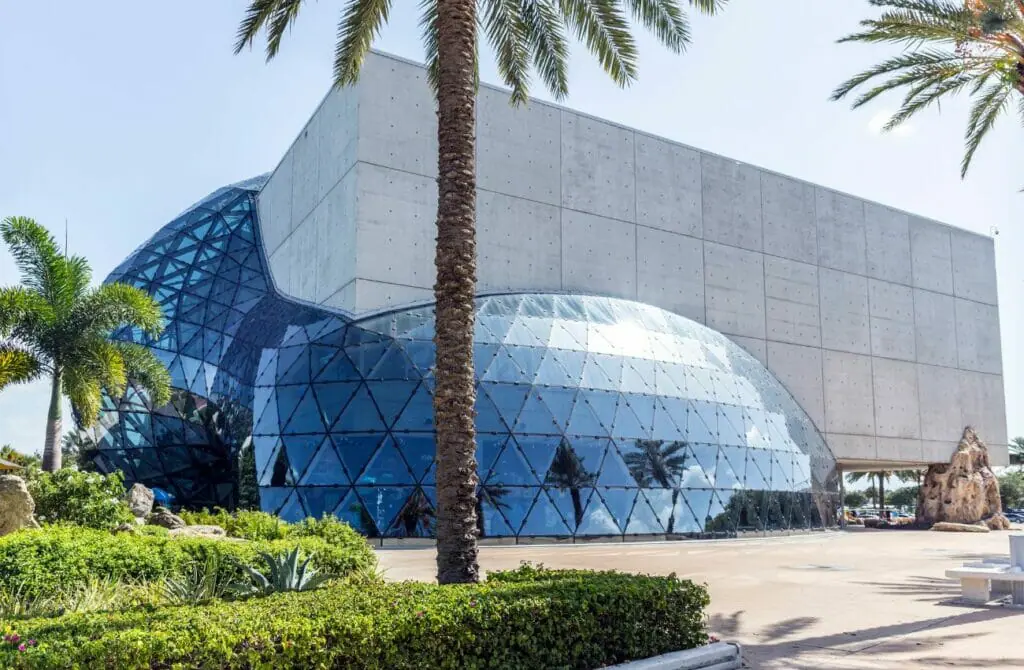 See St Pete's oldest living museum, the botanical gardens at the Sunken Gardens, built one hundred years ago in the city's heart. You can see the oldest tropical trees in the region, pink flamingos, waterfalls, and lush gardens. It is truly a paradise unmatched by other gardens and parks in the city.
One of the best ways to take in the beauty of the St Pete coastline is St. Pete Pier which goes beyond the standard design of a straight square jetty jutting into the sea with a triangle.
You do not just have access to a coastland garden with palm trees and parks; when you step onto the pier, you have magnificent views of the sea and fun markets and other entertainment. Of note, there are playgrounds for children and markets for all to shop, with many more things to uncover as you walk around the unusual oval pier.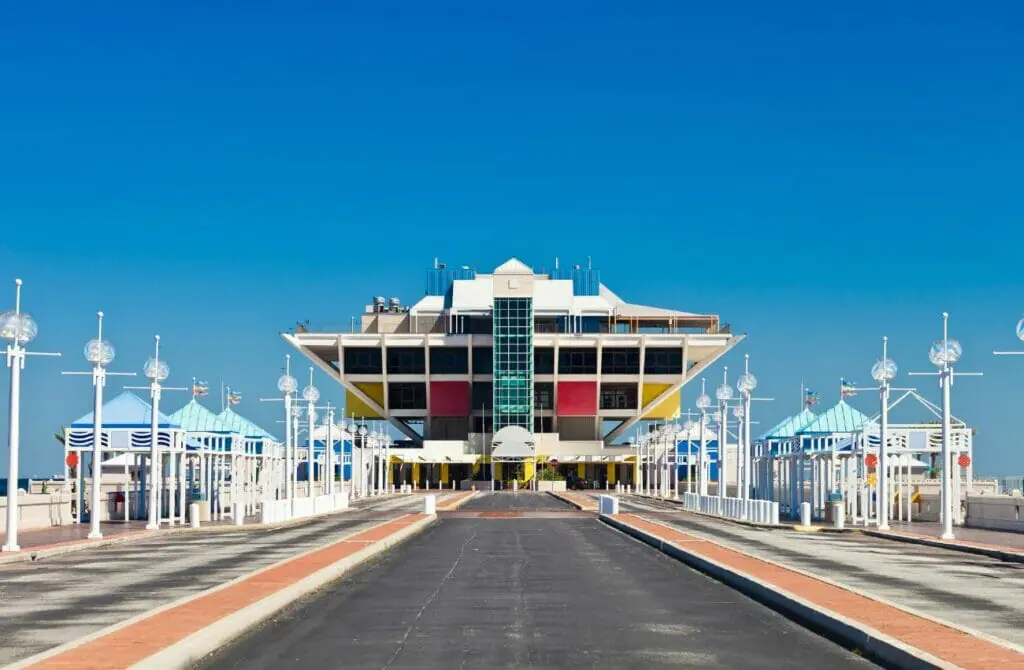 St. Petersburg Saturday Morning Market
Get up early, head to the market, and experience one of St Pete's best shopping experiences at their Saturday morning market. You can find delicious homegrown food, loving crafted clothing and other goods, and friendly locals are always happy to help you find a wonderful place to shop. But, of course, getting up early also gives you more time to do other fun stuff!
Once a zoo, Boyd Hill Nature Preserve has fallen back into nature and now offers a vast nature park with many walks and delightful attractions to keep you busy. Although it is no longer a zoo, you can still find all manners of wildlife here, from otters to birds of prey. It runs alongside Lake Maggiore with a unique setting for a lakeside picnic.
Museum of Fine Arts
If a significant reason you are drawn to St Pete is the Dali Museum, they also have the incredible Museum of Fine Arts to entertain you with some brilliant modern and older art pieces. You can experience not just art but great educational programs and art talks keeping the artsy aspects of the city alive.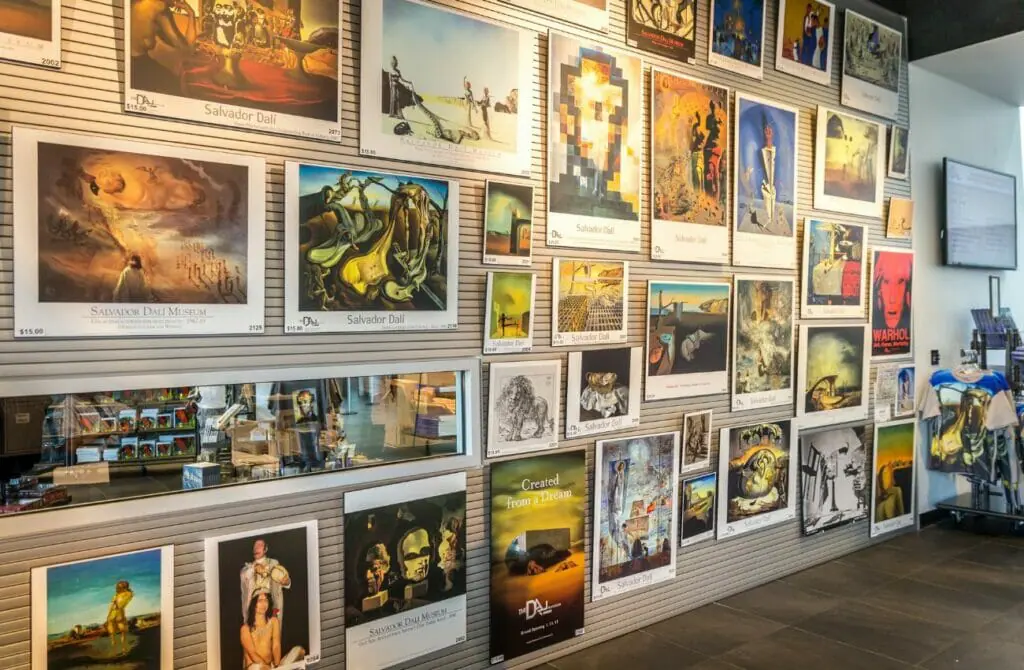 Tropicana Field
Experience an American pastime and catch a baseball game at the home stadium of Tropicana Field! Even if you are not one for sport, this is one you cannot miss if there is a home game with the St. Pete team Rays batting the ball.
Egmont Key National Wildlife Refuge
See gopher turtles in person at Egmont Key National Wildlife Refuge and a host of other unique creatures while giving back to the conversation efforts of endangered species. You can explore this special wildlife reserve found on a key in Tampa Bay and see the ruins of old Fort Dade, a 100-year-old lighthouse, and the animals.
Grand Prix of St. Petersburg
For excitement in your holiday, check out the Grand Prix in St Pete as you support your favorite riders, make a beat, and see some gorgeous, muscled cars racing around an iconic racing track. This popular event draws thousands to the city annually, so it's a great way to meet fellow car lovers.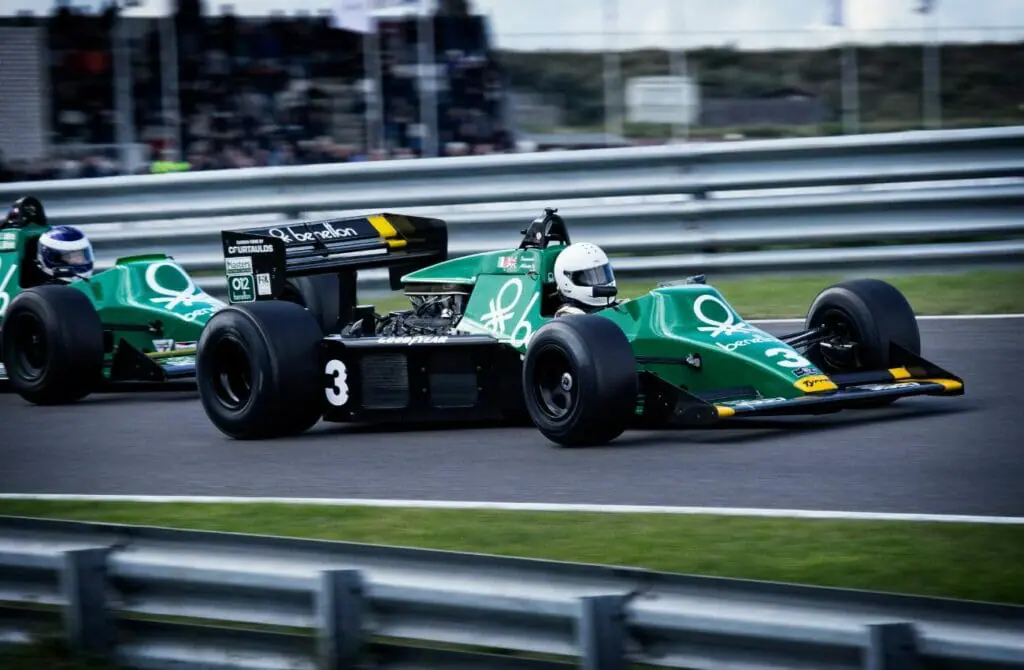 The Florida Holocaust Museum
Pay homage to the victims of World War Two with the local Holocaust Museum, which acknowledges the sizeable Jewish population and displaced Germans who fled to America before and after the war. Then, take a moment of silence to learn about the horrific crimes committed by the Nazis and pray that such a horrid time in our modern history never happens again.
Coffee Pot Bayou
In one of the oldest districts in St Petersburg, you can see some incredible things, whether the old historic streets or the even more unique wildlife. Many make this memorable trip to Coffee Pot Bayou to see one thing: the manatee populations poking their heads outside the water as they walk along the bustling streets.
Outside the wildlife, the area has many great beaches to make your holiday a summer paradise when you stay in St Petersburg.
St. Petersburg Aquariums
Enjoy a slice of marine life in a well-curated and designed aquarium, where you can see incredible marine creatures and give back to conservation efforts.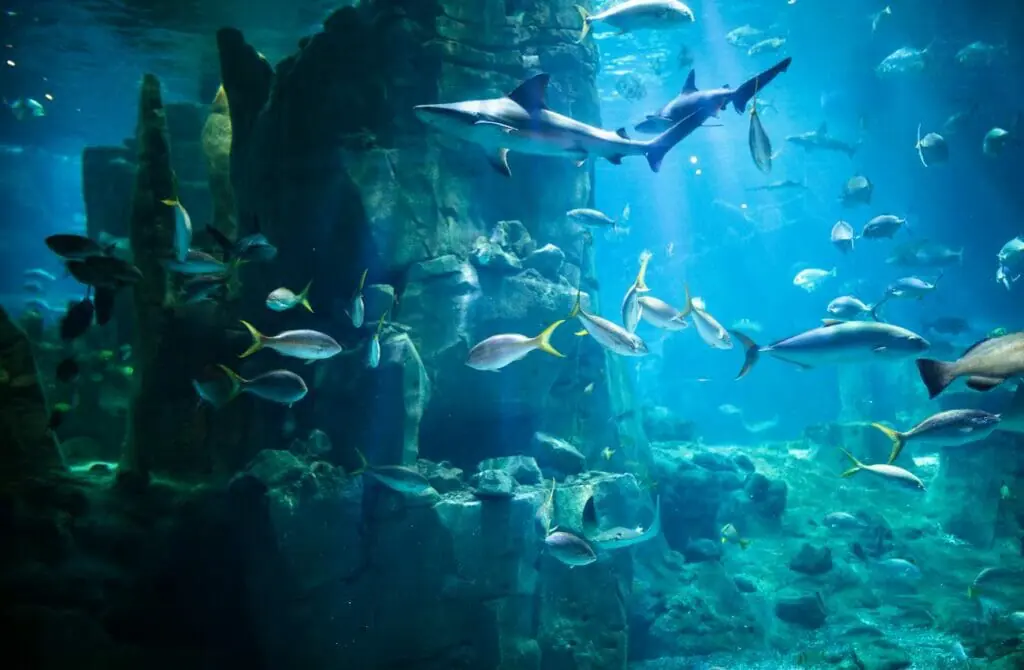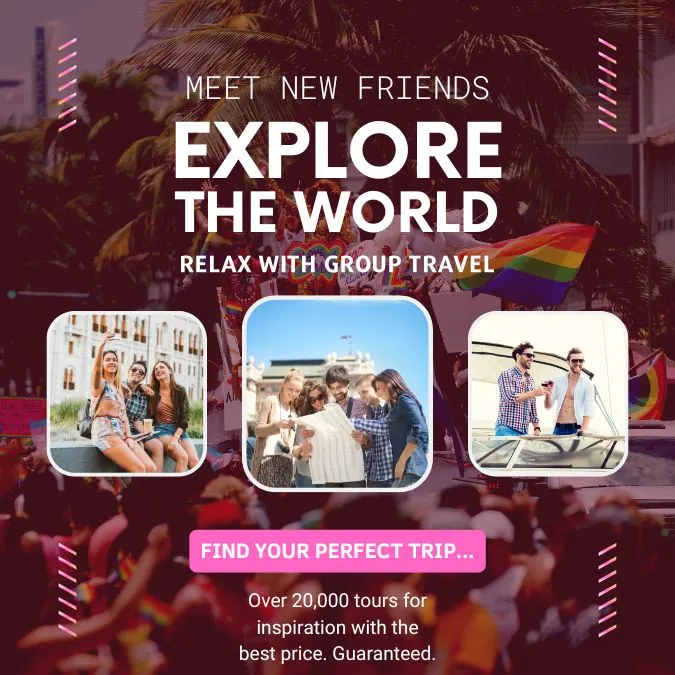 Gay-Friendly & Gay Hotels in St Petersburg, USA
Being gay-friendly accommodation means that the establishment is welcoming and inclusive to guests who identify as LGBTQ+. This can include, but is not limited to, having policies and practices that demonstrate a commitment to creating a safe and inclusive environment for LGBTQ+ guests, such as non-discrimination policies and providing support and resources for LGBTQ+ travelers.
Some gay-friendly accommodations may also provide amenities specifically catering to the LGBTQ+ community, such as rainbow flags or literature about local LGBTQ+ events or resources. Furthermore, gay-friendly accommodations may be located in an area known for being LGBTQ+ friendly.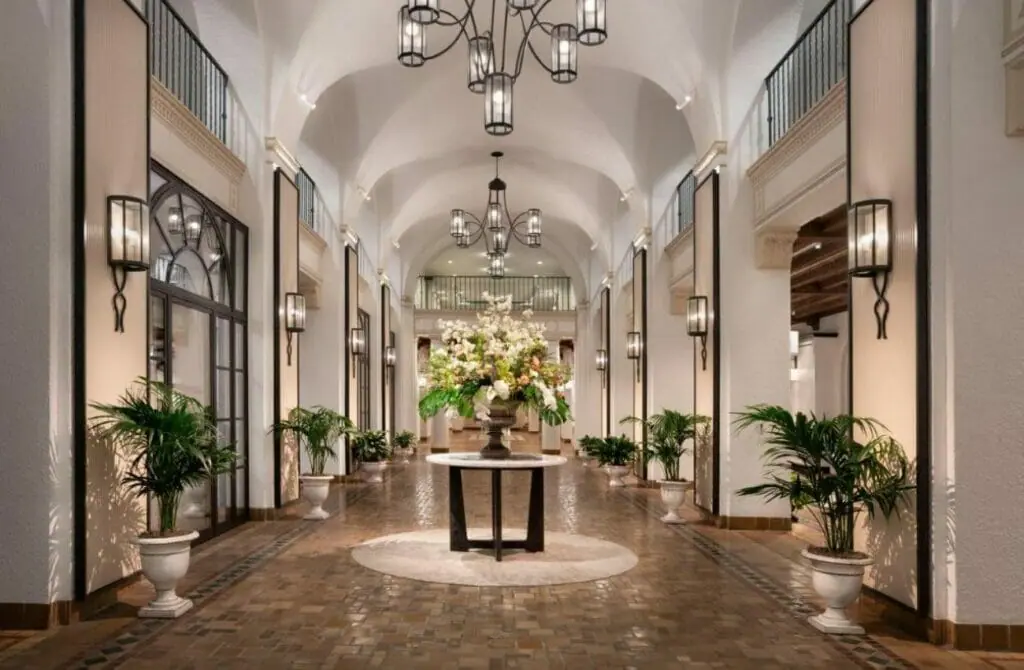 While St Petersburg does not have any specifically gay hotels or resorts, these are the most fabulous and pro-actively gay-friendly hotels in St Petersburg. Needless to say, there are also hundreds more hotel and hostel options in St Petersburg if none of these suit your desired budget, facilities or area – but these are the best hotels according to other gay travelers and us.
Whatever your needs are, St Petersburg has you covered.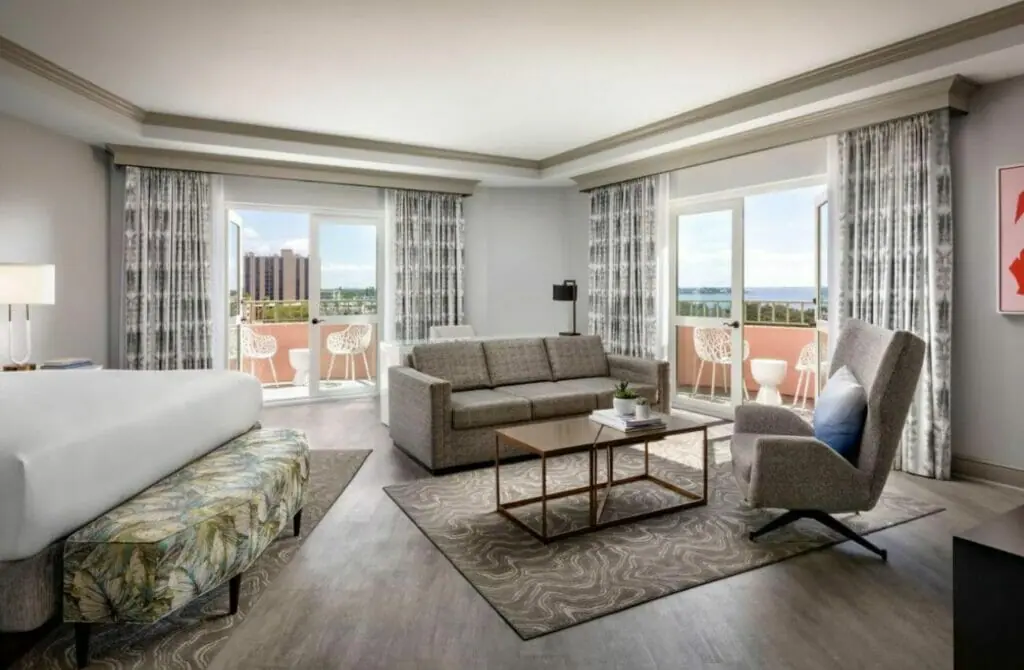 The Vanoy Resort & Golf Club, Autograph Collection ☆☆☆☆
Regardless of why you travel to St Petersburg for a gay holiday, you will have a fantastic adventure with the four-star Vanoy Resort and Golf Club. Not only do you have access to the city and a host of fun-filled services for guests, but they also have golf!
So, if you want that high-class stay with activities to match a leisurely holiday, this is a good match. They also have a coastal side location, with the beach just a short walk away! Inside the resort, you will also find three restaurants and a bar providing food and breakfast for guests.
Starting with Paul's Landing, an upscale seafood restaurant with outdoor and indoor seating to suit your needs and make the most of the salty fresh air! They also have The Veranda Café, serving delicious cafe food with drinks for a more laidback dining experience with an outdoor terrace.
And finally, they have The Vanoy Club Grill, a casual sun-blessed restaurant for those with hearty food without having to dress and dance. Apart from the food, they also play host to pools, tennis courts, saunas, and private rooms, which are to die for!
You will be treated to lodgings with top-of-the-line services, cozy bedrooms with stunning views, kitchens, lounging areas, and much more! This four-star hotel is the closest to the city center compared to others of the same class, making it a brilliant choice without needing to travel too far.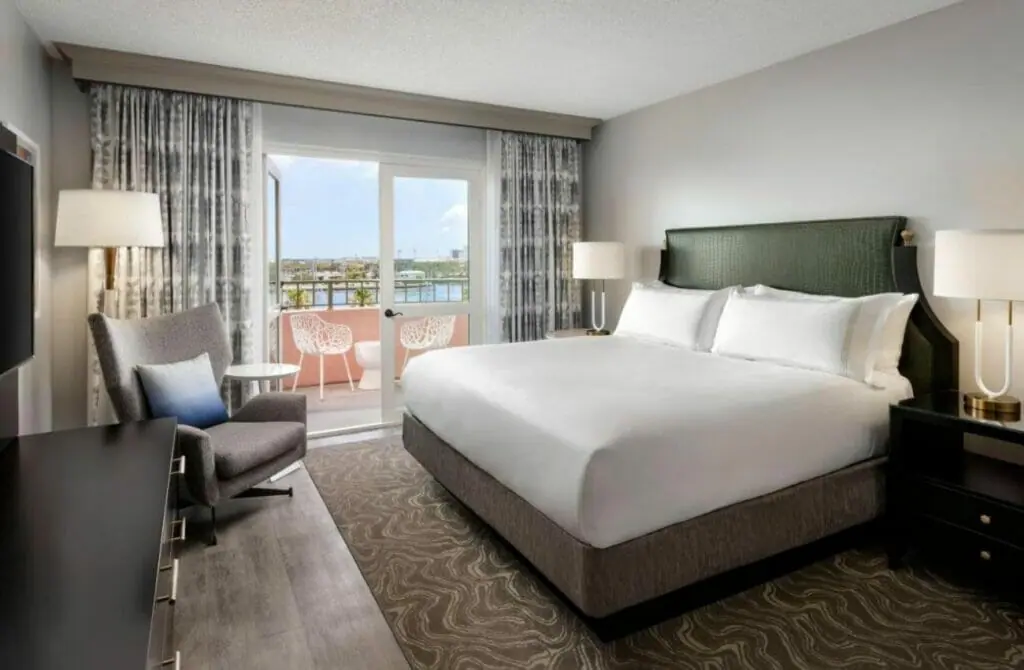 Ten kilometers from the center of town along the spit of St. Pete Beach, you will find a brilliant resort worth the extra journey to get the best of both worlds, with lush beaches and great attractions. Tradewinds Island Grand is famed for spacious beach lounging, outside pool and poolside loungers, and various outdoor activities.
They also have two restaurants, two coffee shops and several bars with dining areas to ensure you never have to worry about what to eat. You will be impressed by Palm Court Italian Grill, Salt's Tiki Bar, and the Flying Bridge, all serving delicious food that will leave you wanting more! Then turning to other affairs, their gym and sauna, you can keep your body and mind fresh!
And come evening, if a drink at the bar is not on the cards, you can retire to your room and experience another thing that makes this great. Not only is the bedding premium and the tv the center of your entertainment, but all rooms come with baloney to enjoy those fabulous views!
The more luxurious rooms have lounge and kitchen areas to enjoy a complete St Pete city apartment experience, even on holiday.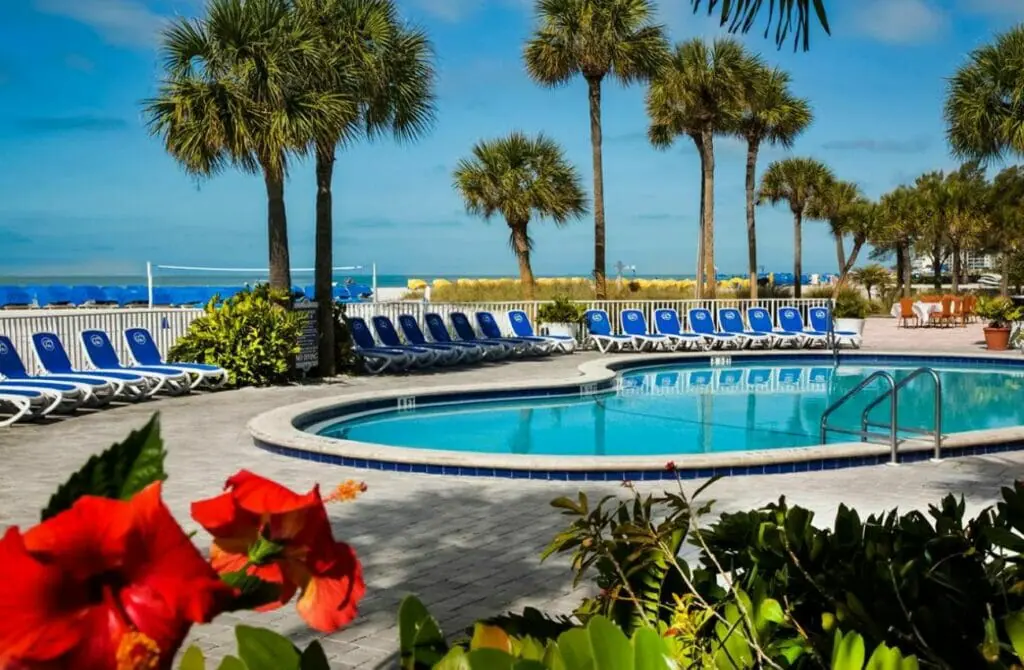 Staybridge Suites St. Petersburg Downtown, an IHG Hotel ☆☆☆
Located in the heart of the city, you will find Staybridge Suites, not just a brilliant place for people to take full advantage of easy city living but also an excellent place for its merits. This three-star hotel borders a park with easy walks around a river and even a little bridge for those morning walks; however, if it is raining, you can use the hotel's gym or dip in the pool.
Not only that, but guests also get complimentary breakfast in their room, and if you are after more food, they even have a restaurant and bar catering to lunch and dinner needs. These spaces provide relaxing areas to dine and lay outside your room, drawing people back repeatedly, with suites serving as self-contained units with kitchens, lounges, ensuites and bedrooms to living the way you want!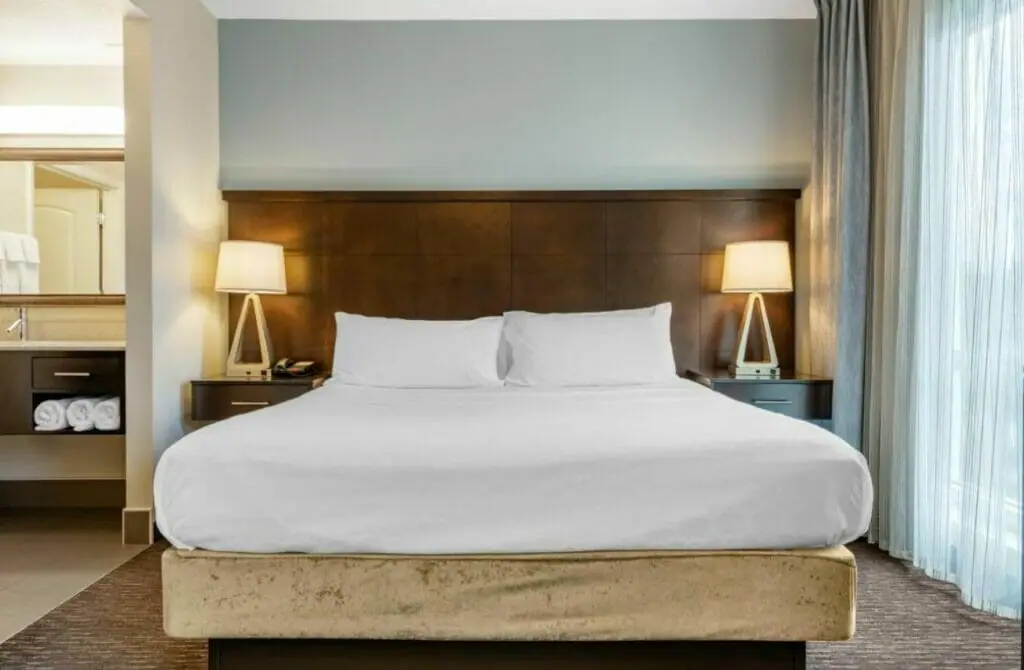 Gay St Pete House: Casa Del Merman
Undoubtedly, the gayest place to stay in St Pete is the Gay St. Pete House! You do not just get free Wi-Fi and off-street parking but also breakfast! Plus, at happy hour, you can enjoy a beer or wine at their bar that is on the house.
Outside of food, you are treated to a hot pool, sauna, and massage room, lounging and special spaces to meet fellow gay people, and your room to relax. They also have day passes, so you do not have to be a guest to enjoy their gay facilities. You will take your gay experience of St Pete to the next level here, so it's certainly worth a stop by even as a day visitor.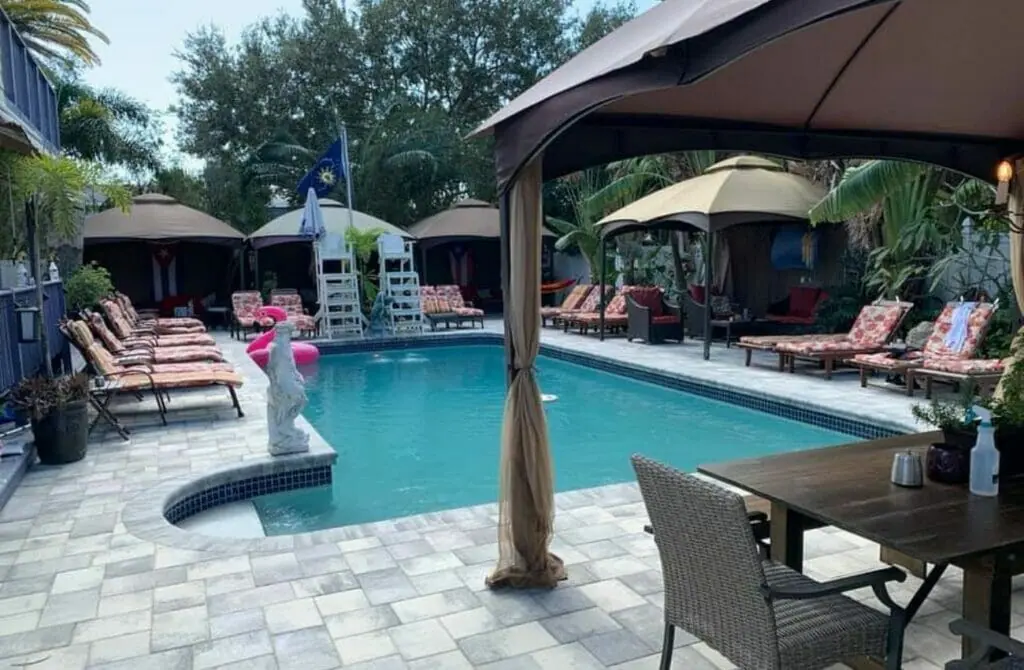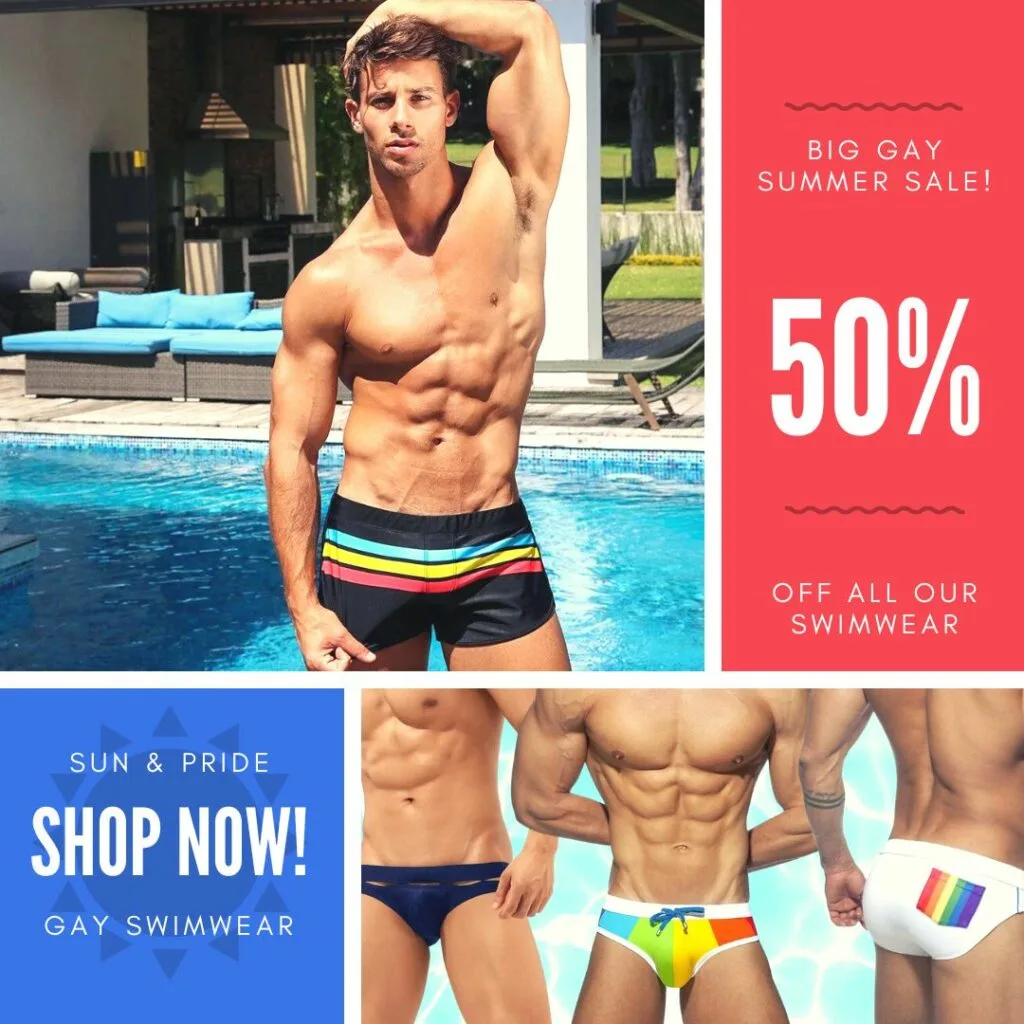 Gay Nightlife in St Petersburg, USA
Regardless of what kind of evening you are after, you can have a quiet evening out or a loud late-night dance at various gay attractions throughout St Pete. Not only do they have gay clubs looking to connect everyone, but they also even have a thriving gay cruising scene for those who want a little extra.
Exploring the gay and gay-friendly nightlife in a new city can be one of the most exciting and rewarding experiences while traveling – and Gay St Petersburg is no exception. Not only will you have the opportunity to meet new people and make friends, but you'll also get a taste of the local culture and learn more about the city's LGBTQ+ community.
Going out and experiencing the queer and queer-friendly nightlife in a new city can also be a great way to break out of your comfort zone and try new things. Whether dancing the night away at a gay club or mingling with locals at a gay-friendly bar, you'll have the chance to make memories and create lasting connections.
So, don't be afraid to step out of your comfort zone and explore the gay and gay-friendly nightlife in St Petersburg. You'll be glad you did!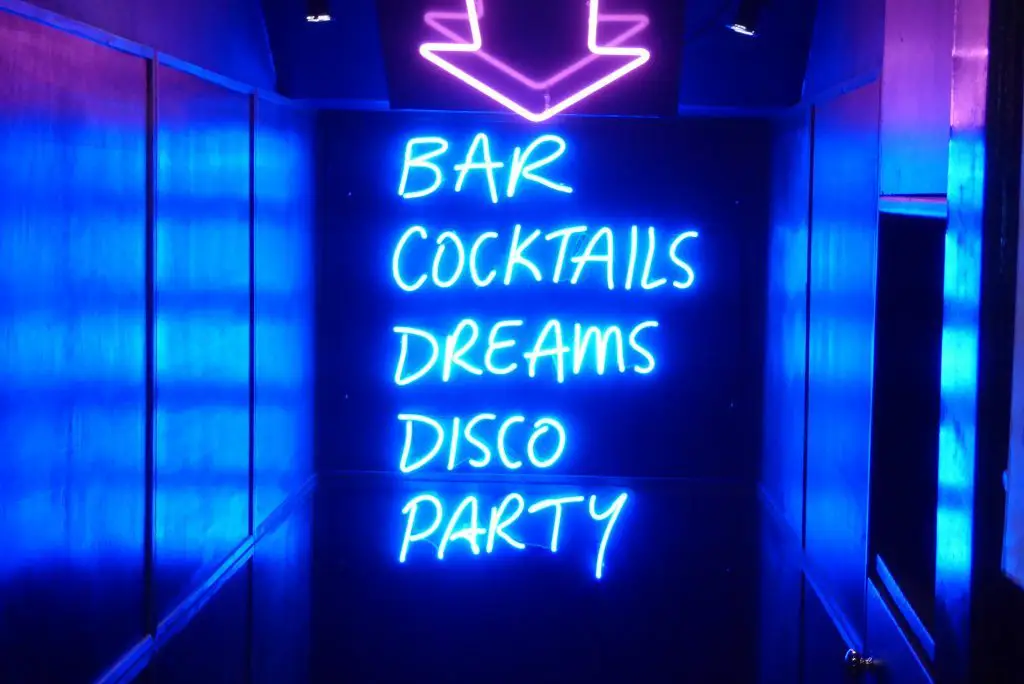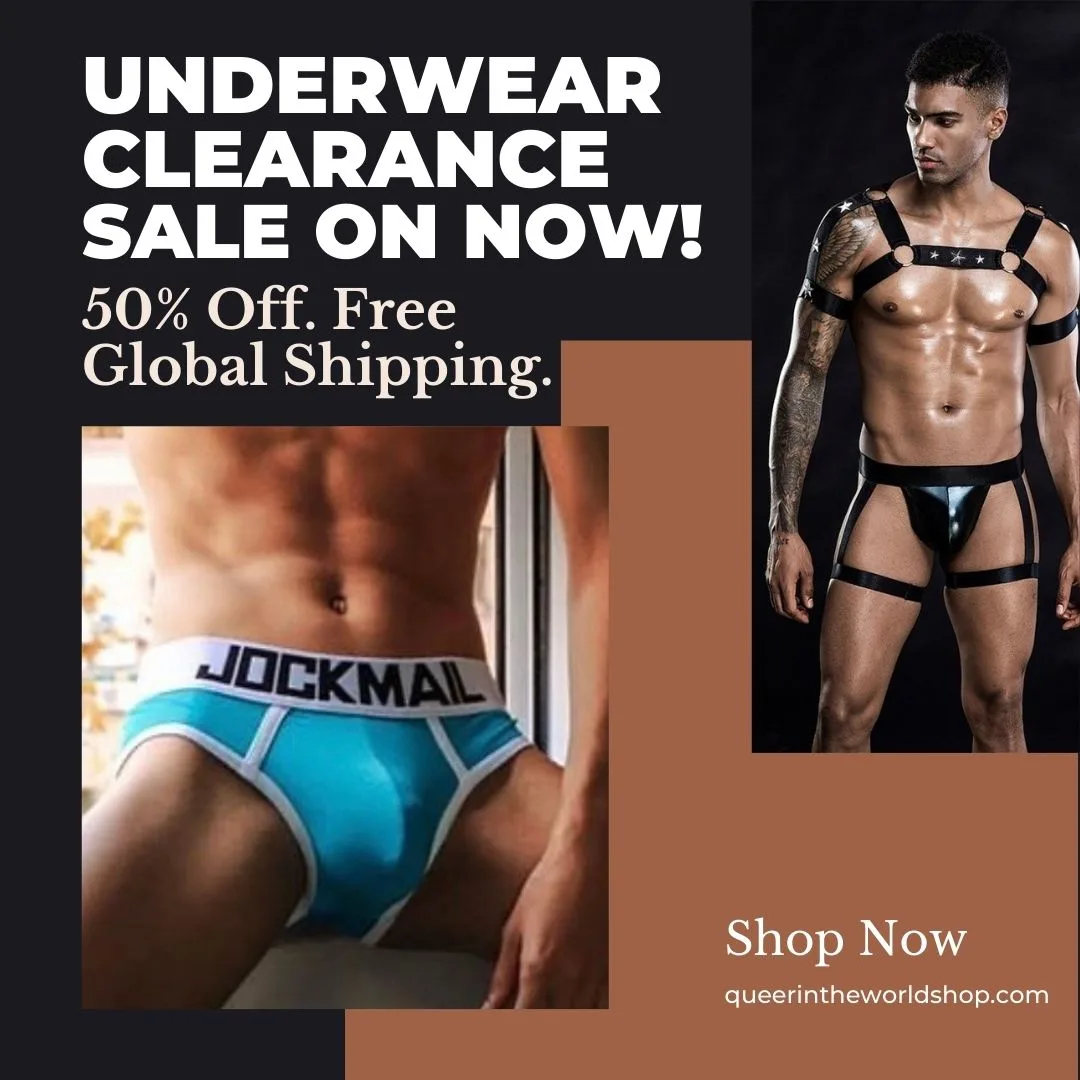 Gay Bars in St Petersburg, USA
A tremendous gay bar in the city center of St Petersburg is The Garage on Central Avenue, a laidback bar with a host of fun activities to make your night one of a kind.
They do not just have a queer space for all to enjoy and delicious drinks to get your night started; they also have free pool tables to break the ice and karaoke to make the late night last into the early hours. And if that was not all, they regularly host cabaret and other live entertainment, so it is never a dull night.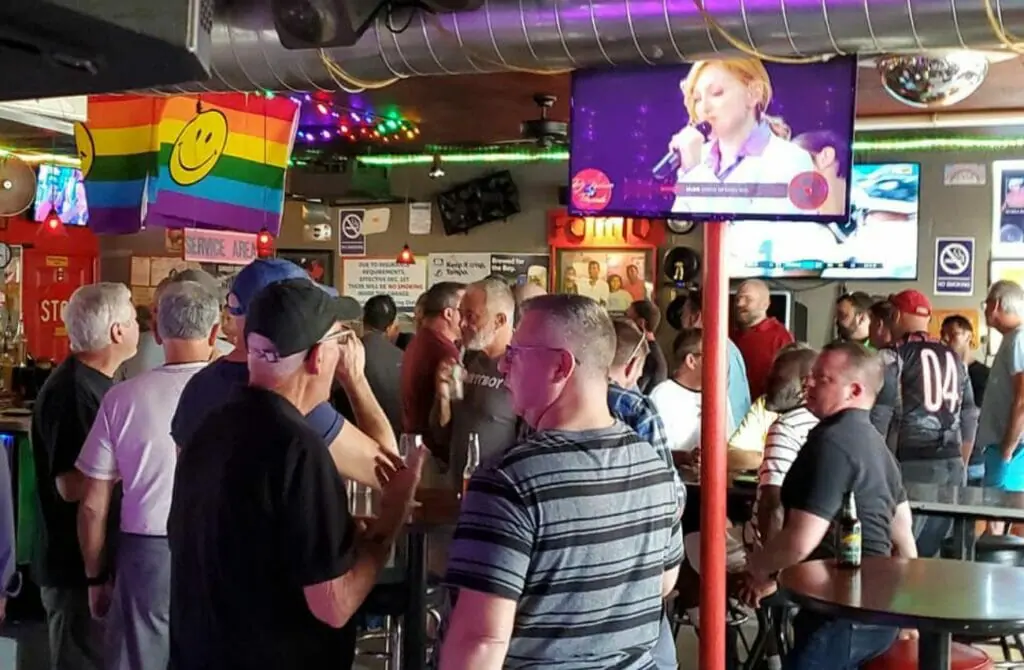 Lucky Star Lounge
You can count your luck at the Lucky Star Lounge, regarded by some as the best gay drive bar in St Pete, and being in the center of town makes it just that little bit better!
The atmosphere is relaxed, the staff friendly, the drinks cheap, and their decor gay, so it is a star all on its own. It is said they have so many Britney Spears songs on their jukebox, but you can expect more than pop music here, which is complemented by a relaxed drinking experience with great people.
Enigma St. Pete aims to bring a slice of gay fun to the town's nightlife, and they act this wonderfully in several ways. Firstly, they have one of the best gay party destinations in town with their spacious dance floor and splendid lights.
They also have a cozy bar that is ever flowing with drink, and even a good coke if you are driving! Their outside terrace allows for quiet conversation and a ciggy if you want to get to know the locals better, and the rainbow lights on the building's facade help set the scene perfectly.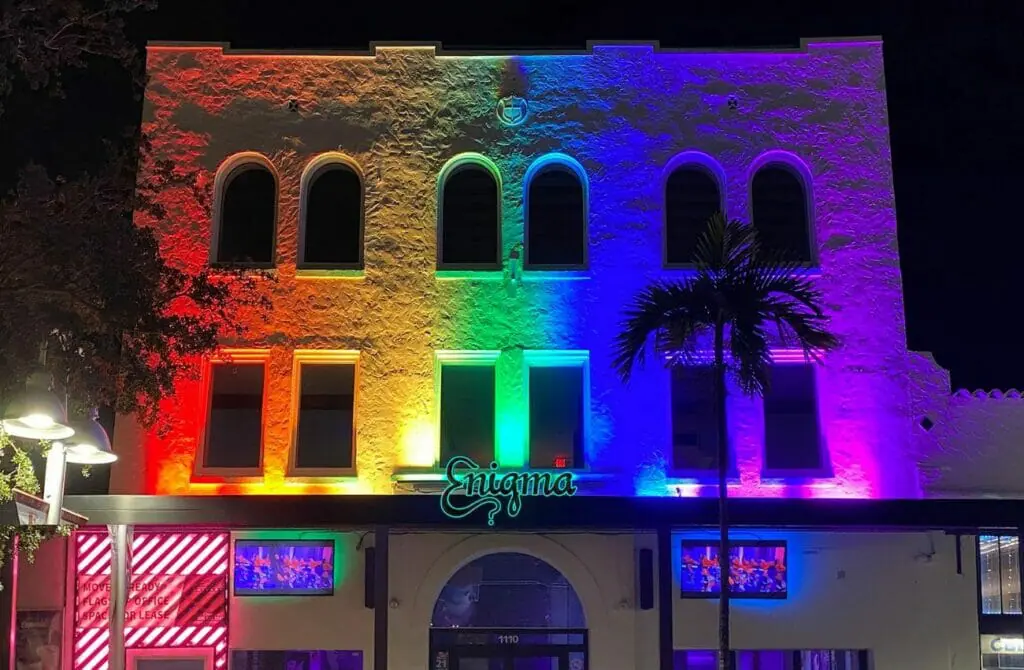 You will be genuinely quenched at the Quenched Lounge, which describes sitting self as the 'sexiest gay club in St Pete' and for a good reason, as you won't have to look for to find good looking men and women. They play host to great live entertainment, from drag to cabaret dancers and everything in between, and they are not one to shy away from being a little naughty for some fun.
They offer a safe space to drink, meet fellow gay people and have fun through their numerous pride events. Despite its teasing attitude, this is not a cruising bar, so you should not expect to find services for this here, but you may find that special someone!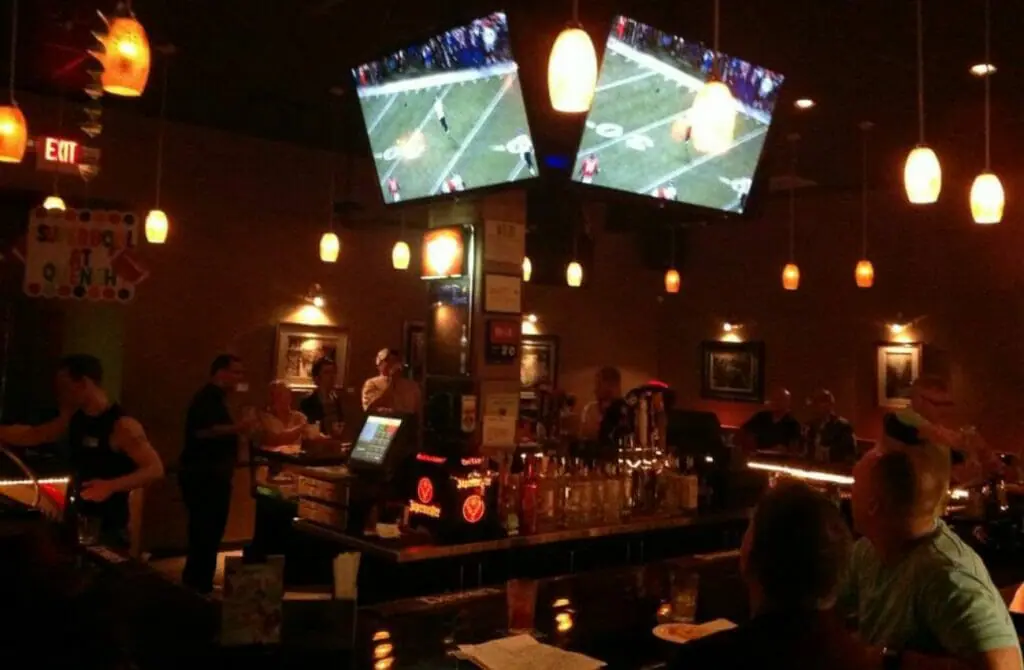 Gay Parties & Gay Clubs in St Petersburg, USA
Come Out St. Pete is one of the principal online resources for gay people to get a complete run-down on the gay community. They have a guide that can be downloaded, or you can email their organizers to get a local perspective for any concerns or questions you have before you arrive. You may find they can help you get set up with a list of top must-see gay events before you leave.
Every year in June, St Pete hosts their pride parade celebrating the queer community in the backyard. In addition, they host several events during the festival, from social meetups and markets to parties and drag queens in the evenings, with many more fun things to be discovered on the ground.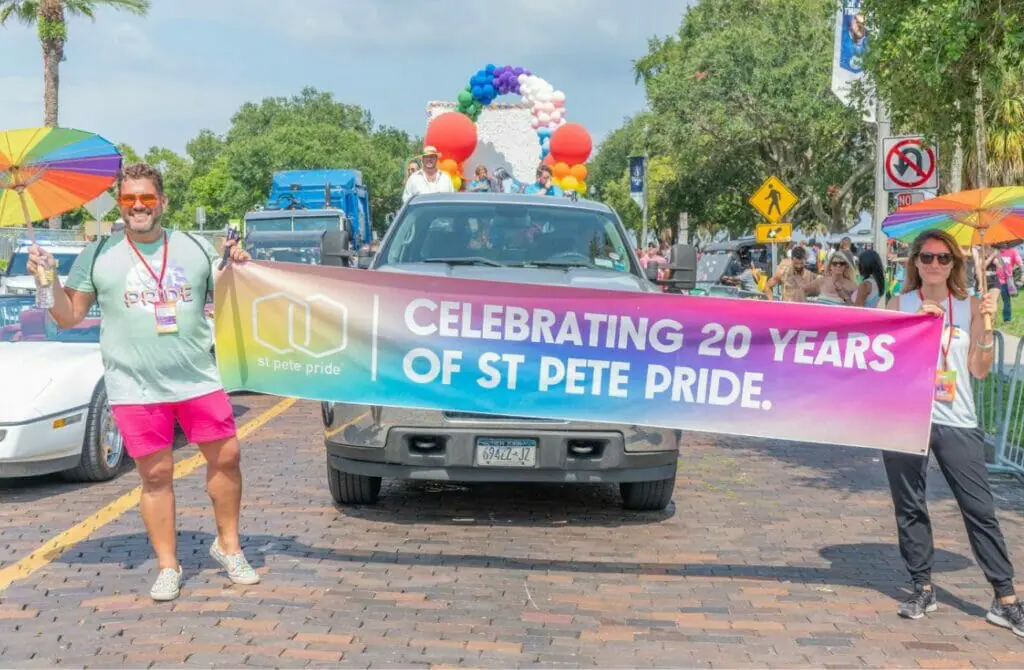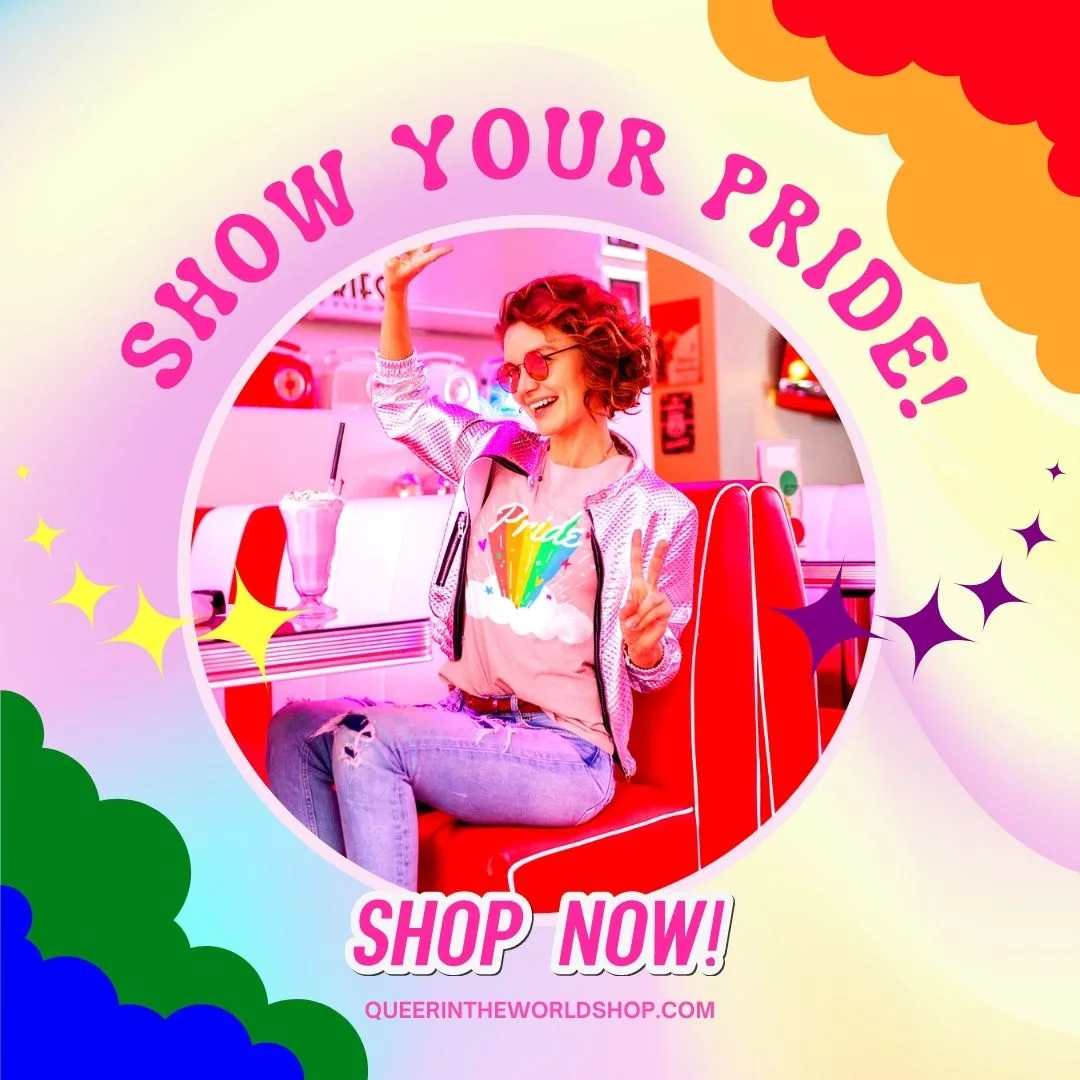 Gay-Friendly Nightlife in St Petersburg, USA
One of the best Irish Pubs in St Pete is Macdinton's, a lively spot during St Patrick's and famous throughout the year for its Irish Ambience and ability to host great Guinness. For over twenty years, this pub has fed the city's nightlife and is known for its old-school pub ambiance but with a youthful passion.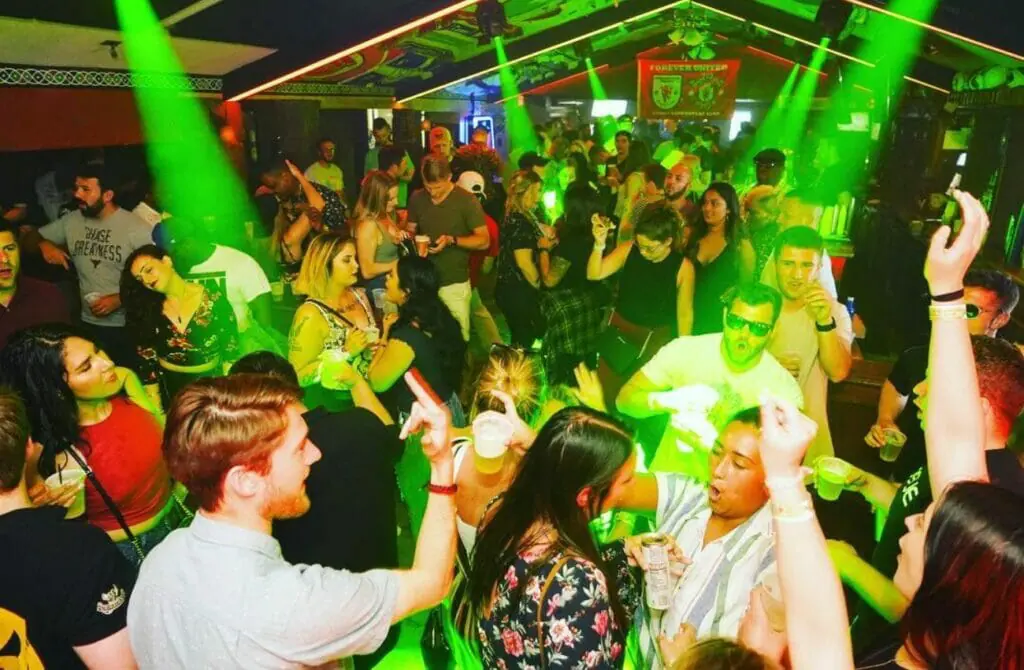 One of the best gay-friendly cocktail lounges in St Pete is Che Lounge, a local favorite for its iconic corner venue with heaven barn doors and rustic brick exterior. Inside you will find relaxing seating and friendly staff that know how to mix up a delicious drink! This is a perfect place to be if you want a chilled evening with friends or after a great space for live music, which often includes an outdoor terrace.
Stop by St Pete's first caviar, champagne, and whiskey bar at the Flute & Dram with a little slice of upper-class French cuisine. You will be treated to the whole dining experience with modern facilities divided into three spaces to give you a choice of three separate occasions.
You can enjoy the warm outside setting area, the cozy indoor dining area, and the bar area to get a taste of their rich whiskey and champagne collections which are the biggest in the city.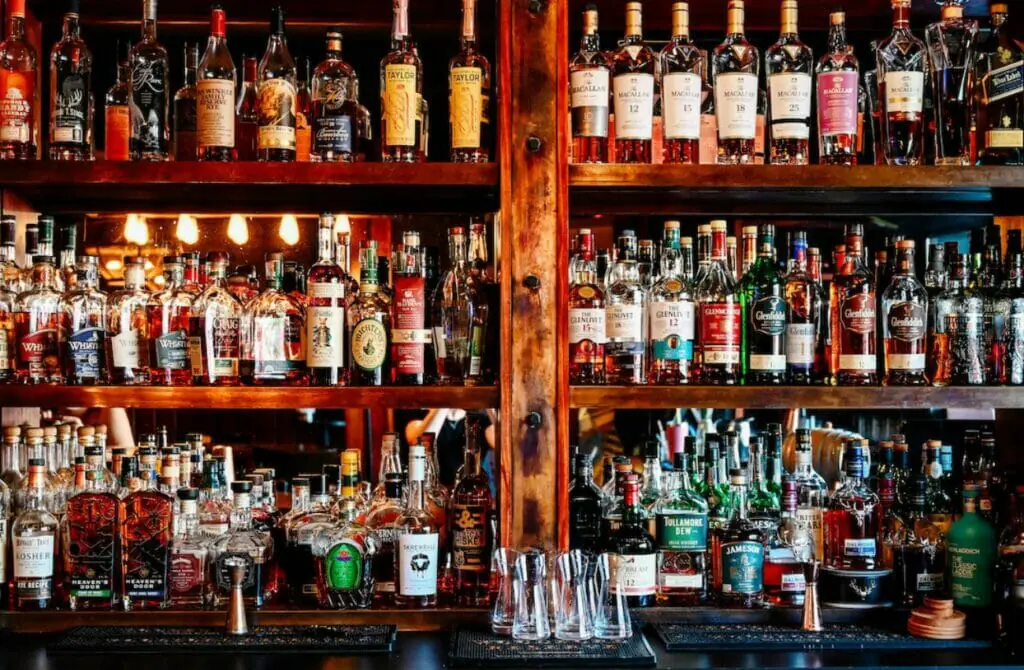 Cruising & Gay Saunas in St Petersburg, USA
St Pete may not have a large gay cruising scene compared to other places in Florida or America, but you will be glad to learn that they still have several gay saunas and gay bars to meet fellow members of the queer community to have fun.
When traveling to a new city, it can be exciting to head out for more than just a stiff drink. One aspect of the Gay St Petersburg scene that many queer men enjoy is visiting gay saunas and cruising clubs.
Sure, the sauna culture in St Petersburg is not as hedonistic as in Amsterdam, Barcelona or Berlin, but these venues still offer a chance to meet new people, socialize, and engage in sexual activity – without resorting to gay hookup apps.
However, it's important to remember that these venues can vary greatly in terms of atmosphere, clientele, and rules, so it's a good idea to prepare yourself before visiting. If you are apprehensive, we advise studying our guide to visiting a gay bathhouse for the first time, which should help set your mind at ease and always practice safe sex.
Additionally, it's important to be aware of and respect local laws and customs regarding gay venues and sexual activity. With a little bit of planning and an open mind, visiting gay saunas and cruising clubs can be a fun and exciting part of your gay St Petersburg travel itinerary.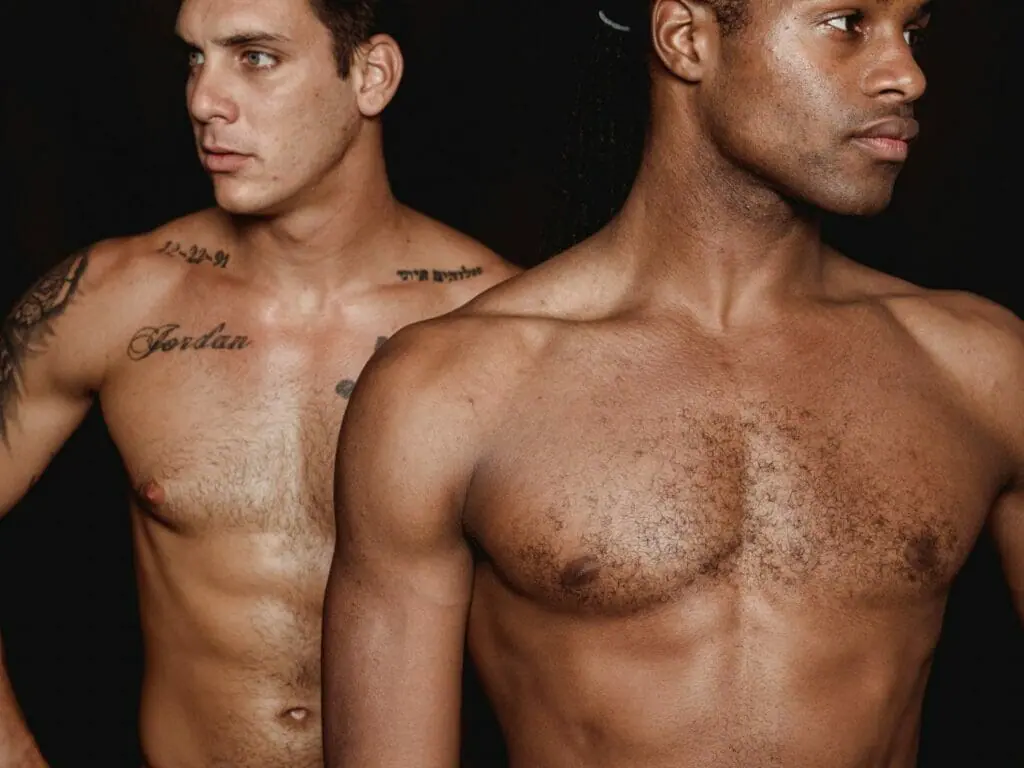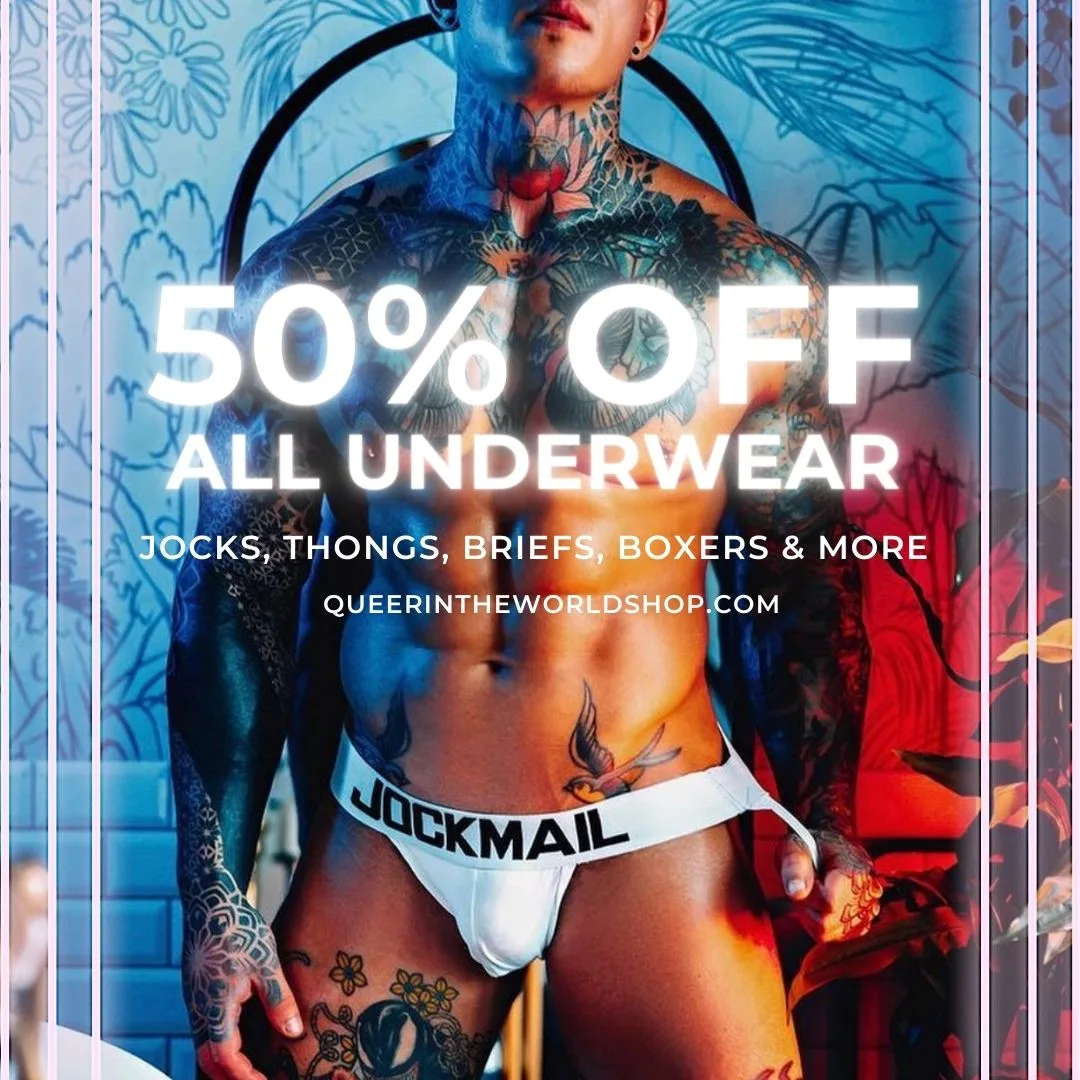 Gay Saunas in St Petersburg, USA
Gay St Pete House: Casa Del Merman
The only gay sauna in St Pete can be found at the Casa Del Merman gay house in the city's heart, where you can purchase a day pass to enjoy their fun activities. You can relax in their hot pool, take a relaxing spa and massage, or spend time with fellow gay men in their social spaces.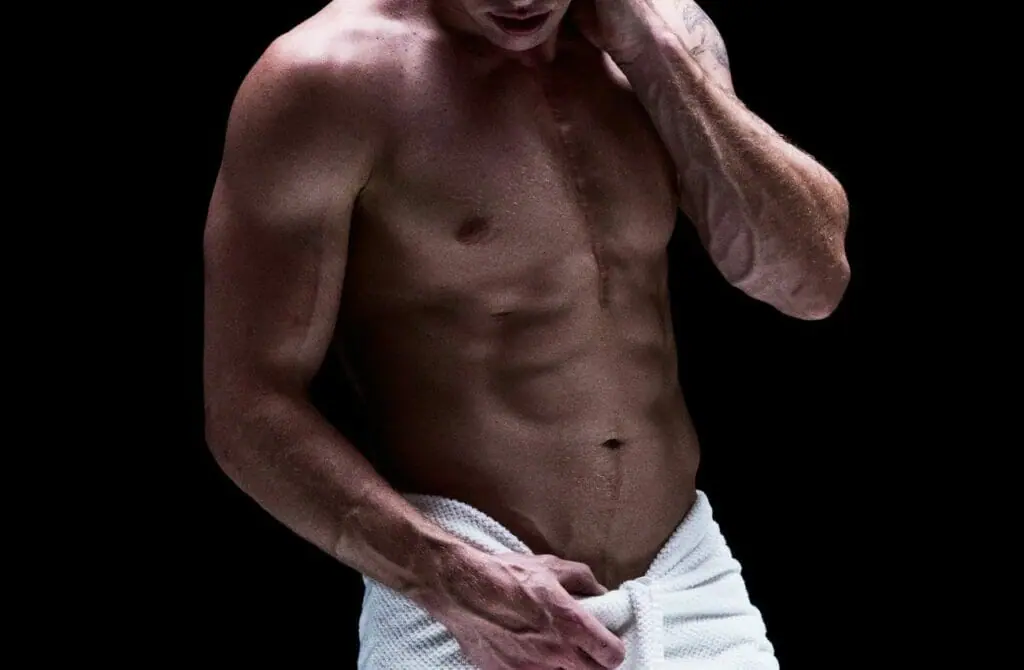 Gay Map Of St Petersburg
Finding it hard to envisage where everything is in St Petersburg? Hopefully, this queer-centric map helps where we have marked all the bars, clubs, parties, hotels, saunas, massages, and more will help you stay in the spot best suited to you!