Nottingham is known for its legend of Robin Hood, the lace-wearing vigilantly who stole from the rich and gave to the poor. However, today she gives back to the gay community with a unique queer social scene.
So if you are looking for places to add to your gay tourist list, you should consider Nottingham as they are home to several gay bars and are exceptionally gay-friendly. So you know a fun night will always be on the cards.
Nottingham may be a brilliant place for gay tourists. Still, it is more famously known for being England's unofficial City of Literature due to its impressive contemporary literary community, the publishing industry, and the poetry scene.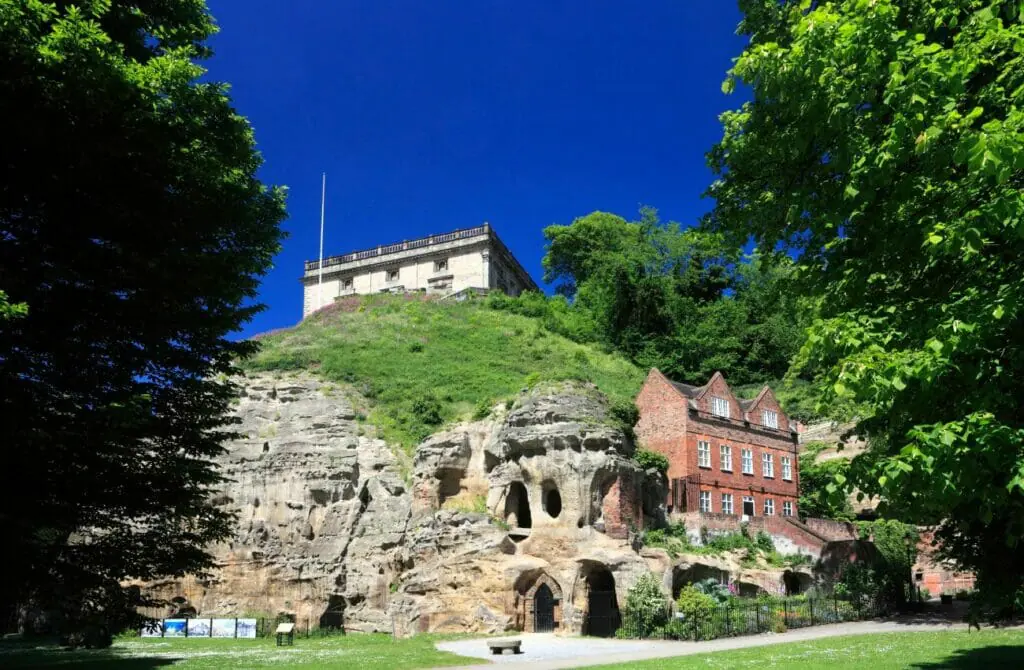 So you can expect to find yourself surrounded by bookshops, advertisements for a Friday night prose reading at a local pub, or hear on the rumor line that there is yet another famous author in town. However, even if you don't care much for reading, you can still enjoy a picturesque bike ride or tour this Midlands English city, taking in the sights of its over thousand-year history.
This city also has something special for sports fans as they are the official Home of English Sports. They wear this badge proudly when showing off their football team and playing host to various other international sports at their stadium. So you will find something for all at Nottingham, making it a popular tourist destination for the straight and queer, regardless of who they may be.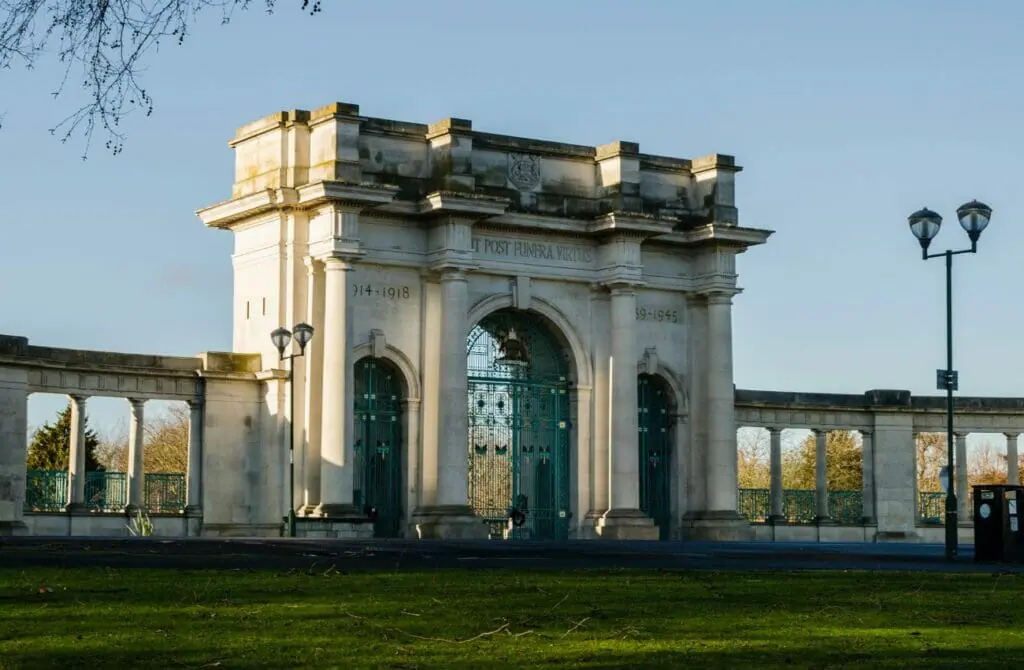 Attractions in Gay Nottingham, UK
As a new visitor to Gay Nottingham, there are plenty of things to see and do, regardless of your sexual orientation. One of the best ways to experience any new city is to visit some of its most iconic landmarks and attractions, including historical monuments, museums, and art galleries.
We also love gazing at architecture up close, exploring parks and gardens, sampling the local cuisine, visiting local markets, and attending cultural events such as festivals, concerts and shows.
Even as the out-and-proud queer we are, we still love to explore the city and its culture in the same way as everyone else. Doing so allows us to learn more about the city and its people and gain a deeper understanding of the local culture. As such, these are our favorite must-see attractions in Nottingham.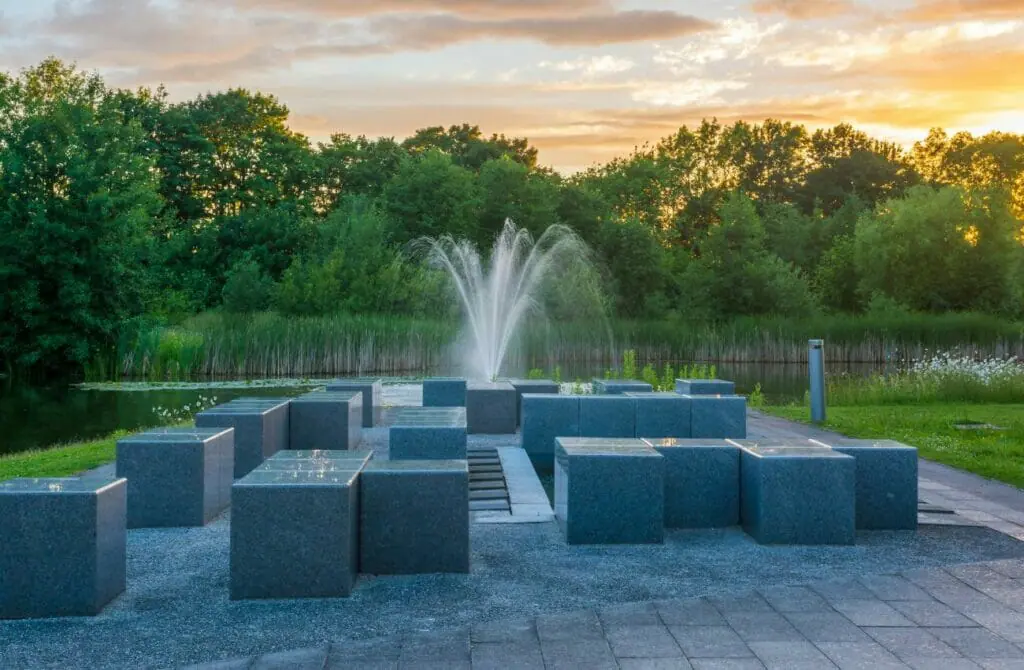 International Bomber Command Centre Lincoln Online Ticket
If you want to get a taste of recent history from the English experience of World War Two, The International Bomber Command Centre is the perfect excursion outside the city to fulfill these goals. You can pay tribute to the lives lost serving in the Bomber Command, walking around the expansive grounds of the landscaped peace gardens and the 30-meter memorial.
Inside, you will access interactive galleries, learn about the history of Bomber Command, and gain perspectives from all sides of the conflict. In addition, you can get a tour of these areas and, once done, enjoy locally sourced food and drink from their Hub Cafe.
Watson Fothergill Walk: Architecture of Victorian Nottingham Guided Tour
Explore the Architecture of Victorian Nottingham with a guided tour on foot across three kilometers through the central part of the city.
Here you will learn of prominent Victorian architects, with notable buildings they built still standing today, from the Rose of England to Watson Fothergill's Head Office; these are one of the many buildings you will encounter during this tour. The tour ends at Fothergill's pub, where participants can enjoy refreshments if they so wish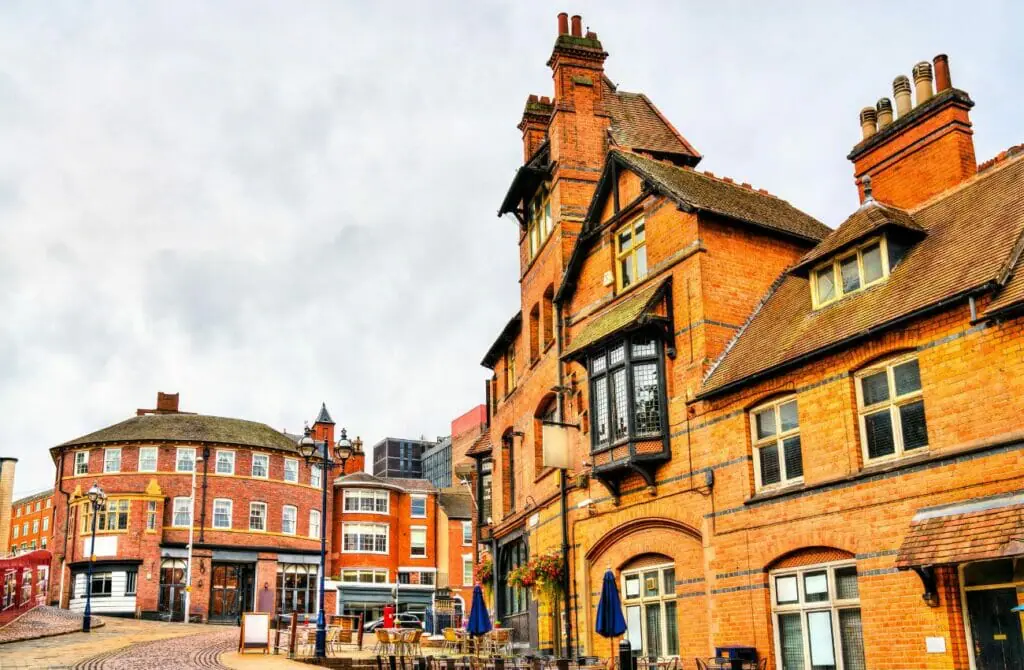 For those looking for insight into the history of the UK's legal system in a building seeped in just as much history as the artifacts and exhibits it contains, the National Justice Museum is the place to visit. You can explore multiple floors of an old courthouse laid out as it would've been during its heyday, from the original court and cells.
The highlight of any visit is when you see costumed performers and perform mock trials or public hanging reenactments. It is both educational and entertaining, showing that history isn't all dry! You can easily spend two hours here and spend longer if you want to absorb every detail of each exhibit. Overall, it has something for everyone and is a great visit.
City of Caves
The City of Caves on Garner's Hill is a unique place to visit, just three minutes from the Museum of Justice. Here you can explore the underground world of an old network of caves that have served many purposes over the years, from private cellars and a medical tannery to a bomb shelter during WW2.
You will have a brilliant guide leading you through the endless tunnels, taking you on a 45-minute tour, and dipping into the mysterious and intriguing stories of what these caves were used for over the years. It is an excellent experience for all; you only need sensible footwear.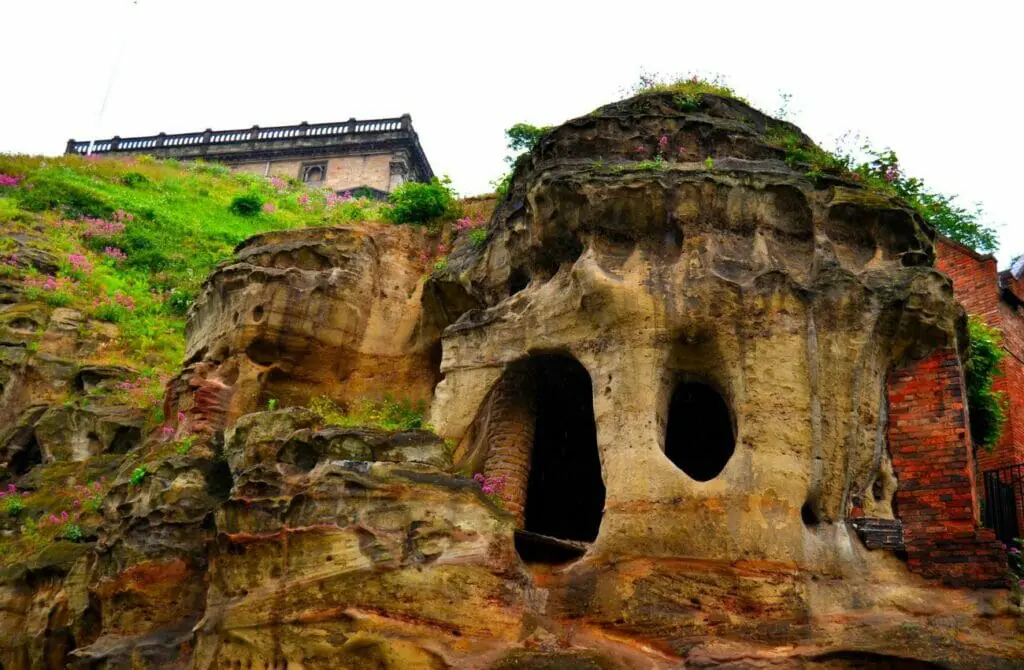 Arboretum Nottingham
Nottingham Arboretum is the oldest public park in Nottingham, built in 1852 and hosts today a collection of over 800 trees, many of which are from the original plantings. You can admire these ancient trees or explore the gardens designed by prominent botanists and horticulturists to give the public a place to experience the wonder of nature.
Theatre Royal & Royal Concert Hall
Nottingham is a famous advocate for the arts, and theatre and music are no exceptions, exemplified through the Theatre Royal and Royal Concert Hall. You will be satisfied by a visit or a show at this explosive seating hall with great views of the stage from all angles.
The modern entrance allows for accessible access to the gallery, but the establishment still maintains the historic facade of an early 20th-century show hall for the best traditional experience. Moreover, the seats are comfy, the sounds excellent, and the staff friendly as they are helpful.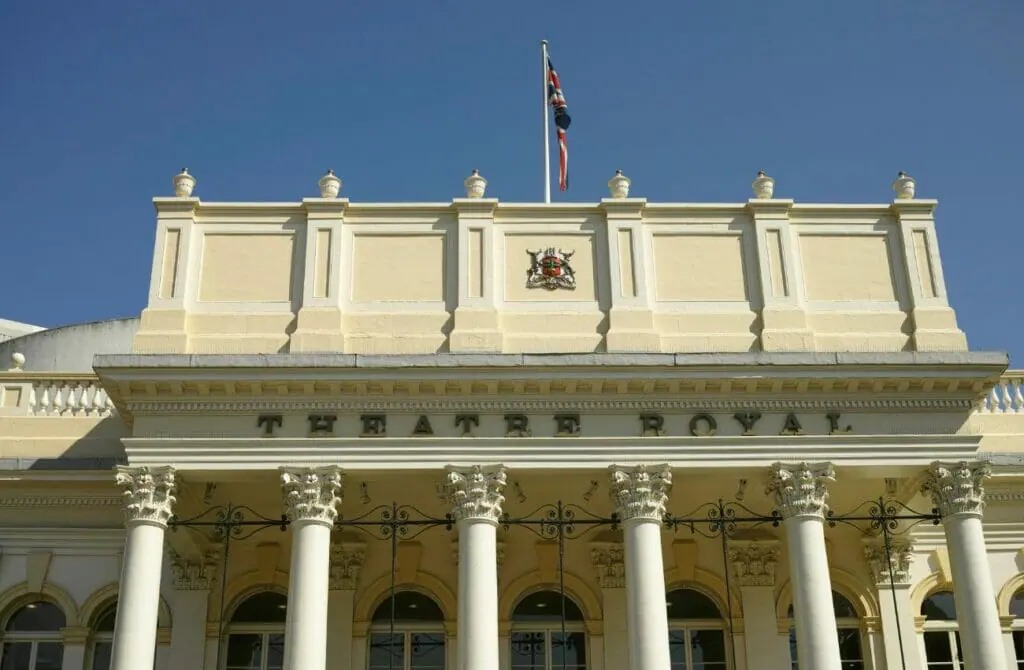 Old Market Square
The Old Market Square is a massive open public square in the heart of Nottingham frequented by people who want to check out the local fairs, markets and other events offered. Here you will also find cafes and restaurants where you can get a bite and wonder about this open area that has been the focal point of the city's life since it was founded as an old Anglo-Saxon town.
Sherwood Forest
Outside the city, on a drive north, you will find the famous literary woodlands where Robin Hood made his home and gathered all the wealth from the local lords. It is also today a great place to go for a walk outside the city walls and enjoy a taste of the English countryside. Moreover, it is one of the few surviving woodlands that date back to the Ice Age.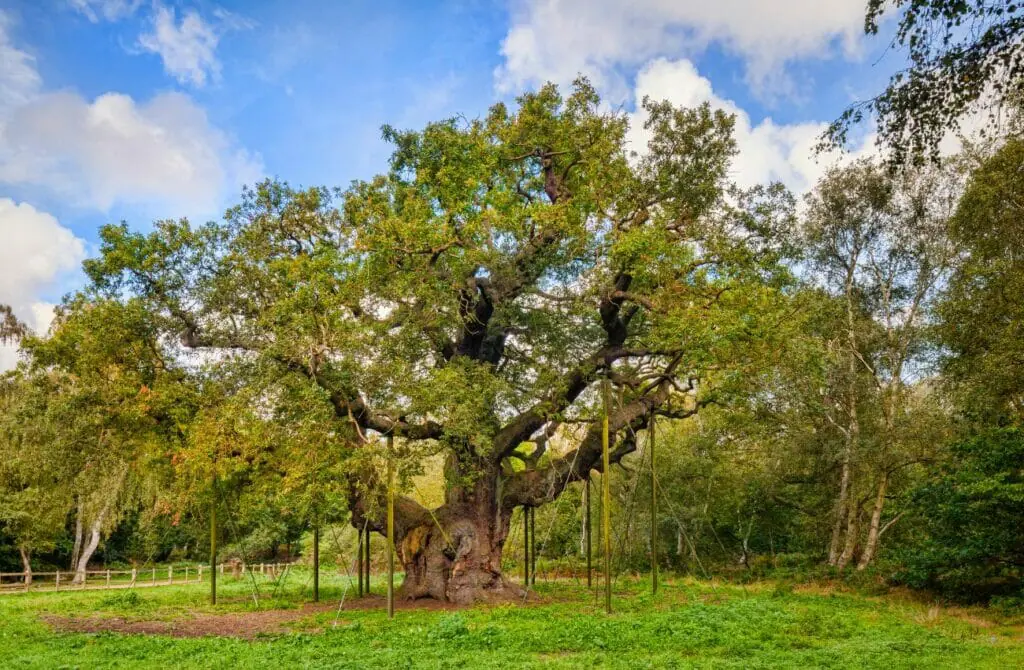 The Haunted Museum
Another unique museum in Nottingham is The Haunted Museum, where paranormal enthusiasts can experience carefully designed exhibits for an hour or two of spooky fun. These include creepy dolls and spirit-touched objects, with accompanying signs to tell you about the mysterious stories behind each specimen.
The building also houses a cafe and vintage shop, so you can get some cute souvenirs and have a bite between the paranormal encounters. All in all, it's a hidden gem worth sharing with those who enjoy supernatural and horror stories.
Green's Windmill and Science Centre
Green's Windmill and Science Centre is the first place for families and science enthusiasts to taste industry and discovery in Nottingham. You can explore a centuries-old windmill restored to its former glory after a fire, learn about milling from knowledgeable members in this industry and see how its machinery functions.
There is also a science museum on-site with fun science activities for adults and children, providing fun outings in a peaceful rural part of Nottingham.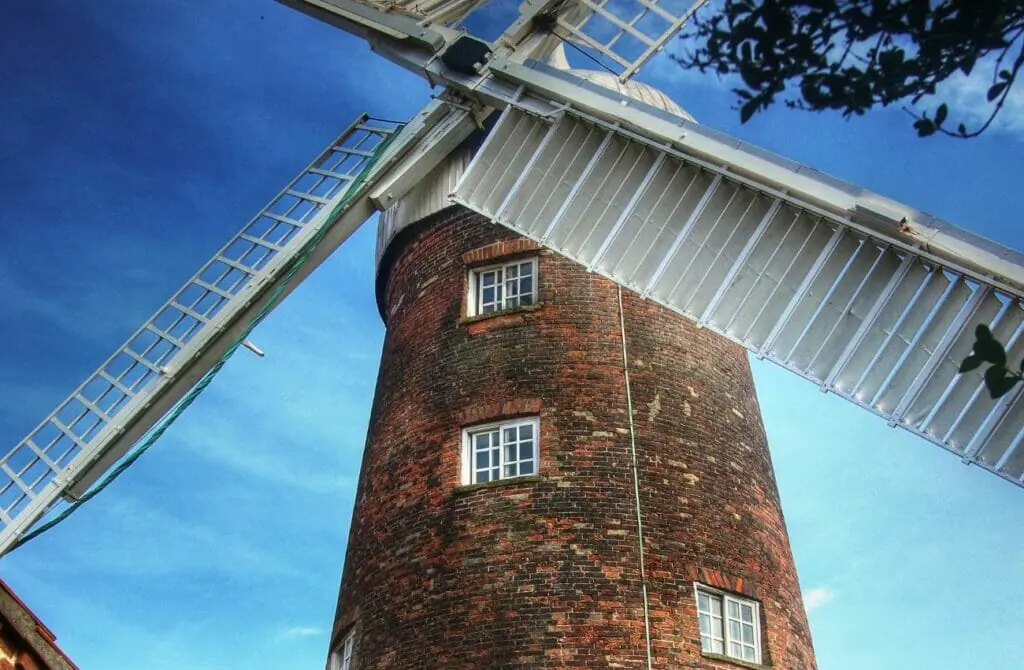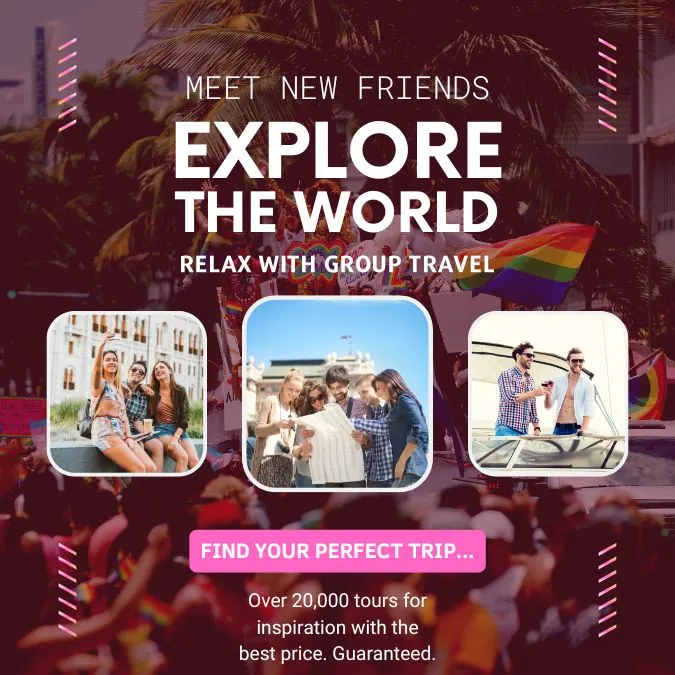 Gay-Friendly & Gay Hotels in Nottingham, UK
Being gay-friendly accommodation means that the establishment is welcoming and inclusive to guests who identify as LGBTQ+. This can include, but is not limited to, having policies and practices that demonstrate a commitment to creating a safe and inclusive environment for LGBTQ+ guests, such as non-discrimination policies and providing support and resources for LGBTQ+ travelers.
Some gay-friendly accommodations may also provide amenities specifically catering to the LGBTQ+ community, such as rainbow flags or literature about local LGBTQ+ events or resources. Furthermore, gay-friendly accommodations may be located in an area known for being LGBTQ+ friendly.
While Nottingham does not have any specifically gay hotels or resorts, these are the most fabulous and pro-actively gay-friendly hotels in Nottingham. There are also hundreds more hotel and hostel options in Nottingham if none of these suit your desired budget, facilities or area – but these are the best hotels according to other gay travelers and us.
Whatever your needs are, Nottingham has you covered.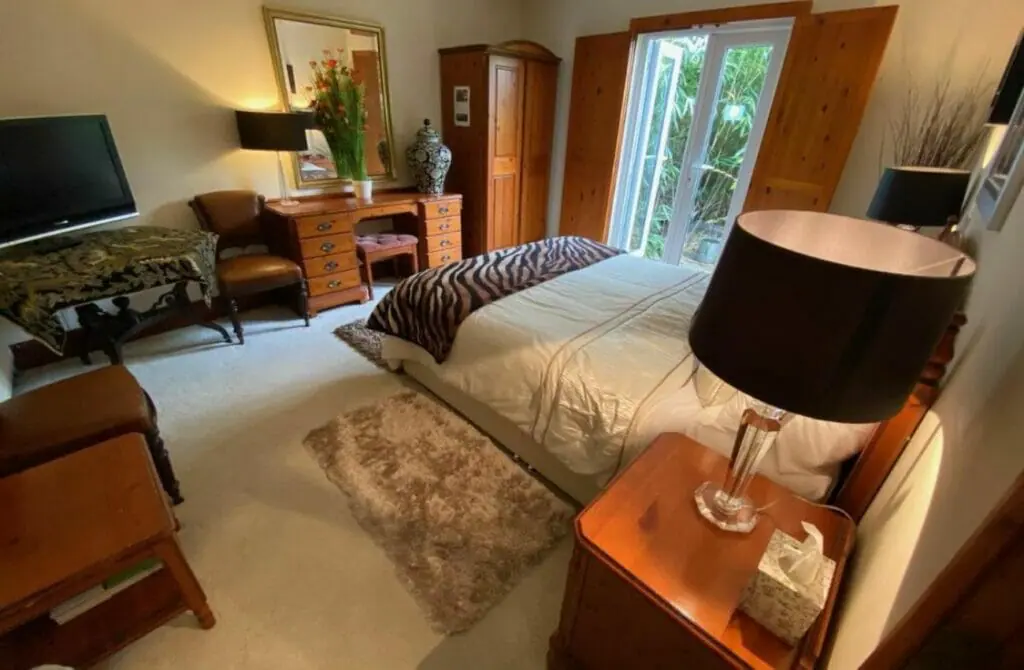 In good English fashion, you can find an incredible five-star stay in a rural cottage with The Lodge in Nottingham. Not only are you exceptionally close to the city via car, but you are within walking distance of Nottingham Trent University Clifton Campus and Trent Bridge & Stadium, so if you are here for sport or to spot universities, she caters to these needs and more.
However, most will stay at The Lodge At Ruddington because they provide quality services from the expansive gardens, complimentary breakfast, high-quality restaurant and even a bar. Apart from not worrying about food or stretching your legs, rooms are just as classy with free Wi-Fi, cozy bedding, a lounge, a bathroom, and space to work or watch TV at your leisure.
People stay here for a quiet getaway with only two rooms up for hire at any time, so it won't feel busy or distract you from taking this moment away from the loudness of ordinary life. And if you are a writer in town for the literary scene, it's the perfect place for inspiration to strike and to get work done!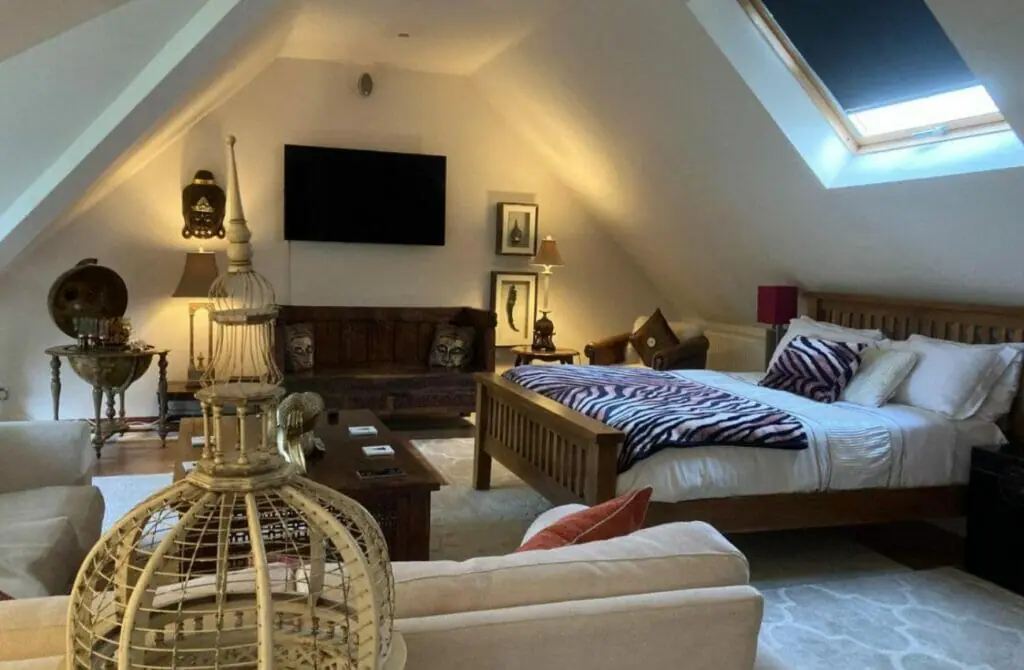 Located in the heart of Nottingham, you will be treated to a modern four-star experience at Park Plaza Nottingham. Not only is this hotel exceptionally close to key tourist attractions like Nottingham Castle and the Motor Sports Arena, but they also have some famous treasures.
When you stay at the Park, you will be blown away by the fitness center and the on-site restaurant Chino Latino, which serves meals, including breakfast, for a fee.
Not only that, but the lobby and dining areas are spacious and technique, giving you the needed space to relax and dine in your bubble if you want to get out of your room but stay in the hotel.
However, if you decide to get room service, you can rest assured your private dwelling has the space to dine and enjoy the city views from higher leveled rooms. In addition, you can switch on your TV come evening and throw yourself into a cozy bed if you don't feel like going out and getting one of the best sleep outside your home.
The Crowne Plaza is another exceptional four-star beauty in the central part of Nottingham, where you can experience a modern hotel with some little extras not found in other four-star options. You are not only exceptionally close to major city attractions, including the pumping nightlife but shared get facilities played out of the hotel.
These include two restaurants and a bar for all your food needs, a fitness center and spa to treat your body the right way, and the highlight of this whole place: A POOL! However, if it gets to the stage where you all want to relax, then your private quarters are just the place to lounge in front of your TV, talking to friends via free Wi-Fi and admiring the great cityscape views.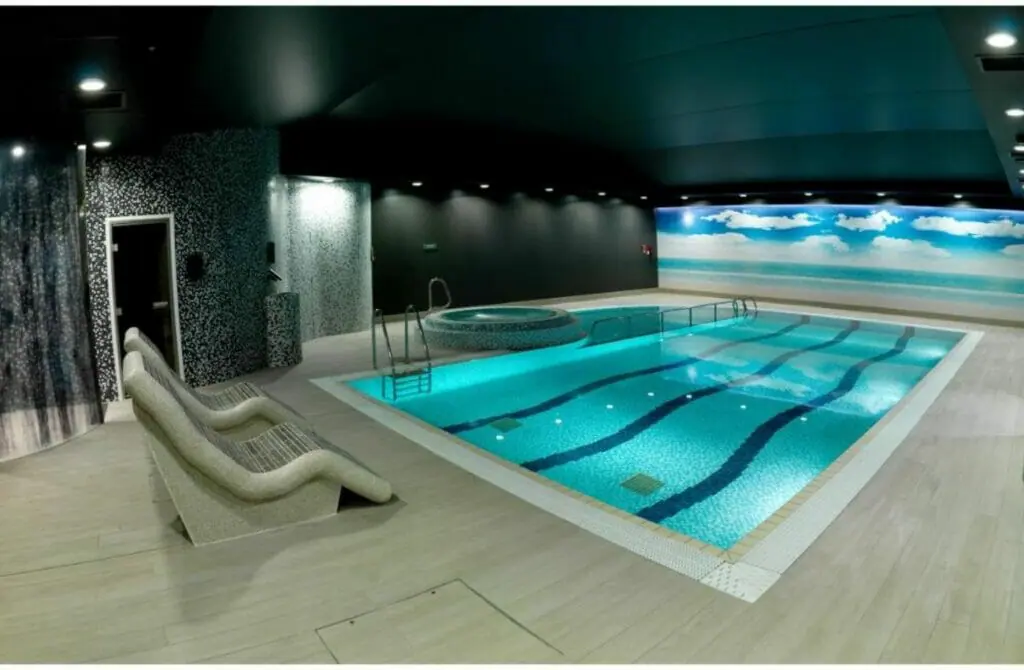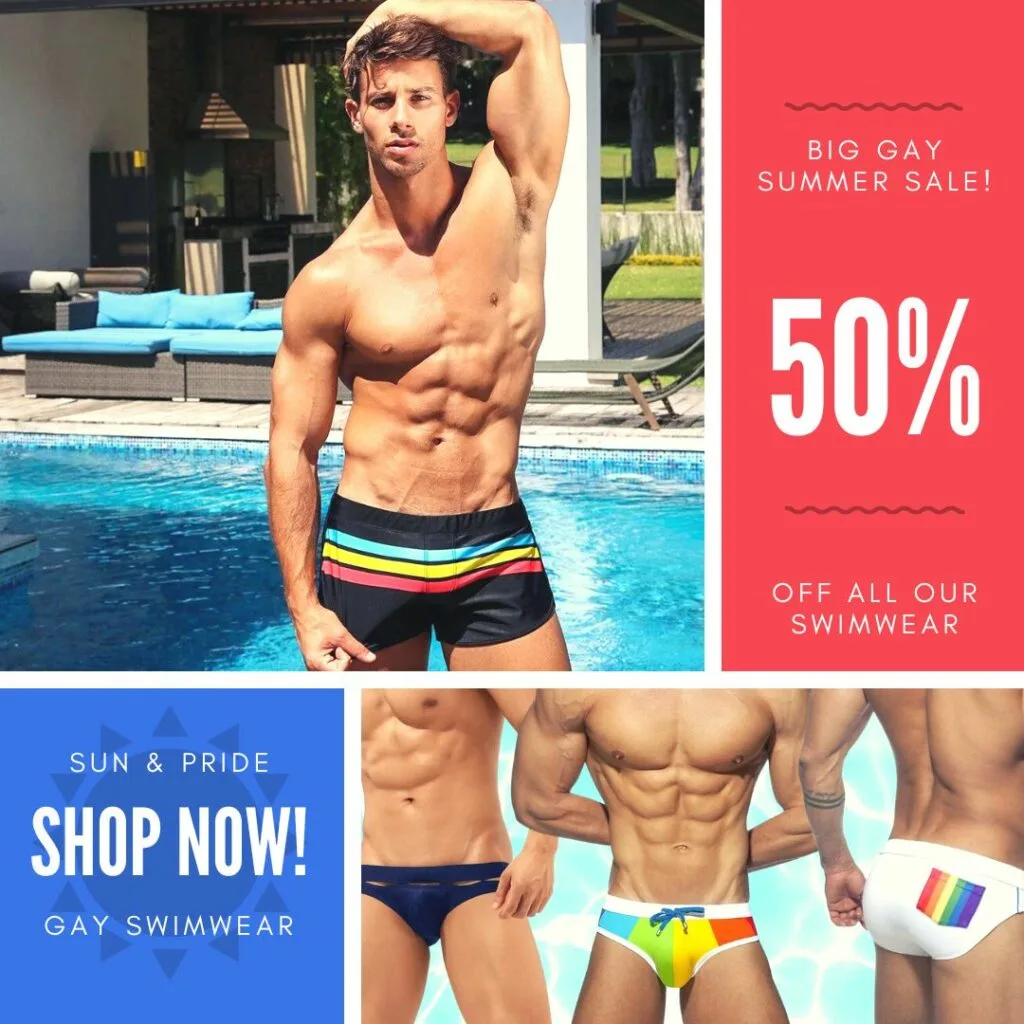 Hidden Hot Tub Retreat Apartment ☆☆☆☆
If a holiday isn't complete without a hot tub retreat, Nottingham has you covered with the Hidden Hot Tub Repreat Apartment. This three-star hotel will blow you away not just with the location close to the town center where you can walk to Ye Olde Trip to Jerusalem or the top nightlife, but appreciate a private hot tub just for you!
You can relax in this one-bedroom apartment with a lounge, outdoor sitting area, bedroom, kitchen and bathroom, knowing you have all the basic amenities. In addition, you can cook your meals or try one of the nearby restaurants and cafes, taking the hassle out of your trip.
The National Water Sports Centre ☆☆☆
If you visit Nottingham during Summer, you may get a kick out of staying at the National Water Sports Centre hotel and have easy access to a range of water sports and a short drive to the city. Here your rooms are simple, with single beds, storage and a choice of extras depending on your needs.
However, the highlight of this place is the list of fun activities you can try out during your stay. Because even if you don't want to go for a swim, you can dine at their restaurant and try out their archery classes. There is so much more to this place, making it a unique stay in Nottingham.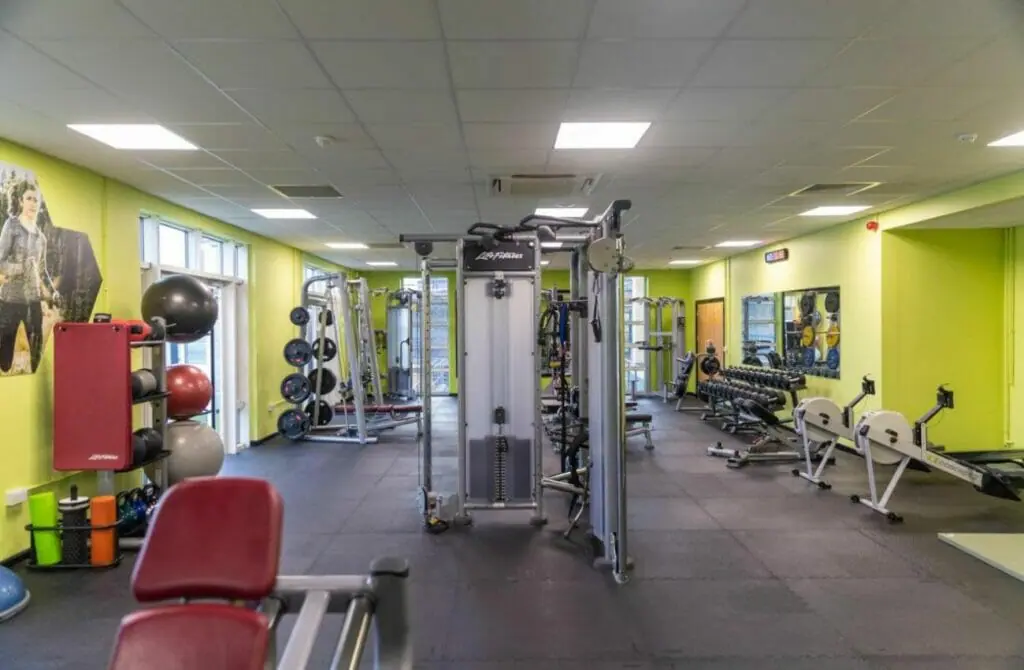 Gay Nightlife In Nottingham, UK
Exploring the gay and gay-friendly nightlife in a new city can be one of the most exciting and rewarding experiences while traveling – and Gay Nottingham is no exception. Not only will you have the opportunity to meet new people and make friends, but you'll also get a taste of the local culture and learn more about the city's LGBTQ+ community.
Going out and experiencing the queer and queer-friendly nightlife in a new city can also be a great way to break out of your comfort zone and try new things. Whether dancing the night away at a gay club or mingling with locals at a gay-friendly bar, you'll have the chance to make memories and create lasting connections.
So, don't be afraid to step out of your comfort zone and explore the gay and gay-friendly nightlife in Nottingham. You'll be glad you did!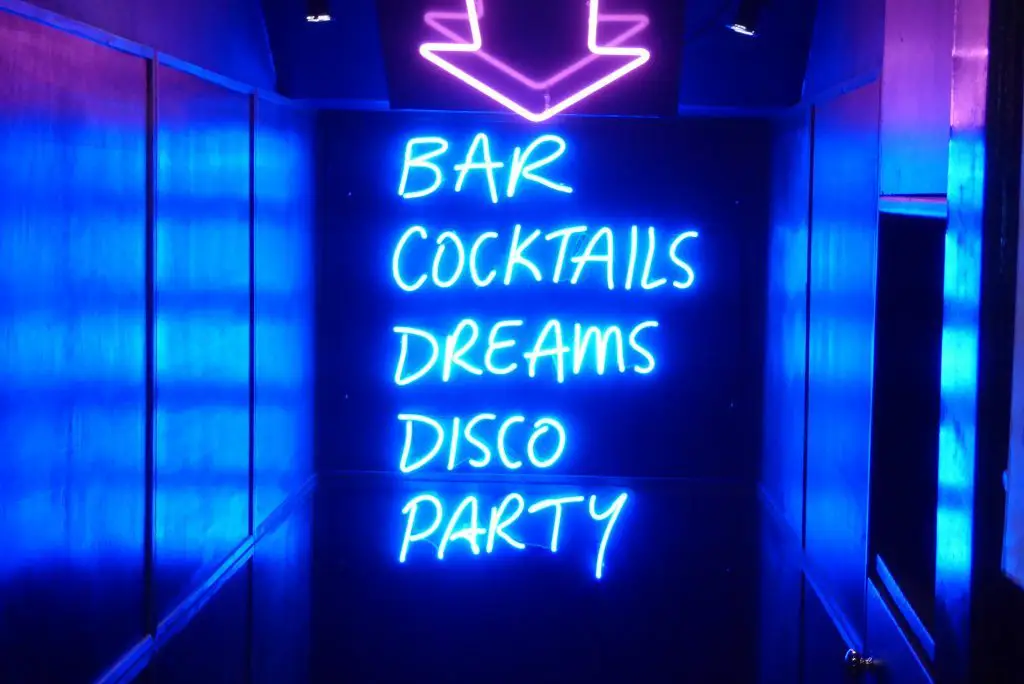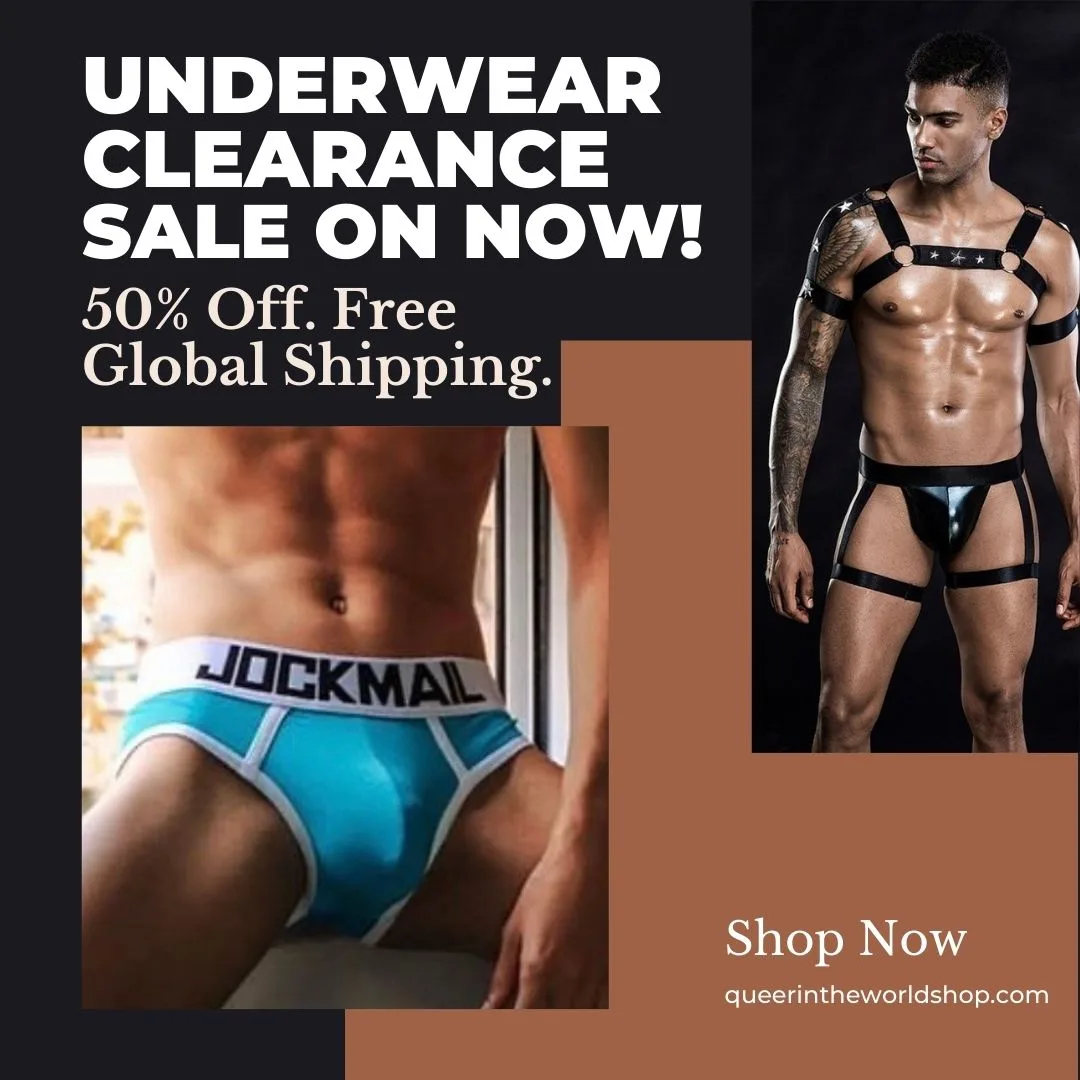 Gay Bars In Nottingham, UK
One of the top gay bars in town is the New Foresters, as, since 1958, they have proudly worn their pink placard for their incredibly inclusive atmosphere. Here you can find a pub with great drinks and a classic English drinking establishment with a spacious sitting area.
Moreover, the new owners have recently redecorated with a pink pallet to bring this old gay venue into the 21st century to continue supporting the local queer community in Nottingham.
You can come here to relax in their lounger or take one of the many tables for a hearty feast. While waiting for a meal or considering the second round of drinks, you can try your luck at a game of pool.
Beside the building is their enclosed garden with outdoor seating, a popular place for evening drinks when the pub gets a little rowdy. All in all, New Foresters is an excellent choice for those looking for a simple British drinking experience under the cloak of queer ownership.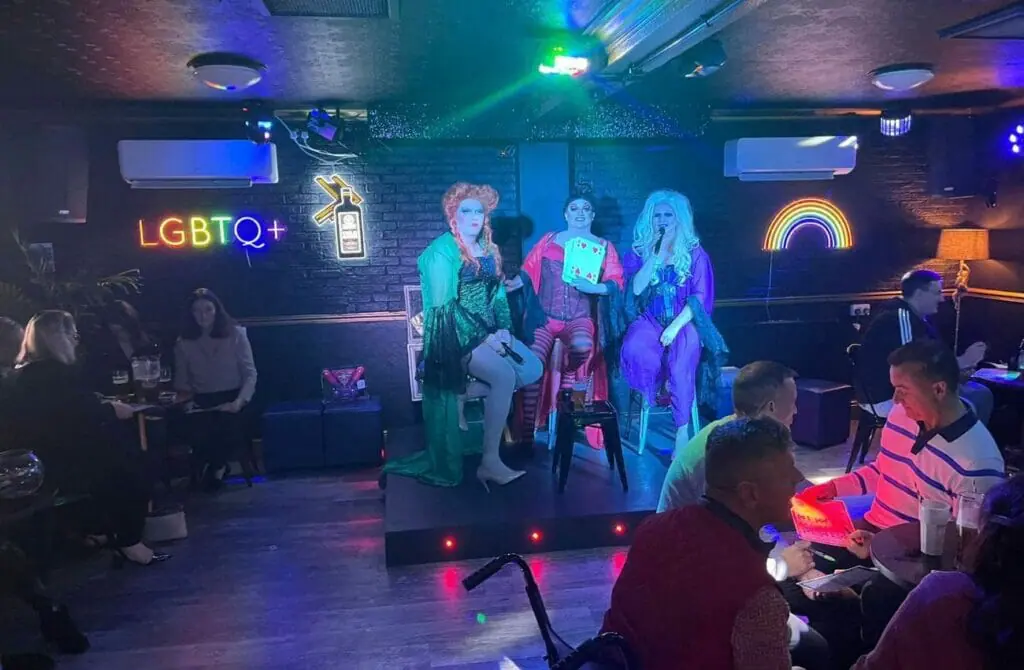 Another gay pub in Nottingham that people gush over is Lord Roberts on Broad St which is the familiar hang-out spot of queer people, evening gigs, and afternoon dogwalkers.
You may find a couple of pups with their owners in the outdoor courtyard, enjoying a drink before they head home for the evening. Moreover, you will find these liquor choices at the bar seemingly endless, with beers and spirits to die for!
Lord Roberts is an excellent pub on Broad St in Nottingham, UK. I visited this pub during a gig in the basement room and was impressed with its unique yet relaxed decor. The atmosphere was welcoming, and the bar staff were happy and chatty.
One of the things I liked most about this pub was that it is dog-friendly, which is perfect for me as a dog lover. There is also a lovely courtyard out the back, a great place to enjoy a drink on a sunny day. The selection of beers and spirits was great, and the prices were reasonable. Overall, I highly recommend Lord Roberts for a great night out.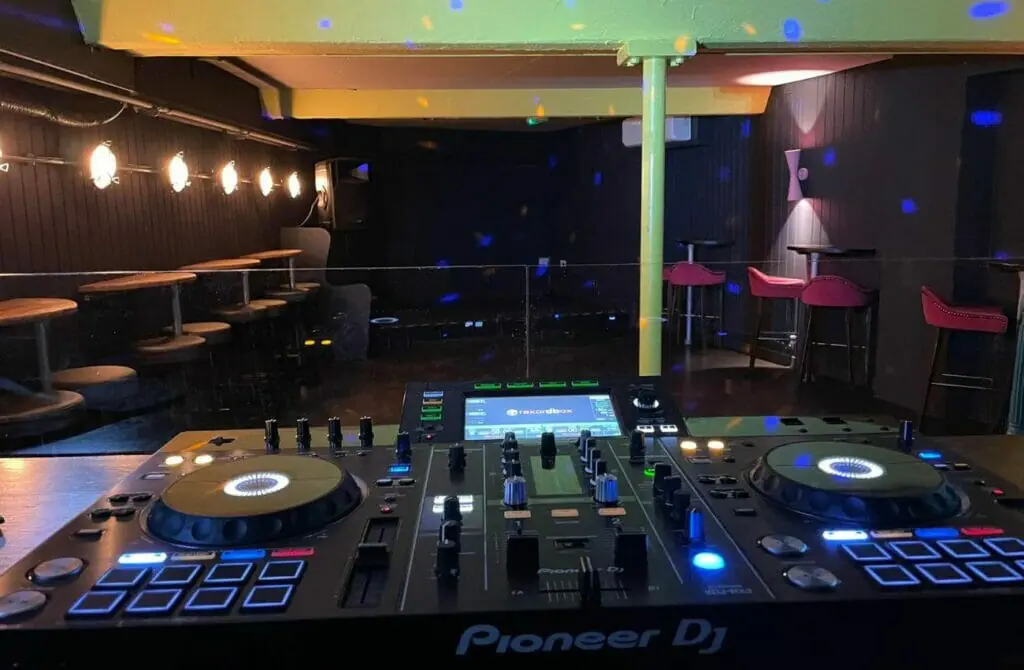 Gay Parties & Gay Clubs In Nottingham, UK
Every year the queer community comes together to celebrate Nottinghamshire Pride through a festival, pride march, and hosting various events, including drag shows and markets. Anyone in Nottingham during its duration will experience the best of what this gay city has to offer with not being able to walk down a main street without seeing a pride flag.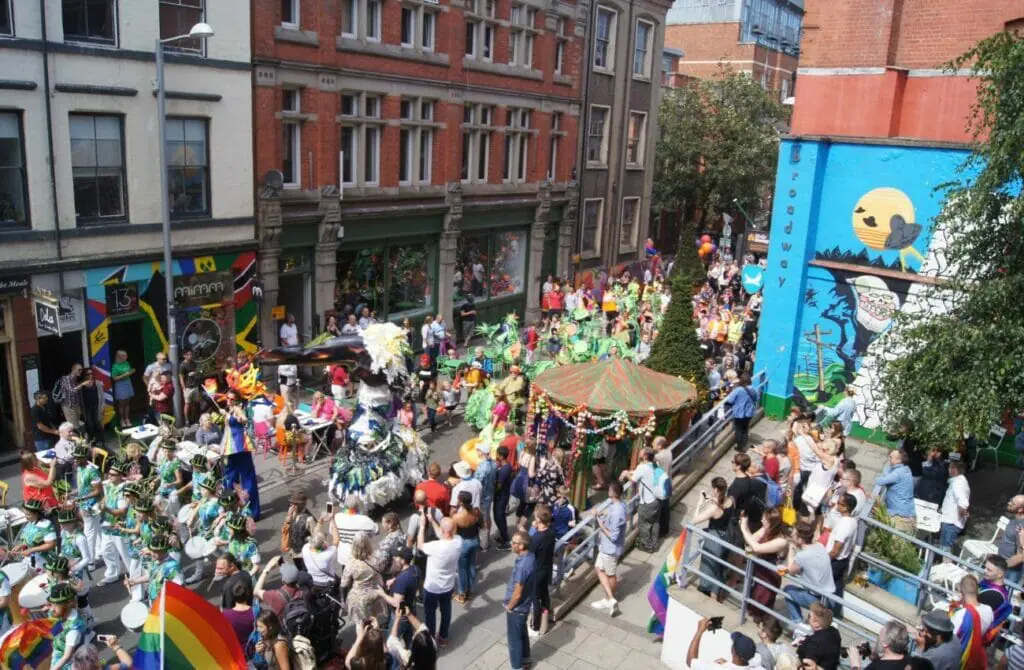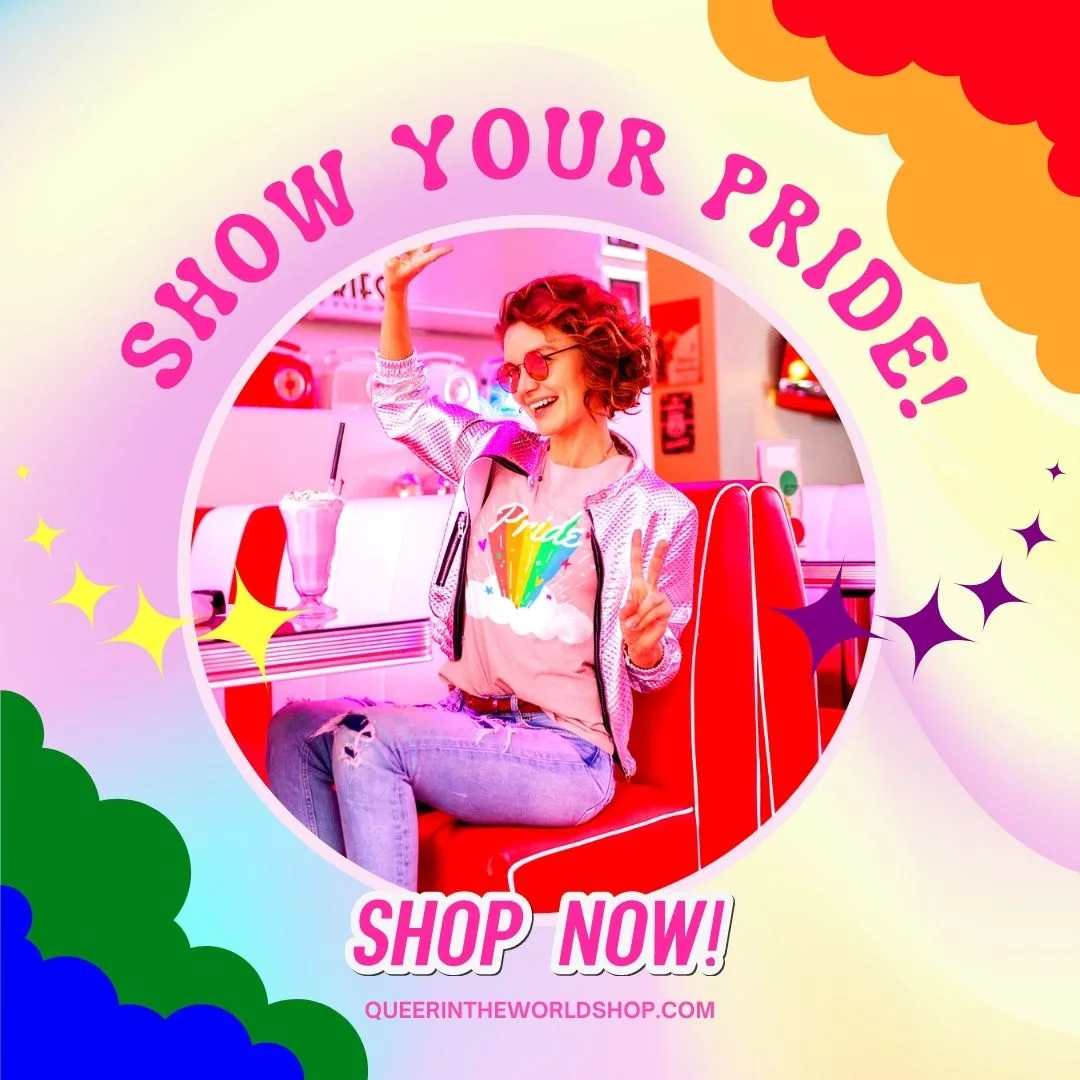 Gay-Friendly Nightlife Attractions In Nottingham, UK
One of the fun gay-friendly nightclubs in Nottingham is Popworld, which stays true to its name as it always plays a range of popular tunes for patrons. Whether through the instruments of the live DJs, background music to the lively drag nights, and the light drinking soundtrack to the early evening hangout drink.
Stepping into this place, you will feel like stepping onto a 1970s disco, whether that not be the pop-art neon sign announcing your arrival at Popworld or the lit-up disco on the dancefloor–you know you'll be in for a great party!
If you're after an excellent dance club that calls on the best DJs while producing an ample enough space with drinks to contain all the fun, PRYZM is a professional club in that field. You can enjoy a dancing experience with multiple rooms with various themes to ensure most that stop by will feel their needs catered for.
Moreover, the drinks are aplenty, with many places to sit if you desire. So get lost under the strobe lights and let the music and rhythm take away all your worries for a fantastic late night in Nottingham.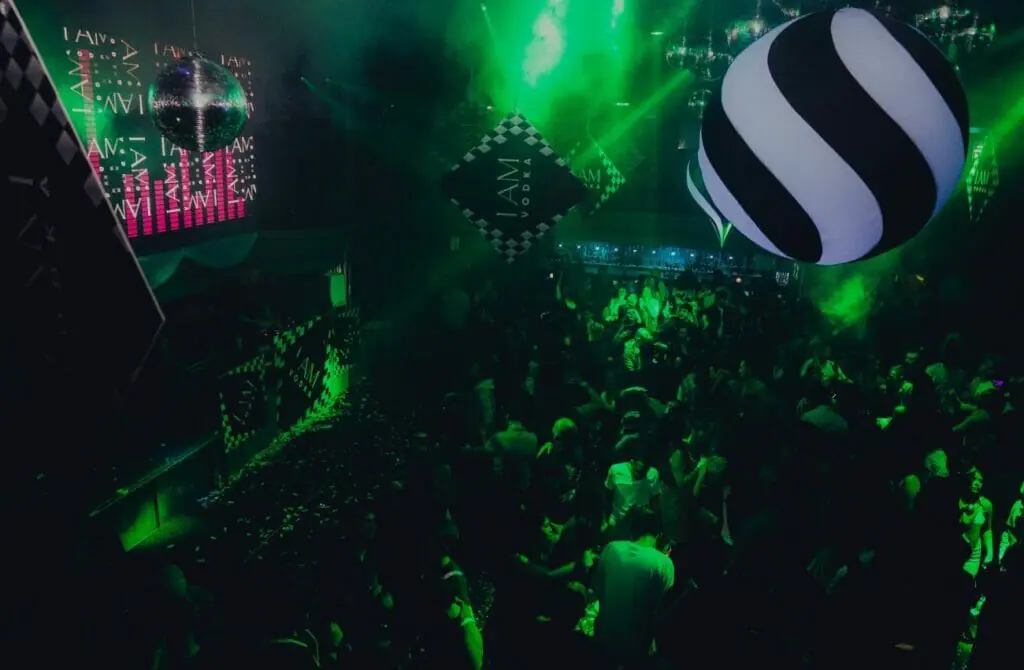 Bar Eleven offers a great night out because they are a cocktail bar with top-notch drinks, and its venue stretches out into a lounge and dance club in the maturing evening. So you can get the best of both worlds, but start your night with a soft drink to let loose and become acquainted with the venue before you head out onto the dancefloor.
Elven plays a range of great music every night, with special events on weekends playing a unique showcase of old-school tunes or specific artists. This can stretch out into live performances and talented DJs that bring new life to the familiar themes of Bar Eleven, keeping old experiences fresh for returning patrons.
Skybar is a beautiful cocktail bar found on the second floor of Cornerhouse, a great place to drink in a cozy setting, and the incredible rooftop terrace with amazing citywide views is a highlight. You can lounge in style with a range of drinks, all crafted lovingly by hand by expert mixologists, and if you want to embrace this luxury fully, you can hire your own VIP suite.
However, for everyone else happy to relax, the bar has a soothing atmosphere of good music at a sane level, great for conversation or people listening.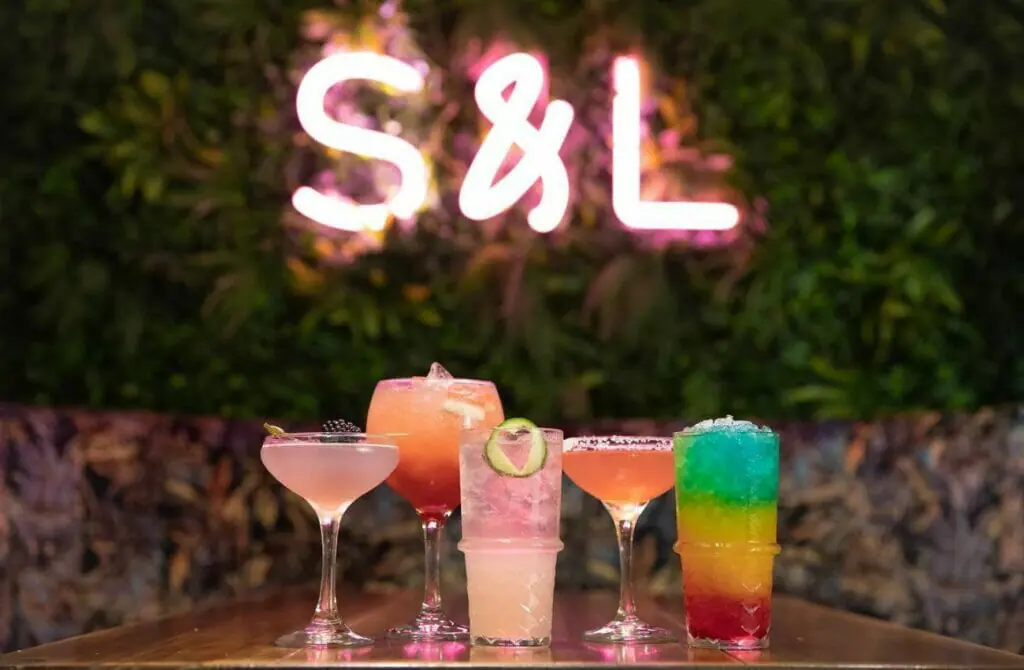 Cruising & Gay Saunas In Nottingham, United Kingdom
When traveling to a new city, it can be exciting to head out for more than just a stiff drink. One aspect of the Gay Nottingham scene that many queer men enjoy is visiting gay saunas and cruising clubs.
Sure, the sauna culture in Nottingham is not as hedonistic as in Amsterdam, Barcelona or Berlin, but these venues still offer a chance to meet new people, socialize, and engage in sexual activity – without resorting to gay hookup apps.
However, it's important to remember that these venues can vary greatly in terms of atmosphere, clientele, and rules, so it's a good idea to prepare yourself before visiting. If you are apprehensive, we advise studying our guide to visiting a gay bathhouse for the first time, which should help set your mind at ease and always practice safe sex.
Additionally, it's important to be aware of and respect local laws and customs regarding gay venues and sexual activity. With a little bit of planning and an open mind, visiting gay saunas and cruising clubs can be a fun and exciting part of your gay Nottingham travel itinerary.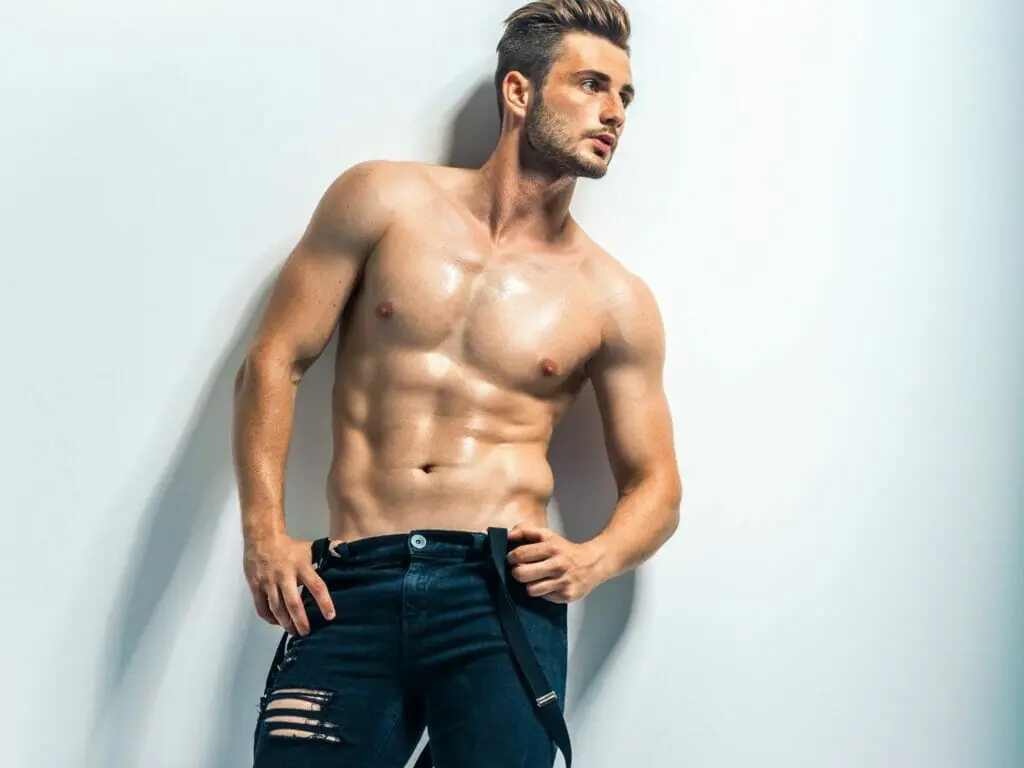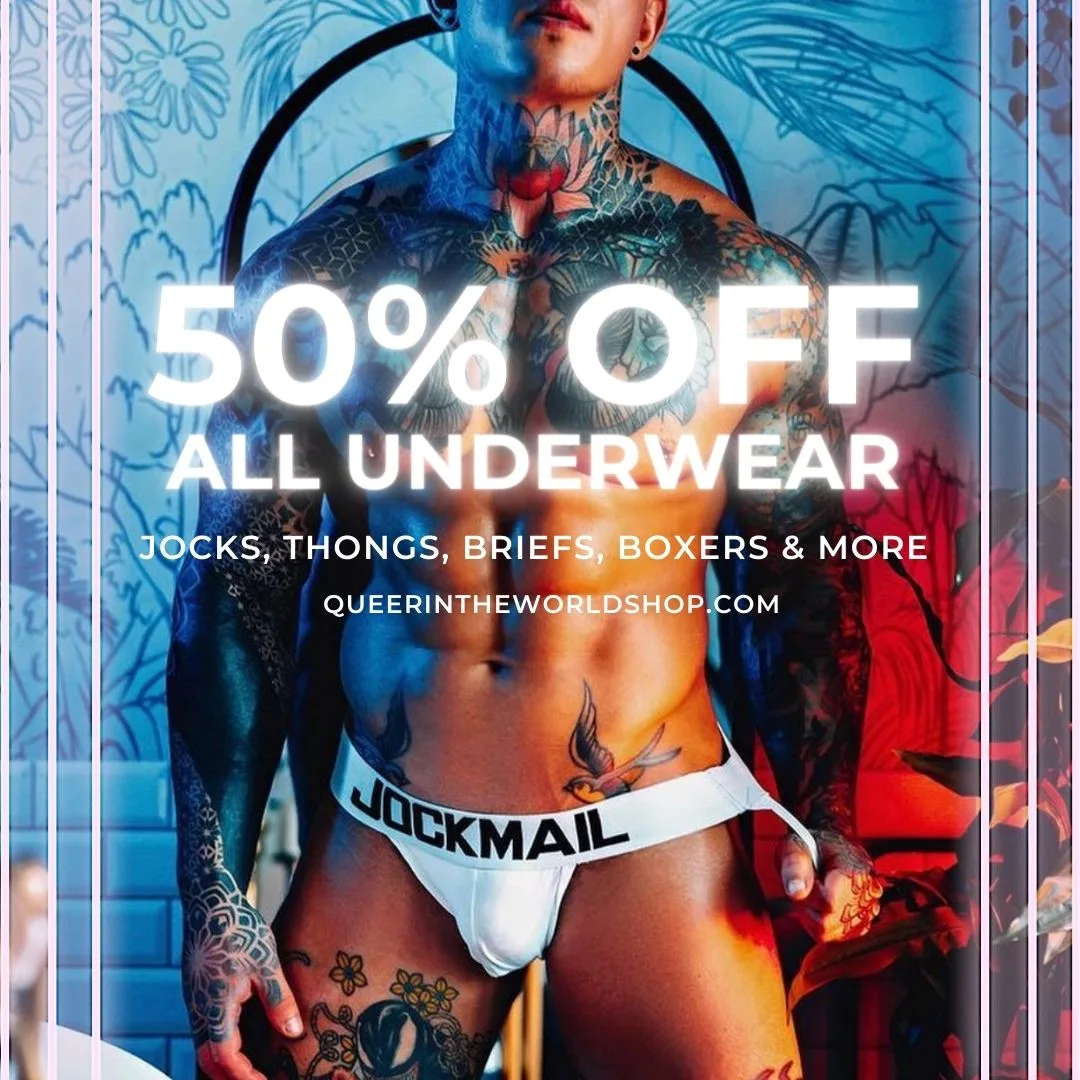 Gay Sauna In Nottingham, UK
CS2 Sauna is the only gay man sauna in Nottingham, making it a popular destination for people to visit. Here you can dip in the hot tubs, socialize in the steam rooms, and you never know what else might happen!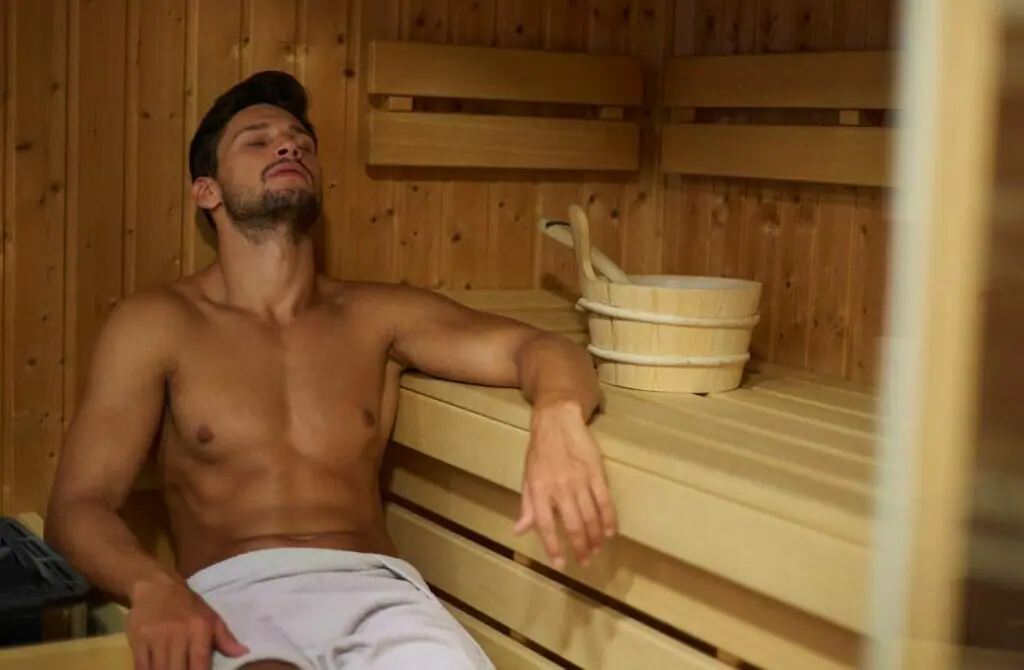 Gay Map Of Nottingham
Finding it hard to envisage where everything is in Nottingham? Hopefully, this queer-centric map helps where we have marked all the bars, clubs, parties, hotels, saunas, massages, and more will help you stay in the spot best suited to you!