France is a magical country and gay Nantes holds all of its spells. A city of castles, cathedrals and many mesmerizing venues. Walking on its streets feels like walking on the streets of ancient times. Gay Nantes is a city that offers a unique blend of history, art, culture, and diversity, making it a must-visit destination for travelers from all over the world.
The city is home to several beautiful historical landmarks, such as the Chateau des Ducs de Bretagne and the Nantes Cathedral. The city also boasts an incredible network of green spaces and parks, including the Jardin des Plantes and the Parc de Procé, which are perfect for a relaxing stroll or picnic.
Gay Nantes is also a city that celebrates diversity and inclusivity. The city has a thriving LGBTQ+ community and has made significant strides toward equality and acceptance. Nantes is home to several friendly LGBTQ+ bars and clubs where you can dance the night away.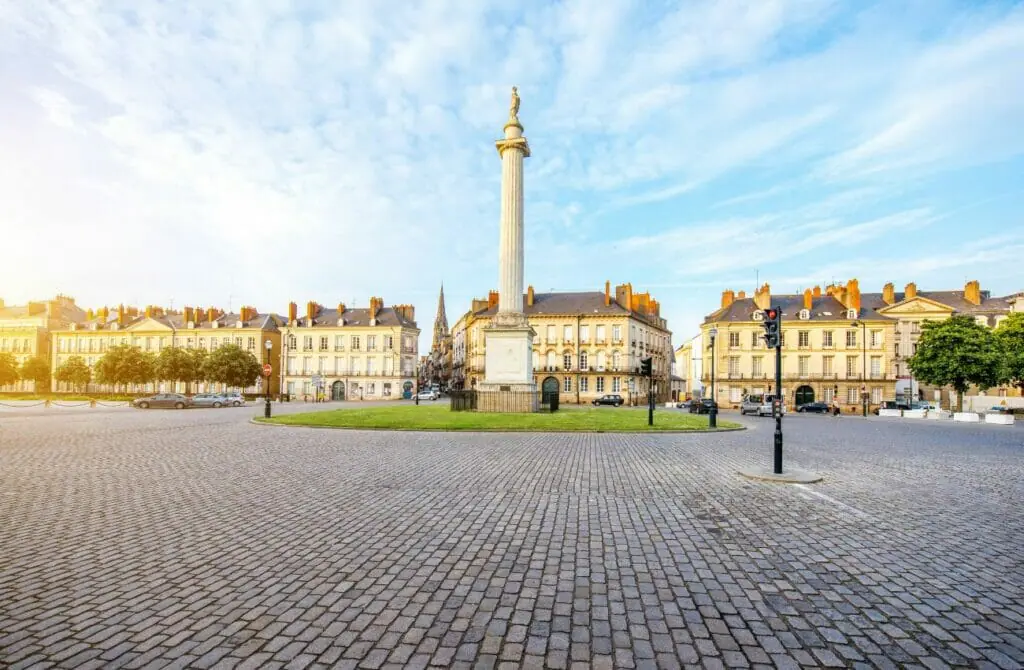 The city also hosts several events dedicated to promoting inclusion and respect for the LGBTQ+ community. Thousands of people from all over France and beyond attend the Nantes Pride Parade. The parade is a celebration of love, diversity, and equality, and is a testament to the city's commitment to creating a welcoming and inclusive environment for all.
Gay Nantes is a city that offers something for everyone. Its stunning beauty, welcoming attitude towards the LGBTQ+ community, and delicious food scene make it a worthy destination in France. So, if you're planning a trip to France, be sure to add Nantes to your itinerary – you will be amazed!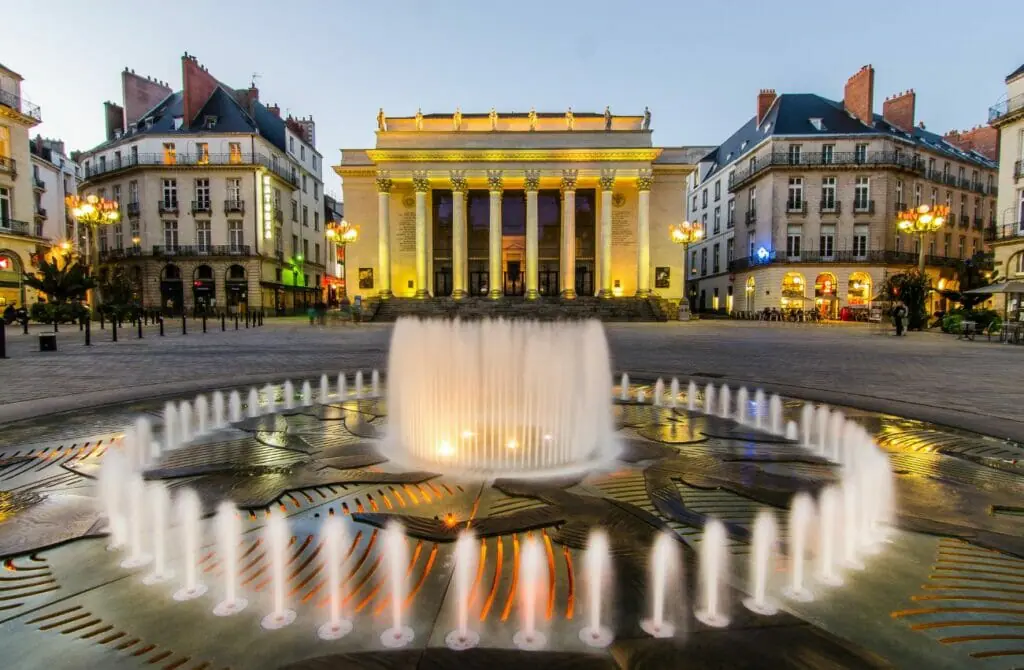 Attractions in Gay Nantes, France
There are many cultural attractions, especially in Nantes' old town. The Cathédrale Saint-Pierre et Saint-Paul, the Palais des Beaux-Arts, and the Jardin des Plantes are just a few of the must-see sights that can be found in the Quartier Bouffay, which is constantly bustling with activity.
Another welcoming area where you can enjoy perusing upscale shopping streets or stopping for a traditional dinner is the Quartier Graslin. Nantes has a contemporary side as well. It is a thriving metropolis with an industrial sector and a sizable population of university students. The elegance and sophistication of the city center enthralled you.
As a new visitor to Gay Nantes, there are plenty of things to see and do, regardless of your sexual orientation. One of the best ways to experience any new city is to visit some of its most iconic landmarks and attractions, including visiting historical monuments, museums, and art galleries.
We also love gazing at architecture up close, exploring parks and gardens, sampling the local cuisine, visiting local markets, and attending cultural events such as festivals, concerts and shows.
Even as the out-and-proud queer we are, we still love to just explore the city and its culture in the same way as everyone else. Doing so allows us the opportunity to learn more about the city and its people and gain a deeper understanding of the local culture. As such, these are our favorite must-see attractions in Nantes.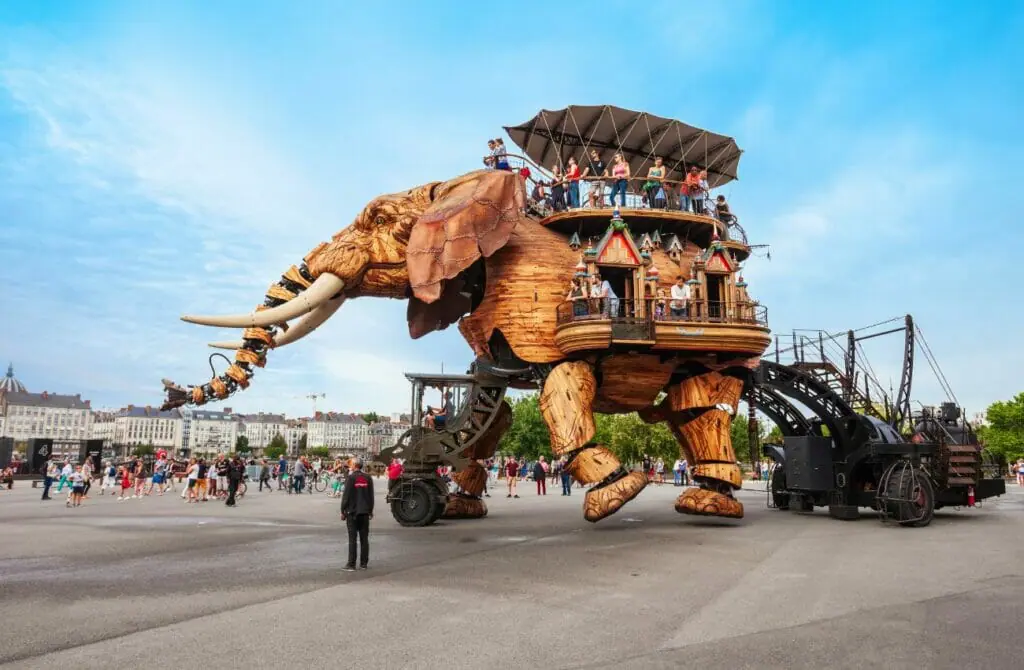 Musée Thomas Dobrée
This museum is a testament to the rich cultural history of the region and features an impressive collection of artifacts from ancient civilizations, as well as art and decorative objects from the Middle Ages through the 19th century.
The museum is named after Thomas Dobrée, a wealthy 19th-century collector who donated his extensive collection to the city of Nantes. The museum's collection is diverse and includes works of art from many cultures and time periods. You can explore the galleries and see a range of objects, from Roman sculptures to medieval tapestries to 19th-century furniture.
The highlight of the museum is the extensive collection of Egyptian artifacts, which include mummies, sarcophagi, and other objects that provide a glimpse into the daily life, culture, and beliefs of ancient Egyptians. The collection is considered to be one of the best in France and is a must-see for anyone interested in the history of this fascinating civilization.
Another noteworthy feature of the Musée Thomas Dobrée is the medieval art collection, which includes a range of objects, such as illuminated manuscripts, sculptures, and decorative objects. The collection provides insight into the art and culture of the Middle Ages and is a unique opportunity to see these objects up close and personal.
Cathédrale Saint-Pierre-et-Saint-Paul
The Cathédrale Saint-Pierre-et-Saint-Paul, in the heart of Nantes, France, is a major attraction for tourists and locals alike. The cathedral is an impressive example of Gothic architecture, with stunning sculptures, intricate stained glass windows, and a rich history that spans over five centuries.
One of the major draws of the cathedral is its exterior façade, which features intricate stone carvings and sculptures depicting biblical and historical scenes. The west façade, in particular, is a sight to behold, with three richly carved portals and two massive towers that rise over 200 feet in height. You can climb to the top of the towers to enjoy a panoramic view of the city of Nantes.
Inside the cathedral, you are treated to a grand display of Gothic architecture, with soaring vaulted ceilings, ornate chapels, and over 70 stained glass windows that flood the space with a kaleidoscope of color. The cathedral's grand organ, which dates back to the 17th century and has been restored several times over the centuries, is another highlight that you can admire during their visit.
The cathedral is also a popular destination for religious pilgrims who come to worship at one of the many masses held throughout the week. The cathedral is the seat of the Bishop of Nantes and plays an important role in the spiritual life of the city.
Besides its religious significance, the cathedral has also played a major role in the history of Nantes. During the French Revolution, the cathedral was used as a prison for clergy and aristocrats and was badly damaged by a fire in 1972. The restoration work that followed was a massive undertaking and involved the work of skilled artisans and artisans from all over France.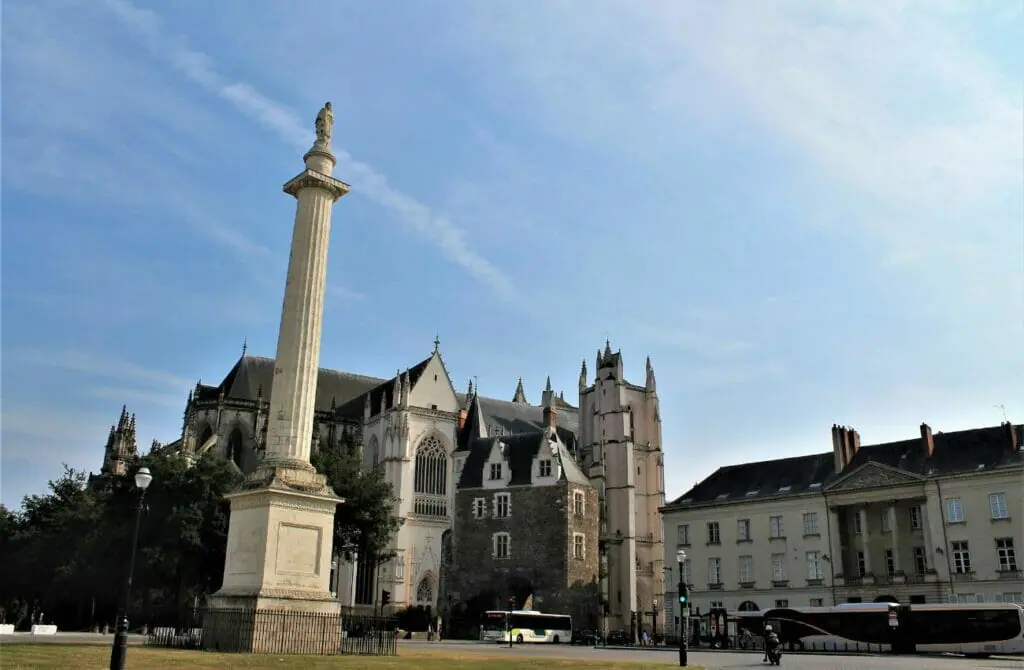 Île Feydeau
Île Feydeau is a charming and historic island in the heart of Nantes, France. The island is known for its elegant architecture, picturesque canals, and rich history, making it a popular destination for tourists and locals alike.
The island was once a bustling commercial center, home to a thriving shipbuilding industry and a hub of trade and commerce. Today, it is a quiet neighborhood, with narrow streets, charming squares, and elegant buildings that evoke the island's rich history and cultural heritage.
One of the most notable features of Île Feydeau is its distinctive architecture. The island is home to a wide variety of elegant 18th-century buildings, including the famous Graslin Theatre and the Hotel La Pérouse. Many of these buildings feature ornate facades, intricate carvings, and other decorative elements that reflect the island's rich cultural heritage.
Another notable feature of Île Feydeau is its network of canals, which were once used to transport goods and materials to and from the island.
The Château des Ducs de Bretagne, in the heart of Nantes, France, is a magnificent castle that has been a symbol of the city's power and history for over 500 years. The Dukes of Brittany built the castle in the 15th century and served as a residence for these powerful rulers until the 16th century.
Today, the Château des Ducs de Bretagne is a major tourist attraction, drawing visitors from all over the world who come to explore its rich history and magnificent architecture. The castle features several exhibitions, including the History Museum of Nantes, which takes you on a journey through the city's past, from its origins as a Celtic settlement to its role in the slave trade and the abolition of slavery.
Besides the museum, you can explore the castle's many courtyards, towers, and ramparts, which offer stunning views of the city and the Loire River. The castle's keep, which stands over 30 meters tall, is one of the most impressive features of the castle, and visitors can climb to the top for an even more breathtaking view.
Throughout the year, the Château des Ducs de Bretagne hosts several events and activities, including concerts, festivals, and historical reenactments. One of the most popular events is the "Voyage à Nantes", an annual summer festival that celebrates the city's rich cultural heritage with art installations, performances, and other events.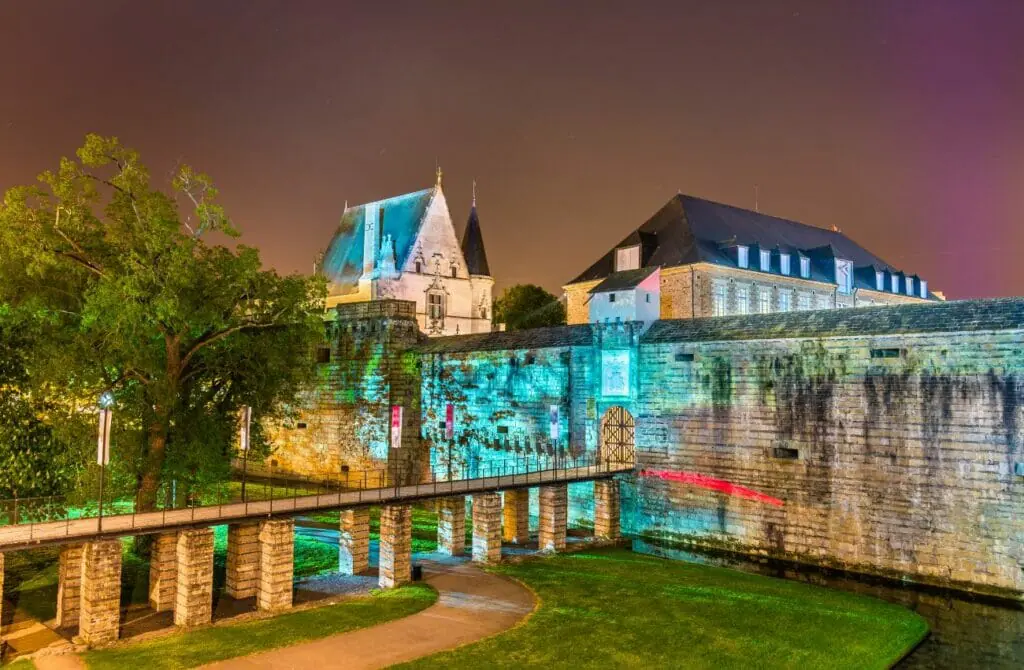 Musée d'Arts de Nantes
The Musée d'Arts de Nantes is a prominent museum in the city of Nantes, France. The museum was founded in 1801 and is housed in a beautiful 19th-century building, which was designed by the French architect, Clément-Marie Josso.
The Musée d'Arts de Nantes boasts an impressive collection of over 13,000 works of art, ranging from the Middle Ages to contemporary times. The collection includes paintings, sculptures, decorative arts, and other artworks from Europe and around the world.
One of the most significant features of the museum is its collection of French paintings from the 17th to the 19th centuries. The collection includes works by renowned artists such as Nicolas Poussin, Gustave Courbet, and Jean-Auguste-Dominique Ingres, among others.
The Musée d'Arts de Nantes also has a comprehensive collection of sculptures, including works by Auguste Rodin and Aristide Maillol. The museum's decorative arts collection includes furniture, ceramics, and glassware, and is considered one of the finest in France.
Besides its permanent collection, the Musée d'Arts de Nantes hosts several temporary exhibitions throughout the year, showcasing the works of both established and emerging artists from around the world.
Quartier Bouffay
Quartier Bouffay is a charming and historic district in the heart of Nantes, France. The neighborhood is known for its picturesque streets, lively atmosphere, and cultural landmarks.
The district is centered on the Place du Bouffay, a large square that was once the site of a medieval castle. Today, the square is home to a variety of shops, cafes, and restaurants, as well as the popular Bouffay market, which sells fresh produce, artisanal goods, and other local specialties.
The Quartier Bouffay is also home to several historic landmarks, including the Château des ducs de Bretagne, a 15th-century castle that now serves as a museum of Nantes' history. Another notable landmark is the Cathédrale Saint-Pierre-et-Saint-Paul, an impressive Gothic cathedral that dates back to the 15th century.
Besides its cultural landmarks, Quartier Bouffay is known for its vibrant nightlife. The neighborhood is home to a wide variety of bars, clubs, and music venues, making it a popular destination for locals and tourists alike.
One of the best ways to experience Quartier Bouffay is simply to stroll through its charming streets and alleyways. The neighborhood's narrow, winding streets are lined with colorful buildings, historic architecture, and bustling cafes and shops.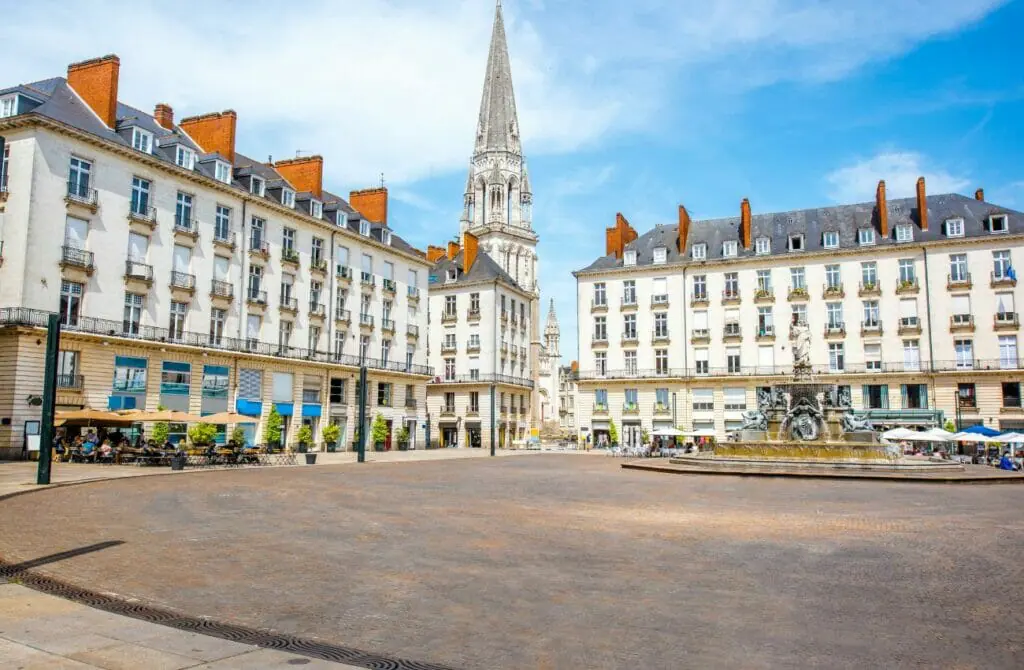 Musée Jules Verne
The Musée Jules Verne is a museum dedicated to the life and work of the famous French writer, Jules Verne, in the city of Nantes, France. The museum offers visitors an opportunity to learn about the author's fascinating life, explore his many literary works, and discover the influence that his writings have had on science fiction and adventure literature.
The museum is housed in a beautiful 19th-century building that was once home to the writer's descendants. You can explore a variety of exhibits that showcase Verne's life, including personal artifacts, manuscripts, and first editions of his works. The museum also features interactive displays and multimedia exhibits that allow visitors to experience the author's imagination and creativity firsthand.
The highlight of the Musée Jules Verne is its collection of artifacts related to the author's most famous works, including "Journey to the Center of the Earth," "Twenty Thousand Leagues Under the Sea," and "Around the World in Eighty Days." You can see original illustrations, models of the Nautilus and other fantastic inventions, and other objects that bring the stories to life.
Another fascinating aspect of the museum is its exploration of the scientific and technological innovations that Verne predicted in his works, from submarines to space travel.
Eglise Sainte-Croix is a historic church in the heart of Nantes, a charming city in western France. This beautiful building dates back to the 12th century and is a prime example of the Gothic architectural style that was popular during that era. With its soaring arches, intricate stonework, and stunning stained glass windows, the church is a testament to the skill and artistry of the artisans who created it.
The church has a rich, and fascinating history that has made it a popular tourist attraction in Nantes. Over the centuries, it has been the site of many important events, including royal coronations and religious ceremonies. Today, visitors can explore its many features and learn about its history through a variety of guided tours and exhibitions.
One of the most notable features of Eglise Sainte-Croix is its stunning stained glass windows. The church boasts an impressive collection of these artworks, which depict scenes from the Bible and other religious themes. Many of the windows are over 500 years old and have been carefully preserved to maintain their beauty and significance.
Another interesting aspect of the church is its impressive organ, which was built in the 18th century and is considered to be one of the finest in the region. You can attend organ concerts and recitals throughout the year, offering a unique opportunity to experience the music of the era in an intimate setting.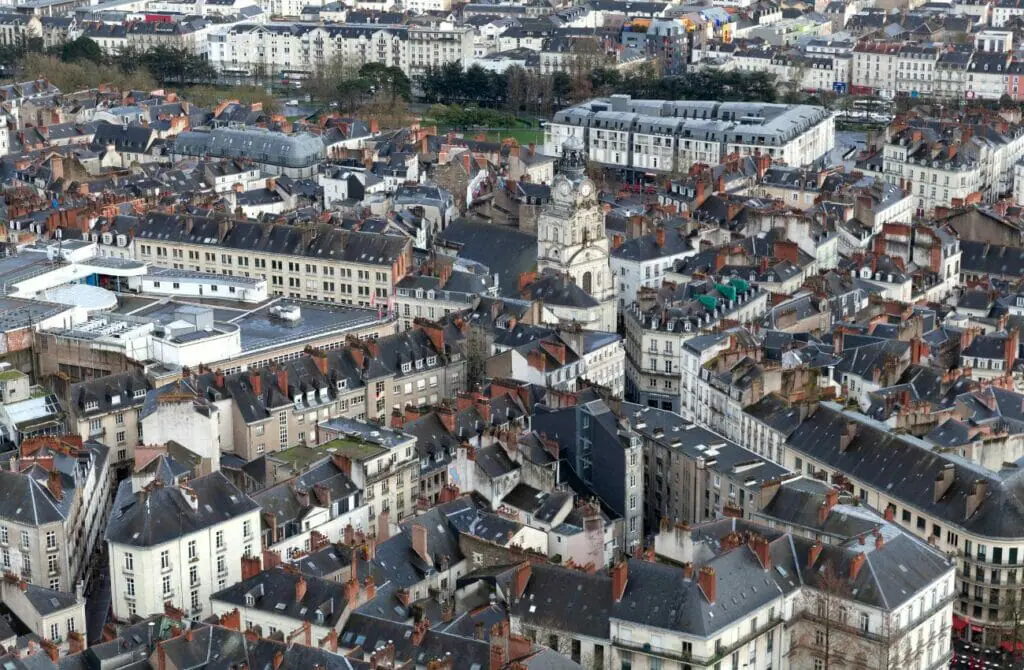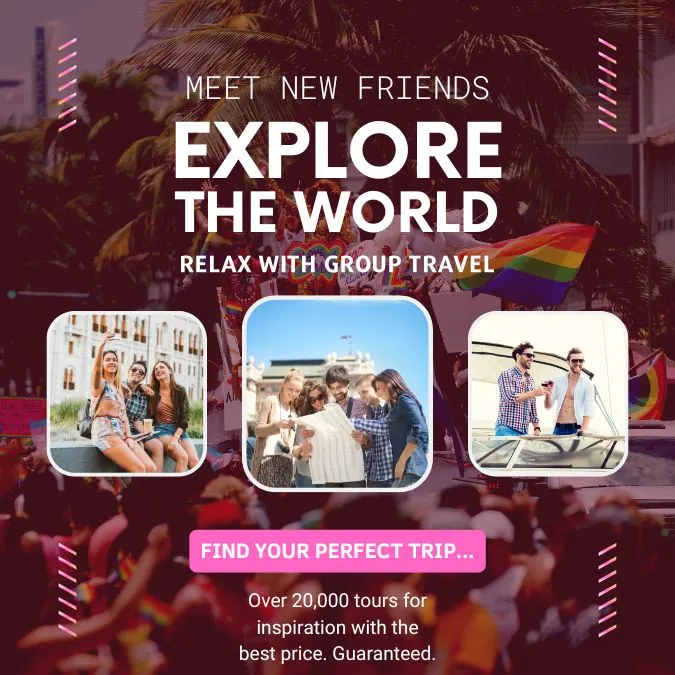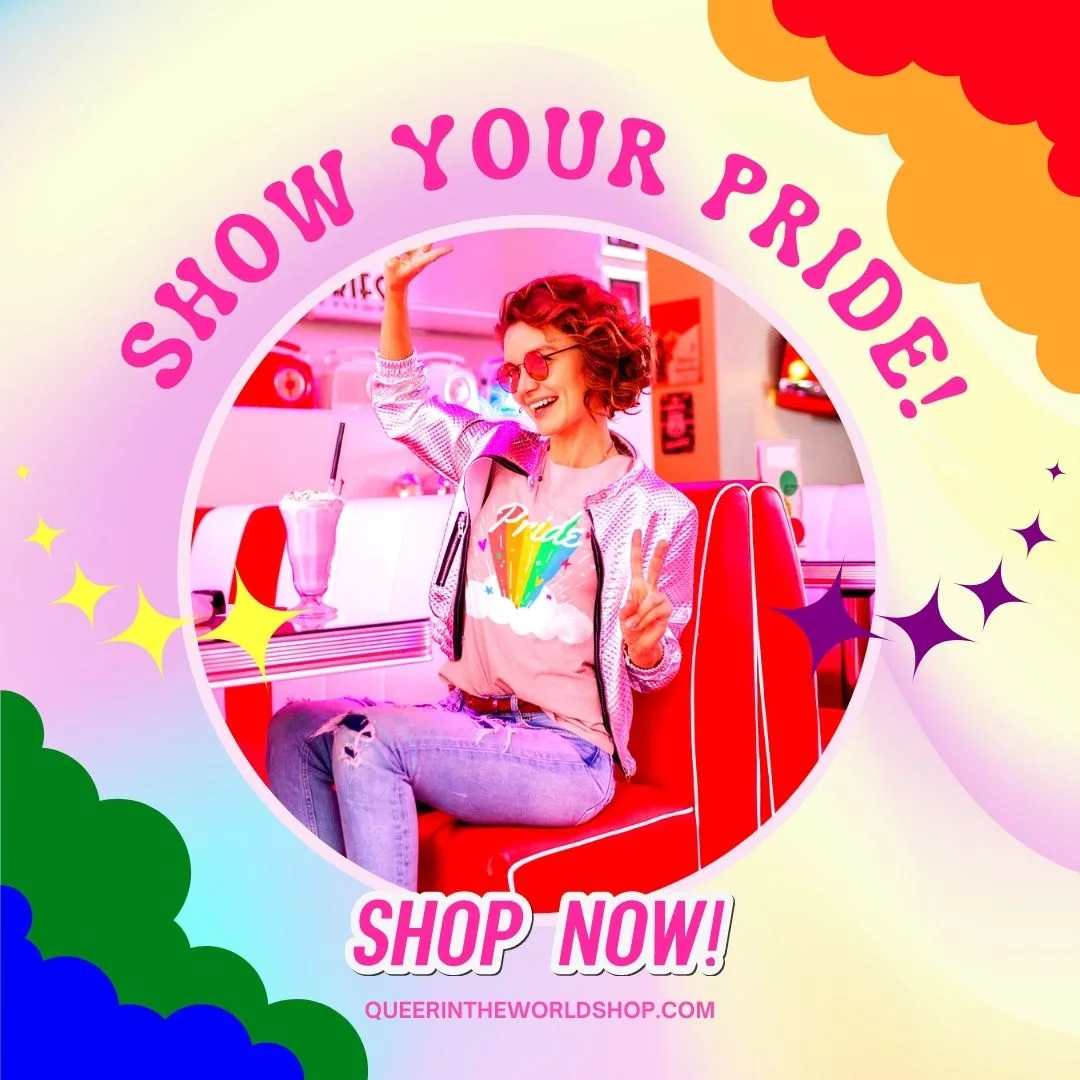 Gay-Friendly and Gay Hotels in Nantes, France
As a destination that welcomes all travelers, Nantes has a variety of gay-friendly hotels and accommodations that cater to the needs of LGBTQ+ guests. From centrally located boutique hotels to cozy bed and breakfasts, visitors can find a welcoming and inclusive atmosphere in the city's heart.
Whether you are traveling solo, with friends, or with your partner, Nantes has something to offer for everyone looking for a safe and enjoyable stay.
Being gay-friendly accommodation means that the establishment is welcoming and inclusive to guests who identify as LGBTQ+. This can include but is not limited to, having policies and practices in place that demonstrate a commitment to creating a safe and inclusive environment for LGBTQ+ guests, such as non-discrimination policies, and providing support and resources for LGBTQ+ travelers.
Some gay-friendly accommodations may also provide amenities specifically catering to the LGBTQ+ community, such as rainbow flags or literature about local LGBTQ+ events or resources. Furthermore, gay-friendly accommodations may be located in an area that is known for being LGBTQ+ friendly.
While Nantes does not have any specifically gay hotels or resorts, these are the most fabulous and pro-actively gay-friendly hotels in Nantes. Needless to say, there are also hundreds more hotel and hostel options in Nantes if none of these suit your desired budget, facilities or area – but these are the best hotels according to other gay travelers and us.
Whatever your needs are, Nantes has you covered.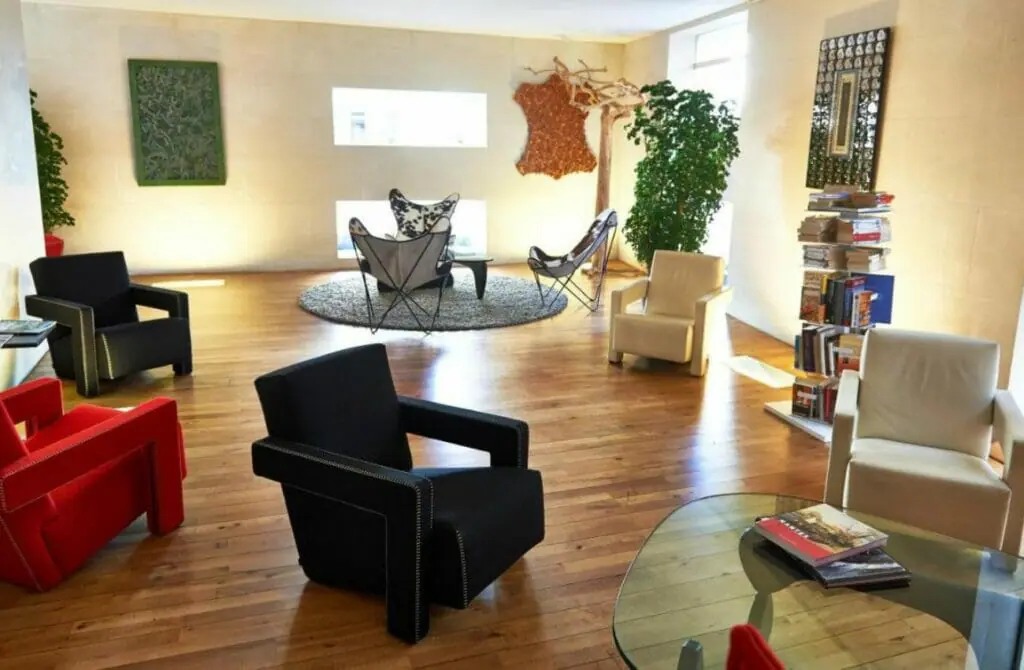 A gateway entrance created by an Atlantic shipyard, anti-roll door handles, or even passages from "Twenty Thousand Leagues Under the Sea" that are almost imperceptibly blended into the hotel's stone walls are just a few of the subtle nods from the architects that enrich the vocabulary of travel.
There are also many references to the daring, literary, and mystifying naval past of Nantes. The Hôtel La Pérouse is a 20th-century heritage landmark, and staying there means entering an incredible realm with a unique urban and architectural experience.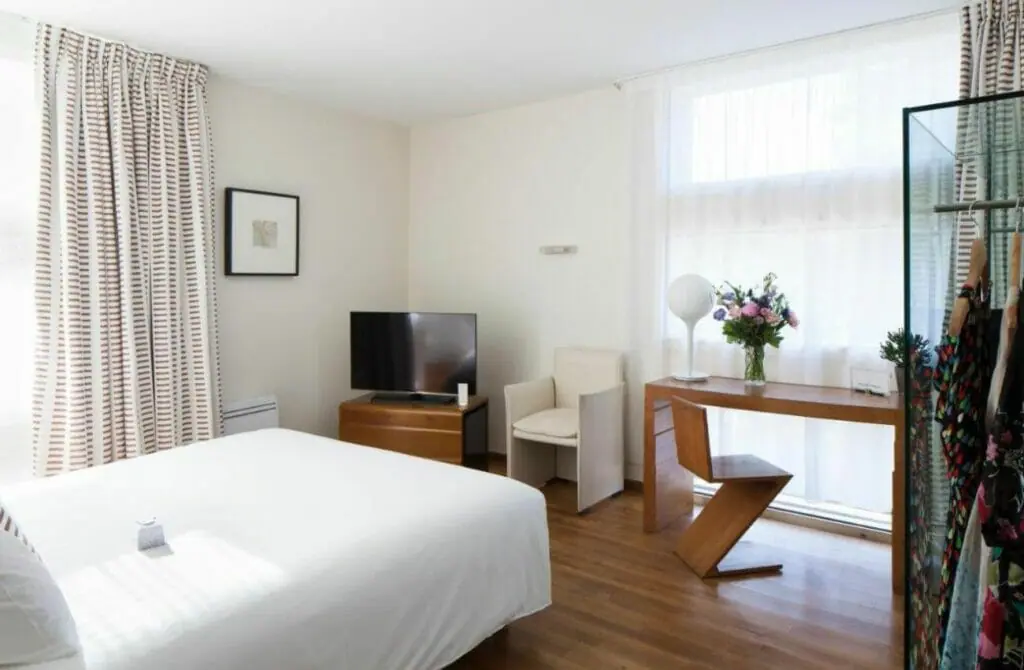 Maisons du Monde Hôtel & Suites – Nantes ☆☆☆☆
Discover a new chic location in this city of history and the future: Maisons du Monde Hotel & Suites. This elegantly decorated hotel is well on the Old Port and will serve as the base for all of your trips. When warmth, service, and elegance are combined, you'll feel more at home than before. At the Maisons du Monde Hotel & Suites, style knows no bounds!
If tenderness and nature are what you dream of, select the Saint Rémy room. If you enjoy traditional styles with modern touches, therefore visit the Lourmarin room! You are moved by the tranquil surroundings and drawn to the Gordes chamber! There are 5 different room types offered here. You'll return to try them all.
Oceania Hôtel de France Nantes ☆☆☆☆
Complete renovations were made to the four-star Hotel Hôtel de France Nantes, perfectly preserving its historic roots. The aim was to elegantly incorporate modern elements while preserving the hotel's original distinctive character. The majestic lobby, rich color accents, juxtaposition of materials, and light-filled stairway bring back vivid memories of this true institution.
Our 72 unique rooms ranging from Art Deco to contemporary attitude. They have undergone a complete renovation to provide you with the utmost in comfort, including spacious rooms, bathrooms with an "Oceania" concept and walk-in showers in the Italian style, premium bed linen, and spectacular views of the Place Graslin and its theater.
This luxurious hotel room with a private terrace that overlooks Nantes' rooftops is unquestionably its crowning glory. The breakfast area is likewise wide and well-lit. Last but not least, if you wish to unwind, our hotel in the heart of Nantes has a fitness facility and a gorgeous lobby made of hewn-cut stone.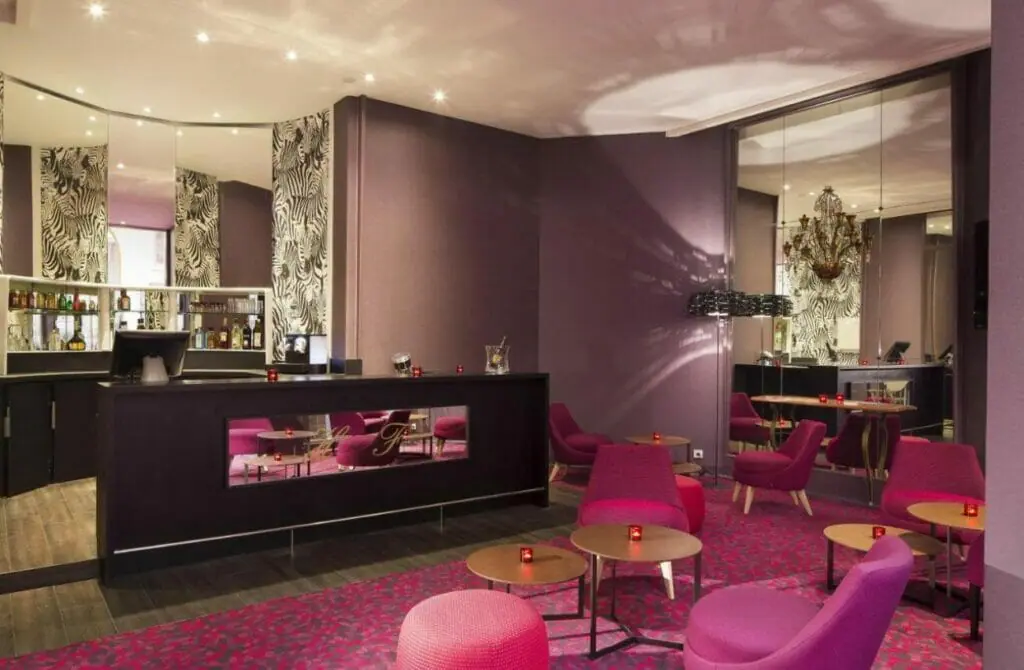 Okko Hotels Nantes Château ☆☆☆☆
The hotel renovated and updated the 19th-century building to meet modern needs. The façade of the hotel features a blend of old and new, with the traditional stone façade complemented by modern glass elements. The use of wood and stone in the interior design gives the lobby a rustic feel, while the modern furnishings and lighting fixtures add a touch of sophistication.
The hotel rooms at Okko Hotels are designed with comfort and style in mind. The rooms are decorated in a modern and minimalist style, with muted colors and clean lines. Using natural materials such as wood and stone gives the rooms a cozy and inviting feel.
Hotel Voltaire Opera Nantes Centre ☆☆☆
Le Voltaire Opéra is a three-star independent boutique hotel in a stunning 19th-century building in the center of the Graslin neighborhood. It welcomes guests in a sophisticated setting that combines chic and elegant.
Let the ambiance that permeates the Voltaire Opéra charm you whether you are visiting Nantes for business or pleasure. The attentive and kind greeting of our staff will serve as the foundation for your stay.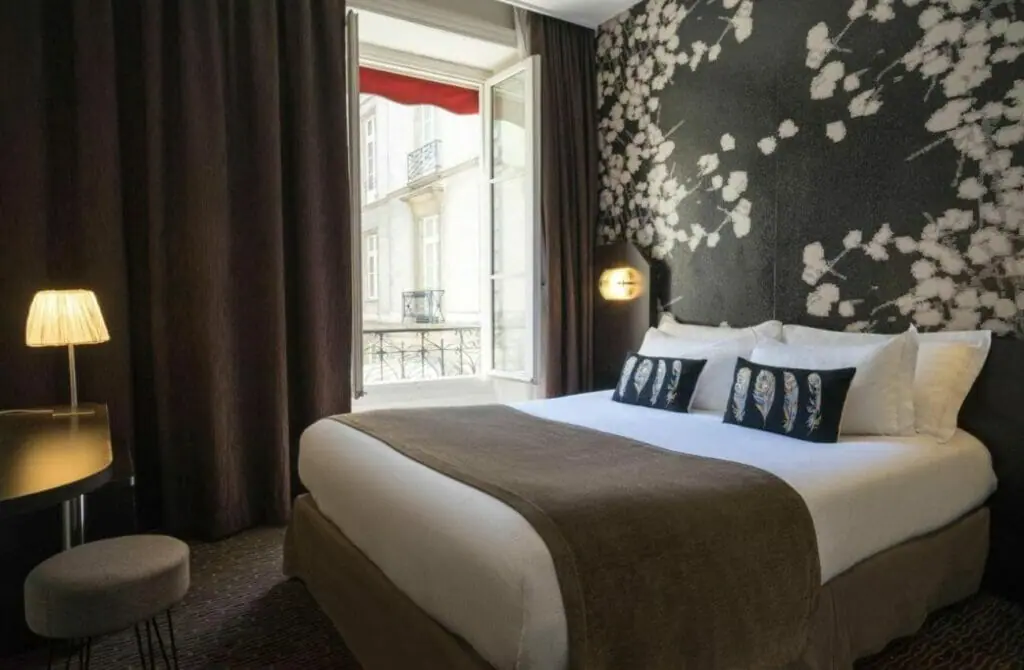 Le Lieu Dit Hotel in Nantes is a boutique hotel in the heart of the city's historic district. The design and ambiance of the hotel are carefully crafted to create a warm and welcoming atmosphere that combines contemporary style with traditional elegance. The guest rooms are spacious and tastefully decorated, with a neutral color scheme that creates a calming and serene environment.
Using natural materials such as wood, stone, and linen adds to the overall sense of warmth and comfort. Besides its luxurious design and ambiance, Le Lieu Dit Hotel is ideally located for exploring the city of Nantes. The hotel is just a short walk from many of the city's top attractions.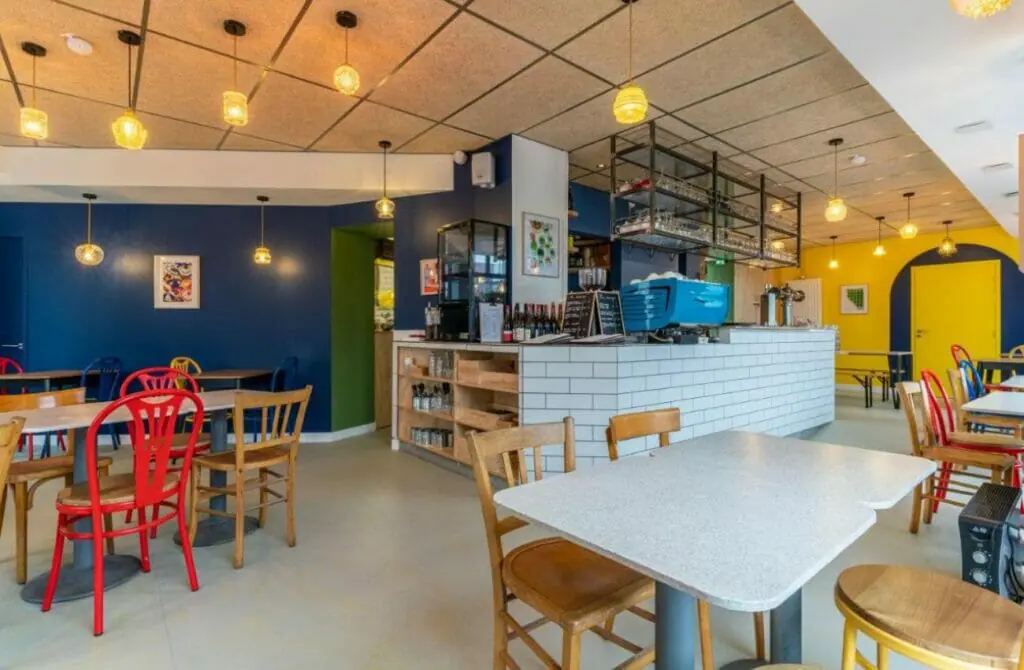 Gay Nightlife in Nantes, France
Nantes, France, is a popular destination for LGBTQ+ travelers looking for a lively nightlife scene. The city is known for its vibrant and diverse community and has a variety of gay-friendly bars and clubs that cater to all tastes and interests.
Whether you're in the mood for a relaxed evening with friends or an all-night dance party, Nantes has something to offer everyone.
Visitors can enjoy a range of venues, from chic cocktail lounges to energetic nightclubs, each providing a welcoming and inclusive atmosphere where you can be yourself and have a good time. With so many options to choose from, Nantes is the perfect destination for a memorable night out.
Exploring the gay and gay-friendly nightlife in a new city can be one of the most exciting and rewarding experiences while traveling – and Gay Nantes is no exception. Not only will you have the opportunity to meet new people and make friends, but you'll also get a taste of the local culture and learn more about the city's LGBTQ+ community.
Going out and experiencing the queer and queer-friendly nightlife in a new city can also be a great way to break out of your comfort zone and try new things. Whether it's dancing the night away at a gay club or mingling with locals at a gay-friendly bar, you'll have the chance to make memories and create lasting connections.
So, don't be afraid to step out of your comfort zone and explore the gay and gay-friendly nightlife in Nantes. You'll be glad you did!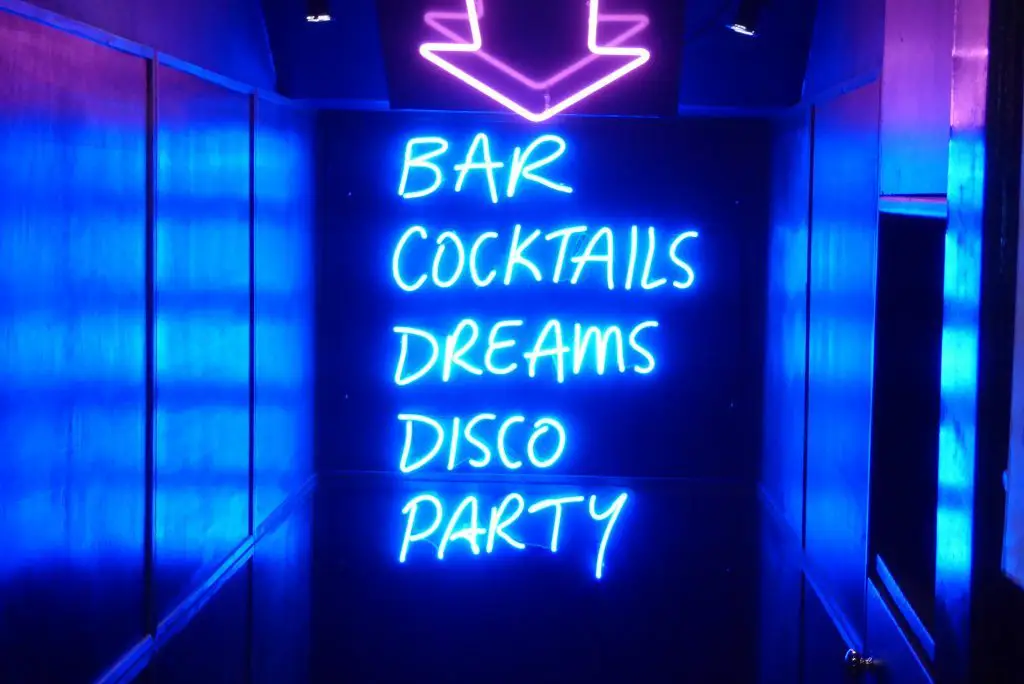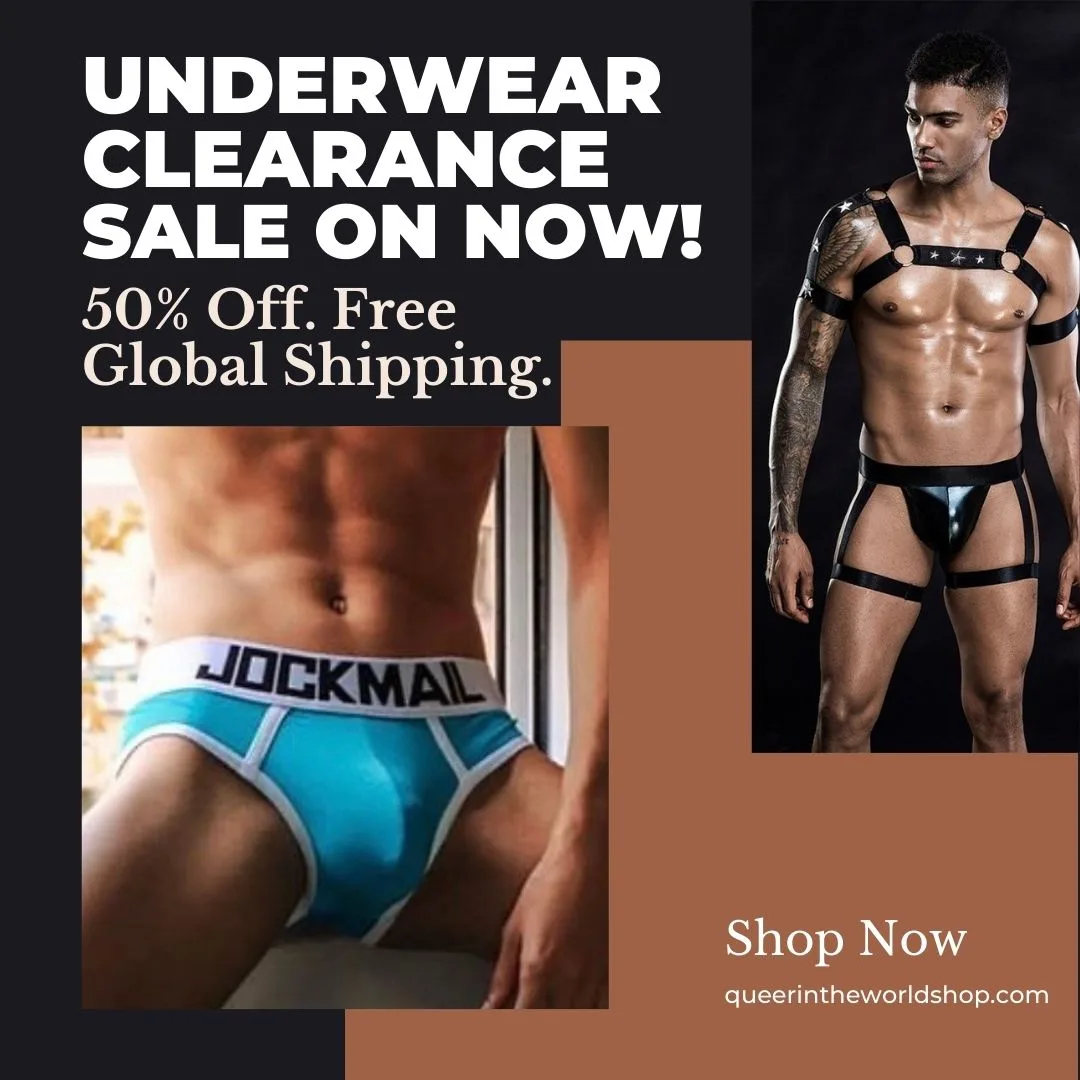 Gay and Gay-Friendly Bars
The Blockmen, in Nantes's historic area, was one of the city's first gay nightclubs, featuring underground cellars. It then evolved into a libertine club before presenting itself as an essential gay club of Nantes nightlife in 2003.
Apart from the club section where the dancing and music never stops, the Block Men also doubles as a cruising bar. So whatever cute boy you have your eyes on may bring your dreams to life. Everyone here, including the guests, is open-minded so you don't have to worry about weirding someone out.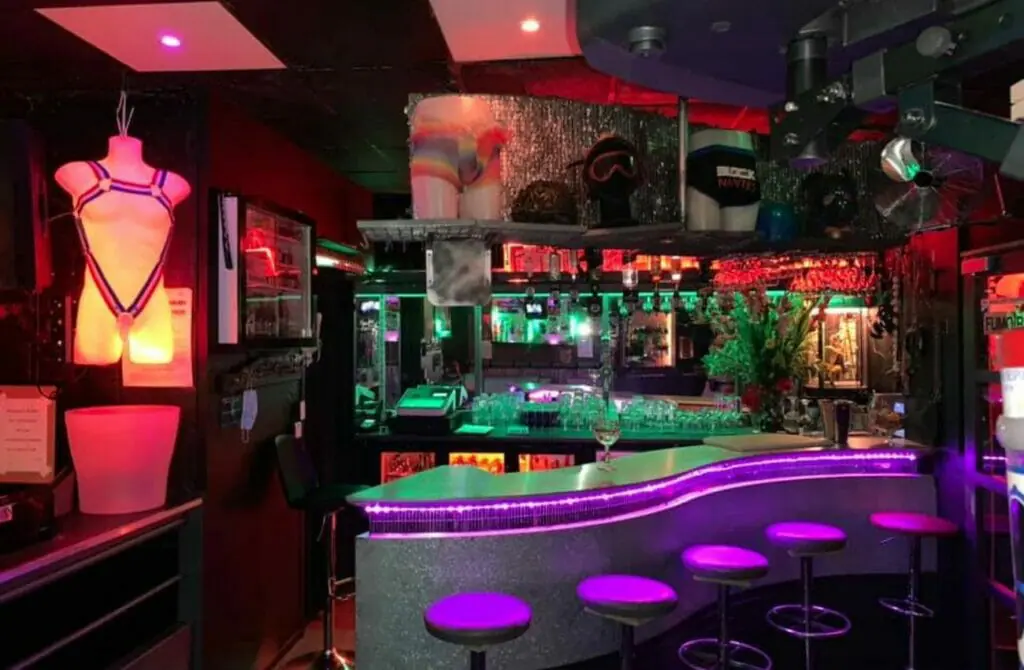 The Montecito is a gay-friendly pub that specializes in cocktails. You will get some of the finest here because Simon, the boss, puts in maximum effort to satisfy your palate. They are open from 4 pm to 2 am every day.
Together with its 32 à la carte cocktails, Simon also offers custom cocktails, a large selection of wines, spirits, and beers, as well as sausages, cheese, and mixed snack platters for foodies. But that's not all. Every month, themed evenings like DJ, Open Stages, Drag shows, Transformist Cabaret and more are organized.
A gay bar that sometimes allows straight. The men are the hottest and the drinks are premium. A lot of things go down here and you have to be there to experience all of them. Honestly, this bar is of the places you have to visit at least once in your life. The men will leave you drooling. There are strip parties, fetish parties and more. Walking into Kaleidoscope is walking into another world.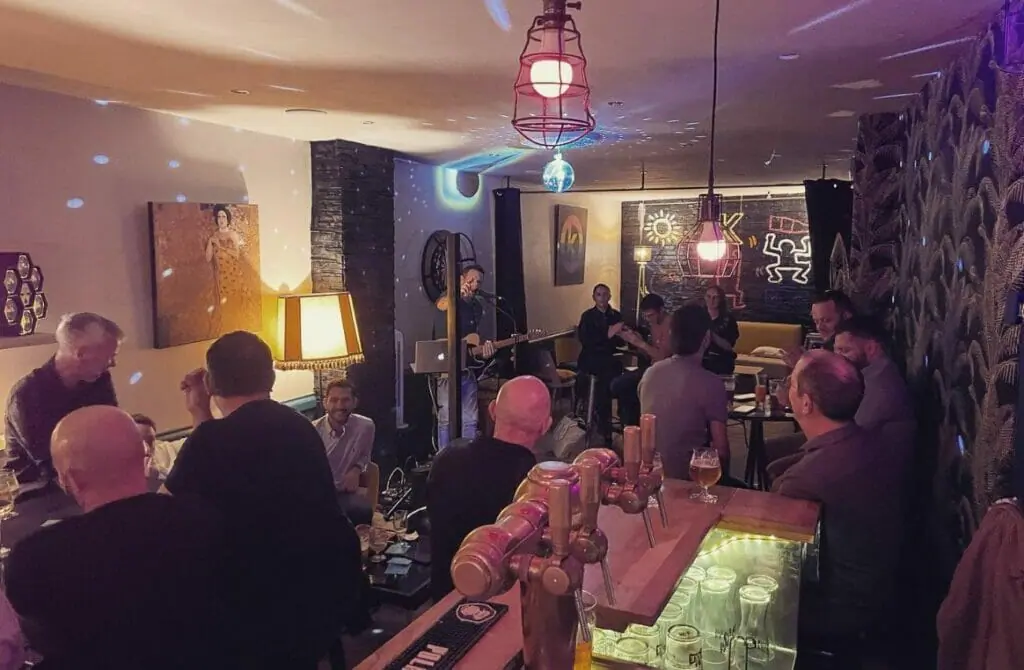 France knows how to get down when the need arises. The parties in this bar are the wildest, but you will have a good time. The drinks here are amazing and sometimes fetishes and fantasies are brought to reality. Like some of the other gay bars in Nantes, there is also a cruising section in this bar.
So maybe you don't have to keep it in your pants after all. Open from 10 pm to 4 am, L'Autre Quai is there to serve you great drinks or provide you with a safe place to explore your fetishes.
This is the best place to begin your tour of the gay nightlife in Nantes. The staff here are some of the friendliest you will ever experience and the menu is one of a kind. You can have a drink or ten and have a conversation with a complete stranger and still be at home because that was what the ambiance was meant to do.
Le Petit Marais also hosts drag shows here and there. They invite some of the best divas in the country, but one thing that is also on the regular is the costume/cosplay parties.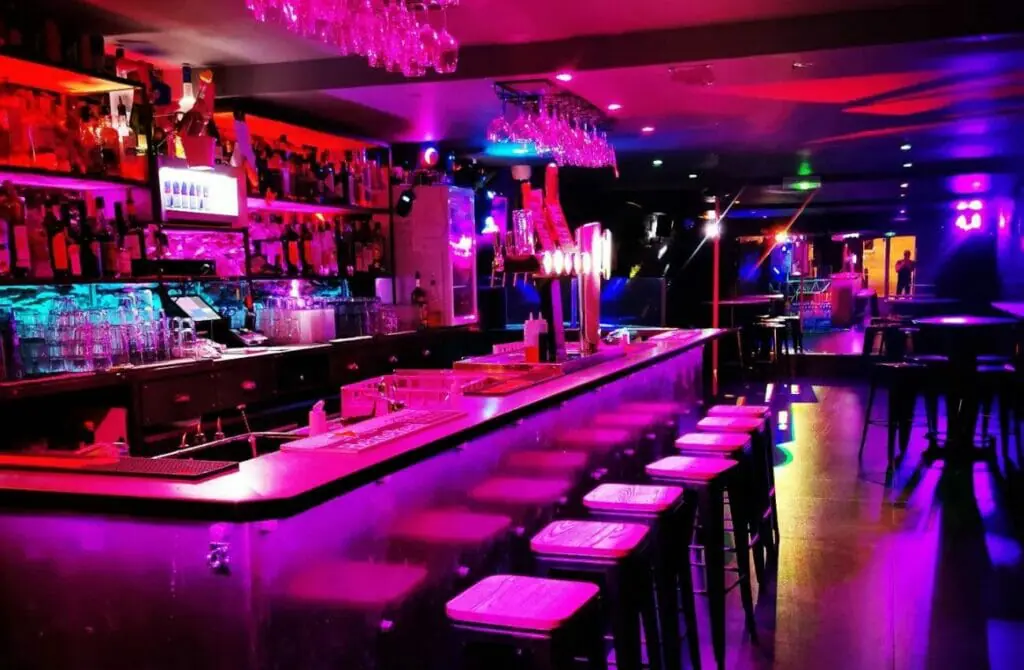 Les Sir Carmes is a gay bar that thrives on its relaxed and fun ambiance. If you want to get a laugh while you sip your drink, this is the place to be. It is a very good and popular pub because it is in the heart of a busy pedestrian thoroughfare.
A pleasant musical environment. Nice bar stools and a decor that is unique. Excellent cocktails that are always served with a hint of humor! One of the truly amazing qualities of this bar is that it is a place ‌you can find a table no matter what time you come.
This is a bistro gay bar where you can relax within its dine-in area or outdoor seating. They provide excellent drinks at relatively cheap prices and they primed the food menu with cultural French cuisines. Drag shows, live music and comedy are hosted here but with a very interesting eccentric twist.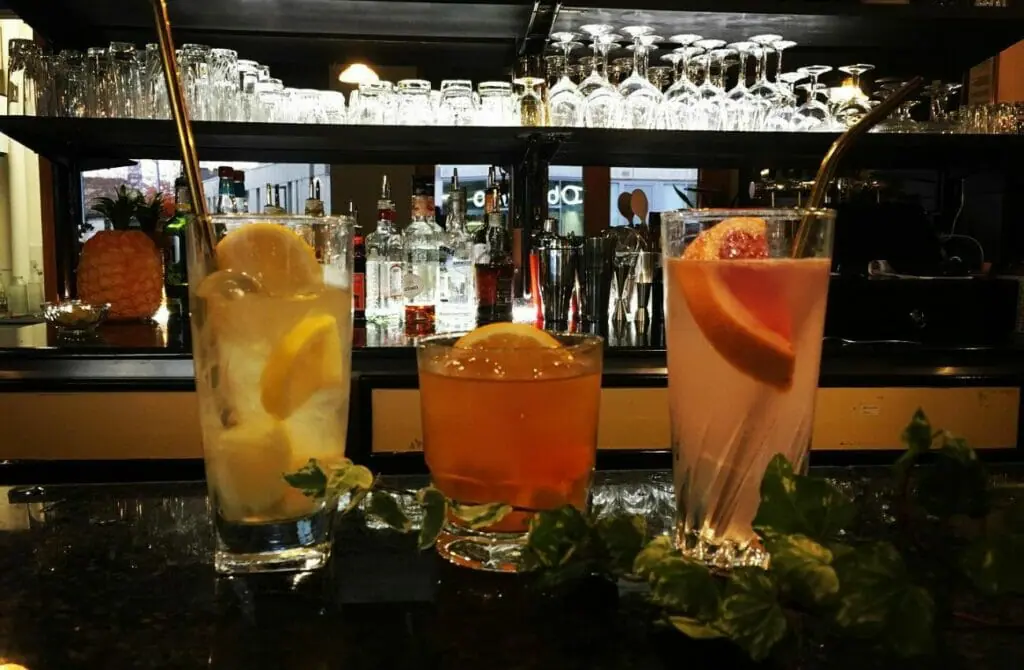 The Novelty café is great a place to make friends. Close to the University, it is a haven for students. They host DJ evenings while you enjoy good cocktails at attractive prices. It is a good place to have a few drinks and enjoy the local music. Also, this cafe is not entirely gay but they are inclusive.
This is a gay club that opens during the weekends from midnight to 6:30 am. They have hosts draw shows, karaoke, comedy and so much more. There is also a dance floor to get your groove on. Club CO2 is a gay club but you may find a few curious straights here. Their DJ parties are their specialties, so make sure that when you are in town, you don't miss it.
You are most welcomed in the chaotic yet fun environment at the CO2 Club Origin club in Nantes. Live DJ, Meet and Greet Nights, 80s Nights, Chocolate Bars Nights, Tote Me the Pancake Nights, Black and White Nights, Neon Nights, and French Kiss Nights are some of the themed evenings that are hosted here.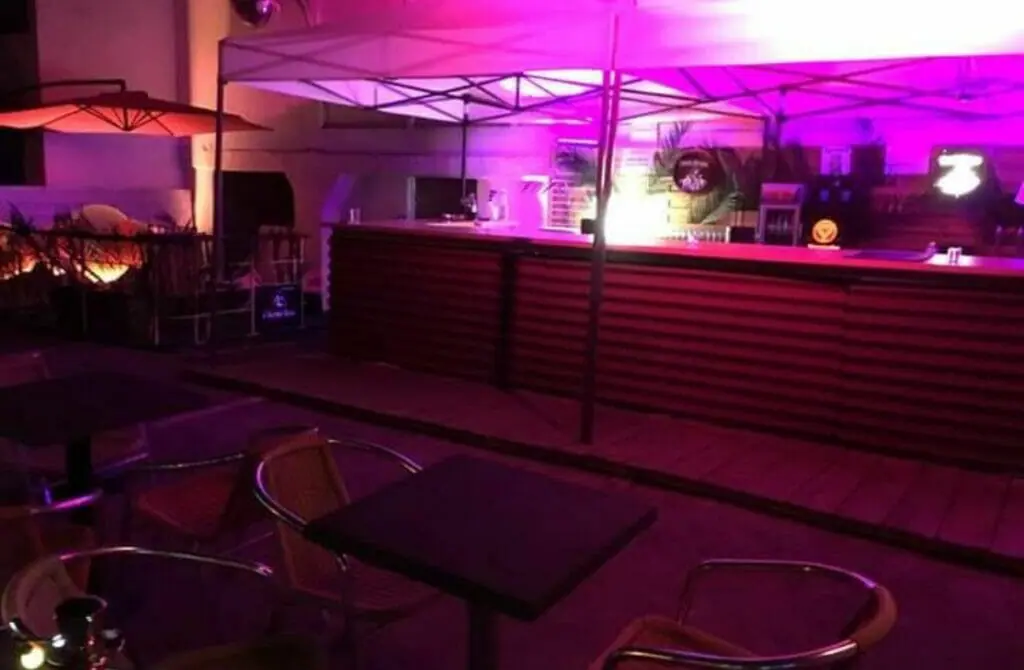 Gay Saunas & Cruising Clubs in Nantes, France
When traveling to a new city, it can be exciting to head out for more than just a stiff drink. One aspect of the Gay Nantes scene that many queer men enjoy is visiting gay saunas and cruising clubs.
Sure, the sauna culture in Nantes is not as hedonistic as in Amsterdam, Barcelona or Berlin, but these venues still offer a chance to meet new people, socialize, and engage in sexual activity – without resorting to gay hookup apps.
However, it's important to keep in mind that these venues can vary greatly in terms of atmosphere, clientele, and rules, so it's a good idea to prepare yourself before visiting. If you are apprehensive, we advise studying our guide to visiting a gay bathhouse for the first time, which should help set your mind at ease, and always practice safe sex.
Additionally, it's important to be aware of and respect local laws and customs regarding gay venues and sexual activity. With a little bit of planning and an open mind, visiting gay saunas and cruising clubs can be a fun and exciting part of your gay Nantes travel itinerary.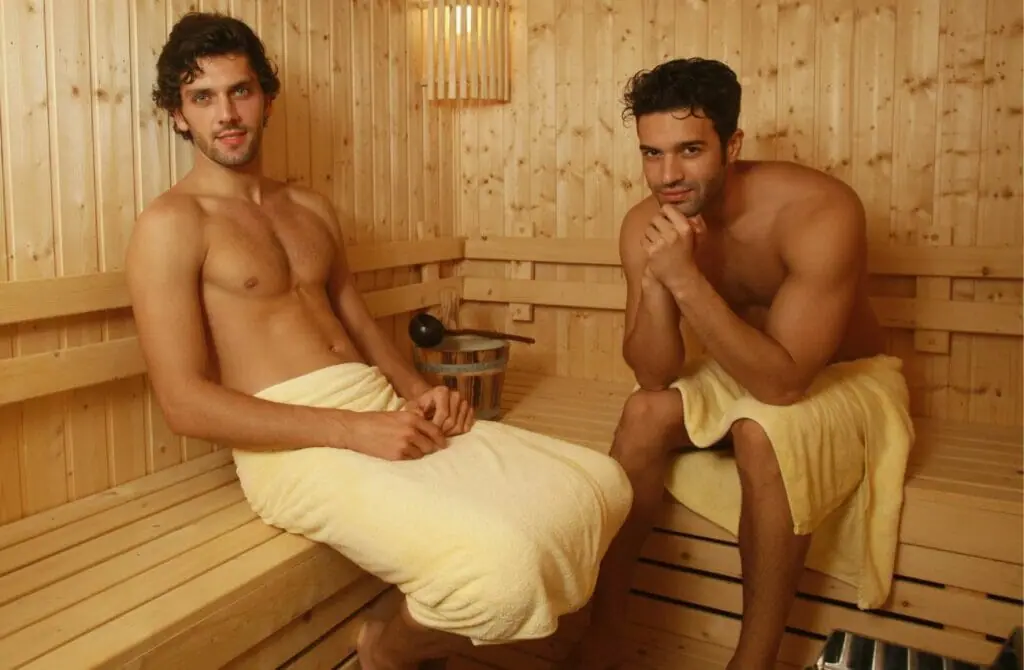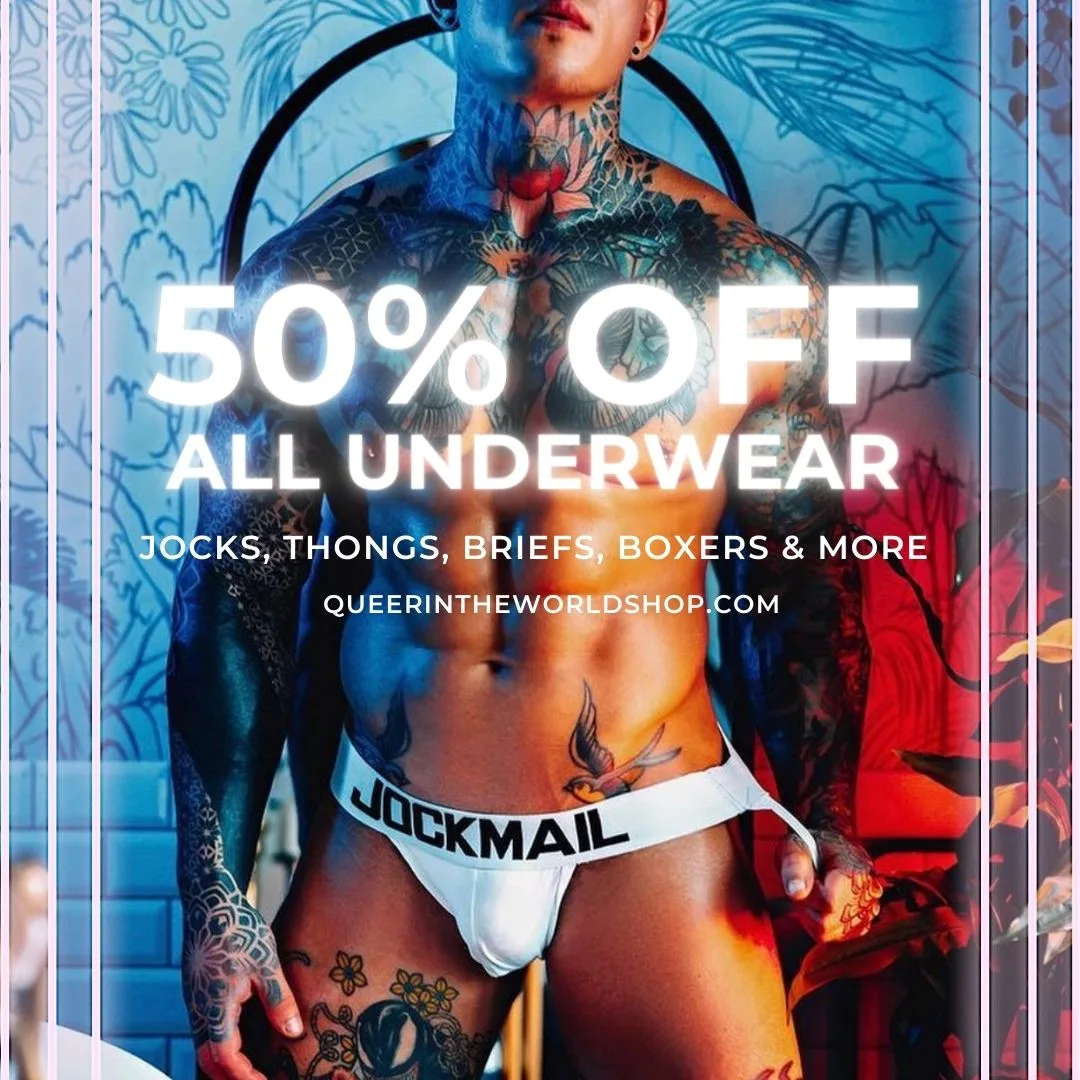 Gay Sauna
Unwind at this incredible gay sauna in Nantes. It is open from noon to 1 am from Sunday to Thursday and on Friday and Saturdays, it's open till 2 am. The decor is premium with some of the finest French finishes. The saunas are of premium quality and the staffs are just gorgeous.
Gay Map Of Nantes
Finding it hard to envisage where everything is in Nantes? Hopefully, this queer-centric map helps where we have marked all the bars, clubs, parties, hotels, saunas, massages and more will help you stay in the spot best suited to you!