Gay Aruba offers a perfect blend of natural beauty, cultural richness, and relaxation that makes it an ideal destination for visitors from all over the world. Whether you're looking for adventure, relaxation, or a combination of both, this idyllic island nation will offer an unforgettable vacation experience.
Aruba, a tiny island nation in the southern Caribbean, is a popular tourist destination for people from all walks of life. The island is known for its stunning beaches, crystal-clear waters, and diverse culture. But what makes Aruba truly unique is its welcoming and accepting attitude towards the LGBTQ+ community, making it a great tourist attraction for gay folks.
One of the biggest reasons Aruba is such a popular destination for gay travelers is its progressive laws and policies. The island nation legalized same-sex relationships in 2001, and in 2019, it became one of the first Caribbean nations to legalize same-sex marriage.
This legal recognition of LGBTQ+ rights has made Aruba a popular destination for same-sex couples who want to celebrate their love in a beautiful and accepting environment.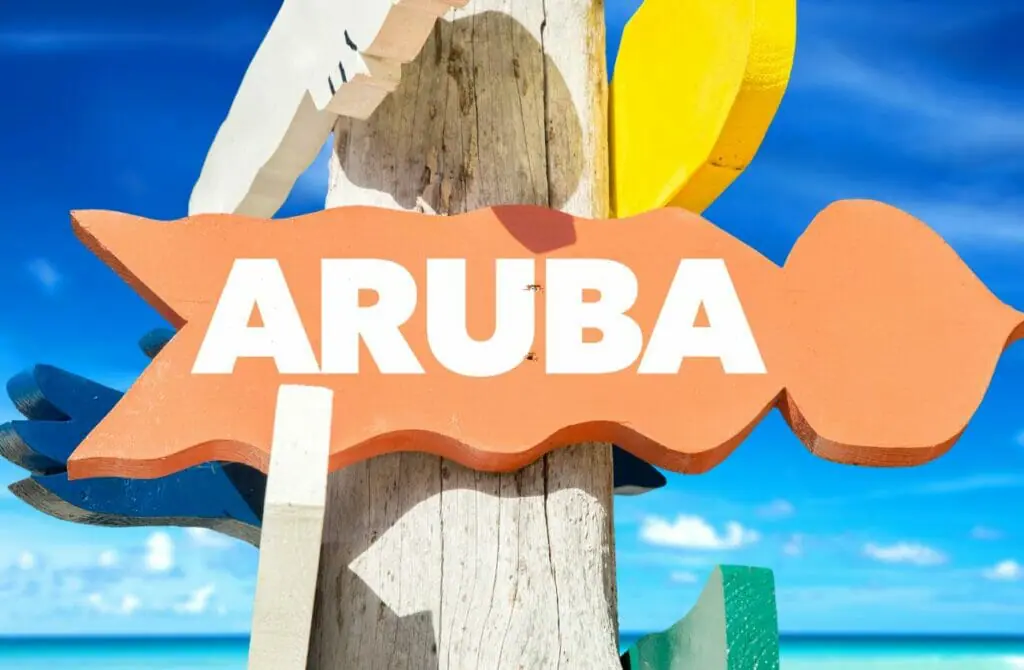 Besides its progressive policies, Aruba also has a thriving gay community that is welcoming to visitors. The island has several LGBTQ+-friendly bars and clubs, which are known for their lively atmosphere and friendly staff. There are also several LGBTQ+ events throughout the year, including Aruba Gay Pride, which takes place in August and features a parade, parties, and other events.
But Aruba isn't just a great destination for the LGBTQ+ community because of its welcoming atmosphere. The island also has plenty of attractions that make it a great place to visit for many travelers. From the stunning white sand beaches to the unique rock formations of Arikok National Park, there's something for everyone on this island.
One of the most popular attractions on the island is the natural pool, located in the rugged terrain of Arikok National Park. Volcanic rock surrounds this unique swimming hole and is only accessible by foot or ATV. It's a great place to cool off and enjoy the natural beauty of the island.
Aruba is a great destination for anyone who loves sun, sand, and fun. But for gay folks, it's a particularly welcoming and accepting place that offers a unique blend of natural beauty, cultural richness, and friendly hospitality.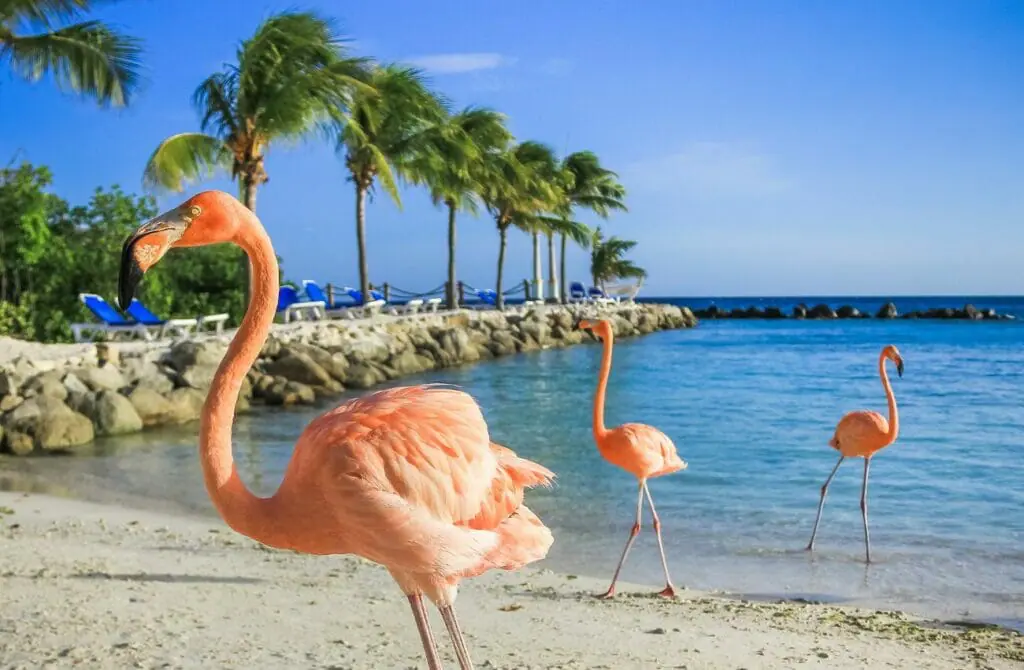 In this article we will cover...
Attractions in Gay Aruba, Netherlands
Aruba, a small island nation in the southern Caribbean, is known for its stunning attractions and natural beauty. Visitors to this idyllic island can expect to be greeted with crystal-clear waters, white sand beaches, and an abundance of sunshine.
One of the most popular attractions on the island is its rugged natural terrain, which offers a unique opportunity to explore Aruba's wild side. Hiking trails lead through rocky terrain, showcasing spectacular views of the coastline and the island's interior.
For those who prefer more leisurely pursuits, Aruba's beaches are a must-see. With powdery white sand and turquoise waters, the island's beaches offer a paradise-like setting for sunbathing, swimming, and watersports activities.
Aruba also boasts several historic landmarks, including charming architecture, quaint buildings, and landmarks that provide insights into the island's rich cultural heritage. Visitors can take in the sights and sounds of these iconic landmarks, learning about the island's past while enjoying its natural beauty.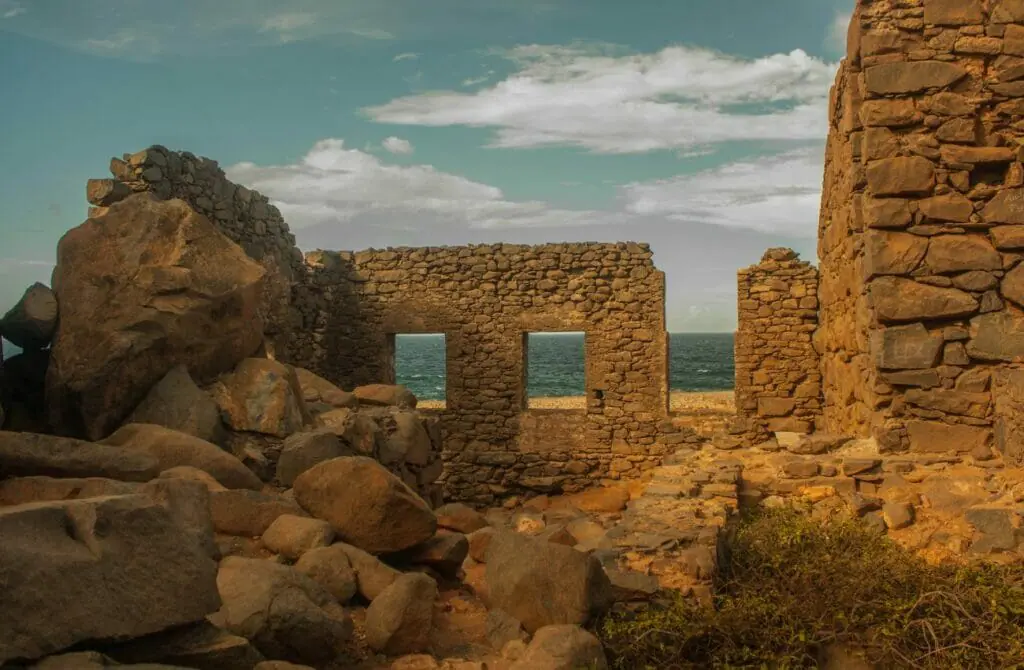 Oranjestad is the capital city of Aruba, a small Caribbean island located in the southern Caribbean Sea. The city is surrounded by clear blue waters and white sandy beaches, making it an ideal location for sunbathing, swimming, and water sports.
Palm Beach and Eagle Beach are two of the most famous beaches in the city, offering visitors crystal-clear waters, soft sands, and plenty of opportunities for snorkeling, scuba diving, and windsurfing.
In addition to its beaches, Oranjestad is also renowned for its colorful and diverse cultural heritage. The city has a rich history dating back to the 18th century when it was established as a Dutch colony. Today, Oranjestad is a melting pot of cultures, with influences from Africa, Europe, and the Caribbean.
The city's downtown area is home to a variety of historical landmarks, such as Fort Zoutman, which was built in 1798 and now houses the Aruba Historical Museum. Visitors can also explore the city's vibrant street art scene, which features murals and graffiti by local and international artists.
Oranjestad is also known for its lively nightlife, with an abundance of bars, restaurants, and nightclubs offering a variety of entertainment options. Whether you're looking for a relaxing evening with a cocktail on the beach or a night of dancing to live music, Oranjestad has something to offer.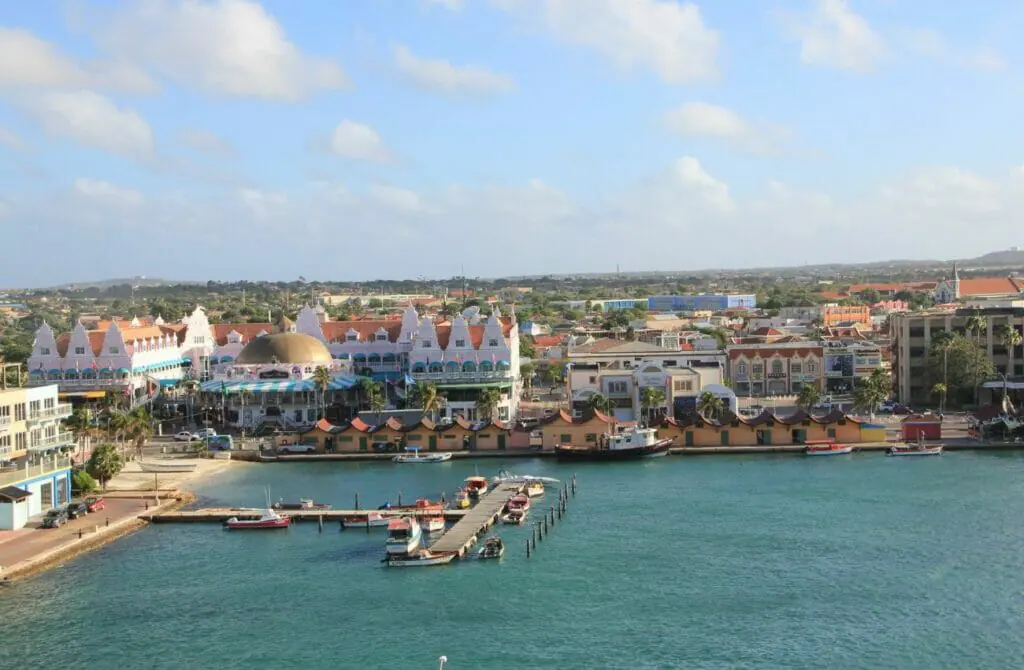 Philip's Animal Garden
Philip's Animal Garden is a popular tourist attraction in Aruba that provides visitors with a unique opportunity to get up close and personal with a wide variety of animals. The garden, located in Noord, is a sanctuary for over 50 species of animals, including exotic birds, primates, reptiles, and more.
One of the main attractions of Philip's Animal Garden is the opportunity it provides visitors to interact with a wide range of animals. Visitors can get up close and personal with exotic birds, including macaws, cockatoos, and toucans, and even hold them in their arms.
The garden is also home to primates such as capuchin monkeys and marmosets, as well as reptiles like iguanas and snakes. Visitors can learn about the different species of animals and their habitats from the knowledgeable staff, and even feed some of them under supervision.
The park features a range of landscapes, including desert terrain, rocky cliffs, and pristine beaches. The natural beauty of the park is best appreciated by exploring its many hiking trails, which offer visitors a chance to see the park's unique plant and animal life up close.
The park is home to a range of native species, including lizards, iguanas, and birds, as well as a variety of cacti and other plants that are found only in the Caribbean.
Another attraction of Arikok National Park is its rich cultural heritage. The park is home to a number of historic sites that tell the story of Aruba's past, including abandoned gold mines, ancient Arawak Indian cave paintings, and the remains of 19th-century Dutch plantations.
These cultural attractions give visitors a glimpse into the island's complex history and provide insight into the lives of the people who have lived there over the centuries.
In addition to its natural and cultural attractions, Arikok National Park is also a popular destination for outdoor activities. The park offers a range of activities for visitors, including horseback riding, mountain biking, and birdwatching. The park's rugged terrain also makes it an excellent location for adventure sports like rock climbing and rappelling.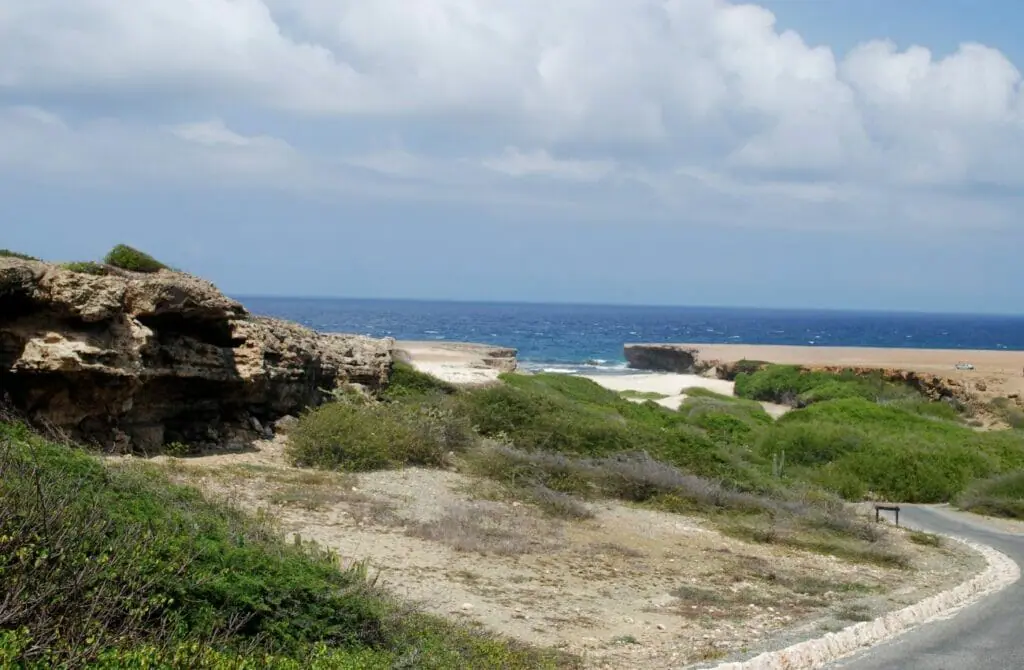 Aruba Aloe Factory
The factory offers visitors a unique opportunity to learn about the history and cultivation of aloe, one of the island's most important crops.
The factory offers guided tours that provide visitors with a wealth of information about the history and cultivation of aloe. Visitors can learn about the various species of aloe, their medicinal properties, and the process by which aloe is harvested and processed.
The tour also includes a visit to the factory's production area, where visitors can observe the manufacturing process and see how aloe is transformed into various products.
Another attraction of the Aruba Aloe Factory is the quality of its products. Aruba Aloe is widely regarded as one of the best aloe vera brands in the world, and the factory produces a range of skincare products that are renowned for their healing and moisturizing properties.
Visitors to the factory can browse the products in the gift shop and purchase a variety of items, including lotions, creams, soaps, and more.
The Aruba Aloe Factory is also a popular destination for those interested in sustainability and eco-friendly practices. Aloe vera is a sustainable crop that requires little water or fertilizer, making it an ideal plant for cultivation in Aruba's dry climate.
The factory uses environmentally-friendly practices in its production process, including the use of solar panels to generate energy and the recycling of water used in the manufacturing process.
Boca Prins
Boca Prins is a beautiful and secluded beach. The beach is surrounded by stunning cliffs, rock formations, and dunes, and the sand is soft and white. The turquoise waters are crystal-clear, and the waves are perfect for surfing, bodyboarding, or simply playing in the water.
The beach is also home to a variety of marine life, including turtles, rays, and colorful fish, making it a popular destination for snorkeling and scuba diving.
Another aspect of Boca Prins that makes it a popular tourist attraction is its peaceful and secluded location. The beach is situated in Arikok National Park, which is known for its rugged terrain and pristine landscapes.
Visitors to Boca Prins will feel as though they have discovered a hidden gem, as the beach is far removed from the crowds and noise of the city. The beach is the perfect spot to relax, unwind, and enjoy the natural beauty of Aruba.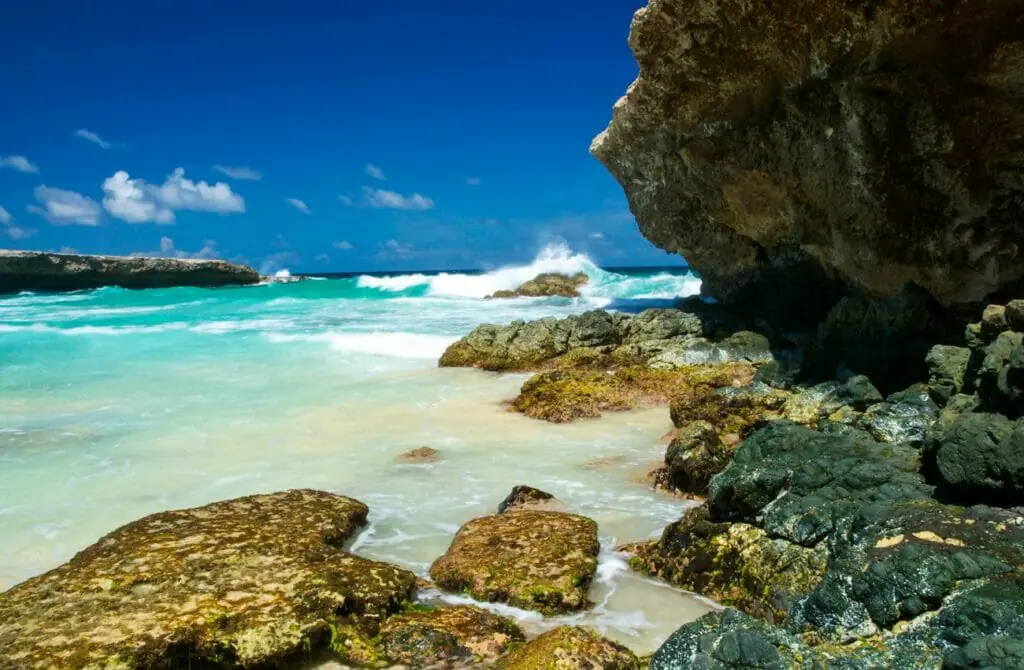 The Butterfly Farm
The farm is a lush tropical garden that is home to hundreds of species of butterflies from around the world. Visitors can walk through the gardens and observe the butterflies as they flutter from flower to flower, or they can take part in one of the guided tours offered by the farm's staff. The tours provide visitors with a wealth of information about the butterflies, their life cycle, and their role in the ecosystem.
Another aspect of the Butterfly Farm Aruba that makes it a popular tourist attraction is its educational value. The farm offers visitors a unique opportunity to learn about the importance of butterflies in the ecosystem, as well as the threats they face from habitat loss and climate change.
The farm's staff are knowledgeable and passionate about the butterflies and are eager to share their knowledge with visitors.
The Donkey Sanctuary of Aruba is a popular tourist attraction located in Santa Cruz, Aruba. The sanctuary is dedicated to providing a safe and comfortable home for the island's wild donkeys, which have roamed the island for over 500 years. One of the main attractions of the Donkey Sanctuary of Aruba is the opportunity it provides visitors to interact with the donkeys.
Visitors can feed the donkeys with provided food, and they can also pet and take photos with them. The sanctuary is home to over 130 donkeys, and visitors can learn about the unique history of these animals in Aruba, and about the conservation efforts made to ensure their well-being.
Renaissance Island
Renaissance Island, also known as "Flamingo Beach," is a private island owned by the Renaissance Aruba Resort in Oranjestad. The most notable attraction of Renaissance Island is "Flamingo Beach," where visitors can relax on the soft, sandy shores and soak up the sun while being surrounded by the bright pink flamingos that call the island home.
The flamingos are one of the most unique features of the island, and visitors have the rare opportunity to take photos and interact with these elegant birds up close. The beach is also equipped with luxurious beach chairs and umbrellas, making it an ideal location for those who want to relax and enjoy the stunning views.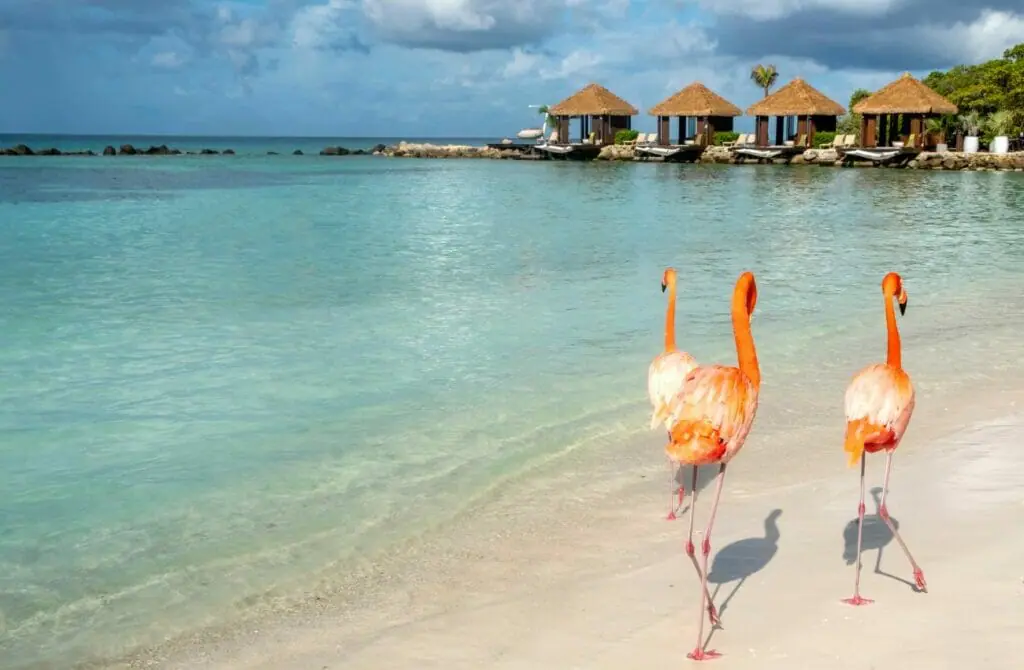 Alto Vista Chapel
The chapel is a symbol of Aruba's early Catholic heritage, and it is a testament to the faith and perseverance of the early settlers. Visitors to Alto Vista Chapel can explore the history of the chapel and its significance to the island's culture and religion.
The chapel is also surrounded by beautiful natural scenery, providing visitors with stunning views of the Aruban countryside. The area around Alto Vista Chapel is dotted with cacti, rocks, and hills, making it an ideal destination for nature enthusiasts and photographers.
The peaceful and serene environment of the chapel and its surroundings is a welcome respite from the hustle and bustle of modern life.
Visitors to Alto Vista Chapel can also explore the nearby Prayer Garden, which is a beautifully landscaped area with several prayer stations, each dedicated to a different saint or religious figure. The Prayer Garden provides a peaceful and reflective space for visitors to pray or meditate.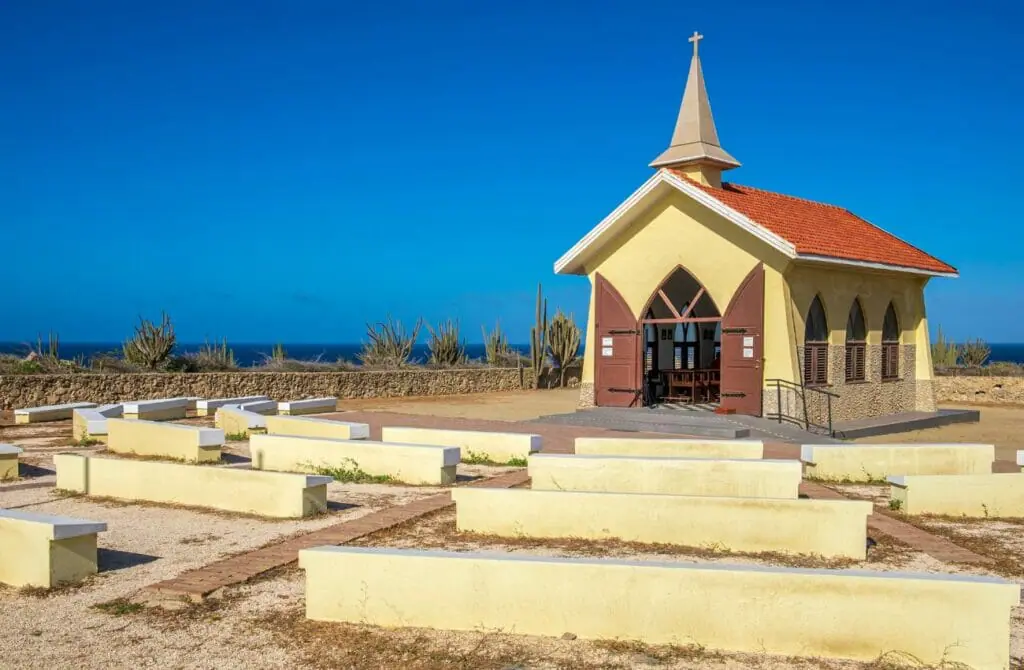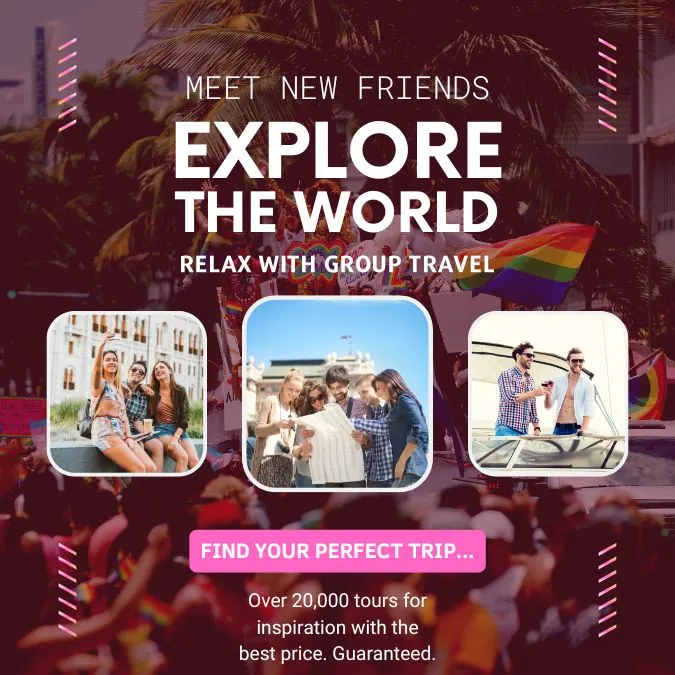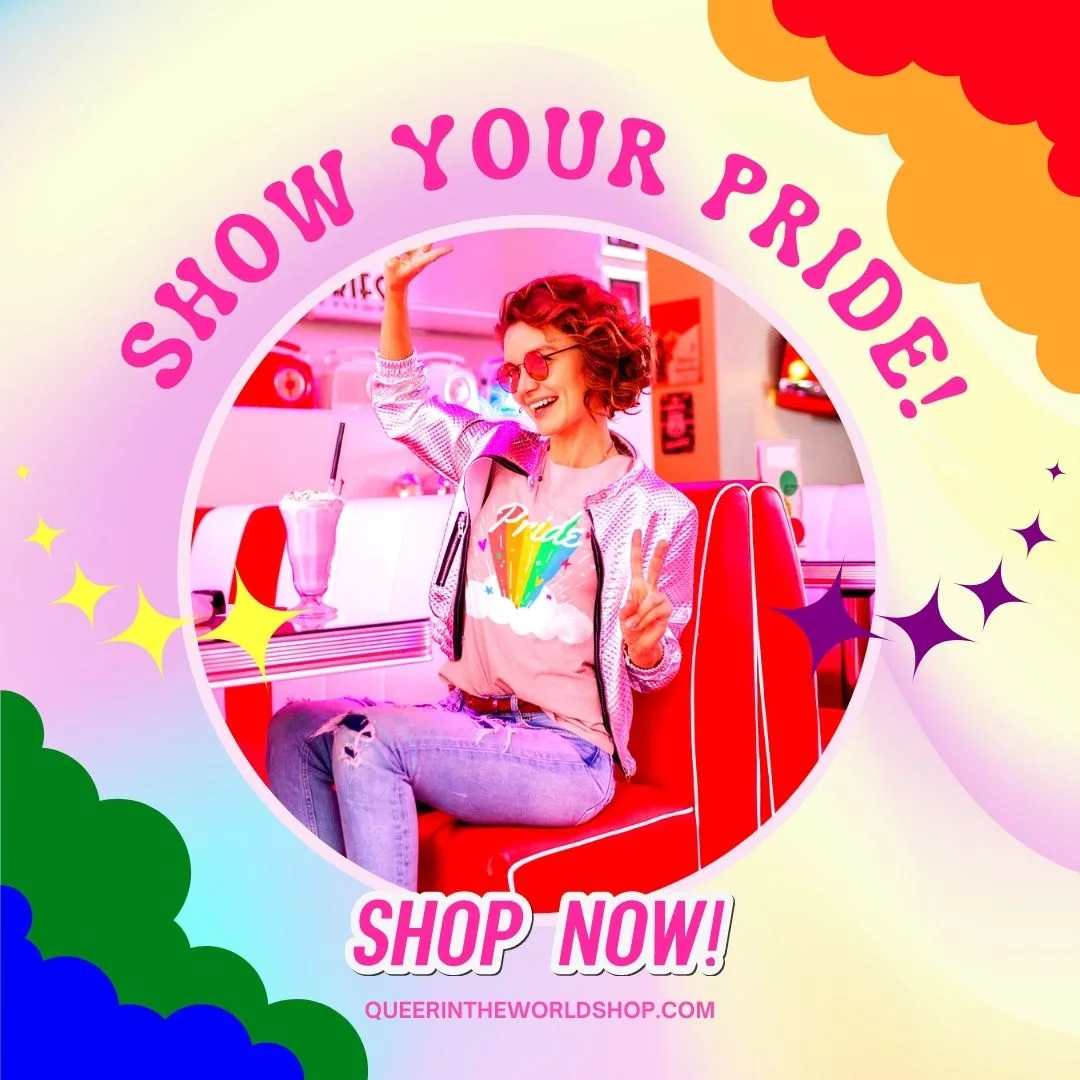 Gay-Friendly and Gay Hotels in Aruba, Netherlands
Aruba is a popular vacation destination for LGBTQ+ travelers, thanks to its welcoming and accepting attitude towards the community. The island is home to several gay-friendly hotels, where visitors can feel comfortable and enjoy their stay with no discrimination.
These hotels offer a range of amenities and services designed specifically for LGBTQ+ travelers, including same-sex wedding packages, gay-friendly staff, and events and activities that cater to the community.
Gay-friendly hotels in Aruba also provide a variety of accommodation options, from luxurious suites to budget-friendly rooms, ensuring that there's something for every traveler. Many of these hotels are located close to popular attractions and beaches, making it easy for visitors to explore the island at their own pace.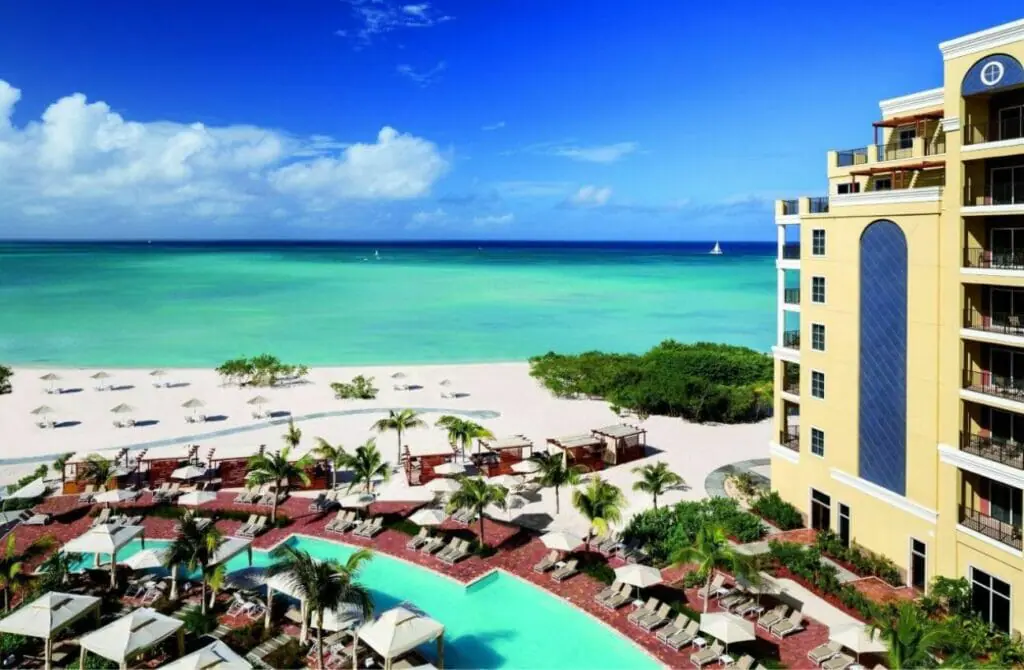 Being gay-friendly accommodation means that the establishment is welcoming and inclusive to guests who identify as LGBTQ+. This can include but is not limited to, having policies and practices in place that demonstrate a commitment to creating a safe and inclusive environment for LGBTQ+ guests, such as non-discrimination policies, and providing support and resources for LGBTQ+ travelers.
Some gay-friendly accommodations may also provide amenities specifically catering to the LGBTQ+ community, such as rainbow flags or literature about local LGBTQ+ events or resources. Furthermore, gay-friendly accommodations may be located in an area that is known for being LGBTQ+ friendly.
While Aruba does not have any specifically gay hotels or resorts, these are the most fabulous and pro-actively gay-friendly hotels in Aruba.
Needless to say, there are also hundreds more hotel and hostel options in Aruba if none of these suit your desired budget, facilities or area – but these are the best hotels according to other gay travelers and us.
Whatever your needs are, Aruba has you covered.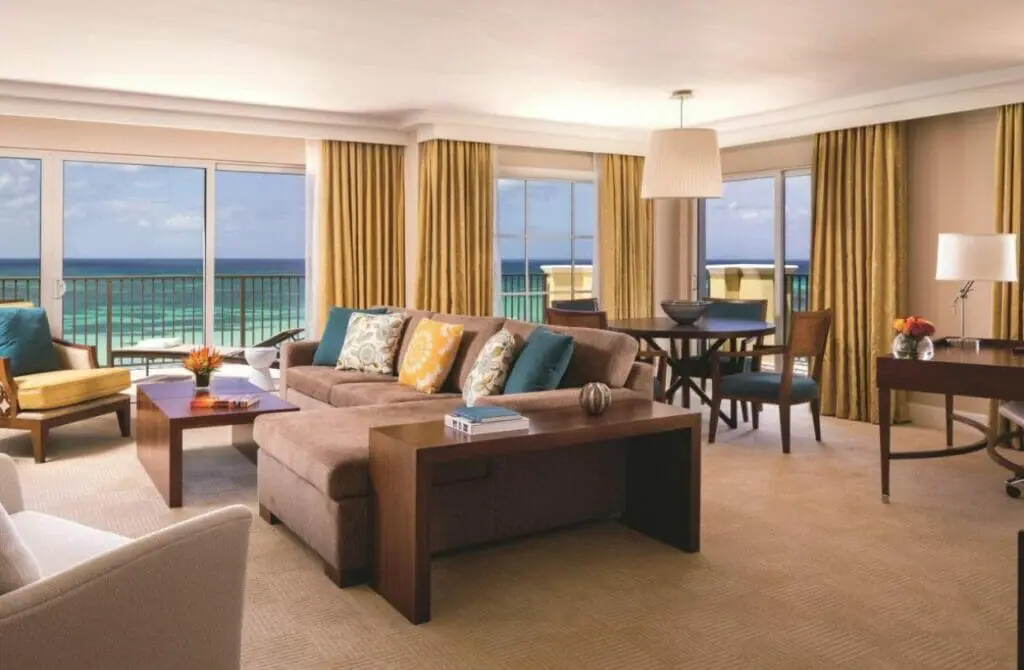 The Ritz-Carlton, Aruba, on the Caribbean Sea's edge, where white sand meets land, provides a break from normality and a chance to fully relax. The five-star resort was created intending to allow guests to easily cruise the island or never leave the hotel grounds. The services are both comforting and sumptuous, and they all reflect Aruba's energy, wealth, and charm.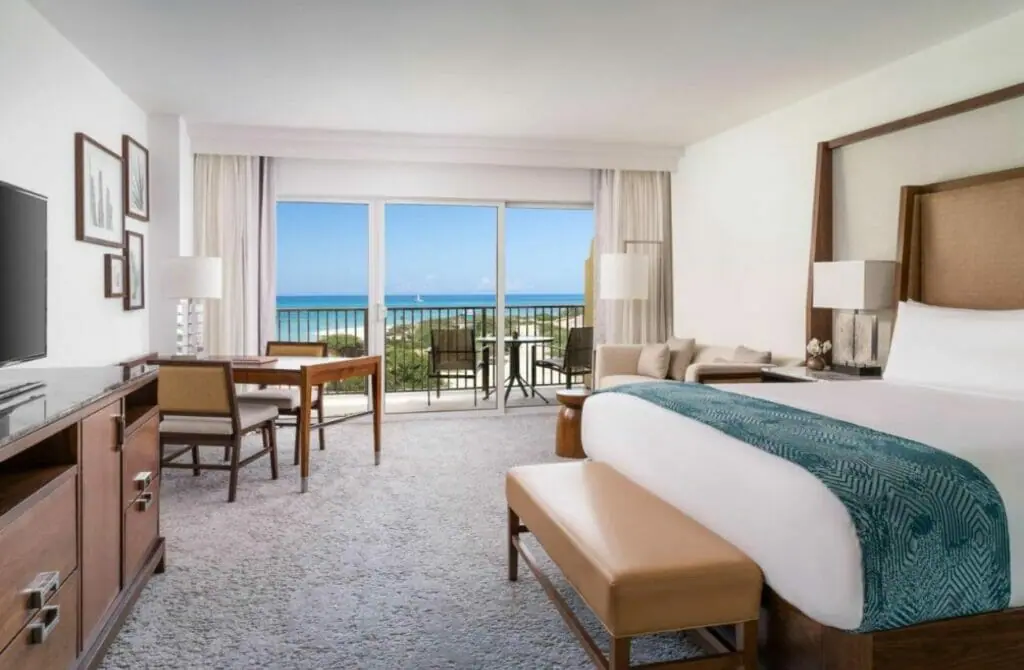 Come relax with us in Aruba, the world's most stunning beach resort. Allow the world's troubles and stresses to melt away as you enjoy the crystal blue waves and snow-white sand beneath your feet.
Our wonderful team will cater to your every need, and there are many options for a delicious meal or a refreshing beverage. You can expect to be treated like royalty when you visit our world-class beachfront resort.
Our rooms have recently been updated to ensure that you enjoy the inside as much as the outside. Many of our recreational and social areas have also been upgraded and improved to provide the highest level of convenience and comfort. And we take pleasure in being an accessibility-friendly resort with easy access for most sorts of impairments or limitations.
Hilton Aruba Caribbean Resort & Casino ☆☆☆☆
Our rooms and suites feature a beachy, tranquil ambiance that is ideal for total relaxation. Enjoy WiFi, an LCD TV, and a mini-fridge, as well as a terrace or balcony with tropical views and a pleasant Aruba wind. Suites have a separate living area with a couch bed as well as a dining table and chairs.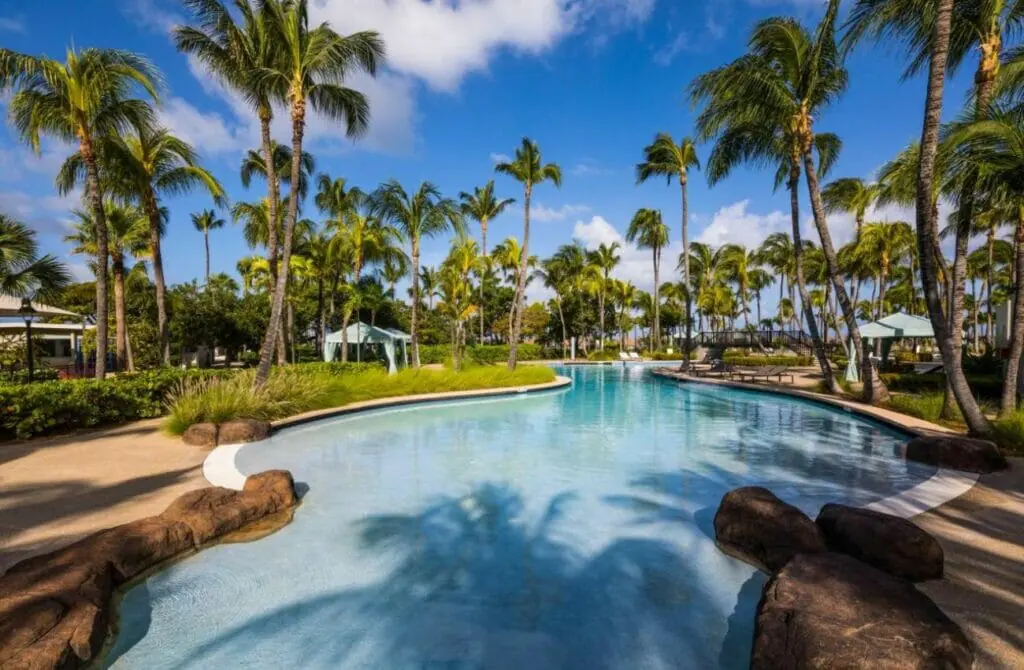 Hotel Riu Palace Aruba provides the best facilities for an enjoyable vacation. This Palm Beach All-Inclusive hotel offers tasty and varied cuisine, wide facilities, and the most exclusive service that RIU Hotels & Resorts is known for.
The 400-plus rooms of Hotel Riu Palace Aruba include all of the amenities you need for maximum comfort, including WiFi, satellite TV, air conditioning, a minibar, and beverage dispensers. Two outdoor pools and one kids' pool are also available as part of the hotel's amenities. If you want to relax on the beach, we can provide loungers and parasols so you can enjoy Aruba's mild climate.
Colorful dorms and individual rooms in a simple hostel with a community kitchen. It is a great place to make friends with other travelers and has fun.
The Mill Resort & Suites Aruba ☆☆☆
an opulent beach resort in the middle of Palm Beach, Aruba. We are just steps from stunning beaches and breathtaking views of the Caribbean Sea as one of the area's premier hotels. We provide a complimentary shuttle service that brings you to the beach in only five minutes to ensure your convenience.
Our devoted team will greet you at the beach and ensure you have all you need to relax and enjoy your time in paradise. They will set up chaise couches at your preferred spot, supply refreshing refreshments, and give beachside food delivery service to ensure you have all you need to enjoy Aruba's breathtaking natural beauty.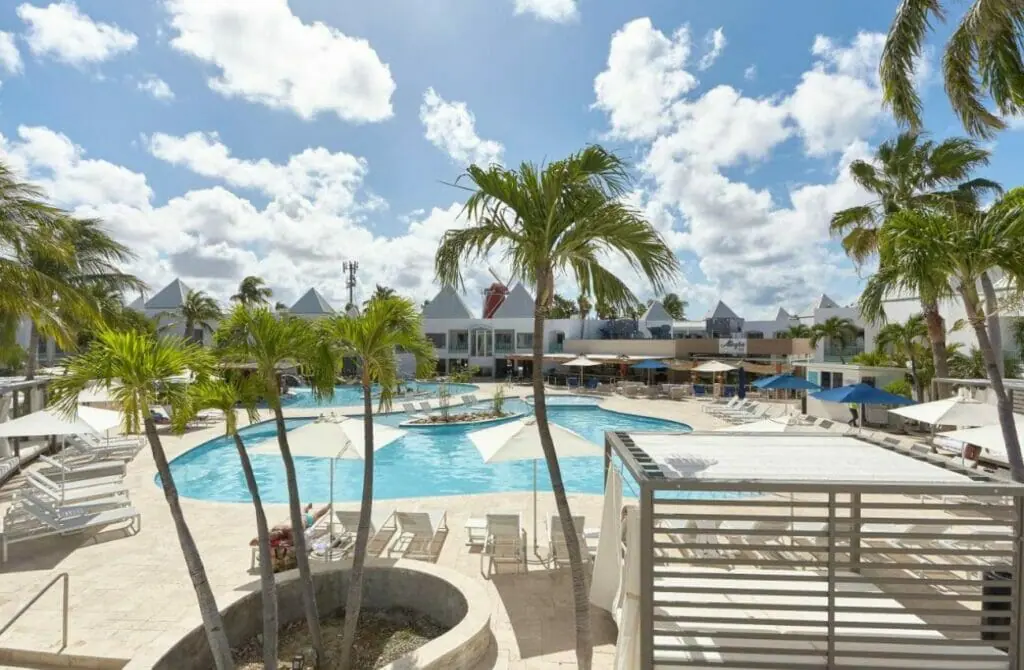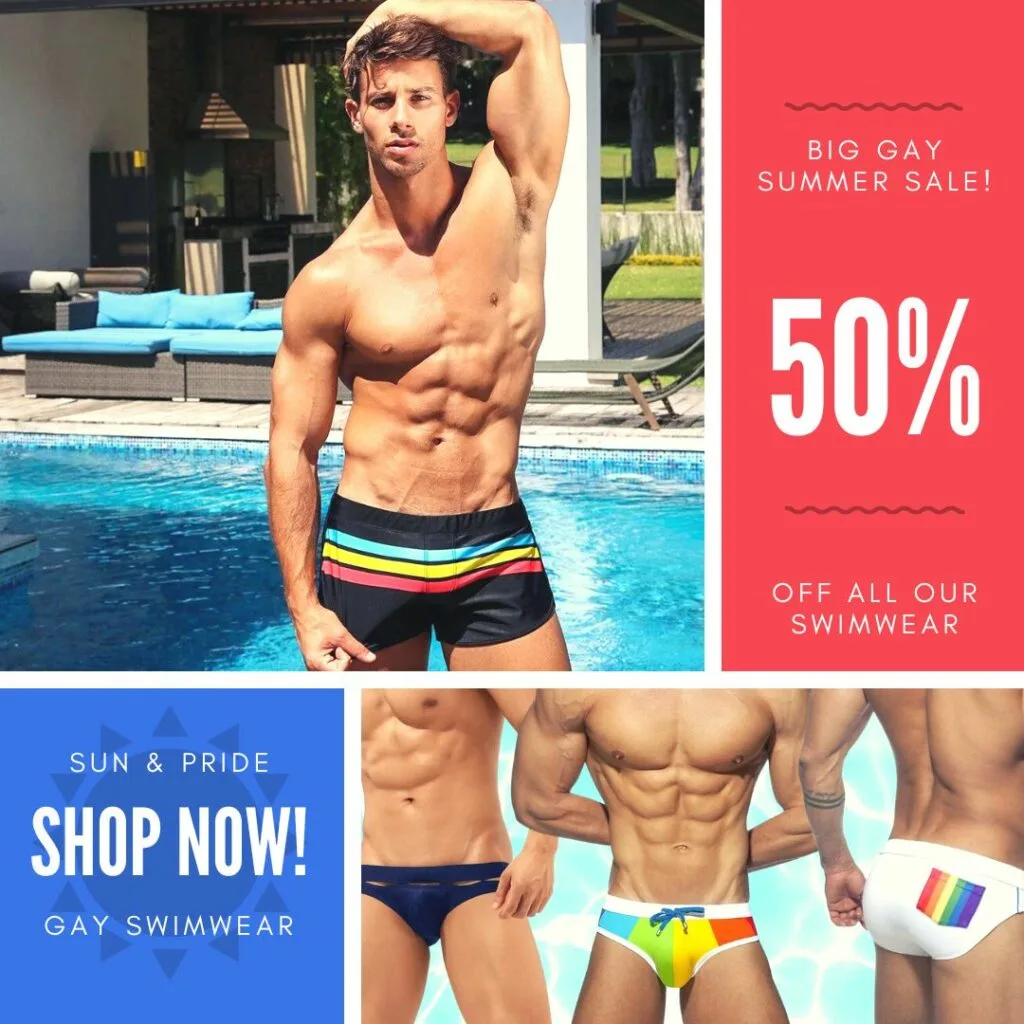 Gay Nightlife in Aruba, Netherlands
While many may not think of Aruba as a particularly LGBTQ+-friendly destination, the island actually boasts a thriving gay-friendly nightlife scene.
One of the most popular spots for the LGBTQ+ community in Aruba is the capital city of Oranjestad. Here, you'll find a variety of bars and clubs that cater to the LGBTQ+ community. One of the most well-known gay bars in Oranjestad is 7 West, which offers a welcoming atmosphere and great drinks.
Exploring the gay and gay-friendly nightlife in a new city can be one of the most exciting and rewarding experiences while traveling – and Gay Aruba is no exception. Not only will you have the opportunity to meet new people and make friends, but you'll also get a taste of the local culture and learn more about the city's LGBTQ+ community.
Going out and experiencing the queer and queer-friendly nightlife in a new city can also be a great way to break out of your comfort zone and try new things. Whether it's dancing the night away at a gay club or mingling with locals at a gay-friendly bar, you'll have the chance to make memories and create lasting connections.
So, don't be afraid to step out of your comfort zone and explore the gay and gay-friendly nightlife in Aruba. You'll be glad you did!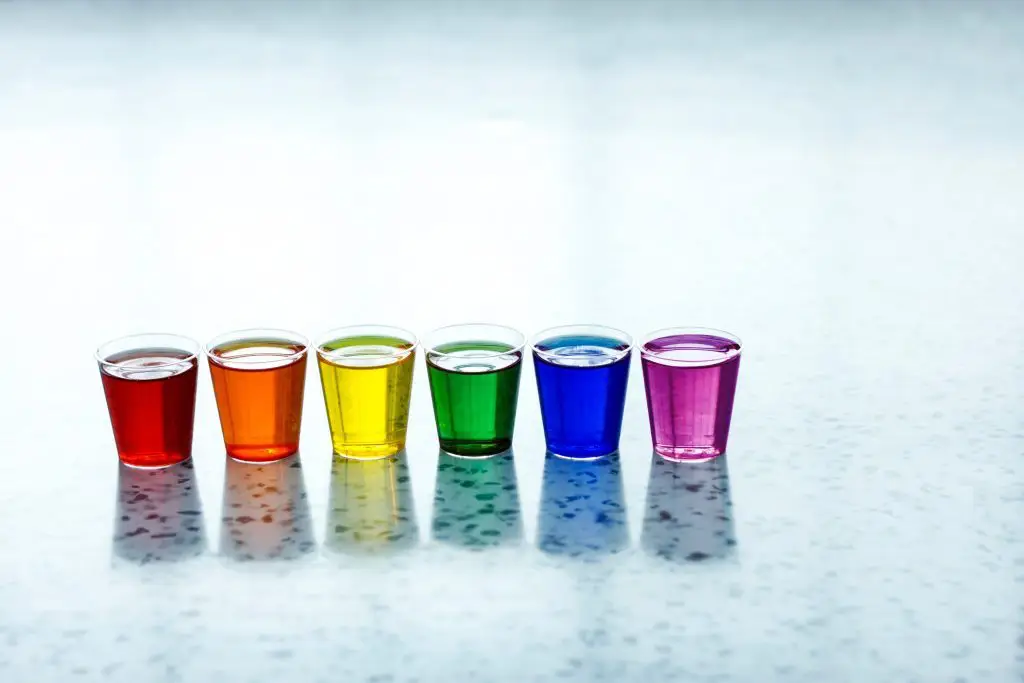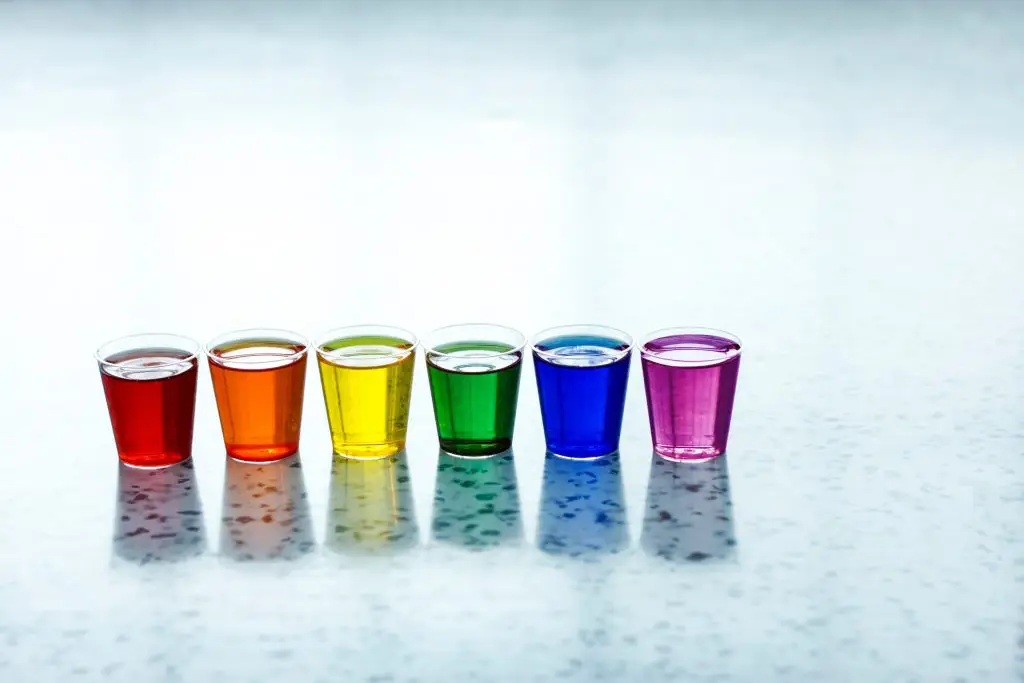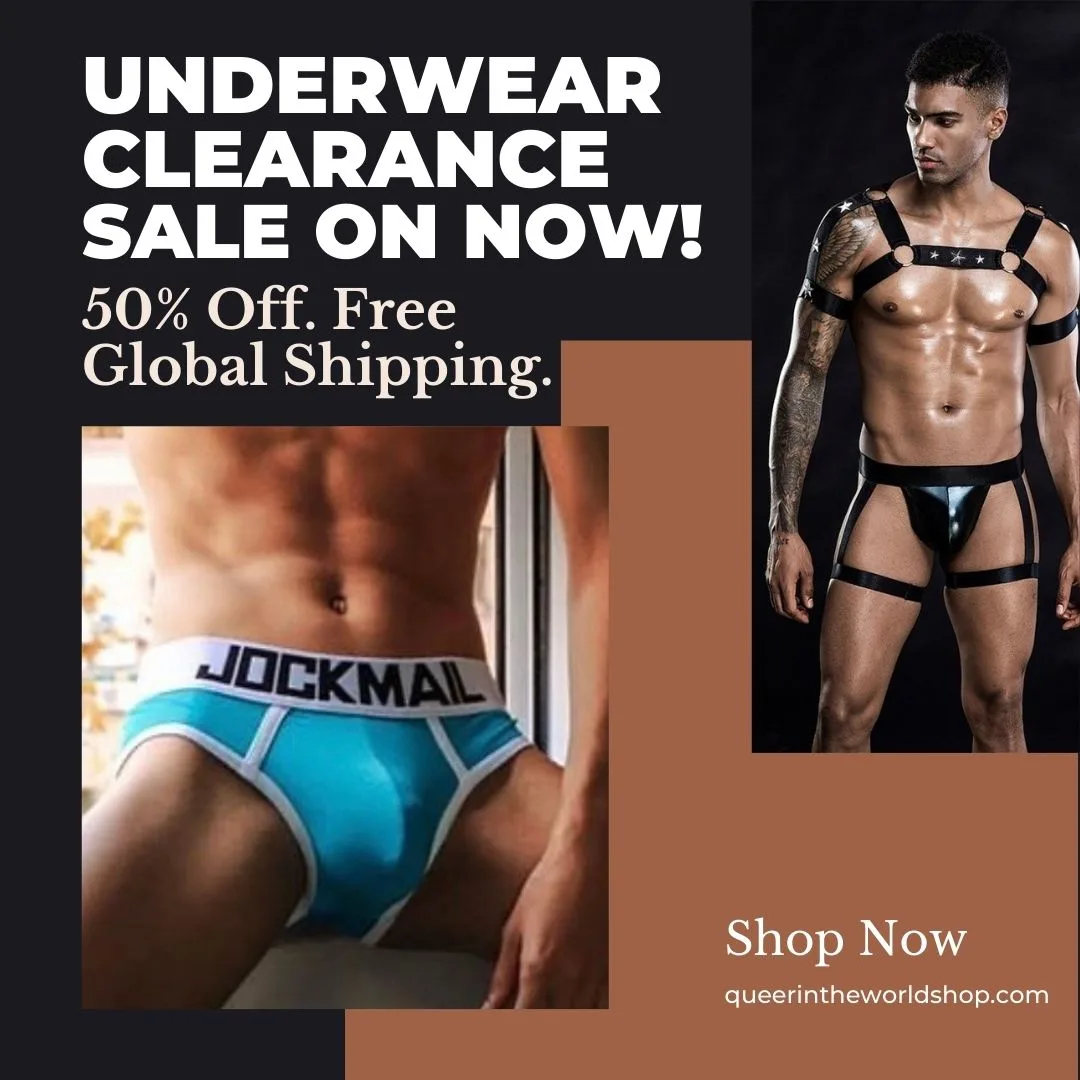 Gay and Gay-Friendly Bars and Clubs
Gusto is Aruba's Fashionable Hot Place to Enjoy and Relax. They do more than just serve you alcohol. They provide you with a whole experience! Gusto has been voted Aruba's number one gay-friendly bar/club three years in a row.
Every day from 6 to 9 p.m., there is a Happy Hour. All drinks are half-price, and beer is $4. On a daily basis, the top local and worldwide DJs play amazing mixes. They also feature three dance sections. Terrace, Inner Club, and VIP Areas.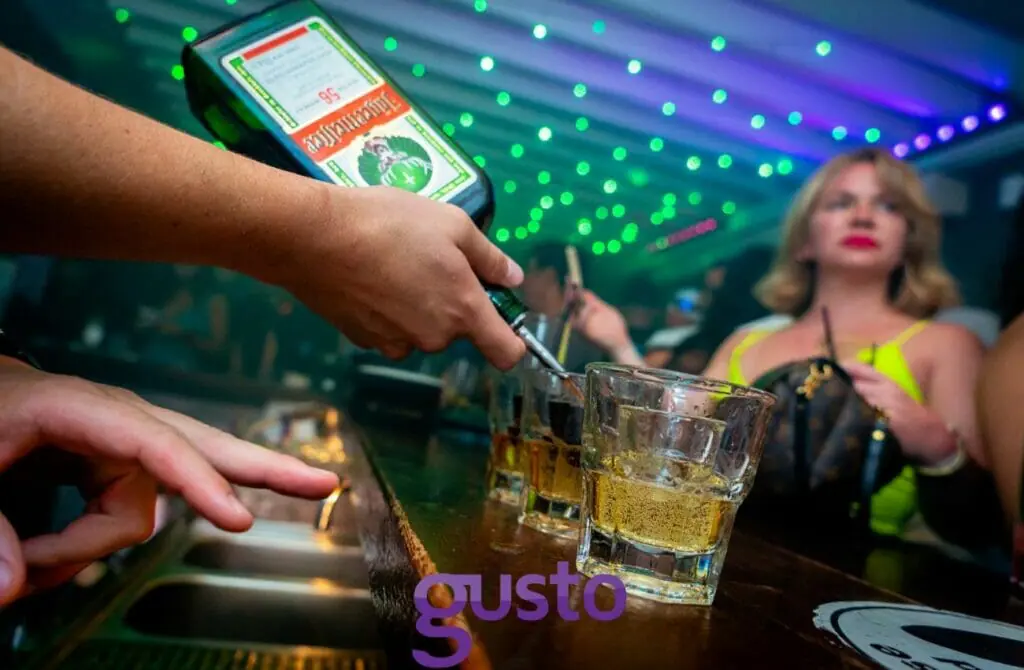 Bungalow Beach Bar is located directly on Palm Beach's water and is the premier destination for fun, pleasure, and entertainment! Begin your evening with a martini or a beer at Bungalow Beach Bar. Bungalow Beach Bar features some of the island's top live bands, with gorgeous sunsets providing the perfect backdrop!
In the South Beach Mall, Saloon Bar Aruba is just a short walk from all of Palm Beach's high-rise hotels. The bar is a great spot to unwind after a long day at the beach and a night of partying.
As soon as you walk through the door, you'll be greeted with a pleasant smile and a warm welcome by one of the team members who know how to throw a real romper-stomper of a party. You will be spoiled for choice with a local crew constantly ready to provide excellent options of severe hangover-inducing drinks, ice-cold craft beers, and shooters.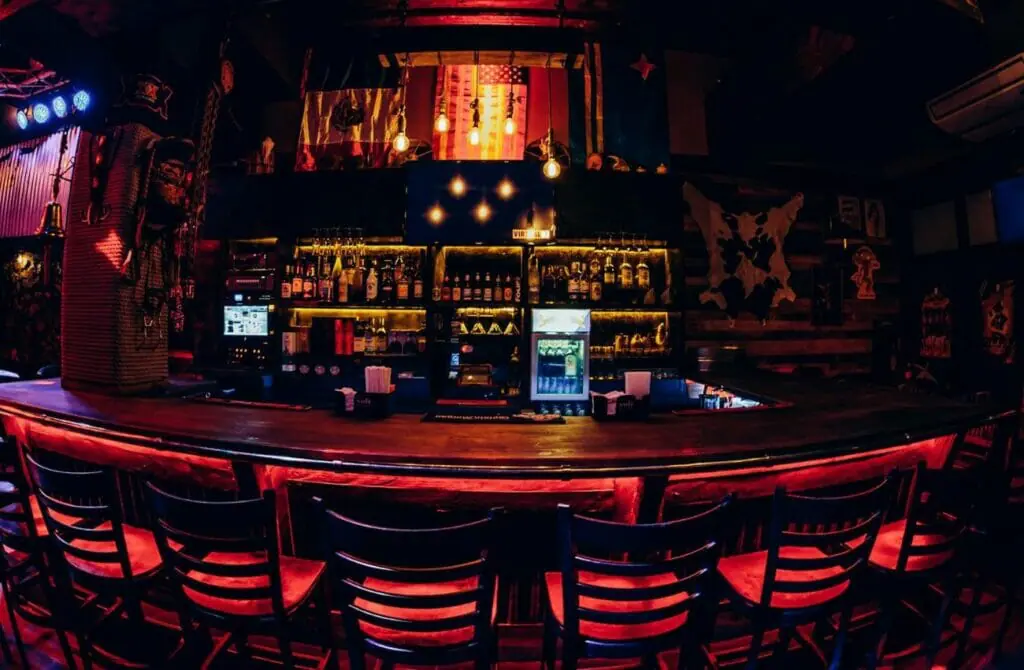 Maxime is a dance nightclub that does more than just let you dance till you drop. They also show sports entertainment. If that is your thing, you definitely have to go here.
Sopranos is a stylish entertaining piano bar in the middle of Palm Beach's hotel strip. The bar has a much-talented international piano player who can take the crowd from jazz to Sinatra and from Elton John to the latest tunes on request, making it a refreshingly informal, open-air nightclub where crowds of regulars interact with guests. Without a doubt, the pianist will make you joyful with his music.
Cage is a dance nightclub that will ensure your feet hurt from dancing so much. Everyone here is extremely friendly so you do not have to worry about being treated without respect due to prejudice.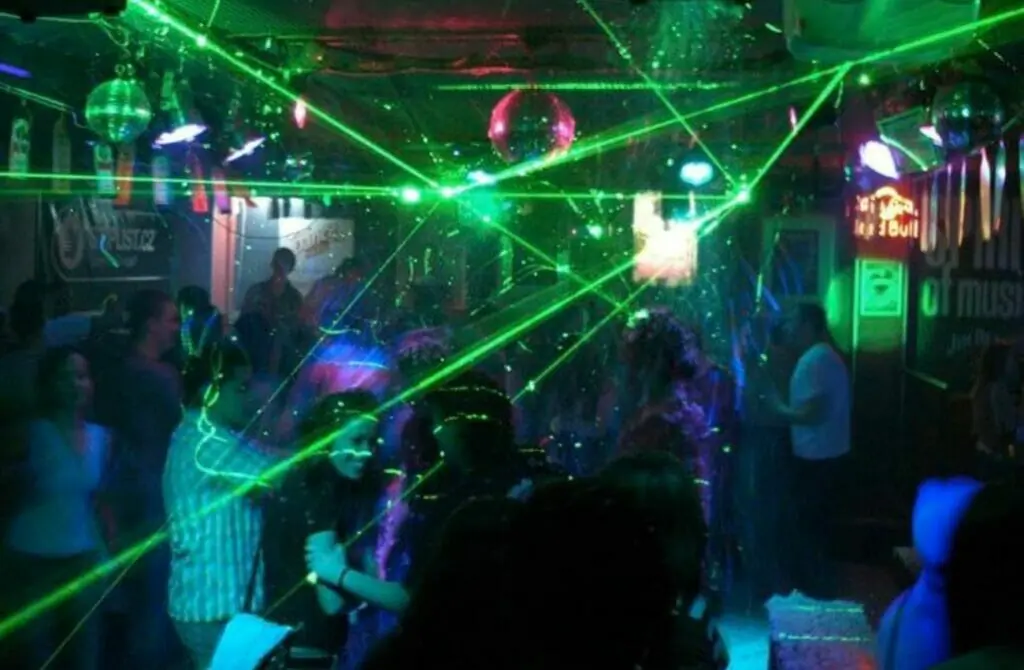 The Beach Bar is on the famous Palm Beach's white sand, just steps from the Caribbean Sea's crystal clear blue seas. Enjoy stunning ocean views and a breathtaking sunset while sipping ice-cold drinks and refreshing cocktails during the island's longest daily Happy Hour, which runs from 12:00 p.m. to 7:00 p.m.
The sun was scorching, the drinks were icy cold, and the cuisine was finger-licking delicious. Situated beachside with a beautiful outlook over the Caribbean Sea. While drinking a martini or an ice-cold beer, watch the approaching jets. The sunset is truly breathtaking; wherever you look, you will find a postcard view.
Chaos is a gay-friendly traditional dutch pub that opened its doors in 2000 and draws in locals and travelers and visitors. They serve cocktails, and beers and they also host live music shows.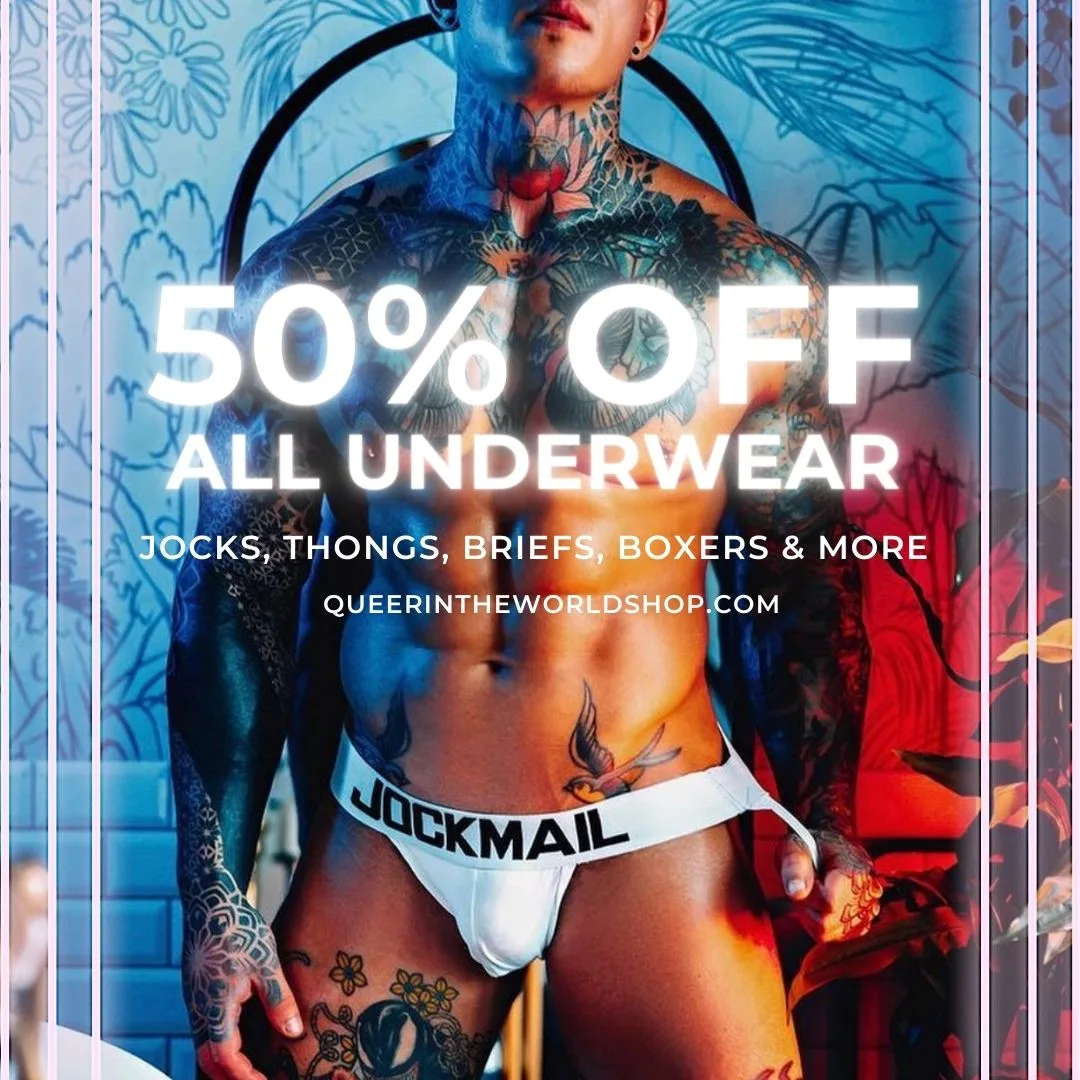 Gay Map Of Aruba
Finding it hard to envisage where everything is in Aruba? Hopefully, this queer-centric map helps where we have marked all the bars, clubs, parties, hotels, saunas, massages and more will help you stay in the spot best suited to you!