Europe is always the preferred destination for a vacation, but for uniqueness, bravery and a literal "rise from the ashes" kind of experience, Gay Mannheim is the place to go.
Mannheim is captivating and welcoming. Its gay scene is small compared to other cities in the country, but it holds its own. The city is divided into four quadrants and gay bars, and gay-friendly bars can be found in all of them. But the vast part of Mannheim's gay scene is in Mitte (the center) and around the Wasserturm.
Historically, Mannheim has been a liberal city since the 1930s with open establishments. Nowadays, the community is thriving and blooming and welcoming for everyone.
Mannheim is a city in Germany, and ‌the rights of LGBTQ+ individuals in Mannheim are protected by German law. Germany has made significant strides in promoting and protecting the rights of LGBTQ+ individuals in recent years. In 2017, same-sex marriage was legalized, allowing same-sex couples to marry and adopt children.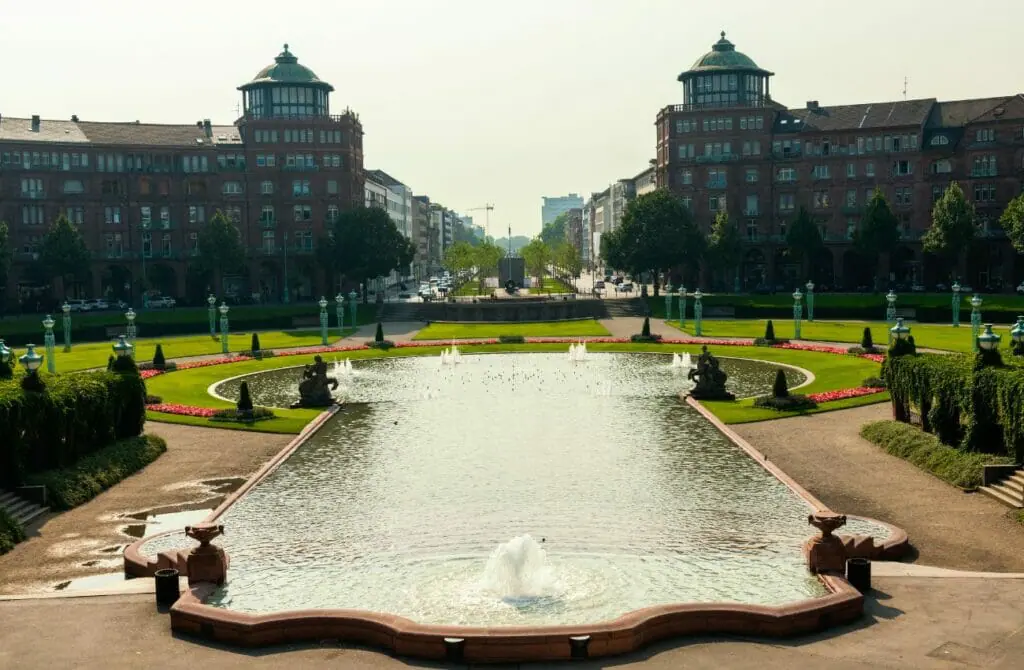 Mannheim, in particular, has been recognized for its efforts to promote LGBTQ+ rights. The city has an active LGBTQ+ community, with several organizations and initiatives working to promote equality and inclusivity. The city hosts an annual Pride Parade, and there are several LGBTQ+ bars, clubs, and events throughout the year.
However, like many places around the world, there is still work to be done to ensure full equality and protection for LGBTQ+ individuals in Mannheim and throughout Germany.
Discrimination and violence against LGBTQ+ individuals still occur, and there are ongoing discussions about how to best address these issues. Nevertheless, the city's efforts to promote LGBTQ+ rights and inclusivity are a positive step forward.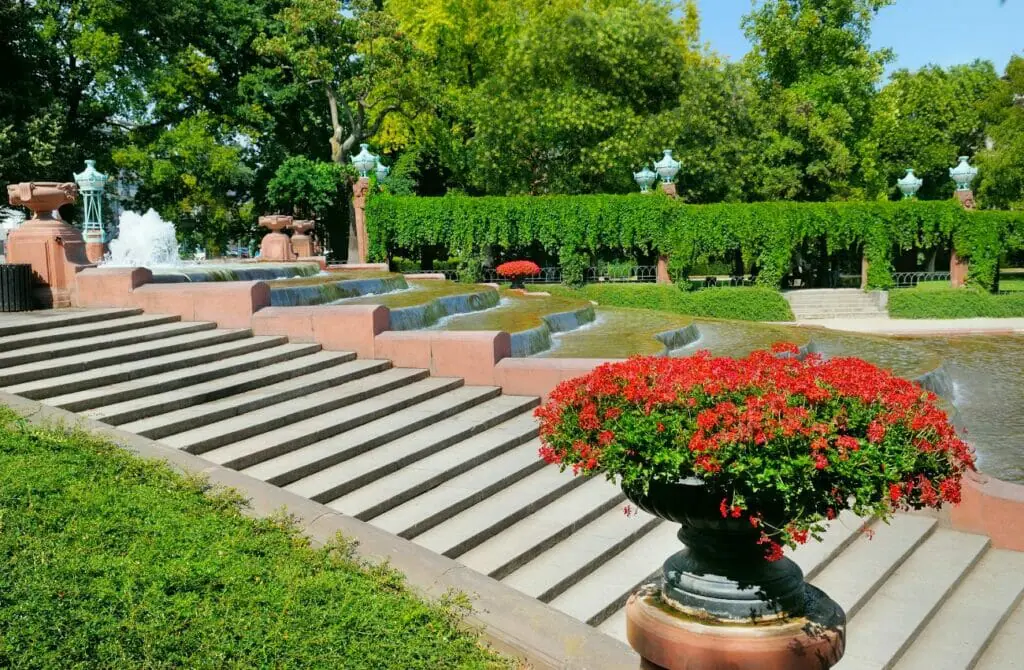 Gay Things To Do In Manheim, Germany
Mannheim is known for its grid-like street pattern, which is unique in Germany and facilitated military movements. The city is also home to several notable institutions, including the University of Mannheim, one of the leading business schools in Europe, and the Mannheim Palace, a large baroque palace that now houses several museums and cultural institutions.
During the second world war, the city was destroyed but it was rebuilt and now, each building has a story of the time it was reduced to rubble.
As a new visitor to Gay Manheim, there are plenty of things to see and do, regardless of your sexual orientation. One of the best ways to experience any new city is to visit some of its most iconic landmarks and attractions, including visiting historical monuments, museums, and art galleries.
We also love gazing at architecture up close, exploring parks and gardens, sampling the local cuisine, visiting local markets, and attending cultural events such as festivals, concerts and shows.
Even as the out-and-proud queer we are, we still love to just explore the city and its culture in the same way as everyone else. Doing so allows us the opportunity to learn more about the city and its people and gain a deeper understanding of the local culture. As such, these are our favorite must-see attractions in Mannheim.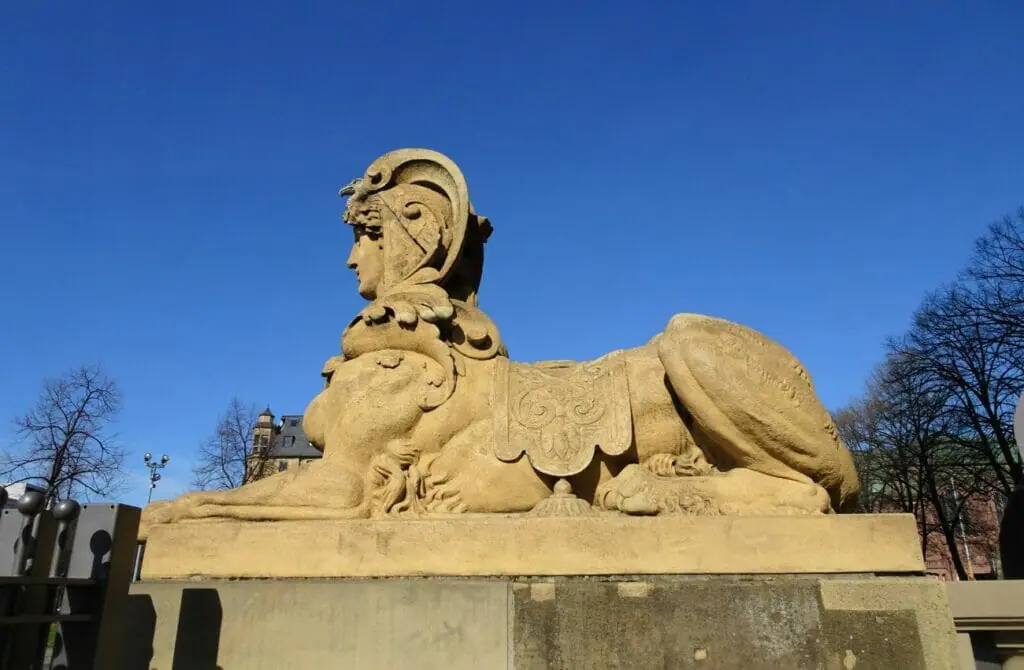 The Mannheim Water Tower, or Wasserturm, is an iconic landmark and a must-see destination for visitors to the city of Mannheim, Germany. The tower was built in 1889 and is one of the most recognizable structures in the city.
The tower was built to provide water to the city's population and was designed by architect Gustav Halmhuber. The tower is 60 meters tall and features a beautiful brickwork exterior, with intricate details and decorations.
Today, the Mannheim Water Tower is no longer used as a water reservoir, but it has been transformed into a cultural center and tourist attraction. The tower features a range of exhibitions and events throughout the year, including art exhibitions, music concerts, and theater performances.
Visitors to the Mannheim Water Tower can also enjoy a stunning panoramic view of the city from the tower's observation deck. The deck offers breathtaking views of the city skyline, including the Rhine River and the surrounding countryside.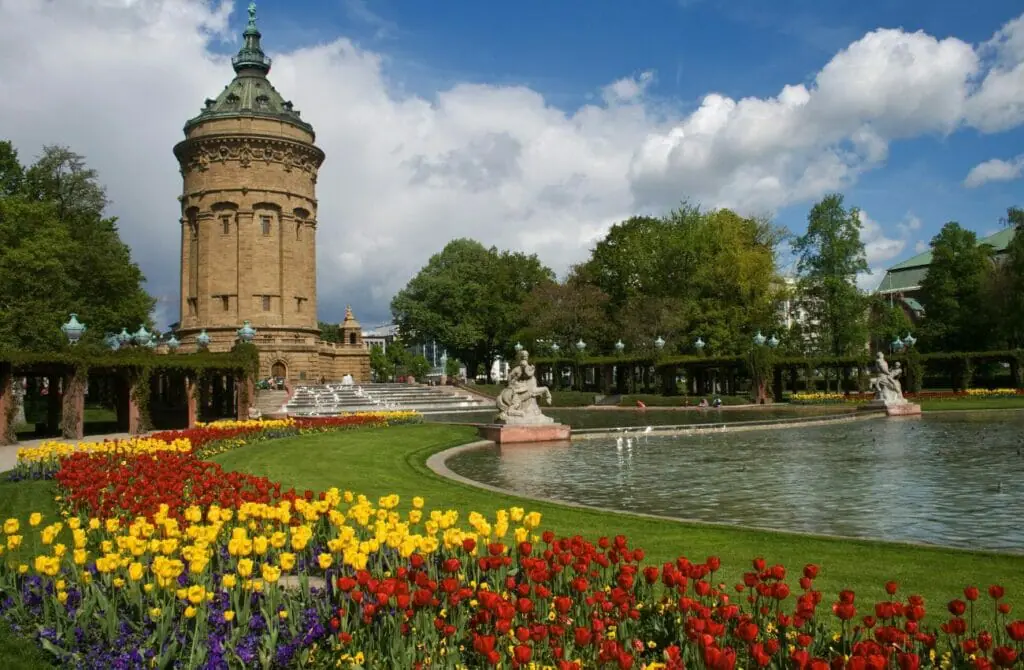 The Luisenpark Gardens
The Luisenpark Gardens, in Mannheim, Germany, is one of the most beautiful and popular parks in the city. The park spans over 41 hectares and features a wide range of activities and attractions that are sure to delight visitors of all ages.
The park is named after Grand Duchess Luise of Baden, who was a prominent figure in the history of Mannheim. It was established in 1903 and has been a popular destination for locals and tourists ever since.
The highlight of the Luisenpark Gardens is the Chinese Garden, which is a stunning replica of a traditional Chinese garden. It features a range of beautiful plants and trees, as well as a small lake and a bridge that is perfect for taking photographs.
The park also features a variety of other gardens, including the Rose Garden, the Rhododendron Garden, and the Magnolia Garden. Each of these gardens offers a unique and beautiful experience for visitors.
The museum is well-known for its extensive collection of contemporary art, which includes works by some of the world's most celebrated artists.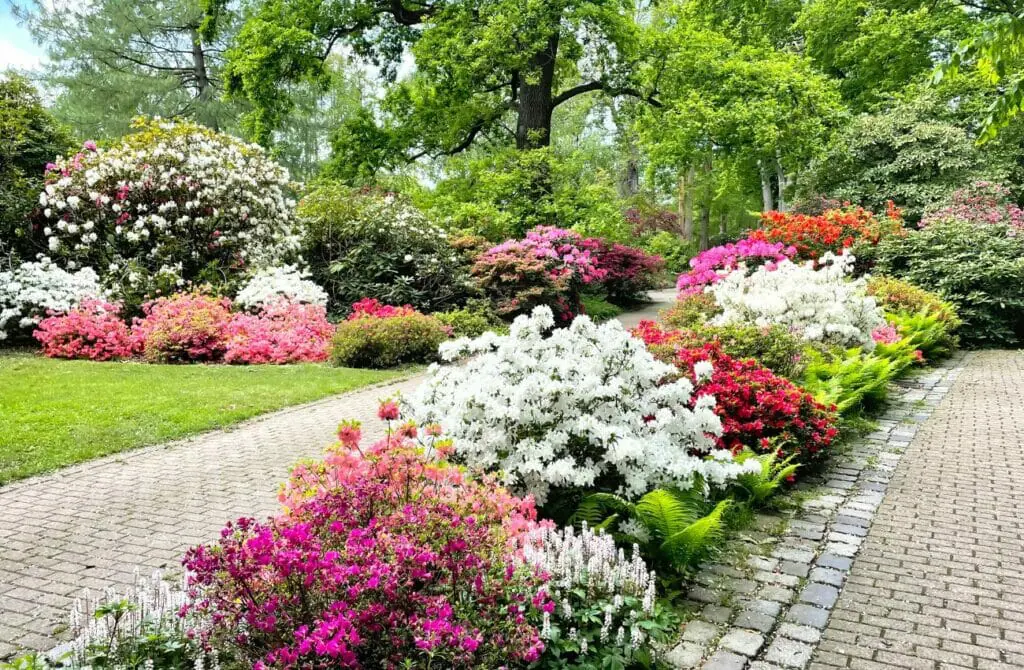 Kunsthalle Mannheim
The museum was first established in 1909, and over the years, it has become a major cultural institution in Mannheim. The museum's permanent collection includes over 1,500 works of art, ranging from paintings and sculptures to photographs and video installations.
Some highlights of the museum's collection include works by artists such as Max Beckmann, Wassily Kandinsky, Franz Marc, and Piet Mondrian. The museum also hosts temporary exhibitions throughout the year, which showcase the work of both emerging and established artists from around the world.
Besides its impressive collection of art, Kunsthalle Mannheim is also known for its stunning architecture. The museum underwent a major renovation in 2018, which included the construction of a new wing and the restoration of the building's original Art nouveau façade. The museum now boasts over 12,000 square meters of exhibition space, making it one of the largest art museums in the region.
Mannheim Palace, also known as Mannheimer Schloss, is a magnificent palace in Mannheim, Germany. The palace was built in the 18th century, during the Baroque period, and it served as the residence of the Elector Palatine, one of the most powerful rulers of the time.
The palace is renowned for its impressive architecture, which features a stunning central dome, elegant columns, and intricate carvings and decorations. It is one of the largest Baroque palaces in Europe and is considered a masterpiece of the era.
The palace has a rich and fascinating history, having been the site of many important events over the centuries. It was home to the Mannheim Court Orchestra, one of the most famous orchestras of the time, and it was also the location of the Mannheim Congress in 1863, which played a significant role in the unification of Germany.
Today, the palace is a popular tourist attraction and a cultural center, hosting a range of events, exhibitions, and concerts throughout the year. You can explore the palace's many halls and rooms, including the spectacular Rittersaal, or Knight's Hall, which features stunning frescoes and an impressive collection of armor and weaponry.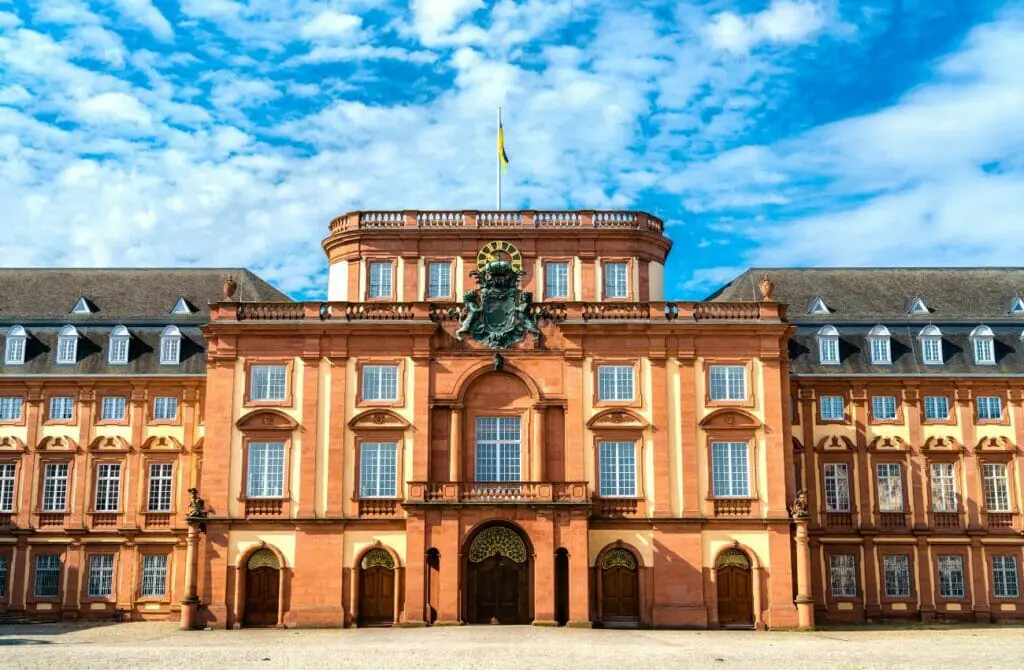 Reissinsel
Reißinsel is a small island in the Neckar River, in the city of Mannheim, Germany. It is a popular recreational area and tourist attraction, known for its beautiful natural surroundings and variety of outdoor activities.
The island is easily accessible by foot, bike or car, and features a range of amenities for visitors. There are several walking and cycling paths that run through the island, making it a perfect destination for outdoor enthusiasts. There are also several sports facilities on the island, including football pitches and volleyball courts.
One of the most popular attractions in Reißinsel is the Carl-Benz-Stadion, a stadium that is home to the football team Waldhof Mannheim. Visitors can catch a game and experience the excitement of German football. The island also hosts various cultural events and concerts throughout the year.
The Mannheim TV Tower
The Mannheim TV Tower, also known as the Fernmeldeturm Mannheim, is a 212-meter-high telecommunications tower in Mannheim, Germany. The tower was built in the 1970s and is the tallest structure in the city, offering breathtaking views of the surrounding area.
The tower is open to the public and has a viewing platform at a height of 125 meters, which provides visitors with panoramic views of the city and the Rhine-Neckar region. On a clear day, it is possible to see as far as the Palatinate Forest, the Black Forest, and the Odenwald mountain range.
You can take a lift to the viewing platform, which takes just a few seconds to reach the top. Once there, you can enjoy the stunning views and take photographs of the city and its surroundings. There is also a small restaurant at the top of the tower, which serves food and drinks.
The Mannheim TV Tower is not just a popular tourist attraction, but also an important landmark in the city. The tower broadcasts across the region. The tower is also illuminated at night, creating a stunning sight visible from many parts of the city.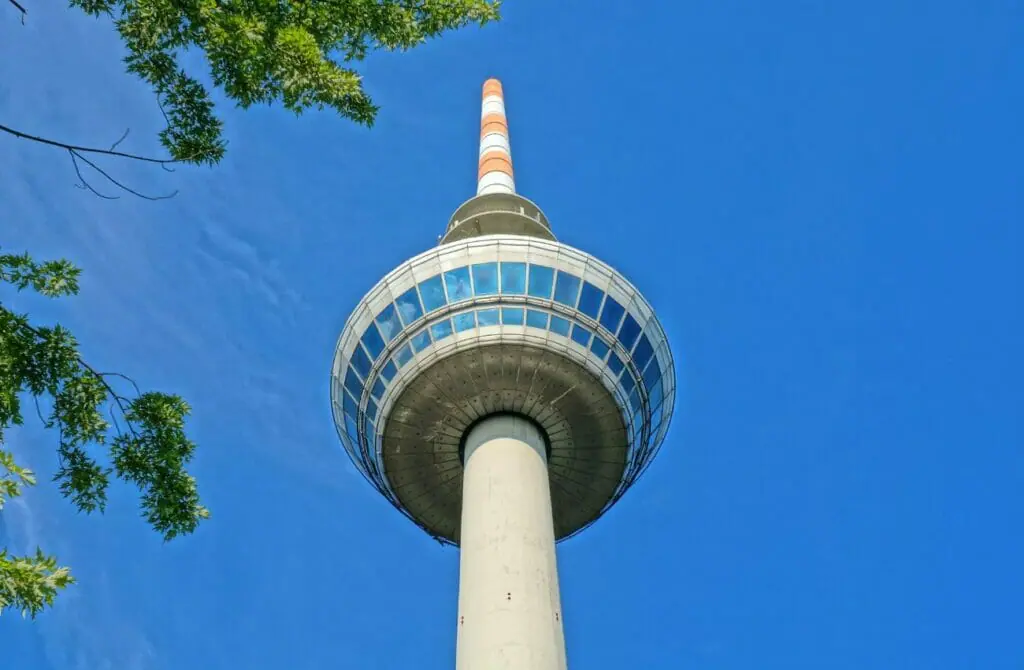 Church of the Holy Trinity
The Jesuit Church, also known as the Church of the Holy Trinity, is a Baroque-style church in the heart of Mannheim, Germany. It was built in the mid-18th century by the Society of Jesus, a Catholic religious order, and is widely considered one of the most beautiful churches in the city.
The church features a striking façade, with ornate stucco decorations and sculptures that make it a true masterpiece of Baroque architecture. An altarpiece, ornate columns, and detailed frescoes on the ceiling make up the interior. The church is also home to several important religious artifacts, including an original copy of the Jesuit Constitutions.
Today, the Jesuit Church is still an important religious site, with regular Masses and services held throughout the week. However, it is also open to the public, and visitors can explore the church and learn more about its history and significance in the city.
Paradeplatz
Paradeplatz is a large public square in the heart of Mannheim, Germany. The square is a hub of activity and is surrounded by historic buildings, shopping areas, and restaurants.
At the center of Paradeplatz, visitors can see a large fountain, which is a popular meeting spot and a great place to relax and people watch. The square is also home to several statues and sculptures, including the famous "Hercules and the Nemean Lion" sculpture.
Many of Mannheim's most important buildings and institutions surrounded Paradeplatz, including the Mannheim Palace, which is just a short walk away. The square is also close to the city's prime shopping district, with many well-known stores and boutiques in the area.
The square is often the site of public events, such as markets, concerts, and festivals. During the winter, the square is transformed into a festive Christmas market, complete with traditional food, drink, and entertainment.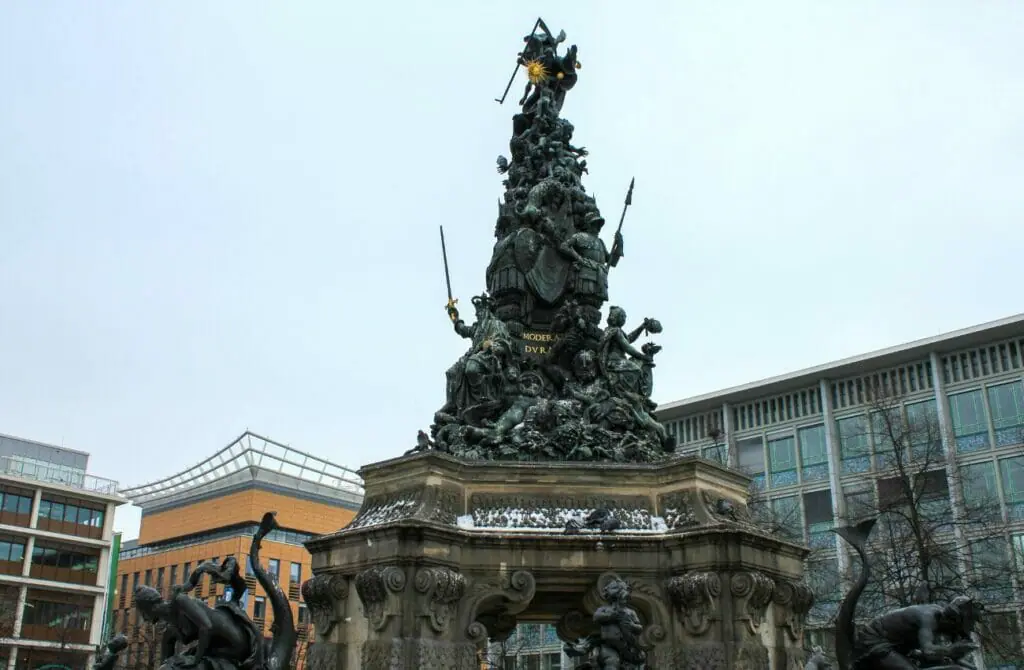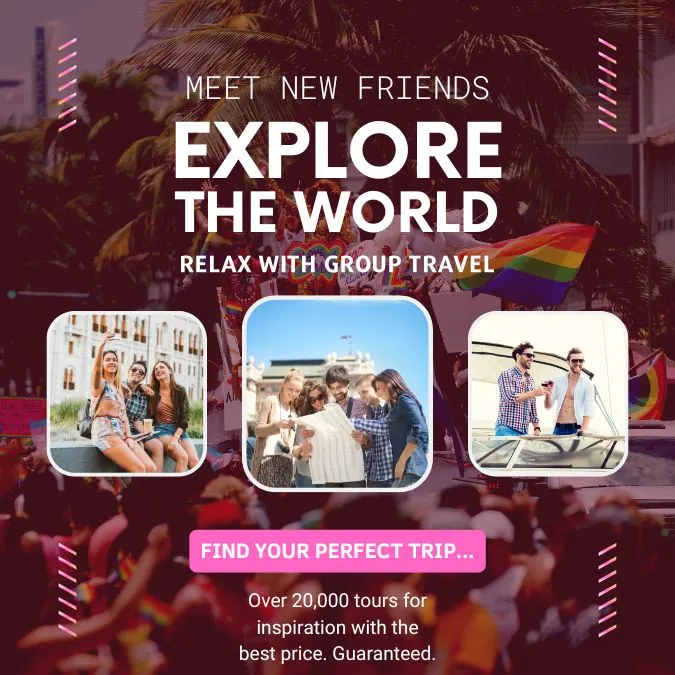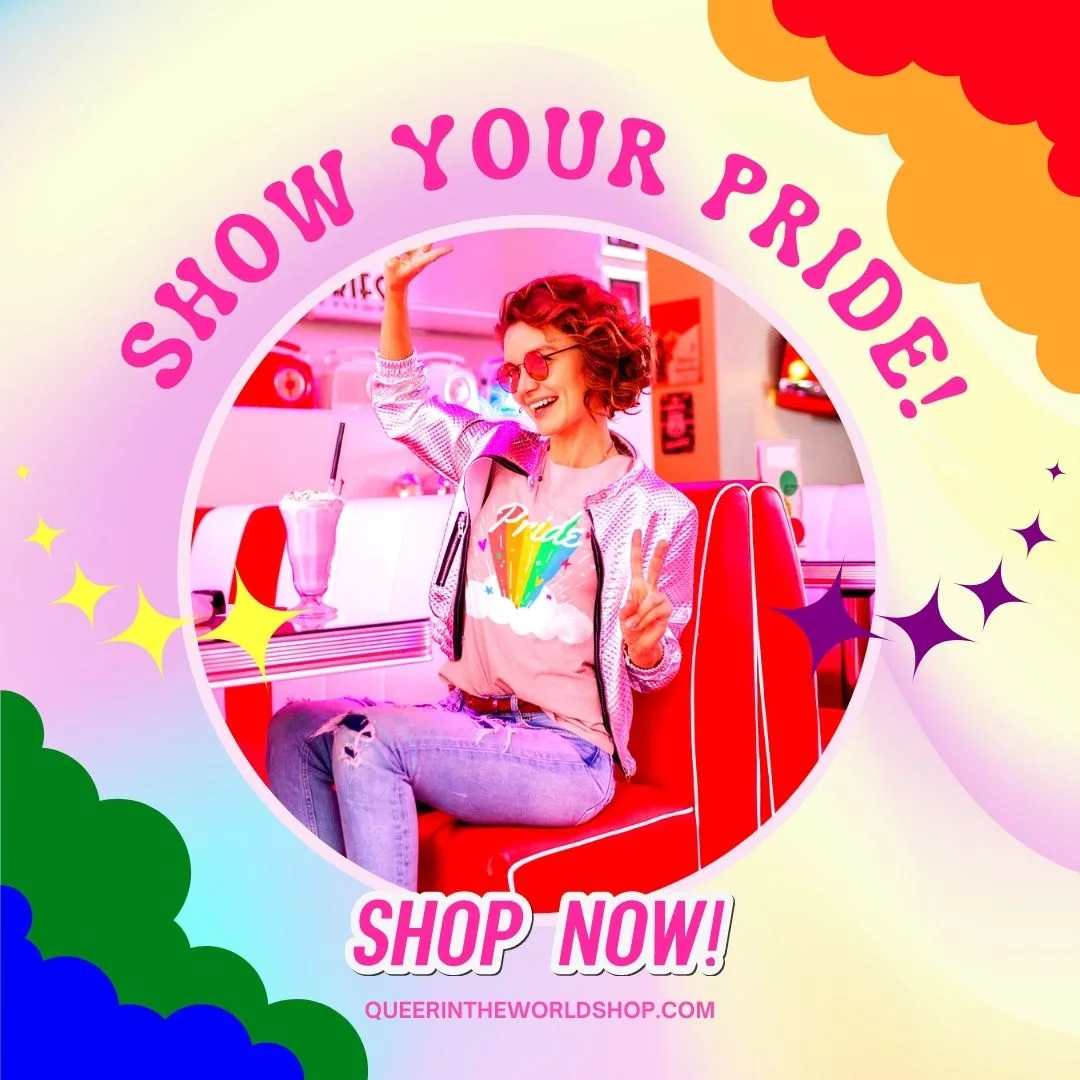 Gay-Friendly and Gay Hotels in Mannheim, Germany
Mannheim is a vibrant city in southwest Germany that offers a range of activities and attractions for LGBTQ+ travelers. Whether you're in town for the city's annual Pride Parade or just looking to explore the city's history and culture, you'll find plenty of gay-friendly hotels in Mannheim that will make your stay comfortable and welcoming. Here are some top choices:
Being gay-friendly accommodation means that the establishment is welcoming and inclusive to guests who identify as LGBTQ+. This can include but is not limited to, having policies and practices in place that demonstrate a commitment to creating a safe and inclusive environment for LGBTQ+ guests, such as non-discrimination policies, and providing support and resources for LGBTQ+ travelers.
Some gay-friendly accommodations may also provide amenities specifically catering to the LGBTQ+ community, such as rainbow flags or literature about local LGBTQ+ events or resources. Furthermore, gay-friendly accommodations may be located in an area that is known for being LGBTQ+ friendly.
While Mannheim does not have any specifically gay hotels or resorts, these are the most fabulous and pro-actively gay-friendly hotels in Mannheim. Needless to say, there are also hundreds more hotel and hostel options in Mannheim if none of these suit your desired budget, facilities or area – but these are the best hotels according to other gay travelers and us.
Whatever your needs are, Mannheim has you covered.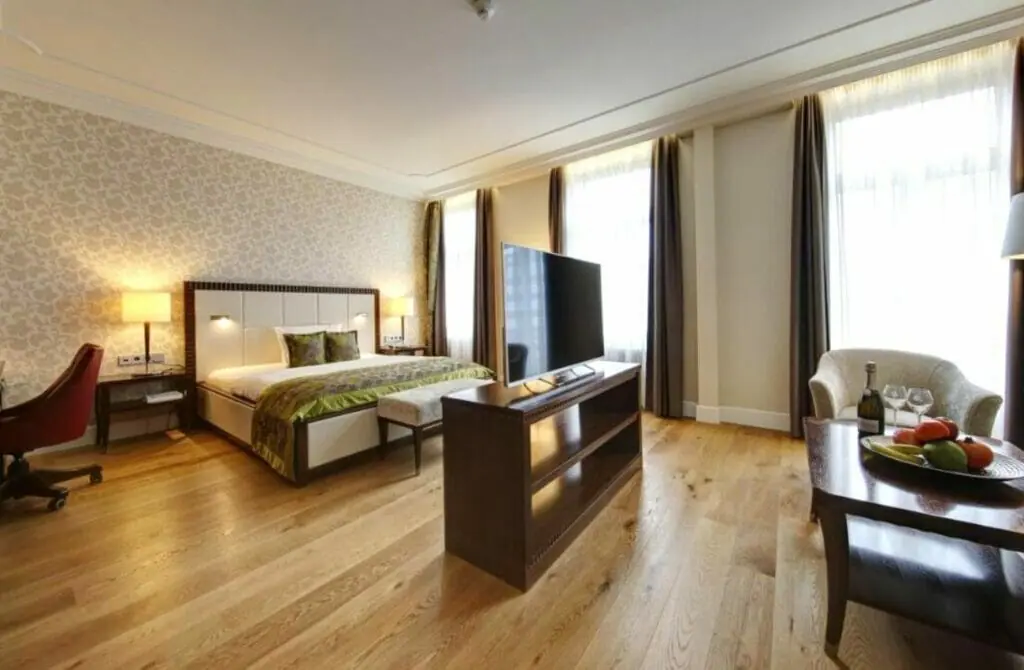 Hotel Kleiner Rosengarten Mannheim ☆☆☆☆
The Kleiner Rosengarten has a distinct atmosphere that is defined by luxury and charm. In their concept, the owners purposefully avoided uniformity and interchangeability. Every room and suite has its own personality and style.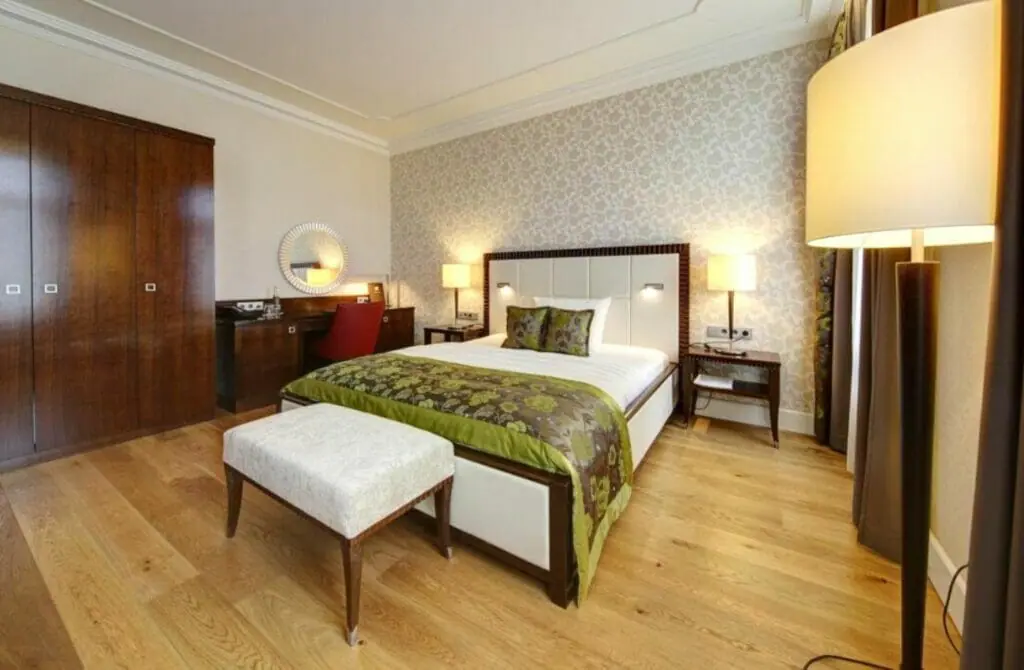 Hilton Garden Inn Mannheim ☆☆☆☆
The Hilton Garden Inn Mannheim is a modern and stylish hotel in the heart of Mannheim's city center. The hotel offers a range of amenities that cater to both business and leisure travelers.
Accommodations at the Hilton Garden Inn Mannheim include guest rooms and suites, each equipped with a comfortable bed, work desk, flat-screen TV, and complimentary Wi-Fi. The rooms are designed with a sleek and modern aesthetic, featuring clean lines, neutral colors, and high-quality furnishings.
Besides its guest rooms, the Hilton Garden Inn Mannheim also offers a range of facilities for guests to enjoy. The hotel's fitness center is equipped with cardio machines, weights, and other equipment, while the on-site restaurant serves a variety of local and international dishes.
Radisson Blu Hotel, Mannheim ☆☆☆☆
The Radisson Blu in Mannheim is part of the Radisson chain of hotels in the world. The hotel features a blend of contemporary designs and striking decors that capture your attention the moment you walk in. Its floors are of marble and have a beautiful reflective finish. The rooms are styled with modern standards in my mind but also in the traditional german way. It is simply magical.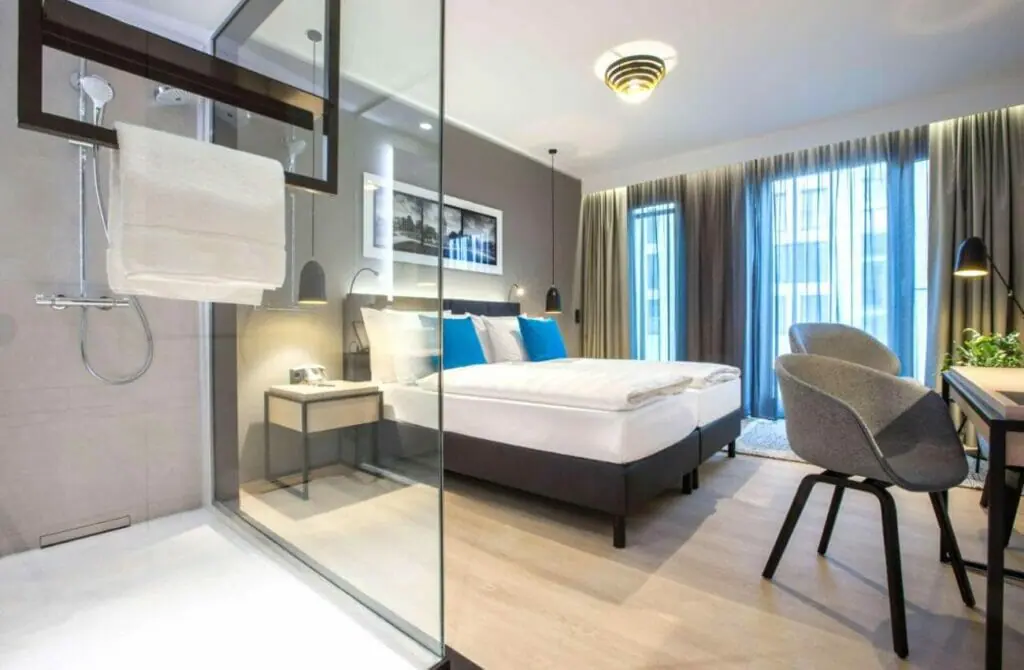 Dorint Kongresshotel Mannheim ☆☆☆☆
Germany is a city rich in Art nouveau and this hotel did not hold back with this in the matters of its decor. The rooms are spacious with all the basic amenities and extras if you upgrade. They offer a wealthy view of the city. If German was in a building, it would be this here.
Despite being the center of the groove in Mannheim, this hotel made it its mission to ensure that you are encapsulated from the noise when you want to relax or take a break.
It is a cozy 3-star hotel that seems to have 5-star benefits. Its staff is friendly and the decor is kind to the eyes: soft, warm colors bring life to the walls and a few paintings are scattered here and there. The space in the room is utilized and functional just enough to make you feel at home.
Rhein Neckar Hotel Mannheim ☆☆☆
The Rhein Nectar is a 3-star modern hotel that excludes an inviting ambiance. The rooms here share uniform designs which are more traditional than modern, but that only adds to the charm. They are cozy with a gigantic bed and off-white colored walls and small decorative artifacts. It really is a beauty.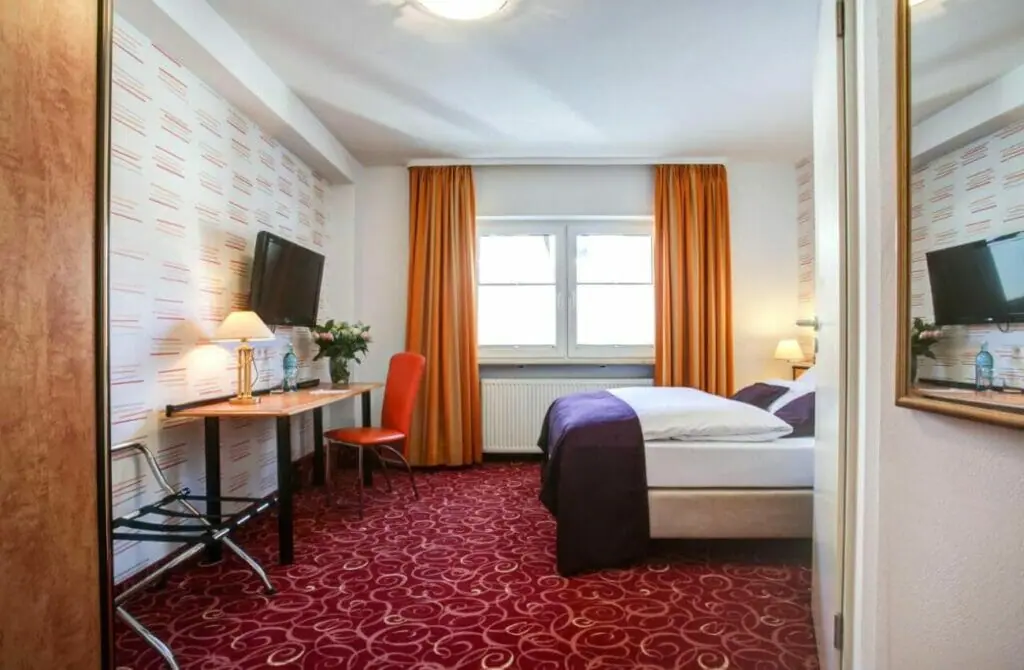 Gay Nightlife in Mannheim, Germany
This city is a must-see for anyone who enjoys letting their hair down and having a good time, with a vibrant LGBTQ+ culture and an abundance of gay-friendly bars and clubs.
The gay nightlife is centered on the Mitte (the center) and around the Wasserturm which is well-known for its trendy bars, vibrant street art, and alternative feel. There are comfortable bars and busy clubs here, all of which are friendly to the LGBTQ+ community.
Exploring the gay and gay-friendly nightlife in a new city can be one of the most exciting and rewarding experiences while traveling – and Gay Mannheim is no exception. Not only will you have the opportunity to meet new people and make friends, but you'll also get a taste of the local culture and learn more about the city's LGBTQ+ community.
Going out and experiencing the queer and queer-friendly nightlife in a new city can also be a great way to break out of your comfort zone and try new things. Whether it's dancing the night away at a gay club or mingling with locals at a gay-friendly bar, you'll have the chance to make memories and create lasting connections.
So, don't be afraid to step out of your comfort zone and explore the gay and gay-friendly nightlife in Manheim. You'll be glad you did!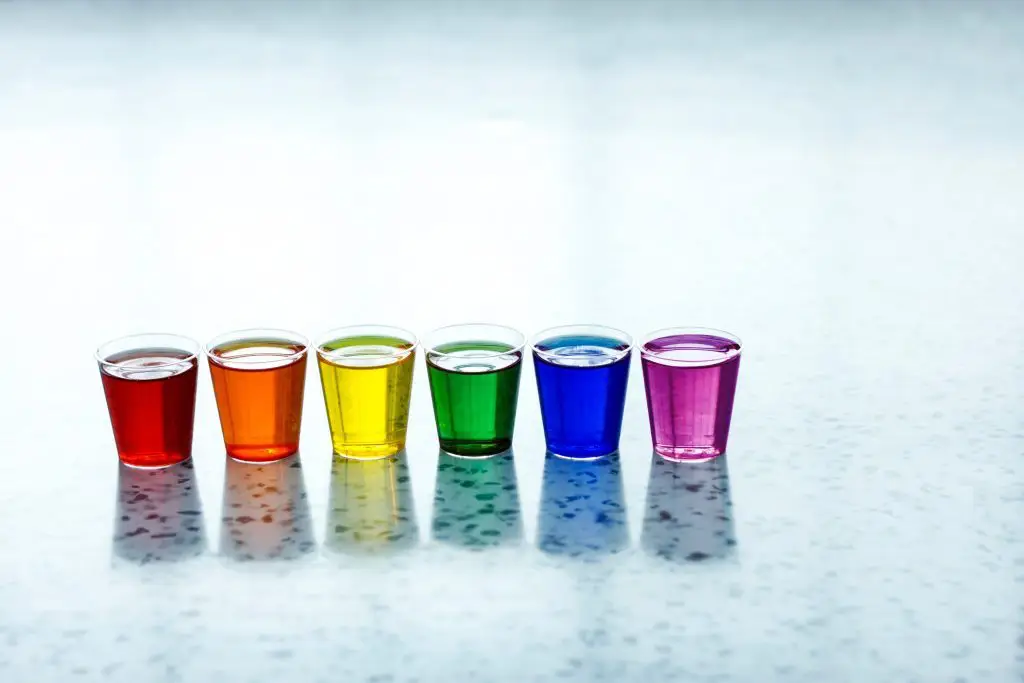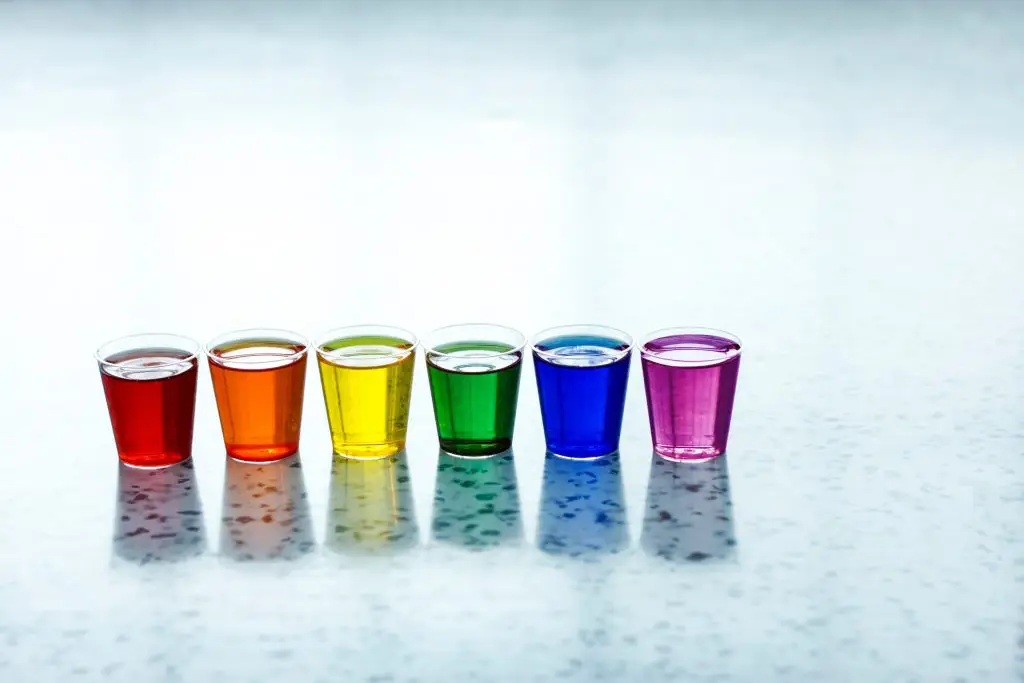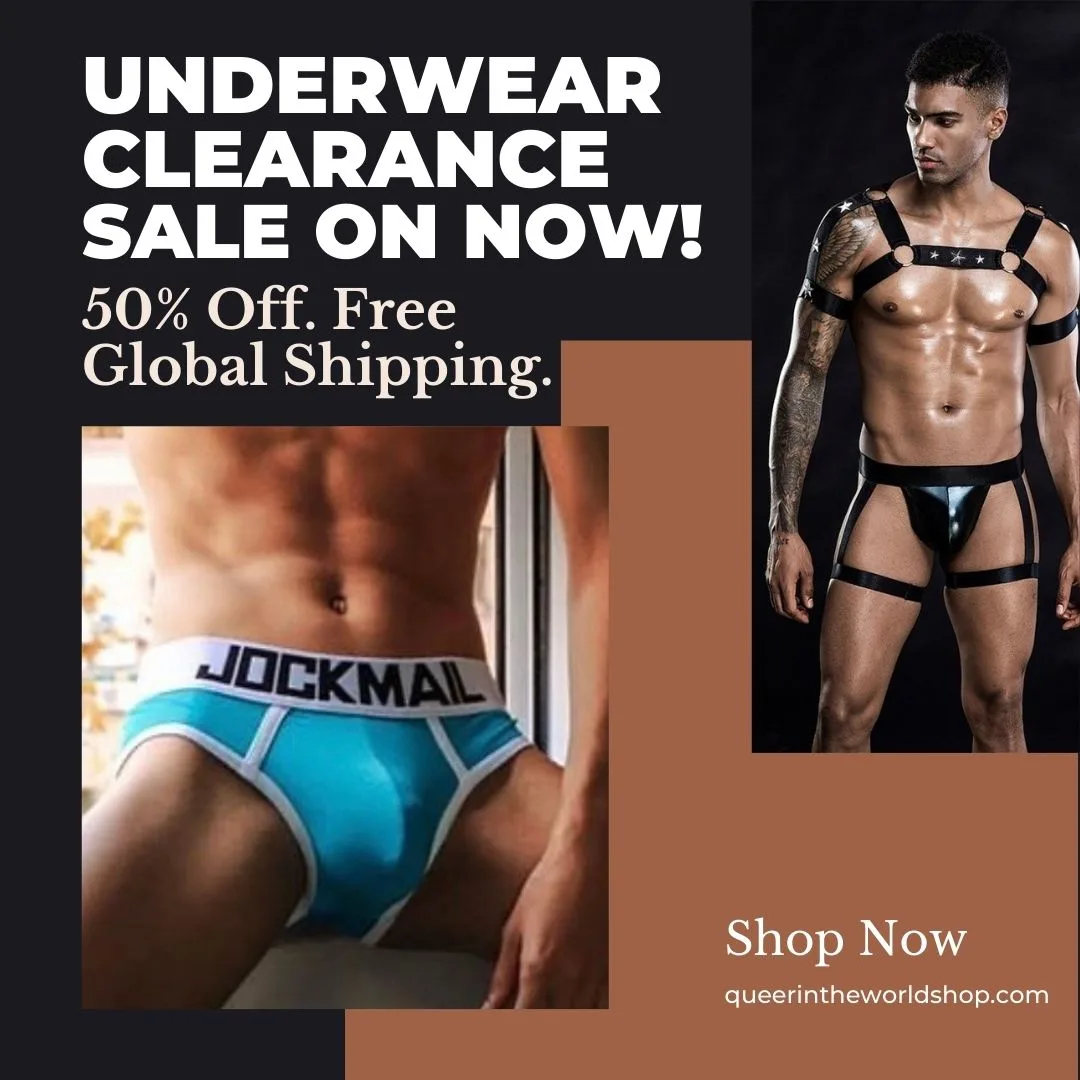 Gay and Gay-Friendly Bars and Clubs
This gay fetish bar has a basement where the wildest parties go down. Trans, gay, man, the woman they don't care. All they care about is that you are human and you have an open mind.
On most days, this bar serves as an event center for parties, and weddings, but at night, it becomes a lively gay-friendly bar with bottomless beer taps, music and friendly people.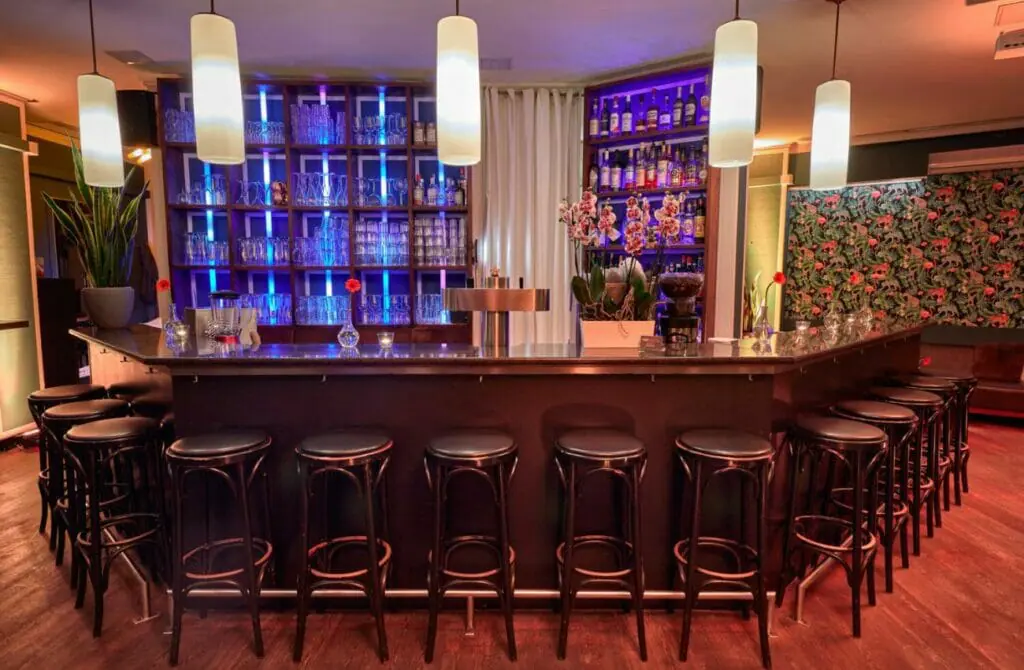 This is a gay cafe that opens at 6 pm and stays open well into the night. The music is usually soft and the clientele range from the 20s to 40s. The bar hosts regular events, including karaoke nights, drag shows, and live music performances. It also harbors a mixed crowd, so if you want to chat with someone new, you are definitely in the right spot.
Solo is an all-around queer bar that caters to the LGBT community by being a space where the diverse crowd of the Mannheim gay scene can have a great time. Their drinks are pricey but they are worth it.
This is a rock gay-friendly club that was opened in the 1980s. If you're looking for a good rock bar, this is the place to go.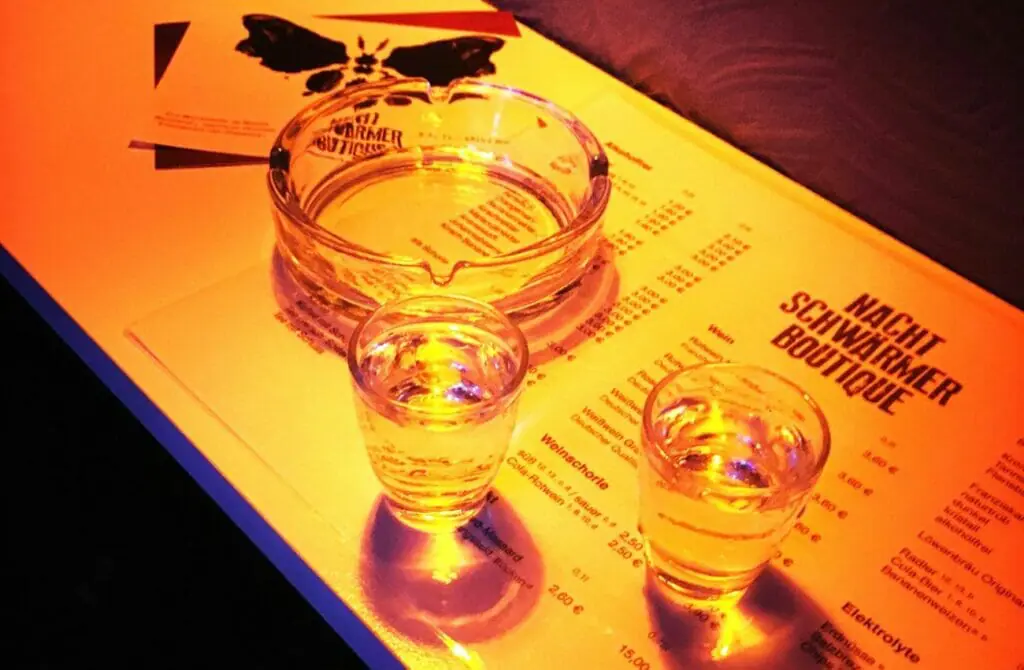 A gay disco club in Mannheim that never disappoints for wonderful parties, drinks and all-around fun. The music will leave you dancing till you drop.
Filmriss has over 500 recipes for cocktails for you to choose from and each one is different and beautiful; that is what this gay-friendly cocktail bar is known for – serving amazing cocktails.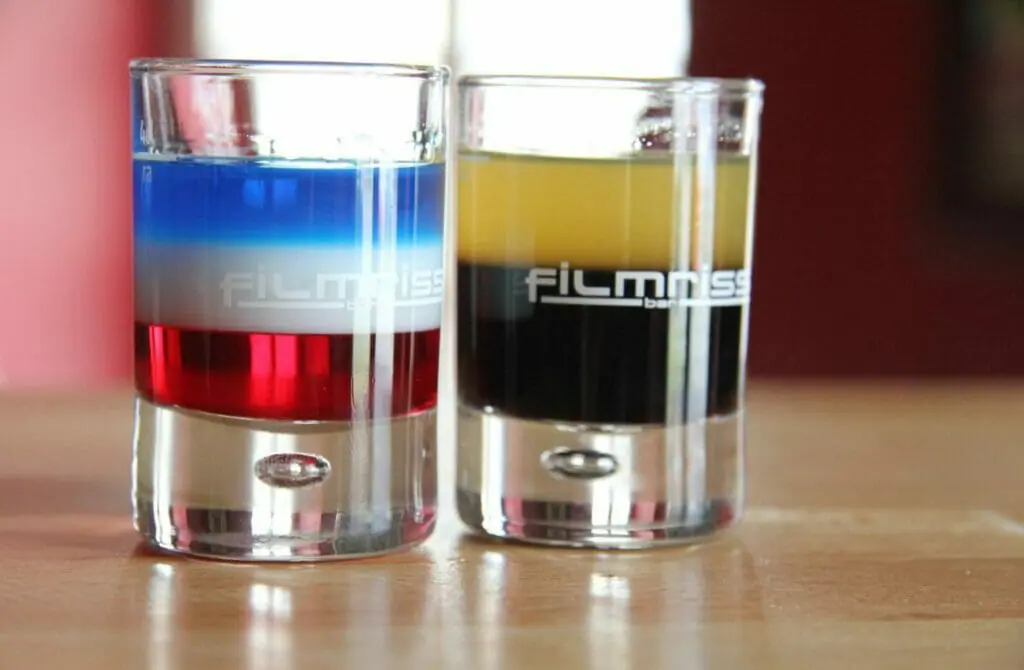 This is a gay-friendly pub that serves great quality gin, amazing music and open-minded local folks that will keep you entertained.
This bar stays open till midnight! If you just want to have a drink and possibly make friends, this gay-friendly bar is the place to be.
This club opens soon, but here are the perks; gay-friendly, parties, drinks, a large dance floor and many more.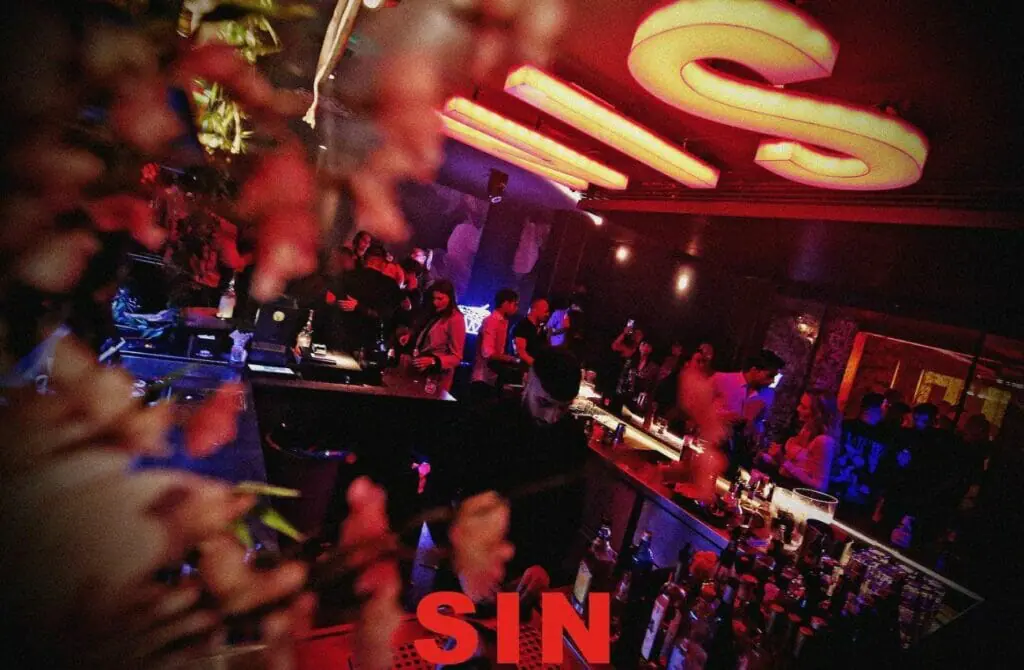 Gay Saunas & Cruising Clubs in Mannheim, Germany
Mannheim still has more to give. Although there are no gay cruising bars or clubs in this beautiful city, the gay sauna is truly amazing. It is a great place to relax, get a good sweat out and have a good time with other men.
When traveling to a new city, it can be exciting to head out for more than just a stiff drink. One aspect of the Gay Mannheim scene that many queer men enjoy is visiting gay saunas and cruising clubs.
Sure, the sauna culture in Mannheim is not as hedonistic as in Amsterdam, Barcelona or Berlin, but these venues still offer a chance to meet new people, socialize, and engage in sexual activity – without resorting to gay hookup apps.
However, it's important to keep in mind that these venues can vary greatly in terms of atmosphere, clientele, and rules, so it's a good idea to prepare yourself before visiting. If you are apprehensive, we advise studying our guide to visiting a gay bathhouse for the first time, which should help set your mind at ease, and always practice safe sex.
Additionally, it's important to be aware of and respect local laws and customs regarding gay venues and sexual activity. With a little bit of planning and an open mind, visiting gay saunas and cruising clubs can be a fun and exciting part of your gay Mannheim travel itinerary.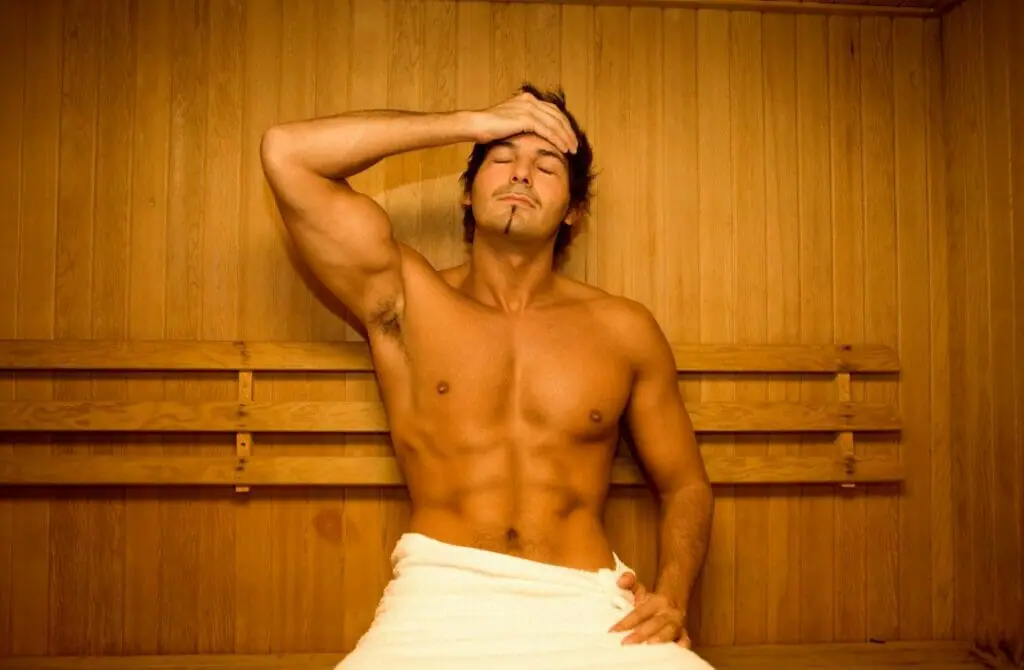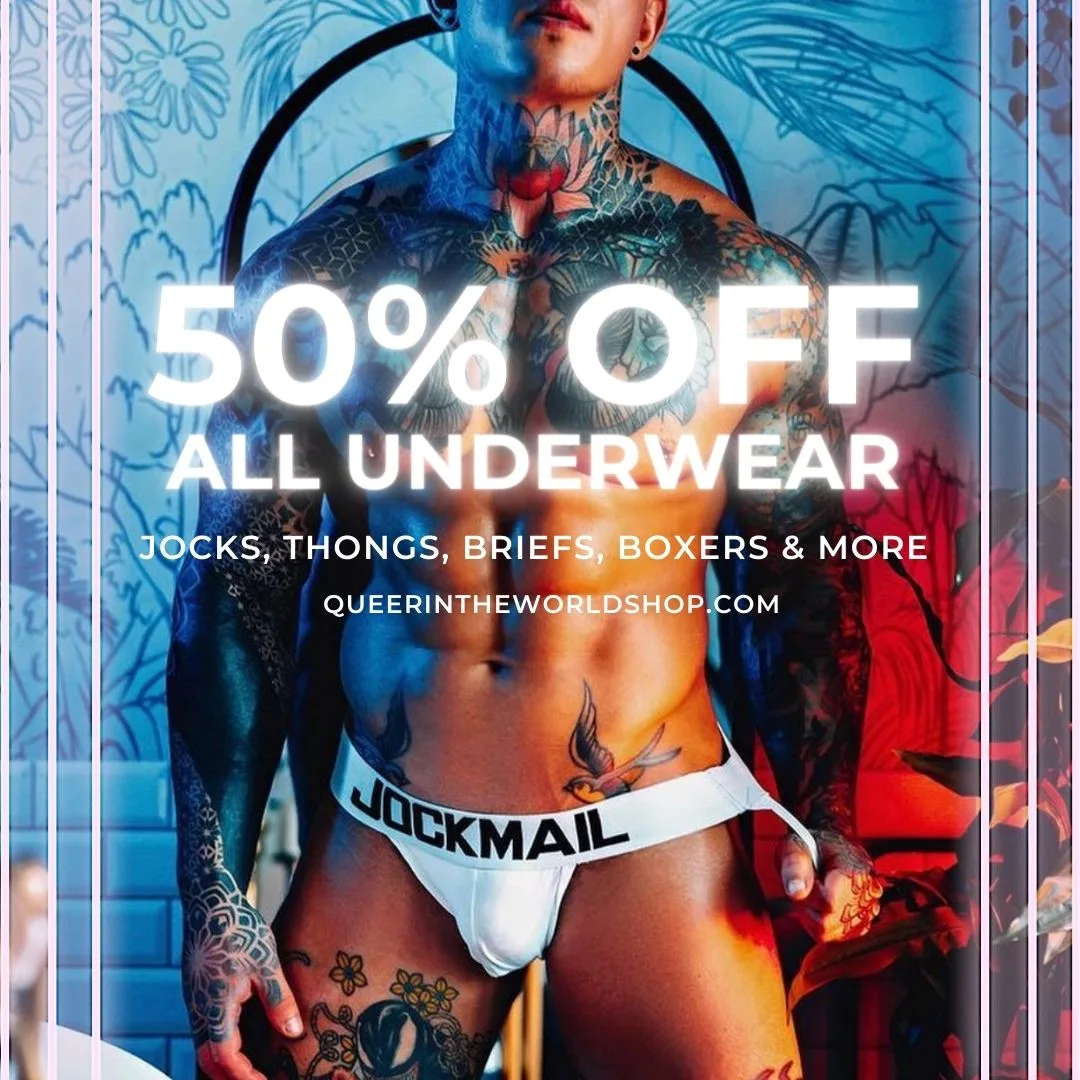 Gay Sauna
Although it draws a mixed crowd, this sauna helps you relax and unwind from the crazy nightlife of Mannheim. You are definitely going to be spoiled silly with exotic aromatic massages and deep fruit infusions.
Gay Map Of Mannheim
Finding it hard to envisage where everything is in Mannheim? Hopefully, this queer-centric map helps where we have marked all the bars, clubs, parties, hotels, saunas, massages and more will help you stay in the spot best suited to you!