Those after a gay escapade in Nebraska cannot miss the unique queer scene in Lincoln, the city named after President Lincoln in honor of his tragic death. Here you will be treated to many gay bars and clubs, with so much more to experience and see in a tightly-knit queer community ready to welcome visitors to their fantastic city with open arms. Are you after a gay dance club? She has that! Do you want a gay pride event held annually? Lincoln has that, too, with so much more to be discovered when you lift the hood and step inside.
Outside of the gay scene, Lincoln is famous today for several things, notably their Kool-Aid drink created in the 1920s. However, well before she was named Lincoln, she was founded as Lancaster, becoming Nebraska's capital in the 19th century.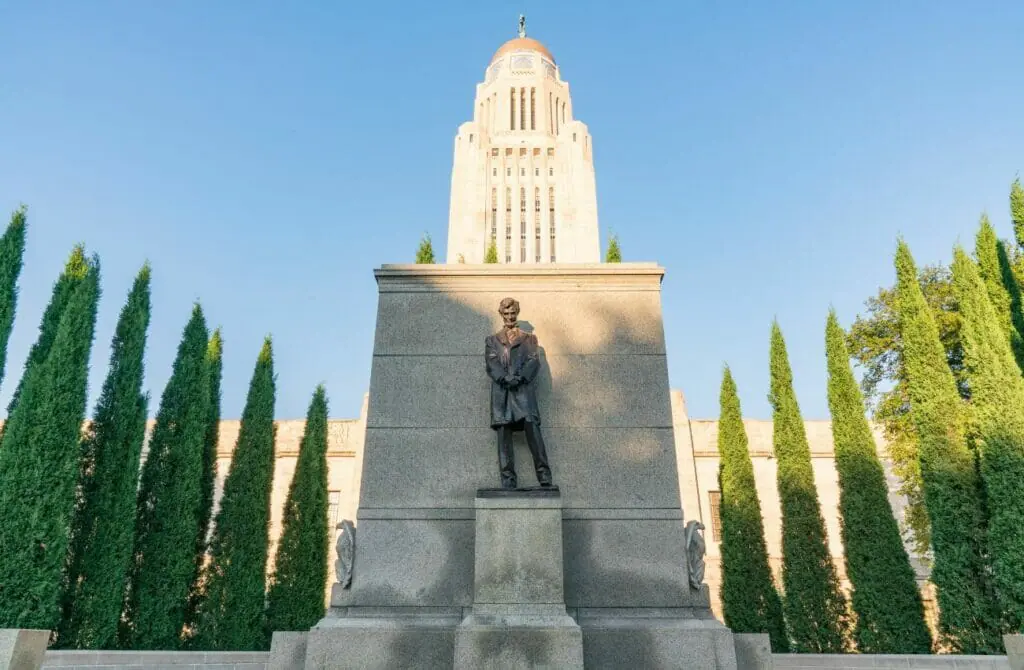 She was picked for her saltwater flats, arroyos, and great locations for her railway network to connect with Central America. But well before settlers expanded into her grassland's savannahs, she was the fertile lands of several Native American tribes, including the Pawnee, Sioux, and Lakota.
Since 1856, Lincoln has become the state's center for education with the region's largest university. Not only is that a major drive for employment in the city, but their growing tech scene is another growing industry today.
Tourists favor Nebraska above all else for various incredible attractions, from the Great Palette River Road Archway Monument to their different natural and cultural sights. These are why gay tourists will love a trip to Lincoln.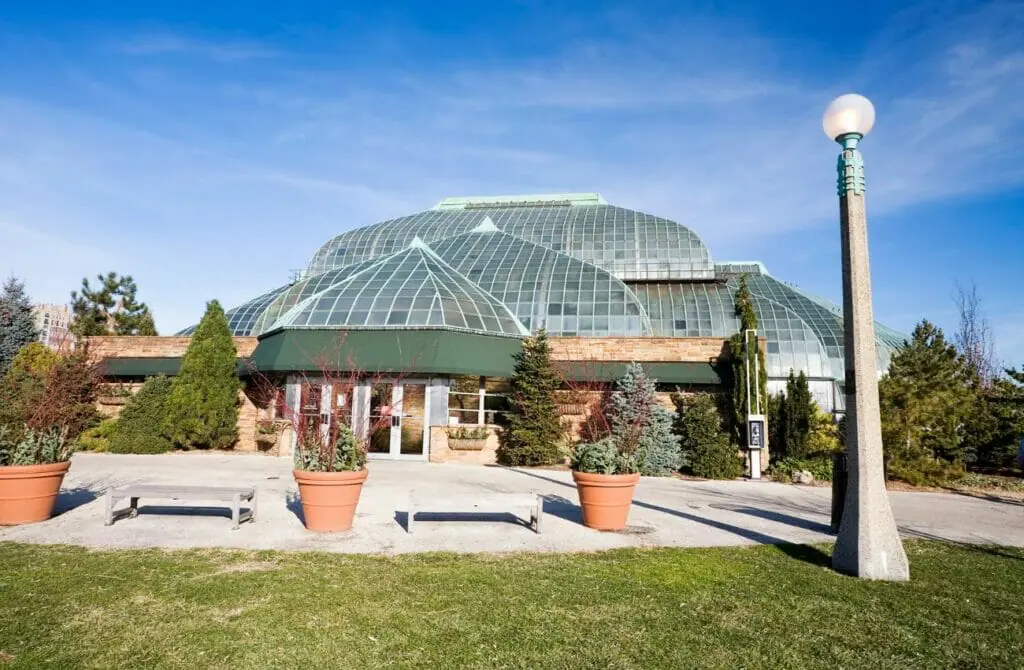 Attractions in Gay Lincoln, USA
As a new visitor to Gay Lincoln, there are many things to see and do, regardless of your sexual orientation. One of the best ways to experience any new city is to visit some of its most iconic landmarks and attractions, including historical monuments, museums, and art galleries.
We also love gazing at architecture up close, exploring parks and gardens, sampling the local cuisine, visiting local markets, and attending cultural events such as festivals, concerts and shows.
Even as the out-and-proud queer we are, we still love to explore the city and its culture in the same way as everyone else. Doing so allows us to learn more about the city and its people and gain a deeper understanding of the local culture. As such, these are our favorite must-see attractions in Lincoln.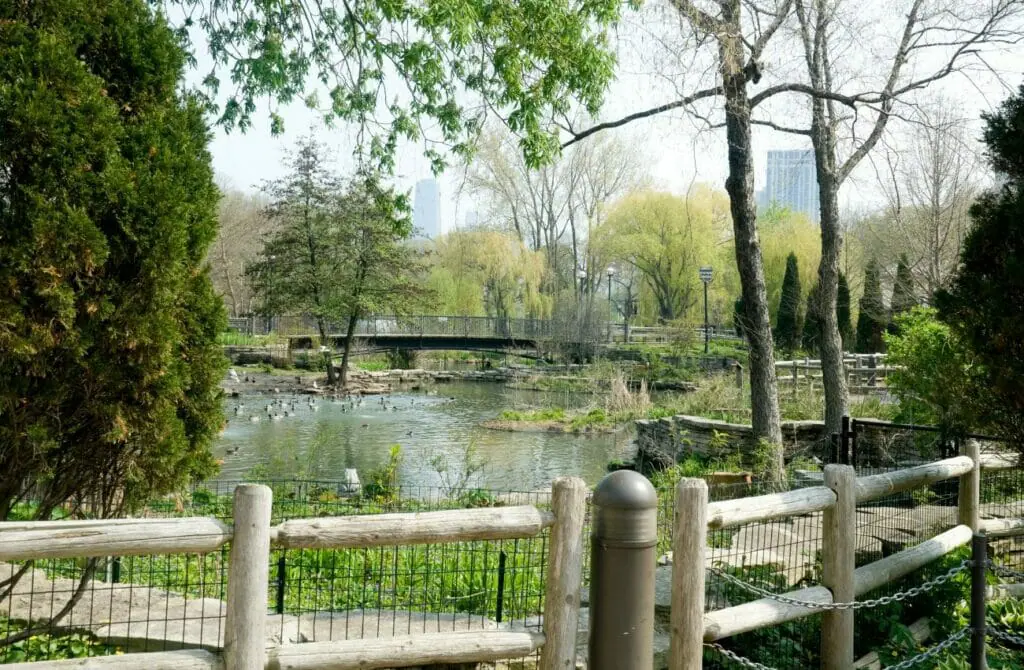 Great Platte River Road Archway Monument
Visit a tribute to the 200-year history of Great Platte River Road with one of Lincoln's most famous landmarks Archway Monument. You will get insight into one of the city's most essential pieces of settler history and how the road helped the region grow into what we see today, told through a connecting heritage museum. The archway also includes a gift shop, so you can get a nifty souvenir!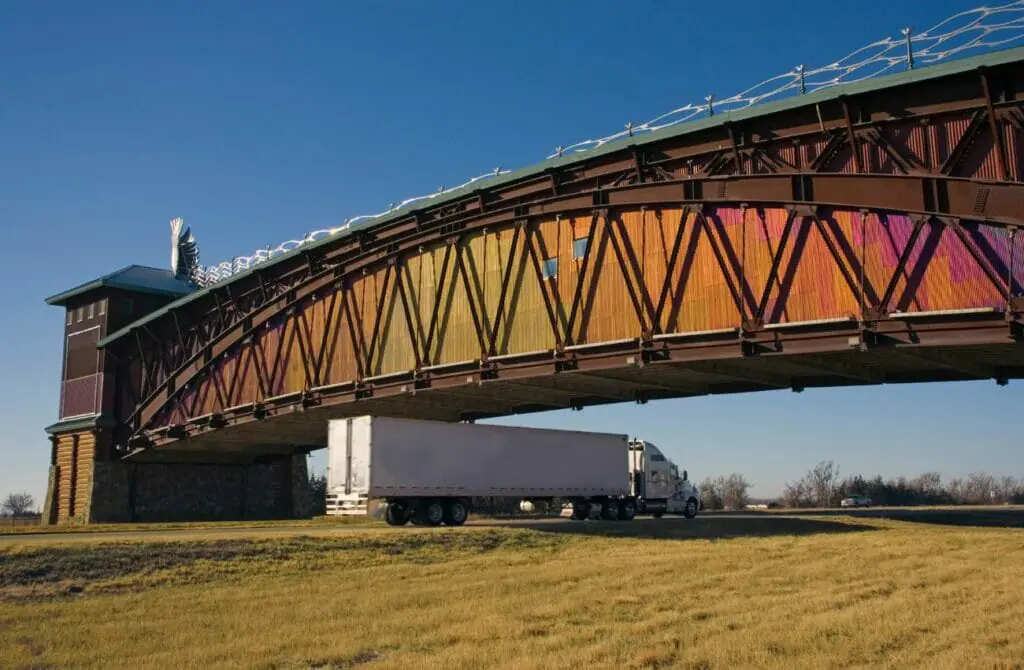 Lincoln Children's Museum
Lincoln also has a children's museum, another gay family-friendly place to take the kids and adults! Here you can experience many fun activities and exhibits that will keep the kids busy for hours and teach them a few things about history and science. The hands-on presentations and the walk-through model streets showing various parts of modern history are favorites.
Drive through Christmas Lights Show
What a wonderful way to experience Christmas in Lincoln with lights! You can join a guided tour driving through the city's best light displays during the festive season and see critical parts of her streets under the celebration umbrella. See thousands of lights synchronized up to music, lively scenes of merry and cheer, and feel like the magic of Christmas is finally back in your life!
Lincoln Children's Zoo
Lincoln is home to an impressive Children's Zoo, which is fun for the whole family, not just kids! This is a beautiful way to entertain a gay family holiday with over four hundred species of animals, and 40 are on the critical or endangered lists. You can expect to see some family favs and some rarely seen in zoos.
You can even get first-hand feeding experiences with their friendly residents or look at species such as cheetahs, tigers, or giraffes from afar. All in all, if you want to fill an afternoon, this is a great option.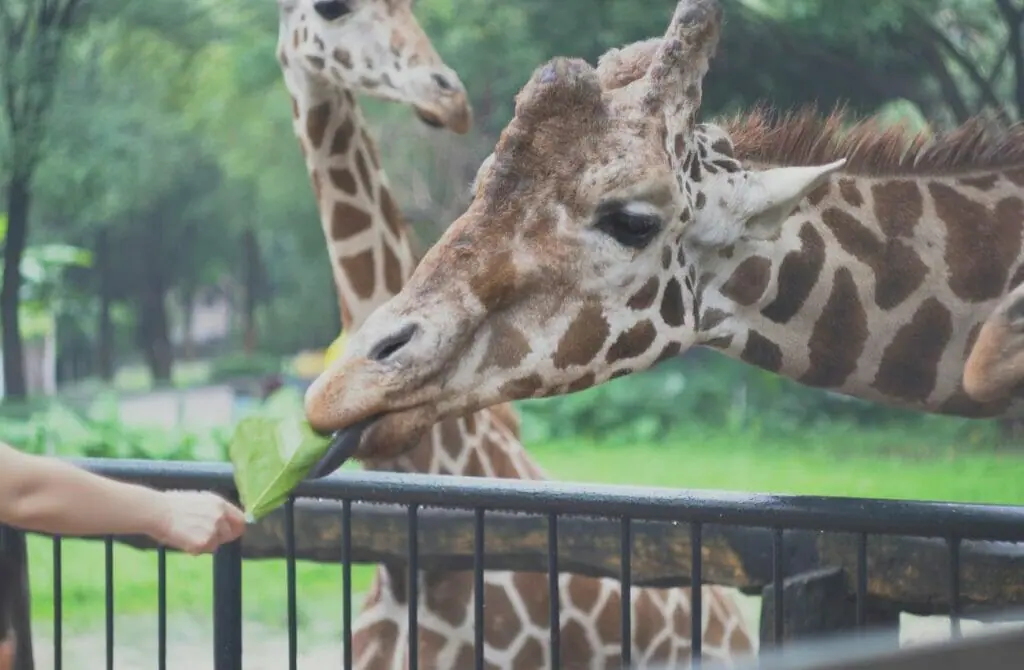 Sunken Gardens
Many regard Lincoln's Sunken Gardens as one of the best gardens in America because they not only have a collection of over 30,000 plants but were developed from a former dumpsite in the 1930s into a new public place to enjoy a nice slice of natural fresh air. As a result, you can find many agreeable walkways, unusual statues, and other incredible sights you need to discover for yourself.
Museum of American Speed
Those passionate about one of America's fastest sports, speedway motorsport, will get a kick out of Lincoln's Museum of American Speed, dedicated to preserving and telling the tale of race cars.
You can experience a rich collection of vehicles dating back to the infant years of the sport, with many artifacts and extraordinary events related to the sport housed in this museum. You can even get a souvenir from their shop if you wish to support their ongoing efforts to preserve motor history.
Nebraska State Capitol
A visit to Lincoln is never complete unless you visit the Nebraska State Capitol building, designed in a competition in 1920.
Experience the expansive gardens around it, or admire the range of structures in its center, from the tower, which gives you magnificent views of the surrounding cityscape or a visit to the Lincoln Memorial. See the place in which laws in this state are made and discover even more incredible things on a tour of its interior.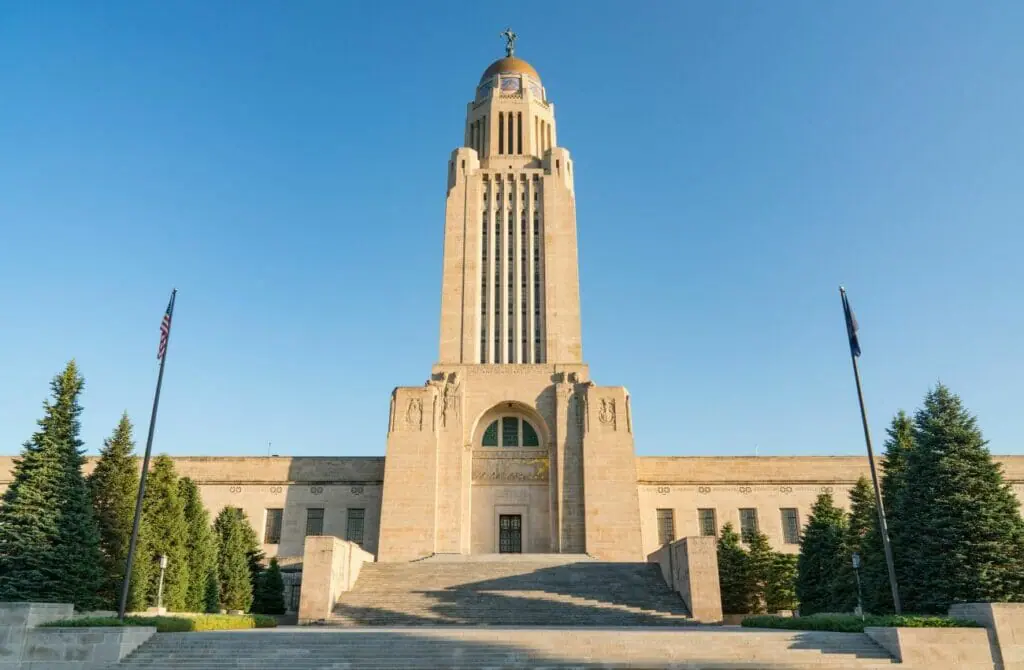 National Museum of Roller Skating
Who knew that America had its own National Museum of Roller Skating? This fun pastime has a surprisingly rich history, and if you love it, you can even come to this place to see the oldest surviving skates! Follow the development and history of skates and how they evolved to where roller skating is still alive today!
Nebraska History Museum
For Lincoln's oldest and most extensive historical artifact collection, you cannot miss Nebraska History Museum, with over 125,000 objects in its hold. You can find everything to learn about, from natural and cultural history to geology and everything in between.
Their exhibitions focus on the local area's history but with some international focus on occasion. Their paolovite collection with mammoths and saber tooth tigers will have you in awe!
Saint Mary Catholic Church
Built in 1888, Saint Mary Catholic Church succumbed to fire just twenty years later, but the replacement in its place today is a faithful remake of the original structure. It is one of the most romantic churches in town, akin to a Disney castle with pointed towers and a soft white creamy facade. If you are after a church to admire, this is the one to visit!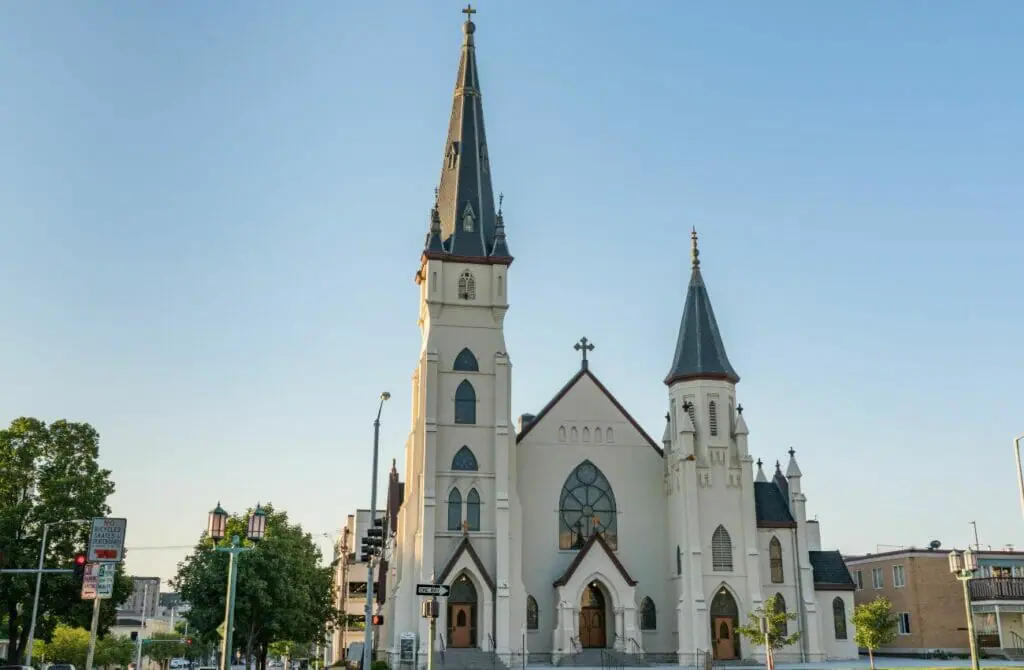 Pioneers Park Nature Center
Heading out of the busy city, you can explore Pioneers Park Nature Centre, an expansive park full of woodlands and grasslands great for all ages.
You can stop by their visitor's center to learn more about the park and get helpful information for hikes, walks and attractions, or to learn more about the ecosystem and conversation efforts of the park. They even have a play area and hands-on buildings with interactive exhibits. So, get yourself a trail map and be ready to spend an entire day exploring.
Governor's Mansion
Despite the residence of Lincoln's governor, it is open to the public, and you can experience its full inside wonder with a guided tour of over thirty different rooms. The gardens are also just as delightful, giving insight into a mid-20th-century mansion. This is a perfect way to take time out from running around and take a picnic to sit under one of their countless trees with the warmth of their mowed lawns.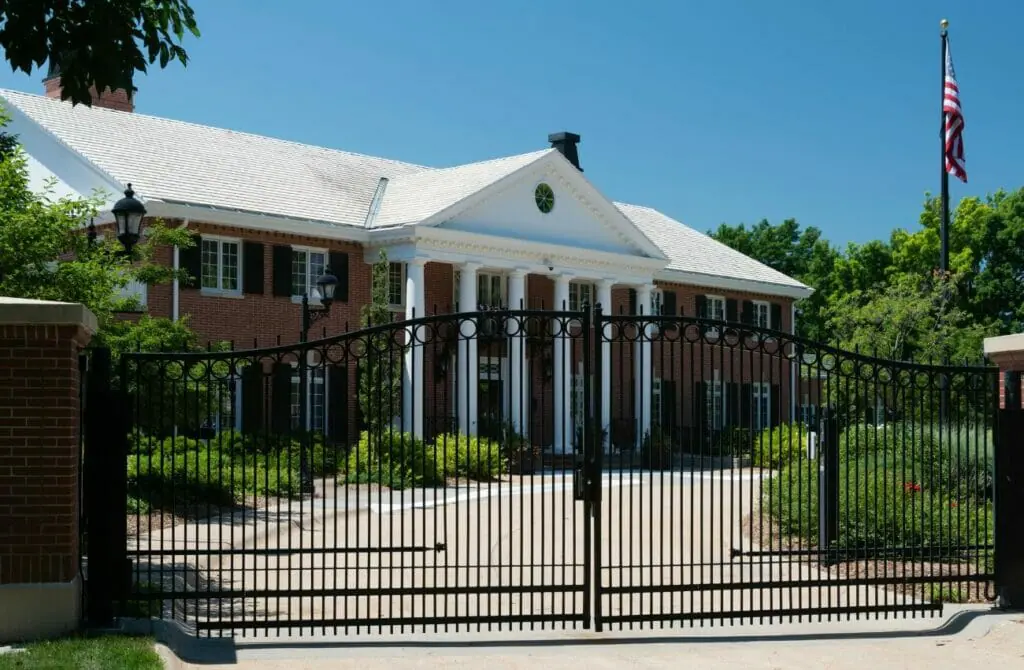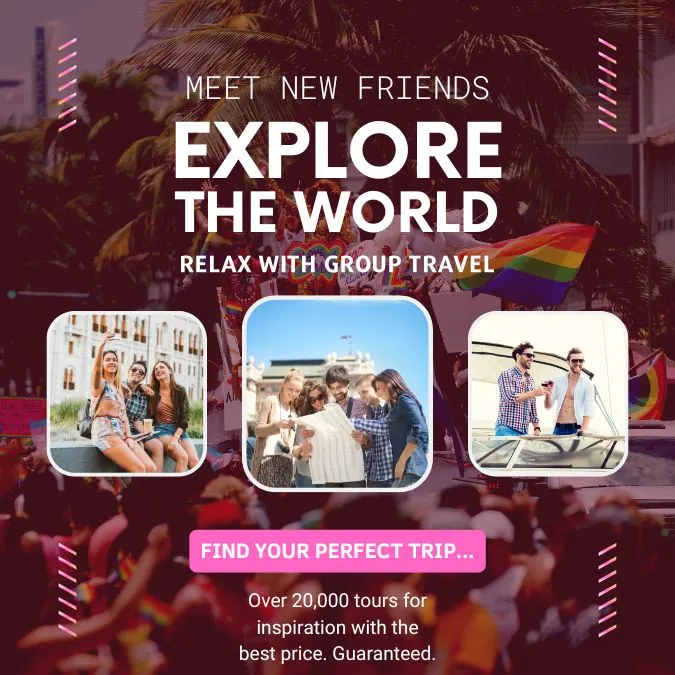 Gay-Friendly & Gay Hotels in Lincoln, USA
Being gay-friendly accommodation means that the establishment is welcoming and inclusive to guests who identify as LGBTQ+. This can include, but is not limited to, having policies and practices that demonstrate a commitment to creating a safe and inclusive environment for LGBTQ+ guests, such as non-discrimination policies and providing support and resources for LGBTQ+ travelers.
Some gay-friendly accommodations may also provide amenities specifically catering to the LGBTQ+ community, such as rainbow flags or literature about local LGBTQ+ events or resources. Furthermore, gay-friendly accommodations may be located in an area known for being LGBTQ+ friendly.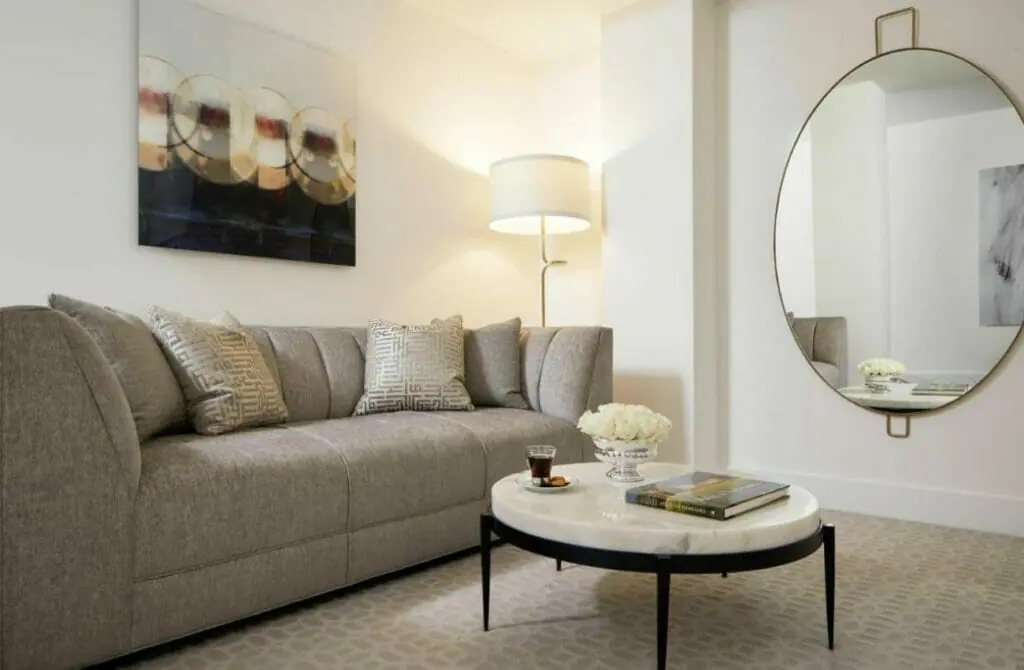 While Lincoln does not have any specifically gay hotels or resorts, these are the most fabulous and pro-actively gay-friendly hotels in Lincoln. Needless to say, there are also hundreds more hotel and hostel options in Lincoln if none of these suit your desired budget, facilities or area – but these are the best hotels according to other gay travelers and us.
Whatever your needs are, Lincoln has you covered.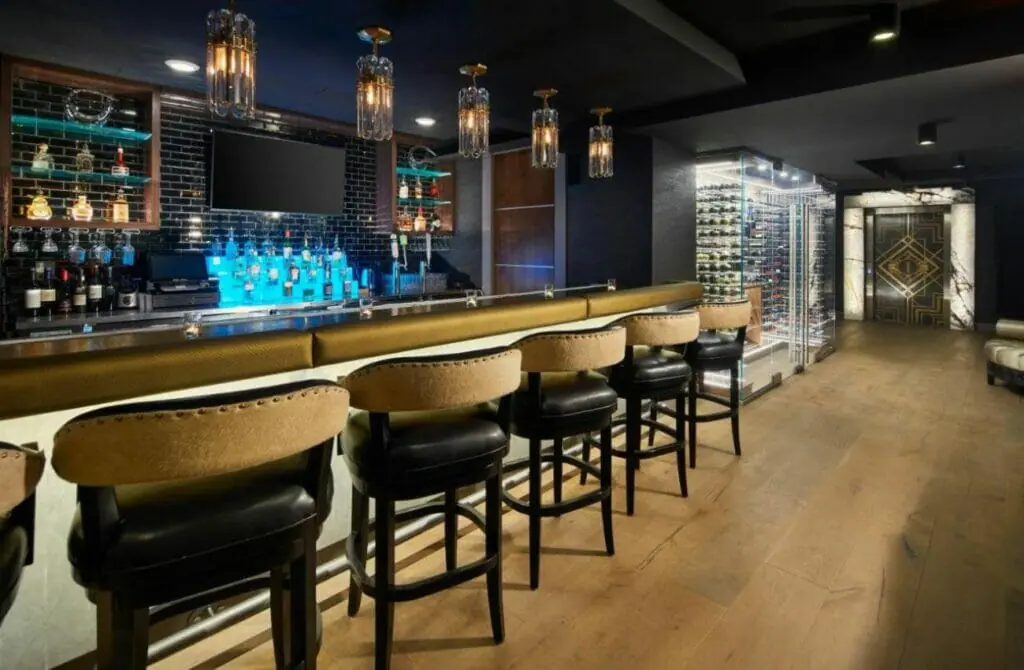 The Kindler Hotel is an excellent four-and-a-half-star hotel in the heart of Lincoln where you can easily access a lot of what this city can offer by foot and keeps bringing people back. You can start your high-class holiday here with a spacious reception area and relax with premium bedding in your top-supplied private quarters.
The highlight of these quarters is the royal ensuites with carefully chiseled décor to feel like royalty, but it does not stop there! Your premium experience takes you outside your room when you dine in luxury at their on-site restaurant Boitano's Lounge, an award-winning venue serving some of the best drinks and food you will struggle to find elsewhere.
They even have breakfast options for guests for an extra fee, saving you from wondering what you'll eat in the early hours of your stay. Other incredible guest services include their art gallery, gym, outdoor sitting terrace, and even limo services to and from town. No wonder The Kindler Hotel is a fav!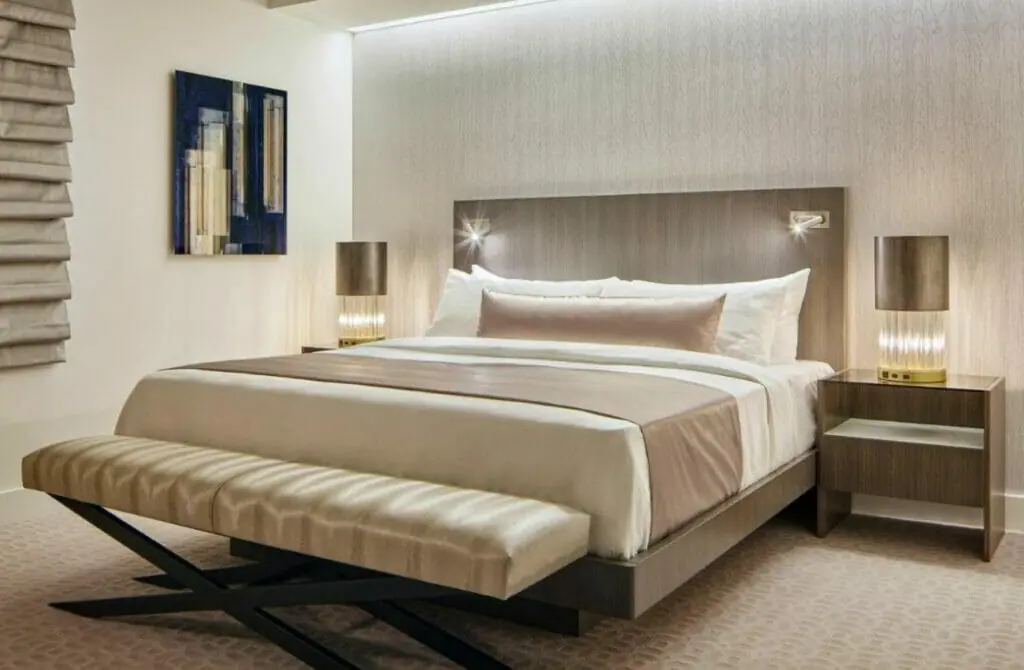 Those after a brilliant time away in Lincoln without worrying about subpar accommodation will fall in love with the four-star Graduate Lincoln. Beginning with the fact you have a great central city location with an exceptional view of the cityscape at the top levels, spacious lounging areas and even outside terraces for bird's eye views of the city's comings and goings.
When you enjoy these spaces, you will not be disappointed by the food offered at their on-site restaurant. The Single Barrel is a top-notch food destination serving American classics all day and into the night, with drinks to complement their high-class tastes. They even serve breakfast for guests on weekdays!
However, these services are not the only reason guests want to stay! You can take full advantage of their indoor pool, games room, 24-hour gym, and free bike hire! So, you could spend your whole holiday here without having to leave if you so desire, and the private rooms and the height of hotel comforts are just as comfortable.
Heading into the budget-friendly three-and-a-half-star options of hotels in Lincoln, you cannot miss Hyatt Place for your accommodation needs. This modern hotel is centrally located and offers many unique services that hotels of the same class do not have, from its gift shop and store to its business center and outdoor lounging area.
But that is not all, because you will expect the best in-room comforts for your private dwellings, with the highlight being spacious areas and extras to suit your touring style. They also have on-site dining options with breakfast and a restaurant for food and drinking. Then if that was enough, they have a gym, pool, and art gallery for keeping yourself busy! What more could you want in a hotel?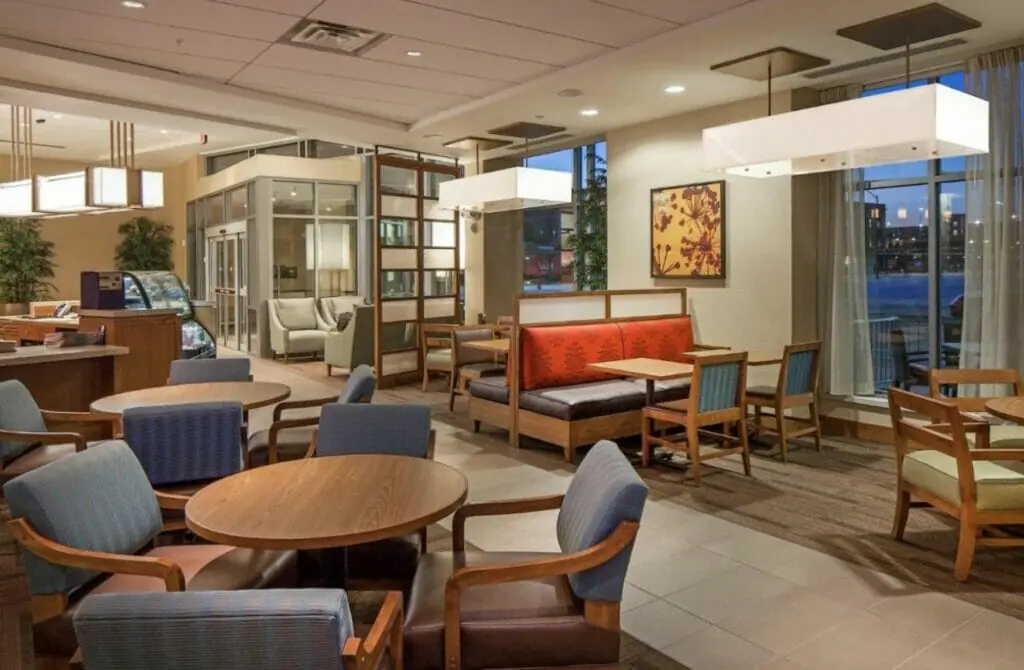 After an all-around great modern hotel stay in Lincoln, you cannot miss the Embassy Suites Lincoln. Here you can expect a pool and hot tub for relaxing after a busy day out or a gym to keep fit if you stay inside all day on a poor day.
You will also be well fed with their complimentary breakfast and on-site restaurant for food and drink throughout the day. A highlight of this stay is the food with microwave and kitchenette to host and dine at your own pace and the little extras to make your stay perfect.
Country Inn & Suites by Radisson ☆☆☆
In the cozy heart of the countryside just north outside of Lincoln is the warm three-star Country Inn & Suites. Here you can appreciate the quiet nature of rural Nebraska, knowing you have easy access to a short drive to the town center.
Not only is parking free, but so are guests' breakfasts, and they even have a restaurant for lunch and dinner options for a fee. In addition, you can lay back if you so desire in their outside loungers and then take a dip in their pool or hit the gym once you feel you need to stretch your legs. With all of these and more, it is no wonder Country Inn is a popular getaway in Lincoln.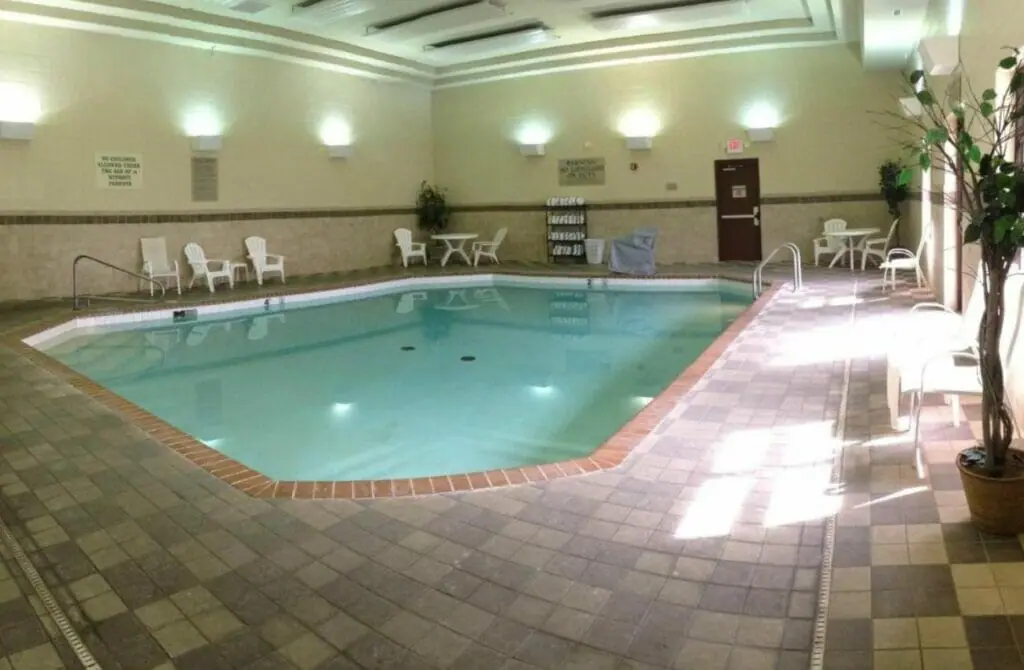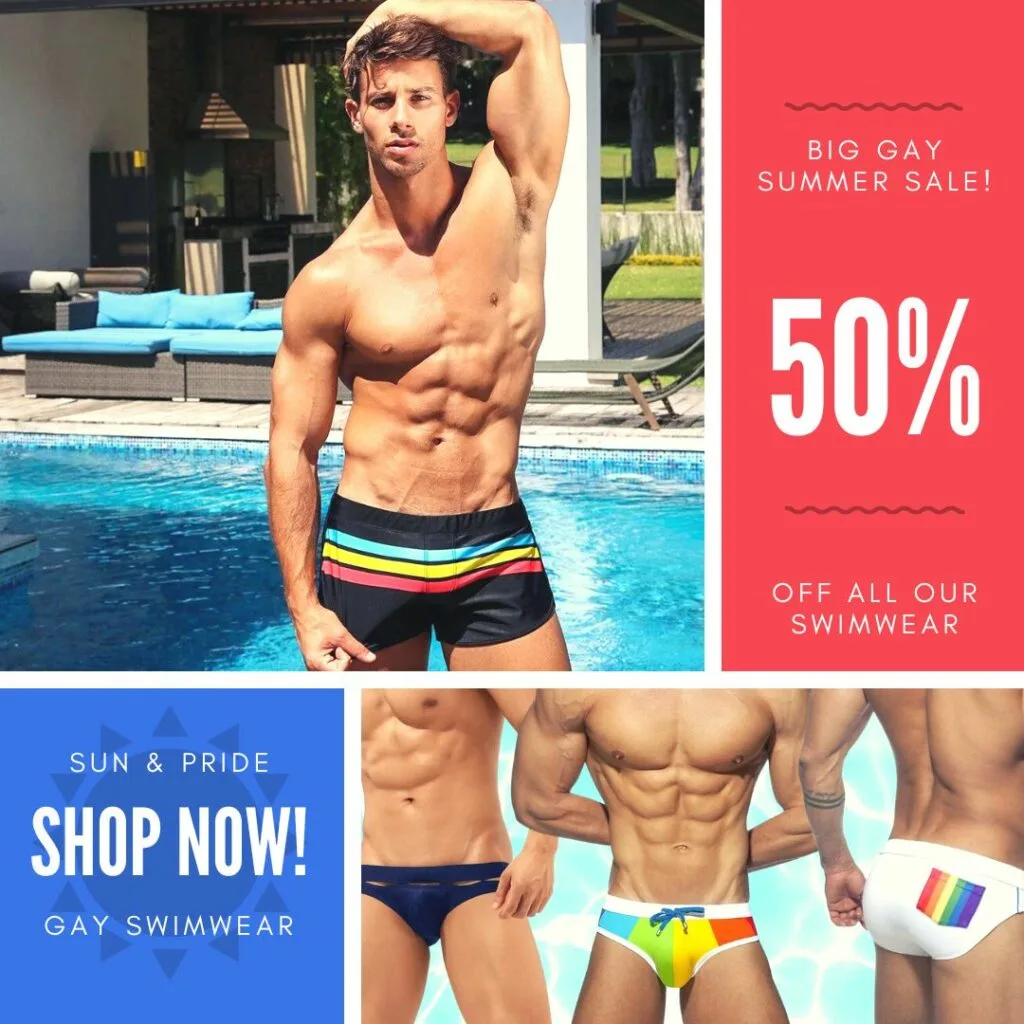 Gay Nightlife in Lincoln, USA
Lincoln is an exceptionally gay-friendly city, made no more evident than with its various gay clubs and bars. They may not have as large a scene as other places worldwide, but their small gay scene still cannot be missed!
Exploring the gay and gay-friendly nightlife in a new city can be one of the most exciting and rewarding experiences while traveling – and Gay Lincoln is no exception. Not only will you have the opportunity to meet new people and make friends, but you'll also get a taste of the local culture and learn more about the city's LGBTQ+ community.
Going out and experiencing the queer and queer-friendly nightlife in a new city can also be a great way to break out of your comfort zone and try new things. Whether dancing the night away at a gay club or mingling with locals at a gay-friendly bar, you'll have the chance to make memories and create lasting connections.
So, don't be afraid to step out of your comfort zone and explore the gay and gay-friendly nightlife in Lincoln. You'll be glad you did!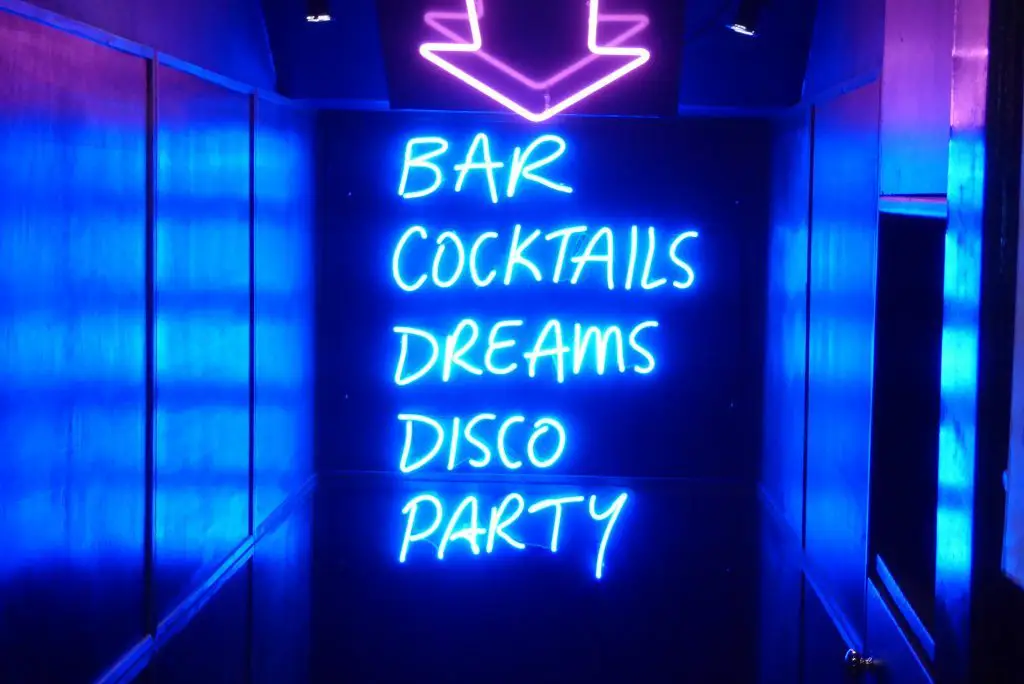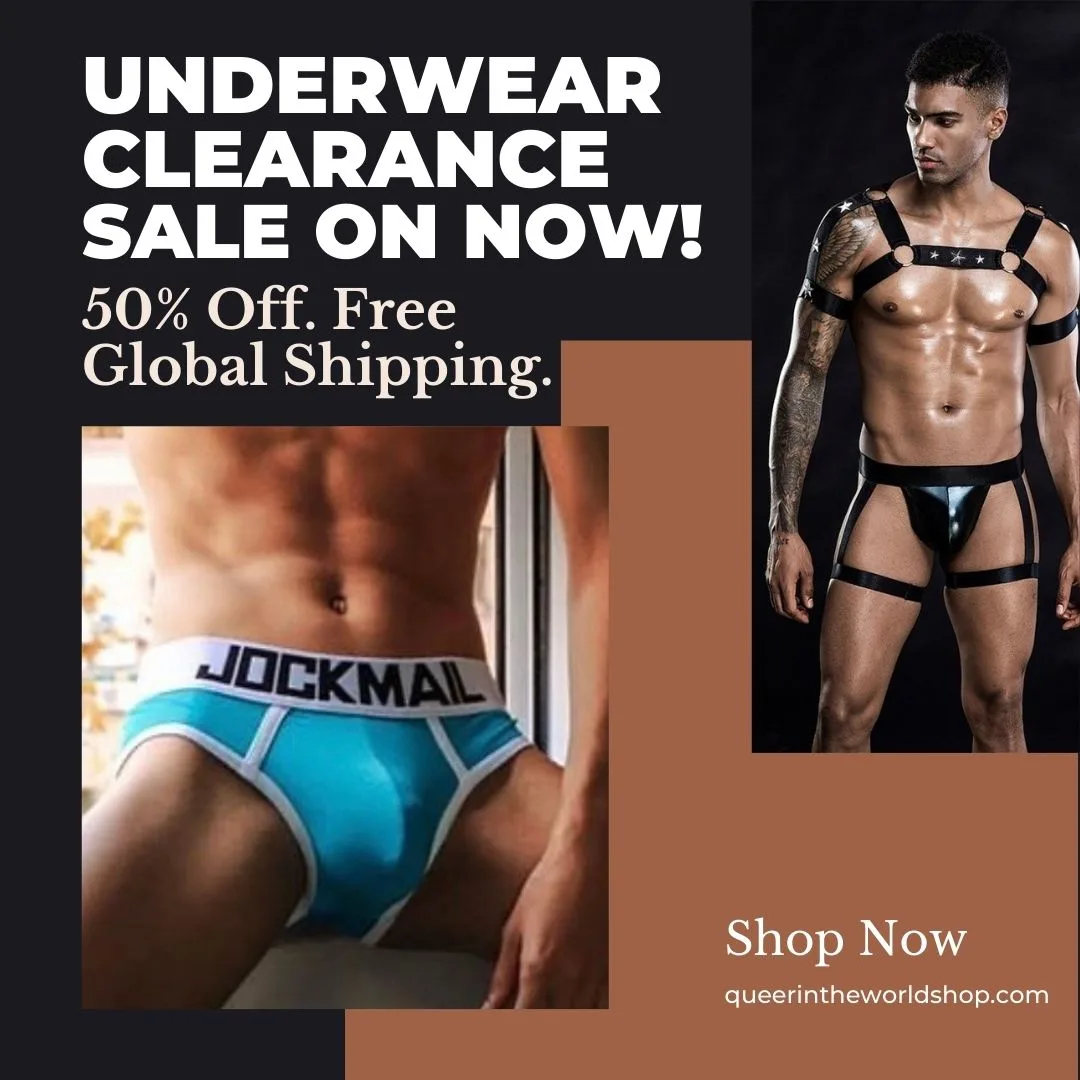 Gay Bars in Lincoln, USA
Holding the medal of the only gay bar in Lincoln, Das Haus Lincoln is a one-of-a-kind gay venue looking to welcome all into her dancing and drinking halls. You can expect a memorable, fun queer-filled night with a cabaret and a relaxing drinking lounge here. In addition, they often host gay events, from karaoke nights and drag queens to social nights and dance parties that keep you up all night.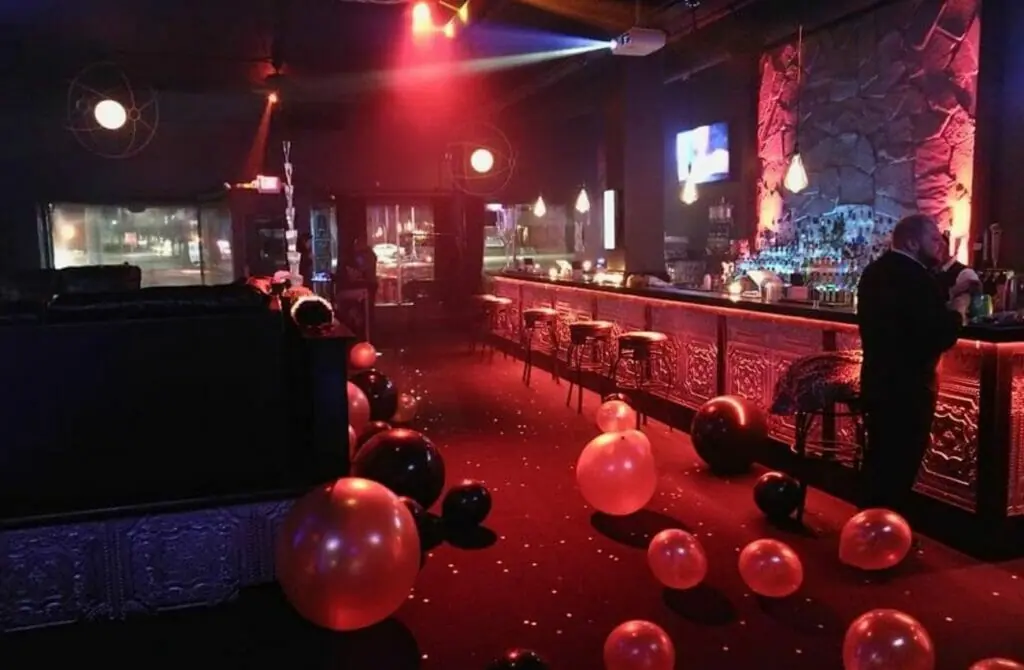 Gay Parties & Gay Clubs in Lincoln, USA
Star City Pride is Lincoln's annual pride festival, a top gay event in the queer calendar for the city. The streets are filled with gay visitors and rainbow flags.
If there is a time to visit Lincoln, it would be this because it has so many events and social engagements, making it a wonderful way to explore all aspects of the queer community in the city. You will meet fellow gay people from all occupations and may make lifelong friends.
ACLU is a queer organization that fights for the rights and freedoms of Nebraska's queer community. They also offer great advice, education, and resources to gay people and their allies, with a good rundown of gay life in Lincoln.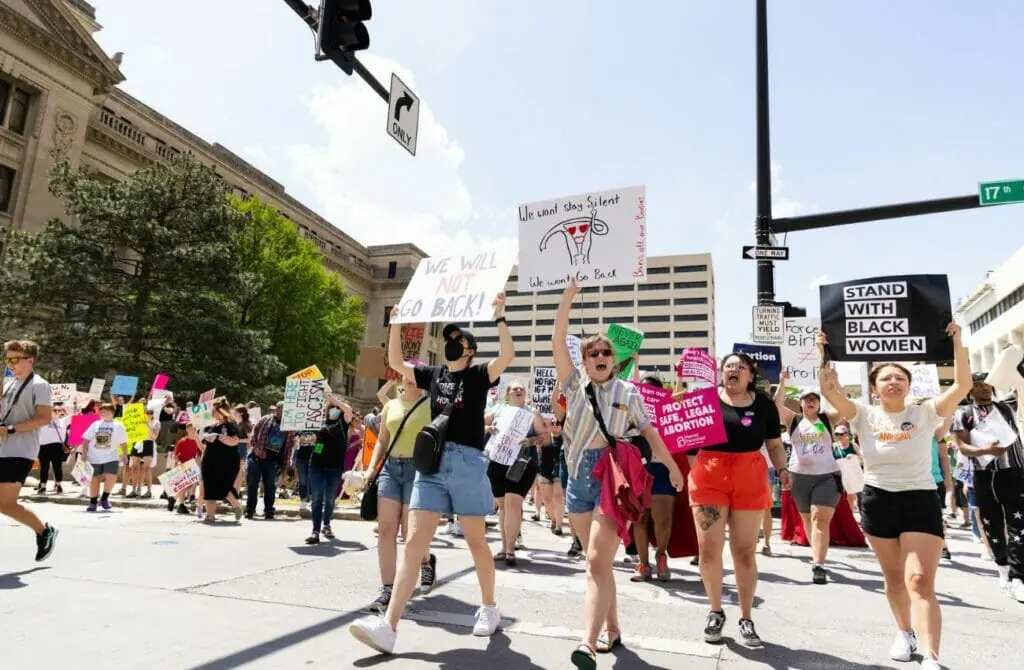 Every year Lincoln has been home to the Lincoln Arts Festival, which brings a plethora of gay festival goers and gay-friendly events. In addition, you can experience the downtown city at a time like no other, with daily events for all art genres and a thriving nightlife scene as visitors hit the bars after the official day's events.
Out Nebraska is one of several gay clubs in Nebraska and has an active following in Lincoln. Here is the best resource to get acquainted with the gay community well before you visit, to get advice from locals and find out when they are hosting gay events so you can attend during the dates of your stay.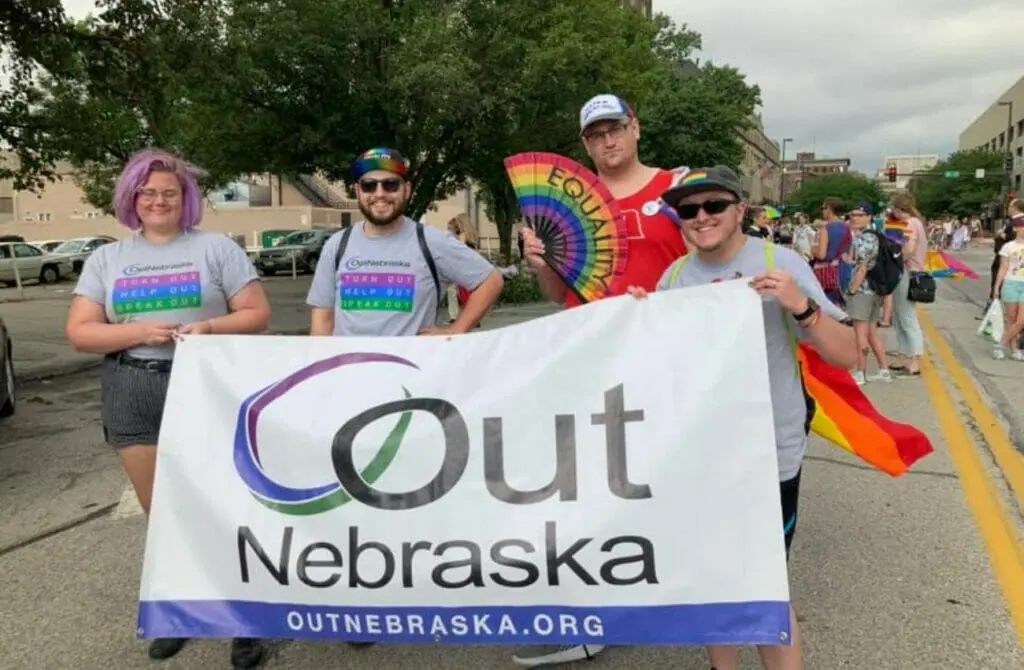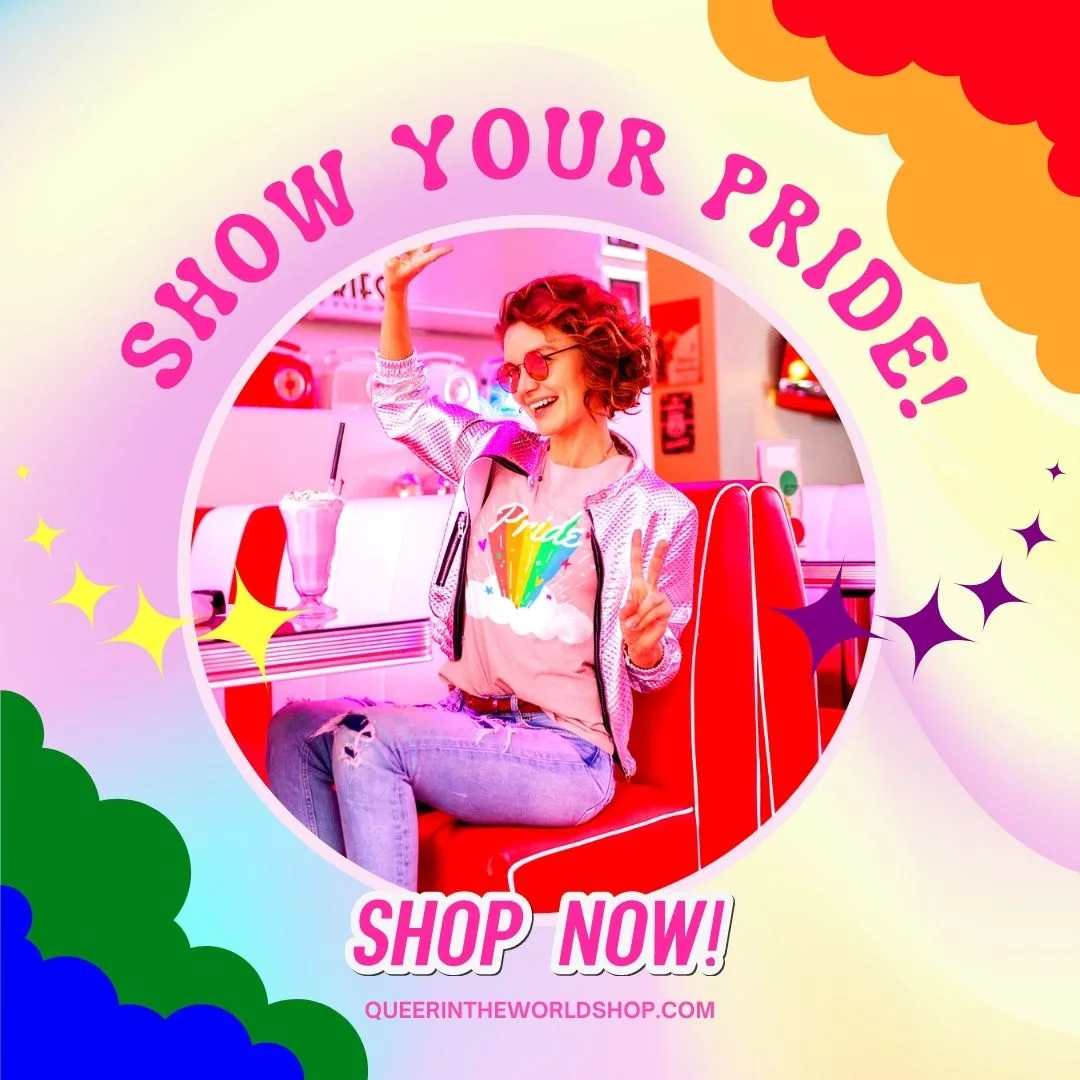 Gay-Friendly Nightlife in Lincoln, USA
Iguana's Lincoln is a lively modern cocktail bar that does not just offer delicious cocktails but an attitude that is a little bit quirky! This is evident by their infamous one-dollar frog sperm shots, which taste better than they sound. You can expect other fun-reptile-named drinks and concoctions when you visit Iguana.
Those after one of the best nightclubs in Lincoln will be delighted by Gravity because it has a fantastic dance scene, and the drinks and service are up there with the cocktail lounges of some of the best names in the industry. So, lets yourself get lost in the evening and have an enjoyable time!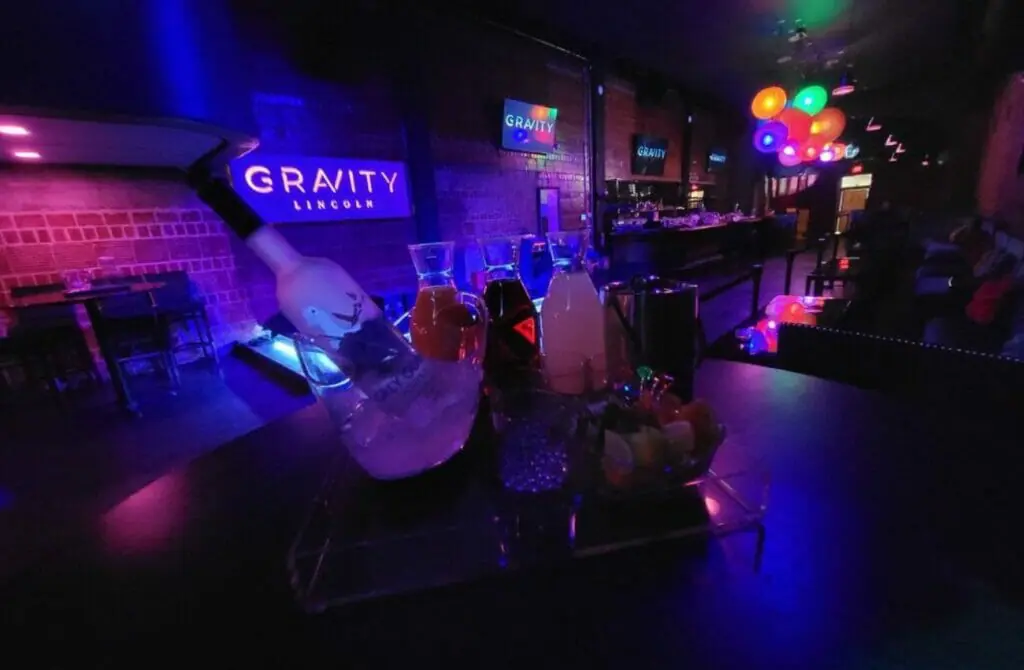 After an old-school drinking experience with the haze of good old-fashioned cigar smoke, Jake's Cigars and Spirits specializes in these two assets that make pubgoers return. They are both a cigar and whiskey shop, offering one of the largest spirit collections in the whole city, and you can also lounge in their laid-back dining area and enjoy a puff and swing of both.
Rated number one on TripAdvisor is the intimate speakeasy The Other Room, which offers a unique drinking experience with easy listening live entertainment like no other place. It is relaxed and a wonderful place to sit and enjoy a drink with good company or meet others. So if a quiet night out seems like the perfect evening, this is the place to be!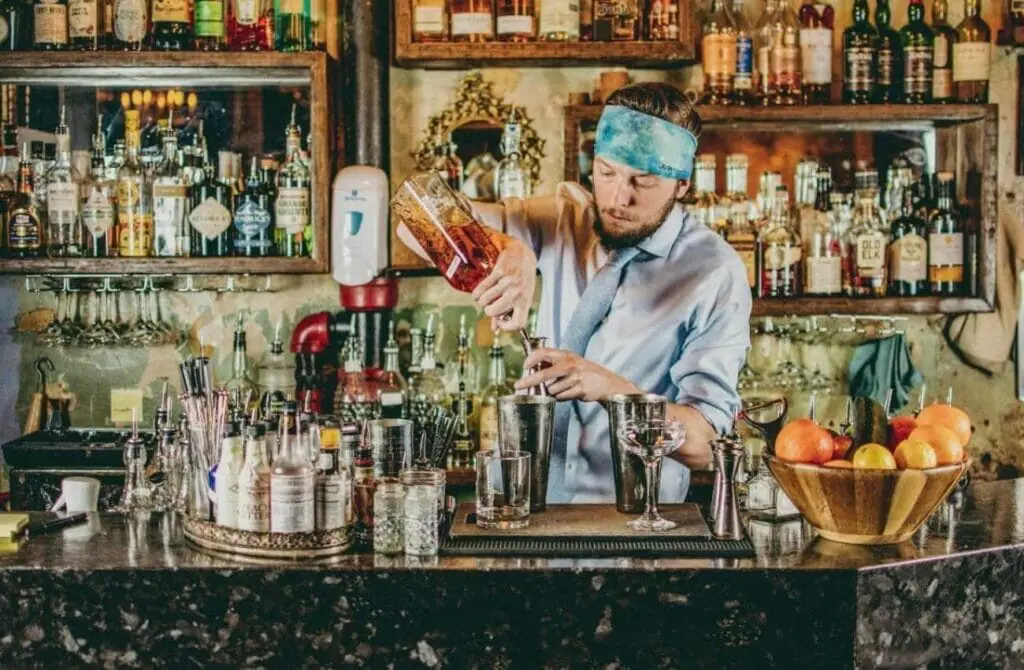 Those visiting Lincoln with their dog and do not want to part with them for even an evening, you can rest easy knowing there is a hearty beer bar in town that welcomes dogs and people of all shapes and sizes! This brewery and tap room offer a great blend of local drinks; their specialty is beers. You will enjoy a drink in an old-timey pub with a modern twist.
For an artsy cocktail drinking experience in an underground cellar beneath the busy nightlife of Lincoln, the Storm Cellar provides an ideal space for a night out. You can try their delicious drinks and cozy seating and be thoroughly entertained by their comedy and live entertainment nights.
After a bit of starlight, regardless of the day or night, you cannot miss seeing stars at The Starlite Lounge. This easy-going cocktail lounge is a local favorite because the drink is delicious, the pool is an extra plus, and the loungers are so comfortable it will be hard to leave!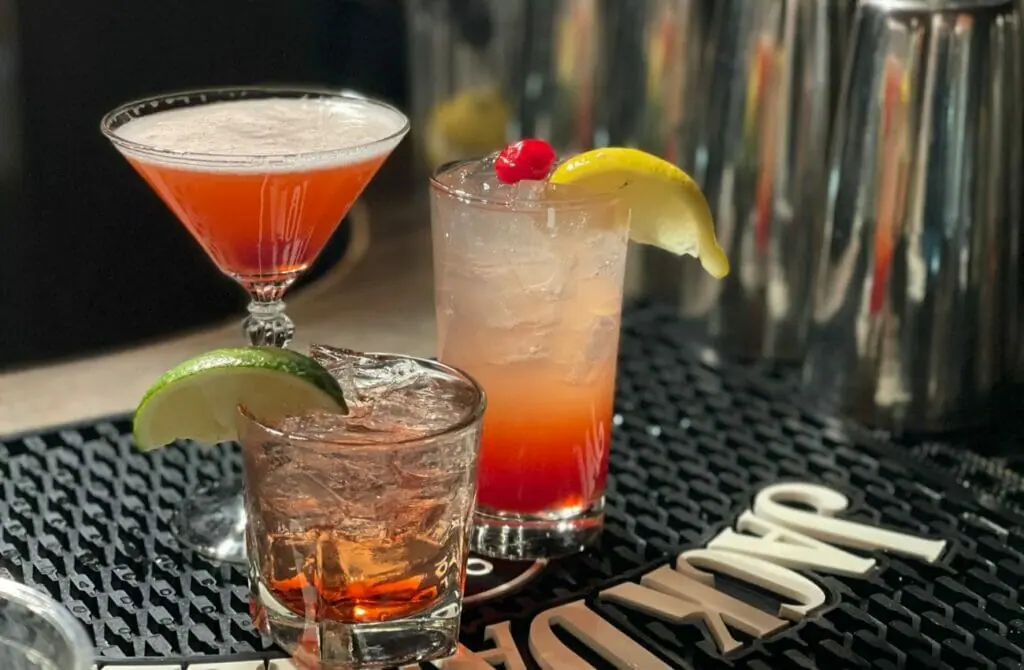 Welcome to The Zoo, but do not feed the animals. They come here for only the old-school blues and top drinks. When you come to Zoo Bar, expect to throw yourself into an older crowd and relax in this senior school pub experience with easy music, knowing the bar has a new blues singer on stage every night to keep the place alive.
For a hip and classy cocktail bar in Lincoln, which is a bit old school, Alchemy Aqua Vitae will provide you with just the place as you spend an early evening with friends before you hit the louder venues. Here you can enjoy a drink as you get some evening work done or recline into your seat and subtly watch fellow patrons, but if you want to meet others, the bartenders are friendly and will happily have a yarn.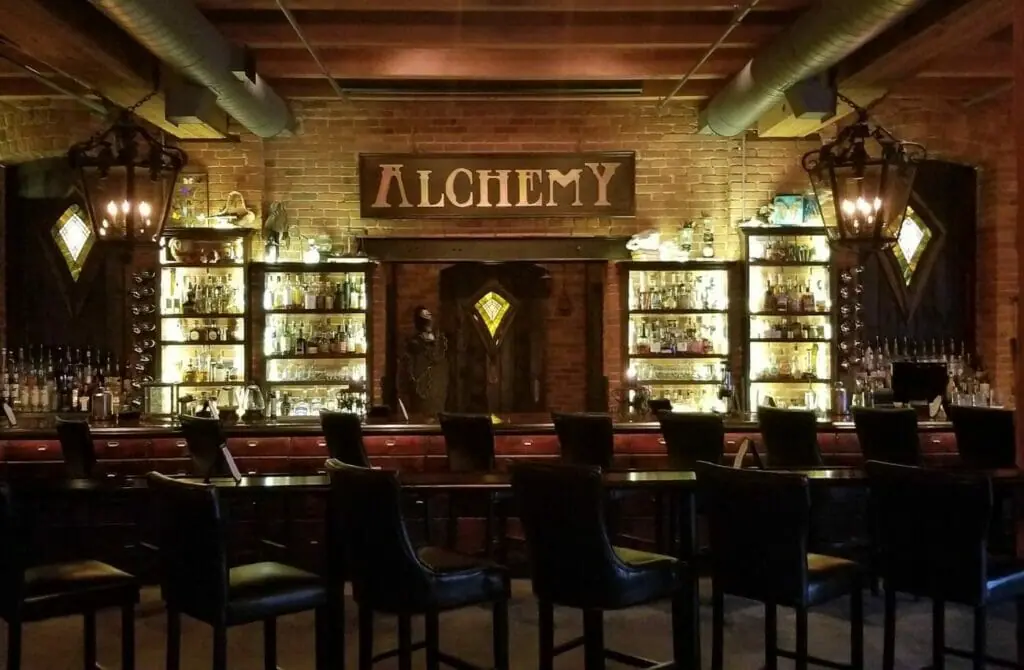 Cruising & Gay Saunas in Lincoln, Lincoln
There is no gay cruising scene in Lincoln, so your best bet to find such fun is to meet fellow gay people at the local clubs or bars, or a better option is gay dating apps like Grindr. The population may be small, but the gay scene is thriving and alive, so you will never have options!
When traveling to a new city, it can be exciting to head out for more than just a stiff drink. One aspect of the Gay Lincoln scene that many queer men enjoy is visiting gay saunas and cruising clubs.
Sure, the sauna culture in Lincoln is not as hedonistic as in Amsterdam, Barcelona or Berlin, but these venues still offer a chance to meet new people, socialize, and engage in sexual activity – without resorting to gay hookup apps.
However, it's important to remember that these venues can vary greatly in terms of atmosphere, clientele, and rules, so it's a good idea to prepare yourself before visiting. If you are apprehensive, we advise studying our guide to visiting a gay bathhouse for the first time, which should help set your mind at ease and always practice safe sex.
Additionally, it's important to be aware of and respect local laws and customs regarding gay venues and sexual activity. With a little bit of planning and an open mind, visiting gay saunas and cruising clubs can be a fun and exciting part of your gay Lincoln travel itinerary.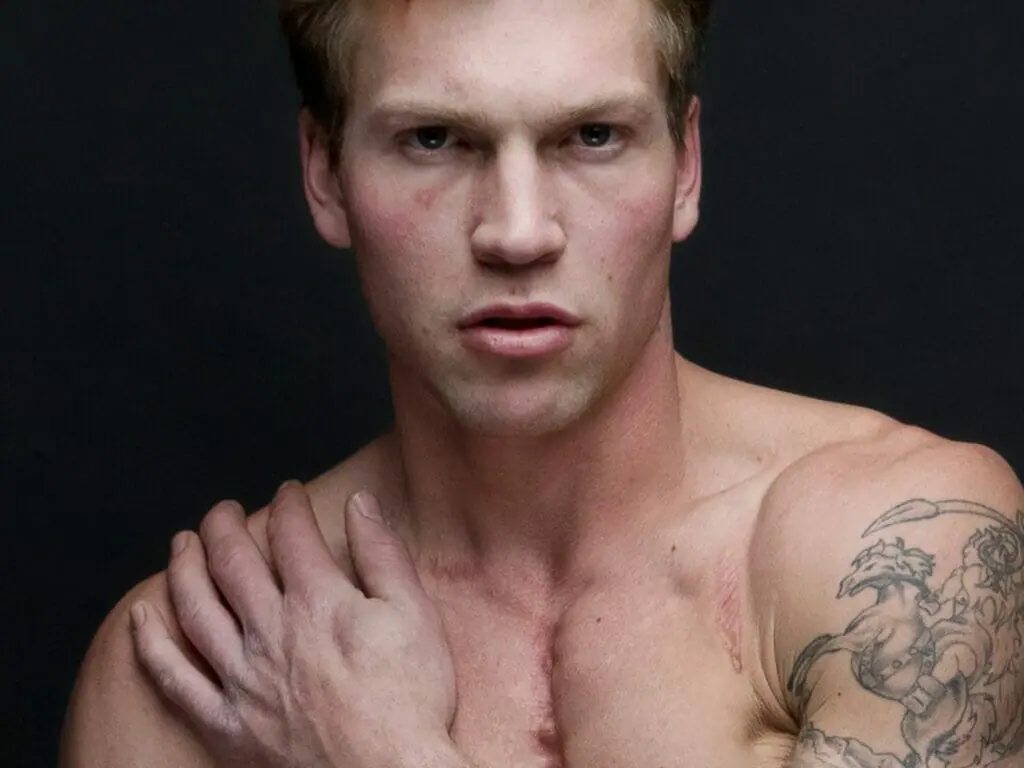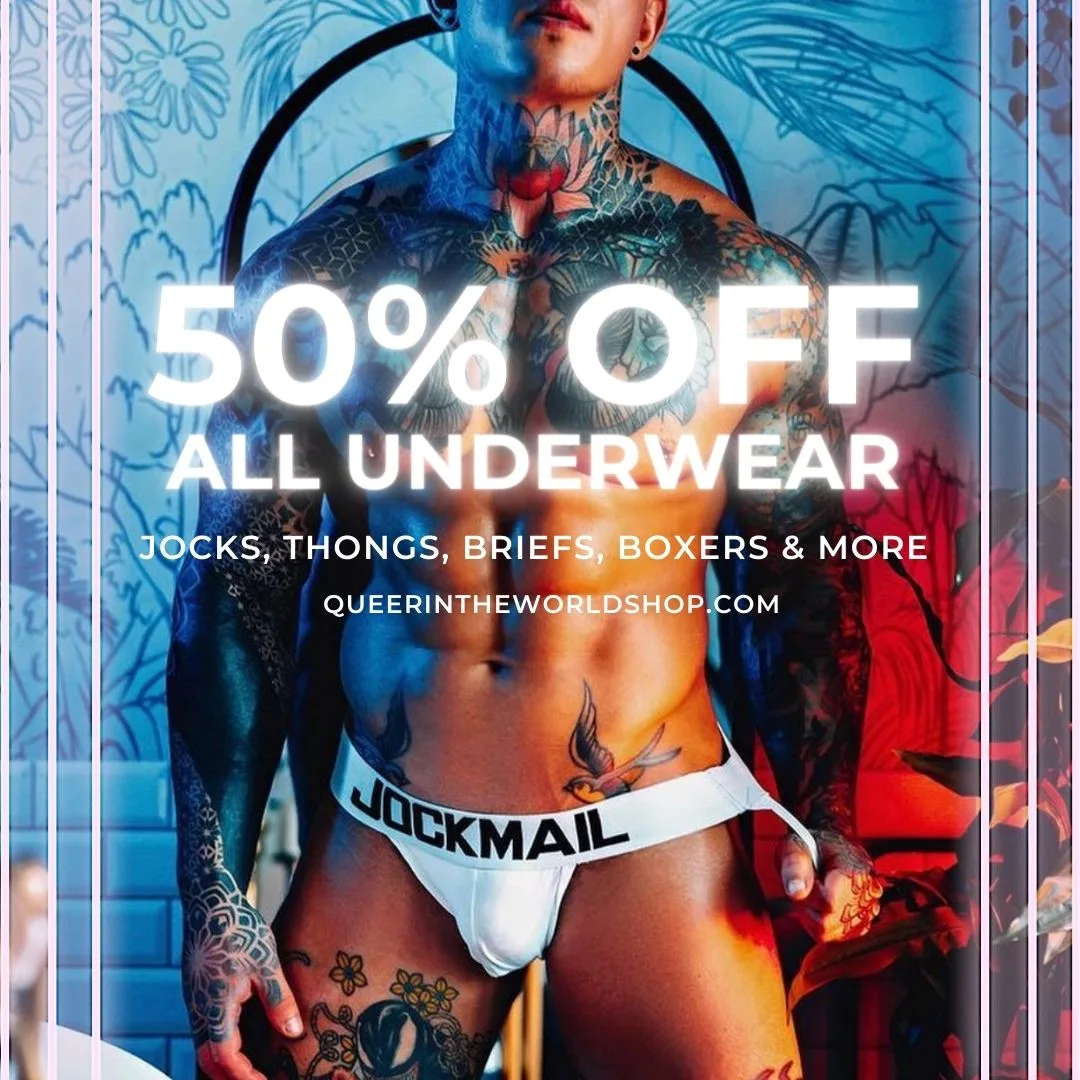 Gay Map Of Lincoln
Finding it hard to envisage where everything is in Lincoln? Hopefully, this queer-centric map helps where we have marked all the bars, clubs, parties, hotels, saunas, massages, and more will help you stay in the spot best suited to you!