With a rich history, breathtaking scenery, and a dynamic cultural scene, Jacksonville is an ideal destination for those seeking an unforgettable escape. Situated in the northeast region of Florida, it is a city that presents an eclectic and exceptional experience for both its inhabitants and guests.
As the largest urban park system in the nation, Jacksonville boasts miles of pristine coastline, a lively downtown area, and several parks and nature reserves. From soaking up the sun on the sandy beaches to exploring the city's waterways via kayaking, visitors have access to a vast array of outdoor activities.
Moreover, tourists appreciate the thriving arts and culture scene of the town. The city houses numerous museums, galleries, and theatres, as well as a thriving music and nightlife scene. Be it jazz, rock, or classical music; everyone can find their beat here.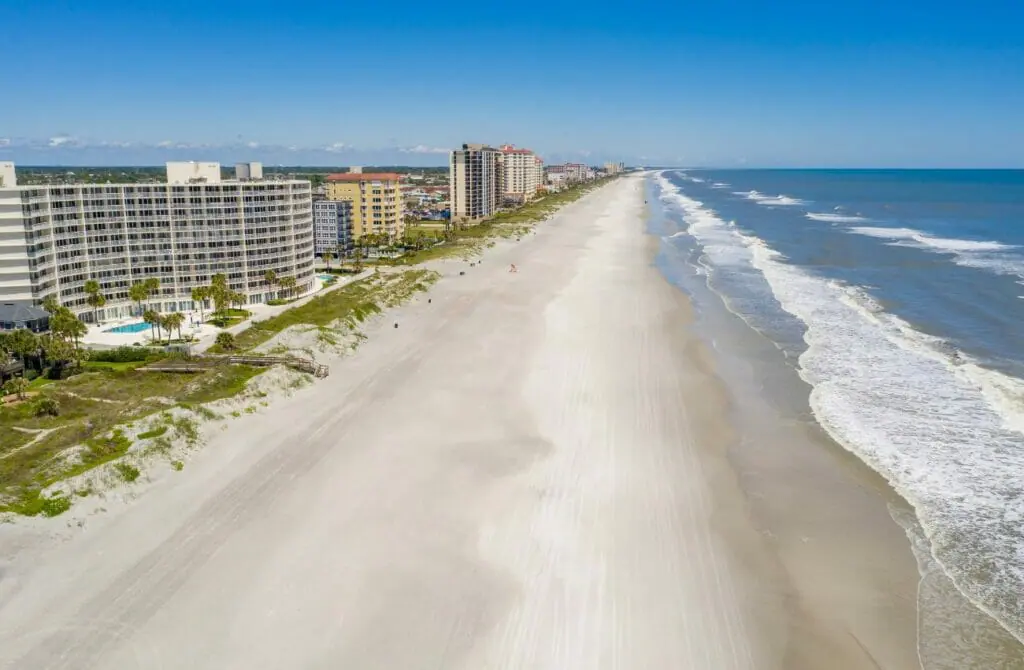 Jacksonville is a city that cherishes inclusivity and acceptance. It has a thriving LGBTQ+ community, which makes the city vibrant and welcoming for everyone. With lively bars and clubs and numerous cultural events, the city proudly values diversity and celebrates individuality.
We have scoured the city to bring you the finest accommodations and not-to-miss attractions that not only offer luxurious amenities and unlimited fun but also provide a welcoming environment for LGBTQ+ travelers. From trendy boutique hotels to lavish resorts and nightclubs, we've got you covered.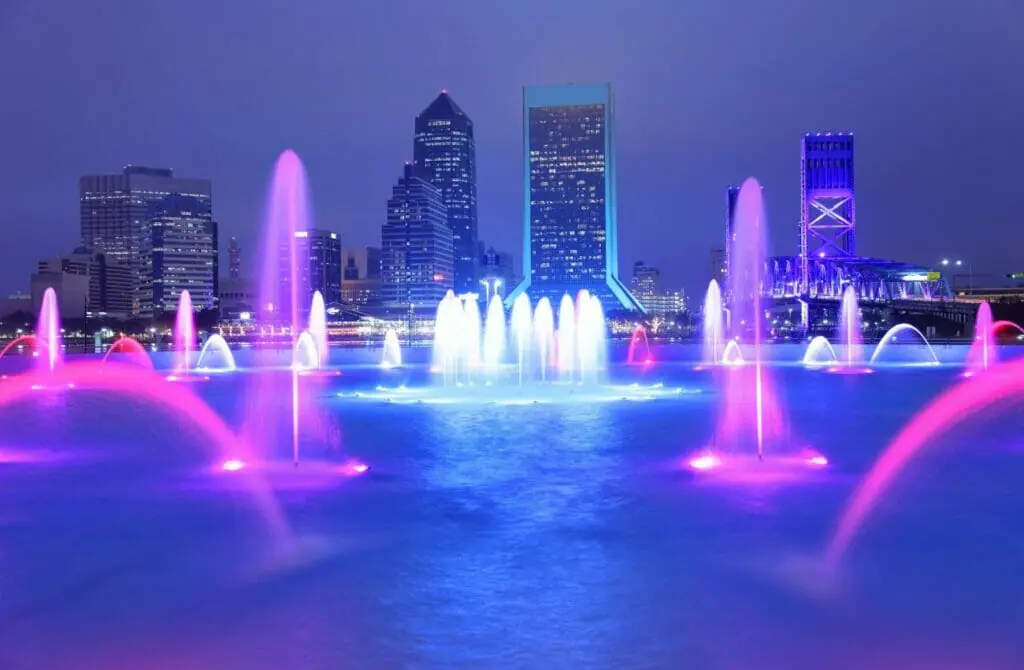 Attractions in Gay Jacksonville, Florida
As a new visitor to Gay Jacksonville, there are many things to see and do, regardless of your sexual orientation. One of the best ways to experience any new city is to visit some of its most iconic landmarks and attractions, including historical monuments, museums, and art galleries.
We also love gazing at architecture up close, exploring parks and gardens, sampling the local cuisine, visiting local markets, and attending cultural events such as festivals, concerts and shows.
Even as the out-and-proud queer we are, we still love to explore the city and its culture in the same way as everyone else. Doing so allows us to learn more about the city and its people and gain a deeper understanding of the local culture. As such, these are our favorite must-see attractions in Jacksonville.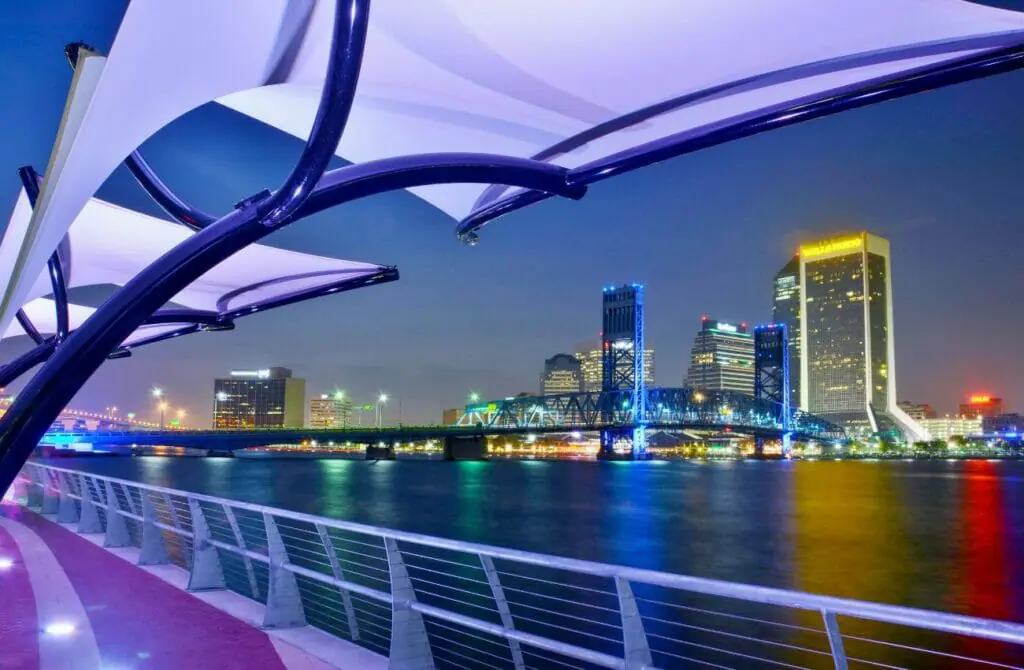 Fly, float, hover above the ground, dance in the air, or feel the adrenaline rush of free-falling without a parachute or plane at the iFly Indoor Skydiving Adventure. You can experience the thrill of skydiving in a secure indoor wind tunnel whose walls are transparent, making it easier for you to be recorded life or for the spectators to see.
Certified instructors give a quick training session and safety orientation to help you prepare for soaring through the air!
Visitors can choose from a range of flight packages, from a single flight to a more comprehensive experience that includes multiple flights, video footage of your flight, and personalized flight certificates.
Overall, iFLY Indoor Skydiving Jacksonville is a must-visit destination for thrill-seekers and anyone looking for a unique and unforgettable experience. So come and leap (or rather, the flight) at iFLY!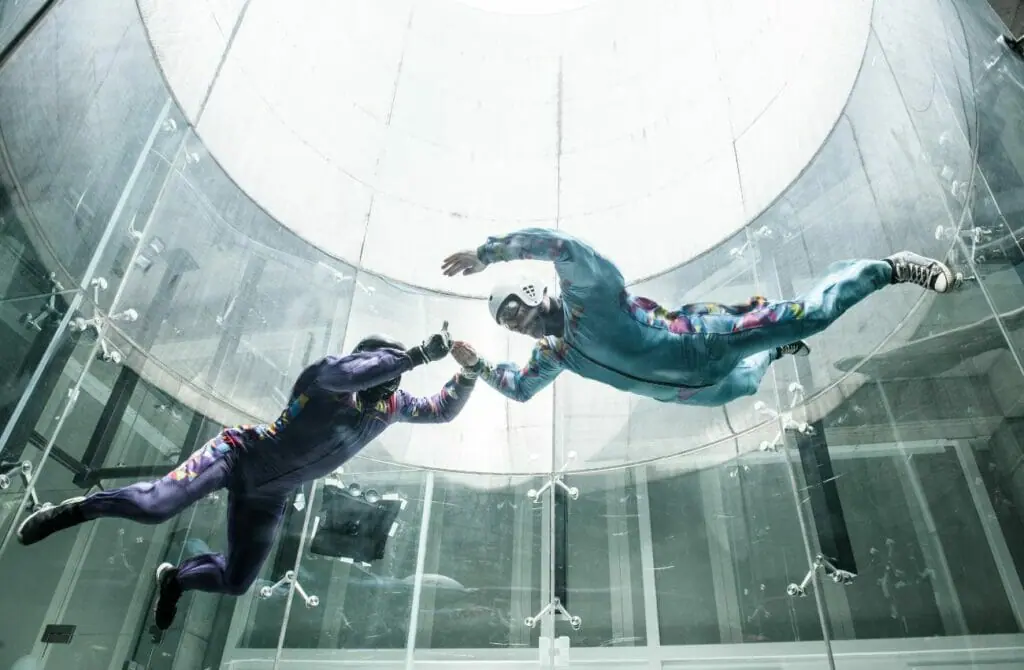 Get ready to step back and experience the glamour and magic of the golden age of entertainment at the Florida Theatre in Jacksonville. As you enter the grand and ornate lobby, you'll feel like a star from the moment you arrive.
Built in 1927, this historic venue has hosted a wide range of world-renowned performers, from Elvis Presley to B.B. King and many more. With its impeccable acoustics and stunning architecture, it's no surprise that the Florida Theatre has become a cultural landmark in Jacksonville.
From intimate concerts to Broadway shows, there's something for every couple to enjoy. Take in the beautiful acoustics and stunning stage, and let the magic of the performance sweep you away.
Soak in the sun, have a picnic, bird watch or even fish at the seaside – this memorial park meets beach gives countless options to its visitors. This serene and picturesque escape offers a tranquil oasis for visitors to unwind and reconnect with nature.
But it's not just the natural beauty that draws people to Memorial Park. History buffs will appreciate the park's significance as a memorial to the fallen soldiers of World War I, with its striking bronze statue and beautifully landscaped gardens paying tribute to their sacrifice.
And if you are in the mood to sleep under the stars, bring along your tent and spend the night away from the hustle and bustle of the city.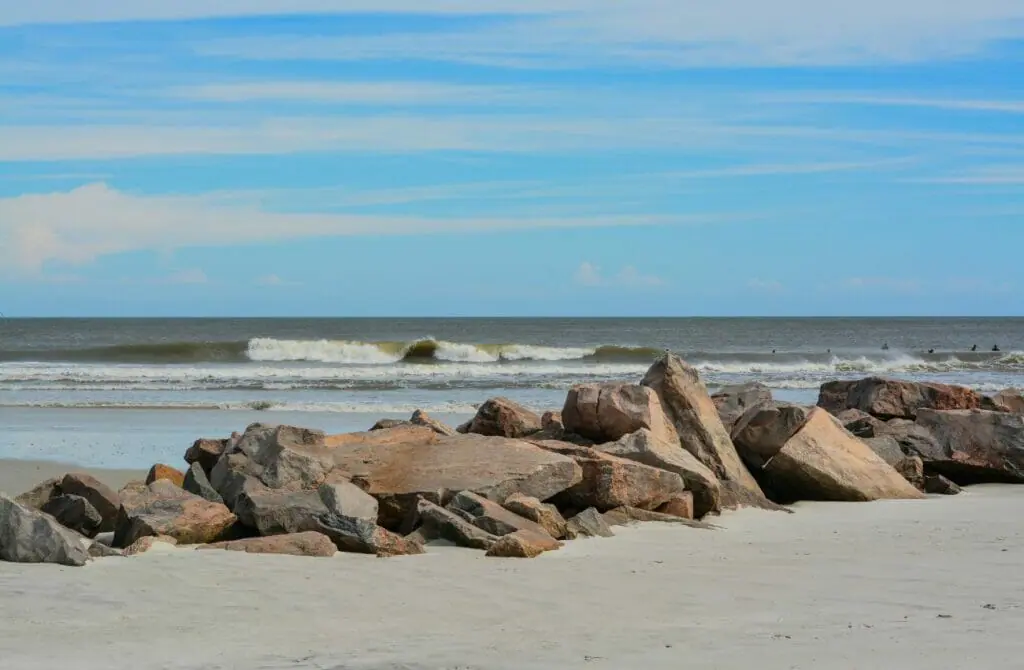 Riverside/Avondale Historic District
Step back in time and immerse yourself in the eclectic charm of the Riverside Historic District, one of Jacksonville's hidden gems. With its tree-lined streets, historic homes, and vibrant cultural scene, this neighborhood is a must-visit destination for travelers and locals alike.
Discover the area's rich history by taking a stroll through the tree-lined streets and admiring the stunning architecture of the homes. Don't forget to visit the Cummer Museum of Art & Gardens, which boasts an impressive collection of European and American art, as well as beautiful gardens overlooking the St. Johns River.
For those seeking some retail therapy, the Five Points area is a shopper's paradise, with a variety of unique boutiques, vintage shops, and art galleries. And when it comes to dining, Riverside/Avondale has no shortage of options, with a wide range of restaurants and cafes offering everything from Southern comfort food to global cuisine.
So come and experience the magic of Riverside/Avondale Historic District, where the past meets the present and cultural diversity thrives.
A spectacular display of cascading waterfalls and colorful lights creates a dreamy and enchanting ambiance, perfect for a date night or a romantic evening stroll. Located on the Southbank Riverwalk, Friendship Fountain also provides breathtaking views of the St. Johns River, where couples can enjoy a peaceful and scenic walk along the riverfront.
You can also pack a picnic basket and relax on the lush green lawns while taking in the sights and sounds of this tranquil oasis.
The fountain is a popular spot for photoshoots and proposals, so don't be surprised if you witness a magical moment while you're there. And if you visit during the summer, catch the nightly fountain shows that light up the sky with vibrant colors and mesmerizing water displays.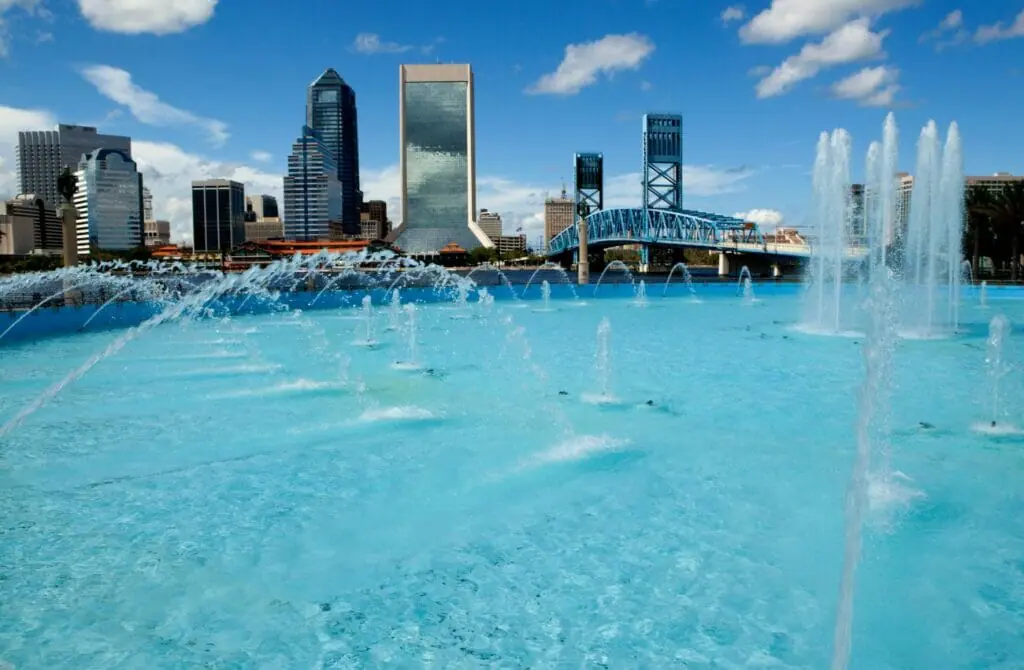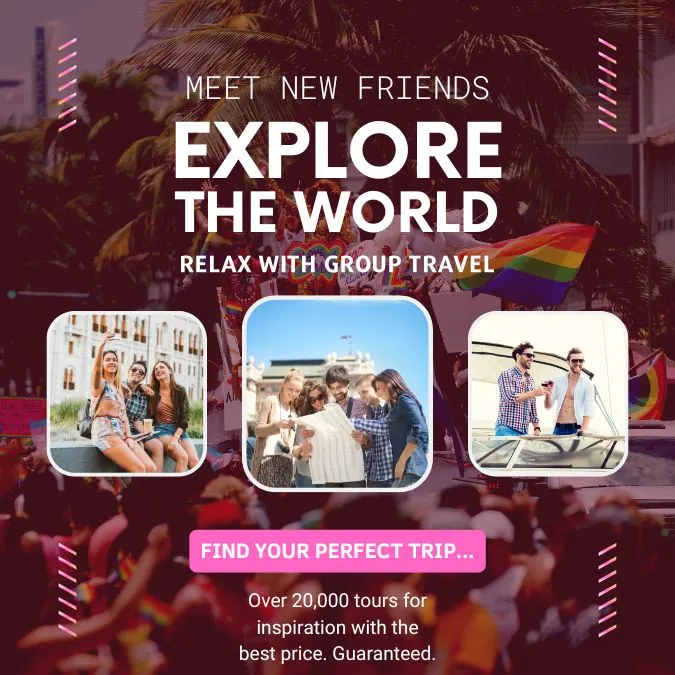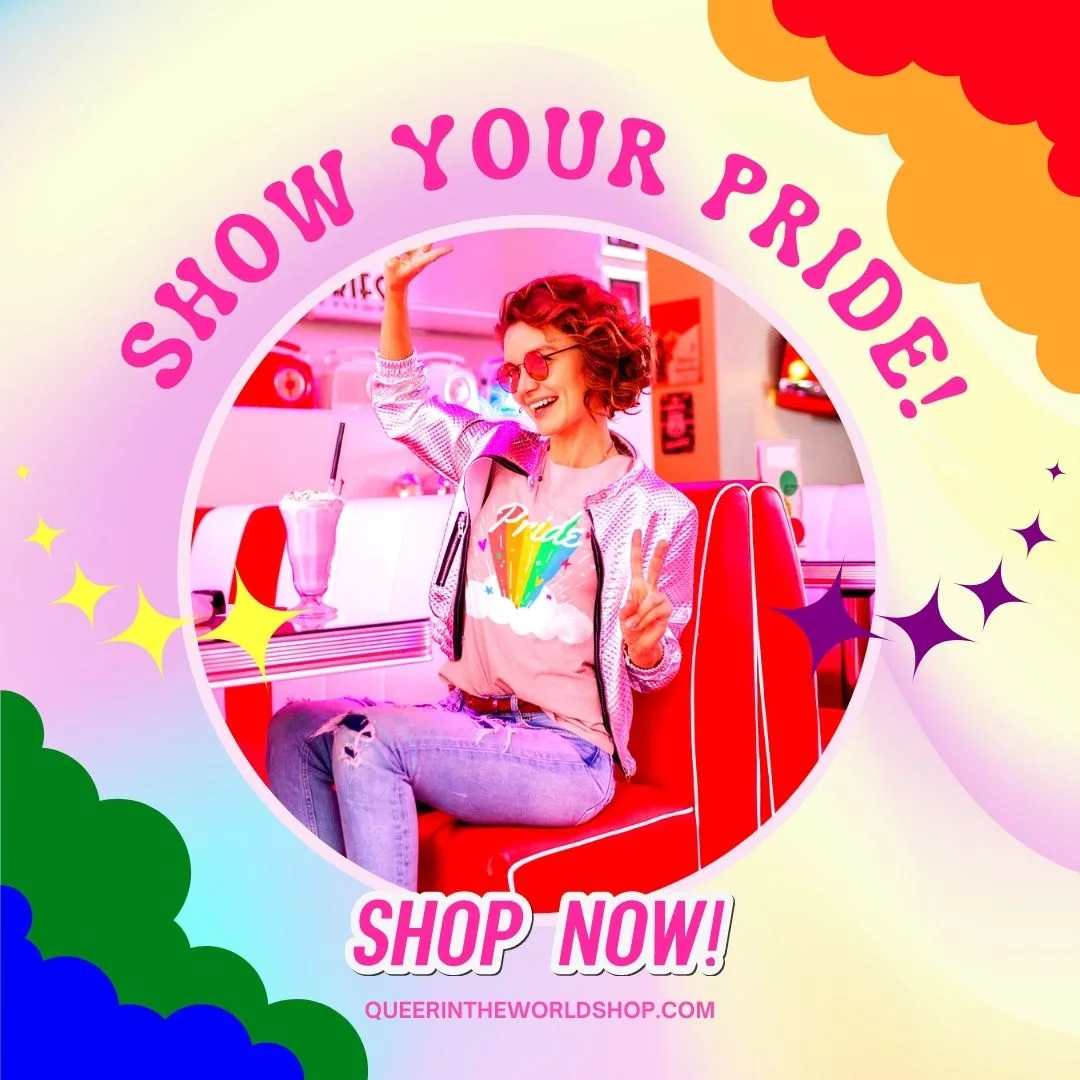 Gay-Friendly and Gay Hotels in Jacksonville, Florida
Being gay-friendly accommodation means that the establishment is welcoming and inclusive to guests who identify as LGBTQ+. This can include, but is not limited to, having policies and practices that demonstrate a commitment to creating a safe and inclusive environment for LGBTQ+ guests, such as non-discrimination policies and providing support and resources for LGBTQ+ travelers.
Some gay-friendly accommodations may also provide amenities specifically catering to the LGBTQ+ community, such as rainbow flags or literature about local LGBTQ+ events or resources. Furthermore, gay-friendly accommodations may be located in an area known for being LGBTQ+ friendly.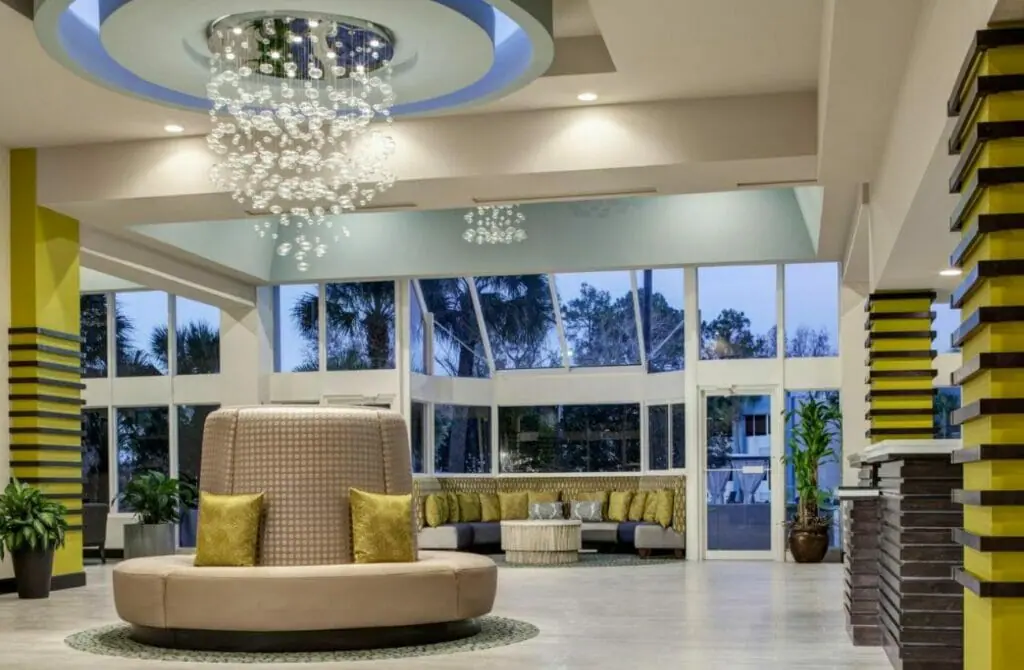 While Jacksonville does not have any specifically gay hotels or resorts, these are the most fabulous and pro-actively gay-friendly hotels in Jacksonville. There are also hundreds more hotel and hostel options in Jacksonville if none suit your desired budget, facilities or area – but these are the best hotels according to other gay travelers and us.
Whatever your needs are, Jacksonville has you covered.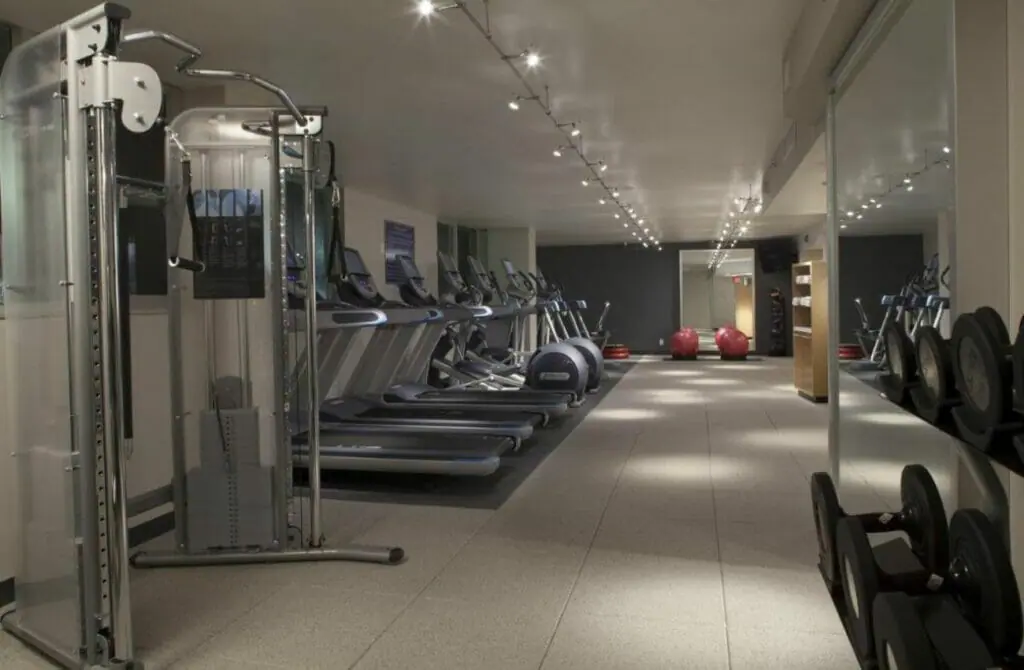 DoubleTree by Hilton Hotel Jacksonville Airport ☆☆☆☆
Indulge in the sweetest escape at DoubleTree, where you can divulge in their famous warm chocolate chip cookies upon arrival. These delicious treats are just the beginning of what makes this hotel a unique and memorable destination for couples.
What makes this hotel truly unique is its warm and inviting atmosphere, which is evident from the moment you step inside. The staff goes above and beyond to ensure that every guest feels welcome and comfortable, creating a sense of home away from home.
But perhaps the most romantic feature of all is the hotel's stunning outdoor courtyard, which offers a serene and peaceful retreat from the hustle and bustle of daily life. Surrounded by lush greenery and tranquil water features, this enchanting oasis is the perfect place to unwind and reconnect with your loved one.
In essence, the DoubleTree by Hilton Hotel Jacksonville Airport offers a unique and special experience for couples seeking a romantic escape.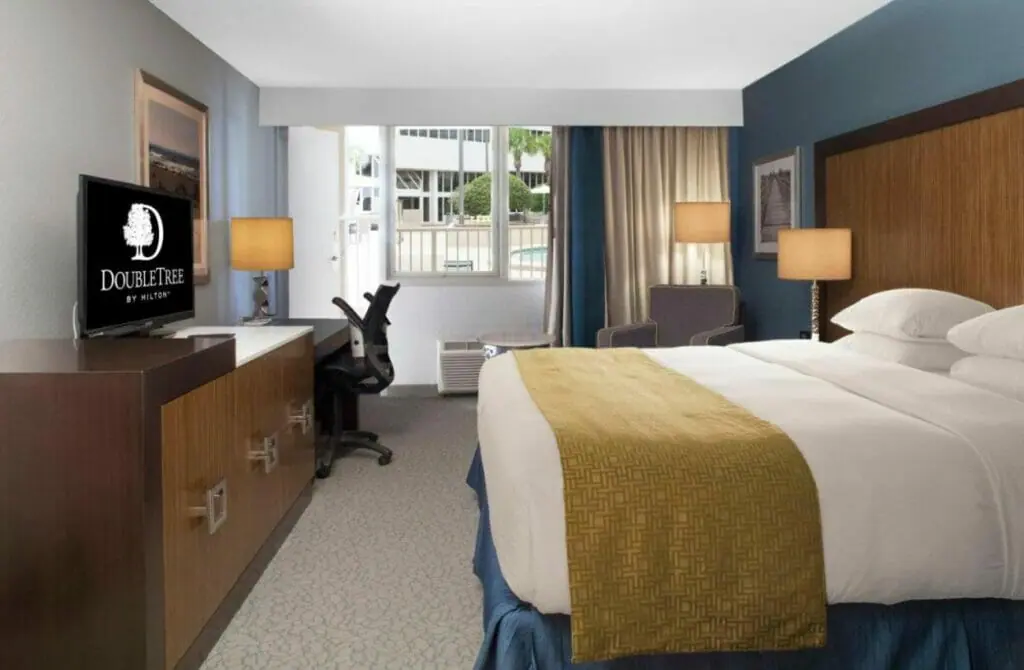 Holiday Inn Express & Suites, Jacksonville Town Center ☆☆☆
From colorful paintings to intricate sculptures, this luxury hotel's collection showcases the vibrant and diverse art scene of Jacksonville. Whether you're a seasoned art enthusiast or appreciate a beautiful piece, you'll find something to marvel at during your stay.
The art pieces are carefully curated and thoughtfully placed throughout the hotel, creating a unique and immersive experience that allows guests to connect with the local culture and history of the city.
At the Holiday Inn Express & Suites, you'll have a comfortable and convenient stay and an opportunity to appreciate and engage with the city's artistic spirit.
Hyatt Regency Jacksonville Riverfront ☆☆☆
End your night with the best margaritas in town at The Taverns of Hyatt Regency or indulge in a luxurious spa treatment at the on-site spa, offering a range of services to help you and your partner rejuvenate and unwind after a day full of exploration in the city.
At Holiday Inn Express & Suites, guests can enjoy eco-friendly accommodations that incorporate energy-efficient features and sustainable practices into every aspect of their stay. From energy-saving lighting and water conservation initiatives to recycling programs and locally-sourced amenities, this hotel is dedicated to reducing its environmental impact while providing guests with exceptional comfort and convenience.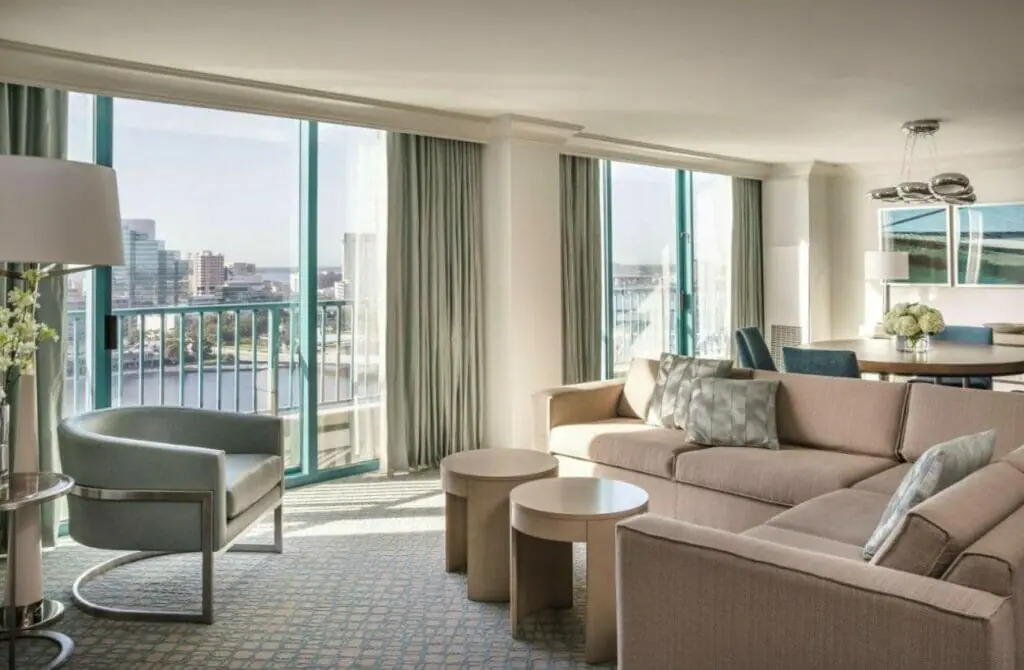 Crowne Plaza Jacksonville Airport/I-95N, an IHG Hotel ☆☆☆☆
Calling all gay couples seeking a romantic getaway in Jacksonville – have you heard about the secret ingredient that sets the Crowne Plaza apart from the rest? It's their commitment to creating an unforgettable experience for their guests through their unique Love Program.
Designed with couples in mind, the Love Program the hotel offers a range of romantic amenities and services to ensure that every moment of your stay is filled with love and romance. From champagne and chocolate-covered strawberries upon arrival to a complimentary breakfast in bed the next morning, this hotel goes above and beyond to create a memorable experience for couples.
The Plaza also offers a range of other amenities and services to make your stay as comfortable and enjoyable as possible. Relax by the outdoor pool, work out in the fitness center, or indulge in a delicious meal at the on-site restaurant.
With its commitment to romance and exceptional service, Crowne Plaza is the perfect destination for couples looking to escape and create unforgettable memories together.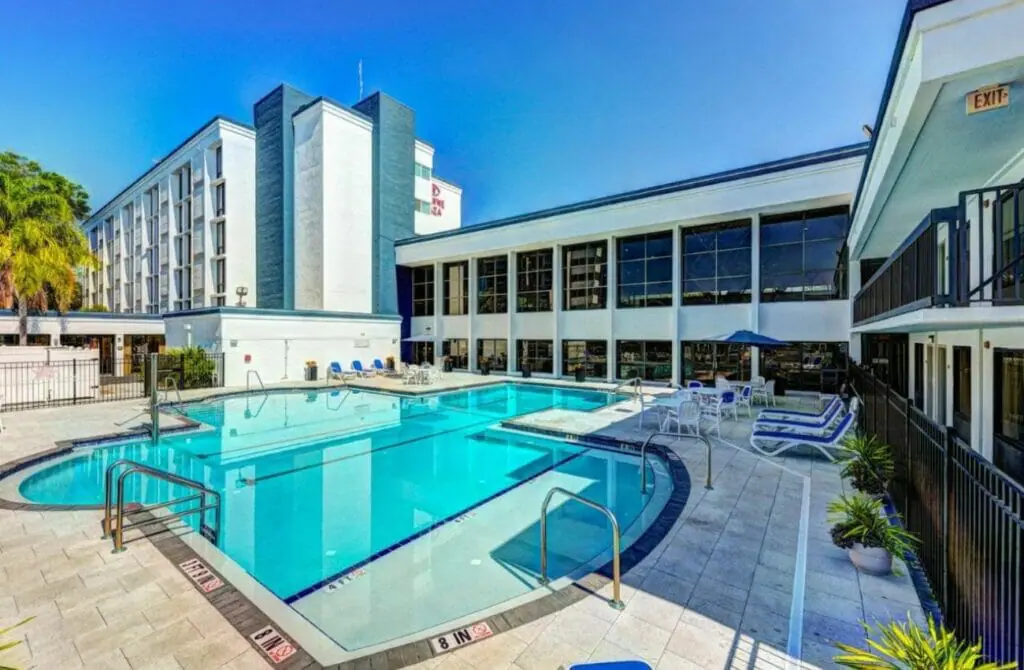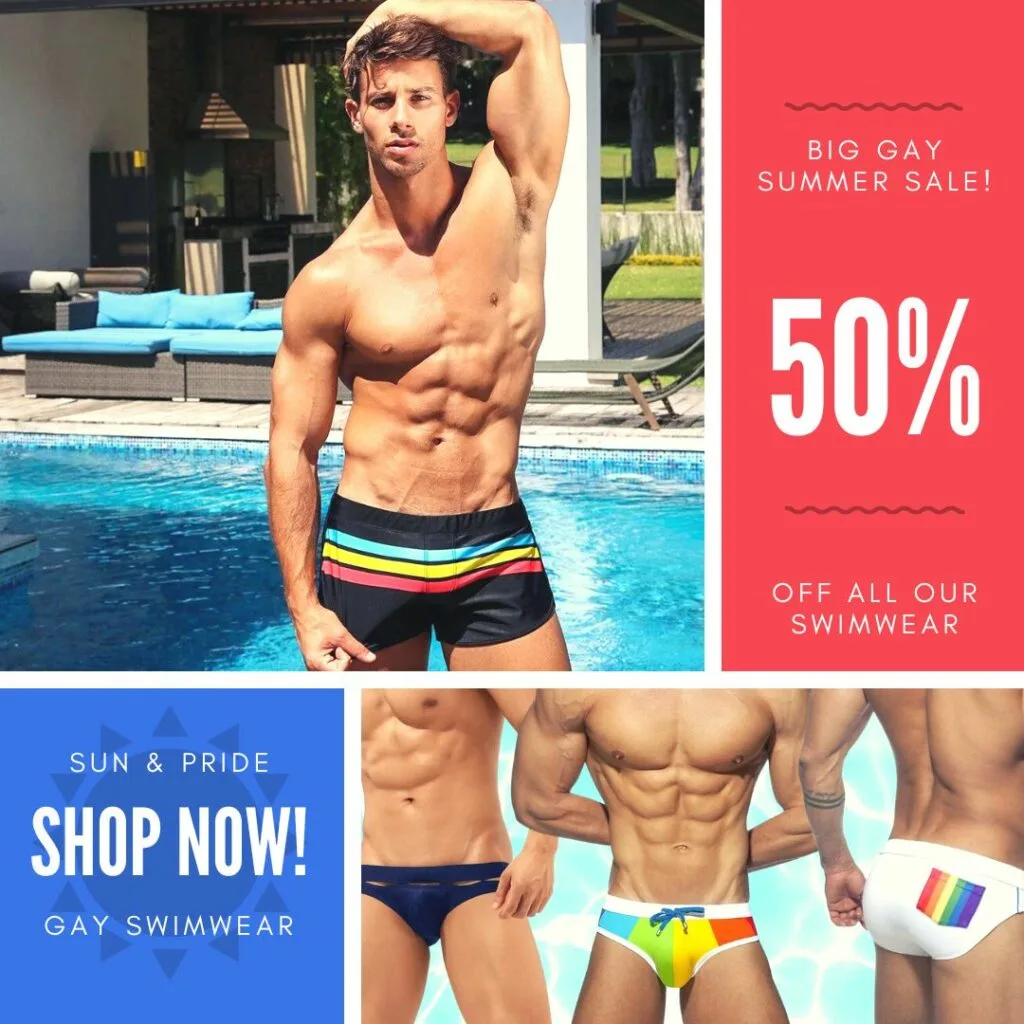 Four Points by Sheraton Jacksonville Baymeadows ☆☆☆
Looking for a hotel that offers the perfect balance of comfort, convenience, and affordability in Jacksonville? Look no further than Four Points by Sheraton Jacksonville Baymeadows. This hotel has everything you need for a comfortable and enjoyable stay, with a range of unique features that set it apart from the rest.
One of the standout features of Four Points is its prime location. Situated in the heart of the Baymeadows business district, the hotel offers easy access to various corporate offices and conference centers, making it an ideal choice for business travelers. Additionally, the hotel is just a short drive away from popular attractions like TIAA Bank Field, the Jacksonville Zoo and Gardens, and the St. Johns Town Center.
Holiday Inn Express & Suites Jacksonville South – I-295, an IHG Hotel ☆☆☆
Nestled in the heart of Jacksonville, Florida, lies a hidden gem that offers a unique and unforgettable experience for travelers – the Holiday Inn Express & Suites. What sets this hotel apart from the rest is its exceptional service, comfortable accommodations, and prime location.
From the moment you step through the doors, you'll be greeted with warm hospitality and attentive staff who go above and beyond to ensure your stay is comfortable and enjoyable. The hotel's modern and spacious guest rooms feature luxurious amenities such as plush bedding, flat-screen TVs, and complimentary Wi-Fi, providing the perfect home away from home.
But what truly sets this hotel apart is its prime location. Situated just minutes from the vibrant St. Johns Town Center, guests have easy access to world-class shopping, dining, and entertainment. And for those looking to explore the city's natural beauty, the hotel is also located near several parks and nature preserves.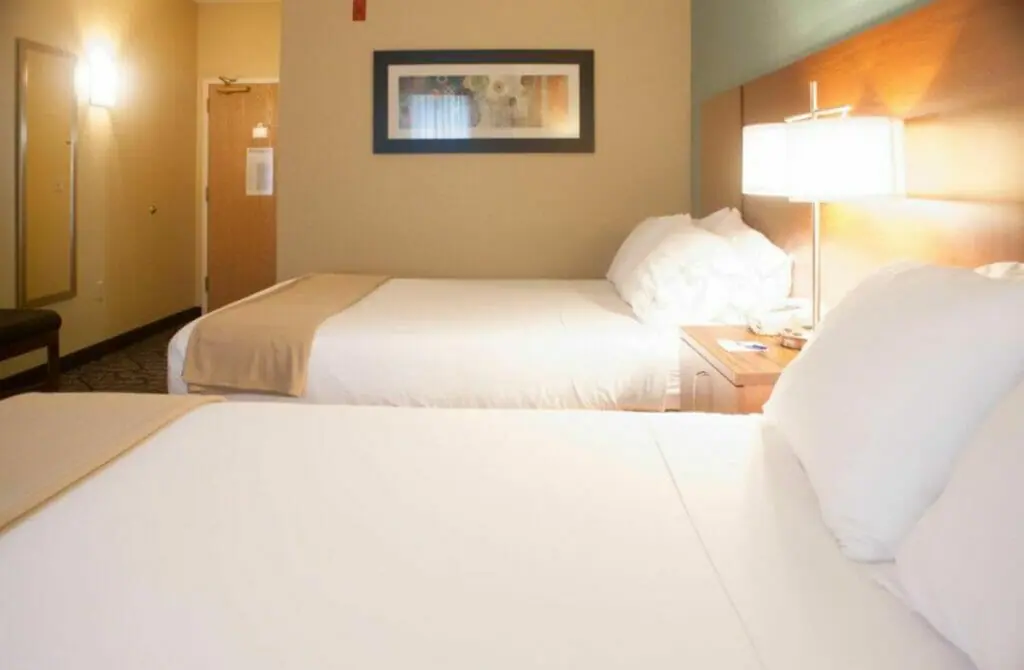 Gay Nightlife in Jacksonville, Florida
Jacksonville, Florida, has a lot to offer in nightlife that tourists looking for a good time. Unsurprisingly, many gay, lesbian, and LGBT-friendly clients visit these locations because of their dynamic gay nightlife. The LGBT pubs and nightclubs in Jacksonville give a fascinating cultural feel to the surrounding neighborhoods and are well worth a visit! Use this guide to determine which gay pubs in and around Jacksonville you and your partners should visit.
Exploring the gay and gay-friendly nightlife in a new city can be one of the most exciting and rewarding experiences while traveling – and Gay Jacksonville is no exception. Not only will you have the opportunity to meet new people and make friends, but you'll also get a taste of the local culture and learn more about the city's LGBTQ+ community.
Going out and experiencing the queer and queer-friendly nightlife in a new city can also be a great way to break out of your comfort zone and try new things. Whether dancing the night away at a gay club or mingling with locals at a gay-friendly bar, you'll have the chance to make memories and create lasting connections.
So, don't be afraid to step out of your comfort zone and explore the gay and gay-friendly nightlife in Jacksonville. You'll be glad you did!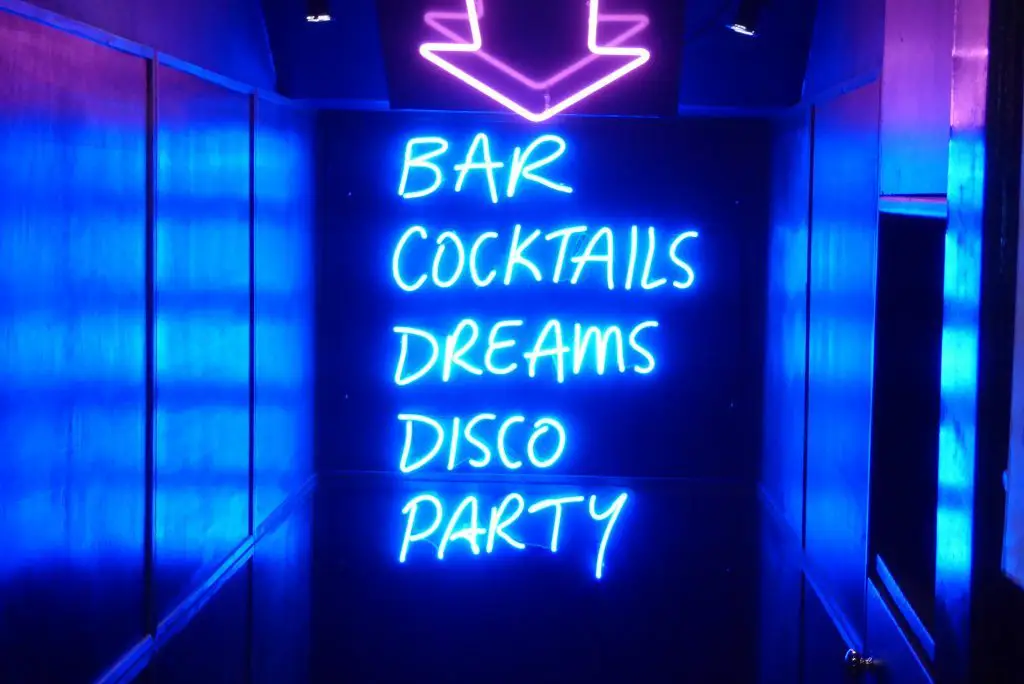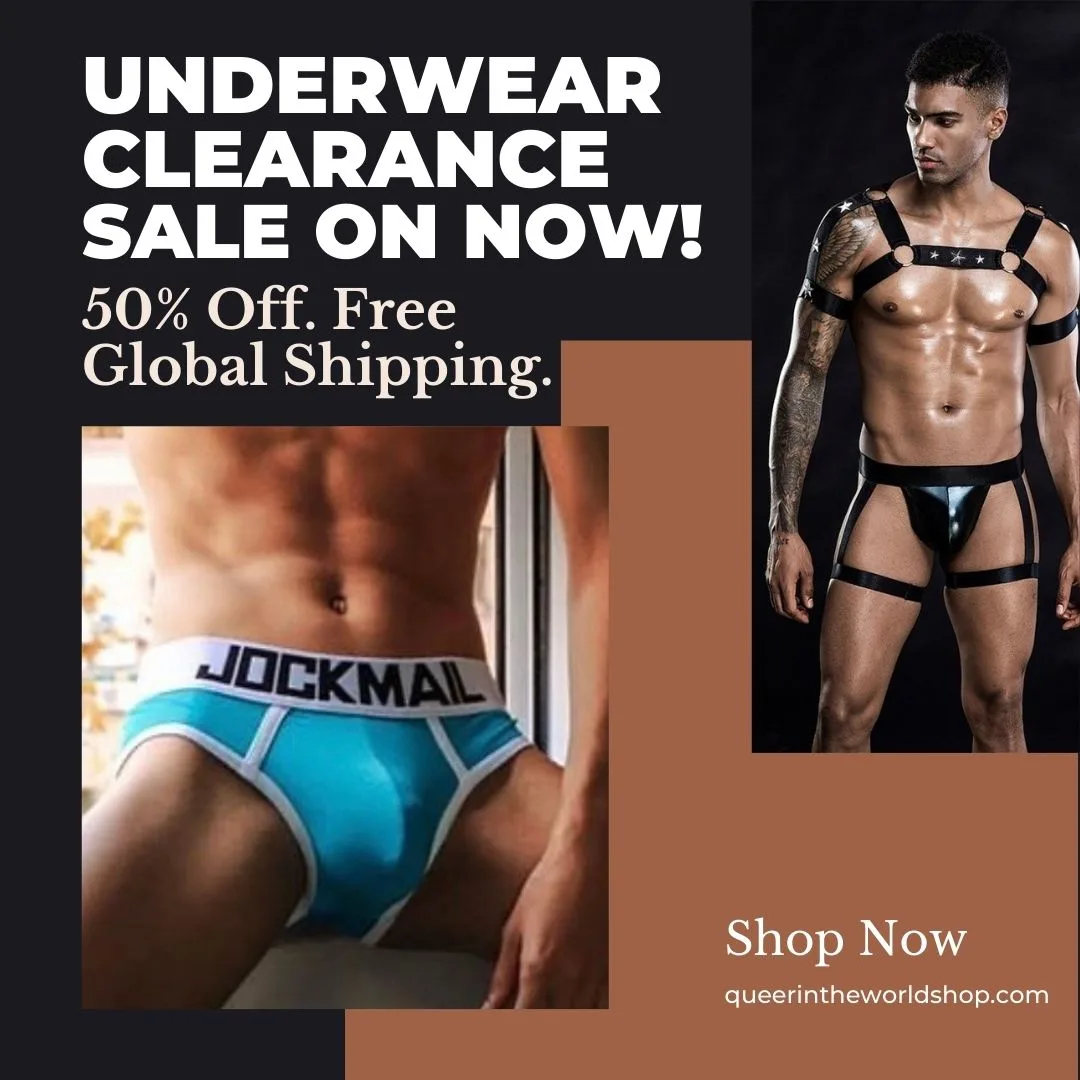 Boot Rank is a pleasant gay-owned pub where everyone is welcome. The Boot Rack offers an outside seating area and regularly holds parties with DJs, themed events, game nights, karaoke, and so on. They feature two bars: a 900 sf patio bar with country music and a Western motif and a main bar with an industrial theme and fantastic house/techno music.
You could look at their theme parties, which take place throughout the year and require you to dress up. Watch out for their Blackout Parties! There are also two pool tables where they offer pool tournaments every Sunday.
The exquisite 1938 San Marco Theatre is one of the city's finest examples of Art Deco and one of the more notable structures in Jacksonville's San Marco Historic District. It screens blockbuster films, as well as artsy and independent pictures, and offers a variety of events. Please go check it out.
Park Place in Riverside, just a few blocks from Historic Five Points, is low-key and caters to predominantly homosexual locals, with a fair share of allied women and heteros. It's a terrific spot to consume cheap alcohol and watch sports and videos on the big screen.
Their music videos are broadcast on Thursdays, Fridays, and Saturdays. On other days, you can listen to the Touch Tunes Jukebox via your phone using the app or listen and hang out.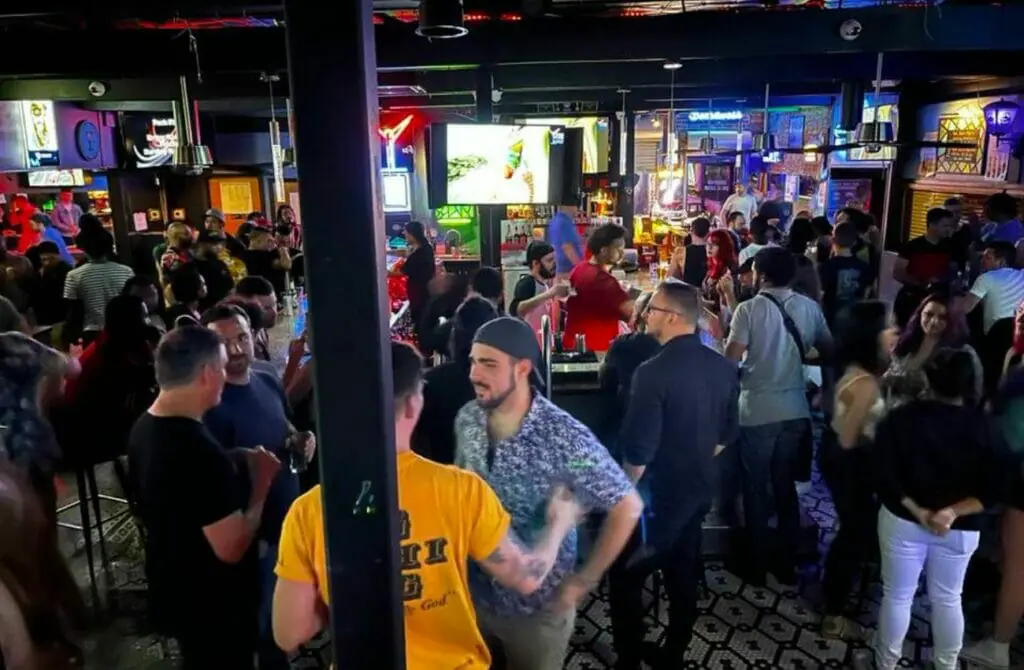 Cahoots is more centrally located than its competitor, on the west side of downtown and close to the uber-queer shopping and dining of Riverside's Historic Five Points. It also attracts a younger clientele (18 and up on Thursdays and Saturdays), while both clubs cater to the gay partying scene and are a lot of fun in their way.
The frenetic, multi-room space comprises one floor and includes a decent-sized dance floor with a central bar, a full-sized bar with pool tables, a VIP bar, and a soft bar perfect for chatting with friends.
The Lemon Bar in Neptune Beach brings together ocean air, flip flops, and Pina Coladas in a bustling social atmosphere. The Lemon Bar is Jacksonville's small slice of paradise, located about 12 miles from downtown off Atlantic Blvd. Enjoy tropical cocktails and delectable bites such as Ahi Tuna, Mayport Shrimp, and scrumptious hamburgers.
Welcome the evening with the best happy hour on the beaches and a calm atmosphere to enjoy a drink with friends while watching the moon rise. At this lively Oceanside watering hole, ride your bikes up to the bar and catch up with old friends while cooling off with a Rum Runner or Lemon Bar Freeze.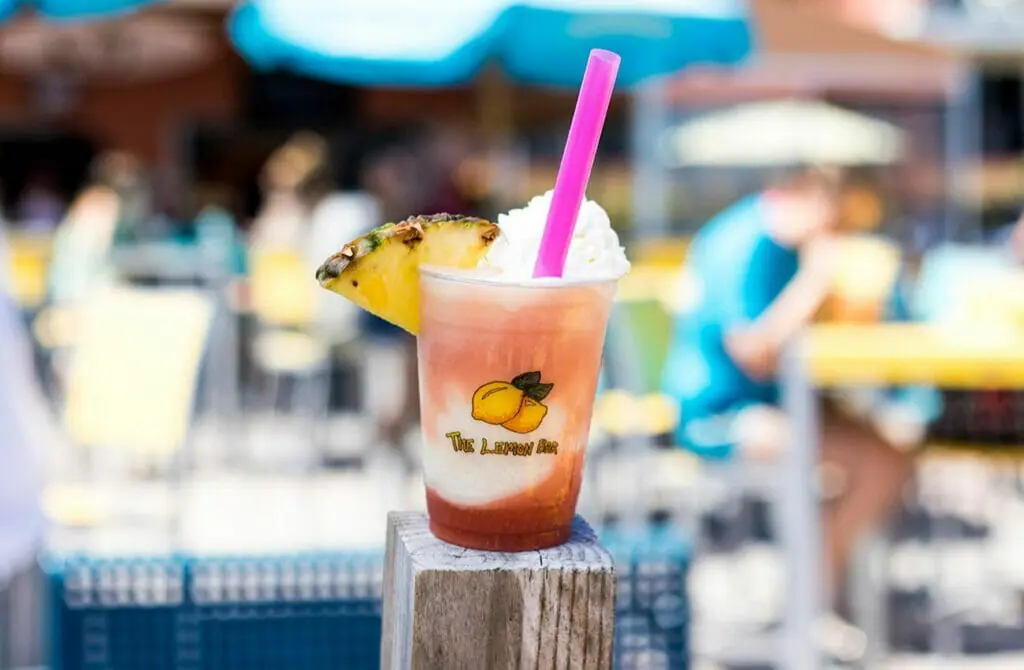 Visit Cuba Libre if you want to spice up your night. The music is pumping, and the dancing is scorching! Get a salsa class, and then practice your movements all night. If you get hungry, go next door to Havana Jax restaurant and order some traditional Cuban food. Back on the dance floor, listen to live music while mixing and mingling, then sip a Mojito and admire the vibrant artwork.
Cuba Libre draws a diverse clientele from all over Jacksonville who come for the excellent atmosphere, live entertainment, and unusual beverages. If you prefer it hot, go to Cuba Libre, which is conveniently located minutes from downtown.
Tom Grey is one of the Southeast's hottest culinary names, and his Jacksonville restaurant, Bistro Aix, is a must-visit for foodies. It is a large and magnificent restaurant in San Marco's old district, directly across from the St. John of Riverside, with two comfortable yet airy dining rooms and a charming outside patio.
The wine list is extensive and impressive, with a good mix of inexpensive wines, and the menu features small plates, wood-fired pizzas, pasta, and creative grills. Consider an excellent cheese plate as an appetizer or a finishing touch to your meal. Look no further if you and your partner are looking for the most romantic gay date spots in Jacksonville.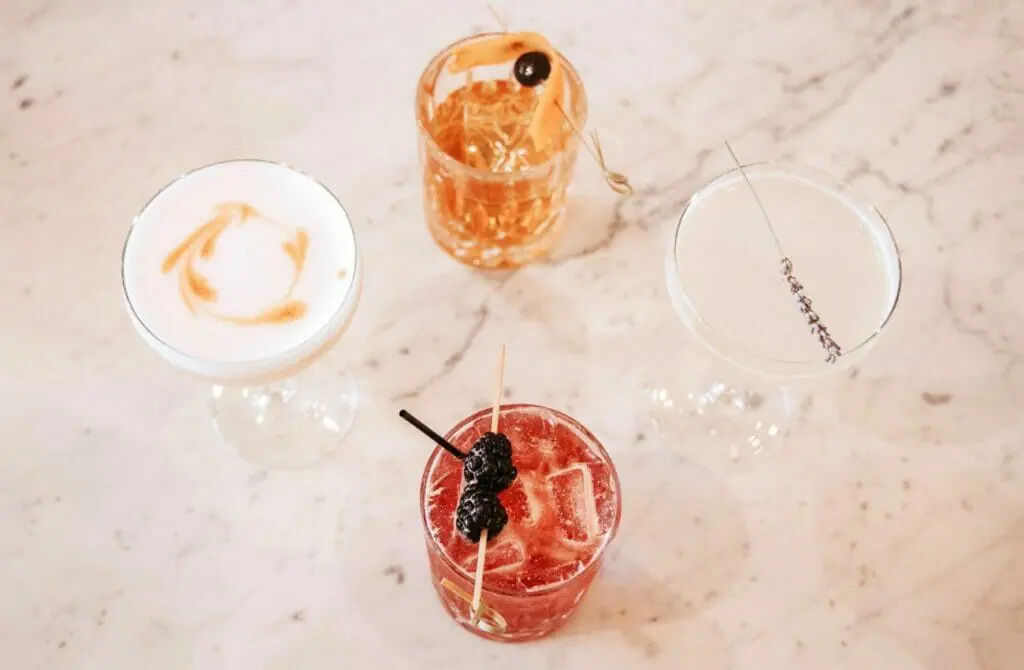 Gay Sauna and Gay Cruising in Jacksonville, Florida
Many services are provided in a Gay Sauna, and cruising in Jacksonville Beach is amazing, where one can stay for additional pampering in the form of a hot stone massage or a theme party, amongst other enjoyable activities.
Gay bathhouses are currently predominantly owned and maintained by gays and have evolved into fully licensed gay facilities that frequently function as informal gay meeting places and venues where buddies can congregate and relax.
When traveling to a new city, it can be exciting to head out for more than just a stiff drink. One aspect of the Gay Jacksonville scene that many queer men enjoy is visiting gay saunas and cruising clubs.
Sure, the sauna culture in Jacksonville is not as hedonistic as in Amsterdam, Barcelona or Berlin, but these venues still offer a chance to meet new people, socialize, and engage in sexual activity – without resorting to gay hookup apps.
However, it's important to remember that these venues can vary greatly in terms of atmosphere, clientele, and rules, so it's a good idea to prepare yourself before visiting. If you are apprehensive, we advise studying our guide to visiting a gay bathhouse for the first time, which should help set your mind at ease and always practice safe sex.
Additionally, it's important to be aware of and respect local laws and customs regarding gay venues and sexual activity. With a little bit of planning and an open mind, visiting gay saunas and cruising clubs can be a fun and exciting part of your gay Jacksonville travel itinerary.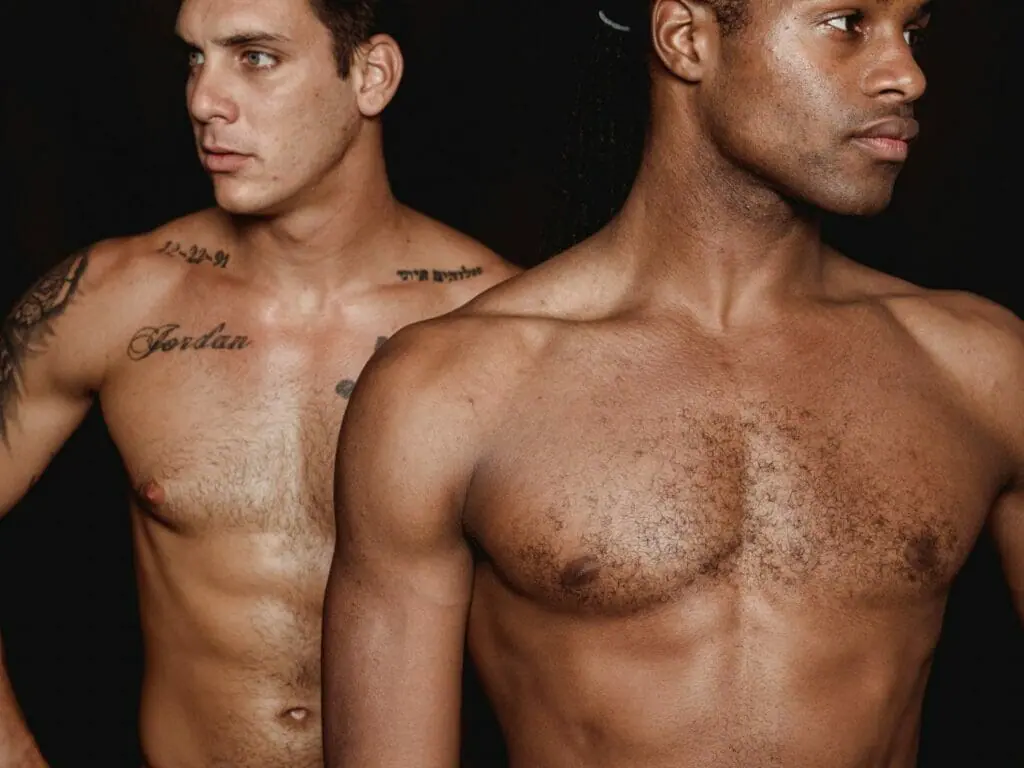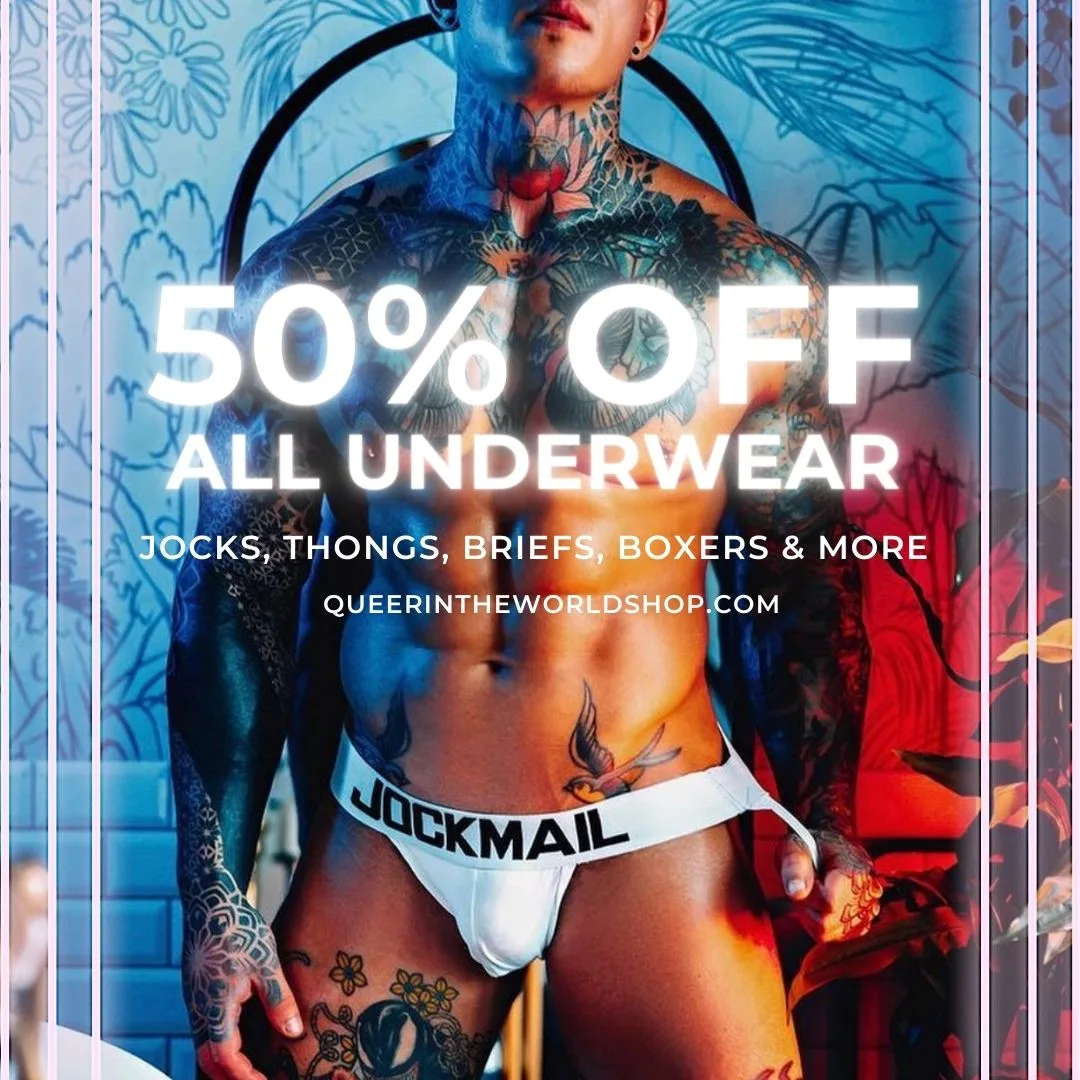 Club Jacksonville
(Temporarily or permanently closed. If you know something, please suggest an edit.)
IT'S ALL NEW, BRIGHT, AND SHINY. It even appears to be larger, so take a look as well as HAPPY Sweating. Furthermore, on Tuesdays, if you obtain a dressing cubicle or locker, you get a free pass to use in the next 30 days, except weekends and holidays, plus Tuesdays are a blast.
There is a full buffet every Sunday from 3 p.m. to 5 p.m.. Every week, a different variety of pizza, Mexican, fried chicken, or Chinese is served. During the months, with five Sundays, the fifth is homemade chili hot dogs and chips.
MODIS Building Jacksonville
(Temporarily or permanently closed. If you know something, please suggest an edit.)
If you choose to visit MODIS Building Jacksonville, try to appear well-dressed but not too formal, select outfits that make you feel comfortable and do not prevent you from communicating or transferring easily, and try to find some firm before you go, events are always much better with buddies so.
Freedom Place Gym – Shower – Sauna
(Temporarily or permanently closed. If you know something, please suggest an edit.)
One of the best things you can do here is go out at night and meet new people in new gay meeting spots such as Freedom Place Gym – Shower – Sauna and events throughout the city like costume parties or blind dates. Many people from all over the world travel to the gym to attend the best parties in the country.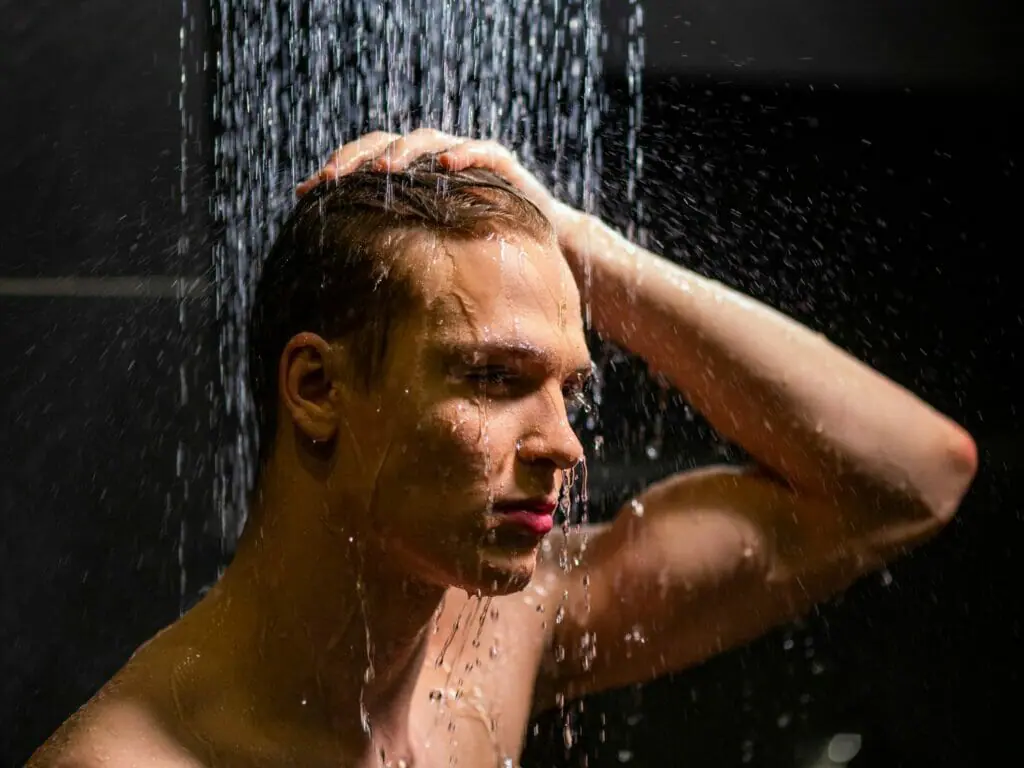 Gay Map Of Jacksonville
Finding it hard to envisage where everything is in Jacksonville? Hopefully, this queer-centric map helps where we have marked all the bars, clubs, parties, hotels, saunas, massages, and more will help you stay in the spot best suited to you!