As you wander along the winding streets of Hoi An's ancient town, with the warm sun on your skin and the fragrant smell of street food in the air, you'll be struck by the sheer magic of this place. The town's pristine golden beaches are just a short ride away, beckoning you with their white sand and crystal-clear waters. The waves gently lap at the shore, creating a soothing, calming, refreshing rhythm.
This is Hoi An – a true gem of Vietnam's central coast, a cultural paradise that boasts a natural and historical beauty that is nothing short of breathtaking. The town is nestled between the lush greenery of the Vietnamese countryside and the sparkling waters of the South China Sea, offering visitors a stunning backdrop that is awe-inspiring and humbling.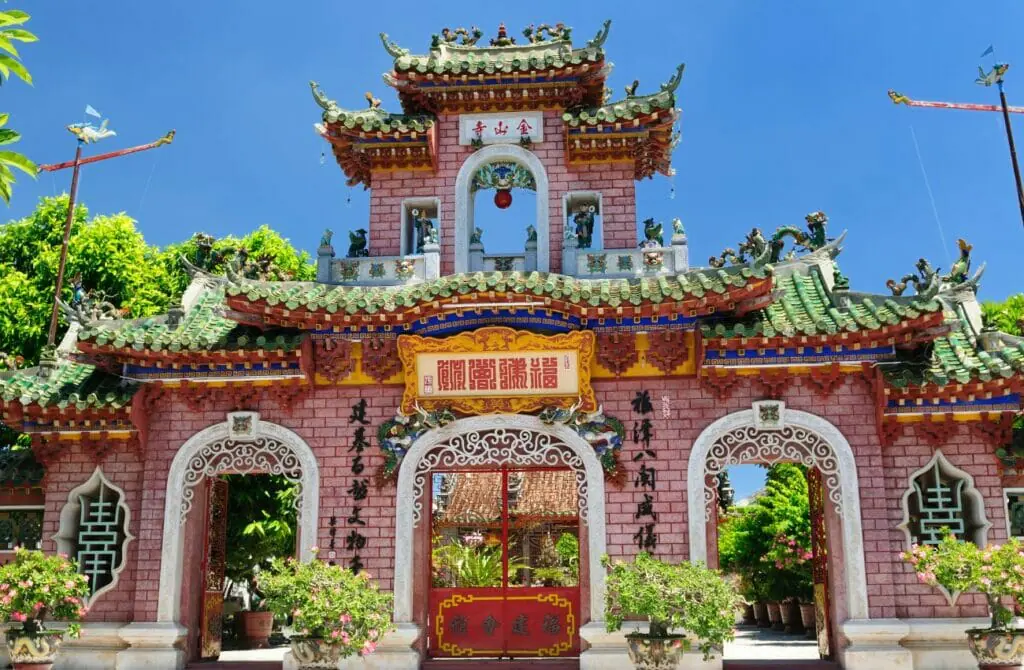 Due to its inclusivity and welcoming nature, Hoi An is an idyllic getaway for any couple, including gay couples seeking a romantic escape. The town also has a vibrant nightlife scene, with several bars, clubs, and pubs that cater to a diverse range of tastes and interests. The town's many restaurants and cafes offer a variety of delicious cuisine, ranging from traditional Vietnamese fare to international dishes.
With its wide range of attractions, from ancient architecture to pristine beaches, this town offers something for everyone. So, why not plan your romantic getaway to Hoi An and create unforgettable memories that will last a lifetime?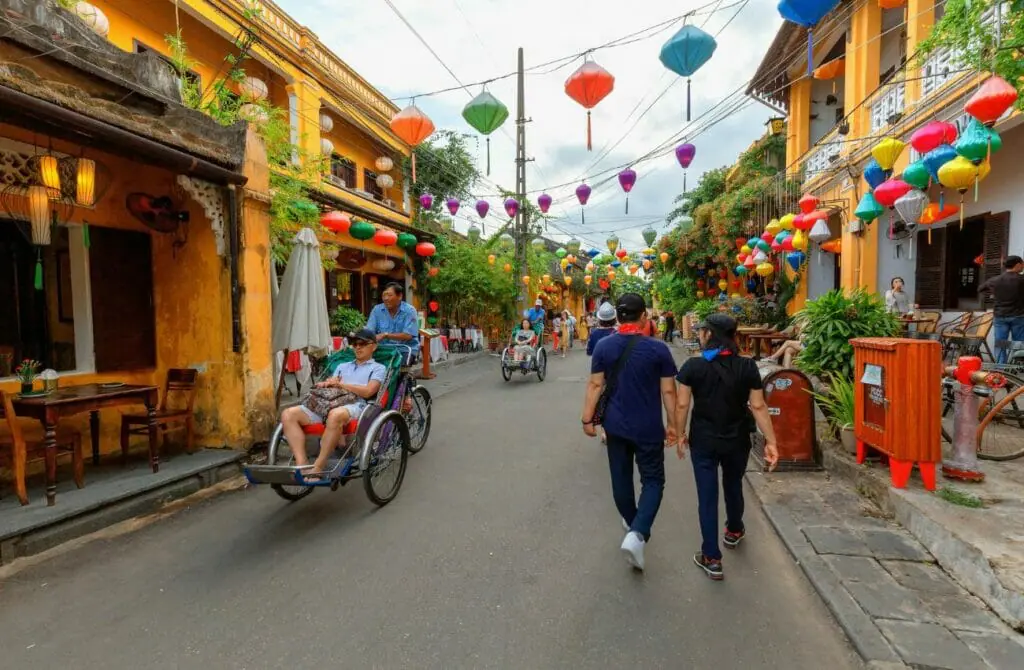 Attractions in Gay Hội An, Vietnam
As a new visitor to Gay Hội An, there are plenty of things to see and do, regardless of your sexual orientation. One of the best ways to experience any new city is to visit some of its most iconic landmarks and attractions, including historical monuments, museums, and art galleries.
We also love gazing at architecture up close, exploring parks and gardens, sampling the local cuisine, visiting local markets, and attending cultural events such as festivals, concerts and shows.
Even as the out-and-proud queer we are, we still love to explore the city and its culture in the same way as everyone else. Doing so allows us to learn more about the city and its people and better understand the local culture. As such, these are our favorite must-see attractions in Hội An.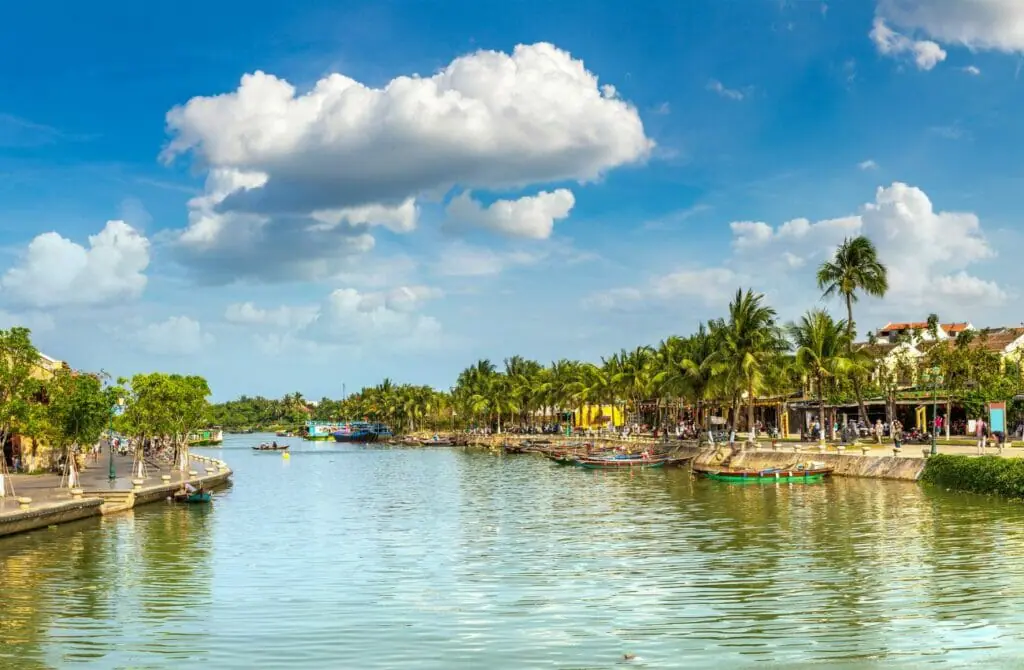 Step into a world of timeless beauty and tradition at the Silk Village of Hoi An. This enchanting destination transports you back in time to the golden era of silk production in Vietnam. As you explore the village, you'll be mesmerized by the intricate process of silk weaving, from the cultivation of mulberry trees to the delicate art of dyeing and designing fabrics.
Take a guided tour of the village and watch skilled craftsmen work their magic, spinning raw silk into exquisite fabrics using ancient looms. You can also try weaving and dyeing your silk product, creating a one-of-a-kind souvenir to take home with you. Afterward, explore the village's quaint shops and boutiques, where you can purchase high-quality silk products, including clothing, accessories, and home decor items.
A visit to the Silk Village of Hoi An is an opportunity to experience the beauty and craftsmanship of Vietnam's silk-making heritage while supporting the local community's traditional way of life.
Step back in time as you wander the charming streets of the ancient town of Hoi An. This UNESCO World Heritage site in central Vietnam is a treasure trove of historical and cultural significance. With its well-preserved old town, traditional wooden buildings, and Chinese, Japanese, and European architecture, it's a true feast for the senses.
As you explore the town, immerse yourself in the local culture by taking a cooking class, visiting the bustling markets, or even trying your hand at lantern making. Hoi An is also renowned for its skilled tailors, offering visitors the chance to have custom-made clothing at affordable prices.
Take a stroll along the Thu Bon River, admire the beautiful Japanese Covered Bridge, or soak up the atmosphere in one of the many cafes and restaurants. A visit to Hoi An is an unforgettable experience that will leave you with a deeper appreciation for Vietnam's rich cultural heritage.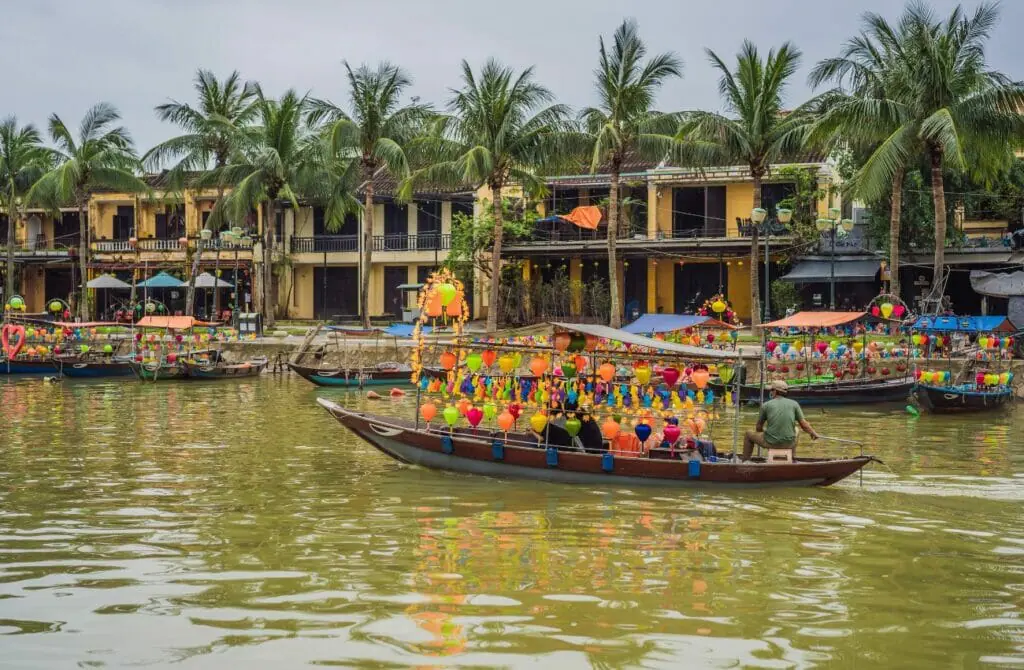 Rising majestically from the flat coastal plains of Central Vietnam, the Marble Mountains are a cluster of five limestone and marble hills steeped in history and legend. These stunning natural formations have played a significant role in shaping the region's culture and spirituality for centuries, serving as a source of inspiration for artists, poets, and warriors alike.
The Marble Mountains are dotted with numerous caves, pagodas, and temples, each with its unique history and significance. These landmarks have been sites of worship and pilgrimage for Buddhists, Taoists, and Confucians, providing a glimpse into the spiritual and cultural richness of Vietnam's central coast.
Today, the Marble Mountains are a popular tourist destination, attracting visitors from all over the world who come to marvel at their beauty and learn about their rich history and cultural significance.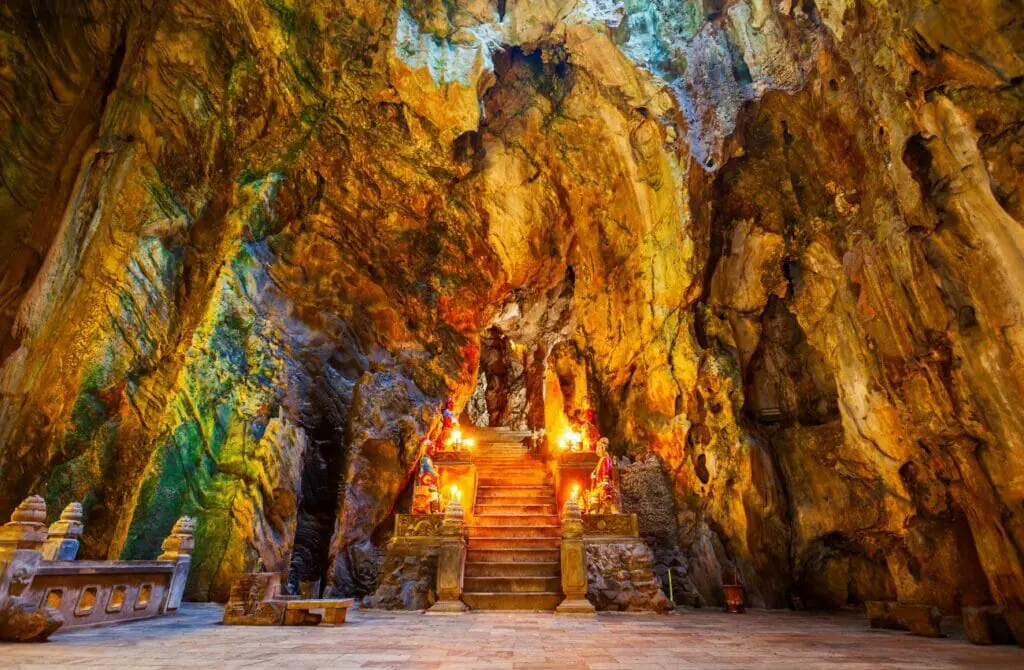 Take a moment to close your eyes and imagine the sound of the waves gently crashing against the shore, the warm sun on your skin, and the salty sea air in your lungs. This is the essence of Cham Island, a hidden gem off the coast of Vietnam that boasts pristine beaches, crystal-clear waters, and abundant marine life.
For couples seeking a romantic escape, Cham Island offers the perfect setting to create unforgettable memories. You can explore the island's lush forests, hike to stunning viewpoints, or snorkel and scuba dive in the vibrant coral reefs.
Cham Island is also home to a charming fishing village where you can indulge in freshly caught seafood while soaking in the stunning ocean views. It's a place where you can disconnect from the world and connect with your loved one in a tranquil, unspoiled paradise.
Enter the magical world of Hoi An by exploring the iconic Japanese Covered Bridge – a 17th-century architectural marvel that has become an emblem of Vietnam's cultural heritage. This stunning bridge symbolizes the friendship between the Japanese and Vietnamese people and is renowned for its unique blend of Japanese and Vietnamese architectural styles.
As you stroll along the bridge, take in the intricate designs, vibrant colors, and ornate carvings that make it a sight to behold. Marvel at the centuries-old paintings that depict scenes of daily life and mythology, and learn about the bridge's cultural significance.
Visiting the Japanese Covered Bridge is not only a chance to witness a stunning architectural masterpiece but also an opportunity to delve into the rich cultural history of Hoi An. Don't miss out on this unique and captivating experience that will leave you in awe.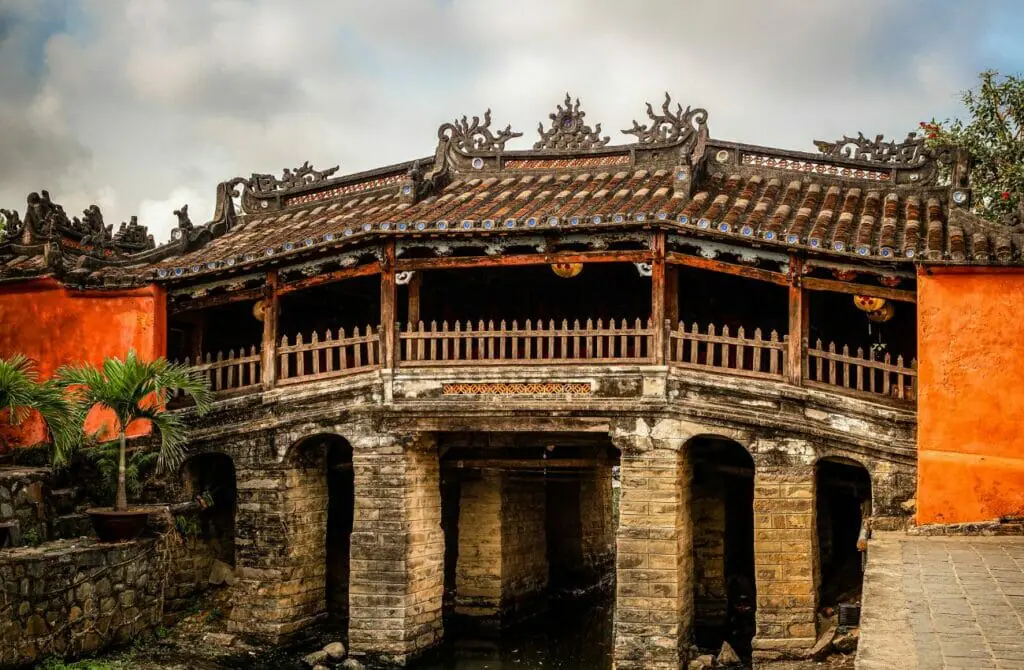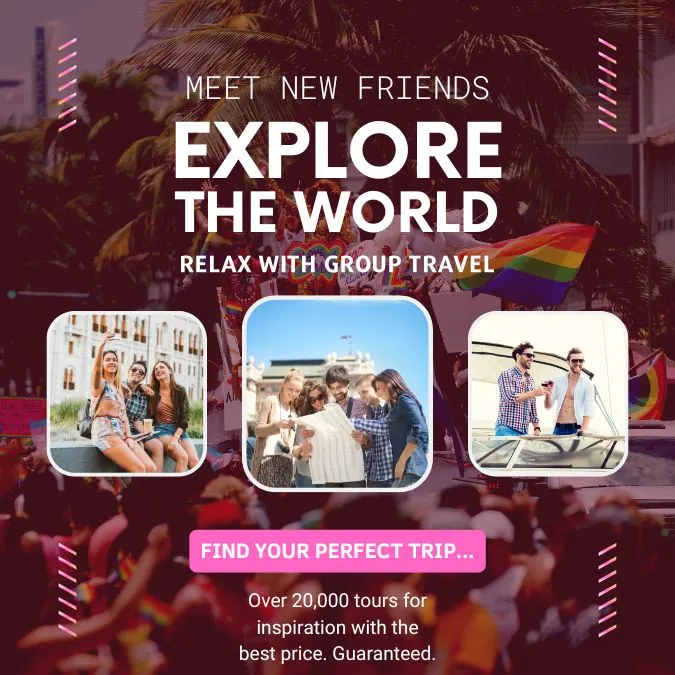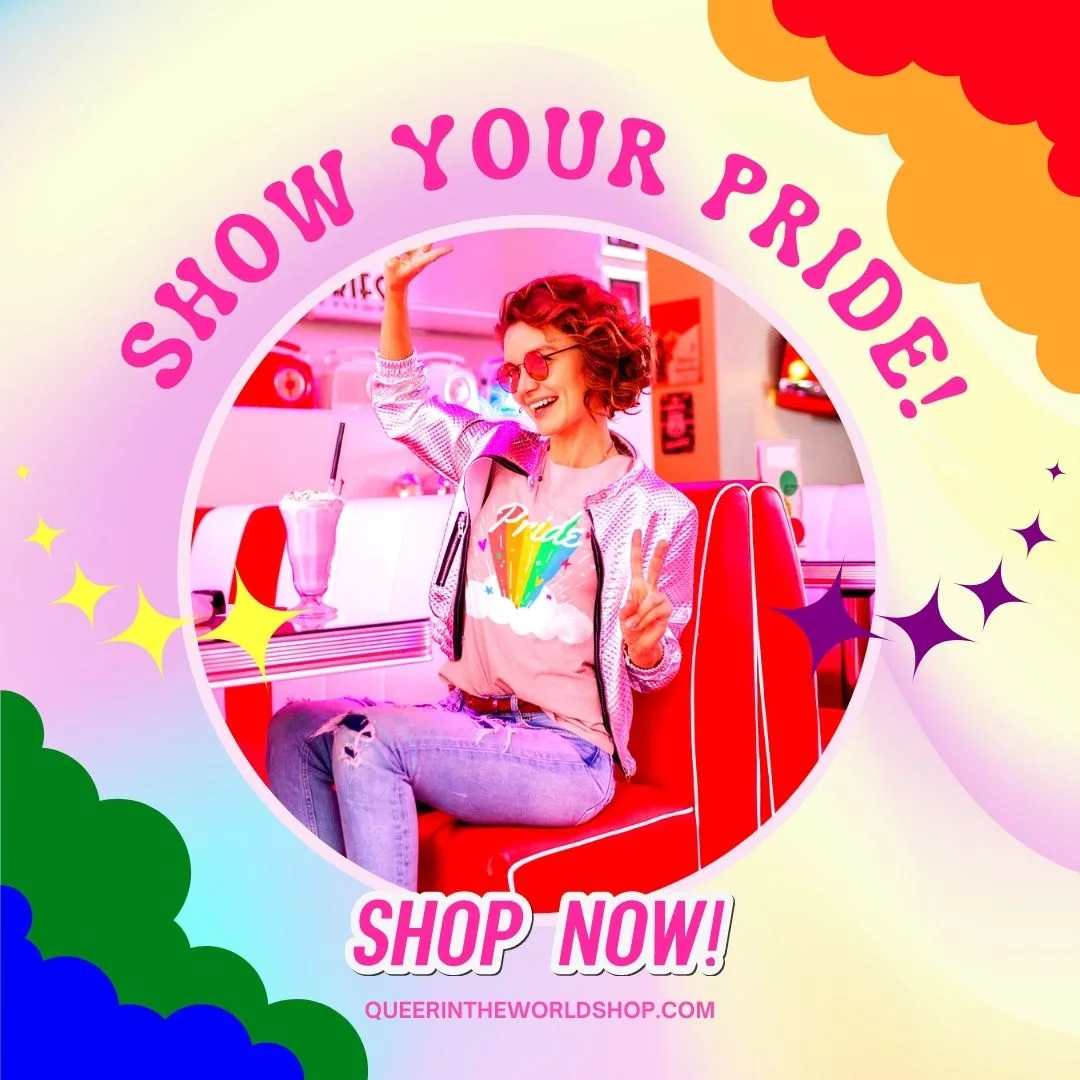 Gay-Friendly and Gay Hotels in Hội An, Vietnam
Being gay-friendly accommodation means that the establishment is welcoming and inclusive to guests who identify as LGBTQ+. This can include, but is not limited to, having policies and practices that demonstrate a commitment to creating a safe and inclusive environment for LGBTQ+ guests, such as non-discrimination policies and providing support and resources for LGBTQ+ travelers.
Some gay-friendly accommodations may also provide amenities specifically catering to the LGBTQ+ community, such as rainbow flags or literature about local LGBTQ+ events or resources. Furthermore, gay-friendly accommodations may be located in an area known for being LGBTQ+ friendly.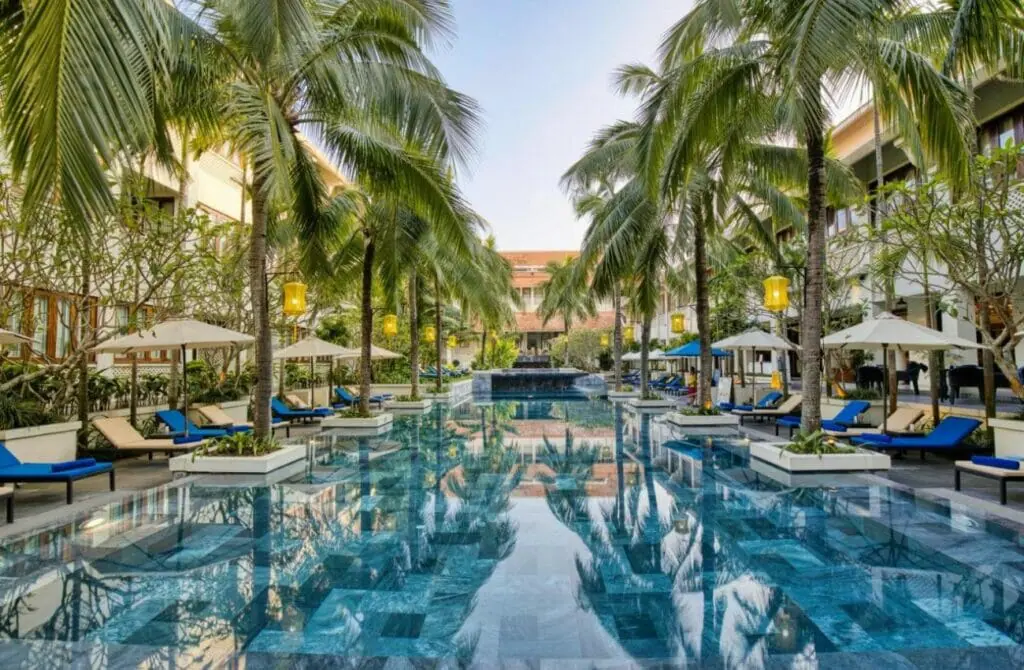 While Hội An does not have any specifically gay hotels or resorts, these are the most fabulous and pro-actively gay-friendly hotels in Hội An. There are also hundreds more hotel and hostel options in Hội An if none of these suit your desired budget, facilities or area – but these are the best hotels according to other gay travelers and us.
Whatever your needs are, Hội An has you covered.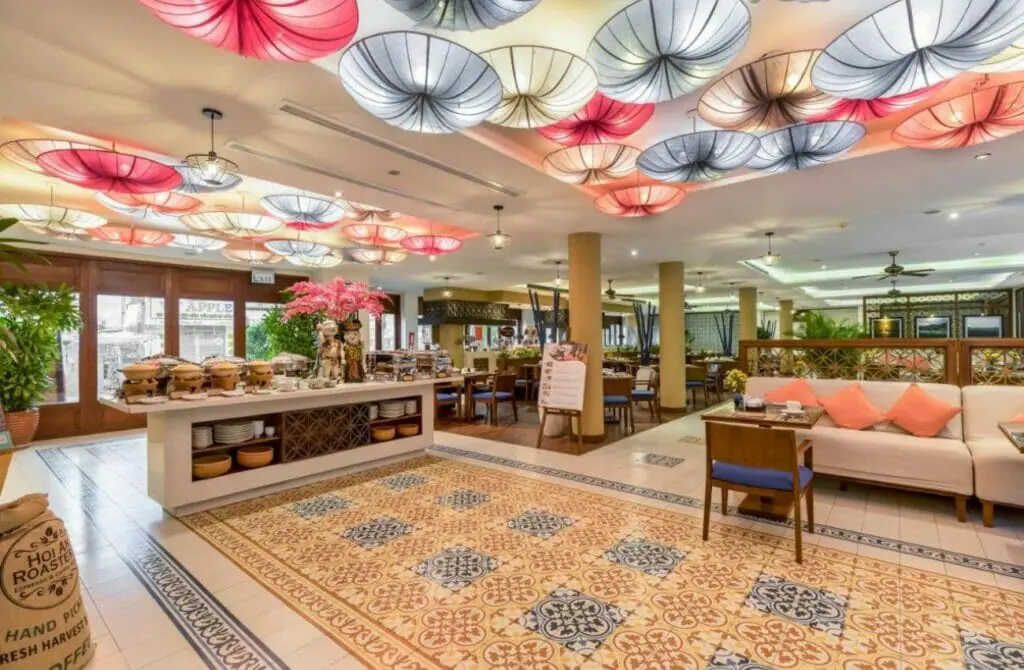 Almanity Hoi An Wellness Resort ☆☆☆☆☆
staying at Almanity Hoi An Wellness Resort is more than a luxurious accommodation experience – it's a transformative journey for the mind, body, and soul. The resort's unique focus on wellness and self-care sets it apart from other hotels in the area. Guests are invited to embark on a journey of self-discovery through daily meditation, yoga classes, and spa treatments inspired by ancient Vietnamese traditions.
But what truly makes Almanity Hoi An Wellness Resort special is its commitment to sustainability and community outreach. The resort partners with local organizations to provide educational programs for disadvantaged children, and guests can even participate in volunteer activities to support these initiatives.
By staying at this resort, guests are not only indulging in a rejuvenating getaway but also contributing to a greater cause. It's a place where you can relax, recharge, and positively impact the world around you.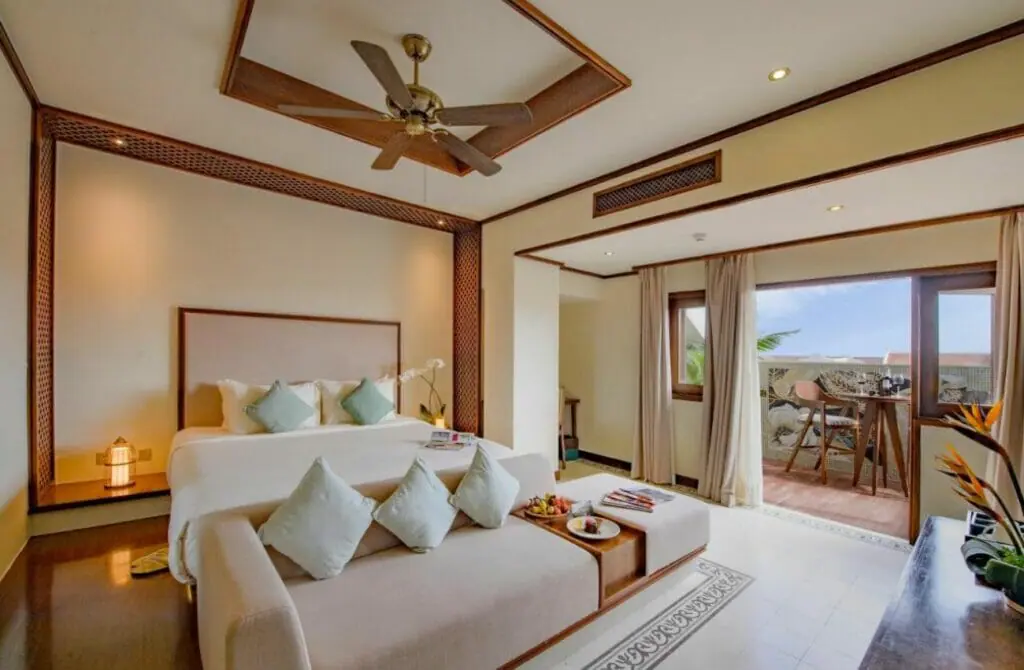 Silk Sense Hoi An River Resort ☆☆☆☆☆
From the moment you step into Silk Sense, you are transported into a world of timeless beauty and sophistication. This luxury resort is more than just a luxurious accommodation option. It is an experience in itself, a journey into the rich cultural heritage of Vietnam.
One of the unique features of Silk Sense is its commitment to sustainability. The resort has implemented eco-friendly practices throughout its premises, including using solar power, energy-efficient lighting, and a waste management system that minimizes its environmental impact.
Moreover, the resort offers an opportunity to indulge in the local cuisine, arts, and traditions. From cooking classes to cultural performances, the resort provides a chance to immerse yourself in the vibrant local culture.
Escape to a romantic oasis nestled amidst the lush greenery of Ann Retreat Resort & Spa. This haven of tranquillity offers more than just luxurious amenities and breathtaking views. It allows couples to reconnect and reignite the flames of passion in their relationship.
Imagine indulging in a couples' massage under the canopy of a verdant forest or savoring a candlelit dinner while listening to the soothing sounds of nature. The resort's emphasis on wellness and relaxation allows couples to unwind and focus on each other.
Moreover, Ann Retreat Resort & Spa provides couples with the perfect setting to create unforgettable memories. From exploring nearby waterfalls and hiking trails to participating in traditional Thai cooking classes, there's something for every couple to enjoy.
Let Ann Retreat Resort & Spa be the backdrop to your love story and create cherished memories that will last a lifetime.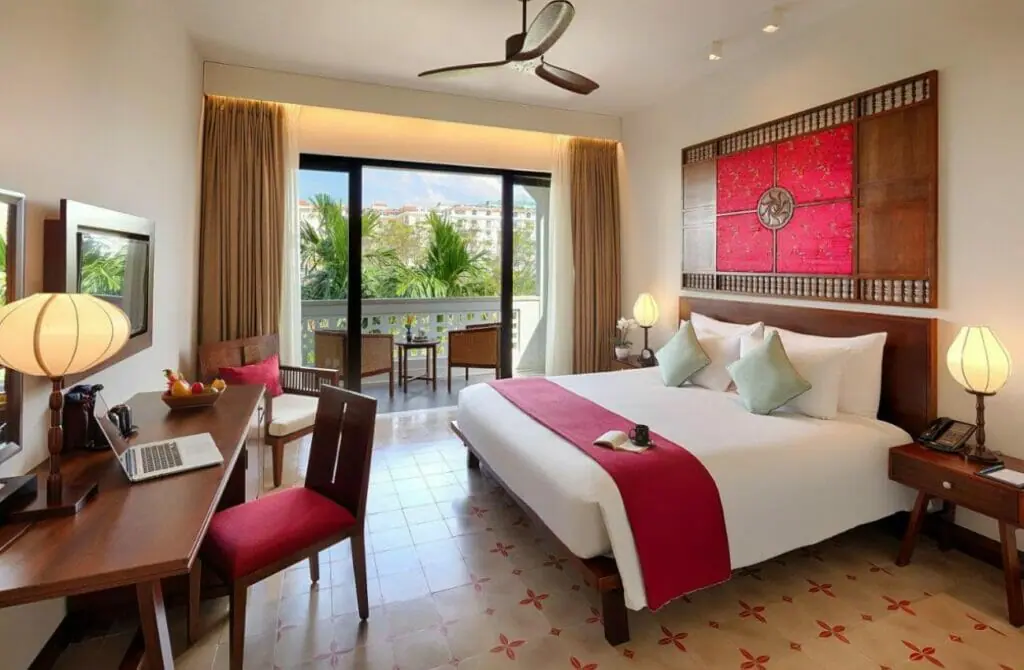 Beyond the breathtaking architecture and exquisite decor, this hotel offers a truly immersive cultural experience that will transport you back in time. You and your partner can explore the region's rich history through various engaging activities, such as learning traditional crafts or enjoying an intimate dinner with a local family.
But what truly sets this hotel apart is its unwavering commitment to sustainability and environmental conservation. From its organic gardens to its use of eco-friendly materials, the Historic Hotel is a beacon of responsible tourism that will make you feel good about your stay.
So why not escape to Hoi An with your loved one and experience the perfect blend of luxury, culture, and sustainability at the Historic Hotel?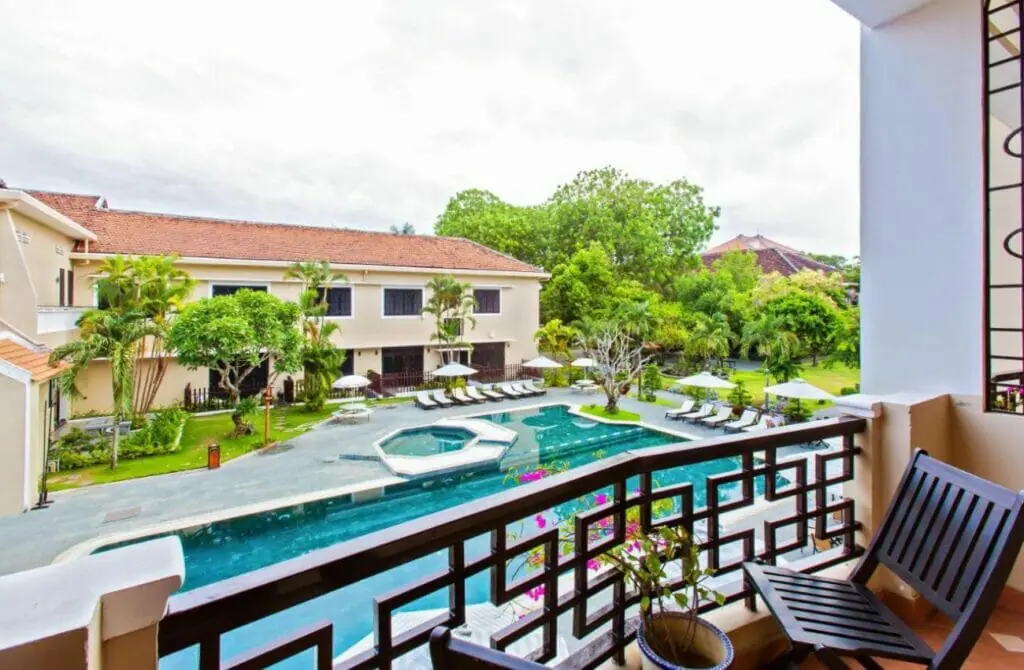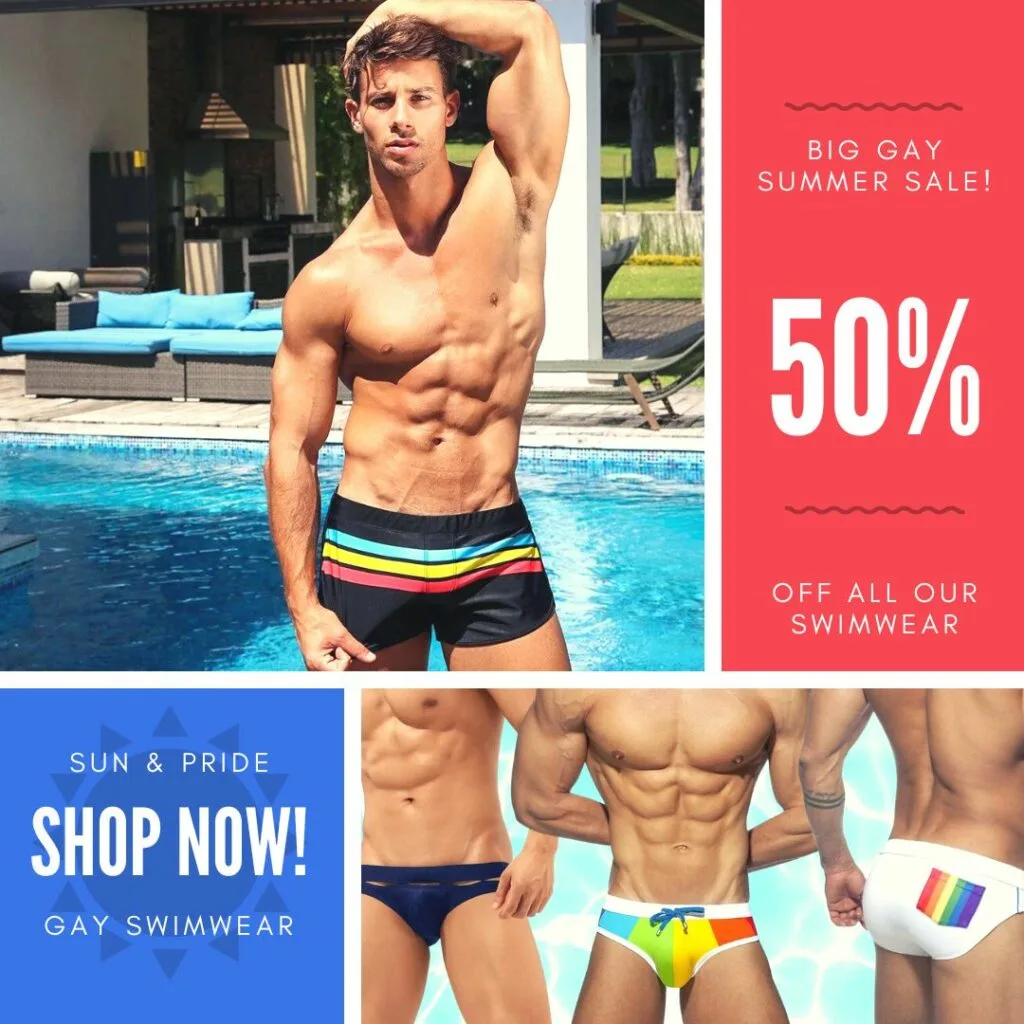 Nestled on the banks of the enchanting Thu Bon River, the Pearl River exudes romance and tranquillity, making it an ideal haven for couples seeking a dreamy escape. With its captivating blend of contemporary elegance and traditional charm, this hotel is a gem that will take your breath away.
As soon as you enter the hotel's inviting reception area, you'll be captivated by its impressive furnishings and outstanding customer service. Prepare to be transported to your luxurious accommodations, which feature breathtaking views of the river and a wide array of opulent amenities.
With its serene ambiance and impeccable service, the Pearl River Hotel is the perfect destination for a couple's getaway that will be etched in your memories forever.
A romantic getaway is an essential ingredient to keep the love spark alive. If you're seeking a luxurious retreat to reignite your passion, VINA Beach Villas is the perfect destination. This idyllic retreat is in the heart of Da Nang and is located a very short distance from Hoi An.
From the moment you arrive here, you'll be captivated by the pristine white sandy beaches, turquoise waters, and lush tropical gardens surrounding the villas. The villas are thoughtfully designed, featuring modern furnishings, high-quality linens, and stunning ocean views, making it a paradise for couples.
Explore the nearby ancient temples, or take a sunset cruise along the coastline, all the while creating memories that will last a lifetime.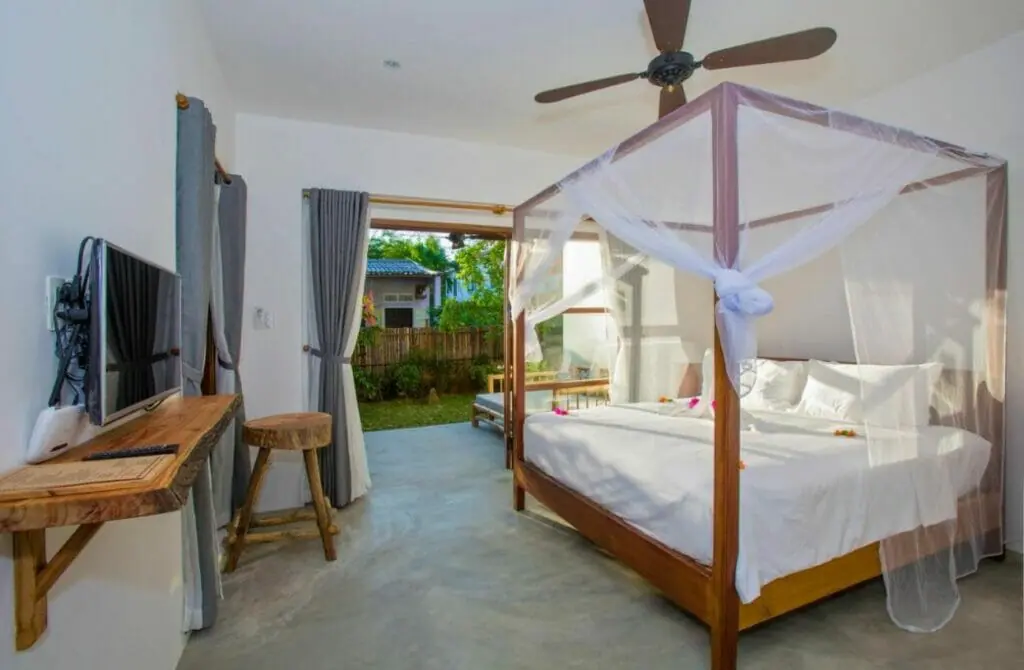 Gay Nightlife in Hoi An, Vietnam
Hoi An has little to offer in terms of gay nightlife. The city is a pleasant and friendly tourist destination with many fascinating and attractive locations. However, there are no specific queer venues.
Hoi An does not have wild nightlife or parties. Although the capital of Vietnam has a structured homosexual culture, the unspoiled stunning landscapes and enormous cultural heritage sites coupled to create a fully romantic mood can only be found in Hoi An.
So, if you're looking for a place to stay in Hoi An, check out our incredible night-out Collections and pick the right place for you!
Exploring the gay and gay-friendly nightlife in a new city can be one of the most exciting and rewarding experiences while traveling – and Gay Hoi An is no exception. Not only will you have the opportunity to meet new people and make friends, but you'll also get a taste of the local culture and learn more about the city's LGBTQ+ community.
Going out and experiencing the queer and queer-friendly nightlife in a new city can also be a great way to break out of your comfort zone and try new things. Whether dancing the night away at a gay club or mingling with locals at a gay-friendly bar, you'll have the chance to make memories and create lasting connections.
So, don't be afraid to step out of your comfort zone and explore the gay and gay-friendly nightlife in Gay Hoi. You'll be glad you did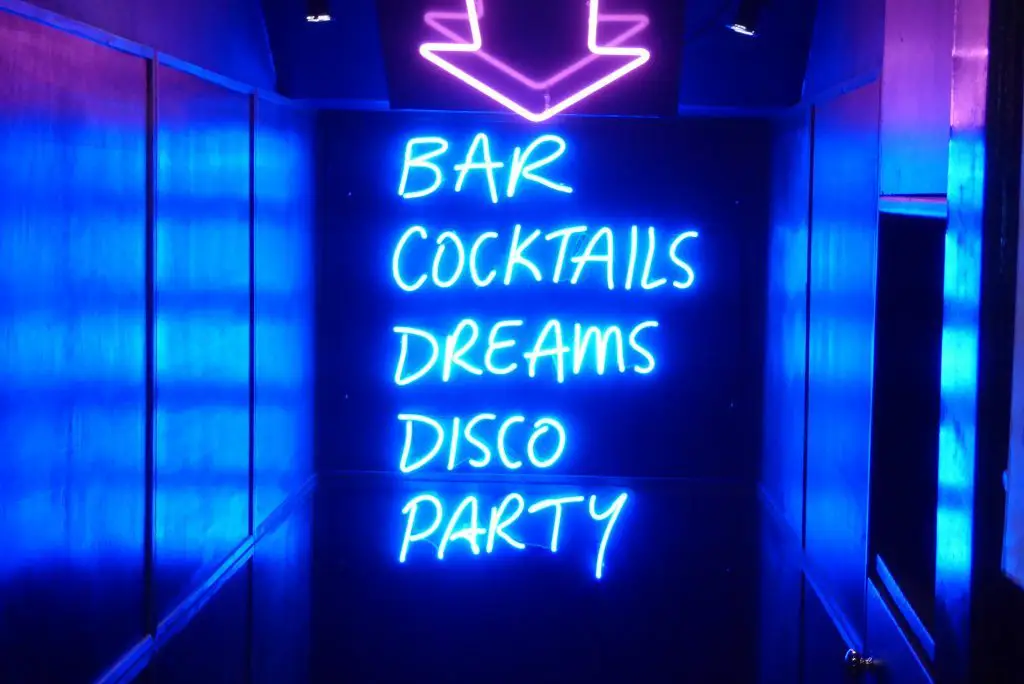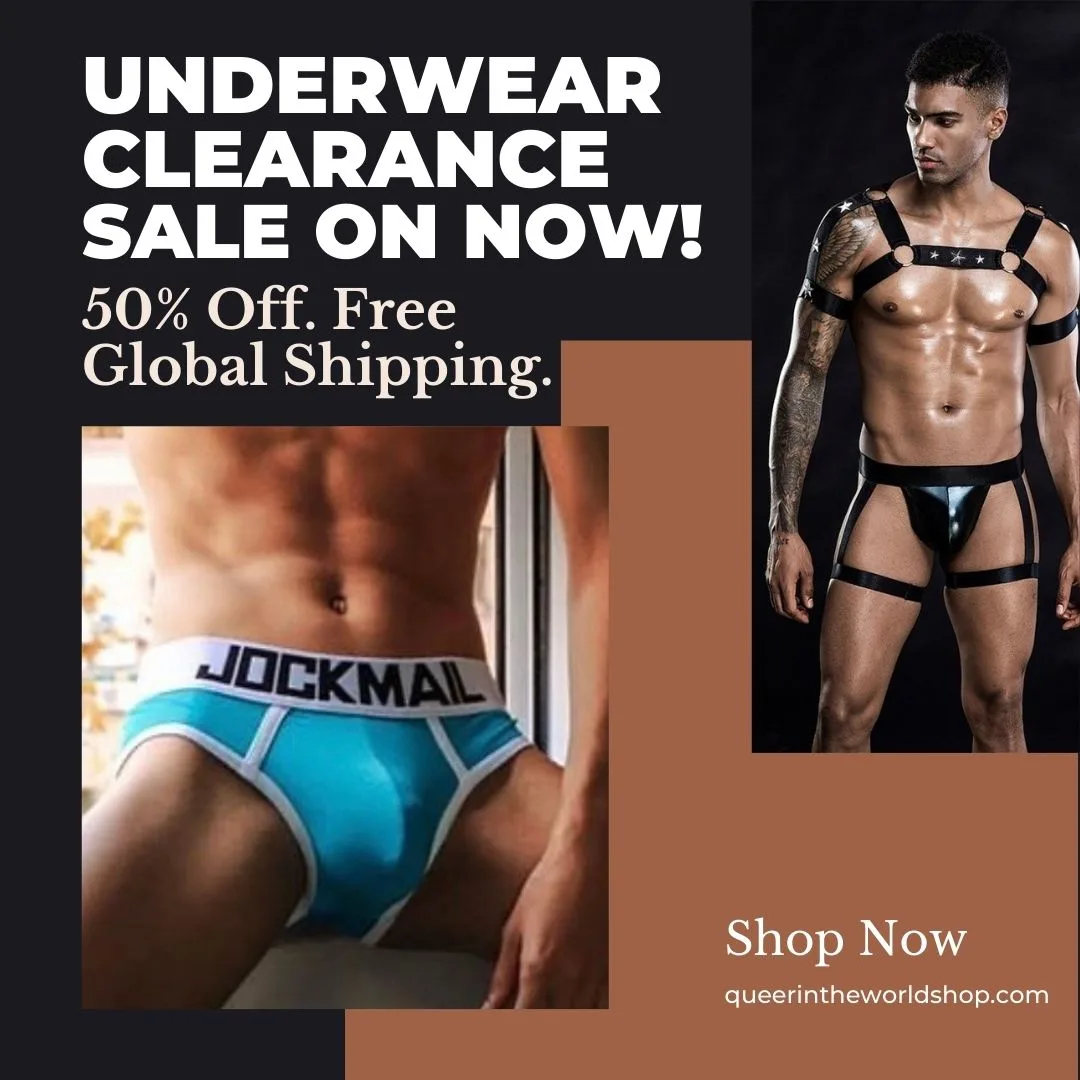 Tam Tam Cafe, which opened in 1996, has been a fixture in Hoi An's nightlife scene ever since, featuring tropical-inspired décor, pool tables, a calm ambiance, and a wide upstairs lounge space great for lounging and people-watching. It is a 5-minute walk from the Japanese Covered Bridge and is housed in a refurbished tea warehouse in Hoi An Ancient Town.
Drinks include a regular selection of imported beers, cocktails, spirits, and wines by the glass. Tam Tam Bar also offers a variety of Vietnamese and European dishes, including banh xeo, pho, omelets, sandwiches, pizzas, and spaghetti, as well as homemade ice cream, sorbet, and cakes.
WOOP WOOP Bar & Food is a bar that provides both food and beverages. It is a popular hangout among local Vietnamese. As a result, this is an opportunity for you to interact with the local LGBT community. The facility has a courtyard where you may relax and enjoy the evening sky while speaking with other guests. Even if you are gay, you are welcome to attend and enjoy the atmosphere. Everyone is pleasant.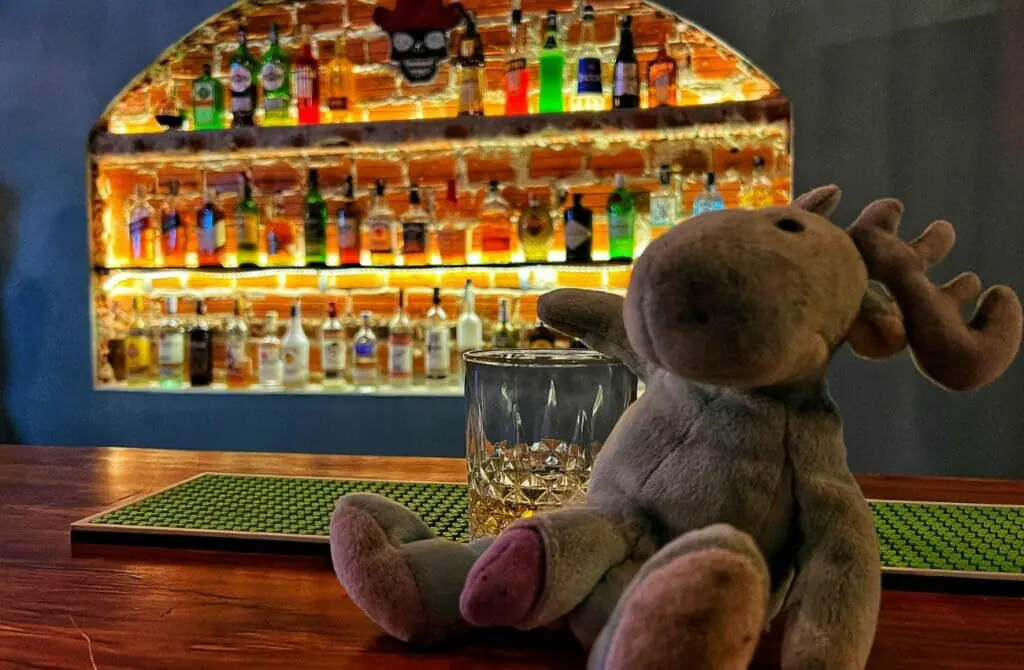 Before and Now Bar is a good nightlife place in Hoi An Ancient Town for a peaceful night out. The 2-story pub, located 5 minutes from the Japanese Covered Bridge, has an open-air terrace filled with potted plants and colorful lanterns.
You can enjoy a game of pool or football or speak with the friendly staff. However, the main lure of Before and Now Bar is its 4-hour happy hour promotions, which provide two drinks for the price of one between 6 and 9 p.m.
Market Terrace claims a beautiful location within the old market and is an ideal choice for a sunset get-together or beverages after supper. Traditional Hoi Scenes play out on the crossroads below as guests sip on refreshing cocktails above, surrounded by tropical flora. There are tempting gin infusions on the menu, as well as point fish and chips, guacamole, salad, and truffle fries.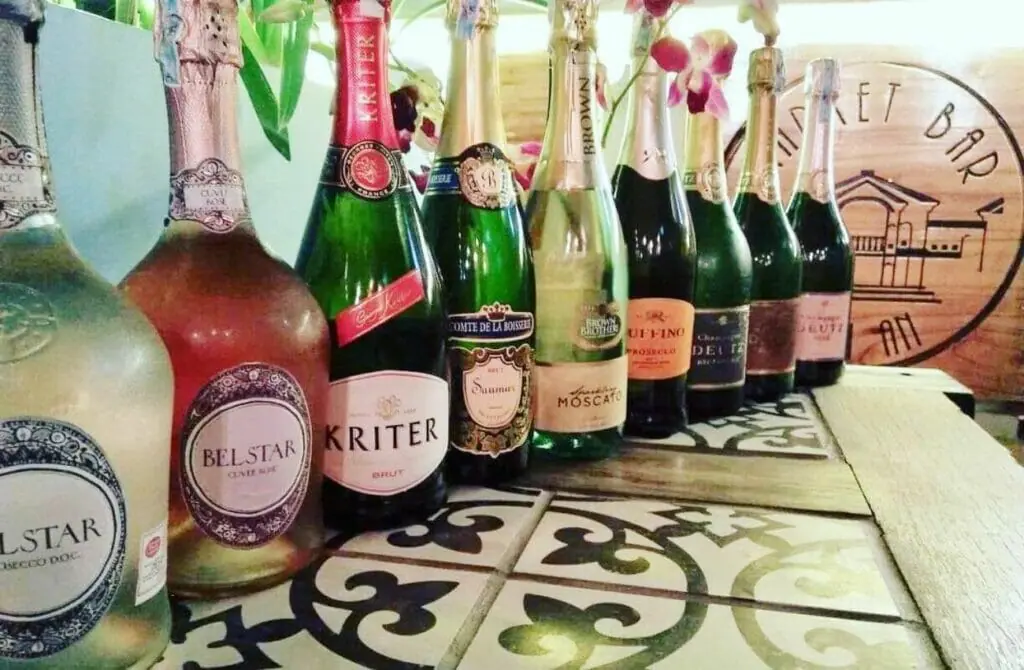 Tadioto Hoi An is the latest invention of Nguyen Qui Duc. He refers to his customers as 'thinkers and drinkers'. Duc's applied his signature cool style to a Hoi An history house, resulting in what will undoubtedly become an enclave for visitors wishing to escape the livelier parts of the old town. Tadioto is effectively disguised, with minimal signs. It serves coffee all day and also serves sushi and ramen.
Mango is a vibrant café along the serene Hoi An Riverside that serves a variety of specialty cocktails and genuine Vietnamese dishes. Its great location attracts largely travelers wishing to rest after a day of touring Hoi An, with a huge upstairs terrace overlooking the historic Japanese Covered Bridge, Thu Bon River, and Hoi An Night Market.
The imported beers and wines by the glass are plenty, but the cocktails are the primary draw at Mango Mango. The berry drink, made with fresh strawberries, vodka, hibiscus, and mint leaves, is a popular choice.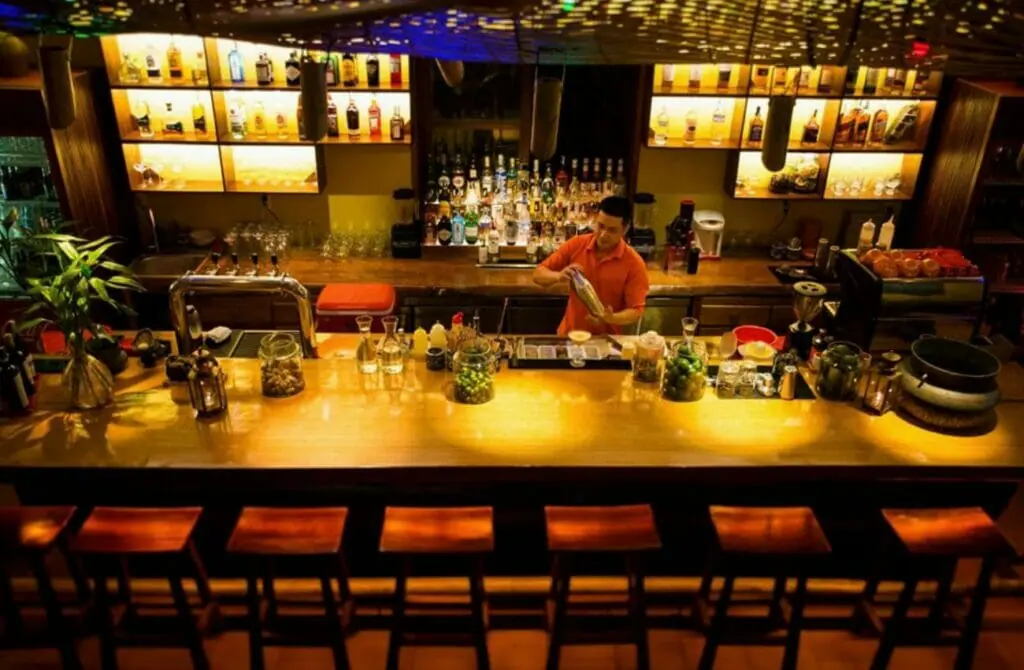 Q bar
(Temporarily or permanently closed. If you know something, please suggest an edit.)
The Q Bar is all ambient lighting and metropolitan sophistication amid one of Hoi An's most magnificently restored wooden pillared trader houses. It's arguably the hippest bar in Hoi An, with the best cocktail menu (try the cucumber cilantro mojito).
Generous happy hours (11 a.m.-7 p.m.) are a great opportunity to relax on the terrace while listening to peaceful music or watching black-and-white films projected onto the shop's shutters across the street. The tapas menu is great, with limited options but big quantities.
Con Co, a newly opened cocktail bar, is bringing an updated form of Vietnamese 'nhau' drinking culture to Hoi An. The menu features world-class Vietnamese wines, spirits, and beers, as well as local snacks such as northern-style sausages, grilled duck beast, and dried beef. Explore on your own or seek guidance from the helpful staff on what to order.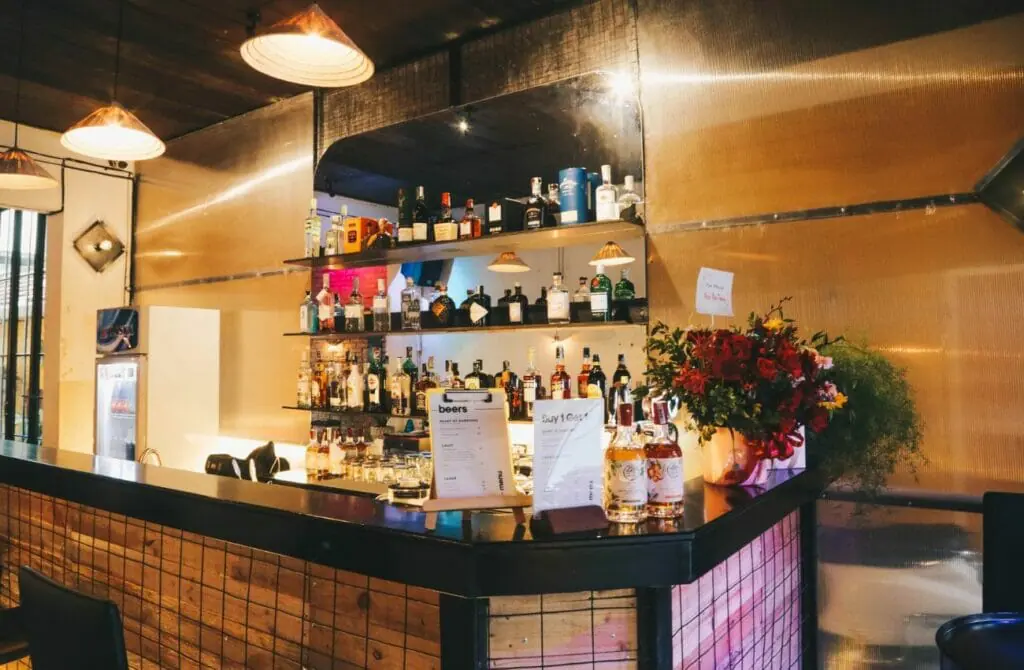 Gay Saunas & Cruising Clubs in Hoi An, Vietnam
When traveling to a new city, it can be exciting to head out for more than just a stiff drink. One aspect of the Gay Hoi An scene that many queer men enjoy is visiting gay saunas and cruising clubs.
Sure, the sauna culture in Hoi An is not as hedonistic as in Amsterdam, Barcelona or Berlin, but these venues still offer a chance to meet new people, socialize, and engage in sexual activity – without resorting to gay hookup apps.
However, it's important to remember that these venues can vary greatly in terms of atmosphere, clientele, and rules, so it's a good idea to prepare yourself before visiting. If you are apprehensive, we advise studying our guide to visiting a gay bathhouse for the first time, which should help set your mind at ease and always practice safe sex.
Additionally, it's important to be aware of and respect local laws and customs regarding gay venues and sexual activity. With a little bit of planning and an open mind, visiting gay saunas and cruising clubs can be a fun and exciting part of your gay Hoi An travel itinerary.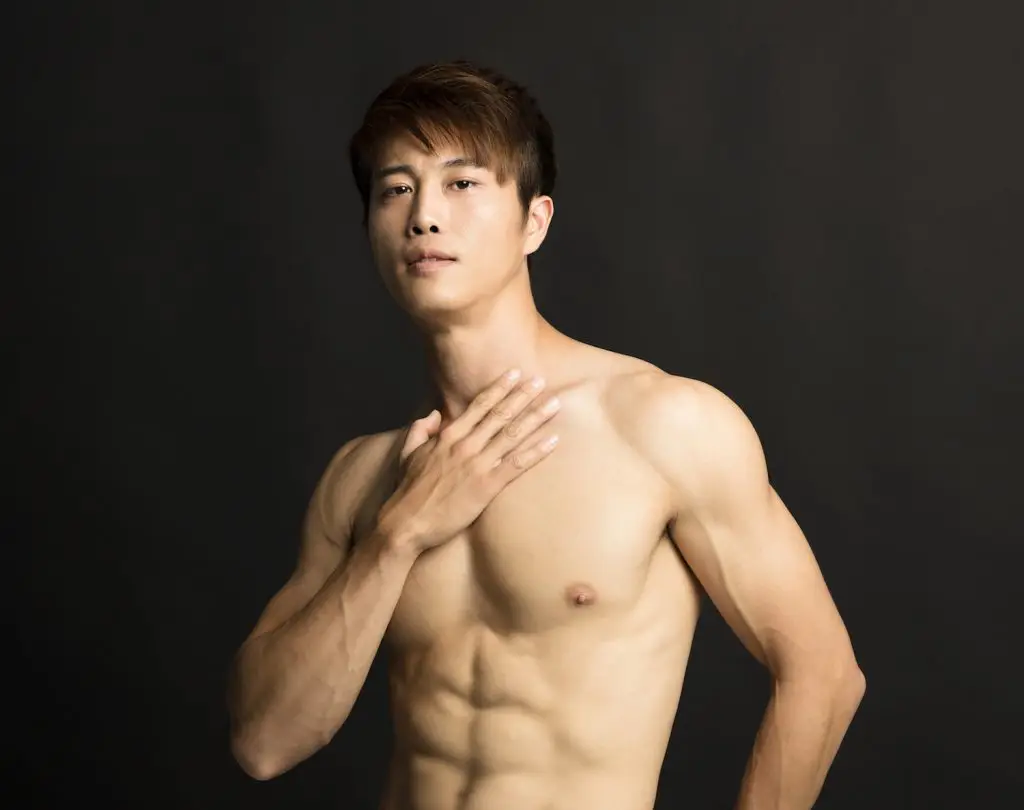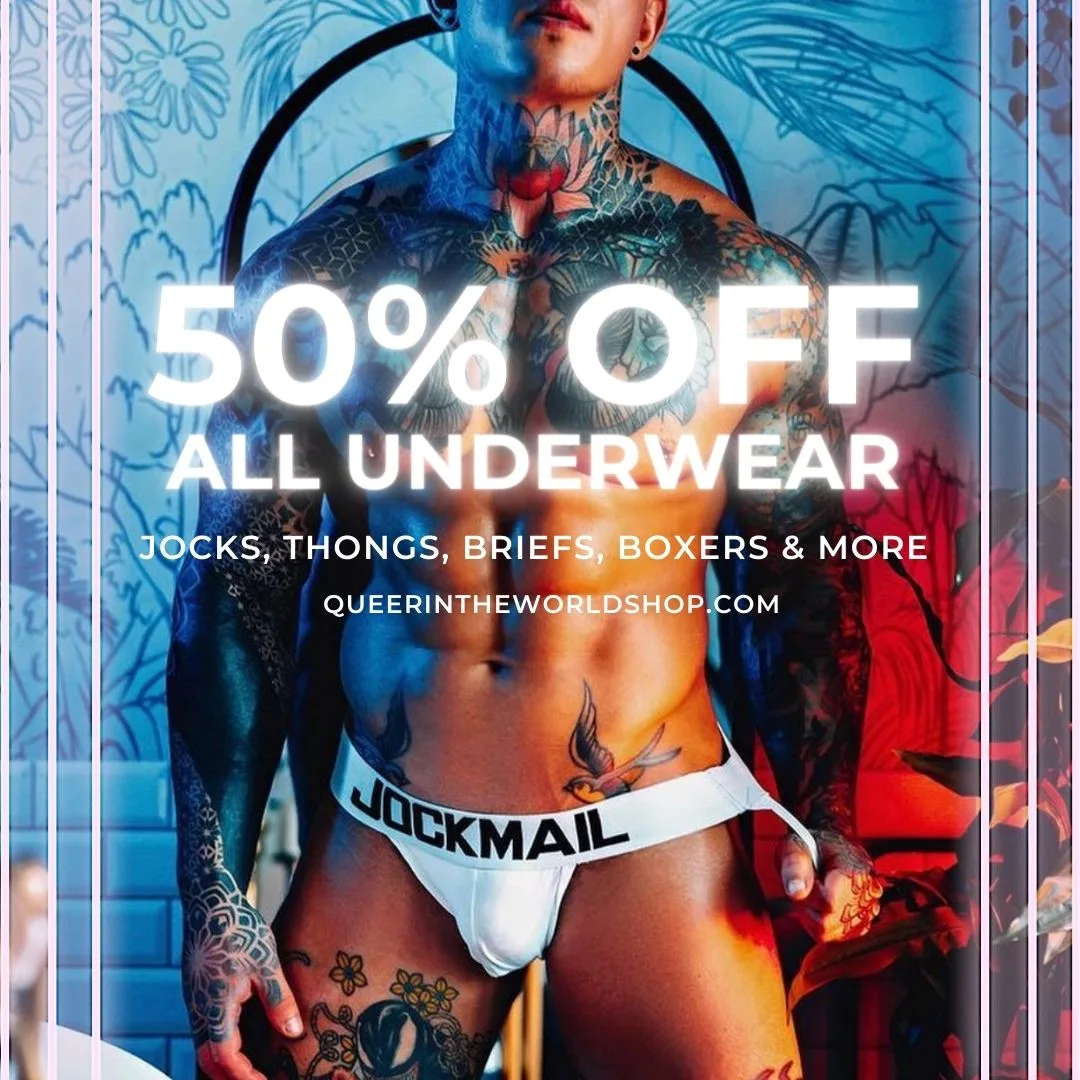 Pansee spa
(Temporarily or permanently closed. If you know something, please suggest an edit.)
Even though everyone comes here, you can spot the other gays receiving therapy. Massages, manicures, and facials are all reasonably priced and enjoyable, and the atmosphere is friendly and peaceful.
La Siesta Premium Hoi An Resort's colorful tropical gardens are home to La Spa. The spa is housed in a series of garden villas designed to seem like an antique Vietnamese town, complete with tiled roofs and bamboo trees flanking a twisting stream, making La Spa Hoi An the most naturally beautiful of all the branches. It also has added amenities like saunas, steam rooms, Jacuzzis, herbal baths, and outdoor rain showers. La Spa Hoi An is exactly what a spa should be.
Chic Couture
(Temporarily or permanently closed. If you know something, please suggest an edit.)
This is one of the most gay-friendly options for getting tailor-made clothes, with flamboyant and cheerful personnel that will make you laugh and measure you precisely!
VN Spa Massage is a man-only spa that offers various techniques to assist in relaxing and nourishing the mind, leaving you feeling restored and refreshed. One of the most notable elements of this Spa is its emphasis on giving ways that will stimulate and improve the state of Male mental health and well-being.
Full body massage with or without oil, foot massage, facial, Swedish, Thai, and other services are available at Vn Spa. It is recommended that you contact ahead of time to avoid disappointment.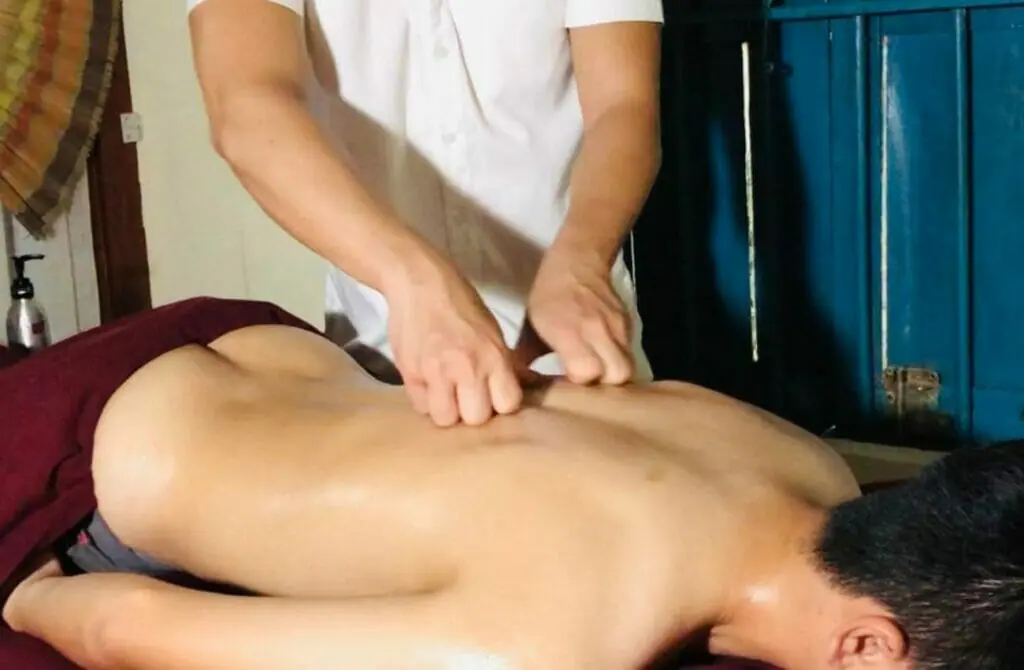 Gay Map Of Hoi An
Finding it hard to envisage where everything is in Hoi An? Hopefully, this queer-centric map helps where we have marked all the bars, clubs, parties, hotels, saunas, massages, and more will help you stay in the spot best suited to you!