Fortaleza is Brazil's fifth biggest city and the capital of the state of Ceará, situated in the country's northeastern region. The city's beaches are well-known and distinguished by characteristics such as scarlet cliffs, palms, dunes, and lagoons. It has a thriving gay scene and many sexy Brazilian men.
Fortaleza is a hidden gem. It is perhaps one of Brazil's most vibrant cities and one of the largest. The city may be the most popular destination for domestic package vacations, and Europeans are starting to follow suit. Despite Fortaleza's image as a party town, the city's carnival is not very noteworthy; even though it grows yearly, the maracatu-style parades comprise most of the activities.
Fortaleza boasts a lot of land and structures for being so far out in the middle of nothing. Since it is one of the major cities in Brazil, people travel from all around Ceará and beyond in pursuit of economic opportunities. Its beaches, party atmosphere, gorgeous smaller beach locations, undulating dunes, and fishing communities accessible here draw people from Brazil and other nations.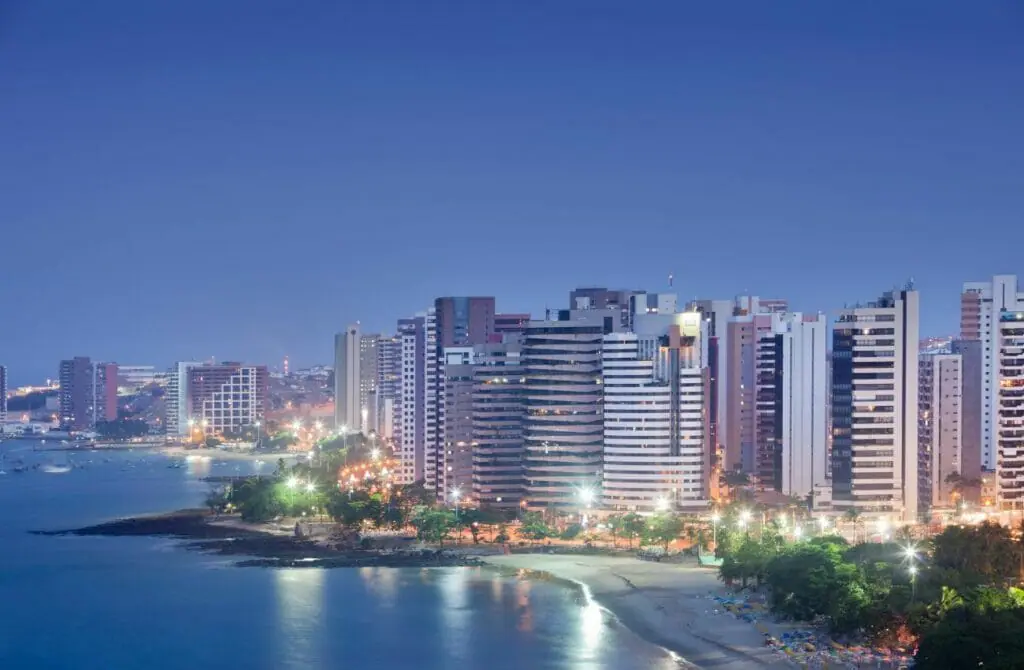 Travelers who identify as LGBT need not be afraid about their safety in this place since homosexual behavior is not criminalized in Brazil. The country boasts some of the most progressive legislation in the world addressing LGBT rights.
The Imperial Criminal Code was revised in 1830, not long after Brazil gained independence from Portugal, to make gay relationships no longer a felony. The Brazilian Constitution of 1988, which prohibited discrimination, strengthened affirmative action measures even further.
Every year, Fortaleza welcomes tourists who wish to see the city's fine theaters, bustling nightlife, and palm-lined seashore. Explore the beaches, shop at the market, and don't leave without trying freshly caught shrimp cooked in garlic oil before you go. This magnificent city has a lot to offer LGBT visitors throughout their stay.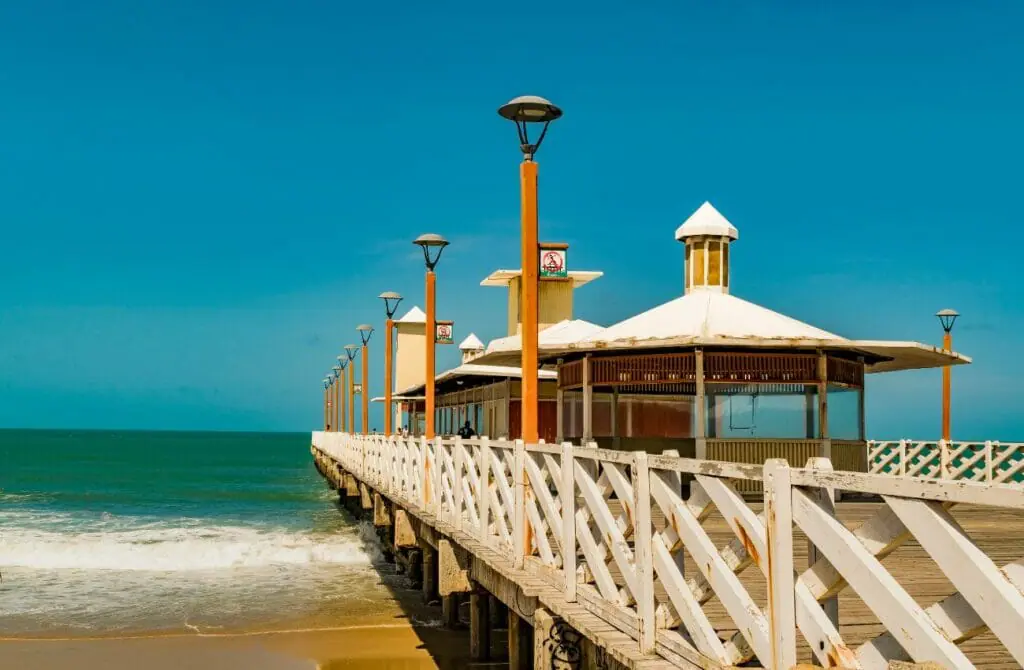 Attractions in Fortaleza, Brazil
Welcome to Gay Fortaleza, darling! While the city may not be the most welcoming to the queer community, fear not! There are still plenty of fabulous things for you to do while keeping things low-key. First and foremost, you must visit some of the city's most iconic landmarks and attractions, dahling!
Take in history and culture by visiting museums, art galleries, and historical monuments. And don't forget to marvel at the stunning architecture, explore parks and gardens, and indulge in the local cuisine. But that's not all, darling! Gay or straight, there's always something to do in Gay Fortaleza.
Immerse yourself in the local culture by attending cultural events like festivals, concerts, and shows. Trust us; there's always something fun and exciting happening in this fabulous city. Remember, discretion is key in a city that's not always welcoming to our fabulous community. So, keep it lowkey and enjoy all the wonderful things Gay Fortaleza has to offer!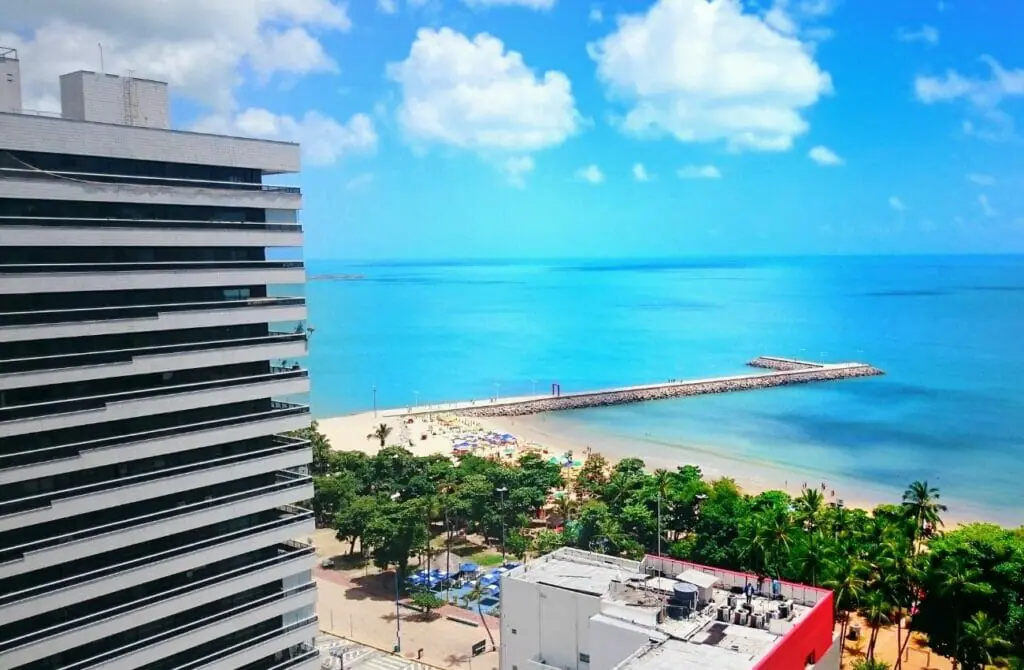 Catedral Metropolitana de Fortaleza
The Metropolitan Cathedral of Fortaleza took roughly forty years to build and required much hard work. The cathedral, completed in December 1978 and styled in the neo-gothic style, is the third largest in the country.
Inside is seating for around 5,000 worshippers, and the structure itself is stunning in terms of its construction and the sheer size of the area it occupies. Come in the evening to view the lights from the structure's interior, lighting the stained glass windows.
This massive market should be your sole stop for souvenirs since one of the businesses that line the four floors of Mercado Central contains every handmade imaginable.
The market has been open since 1809, although it started to focus on woven baskets, textiles, and other artisan goods rather than fresh vegetables in the 1900s. This was due to the government's prohibition on selling food then. So don't be worried; you'll be able to grab something to eat right here today.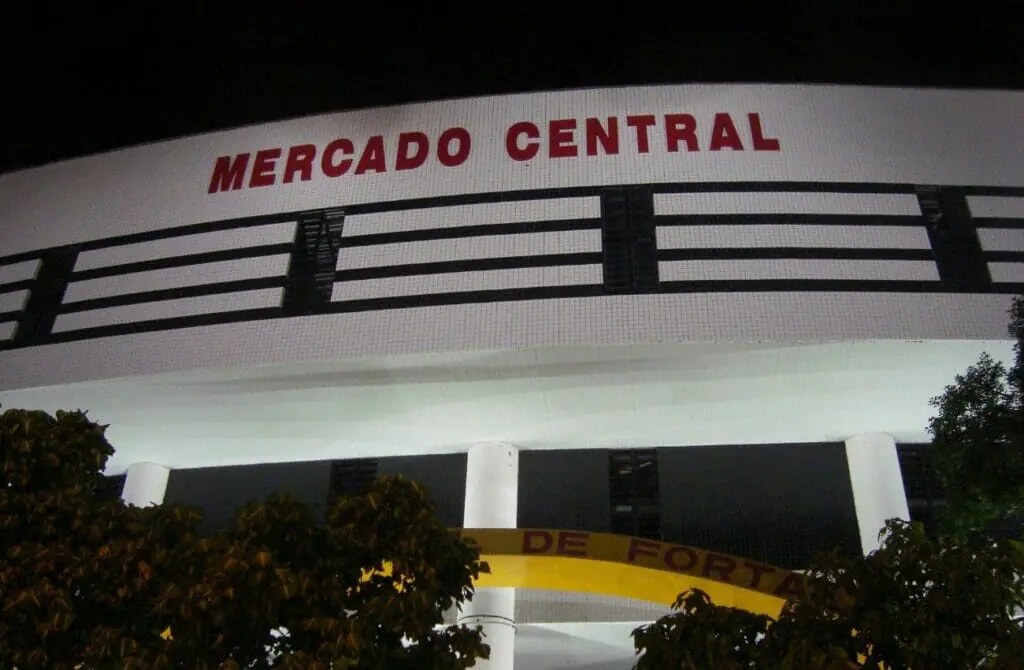 This resort receives close to a million visitors yearly for a good reason. South America's biggest water park has many water slides, pools, lazy rivers, and four hotels.
After an exciting journey down the 135-foot-tall (41-meter-tall) Insano, formerly acclaimed as the world's largest water slide, unwind in the sauna. It's a delightful pastime that will keep the young and young at heart entertained most of the day.
Dragão do Mar
Drago do Mar is a spot where you can expect to have a great time (which translates to "Dragon of the Sea"). This vibrant cultural complex has a planetarium, a concert hall, and two museums to visit: the Museu de Arte Contemporanea and the Monument da Cultura Cearense.
Catch a movie at the cinema (most are in Portuguese), or stop by Orbita Bar for an evening drink – its brilliantly painted front is difficult to miss.
Parque Ecológico do Cocó
Although Fortaleza is known for its magnificent beaches, you should not miss out on visiting the Parque Ecológico do Cocó, one of South America's largest parks, spanning 2,855 acres (1,155ha). The park was founded in 1989 to teach visitors and protect the local ecosystem, including a large mangrove swamp.
You won't believe how magical the mangroves are until you see them yourself, so schedule a trip aboard the Ro Cocó. In addition, keep an eye out for monkeys.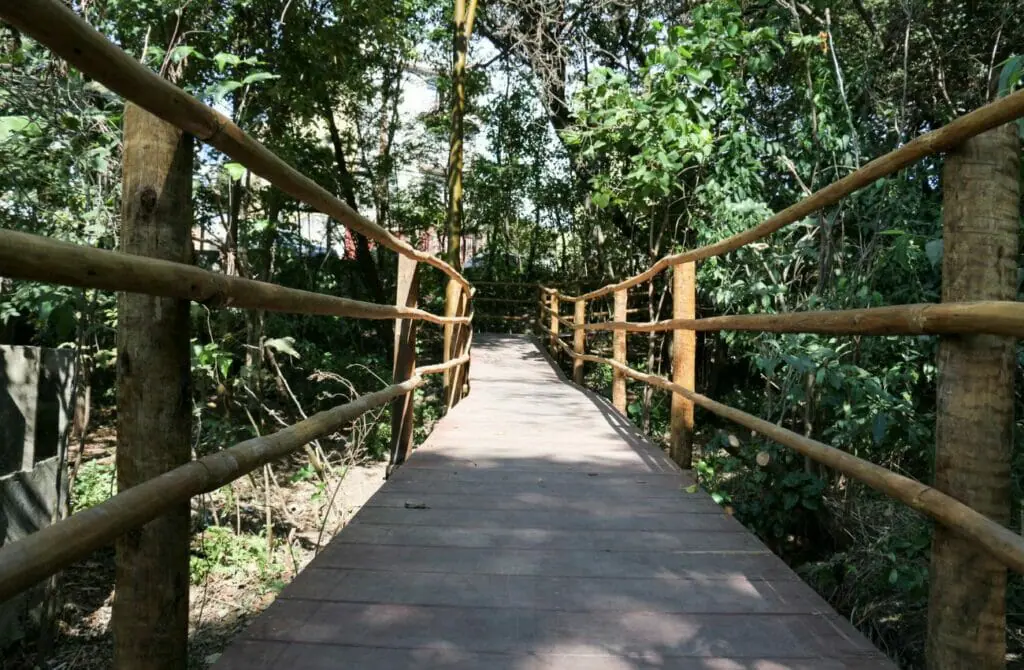 Theatro José de Alencar
The José de Alencar Theatre opened in 1910 and is one of Fortaleza's most iconic landmarks. While visiting this almost century-old theater, you may see the Art Nouveau facade, the wrought iron architecture, the bright stained glass windows, and the gardens designed by Brazilian landscape architect Roberto Burle Marx. A guided tour costs R$ 6 and lasts around one hour.
Ponte dos Ingleses
The Ponte dos Ingleses is a bridge on Praia de Iracema, a beautiful stretch of beachfront in Fortaleza. The oceanfront pier offers one of the most stunning views of the setting sun. The facility was built in 1921 to provide service to the port of Fortaleza.
Nevertheless, due to budgetary restrictions, it was never completed and used in its original role. By the middle of the 1990s, the bridge had been converted into a public leisure space.
Praia do Futuro
Praia do Futuro is a long, wild beach quite different from the beaches in Fortaleza (and therefore safer), but it is also dotted with numerous beach bars and restaurants. It is around ten kilometers or six miles from the city core.
If you want to try some of the world-famous crabs served with sauce, farofa, a view of the ocean, and beer or coconut water, here is the place to go. Chico do Caranguejo is one of the best spots to eat crab, especially on Thursdays when they celebrate Crab Day.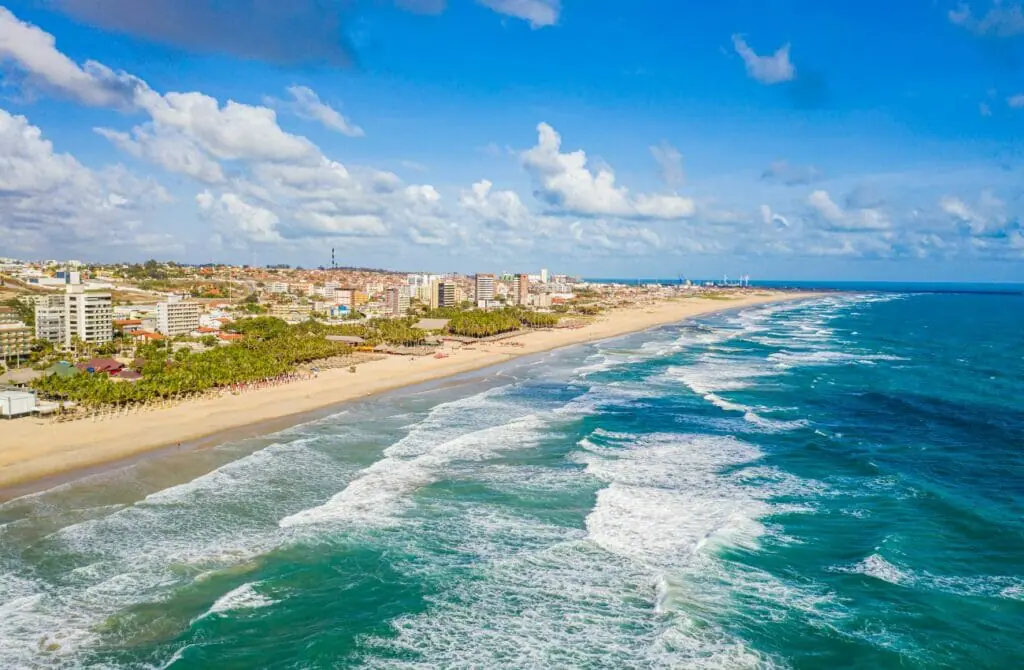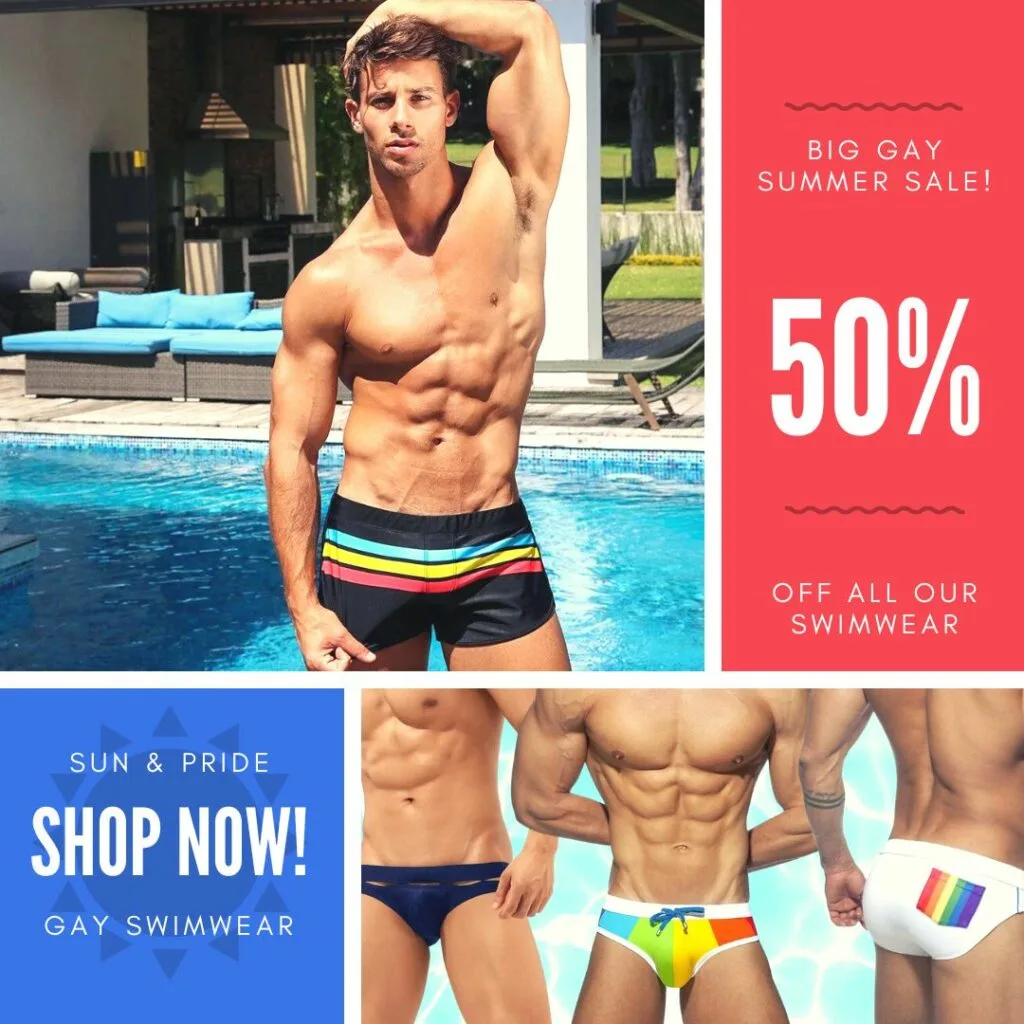 Centro Dragão do Mar de Arte e Cultura
This large cultural facility, popularly known as "The Dragon," has modern art displays, restaurants, and an outdoor bar area. Some of the attractions inside this complex, located in the Iracema area, include a planetarium, a modern art museum, the Museum of Ceará, a library, and a cinema.
The atmosphere becomes lively as it becomes dark and acts are going on. Remember that the surrounding neighborhood is not designed for visitors; if possible, avoid going on nighttime walks alone.
Morro Branco's orange-colored eroding cliffs and dunes will captivate you since it is a spectacular example of nature's beauty and immense power to make things. The erosion process has led to a profusion of various hues of sand, which, when contrasted with the water, is a wonderful sight to see.
Silicografia, often known as sight sketching, is an art form that should not be overlooked if you find yourself in the Morro Branco labyrinth. If you go to a modest lighthouse and wait for the sun to set, you can get a wonderful all-around view of the beach and the ocean. Morro Branco is a stunning experience that will be remembered for a lifetime and is just a day's drive from Fortaleza.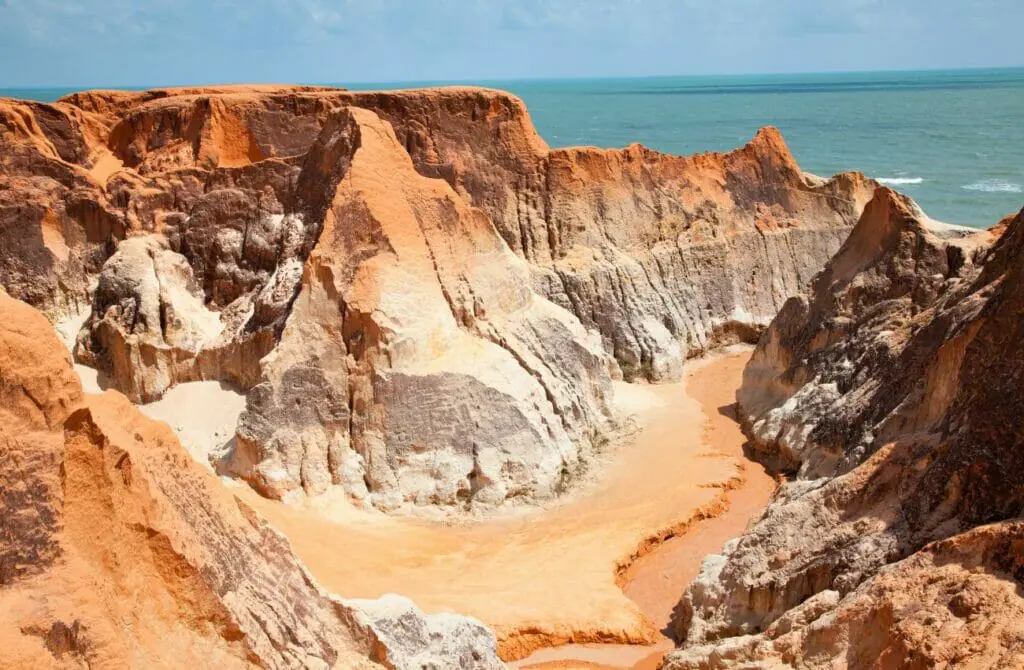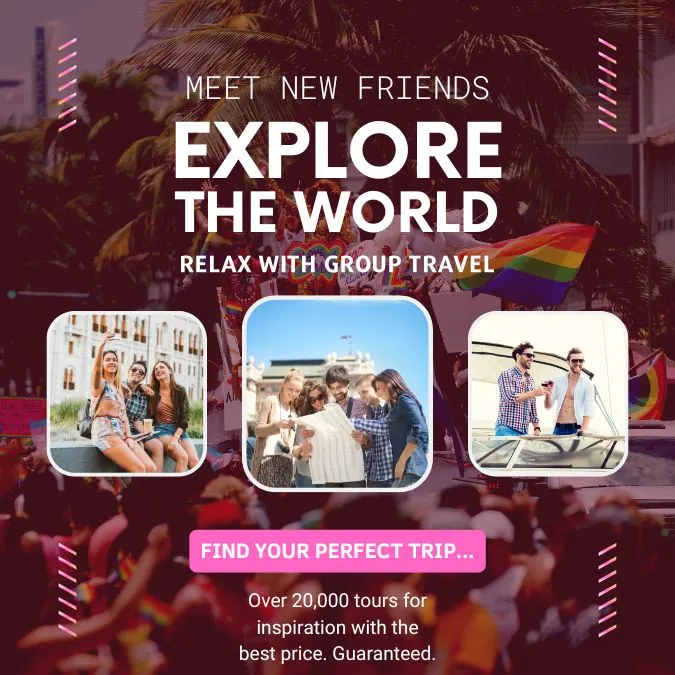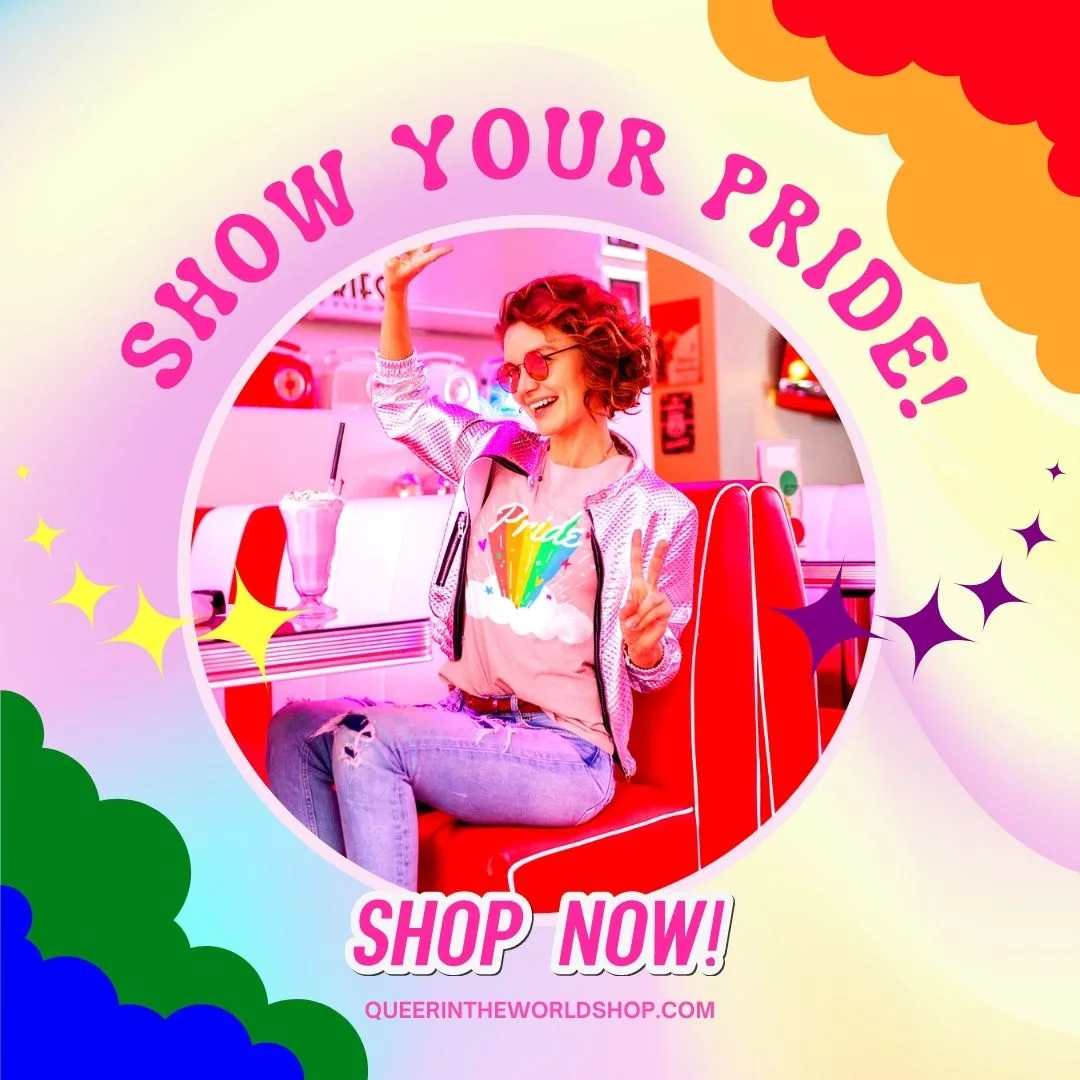 Gay-Friendly And Gay Hotels in Fortaleza, Brazil
Oh, honey, let me tell you about being fabulous and feeling welcome at these hotels in Fortaleza! Don't worry about other hotels that might not be as accepting; these gems are committed to being LGBTQ+ friendly and ensuring that all guests feel like they belong.
Being gay-friendly isn't just about waving a rainbow flag or using the right pronouns; it's about creating a safe and inclusive space for all guests. From non-discrimination policies to providing resources for LGBTQ+ travelers, these hotels go above and beyond to ensure you feel welcomed and supported.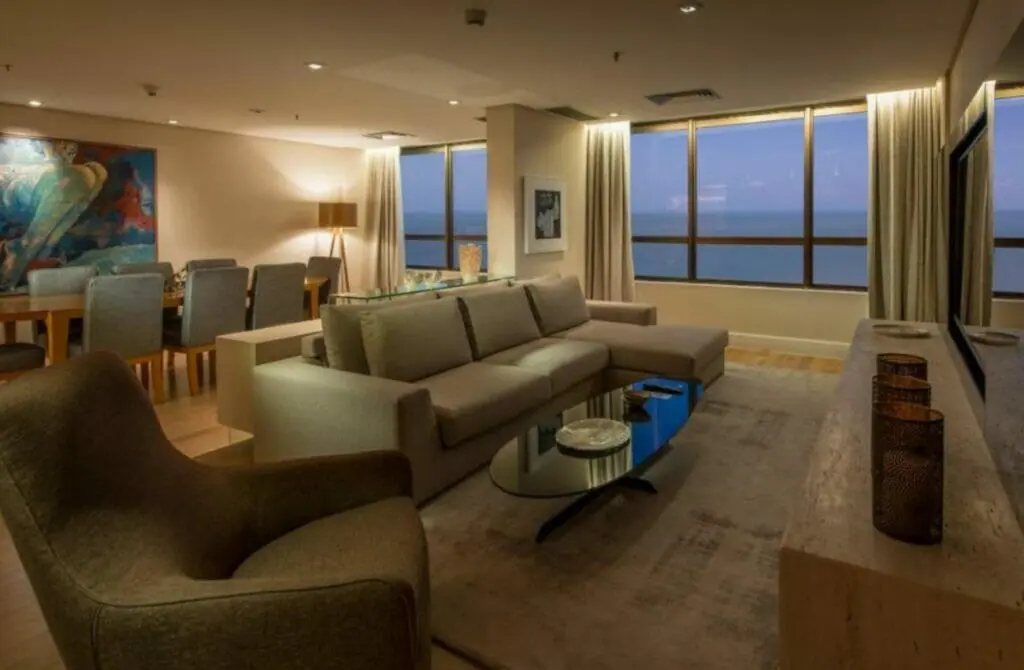 And honey, they don't stop there! Some of these gay-friendly accommodations have extra amenities and literature about local LGBTQ+ events and resources. Plus, they might even be located in an area known for being LGBTQ+ friendly. Now, let me tell you about these fabulous hotels in Fortaleza.
While there aren't any specifically gay hotels or resorts, these are the crème de la crème of gay-friendly accommodations. And if these don't tickle your fancy, don't worry; there are hundreds of other options in Fortaleza to fit your budget and needs. So pack your bags, put on your most fabulous outfit, and get ready to feel welcome and accepted at these gay-friendly hotels in Fortaleza!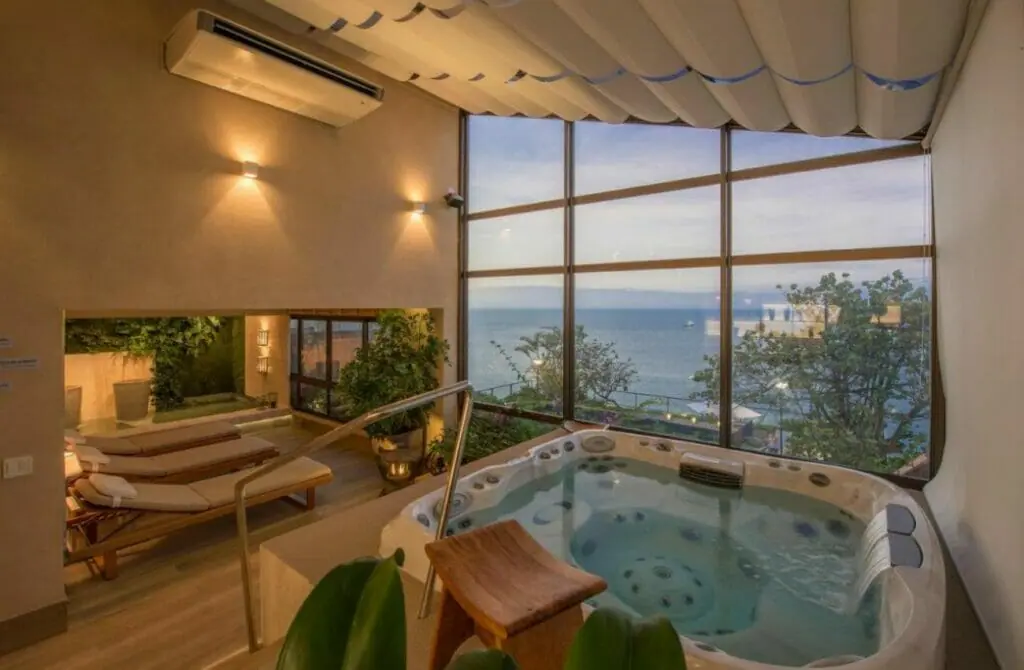 The Hotel Gran Marquise is an excellent choice for staying in Fortaleza, just in front of Mucuripe Beach. The hotel takes considerable measures to ensure that its guests have a wonderful time throughout their whole stay at the hotel.
Intriguingly, this hotel offers visitors access to several exciting outdoor activities they may partake in during their stay to keep themselves entertained. You can relax in the outdoor pool while admiring the breathtaking beach views. You can obtain a drink at the poolside bar or in the lobby.
The rooms at Gran Marquise are all attractively arranged in a modern manner, with ample space and high-quality facilities to meet the distinct needs of each guest. Each accommodation has a minibar so guests can enjoy their favorite drinks while admiring the spectacular views of the ocean. In addition, visitors will enjoy bathing in the provided bathtub.
You will have access to the Mucuripe Grill restaurant, which specializes in local food, and Mangostin, which provides a cuisine that mixes Asian and Western aspects, at the Gran Marquise. The hotel also features the L'occitane Gran Spa on-site, providing massages and other treatments to those interested in aesthetic improvement.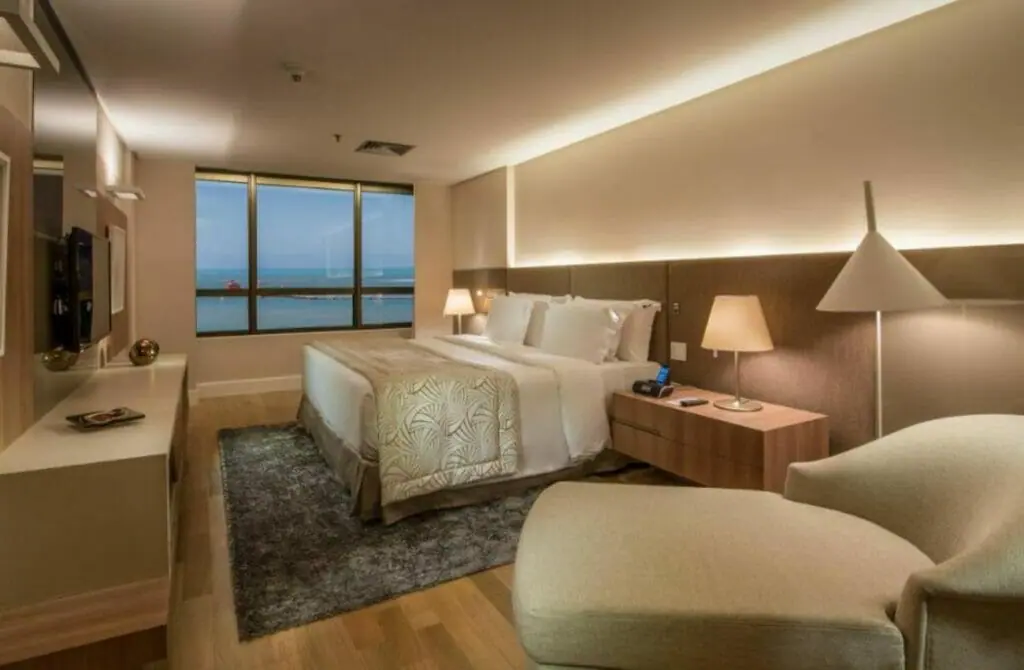 The Gran Mareiro Hotel is one of the best hotel options for LGBT guests in Fortaleza since it overlooks Beach do Futuro, one of the area's most popular beaches.
Guests have access to the facility's fitness facilities in the morning and evening, where they may communicate with one another while also getting some exercise. Since the hotel has a fitness center, you may continue to live a healthy lifestyle even while staying there.
The Gran Mareiro Hotel has ensured that each room has the essential conveniences to make each guest's stay as pleasant as possible. Each room has been provided with a large and comfy need to guarantee that visitors enjoy a peaceful night's sleep.
Each room is furnished in light hues and has a private bathroom. After a long and exhausting day, guests are encouraged to relax with a drink at the bar or one of the two restaurants on the property.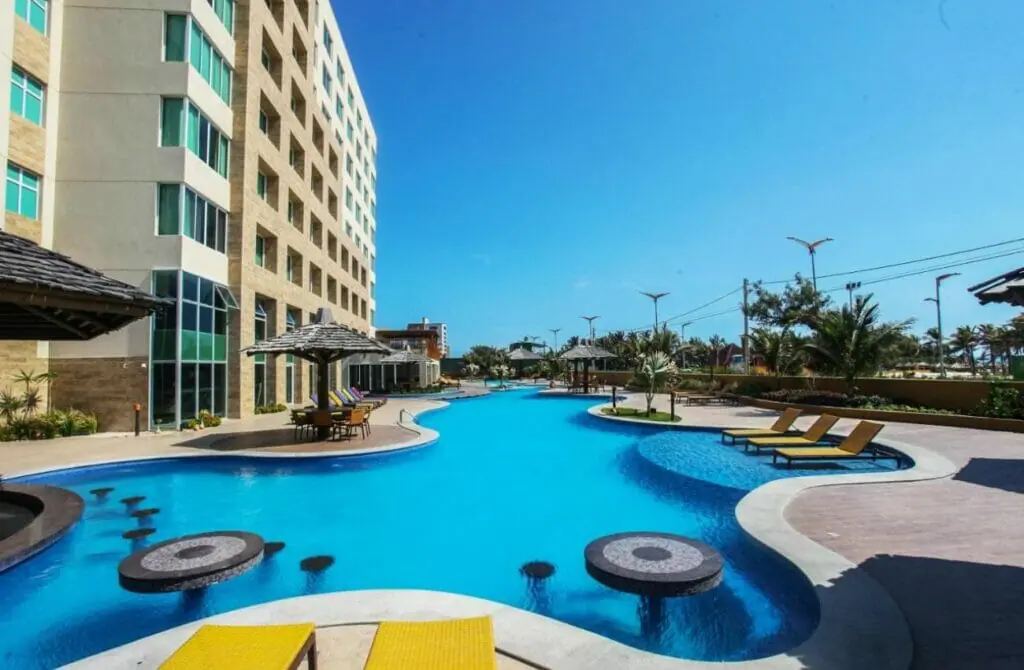 Refúgio Hostel Fortaleza ☆☆☆☆☆
The Refugio Hostel in Fortaleza is an excellent alternative for tourists searching for a place to relax that is tranquil, pleasant, immaculate, secure, and foreign, all within an environment conducive to such activities. When you arrive at the hostel, you will be met by a group of kind and experienced workers who will be happy to help you with everything you need throughout your stay.
The German-run Refugio Hostel Fortaleza provides a comfortable and environmentally friendly setting. It has solar heaters and panels to create its own energy and water reuse system, providing comfort on par with European nations. It also boasts a highly motivated workforce to look after you and a clear aim to give you an amazing stay.
The hostel provides dorms with two to eight beds and three large private suites with air conditioning and naturally ventilated and lighted bathrooms. The hotel features two outside terraces, each with a professional stone BBQ grill, from which guests may enjoy the city's breathtaking views.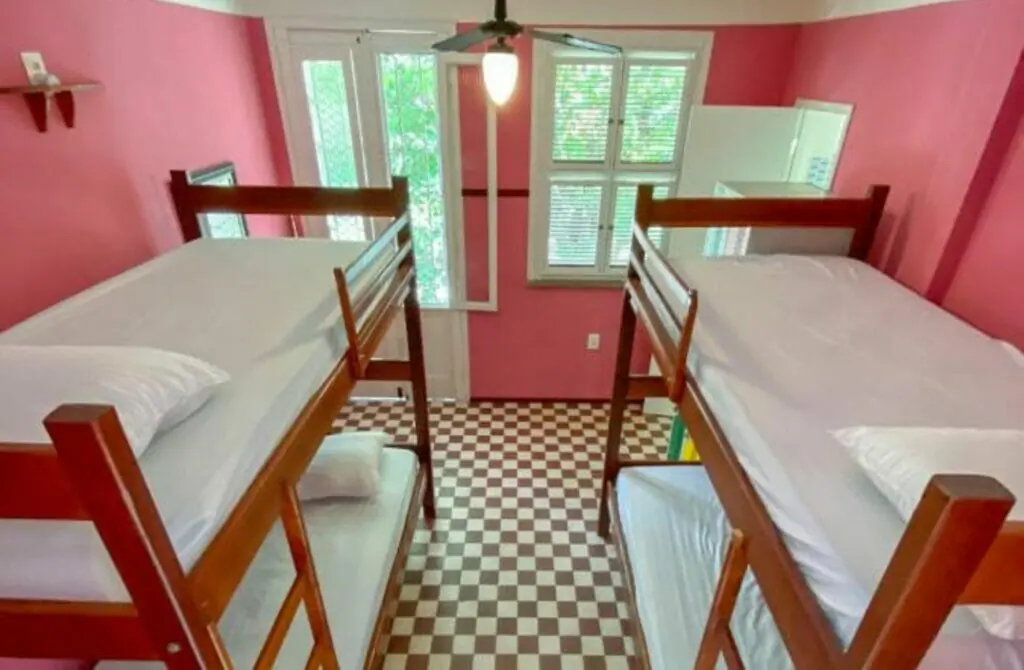 Gay Map Of Fortaleza
Finding it hard to envisage where everything is in Fortaleza? Hopefully, this queer-centric map helps where we have marked all the bars, clubs, parties, hotels, saunas, massages, and more will help you stay in the spot best suited to you!
Gay Nightlife in Fortaleza, Brazil
Darling, let's talk about exploring the queer nightlife in Gay Fortaleza, shall we? It's true this city might not be the most welcoming to our fabulous community but fear not! Being gay is perfectly legal here; remember to err on the side of caution when outside of queer-friendly spaces.
But let's focus on the fun, shall we? Exploring gay nightlife can be one of the most thrilling and enriching experiences while on the go. From dancing up a storm at a gay club to sipping cocktails and rubbing elbows with the locals at a gay-friendly bar, you'll have a chance to immerse yourself in the local culture and make memories that will last a lifetime.
And darling, we've got you covered with the best gay and gay-friendly spots in town. So don't be shy; step out of your comfort zone and explore the queer nightlife in Gay Fortaleza. Trust us; it'll be worth it!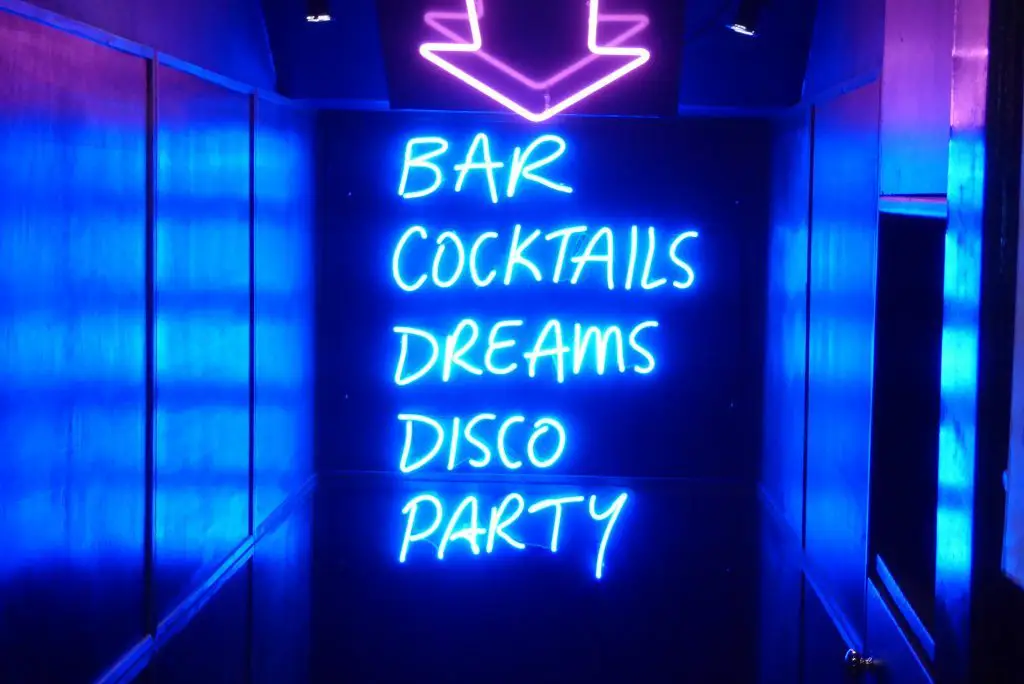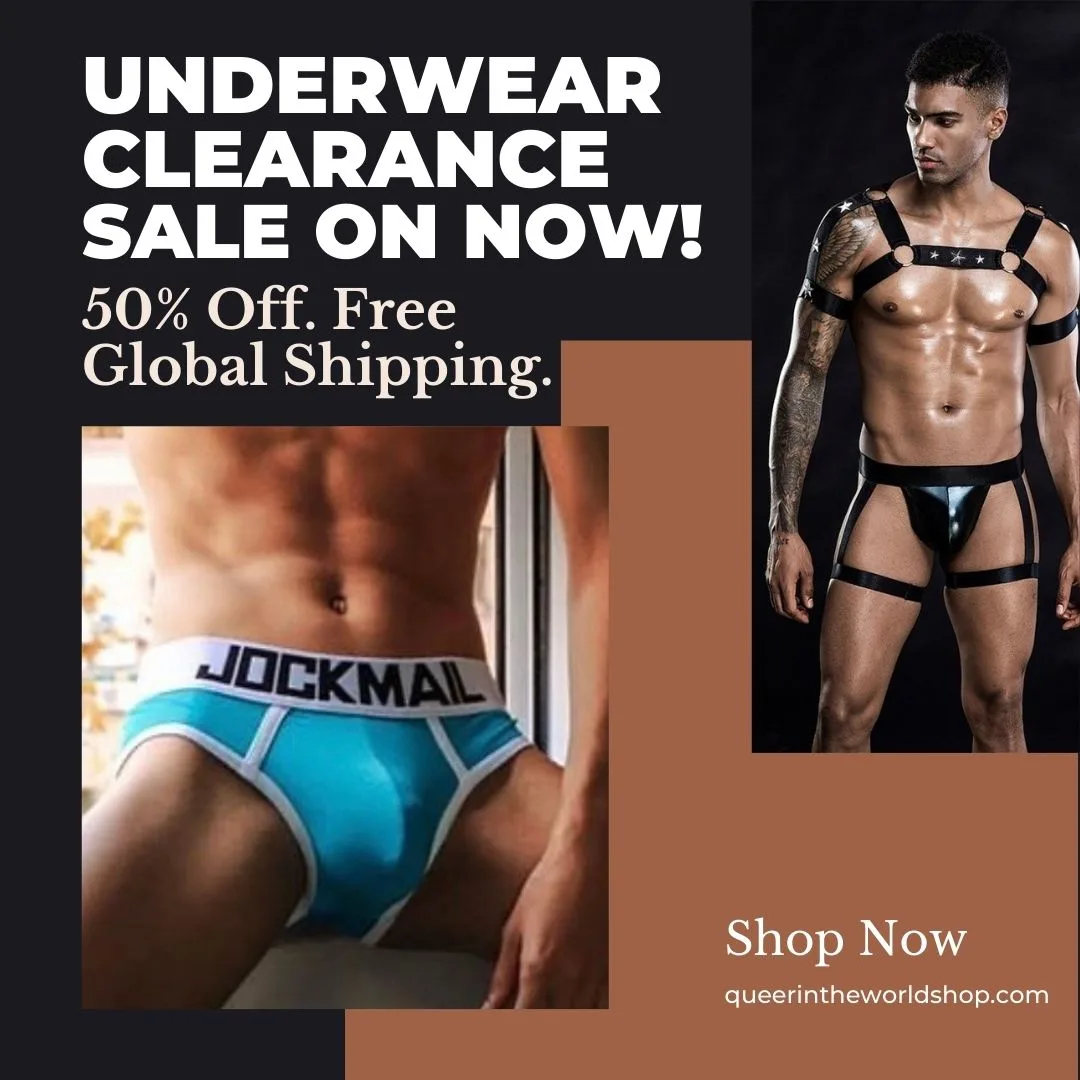 Gay Bars and Clubs in Fortaleza, Brazil
The Lights is an LGBT club in Fortaleza in the Benfica district near the UFC School of Economics. This facility is often used for karaoke parties, events with live DJs, and themed get-togethers. On Fridays, there is sometimes so much foot activity that people spill out onto the streets.
The gay bar, Barraca do Joca, or Joca for short, is located on the beach in Fortaleza. You can get there on any day of the week. Keep an eye out for the seahorse monument that marks the spot; it's in front of Hotel Beira Mar. By the entrance door, there is a flag depicting LGBT pride.
It is not a fancy restaurant but a lot of fun, and they serve great seafood. The vast bulk of the tables is laid out on the sand. It functions more as a beach bar than anything else. The busiest time in Barraca does Joca is usually around lunchtime.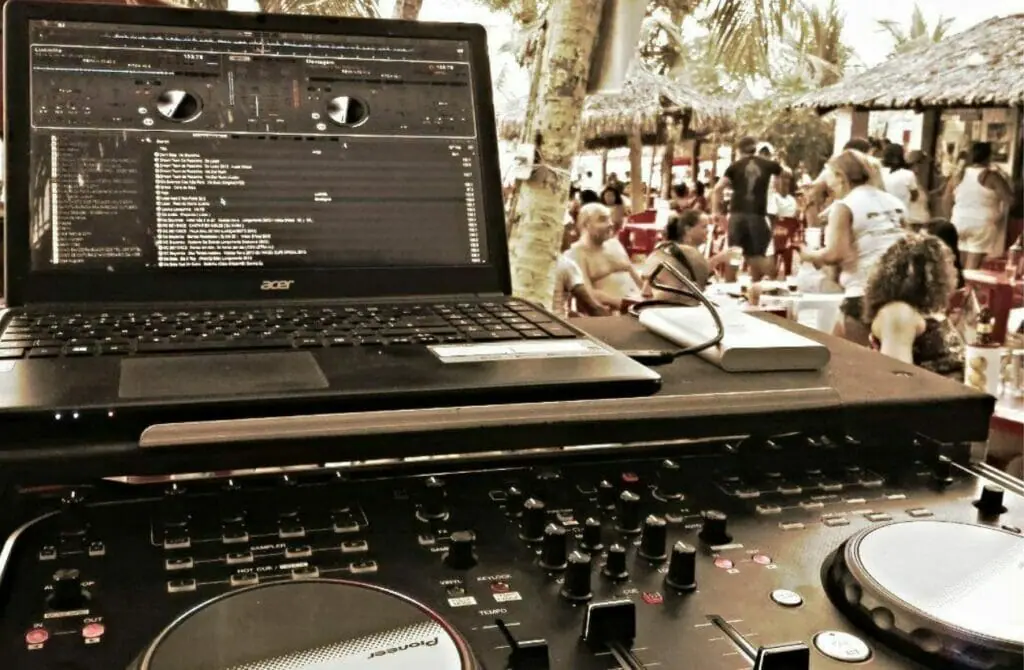 Gay-Friendly Bars and Clubs in Fortaleza, Brazil
The Alpendre is a pub that provides a variety of traditional regional dishes and an intriguing selection of beers and cachacas. It's a great place to spend an evening since the music is enjoyable, and so are the people that frequent it there.
The Pirata Bar is a major tourist attraction in its own right, and it is the only place in town where a Monday night may be thrilling. As the name suggests, this is a pirate-themed restaurant, and the costumed servers and moored ship contribute significantly to the proper ambiance.
Pirata Bar is a frenzy of Latin rhythms, drinks, and dancing on a Friday night. This pub is well-known for having a carnival-like atmosphere. You must visit this nightclub throughout your stay in Fortaleza; hence, you should make a reservation.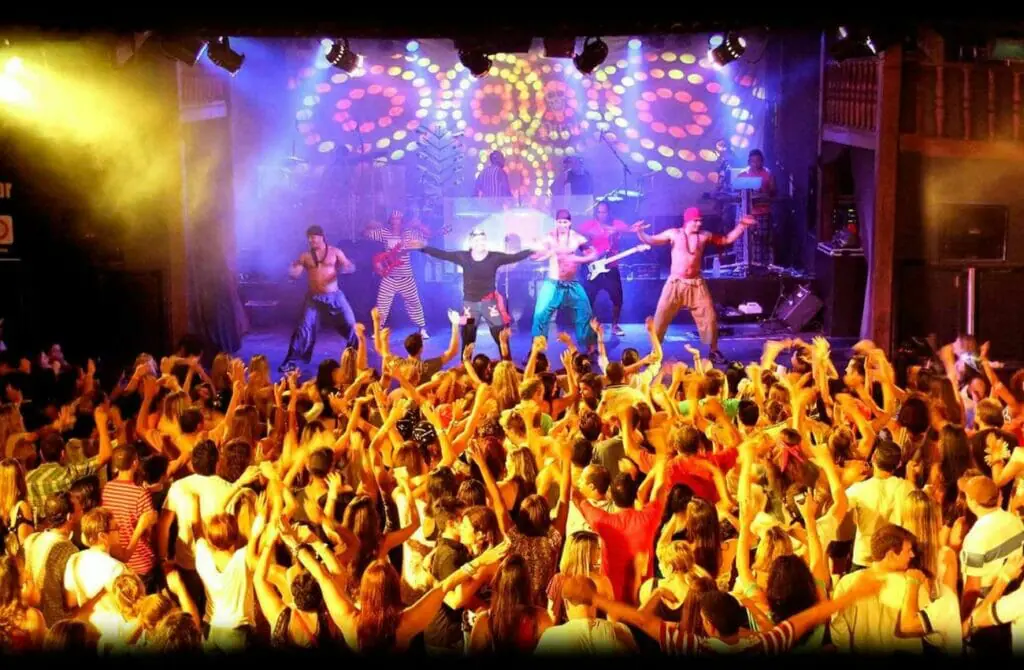 Misaki, a contemporary Japanese restaurant in the Jardins Open Mall, is a popular eating attraction in the neighboring neighborhood. The lunch and dinner menus are separate, and the menu is refreshed regularly. The meal is presented in an inventive and delicious manner. Because of the presence of sushi and sashimi, the modified cuisine comprising fish, shellfish, and steaks has gained quite a popularity.
Because of its high ceilings, wooden elements, muted lighting, and massive windows, as well as its Asian-inspired architecture, it provides a refined and pleasant feel. At Misaki, you can expect exceptional service and delectable meals and drinks.
Cervejaria Turatti, a well-known Fortaleza microbrewery, is well-known for its exceptional happy hour. This venue distinguishes out for having wonderful cuisine that matches nicely with its numerous drinks and selling competitively priced craft beers of extremely good quality.
The microbrewery in Varjota has an outstanding cost-benefit ratio and is open on Sundays from 17:00 to 0:00, Thursday through Saturday from 17:00 to 0:00, and Saturdays from 12:00 to 0:00.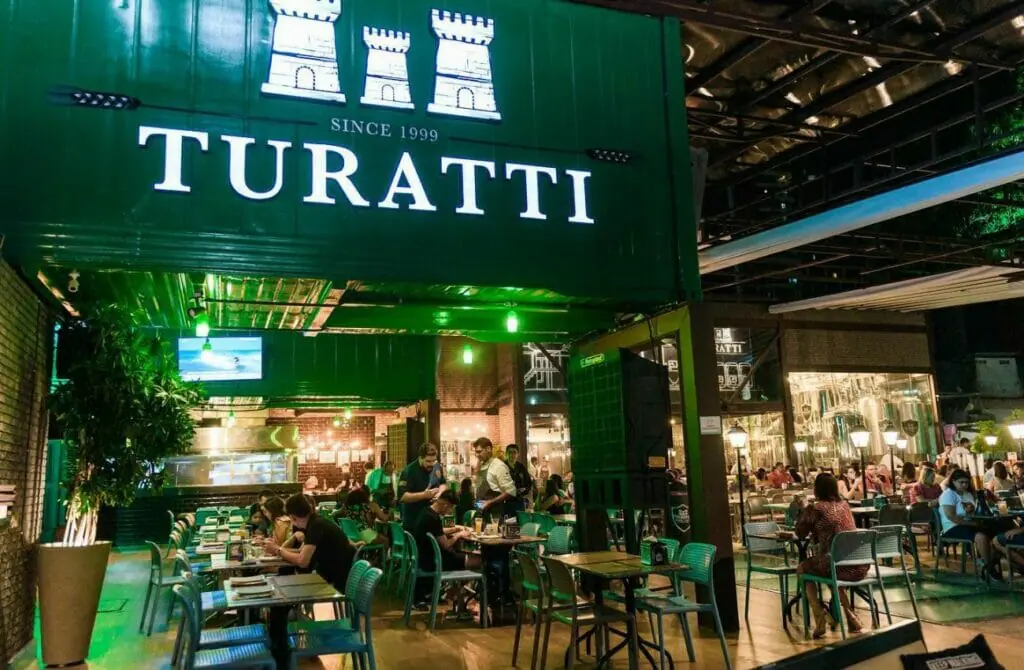 Passarela do Boteco da Praia is a great place to drink in Beira-Mar. The atmosphere is relaxed and diversified; a portion of the restaurant looks out over the river and has seating outdoors.
There is a big assortment of beers on tap, some of which originate from Brazilian brewers, and there is often live music playing in the background. Also, the food, particularly the Cariocas, is great here.
This trendy café in Minas Gerais, Brazil, is known for its extensive selection of single-origin Minas Gerais coffee beans. This cafe's roof is composed of glass. Since the owners are so passionate about what they do, they make great efforts to learn about the history of coffee and other facets of the business. You will not find a better cup of coffee anywhere else!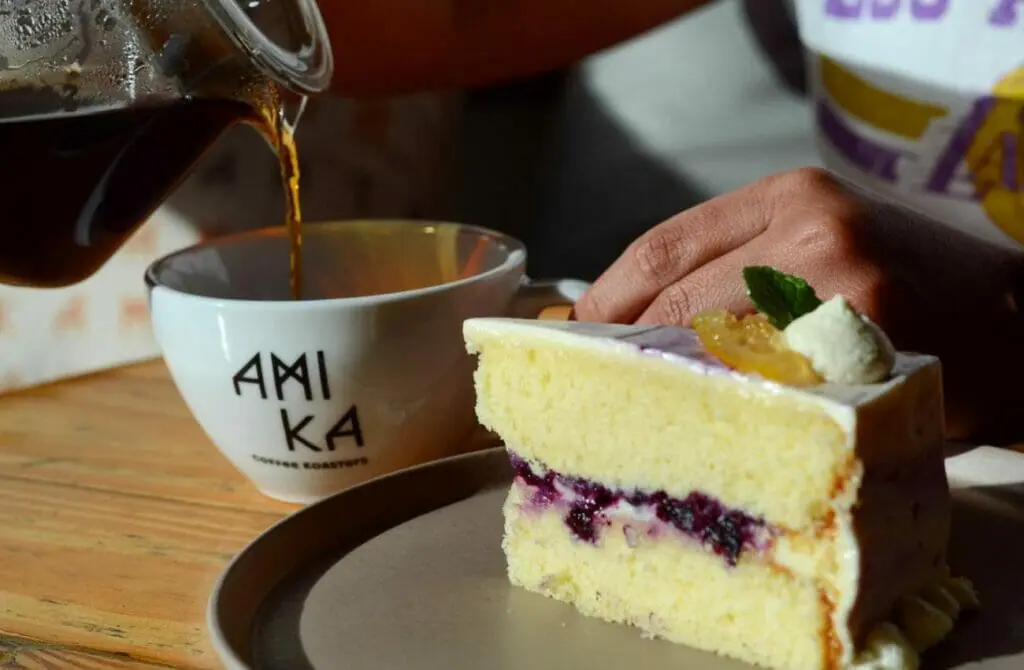 Gay-Friendly Cocktail Bars and Clubs in Fortaleza, Brazil
Various taverns in Fortaleza provide a beachy vibe. Yet, if you want to experience a broad selection of beers, Moleskine Gastrobar, one of the city's greatest eateries, is the place to go. It's as contemporary and hipster as a Brazilian beach town can get, which is saying a lot.
Although other grilled meats are on the menu, you should start with the restaurant's famed bobó de Camaro, a shrimp and manioc purée appetizer. Wash it down with an ice-cold lager or a specialty drink.
Arpo Praia Bar in Beach do Futuro II has been servicing local beachgoers since 1989. The bar is well-known for its drinks and delectable crab dishes served with a coconut milk sauce and highly rated by guests.
Order the crab and pair it with their specialty cocktail, a Kiwi Caipiroska made of vodka, sugar, and lime juice. Guests who want to make the most of their time at the bar can choose the Kiwi Caiprioska with Sake, although it packs a little more punch.
Cuca Legal is a vast residential complex located on Playa Furturo II. Cuca Legal is ideal for families that want to spend their holiday together. Parents may rest at Cuca Legal, which features a children's play structure and beach lifeguards, knowing their whole family can enjoy themselves while remaining safe.
Have a drink with their daily seafood feast while gazing out over the beach's magnificent blue waves and choosing from Cuca Legal's comprehensive beer, wine, and cocktail menu. Cuca Legal's wide range of alcoholic drinks appeals to adults.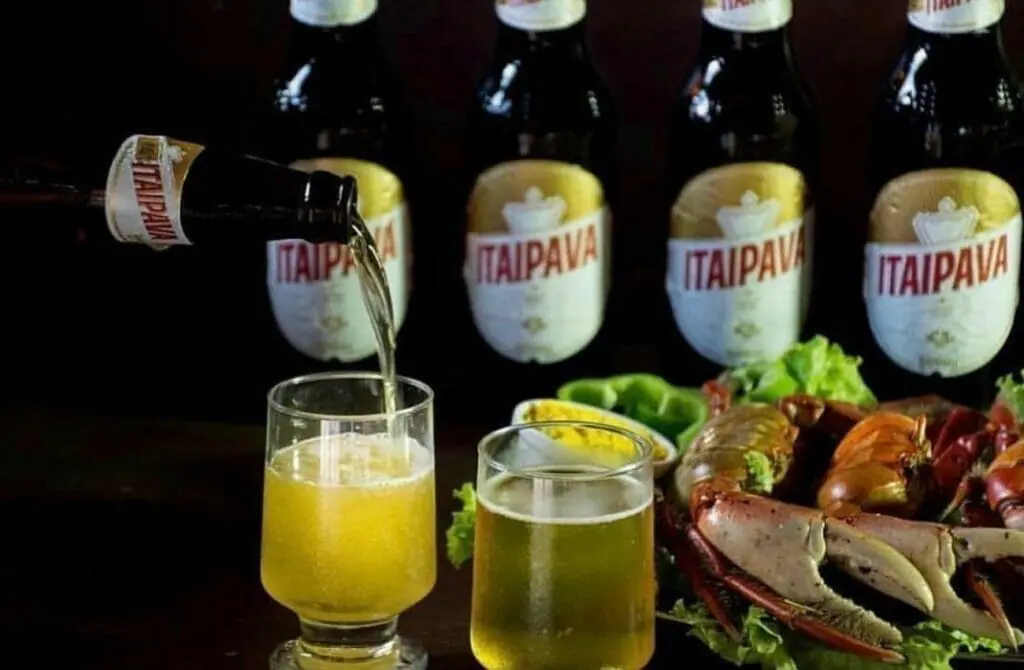 Gay-Friendly Beach Bars and Clubs in Fortaleza, Brazil
Barraca G2 is a relaxed beach bar on Fortaleza's Mucuripe Beach. Barraca G2 is a great spot for a quick refreshment since they have a wide variety of beers, coconut waters, and Caipirinhas that are all cheaply priced.
You may linger a little longer, grab some beverages with friends, and watch one of Fortzaleza's spectacular sunsets. Patrons do not need to dress professionally since the ambiance at Barraca G2 is so relaxed; instead, they may come in their swimsuits and flip-flops and have a nice time.
Crocobeach, located on Beach do Futuro I, is more than just a bar. Crocobeach guests may participate in daily community events such as live music concerts and comedy shows. Crocobeach is a beachside institution part of a vast complex covered by withered palm leaf awnings.
There are plenty of seating and tables, a bar and restaurant, hammocks, and a swimming pool. The grounds are green and lush, and coconut-laden palm trees flank them. Crocobeach is the ideal place to spend the day admiring Fortaleza's natural beauty while enjoying traditional Brazilian cocktails.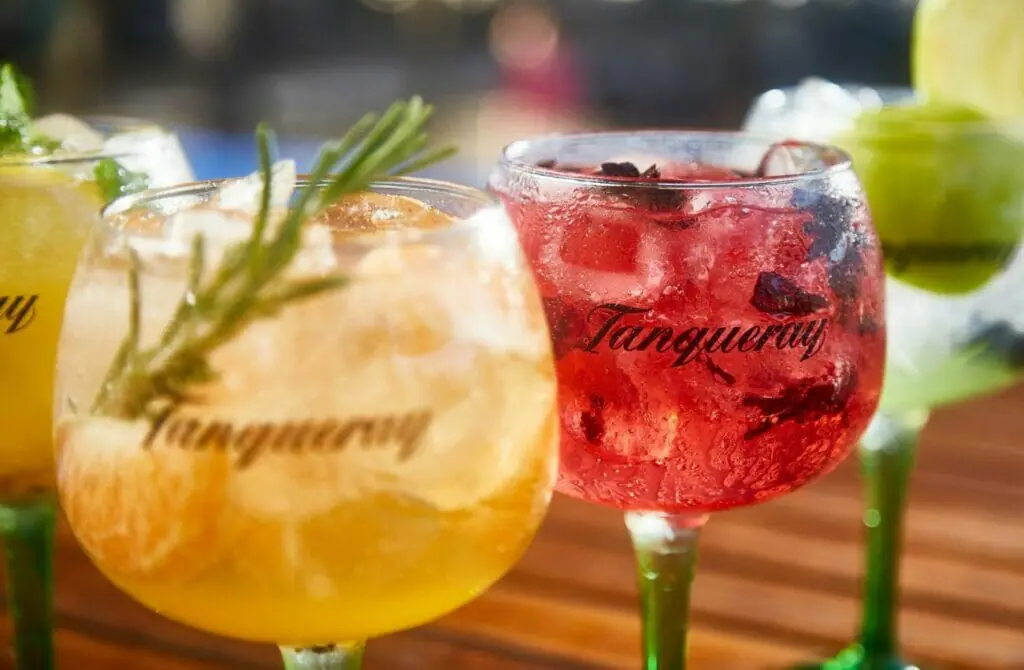 Gay Saunas & Cruising Clubs in Fortaleza, Brazil
When exploring Gay Fortaleza, there's more to life than just cocktails and beers. One aspect of the gay scene that many of us queens love are checking out the local gay saunas and cruising clubs.
Granted, Fortaleza isn't quite as wild as Amsterdam, Barcelona, or Berlin, but these steamy venues still offer the perfect opportunity to meet new people, socialize, and engage in some hot and heavy action without swiping left or right. However, remember that these venues can differ in terms of vibe, patrons, and rules, so it's a good idea to be informed before you dive in.
Gay saunas, sex clubs, and cruising have long been popular ways for queer men to meet and engage in sexual activity, particularly in countries where same-sex activity is not widely accepted or may even be illegal. In these places, gay saunas and cruising clubs provide a safe and discreet environment for queer men to explore their sexuality and connect with like-minded individuals.
Despite the rise of gay dating apps, many queer men still prefer the anonymity and physical connection that can be found in these spaces – so somewhat counter-intuitively, you might have a hotter experience here than you would at home.
We recommend checking out our guide to cruising for first-timers before you get started, which should give you the lowdown, and always practice safe sex.
Keep in mind that local laws and customs regarding gay venues and sexual activity should be respected at all times. With a bit of forethought and an open mind, visiting gay saunas and cruising clubs can be a thrilling and steamy part of your gay Fortaleza adventure.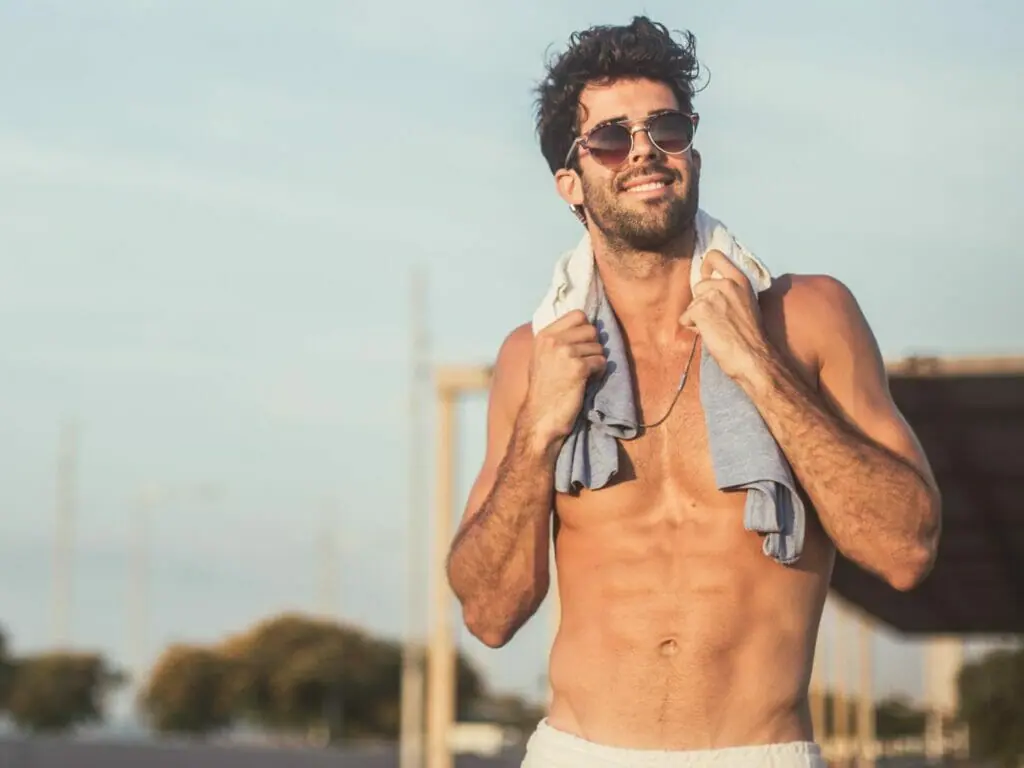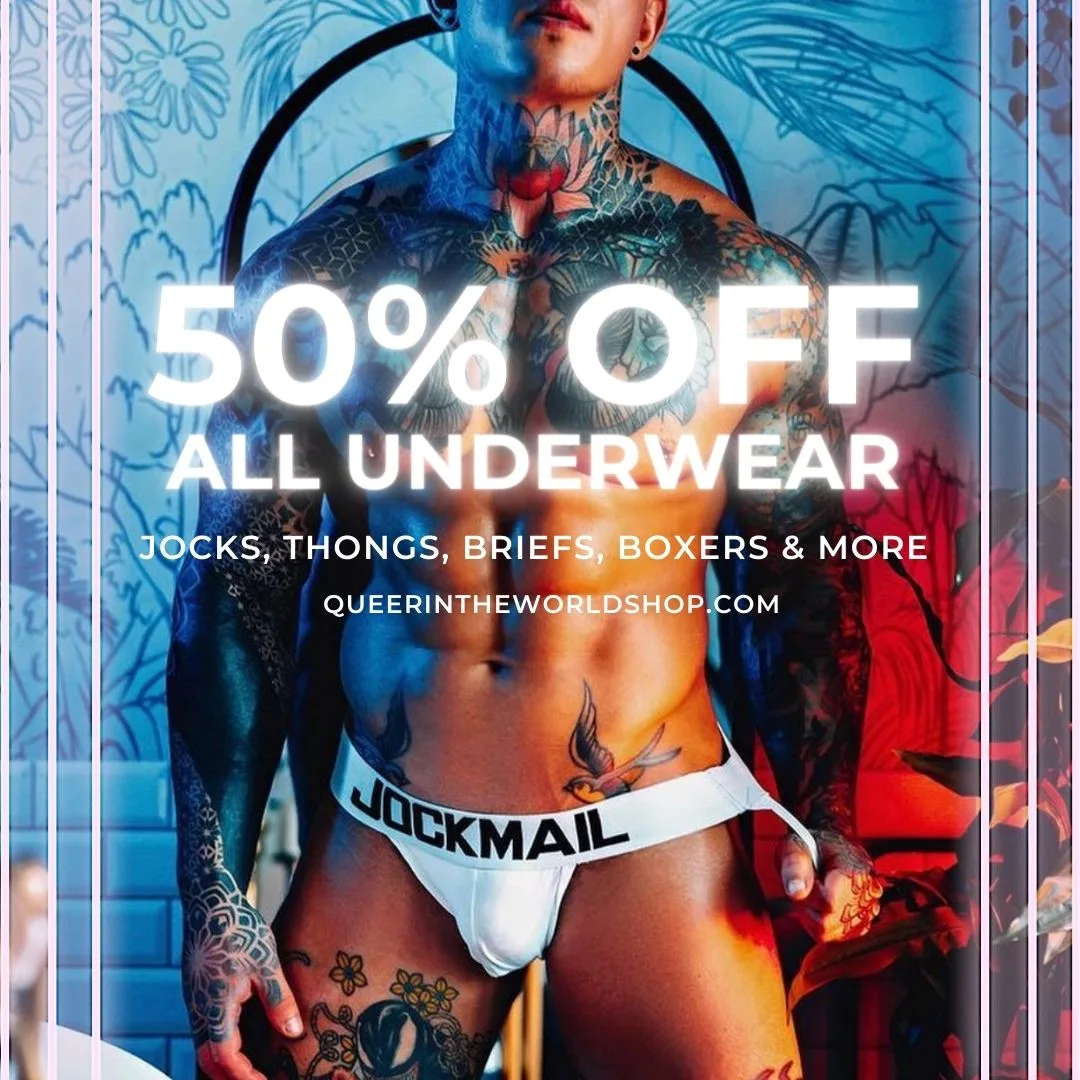 Gay Map Of Fortaleza
Finding it hard to envisage where everything is in Fortaleza? Hopefully, this queer-centric map helps where we have marked all the bars, clubs, parties, hotels, saunas, massages, and more will help you stay in the spot best suited to you!