Chattanooga, Tennessee, may not be the first destination that comes to mind when planning a gay travel adventure, but this charming city has a lot to offer. Nestled in the Appalachian Mountains and situated along the Tennessee River, Chattanooga boasts a vibrant arts and culture scene, stunning natural beauty, and a thriving food and drink culture.
For outdoor enthusiasts, there's plenty to see and do, including hiking and biking along the Tennessee Riverwalk, rock climbing at the nearby Stone Fort Bouldering Park, or exploring the stunning natural wonders of nearby Lookout Mountain. If history is more your thing, be sure to visit the Chickamauga and Chattanooga National Military Park, the site of a pivotal Civil War battle.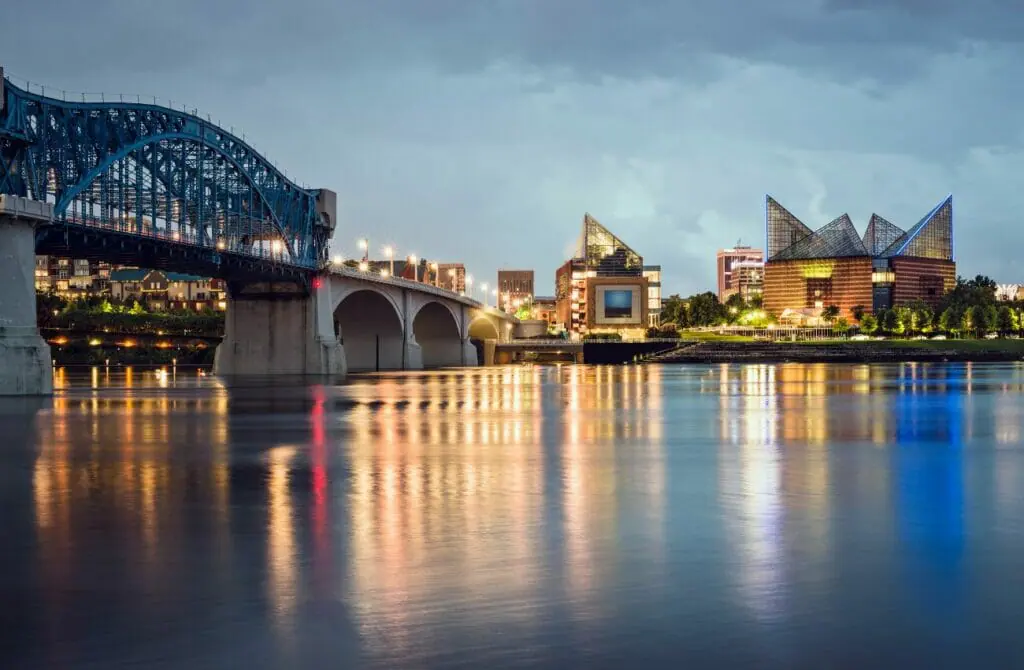 Foodies will also be in heaven in Chattanooga, with a wide range of culinary options ranging from classic Southern comfort food to modern farm-to-table cuisine. Be sure to try the local specialty, Chattanooga Choo Choo Pie, a delicious blend of pecans, chocolate, and coconut.
Whether you're looking to hit the town and explore the city's thriving gay nightlife scene or relax and take in the sights and sounds of Chattanooga, there's something for everyone in this charming city. So pack your bags and get ready to experience all that this hidden gem has to offer!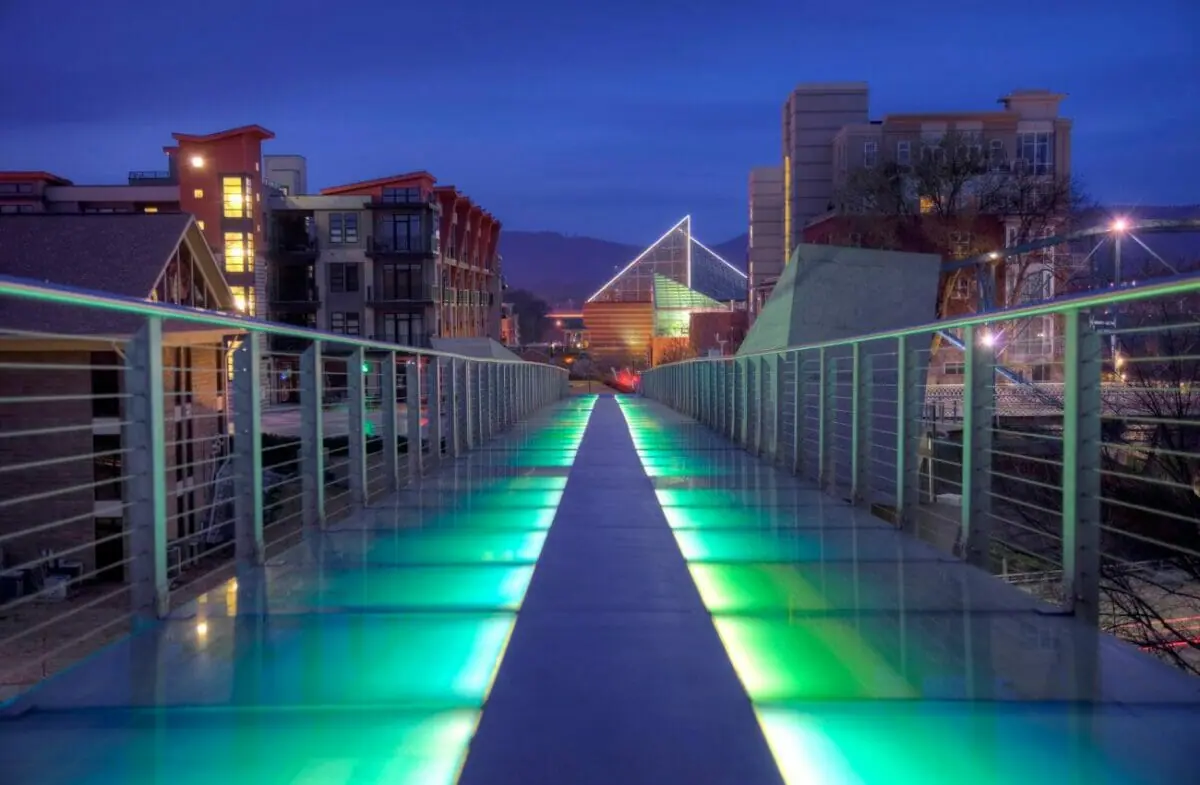 Attractions in Gay Chattanooga, USA
As we move into the attractions section of our gay travel guide to Chattanooga, TN, get ready to be wowed by this vibrant and welcoming city! Chattanooga has a rich cultural history that will inspire and intrigue visitors, with a range of attractions catering to all interests.
Nature lovers will be blown away by the stunning natural beauty of Chattanooga's surrounding mountains and waterfalls, while history buffs can explore the city's rich past at various museums and landmarks. And for those who love the arts, Chattanooga boasts a thriving arts scene, with galleries, theaters, and live music venues to explore.
But perhaps what sets Chattanooga apart from other destinations is its welcoming and inclusive culture. Travelers can feel at home in this southern city, with friendly locals who embrace diversity and celebrate individuality.
So, whether traveling alone or with your partner, Chattanooga promises to be a welcoming and enjoyable destination you'll never forget. So, let's dive into the city's amazing attractions!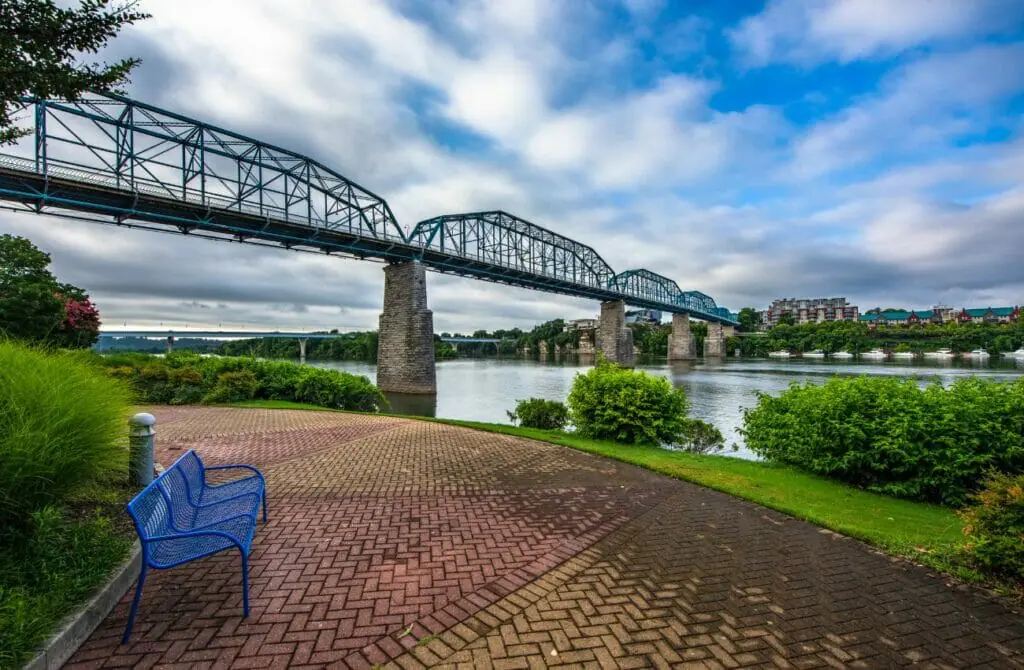 I know you have to have heard the song. If not, find it, listen to it, and then return and keep reading to laugh together. The Glenn Miller Orchestra's 1941 hit song "Chattanooga Choo Choo" put the city on the map, and today you can visit the historic Chattanooga Choo Choo Hotel, which is housed in the city's old Terminal Station.
Built-in 1909, the station was transformed into a hotel in 1973, and its location in downtown Chattanooga makes it the perfect place to begin a night out. Take a stroll along Station Street, where you'll find plenty of options for bars, restaurants, live comedy, dancing, and live music events, making the Choo Choo an excellent starting point for anyone looking for an exciting evening in Chattanooga.
Experience a small-group guided food crawl in downtown Chattanooga that offers the perfect opportunity to discover the best local delicacies. Sample dishes at up to four curated dining locations, with optional wine pairings, at the same cost and time as your standard dinner out. Choose from three itineraries: West Village, Electric Bike Lunch Tour, and Art and Southern Cuisine.
With a maximum of only eight participants, you can enjoy an intimate culinary experience while receiving an insider's introduction to Tennessee's thriving food scene. This tour is perfect for anyone looking for an awesome way to see downtown Chattanooga and all it has to offer!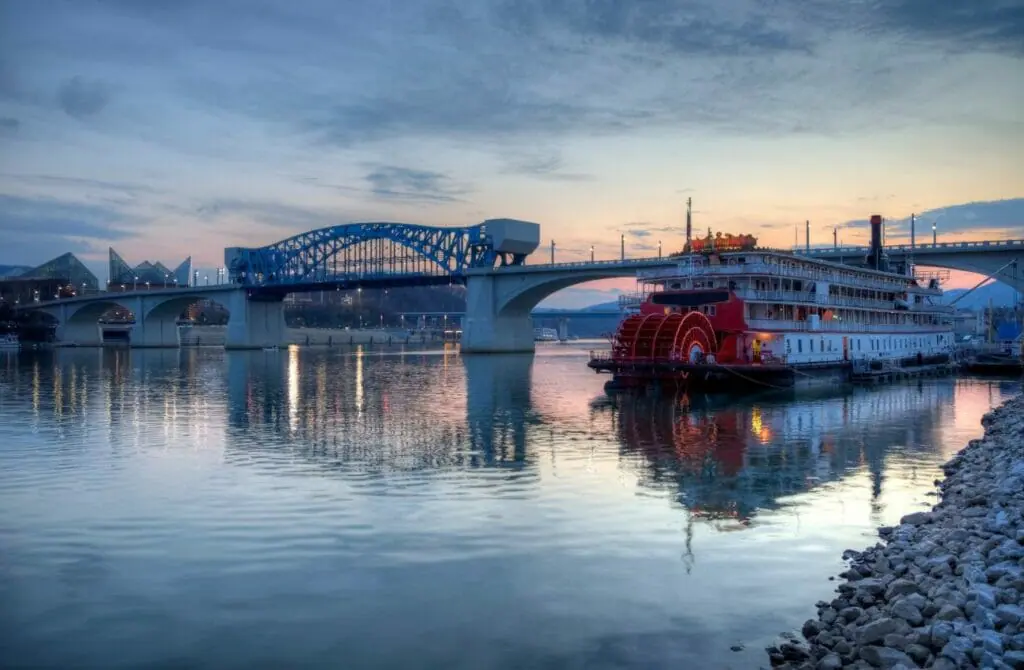 Immerse yourself in American art and history at the Hunter Museum in Chattanooga, with a collection from the 1700s to the present day. The museum comprises three buildings – The Mansion, East Wing, and the newest addition, the Waterfront West Wing.
Located on a bluff overlooking the Tennessee River, the museum is also a popular wedding venue in Chattanooga. Admire the stunning views of the Hunter Museum from the Walnut Street Bridge. It's a fantastic opportunity to see classic American art and a must-visit destination for art lovers visiting Chattanooga.
An outdoor art gallery like no other at Montague Park Sculpture Field in Chattanooga. The 33-acre park is home to over 40 stunning sculptures donated by Mary Thayer Montague, with the idea of creating a sculpture park proposed by local sculptor John Henry. Free parking and admission make this a must-visit attraction for all.
Take a stroll around the park's wide-open spaces and enjoy the creative expression of these large-scale artworks. The park is located in the Southside neighborhood, making it easily accessible for a relaxing and thought-provoking afternoon. Soak up the quirky and charming atmosphere and let your imagination run wild with the unique sculptures on display.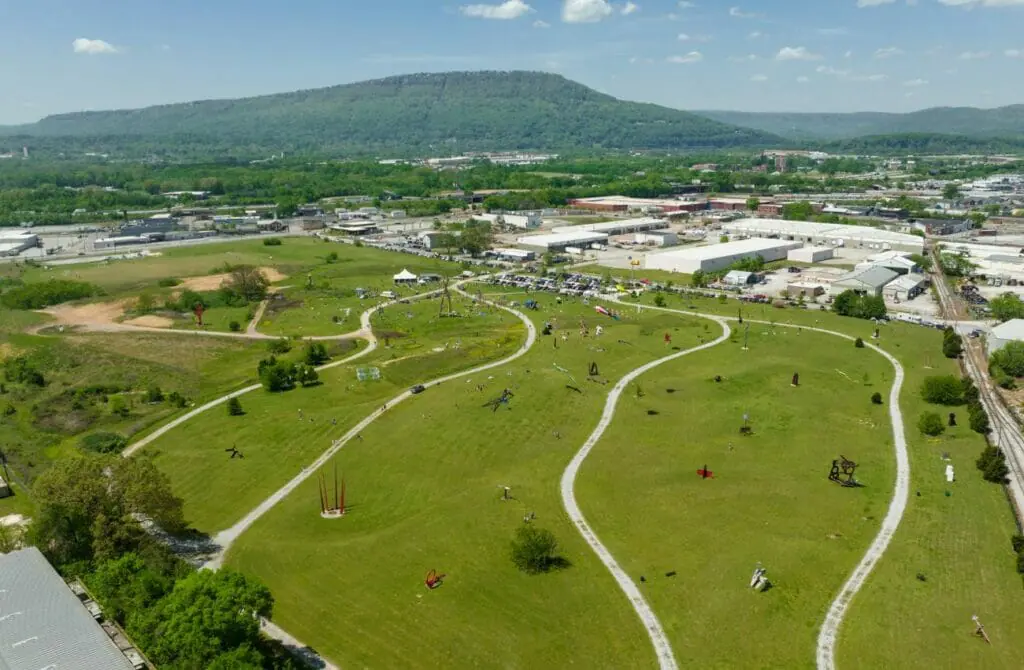 It's Tennessee! You have got to get on a riverboat at some point! Right? Add some romance to your Chattanooga trip with a riverboat cruise along the Tennessee River. The Southern Belle Riverboat offers a range of sightseeing cruises perfect for couples or groups of friends.
Savor a delicious lunch, take in stunning views on a sightseeing cruise, catch a beautiful sunset on an evening cruise, or indulge in a romantic dinner cruise.
For special occasions, the riverboat offers holiday cruises for Easter, Thanksgiving, Christmas, and New Year's, as well as themed cruises for Valentine's Day, Mother's Day, Father's Day, and Halloween. Enjoy a leisurely and unforgettable experience on the river with the Southern Belle Riverboat.
This spot is so romantic! So much of this city is fabulous for couples! The Walnut Street Bridge is an absolute must-visit destination in Chattanooga.
Originally built in 1891 to connect North Chattanooga to downtown, the bridge closed to motor vehicle traffic in 1978. Due to a lack of funding, the plan to tear down the bridge was in motion, but a community group banded together to save the iconic landmark.
Listed on the National Register of Historic Places in 1990, the Walnut Street Bridge was later renovated and reopened to pedestrian-only traffic in the early 1990s. Stroll across the 2,376-foot bridge and take in stunning views of the Tennessee River while enjoying a refreshing walk in the great outdoors.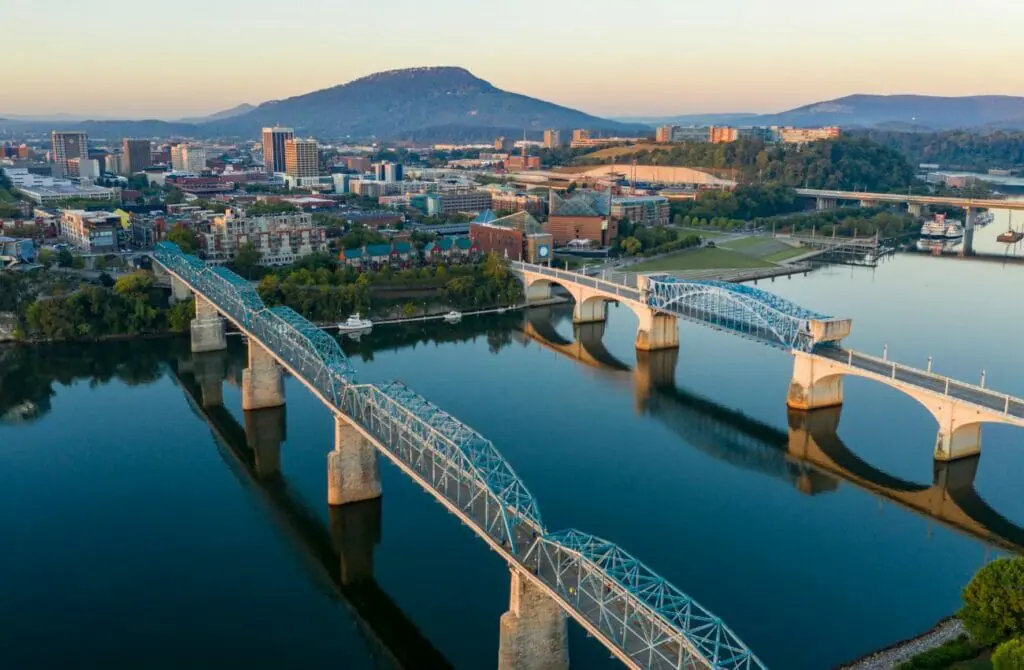 Step into the past at Renaissance Park, nestled on the North Shore just west of Coolidge Park. Take a stroll along the winding hiking trails, get your turtle-spotting skills on point at the pond, and don't forget your picnic basket! But wait, there's more!
You can't miss the awe-inspiring sculpture "Ascending Path" by Aaron Hussey and Brad Bourgoyne, which will leave you breathless. So put on your walking shoes and prepare for the adventure of a lifetime at Renaissance Park. Boy, there sure are a lot of sculptures in Chattanooga!
OK, this one isn't artistic or romantic, but it is something important for you to see and remember. Point Park is a significant part of the history of Chattanooga. The location played a pivotal role in the American Civil War during the Battle of Lookout Mountain on November 24, 1863.
The park's visitor center features a poignant mural depicting the "Battle Above the Clouds" and serves as a reminder of the immense sacrifice and struggle here. Visitors can walk the paved path to the New York Peace Memorial and overlook with sweeping, panoramic views of Chattanooga, reflecting on the solemn history of this hallowed ground.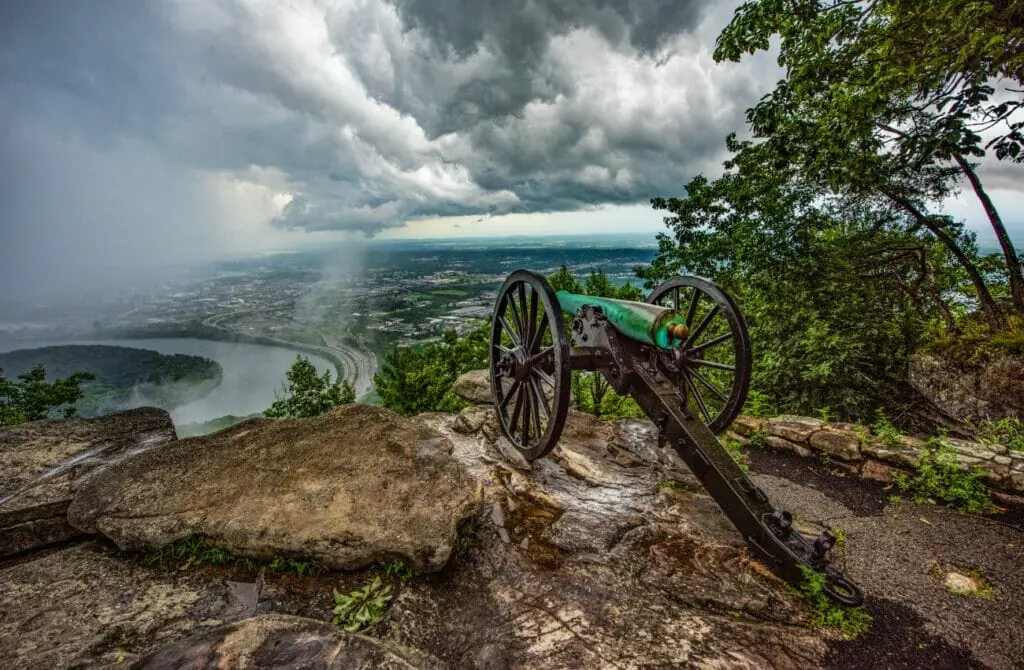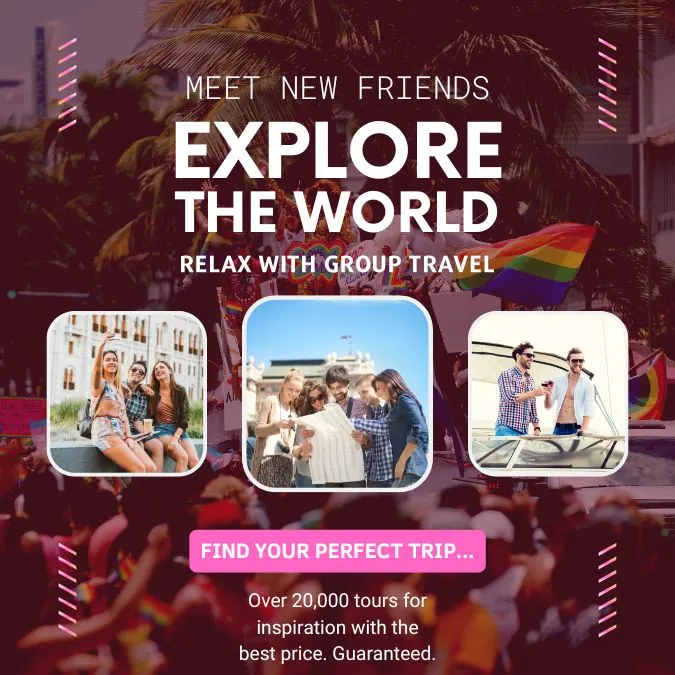 Gay and Gay-Friendly Hotels in Chattanooga, USA
Being gay-friendly accommodation means that the establishment is welcoming and inclusive to guests who identify as LGBTQ+. This can include, but is not limited to, having policies and practices that demonstrate a commitment to creating a safe and inclusive environment for LGBTQ+ guests, such as non-discrimination policies and providing support and resources for LGBTQ+ travelers.
Some gay-friendly accommodations may also provide amenities specifically catering to the LGBTQ+ community, such as rainbow flags or literature about local LGBTQ+ events or resources. Furthermore, gay-friendly accommodations may be located in an area known for being LGBTQ+ friendly.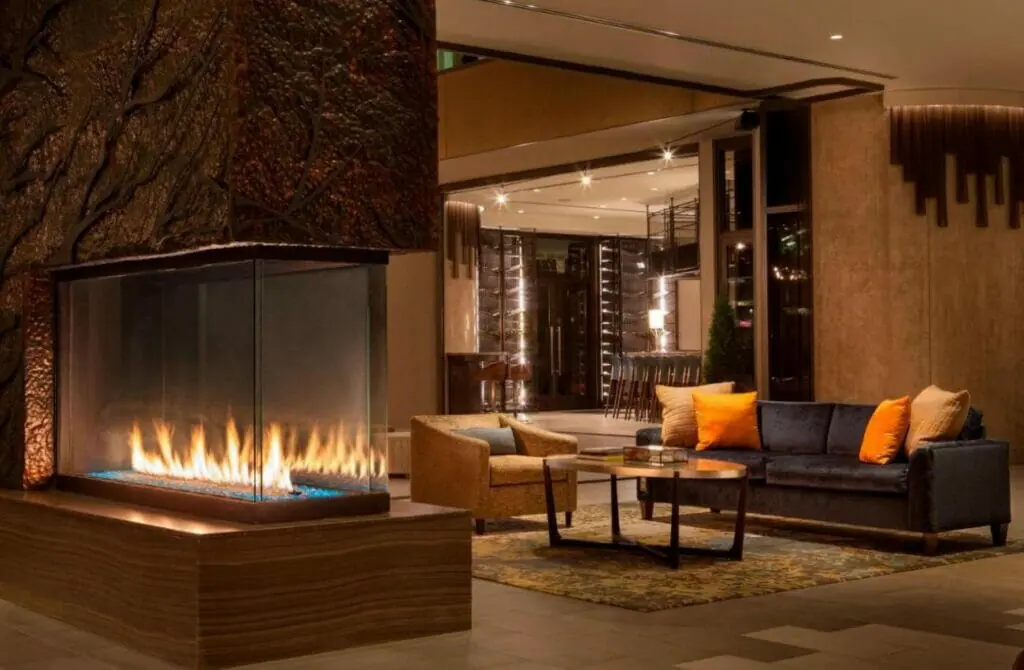 While Chattanooga does not have any specifically gay hotels or resorts, these are the most fabulous and pro-actively gay-friendly hotels in Chattanooga. Needless to say, there are also hundreds more hotel and hostel options in Chattanooga if none suit your desired budget, facilities or area – but these are the best hotels according to other gay travelers and us.
Whatever your needs are, Chattanooga has you covered.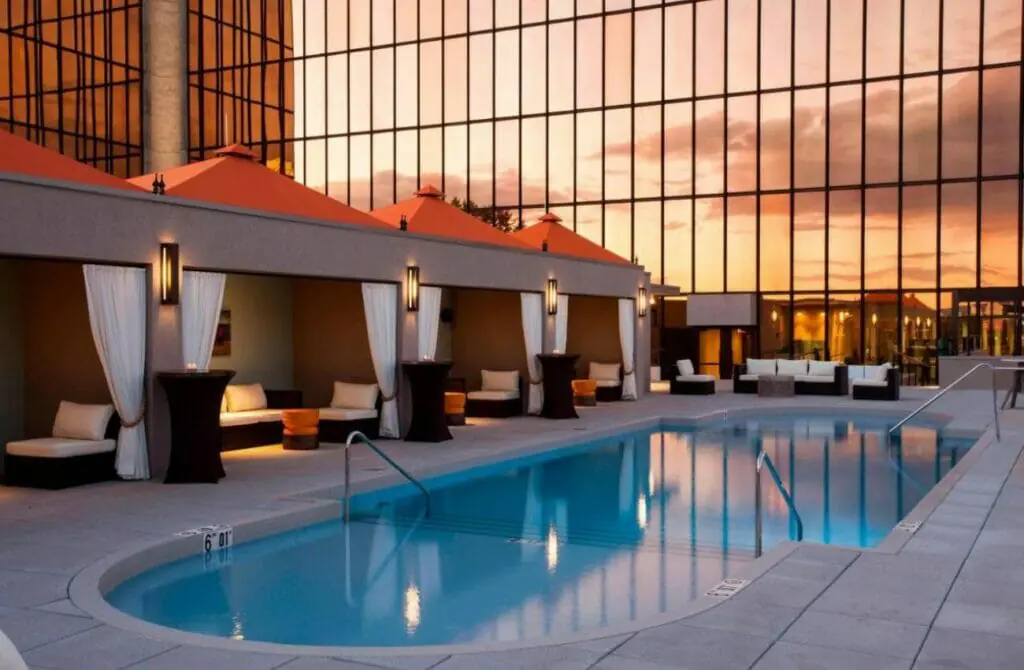 Experience elegance and luxury at The Westin in Chattanooga. This chic hotel has a rooftop terrace with a lively vibe, offering stunning views of the city. The rooms are clean and comfortable, featuring plush beds to ensure a good night's sleep.
The hotel's prime location is within walking distance of downtown Chattanooga, with the Tennessee Aquarium and Chattanooga Riverfront nearby. Indulge in a massage or other spa services at the on-site spa.
Enjoy a meal at any of the three stylish restaurants offering American cuisine and more. Whether you are in town for business or leisure, The Westin Chattanooga is the perfect destination for the fabulous traveler.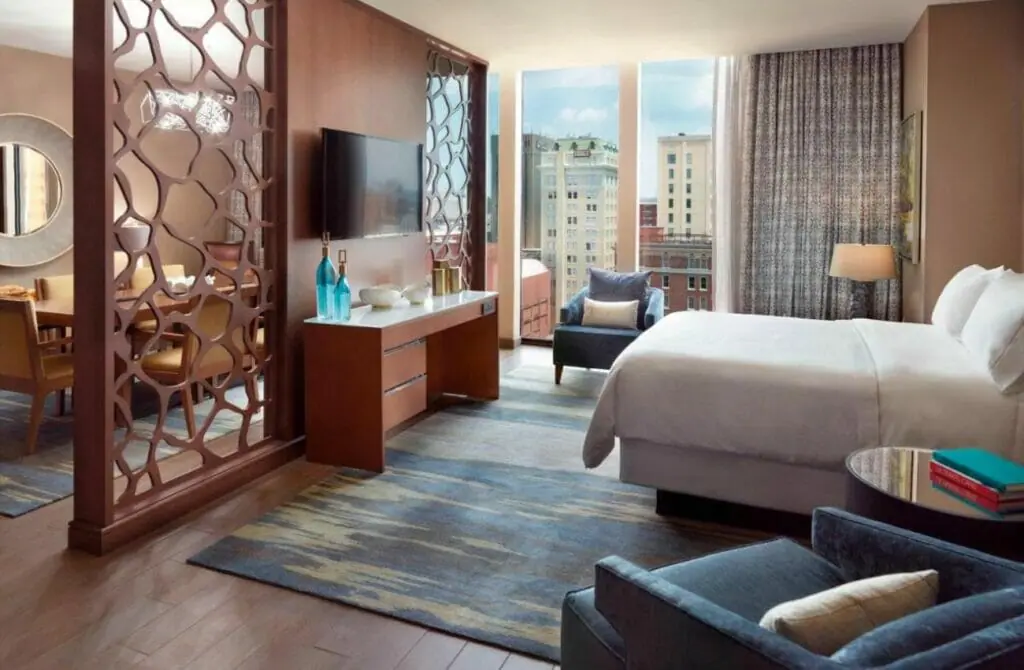 The Chattanoogan Hotel, Curio Collection by Hilton ☆☆☆☆
Discover the luxurious and refined charm of The Chattanoogan Hotel, Curio Collection by Hilton in downtown Chattanooga. This elegant hotel offers a prime location near the city's popular attractions, including the Chattanooga Convention Center and the famous Chattanooga Choo Choo. Take advantage of the convenient free shuttle service and stroll to the nearby bars and restaurants.
Indulge yourself in a blissful escape at the hotel's onsite spa, where you can enjoy rejuvenating treatments like aromatherapy; body wraps, and Ayurvedic therapies. Afterward, relax in the comfort of your tastefully decorated room with all the amenities you can ask for.
The attentive and gracious staff ensure the highest level of hospitality, while the rooftop terrace and beautiful garden offer tranquil retreats from the hustle and bustle of the city.
Embassy Suites Chattanooga / Hamilton Place ☆☆☆
Embassy Suites Chattanooga / Hamilton Place offers a warm and inviting atmosphere that will make you feel right at home. With its proximity to Hamilton Place Mall, you can enjoy a hassle-free shopping experience.
Start your day right with a complimentary breakfast buffet and unwind in the evenings with a positive manager's reception. Don't forget to savor the al fresco dining experience at the onsite Ruths Chris Steakhouse. The hotel also offers convenient amenities such as dry cleaning and laundry services and a cozy bar to relax after a long day.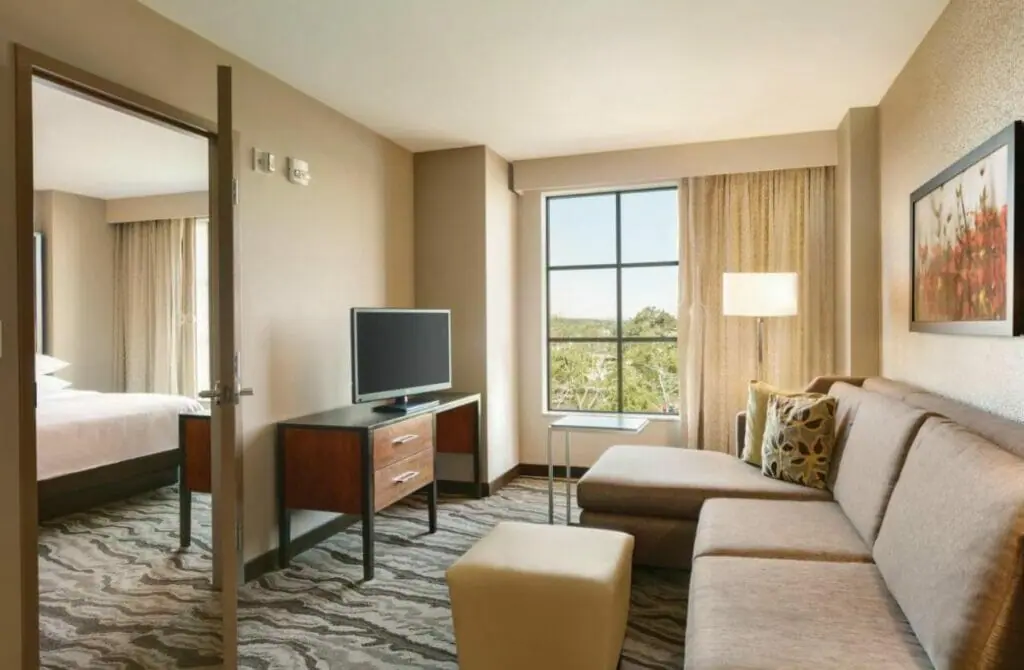 Hotel Indigo Chattanooga – Downtown, an IHG Hotel, is a cozy and stylish hotel near the Tennessee Aquarium and Chattanooga Riverfront. The hotel offers great service, a terrace, and an on-site coffee shop/cafe. The Lobby Restaurant and Bar serve delicious meals and feature al fresco dining and happy hour.
The hotel also offers a 24-hour gym and dry cleaning/laundry services. The staff is friendly, and the atmosphere is welcoming, with a classy look to the hotel that adds to its cozy feel. It's the perfect place to stay while exploring all that Chattanooga has to offer.
Sonesta Select Chattanooga Hamilton Place ☆☆☆
There may not be a hostel around, but there's no lack of top-quality hotels! Sonesta Select Chattanooga Hamilton Place is centrally located and has great restaurants within walking distance. It is super convenient.
The staff is exceptional – they'll make you feel right at home! Plus, the rooms are clean and comfy, and the amenities include a grocery/convenience store, a firepit, and more. Don't forget to hit up the 24-hour gym to burn off all those delicious meals you'll be having nearby!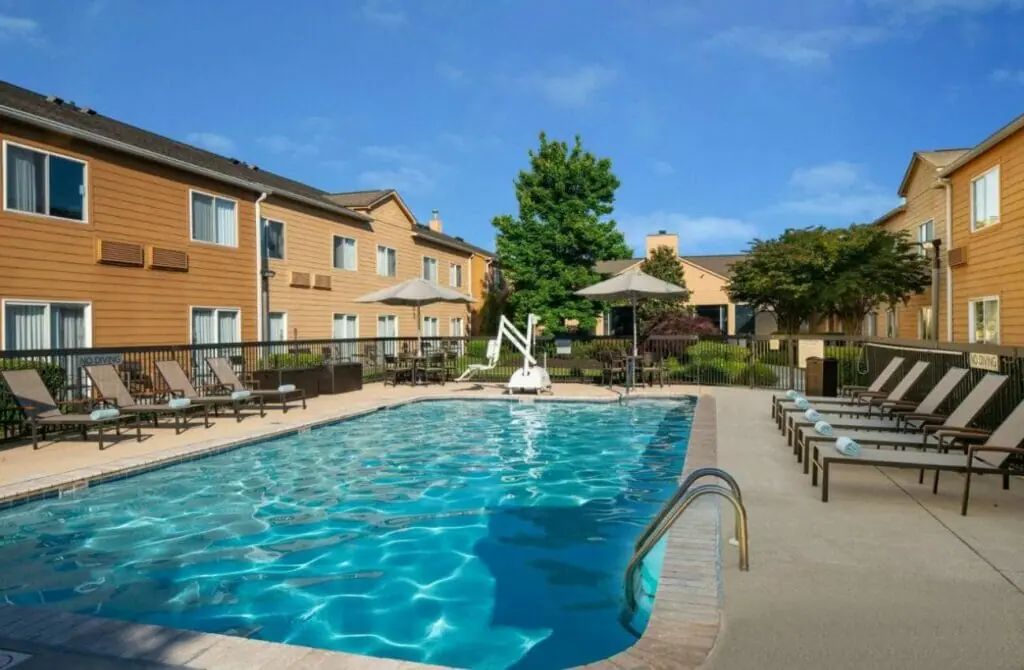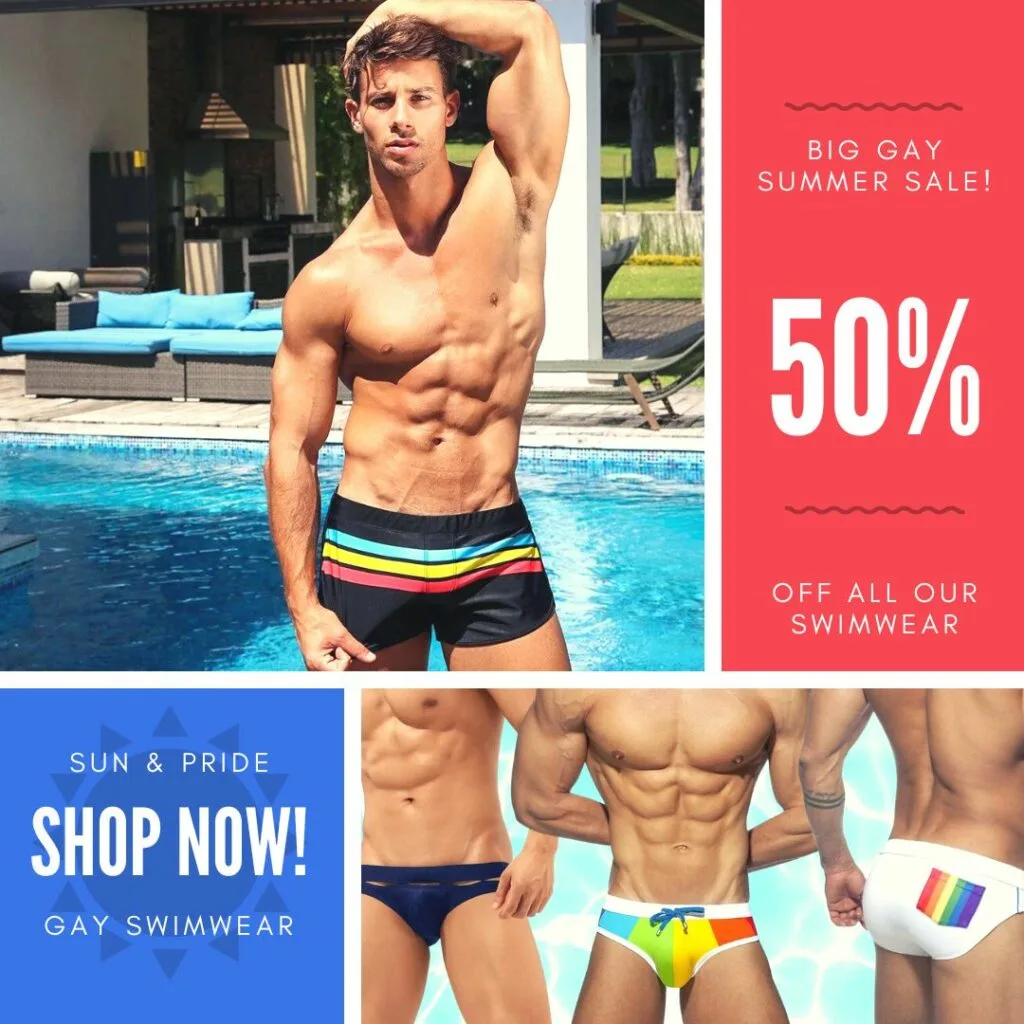 Gay Nightlife in Chattanooga, USA
As night falls on Chattanooga, the city's gay scene comes to life with a colorful array of nightlife options. From cozy and laid-back bars to energetic dance clubs, the town offers a welcoming environment where travelers can let their hair down and be themselves.
While not as well-known as some of the bigger cities in the US, Chattanooga has a long history of supporting and celebrating the absolute fabulousness of the gay community. This spirit of inclusivity and acceptance can be felt in the city's vibrant nightlife, where locals and visitors from all walks of life come together to enjoy music, dancing, and good company.
Whether you're looking for a relaxed evening sipping cocktails and chatting with friends, or a high-energy night out on the dance floor, Chattanooga has something for everyone. So why not come out and explore the city's thriving gay nightlife scene? You'll find a warm welcome and plenty of fun and entertainment along the way.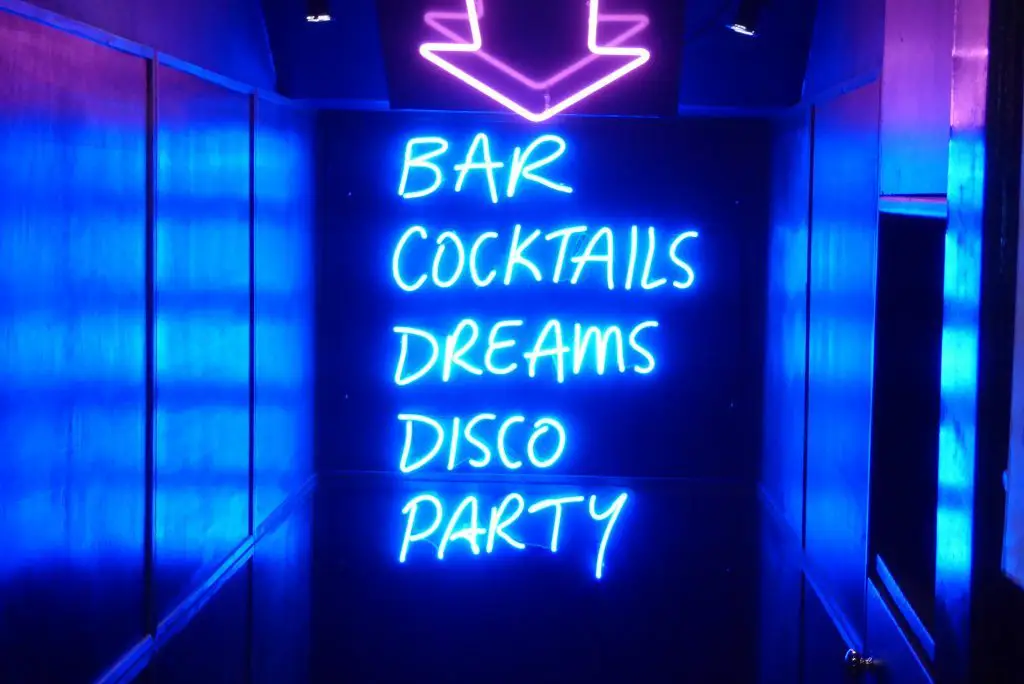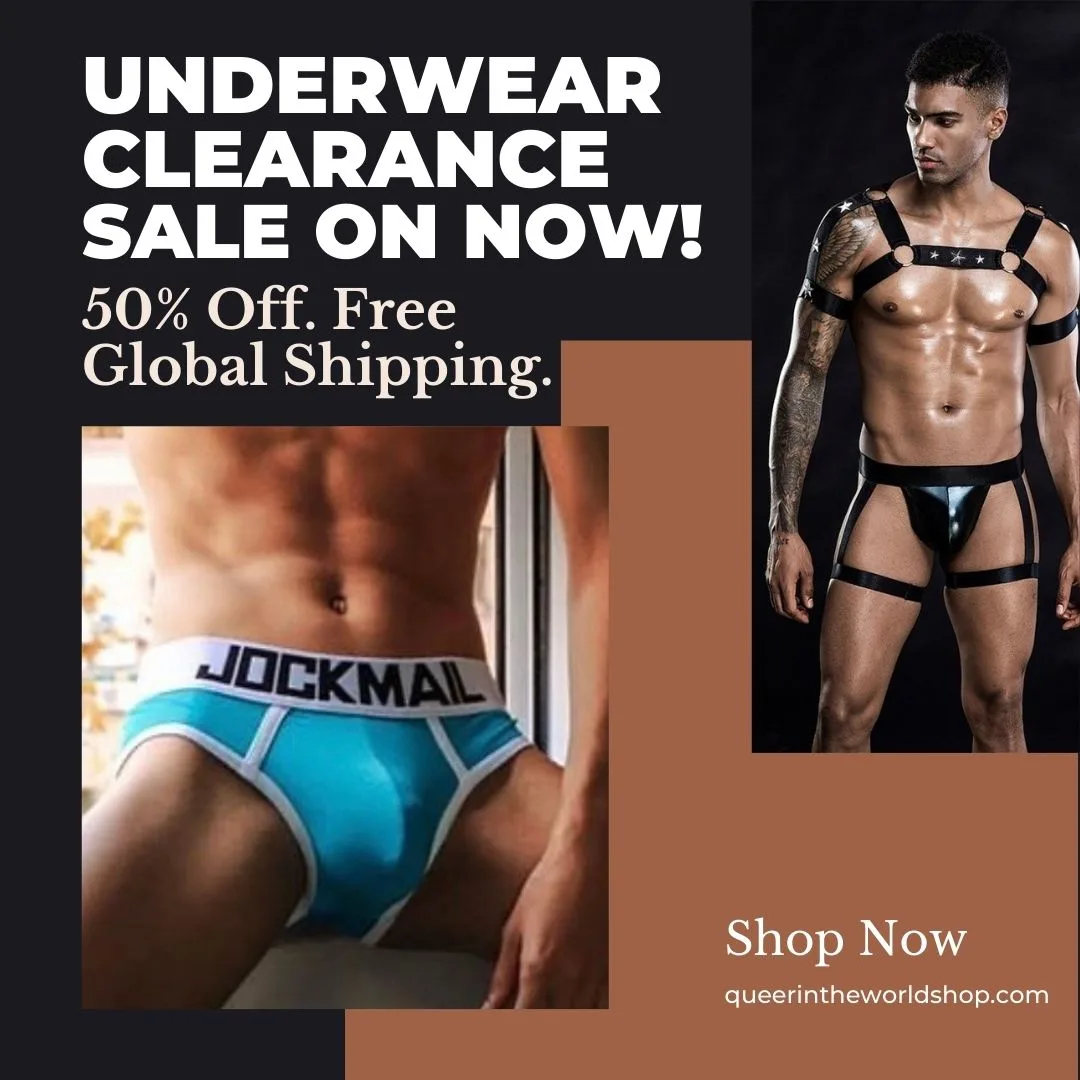 Gay Clubs in Chattanooga, USA
People swear by this gay bar! Get ready to sashay, and this multi-level gay hotspot is a must-visit for its legendary drag shows and dance music that will have you shaking your groove thang! From classic hits to gay anthems, this cozy dance club will have you dancing all night long.
The staff is fabulous, the drinks are poured strong, and the prices are more than reasonable. Trust us, the wait for the drag show is well worth it. The crowd is always welcoming, laid-back and ready to have a good time. No matter who you are, this is the perfect spot to let your hair down and enjoy fabulous queer fun!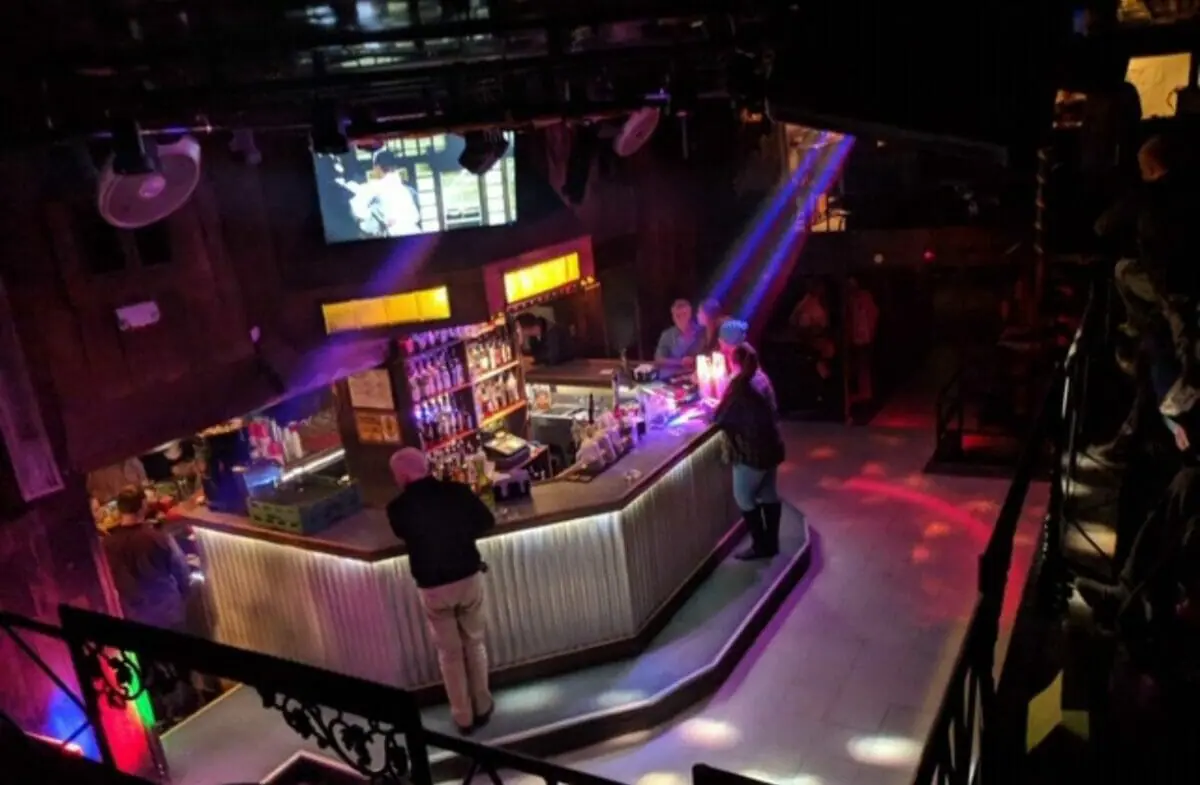 Looking for a trendy spot with an amazing beer selection, vegan/vegetarian options, and great music? The Bitter Alibi is a small, quirky, and charming bar and restaurant that you'll surely love. Their fusion food offers a sneaky spicy flavor that'll make your taste buds dance.
Cocktails are great, and seating is available indoors and outdoors on the upper deck and basement bar via a spiral staircase. The Bitter Alibi offers a cozy atmosphere with rustic decor perfect for people-watching or mixing it up with the locals!
Looking for a gay-friendly bar with the coolest drinks in town? Look no further! This spot offers a great selection of frozen drinks that will keep you coming back for more. Not only are the drinks delicious, but the fast and friendly waitstaff make it even better. And let's not forget about the food – it's fantastic. So whether you're looking to chill out with friends or grab a bite to eat, this is the place to be.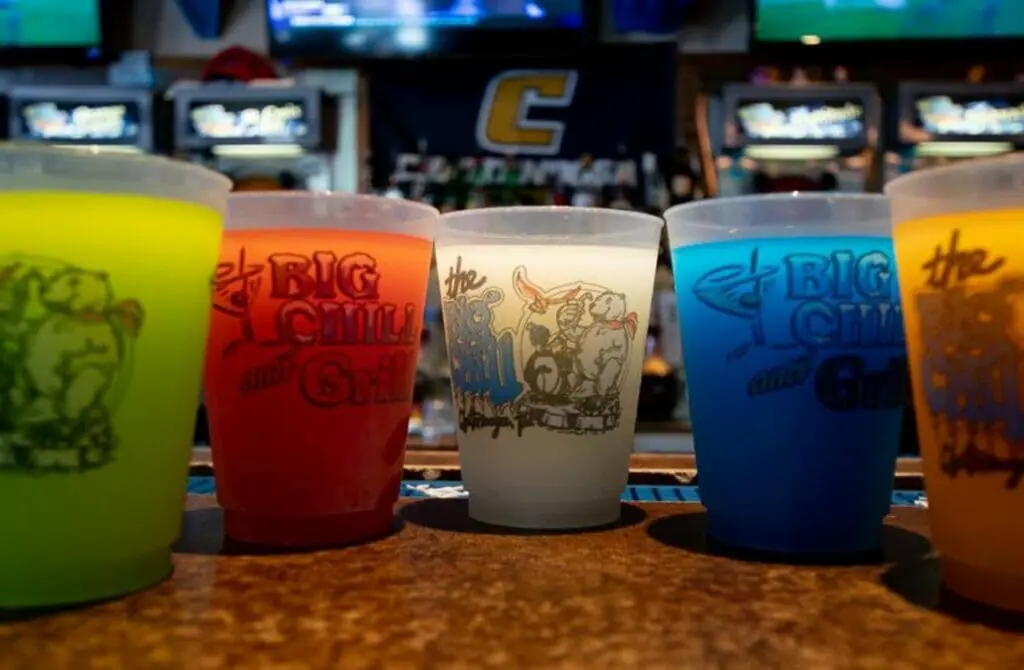 This hidden gem is a gay-friendly spot that's pretty sweet! The cozy atmosphere is perfect for a date night with several intimate booths. The quirky and fun cocktail menu is sure to impress, and the bartenders are top-notch. It's easy to walk by and miss this spot since there's no big sign outside, but it's worth finding. The fun and funky atmosphere makes it a great place to unwind and enjoy tasty cocktails.
Looking for a chic and sophisticated dining experience? Easy Bistro & Bar, located in West Village, offers a unique blend of classic French cuisine with a Southern twist. From the fresh seafood at the oyster bar to their brunch offerings, there's something for everyone.
Don't miss out on the private dining room for your next event, or enjoy a meal in the elegant atmosphere. Easy Bistro & Bar is the perfect destination for a memorable dining experience.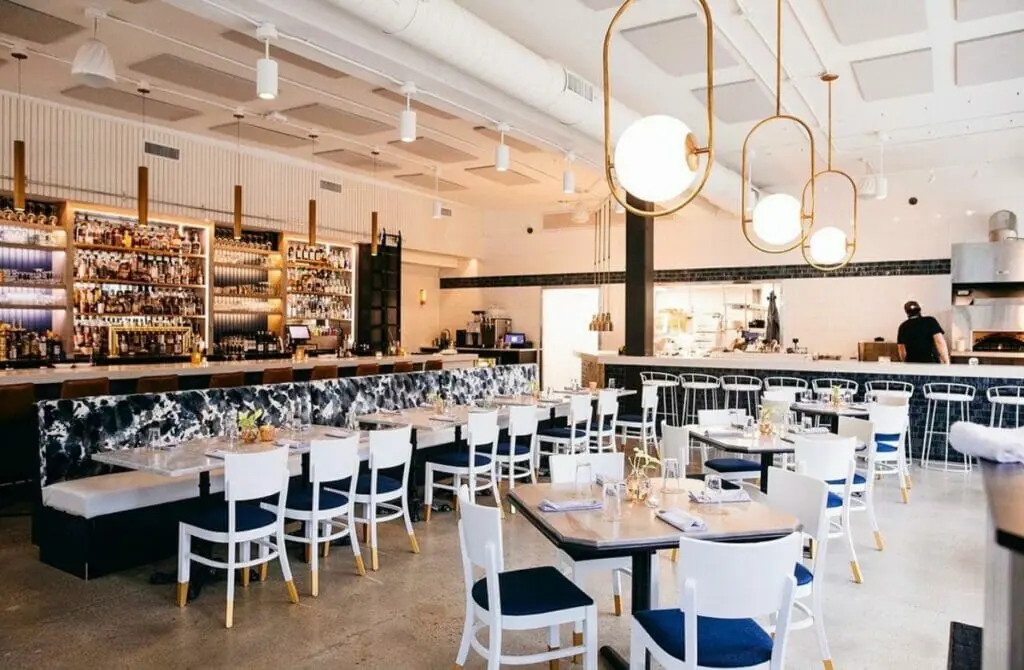 Looking for a cozy, intimate spot to enjoy signature cocktails and craft beers? Look no further than The Rosecomb in Chattanooga, Tennessee! This cocktail bar offers a variety of libations, a small bites menu, and a charming atmosphere perfect for a night out with friends or a date.
The private event space makes it a great spot for special occasions. With its quaint and pretty interior, The Rosecomb is a must-visit spot for anyone looking for a warm and inviting place to enjoy a drink in Chattanooga.
The Comedy Catch at The Choo Choo
A decent comedy club and a gay-friendly atmosphere? Yes, please! Laugh until your sides hurt at The Comedy Catch at The Choo Choo, Chattanooga's premier comedy club and restaurant. This venue showcases nationally renowned comedians alongside local talents, providing hilarious entertainment for all audiences.
With a menu full of classic American favorites like burgers, sandwiches, and salads and various drink options from cocktails to beer and wine, it's the perfect spot to grab a bite and a drink while enjoying some of the funniest people in the business.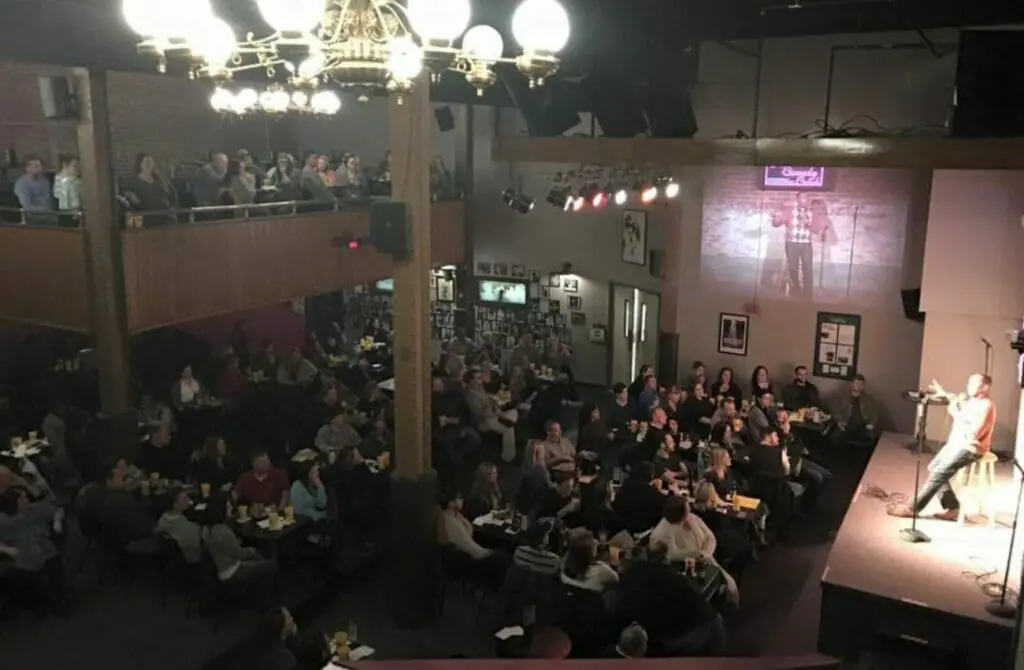 Gay Parties in Chattanooga, USA
More of a family-friendly week-long event than a big ol gay party. The Chattanooga Pride Festival is an annual tradition for the LGBTQ+ community, commencing on the first Saturday of October and culminating with a fantastic parade and festival.
The event features drag shows, a lively drag contest that crowns a new queen each year, and various food and vendors. It's a massive turnout for the city, and the atmosphere is electrifying, with everyone coming together to celebrate acceptance and pride. Whether you're part of the community or an ally, the Chattanooga Pride Festival is a must-attend event full of love, joy, and inclusivity.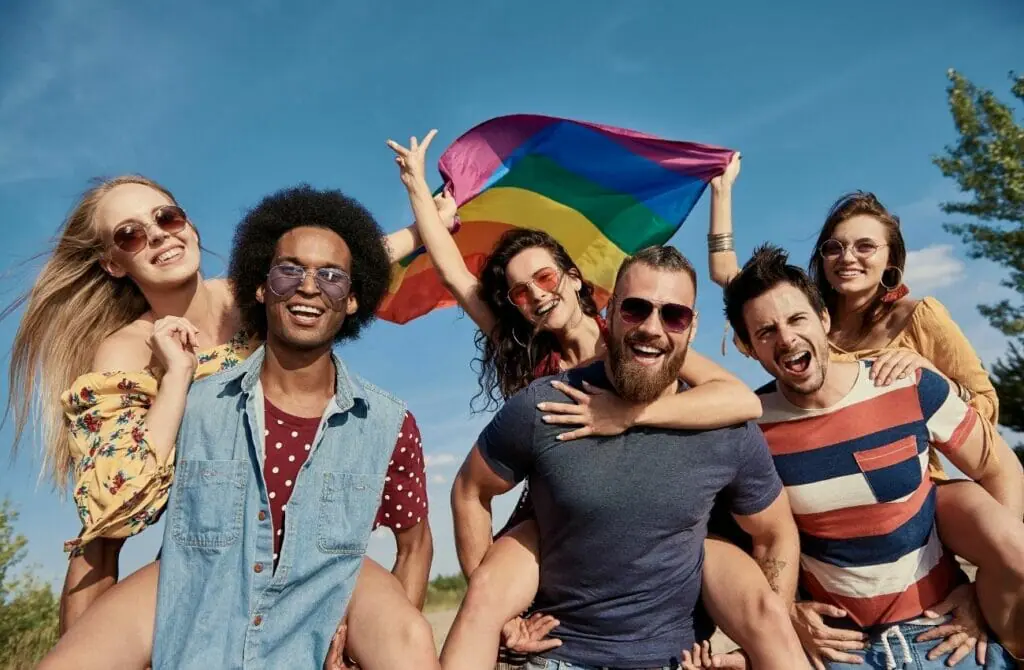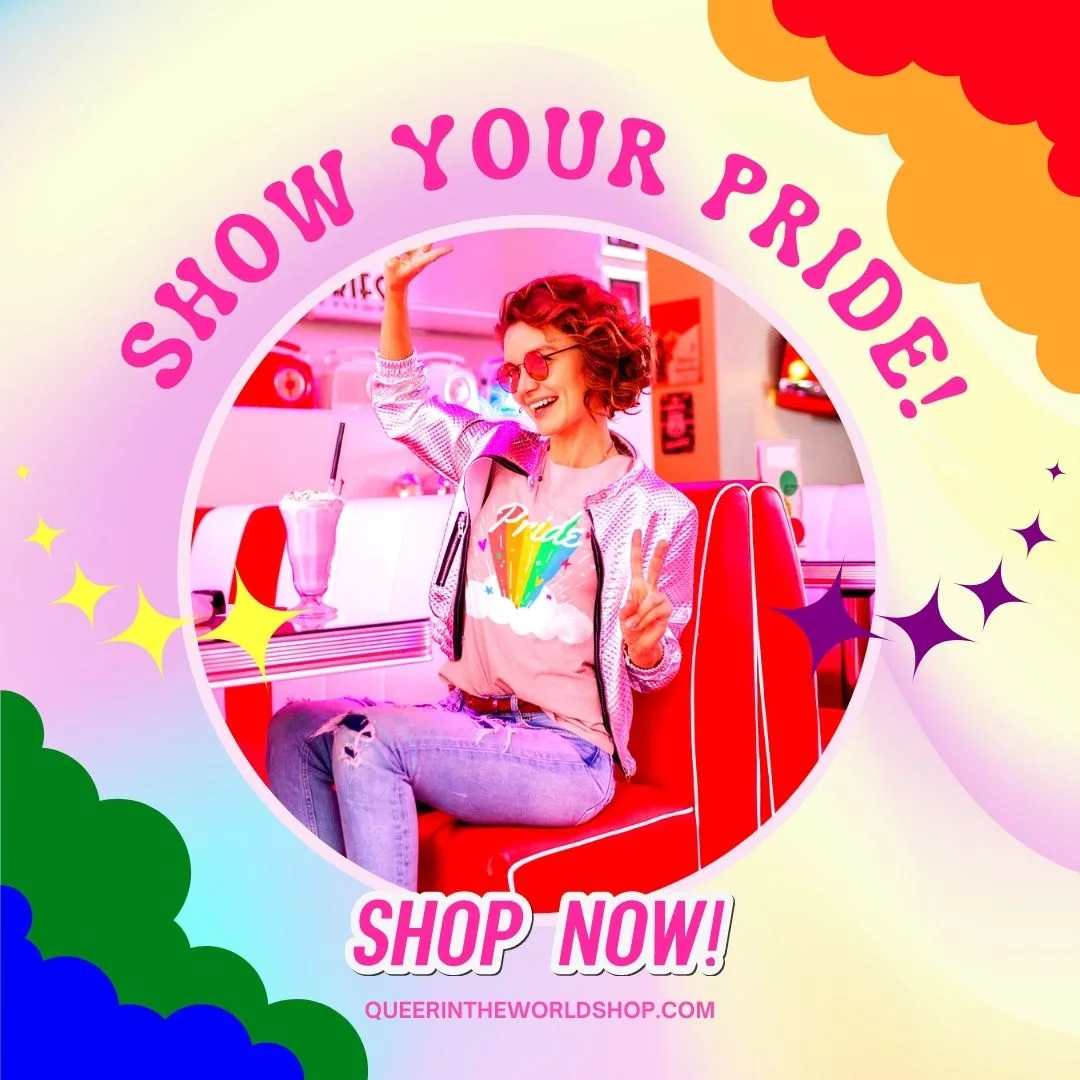 Gay Saunas & Cruising Clubs in Chattanooga, USA
When traveling to a new city, heading out for more than just a stiff drink can be exciting. One aspect of the Gay Chattanooga scene that many queer men enjoy is visiting gay saunas and cruising clubs.
Sure, the sauna culture in Chattanooga is not as hedonistic as in Amsterdam, Barcelona or Berlin, but these venues still offer a chance to meet new people, socialize, and engage in sexual activity – without resorting to gay hookup apps.
However, it's important to remember that these venues can vary greatly in terms of atmosphere, clientele, and rules, so it's a good idea to prepare yourself before visiting. If you are apprehensive, we advise studying our guide to visiting a gay bathhouse for the first time, which should help set your mind at ease and always practice safe sex.
Additionally, it's important to be aware of and respect local laws and customs regarding gay venues and sexual activity. With a little planning and an open mind, visiting gay saunas and cruising clubs can be a fun and exciting part of your gay Chattanooga travel itinerary.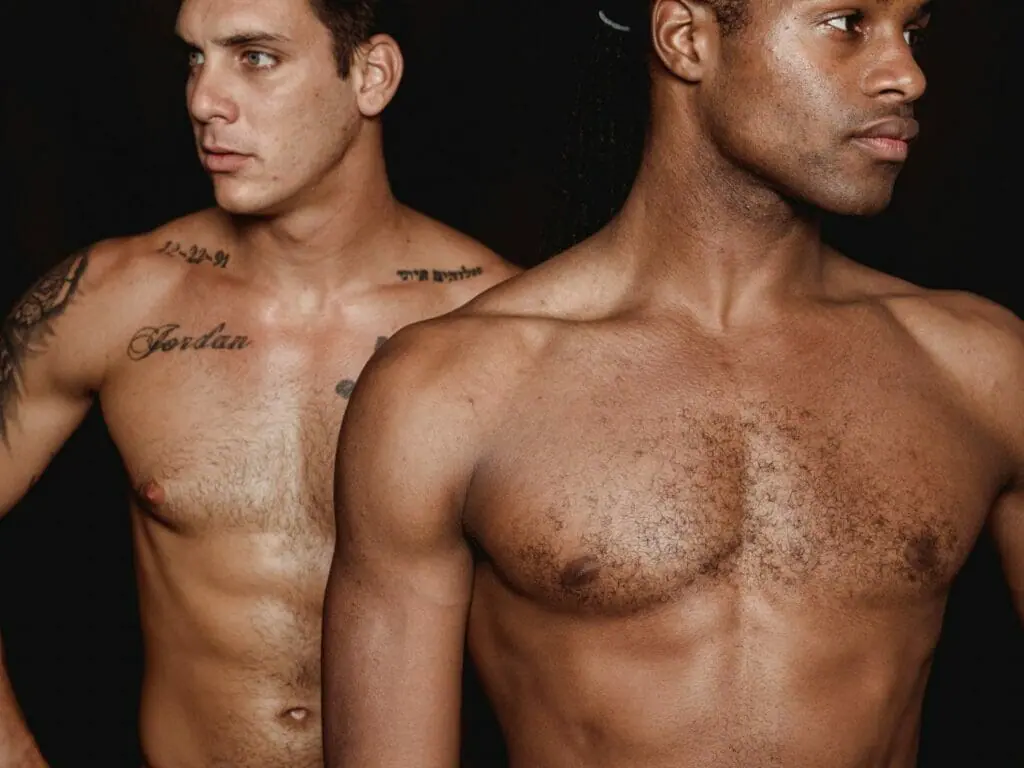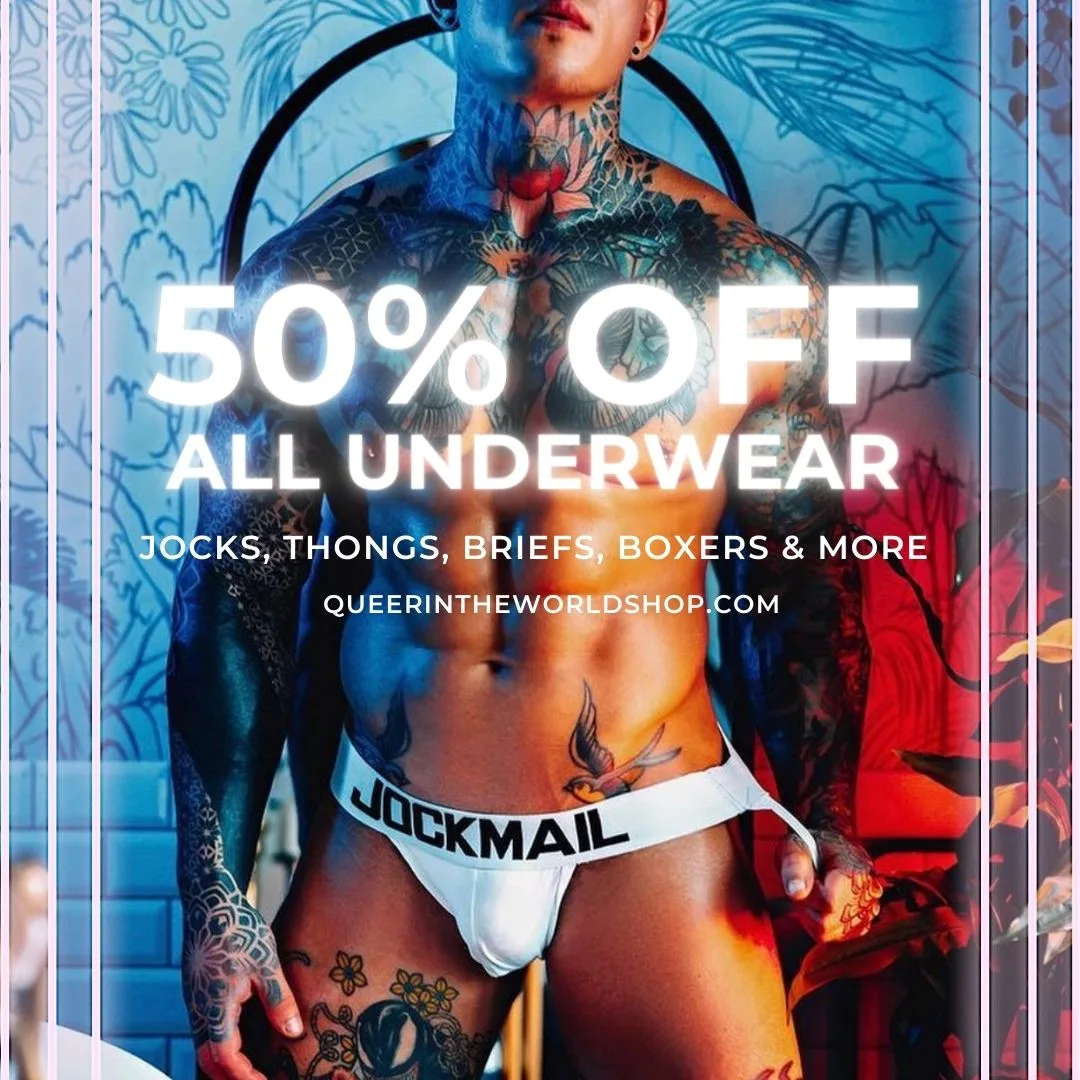 Gay Map Of Chattanooga
Finding it hard to envisage where everything is in Chattanooga? Hopefully, this queer-centric map helps where we have marked all the bars, clubs, parties, hotels, saunas, massages, and more will help you stay in the spot best suited to you!