Brno is located in the Czech Republic's South Moravian Region and is the country's second-largest city. It is well-known for its modernist architecture, such as the restored Villa Tugendhat, designed by Mies van der Rohe and completed in 1930. There is a delightful variety of building styles and many bars and cafes. It would be best if you did not put off visiting this exciting urban getaway location soon.
The Czech Republic has undergone a period of relative liberalization since the Velvet Revolution in 1989, making it one of the most LGBTQIA+ welcoming countries in the European Union.
This is in stark contrast to the time when the Communists ruled it. This growing tolerance is most likely a result of the country's low religious belief rate, particularly when compared to neighboring countries such as Poland, Austria, and Slovakia.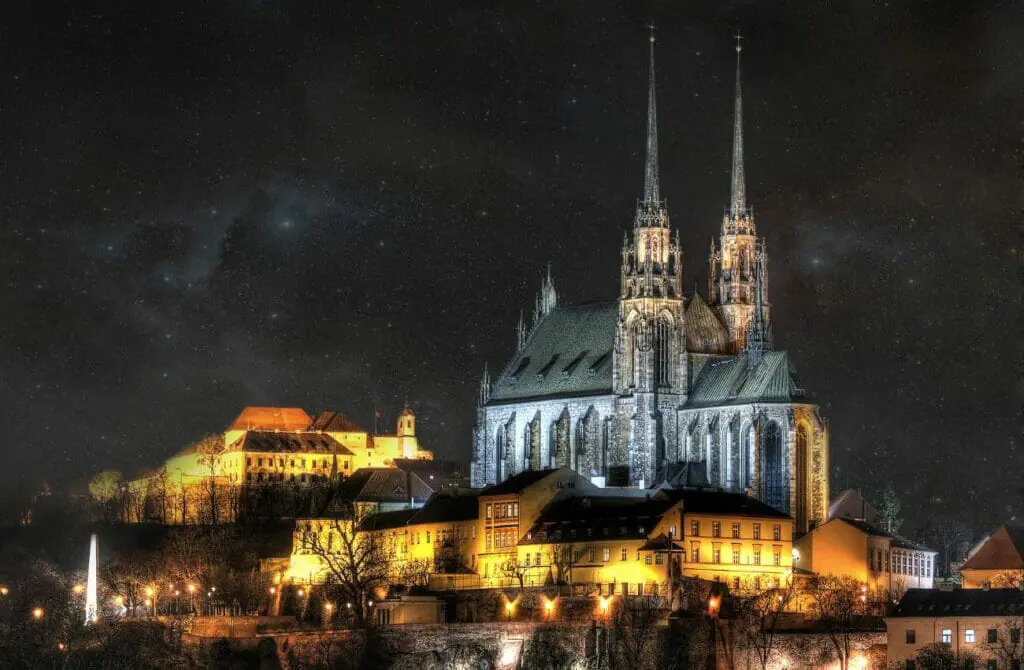 Compared to the rest of the country, Prague has a sizable lesbian, gay, bisexual, transgender, queer, and questioning (LGBTQ) community. Despite this, Brno has played an important role in developing many aspects of the Czech Republic's LGBTQIA+ community.
The city has a relatively active gay and lesbian scene, particularly in and around the downtown area. This scene consists of bars, clubs, and saunas. The male scene is said to be further developed than the female scene.
Strolling through the city's many charming public spaces is one of the most enjoyable things in Brno. The historic Zeln trh square, located in the city's oldest section, is well-known for its markets, cafes, restaurants, boutique shops, and galleries.
The square also houses the city's most beautiful monument, the Baroque-styled Parnas Fountain, built in the 17th century and makes an excellent backdrop for selfies.
Brno, Moravia's primary city and administrative center, is the Czech Republic's second-largest city after Prague, the nation's capital. It has a long history, and as a result, there are many historical attractions that you will enjoy visiting. The city's teeny-tiny cobblestone streets, lively public squares, and stunning architecture make it a charming gay tourist destination.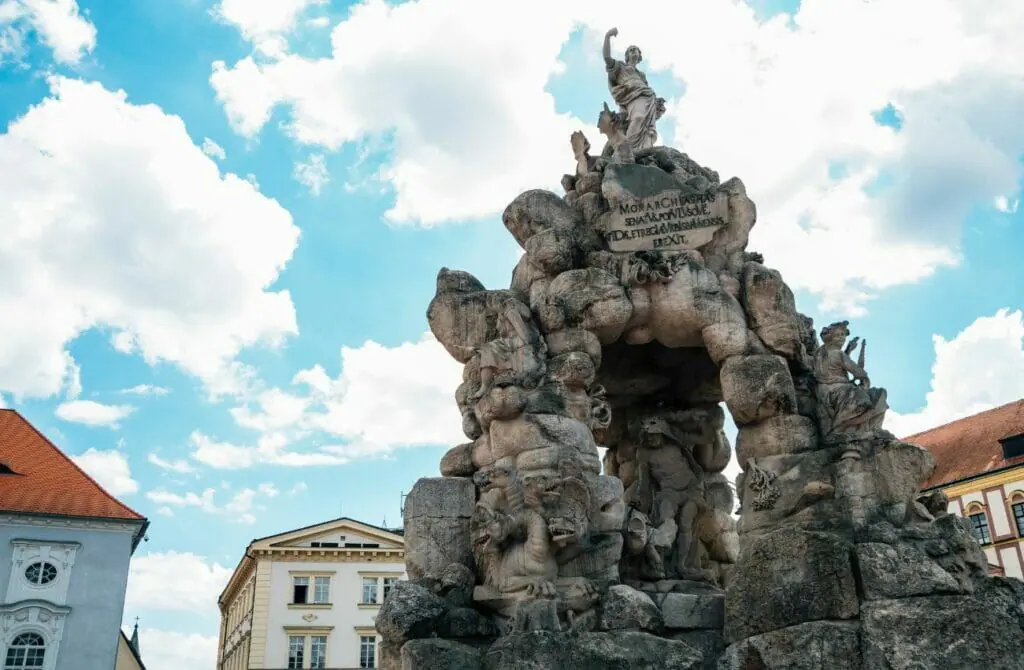 Attractions in Gay Brno, Czech Republic
Welcome to Gay Brno, darling! While the city may not be the most welcoming to the queer community, fear not! There are still plenty of fabulous things for you to do while keeping things low-key. First and foremost, you must visit some of the city's most iconic landmarks and attractions, dahling!
Take in history and culture by visiting museums, art galleries, and historical monuments. And don't forget to marvel at the stunning architecture, explore parks and gardens, and indulge in the local cuisine. But that's not all, darling! Gay or straight, there's always something to do in Gay Brno.
Immerse yourself in the local culture by attending cultural events like festivals, concerts, and shows. Trust us; there's always something fun and exciting happening in this fabulous city. Remember, discretion is key in a city that's not always welcoming to our fabulous community. So, keep it lowkey and enjoy all the wonderful things Gay Brno has to offer!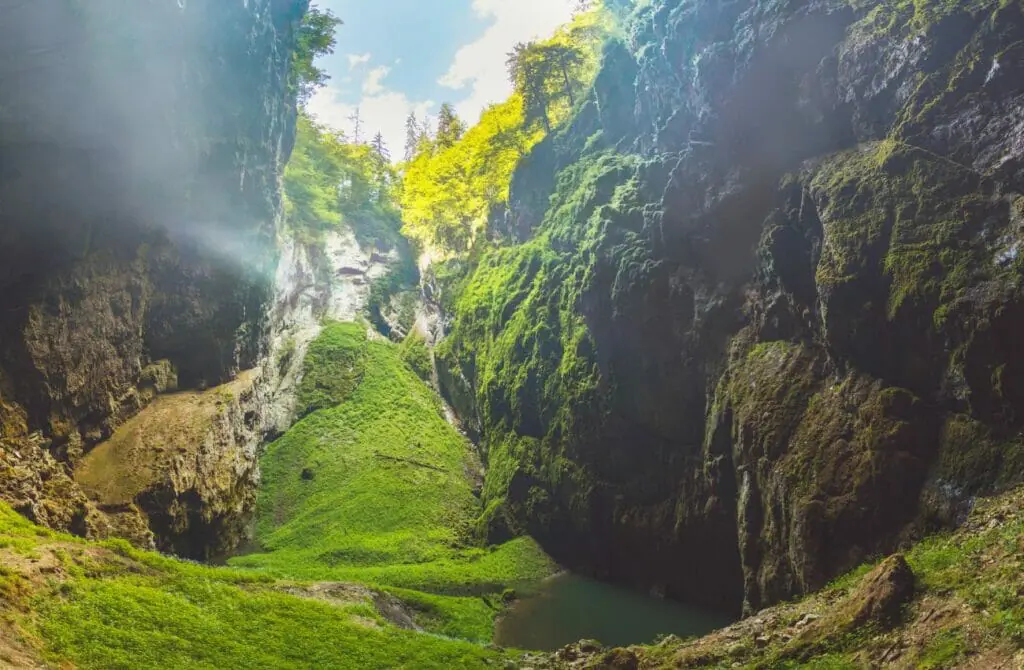 This sinkhole, located half an hour north of the city, appears to be straight out of a science fiction or fantasy film. The Macocha Abyss is part of the Punkva cave system. It is a popular destination for serious spelunkers and casual tourists interested in exploring Central Europe's largest and deepest sinkhole.
The Abyss was formed when the ceiling of a deep cave collapsed, and it is now part of a vast and complex network of tunnels that you can explore on foot and then by boat once you reach the cathedral-like Abyss. The Abyss was formed when the ceiling of a deep cave collapsed. Outside in the fresh air, there is a path that winds through the rugged landscape and is popular with hikers and cyclists.
Because it serves as the seat of Moravia's rulers, this structure has been used almost as long as Brno has been inhabited. As a result, the structure incorporates a wide range of architectural styles, from Romanesque to Baroque. This is something you might have predicted. It is a large hilltop fortress used for various purposes and has seen a lot of action throughout its history.
During the Thirty Years' War in the 1600s, the Swedish Army besieged Pilberk Castle and the Town Hall. Both structures were able to withstand the siege. Brno, a predominantly Catholic city at the time, also served as a prison where protesters could be held and tortured. The museum in this town will explain why Pilberk was a bad place to end up if you belonged to the wrong denomination.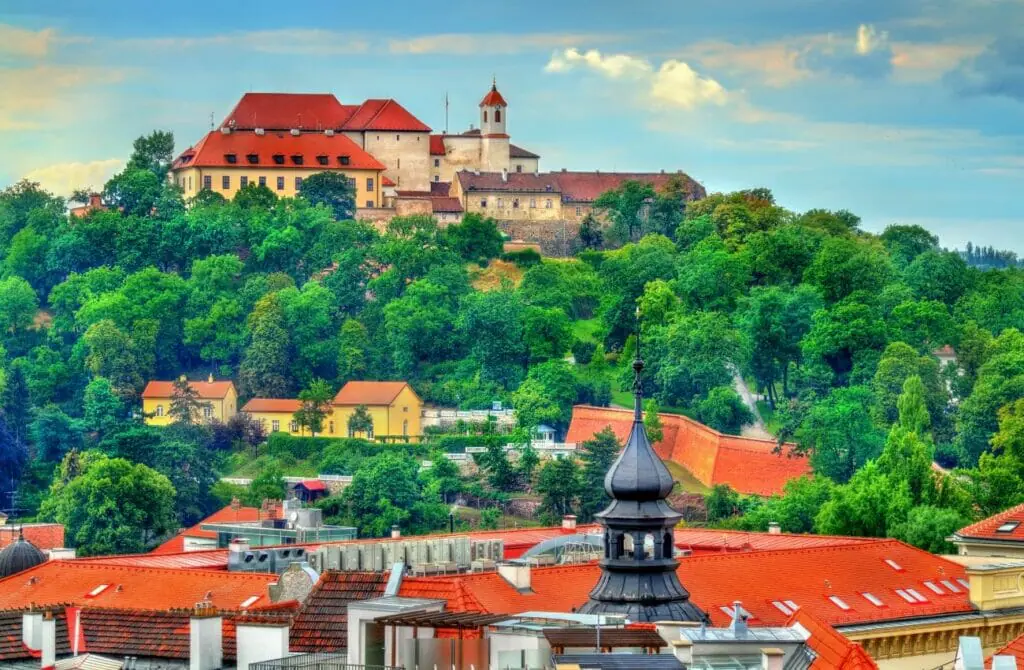 Cabbage Market
Above the underworld is a marketplace that has been operating since the 1200s. You can continue to buy vegetables at the farmer's market and look at some of the monuments in the area. One of these attractions is the Parnas Fountain, which features a Hercules statue. In the past, fishmongers would advertise their products by letting their carp swim around in the fountain waters.
The Reduta Theatre, located on the south side, is a concert hall that dates back to the Renaissance. Mozart performed here with his sister in 1767 when he was only 11 years old.
Because the Capuchin Monastery on Kapucnské Square is not a place for the easily frightened, the eerie atmosphere that pervades the area persists. The exterior and ground floor are lovely but do not indicate what lies beneath. The structure was built in the baroque style, and the interior was done in the rococo style.
It had an impressive fresco and a well-preserved library with shelves of old books climbing to ornately decorated ceilings. However, if you go downstairs, you will be greeted by a crypt dating from the 18th century. Members of the Capuchin order and other historical figures are mummified and lying inside as if they decided to nap after living for two centuries.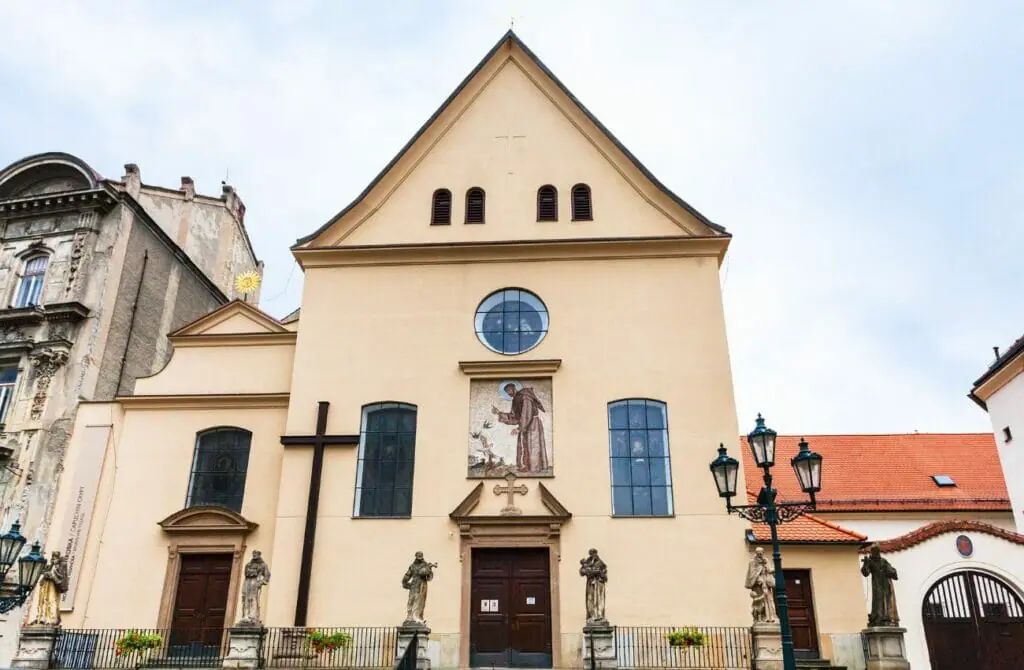 Gregor Mendel's Abbey And Museum
Gregor Mendel, also known as the "Godfather of Genetics," lived almost his entire life in Brno. Mendel is widely regarded as one of the most important scientific breakthroughs of the nineteenth century. You will be able to explore the garden at the Abbey of Saint Thomas, which was the site of the famous experiments on pea plants that led to the discovery of the mysteries of heredity.
The Mendel Museum, located outside the old town, contains extensive exhibits that shed light on his methods and explain how early experiments breeding mice drew the church's disapproval. This information can provide some additional context. You can also learn about his beekeeping experiments, which had a much smaller impact on the overall trajectory of history.
Cathedral Of Saint Peter And Paul
The gothic spires of St. Peter and Paul Cathedral, visible from Petrov Hill's summit, dominate the city below. This image is so well-known that it is engraved on Czech coins. The expansive interior was designed in the 18th century when the historic cathedral was rebuilt following a Swedish siege of the city.
The siege had occurred in the previous century. The bells are rung at eleven a.m. rather than noon to commemorate a prank played on the Swedish army, who were listening for the bells signaling midday.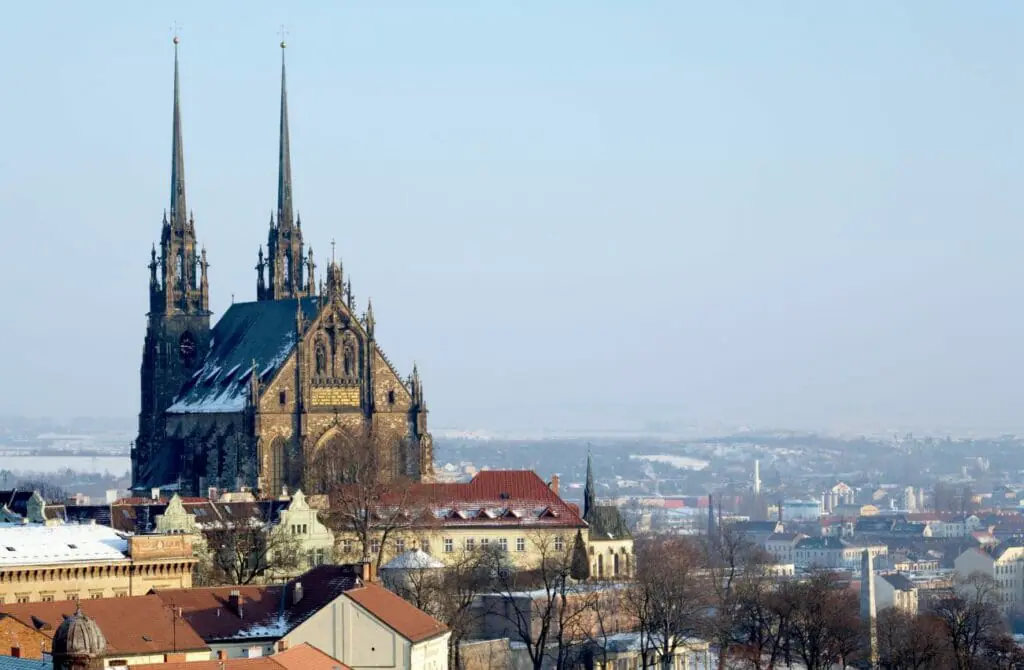 Brno Underground, Torture
A complex network of tunnels and underground chambers lies beneath the Cabbage Market in the old town. These were made available to the general public in 2011 as part of a forty-minute engaging walking tour. The square seen above is considered to have been built in the 1200s, and many of the passageways found below are also from that time.
During your visit, you will have the opportunity to explore a genuine alchemist's laboratory and a historic wine cellar. You will also learn how food was stored here during the medieval period. There has always been a shady side to historic Brno. A pillory used as a form of public torture on criminals during the Middle Ages is said to be nearby.
Church Of Saint James
Recent excavations have revealed a rather ominous feature buried beneath this lovely Gothic structure, which has vaulted ceilings that soar to great heights. This stunning church has been around since the 1200s but is now a national monument because it has been preserved in its original form for almost the last 500 years.
After the Catacombs of Paris, this ossuary is Europe's largest, so if you have the courage, you can descend into it. It has been open since 2012 and contains approximately 50,000 people's skeletal remains. Their bones and skulls are arranged in decorative patterns and stacks throughout the facility.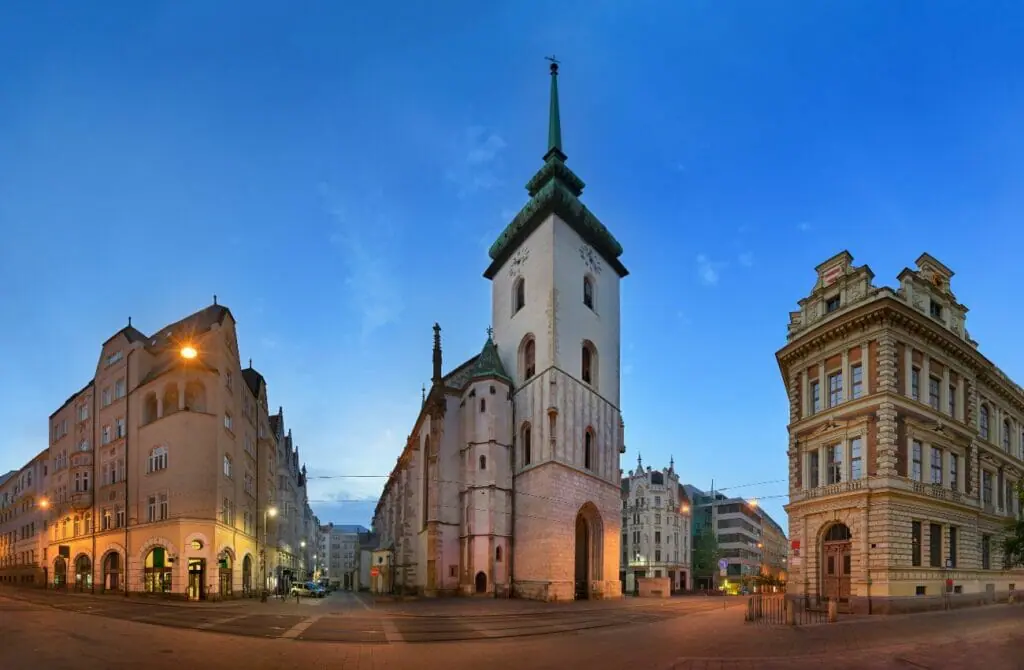 Brno Moto Gp
Another thing that puts Brno on the map is its motorcycling circuit, located in the city. Brno has been associated with this type of motorsport since 1930, and the Masaryk Circuit in this city was once a dangerous street race held on cobblestones.
Brno became a mainstay of the World Grand Prix when it was asphalted in the 1960s. The street circuit was eventually replaced by a purpose-built venue in 1987, but Brno still hosts the World Grand Prix. Moto GP makes its annual stop in the city every August, bringing three days of high-octane action and some of the world's best riders.
Brno Dam
The Ignis Brunensis firework competition takes place after sunset at the end of May and beginning of June and draws competitors from worldwide. The best time to visit Brno's dam is during this period. Initially just an exhibition, things began to take a serious turn in 2003, when high-tech pyrotechnics companies began to use the event to show the market what they were capable of.
This was initially just an exhibition. This sense of competition is fantastic news for the general public, as the reservoir's waters reflect the increasingly elaborate displays stunningly. In the summer, people flock to the reservoir's forested shores to participate in cycling, boating, and other water sports.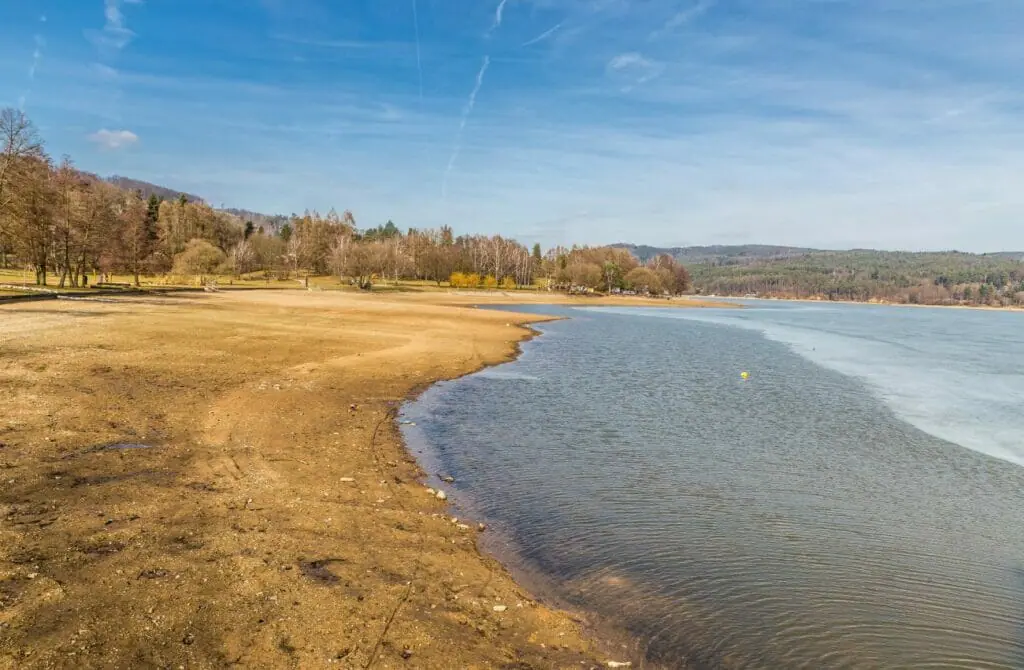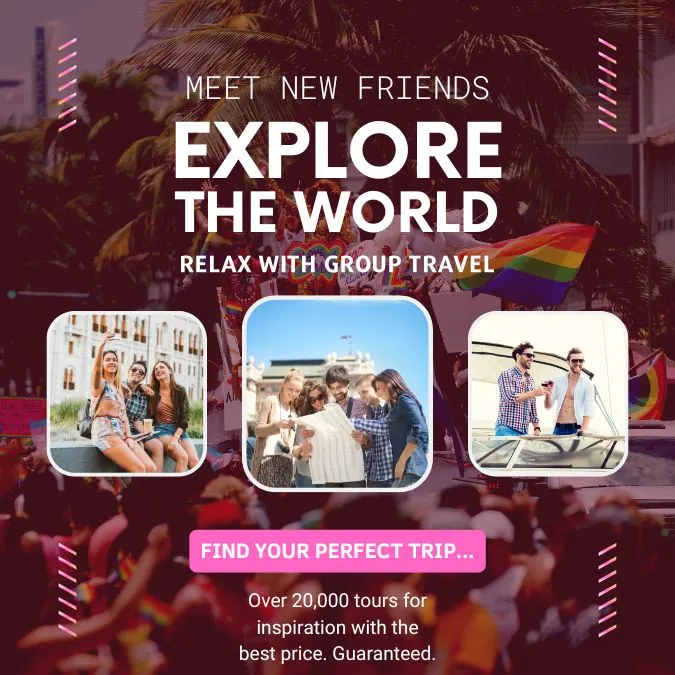 Gay-Friendly And Gay Hotels in Brno, Czech Republic
Oh, honey, let me tell you about being fabulous and feeling welcome at these hotels in Brno! Don't worry about other hotels that might not be as accepting; these gems are committed to being LGBTQ+ friendly and making sure that all guests feel like they belong.
Being gay-friendly isn't just about waving a rainbow flag or using the right pronouns; it's about creating a safe and inclusive space for all guests. From non-discrimination policies to providing resources for LGBTQ+ travelers, these hotels go above and beyond to make sure that you feel welcomed and supported.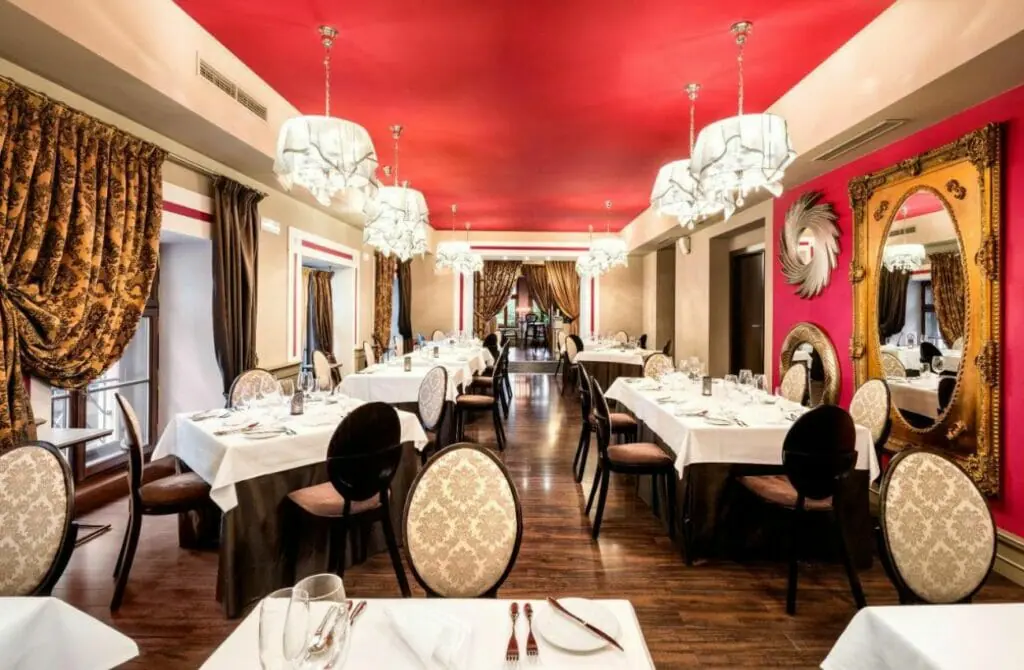 And honey, they don't stop there! Some of these gay-friendly accommodations have extra amenities and literature about local LGBTQ+ events and resources. Plus, they might even be located in an area that's known for being LGBTQ+ friendly. Now, let me tell you about these fabulous hotels in Brno.
While there aren't any specifically gay hotels or resorts, these are the crème de la crème of gay-friendly accommodations. And if these don't tickle your fancy, don't worry; there are hundreds of other options in Brno to fit your budget and needs. So pack your bags, put on your most fabulous outfit, and get ready to feel welcome and accepted at these gay-friendly hotels in Brno!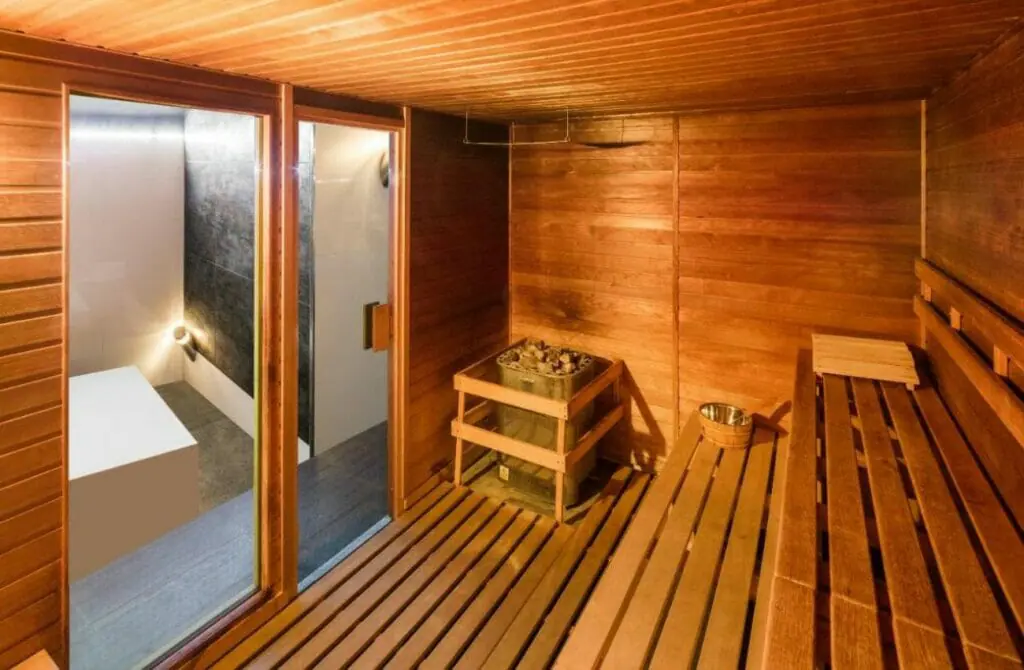 The five-star Barceló Brno Palace hotel provides luxurious lodging for visitors to Brno, Czech Republic. The blueprints used in the construction of the hotel in the middle of the nineteenth century were created by architect Franz Frohlich. The original plan called for a residential structure with a complex network of staircases and rooms of varying sizes.
This hotel is an excellent choice whether you are in Brno for business or pleasure because of the striking contrast between the classical style of the palace facade and the romantic style of the interior design. The hotel's strategic location in the heart of Central Europe allows for easy access to the highways and international airports of both Brno and Vienna.
The five-star Barceló Brno Palace is located in the city center. It is housed in the prestigious historical building Mestsky Dvur on Silingrovo Square. You will be greeted by a dedicated customer support team available 24 hours a day, seven days a week, to assist you with any need.
The hotel's guests have free access to a modern fitness center, sauna, and relaxation area to work off those extra calories. The spacious and comfortable bed in the room will make it easy for you to unwind and get a good night's sleep.
You won't have to worry about missing out on your favorite beverage, tea, or coffee because every room has a coffee maker and a kettle. Some rooms can be linked together to form large apartments for families.
The Palazzo Restaurant's cuisine is a fusion of Mediterranean and Czech influences and is served à la carte. In the morning, you won't have to rush out of bed to make breakfast because the hotel provides a complimentary breakfast buffet for all guests in the restaurant Stare Brno, which specializes in serving buffets.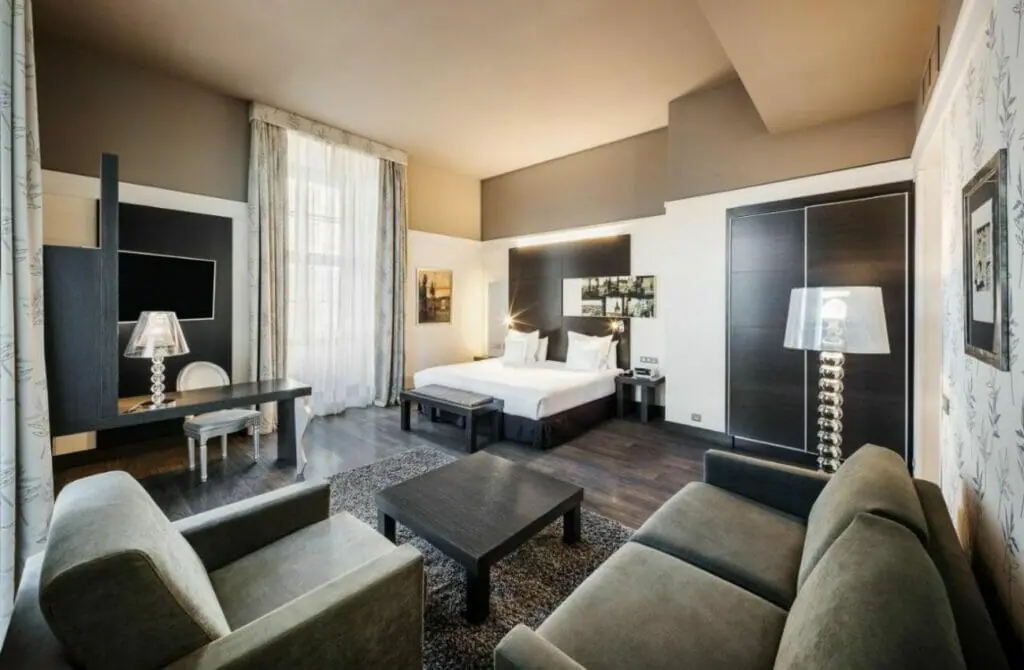 Courtyard by Marriott Brno ☆☆☆☆☆
The Courtyard by Marriott Brno is a cutting-edge four-star hotel with 201 magnificent rooms. It is located in Brno's most famous business park, near the Spielberk Tower and not far from the Brno Exhibition Grounds.
The hotel offers many basic facilities required to ensure the overall comfort of its guests. There is a fully equipped exercise center on the hotel grounds, and guests are invited to use it to burn off any extra calories or fat they may have accumulated as a consequence of their stay.
Your stay at the hotel will be more enjoyable since the rooms are furnished with all the necessities you need. And if you become tired of watching television or playing video games, you can always stroll out onto the balcony and enjoy the city's stunning environment when you have some spare time. The hotel is situated in a lushly vegetated location that is attentive to natural environments.
In addition to regional classics, The Yard Lounge & Dining serves food from throughout the globe. Breakfast, lunch, and dinner are offered at the restaurant throughout the day. The hotel also has a car rental service.
A jogging or cycling track goes along the river just outside the motel. This path is completely around the property. The hotel also provides easy access to the city's historical and cultural attractions, such as Svoboda square and the Brno Zoo.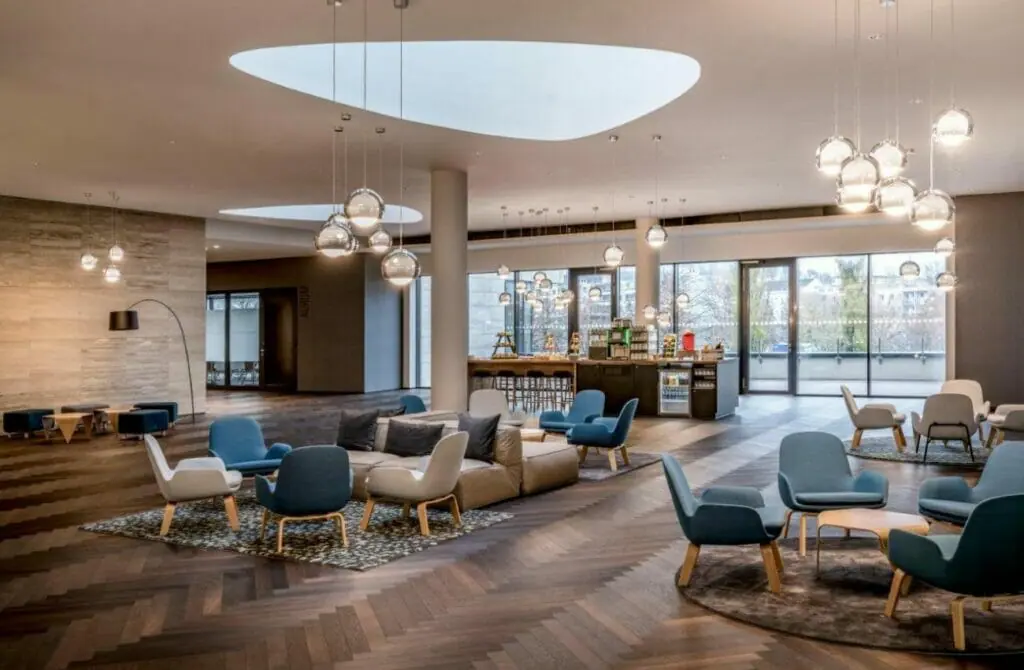 Grandezza Hotel Luxury Palace ☆☆☆☆☆
The Grandezza Hotel Luxurious Palace is a spectacular boutique hotel with hand-painted glass ceilings and marble mosaics. It is located in Brno's historic center, on the same plaza as the city's famed Vegetable Market.
The stunning interior design of the hotel will take your breath away. It is designed so that you will never have to worry about anything since it will take care of everything for you. The front desk is operated 24 hours a day, seven days a week, to assist with any requests or queries that visitors may have.
Most of the Grandezza Hotel Luxurious Palace's large and air-conditioned rooms overlook the town center, which is home to the Cathedral of Saints Peter and Paul and Spilberk Castle. In addition to its lavish design, they offer a lounging space and satellite television with a flat screen.
As a result, guests may enjoy the spectacular views of the places around the hotel without having to leave the comfort of their rooms. Diners may enjoy modern food that takes influence from around the globe, especially from Italy, at the Grandezza restaurant.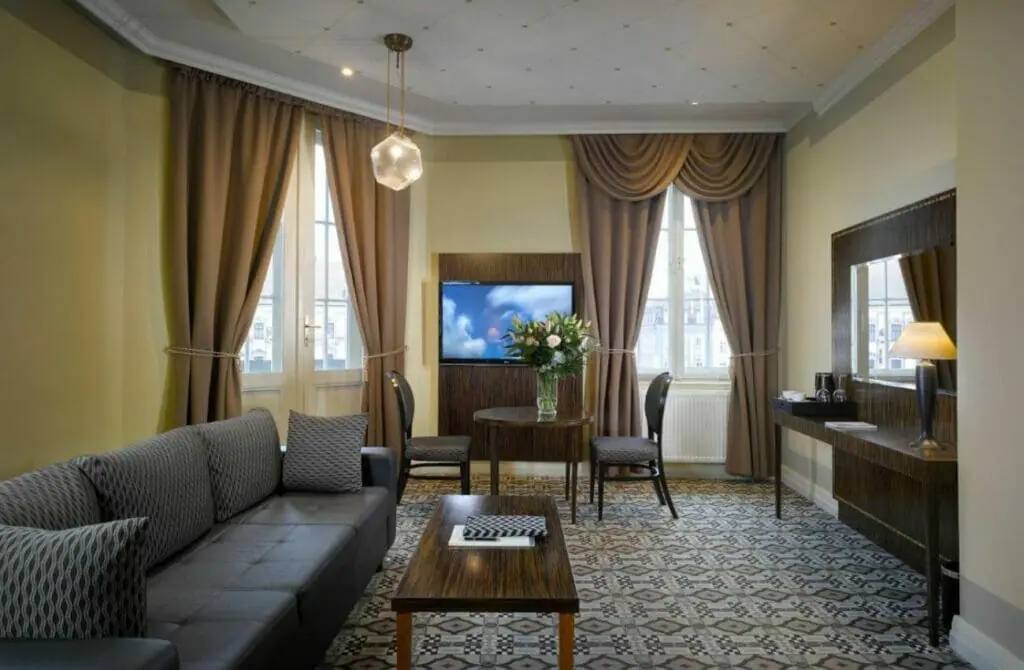 Gay Nightlife in Brno, Czech Republic
It is crucial to remember that Brno is the Czech Republic's second biggest city. Therefore its nightlife should not be underestimated. There is a good case to be made that Brno has some of the greatest bars in the nation. There is a location in Brno with the ideal ambiance for you, no matter what you're searching for
Darling, let's talk about exploring the queer nightlife in Gay Brno, shall we? It's true this city might not be the most welcoming to our fabulous community but fear not! Being gay is perfectly legal here; remember to err on the side of caution when outside of queer-friendly spaces.
But let's focus on the fun, shall we? Exploring gay nightlife can be one of the most thrilling and enriching experiences while on the go. From dancing up a storm at a gay club to sipping cocktails and rubbing elbows with the locals at a gay-friendly bar, you'll have a chance to immerse yourself in the local culture and make memories that will last a lifetime.
And darling, we've got you covered with the best gay and gay-friendly spots in town. So don't be shy; step out of your comfort zone and explore the queer nightlife in Gay Brno. Trust us; it'll be worth it!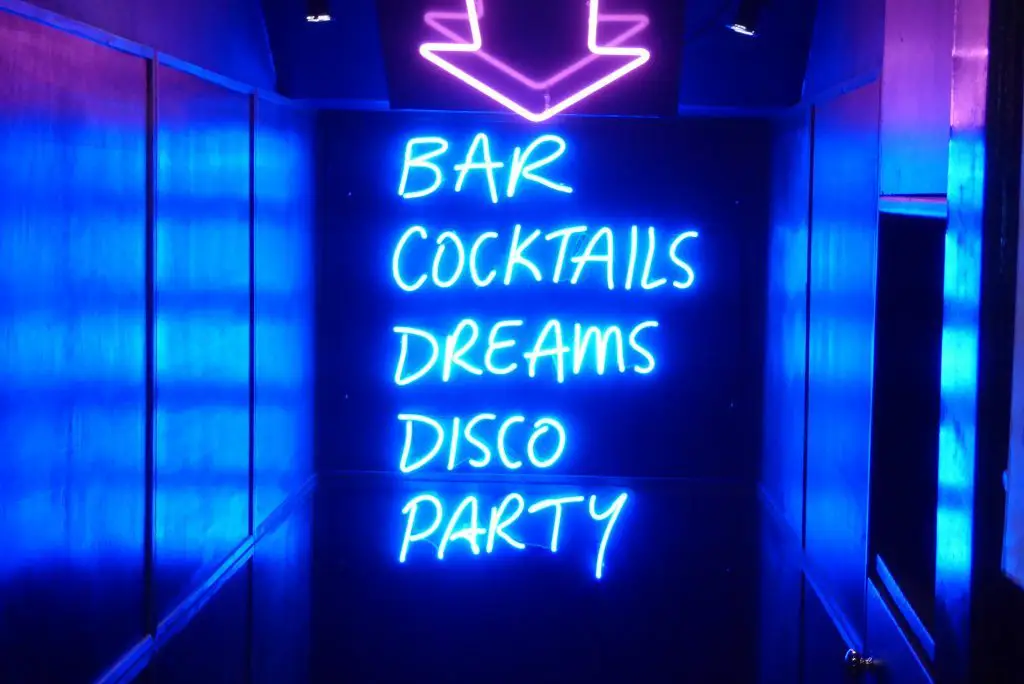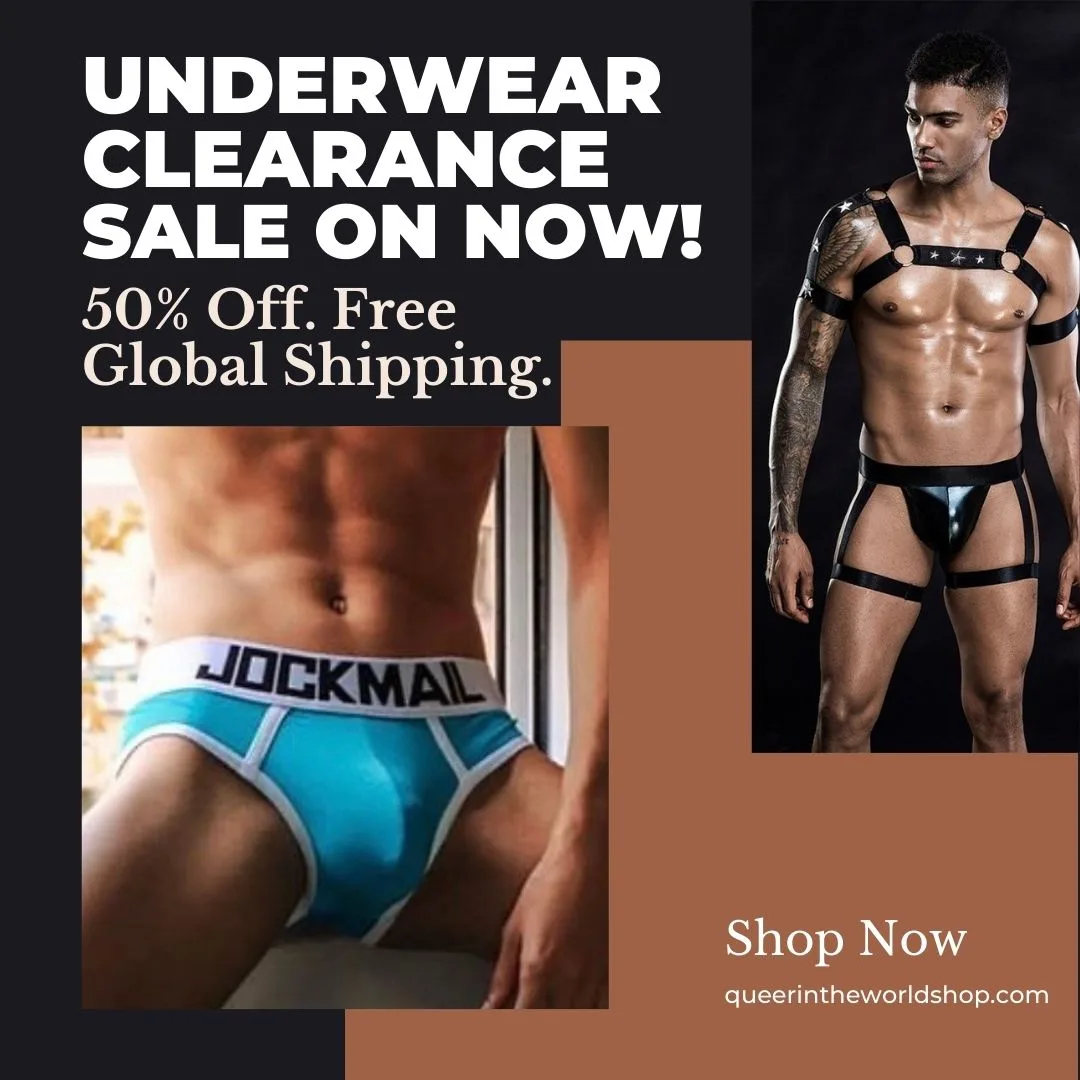 Gay-Friendly Bars in Brno
Many LGBT businesses can be located in Brno's modest but thriving homosexual community. Among the most popular and well-liked gay-friendly bars and clubs in Brno are the following:
The Whiskey Bar That Doesn't Exist
There's also a Whiskey Bar that doesn't exist, in addition to the bar that doesn't exist! It is close to the historic district and appears like an old-fashioned tavern, with wooden walls and furnishings.
The bar serves a variety of whiskeys as well as non-whiskey drinks, making it suitable for all types of customers. Also, the bartenders are eager to make recommendations for you, and they certainly know how to put on a show! If you're looking for a bar that seems more like a typical drinking hole but doesn't have a lot of people, this is the place to go.
A gay men's bar is in the city's heart (Pitelka 33). Every week, there are celebrations on Wednesdays, Fridays, Saturdays, and Sundays. You must buy tickets in advance for each party. All beverages are covered for the duration of the event.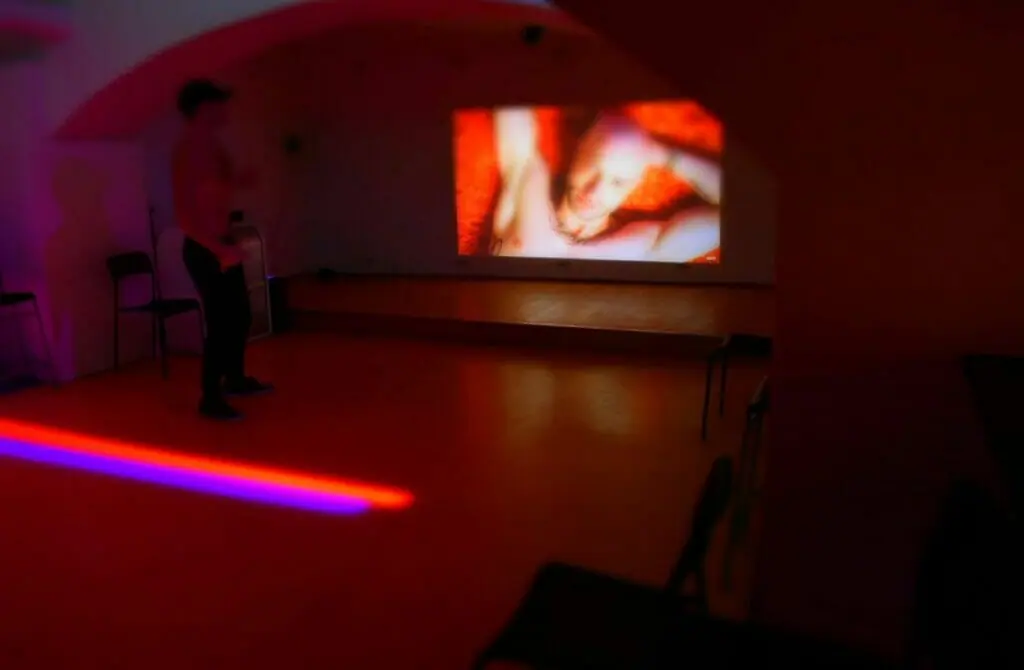 The Super Panda Circus is the best bar in Brno, and visiting it is an unforgettable experience in and of itself. The circus theme extends beyond the decor; your adventure begins by buzzing the doorbell. The circus staff will greet you with a welcome palate cleanser drink in the velvety room with leather sofas and thick curtains.
You can choose cocktails from an a la carte menu or play a role-playing game with multiple-choice questions to help you decide what drinks to have that evening.
The entire game can include up to eight drinks, though you can skip a few. The upstairs bar lives up to its name, with the occasional panda decor dotted among the circus-themed seats. Don't miss the large mural on the far wall, which depicts a cocktail bar scene with famous Czechs.
H46 is Brno's oldest homosexual pub, opening its doors in December 1992 at its present location on Hybeova 46. This pleasant small tavern in the Kova 5 neighborhood has the biggest foot activity at midnight. There are different events to attend every weekend. You are free to ring the bell even if the door is closed.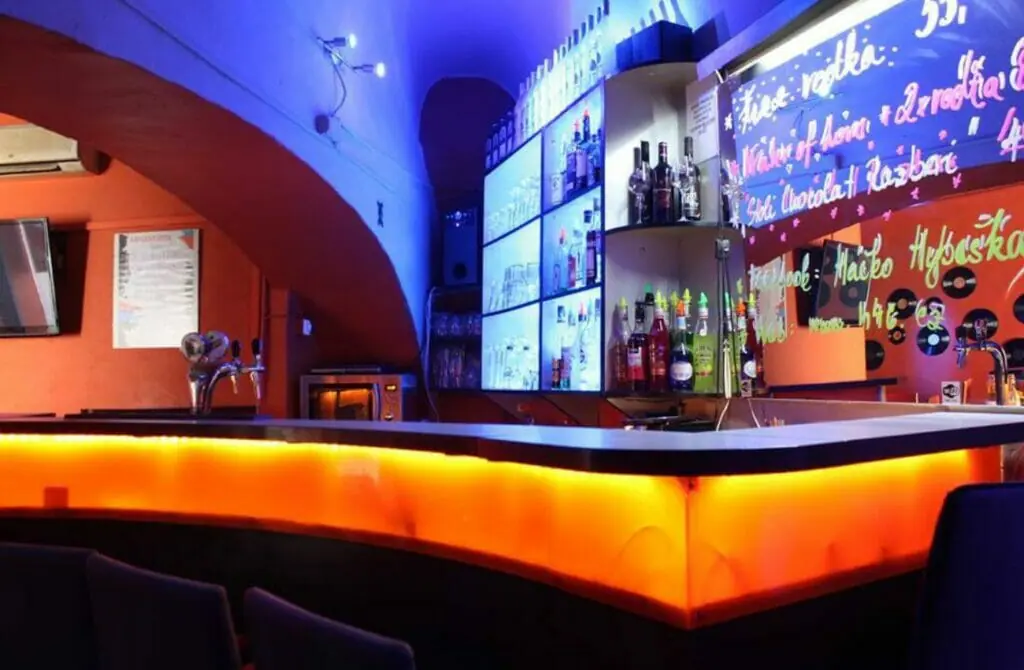 4pokoje is conveniently positioned near the neighborhood's Pub That Doesn't Exist. Its hours of operation and menu reflect the fact that it functions simultaneously as a breakfast location, a cocktail bar, and a café.
The concept of 4pokoje is founded on the fact that it operates unconventionally. Instead, you'll find new foods and drinks that follow traditions. The bulk of their meals is inspired by Asian cuisine. However, the menu is revised regularly, if not daily.
The bar's design echoes the modern Asian motif throughout the facility, with pink neon lighting, curved bars, and elegant décor. Whether you're going from bar to bar in Brno, this is a great place to start the night or satisfy any gastronomic needs.
DJ Henriette hosts the only party of its sort for female visitors. These parties are held regularly in Prague, Brno, Pilsen, and Bratislava. The live show visits Brno every three months, bringing great DJs, unique themed parties, and more.
You and the other 200 lesbians may play games, dance, and drink together. During the warmer months, there is also a boat party in Prague. You may meet ladies from all across the nation at this party.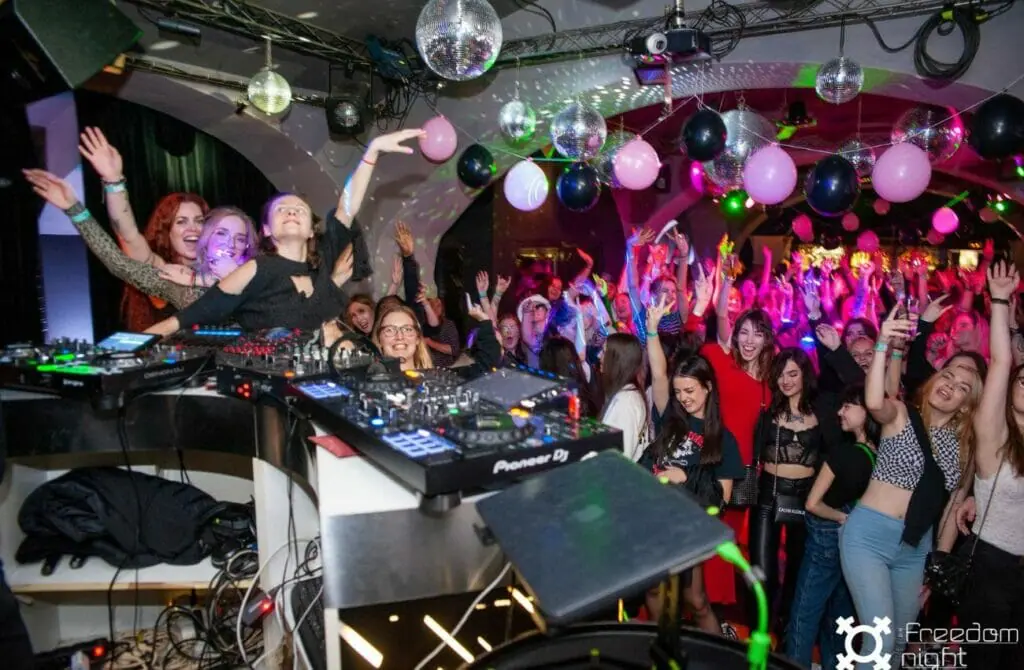 The name "The Bar That Doesn't Exist" was not originally intended, but because the clever gimmick there before the bar readily garnered so much attention, the name stuck. Surprisingly, the pub is in the heart of town and serves as a great burger joint.
This is because the bar's concept is that it is a piece of New York transplanted into the heart of South Moravia. It is also notable for being one of the city's first examples of a modern cocktail bar to open its doors.
The room is conducive to spending time together as a family because it has a long bar table and comfortable couch seating. The menu is changed twice a year and includes some unique cocktails. Behind the bar, on the towering shelves that house the alcohol, there is almost always something visually appealing.
Slast is an underground pub structured like a labyrinth, with various rooms decked out in old furniture and emitting a dive feel. Since it is completely composed of white wood, the entry to the real site is hidden along a tiny corridor. Nevertheless, after descending a series of twisting stairs, you'll find yourself in a 19th-century prison.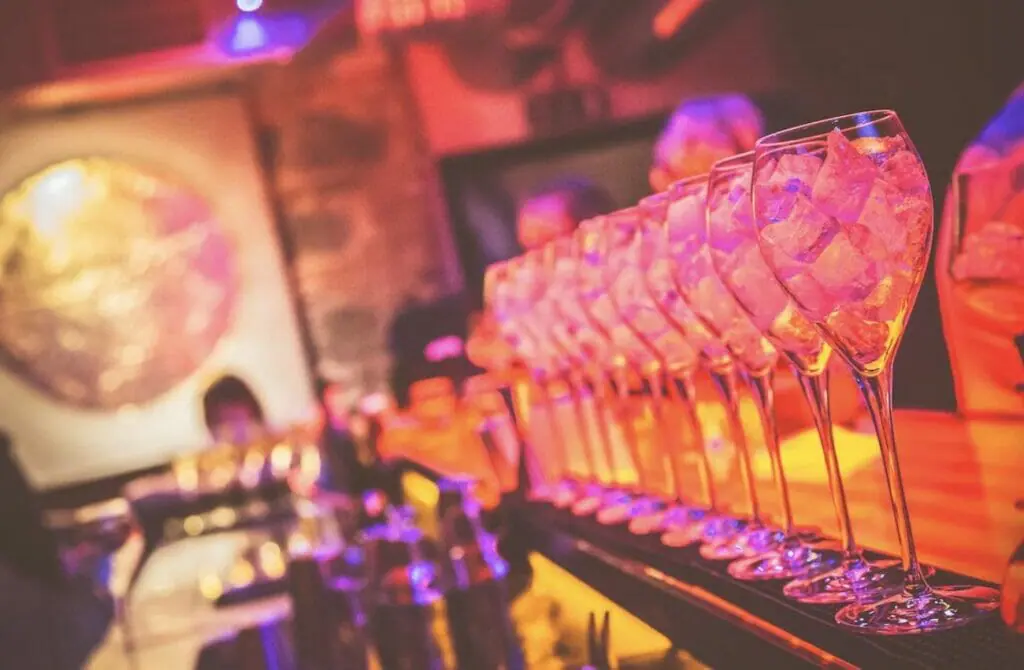 Air Cafe is a resto-bar with a twist: it's also an airforce museum across the square from Slast. They provide a normal drink menu with Czech beer, delicious cocktails, and adequate room for parties.
Terraza is a rooftop bar near the main street and plaza in the Renaissance building Dm pán z Lipé. While the drinks were not very tasty, you may have wine or beer instead. The main features are the outdoor area and a small observation platform on top from where you can overlook the whole city.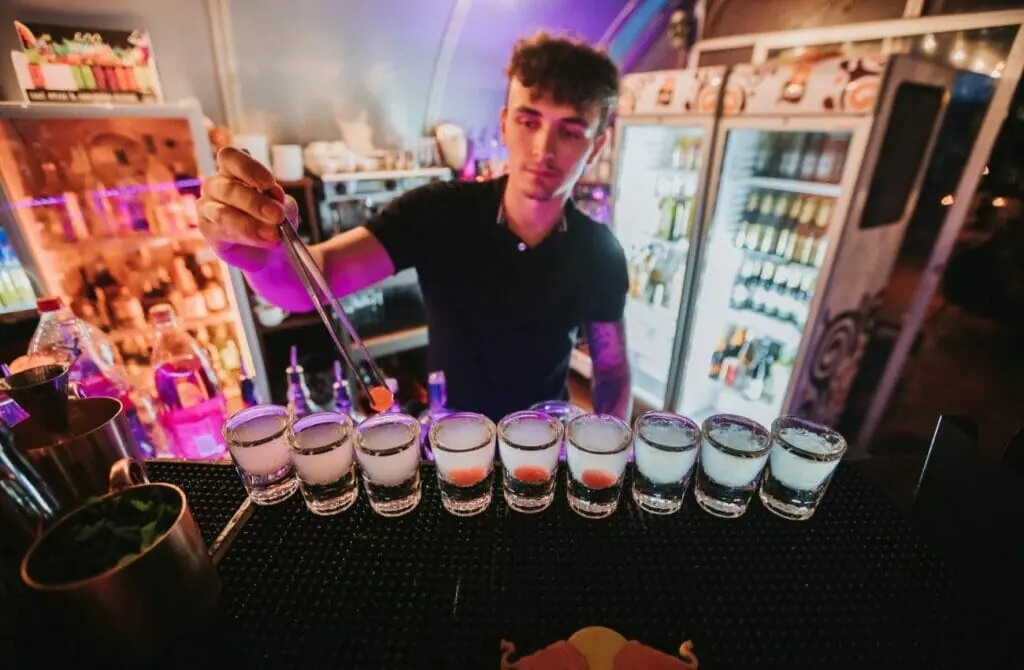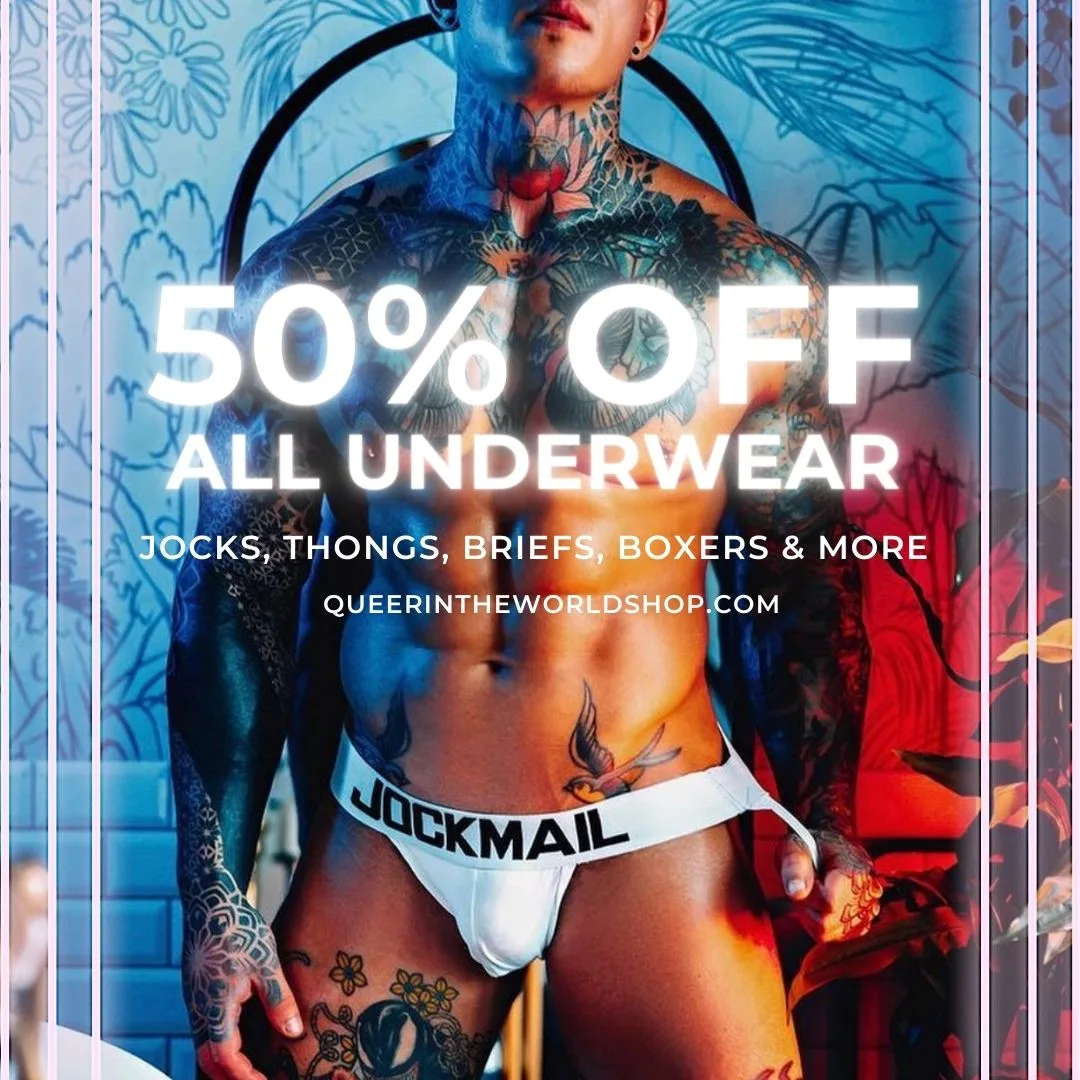 LGBT Rights in Brno, Czech
Regarding lesbian, homosexual, bisexual, and transgender (LGBT) rights, the Czech Republic is often regarded as the most progressive former Eastern Bloc nation. Before its dissolution for the 2021 Czech parliamentary election, the Czech Parliament was considering a measure to legalize same-sex marriage, but it died in committee.
It authorized registered partnerships (registrované partners) for same-sex couples in 2006. Before its dissolution for the 2021 Czech parliamentary election, the Czech Parliament was considering a measure to legalize same-sex marriage. It is prohibited in the Czech Republic to discriminate against someone based on their sexual orientation or gender identity.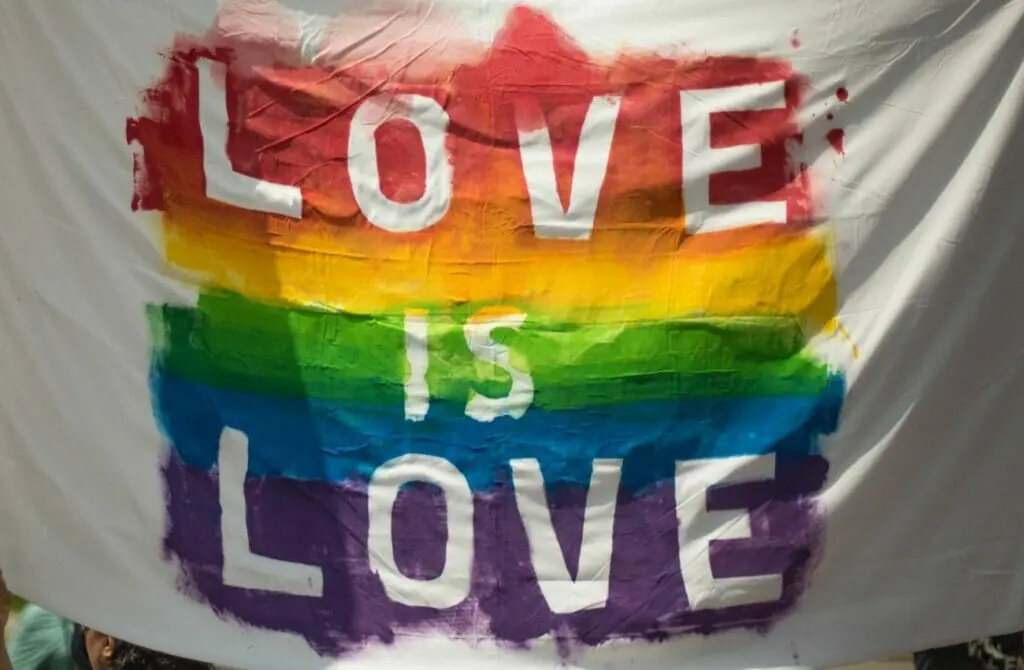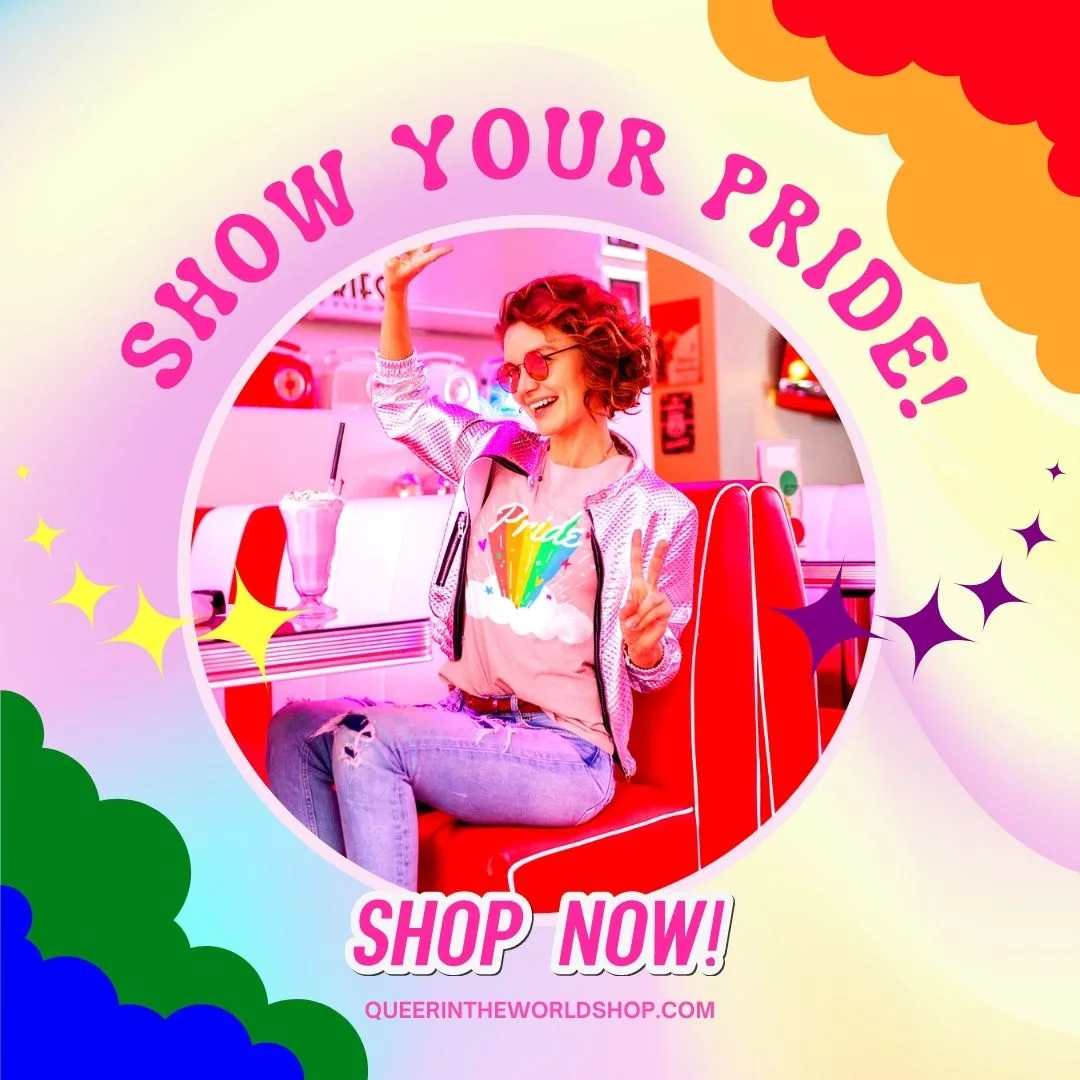 Gay Map Of Brno
Finding it hard to envisage where everything is in Brno? Hopefully, this queer-centric map helps where we have marked all the bars, clubs, parties, hotels, saunas, massages and more will help you stay in the spot best suited to you!