In 1996, Romania decided to decriminalize homosexuality. However, even though homosexuality is not a crime in Romania, most Romanians hold traditional views on gay rights. There are enclaves in many urban areas that welcome LGBTQ people and their communities, but in more rural areas, queer people are forced to live in the shadows.
The government has made significant strides toward establishing a thriving LGBT community. Oradea, a sophisticated city, is an excellent starting point for excursions throughout Romania.
In Romania, you can find the Crisana Plains and the towering Apuseni Mountains, and Oradea, the capital city of the county of Bihor, is nestled right between them.
However, the Crisul Repede River almost splits the city in half, giving the impression that it is two separate cities. Because some of Transylvania's most important fortifications and military bases were located in Oradea, the city of Oradea has also played an extremely important role in the region's territorial history.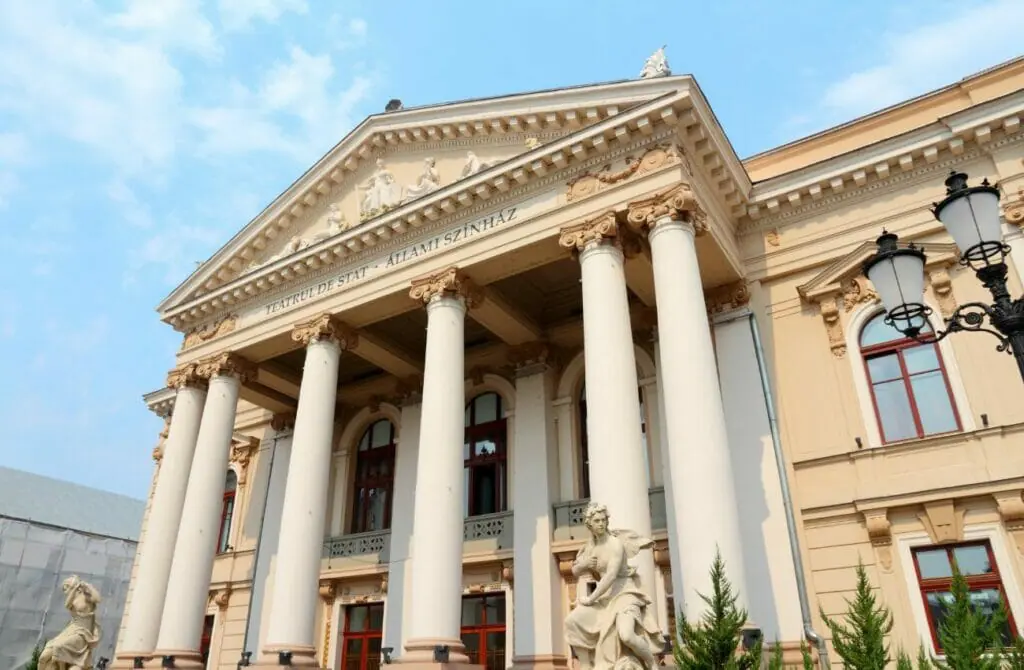 Although homosexuality is not illegal in Romania, the majority of the country's population continues to hold traditional views on LGBT rights. Visitors to Oradea are strongly discouraged from engaging in public displays of affection. Despite the growing acceptance of people and groups who identify as queer, transgender, or bisexual, this remains the case.
Although public attitudes toward LGBT people are generally negative, gay tourists should not let this deter them from visiting this beautiful country. On the other hand, people should be aware of the possibility of encountering hostility while there.
It is critical to understand the situation thoroughly, especially in areas with little foot traffic. Visitors who come to Oradea to learn about the region's history, architecture, and way of life will find the city very interesting.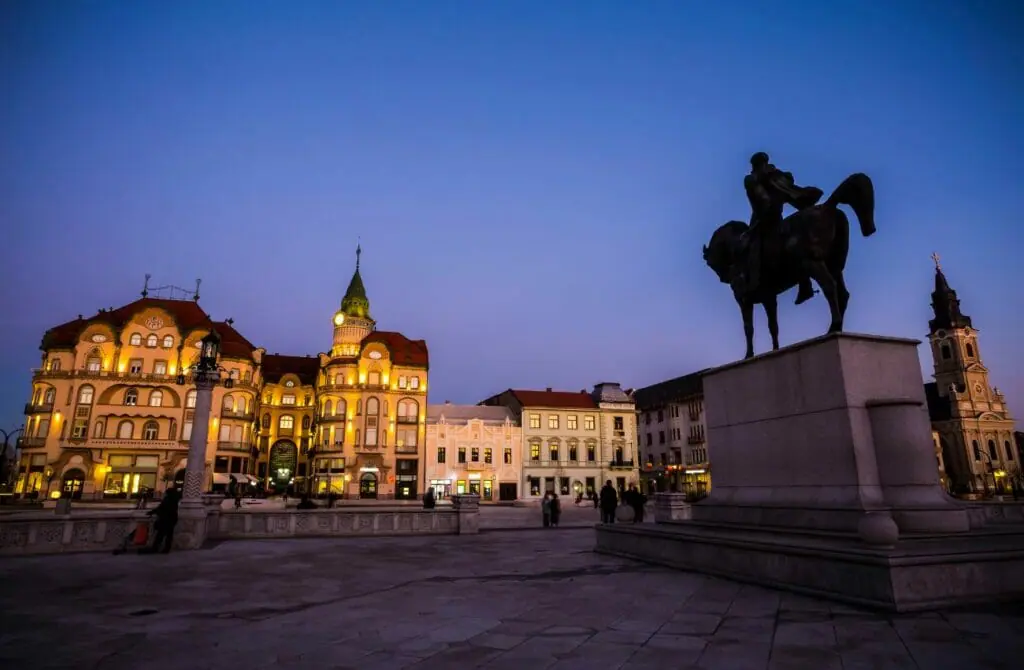 Attractions in Gay Oradea, Romania
Welcome to Gay Oradea, darling! While the city may not be the most welcoming to the queer community, fear not! There are still plenty of fabulous things for you to do while keeping things low-key. First and foremost, you must visit some of the city's most iconic landmarks and attractions, dahling!
Take in history and culture by visiting museums, art galleries, and historical monuments. And don't forget to marvel at the stunning architecture, explore parks and gardens, and indulge in the local cuisine. But that's not all, darling! Gay or straight, there's always something to do in Gay Oradea.
Immerse yourself in the local culture by attending cultural events like festivals, concerts, and shows. Trust us; there's always something fun and exciting happening in this fabulous city. Remember, discretion is key in a city that's not always welcoming to our fabulous community. So, keep it lowkey and enjoy all the wonderful things Gay Oradea has to offer!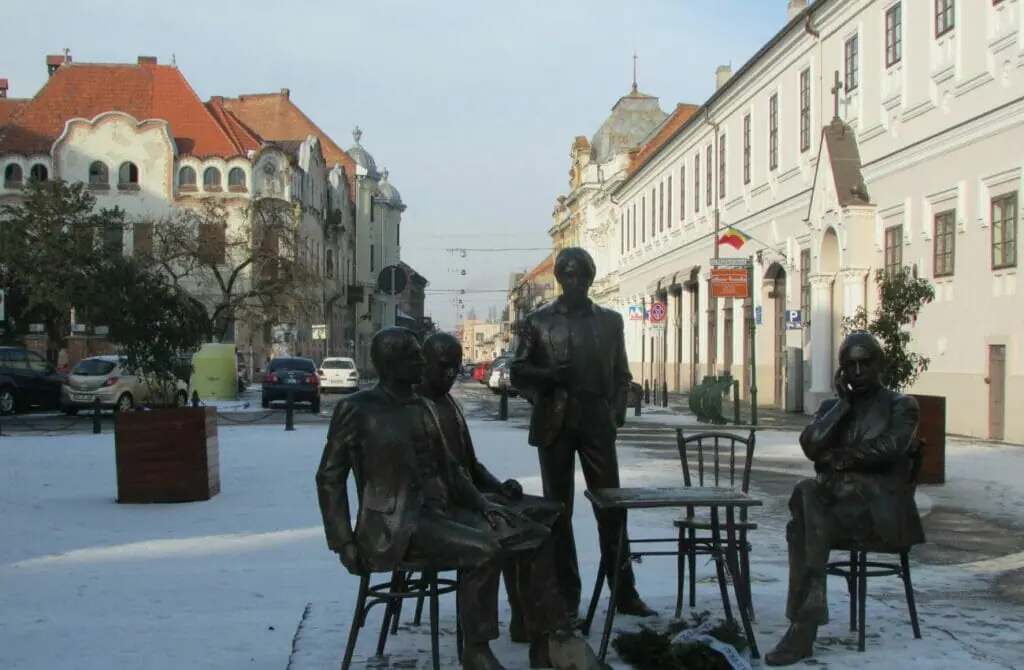 The Ponor Fortress Cave is 74 meters deep, with an underground river and rock balconies overlooking the Apuseni Natural Park. This cave is widely regarded as the most impressive cave in Romania. The cave has three entrances, each leading to the forest road, eventually leading to the Cetatilor Valley and the unknown underground river.
You can rent a minivan and spend the entire day exploring this Fortress, or you can drive to this location and explore at your own pace. Traveling with a tour group is strongly advised to ensure your safety and make your journey easier.
The Town Hall Tower is particularly well-known for the way it was built, as it is designed in the shape of a U. During their visit, visitors have access to both stories of the tower. The "mother clock" is located on the tower's first floor and is a timepiece that is over a century old and has survived both World Wars I and II.
In 1944, there were widespread shootings in Oradea, and the clock's dial still has bullet holes from that time. The observation deck on the tower's second floor provides breathtaking views of the entire Oradea city.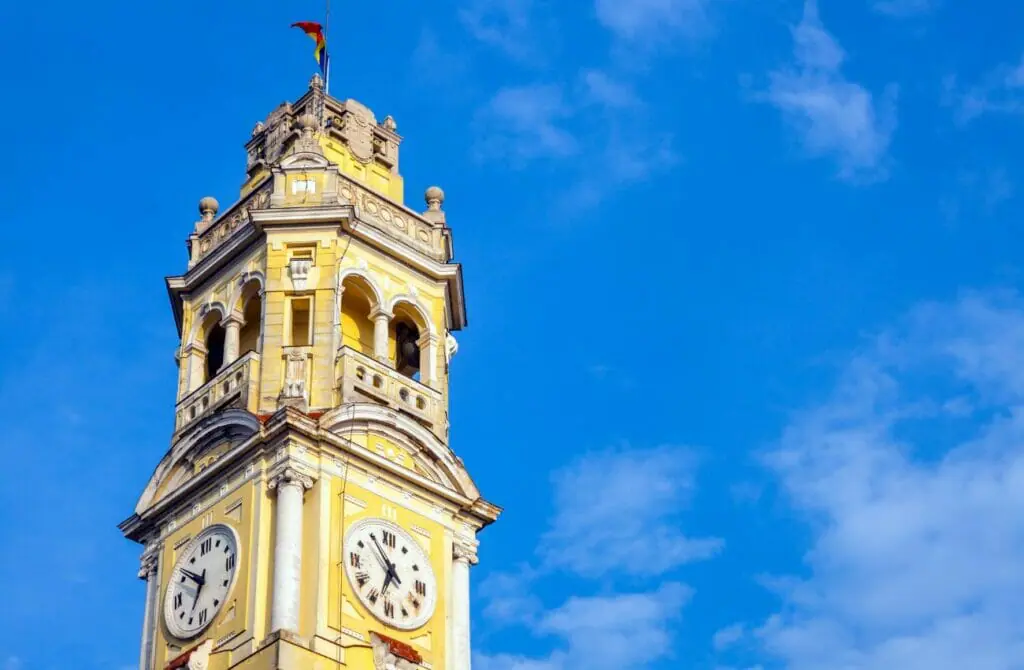 Neolog Synagogue Zion
Jewish community members came together in 1878 to build the Neolog Synagogue Zion. This ancient synagogue, built on the Crisul Repede River's banks, is crowned with a large central dome, elevating its already impressive status to that of a magnificent structure.
The interiors, exteriors, and color schemes of the synagogue are all influenced by a typical neo-Moorish style, giving it the appearance of being very old while also quite impressive.
Military Museum Of Oradea
The Oradea Military Museum houses a vast collection of historical military artifacts, including examples of every weapon and equipment used by the armed forces. This museum, housed in a building built for the Hungarian army in 1895, will make you think about the brave warriors who fought battles to bring honor and love to their country.
This museum houses a large collection of military artifacts, from weapons and uniforms to maps, medals, and important military documents. The collection even includes important military documents. This museum is one of the best places to visit in Oradea because it will teach you about Transylvania's history and the territorial changes that occurred due to battles.
The docents who guide you through the museum are extremely knowledgeable about the various wars and conflicts, and they conduct themselves professionally.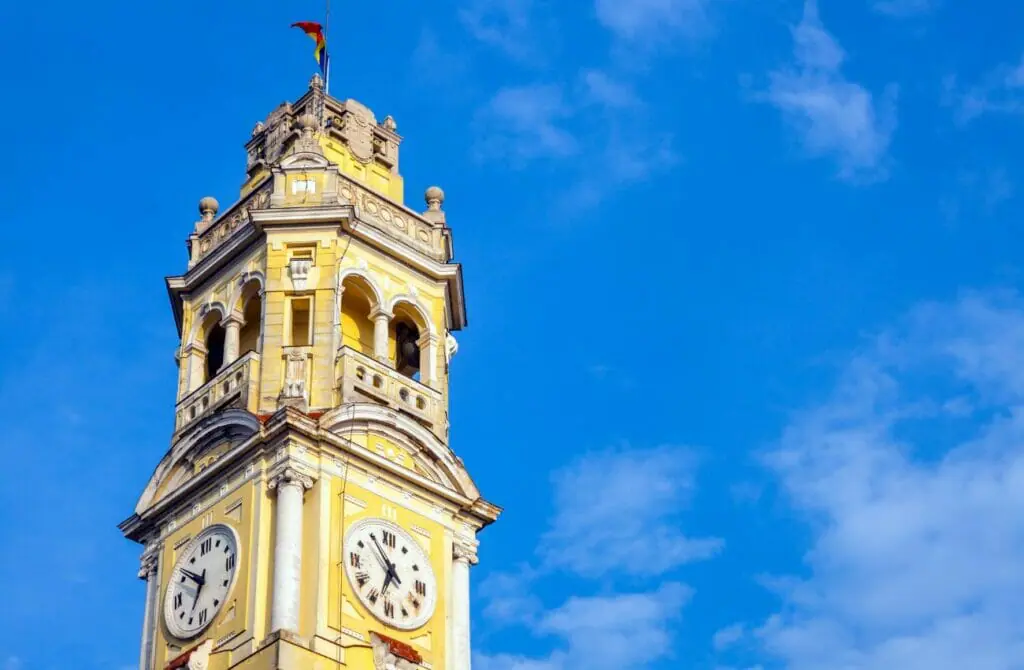 Holy Cross Monastery
The Holy Cross Monastery was founded in 1992 and is currently located on the Crisul Repede River in Oradea. This location is about two kilometers from the city's main business district. The interior of this monastery is stunning, thanks in part to the large Byzantine painting that can be found in the church.
Compared to other churches and monasteries in Oradea, Romania, Europe, this monastery's appearance is unique because it is painted inside and out, making it stand out from the crowd.
Cris Country Museum
The Cris Country Museum's architectural style was influenced by the Baroque period, and the building itself has 365 windows, one for each day of the year. After nearly a century of operation, this museum has grown into a significant cultural institution on a regional, national, and even European scale.
If you visit in the spring or summer, you will see some beautiful flowers blooming in the museum's beautiful gardens. Lovely gardens also surround the museum. Before visiting this museum, you should look at the collections that will be on display so that you have an idea of what to expect.
The Corridor of Canons
The Corridor of Canons is a historical architectural complex built between the late 1700s and the early 1800s. It consists of ten buildings lined up in a single row. Looking closely at this architectural masterpiece, you can see a straight, long line of arches from the nearby Roman Catholic cathedral.
This cathedral can be found in the Canon's Corridor. This location is ideal for taking photographs that look like they were taken by a professional photographer, especially in and around the arches.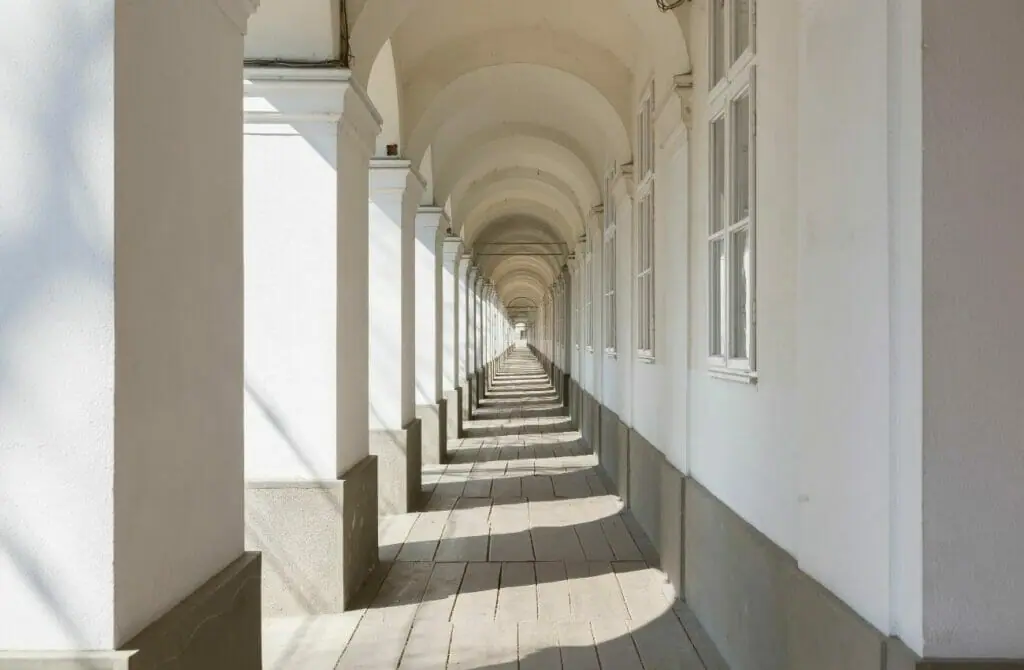 Bishop's-Palace
The Bishop's Palace is Oradea's largest palace, with approximately one hundred rooms and more than 250 windows. The Bishop's Palace, one of Oradea's most valuable architectural buildings, was inspired by the Baroque architectural style.
The palace's interior is exquisitely decorated, with depictions of a conflict within the Greek community on both the ceiling and the walls. The conflict is described in great detail for locals and tourists who visit the palace.
Lotus Centre
The Lotus Centre is a well-known and important retail establishment in Oradea. This shopping center is an excellent choice for vacationers looking to spend a relaxing day at the mall due to its location on Nufarul street. If you want to go shopping, there is no better place than the Lotus Centre.
Many stores sell everything from low-cost high-street brands to high-end designer labels. After you've finished shopping, you can go to the food court and get some delicious food from one of the restaurants there. If you are visiting Oradea during the summer months and want to take a break from sightseeing, it is recommended that you visit the Lotus Centre shopping mall.
Black Eagle Palace
The Black Eagle Palace used to be a well-known hotel in Oradea. It was built between 1907 and 1909 on top of an older Eagle guesthouse. This palace is located in the city's heart and is regarded as one of the most important structures. A glass dome tops it with a painting of a ferocious black eagle that distinguishes it from the other interiors.
It is highly recommended that you visit this palace early in the day to see how its glass windows transform the sun's rays into an array of stunningly beautiful and vibrant colors. This colorful explosion of colors at the Black Eagle Palace is one of the most beautiful sights in all of Oradea.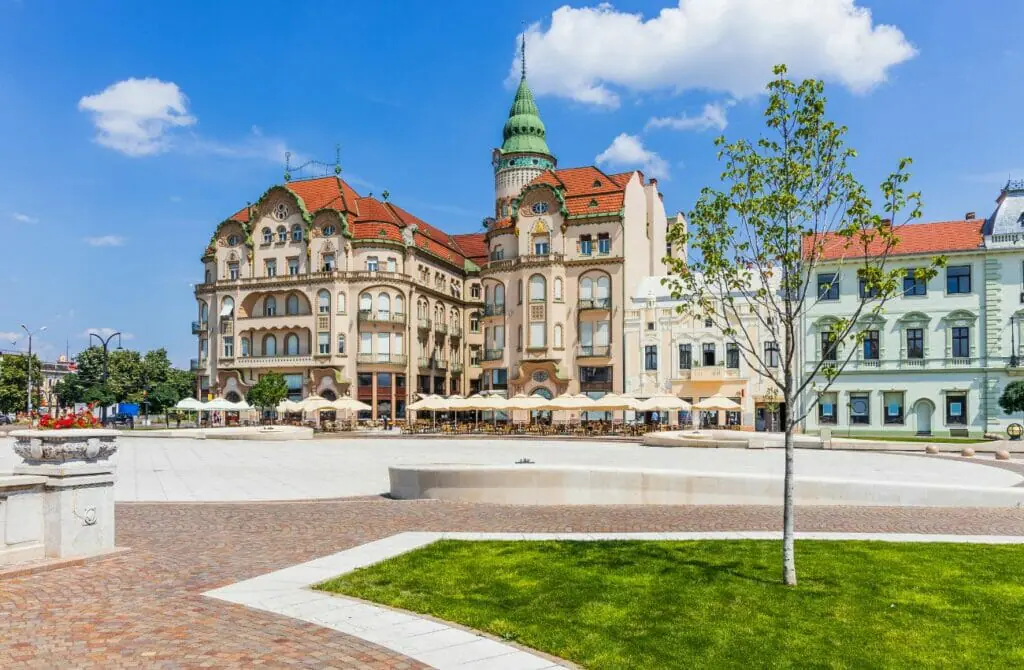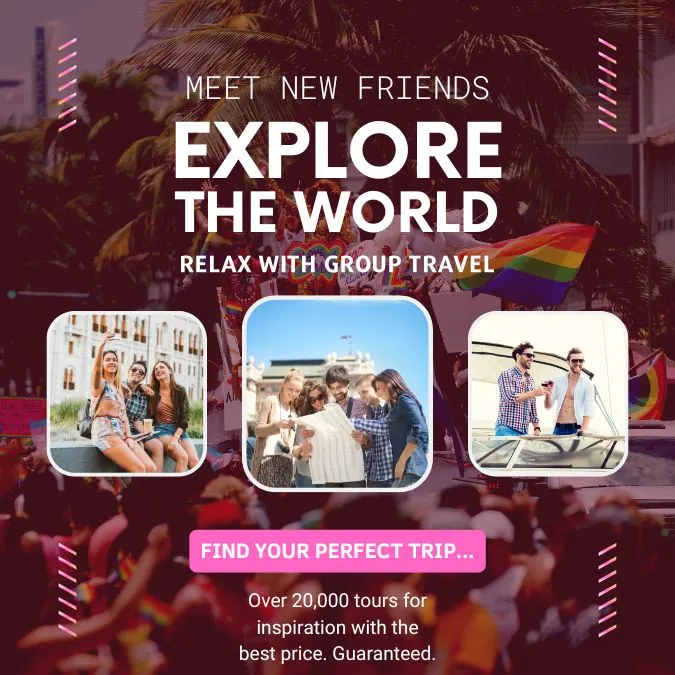 Gay-Friendly and Gay Hotels in Oradea, Romania
Oh, honey, let me tell you about being fabulous and feeling welcome at these hotels in Oradea! Don't worry about other hotels that might not be as accepting; these gems are committed to being LGBTQ+ friendly and making sure that all guests feel like they belong.
Being gay-friendly isn't just about waving a rainbow flag or using the right pronouns; it's about creating a safe and inclusive space for all guests. From non-discrimination policies to providing resources for LGBTQ+ travelers, these hotels go above and beyond to make sure that you feel welcomed and supported.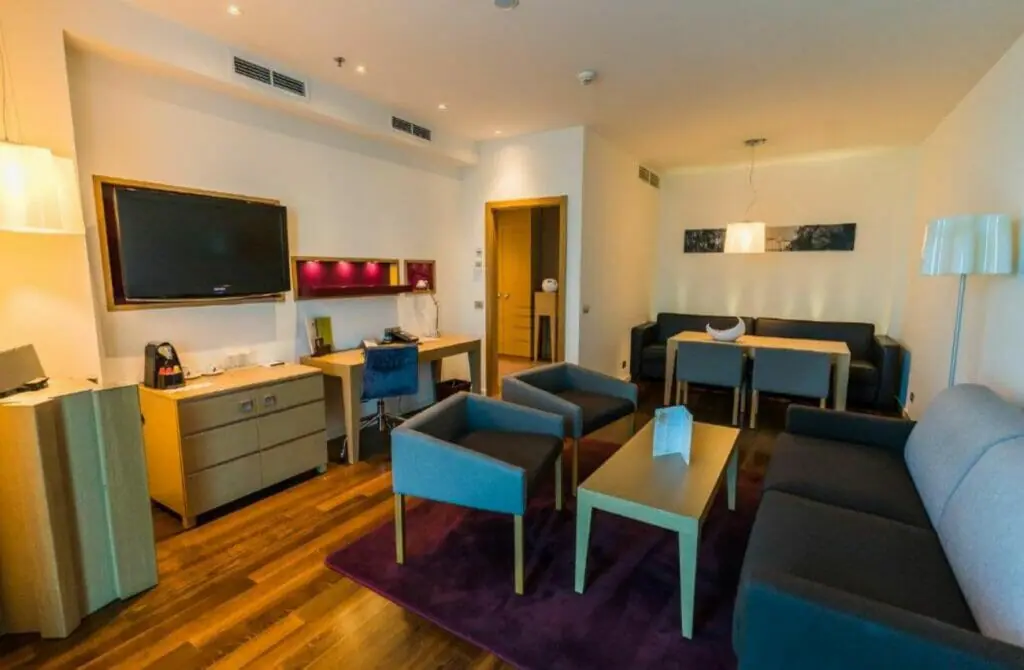 And honey, they don't stop there! Some of these gay-friendly accommodations have extra amenities and literature about local LGBTQ+ events and resources. Plus, they might even be located in an area that's known for being LGBTQ+ friendly. Now, let me tell you about these fabulous hotels in Oradea.
While there aren't any specifically gay hotels or resorts, these are the crème de la crème of gay-friendly accommodations. And if these don't tickle your fancy, don't worry; there are hundreds of other options in Oradea to fit your budget and needs. So pack your bags, put on your most fabulous outfit, and get ready to feel welcome and accepted at these gay-friendly hotels in Oradea!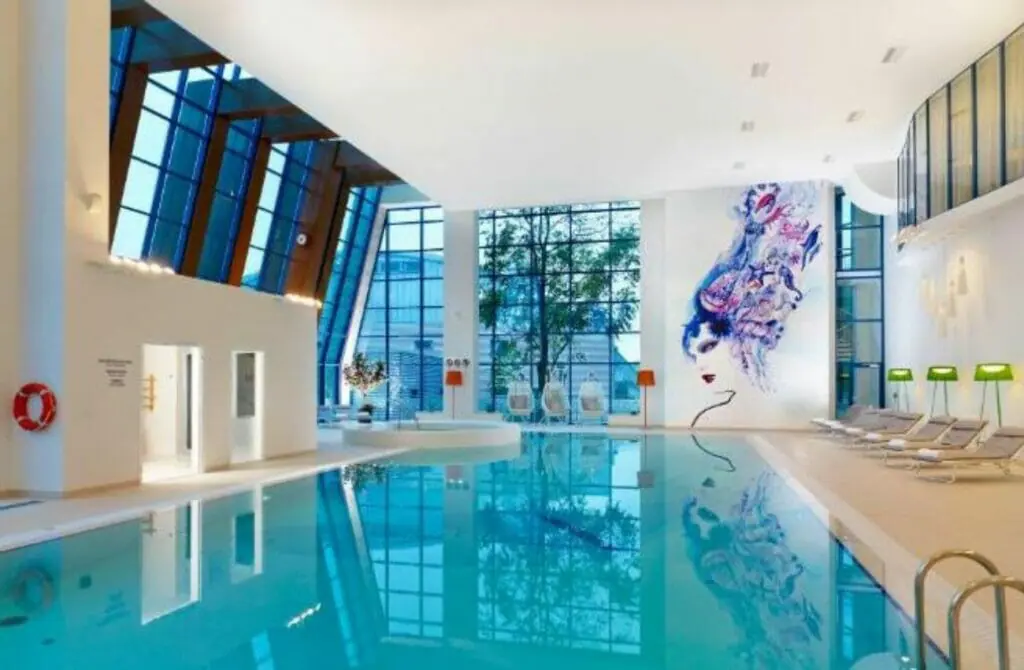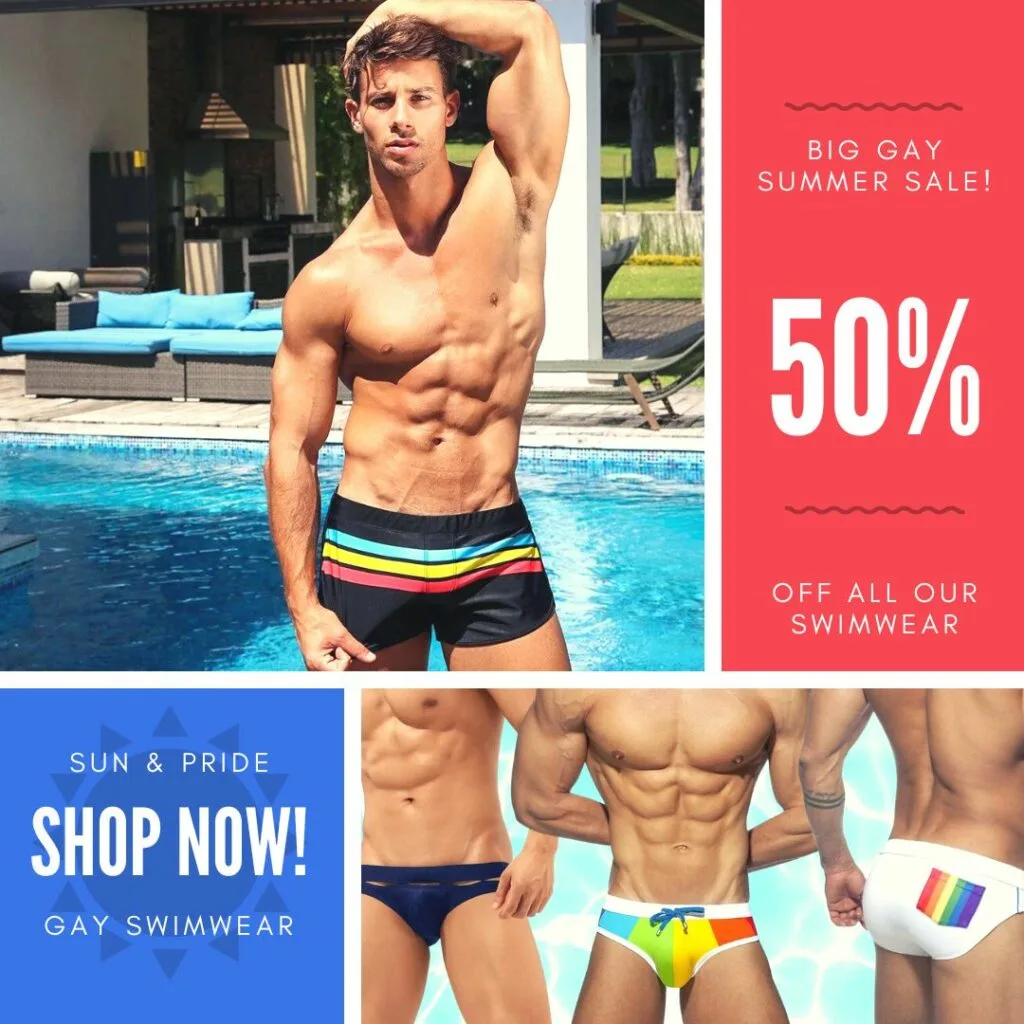 DoubleTree by Hilton Oradea ☆☆☆☆
The DoubleTree by Hilton Hotel Oradea is a hotel in Oradea located in an area easily accessible by foot from the city's main commercial and recreational areas. After a long and exhausting day of exploring the city, unwinding and resting at a luxury hotel is the best way to compensate for lost time and regain your bearings.
The Double Tree by Hilton Oradea hotel offers spacious accommodations with exquisitely decorated interiors. Guests in these rooms can unwind and get a good night's sleep on the hotel's spacious and comfortable beds. Because of the many useful amenities in the rooms, your stay will be as relaxing and stress-free as humanly possible.
Every room in the hotel has fully functional air conditioning, allowing for precise temperature control. Some of them have a balcony or a terrace where you can go out and enjoy the city's breathtaking views while watching the sunset.
The hotel's restaurant serves an impressively diverse selection of delectable dishes, each of which will capture your attention. The Laurus restaurant, located within the hotel and specializing in Mediterranean cuisine, serves breakfast, lunch, and dinner.
In addition, if you require a specialized skin treatment, you can visit the hotel's spa facility, which is located on the premises. There is also a fitness center on the hotel grounds that can assist you in burning off those extra calories.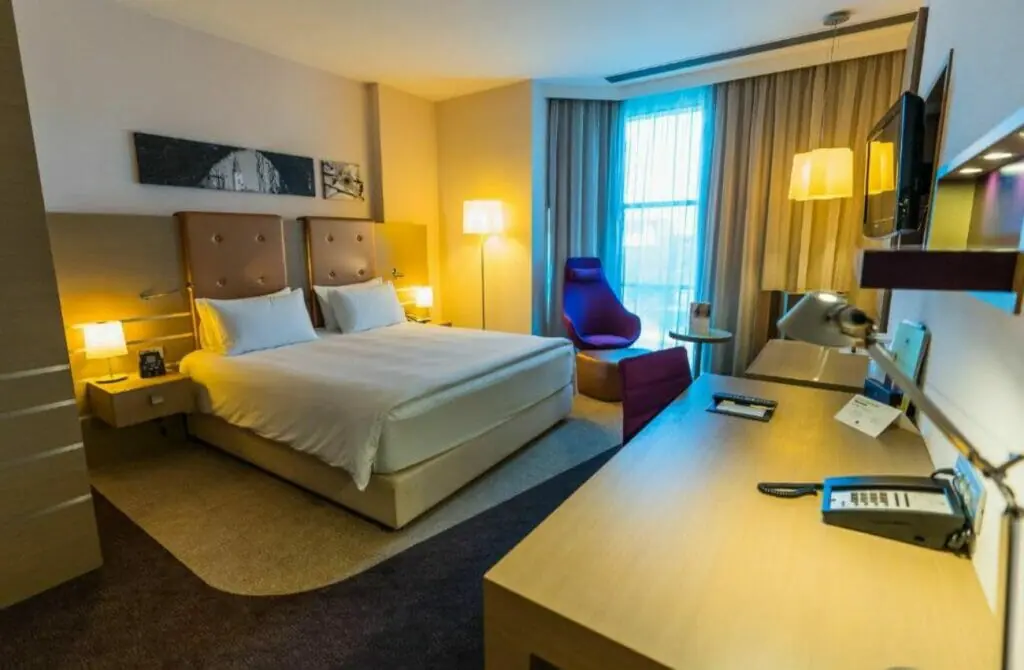 The Ramada Oradea's owners, who all attended Hotel School in Lausanne, designed this hotel to be both contemporary and relaxing, with a wide range of facilities. You will have access to the Reserve Wine Spa at this hotel, which was the first in Romania. The HUB restaurant offers a gourmet and dry-aged beef steak menu, as well as a large wine list, and the hotel also offers meeting and conference space.
The Ramada Oradea customer service team greets every guest with a friendly greeting and personalizes the hotel's offerings to meet all of the guests' needs. The Riserva Wine Spa features a fitness center, two saunas, a salt cave, a relaxation room, and a terrace with two hot tubs and panoramic views of the old town center. A salt cave and a relaxation room are also available.
This ensures that you can always stroll out onto the terrace at your leisure and enjoy some of the most breathtaking views the city offers. The nearest shopping mall is a 6-minute drive away, and guests can unwind there by watching a movie, playing billiards or bowling, or playing table tennis.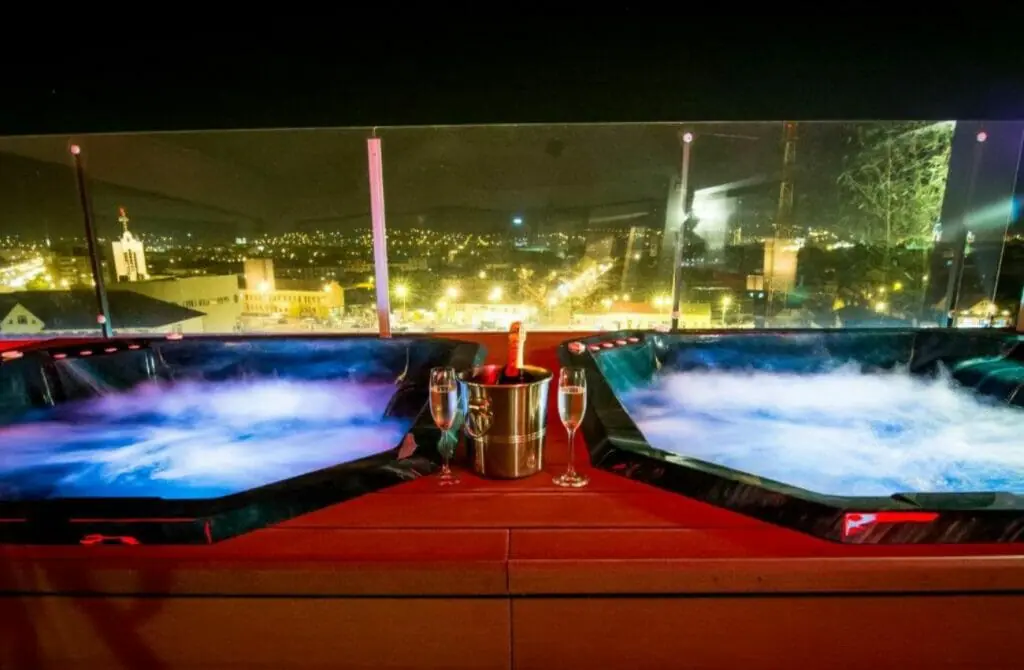 Oradea is an excellent starting point for exploring Romania. The Oradea Central Hostel is conveniently located in the city's heart, making it an ideal starting point for exploring everything the neighborhood offers. The hostel's location is just one of many wonderful aspects of this establishment.
The rooms' high-quality construction contributes to the genuine sense of coziness you get from staying here. You should have no trouble falling or staying asleep on the beds because they are so comfortable. You'll have access to various dining options if you book a room at the Oradea Central Hostel. Surprisingly, you can select from a wide range of activities to keep you busy throughout the day.
If the temperature outside becomes unbearable during the day, you are welcome to use the hotel's outdoor swimming pool. The hotel's swimming pool is located on the hotel's grounds.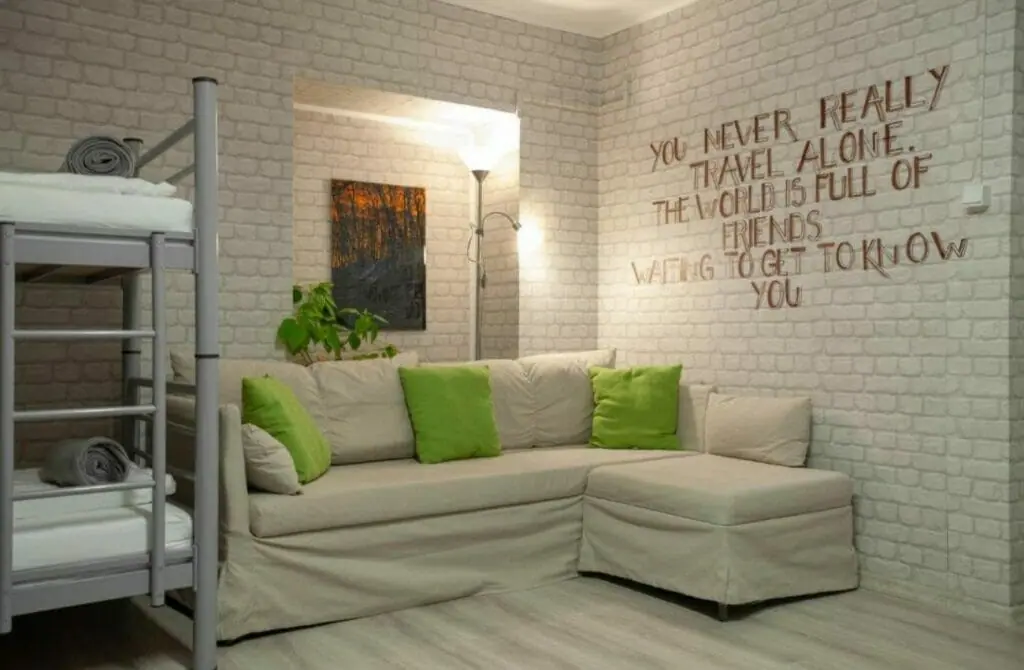 Gay Nightlife in Oradea, Romania
Darling, let's talk about exploring the queer nightlife in Gay Oradea, shall we? It's true this city might not be the most welcoming to our fabulous community but fear not! Being gay is perfectly legal here; remember to err on the side of caution when outside of queer-friendly spaces.
But let's focus on the fun, shall we? Exploring gay nightlife can be one of the most thrilling and enriching experiences while on the go. From dancing up a storm at a gay club to sipping cocktails and rubbing elbows with the locals at a gay-friendly bar, you'll have a chance to immerse yourself in the local culture and make memories that will last a lifetime.
And darling, we've got you covered with the best gay and gay-friendly spots in town. So don't be shy; step out of your comfort zone and explore the queer nightlife in Gay Oradea. Trust us; it'll be worth it!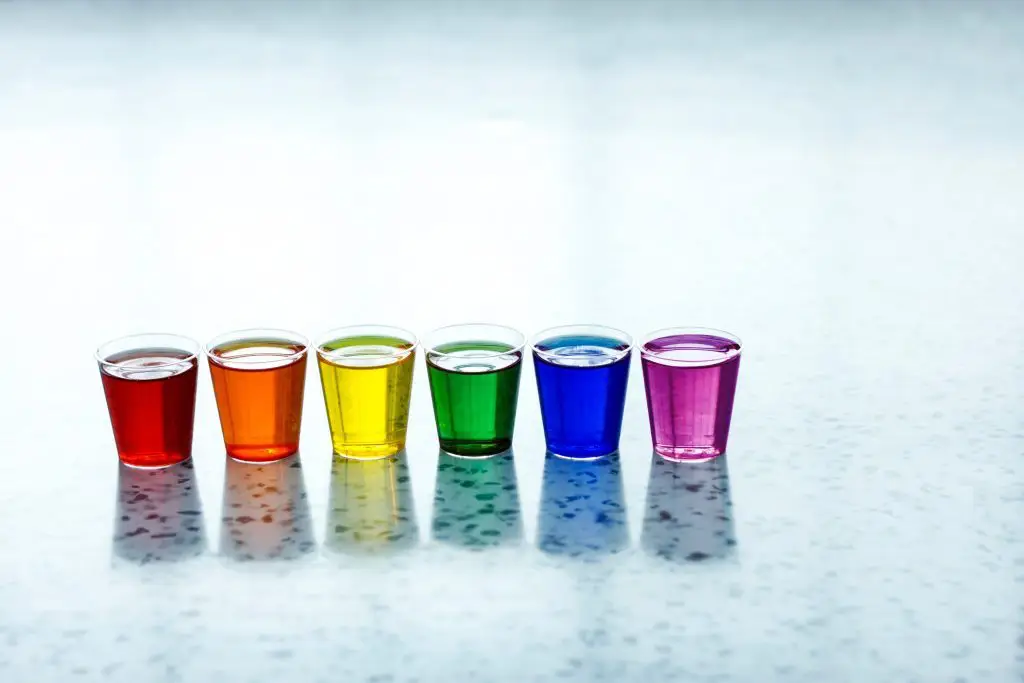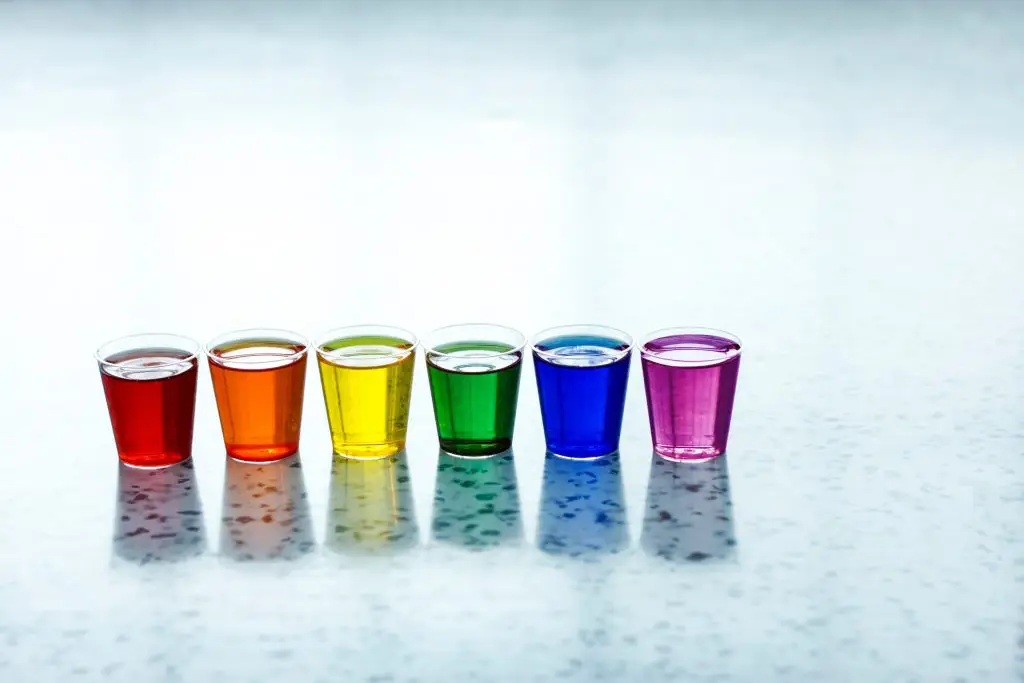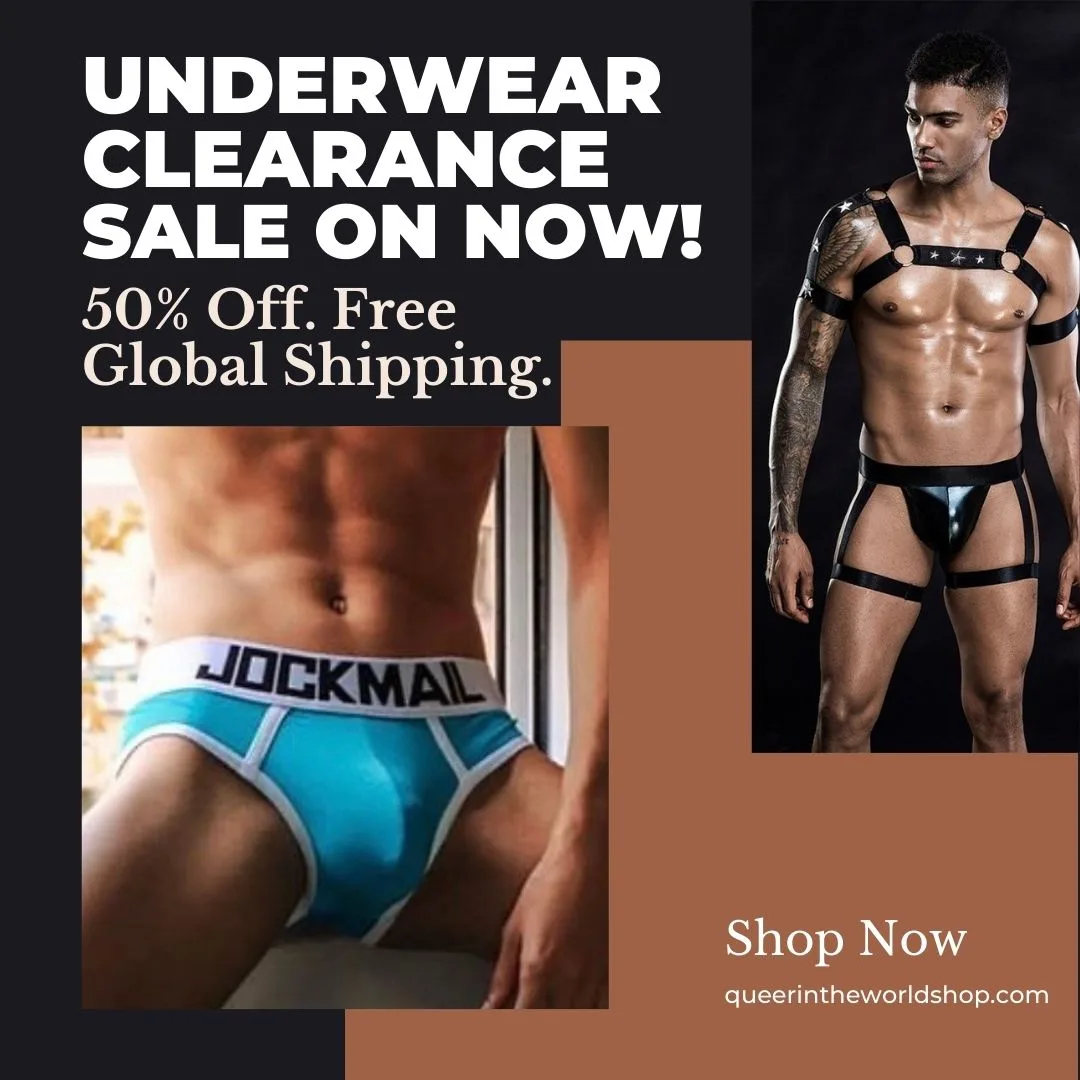 Best Gay-Friendly Bars and Clubs in Oradea
Even though it can be difficult to find explicitly gay pubs and clubs in Oradea, there are several gay-friendly options. Most of Oradea's restaurants and cafes transform into bars and clubs at night, but if you need some recommendations, we've compiled a list of some of the city's most gay-friendly bars and nightclubs.
The Gekko Pub in Oradea is well-known for being one of the city's best and oldest ruin pubs. It is also known for serving some of the best alcoholic beverages and beers in the city.
The Gekko Pub lives up to its reputation as a ruined pub by being built in an older building, decorated in an antique style, and overall having the feel of a ramshackle establishment. This bar offers a wide variety of alcoholic beverages for patrons, making it an ideal location for socializing with friends.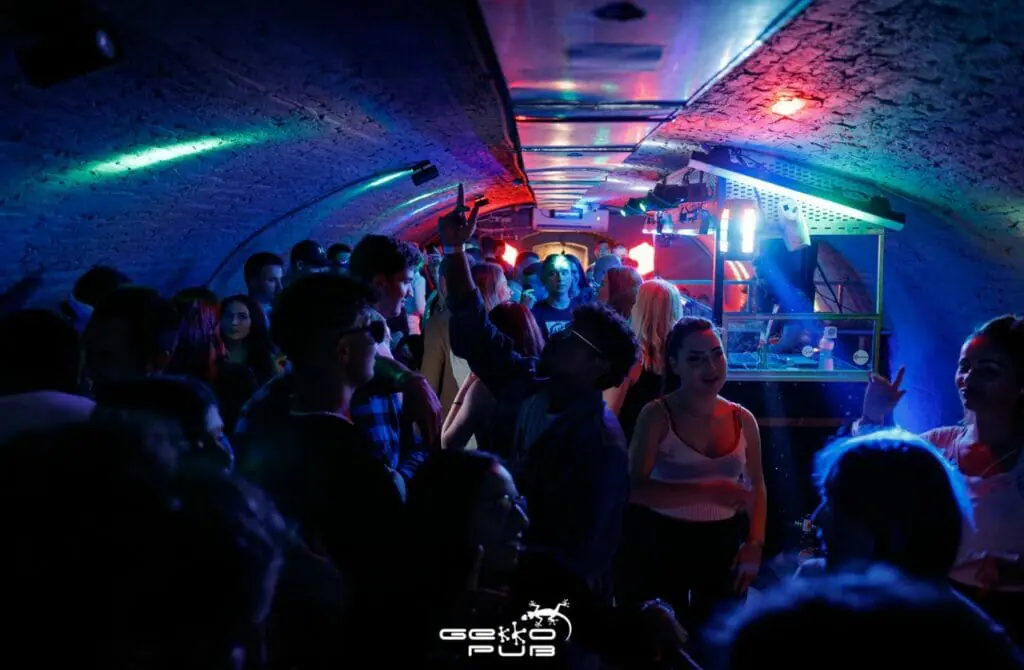 Green Pub, another well-known watering hole in Oradea, attracts both locals and visitors looking for a good time out on the town. This pub opens its doors to the public as early as 9 a.m., but by night it transforms into a full-fledged club, allowing guests to enjoy the exceptional ambiance of both a pub and a club.
On Wednesdays, you can sing all your favorite songs at the Green Pub's weekly Karaoke night parties. While you sing, enjoy one of the pub's expertly crafted cocktails. Karaoke parties are some of the most enjoyable gatherings you can attend with friends.
This particular party in Oradea is one of the most enjoyable gatherings you will ever attend. You do not need to be concerned about your singing because you will be able to observe many other guests singing their hearts out.
Black Eagle Pub
(Temporarily or permanently closed. If you know something, please suggest an edit.)
The Black Eagle Pub, located in the heart of Oradea, is well-known among the locals and is one of the places where they frequently congregate on weekends. The music at Black Eagle is excellent, and they also have a great selection of drinks, including a selection of traditional beer brands and lager and unfiltered beers served on tap.
If you want to go to the pub, you should arrive as early as possible to ensure a table. The bar is usually packed with customers in the late hours of the night.
Morrigan's Coffee & Pub is a relatively new pub, having opened its doors in 2017. Despite its youth, it has quickly become a fan favorite among locals and tourists. In keeping with Irish tradition, this cozy coffee shop and pub exude warmth and familiarity, putting guests at ease and contributing to the overall pleasant atmosphere.
This pub has deep roots in Irish tradition, which includes extending hospitality in the form of friendliness to the establishment's customers. As a result, every customer who enters the establishment is greeted as if they were a family member. When you visit this bar, you can expect to hear some of the best music and a wide selection of beers. Prepare to have the time of your life when you visit Morrigan's!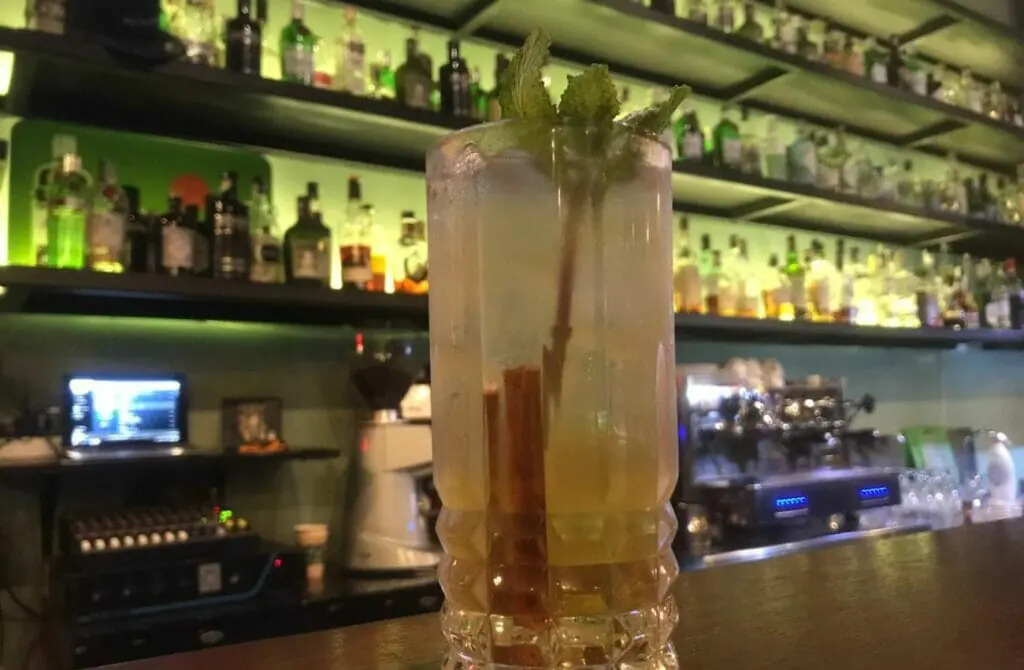 Despite being a short distance from the city center, Bodega has maintained its status as a popular destination for locals and visitors. If you like going to larger pubs with more space to move around, you'll love Bodega because it has connected several seating areas, including a terrace and a garden area.
This bar is one of Oradea's most popular gathering places because it offers recorded music, live performances, and themed parties.
Lokal Bar is housed in a historic building in the heart of Oradea. Because of its location and architecture, it is a fantastic place to hang out with friends. This bar serves some of the best craft beers in town, and you can also ask the servers for recommendations based on how previous customers liked their drinks.
Lokal is well-known for hosting a wide range of events and providing a selection of rooms, each with a distinctively different interior design. Please make a point of visiting this section of the establishment because it is one of the things that distinguishes Lokal from the other pubs in the area.
This cafe bar is combined with a shop that sells local farm produce and products made by local manufacturers. Because the quality of their dining options is not as high as the quality of their drinks, we recommend that you get something to eat before going to Lokal.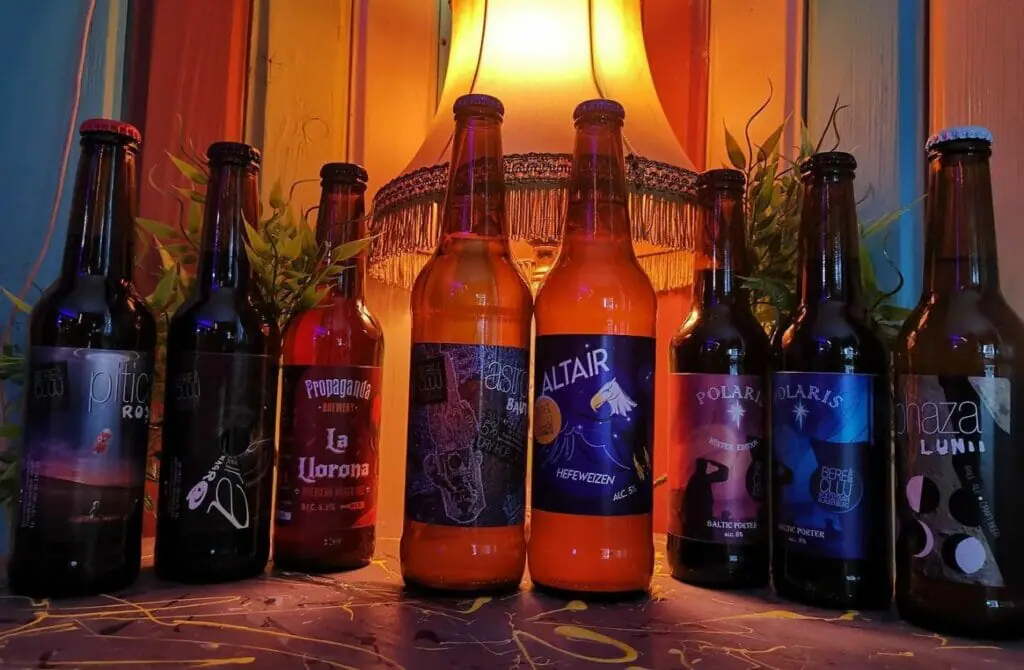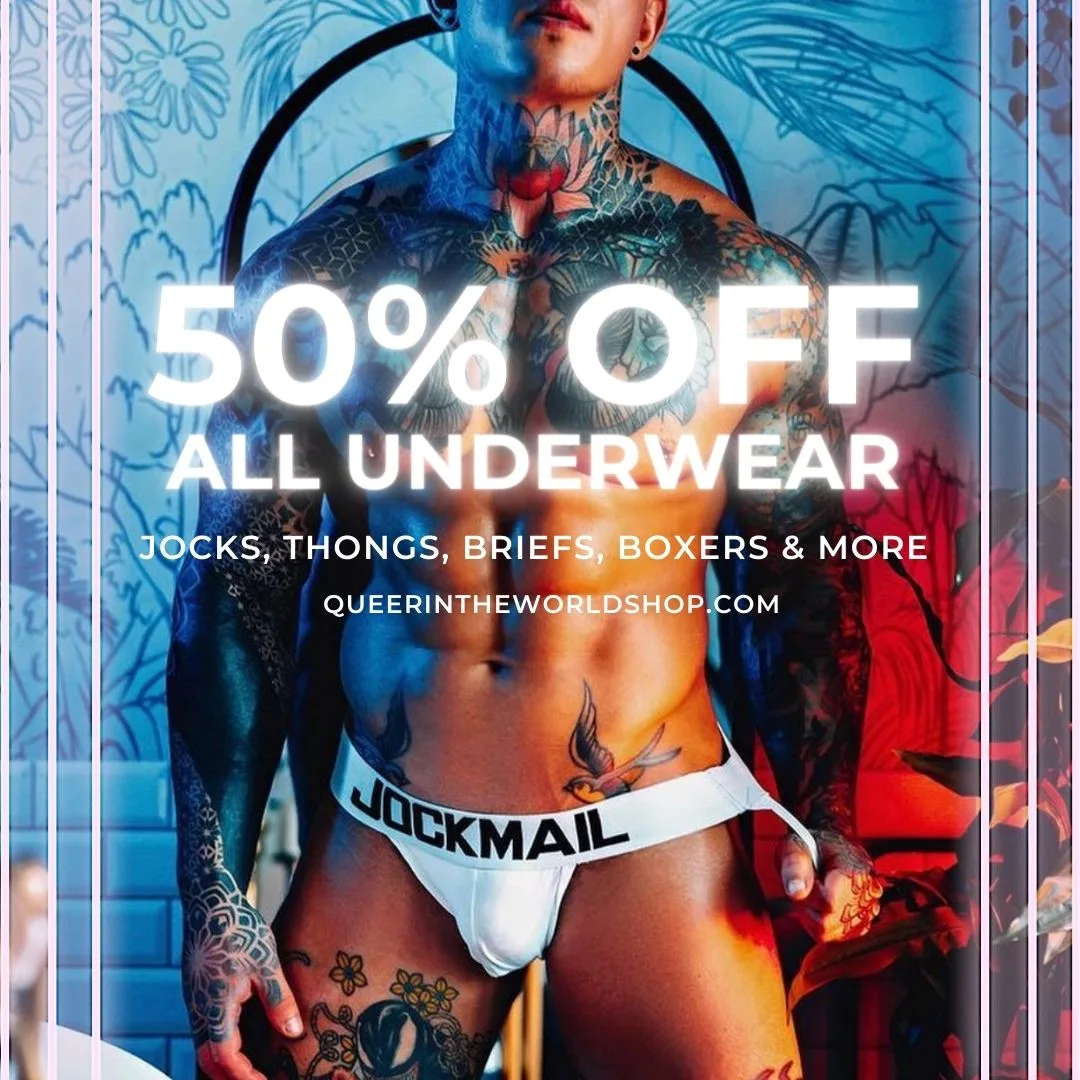 As the name suggests, the ReWine Bar has a large selection of wines that the bartenders are happy to pour for their customers generously. You can start your day at ReWine with a hearty breakfast and a cup of coffee in the morning, or you can come later in the day to sample some of the restaurant's international wines.
The mission of this bar is to provide both locals and visitors with a pleasant and pleasurable way to partake in the activity of wine consumption at very reasonable prices.
Lord's smack dab in the middle of Oradea is far from the only appealing feature of this watering hole. The music and atmosphere at Lord's Pub, widely regarded as one of the most popular drinking establishments in Oradea, are distinctive to this establishment.
Lord's is an excellent place to get a cup of coffee in the morning, a drink in the evening, and then continue the night by dancing until the early morning hours because it opens so early in the day. Lord's is an absolute must-visit if you want to get a true sense of Oradea's nightlife.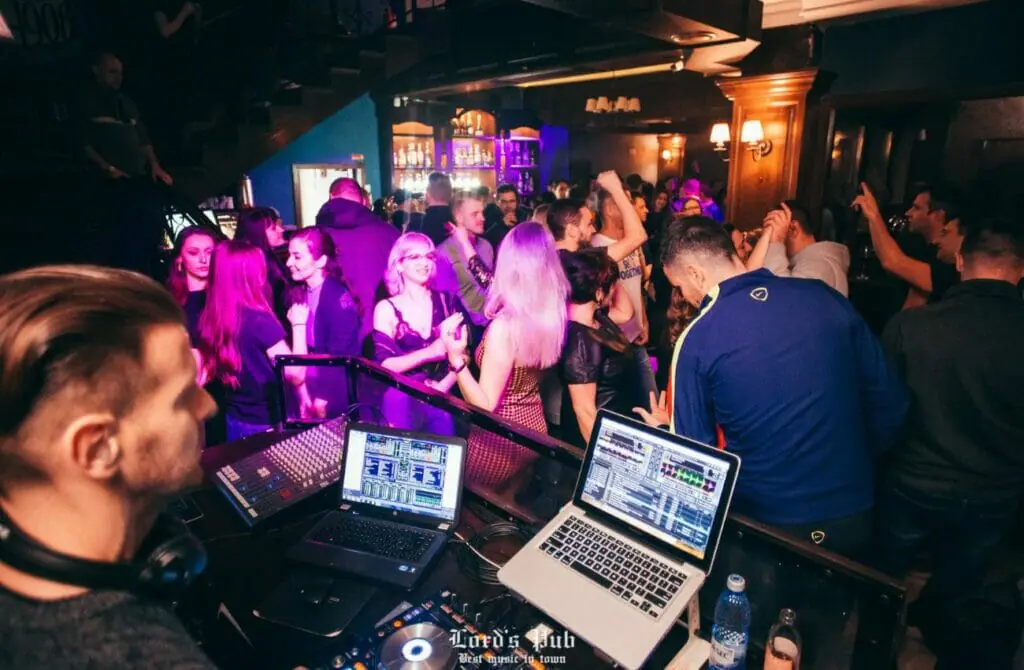 LGBT Rights in Oradea, Romania
Residents of Romania who do not self-identify as homosexual, gay, bisexual, or transgender do not face the same discrimination or legal restrictions as residents who do. Residents who self-identify as homosexual, gay, or transgender face the same discrimination and legal restrictions.
Although there is a preponderance of conservative viewpoints in Romania regarding protecting the rights of people who identify as gay, lesbian, bisexual, or transgender, the country's LGBT rights laws have undergone significant shifts since 2000.
It has passed legislation to legalize homosexuality in its entirety, legislation to prevent homophobic hate crimes, legislation to equalize the age of consent, legislation to equalize the age of consent, legislation to equalize the age of consent, legislation to equalize the age of consent, legislation to equalize the age of consent, and significant anti-discrimination legislation over the previous two decades.
Although homosexuality is not a criminal offense in Romania, most of the country's population still holds traditional views on LGBT rights. There are pockets of support for LGBTQ individuals and communities in many large cities, but gay people are forced to live in the shadows in many rural areas. Many large cities also have pockets of support for LGBTQ people and communities.
There are enclaves of support for LGBTQ people and their communities in many of these major regions. Those who identify as LGBTQ+ have complete legal protection in Romania, although homosexual marriage is illegal. This is partly due to Romania becoming a member of the European Union in 2007, which played a role.
In the Romanian armed forces, there is also a policy known as "Don't Ask, Don't Tell," which gives the impression that homosexuals are "technically" permitted to serve in the armed forces. This, however, is not the case.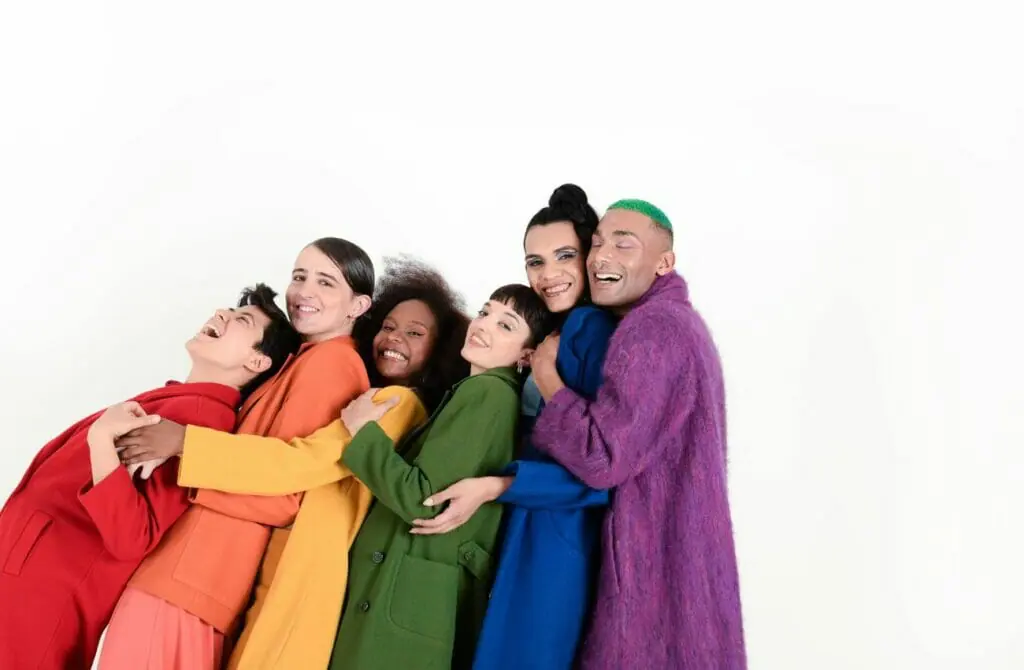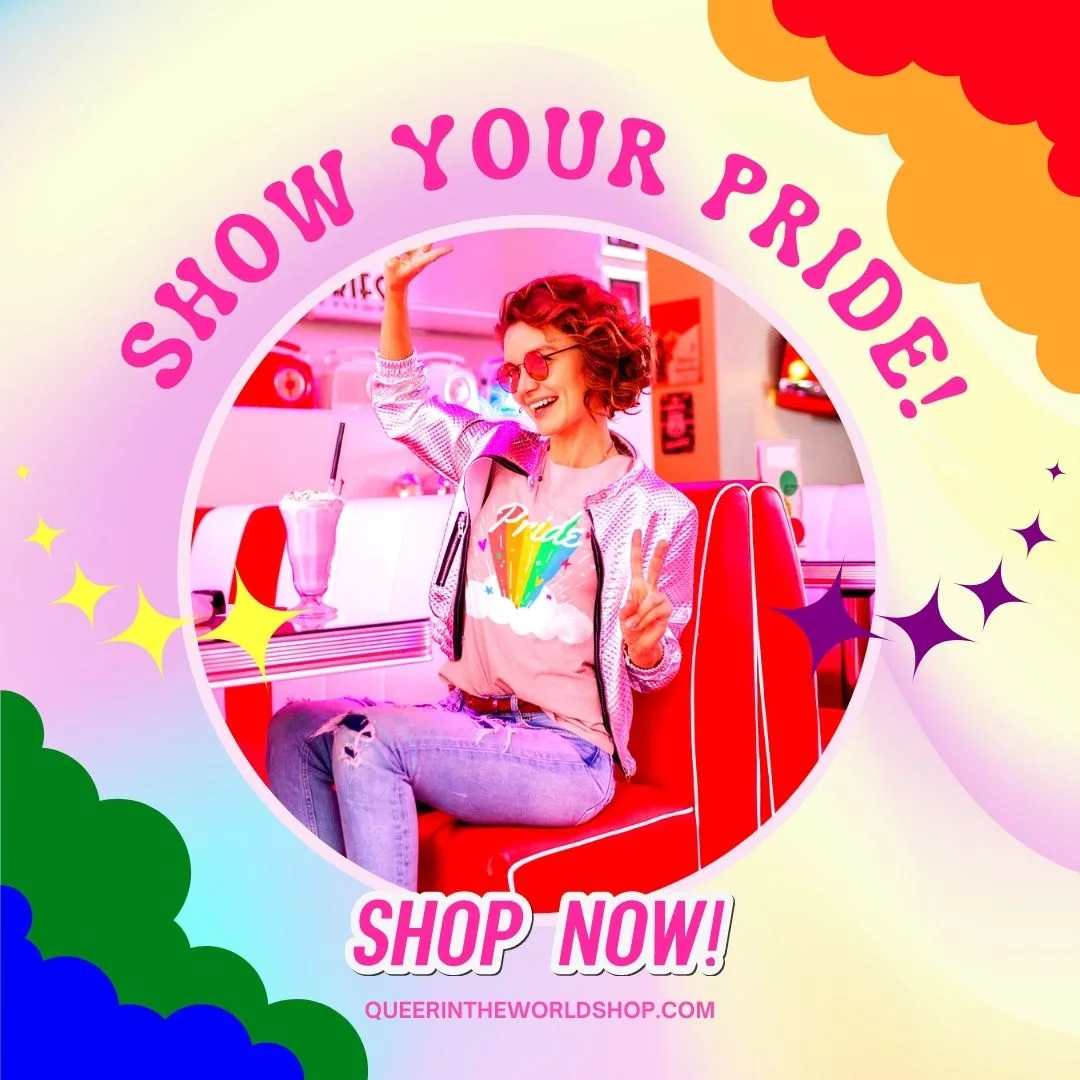 Gay Map Of Oradea
Finding it hard to envisage where everything is in Oradea? Hopefully, this queer-centric map helps where we have marked all the bars, clubs, parties, hotels, saunas, massages, and more will help you stay in the spot best suited to you!