Nesting along the banks of the Guadiana River of Spain, near the Portuguese border, you will find Badajoz, a charming city with a rich history and a growing LGBTQ+ scene. Whether you come here to get bedazzled by the Moorish castle curtains, its impressive San Juan Cathedral, or to celebrate the merging gay community, Badajoz offers a warm and inviting atmosphere to all.
Moreover, even if the gay scene isn't as well formally established as in other cities, you will still find a thriving nightlife and social setting with the help of their queer club and community.
The history of Badajoz is fascinating as she roots way back as a small Roman town called Civitas Pacensis (around 40 AD) until it was conquered in the 8th century by the Moors and was renamed Batalyaws.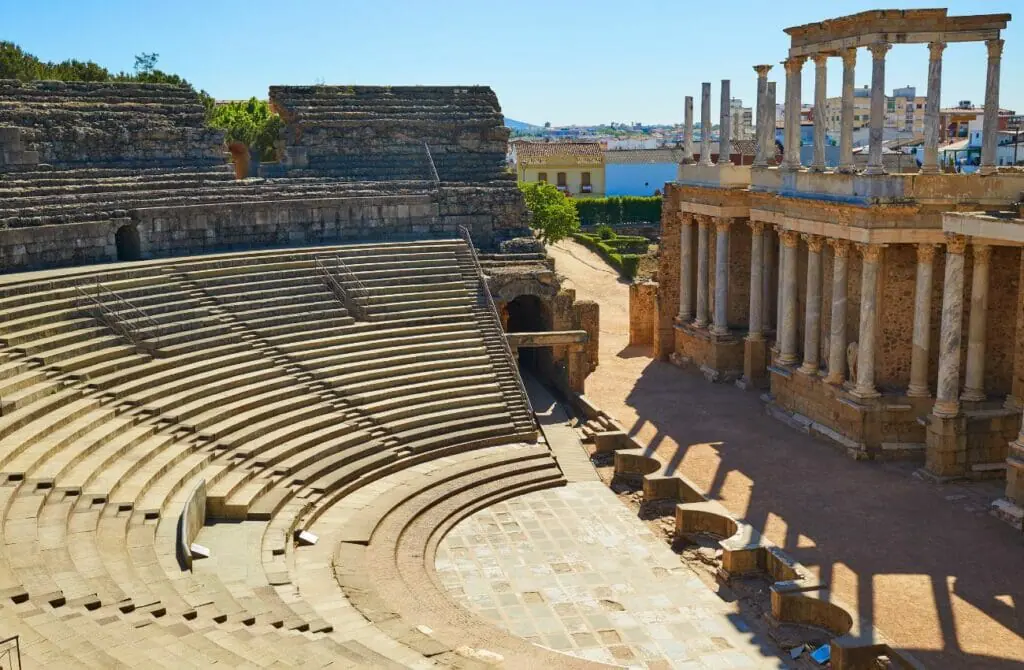 They were then part of the Moorish Kingdom until 1229 when Alfonso IX of León claimed it and turned it into the region's capital Extremadura. Madajoz played a crucial role in the Peninsular and Spanish Civil Wars as a strategic frontline.
Today you can see remains of this long and, at times, troubled history, from the Moorish castle to the numerous Roman ruins and medieval battlements. What makes her extra special is her proximity to the Portuguese border, so you can quickly stop over the border if you want to compare the country's cultures and see how closely knit their histories present.
However, the city's rich sights, industries, and culture will not disappoint those content to contain their escapes to this city.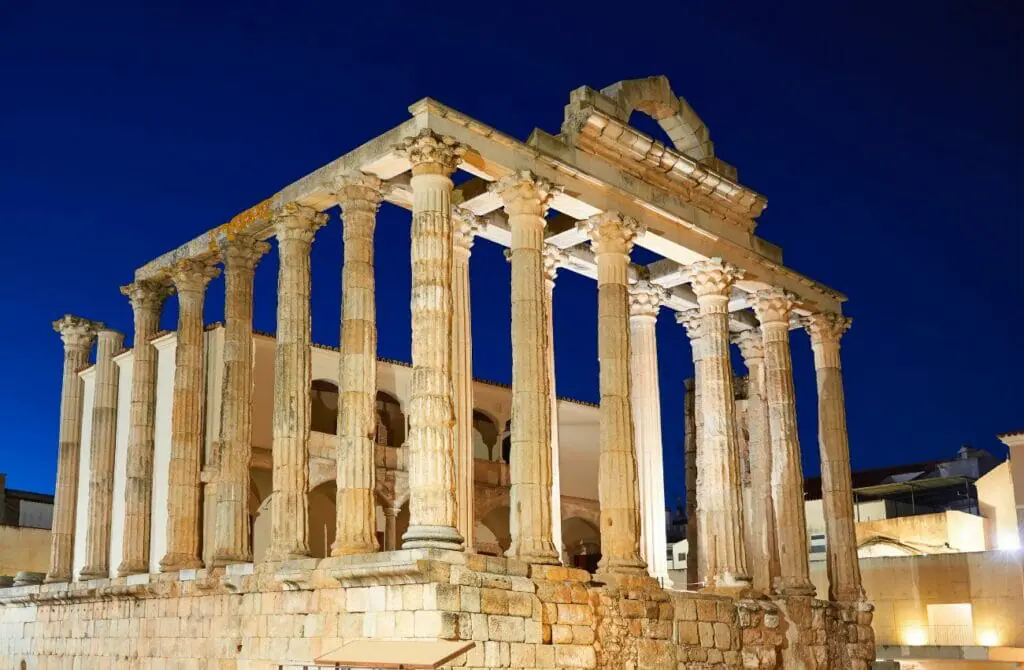 Attractions in Gay Badajoz, Spain
As a new visitor to Gay Badajoz, there are plenty of things to see and do, regardless of your sexual orientation. One of the best ways to experience any new city is to visit some of its most iconic landmarks and attractions, including historical monuments, museums, and art galleries.
We also love gazing at architecture up close, exploring parks and gardens, sampling the local cuisine, visiting local markets, and attending cultural events such as festivals, concerts and shows.
Even as the out-and-proud queer we are, we still love to explore the city and its culture in the same way as everyone else. Doing so allows us to learn more about the city and its people and gain a deeper understanding of the local culture. As such, these are our favorite must-see attractions in Badajoz.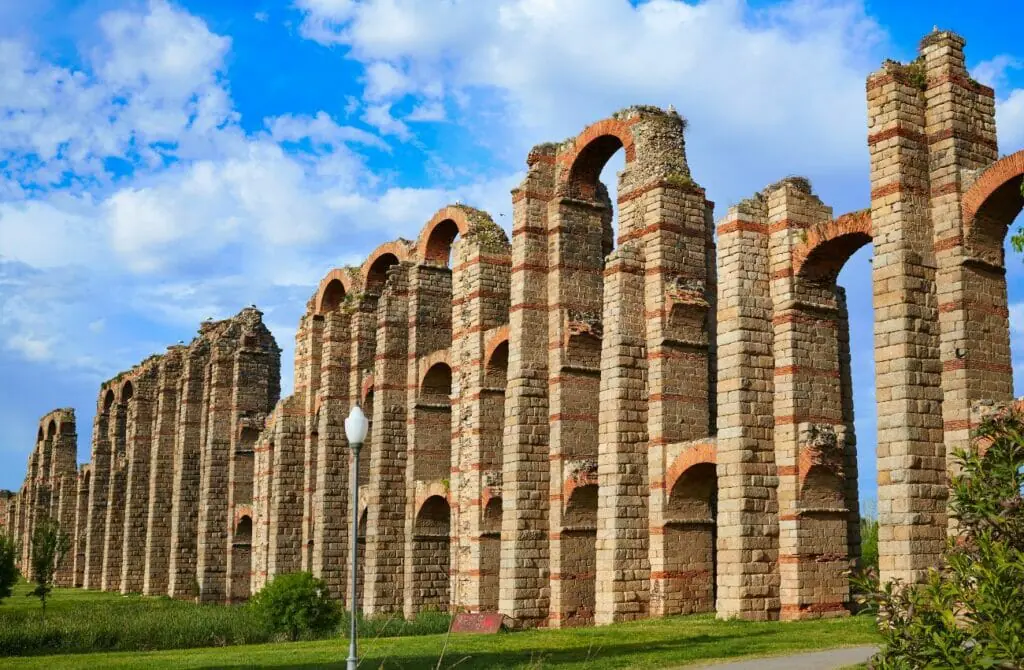 Parque de La Legión
The Arque de La Legión is a unique park in the heart of Badajoz, with open lush green spaces paired with walkways lined by an intermixing of many different periods of the city's history. So whether you want to try and spot all the Roman or Moorish structures or take some great photos in front of the stone fountain, you will find plenty of ways to make your break from the city noise fun.
The Alcazaba of Badajoz is a Moorish citadel in Badajoz built in the 9th century (later rebuilt by the Almohads in the 12th century). Even if the Moorish mark is not as prominent as the Almohad structure, you can still get a great experience from seeing the fortress of former rulers of the region.
You can expect to see more than just a small crumbling tower, but an expansive citadel with open courtyards and various buildings for visitors to sit inside with a tour guide. Plus, on the highest floors of their towers, you can have incredible views of the cityscape and the lands beyond.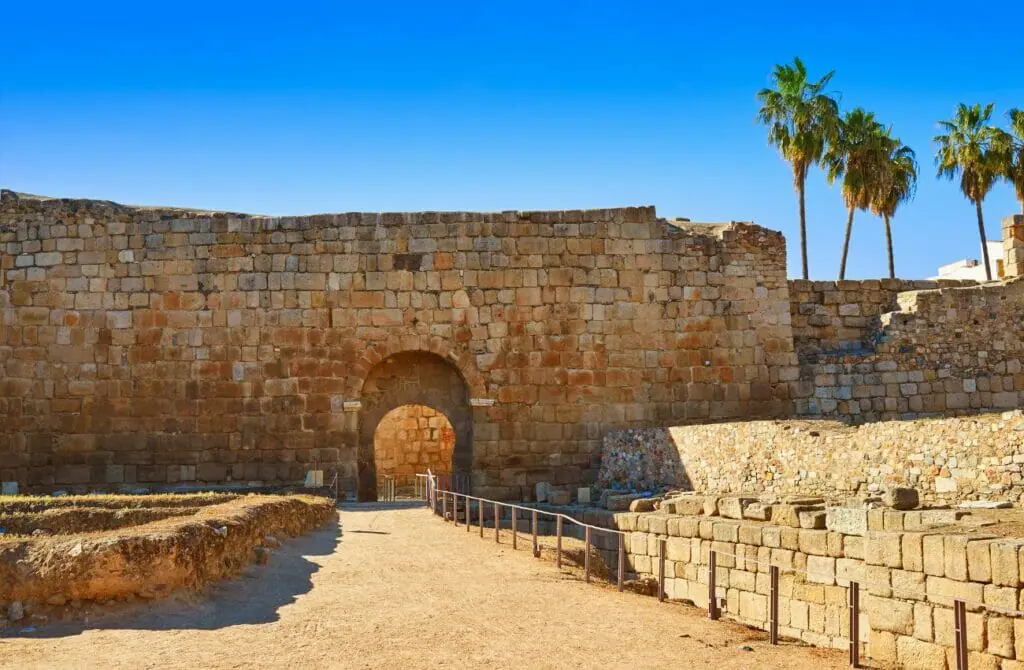 Museo de la ciudad "Luis de Morales"
Luis de Morales is another museum that we highly recommend. Focusing more on recent history, they exhibit scenes including battles from the Peninsular War with intriguing dioramas with so much detail you could spend a long time admiring the details put into telling important events from Badajoz's history.
Jardines de la Galera
The Gardens of La Galera in Badajoz is an Arab garden dating from the 10th century and have been a popular place for residents and visitors since its first planting.
You can get lost in the expansive walkways, rich plant collection and towering trees, and take time to enjoy being out in the sun. Highlights of what you'll see in your ventures include Visigothic columns, a tower from the former Medieval city walls, and The Gate of the Old St. Aten Seminary.
Plaza Alta
The Plaza Alta in Badajoz is a famous rectangular square with arches supporting buildings decorated in traditional Mudéjar motifs. She was constructed in 1681, but despite not being the oldest or loudest attraction to the city, it has become one of Badajoz's most iconic images.
Moreover, this square is an important historical landmark for the gay community as in 2011; this was where the first pride event was held after the former major of Badajoz made homophobic comments.
A local news show joked about the gay community riding into the square with rainbow flags, and the queer community took this seriously to show their defiance against bigotry. It has become a yearly tradition ever since.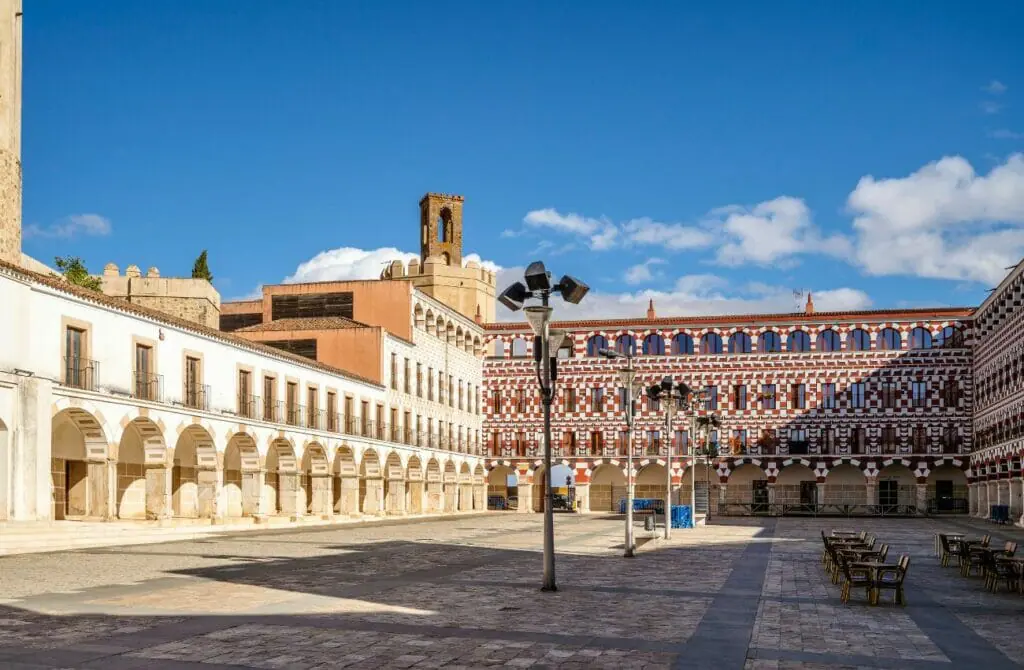 Fuerte de San Cristóbal
The Fort of San Cristóbal was built in 1642 during the Portuguese Restoration War to enhance the city's medieval defenses. You can see the rectangular fort today with its small bastions, two semi-bastions and lined moat, with a guided audio tour option to enhance the experience.
It's not too far outside of town, located along the Gaudiana River and giving you fantastic views from the high peaks of the fortress.
Museo Extremeño e Iberoamericano de
The Museo Extremeño e Iberoamericano de Arte Contemporáneo (MEIAC) is a modern art gallery showcasing collections from Spanish, Portuguese, and Ibero-American artists. It is located on the old Preventive and Correctional Prison site, creating a unique gallery-walking experience. In this collection of 1,475 words, you can expect to see work from Luis Buñuel and Pablo Palazuelo.
Puente de Palmas
Being a historic river-side city, you can't miss out on seeing the oldest bridge in Badajoz. Puente de Palmas was built in the 16th century and is a 585-meter-long bridge connecting the city's two halves as a driving and walking road. It is a simple stone archway bridge, adding to the rustic nature of the surrounding area, and makes an excellent figure for photos of the river.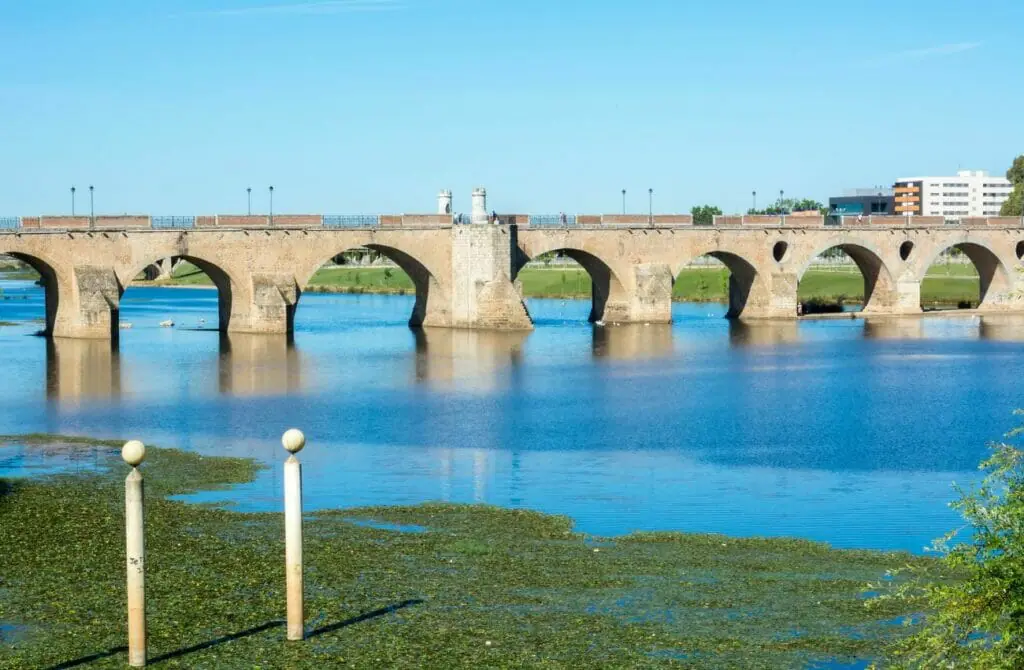 Museo del Carnaval de Badajoz
The first stop in Badajoz museums is the Museo del Carnaval, a must-visit attraction for fashionistas and those entranced by history and culture. You will be impressed by their collection of winning costumes, interactive displays, and friendly staff.
Carnival is an age-old tradition in Badajoz, so even if you visit her outside of the festive season, you can experience the extravaganza here. Plus, it also helps that it's free!
Archaeological Museum of Badajoz
Those wanting to become more connected to the city's history can do so through the Archaeological Museum of Badajoz. You can experience an extensive collection established in 1867, from warrior steles from the Bronze Age to the Visigothic pilaster from the Alcazaba.
Their collection covers all periods of the city's history and the wider Spanish and European region, so you can see how people of the past used to live.
Plaza de España
One of many central squares in Badajoz, you can take a much-needed rest in your travels around the city by foot at Plaza de España. Surrounding the square is a collection of orange trees and bars, so it is also a great dining destination.
However, even if you don't have a goal in mind, you can take this break from the bustling streets to check out the surrounding attractions or delve into the ancient past time of people-watching.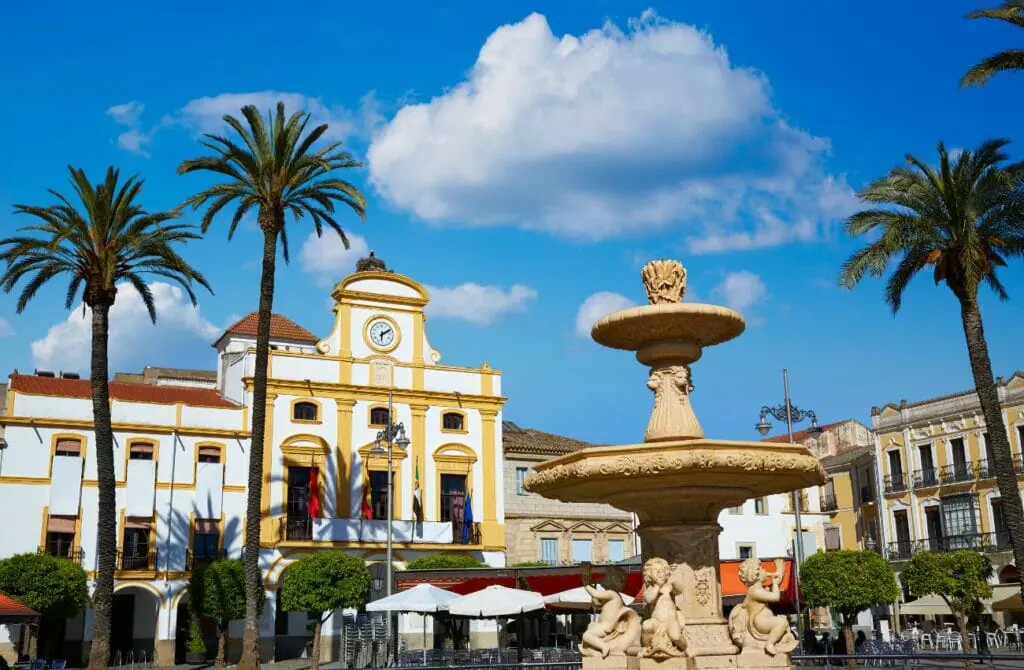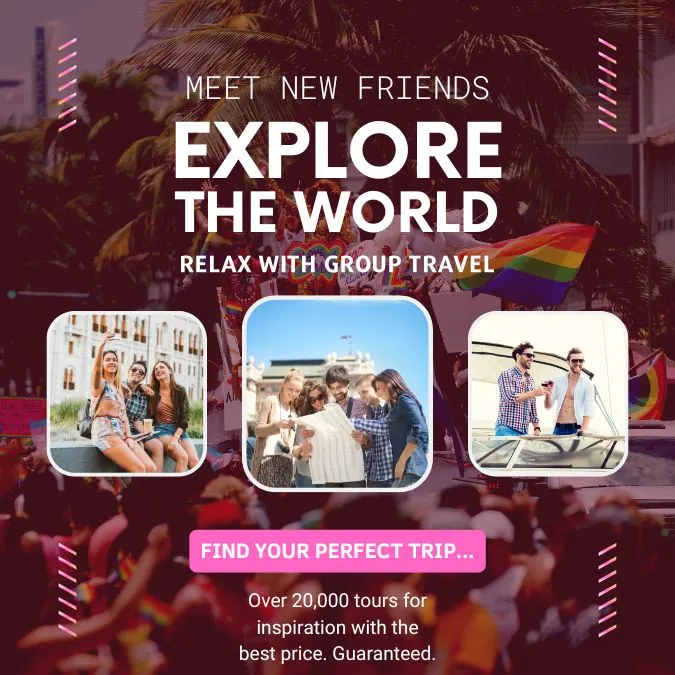 Gay-Friendly & Gay Hotels in Badajoz, Spain
Being gay-friendly accommodation means that the establishment is welcoming and inclusive to guests who identify as LGBTQ+. This can include, but is not limited to, having policies and practices that demonstrate a commitment to creating a safe and inclusive environment for LGBTQ+ guests, such as non-discrimination policies and providing support and resources for LGBTQ+ travelers.
Some gay-friendly accommodations may also provide amenities specifically catering to the LGBTQ+ community, such as rainbow flags or literature about local LGBTQ+ events or resources. Furthermore, gay-friendly accommodations may be located in an area known for being LGBTQ+ friendly.
While Badajoz does not have any specifically gay hotels or resorts, these are the most fabulous and pro-actively gay-friendly hotels in Badajoz. There are also hundreds more hotel and hostel options in Badajoz if none of these suit your desired budget, facilities or area – but these are the best hotels according to other gay travelers and us.
Whatever your needs are, Badajoz has you covered.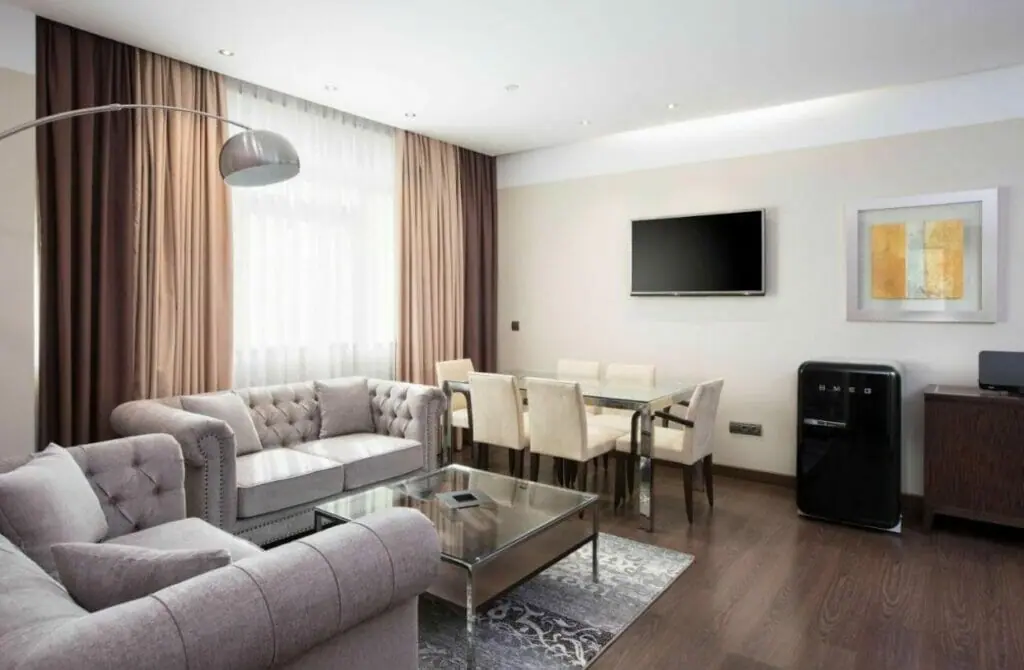 NH Gran Hotel Casino Extremadura ☆☆☆☆☆
Beginning our starry tour of the best gay-friendly hotels in Badajoz, we start naturally with the five-star NH Grand Hotel Casino Extremadura. A highlight of this premium accommodation is the shared fitness center, arcade games room, a choice of two restaurants and a bar.
So if you love living life on the edge as a high roller, you can take full advantage of these services and the on-site casino, which includes nine gaming tables, 190 split machines, a VIP room, and a smoking room.
When you aren't up for gaming, you can retire to your private room, where you can expect a fully decked-out space with all the basics of a grand hotel suite. You not only have a TV, massive bed, and ensuite, you have the bonus of a minifridge and space to work if you are on a working holiday.
Plus, if you don't want to bother with food, you can have room service for all your meals and breakfast for extra fees.
Then for all the other times, you can get out of your room to explore the surrounding city just a stone's throw away, spend time on the hotel's terrace, or go for a walk in the garden. You can't get any better than a hotel with all these services, and where else can you find a casino on-site?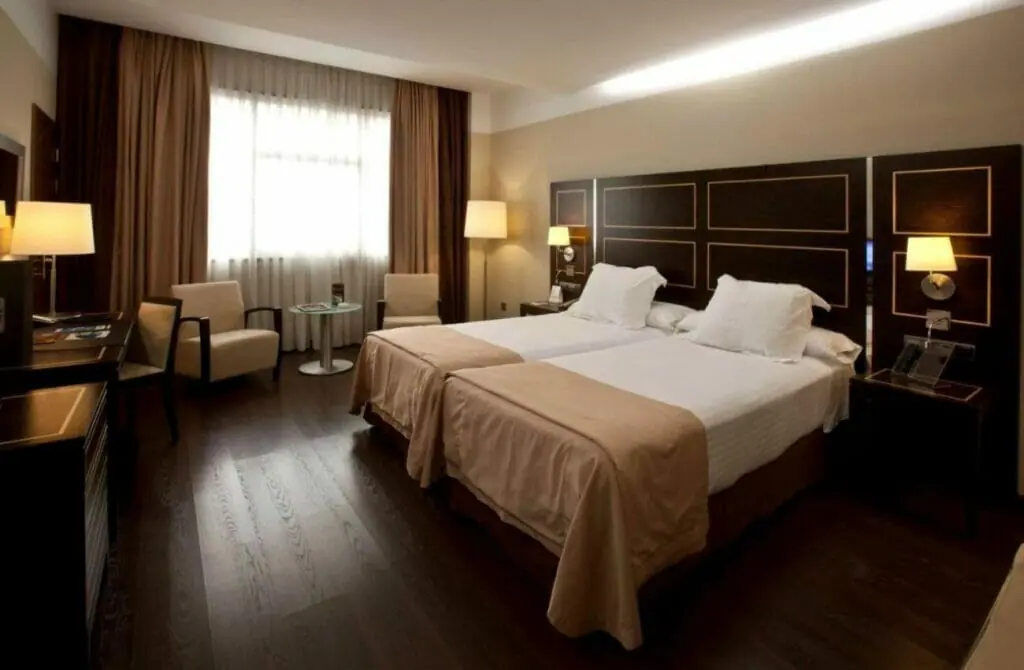 Sercotel Gran Hotel Zurbarán ☆☆☆☆
Badajoz is located in western Spain, near the border with Portugal. Sercotel Gran Hotel Zurbarán is in the city center, within walking distance of many local attractions such as Puerto de Palmas, Puente de Palmas, Badajoz Cathedral, and Plaza Alta.
The hotel offers 111 comfortable rooms with free Wi-Fi, air conditioning, safes, and amenities such as a gym, business center, and terrace. Buffet breakfast is available for a surcharge, and self-parking is complimentary. The hotel follows enhanced cleanliness and safety practices, including disinfection and social distancing measures. The staff speaks multiple languages.
A great four-star hotel for business travelers is located in the business district of Badajoz, and you need to look no further than Hotel Badajoz Center. You will be happy to know this place is also excellent for leisure visitors because they have ample space to do work and lounge in the numerous shared areas.
Whether you want to dine at their on-site restaurant offering regional cuisine, drink at the poolside bar, dip at that outside pool, read a book on their terrace, or have a coffee at their cafe. There is so much to see and do!
Then when you need a break from all that food, you can take to the gym or go for a short walk to one of the many iconic tourist attractions in Badajoz. On your return home, if you want to spend time by yourself, the 88 rooms are all set up for the height of comfort with air conditioning, free Wi-Fi, bedding, TV, desk and ensuites. Some of the more royal rooms come with incredible views and a hot tub.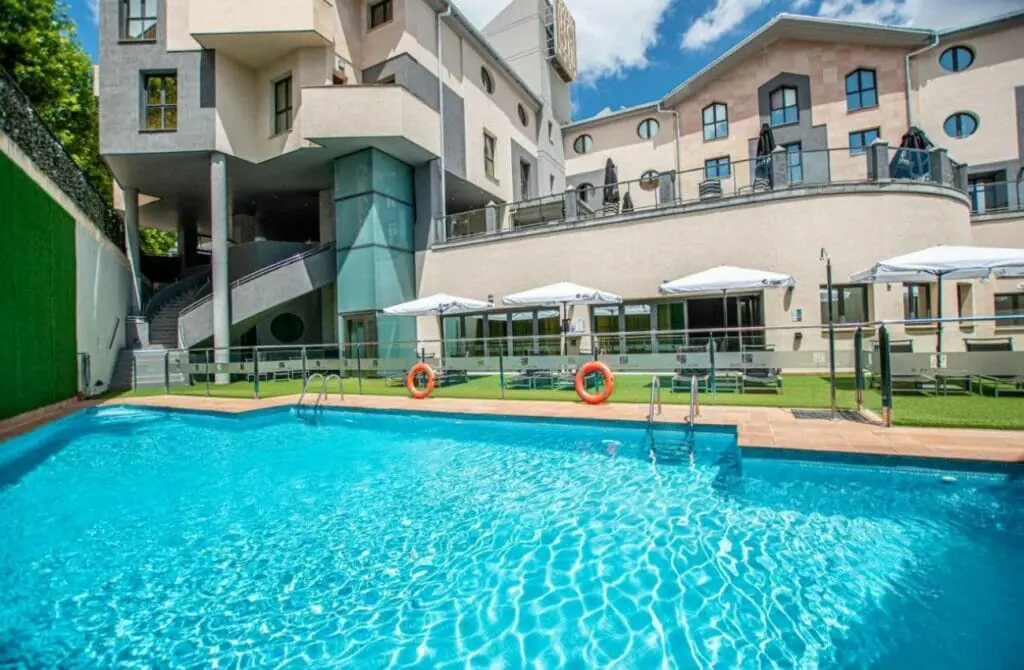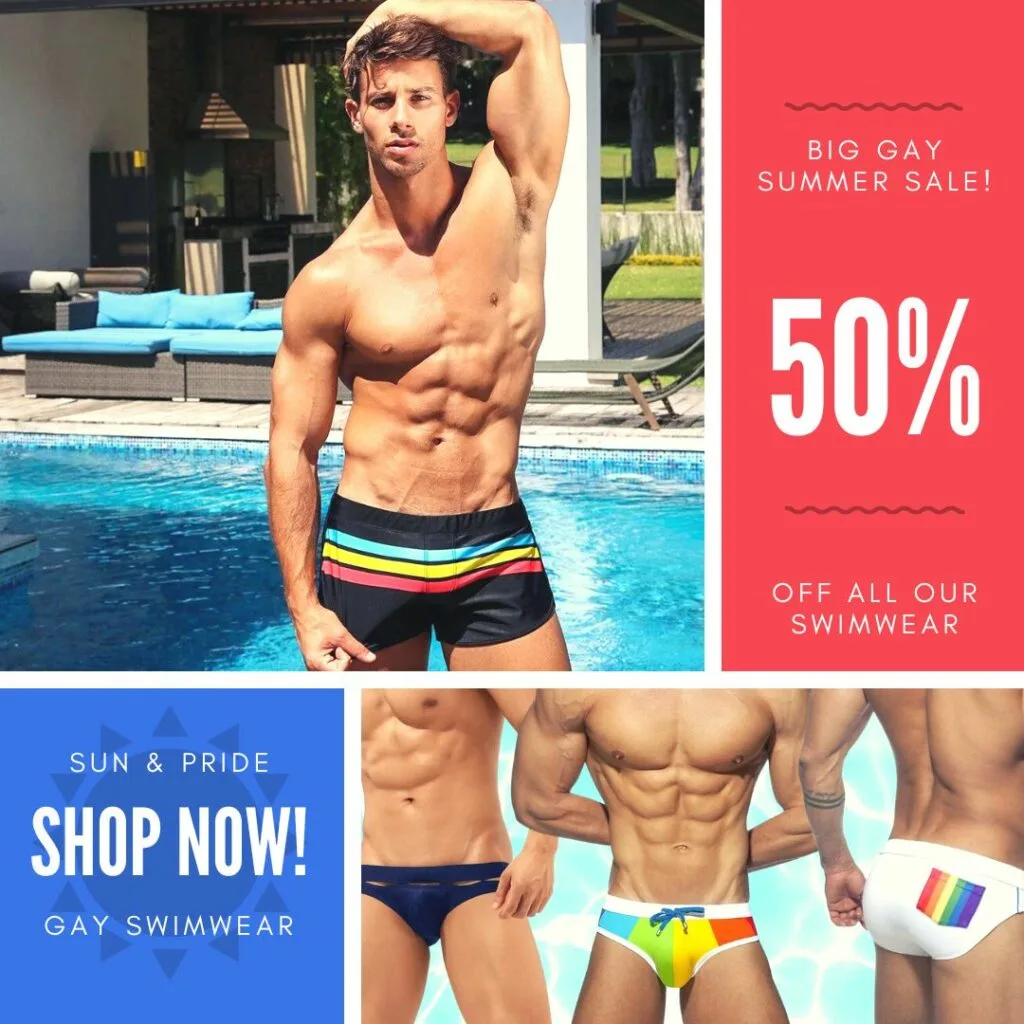 In Badajoz, Old Town is the two-star Hotel Condedu that is brilliant for many reasons.
First, the hotel has breakfast for a fee from their on-site restaurant, which provides food throughout the day.
Secondly, their rooftop terrace gives great central city views of the city, and if you want to see more of it, you can step out and stroll in the nearby gardens. Not only that, they have an outside pool. Then for your room, it might not be as fancy as other places, but it provides the basics with a minifridge that keeps you sorted.
Hotel Lisboa offers a standard three-star experience in a high-rise hotel located conveniently in the heart of Badajoz, perfect for getting from place to place. You won't get a pool, fitness center or spa here, but you will get great views from your room, with ample space to lounge around if you want to spend an afternoon watching cable TV in Spain.
Then if you do get peckish, you can step outside, and many restaurants are a short stroll away. At least you don't need to worry about leaving the hotel for breakfast as for an extra fee you can get breakfast.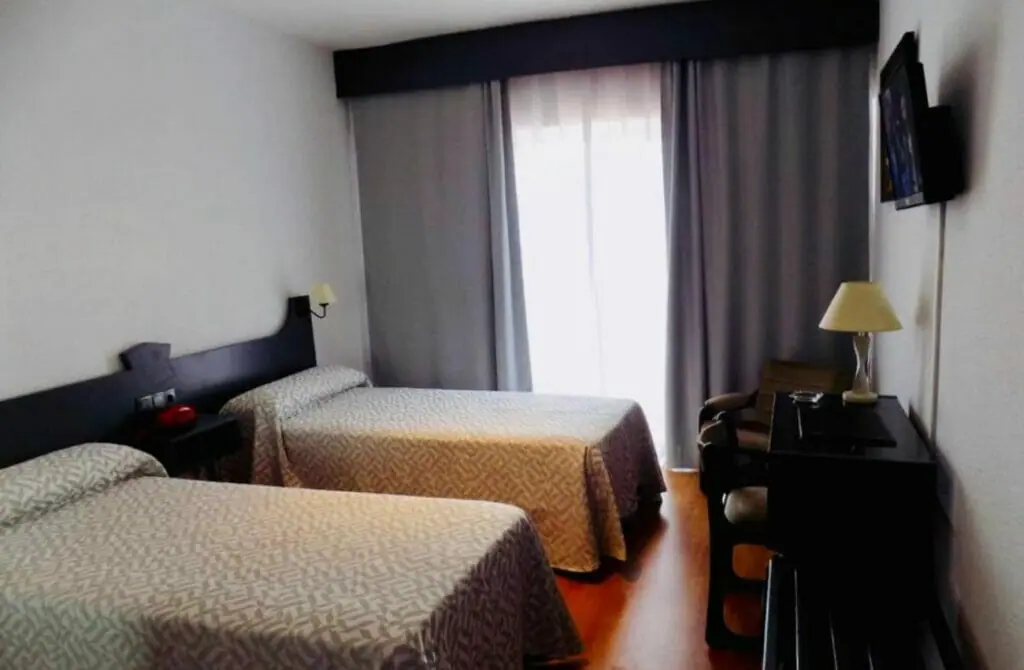 Gay Nightlife In Badajoz, Spain
Badajoz has a small gay community, so it has no formal gay venues compared to other cities regarding the nightlife scene. However, you will find queer-friendly bars and clubs to check out in the city center, and the organized social events by the local gay clubs keep the community alive when their annual pride events lie dormant.
Exploring the gay and gay-friendly nightlife in a new city can be one of the most exciting and rewarding experiences while traveling – and Gay Badajoz is no exception. Not only will you have the opportunity to meet new people and make friends, but you'll also get a taste of the local culture and learn more about the city's LGBTQ+ community.
Going out and experiencing the queer and queer-friendly nightlife in a new city can also be a great way to break out of your comfort zone and try new things. Whether dancing the night away at a gay club or mingling with locals at a gay-friendly bar, you'll have the chance to make memories and create lasting connections.
So, don't be afraid to step out of your comfort zone and explore the gay and gay-friendly nightlife in Badajoz. You'll be glad you did!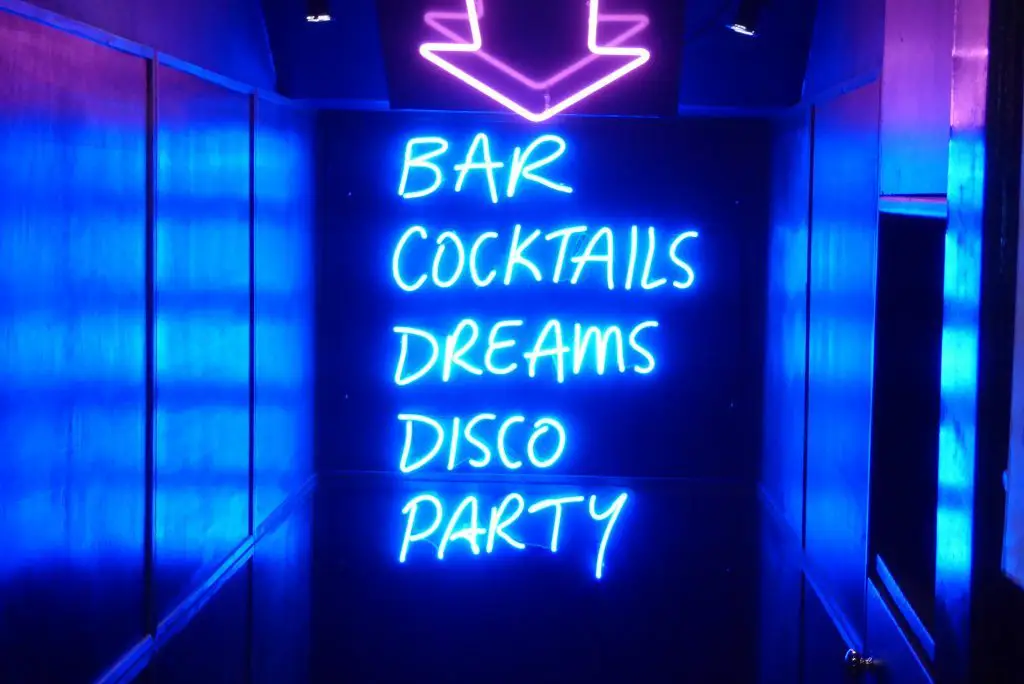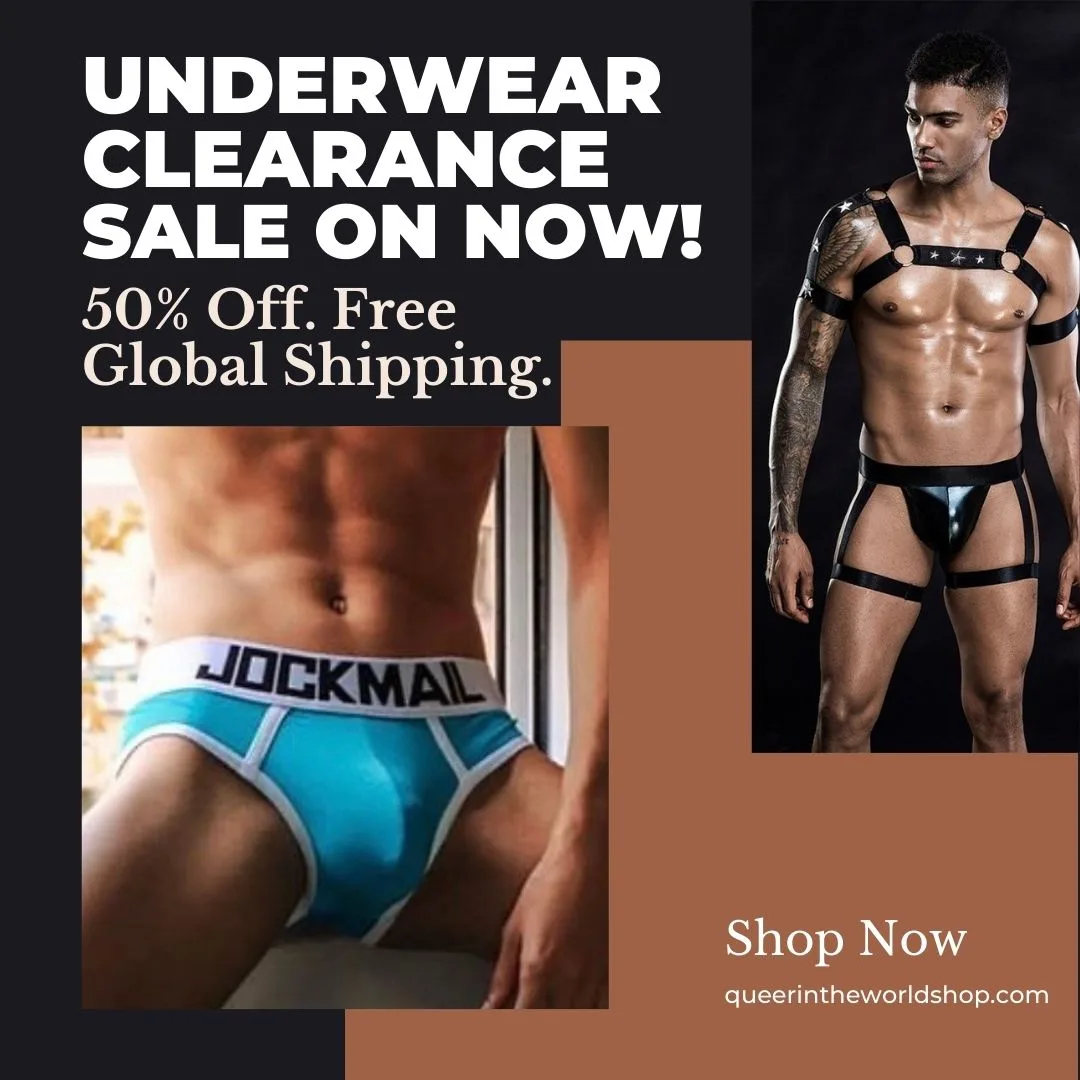 Gay Parties & Gay Clubs In Badajoz, Spain
Plaza Alta – The Historic 2011 Landmark for The Gay Celebration
Regardless of the day or night, an iconic gay landmark in Badajoz is Plaza Alta. In 2011, the mayor of Badajoz made a homophobic statement on the radio, causing outrage. As a result, journalists jokingly suggested sending a caravan of LGBT+ people to Badajoz.
Still, the idea was taken seriously, and over 13,000 people came to Plaza Alta to support the community. The event became an annual festival called Los Palomos and has grown in attendance yearly.
Every year since 2011, Badajoz has hosted the annual gay event Los Palomos. Organized by The Triangle Foundation, the 2022 event hosted in May and June featured a tapa and cake route and a diversity race, among other events. Participants flock to Badajoz in their thousands to celebrate diversity, inclusion, and feminism.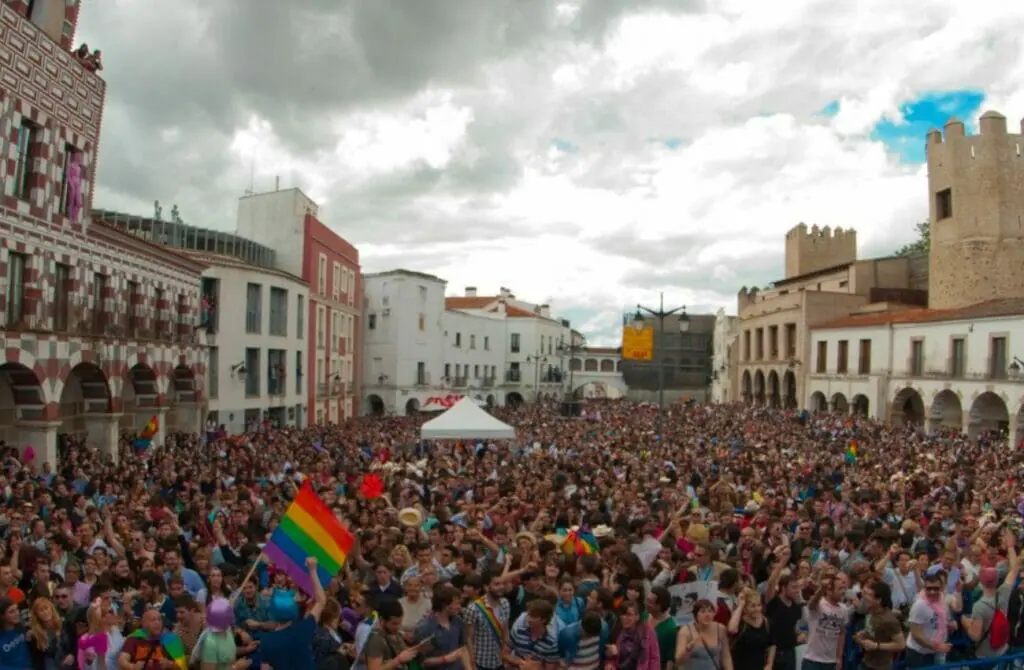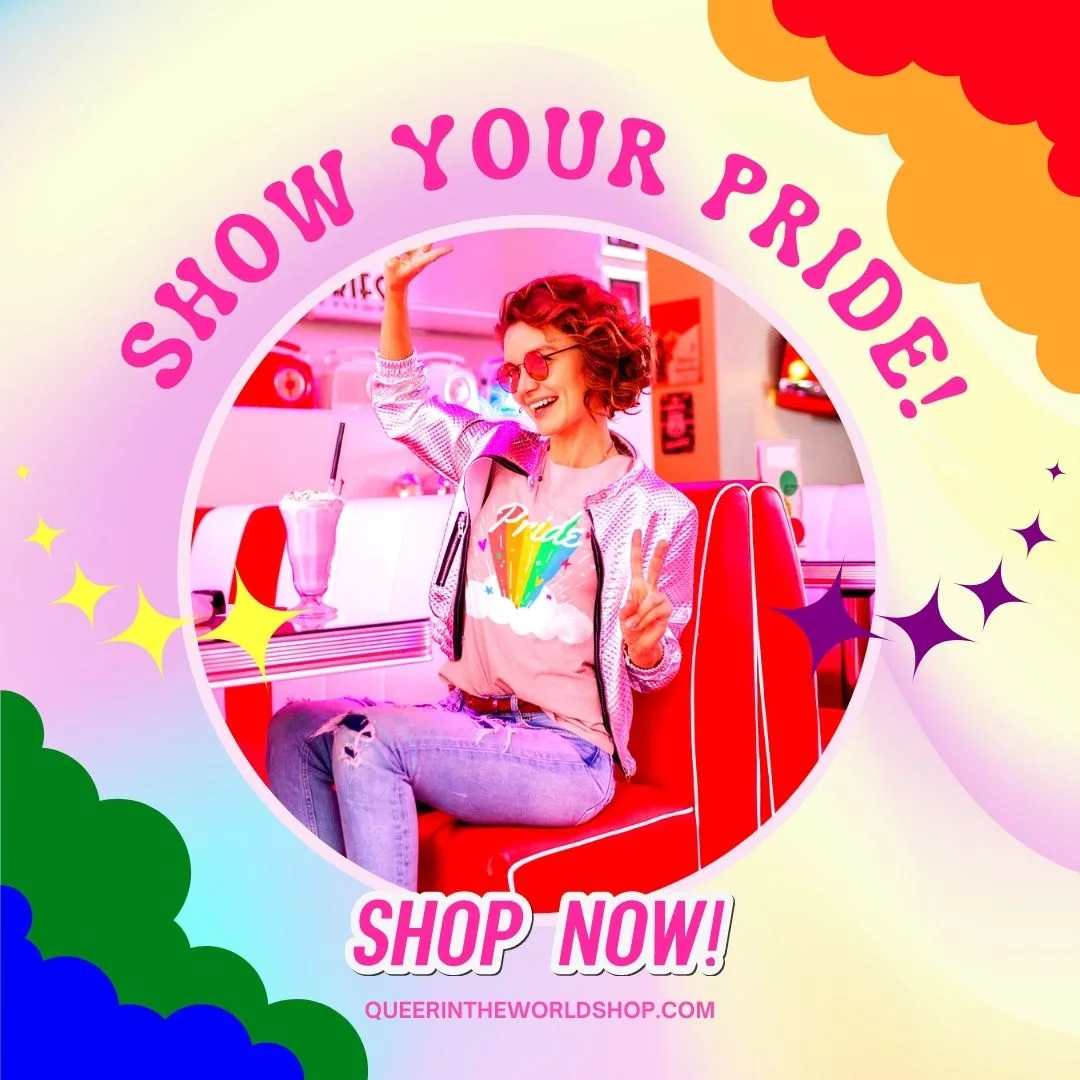 Other Gay-Friendly Nightlife In Badajoz, Spain
One of the best gastro bars in town is La Moza, where patrons have gushed about the drinks, tapas, and friendly waitstaff. In terms of food, many highlight the tuna, salmon, and chocolate count as some of the best options on their menu, but that is not all that keeps them coming back.
This place is laid back with an old-school vibe, designed to be the perfect place for patrons to come and relax with a drink and meal after a busy day. Moreover, their specialty is gin and tonics, so if you love these classics, La Moza, located in the Plaza de los Alféreces, is perfect for your stay in Badajoz.
Chat Nor Club is a famous nightclub that has become a gay-friendly place for the queer community to frequent. This spooky-themed bar regularly embraces its witchy name and hosts magical nights with live music, disco, DJs, and a great crowd and drink-filled bar. So if you consider yourself a little magical, this would be the perfect place to embrace that part of you.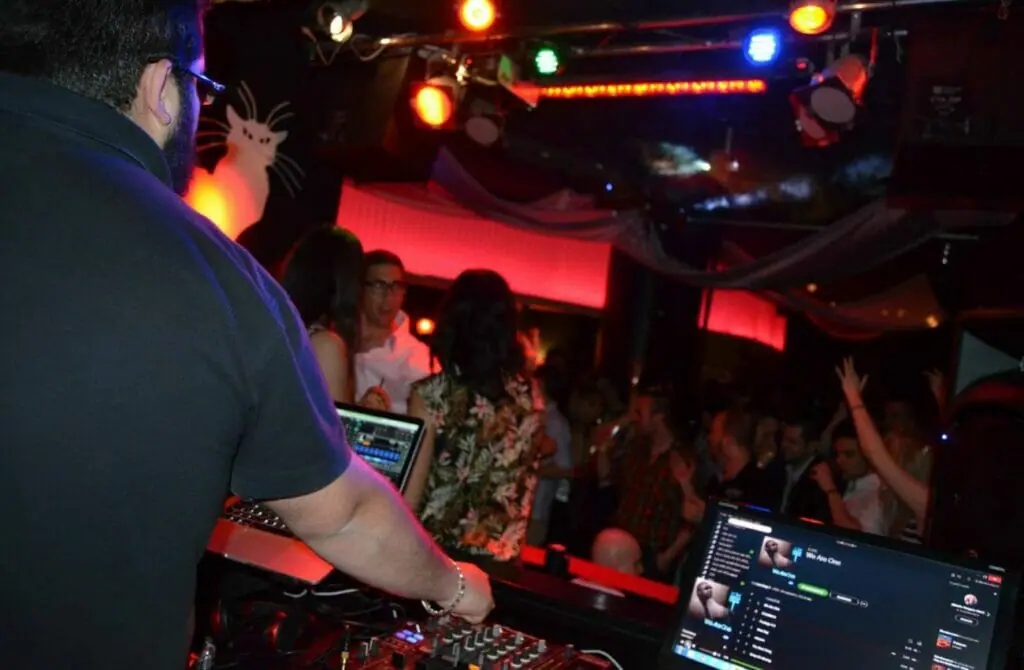 Known for its many tribute concerts in a dance club intermixed with the decor of a classic pub, Motel 7 is a pleasant place to dine, drink and dance, all while being presented with a modern dance club experience. It won't just be rock bands playing old classics or Djs pumping the latest trance because you may occasionally catch their themed nights with a little drag.
Another nightclub that is the talk of the town is Bambora, where you can get a lively dance club experience in the city's heart with a great range of facilities and drinks. So whether you want to come and let loose with a date or friend and dance to their music or enjoy a Spanish classic at the bar, you can do all this and more.
For those who love dancing and music, Aftasi Club is a popular spot in Badajoz. This place has a great clubbing experience with an easily accessible bar, a wide dancehall, strobes and neon lights to make you feel right at home in the setting. The highlight is the stage and the backlight LED screens adding to the live entertainment pitched every weekend night.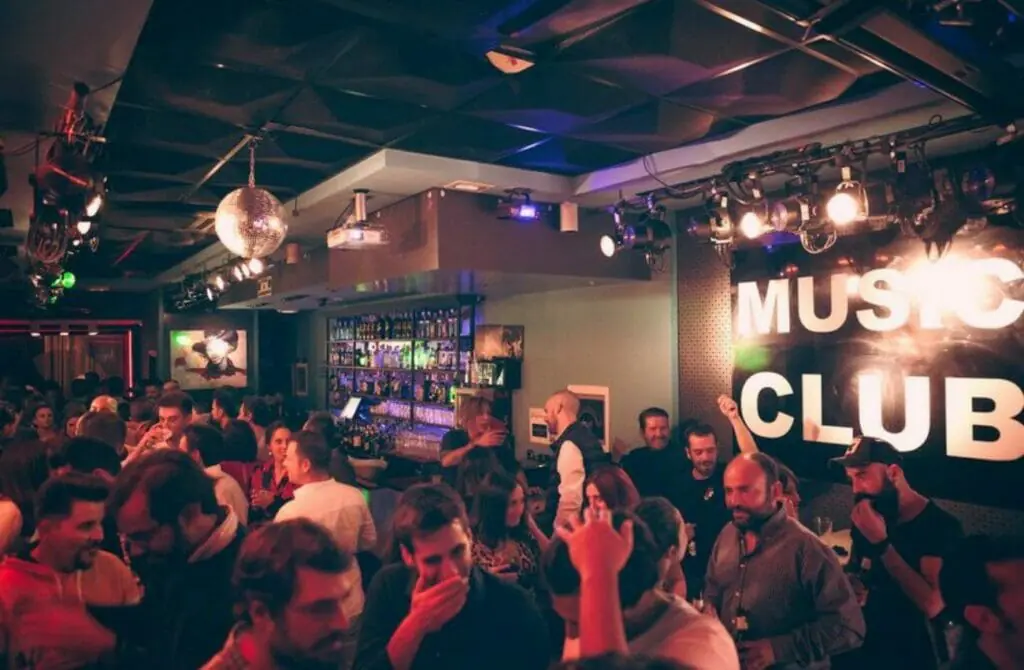 A popular disco club in Badajoz with a tropical theme is Aloha, with many raving about the excellent music and atmosphere and the out-in-the-open venue, making it rarely overcrowded. During pleasant nights you can dance to fantastic tunes under the twinkling of the stars, but there's no worry if it rains as there are plenty of shelters and in-door areas for all.
One of the top dining experiences in Badajoz is the Moorish-inspired Rincón Nazarí, a hidden gem in the old quarter of the city. It celebrates Badajoz's cultural and culinary heritage with its decor intertwined with aspects of Abarian, Moorish, and Spanish flair. So those visiting Spain can get a real treat when they stop by here for a drink, a little dance or a meal.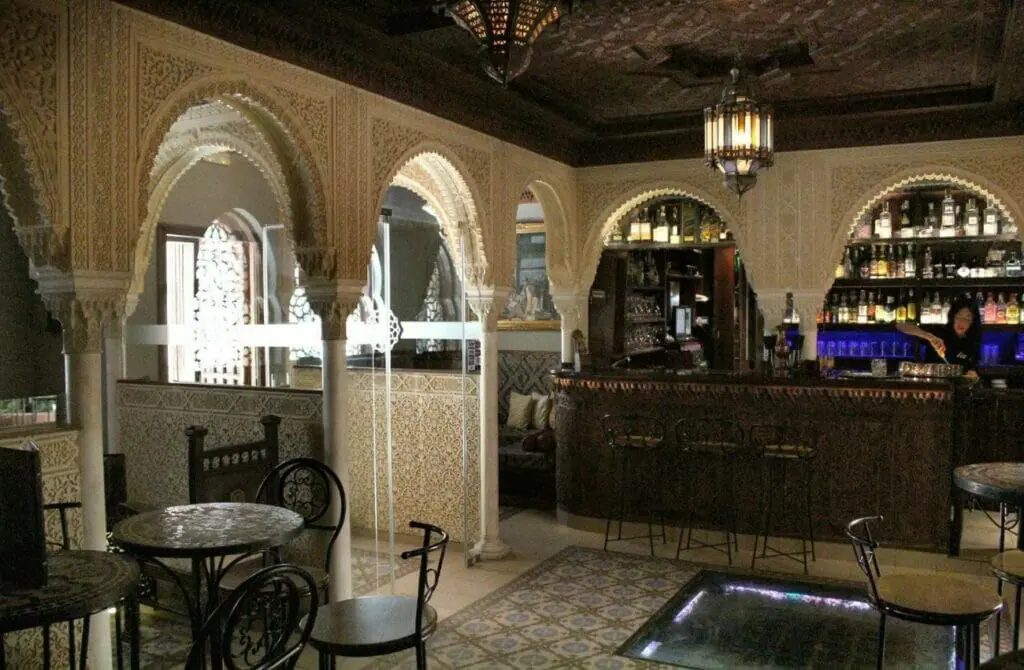 Whether you be out on the town for a warm sip of coffee or a cooling beer at the bar, Guiñol Café is an excellent option for both. You can expect a laidback dining experience with various opinions to suit all needs. Plus, if you want a quiet place to begin the evening with a date, you can pick no better place than this.
On the night's trip, one of the cutest places in Badajoz is the Ku cafe, where you will find all manner of decor ranging from pushy pink unicorns to pink flamingo wallpaper.
However, the highlight of this abode is that it is exceptionally gay, even if it isn't an official gay establishment. So often, you will see the queer community socializing here as the basque in the rainbows, the Sunday bingo, and great cocktails.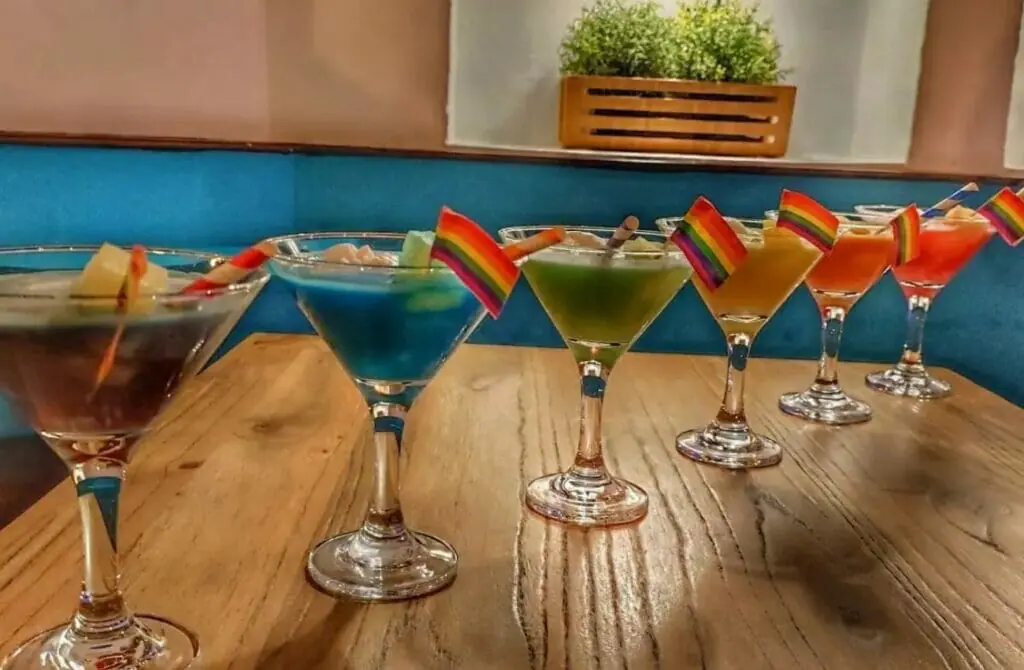 Cruising & Gay Saunas In Badajoz, Spain
Badajoz is a city in western Spain that offers a variety of attractions for visitors. While there are no dedicated gay saunas in Badajoz, there are a few cruising areas where you can meet other like-minded individuals.
One such location is the Parque del Guadiana, a large park along the river popular with cruisers. Another option is the Centro Commercial Conquistadores, a shopping center that has become a popular cruising spot. As always, it's essential to exercise caution and use common sense when engaging in sexual activity in public places.
When traveling to a new city, it can be exciting to head out for more than just a stiff drink. One aspect of the Gay Badajoz scene that many queer men enjoy is visiting gay saunas and cruising clubs.
Sure, the sauna culture in Badajoz is not as hedonistic as in Amsterdam, Barcelona or Berlin, but these venues still offer a chance to meet new people, socialize, and engage in sexual activity – without resorting to gay hookup apps.
However, it's important to remember that these venues can vary greatly in terms of atmosphere, clientele, and rules, so it's a good idea to prepare yourself before visiting. If you are apprehensive, we advise studying our guide to visiting a gay bathhouse for the first time, which should help set your mind at ease and always practice safe sex.
Additionally, it's important to be aware of and respect local laws and customs regarding gay venues and sexual activity. With a little bit of planning and an open mind, visiting gay saunas and cruising clubs can be a fun and exciting part of your gay Badajoz travel itinerary.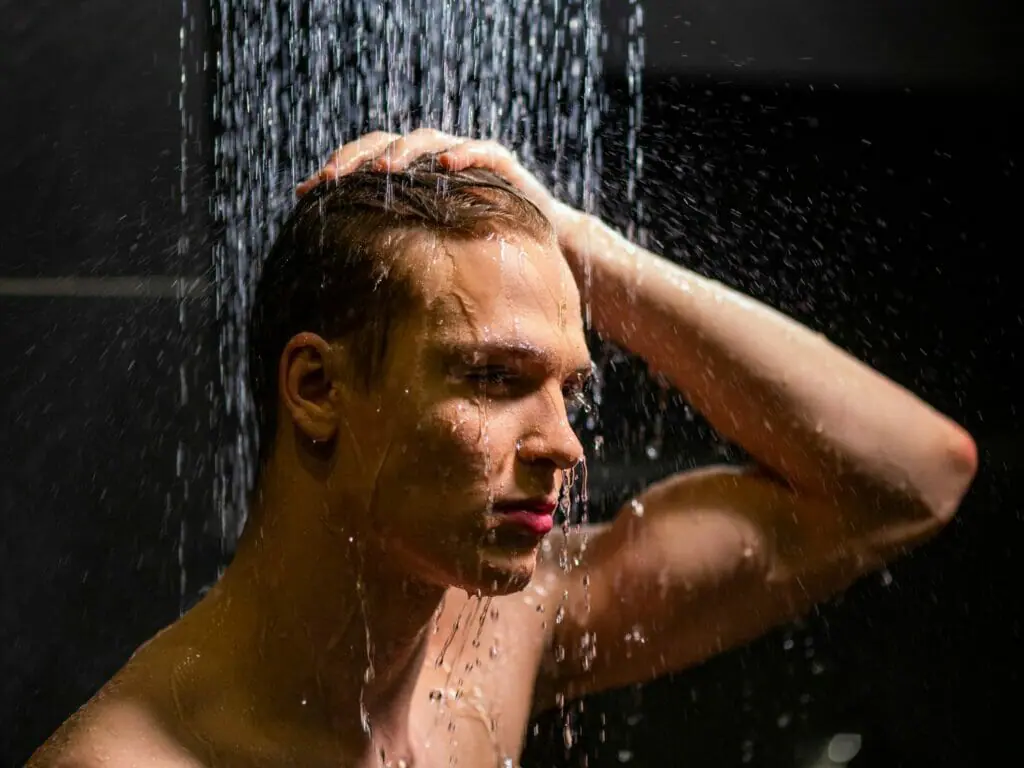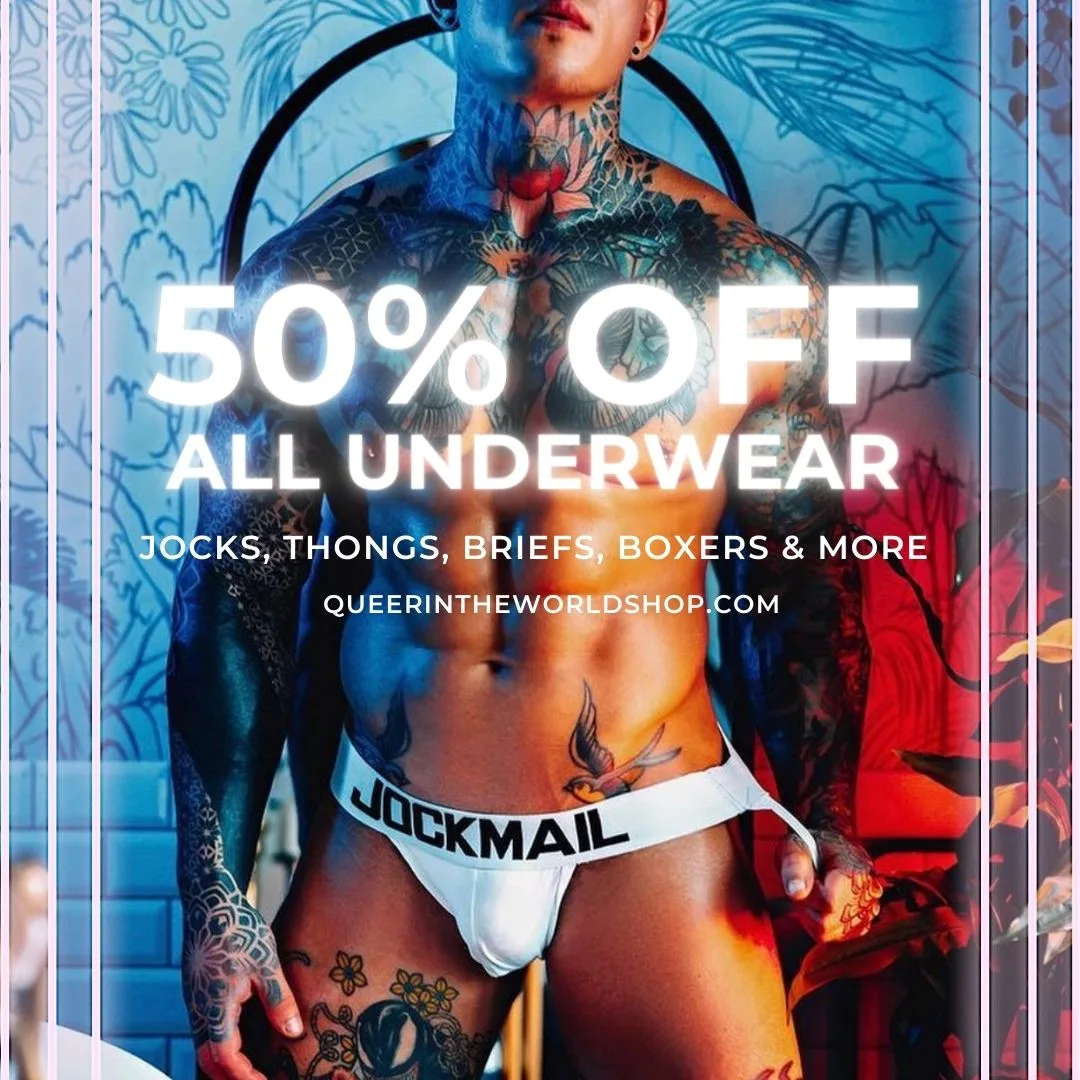 Gay Map Of Badajoz
Finding it hard to envisage where everything is in Badajoz? Hopefully, this queer-centric map helps where we have marked all the bars, clubs, parties, hotels, saunas, massages, and more will help you stay in the spot best suited to you!