Step into the colorful tapestry of Asheville, North Carolina. This place is filled with adventure and delights to the eyes and tongues! Sat in the heart of the Blue Ridge Mountains, this enchanting city pulsates with an energy that celebrates diversity and individuality. Asheville's bohemian soul and progressive mindset have cultivated a flourishing queer community, making it a captivating destination for all.
Immerse yourself in Asheville's rich cultural fabric, where artistry thrives and self-expression knows no bounds. Discover the kaleidoscope of galleries, street art, and captivating performances that color the city's streets. Engage with local artisans and delve into the dynamic history that shaped Asheville's unique identity.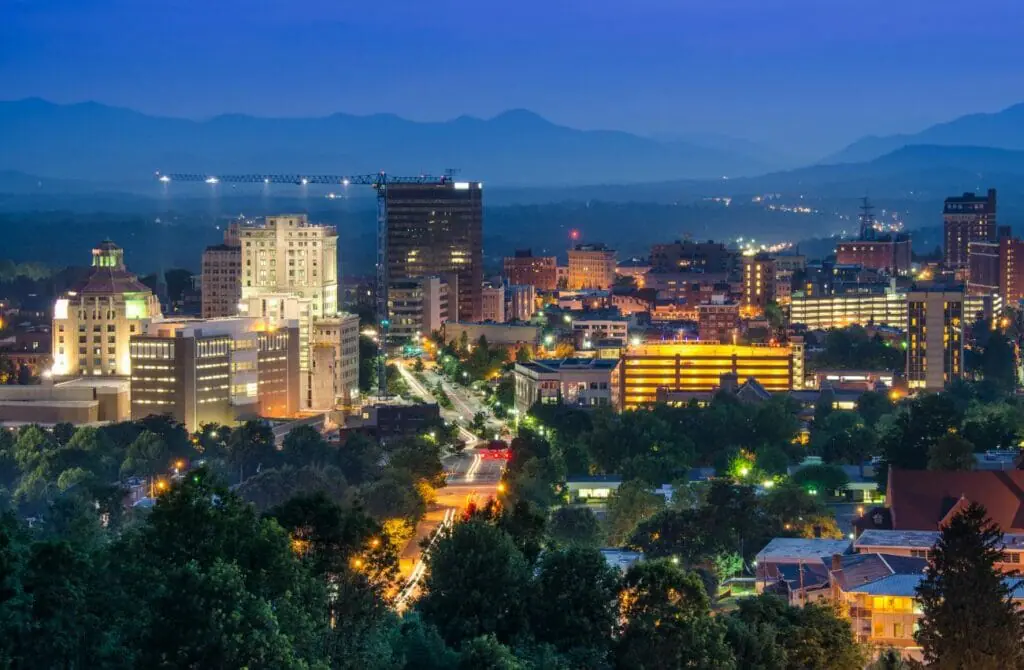 Delight in a culinary adventure tantalizing the taste buds with farm-to-table treats and innovative gastronomy. Traverse the winding trails that meander through the lush mountains, where breathtaking vistas and tranquil solitude await. As night falls, surrender to the infectious rhythm of Asheville's LGBTQ+ nightlife, where dance floors ignite and connections ignite.
Asheville's open-hearted embrace and unapologetic celebration of love and authenticity will envelop you in this captivating destination. Uncover the hidden gems, embrace the local flavor, and create unforgettable memories in this lively city that invites all to be their true selves.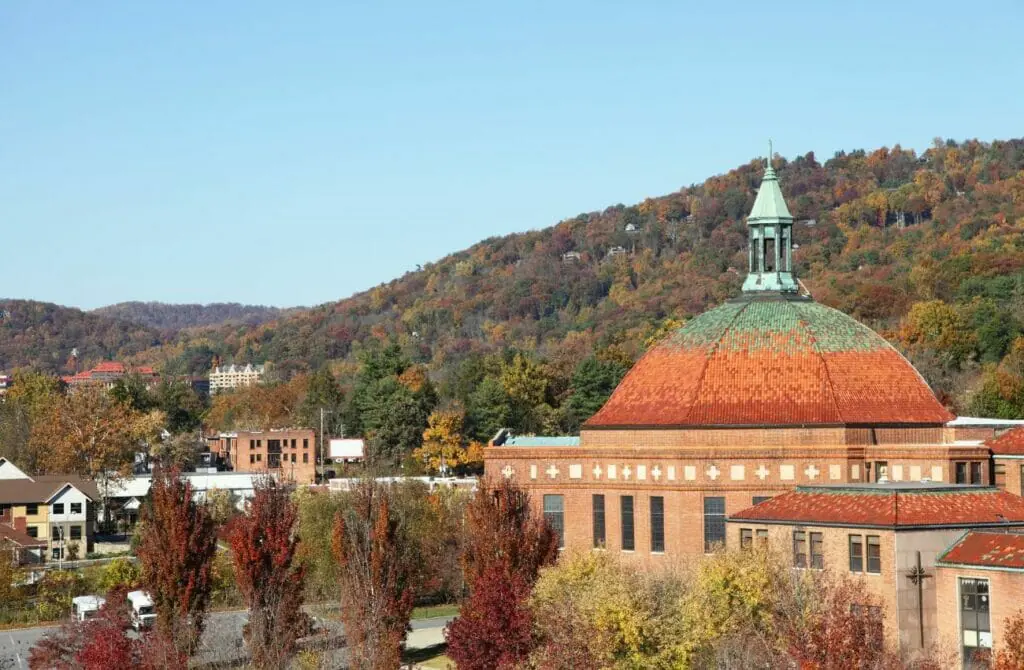 Attractions in Gay Asheville, USA
As a new visitor to Gay Asheville, there are plenty of things to see and do, regardless of your sexual orientation. One of the best ways to experience any new city is to visit some of its most iconic landmarks and attractions, including historical monuments, museums, and art galleries.
We also love gazing at architecture up close, exploring parks and gardens, sampling the local cuisine, visiting local markets, and attending cultural events such as festivals, concerts and shows.
Even as the out-and-proud queer we are, we still love to explore the city and its culture in the same way as everyone else. Doing so allows us to learn more about the city and its people and gain a deeper understanding of the local culture. As such, these are our favorite must-see attractions in Asheville.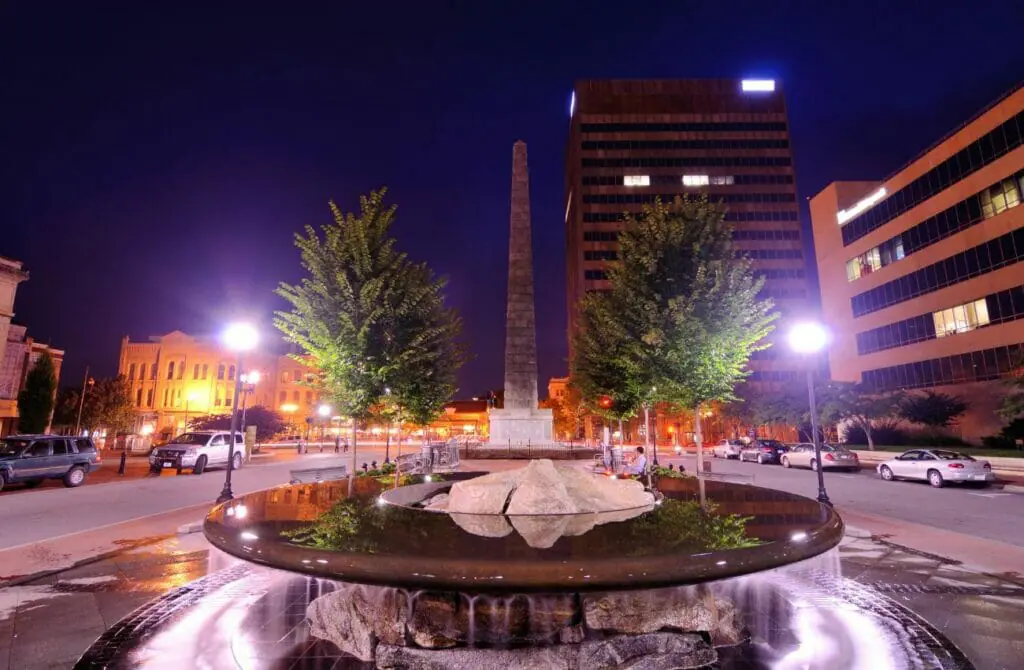 Beer Flight Drag Queen Bar Crawl Tour
Step into the world of Asheville's only drag queen bar crawl, darlings! Get ready for a delightful blend of fabulousness, laughter, and sensational craft beverages on the "Beer Flight" tour. A hilarious drag queen leads this two-hour extravaganza and offers delicious craft beers, seltzers, wines, and sours. Savor the flavors while relishing in VIP seats at an unforgettable event, available on select tours.
No need to worry about cover charges or queues, as this tour ensures seamless access to all the hottest venues. Strike a pose with your glamorous drag queen guide, capture those Insta-worthy moments, and immerse yourself in Asheville's thriving brewery scene.
Not all tours include the after-party event, so check when booking your tickets. Cheers love! Alcoholic beverages, a charismatic tour guide, and all fees and taxes are included for your convenience.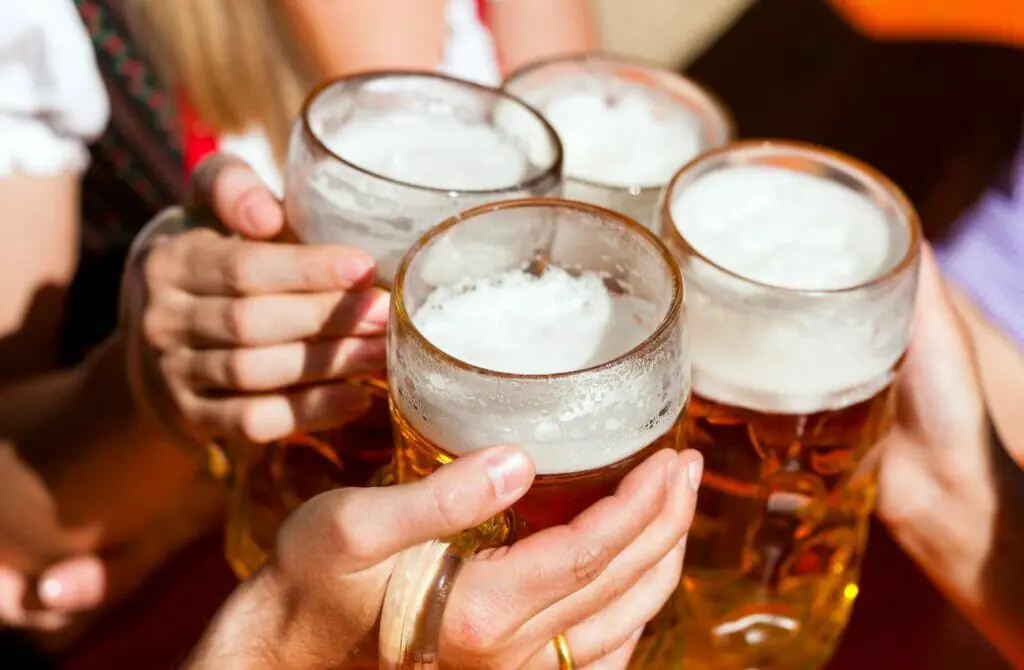 Let's dive into the captivating history of Asheville! Named after the esteemed Governor Samuel Ashe, this city has been enchanting since its birth in 1797. But the magnificent Biltmore Estate, completed by George Washington Vanderbilt II in 1895, truly put Asheville on the map.
This sprawling 125,000-acre estate became a haven for icons like Henry Ford, Thomas Edison, and Presidents McKinley, Roosevelt, and Wilson, who sought refuge within its opulent walls.
Prepare to be amazed by the Biltmore Estate's grandeur, boasting 250 rooms and over 135,000 square feet of architectural brilliance. Its Châteauesque-style design, lush gardens, and commitment to forestry initiatives have solidified its position as Asheville's crown jewel and a must-visit attraction. Embrace the history, my loves, and let the elegance of the Biltmore Estate transport you to another era.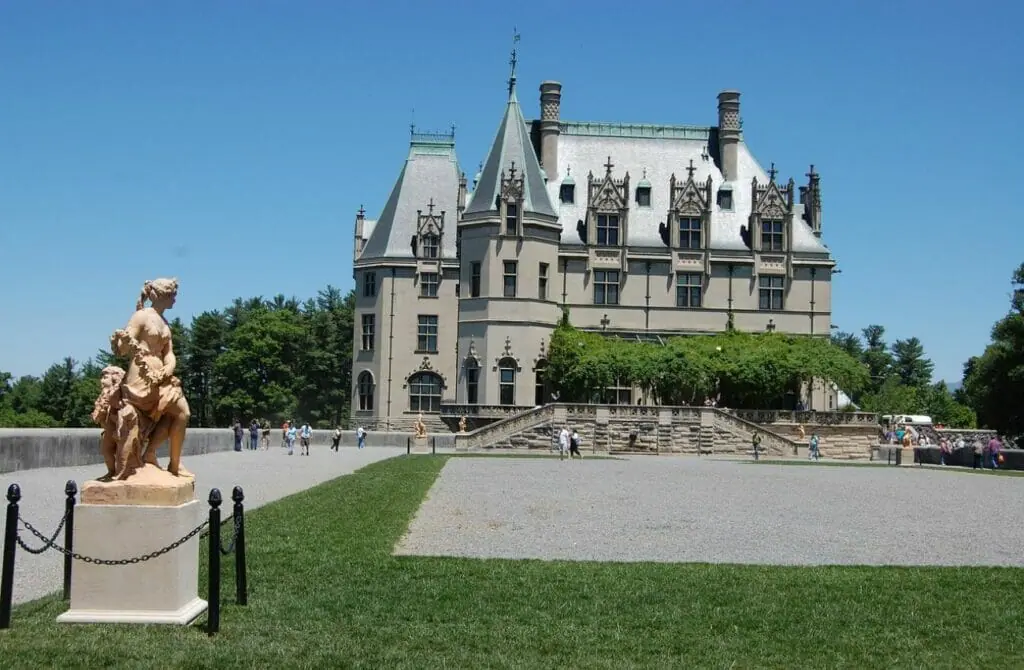 Founded by visionary artists and officially established in 1948, this cultural icon is dedicated to nurturing community growth and individual enrichment through the visual arts.
The museum's new location, unveiled in November 2019, stands tall as a beacon of culture, education, and architectural brilliance right in the heart of downtown Asheville. This museum has an impressive collection and exhibitions which delve into the essence of 20th and 21st-century American art.
Each brushstroke tells a story of American aesthetic and cultural evolution while preserving the artistic traditions of the Southern Appalachian region.
Discover the enchanting blend of cultures found in Western North Carolina and witness the profound influence of Southern Appalachia on the tapestry of American art. With 15 to 20 extraordinary exhibitions each year and engaging public programs for all ages, the Asheville Art Museum invites you to embark on an artistic journey like no other.
Oh, my dear friends, let's take a delightful stroll through the enchanting Asheville Botanical Gardens! Nestled within the serene grounds of the University of North Carolina at Asheville, this verdant oasis spans 10 acres of pure botanical bliss.
Operated as an independent non-profit, it's a sanctuary where you can immerse yourself in the wonders of Western North Carolina's native plant life. Marvel at the diverse collection of over 5,000 plants, carefully curated from private lands and national forests.
The garden is home to a captivating array of more than 650 species of native plants, harmoniously thriving alongside a gentle babbling creek that adds serenity to the surroundings.
Find the perfect spot for a charming picnic as you meander through the breathtaking landscape of abundant North Carolina wildflowers and blossoming trees. Take in the beauty of these immaculate gardens, a haven that beckons you to savor an afternoon of tranquility and natural splendor.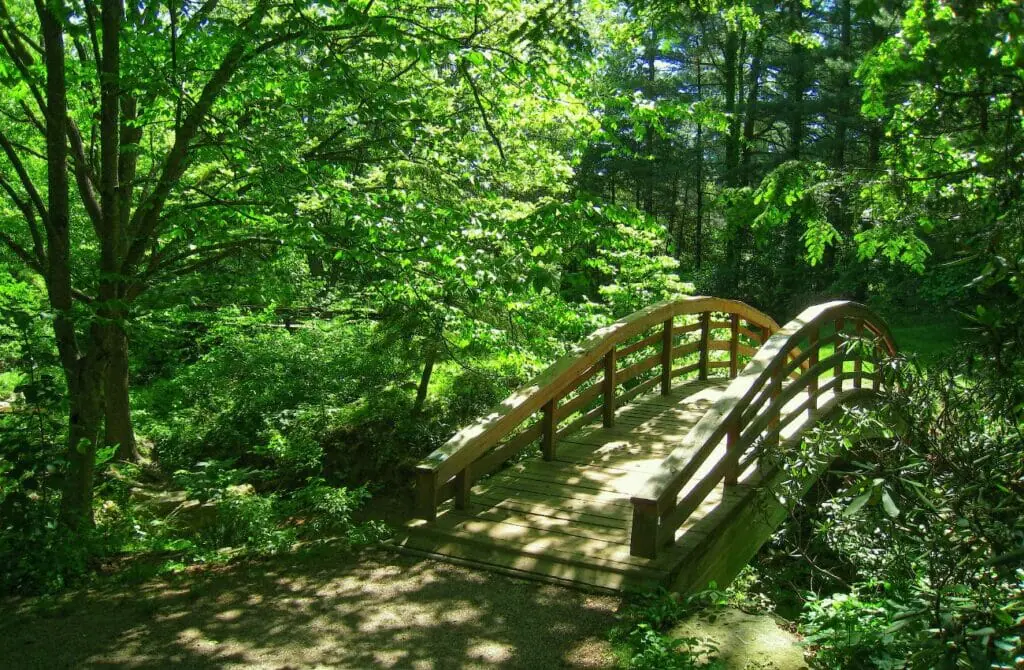 A kaleidoscope of creativity awaits in this lively neighborhood. Once buzzing with industrious mills, The River Arts District has blossomed into a haven of over 200 thriving artist studios. Be dazzled by a world of shopping, quaint cafes, and an explosion of artistic expression!
Over the past decade, Asheville has evolved into a progressive cultural oasis nestled in the breathtaking Blue Ridge region of North Carolina. Culture enthusiasts seeking a captivating weekend escape will be enamored with the shopping delights in the 22 former industrial buildings lining the peaceful French Broad River.
From the captivating Curve and the Odyssey Center for Ceramic Arts to the expansive 110,000-square-foot Riverview Station and the exciting Pink Dog Creative, each building holds an exquisite trove of boundless creativity. Unleash your inner art connoisseur and immerse yourself in this setting of artistic wonder!
Pack Square Park
OK, let's take a stroll through the enchanting Pack Square Park, where you can unwind, observe the locals, and recover from last night. Tucked amidst the historic art deco buildings that epitomize downtown Asheville, this square was crafted to exude charm and allure.
Prepare to be enthralled by the mesmerizing diversity that defines this mountain town, where urbanites, free-spirited backpackers, trendy hipsters, and even rugged cowboys seamlessly mingle with young mothers pushing their adorable bundles of joy in stylish strollers.
And if retail therapy is your passion, my dear, you'll be in heaven! You'll discover a treasure trove of Asheville's most renowned shops along the illustrious Biltmore Avenue. This serene strip encompasses Asheville's eclectic spirit, from indie bookstores and vintage record havens to chic boutiques and whimsical general stores.
And remember the lively brewpubs that beckon you to enjoy a refreshing libation or two. Darling, it's all here, just a few blocks away, ready to ignite your senses and leave you craving more.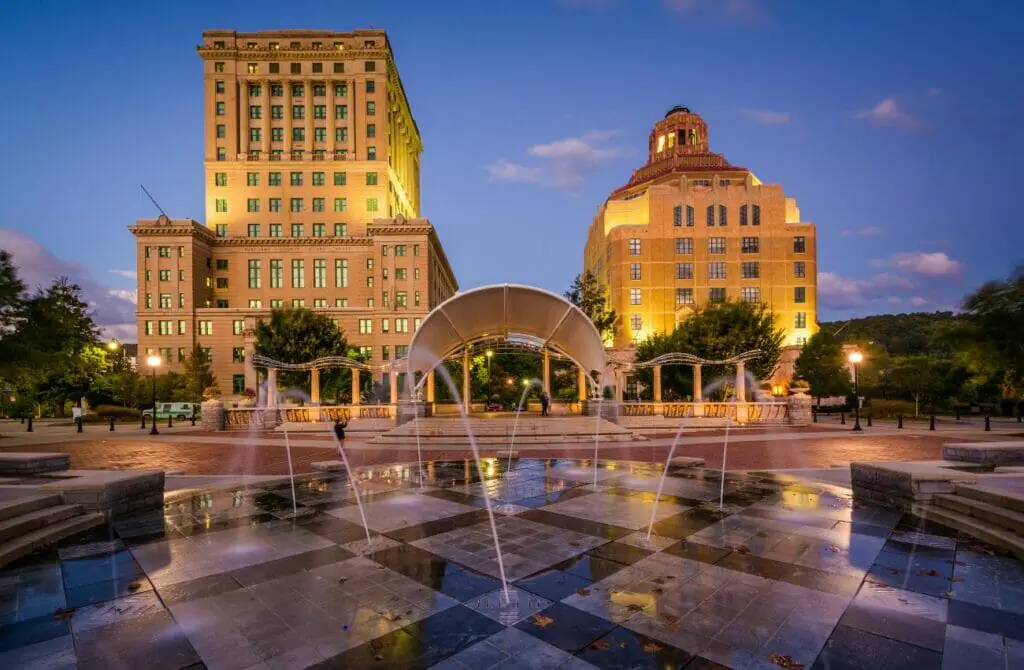 Restaurants of Downtown Asheville
This little mountain town is home to a dazzling array of critically acclaimed restaurants. Whether you're a devoted herbivore, a health-conscious connoisseur, or simply seeking culinary delight, Asheville has you covered. Let your taste buds dance joyfully at Green Sage and Laughing Tree Cafes, where vegetarian and vegan wonders await.
Craving something exotic? Try the award-winning Indian cuisine of Chai Pani, surrender to the temptation of Bouchon's exquisite French fare, be enticed by Stone Bowl's Korean delights, and savor the mouthwatering ramen creations at Futo Buta.
And let's not forget the culinary maestros who set the foodie scene ablaze: Katie Button's tantalizing Cúrate, Peter Pillay's farm-to-table haven Posana, and the legendary H&F Burger crafted by the gifted Linton Hopkins.
For authentic Appalachian flavors, let rising star Ashleigh Shanti dazzle you at Benne on Eagle, relish the Obamas' favorite ribs at 12 Bones Smokehouse, and immerse yourself in the cherished traditions of Tupelo Honey Cafe, one of Asheville's oldest culinary treasures. Asheville is a gastronomic wonderland, my loves, where enchantment and flavor intertwine. Bon appétit!
Wine Tasting at Addison Farms Vineyard
Nestled on a breathtaking 55-acre expanse in Leicester, NC, a mere 17 miles from the heart of Downtown Asheville, lies a fourth-generation family farm. Since 2009, this haven has dedicated its focus to cultivating great grapes. Prepare for a symphony of flavors as they present exquisite wines, including Cabernet Sauvignon, Cab Franc, Petit Verdot, Sangiovese, and Montepulciano.
But that's not only—Addison Farms has allied with esteemed local wineries, such as Moon Lake Vineyard, Spring Branch Vineyard, and Two Moons Vineyard. I love it. It promises the ultimate wine-tasting experience. Addison Farms is the region's crown jewel. Cheers!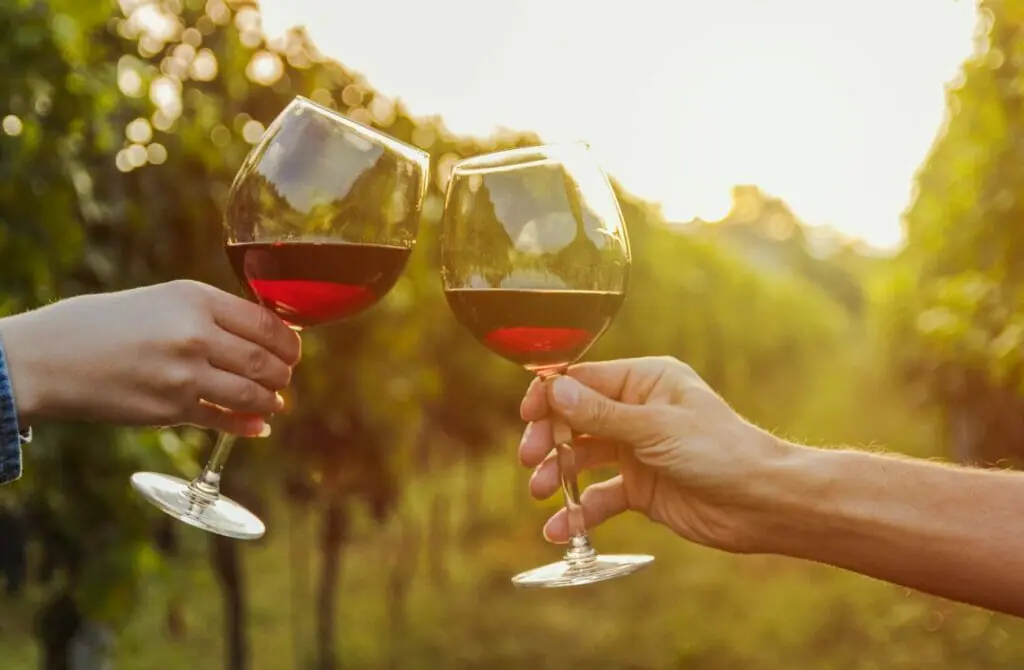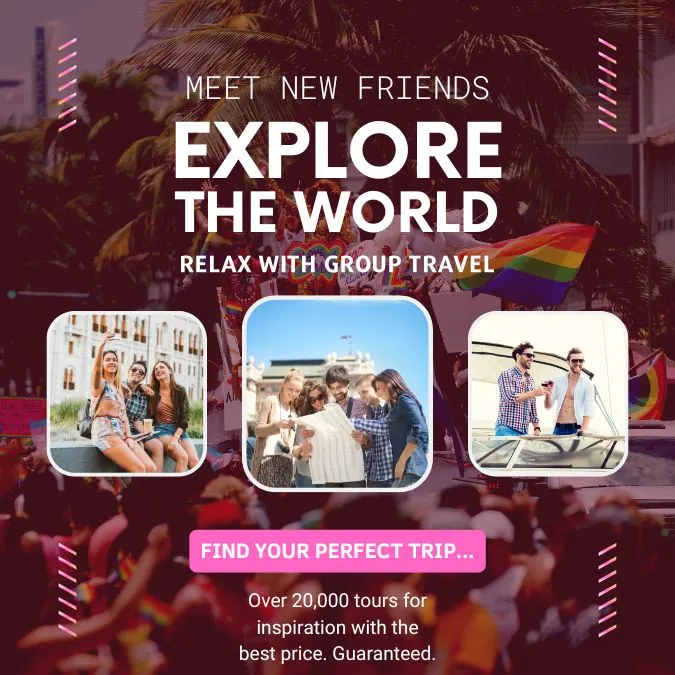 Gay and Gay-Friendly Hotels in Asheville, USA
Being gay-friendly accommodation means that the establishment is welcoming and inclusive to guests who identify as LGBTQ+. This can include, but is not limited to, having policies and practices that demonstrate a commitment to creating a safe and inclusive environment for LGBTQ+ guests, such as non-discrimination policies and providing support and resources for LGBTQ+ travelers.
Some gay-friendly accommodations may also provide amenities specifically catering to the LGBTQ+ community, such as rainbow flags or literature about local LGBTQ+ events or resources. Furthermore, gay-friendly accommodations may be located in an area known for being LGBTQ+ friendly.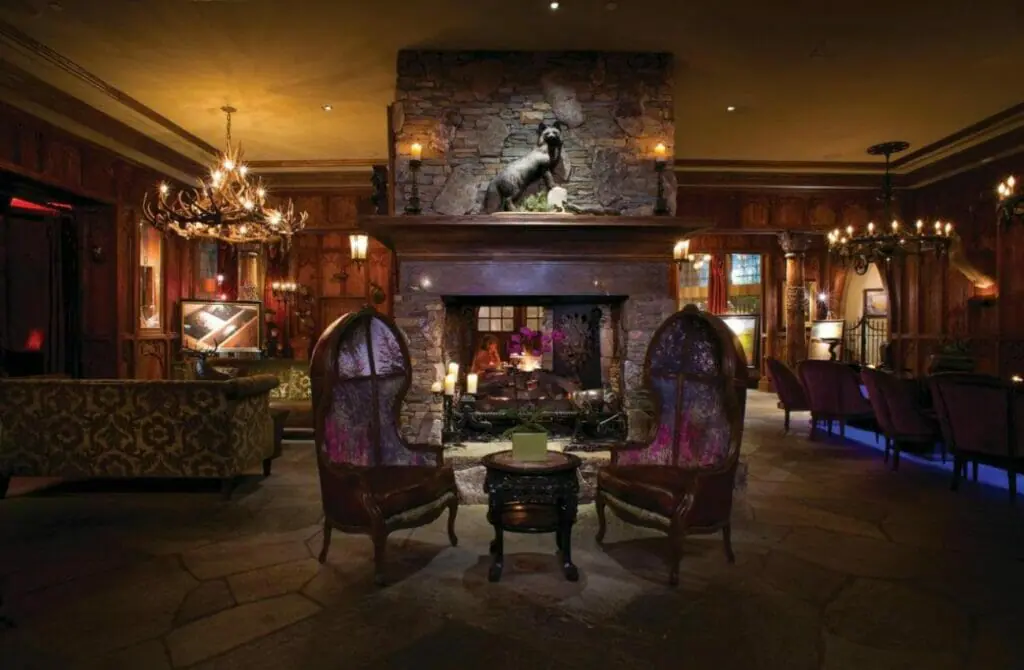 While Asheville does not have any specifically gay hotels or resorts, these are the most fabulous and pro-actively gay-friendly hotels in Asheville. There are also hundreds more hotel and hostel options in Asheville if none of these suit your desired budget, facilities or area – but these are the best hotels according to other gay travelers and us.
Whatever your needs are, Asheville has you covered.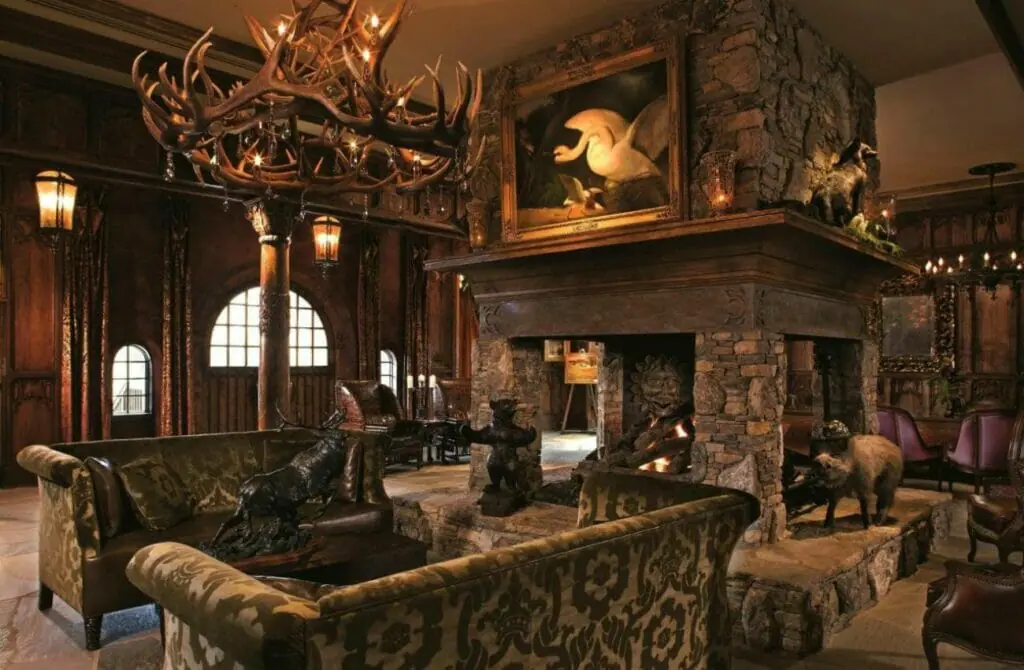 Imagine, upon arrival, the attentive valet will whisk away your luggage, assuring you it will be delivered directly to your room. Check-in is a delightful experience with a refreshing drink offered. This remarkable property sits just moments away from downtown and conveniently across from the grand entrance of the Biltmore estate.
Impeccable staff, an exquisite location, and a stunning ambiance that effortlessly marries classic elegance with a modern flair. At Grand Bohemian Asheville, Autograph Collection, you'll relish the amenities, including a terrace, a luxurious hair salon, and top-notch dry cleaning/laundry services.
Gift yourself a pampering session at Poseidon Spa, where you can treat yourself to a manicure/pedicure, a detox wrap, or a revitalizing body scrub. And, of course, make sure to savor a delectable meal at the renowned onsite restaurant, Red Stag Grill.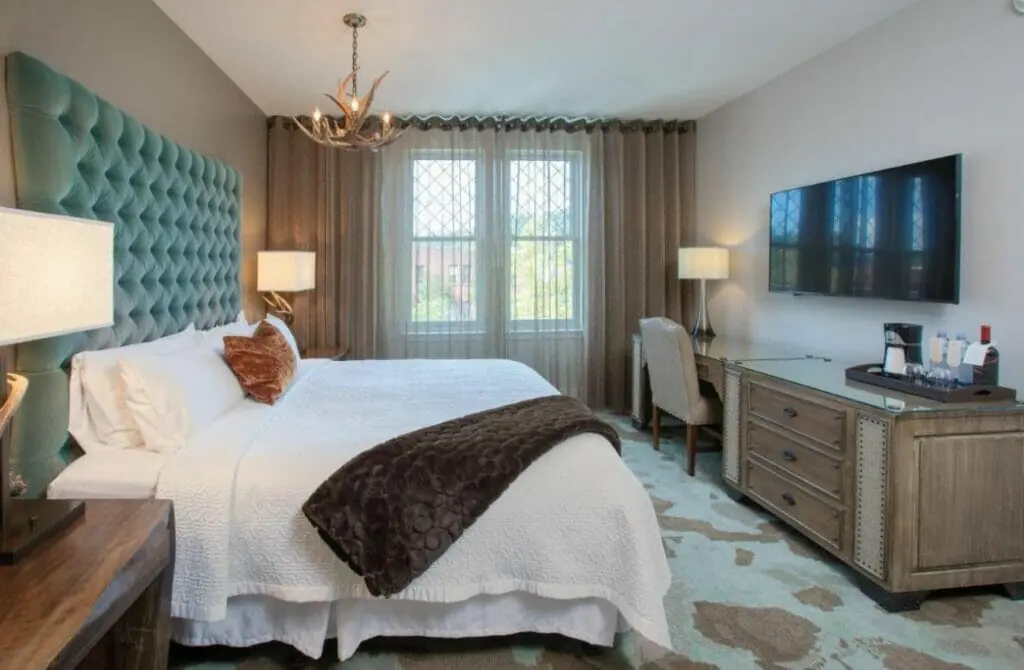 Abbington Green Bed & Breakfast Inn ☆☆☆☆
Abbington Green is an absolute win, offering a charming and peaceful retreat just a stone's throw away from the bustling downtown. Despite its intimate size, this luxury bed & breakfast provides all the amenities you'd expect from a much larger establishment. The hospitality here is simply unmatched.
Fill yourself with a tasty breakfast that will tantalize your taste buds. The 5:00 hospitality hour is an absolute delight, with a perfect cheese and fruit tray to whet your appetite before venturing out for dinner. Their spa services are a must-try, with an excellent massage that will leave you feeling rejuvenated.
Abbington Green Bed & Breakfast Inn offers a complimentary full breakfast, a daily manager's reception, and a lovely terrace. Spoil yourself with luxurious spa treatments like a revitalizing body scrub, a blissful hot stone massage, or soothing aromatherapy.
The staff and services at Kimpton Hotel Arras are fantastic. You'll be thrilled to discover many nearby restaurants within easy walking distance. The hotel staff is truly amazing, providing exceptional service. The rooms are beautifully designed, with sleek and modern decor that exudes a relaxing atmosphere.
Situated near Asheville Art Museum and Pack Square, this IHG hotel offers a complimentary daily manager's reception, a charming terrace, and a cozy firepit. Savor the delectable local cuisine and more at the two fabulous onsite restaurants. Prepare yourself for an unforgettable stay filled with incredible amenities and superb hospitality.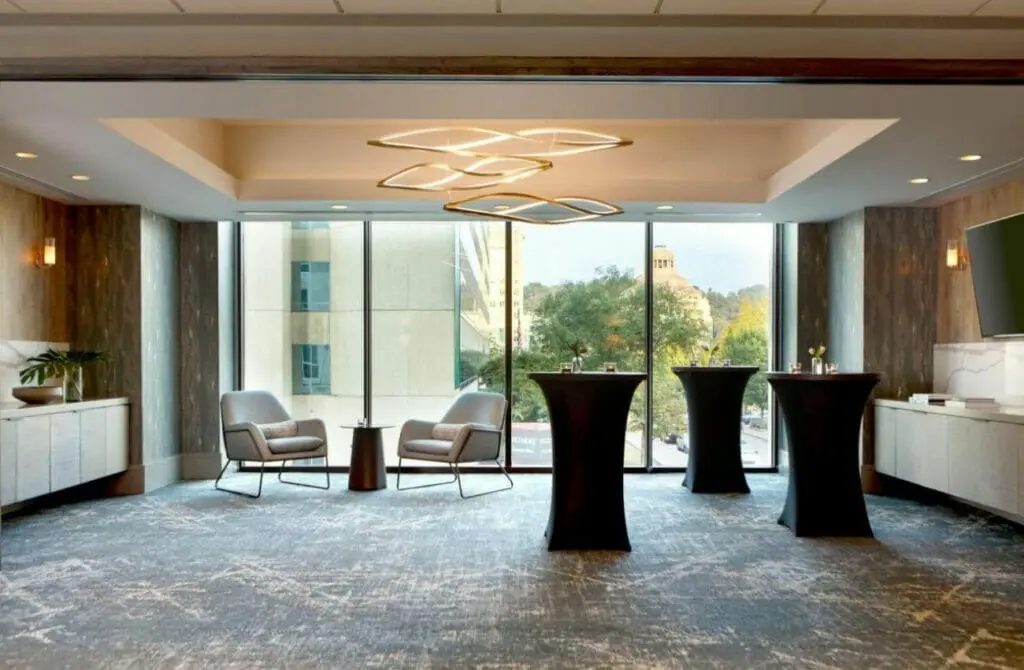 AC Hotel Asheville Downtown offers comfort with cozy beds, spacious rooms, and convenient charging options. Sink into the plush club chair for a moment of relaxation. Start your day with a terrific breakfast at the rooftop restaurant, which transforms into a beautiful bar at night, serving delicious food and drinks with a stunning view. Parking is a breeze.
The hotel exudes class and modernity, boasting immaculate and tastefully minimalist rooms that exude luxury. Situated near Diana Wortham Theatre and Asheville Art Museum, this hotel features a rooftop terrace, an on-site art gallery, a firepit, and an exceptional dining experience at Capella on 9. Enjoy convenient services like dry cleaning/laundry and an outdoor entertainment area.
This haven is your home away from home, created by wanderers for wanderers. A place to unwind, make memories, and bond with fellow adventurers. It's an escape within your adventure. Stroll to nearby pubs, cafes, bakeries, thrift shops, record stores, bars, music venues, laundromats, libraries, and the post office. This is where connections are made.
Stretch your legs and enjoy the sunset from the scenic back deck. Southern-style relaxation awaits on our charming front porch. Take your pick and savor a refreshing beverage. Bon Paul & Sharky's hostel is nestled near the action yet offers tranquility for ultimate relaxation. Their welcoming and well-informed staff will guide you to the best hiking spots and hidden wonders in town.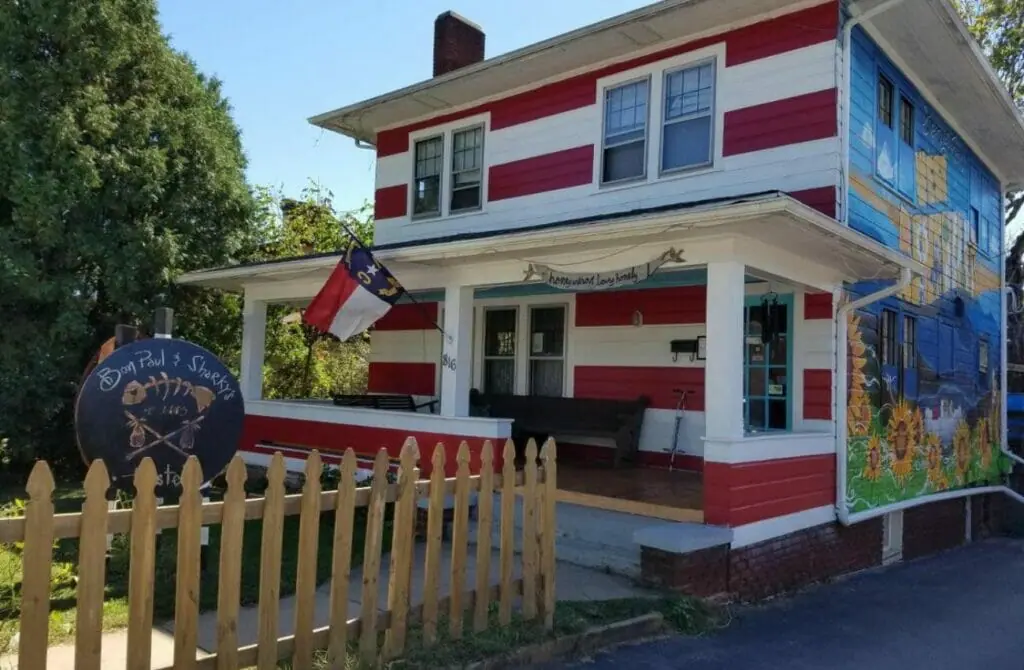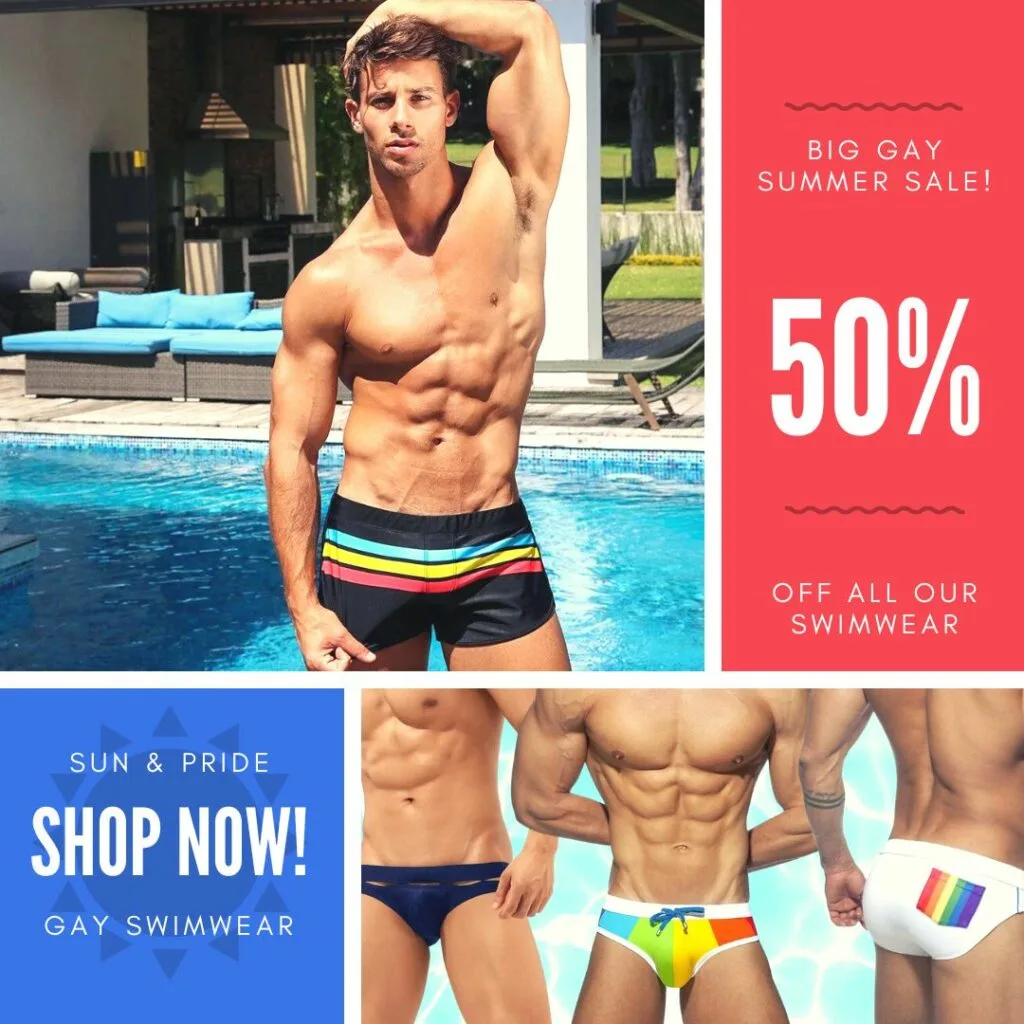 Gay Nightlife in Asheville, USA
Asheville, North Carolina, boasts a gay nightlife that pulsates with energy and celebration, painting the town with popping colors and infectious beats. Step into the heart of this spirited city and immerse yourself in a diverse and welcoming LGBTQ+ scene that embraces authenticity and freedom.
From lively dance floors to cozy cocktail lounges, Asheville's gay nightlife offers a kaleidoscope of experiences that cater to every taste.
Explore the bustling streets, where laughter and music intertwine, and make unforgettable connections with kindred spirits. Whether you seek pulsating beats or intimate conversations, this thriving nightlife scene invites you to let your true colors shine and experience the pulse of Asheville after the sun sets.
Exploring the gay and gay-friendly nightlife in a new city can be one of the most exciting and rewarding experiences while traveling – and Gay Asheville is no exception. Not only will you have the opportunity to meet new people and make friends, but you'll also get a taste of the local culture and learn more about the city's LGBTQ+ community.
Going out and experiencing the queer and queer-friendly nightlife in a new city can also be a great way to break out of your comfort zone and try new things. Whether dancing the night away at a gay club or mingling with locals at a gay-friendly bar, you'll have the chance to make memories and create lasting connections.
So, don't be afraid to leave your comfort zone and explore the gay and gay-friendly nightlife in Asheville. You'll be glad you did!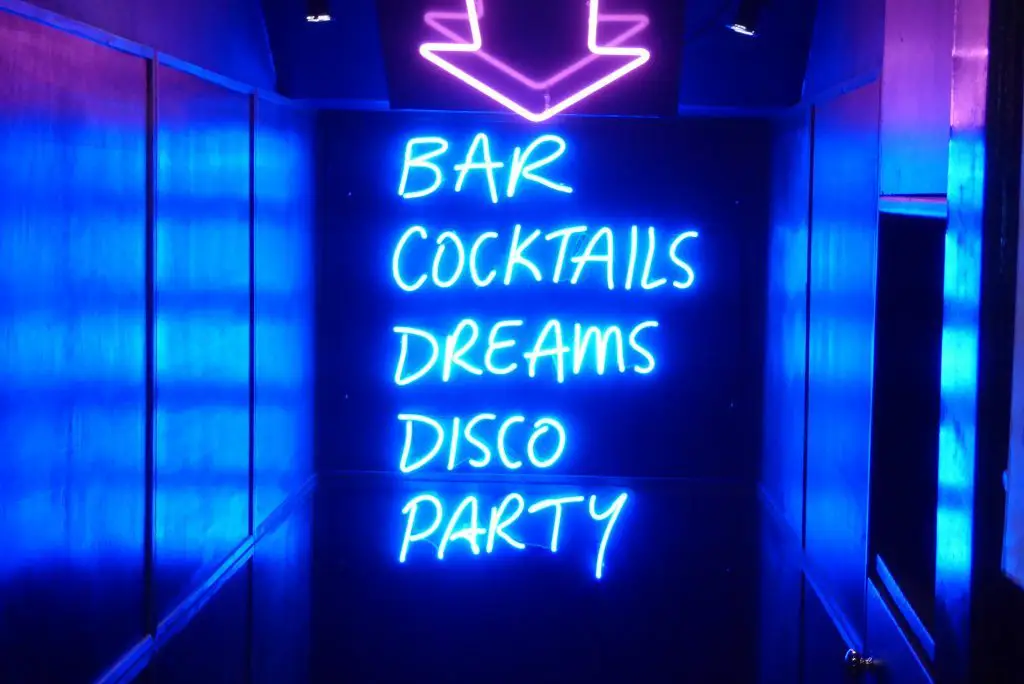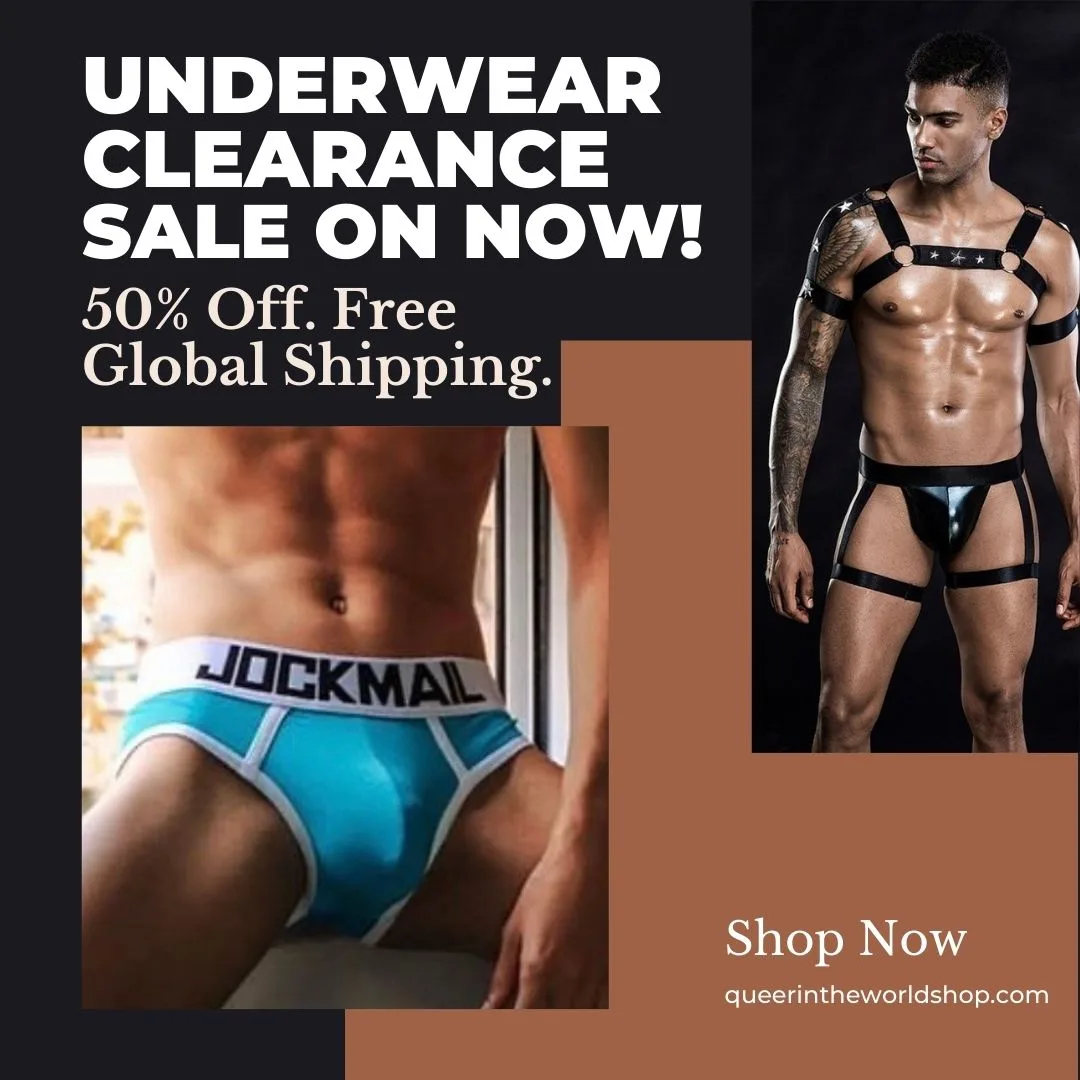 Gay Clubs in Asheville, USA
Ah, the historic Scandals Nightclub, darling! Once a YMCA, it's now a three-story haven with three pounding dance floors to fulfill all your party desires. Since 1982, Scandals has been the go-to spot for a fabulous, safe, and welcoming experience. Unsurprisingly, it's been voted the "Best Place To Dance" for its mesmerizing drag shows.
The energetic DJs and mesmerizing performers will leave you in awe. With themed nights and delightful cocktails, Scandal is a playground of excitement. And hey, it's also a fantastic spot for a little cruising. Enjoy, darling!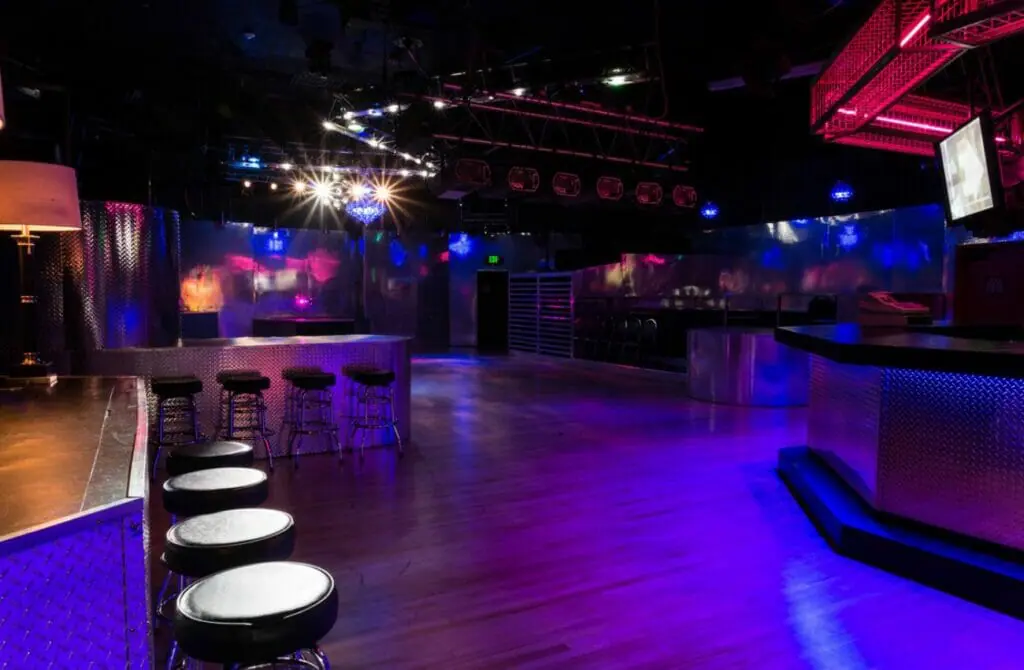 Darling, prepare for a delightful experience at Marked Tree Vineyard in Asheville. This gay-owned winery offers a romantic ambiance that will make your heart flutter. Whether you visit their South Slope tasting room or venture to the winery, you're in for a treat.
Sip on their exquisite wines, indulge in delightful pairings, and soak in the incredible views. It's the perfect spot for a leisurely afternoon or a memorable evening with your loved one. Trust me; this is one adventure you will want to experience.
Step into this welcoming neighborhood bar, darling! It's the perfect spot to reunite with old friends and make new connections. This enduring gay bar offers daily specials, games, and videos, with a lively dance club called The Underground in the back. You'll find a cozy stage and bar for separate events, creating a diverse and energetic atmosphere where everyone can feel at home.
The positive and friendly energy is contagious, with a full bar, delightful beer, wine selection, and daily entertainment to keep the good times rolling. Take advantage of the fabulous weekend drag shows and delectable drink specials. Cheers to a fantastic time!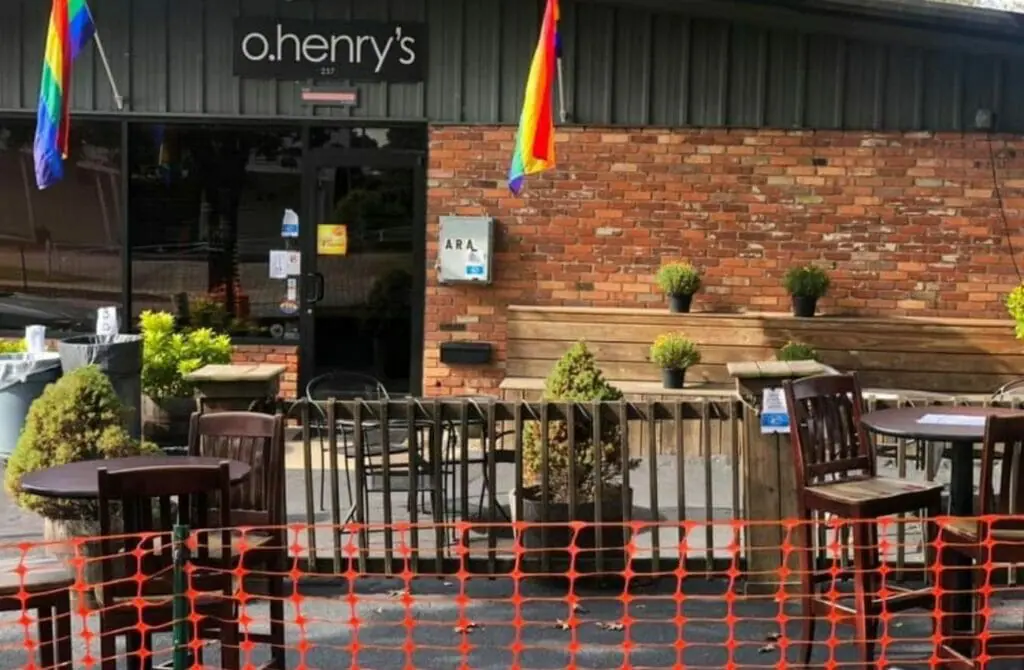 Your taste buds are in for a wickedly delightful experience at Wicked Weed Brewing Pub and its sour beer haven, Wicked Weed Funkatorium. These LGBTQ-friendly hotspots are more than just breweries—they celebrate flavor and community. Try high-end New American cuisine, sip on top-notch cocktails and explore an exceptional selection of beers.
With a clean and classy ambiance, live music, and exciting events like "new beer Thursdays," Wicked Weed is the perfect blend of friendly and laid-back. Get ready to raise your glass and savor the goodness in style!
Welcome to the fabulous Getaway River Bar, owned and operated by our delightful LGBTQ+ community. Join them on second Sundays for the marvelous "Sissy Sunday" drag show, showcasing incredible local talent. This cozy little spot nestled along the French Broad River will make you feel at home.
The staff is beyond friendly, and you can enjoy a delightful riverside seating area while savoring your drink. The regulars here are an absolute riot! They serve up the most affordable beer in town, and their Monday poker tournaments and Wednesday karaoke nights are pure entertainment, darling.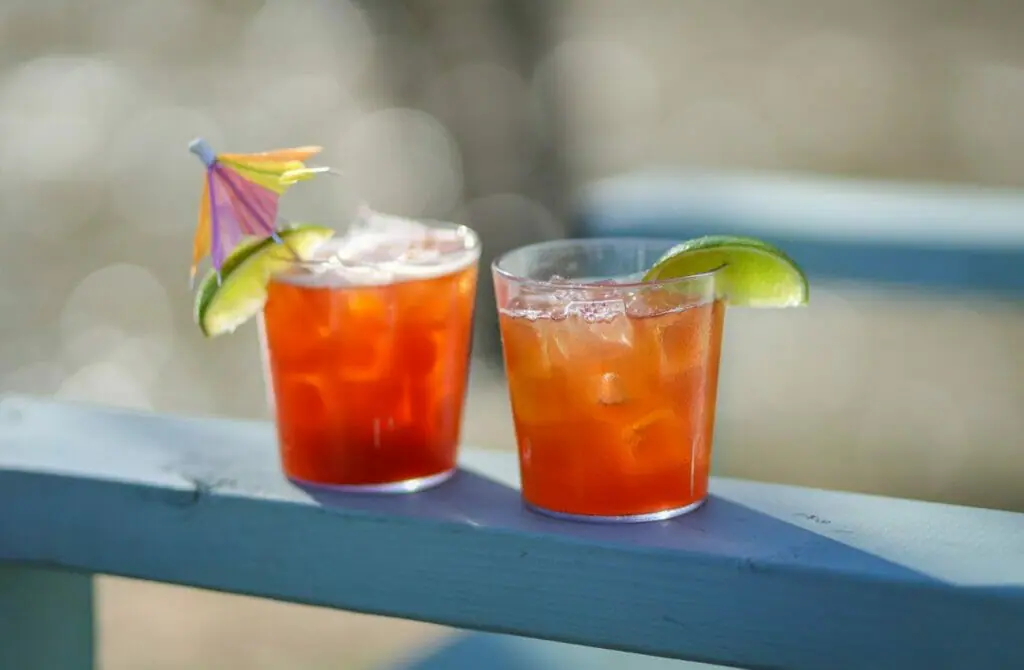 Darling, get ready to paint the town red at the sensational Ruby Red, Asheville's hottest up-and-coming queer-inclusive lesbian bar! While it's currently a fabulous pop-up, this bar knows how to throw a party wherever it chooses.
Ruby Red delivers unforgettable events celebrating diversity and self-expression, from fetish nights to mesmerizing burlesque and drag shows. Watch for this vibrant pop-up and prepare for a unapologetic fun and entertainment night. Trust that Ruby Red knows how to shine!
Darling, the Banks Ave. Bar is where fabulousness knows no bounds! They are a sensational experience with their dynamic drag shows, occasionally featuring an alternative flair. Sundays are reserved for the ultimate karaoke extravaganza, while Wednesdays offer freeroll Skee-ball for endless fun.
Banks Ave Bar prides itself on being an inclusive, pet-friendly, and environmentally conscious space. Inside, you'll find a spacious area for events and dance parties, complemented by three pool tables, a corn hole, and a dartboard. The glass garage doors open when the weather cools, creating a seamless flow to the expansive front patio. Get ready to immerse yourself in the magic of Banks Ave!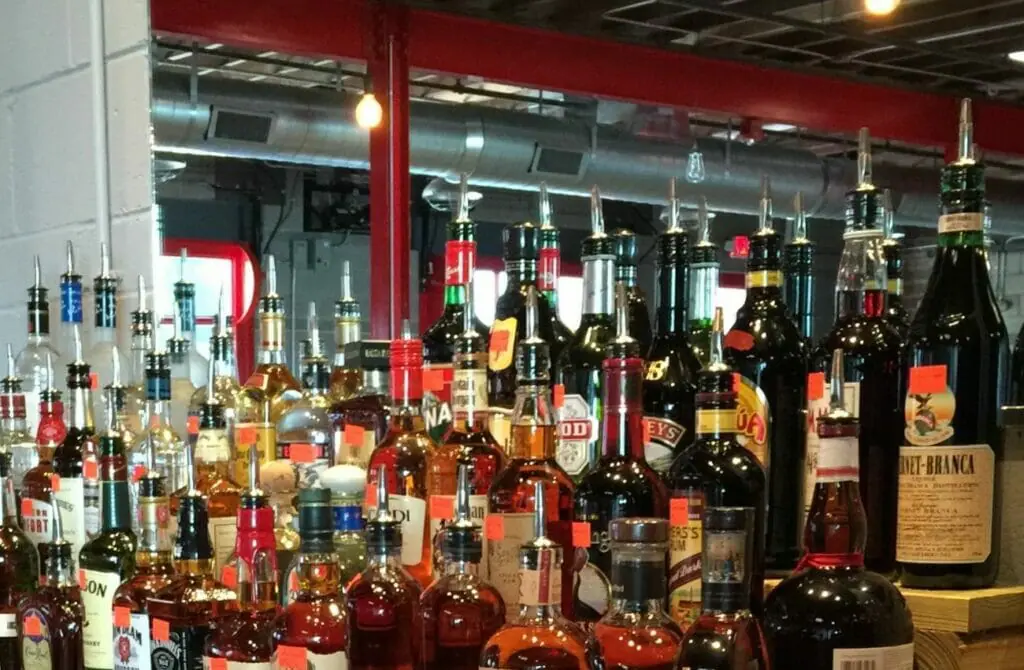 Gay Parties in Asheville, USA
Get ready for an extravaganza of inclusion, darlings! It's time to embrace the fabulousness of the Blue Ridge Pride Festival, happening at Pack Square Park in Asheville on September 30th. This spectacular event is the largest Pride celebration in Western North Carolina, honoring the LGBTQ+ community of 75,000 strong.
Explore booths from incredible organizations championing social justice, savor delectable treats from local food vendors, and let the little ones unleash their creativity in the kids' area. With live music, a spirited parade, and a plethora of vendors, Pride Week promises non-stop excitement. Join the party and spread the love!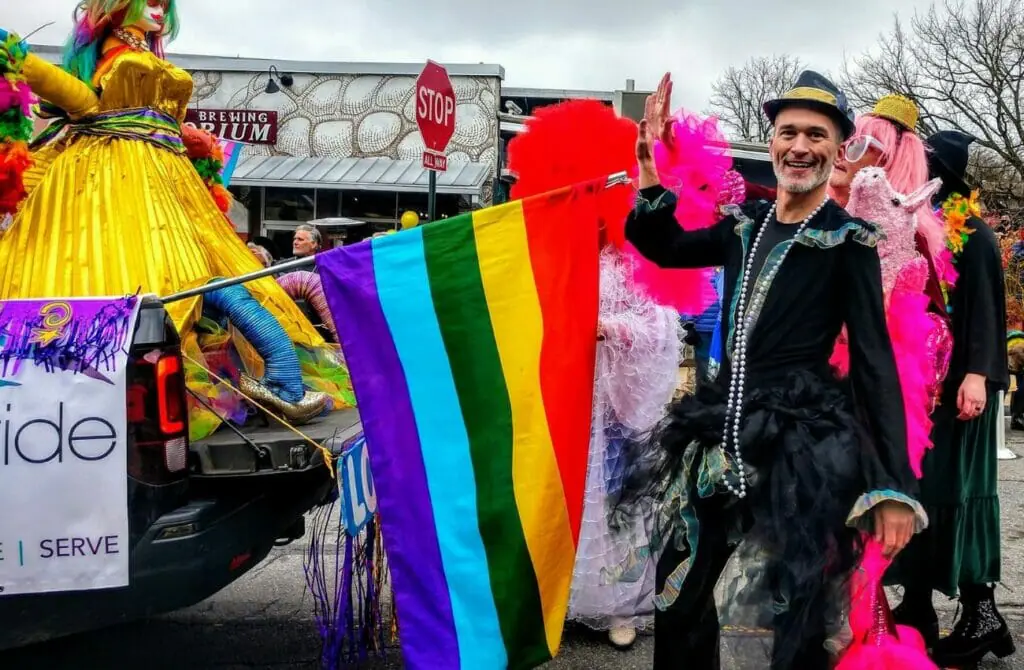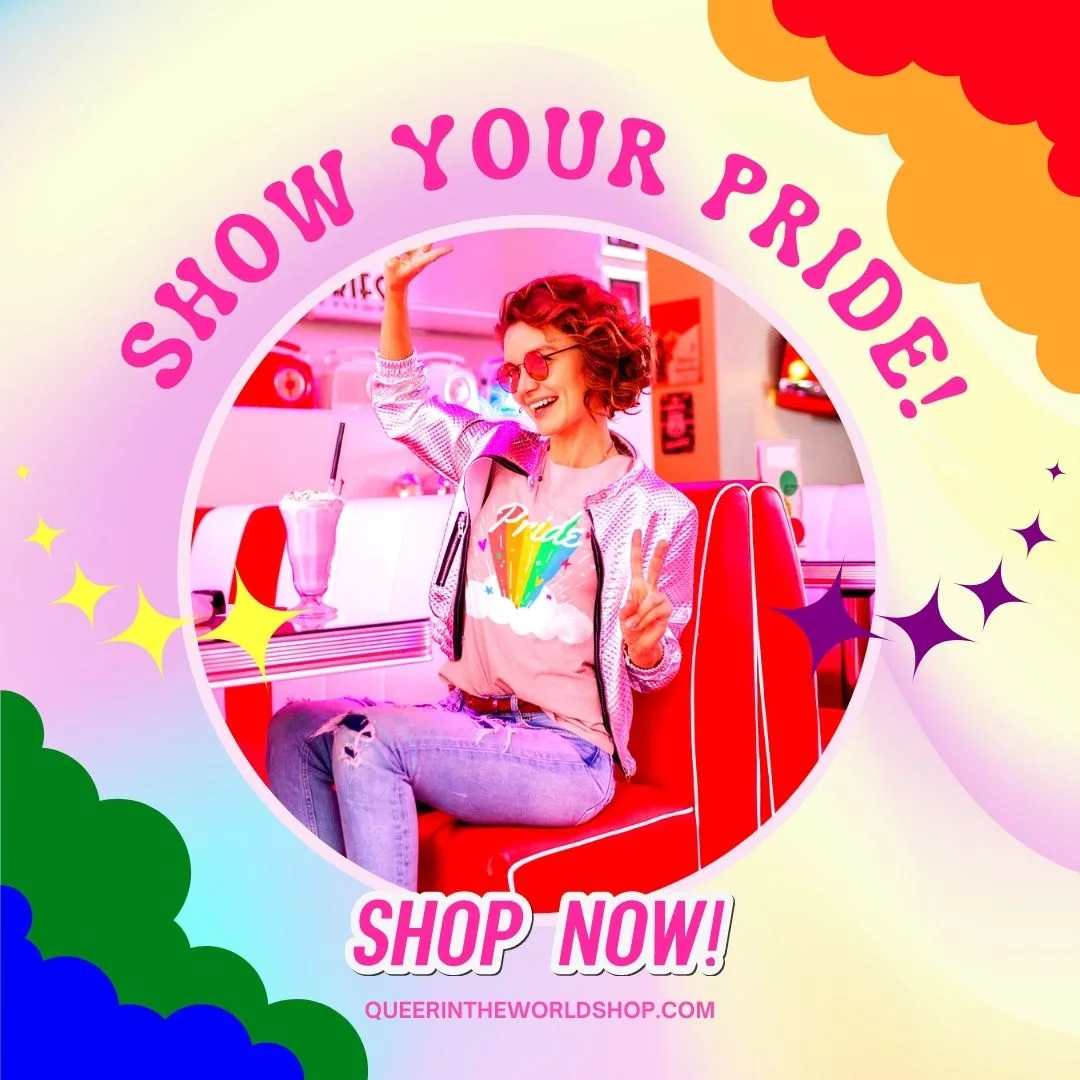 Gay Saunas & Cruising Clubs in Asheville, USA
When traveling to a new city, it can be exciting to head out for more than just a stiff drink. One aspect of the Gay Asheville scene that many queer men enjoy is visiting gay saunas and cruising clubs.
Sure, the sauna culture in Asheville is not as hedonistic as in Amsterdam, Barcelona or Berlin, but these venues still offer a chance to meet new people, socialize, and engage in sexual activity – without resorting to gay hookup apps.
However, it's important to remember that these venues can vary greatly in terms of atmosphere, clientele, and rules, so it's a good idea to prepare yourself before visiting. If you are apprehensive, we advise studying our guide to visiting a gay bathhouse for the first time, which should help set your mind at ease and always practice safe sex.
Additionally, it's important to be aware of and respect local laws and customs regarding gay venues and sexual activity. With a little bit of planning and an open mind, visiting gay saunas and cruising clubs can be a fun and exciting part of your gay Asheville travel itinerary.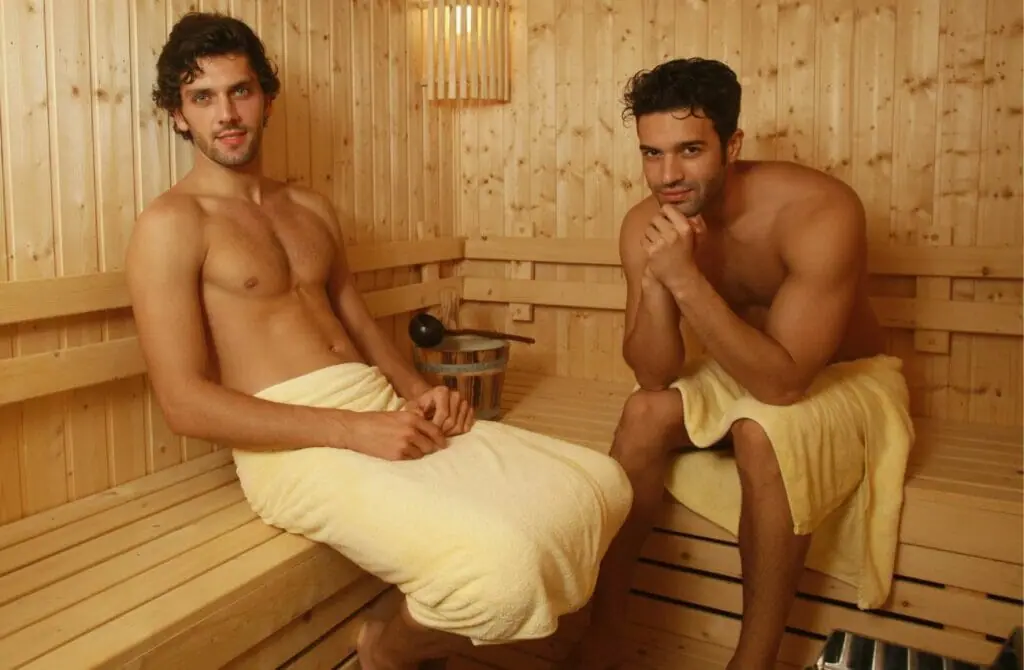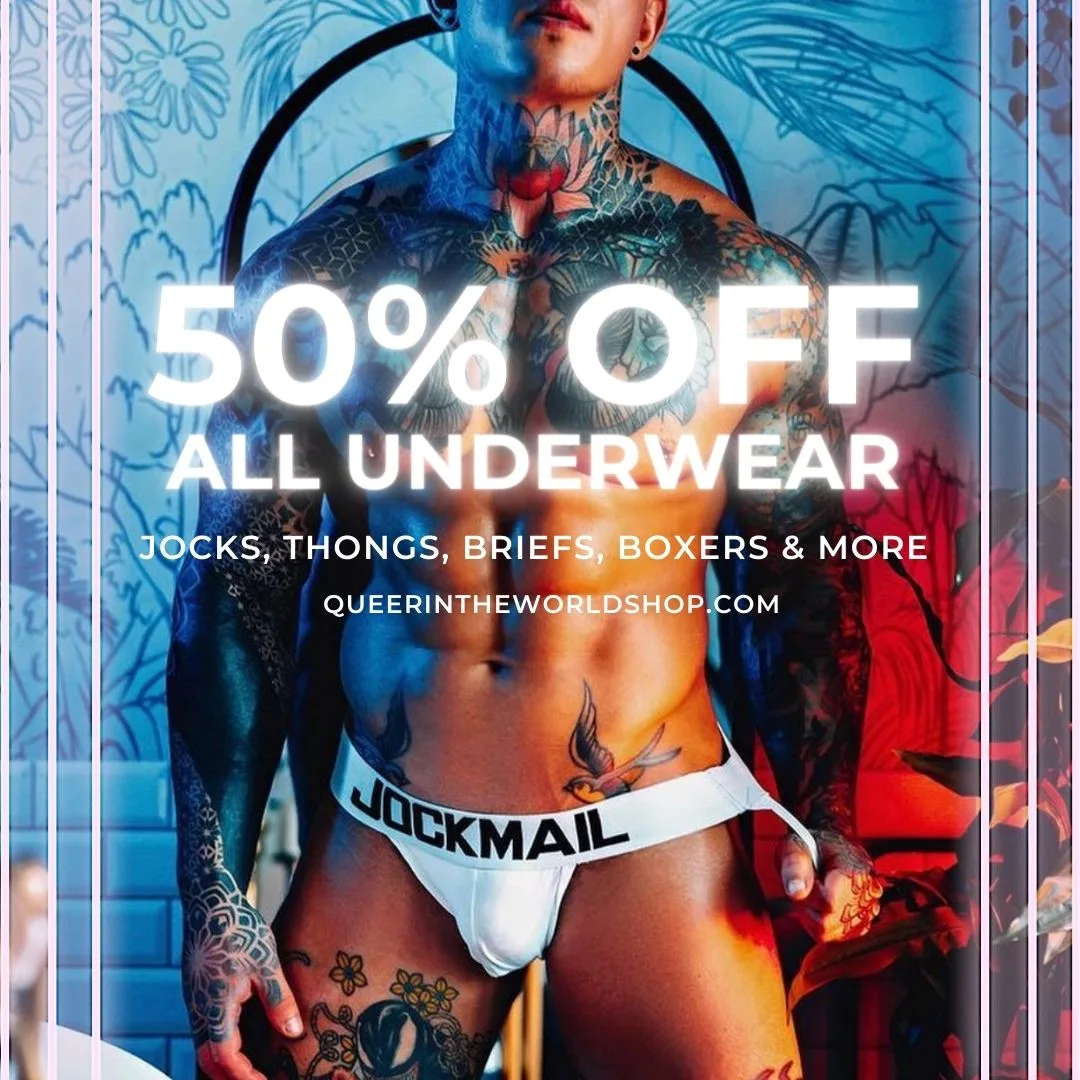 Gay Map Of Asheville
Finding it hard to envisage where everything is in Asheville? Hopefully, this queer-centric map helps where we have marked all the bars, clubs, parties, hotels, saunas, massages, and more will help you stay in the spot best suited to you!