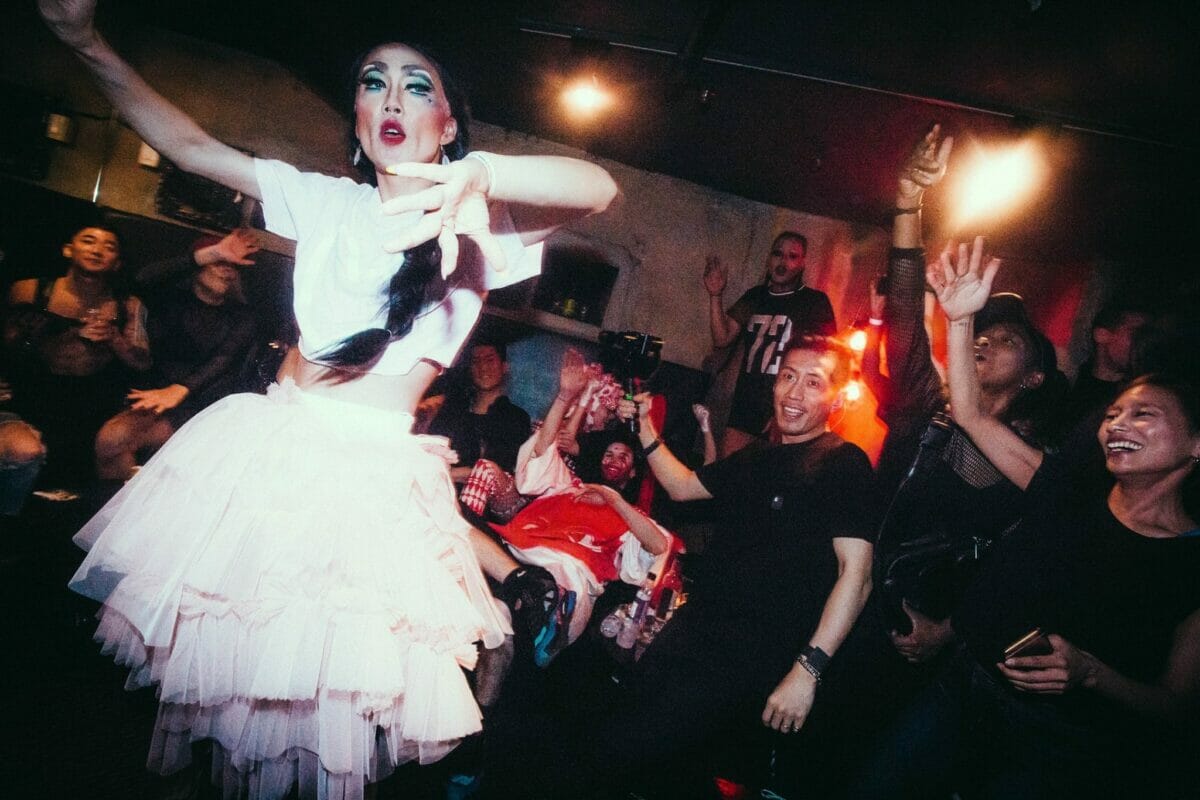 When one thinks of Seoul, one of the first things that would always come to mind is the city's color and vibrancy. Being the capital city of South Korea, Seoul has a lot to offer to tourists and foreigners alike. With major travel destinations and a rich culture worth experiencing, you might just want to explore this city.
For queer tourists, Seoul has a lot of things to offer. Most locals are obsessed with fashion, so you would always see a lot of voguish men and women strutting the streets. Plus, their K-Pop music could be heard on almost every corner of the city. What a way to express your inner self, right? What even makes this a gay capital is that there is a thriving queer scene where you could meet new gay friends.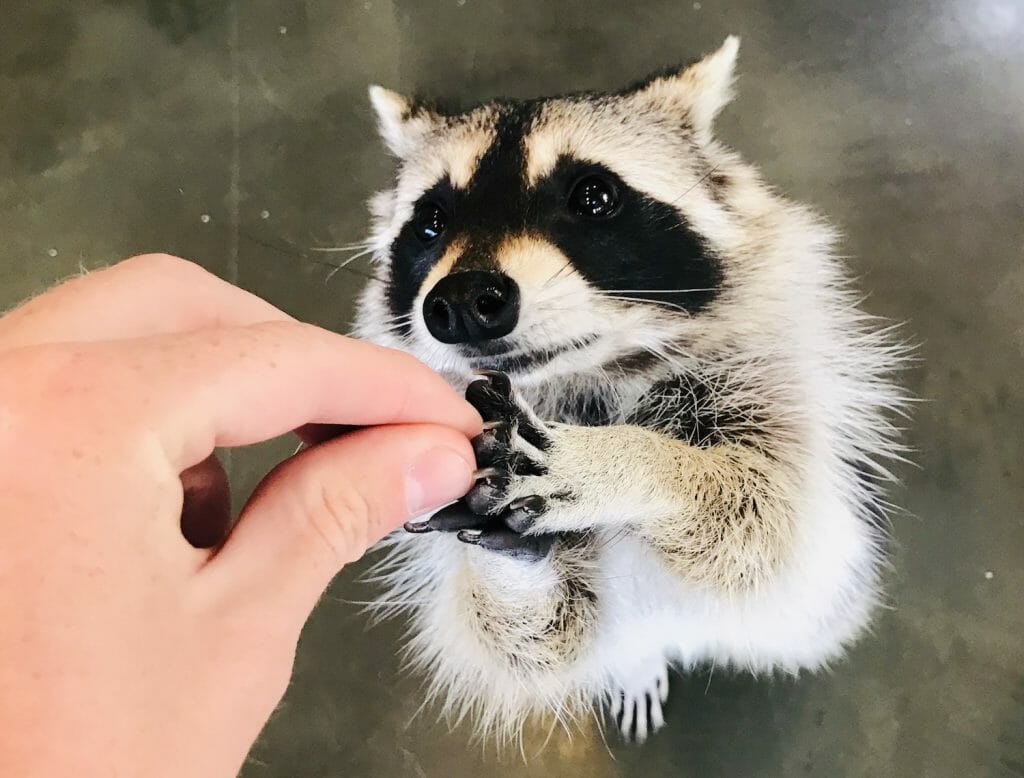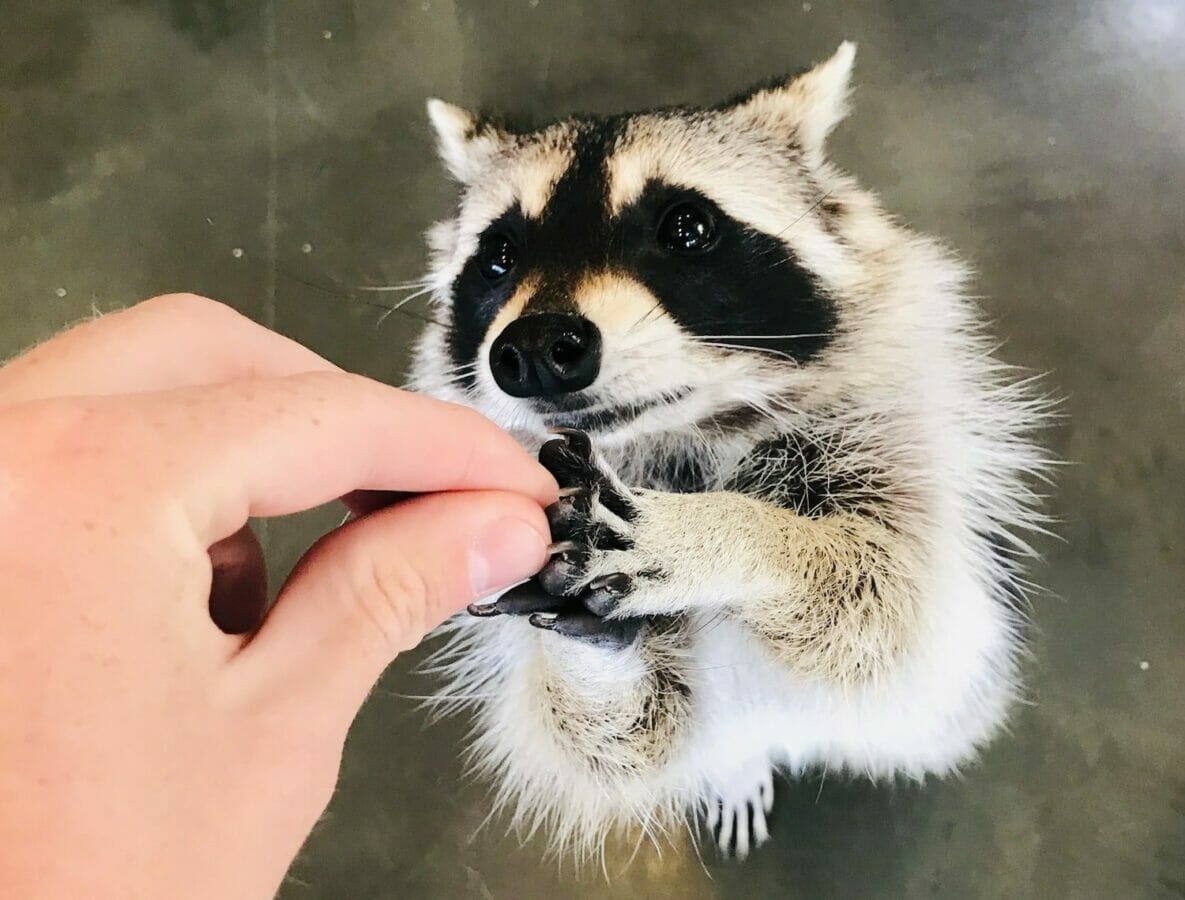 But be mindful that South Korea is quite conservative, so there might be some restrictions which you should abide by. Still, it would not hurt to travel to Seoul as a proud queer person. There is so much to do here – but we found our favorite memories were wandering through getting lost on back-streets, visiting all the weird cafes, hitting up Lotte World and wandering through design studios!
One of the best tips we can give you for exploring Gay Seoul is to pre-order a travel SIM card for easy airport pickup and activation the moment you arrive so you will not pay a fortune in international roaming charges. Get restaurants recommendation and reservations on the fly, public transport instructions up to the minute, bar opening hours and if it is your thing – access to gay hook up apps to find out more about the local scene.
Mobile data is fast, cheap and available almost everywhere in Asia so it is no wonder most travelers chose to stay connected and to get off the beaten track (without ever worrying about getting lost). So why wait? Pre-order the best local SIM card now to have it waiting for you when you arrive. And if you are looking for a place to stay, there are several gay hostels in Seoul where you could stay.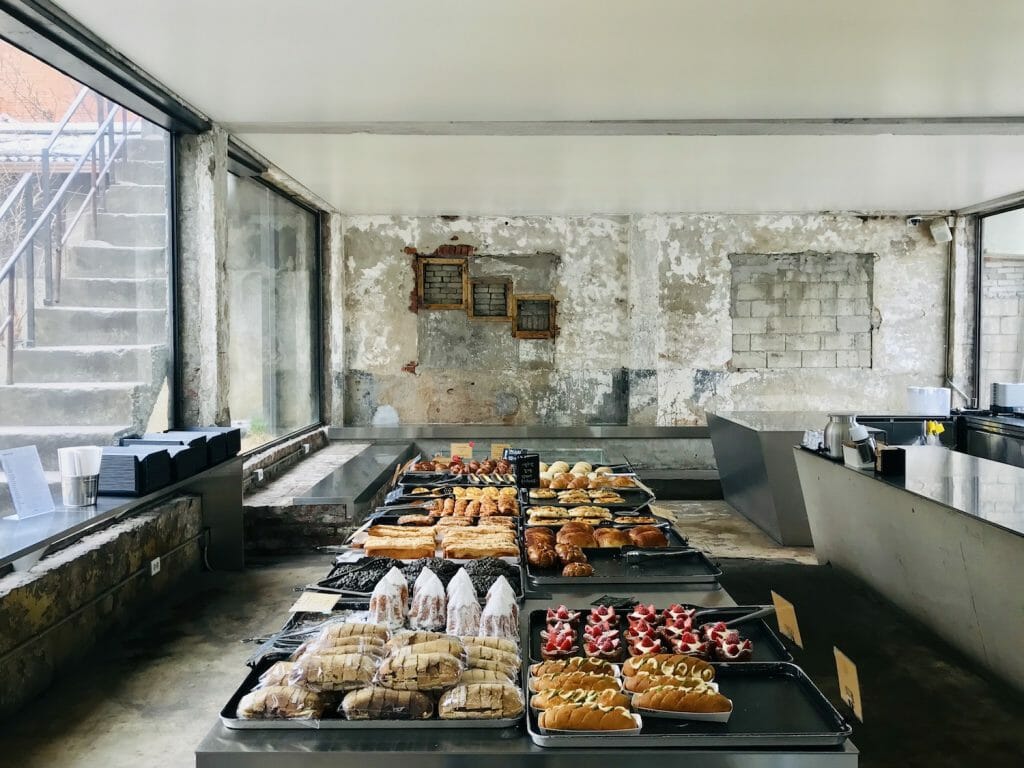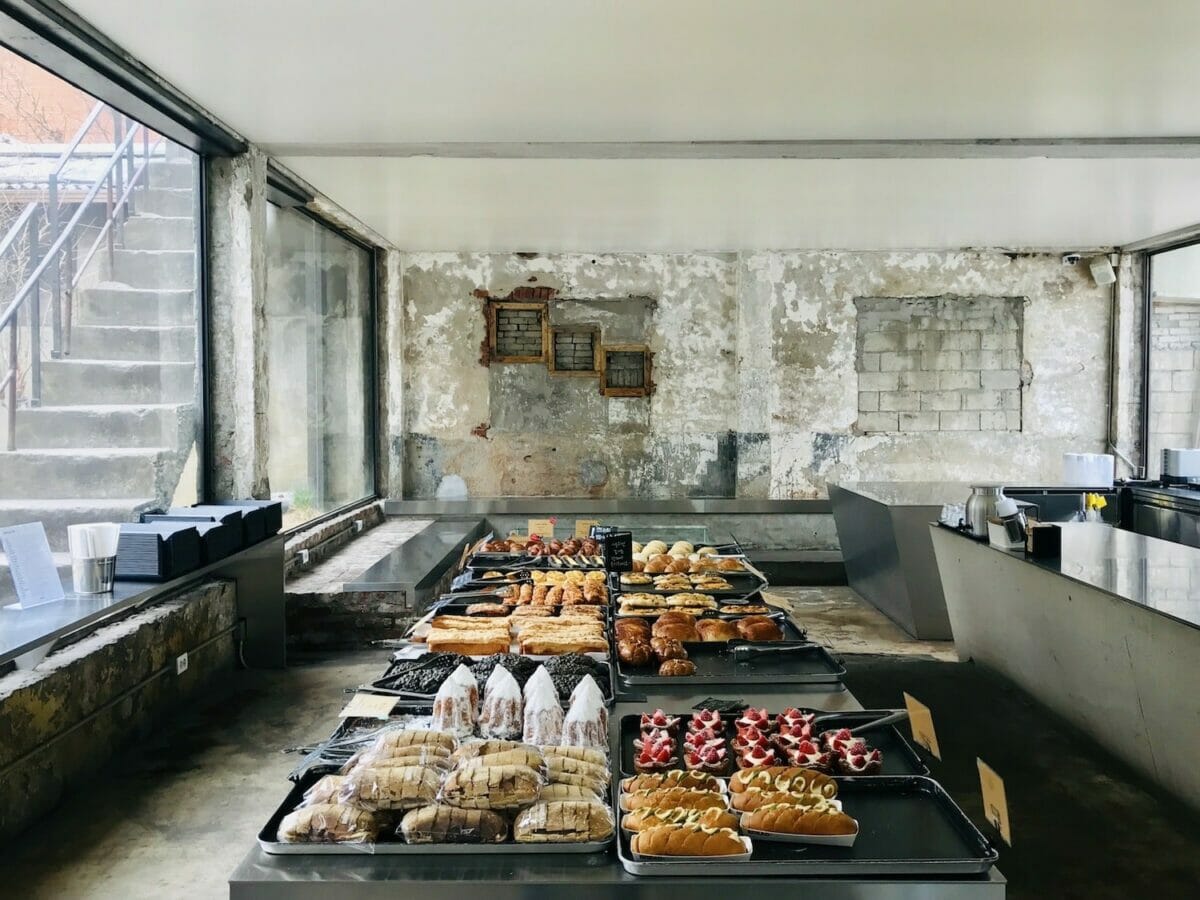 To be clear, however, we use the term gay hostel to let you know they are welcoming to all travelers, regardless of sexual orientation. Because when it comes to discrimination during traveling, ain't nobody got no time for that and we say: Not today Satan!
There are very few cases around the world of hostels specifically catering to just gay men, and we have yet to come across one catering to just gay women. But no to fear – the gay hostels included here are openly LGBT-friendly, popular with our queer community, stylish and extremely well-related. So you can rest easy knowing you are going to be safe, have the ability to meet other like-minded travelers who know love is love and most of all – save some money over staying at a traditional hotel…
Of course, you have to choose the gay hostels in Seoul which are near gay scenes. But don't also forget to explore the culturally-rich attractions. South Koreans have a rich tradition, and they would like it if you immerse to their culture as well. From traditional palaces and temples to preserved natural landscapes, Seoul's attractions would surely entice you to stay longer.
We would not let you wait any further. Here are eight of the best hostels in Gay Seoul which are worth trying.
[one_third]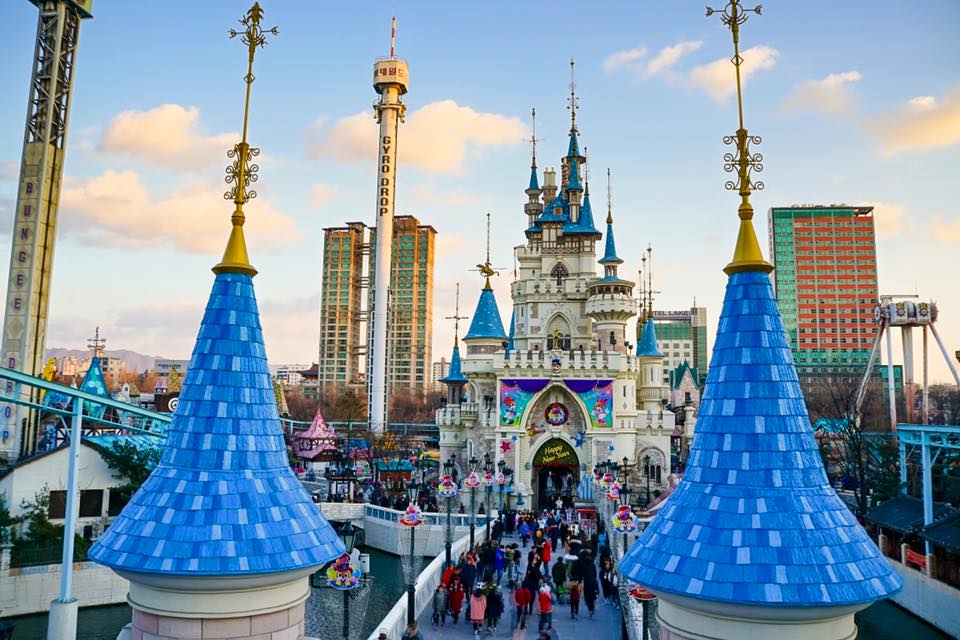 [/one_third][one_third]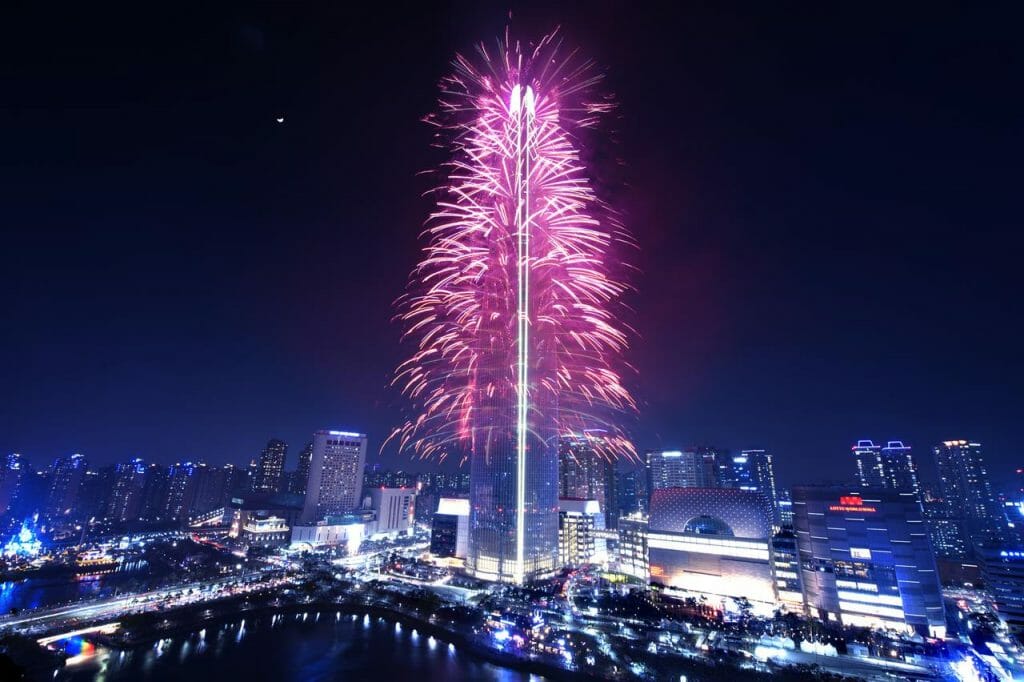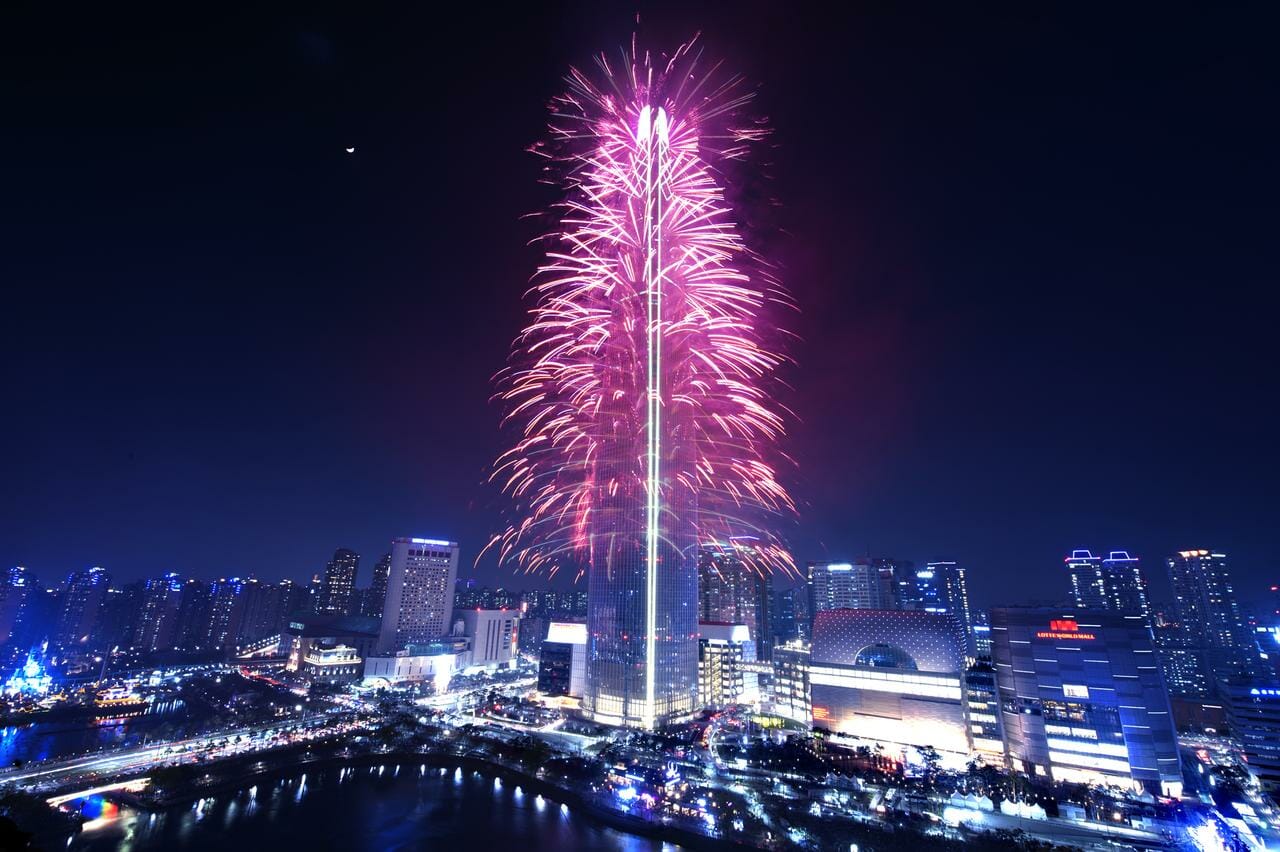 [/one_third][one_third]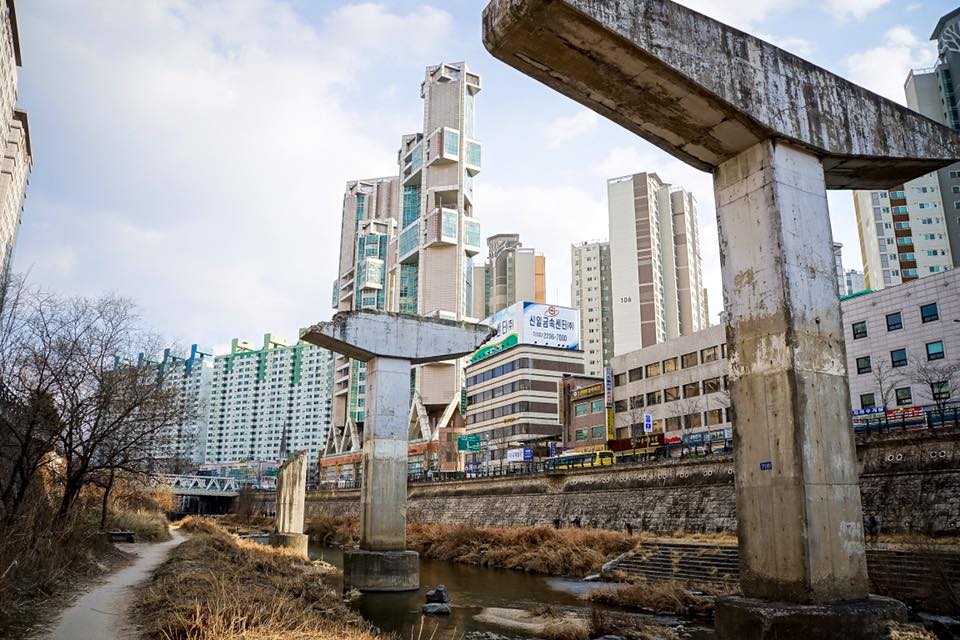 [/one_third]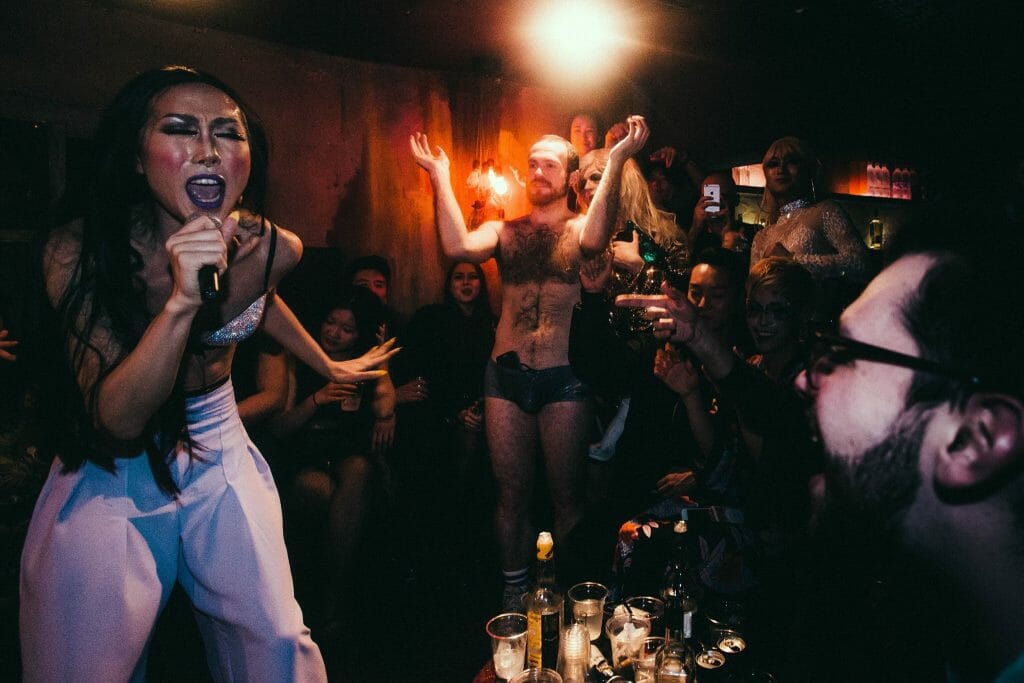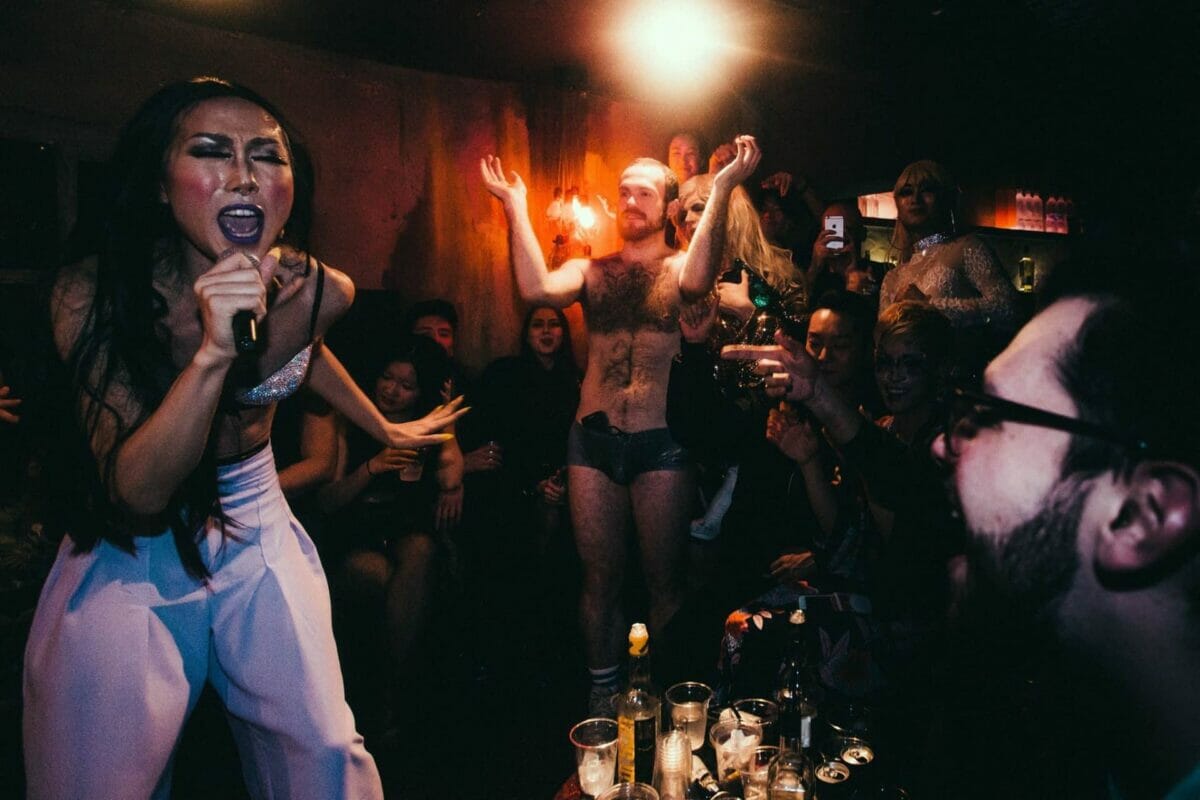 The Most Fabulous and Almost-Gay Hostels in Seoul! 🇰🇷
The first on our list is the most preferred among the gay hostels in Seoul. The Zzzip Guesthouse is near gay-student scenes of Hongdae. Since this is near shopping places, you could quickly shop till you drop without having the need to travel far. Plus, it is also a convenient base from the Gyeongbokgung Palace.
The dormitory rooms of this hostel are for female-use only. If you are traveling with your friends, you could avail of a quadruple room which could accommodate up to four people. There are also private single, double, and triple rooms which could accommodate up to three people. All of these rooms offer you a stunning view of the city. Moreover, these soundproof rooms provide you with a mini-bar, a personal computer, and an air-conditioning unit.
Aside from its comfortable rooms, guests could also try out other amenities and services such as a terrace, shuttle service, and free Wi-Fi.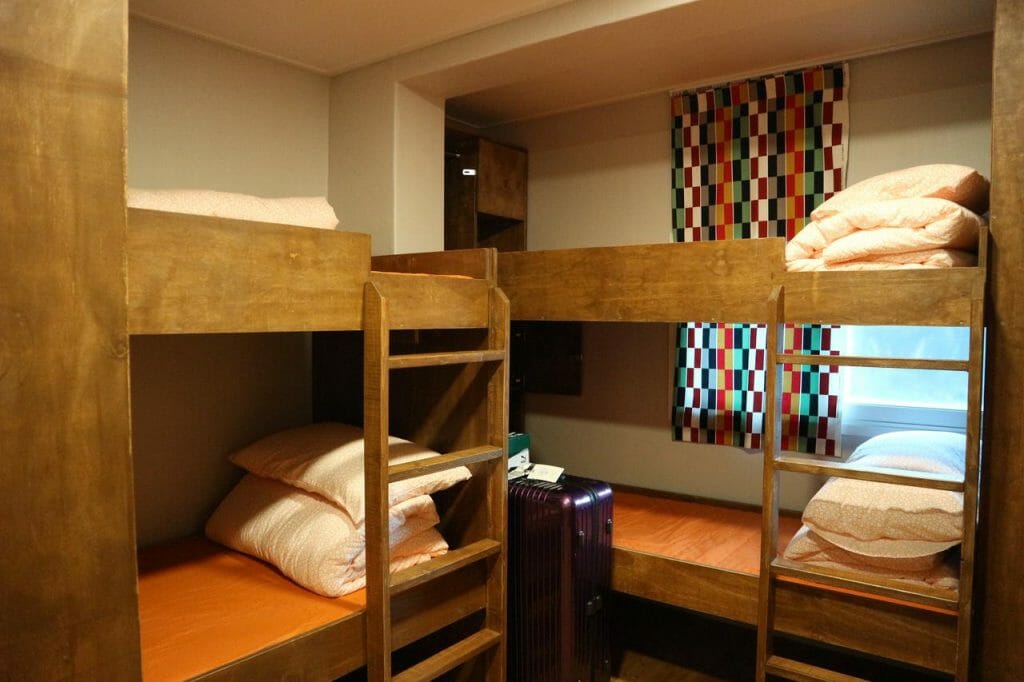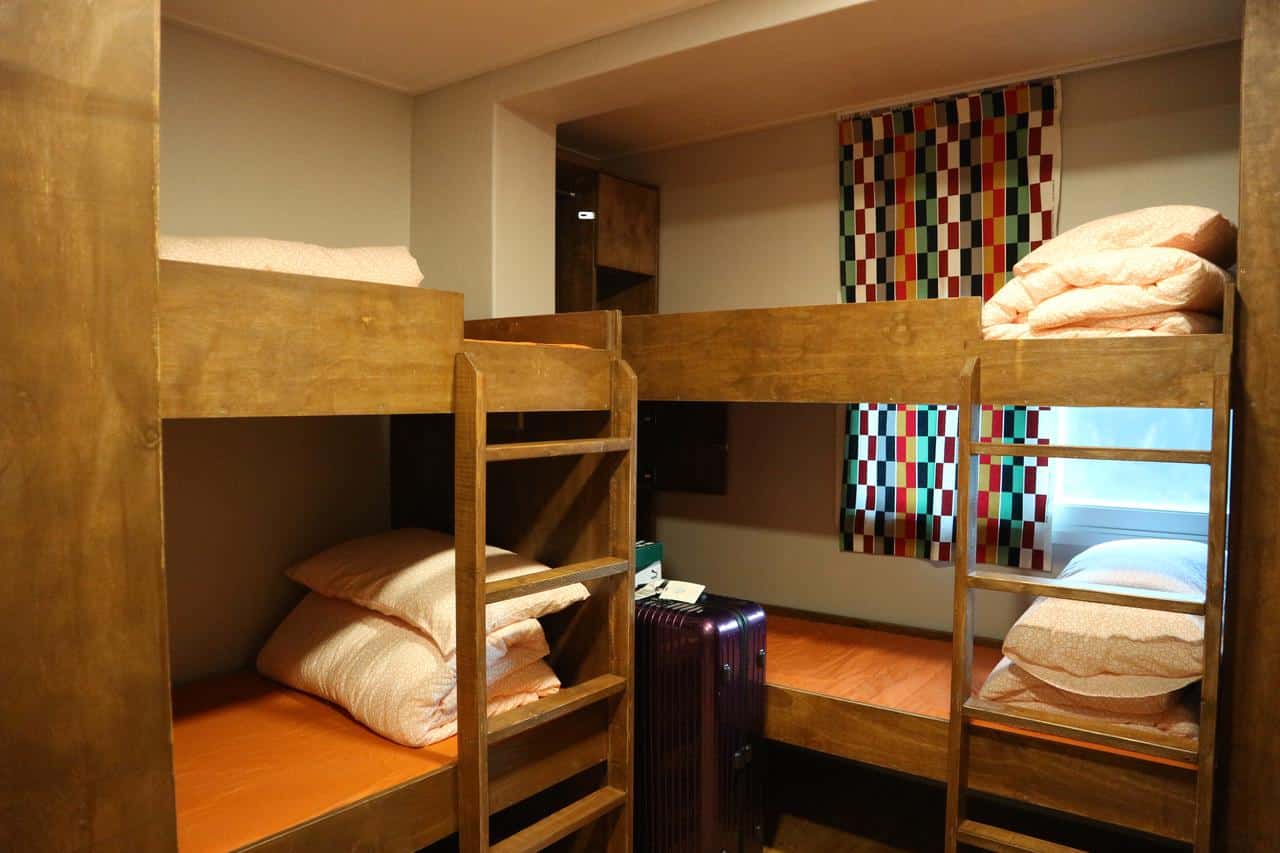 The Itaewon N Guest House is the second most preferred among the gay hostels in Seoul. This is a relaxed hostel that you could find in a residential district. Hence, you would surely feel a homey vibe just by its exterior alone. One of the reasons why it is also a preferred gay hostel is that it is near the Homo Hill Gay Party District. This is a gay scene in Itaewon where you could watch gay events such as drag shows and go to gay saunas. It is also popular for its bars and clubs where you could hang out with fellow queer tourists.
Let us focus our attention on the hostel itself. The Itaewon N Guest House offers both dormitory-style and private rooms. The dorm rooms, in particular, come in two kinds: female-only and mixed-gender dorms which could accommodate up to six guests. These rooms feature bunk beds and free Wi-Fi.
Other amenities include lounge areas and a communal kitchen where you could avail of your free continental breakfast. You could also use the laundry facilities for free! How awesome could that get?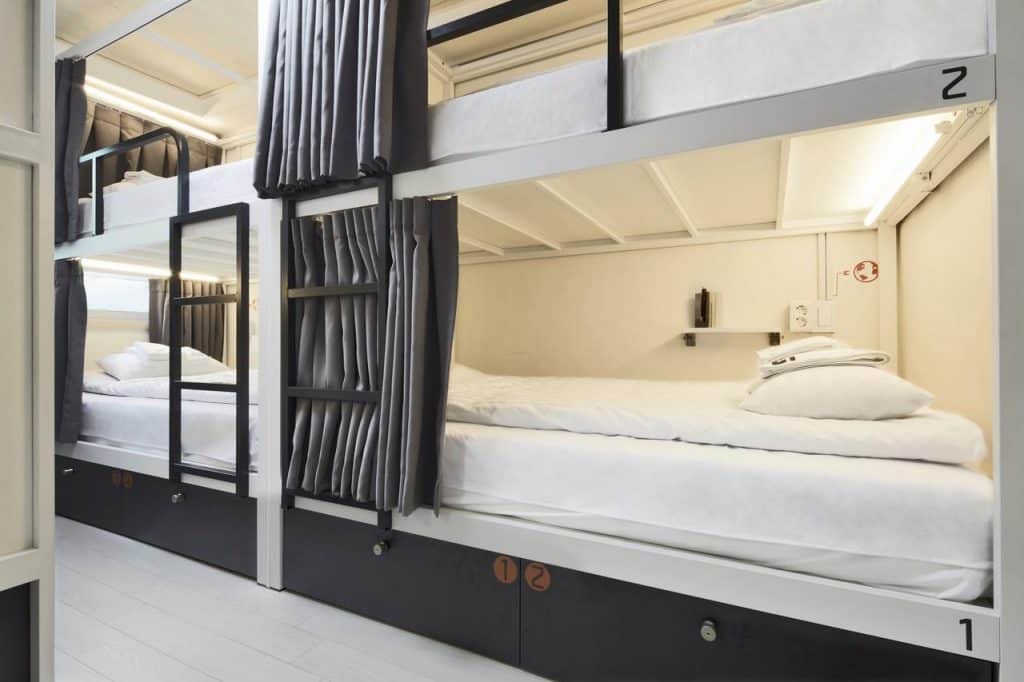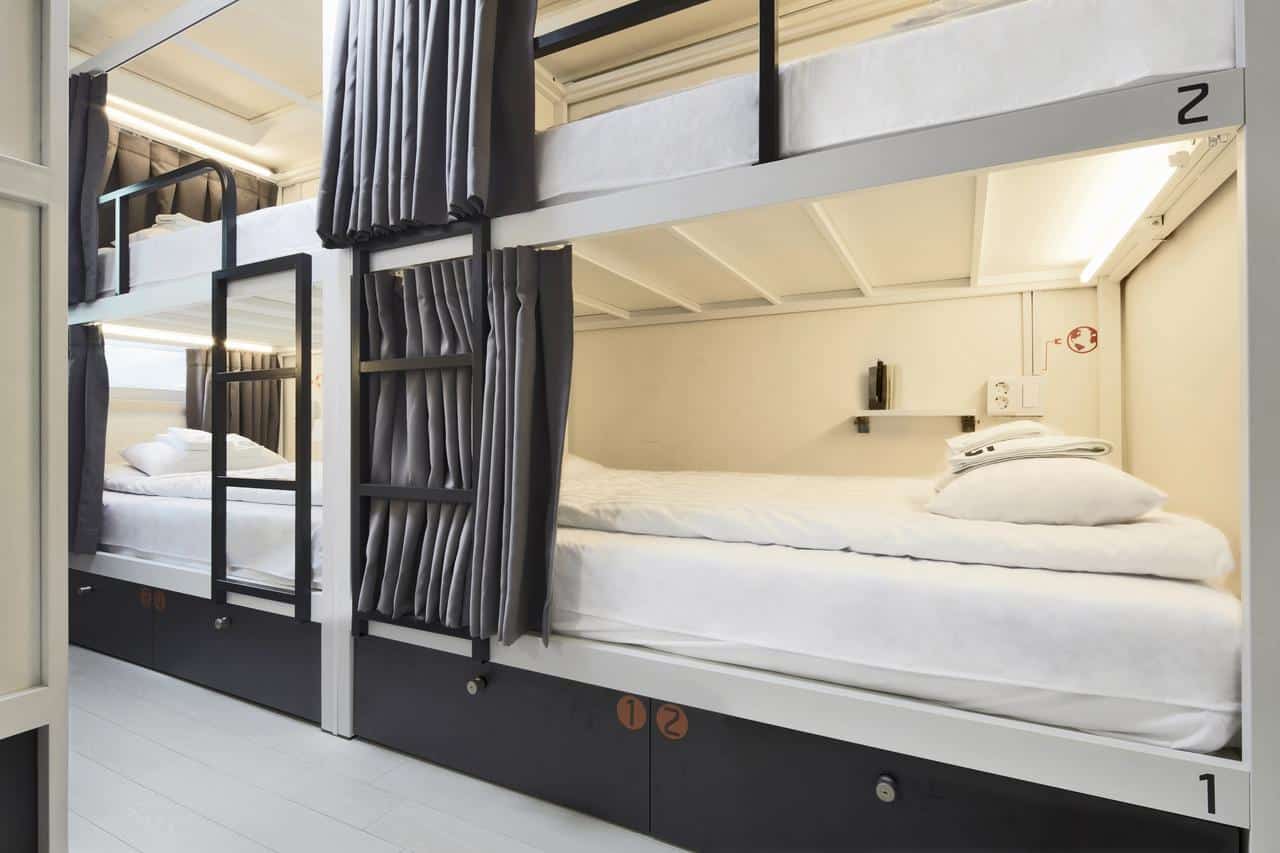 The Seoul Cube Hostel offers accommodations for those who are actually looking for an attractive space. This capsule hostel comprises 31 rooms, all of which are equipped with a shared bathroom with free toiletries and a shower. Other amenities include a writing desk, central heating, and hi-fi. Some rooms also feature a terrace. Since this is a budget hostel, you will surely save a lot of money than just staying in a regular hotel.
When you are not in your room, you could enjoy several facilities which Seoul Cube Hostel offers. These include a sun terrace, a garden area, and a leisure room. You could also avail of ironing facilities, flat-screen televisions, washing machine, and soundproofed rooms.
What makes this one of the best gay hostels in Seoul is that it is near popular attractions. From here, you could drive a few kilometers away to reach destinations such as the Namdaemun Market and the I'Park Mall.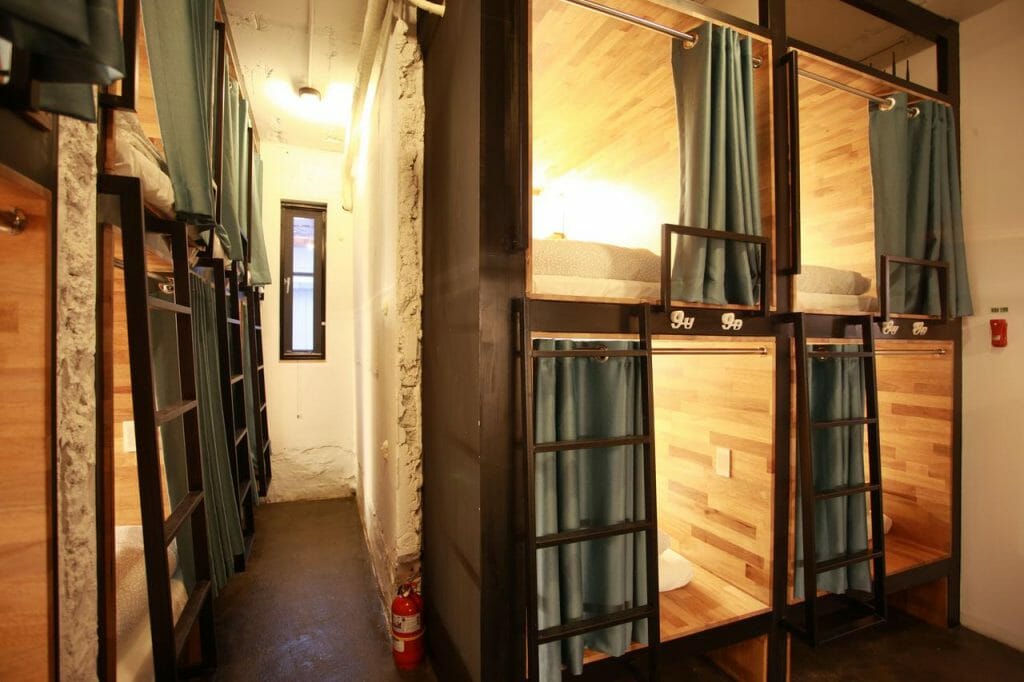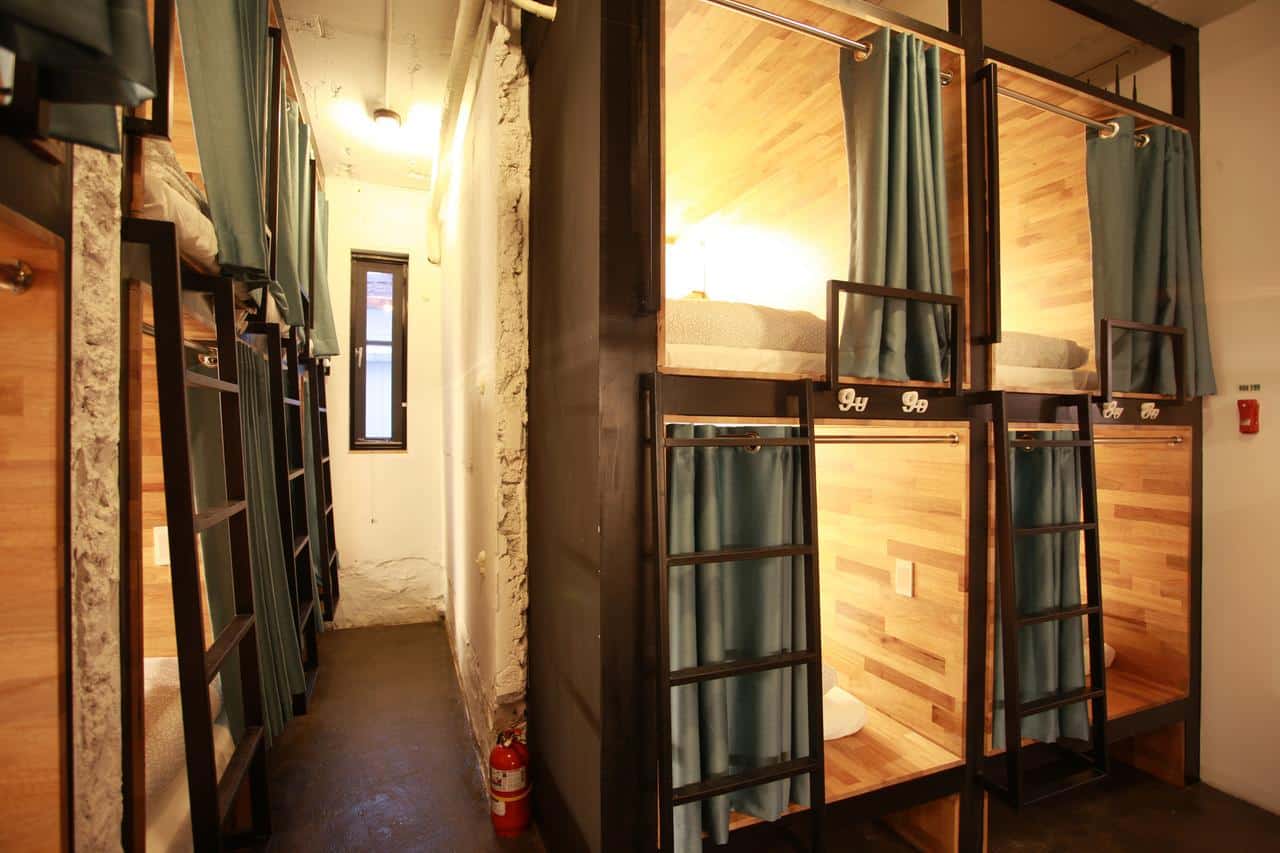 Located at the heart of Hongdae in Seoul, the Bunk Guest House could be your choice when looking for the best gay hostels in Seoul. This guest house comes with clean and comfortable dormitories and private rooms. The dorms consist of super single-sized bunks. The private rooms, on the other hand, have queen-sized double beds for you and your partner. In addition to this, the private rooms include toilets and shower booths while dorms have shared facilities. Therefore, there is no need for you to worry about waiting in the morning.
Bunk Guest House is a relaxed hostel and they have facilities specifically meant to provide you with such feeling. Hence, you could enjoy and have a party with your friends at the patio and rooftop of this hostel. Moreover, you could host a Korean BBQ party and a Korean Cuisine party with your fellow guests to get to know them better. You could also join the tour through the tour program of this gay hostel to be able to visit special places in Seoul.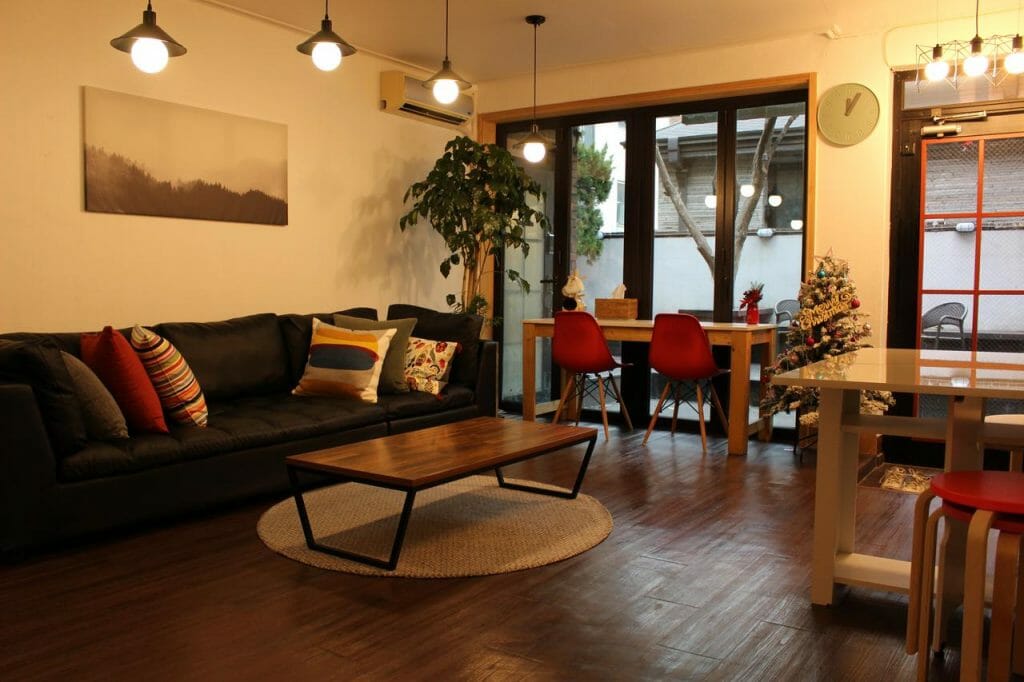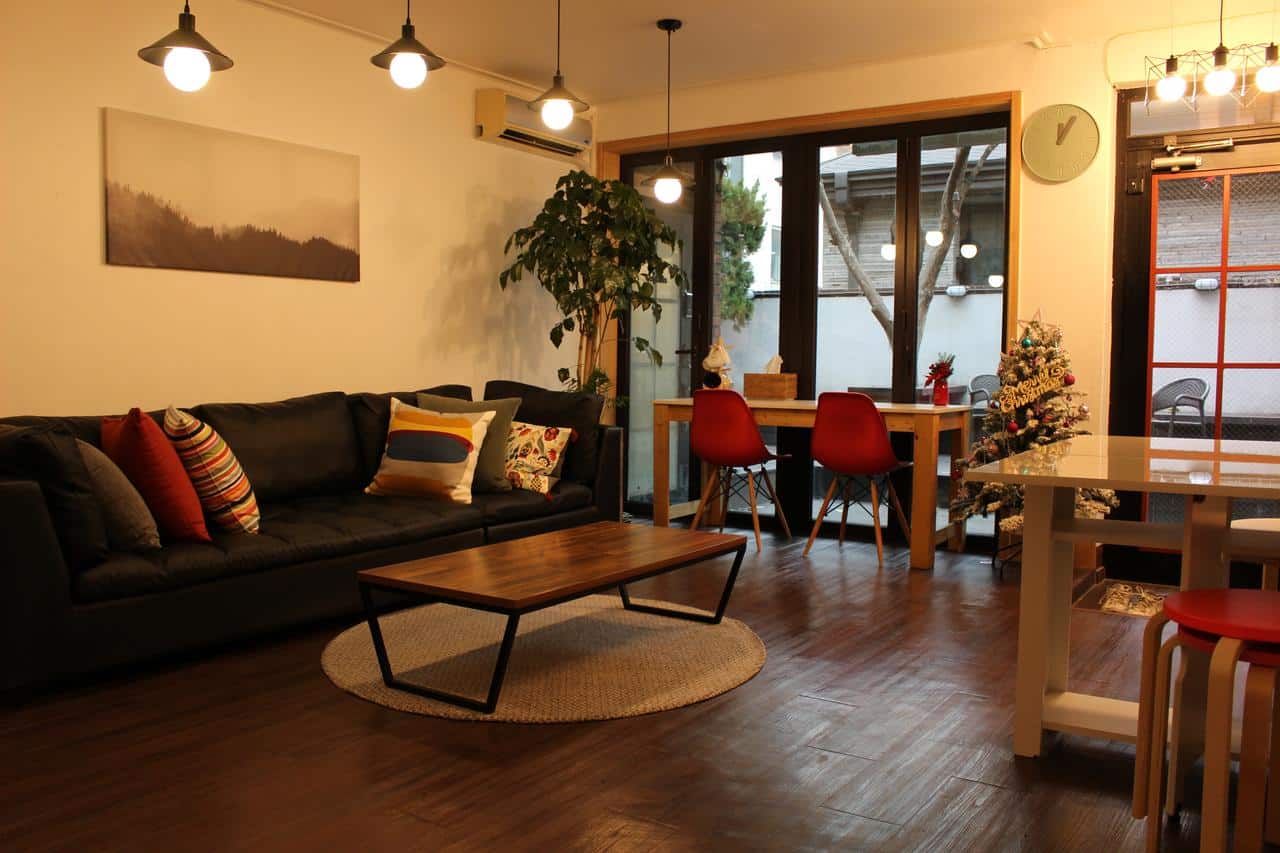 We also loved Time Travelers Relax Guesthouse Seoul that we added it on our list. Several guests loved its homey interior, but that's just the icing to the cake. You could have a relaxing sleep inside the hostel thanks to its facilities and perks. But then again, those are not the only things which it provides. Time Travelers Relax Guesthouse Seoul is a great avenue for travelers who are looking for fun everywhere. So, you could enjoy games, beers, romantic novel books (we have a few of our favorites), trendy paintings, and trick arts, among others.
As for the rooms, you could avail of mixed or female-only dormitories which could accommodate up to eight persons. However, you could also opt for twin rooms and double rooms if you are traveling with your partner. Inside the room, you could avail of high-speed Wi-Fi, air conditioner, coat hanger, heated floor system, and a 24-hour hot water system.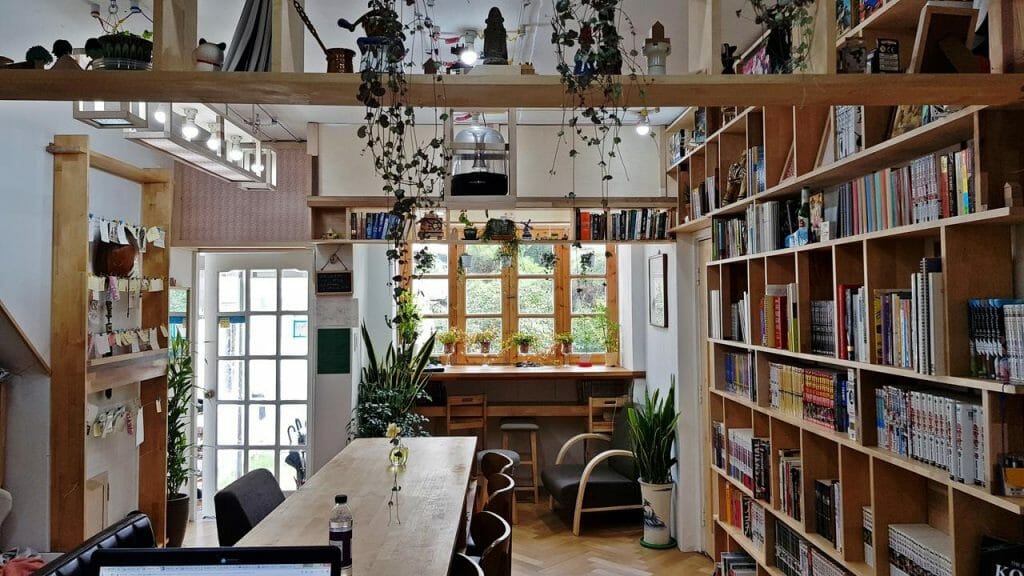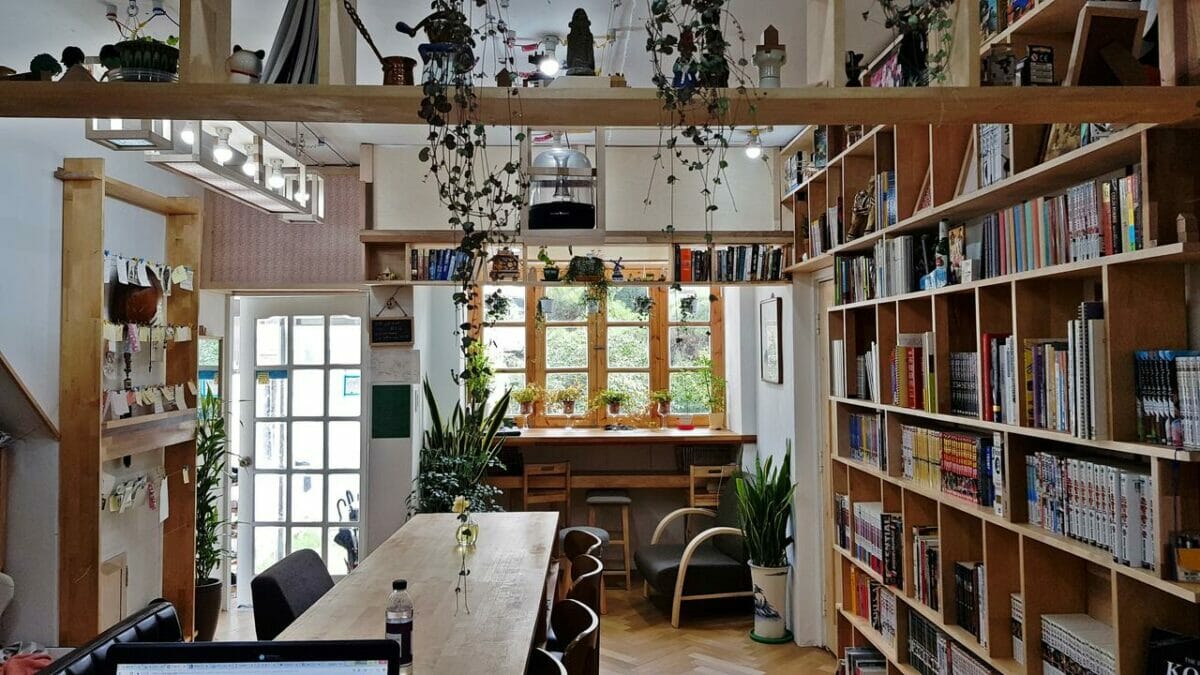 Traveling long distances could be quite tiring, but we could certainly remedy that upon checking in at Hongdae Lazy Fox Hostel in Seoul. This gay hostel is known for being comfortable and relaxing. At the same time, it is home to several unforgettable memories. The staff members of this hostel treat every guest like a family, so you will never feel like you left home.
Inside this hostel, you could avail of various rooms depending on your needs. If you come with your friends, you could avail of a male-only, female-only, or a mixed dormitory which could accommodate up to eight persons. If you are traveling alone, or you are with your partner, you could always select from the single, double, twin, or triple rooms. Inside each room, you could avail of high-speed Wi-Fi, coat hanger, and air conditioner.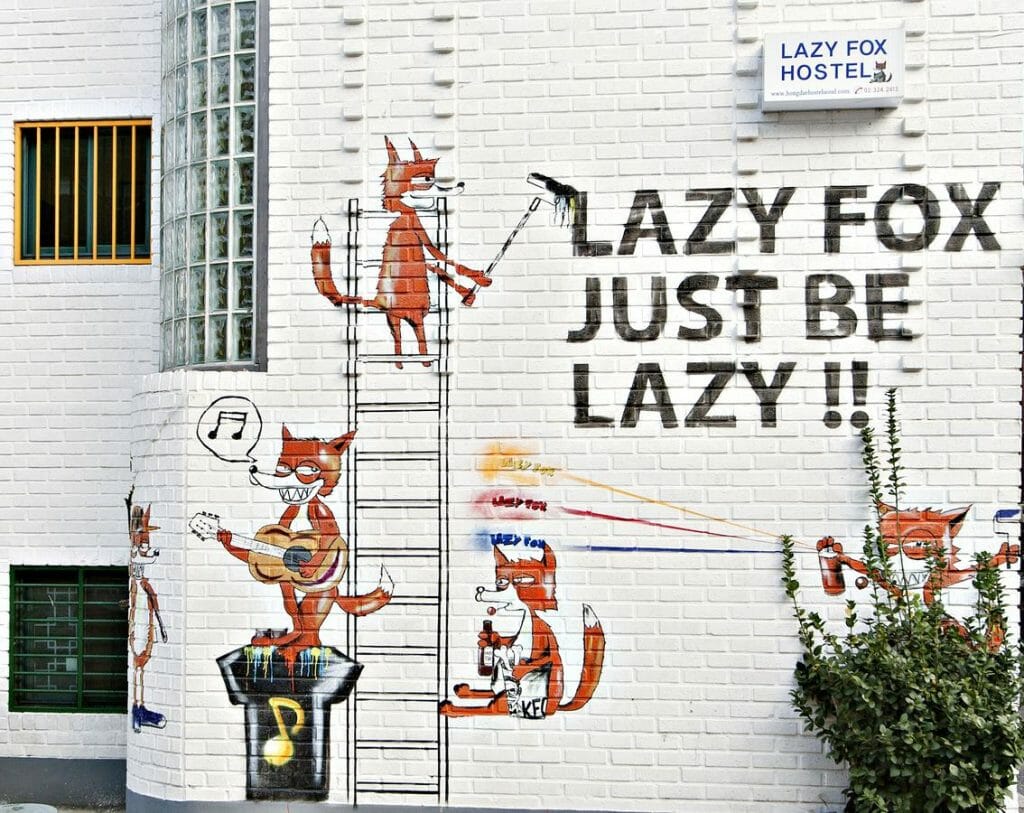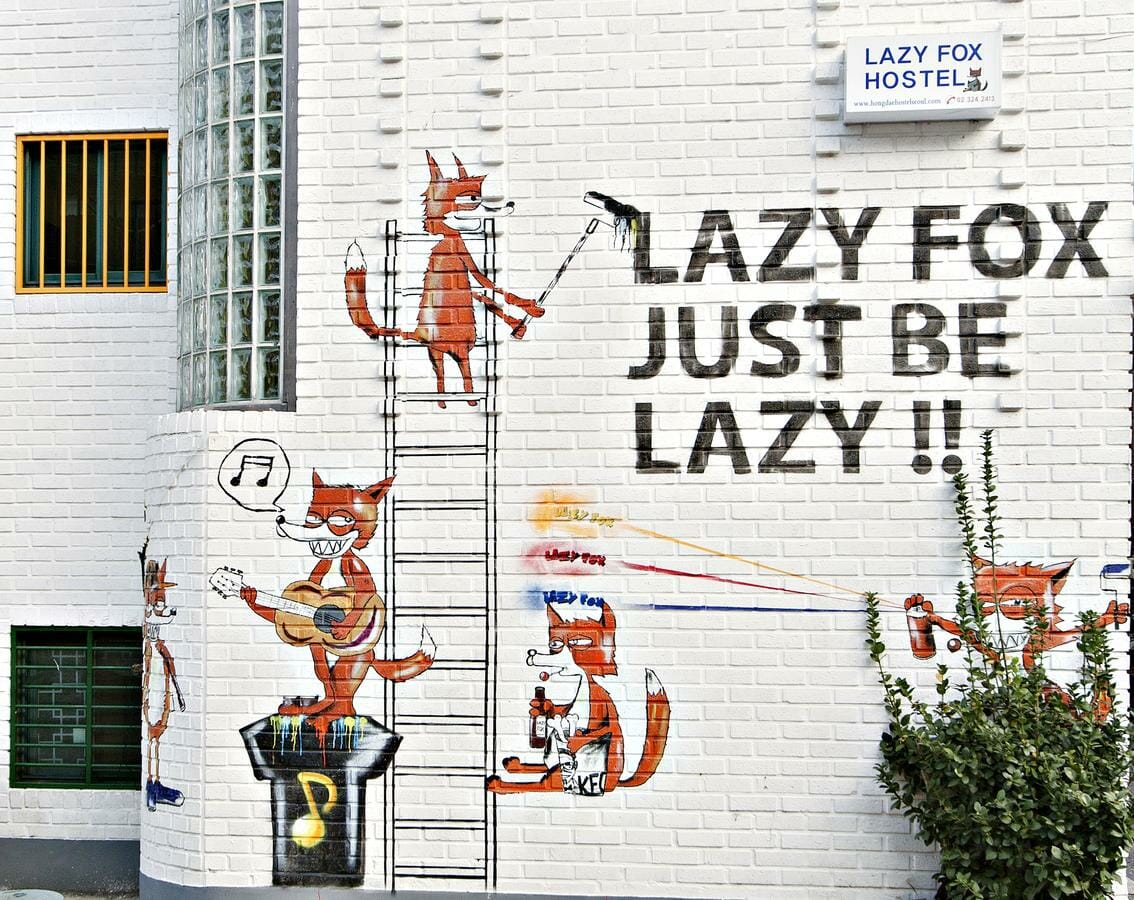 The JA in Gangnam is an ideal gay hostel for those who are looking for fun and relaxation. Located, in the Gangnam area of Seoul, this hostel offers accessibility to significant town facilities. These include the Gangnam Subway Station Street, the Platinum Microbrewery, and the Club Gangnam Station, among others.
Female-only and mixed-gender dorms are available at this hostel. These rooms exude an atmosphere of peace and harmony. The rooms come with amenities such as breakfast, clean sheets, towel, and free Wi-Fi.
There is no need to look for another place to unwind because, after a good rest inside your room, you could also try out its available recreational facilities such as the garden, kitchen, and hot showers. There is also a luggage storage and a free private safety box at your perusal. With its facilities and its central location, we could safely conclude that the JA in Gangnam is one of the best gay hostels in Seoul.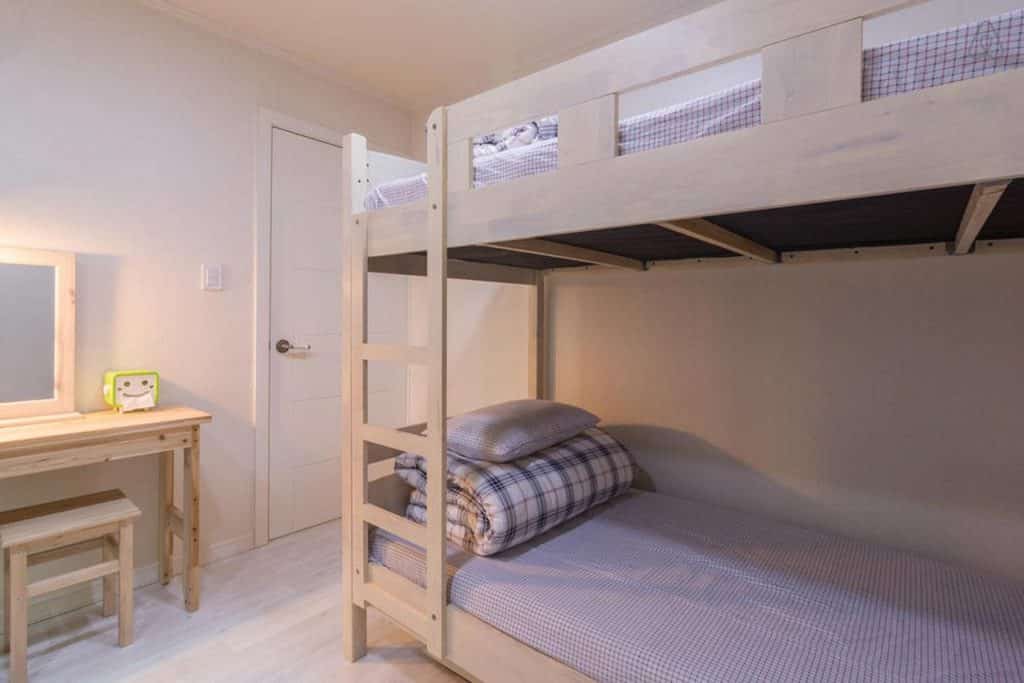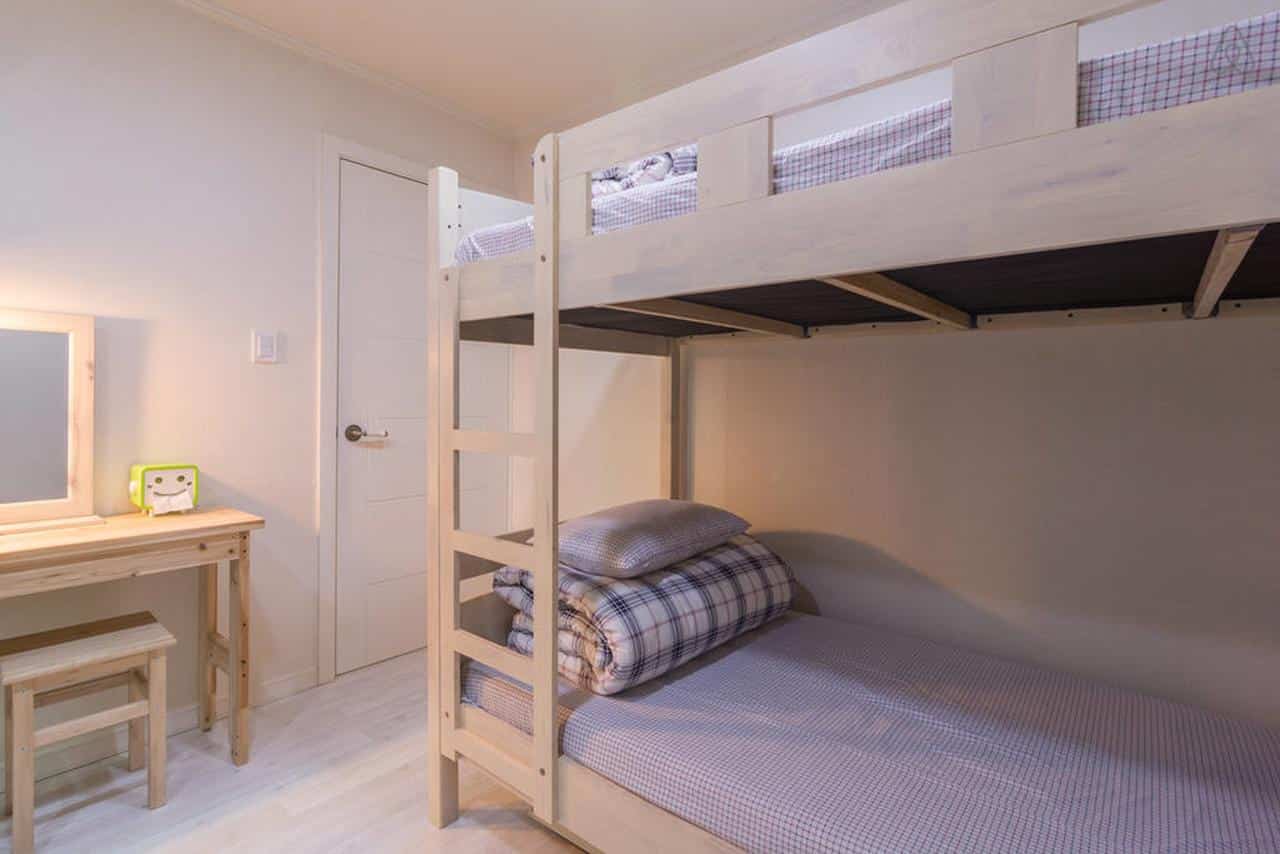 Completing our list is the Insa Hostel Insadong. Located at the heart of Seoul, this gay hostel is walking distance to several cultural attractions such as the Changdeokgung Palace, the Gyeongbokgung Palace, and Myeongdong, among others. It is also near several gay scenes, making it a great hostel for queers who are looking for a night out.
This hostel comprises 14 rooms which include male-only or female-only dorms, and private rooms. These private rooms could accommodate up to four people. All of the rooms have private bathrooms. You could enjoy amazing views on the rooftop while eating your breakfast. Other free services include the kitchen and the reception area.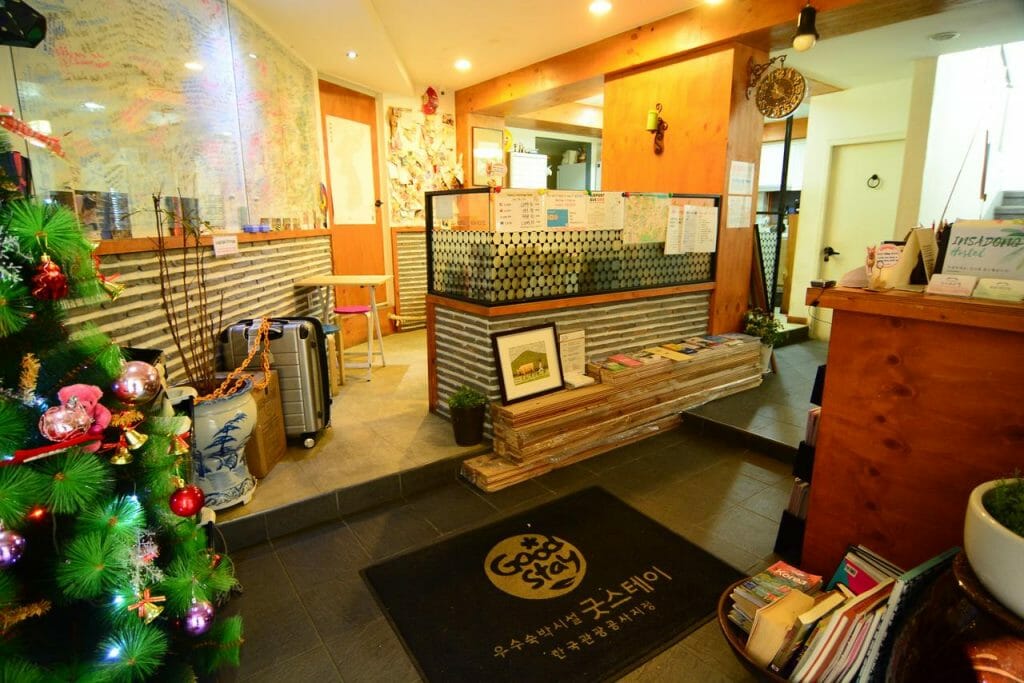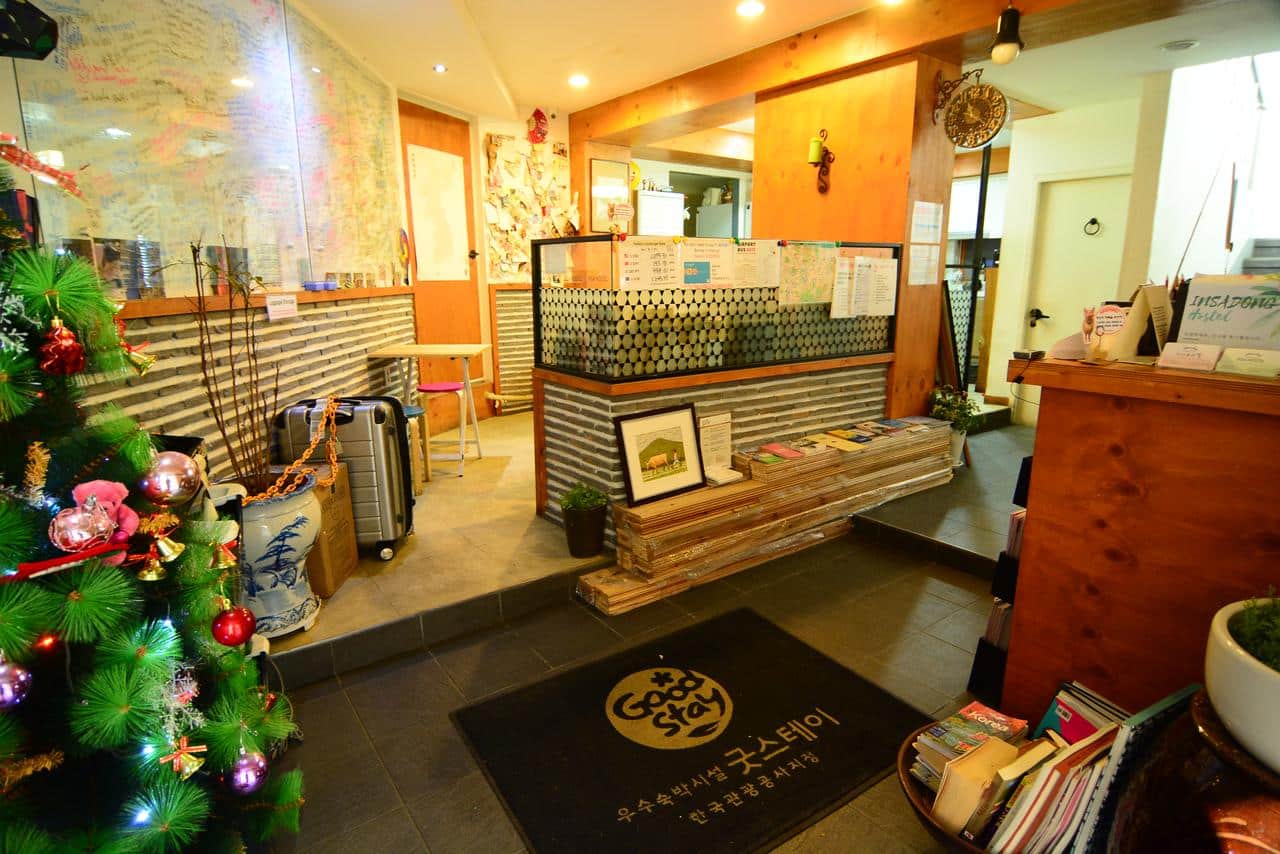 [button title="Not Quite What You Were Looking For? Why Not Explore All These Other Fabulous Accommodation Options Now…🎉" link="https://queerintheworld.com/go/global-hotel-search/" target="_blank" align="center" icon="" icon_position="right" color="#FF1493″ font_color="#ffffff" size="2″ full_width="" class="" download="" rel="" onclick=""]