Aguascalientes is the capital and most populous city in the Mexican state of Aguascalientes. It is worth noting that the bulk of the LGBT population in Aguascalientes may be in the capital city. Moreover, every year in June, the city hosts a Pride March.
Aguascalientes is a state rich in history, culture, customs, and natural beauty. It is situated in Mexico's Bajo area, bordering Jalisco to the south and Zacatecas to the north. It was named for the natural hot springs that may be found nearby. Its landmass is well-equipped to provide guests with a broad selection of experiences according to their interests.
Aguascalientes is considered one of the top three safest cities in the country and a city that offers its residents an extraordinary quality of life. In addition to serving domestic destinations, the city's international airport connects to several major cities in North America.
Aguascalientes has long been recognized for its historic railroad and textile businesses. At the time, the state is well-known for its winemaking industry and the National Fair of San Marcos, Mexico's biggest and one of Latin America's largest fairs.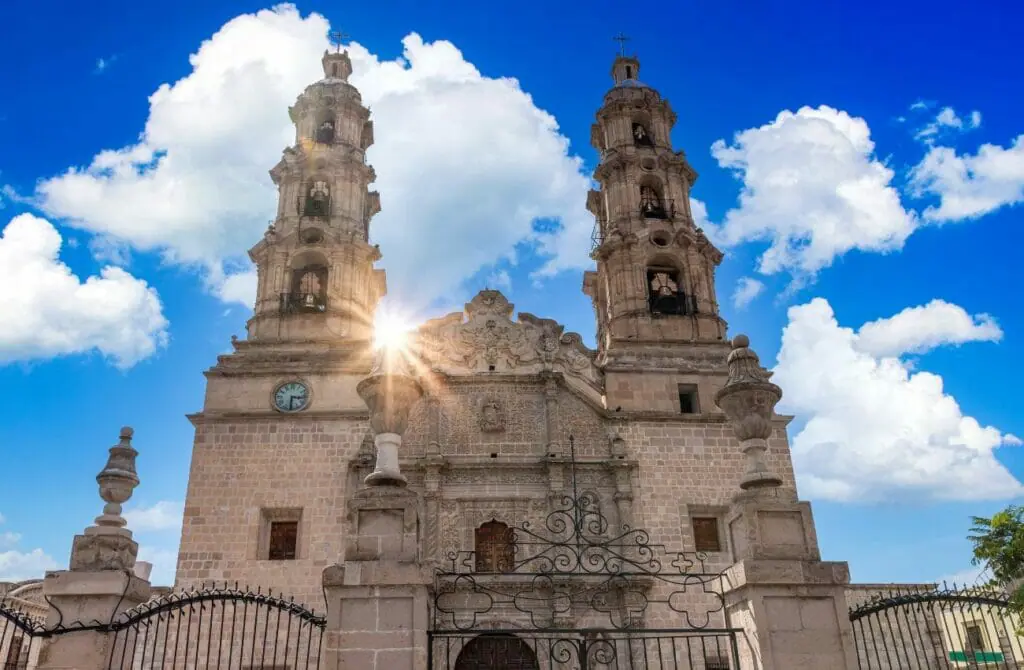 On April 2, 2019, the Supreme Court of Justice of the Nation ruled that the state's restriction on same-sex marriage violated Articles 1 and 4 of Mexico's Constitution. As a consequence of this decision, same-sex marriage became legal in Aguascalientes. The decision, which legalized same-sex marriage in Aguascalientes, took effect on August 16, 2019, the day it was published in the Official Gazette of the Federation.
Gay visitors to this city may expect to participate in a wide range of exciting events. Aguascalientes is a city in Mexico that offers visitors many things to enjoy.
These activities include attending the San Marcos Fair festival in April and May, discovering its historic center with its beautiful cathedral designed in the Tuscan neoclassical style, appreciating the exhibitions, parks, and fountains of the Museum of Aguascalientes, and strolling through the city's streets and admiring its colorful stone homes.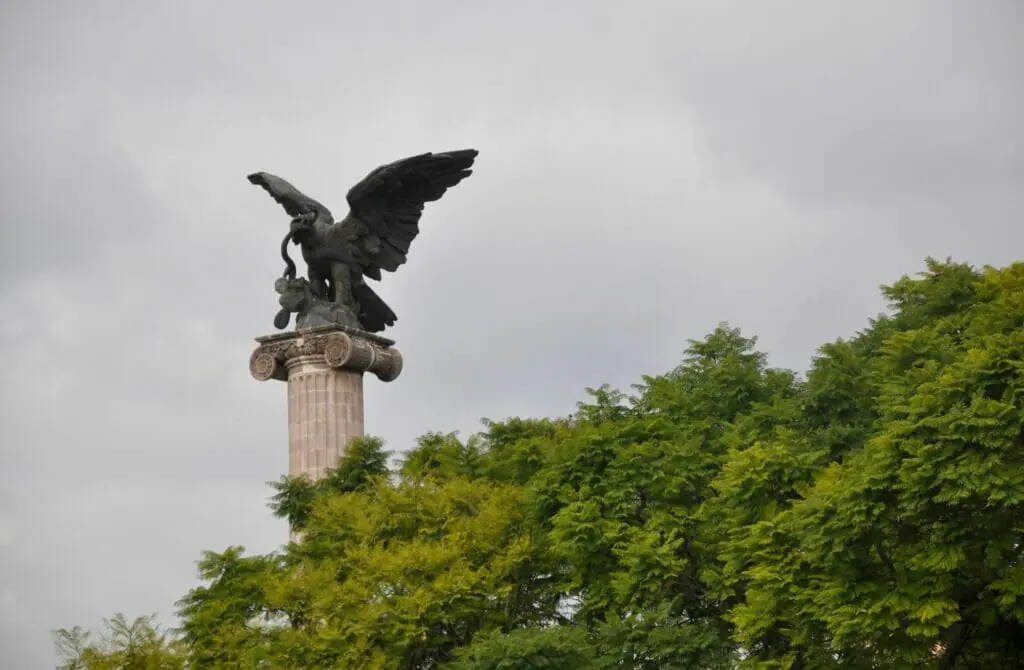 Attractions in Aguascalientes, Mexico
Welcome to Gay Aguascalientes, darling! While the city may not be the most welcoming to the queer community, fear not! There are still plenty of fabulous things for you to do while keeping things low-key. First and foremost, you must visit some of the city's most iconic landmarks and attractions, dahling!
Take in history and culture by visiting museums, art galleries, and historical monuments. And don't forget to marvel at the stunning architecture, explore parks and gardens, and indulge in the local cuisine. But that's not all, darling! Gay or straight, there's always something to do in Gay Aguascalientes.
Immerse yourself in the local culture by attending cultural events like festivals, concerts, and shows. Trust us; there's always something fun and exciting happening in this fabulous city. Remember, discretion is key in a city that's not always welcoming to our fabulous community. So, keep it lowkey and enjoy all the wonderful things Gay Aguascalientes offers!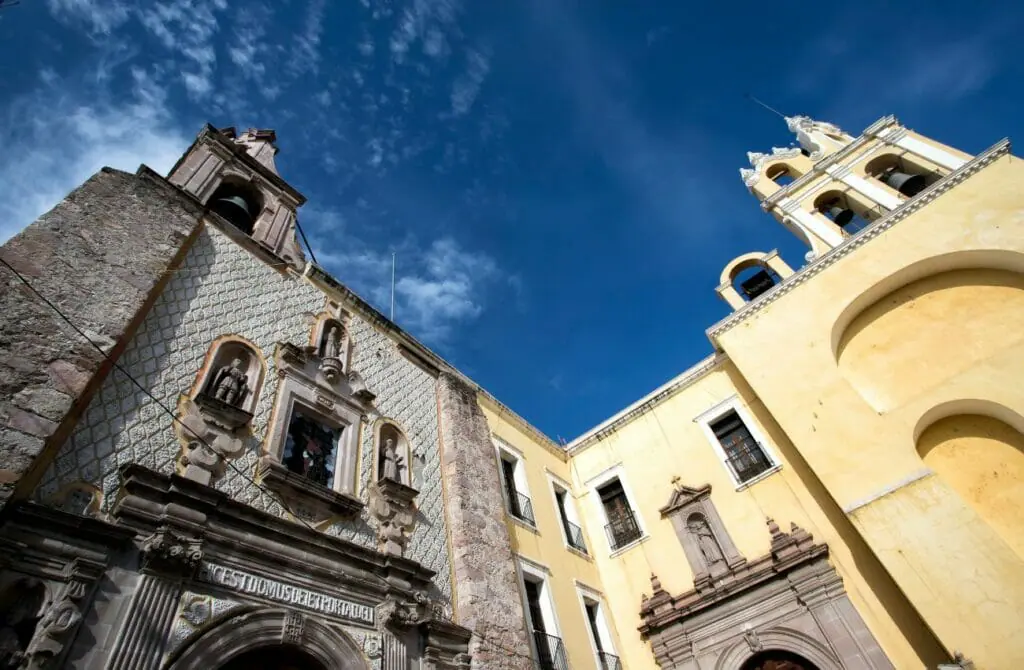 Patio De Las Jacarandas
This spot, which has plenty of shade and is located in the city's heart, is ideal for relaxing and doing nothing. When you need to unwind, you may try reading a book, snuggling up with your significant other, or using the free internet to plan your next move. This patio was designed to resemble the jacaranda tree in its many forms throughout the year, and it has a canopy made of water-jet cut aluminum.
It is popularly believed that the arrival of jacaranda blossoms, which normally occur in February, marks the beginning of spring. Various statues and fountains may also be seen on one side of the plaza. You will be utterly ignorant of how swiftly the hours have passed while sitting here!
Castillo Douglas
This stunning structure, also known as Castillo Ortega, is a mansion constructed to seem like a castle. This edifice, which has been precisely reconstructed to appear exactly like a medieval castle, is one of Aguascalientes' most popular tourist attractions.
A stained-glass window, turrets, drawbridges, battlements, and battlements are also included. A descendant of a Scottish emigrant commissioned the building of a residence with more than a passing similarity to a Scottish castle.
Templo De San Antonio De Padua
This lovely structure, situated in the city's historic area and featuring an eclectic combination of architectural styles, had substantial repairs in 2008 to commemorate the building's 100th birthday. Take in the rich history that permeates this majestic tower, which has paintings and sculpted flowers that cover the beautiful inside of the dome.
This tower, completed in 1908 and occupying a prominent spot in the city's skyline, was built by Refugio Reyes Rivas, who had no formal architectural experience. This wonderful shrine is made of yellow limestone and has several paintings depicting numerous miracles alleged to have been accomplished by the patron saint.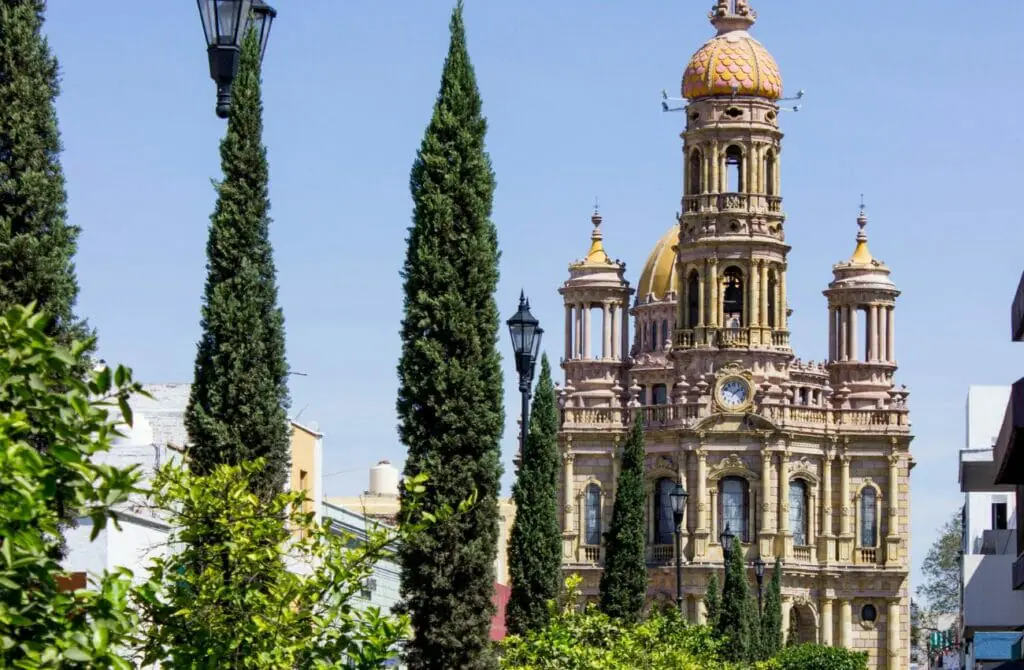 Museo Espacio
The contemporary art museum, characterized by its glass-paneled floors and elegant furniture, has an intriguing collection of exhibits. This is a fun way to spend the day since it displays the work of well-known local and international artists in artwork and sculptures.
The building's particular architectural design provides a one-of-a-kind character to the pieces on display, making visiting a memorable experience for everybody. The museum's current location was once a train maintenance facility. There is also a café on the property where you may mentally reflect on the beautiful works of art you have just viewed while resting with a cup of coffee and enjoying quiet.
Jardin De San Marcos
A public garden named the Jardin de San Marcos can be located in Aguascalientes' historic core, the Barrio de San Marcos. The exquisite archway that serves as the entrance to this serene 1847 garden is a clear clue to its antiquity.
It has a large selection of plant and tree species to pick from. Pathways weave their way around the garden, and each is bordered on each side by an iconic bronze statue representing the surrounding region's culture.
This green space is home to a vast array of plant and tree species from across the globe. This is an excellent area to go for a walk, a jog, or to watch people go by; plenty of benches are nearby if you need to catch your breath.
The use of fountains and iron balustrades brings the whole scenario together wonderfully. The garden was extensively renovated and reopened to the public in October 2009, with additional elements such as statues portraying ordinary people who may have formerly lived in the region. Every year, the well-known San Marcos fair is held here.
Enjoy this beautiful combination of natural beauty and historical importance while you collect your thoughts or relax after a long day of sightseeing. The garden is particularly popular during the National Feria of San Marcos, which also bears the event's name.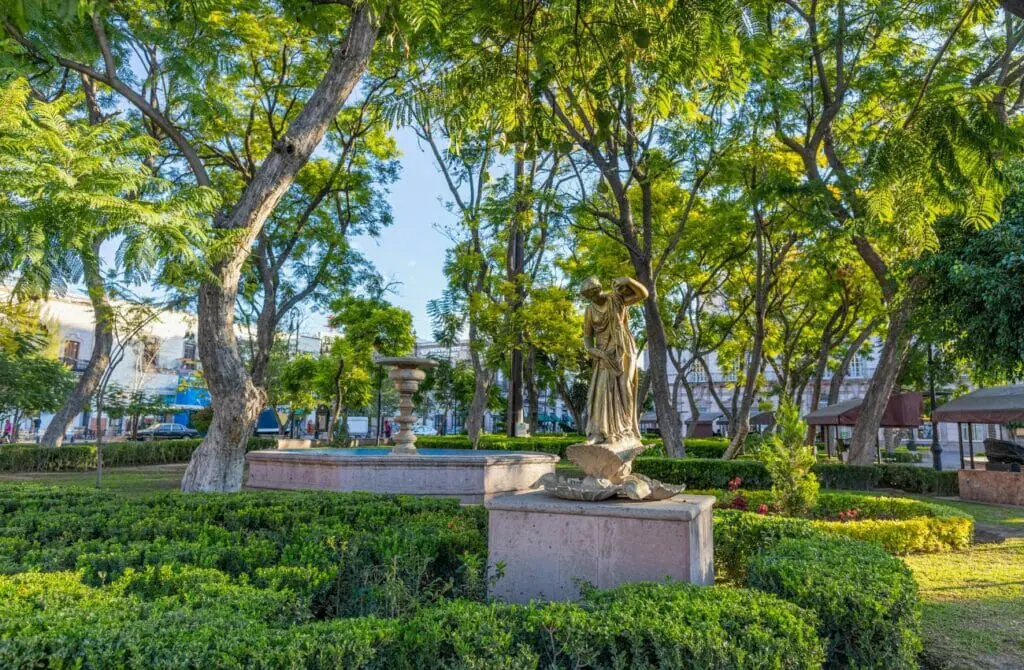 Museo Rafael Coronel
Visitors to the Museo Rafael Coronel may see an outstanding collection of Mexican folk art. Zacatecan artist Rafael Coronel collected the pieces currently housed among the ruins of the 16th-century Ex-Convento de San Francisco.
The tower is encircled on all sides by high walls of beige stone, and its interior is elegantly manicured with courtyards. More than 16,000 art items, including masks, drawings, ceramics, puppets, musical instruments, and colonial furniture, may be found here. His mask collection, dubbed "The Face of Mexico," is the main attraction and is widely recognized as the most comprehensive worldwide.
Baños Termales De Ojocaliente
What better way to revitalize oneself while on vacation than to soak in warm thermal water with medicinal properties? After you've had your fill of visiting the city, go to the Baos Termales de Ojo Caliente. In 1831, this popular tourist site opened its doors to the public.
There is also the option of renting out private pools for large groups or families to use, and even very young children consider the water in these pools completely safe. It is a beautiful spot for people of all ages to gather and unwind, allowing their problems to melt away.
Parque Tres Centurias
Parque Tres Centuries, built on the Old National Mexican Railroad Station grounds, allows visitors to learn about the history of railroads and trains in the Aguascalientes region. This is a great place to spend the day since it features a historical complex, a railway museum in a 19th-century railroad station, and historical monuments and fountains.
You can take your time wandering the large plaza and taking in the massive displays curated from the nineteenth, twentieth, and twenty-first centuries. Please view some of the most historic locomotives and the bronze memorials erected in their honor to commemorate the station's devoted personnel.
You may learn about railway history by visiting the modest museum, and don't miss the fountain show, which is interesting for people of all ages but especially for children. An information desk, as well as a neighboring restaurant and facilities, are accessible for assistance. You can roam about the building and its grounds at your own unhurried pace.
Visitors of all ages will appreciate their visits to this intriguing place, which also acts as a host for various events. This venue is often utilized for various events, such as expos and conferences. As a result, you may uncover a fascinating new activity to participate in while your holiday.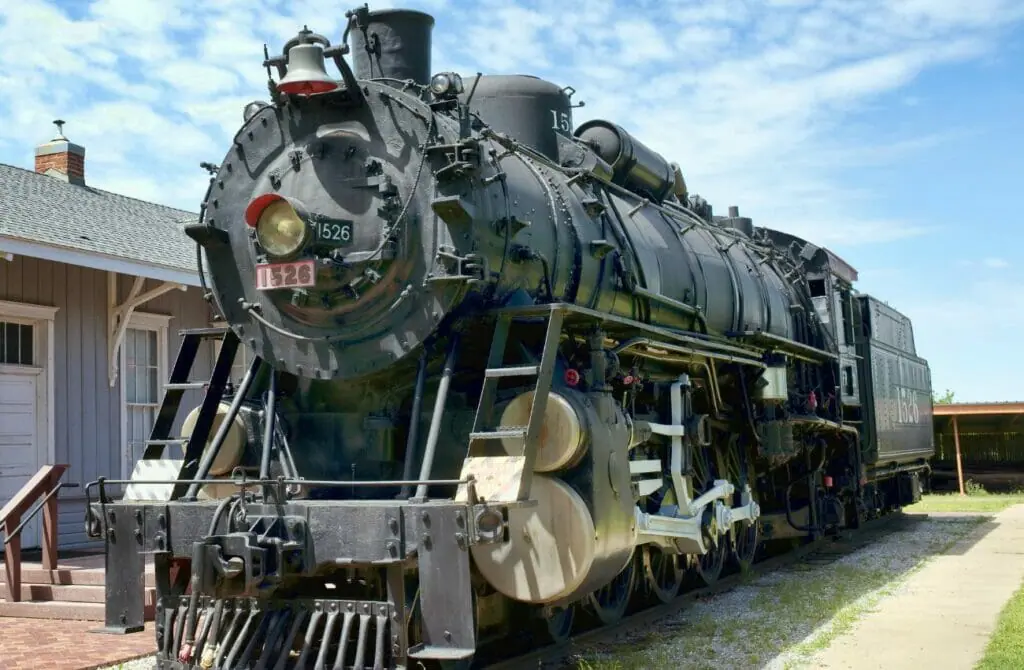 People who want to try new things should travel to Boca de Tunel since it provides a terrific chance to have a lot of fun in the great outdoors. When flying through this terrain, passing through ravines, and landing at Portrerillos Dam is an incredible experience.
In addition to strolling over one of the park's 13 suspension bridges, you may take a guided journey to the bottom of the dam. You may make the most of your vacation by camping near the dam and swimming in the natural pools. At this point, you may also take a boat ride over the dam. This is a good day trip destination due to its position on the outskirts of Aguascalientes.
José Guadalupe Posada Museum
Given that the city is the birthplace of the renowned Mexican graphic designer, it is only natural that there should be a museum dedicated to his works. You can examine the printed plates he used to create his works of art, many of which include his signature. Posada is widely known for depicting the close link between life and death.
He started his profession by supplying illustrations for newspaper stories and survived the Mexican Revolutionary War. The museum opened in 1972 and is housed in a former priest's palace close to a beautiful church. Two galleries cycle various exhibits throughout the year and a collection of historic engraving instruments.
Vinicola Santa Elena De Aguascalientes
If you spend the day visiting a vineyard and sipping wine, you're in for an interesting and exciting day. This winery, nestled in Mexico's heart, has everything, including vines. Having the expertise required to plant high-quality grapes, harvest them at the appropriate time, and correctly process them will enable you to make wines of remarkable quality.
After listening to the trained staff describe everything, you will complete the session by tasting some of the wine. If you travel at the right time of year and during your stay, you may be able to view a vineyard just about ready to be harvested.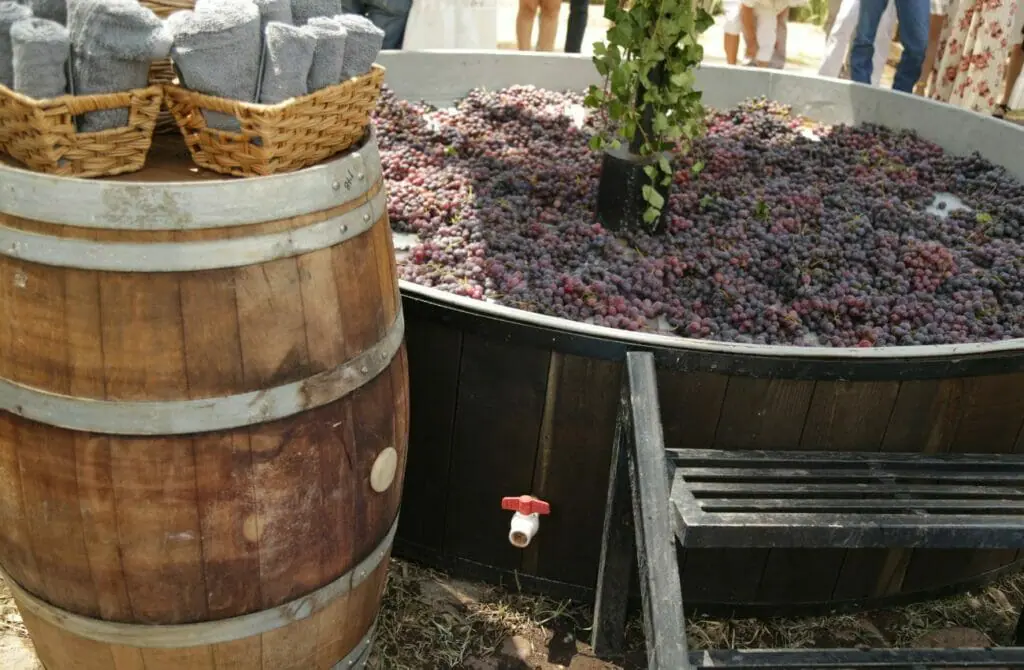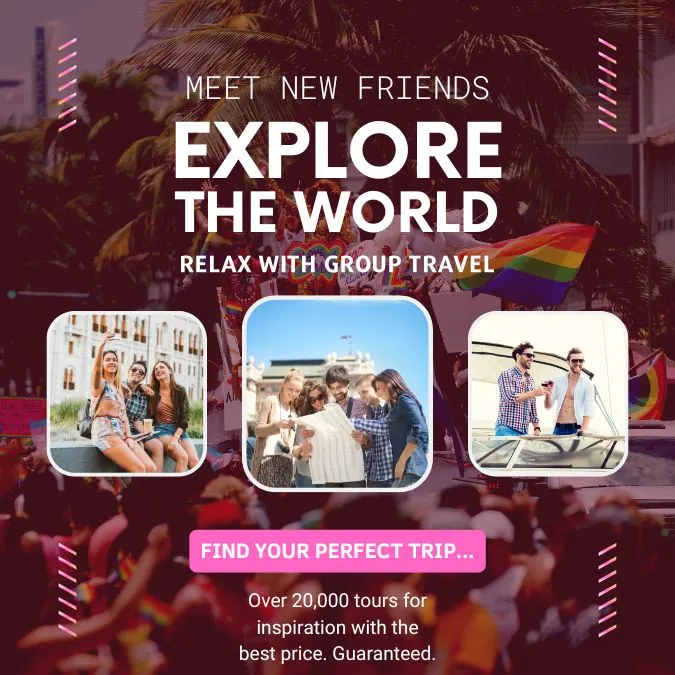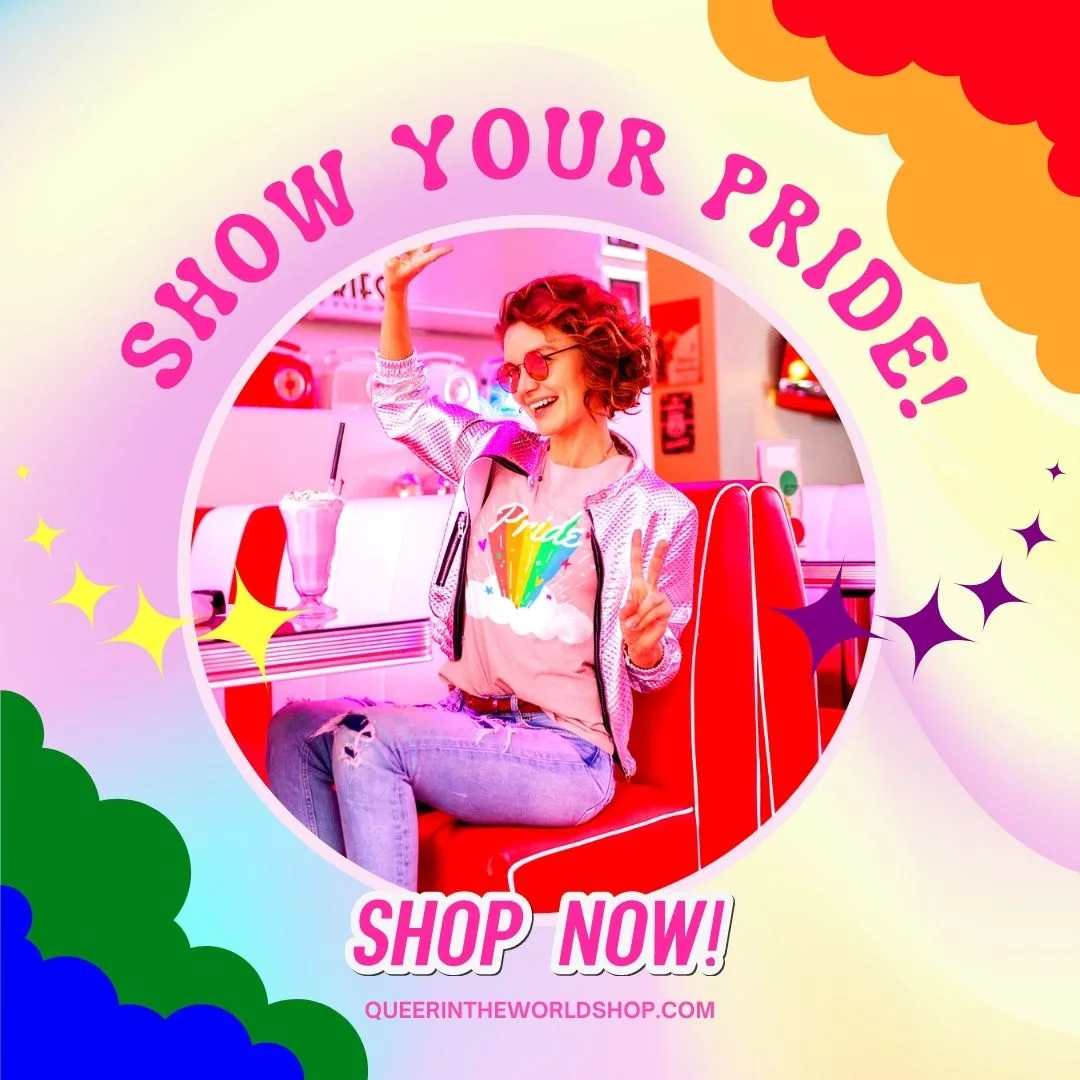 Gay-Friendly and Gay Hotels in Aguascalientes, Mexico
Oh, honey, let me tell you about being fabulous and feeling welcome at these hotels in XXX! Don't worry about other hotels that might not be as accepting; these gems are committed to being LGBTQ+ friendly and ensuring that all guests feel like they belong.
Being gay-friendly isn't just about waving a rainbow flag or using the right pronouns; it's about creating a safe and inclusive space for all guests. From non-discrimination policies to providing resources for LGBTQ+ travelers, these hotels go above and beyond to ensure you feel welcomed and supported.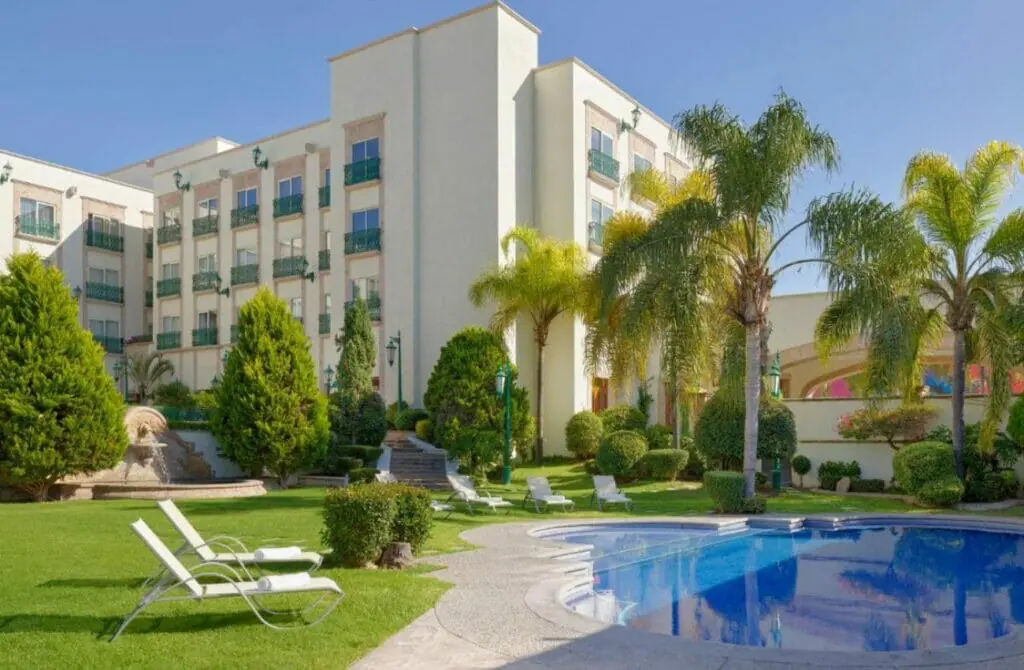 And honey, they don't stop there! Some of these gay-friendly accommodations have extra amenities and literature about local LGBTQ+ events and resources. Plus, they might even be located in an area known for being LGBTQ+ friendly. Now, let me tell you about these fabulous hotels in Aguascalientes.
While there aren't any specifically gay hotels or resorts, these are the crème de la crème of gay-friendly accommodations. And if these don't tickle your fancy, don't worry; there are hundreds of other options in Aguascalientes to fit your budget and needs. So pack your bags, wear your most fabulous outfit, and get ready to feel welcome and accepted at these gay-friendly hotels in Aguascalientes!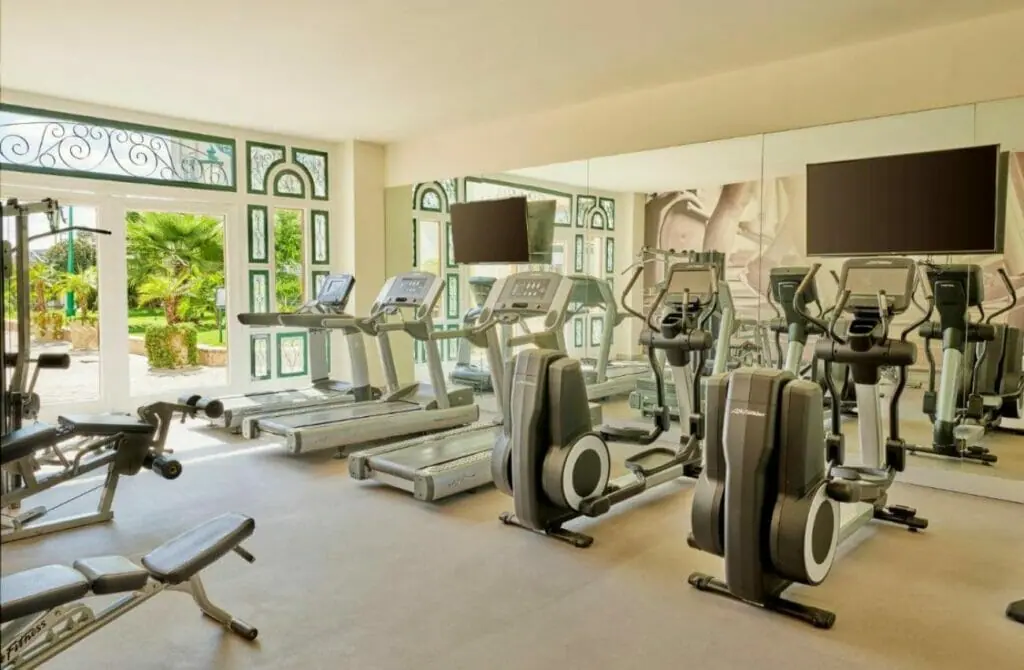 Fiesta Americana Aguascalientes ☆☆☆☆☆
The Fiesta Americana Aguascalientes is a five-star luxury hotel located next to the grounds of the Feria de San Marcos fairs. The stunning architectural style throughout the hotel will take your breath away as you step inside.
Because of the extraordinary attention to detail placed into the building's construction and the services given to you while on your tour, your visit here will be one you will never forget. This lovely colonial-style hotel will stay with you for a variety of very good reasons.
The hotel features a huge garden where guests can stroll in the evening to enjoy the natural surroundings' beauty. There is also a large outdoor swimming pool in the yard for tourists who like to swim or watch others swim in their tiny swimwear throughout the day. This amenity is available to guests who are interested in either choice. In addition, the hotel features a fitness center that guests may use at their leisure to burn off some extra calories.
The rooms are all well decorated on the interior, which you will enjoy. Your degree of comfort in the area was given careful attention throughout the design process. The hotel provides each room with a comfy bed and a fully equipped air conditioner to guarantee a pleasant sleep.
The La Fronda Restaurant offers traditional Mexican cuisine, seafood, and monthly events with a new theme every night. The Antioquia Bar is open till midnight and has international music and drinks from other nations.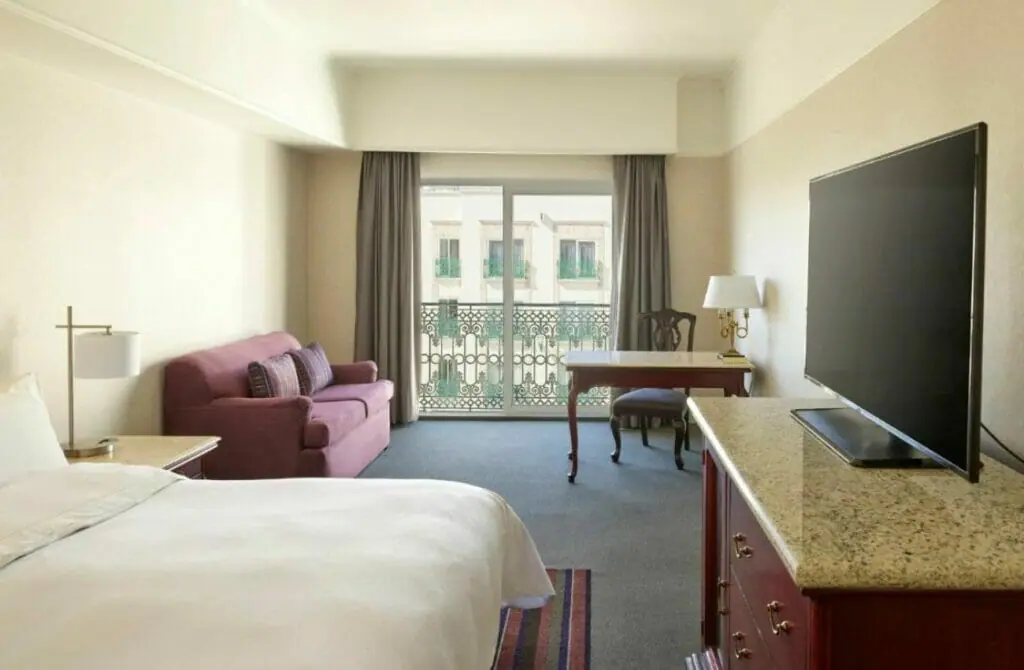 Hilton Garden Inn Aguascalientes ☆☆☆☆☆
The Hilton Garden Hotel Aguascalientes, located in Aguascalientes, is another excellent option for LGBT tourists seeking accommodation in Aguascalientes. The hotel ensures that each guest has access to all the essential amenities required for a good stay at the institution. The hotel provides free private parking for its guests, luggage storage, and other useful amenities. Guests would appreciate these features.
This great hotel offers the ideal setting for a restful night's sleep, making it the ideal spot to stay after a long and eventful day. It would be tough to resist the desire to spend the whole day lounging on the room's soft bed. Since our hotel greatly values your comfort, each room has essential facilities such as sitting areas and coffee makers.
The hotel has a wide range of activities that may be enjoyed anytime to keep you amused. Working out at the on-site fitness center may help you burn excess calories. In the morning, guests are served a complimentary breakfast, which may be eaten continentally, à la carte, or from a breakfast buffet.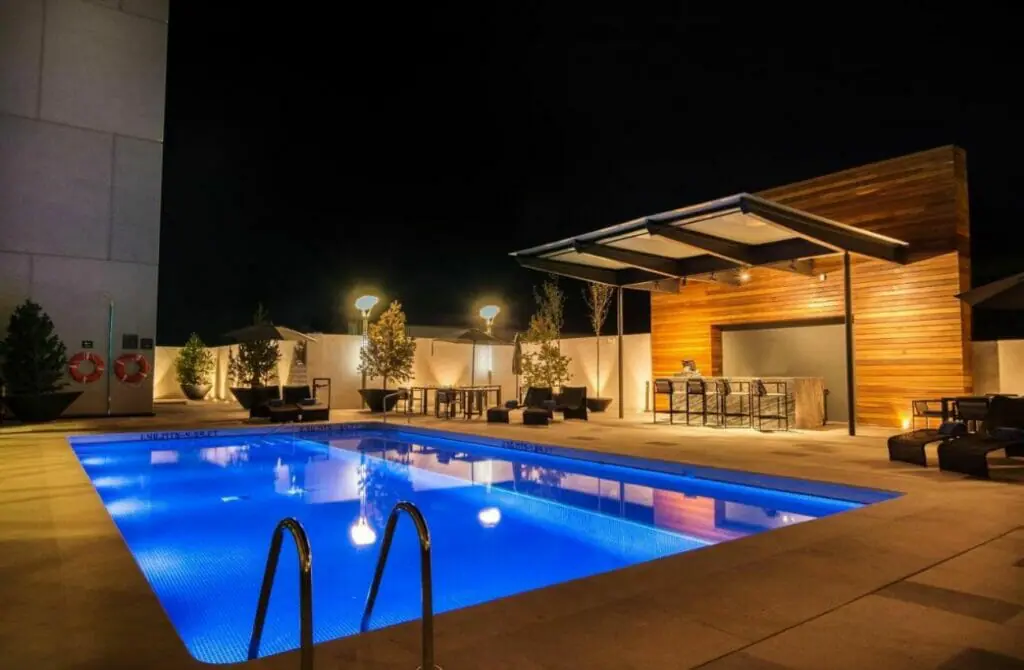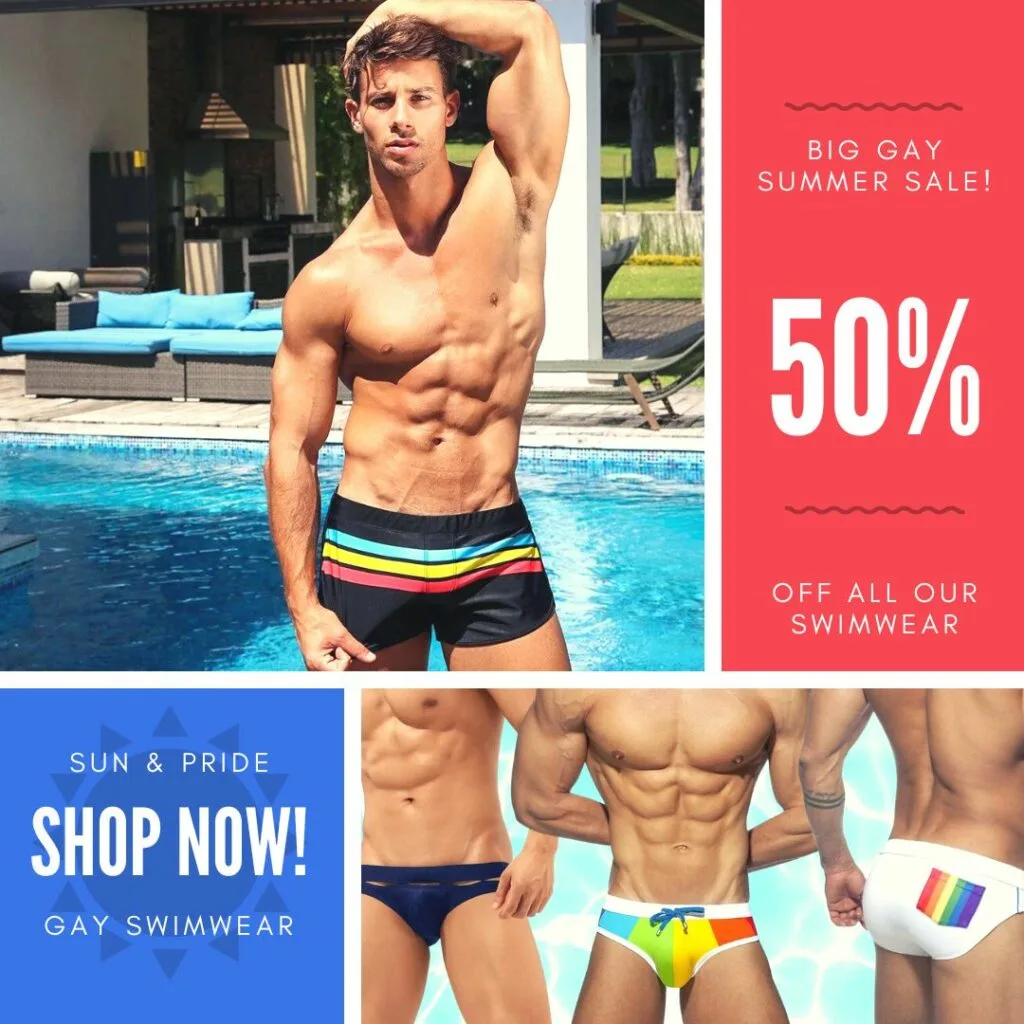 The Hostel la Vie en Rose is a modern and trendy hostel that uses its years of experience in the hospitality and tourist sectors to take its guests and travelers to a new level of comfort and pleasure. In addition, the hostel has a skilled staff that works hard to ensure that each guest's stay is memorable and noteworthy.
The Hostel la Vie en Rose is located in the center of downtown Aguascalientes. It is near the "Palenque," a well-known meeting area. Moreover, the hostel is close to several of the city's major sites and attractions. During your vacation, you may pick from a variety of hotels.
Your stay will be as pleasant and pleasurable as possible, owing to the hostel's numerous handy amenities. The rooms are spacious and attractively designed to accommodate various tastes. Moreover, they provide a range of housing alternatives, mostly dorms with capacities of 4, 6, and 8 people, which may suit the needs of even the most daring tourists.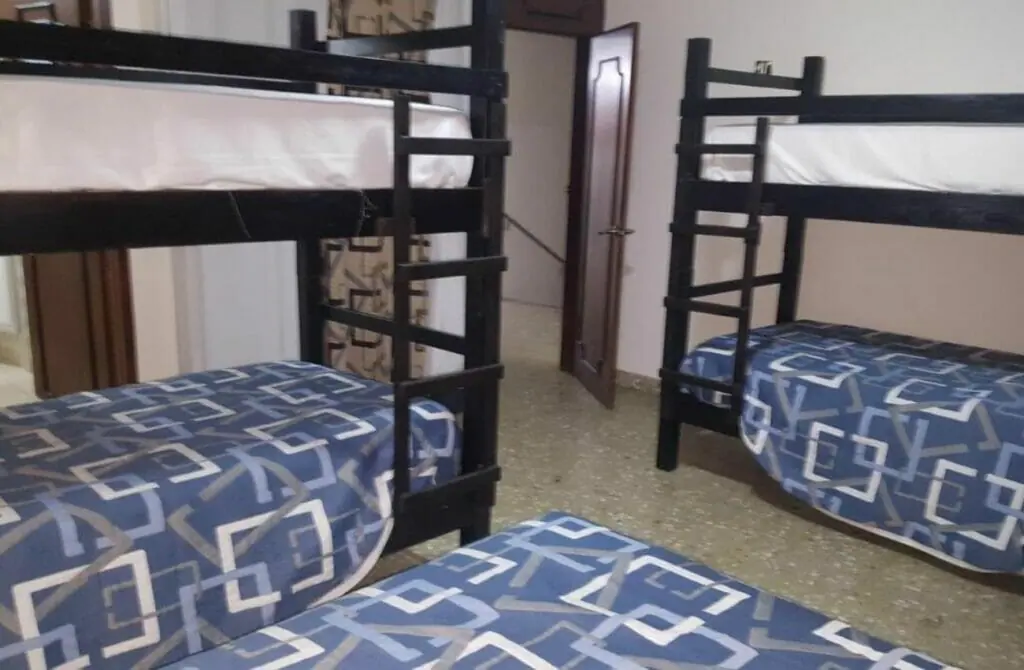 Gay Nightlife in Aguascalientes, Mexico
Aguascalientes has a thriving gay bar and club culture, which adds to the vibrant mood of the city's nightlife. You may enjoy a broad selection of alcoholic beverages, including cocktails and beers, while listening to live music at most of the city's pubs, clubs, and bars.
These places provide a large selection of alcoholic drinks. Following a long day in the city, we want you to be able to unwind and enjoy yourself.
Darling, let's talk about exploring the queer nightlife in Gay Aguascalientes, shall we? It's true this city might not be the most welcoming to our fabulous community but fear not! Being gay is perfectly legal here; remember to err on the side of caution when outside of queer-friendly spaces.
But let's focus on the fun, shall we? Exploring gay nightlife can be one of the most thrilling and enriching experiences while on the go. From dancing up a storm at a gay club to sipping cocktails and rubbing elbows with the locals at a gay-friendly bar, you'll have a chance to immerse yourself in the local culture and make memories that will last a lifetime.
And darling, we've got you covered with the best gay and gay-friendly spots in town. So don't be shy; step out of your comfort zone and explore the queer nightlife in Gay Aguascalientes. Trust us; it'll be worth it!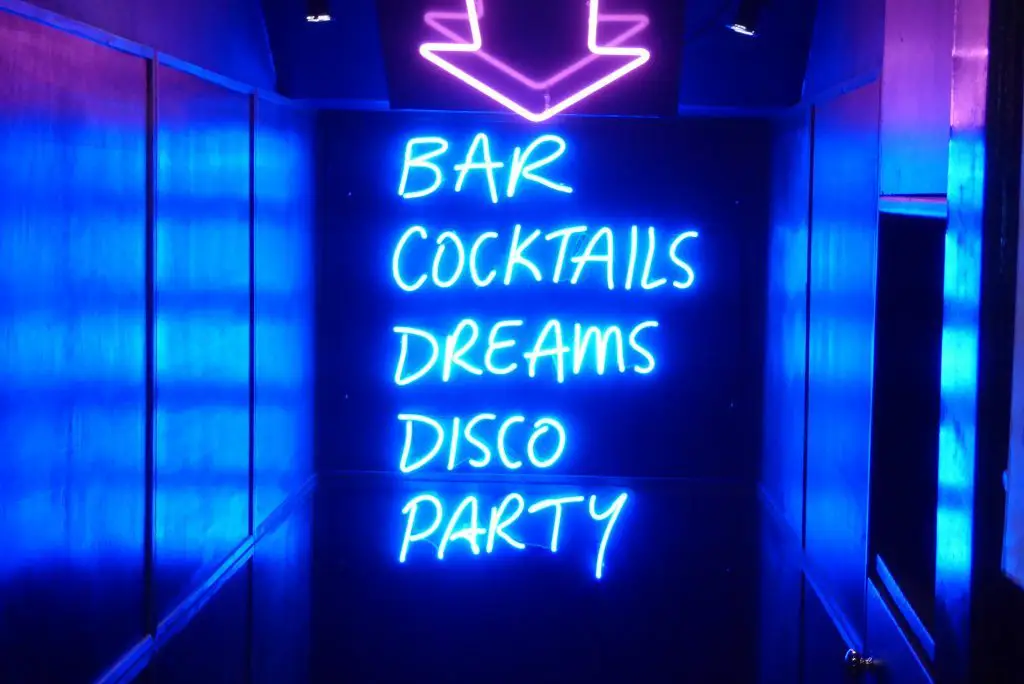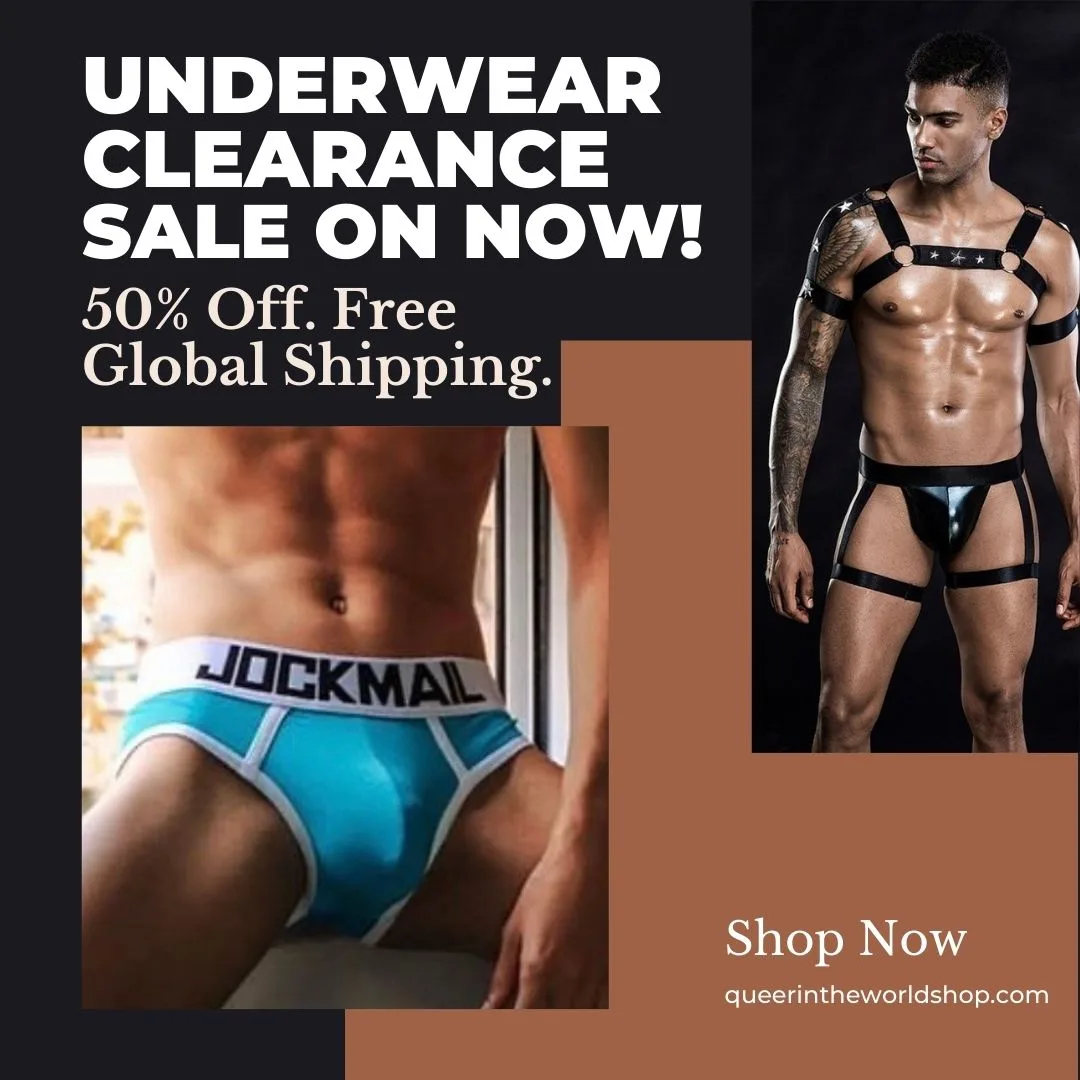 Gay-Friendly Bars and Clubs in Aguascalientes, Mexico
If you want to eat seafood cooked in a gourmet fashion and are ready to spend money on a delicious supper, this is one of your possibilities. This restaurant boasts outstanding service, good food, a large range of nice beers, and fair drink prices. Guests at Los Arcos enjoy a fantastic time from arrival until departure.
Following a day of touring in Aguascalientes, gay and straight visitors are invited to rest and relax at La Mexico, a sports bar in the city. It is a massive sports bar with a plethora of TVs. Guests may get their groove on to the rhythm of the music pouring from the speakers while they gorge themselves on their favorite beverages.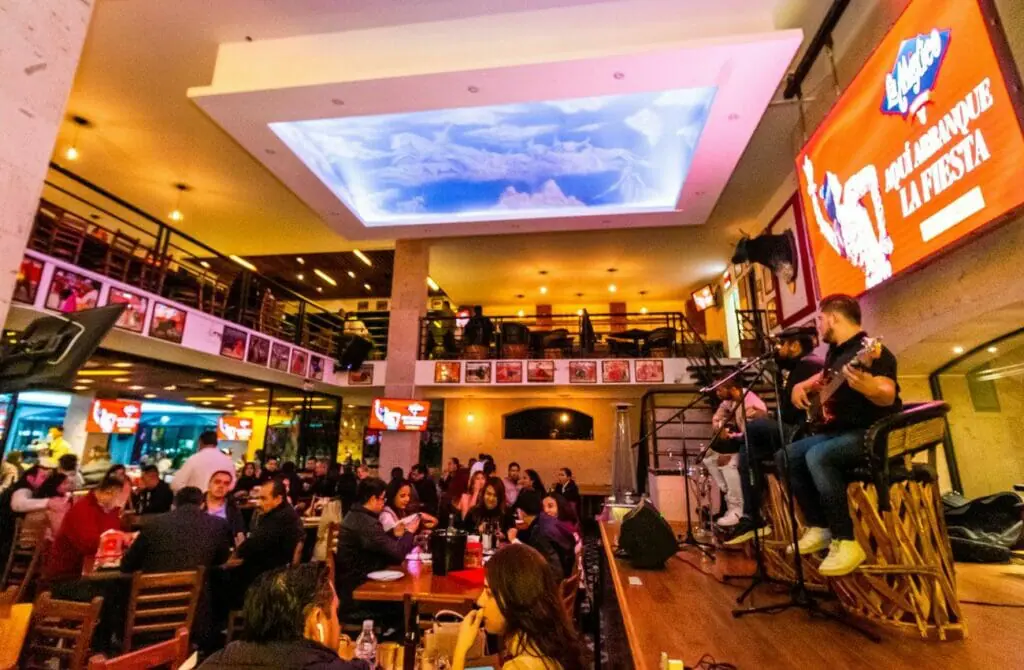 This tavern is a great spot to start the night with good music, chat, and drinks. Although the menu includes domestic and foreign alcoholic beverages, you should not leave without trying local brandy, aguardiente, or red wine.
Merendero San Pancho is very popular among Aguascalientes people searching for a location to consume huge quantities of food and drink since it has live rock music and big screens. If you have some free time, you should not miss the chance to visit any of their three sites.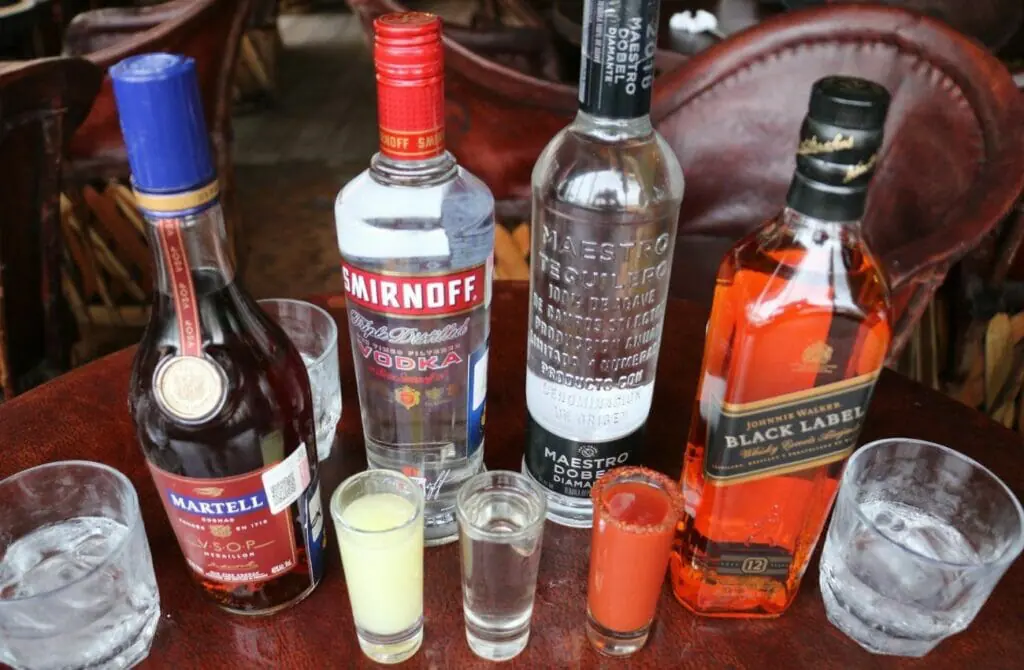 Café 664 is, without a doubt, one of the best places in town to have your favorite cup of coffee. Chilaquiles and cold brew, prepared in-house, are available for customers to try. Both are excellent. They also provide outstanding customer service and a diverse and comprehensive selection of alcoholic drinks, including beers and wines.
They also give many outlets for you to plug in your phone, free internet, and, to top it all off, unbelievably low prices. You really must see this place while in Aguascalientes.
Every night, at midnight, hundreds of young people and older people who are still youthful go to Nordik to enjoy the nightclub of the moment. At Nordik, you may dance to the beat of today's most popular rhythms till the sun comes up. In addition, this establishment boasts a good selection of the best beers and wines accessible.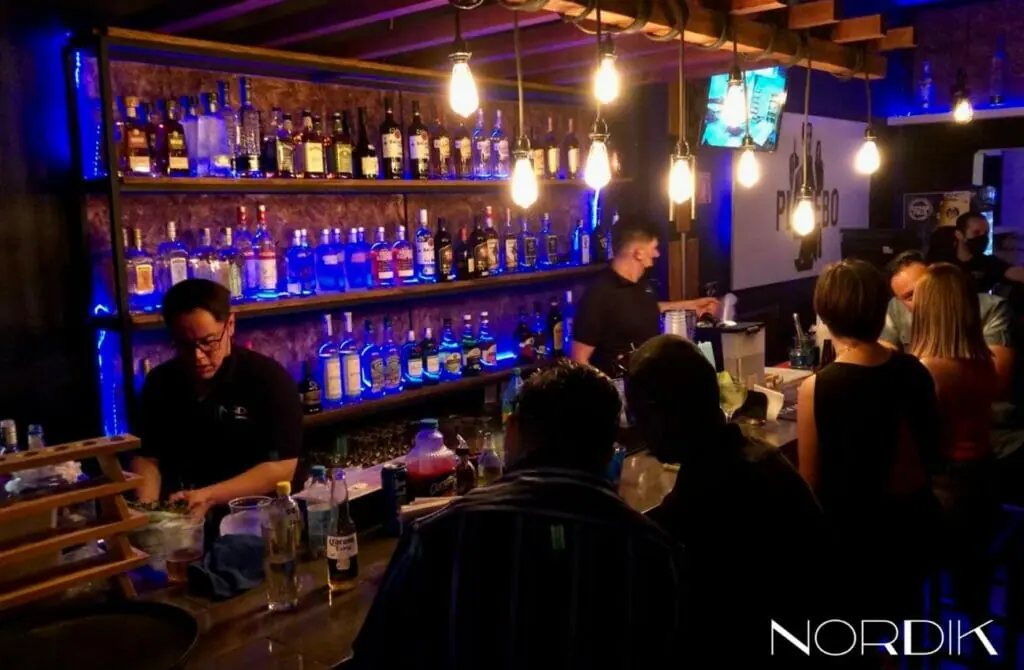 Gay-Friendly Cocktail Bars and Clubs in Aguascalientes, Mexico
This venue was warm and welcoming, with great artwork adorning the walls. The servers have been trained to be pleasant and kind to clients. You're going to love the enthusiasm that pervades this area. Guests may submit orders for a wide range of alcoholic drinks, including cocktails, of their choice.
Bar Huanusco de la Plaza is a house-made cocktail served in an Adobe vase with the correct amount of lime and sweetness, similar to a mojito or margarita but with depth and character, unlike any drink you've had outside of Mexico.
There are roughly a hundred varieties of tequila for your regular margarita or Michelada, so fun is the idea here. The beverages are outrageously inexpensive, and the bartenders never fail to smile. Its accessible position in the plaza is often crowded, but the wait is well worth it, especially at affordable prices.
This is the place to go if you want to enjoy a terrific Mexican evening with amazing food, beverages, and atmosphere. If it seems interesting to you, you should come here. This is a must-see destination in Aguascalientes. You may order meals from the menu or order a drink and wait for it to be served. The appetizers are complimentary as long as you continue to purchase beverages.
Generally, it's a nice place to eat outside in the evening. They offer a wonderful meeting area for the people of Aguascalientes! The drinks are excellent, and the menu is fantastic because it offers many alternatives.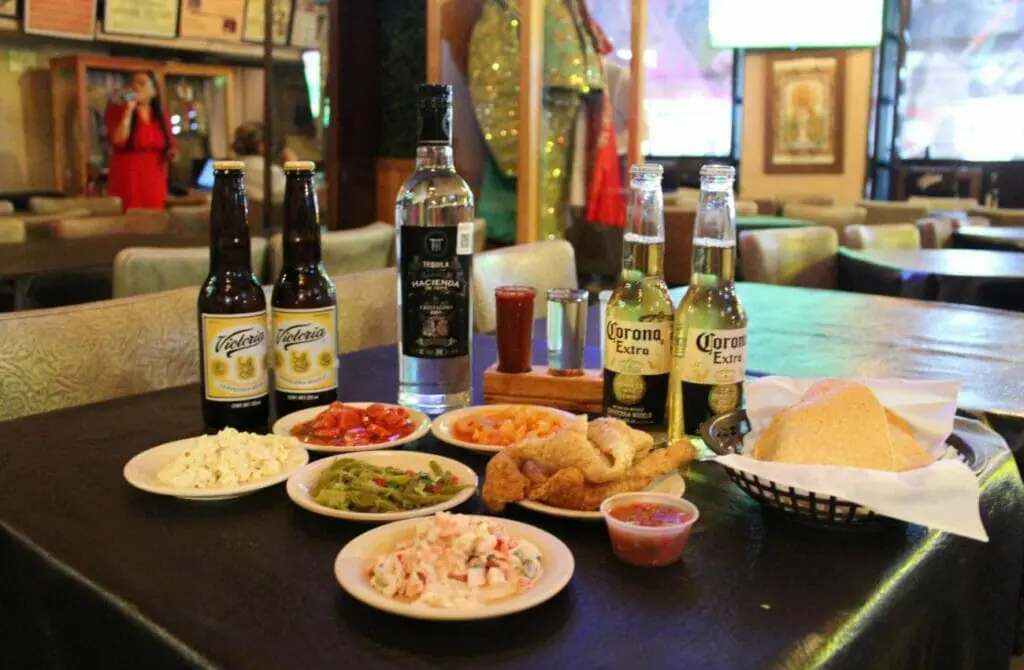 Gay Saunas & Cruising Clubs in Aguascalientes, Mexico
When exploring Gay Aguascalientes, there's more to life than cocktails and beers. One aspect of the gay scene that many of us queens love is checking out the local gay saunas and cruising clubs.
Granted, Aguascalientes isn't quite as wild as Amsterdam, Barcelona, or Berlin, but these steamy venues still offer the perfect opportunity to meet new people, socialize, and engage in some hot and heavy action without swiping left or right. However, remember that these venues can differ in terms of vibe, patrons, and rules, so it's a good idea to be informed before you dive in.
Gay saunas, sex clubs, and cruising have long been popular ways for queer men to meet and engage in sexual activity, particularly in countries where same-sex activity is not widely accepted or may even be illegal. In these places, gay saunas and cruising clubs provide a safe and discreet environment for queer men to explore their sexuality and connect with like-minded individuals.
Despite the rise of gay dating apps, many queer men still prefer the anonymity and physical connection that can be found in these spaces – so somewhat counter-intuitively, you might have a hotter experience here than you would at home.
We recommend checking out our guide to cruising for first-timers before you get started, which should give you the lowdown, and always practice safe sex.
Keep in mind that local laws and customs regarding gay venues and sexual activity should be respected at all times. With a bit of forethought and an open mind, visiting gay saunas and cruising clubs can be a thrilling and steamy part of your gay Aguascalientes adventure.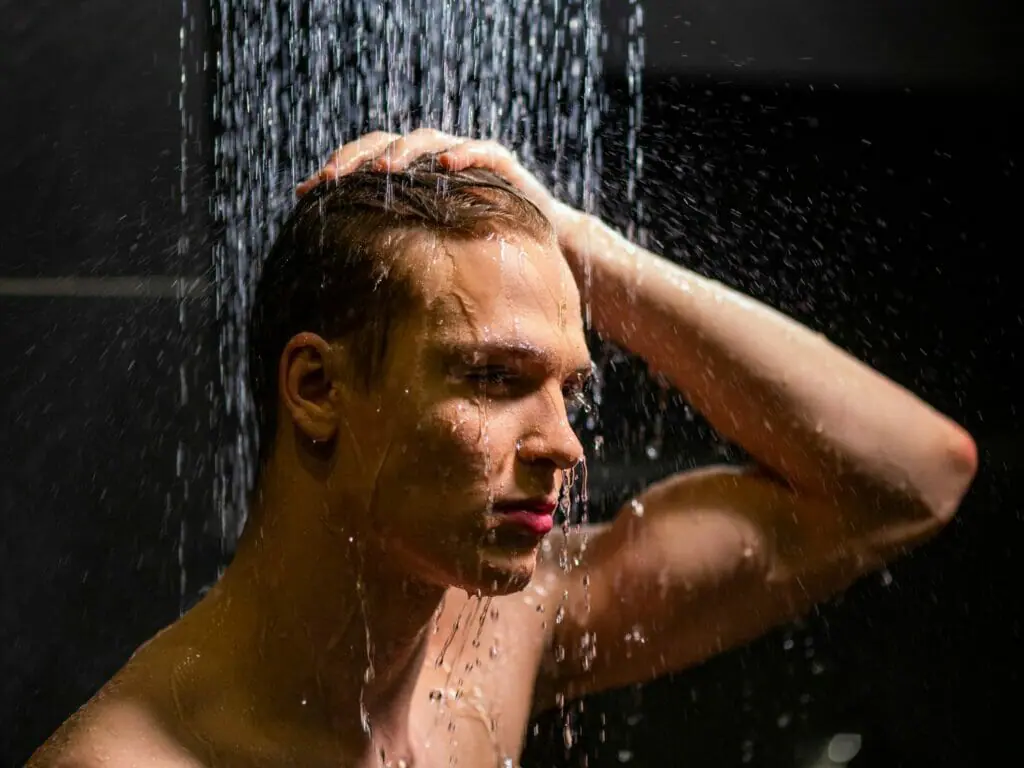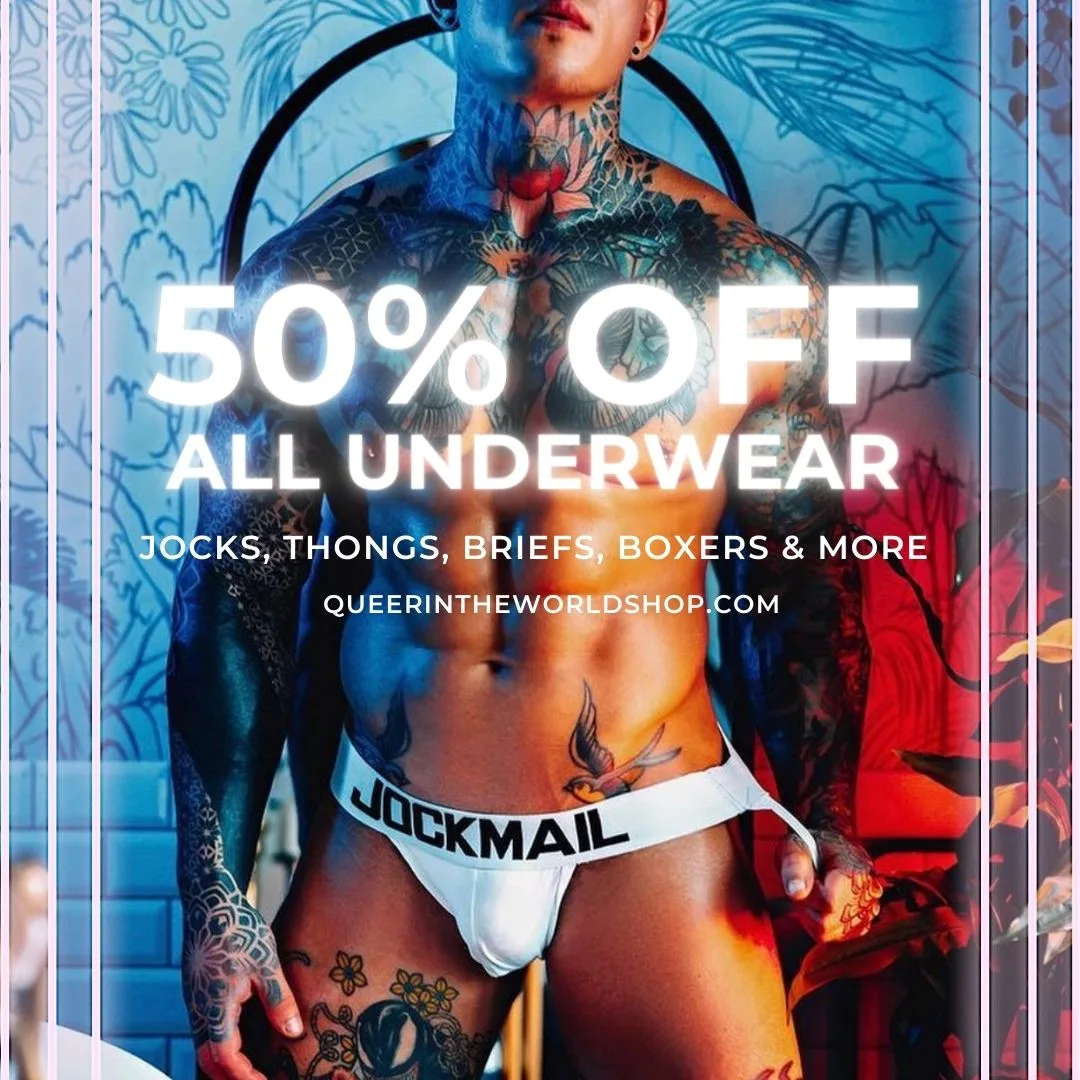 Gay Map Of Aguascalientes
Finding it hard to envisage where everything is in Aguascalientes? Hopefully, this queer-centric map helps where we have marked all the bars, clubs, parties, hotels, saunas, massages, and more will help you stay in the spot best suited to you!