Feast your senses, darling, on the captivating vista of Gay Sharm El-Sheikh, Egypt's glimmering jewel of the desert. Situated as a diamond encrusted in the arid golden terrain of Sinai Peninsula, the city basks between the luscious Red Sea and the desolate desert.
Though it rests in the heart of a country known for its conservative stance, this radiant city does a saucy little shimmy, donning a slightly more accepting attitude. But remember, my loves, always dance with discretion.
Caressed by the azure waves of the Red Sea, Sharm El-Sheikh and its sister city, Naama Bay, lay claim to being Egypt's most tantalizing beach destinations. Sharm El-Sheikh twirls a vibrant feather boa of sandy beaches, coral reefs, and crystal-clear waters, earning her the seductive moniker, Sinai's "Imaginary Paradise."
Over the years, this alluring city has blossomed under the spotlight, celebrated for its pulsating nightlife and inviting year-round atmosphere. It's become the toast of Egypt, an increasingly beloved belle of the beachside promenade.
Nestled within this vibrant panorama, Ras Muhammad National Park sparkles like an emerald. With its pristine white sands and serene seas, the park hosts a precious collection of unique species from across the globe. This natural sanctuary is a must-see for any international visitor drawn to Egypt's unique blend of desert and sea.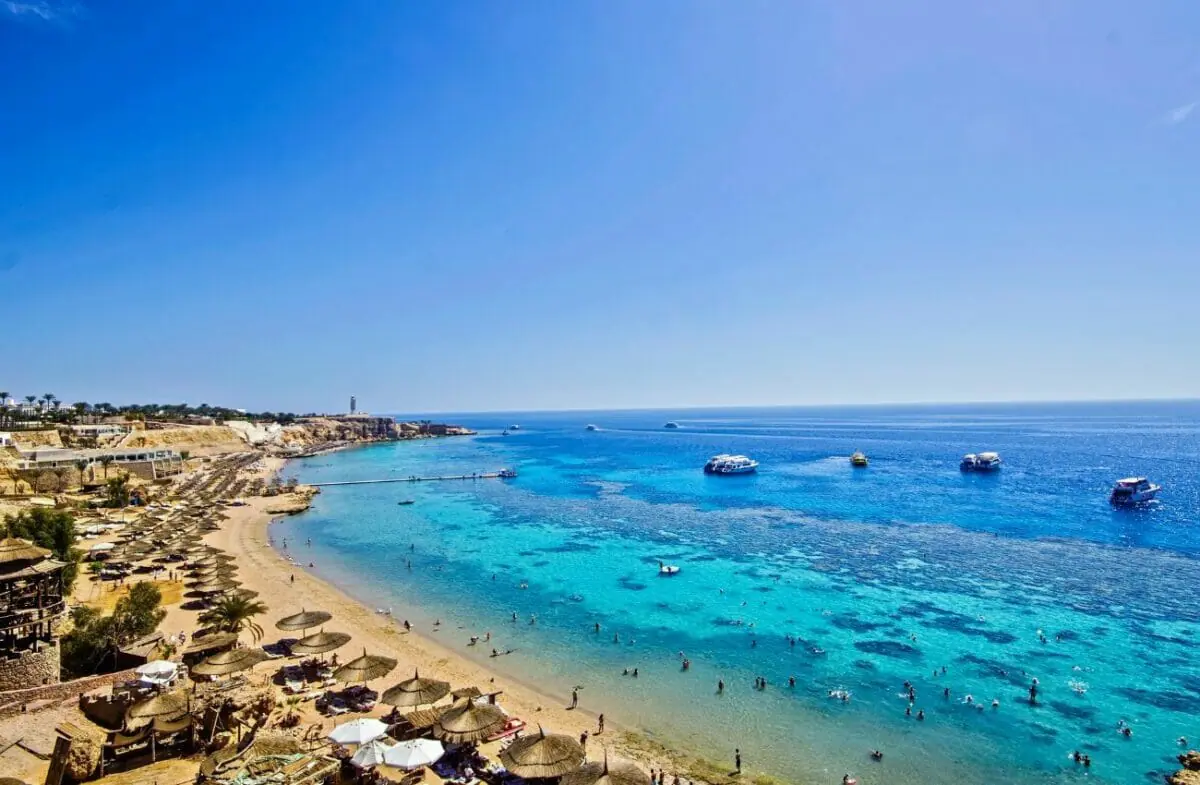 But here's where we strike a somber note, my fabulous friends. While Egypt doesn't explicitly outlaw homosexuality, the country's legal system has a way of spinning its punitive web around unsuspecting gay couples. For our queer comrades venturing into these mesmerizing terrains, a word of caution is essential. Expressions of affection in public are as scarce as a raindrop in the desert, a rule not exclusive to Egypt but commonplace in many nations, even beyond the realm of Islam.
Returning to the glimmer of Gay Sharm El-Sheikh, the city is a coveted siren for scuba diving enthusiasts worldwide. Yet, if your desire is to simply bask in the sun-kissed beaches, this is one of Egypt's finest spots.
For those less keen on plunging into the deep blue, the Sinai Peninsula's magnificent natural and historical landmarks lie within a day's journey. And let's not forget Sharm el Sheikh's recognition in the travel world, a testament to its splendid weather and breathtaking landscape, drawing travelers from every corner of the globe.
So, as you navigate this tantalizing terrain, remember to wear your fabulous colors with caution, keep your wits about you, and savor the stunning beauty of Gay Sharm El-Sheikh. But darling, please be safe!
While homosexuality is not illegal in Egypt at the moment, gay couples are exposed to persecution under the country's current legal framework. Travelers who identify as LGBT should use caution when in Egypt. It is uncommon for Egyptians to express their affection for one another in public, so don't expect to see it. This is the case not just in Egypt but also in many other countries, some of which are not even Muslim countries.
Sharm el-Sheikh, the main tourist center in Sinai, is one of the most popular sites in the world to go scuba diving. On the other hand, if all you want to do is kick back and relax on the beach, this is one of Egypt's best spots.
Non-divers will have little problem finding things to do on land in Sharm since many of the Sinai Peninsula's natural and historical landmarks are within a day's drive of the city. Sharm el Sheikh has gained much recognition in the travel and tourist industry due to its nice weather and magnificent landscape, which attract travelers worldwide.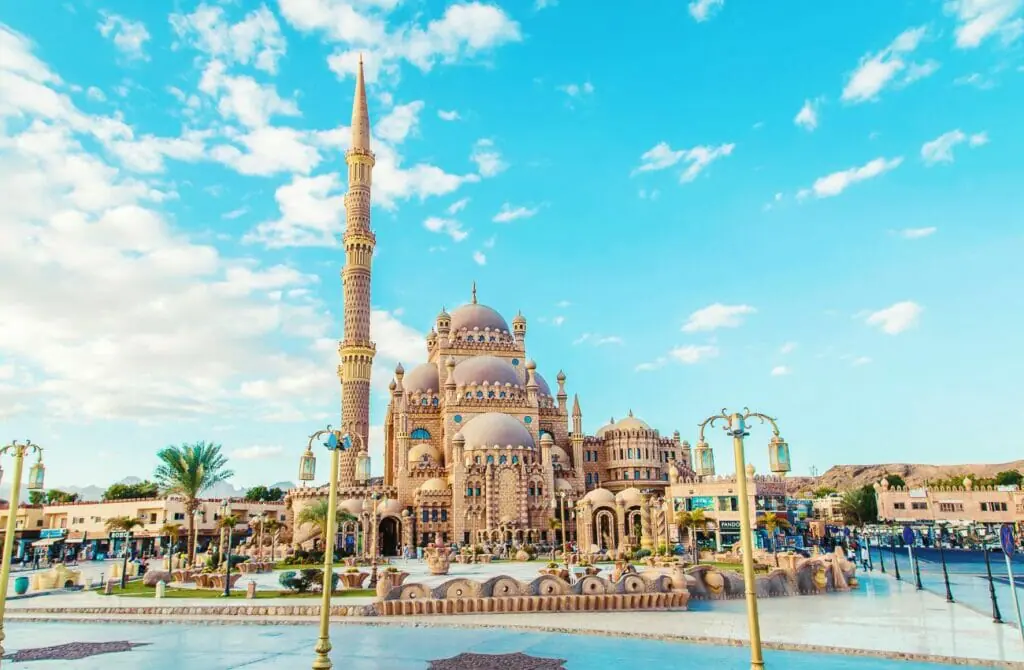 Attractions in Sharm El Sheikh, Egypt
Honey, welcome to Gay Sharm El Sheikh! Now, let's spill the tea – this city may not be the most welcoming to our rainbow community, but don't let that dim your sparkle! There are still plenty of fabulous things to see and do here, no matter who you love.
As passionate travelers and members of the LGBTQ+ community, we believe that queer travel is not only about having fun and exploring new places but also about promoting cultural understanding and spreading pride.
Through the journey, we can learn about different cultures, histories, and perspectives and share our experiences and identities with others. We can also support LGBTQ+ businesses and organizations and work together to create a safer and more accepting world for all members of our rainbow family.
Unfortunately, homophobia and discrimination still exist in many parts of the world, and it is important to be mindful of the laws, customs, and attitudes of the places we visit. But by being visible and proud and by supporting local LGBTQ+ communities and allies, we can help to change hearts and minds and make a positive impact wherever we go.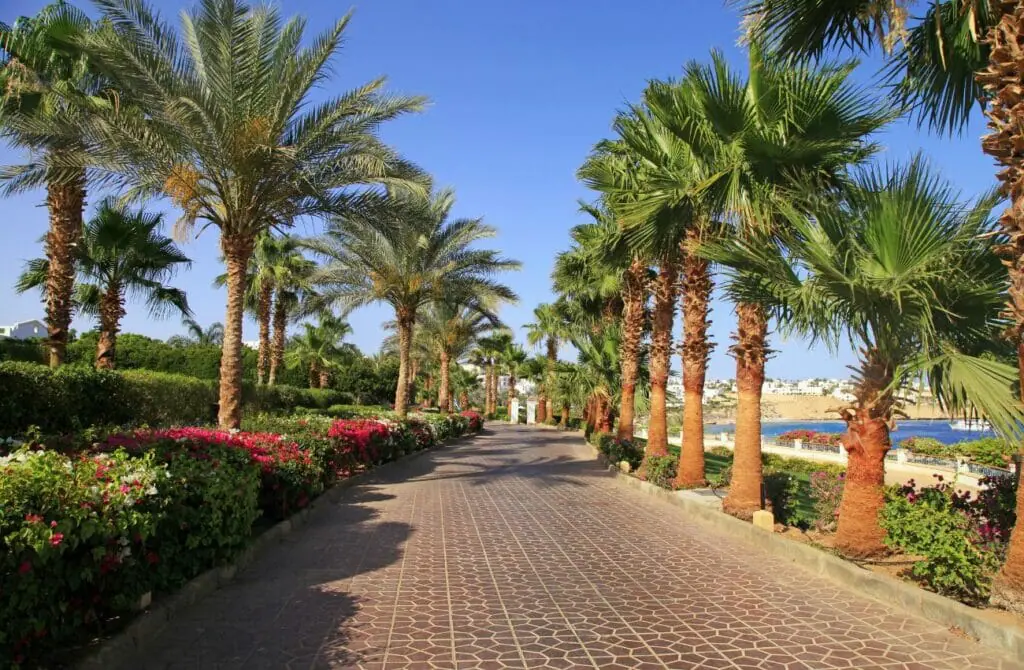 So let's keep exploring, learning, and sharing, and continue to work towards a future where all travelers can feel safe and celebrated, no matter where they are in the world.
Check out the iconic landmarks and attractions, darling. Visit those historical monuments, museums, and art galleries like the true cultural connoisseur you are. And, of course, let's not forget about the architecture, parks, and gardens. Trust us, the local cuisine will leave you gagging, and the markets are to die for. And, girl, let's not even start on the cultural events like festivals, concerts, and shows – they are simply sickening!
Now, while we are out and proud queens, we must keep it on the down-low when we hit the streets, sis. Sadly, this city may not be as welcoming to us as we'd like. But no worries, we'll just have to slay discreetly, okay? Let's show these locals how to live our best lives, honey!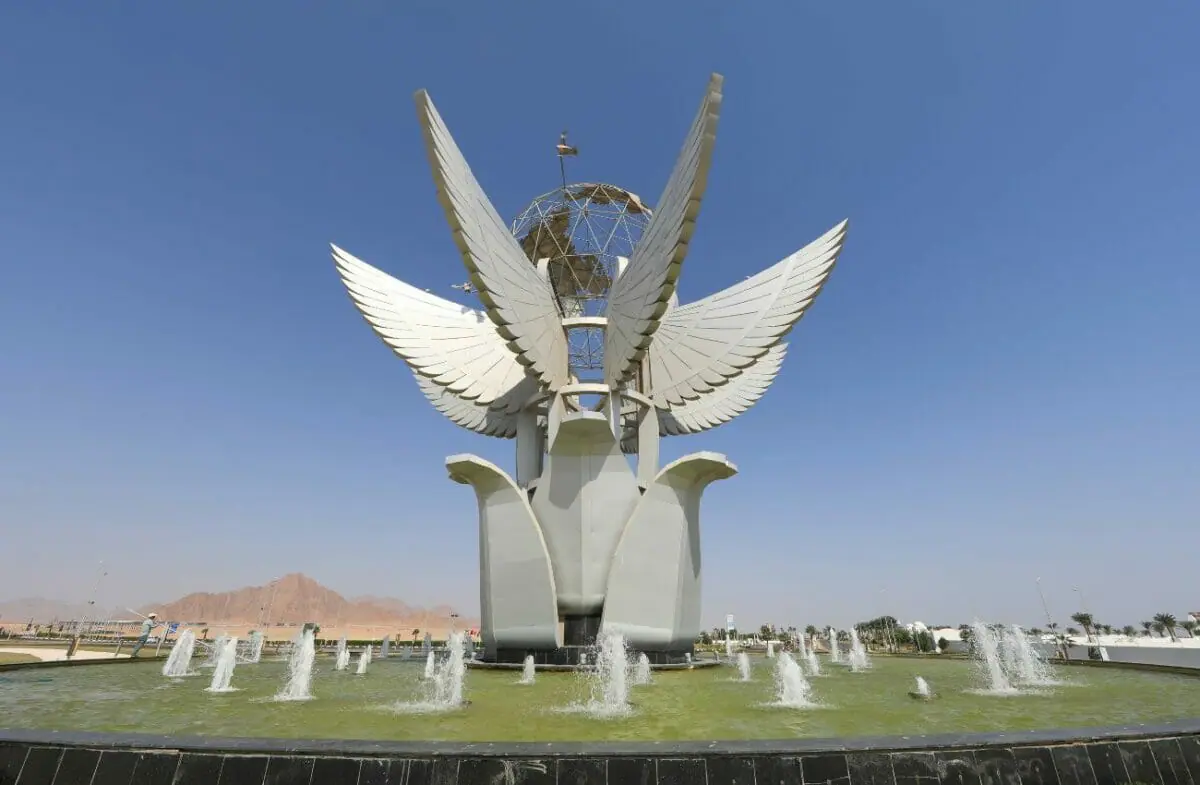 Ras Mohammed National Park is a major reason for Sharm el Sheikh's popularity as a tourist destination. This peninsula is bordered by some of the world's most excellent diving sites. It also has spectacular beaches with good diving and snorkeling right off the coast, the world's second most northerly mangrove forest, and a saltwater lake. Old Quay Beach and Aqaba Beach are the best beaches.
Old Quay Beach is well-known for its magnificent coral reef, accessible from the shore. Aqaba Beach is famous for its pristine seas. Tourists who want to see the Red Sea should go to the cliff top of the Shark Observatory, situated on the southern edge of Ras Mohammed. Visitors may view both sides of the water from there.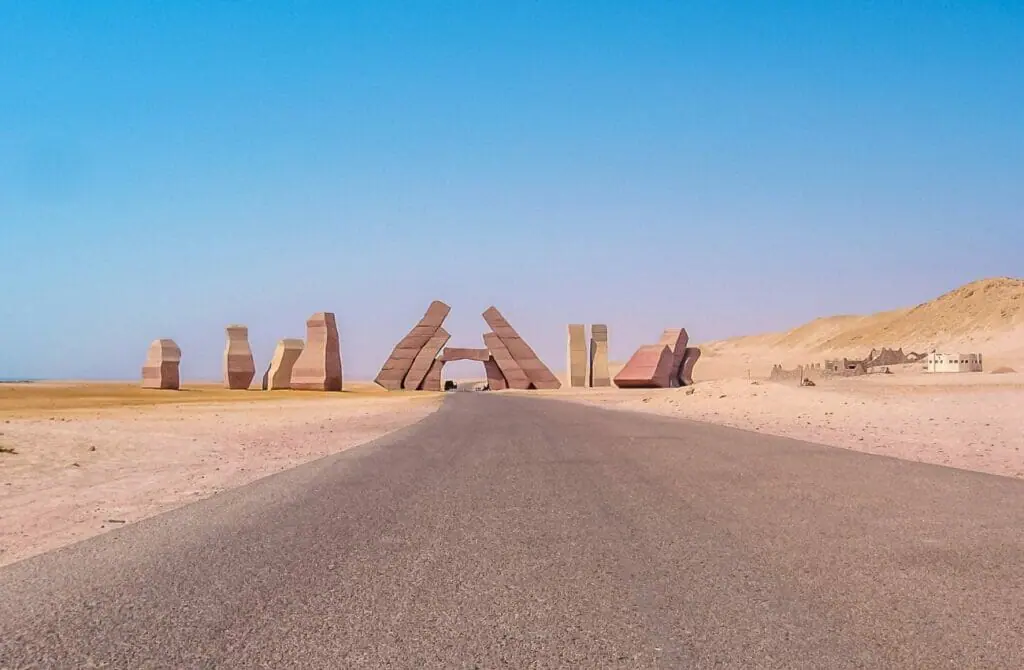 Sharm El Sheikh Museum
The museum's display scenario portrays numerous aspects of human history and general culture, focusing on ancient Egyptian civilization. The strategy to attain this aim is meticulously selecting historical artifacts from the museum's storage facilities.
The museum has around 5,200 artifacts spanning the history of Egyptian civilization, from ancient times to the present. This museum allows visitors to spend the morning enjoying the splendor of the city's beaches, the afternoon participating in various fascinating water sports, and the evening learning about ancient Egyptian civilization.
Na'ama Bay
Most of the action occurs at the Sharm el Sheikh resort's Naama Bay neighborhood. The pristine sand beach and flowing palm palms distinguish this place. Naama Bay is most known for its beach, but if you get tired of the sand, there are plenty of restaurants, cafés, and gift shops to explore for a change of pace.
It is a natural harbor on the Sinai peninsula, and in addition to diving, there are several snorkeling opportunities in this region.
This resort will not disappoint beach bums who want to soak up the sun and have a nice time; they don't need to be activity addicts to have a good time here. Relax on the golden beaches flanked by palm trees, plunge in the crystal blue water, and have your credit card(s) ready for the busy bars, restaurants, and shopping off the promenade.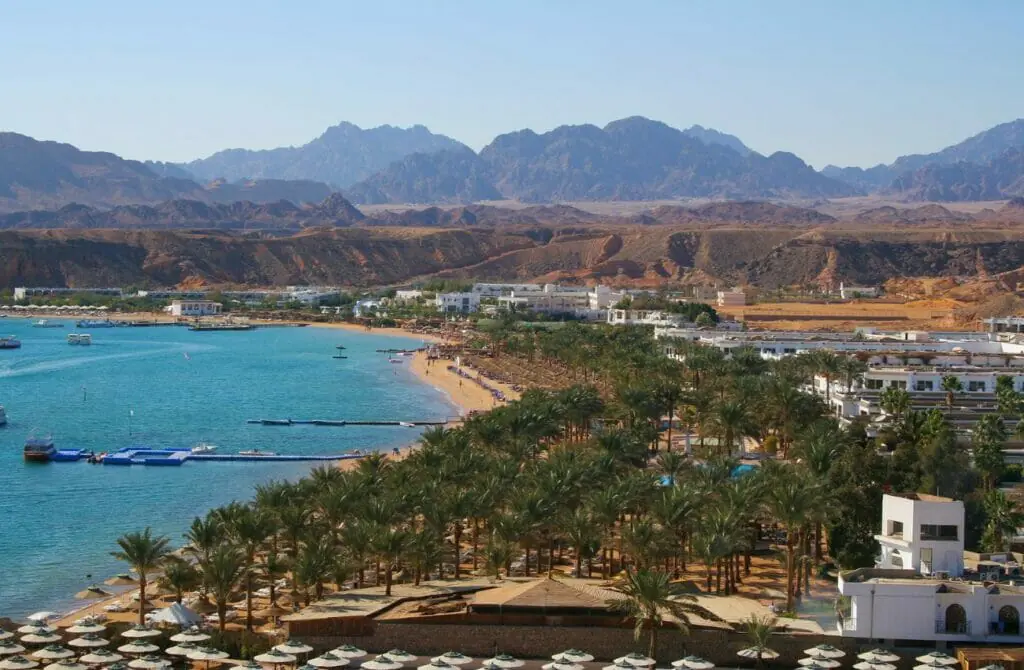 Sharm Old Market
Sharm Old Market, also known as Sharm al-Maya, is the town's souq (bazaar) filled with shining Arabic lanterns, old shisha pipes, and wonderfully carved woodwork. It is ideal for arranging your trip around sunset or later in the evening when the hottest part of the day has passed, and the people have scattered, so you may shop and look about without interruption.
Evenings may be spent greatly in the neighborhood due to the variety of exciting and reasonably priced restaurants and cafés. Although most restaurants in Sharm El Sheikh's resort districts offer food from other nations, this neighborhood is one of the best spots in the city to obtain real Egyptian cuisine. This restaurant serves typical café fare, including shisha, Arabic coffee, and other drinks.
The Heavenly Cathedral Church
The Heavenly Cathedral is one of Sharm El Sheikh's most important and well-known Coptic Orthodox churches. It is also one of the oldest churches in the city. Construction on this remarkable religious monument in the Hay el Noor neighborhood started around the turn of the twentieth century.
The architecture of this magnificent structure is embellished with golden arches, royal ceilings, and superb chandeliers. The intricate biblical paintings will affect you, and if you extend your neck far enough, you can see the Apocalypse of St. John the Apostle, an artwork hanging from the ceiling heights.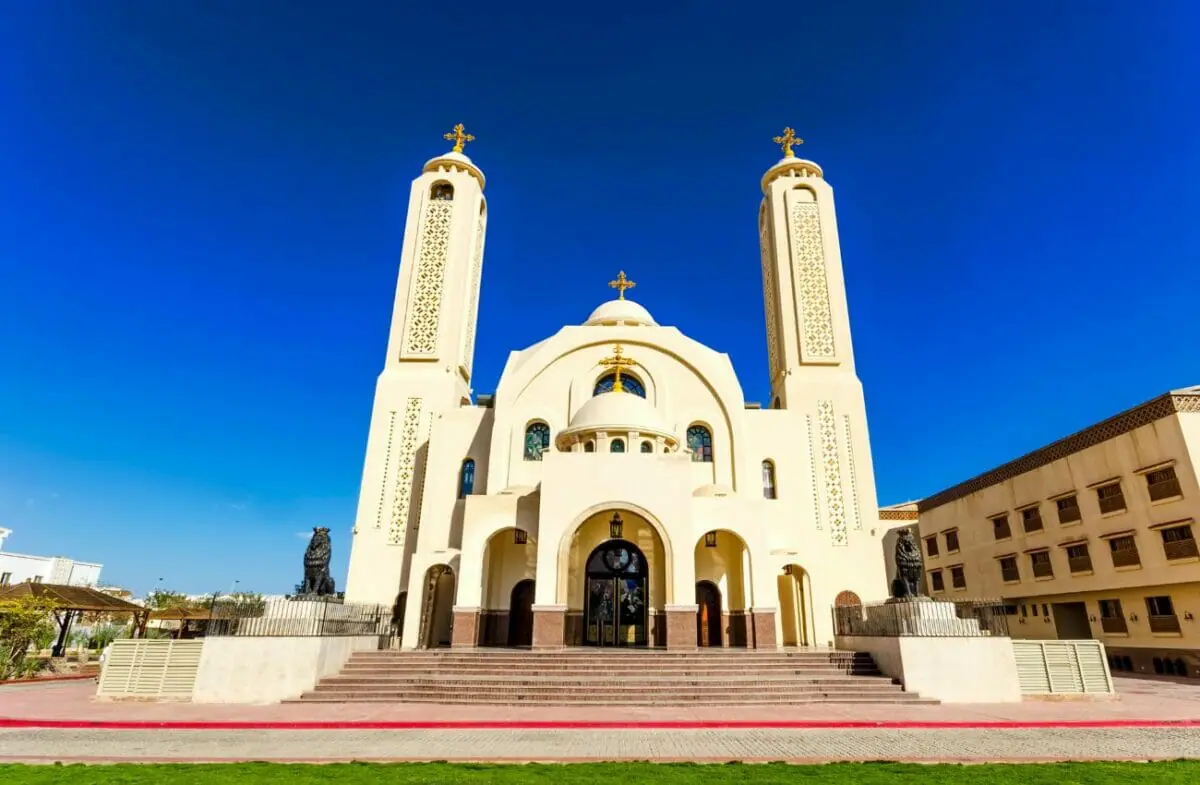 Nabq Bay
Because of the high winds and relatively calm sea conditions, the Red Sea is a good spot to learn how to windsurf. Apart from being a prominent scuba diving destination, Sharm el Sheikh's position on the Red Sea makes it a perfect site to learn how to windsurf.
The most convenient location is Nabq Bay, located at the resort's northernmost point and home to various enterprises that give training and equipment. The vast, shallow, and fully flat-water lagoon, shielded from the open sea by a natural reef, is ideal for beginners. As your confidence and speed grow, you should go farther from the reef to test how well you can handle smaller waves.
The Al Mustafa Mosque is perhaps the most stunning structure in Sharm El Sheikh. In fact, at first glance, you may mistake it for a beautiful castle rather than a mosque. The structure's design, a combination of Ottoman and Mamluk architecture, was created by Egyptian architect Fouad Tawfik Hafez.
It was finished in 2008 at an estimated cost of 31 million pounds and can hold roughly three thousand people during worship sessions. The massive structure is embellished with two sparkling domes and 76-meter-high minarets. The inside of the mosque is equally as impressive as the outside. The mosque is a sight fit for the gods when illuminated at night.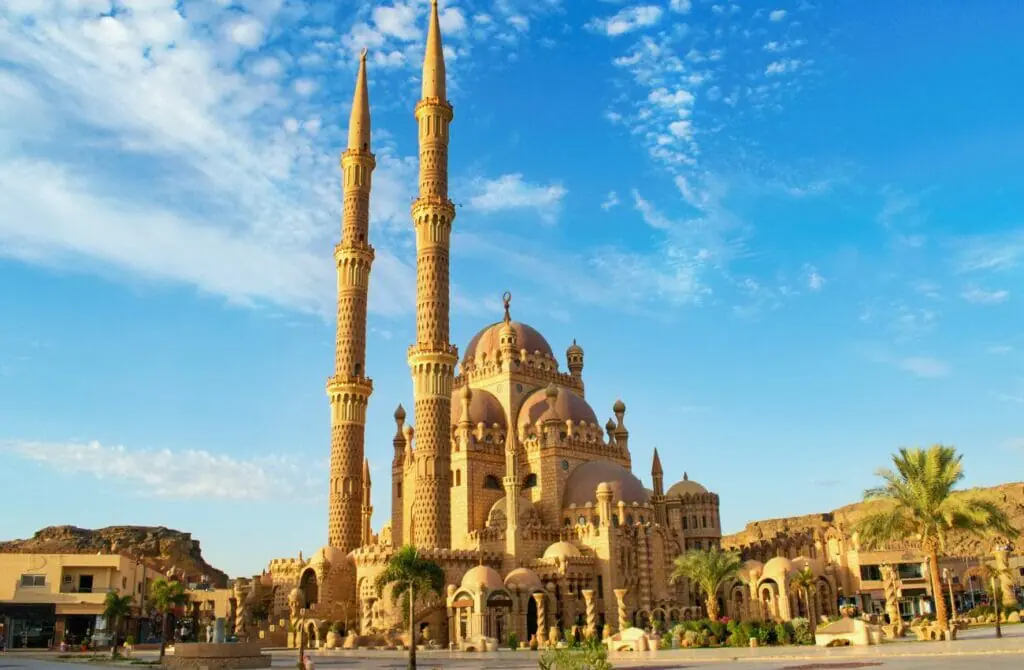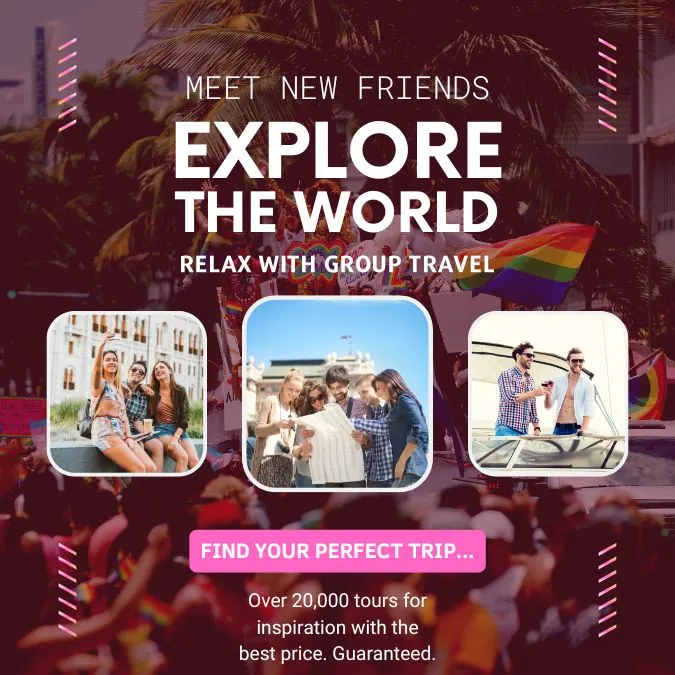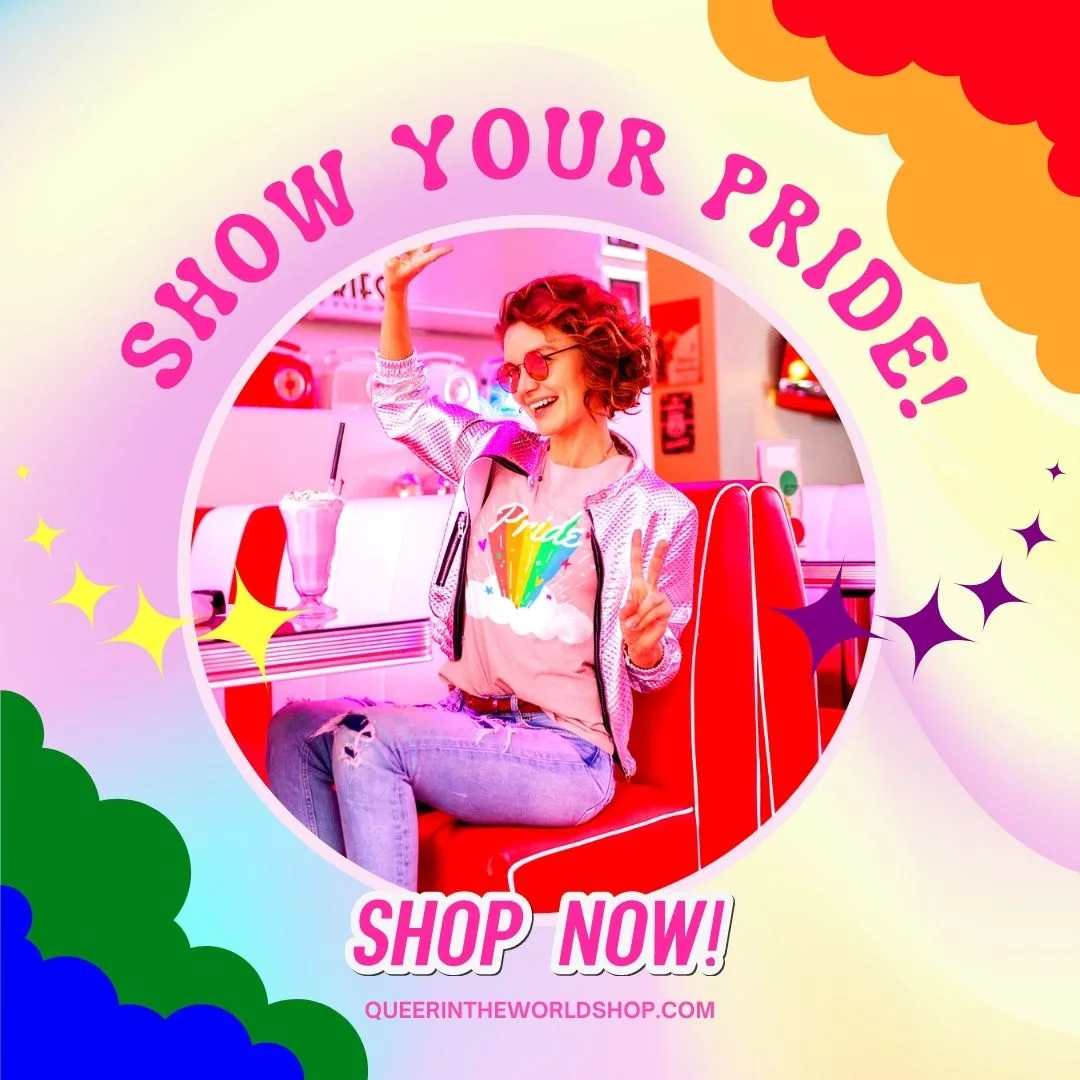 Gay-Friendly And Gay Hotels in Sharm El Sheikh, Egypt
Prepare to be swept off your feet as we delve into the world of Sharm El Sheikh's subtly hospitable abodes, teetering on the edge of fabulous while maintaining a dignified discretion. These hotels, although not openly declared, have the reputation of being welcoming spaces for the LGBT community.
While many establishments may not publicly embrace the rainbow flag, these distinguished accommodations have demonstrated an unspoken yet profound commitment to the spirit of queer acceptance. It's as if they whisper, "We see you. We welcome you," without ever uttering a word.
Even in the sanctity of these havens, the undercurrent of Egypt's conservative society must be considered. Discretion remains the unsung anthem here, an oft-ignored melody that sings of respect for the culture and norms of this historical land.
Encompassing a wide spectrum, these hotels range from local, subtly gay-friendly establishments to international chains that carry the legacy of their parent brands' inclusive policies. The latter, often seen as more familiar faces in an unfamiliar landscape, strive to create an environment of warmth, respect, and safety, albeit in a subdued manner.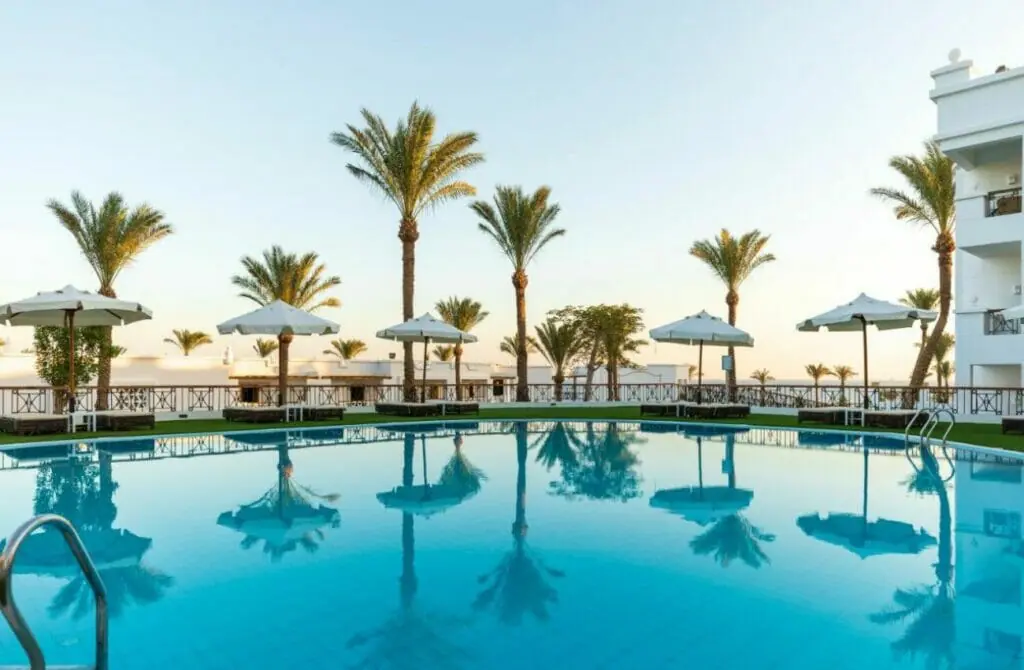 These accommodations, known for their high-quality amenities and services, aim to provide a comfortable stay for all travelers, including those identifying as LGBT. Yet, even within their walls, it is advisable for guests to navigate with an air of caution and subtlety, paying heed to the cultural nuances that permeate Egyptian society.
Whether the traveler's choice leans towards the locally influenced retreats or the familiarity and luxury of the international hotel chains, research and careful selection are paramount. One should seek an establishment that offers comfort and a feeling of welcome while also promoting respect for local customs.
So, why hesitate? There's a subtle, unspoken invitation extended to all those willing to experience the whispered luxuries these subtly queer-friendly hotels in Sharm El Sheikh offer. Yet remember, even amidst the comfort of these accepting sanctuaries, the song of discretion must never be forgotten.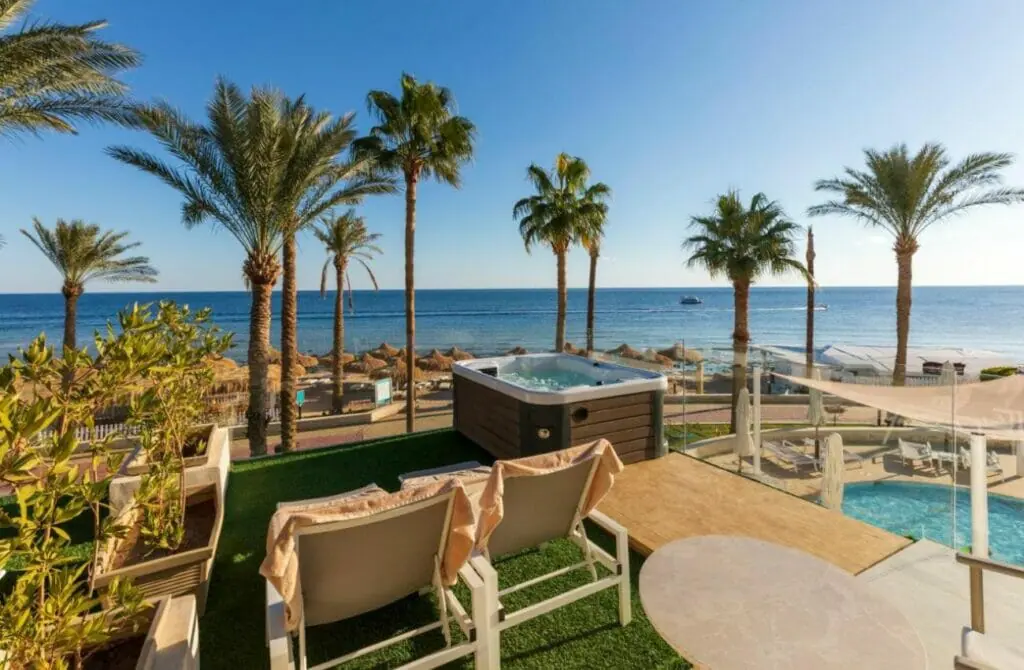 Sunrise Remal Beach Resort ☆☆☆☆☆
The Sunrise Remal Beach Resort is situated in Ras Nasrani, well-known for scuba diving and other water sports owing to a healthy coral reef and great scuba diving possibilities. Guests can relax in spacious, well-decorated rooms and private balconies. They may stroll out onto these balconies and enjoy the beautiful views of the natural surroundings.
At the Sunrise Remal Beach Resort, you can choose five pools where you may cool down. You may also relax on the beach while admiring the stunning beauty of the Red Sea and Tiran Island. If you have a lot of energy, you may participate in beach volleyball competitions or visit the international diving center at Sunrise Remal Beach Resort.
When you've worked up an appetite, go to the restaurant to feast on the delectable Mediterranean and international cuisine. Meet new friends and reconnect with old ones while sipping a refreshing beverage at one of the three pool bars or the well-known beach bar at the Sunrise Remal Beach Resort. This beachfront resort checks so many boxes in terms of attractive qualities.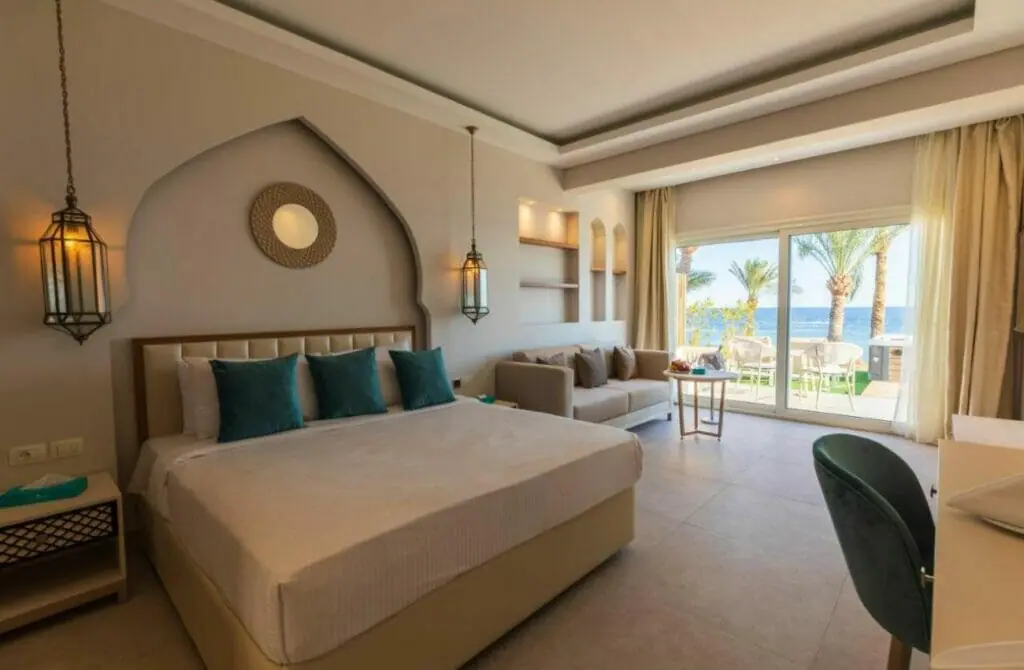 Four Seasons Resort Sharm El Sheikh ☆☆☆☆☆
The Four Seasons Resort in Sharm el Sheikh is an elegant oasis between the desert and the reef with year-round sunshine, sleek and modern hotels, and spectacular Red Sea views.
The resort has five outdoor pools, ten outdoor dining options, a highly recognized spa, a PADI diving center, one of the greatest house reefs in the region, and a funicular that takes guests from the top to the beach. Moreover, the resort is home to one of the greatest spas in the area.
You may stay in one of the resort's big guest rooms or gigantic suites, which range from one to four bedrooms and are decorated in either a modern or traditional Arabian style. Each property has its balcony or patio, and some include a private pool and a kitchen or kitchenette.
These rooms are ideal for couples, families, and other small groups. Each room offers a peaceful sitting area with a flat-screen TV, the famed Four Seasons bed, and other amenities to guarantee a pleasant stay. You can look forward to a comfortable night's sleep on the luxurious beds supplied in the particularly spacious rooms.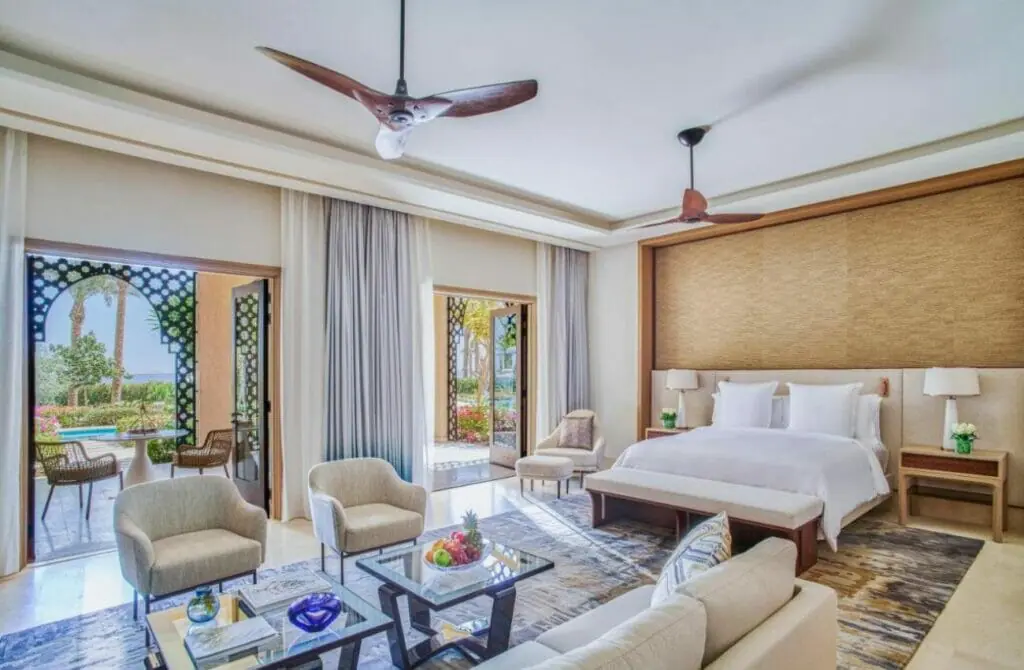 The Serenity Lodge is another fantastic option for those seeking a place to stay in the city. Anyone looking for an affordable and comfortable place to stay without breaking the bank will find it an excellent choice. You may start your day in this wonderful hostel with a typical Egyptian breakfast buffet while watching the sun rise over Tiran Island.
Tiran Island is home to the hostel. Spend the morning exploring the red sea's shoreline, where you'll find a profusion of colorful corals and fish of all shapes and sizes running down the edge of the perfect reef. Following that, you may dry off on the picture-perfect sand beach or while relaxing by the private pool with a sea view.
When the sun sets behind the mountains, the sky fills with blazing light, welcoming in the night and displaying a stunning show of sparkling stars shimmering in the darkness. After that, strike up a friendly chat with a staff member or another tourist.
Just before retiring to your room with an attached bathroom and a stunning view of the Red Sea. The suites have a variety of additional useful amenities that work together to give visitors the sensation that they are on top of the world. When staying at this hostel, you can engage in various exciting activities and excursions suited for thrill seekers and chillers.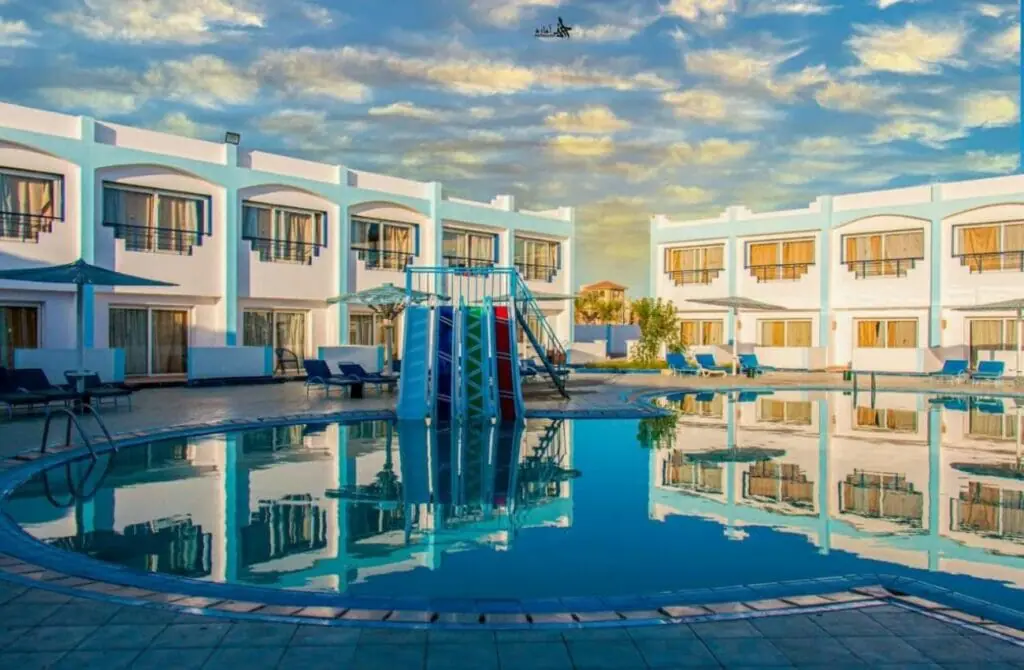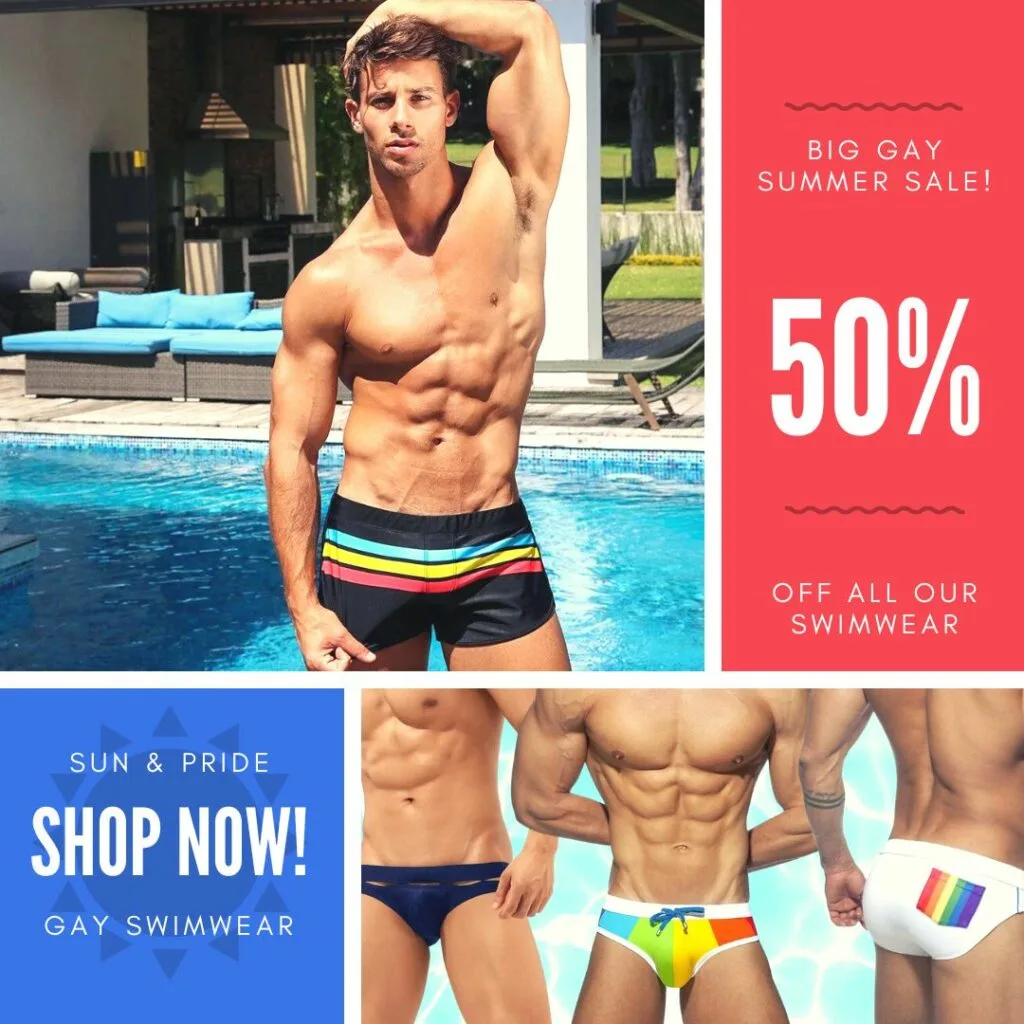 Gay Nightlife in Sharm El Sheikh, Egypt
Sharm el Sheikh is recognized for its year-round sunny climate, which makes it synonymous with sunbathing, tanning, and visiting lovely beaches. Yet, this city offers a thriving nightlife, with discotheques, clubs, and casinos until early morning.
Sharm el Sheikh is well-known for its active nightlife, including nightly entertainment, casinos, and social events. Most of the area's nightclubs, casinos, bars, and restaurants are located on Naama Bay and the surrounding districts.
Exploring the queer nightlife scene in a new city can be one of the most exhilarating experiences while traveling, and Gay El Sheikh is certainly no exception. Not only do you have the chance to meet new people and make friends, but you'll also immerse yourself in the local culture and learn more about the LGBTQ+ community.
Whether you prefer to connect with other queer folks in person at a gay bar or club or through a hook up app, Gay El Sheikh has plenty of options for you to explore. However, it's important to keep in mind that many of the public spaces in the city are not queer-friendly, and it's best to avoid displaying overt signs of queerness in certain areas due to the risk of discrimination or even violence.
So, go ahead and venture out to experience the vibrant and diverse queer nightlife in Gay El Sheikh, but always prioritize your safety and well-being. Take precautions when meeting new people, and be mindful of your surroundings. With a bit of caution and a lot of fun, you will surely have an unforgettable time in this amazing city.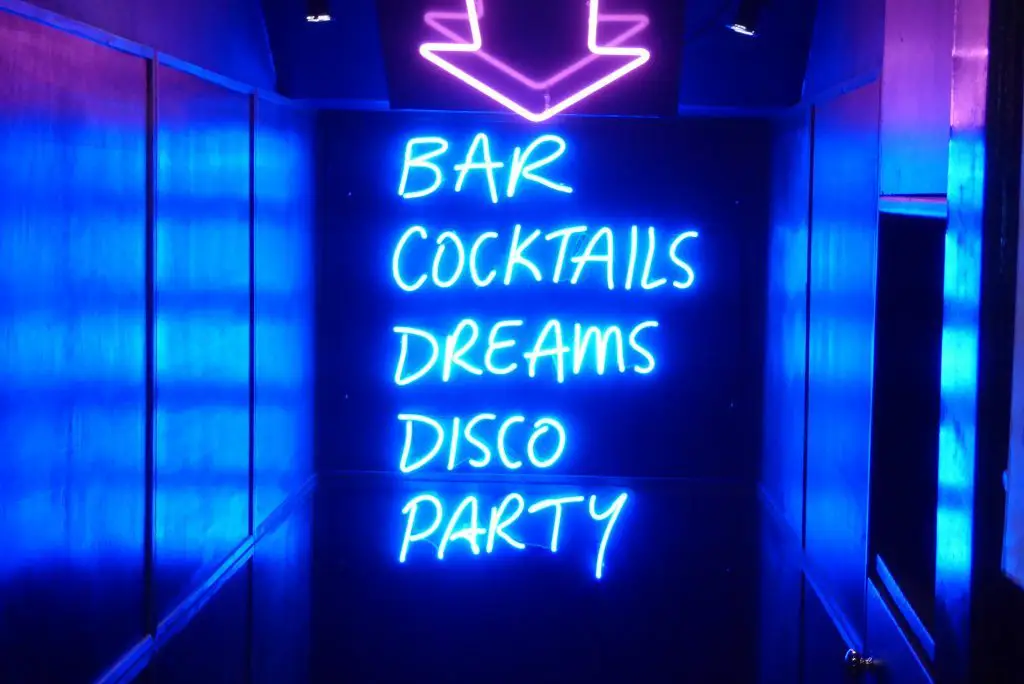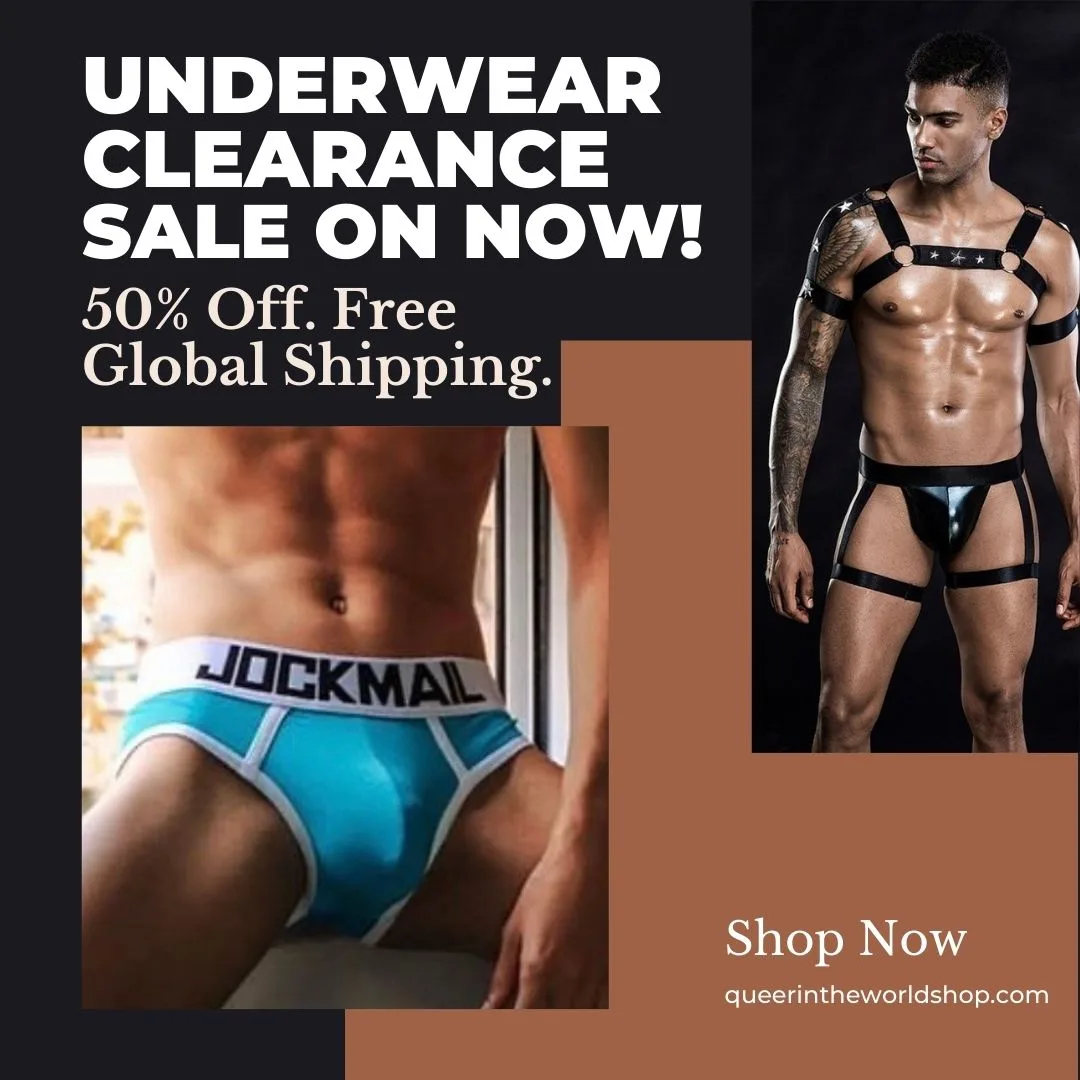 Gay-Friendly Bars and Clubs in Sharm El Sheikh, Egypt
Pataya is a massive multi-purpose beach club in Sharm El Sheikh's Nabq Bay neighborhood. It has a pool, an outdoor beach club, a restaurant, and a nightclub. Because of its fantastic live music and entertainment, which includes dancers, drummers, DJs, and other artists, this nightclub is known for throwing some of the most exciting parties in Sharm el Sheikh. Around eleven o'clock at night, the festivities begin.
The Pacha Pacha nightclub in Sharm el Sheikh is the epicenter of the thriving nightlife scene in Sharm el Sheikh. It is the largest and most well-known nightclub in both the city and Egypt. This club is open every night and is situated in the heart of Naama Bay. It features the typical ambiance of Pasha nightclubs but with an added touch of oriental flare, and it hosts evenings with internationally recognized DJs.
Inside this club, which also has a swimming pool and several indoor and outdoor lounge areas, you can hear House, Deep House, Trance, and Urban music. Sunday is dedicated to R&B and Hip Hop music, while Saturday is dedicated to electronic dance music, tech house, and progressive trance music.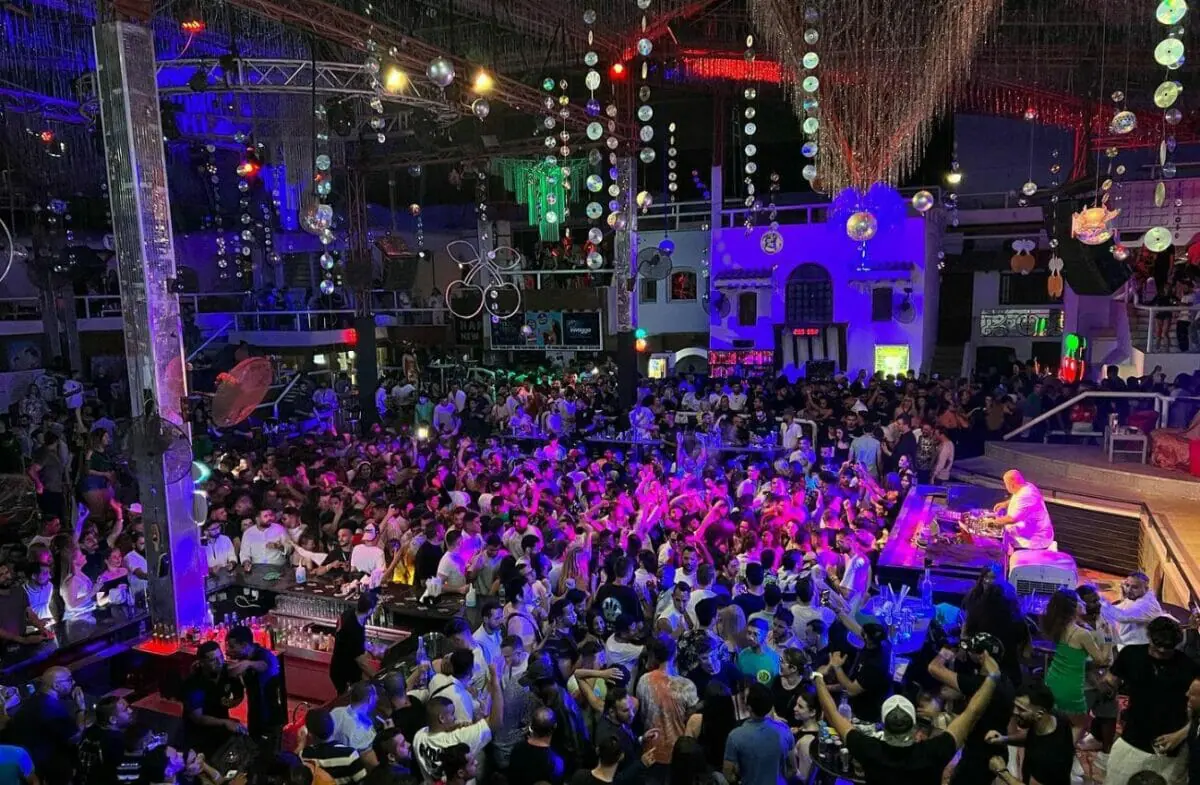 Dolce Vita is, without a doubt, Sharm el Sheikh's most provocative nightclub, and its location amid the desert further adds to its allure. This club, which is so vast that it is also known as "the Castle," is open year-round and features nights featuring sets by DJs worldwide. The nightclub is located nearly entirely outside and is tucked along the side of a mountain.
It stands out for its stylish and cutting-edge architecture, which features a large swimming pool in the club's center. The main Sharm el Sheikh resorts are accessible from La Dolce Vita owing to the hotel's excellent shuttle service. Make sure you don't miss their insane foam parties!
The Taj Mahal is a gigantic open-air disco with two floors in the center of Ram Um El Sid, only a few minutes via taxi from Naama Bay. If you wish to join, bring your swimming suit to the celebration, which will be held close to the pool. Moreover, a new foreign DJ takes turns behind the decks each week.
The Hard Rock Café is a world-famous rock-style restaurant and disco bar on Naama Bay's main promenade. It is readily identified by the massive guitar that rests on the building's roof.
In addition to the normal collection of rock'n'roll artifacts exhibited within the pub, the restaurant and bar provide American atmospheres and cuisine. In the evening, the bar transforms into a true nightclub, offering a range of musical acts and exciting weekend parties. Male entry is 15 euros, which includes refreshments.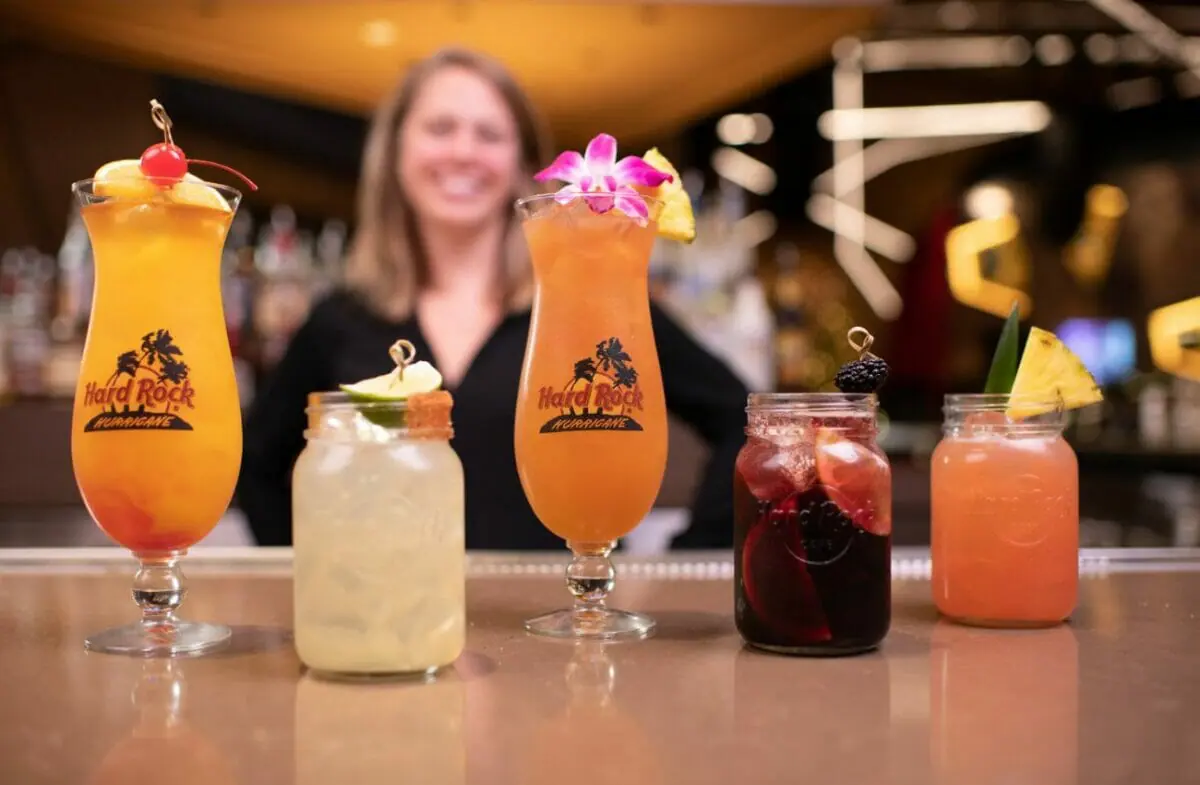 El Fanar Beach and Restaurant El Fanar is another well-known Sharm el Sheikh nightclub in the Ras Um el Sid neighborhood. The beautiful view may be appreciated from the club, located on the same-named beach. The ideal position for dancing till dawn and watching the sunrise.
Terrazzina Beach is a place for anybody who would rather enjoy a beach party that lasts all night than go to an indoor bar. Terrazzina Beach is a business located in Sharm el Maya's stunning bay. You may dine, swim in a beautiful sea, and dance from sunrise to sunset here. The club holds many events and offers excellent service at its bar and restaurant, noted for its wonderful fish specialties.
After a hard day at the beach, unwind in the lounge bar. Visitors may relax, listen to music, see live music performances at special events, and meet new people while eating and smoking hookahs. Indian, Thai, and Chinese meals are served.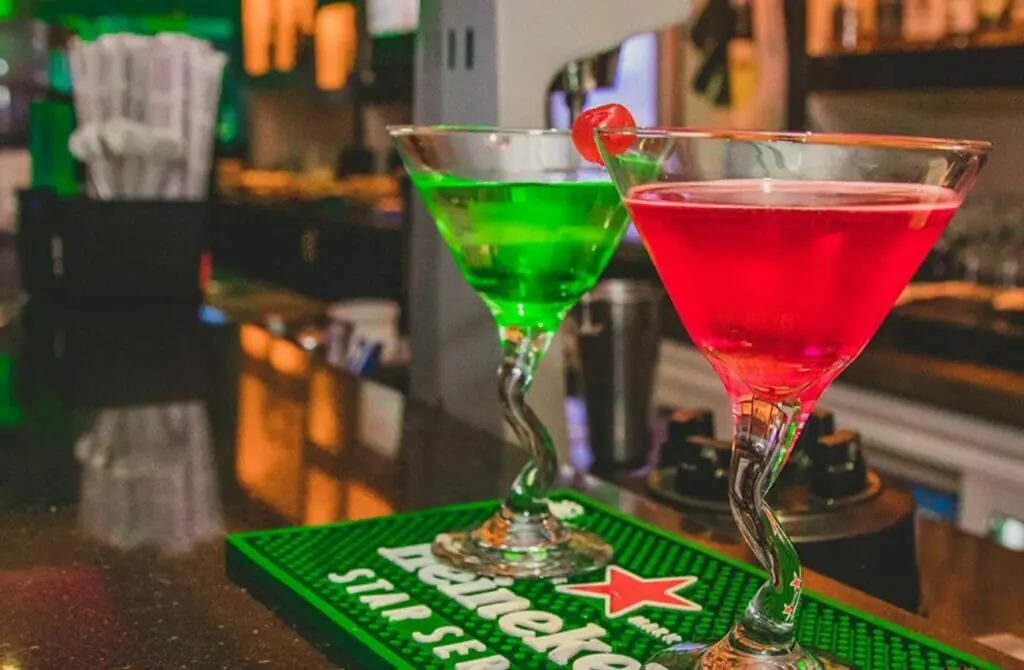 The Tavern Pub, located near Naama Bay, is a traditional English pub that broadcasts important sporting events, mostly rugby matches. The establishment attracts many British guests and hosts evenings of entertainment and karaoke.
The Ice Bar is the greatest spot to gain much-needed reprieve from Sharm el Sheikh's oppressive heat. Like every other good Ice Bar, this venue is fully composed of ice, from the bar to the tables, seats, and even the glasses, and the temperature is kept at a constant minus 10 degrees Celsius.
Admission includes a couple of shots of vodka to get the celebration started. Ice sculptures cover the inside of the bar, adding to the establishment's distinct and intriguing aura.
This pub delivers a little of British to Egypt. The décor is designed to resemble an English pub, and the bar serves a wide range of wines, beers, and other beverages. You may also watch football events throughout tournaments and seasons and play pool or darts.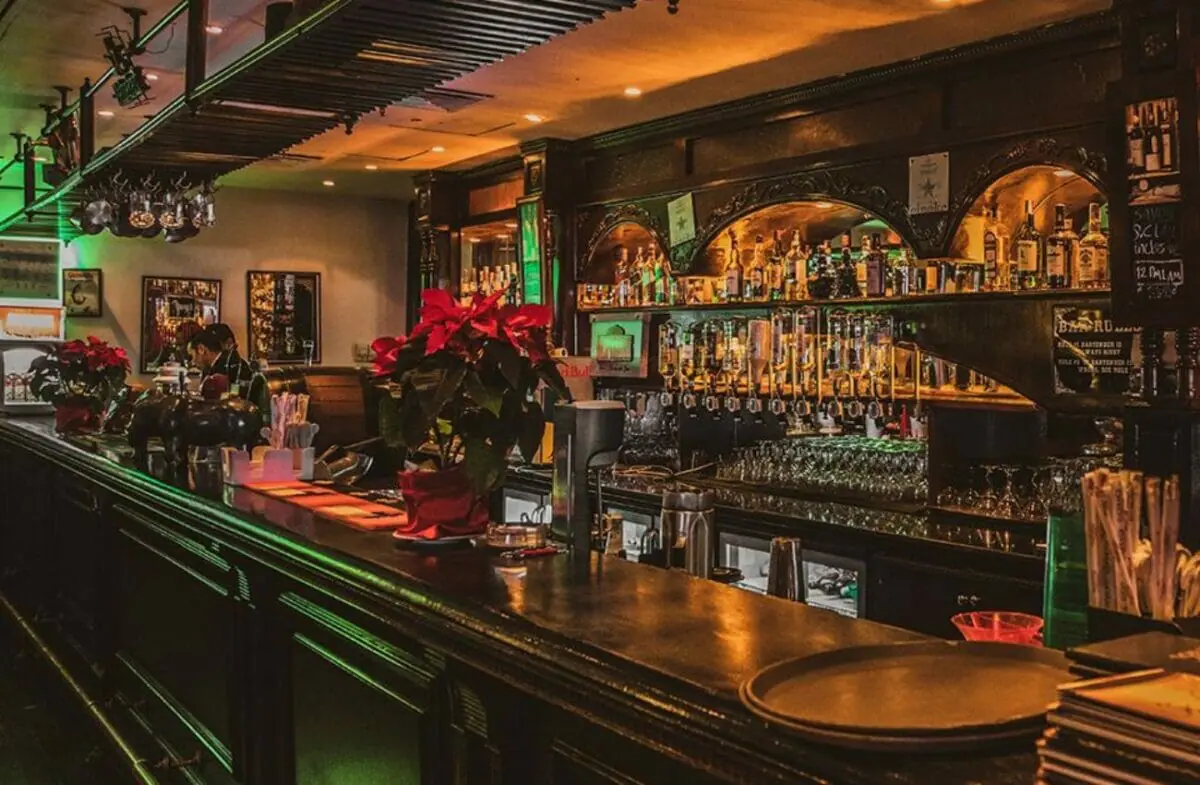 Gay-Friendly Cocktail Bars and Clubs in Sharm El Sheikh, Egypt
The Bus Stop is a popular disco that plays R&B and Soul music. It takes the shape of a gigantic red bus. Happy hour is from 8:00 p.m. to 9:00 p.m., including two-for-one beers and half-priced drinks. If you don't feel like dancing, you can use a pool table. The music will commence at 10 o'clock.
This establishment is more than just a cafe; it is a masterpiece of eccentric design, complete with colorful floor cushions with striped patterns, Bedouin tents, and lighting that swings between red and yellow and shines at night. The view of the glistening ocean from the Farsha Cafe is so captivating that you won't want to leave even after a few sips of your beverage.
Consequently, get yourself a cup of coffee, a few cocktails, and perhaps a shisha pipe. You should be able to go from enjoying a tranquil afternoon of lounging to going all out for a wild night of partying as the atmosphere changes and house vibes begin to pulse.
Little Buddha, located in Naama Bay close to the Hard Rock Cafe, is considered one of the city's most sumptuous places. It has flashy and futuristic décor inspired by Eastern culture and a massive golden Buddha statue. This unique institution combines a nightclub and a sushi bar.
There's a restaurant, a lounge bar, an outdoor terrace, and a separate hookah smoking room. Little Buddha, a Sharm el Sheikh specialty restaurant, offers twenty distinct types of sushi and five types of sashimi.
Around 11:00 p.m., the venue changes into a club, organizing events with local DJs and attracting visitors and trendy young people who want to dance late into the night. The music encompasses various genres, from current electronic sounds to R&B rhythms. As you step through these doors, you'll know you're in a Buddha Bar because of the large drink menu and well-tuned music system.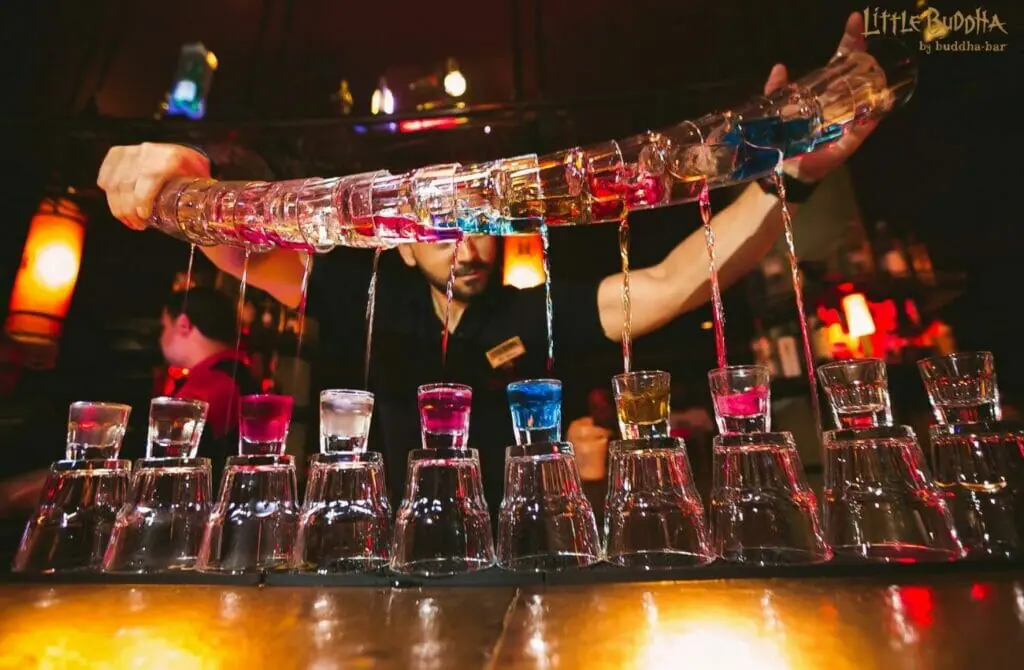 The Panagea is a club in Soho Square that offers amazing music, DJs from all over the globe, and an incredible selection of beverages and cocktails. Because of the ample size of its dance floor, which features dynamically changing colors and lighting, this Sharm el Sheik club has emerged as a preferred location for socializing and dancing.
Club Oasis del Mar O Beach, once known as the Cocco Beach Club, is now one of Sharm el Sheikh's most popular nightclubs. It has excellent music, incredible entertainment with lovely cubistas, delectable drinks, and an unrivaled view of the Red Sea.
Caligula is a prominent club in the Savoy Hotel in Sharm el Sheik. The club's evenings include Hispanic, commercial, and funky music performances. Guests may enjoy a large selection of beverages, wines, exciting music, and attractive design while they are here.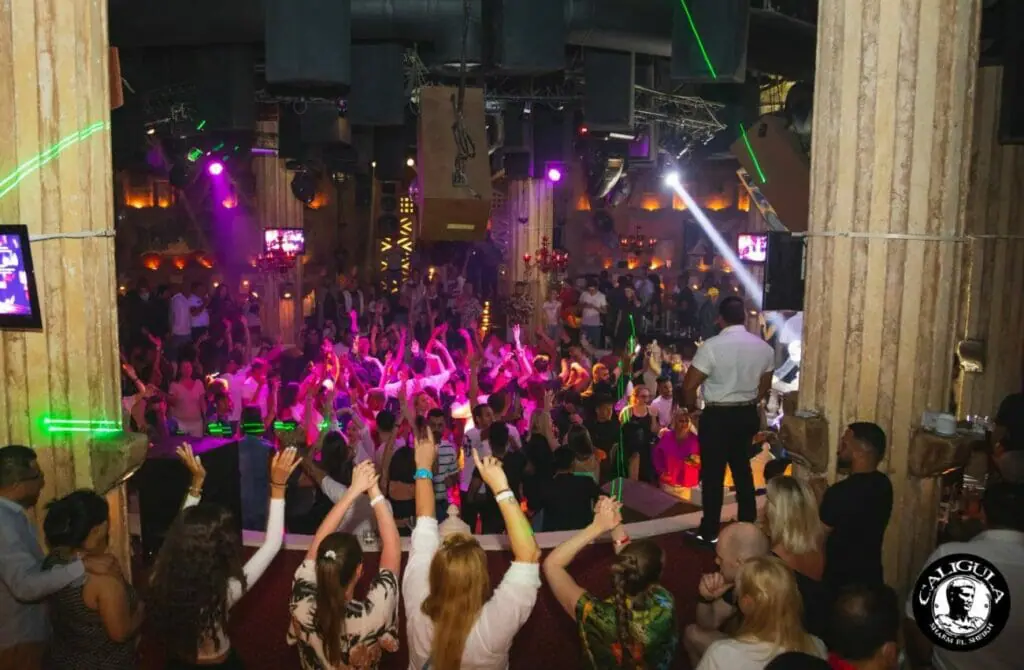 Gay-Friendly Rooftop Bars and Clubs in Sharm El Sheikh, Egypt
The Camel Bar is one of Sharm el Sheikh's most popular pubs, offering a range of entertainment alternatives such as sports events, live music, and nights with music types ranging from R&B to rock to dance music. Since this tavern draws residents and visitors, the crowd constantly varies.
A nice location to unwind with beverages, hookahs, and excellent appetizers. Visitors may watch the sunset on the rooftop patio or enjoy the panoramic views from the terrace below.
This sprawling club is located north of Naama Bay. It is divided into three huge areas: the main room, which includes a swimming pool with a waterfall, a terrace with views of the sea, and a lounge room dominated by an aura of sheer luxury. Since it initially welcomed disco fans in 2010, The Space has grown to become one of Sharm el Sheikh's most popular nighttime entertainment locations.
Expect to be wowed by the soundtrack, the thrilling laser displays, and the always-changing event calendar. There will undoubtedly be a party that suits your tastes, whether you enjoy R&B, hip-hop, or techno music. While the admittance fee may seem high at first look, it includes not one but two beverages.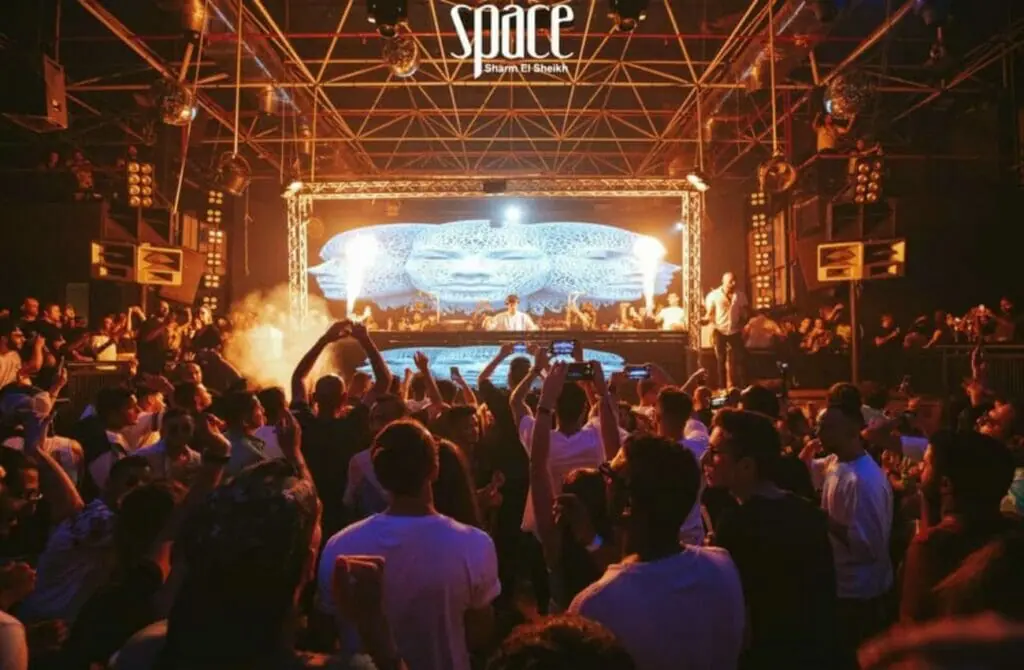 LGBT Rights in Sharm El Sheikh

As we step further into the labyrinth of Egypt's societal norms and laws, it becomes apparent that individuals identifying as Lesbian, Gay, Bisexual, or Transgender (LGBT) must navigate a legal landscape more convoluted than their heterosexual counterparts. The Egyptian legal fabric, though not explicitly criminalizing same-sex relationships, is fraught with nuances that turn the path of the LGBT community into an intricate maze.
Interestingly, the Egyptian legal system does not possess a direct law that criminalizes same-sex sexual behavior. Instead, the stage is set for a morality play where societal norms and conservative interpretations become the judge, jury, and executioner. The government deploys a medley of moral codes and religious teachings to prohibit and penalize homosexual activity, often under the umbrella of public decency and morality.
This tapestry of legal complexities envelops not only acts deemed 'homosexual' but also any expression or idea that might be construed as advocating or representing homosexuality. The very fabric of one's identity and expression becomes susceptible to scrutiny and, potentially, prosecution. Such morality-based provisions stand as stern sentinels against any perceived threat to the conventional order and have been deployed against the LGBT community and those who dare to champion their cause for equality and acceptance.
These regulations, ostensibly there to uphold public morality and order, serve as potent weapons in curtailing LGBT rights and suppressing the voices calling for reform. Their implementation goes beyond merely controlling physical acts, extending to influence ideologies and suppress discourse, stifling the very concept of LGBT existence and acceptance in the Egyptian society.
In summary, the LGBT community in Egypt, while not directly criminalized, faces a litany of challenges due to the intricate intertwining of societal norms, religious teachings, and legal provisions that suppress their identities and rights. The struggle for recognition and reform, therefore, continues against a backdrop of legal ambiguities and societal conservatism.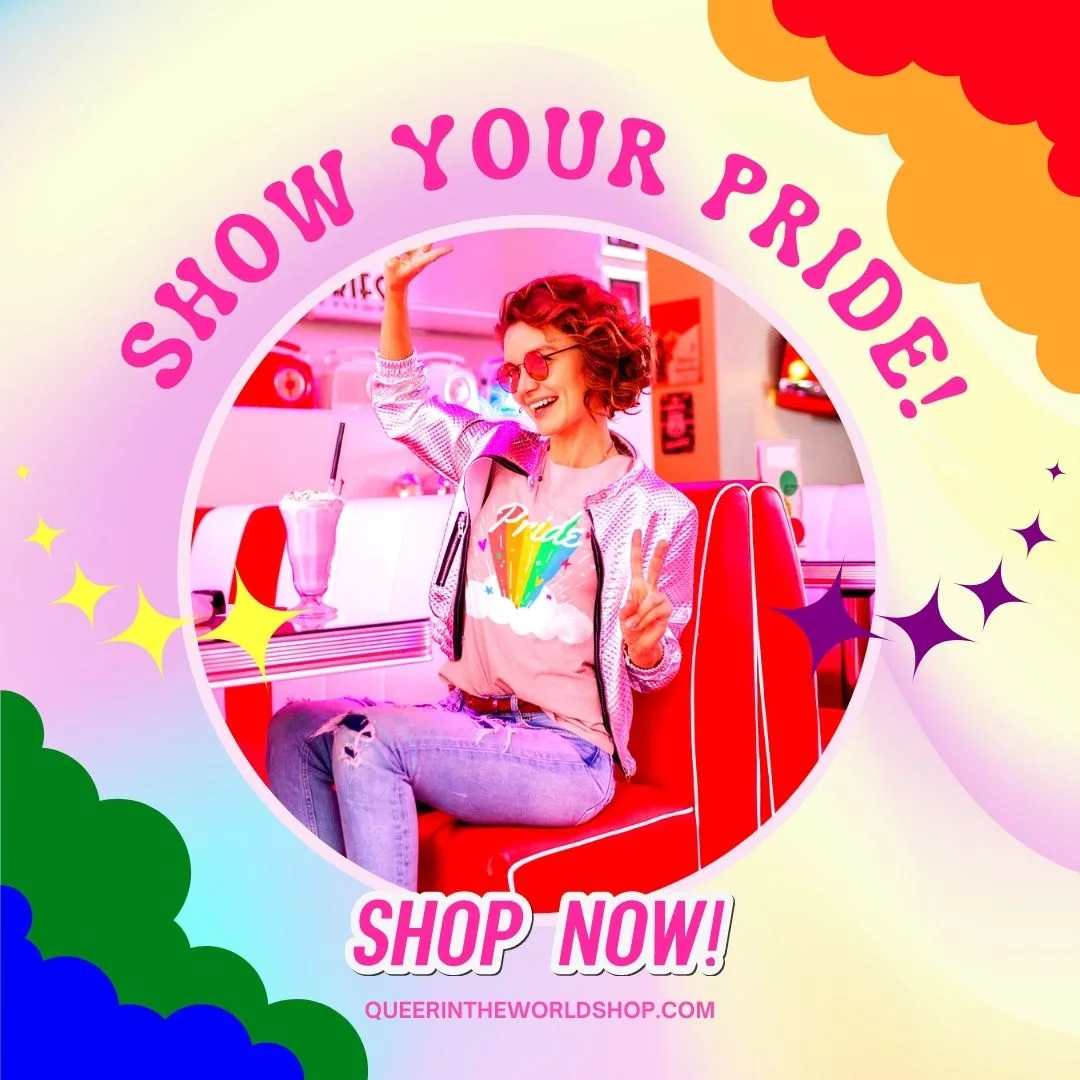 Gay Map Of Sharm El Sheikh
Finding it hard to envisage where everything is in Sharm El Sheikh? Hopefully, this queer-centric map helps where we have marked all the bars, clubs, parties, hotels, saunas, massages, and more will help you stay in the spot best suited to you!