Drape your dreams in the glow of the ancient pyramids and the vibrance of the Nile, for we're about to embark on an audacious journey through the dynamic and enigmatic city of Gay Cairo – a city of contradictions where the LGBT experience is a spectrum as diverse as the rainbow itself.
However, let us not veil the city's glittering visage without sparing a moment to discuss the undeniable adversities faced by the LGBT community in Egypt.
Egypt, a land steeped in history and intrigue, has not managed to etch a favourable narrative when it comes to the treatment of its LGBT citizens. The controlling gaze of conservative ideologies has cast a pallor over the city's vivacious vibrance, turning Cairo into a challenging landscape for the queer community to navigate.
The intricacies of local law become a net ensnaring unsuspecting individuals. Legal proscriptions against "debauchery" and prostitution have been manipulated to legitimise the persecution of gay men and women, leading to imprisonments that can span six months to six years. Despite homosexuality not being criminalised per se, the authorities have employed subversive tactics, using gay hook-up apps like Grindr to lay traps for gay men, spiriting them away to clandestine detentions under the guise of social gatherings.
One cannot overlook the infamous incident of the "Cairo 52" in 2001, where 52 men were apprehended during a gay party on the "Queen Yacht," a vessel anchored on the Nile. Their trials were less a measure of justice and more a spectacle, as the media not only scorned them but revealed their identities, subjecting them to further public ridicule.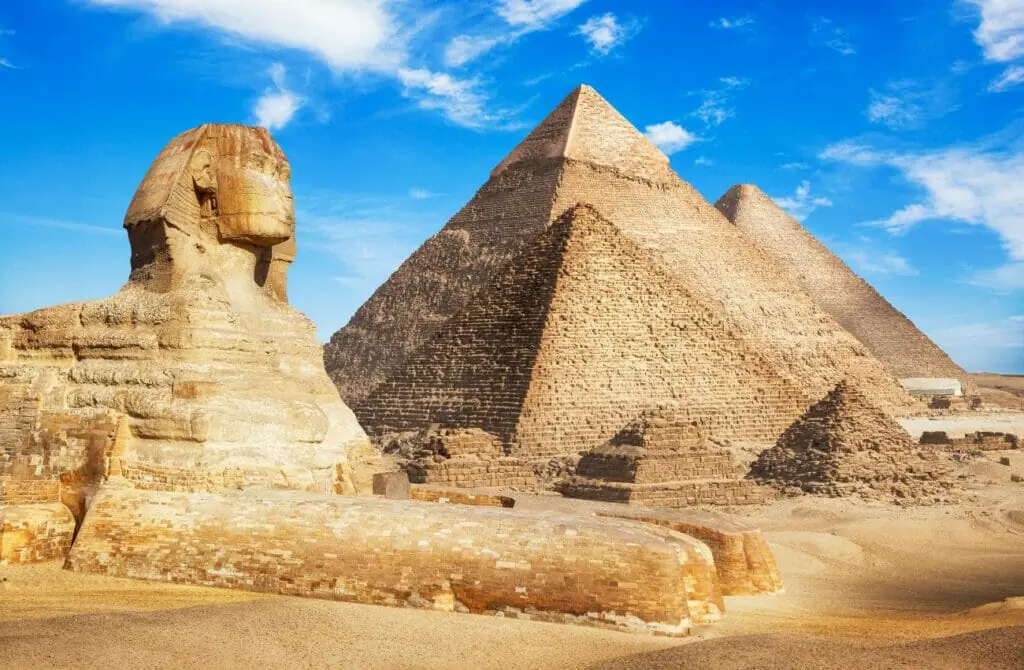 But as we stride through the dimly lit alleys of the city's LGBT history, we must remember that Egypt remains a treasure trove of unparalleled heritage, home to some of the most grandiose temples and tombs globally. We must unequivocally state, however, that visiting as an openly queer individual or partaking in any openly gay acts is strongly discouraged for safety and cultural considerations.
If you find yourself drawn to this land of antiquity, remember the mantra of discretion and respect. Avoid using local chat rooms to meet local men and practice caution in popular cruising spots (if you must visit – which we recommend you don't). Your adventure should be peppered with prudence, ensuring your time in Cairo is memorable, but for all the right reasons.
Cairo's allure also lies in its vibrant, modern settings frequented by open-minded audiences where you may encounter gay locals and tourists alike. These can be found tucked away in the city's hotel bars or Western-style restaurants and clubs. Our responsibility as your guide ends with providing this information, and we hold no liability for any actions taken based on it.
Cairo is a complex mosaic, and like all intricate designs, its beauty lies in its diversity. However, safety and discretion remain paramount in ensuring a fulfilling experience in this historic city. So let us proceed, ever mindful, ever vigilant, and ever inspired by the resilience of our community, even in the most testing of terrains.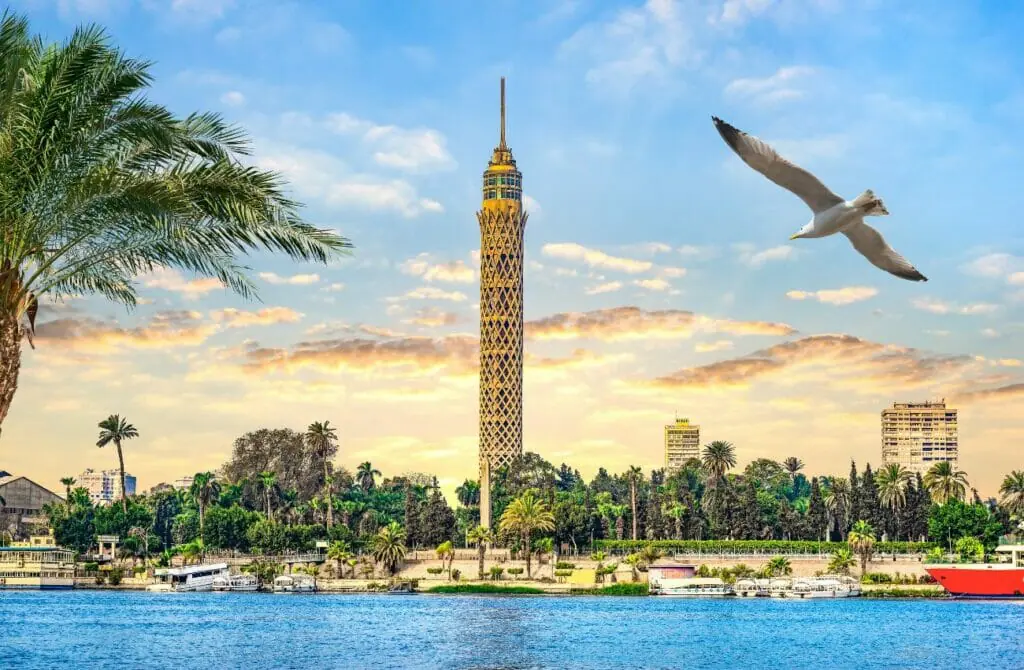 Attractions in Gay Cairo, Egypt
Honey, welcome to Gay Cairo! Now, let's spill the tea – this city may not be the most welcoming to our rainbow community, but don't let that dim your sparkle! There are still plenty of fabulous things to see and do here, no matter who you love.
As passionate travelers and members of the LGBTQ+ community, we believe that queer travel is about having fun and exploring new places, promoting cultural understanding, and spreading pride.
Through the journey, we can learn about different cultures, histories, and perspectives and share our experiences and identities with others. We can also support LGBTQ+ businesses and organizations and work together to create a safer and more accepting world for all members of our rainbow family.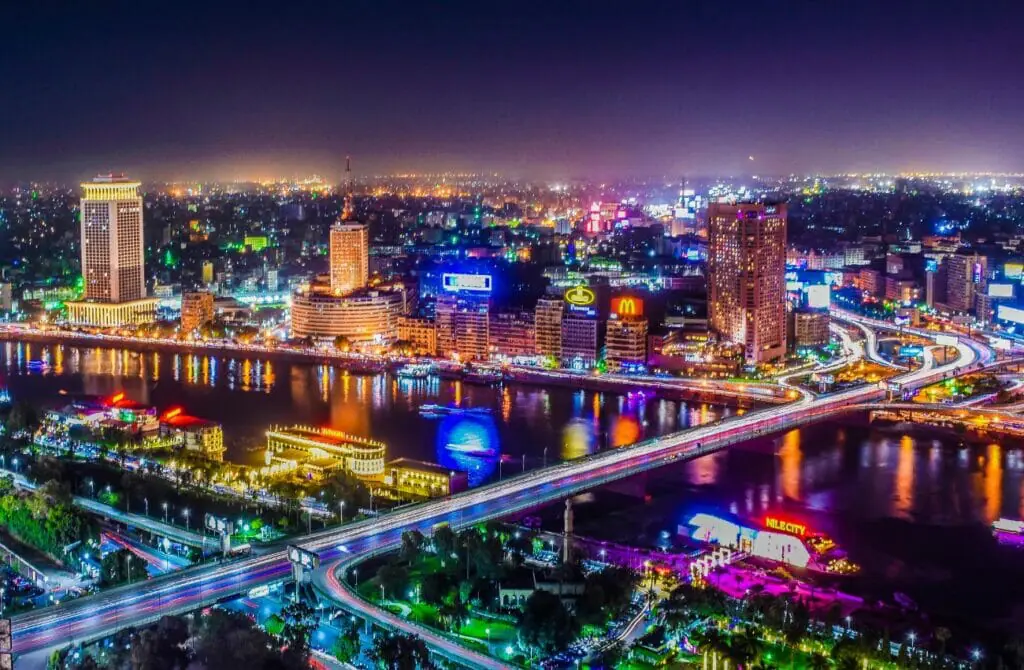 Unfortunately, homophobia and discrimination still exist in many parts of the world, and it is important to be mindful of the laws, customs, and attitudes of the places we visit. But by being visible and proud and by supporting local LGBTQ+ communities and allies, we can help to change hearts and minds and make a positive impact wherever we go.
So let's keep exploring, learning, and sharing, and continue to work towards a future where all travelers can feel safe and celebrated, no matter where they are in the world.
Check out the iconic landmarks and attractions, darling. Visit those historical monuments, museums, and art galleries like the true cultural connoisseur you are. And, of course, let's not forget about the architecture, parks, and gardens.
Trust us, the local cuisine will leave you gagging, and the markets are to die for. And, girl, let's not even start on the cultural events like festivals, concerts, and shows – they are simply sickening!
Now, while we are out and proud queens, we have to keep it on the down-low when we hit the streets, sis. Sadly, this city may not be as welcoming to us as we'd like. But no worries, we'll just have to slay discreetly, okay? Let's show these locals how to live our best lives, honey!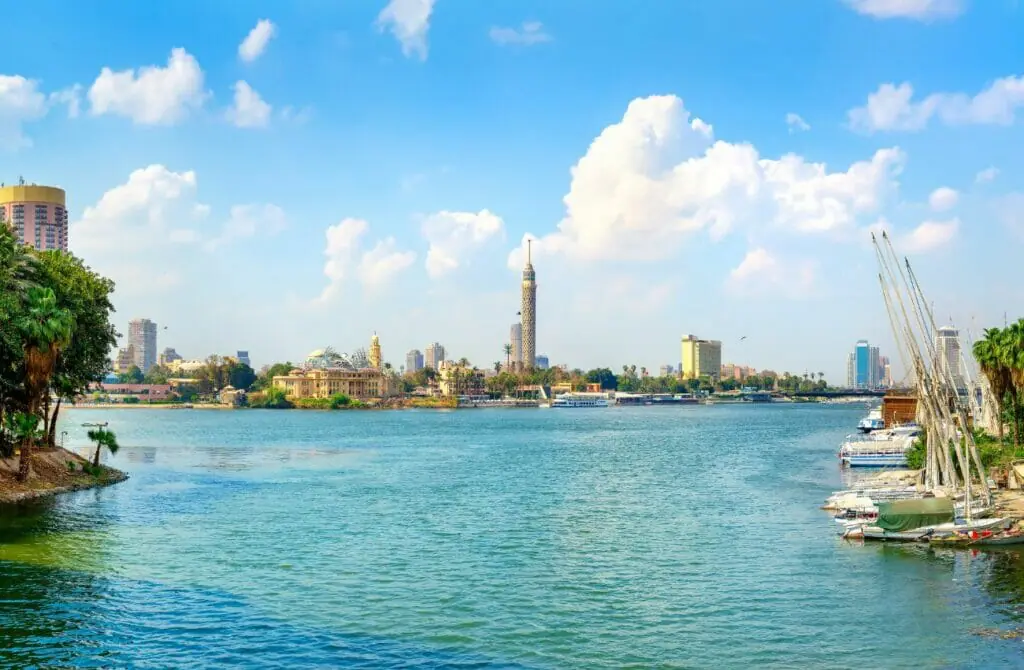 The Giza Necropolis is located on the outskirts of Cairo, and it is here that you will find the famed Great Pyramids of Giza and the easily visible Sphinx. You shouldn't expect to have a tranquil stroll around any historic site since it is visited by thousands of people every day. It is highly popular; consequently, many offer different things or services, such as camel rides and other similar activities.
The Khufu pyramid is the biggest and oldest of the three pyramids at this site, each named for the pharaohs Kafre, Khufu, and Menkaure. The pyramids are the most well-known feature of the site. The pyramids are available to the public; however, taking photos is not authorized.
If you want to tour the inside of Khufu's pyramid, be prepared for it to be rather hot, and be ready for a long climb upstairs if you want to enter the Pharaoh's burial chamber, which is located at the pyramid's apex. If you haven't traveled to Egypt and seen the pyramids, you can't claim to have been there.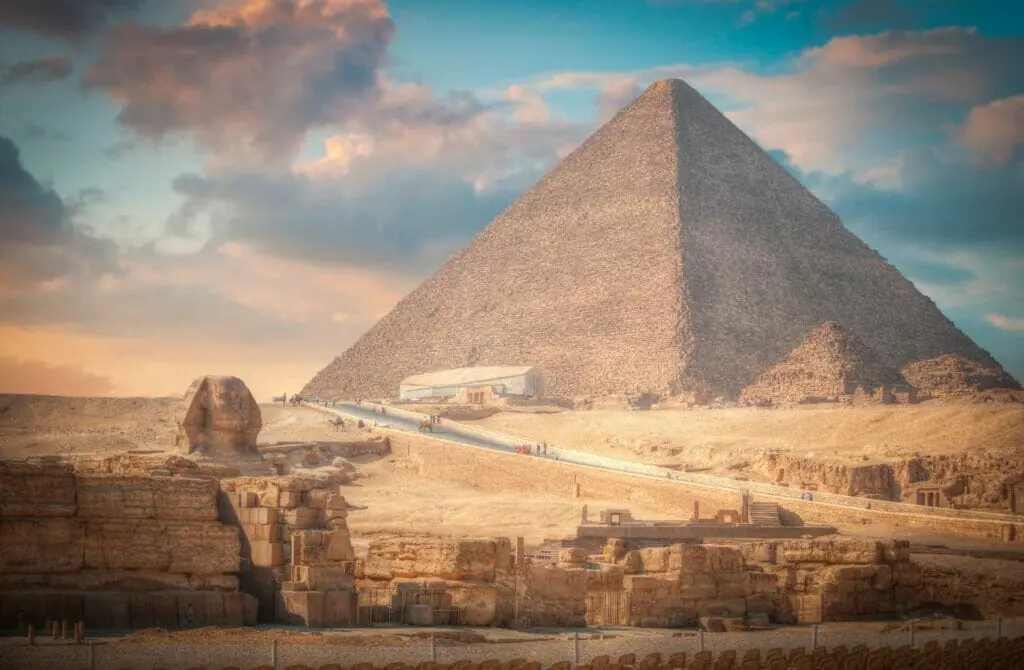 Because of the vast number of visitors it receives each year, the Egyptian Museum deserves to be placed second among Cairo's tourist attractions. Even individuals who dislike visiting museums claim that the Egyptian Museum in Cairo captivates them.
The museum has about 100,000 Egyptian artifacts, making it the most comprehensive collection in the world. However, remember that not all of the museum's pieces are always displayed in permanent displays. Some are on display in other nations, while others are kept secret and only brought out for rare events.
The museum is notably well-known for its Royal Mummies Room, which has recently been renovated and improved and currently houses several genuine mummies, some of which are on display. Visitors must purchase a separate ticket to enter the museum's Mummies Room.
Even though a visit to the museum is often included in the majority of Egypt travel packages, many visitors like returning to the museum on their own since there is so much to see, taking pictures within the museum is strictly prohibited for any purpose.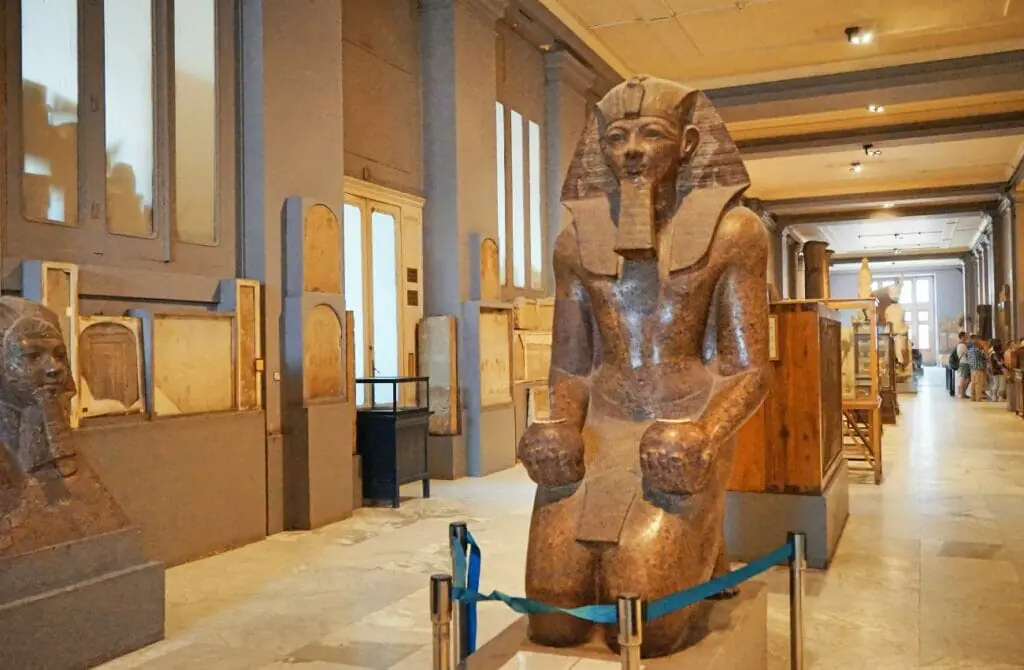 The Cairo Tower is a "thrilling" attraction that gives guests stunning views of the city below. Interestingly, it has been the tallest freestanding tower in Egypt and North Africa for the past fifty years. In reality, before the Hillbrow Structure in South Africa was built in 1971, it stood at 187 meters, making it the tallest tower on the African continent.
The tower is often regarded as the city's second most recognizable landmark, behind the pyramids, and its accessible location has helped to put it firmly on the tourist map. The building is finally open to the public after being out of action for the substantial refurbishment project.
There is a small fee to climb to the top of the tower; however, the fee increases if you want to eat in the restaurant at the very top. Although the restaurant boasts some of the most spectacular views in the city, some visitors have complained that the costs are expensive and the food quality does not compare to that of other restaurants across the city.
Regardless, it is suggested that you visit the tower, and if you have the time, it is also recommended to visit it after dusk.
Visitors can cruise down the Nile River from Cairo to southern Egypt attractions such as Luxor or Aswan. However, just because you are visiting Cairo does not exclude you from spending some time on the river. Dinner cruises on the Nile River are among the most popular things to do in Cairo. Yet, interestingly, although not the cheapest option for eating out, Nile River dinner cruises are reasonably priced.
Various ships provide lunch and supper cruises, and customers are welcome to embark anytime. Each is meticulously constructed, providing travelers with a magnificently rich eating experience. Most cruises last around two hours, and arrangements may be made at most hotels that cater to the tourist industry.
You may also request that your tour operator add a dinner cruise to your itinerary since some tour companies are happy to do so.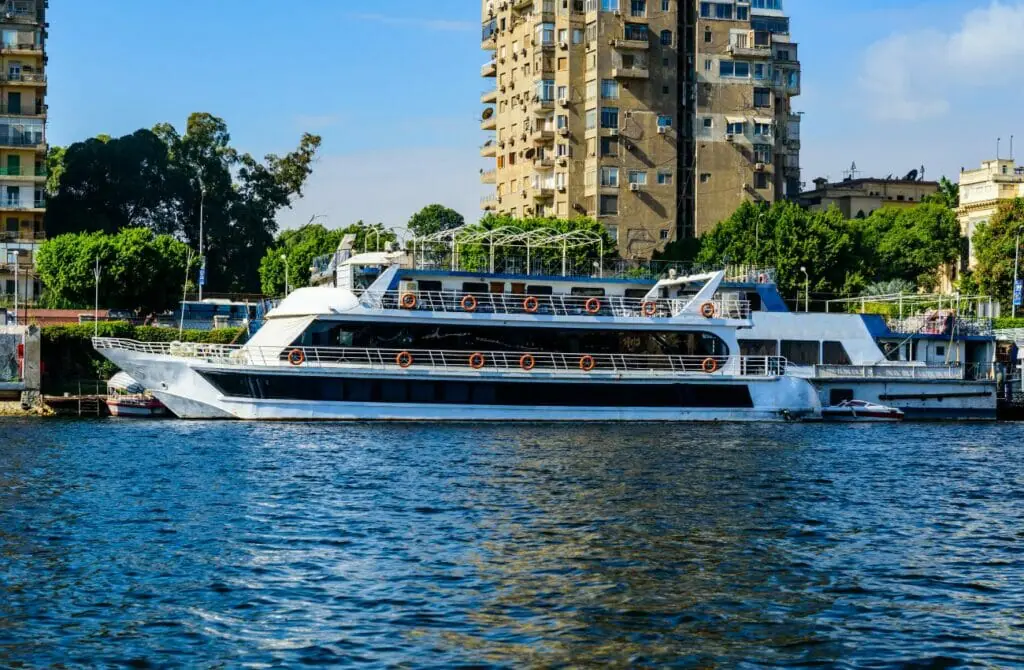 A trip to Cairo would be incomplete without at least one visit to the famed Khan El Khalili market, located in the Islamic section of Old Cairo. This souk's history may be traced back to the 14th century when it functioned as a key marketplace for merchants from the Middle East and Europe.
You may find almost everything at the bazaar, including a variety of coffee shops that are growing more popular among locals and tourists. Those in the know say that the same family has operated the oldest coffee business since it opened. This implies it's almost as ancient as the bazaar itself.
Customers are expected to bargain with merchants for a fair and acceptable price, a common practice in Egypt and many other countries. While this may initially be frightening, you will rapidly grow accustomed to it, and most visitors will learn that it can also be delightful. Spend a half-day exploring this interesting collection of historical relics and architecture.
Because of its tremendous popularity, the Citadel of Cairo is included in various Cairo vacation packages. This gorgeous monument is perched on top of a hill and overlooks Old Cairo; it is a favorite destination for visitors from other nations and Egyptians.
Most people visit the Citadel to see the gardens and the medieval mosques. On the other hand, many folks travel there to appreciate the vistas and enjoy the lovely breeze for which the area is famous.
Like most other historical structures in Egypt, the Citadel has a rich and fascinating history. The area is also home to various attractions, including the Alabaster Mosque, which should not be missed. If you want to visit the mosques, ensure you are appropriately clothed.
Men and women must dress modestly, expecting women to cover their legs, shoulders, and hair. This requirement does not apply to males. Photography is permissible inside mosques; however, if worshippers are present, it is advisable to avoid shooting photographs at that time.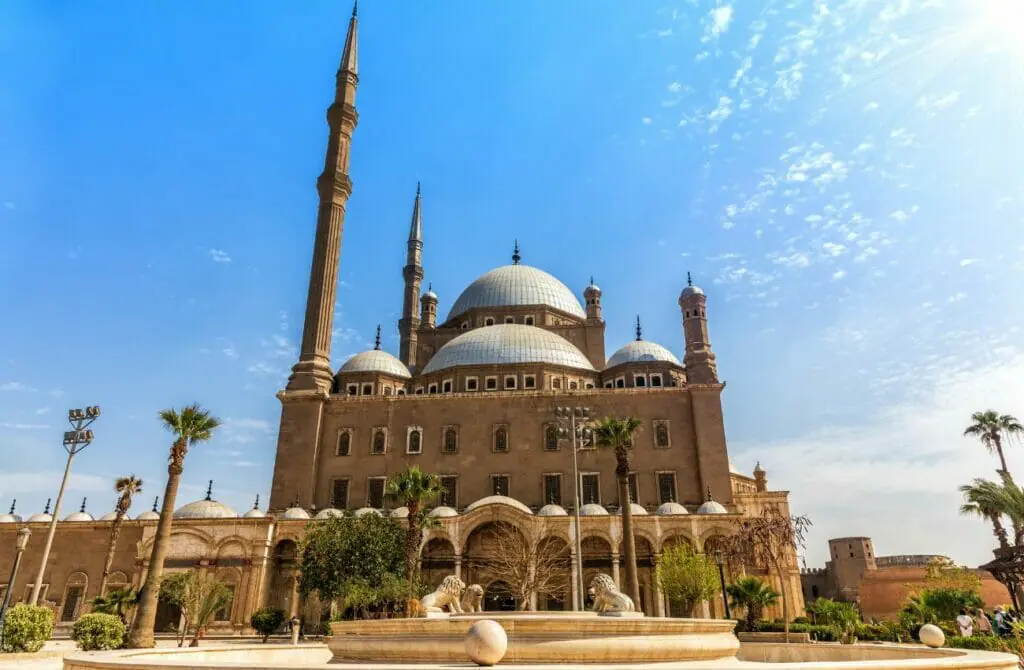 Memphis Open-Air Museum
Memphis served as Egypt's capital during the New Kingdom era; however, little of the city exists today besides a few ruins and antique remnants. Today, the site is a UNESCO World Heritage site with the official status of an open-air museum.
Although little of this once-thriving metropolis remains today, it is nonetheless regarded as one of Cairo's top ten attractions. As a consequence, a visit to the site is often included in the majority of Egypt travel packages.
Visitors to the Saqqara Necropolis, where the pharaohs of this period, along with their family members and other royalty, were buried, would commonly stop in Memphis on their journey to or from the Saqqara Necropolis. Memphis is almost midway between the two destinations. Even though not at all of Egypt's ancient landmarks, photography is allowed in Memphis.
Even though they are not near Cairo, the Dahshur pyramids are a popular destination for travelers to Egypt, particularly those who come for historical sightseeing trips. Because there are fewer people at this site than at the Giza pyramids, several tourists have said that they preferred their time at these pyramids to their experience at the Giza pyramids.
The Black Pyramid, Red Pyramid, and Bent Pyramid are particularly interesting at this site. Pharaoh Seneferu directed the construction of all three pyramids during the 4th dynasty. Although these pyramids have experienced substantial damage over the years, it is strongly advised that you see them because of their historical significance.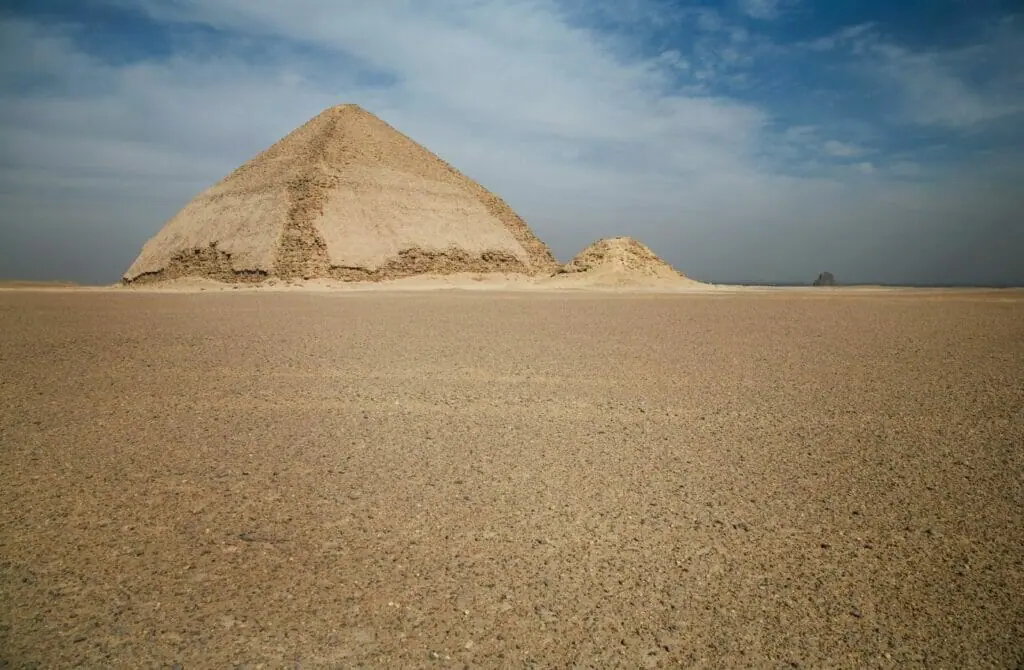 Old Cairo
Old Cairo has been prominently included on lists of Cairo's top ten attractions for quite some time. It's a fascinating part of town, and travelers might easily spend a few days strolling about and exploring it all.
The bulk of visitors, however, come to view the region's medieval churches and the great Ben Ezra synagogue. It is said that Joseph, Mary, and the newborn Jesus sought refuge in this hallowed Church of Saint George while fleeing King Herod. Visitors visiting old Cairo may pay a visit to this chapel, which is supposed to be where they did so.
Furthermore, Old Cairo is home to the well-known Hanging Church of Cairo, one of Egypt's oldest and biggest churches. The Hanging Church of Alexandria is currently the official seat of the Coptic Pope of Alexandria. Visitors are welcome at any of these churches, and photography is allowed; however, tourists are cordially asked to abstain from taking photographs during worship services.
The Step Pyramid of Pharaoh Djoser is regarded as one of the very first pyramids ever built. It is frequently called a "magnificent" pyramid due to its size and construction. The tiered design of the towering pyramid in front of you reflects how all pyramids were initially constructed.
There are several misconceptions and misunderstandings about pyramids. It wasn't until much later that pyramids with completely smooth sides, such as the ones at Giza, started to emerge.
The majority of Egypt pyramid tours will include a visit to this place; however, if you are traveling alone, you should be informed that there is a fee for those who want to explore the surrounding area. Although photography is permitted, visitors cannot enter the pyramid itself. Visitors may, however, take photographs.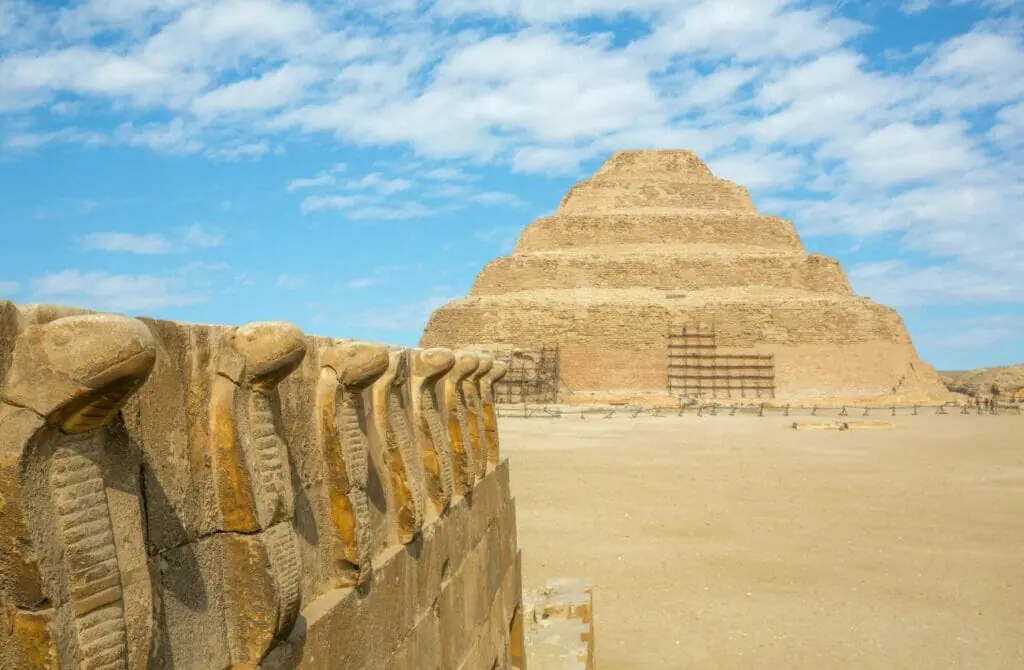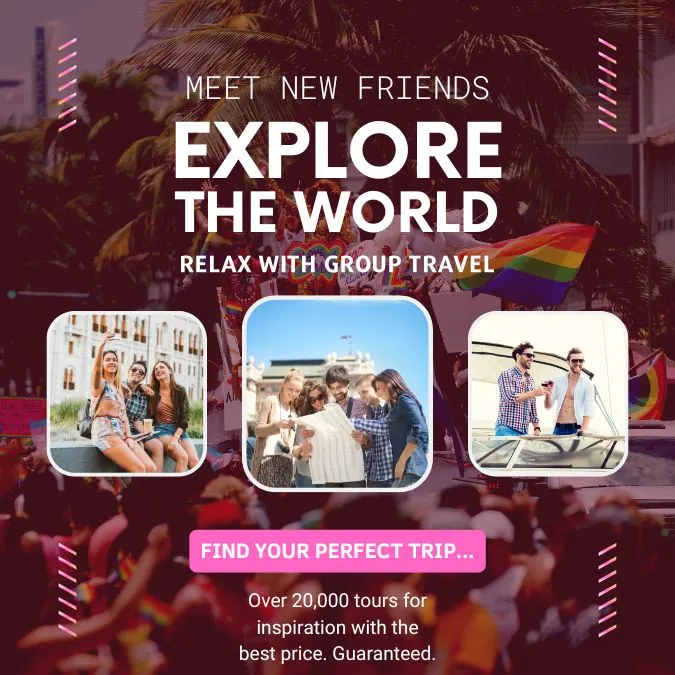 Gay-Friendly And Gay Hotels in Cairo, Egypt

Prepare to be swept off your feet as we delve into the world of Cairo's subtly hospitable abodes, teetering on the edge of fabulous while maintaining a dignified discretion. These hotels, although not openly declared, have the reputation of being welcoming spaces for the LGBT community.
While many establishments may not publicly embrace the rainbow flag, these distinguished accommodations have demonstrated an unspoken yet profound commitment to the spirit of queer acceptance. It's as if they whisper, "We see you. We welcome you," without ever uttering a word.
Even in the sanctity of these havens, the undercurrent of Egypt's conservative society must be considered. Discretion remains the unsung anthem here, an oft-ignored melody that sings of respect for the culture and norms of this historical land.
Encompassing a wide spectrum, these hotels range from local, subtly gay-friendly establishments to international chains that carry the legacy of their parent brands' inclusive policies. The latter, often seen as more familiar faces in an unfamiliar landscape, strive to create an environment of warmth, respect, and safety, albeit in a subdued manner.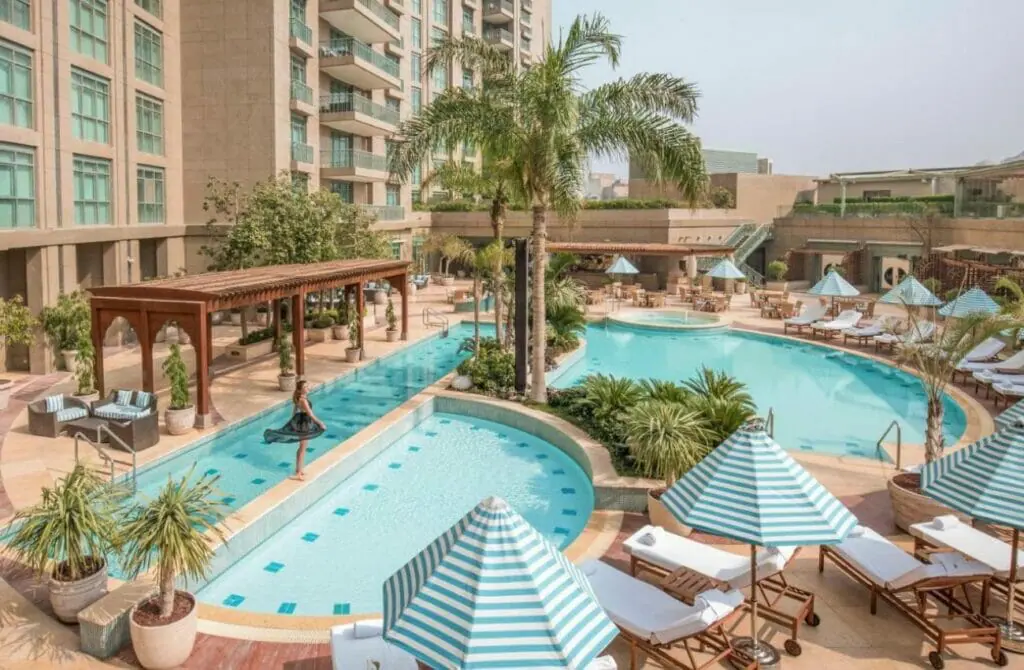 These accommodations, known for their high-quality amenities and services, aim to provide a comfortable stay for all travelers, including those identifying as LGBT. Yet, even within their walls, it is advisable for guests to navigate with an air of caution and subtlety, paying heed to the cultural nuances that permeate Egyptian society.
Whether the traveler's choice leans towards the locally influenced retreats or the familiarity and luxury of the international hotel chains, research and careful selection are paramount. One should seek an establishment that offers comfort and a feeling of welcome while also promoting respect for local customs.
So, why hesitate? There's a subtle, unspoken invitation extended to all those willing to experience the whispered luxuries these subtly queer-friendly hotels in Cairo offer. Yet remember, even amidst the comfort of these accepting sanctuaries, the song of discretion must never be forgotten.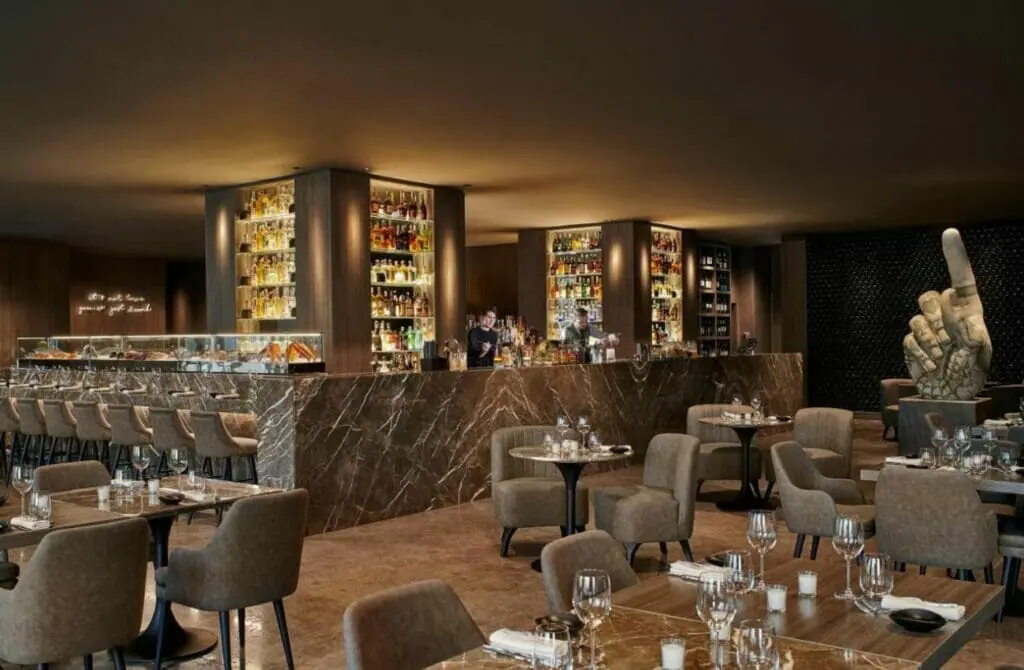 Four Seasons Hotel Cairo at Nile Plaza ☆☆☆☆☆
This five-star hotel is one of the best places to stay in Cairo for gay tourists since it provides spectacular views of the Nile. During your stay, you will have access to a fitness facility where you may work out and maintain your fitness regimen. You may utilize the spa services at the modern spa facility any time of day or night, giving yourself a massage or getting pampered.
In addition to its other attractions, the Nile Plaza's spa features a gym, a hairdresser, and an indoor pool. Guests may relax in the spa's hot tub or have a refreshing massage. You may also enjoy swimming or watching others swim in the nicely landscaped outdoor pool area for your amusement.
The Four Seasons Hotel's exquisite rooms overlook Cairo, offering visitors breathtaking views of the city without needing to leave the comfort of their suites. The rooms are spacious, so you should have no problem relaxing and sleeping well on the large and comfy bed supplied in each room.
And you won't have to rush out of bed in the morning to make breakfast since the hotel provides a freshly cooked, substantial breakfast buffet every morning. Guests may enjoy regional dishes cooked traditionally at the Four Seasons Hotel Cairo restaurant at Nile Plaza.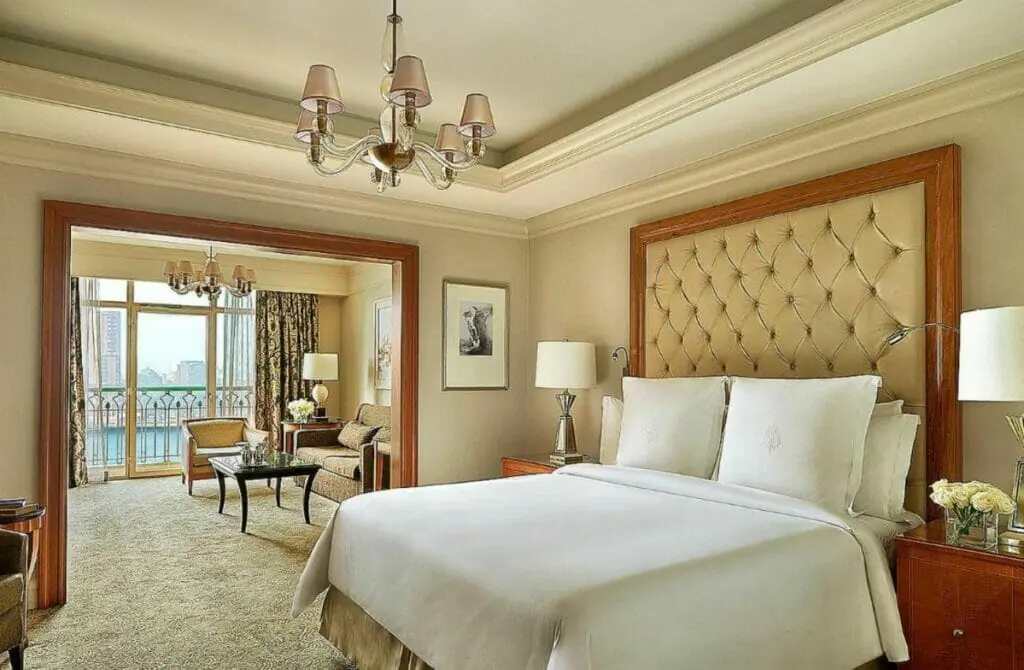 St. Regis Cairo, situated in Cairo, offers tourists high-quality hotel options. Since it has a vast parking lot, you won't have to worry about finding a parking spot while staying at the hotel. Hotel guests who wish to enjoy some exercise on the open road may borrow free bicycles from the hotel.
Guests who want to work out and burn off any extra weight they may have acquired while on vacation may do so at the hotel's fitness facility, which is situated on the hotel grounds. The front desk is operated 24 hours a day, seven days a week, to satisfy any needs made by tourists.
The rooms include air conditioning, a sitting area, a flat-screen TV with satellite channels, a safety deposit box, a private bathroom with a bidet, free amenities, and a hairdryer. These amenities are provided to ensure that hotel guests have a pleasant stay. There is also a coffee maker in the room to ensure that you may relax and enjoy your chosen beverage without difficulty.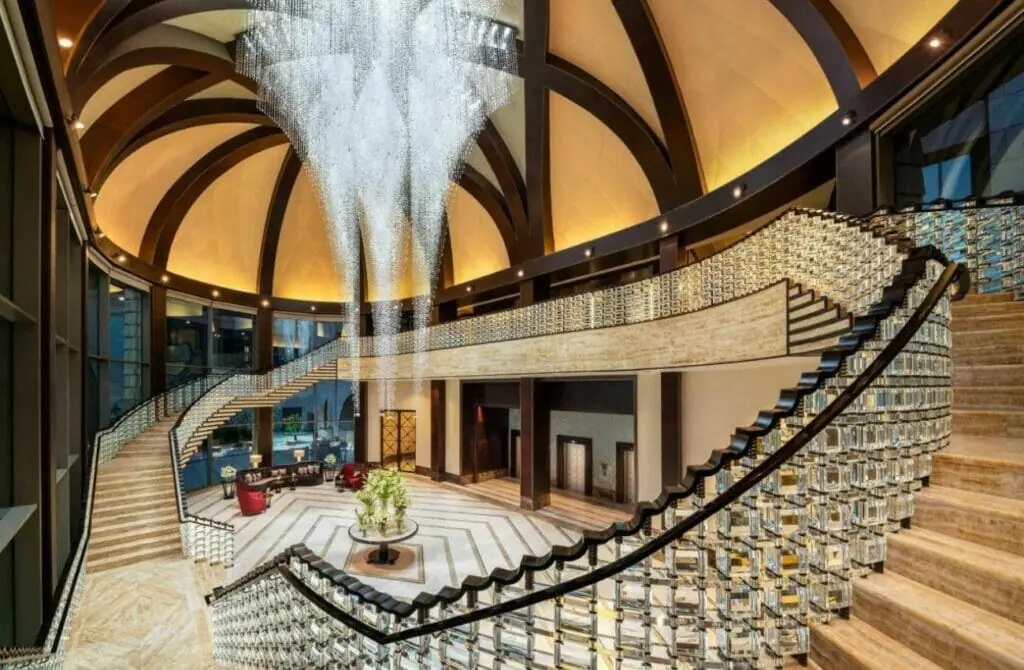 Minerva Downtown Hostel is a peaceful and appealing hostel located in the heart of Cairo. The inside is richly furnished in an Eastern manner while providing all of the modern conveniences available in the West. It is designed so that you will never have to worry about anything since it will handle everything.
Nothing beats the pleasure and satisfaction of having a beautiful perspective of the city without having to leave the comfort of your lodging as a visitor. This is just one of the numerous features that Minerva Downtown Hostel customers like about their rooms.
The rooms provide a fantastic view of the city's core business sector. In addition to relaxing in the luxury of your space, you may take a stroll out on the balcony in the evening and relax with a delightful serving of your preferred beverage. A comfy bed has been made available to ensure you enjoy the best possible night's sleep.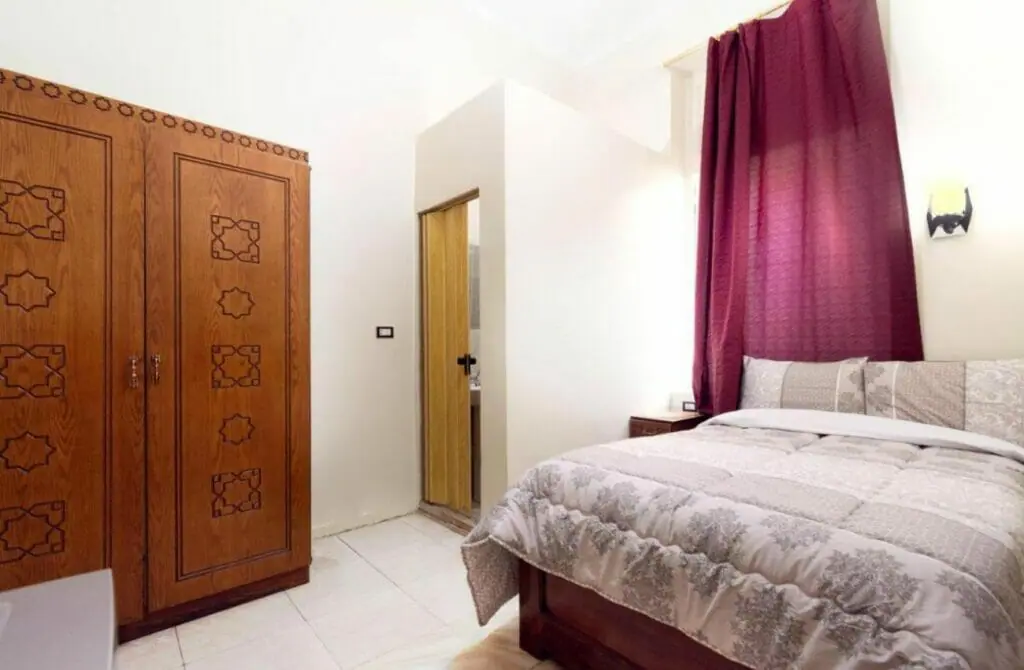 Gay Nightlife in Cairo, Egypt
Cairo's nightlife is surely memorable since it delivers electrifying moments in the same vicinity as the ancient pyramids. Although alcohol is heavily restricted across most of Egypt, tourists won't have any problem finding alcoholic beverages at Cairo's restaurants, bars, or liquor stores, given the city's abundance of these places.
Exploring the queer nightlife scene in a new city can be one of the most exhilarating experiences while traveling, and Gay Cairo is certainly no exception. Not only do you have the chance to meet new people and make friends, but you'll also immerse yourself in the local culture and learn more about the LGBTQ+ community.
Whether you prefer to connect with other queer folks in person at a gay bar or club or through a hook up app, Gay Cairo has plenty of options for you to explore. However, it's important to keep in mind that many of the public spaces in the city are not queer-friendly, and it's best to avoid displaying overt signs of queerness in certain areas due to the risk of discrimination or even violence.
So, venture out to experience the vibrant and diverse queer nightlife in Gay Cairo, but always prioritize your safety and well-being. Take precautions when meeting new people, and be mindful of your surroundings. With a bit of caution and a lot of fun, you're sure to have an unforgettable time in this amazing city.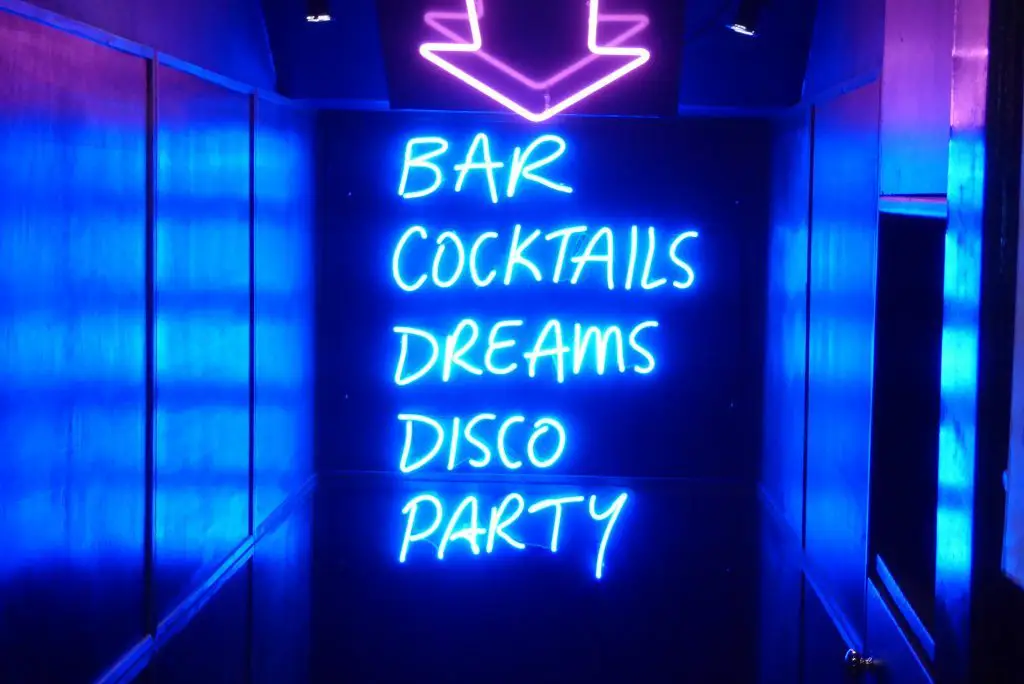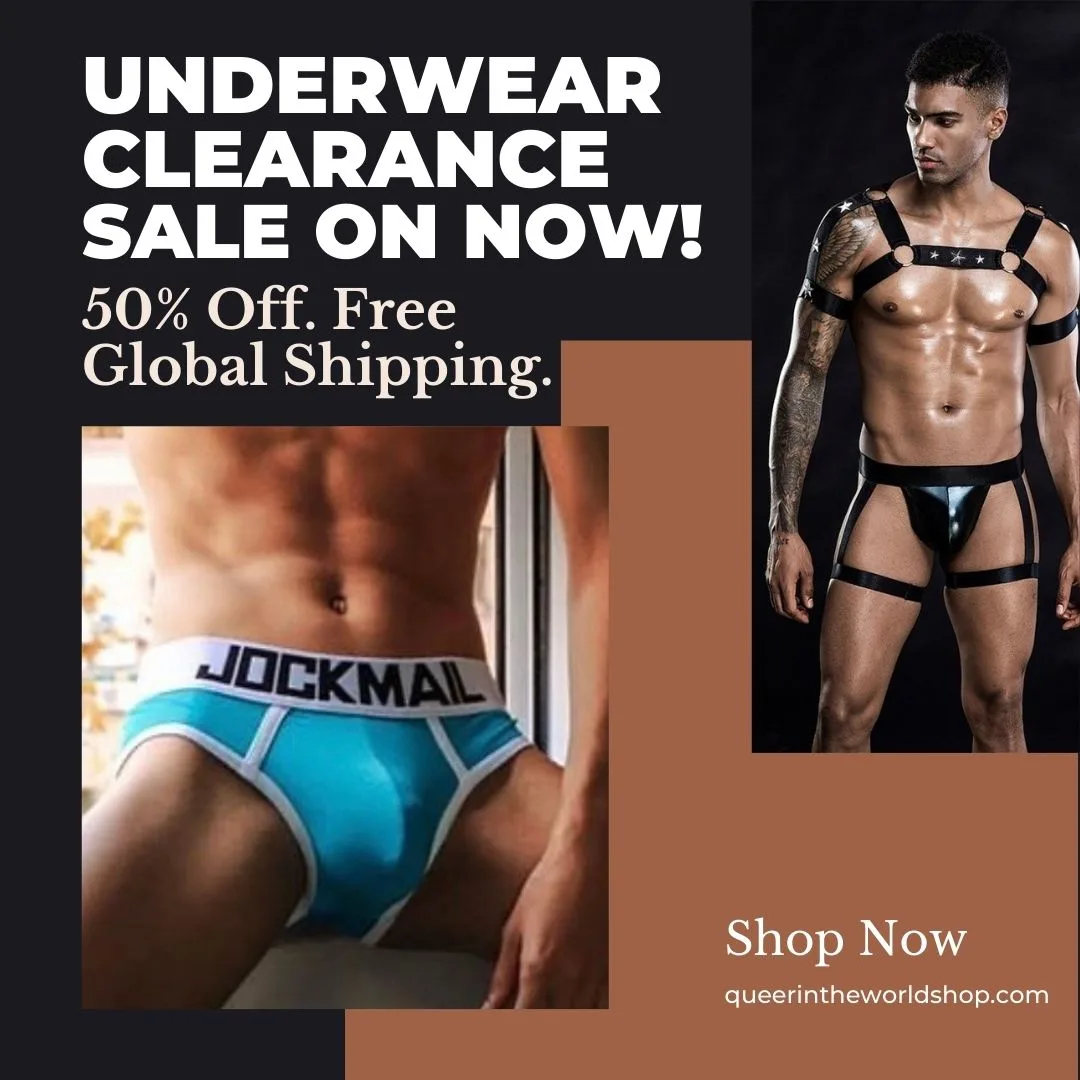 Gay-Friendly Bars, Clubs, and Coffee Shpops in Cairo, Egypt
Due to the hidden nature of the LGBT culture in Egypt, it may be difficult to find openly gay nightlife spots in Cairo. However, many venues subtly embrace homosexuals, allowing individuals of all sexual orientations to enjoy the city's nightlife. The following places are regarded as among the best gay-friendly bars and clubs in the city:
This lively pub has launched its first branch in Maadi, with foosball tables and a lively ambiance. Because they host live music on certain nights, it's always worth checking out their Facebook page to see what new things they have.
There's no need to have a huge meal (or any dinner) before you arrive since they offer an extensive menu of pub cuisine and are famous for their wings. The Tap in Maadi was so successful with consumers that the proprietors decided to open a second facility in New Cairo. This time, they added an outside sitting area to the mix.
This is regarded as one of Cairo's earliest live music clubs. It is ideal for those who like going out to parties and listening to music. It's a popular area where you can enjoy music, excellent food, and a selection of beverages from the bar.
The club's website was first created as a platform for the aesthetic and expressive embodiment of music. It is becoming a popular meeting place for young people looking for roistering employment while on vacation in one of the world's historic towns.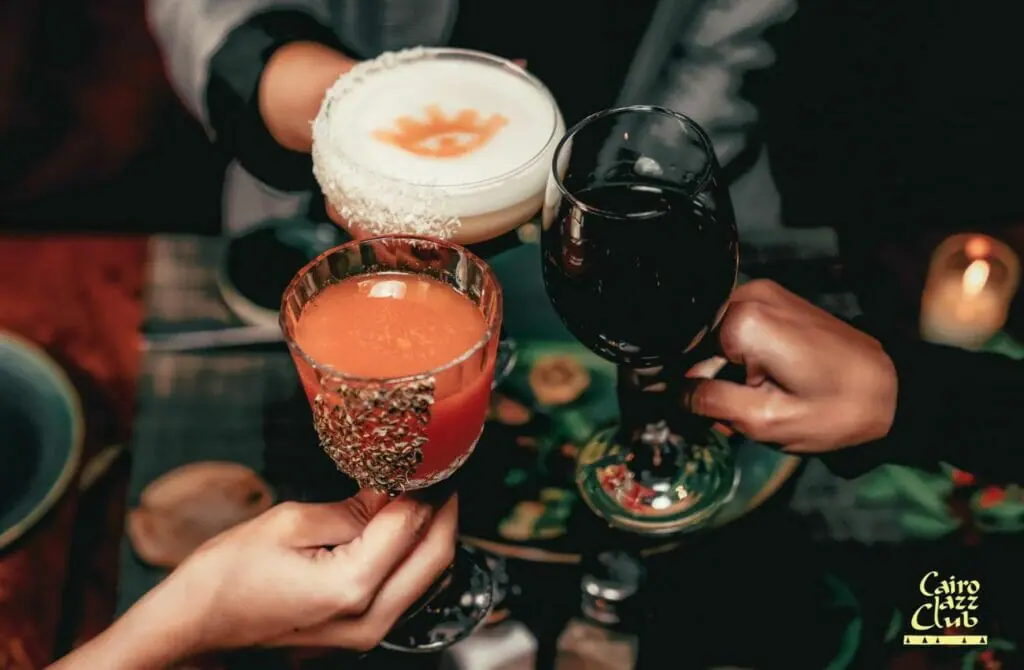 Shahrazad Cairo
A popular bar where you can observe the traditional Egyptian home entertainment known as stomach dance can be found in this fashionable district of Downtown Cairo, near Talaat Harbour Street. The orientalist fantasia that pervades the Shahrazad Club in Cairo makes it a popular visit. Its magnificent interior design features red-velvet curtains, heavenly lighting, and sophisticated Arabic music.
This, along with the restaurant's excellent cuisine and energetic atmosphere, makes it a must-visit spot for individuals who like attending parties. You may unwind and order some Sakkara, a well-known local beer with a serving of lupin beans.
Crimson Bar & Grills, located on Zamalek Island's back alleyways, is famed for its spectacular view of the Nile River from the establishment's rooftop terrace. The establishment's configuration of high chairs positioned around a square bar provides the opportunity to converse with people from diverse ethnic backgrounds.
Crimson Cairo is the location that will make you want to party till the early morning hours, regardless of where you are or who you are with.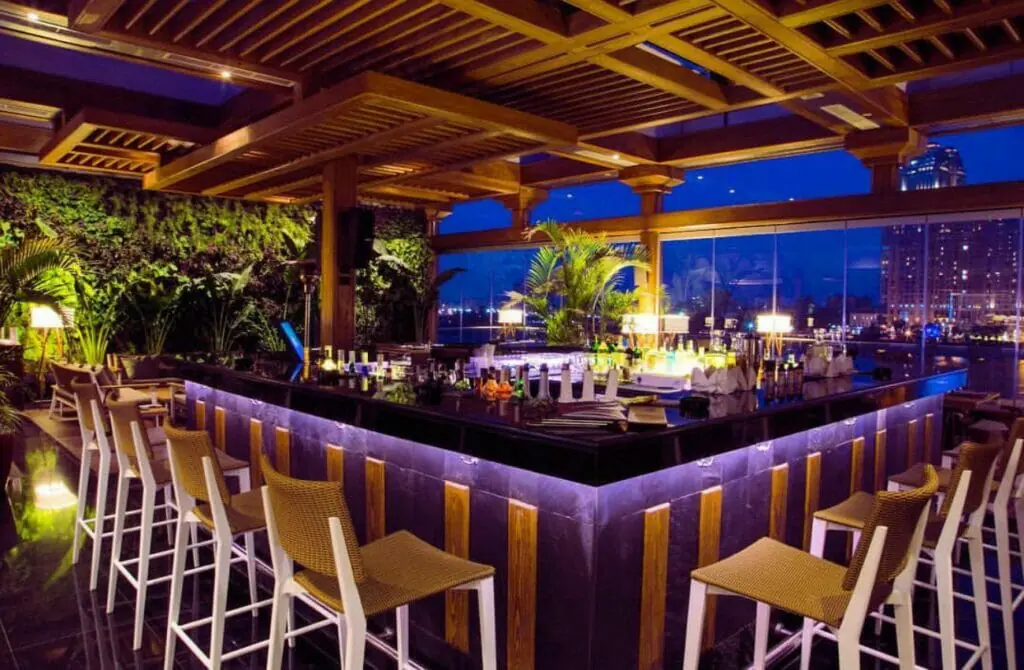 L'Aubergine is another long-standing business with a reputation in the Cairo bar scene. It's an excellent option if you want to relax with a drink and get some food into your system since they offer amazing cuisine (we suggest the chicken teriyaki, but that's just us).
What's wonderful about them is that they also provide delicious cuisine, so it's a terrific choice if you want to unwind with a drink and get some food into your system.
Another thing we enjoy about L'Aubergine is how relaxed it is; you won't have to spend the night stooped over in painful heels or getting dressed up to impress everyone there.
The Golden Pharaoh is ideal for a low-key night out because of its voyage with whirling dervishes and traditional dancers. It is a 14-meter-long high-end boat with a continuous line of buffets filled with cuisine from Egypt and the Middle East.
A traditional folk dance done by dervishes wearing brilliantly colored skirts may be admired. While watching the pelicans dive, the feluccas and the boats cruise on the Nile; you may drink your favorite beverages or mixed cocktails at the Nile Coffee shop on the Pharaoh's beach.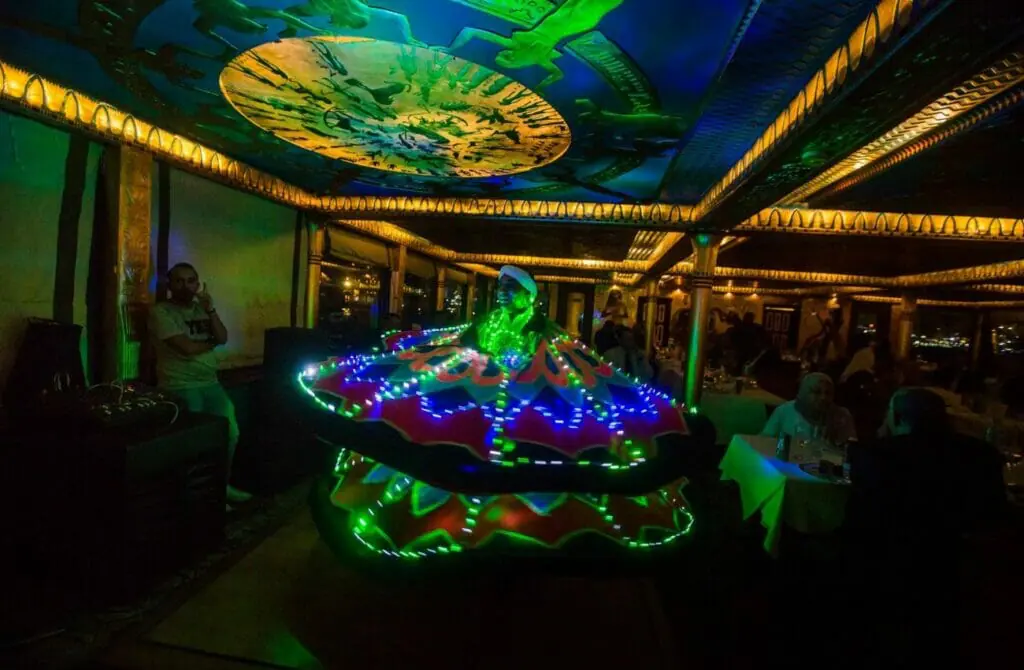 Given that Egypt was dusting off the monarchy, the Cairo Cellar is a royal reminder of the past, as the area has been providing an explosive nightlife setting. The Cairo Cellar is situated in Cairo, Egypt's capital. It's an English-style bar in the basement of the President Hotel on Zamalek Island, with a big cellar loaded to the brim with alcoholic drinks and bottles of red wine.
The celebration animals are seldom kept in this kind of environment. Anyone can go to Mezza's, have their favorite beverages, and then hang out and celebrate with the people they care about the most.
It would be best if you didn't go with the outer appearance since it seems sinister because their sign is hardly illuminated. Club 28 has been the go-to location for partygoers since those days, and its clientele comprises folks of all ages, from the very young to the very old.
It's an old bar so you may miss hippy music, blended drinks, efficiencies, and other things, but you can still have long discussions with an old buddy while enjoying traditional beverages here!
Baky Hospitality, the same group of restaurateurs behind Lexie's, one of our favorite places in New Cairo for dinner and drinks, has launched Sachi Sachi, a new high-end restaurant and bar. Sachi Sachi specializes in sushi and delivers Japanese and Mediterranean food fusion.
Sachi was one of the few resto bars of its sort when it opened its doors, with exquisite decor and service. It has remained a powerhouse since then, with Sachi By The Sea running along the North Coast during the summer and Sachi Park St. in Sheikh Zayed.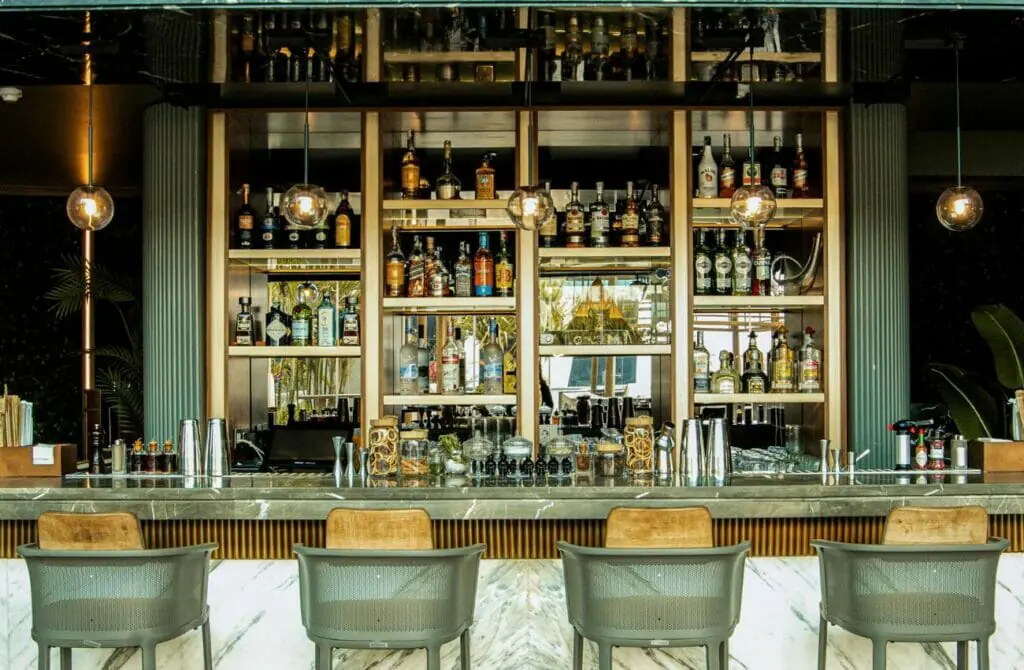 LGBT Rights in Cairo, Egypt

As we step further into the labyrinth of Egypt's societal norms and laws, it becomes apparent that individuals identifying as Lesbian, Gay, Bisexual, or Transgender (LGBT) must navigate a legal landscape more convoluted than their heterosexual counterparts. The Egyptian legal fabric, though not explicitly criminalizing same-sex relationships, is fraught with nuances that turn the path of the LGBT community into an intricate maze.
Interestingly, the Egyptian legal system does not possess a direct law that criminalizes same-sex sexual behavior. Instead, the stage is set for a morality play where societal norms and conservative interpretations become the judge, jury, and executioner. The government deploys a medley of moral codes and religious teachings to prohibit and penalize homosexual activity, often under the umbrella of public decency and morality.
This tapestry of legal complexities envelops not only acts deemed 'homosexual' but also any expression or idea that might be construed as advocating or representing homosexuality. The very fabric of one's identity and expression becomes susceptible to scrutiny and, potentially, prosecution. Such morality-based provisions stand as stern sentinels against any perceived threat to the conventional order and have been deployed against the LGBT community and those who dare to champion their cause for equality and acceptance.
These regulations, ostensibly there to uphold public morality and order, serve as potent weapons in curtailing LGBT rights and suppressing the voices calling for reform. Their implementation goes beyond merely controlling physical acts, extending to influence ideologies and suppress discourse, stifling the very concept of LGBT existence and acceptance in the Egyptian society.
In summary, the LGBT community in Egypt, while not directly criminalized, faces a litany of challenges due to the intricate intertwining of societal norms, religious teachings, and legal provisions that suppress their identities and rights. The struggle for recognition and reform, therefore, continues against a backdrop of legal ambiguities and societal conservatism.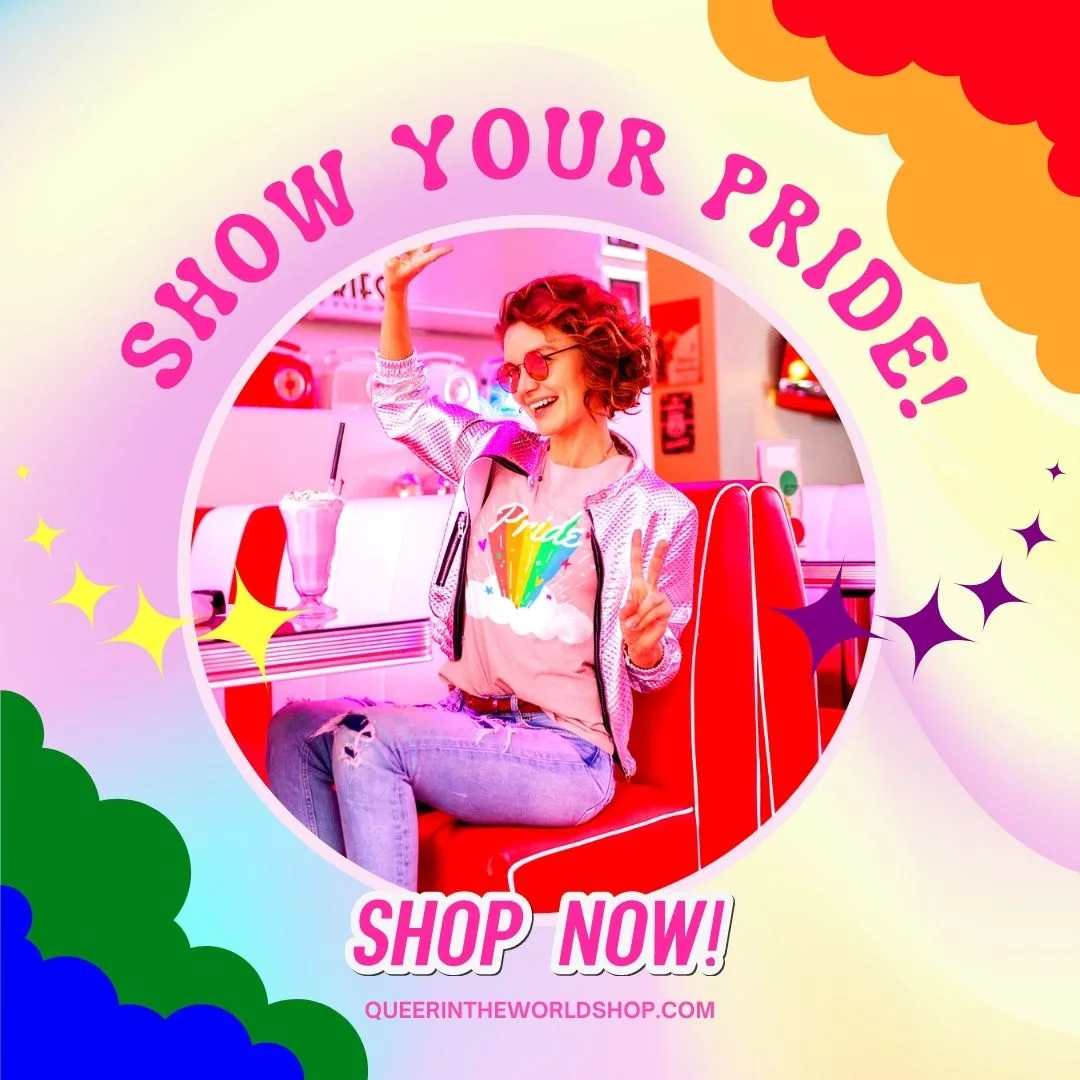 Gay Map Of Cairo
Finding it hard to envisage where everything is in Cairo? Hopefully, this queer-centric map helps where we have marked all the bars, clubs, parties, hotels, saunas, massages, and more will help you stay in the spot best suited to you!