A gay trip to Genoa in Italy will be an exceptional queer experience in this port city known for its multiracial population, impressive porting industry, and the birthplace of denim. So you can bet there will be heaps of things on offer.
To begin the tour of this fun gay adventure, you can start your trip the right way by getting acquainted with the number of gay clubs in town.
This acquired knowledge from your new friends will make a night out in the city through the gay bars and cruising scene even better, with many gay-friendly attractions that are the cherry on top of the delicious cake on offer to you.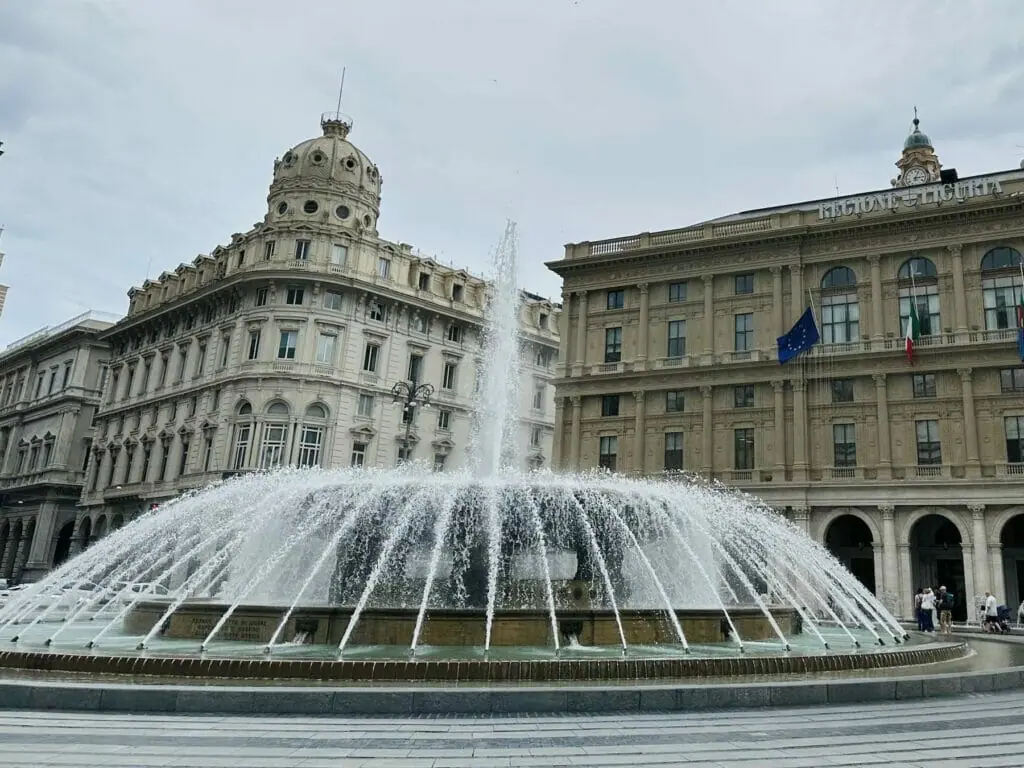 Genoa has something for everyone, being a city with a lot of history going back further than Ancient Rome and a population of half a million, making it Italy's sixth-largest city. It is, without a doubt, the perfect stage for providing a fantastic trip, from its countless historic attractions and museums, such as a restored Columbus house, to fun-filled day trips for the whole family, like the Acquario di Genova.
Outside the city, you can go for a sea cruise or head inland to experience amazing hikes in the Natural Area Parco delle Mura. Regardless of what brings you to Genoa, you will find something special about this town that makes it like no other coastal city in Italy.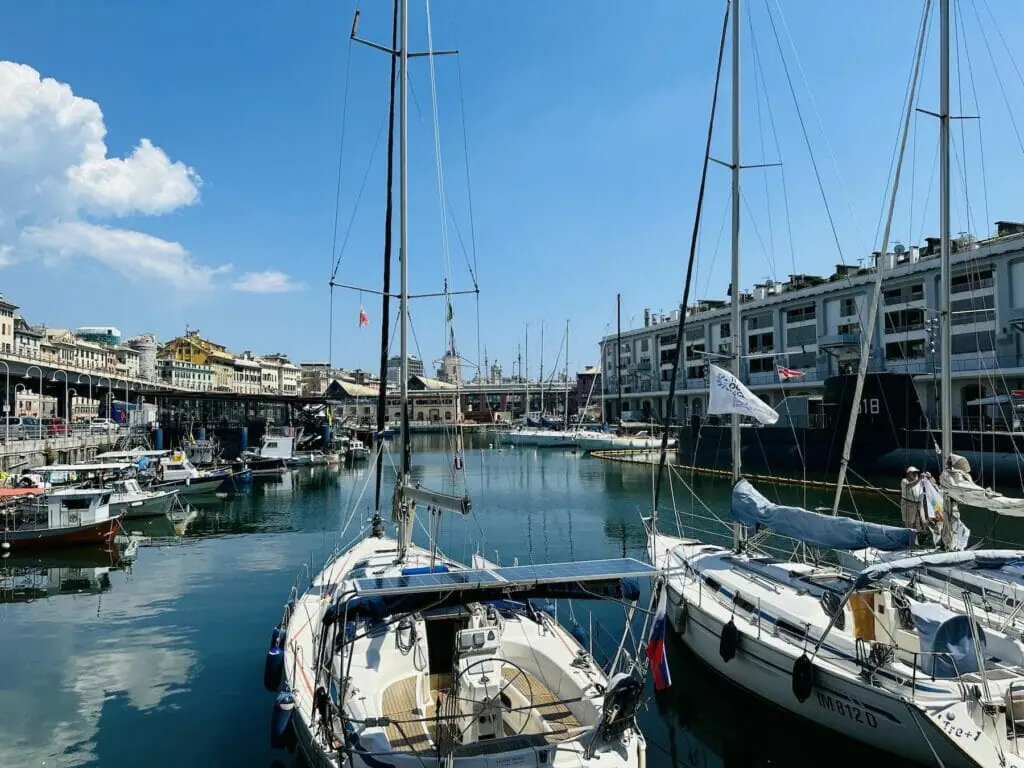 Attractions in Gay Genoa, Italy
As a new visitor to Gay Genoa, there are plenty of things to see and do, regardless of your sexual orientation. One of the best ways to experience any new city is to visit some of its most iconic landmarks and attractions, including historical monuments, museums, and art galleries.
We also love gazing at architecture up close, exploring parks and gardens, sampling the local cuisine, visiting local markets, and attending cultural events such as festivals, concerts and shows.
Even as the out-and-proud queer we are, we still love to explore the city and its culture in the same way as everyone else. Doing so allows us to learn more about the city and its people and gain a deeper understanding of the local culture. As such, these are our favorite must-see attractions in Genoa.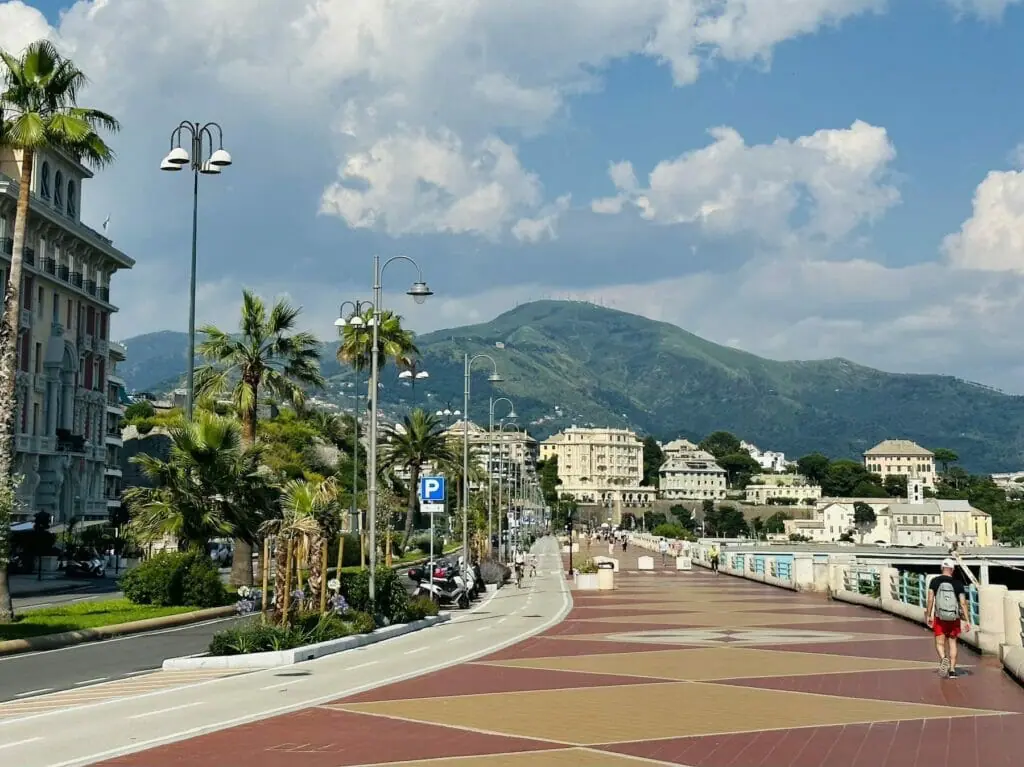 Tour of Genoa and Day Trip to Portofino from Genoa
Take a fantastic tour of Genoa and a day trip to Portofino with this fun trip around two incredible Italian cities. Let the worry of transport be a thing of the past, so you are taken to top city attractions in Genoa with an excellent guide, including seeing Cattedrale di San Lorenzo, Santa Margherita Ligure, and Castello Brown as part of your travels.
This tour focuses on the historic parts of each town, so you can get first-hand experience with how these ports became one of the biggest in Italy.
Cathedral of San Lorenzo
The most famous church in Genoa is, without a doubt, the Cathedral of San Lorenzo, built in the 12th century (although it's not the oldest, with San Siro built in the 6th century).
This towering gothic church is a permanent fixture of the cityscape, with its square spire clocktower being a beacon to her square. The church is free to explore, and if you want to check out the incredible views from the spire for just five euros, you can!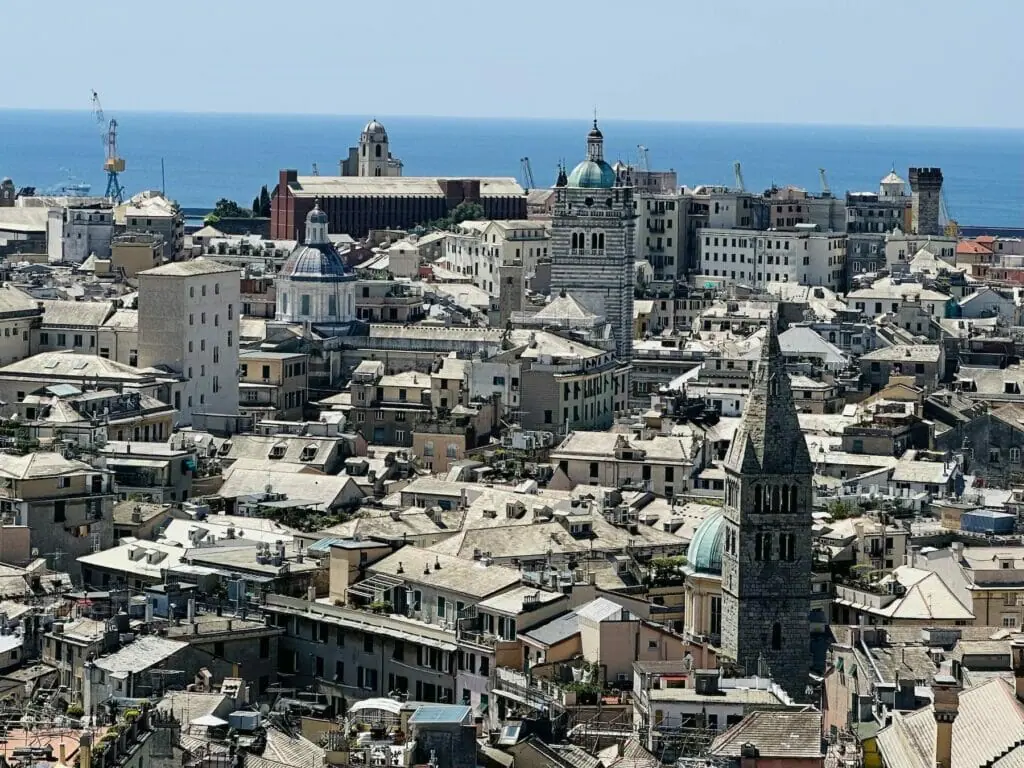 Traditional Home Cooking Class in Genoa
Take a traditional Italian cooking class and Genoa with an expert local chef who can put on a good show and make delicious food.
This is a perfect way to upscale your cooking level and try some of the most delicious pasta dishes, whether you are visiting Italy on a business trip for a restaurant or want to wow guests in your own home. Once you have prepared the labor of love, you can sit and enjoy a four-course meal on the Genoanese harbor.
Aquarium of Genoa Reserved Entrance
Genoa's aquarium is a must-visit to see some interesting marine life in Europe's biggest aquarium. You will see crabs wandering around seaweed, dolphins slashing about, and penguins waddling, with many more watery discoveries to be found in this expansive place.
Porta Soprana
The Porta Soprana is the former 12th-century gatehouse and city walls with two brilliantly restored towers. You can take in the mystique of the Medieval Marvel as you take in the park outside or head inside to catch a glimpse of what it may have been like as a soldier during castle wars.
Casa di Colombo
Discover the reconstructed house where Columbus grew up in Genoa before he made the famous trip across the Atlantic to establish his first contact with the Americas.
Here you can see how families lived in the 15th century, and what led to a child becoming an explorer is considered by some to be the greatest of his time. Inside the house is a museum dedicated to its former occupant where you can learn about his life.
Boccadasse
One should visit the old fishing village in Boccadasse for a picturesque and colorful part of Genoa. Here you will find a residential district with some of the most unique housing in the city, and it's a great place to take some photos! Visitors can wander pastel paved streets, taking in the water-worn buildings to enjoy a lick of ice cream or a delicious bite of fish dishes and dine with great views of the bay.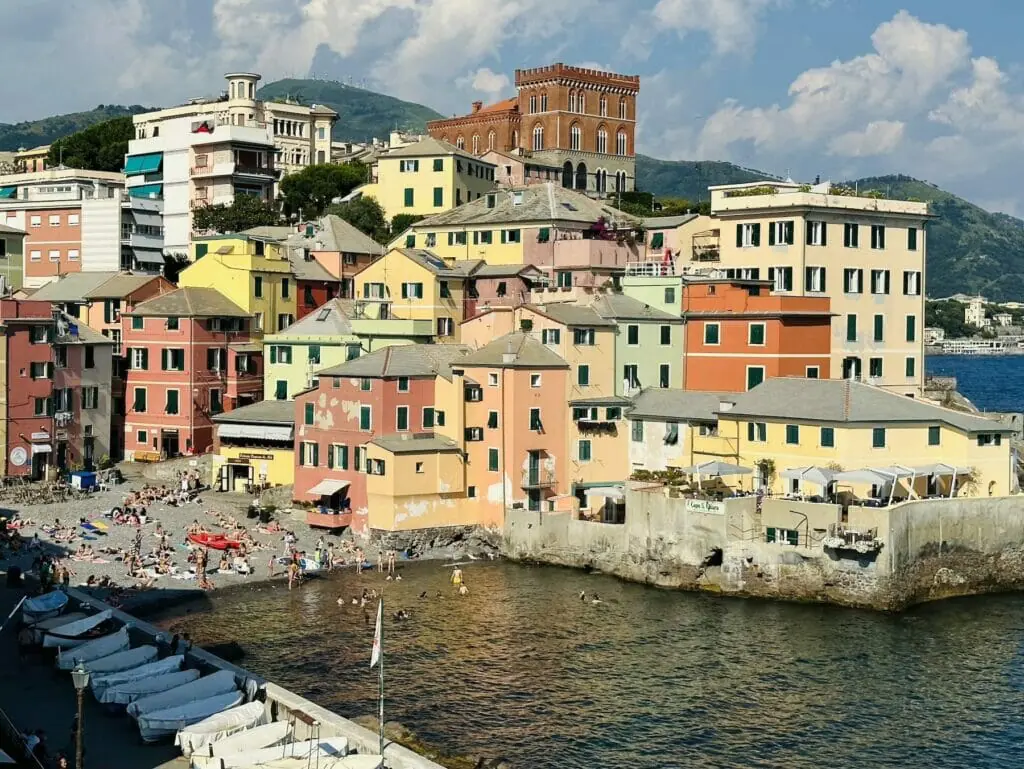 Natural Area Parco delle Mura
One of the best places to explore the local rural ecosystem around Genoa is to take a trip with your hiking shoes into the Natural Area Parco Della Mura, a vast national park just north of the city.
Here you can explore dense woodlands to discover castle ruins and other historical sites or trek to the tallest mountain to get spectacular views of the bay and surrounding park. It has easy parking, so you can always start your day with a short drive and run through the many walking tracks.
Built-in the 17th century, the Royal Palace Museum is one of Italy's most beloved buildings because of its well-preserved interiors and furnishings from the noble family that built it. The Balbi family were famous art patrons who funded many local artists, and they also left behind an extensive art collection of art masters, which the public can now enjoy today.
Lighthouse of Genoa
Visit one of Italy's oldest surviving and tallest lighthouses at the Lighthouse of Genoa. This stone tower is a marvel to behold as it served the port of Genoa for over a thousand years, constructed in the 9th century. You can visit it and look through its little museum learning all about its history.
Monumental Cemetery of Staglieno
Constructed in the 1850s, the Monumental Cemetery of Staglieno today is an expansive burial ground for over 100,000 graves covering a large portion of the Staglieno district hill. It is one of the largest cemeteries in Europe, covering over a square kilometer and is most famous for its monumental funerary sculptures.
Via Garibaldi Palaces
The main street of the historic district is a great way to experience some of the more royal parts of the city at Via Garibaldi, which is mainly known for its many palaces.
The street was built in the 16th century as a residence for the nobility of the Republic of Genoa at the time, with careful attention to city planning and design. Seeing the range of designs and how these elites used to stand out in the town center is a must.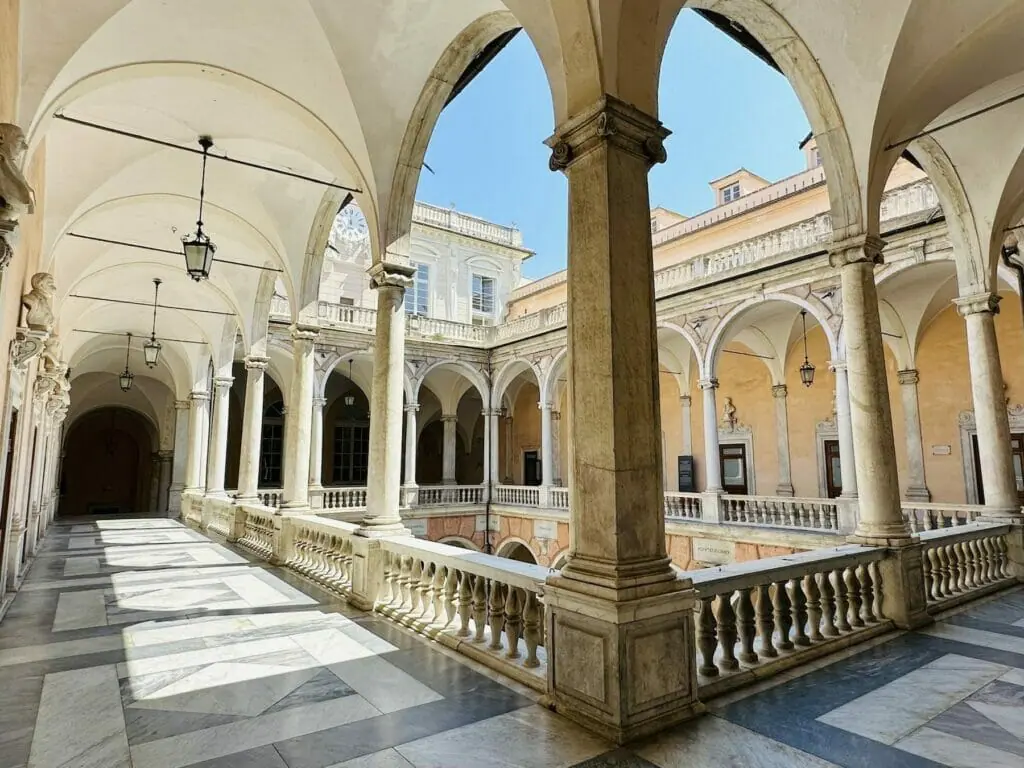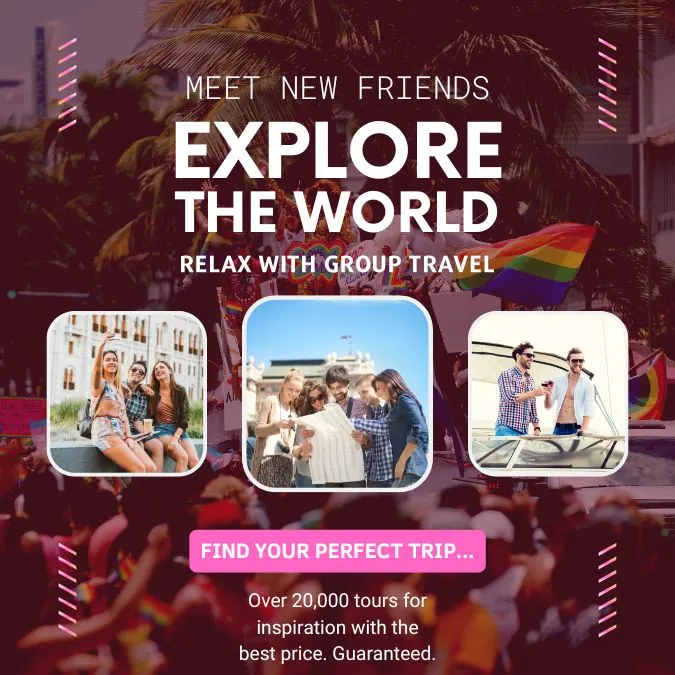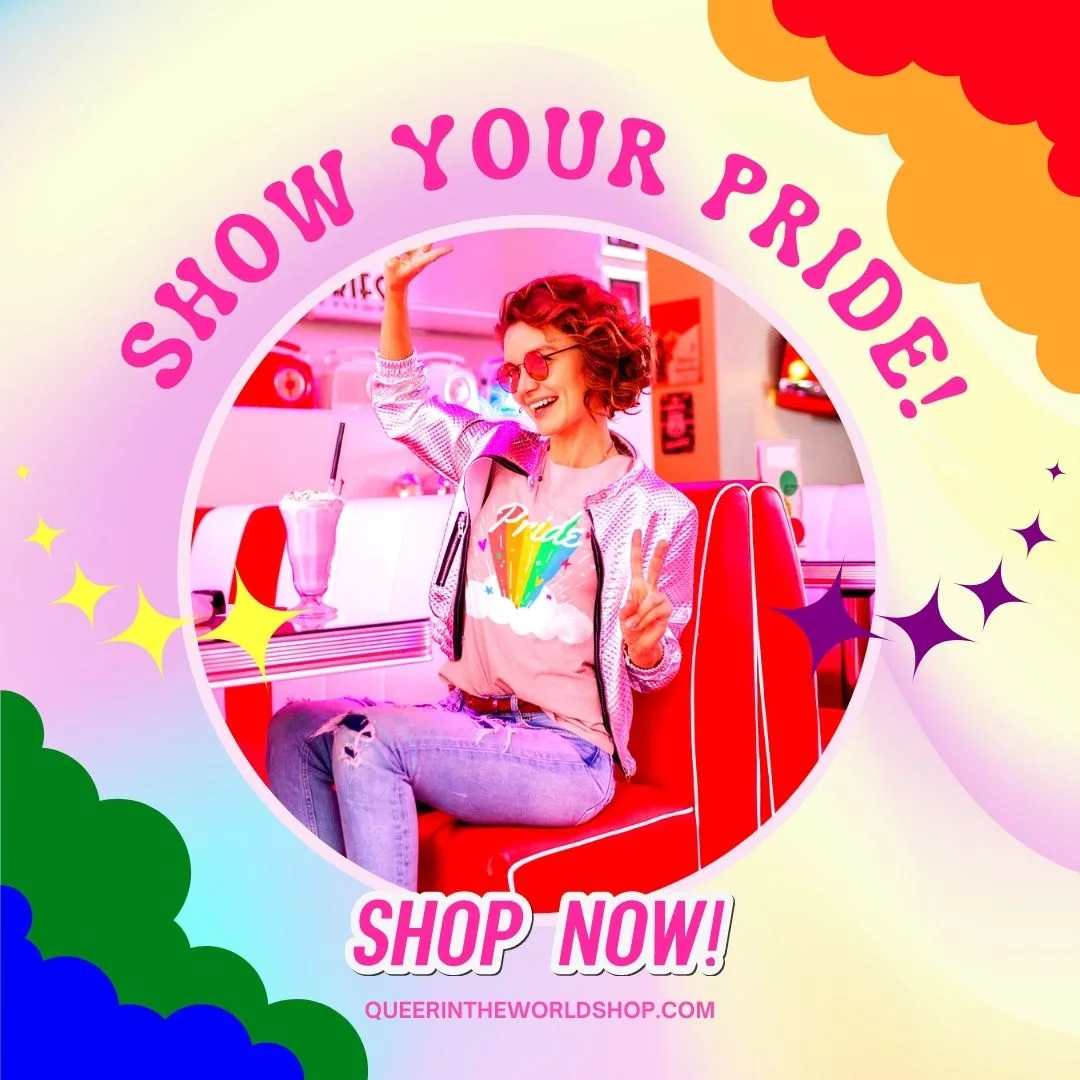 Gay-Friendly & Gay Hotels in Genoa, Italy
Being gay-friendly accommodation means that the establishment is welcoming and inclusive to guests who identify as LGBTQ+. This can include, but is not limited to, having policies and practices that demonstrate a commitment to creating a safe and inclusive environment for LGBTQ+ guests, such as non-discrimination policies and providing support and resources for LGBTQ+ travelers.
Some gay-friendly accommodations may also provide amenities specifically catering to the LGBTQ+ community, such as rainbow flags or literature about local LGBTQ+ events or resources. Furthermore, gay-friendly accommodations may be located in an area known for being LGBTQ+ friendly.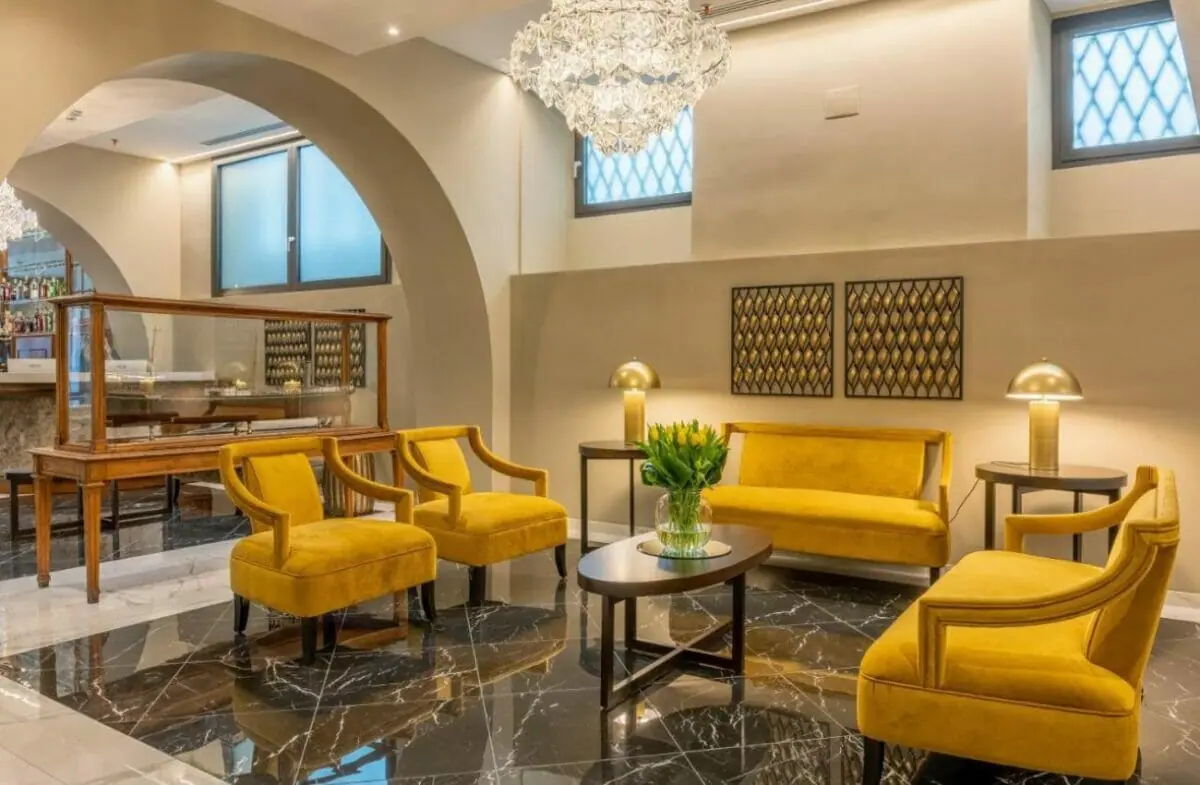 While Genoa does not have any specifically gay hotels or resorts, these are the most fabulous and pro-actively gay-friendly hotels in Genoa. There are also hundreds more hotel and hostel options in Genoa if none suit your desired budget, facilities or area – but these are the best hotels according to other gay travelers and us.
Whatever your needs are, Genoa has you covered.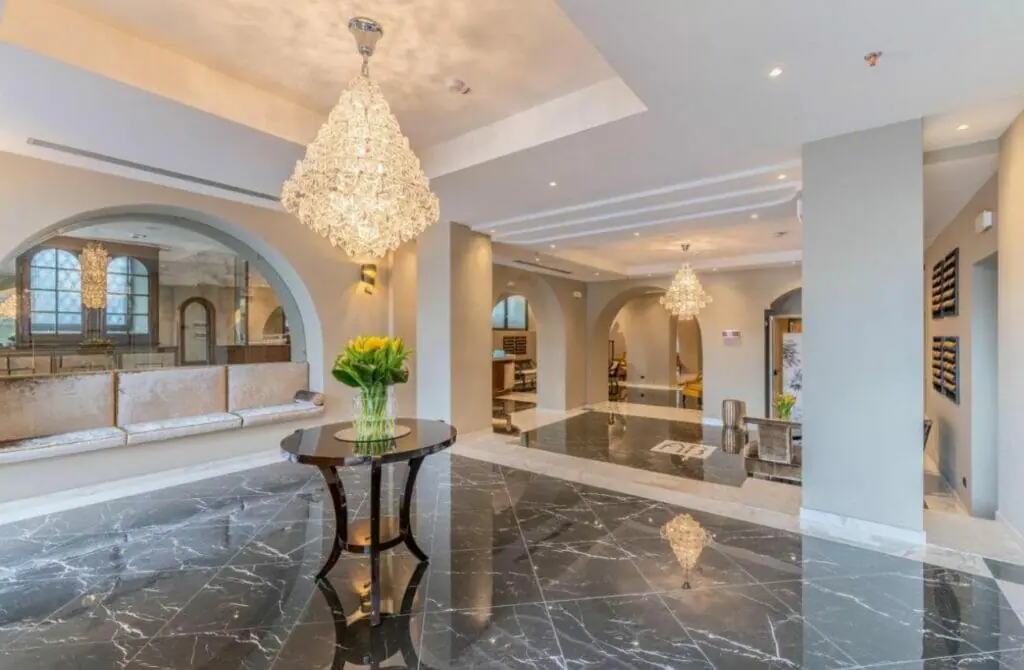 Dive into the pulsating heart of Genoa at the luxurious Astoria Hotel, where diversity, inclusivity, and sustainability dance harmoniously in a stunning five-star symphony. This chic abode, drawing on Genoa's rich history, serves as a beacon for the LGBTQ+ community, embracing every guest with an opulent Italian embrace as warm as an Adriano Celentano ballad.
Positioned at the city's heart, this architectural wonder serves as a gateway to Genoa's vibrant past and dynamic present, offering guests a mesmerizing blend of history and modernity.
Astoria's accommodations, a fusion of sophistication and comfort, exude thoughtful luxury, boasting amenities like WiFi, air conditioning, and a complimentary minibar. Each room is an oasis of tranquility, outfitted with Egyptian cotton sheets and soft fluffy towels to ensure undisturbed slumber and rejuvenation.
Cross the Astoria's threshold, and you're greeted by world-class amenities, including a 24-hour concierge service and a breakfast experience that's a culinary journey. Milan bath products in the bathrooms, free global phone calls, and an unwavering commitment to sustainability further highlight Astoria's dedication to guest comfort and environmental consciousness.
Hotel Astoria isn't merely a luxury hotel; it's narrative of sustainable elegance, marrying the enchantment of Genoa, the warmth of Italian hospitality, and a commitment to green practices. The Astoria invites you to indulge in an unforgettable experience that will create lasting memories, offering luxury without exorbitance, nestled in the vibrant heart of Genoa.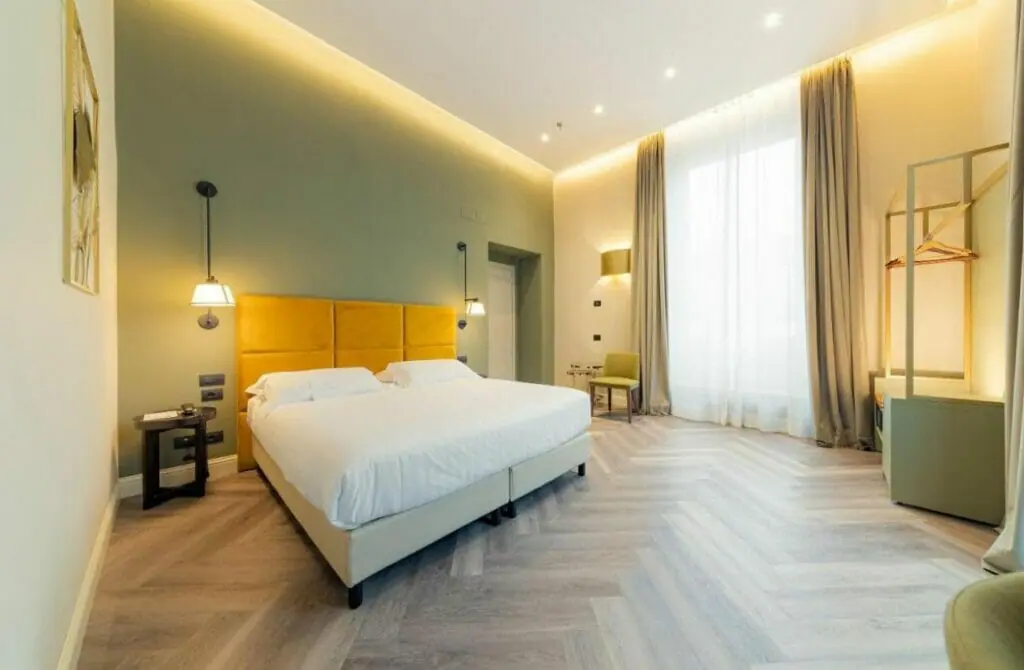 Hotel Palazzo Grillo is a regal four-star hotel with incredible views of the historic cityscape close to the port and the center of town. Not only is the harbor just a four-minute walk away if you want sea views on a morning run, but breakfast will be prepared for you without fuss when you return home.
And this isn't all; Palazzo Grillo is family and pet-friendly, so you can easily share these spacious, comfortable hotel rooms.
However, the highlights of these places are, without a doubt, the outdoor terrace, business services and library. You can also order room service for food or seek out the many restaurants outside the hotel, with plenty of options just a stone's throw away.
Palazzo Cicala is a unique four-star experience in the city's heart, where you have easy access to Old Port and the Aquarium. Despite what you see on the outside, she also has several highlights within her halls, which makes her a great stay away.
This begins with her on-site restaurant, which serves yummy food in their dining hall or with room service, followed up by the guests' rooms, which are massive modern spaces with little extras like a minibar, lounge, and a working desk.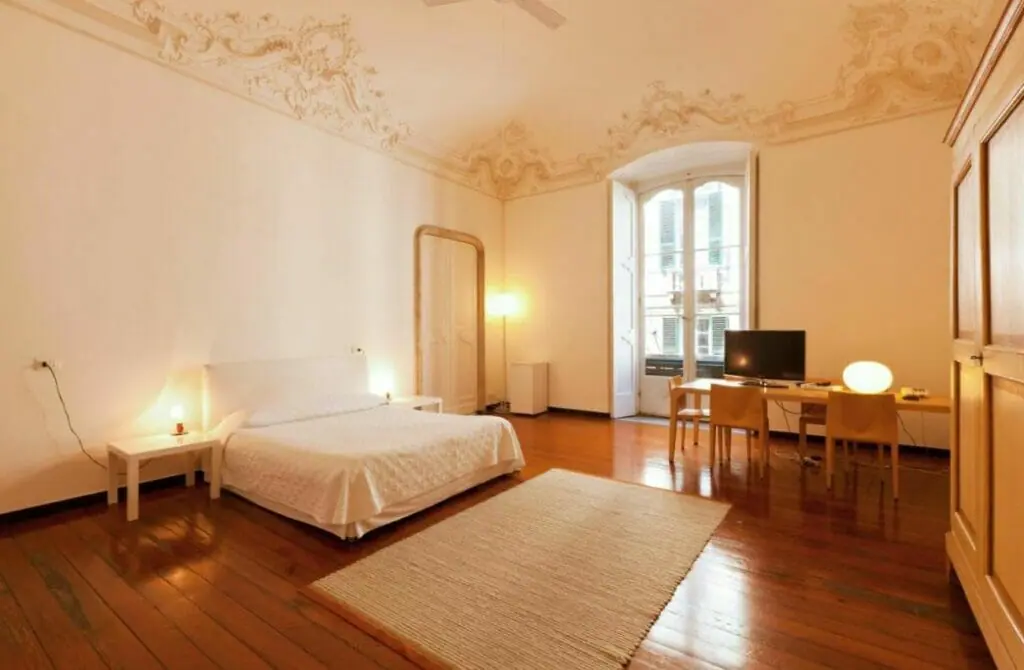 Charming Genova Residenza D'Epoca ☆☆☆
Along the portside, in Genoa, you will find the Charming Genova Residenza D'Epoca, a three-star townhouse that is simple but offers many significant benefits from the usual hotel. You can bring your pets and access your central city apartment with great views on the top floor.
Then finally, outside your private dwelling is an outdoor pool with nearby poolside loungers to make the most of the warm summer months.
Le Nuvole Residenza D'Epoca ☆☆☆
Enjoy a luxurious three-star experience in the historic district at Le Nuvole Residenza, where you will be treated to breakfast and room service as you enjoy the spacious private rooms of your hotel space. These royal rooms are easily the highlight of your stay, with dining, lounging, sleeping and cleaning area that makes it feel like your own apartment.
The hotel is also within walking distance of the port and other top city attractions with free parking, so central city living is a breeze.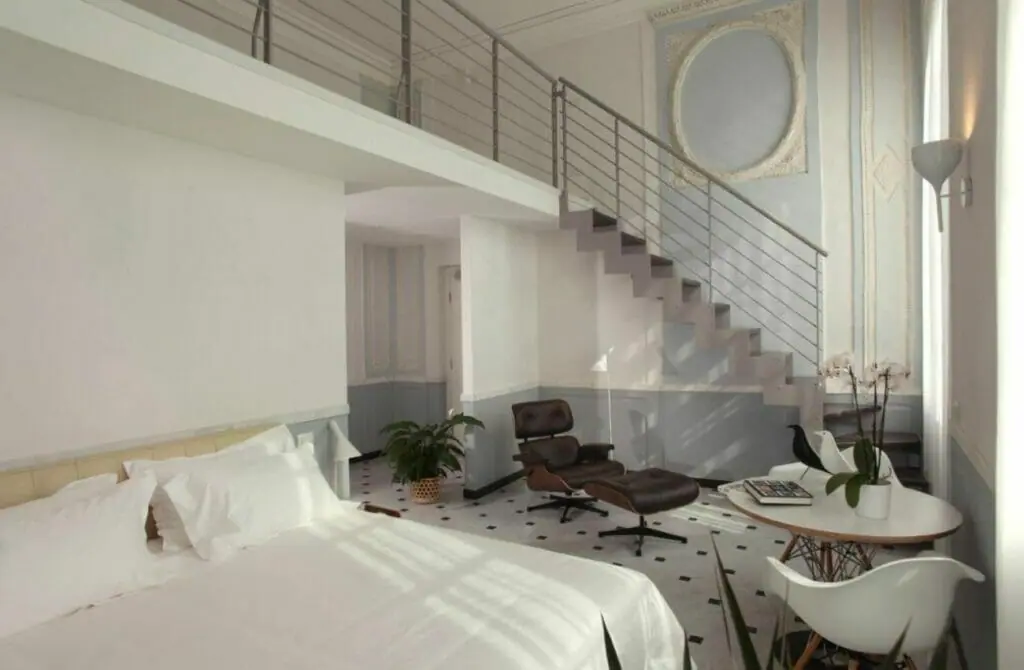 The Balbi Hotel is a simple two-star hotel within the city's cozy confines, which is a perfect place to stay. You get a range of business and meeting services, paired with room service and homely rooms with soft beds, desks and an ensuite, all recipes for a great stay in the city.
However, the highlight of this place is the owners and staff, who are super friendly and will go above and beyond to make you feel right at home and give you local insight into the city.
In the heart of town, you can enjoy the two-star class of Hotel Nologo as you take full advantage of their outdoor hot tub and terrace. This is further highlighted by comfortable rooms with all the basics, like an ensuite, desk, and TV, and their bar serving delicious drinks. You can enjoy a magical stay with a musical flair at Nologo.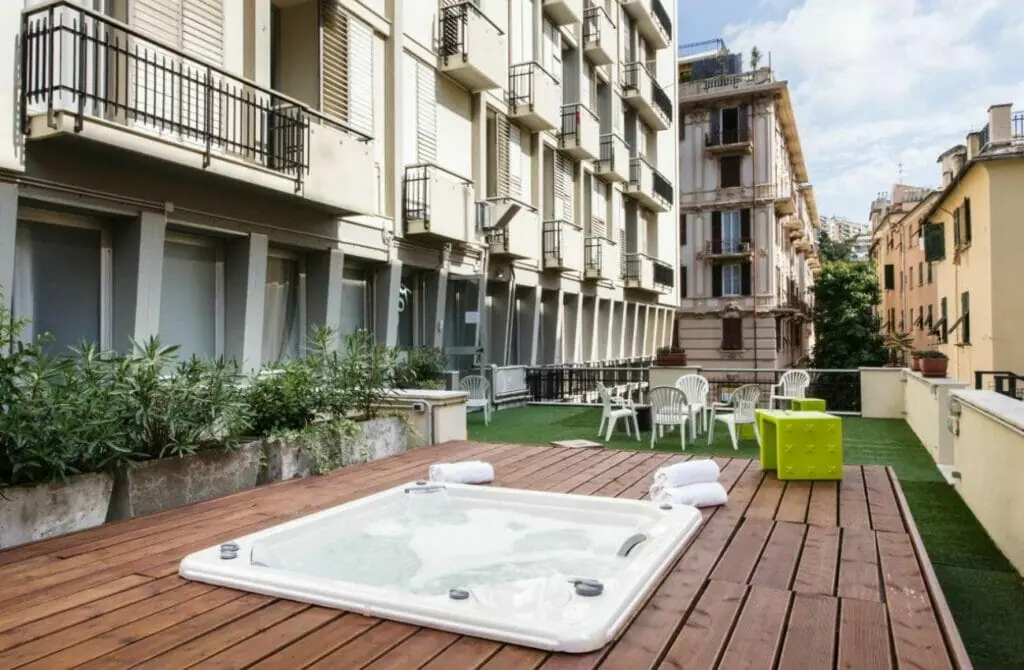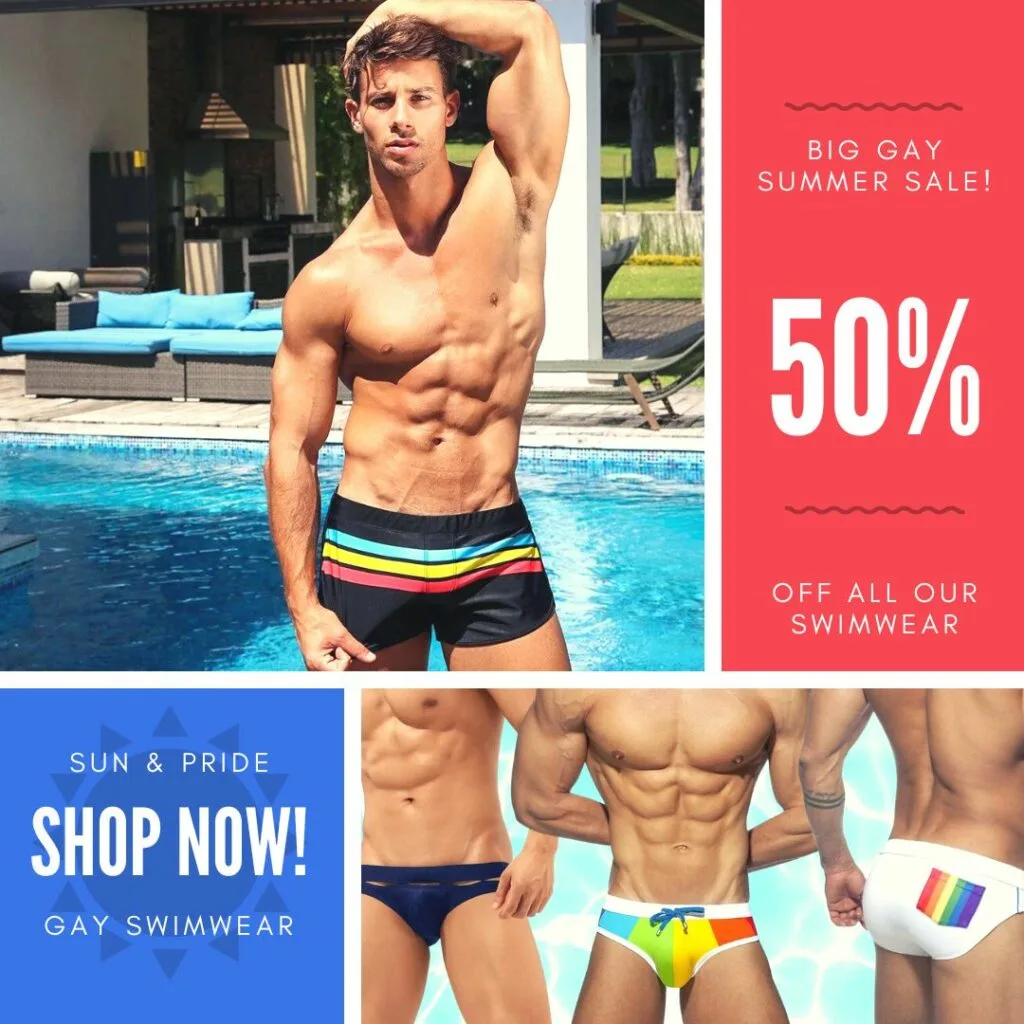 Gay Nightlife In Genoa, Italy
Genoa is home to a tremendous gay nightlife with a mixture of gay disco clubs, gay clubs, and gay cruising clubs, ensuring you get an all-around taste of the different queer activities in Italy. They also have many more gay-friendly things to do, and for those that aren't fussy and want a carefree drink, all these things are on the cards for an exceptional night out in the city.
Exploring the gay and gay-friendly nightlife in a new city can be one of the most exciting and rewarding experiences while traveling – and Gay Genoa is no exception. Not only will you have the opportunity to meet new people and make friends, but you'll also get a taste of the local culture and learn more about the city's LGBTQ+ community.
Going out and experiencing the queer and queer-friendly nightlife in a new city can also be a great way to break out of your comfort zone and try new things. Whether it's dancing the night away at a gay club or mingling with locals at a gay-friendly bar, you'll have the chance to make memories and create lasting connections.
So, don't be afraid to step out of your comfort zone and explore the gay and gay-friendly nightlife in Genoa. You'll be glad you did!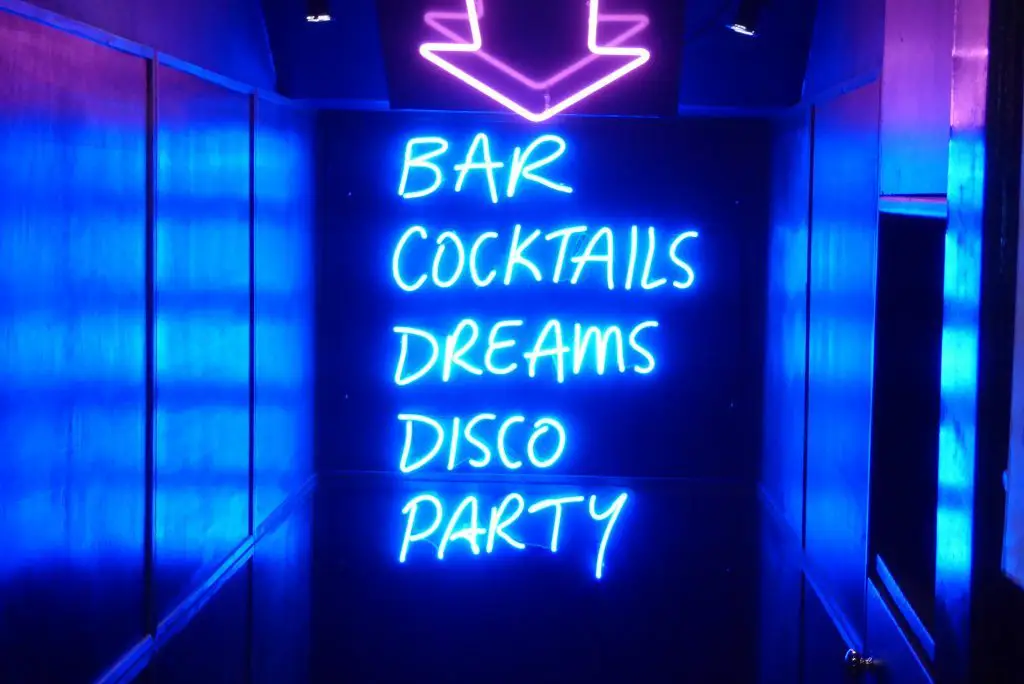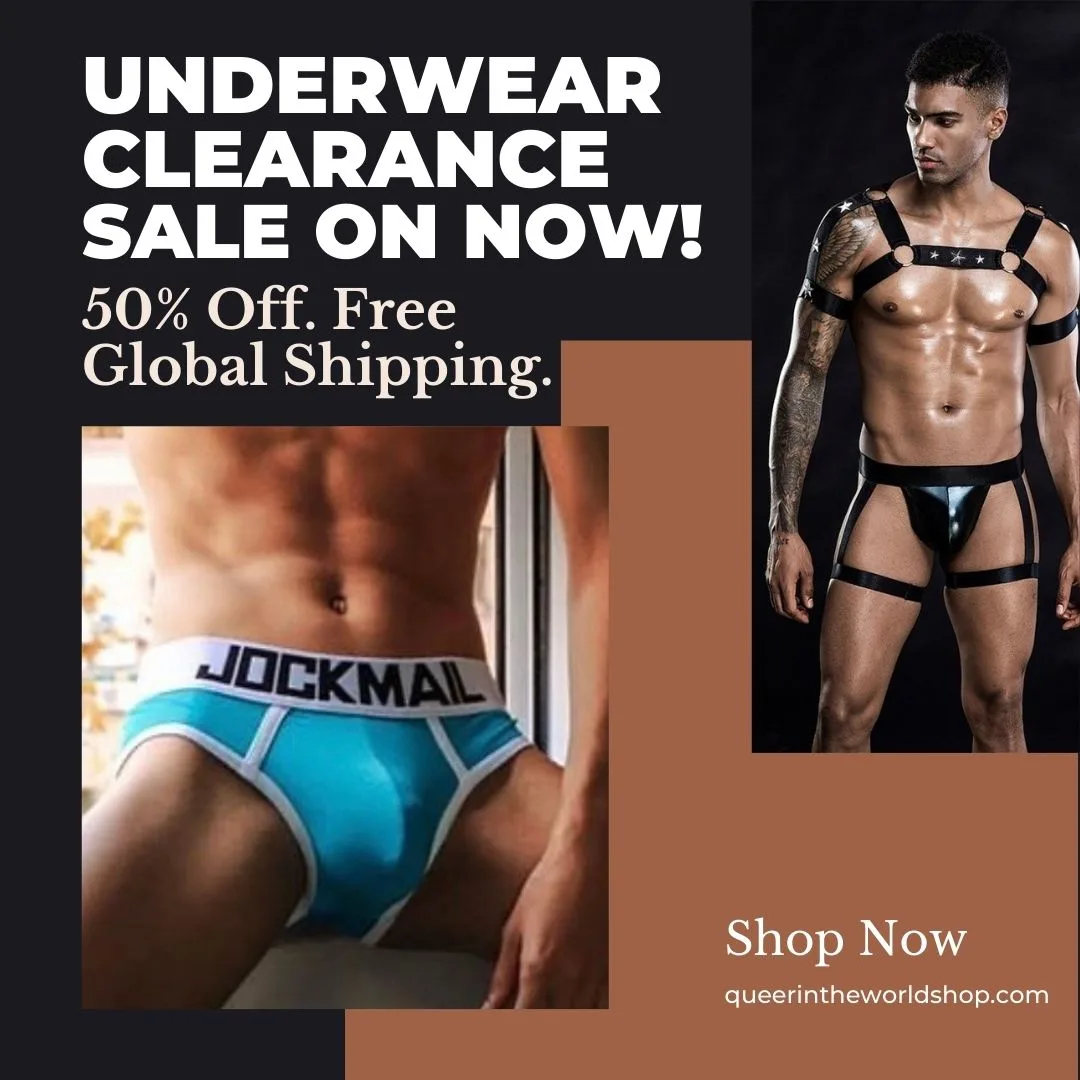 Gay Bars In Genoa, Italy
You can expect the only gay disco club in Genoa is one to leave a lasting impact on your time in the city, with Virgo Disco Club being one of the best places for a queer night on the town. Here you will be treated to a venue that knows how to put on a great party with sexy dancers, drag queens, and great live music.
It should be noted that they aren't open all year round as they shut down during Summer and return in full swing in Autumn; however, you can bet there are places to have a queer party when Virgo takes a much-needed break.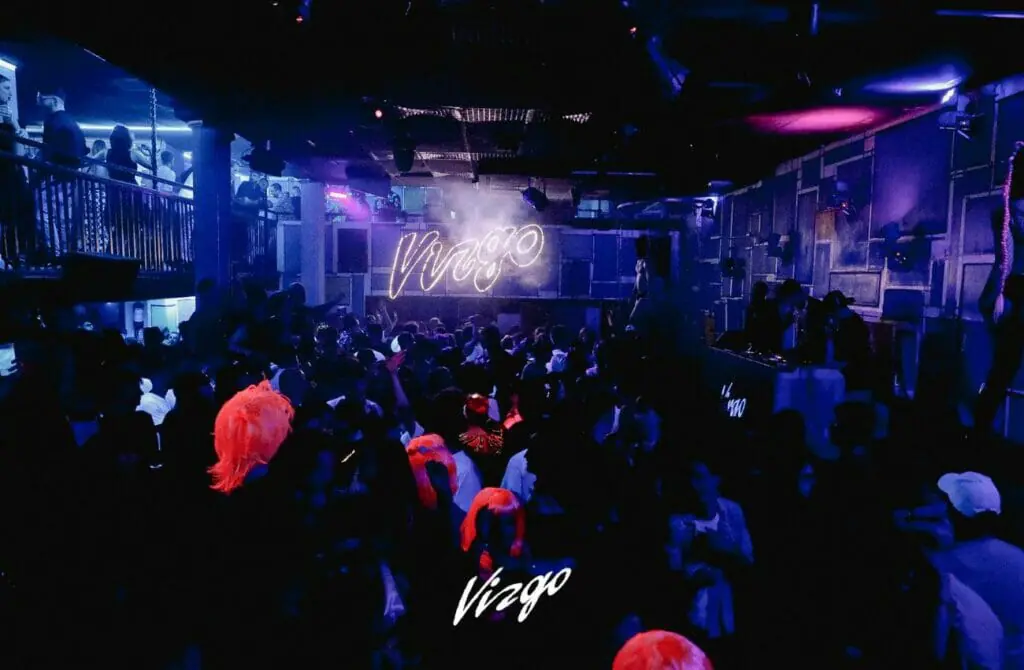 Gay Parties & Gay Clubs In Genoa, Italy
Sportello Trans Arcigay Genova
The home of Genoa's transgender club, Sportello Trans, provides a perfect space for the local trans community to thrive. They run fun weekly transgender youth groups (ages 16-28) and other fun social events in collaboration with Archigay Genova.
Arcigay Genova is Genoa's official LGBQT+ club which helps support and create safe places for their queer community. They host many fun social events with their GayNova Night every week and the yearly Liguria Pride. What makes their presence in the city even cooler is their physical location.
Arcigay hosts the weekly GayNova Night, where you can join a gay space and socialize with fellow queer people. You never know what might be on, with popular events as part of their regular get-together, including board games, karaoke, and movies.
Yearly, Genoa hosts the most prominent gay event on its calendar Liguira Pride! You can expect this city to come alive with rainbows and unicorns as the LGBTQ+ community descends on the town for a fun festival.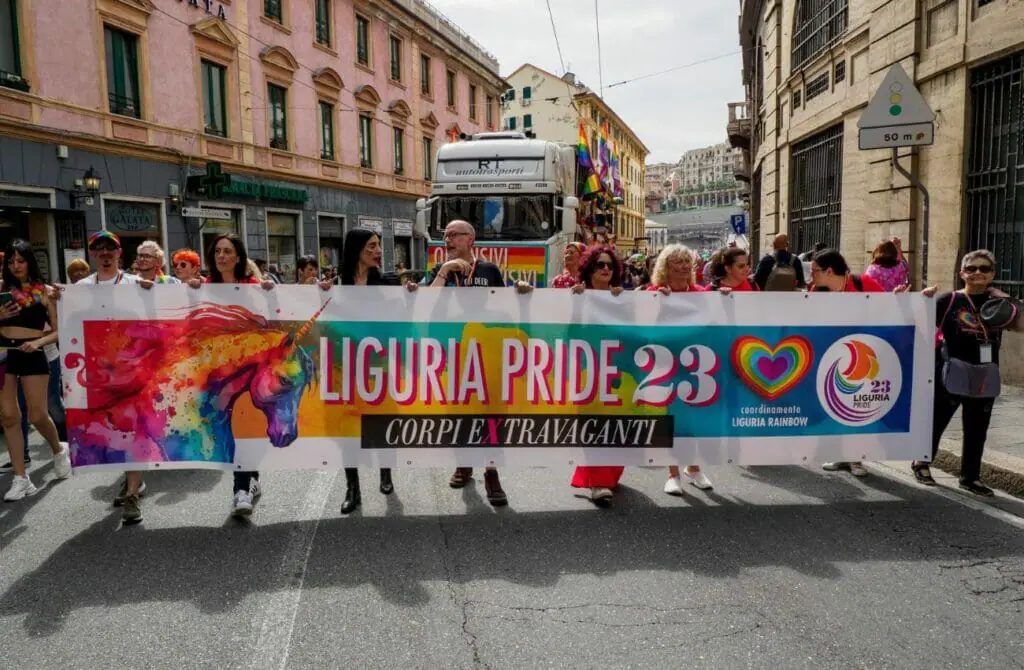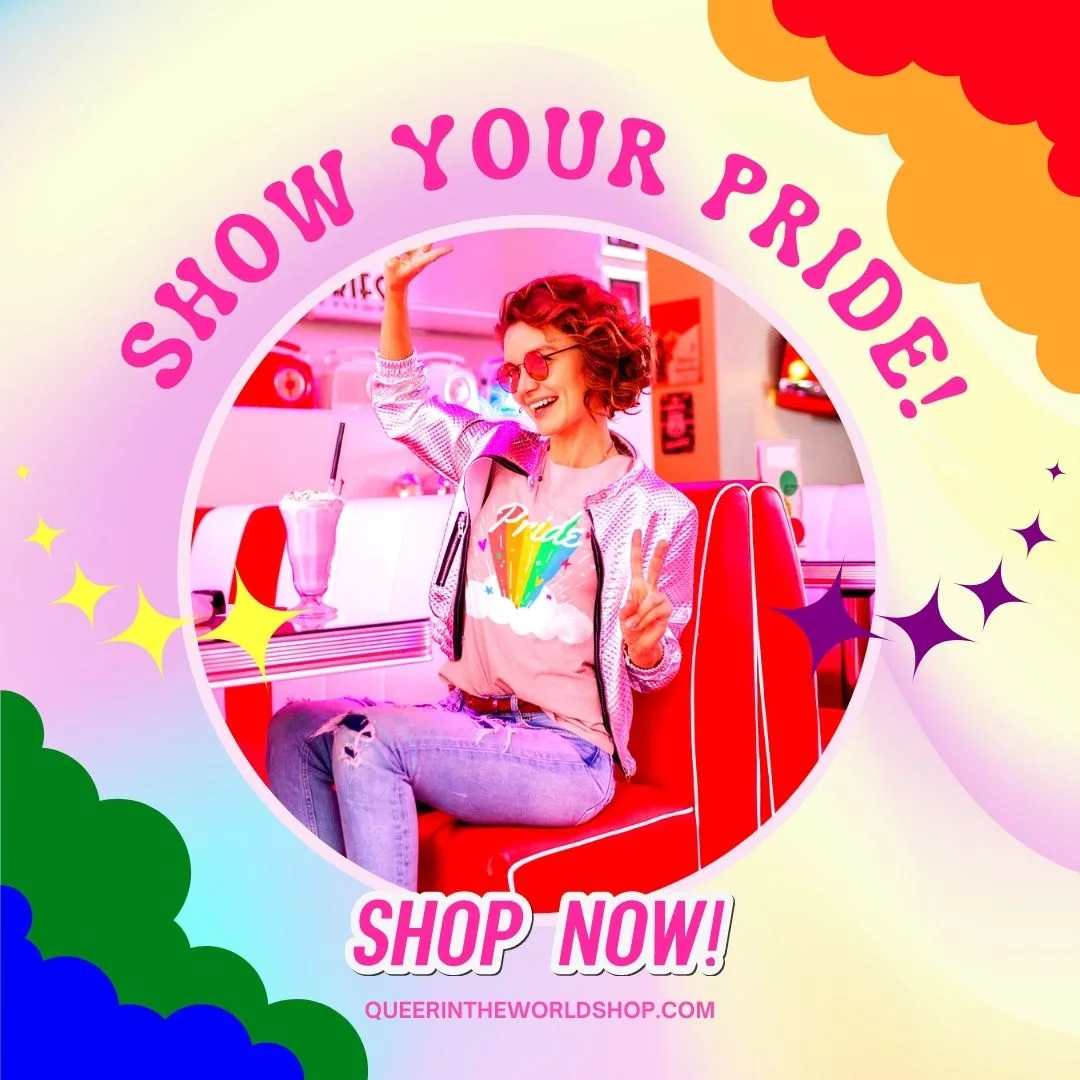 Gay-Friendly Nightlife in Genoa, Italy
Le Baron Blanc Lounge Shisha Club
The Le Baron is an exceptionally gay-friendly disco club in Genoa that is worth visiting because they have many fun events and know how to throw a good party with a great drink. They regularly have ladies-only nights, support the LGBTQ+ community, college parties, and many other events, so every night is different.
Arcigay Genova regularly hosts gay movie nights at the Cinema Sivori, where you can experience some of the best queer Italian films or see international classics as you test your language skills.
Experience a slice of America in Genoa at the Cublilla American Bar, a cocktail bar that has entertained the city since 1980. Here you will find a laidback place where the staff and owners and friendly, a rustic underground cellar bar with the occasional cat and plenty of drinks to get the evening well underway.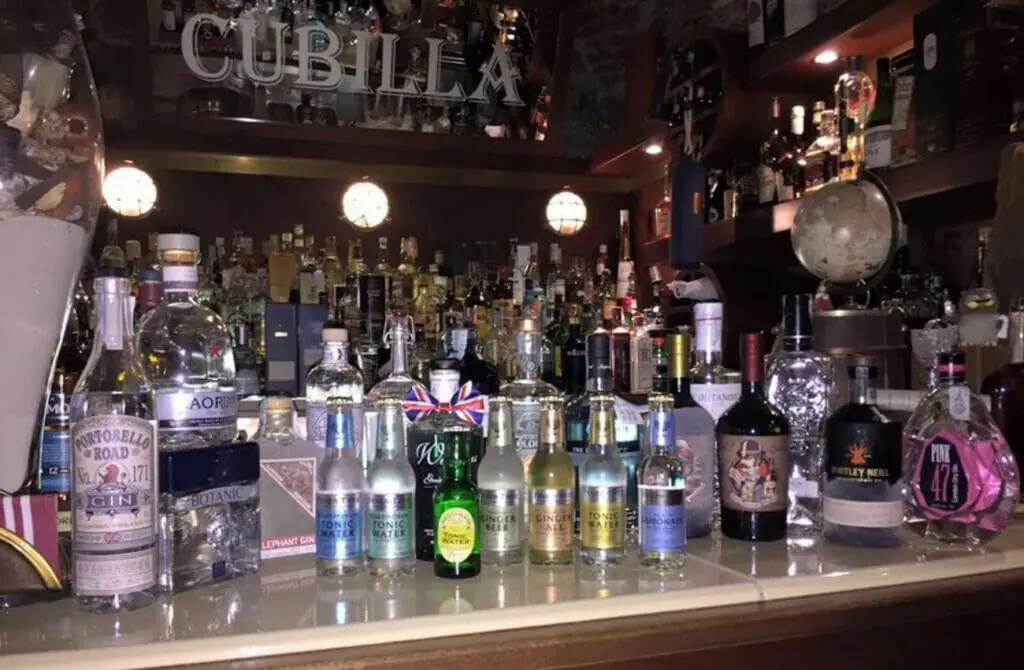 One of the top modern cocktail bars in the city is the portside open-air Rebus Cocktail Bar which gives you great views, fresh air and delicious drinks. You can make the most of the portside, taking in the bobbing boats, still waters, and setting sun as you relax into their patio furniture and sip slowly on a cocktail.
Described as a national treasure and a top place to listen to jazz, if you are looking for a top musical bar in Genoa, you wouldn't be disappointed by La Bottega del Conte.
Enjoy a drink as you dine in a Medieval building with a bar and presence that is no short of magical, where it serves not just as a bar but as a mini museum of sorts with many artifacts and trinkets. The top part of this experience is the super-friendly owner, who is the beating heart behind its success.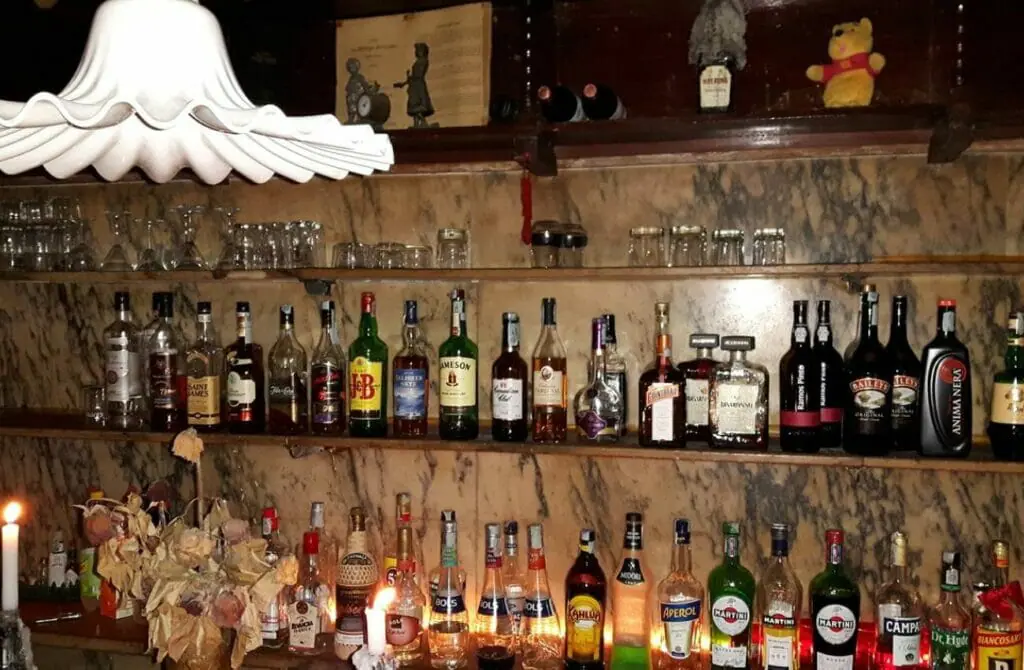 Head down to Genoa's friendly neighborhood cafe and expresso bar, Tosca Bar. Here you can taste delicious Italian food like Gnocchi as you treat yourself to a coffee or alcoholic beverage. The menu changes quite often, and although it has only a few options, it packs a punch full of that homemade love taste, making it a popular place for lunch or dinner.
Take some musical spook to your stay in Genoa and stop by the Count Basie Jazz Club, one of the best places to enjoy a drink with live entertainment to get the evening off to a great start. They welcome jazz and blues bands from all over, and their skill and service by the bar are well worth the small entry fee in this live music venue and bar.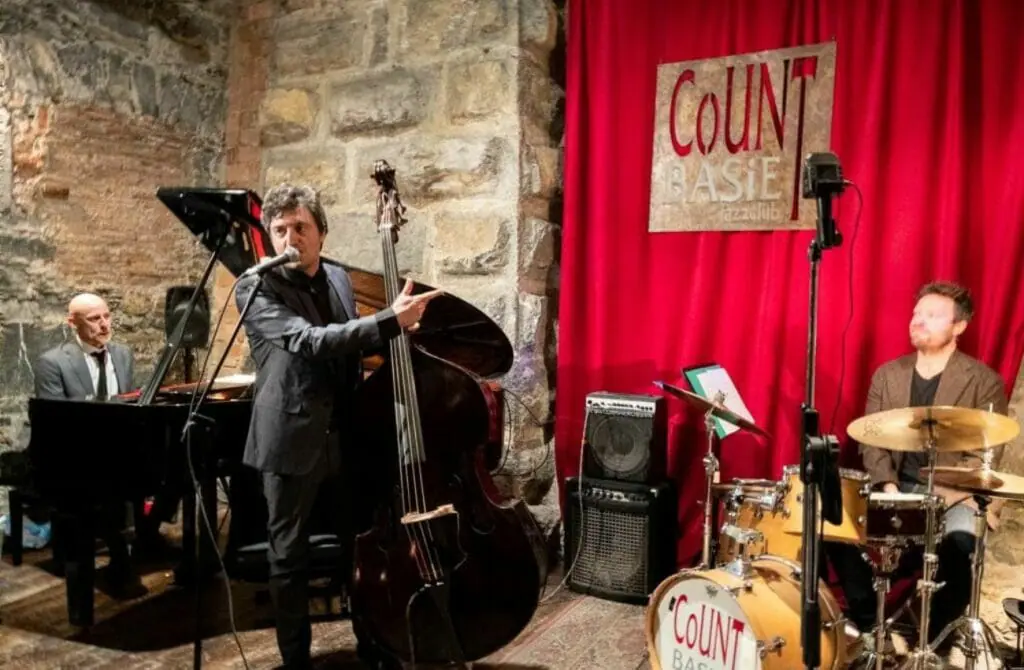 Cruising & Gay Saunas In Genoa, Italy
The gay cruising scene is very much alive in Genoa! This is seen in their sexy Lux Club, a gay men's bar providing outstanding facilities for a cruising experience while on holiday in Italy.
However, if you are looking for a warm, laidback experience in a spa or sauna, the Aqua Club is the place for gay men to get their gay cruising sauna fixed. Outside these venues, you can make full use of gay dating apps and be happy that there are a lot of gay experiences to be found in Genoa.
Exploring the gay and gay-friendly nightlife in a new city can be one of the most exciting and rewarding experiences while traveling – and Gay Genoa is no exception. Not only will you have the opportunity to meet new people and make friends, but you'll also get a taste of the local culture and learn more about the city's LGBTQ+ community.
Going out and experiencing the queer and queer-friendly nightlife in a new city can also be a great way to break out of your comfort zone and try new things. Whether dancing the night away at a gay club or mingling with locals at a gay-friendly bar, you'll have the chance to make memories and create lasting connections.
So, don't be afraid to step out of your comfort zone and explore the gay and gay-friendly nightlife in Genoa. You'll be glad you did!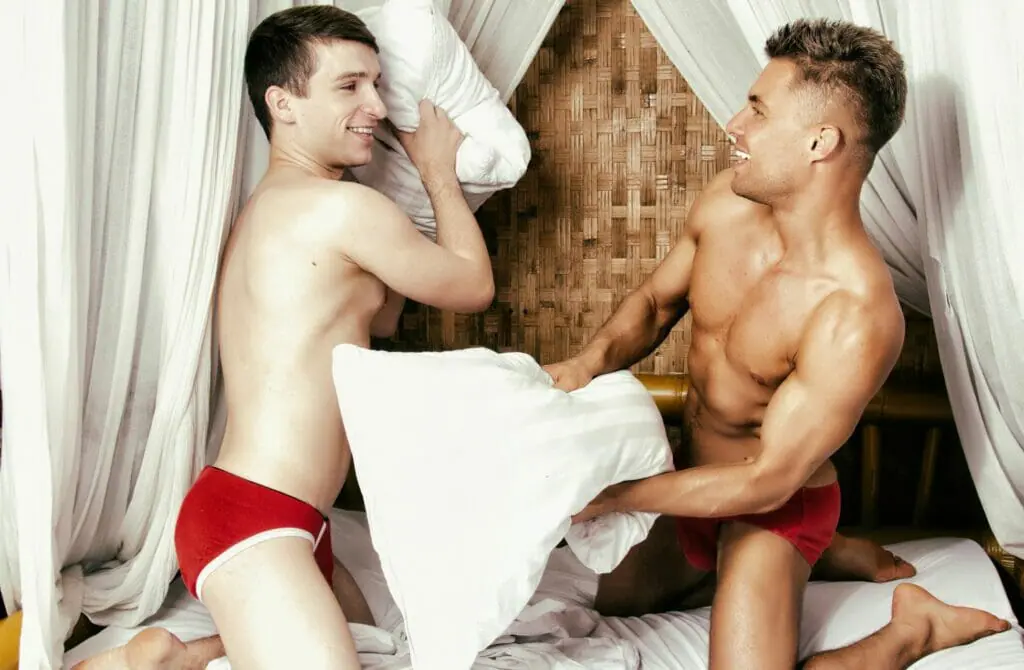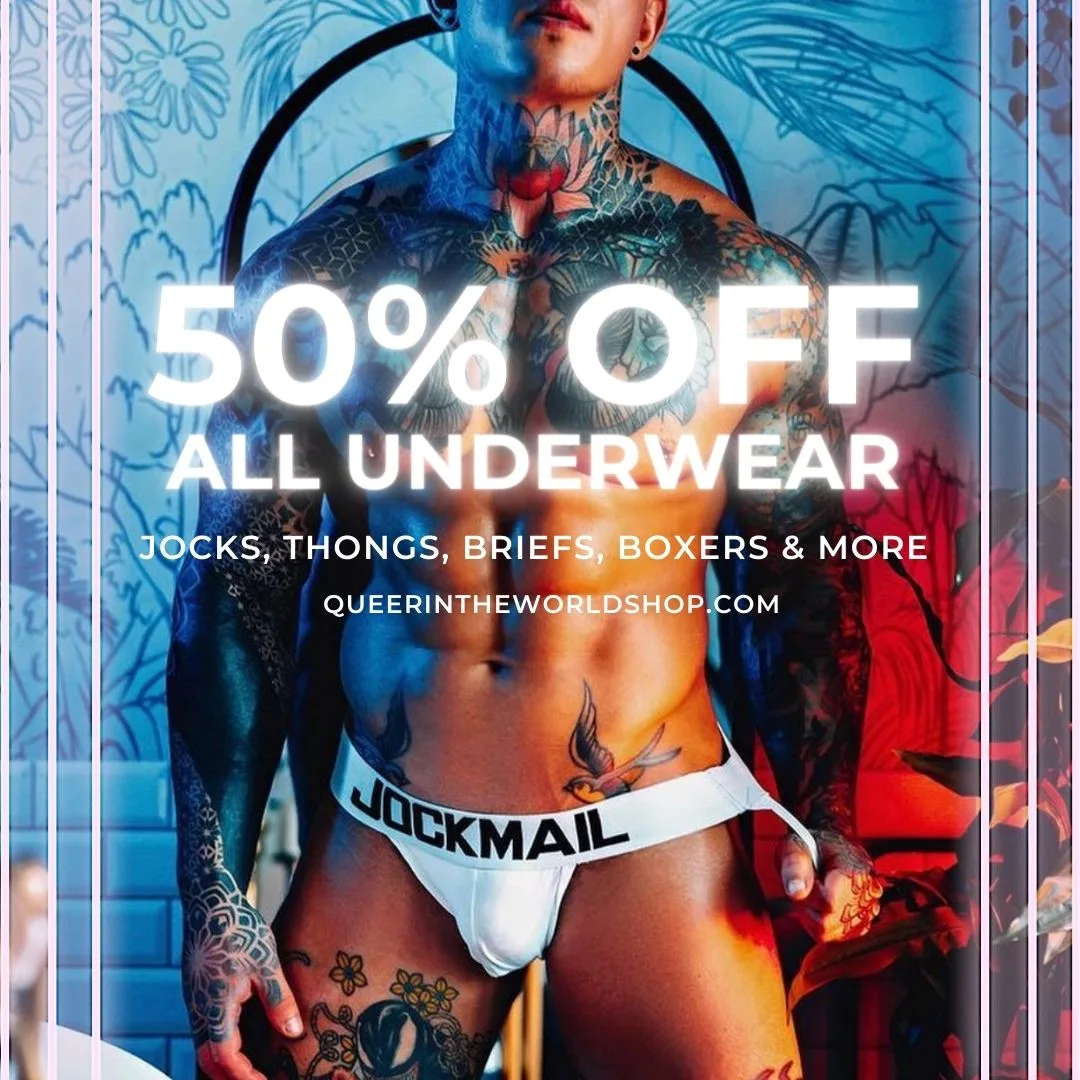 Gay Cruising Bars in Genoa, Italy
Lux Club is Genoa's all-year-round sexy gay men's bar, creating the perfect cruising grounds for men wanting to explore the naughty side of the gay nightlife in Genoa. You will be treated to a cocktail lounge with delicious drinks, friendly owners, and several nights a week where, for entry, it's essential to get naked on Fridays and Sundays.
For the busiest nights and if you are body-shy, Saturday is excellent for staying clothed. The lounge is small and cozy, with leather chairs to relax fully into the experience, low lighting, and a TV playing fun videos to set the scene. Then, heading deeper into the complex, you can find dark rooms, cabins, and safe places to explore your sexual self.
Gay Saunas In Genoa, Italy
For a relaxing dip in Genoa's only gay sauna, you can find a safe space to be your gay self in the men's-only Aqua Club. Experience a dry sauna, Turkish bath, jacuzzi, dark room, cruising areas, cabins, and a small socialising bar.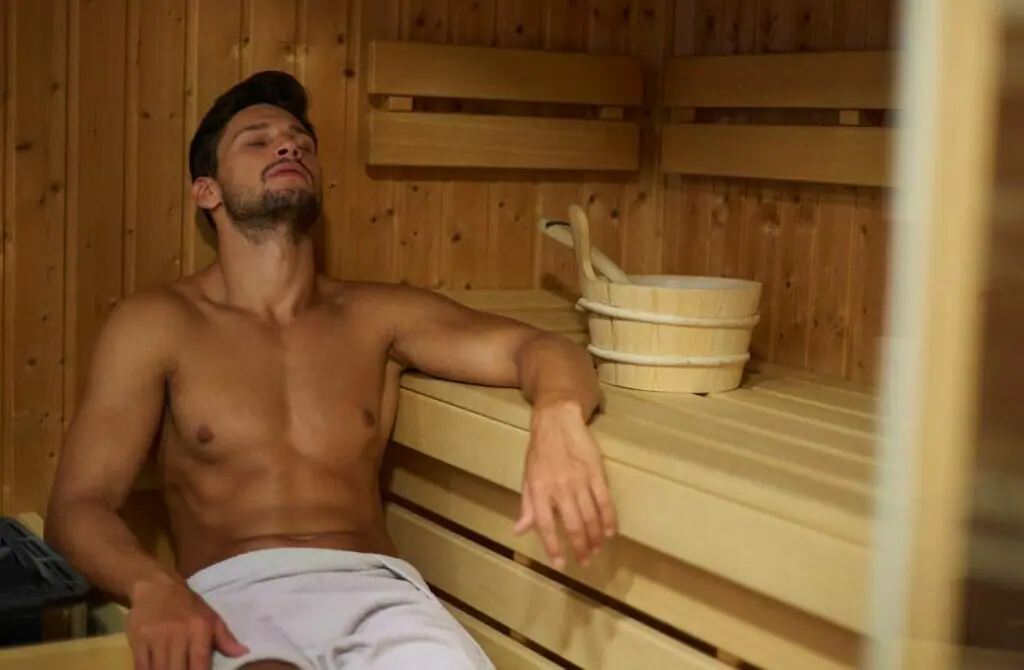 Gay Map Of Genoa
Finding it hard to envisage where everything is in Genoa? Hopefully, this queer-centric map helps where we have marked all the bars, clubs, parties, hotels, saunas, massages, and more will help you stay in the spot best suited to you!