You might have been wondering if your current repertoire of gay sexual positions may be causing your partner boredon or, worse, groan in his head for you to stop during sex. Yeah, you are not alone, and even the most promiscuous of us have worries like that tugging inside our chest at one point or another…
It is important to know to note from the start that sex is not about having a huge cock or not getting tired easily. Sex is an art, and there are important tips and gay sexual positions one should know if one's intention is to give one's partner the time or the night of his life…
Firstly, I want to show love to gay newbies who do not know much about roles gays can take on during sex. There are basically 4 kinds of roles. The top is the guy who always does the digging; and stereotypically, the top guys are the most dominant. The bottom guy receives the pounding, versatile dudes can fuck and get fucked depending on the side of the bed he wakes up on, and lastly, side guys are quite interesting, as they do not enjoy penetrating or being penetrated; they only engage in stuff like rimming, mutual masturbation, dick rubbing, and oral sex.
Now, coming back to the main subject, gay sex positions are really important when trying to achieve maximum pleasure. Now, having in mind what constituents a great orgasm – and how it is associated with wonderful sex positions, here are new spicy gay positions to drive your lover insane…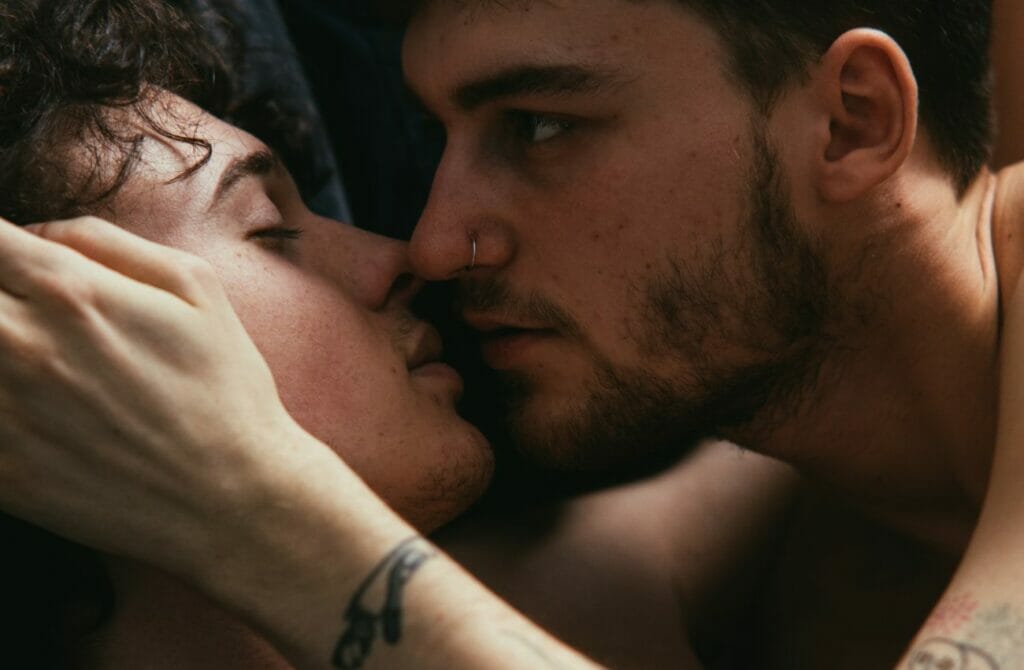 In this article we will cover...
Side By Side
The mind-blowing quality of this gay sex position is that it allows for deeper penetration because of the larger opening the bottom has created with his raised leg. This position involves little stress because you and your partner would be lying down. I recommend this position if you aim to have mind-blowing passionate sex with your partner.
If you are at the bottom, you should lie down on your back with one leg thrust out and the other leg bent at the knee. Bring the bent leg as far as you can toward your shoulder; you can support your knee with your hand if need be.
Then your partner should lie on his side facing you with his body perpendicular to yours. He can slide his cock into your asshole easily from this angle.
Lotus
This is the perfect sex position when you and your partner are celebrating an important event like an anniversary. You guys can get a lot of eye gazing, deep kissing, and face stroking since you are both facing each other. This position comes with a lot of deep penetration, so it is better to allow the top guy to create a thrusting rhythm since they have more ability to control their hips back and forth.
Sit with your knees bent towards the sides with the bottom of your feet touching, just like in the butterfly style in yoga.
Then your partner will sit in your lap, facing you, and wrap their legs around your back. Your partner should seat very close to you so that your cock can easily reach his anus for penetration.
Butt Massage
If you are a fan of foreplay, then this gay sexual position is for you. This position involves rubbing your partner's buttocks in a slow sensual manner. You could also stroke your dick while at it for simultaneous pleasure.
Let your partner lie down on his stomach with his legs spread. Then, you can sit or lie in between his spread legs.
Once you are in a comfortable position, you can massage your lover's butt with your hand or any sex toy you like. It helps to make use of massage oils. You are sure to drive your lover insane by gradually increasing the intensity of the massage around his asshole.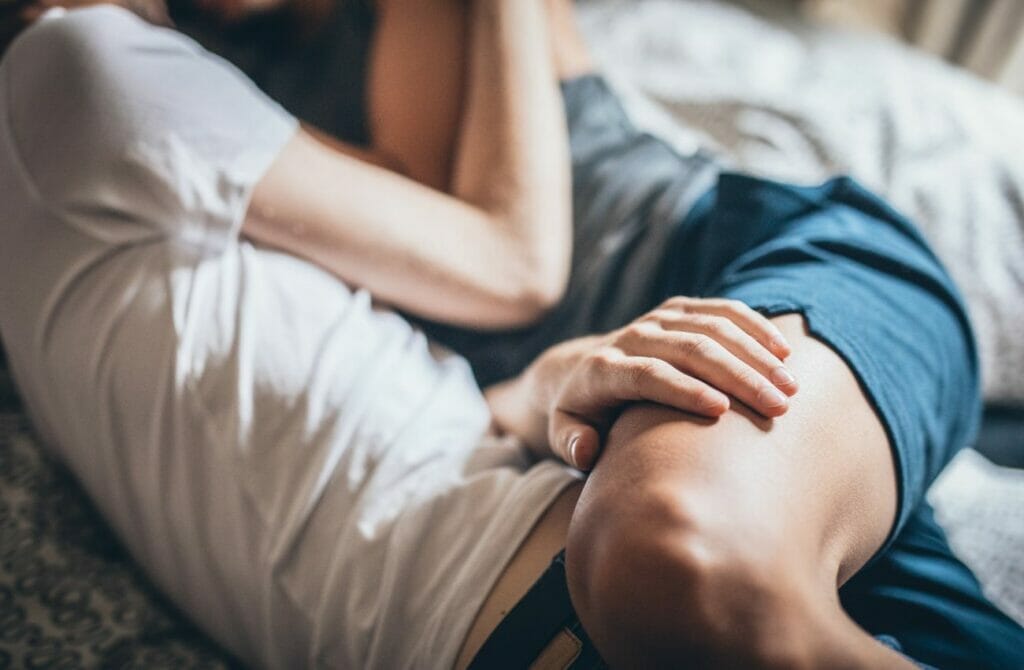 Bodyguard
This involves the bottom standing and facing the same place as the top allowing the top full access to his asshole.
The bottom should hold onto a wall or table for support. You can hold onto your partner's neck or grab his shoulders while slamming your dick into me.
Kneeling Oral Sex
This position is great when you want to skip penetration and just get your rock off. It is even sweeter when you stroke your partner's cock while pushing your dick down his throat. You can hold to the headboard of the bed to give yourself more leverage in trusting while your partner licks and sucks, which adds to the pleasure.
Make your partner lie on his back. Kneel over them with your knees on either side of his head. It is important to bring your cock close enough to your partner's lips so that he can easily take you into his mouth.
PuKnee Up
know it sounds weird but trust me, it is a mind-blowing sex position. It offers maximum exposure to the asshole, hence, allowing very deep penetration. It is advisable to get your partner very ready by engaging in a lot of foreplay, and ensure you have used plenty of lube.
Your partner lies on his back. While standing, you can grab your partner's calves, knees, or ankles. You can then push your partner's leg towards your chest while thrusting into him. Sex gets more interesting when you push your partner's leg harder.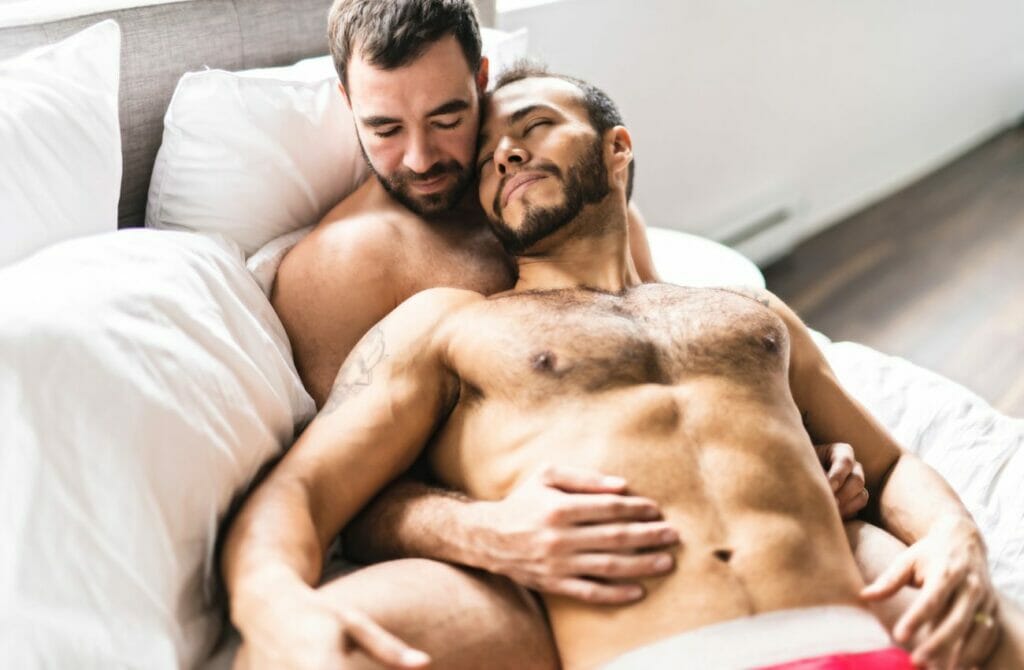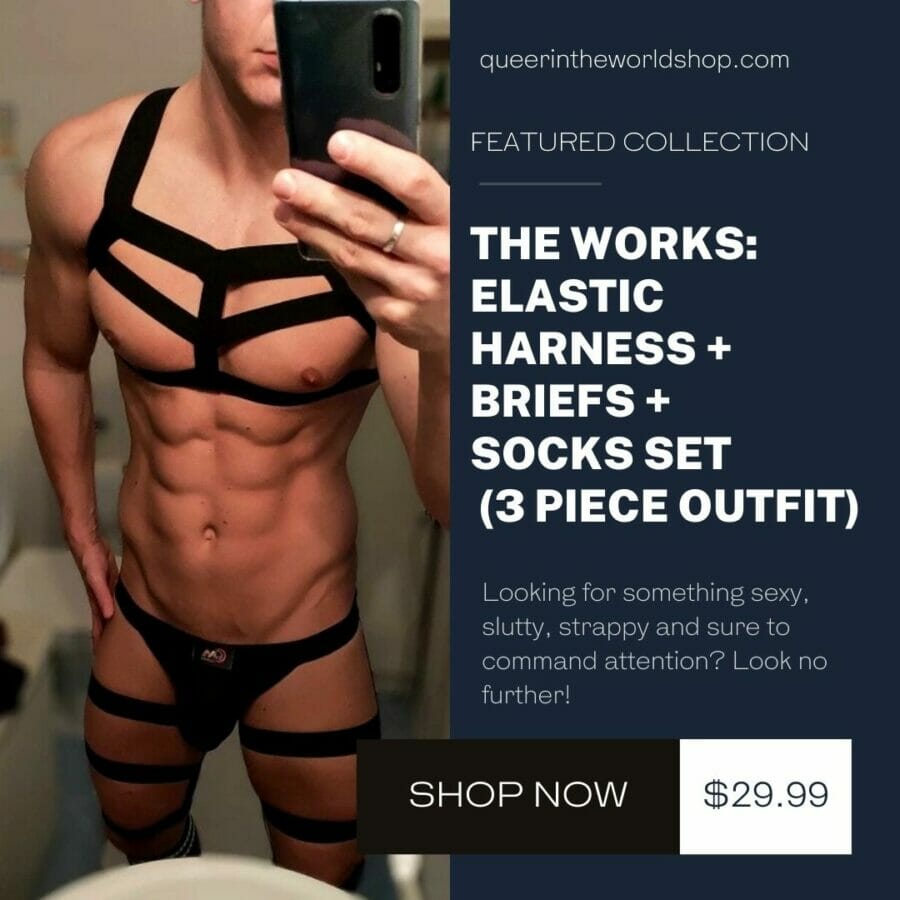 Cliff Driver
This is easily one of the best sex positions ever. It provides insane intimacy as you can dive your dick into your partner like never before. To enjoy this position, it is important to use lubrication and protection.
Your partner should get on all fours while you penetrate him from behind. You can stand and lift your partner by his waist or thigh. Then, wrap your legs around him and penetrate.
Superman
This style is as power packed as who it is named after. It is an acrobatic form of sex that demands a lot of energy.
Firstly, you both need to get a good chair. Then, you sit on the chair, making your body elongated, and your partner can mount away from you or towards you. He must balance himself.
The superman style comes in two forms; in the face-to-face position, your partner, who is the bottom, leans back while you grasp his wrist to offer balance. Your partner should now lift his leg as though he wants to fly while you control the thrusting.
For the back-to-face position, the bottom mounts the top and inserts the cock into himself. After, he now leans forwards and throws his arms backward so that the top can grasp his wrists. Then, the bottom lifts his legs flying along with the rhythm the top creates.
Bonus points will be awarded if you manage to use this gay sexual position after going as superman for your gay Halloween costume…
Squatters Rights
This is one of those gay sexual positions that are right up your alley if you love oral sex. This involves you and your partner offering each other mutual pleasure. This style is also perfect for people who love playing fellatio. This style centers on pleasing the nipples. Naturally, nipples are one hell of an erogenous zone for men.
Let your partner lie flat on his back; then, you can squat and hover over his face, facing his nipples and penis.
Then your partner can reach forward and grab your nipples in each hand while at the same time lowering his cock into your mouth. This is a very delicious sex position for sides to try out. You can get tired of squatting, but you can easily rest on each of your knees on either side of your partner's face. This would help you enjoy yourself longer.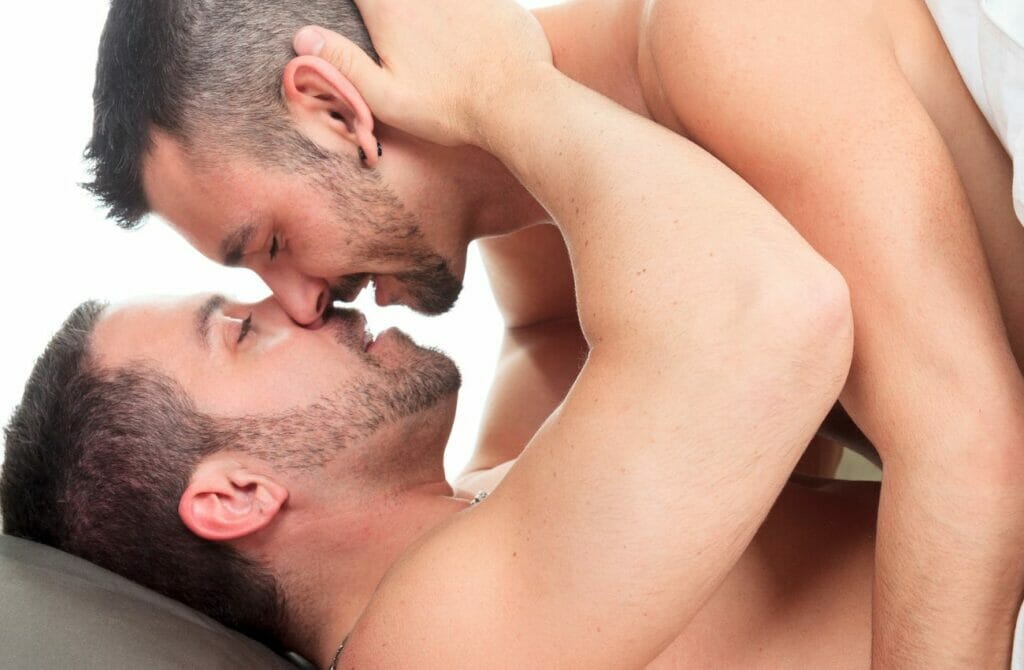 The Rocking Chair
From the name of this position, you can probably already deduce what it's about. We do have to warn you, though, that you have to be installed and have – or at least reasonably fit- before you try it.
Nothing puts you off sex faster than a persistent cramp from using a muscle that hasn't seen action in years. This applies to both the top and bottom, as you both have quite a bit of work to do. So step up your workout routine and do some stretches before you get into this; for this position, the top lies back and pulls his knees up to his chest, spreading his legs so the top can sit back words between them, putting the top's penis into himself as he does so,
Once he's gotten into a comfortable position and straddled the top fully, the bottom starts to rock back and forth. In this position, he has full control of the angle of penetration and can even lift himself up and down a few times. If the top is fit enough, he can also thrust upward, but we advise that he just lay back and enjoy the ride.
See-Saw

When it comes to this position, our philosophy is different strokes for different folks, no pun intended. Quite a bit of athleticism is required to perform it successfully, but once you get the hang of it, you can say goodbye to boring sex for around least are few weeks until you get tired, literally and figuratively.
For this position, you're going to need a clean floor, a chair and a top with a hell of a strong back. The top has to lie on the ground and balance his power legs on a chair, making sure his whole body forms a straight line. The bottom then straddles the top's thighs and inserts the top's penis into him. Now one or both parties can rock against each other.
The top thrusts his dick up and down by lifting and lowering his waist, while the bottom also raises and lowers his ass, rocking his torso back and forth as well; it's quite a complex style, although one you have to try if you love exploring.

Pile Driver

A necessary essential for this position is a flexible bottom. That aside, this is probably one of the most intense and pleasurable positions for gay sex. Both the top and bottom are in their element, so to speak. The bottom gets to lie back and receive maximum penetrative, while the top is in full control, as he has to do the thrusting. For this position, you need a couch or a bed of medium height.
The bottom lies on the ground with their back flat against it. Their legs are raised so that they are at ninety degrees to his body. He then spreads his legs while the top squats over him, legs on either side of his body. He then ducks the bottom by moving as if he's doing squats. He can also grip the bottom's legs and hold them wide open, while the bottom can stroke his dick with one hand.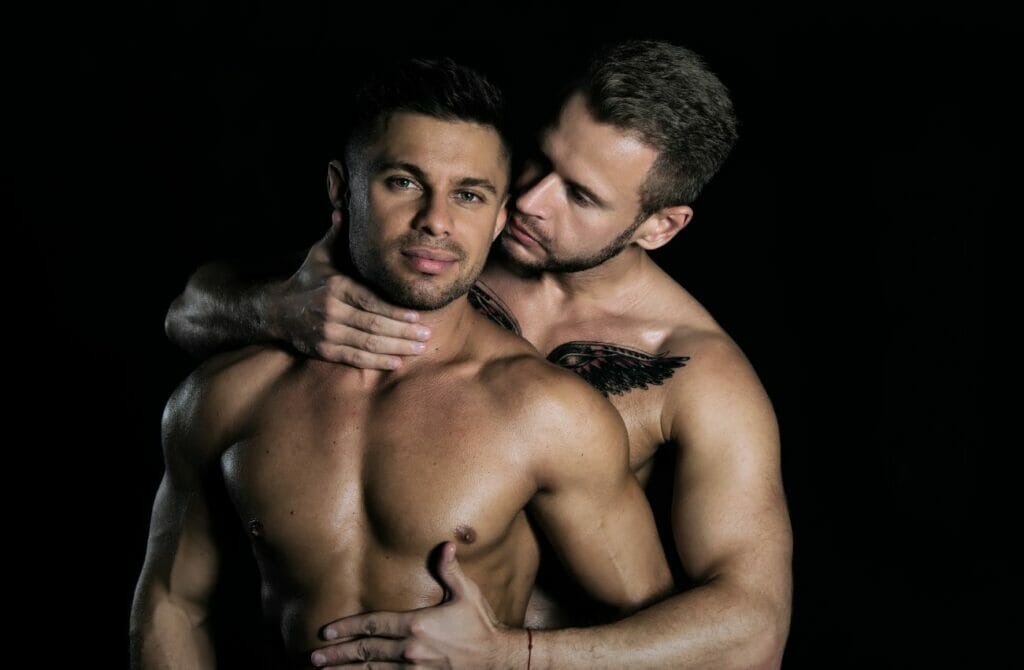 Pirate's Bounty
If you're finally tired of stringing your back and legs and twisting yourself like a rope, Pirate's Bounty requires relatively low effort. All the bottom has to do is lie back on the ground or a bed, lift one of his legs up and bend the other one at an angle.
The top then kneels between his legs, facing him, and penetrative him in that position. The top can grip the bottom's legs or thighs and then place one hand on his waist. Alternatively, he can use one of his hands to stroke the bottom and even fondle his nipples. This position allows both partners to see each other during sex. With a little effort, they can even kiss.
As to why it's called Pirate's Bounty, we can't say for sure as we first heard about it on Onlyfans, but who cares? If it makes you come so hard you see stars; we're up for it.

Jockey

Jockey is one of the most simple yet intense gay sexual positions we can imagine. It's one of those hidden gems that get people hooked once they try it. Basically, the bottom lies flat on their front while the top stretches across his body so that they're parallel to each other. The top then penetrates the bottom, so he's lying with his front to the bottom's back.
He then balances himself on his forearms so that his torso is elevated and rocks his hips up and down or forward and backward, depending on which is more pleasurable for himself and the bottom. The bottom's hands are usually free, but the position doesn't allow him to do much more than gripping the sheets or a pillow. The top controls the depth and angle of the penetration.

Screw

The angle of penetration in this position means that the head of the top's cocktail usually rubs across the bottom's prostate, making sex hotter and more fun.
The Screw is like a cross between missionary and spooning, except that instead of the bottom to lie on his back with his legs spread as in missionary, he lies on his side, with his legs closer together and knees bent. So we could say the top is in the missionary position while the bottom is in the spooning position. The top penetrates the bottom in this position.
Their hands are free, and everything from choking to kissing is possible.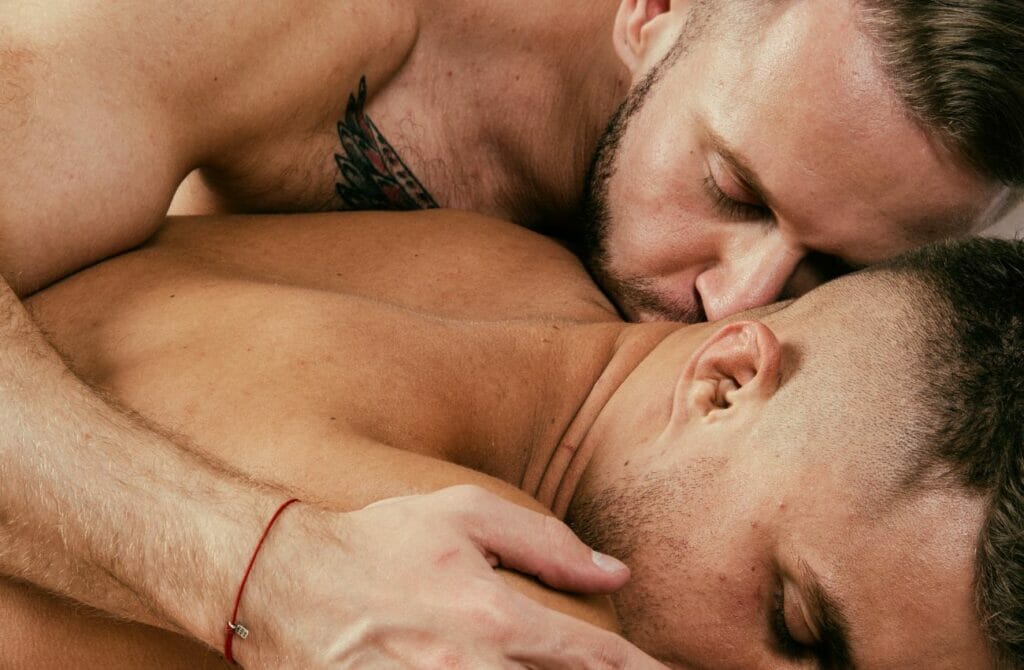 Danseur

The name of this position is 'dancer' in French, and this position requires you to have as much flexibility and stamina as one. You can think of this as a form of extended doggy, and the bottom must have superb balance.
He bends over at the waist, bracing himself against the wall or a chair, and lifts one leg up so that he's balanced on only one leg. The top now stands behind him and penetrates him from behind. It's a great way to get a light workout and scratch an itch at the same time if you get what we mean.