Buckle up, darlings, for we are diving into the narrative of Gay Riyadh, the austere heart of Saudi Arabia. This city, as grand and regal as it may seem, pulsates with a hard-edged rhythm of ancient tradition and devout religiosity.
Born in the 18th century, Riyadh echoes with the somber notes of the country's politics, economy, and religious beliefs, an unyielding beat that has dominated the cityscape.
Underneath its stern exterior, Riyadh is a city of contradictions – bustling yet hushed, cosmopolitan yet conservative. It might dazzle you with its sprawling urban landscape, oil-endowed affluence, and opulent accommodations, but the city's essence is cloaked in staunch conservatism.
Riyadh, a predominantly Muslim city, stands firm in its resistance against homosexuality. The city, in no uncertain terms, is not a welcoming place for our rainbow tribe. Gay travellers, therefore, must navigate the cityscape with a degree of caution that borders on the clandestine, avoiding any public display of affection that might draw the unsolicited gaze of authority.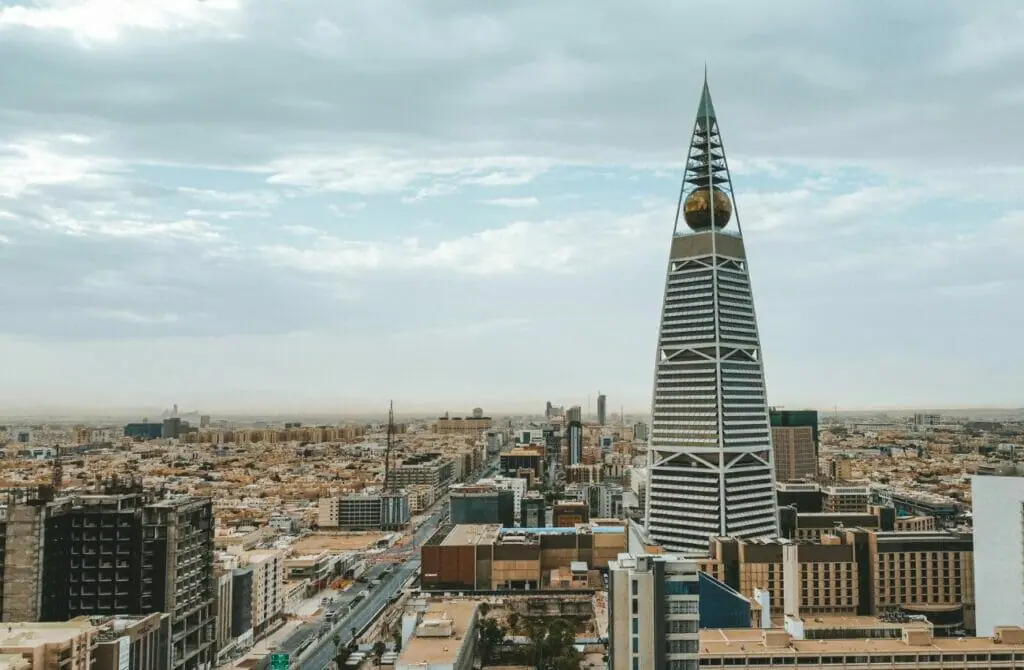 That said, my lovely queer nomads, remember that survival sometimes demands blending in rather than standing out. Gay couples looking for a quiet sojourn in Riyadh can indeed carve out a moment of peace – provided they stay incognito and respect the stringent societal norms.
Before we tread any further into this travel guide, laden with insider tips, must-see spots, and a rundown of accommodations, a word of caution, dears: In Riyadh (or any part of Saudi Arabia), public displays of affection can lead to severe consequences. Always err on the side of caution and respect the local customs. Let's not forget, my dears, we're here to explore and learn, not to court trouble. With that in mind, let's cautiously proceed with this guide.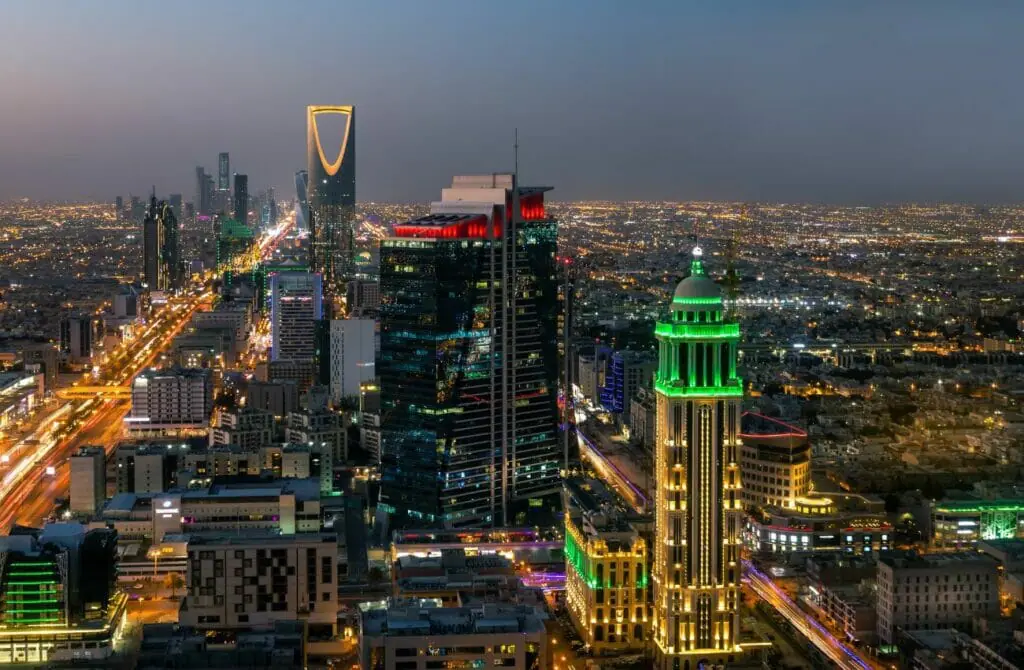 Attractions in Gay Riyadh, Saudi Arabia
As a new visitor to Gay Riyadh, it's important to be aware that being queer is illegal in this city and country, and any same-sex activity should be avoided to ensure your safety. However, there are still plenty of things to see and do that do not involve expressing your sexual orientation.
One of the best ways to experience the city is to visit its most iconic landmarks and attractions, including historical monuments, museums, and art galleries. You can also admire the city's architecture, explore its parks and gardens, sample local cuisine, and visit local markets. Additionally, cultural events such as festivals, concerts, and shows can provide a glimpse into the local culture.
We feel it's important to acknowledge the challenges and risks of visiting destinations where same-sex activity is illegal. However, we still believe in the power of cultural exchange and the value of experiencing diverse cultures, even if we may not agree with their laws and customs.
Visiting queerphobic destinations allows us to learn about the local culture, history, and traditions and to gain a deeper understanding of the challenges faced by LGBTQ+ communities in those places. It also provides an opportunity to connect with local people, to hear their stories, and to show solidarity with the queer community.
It's important, however, to be mindful of the risks and to take steps to ensure our safety and the safety of local queer people. This may include avoiding public displays of affection, not discussing our sexual orientation with strangers, and being aware of local laws and customs.
As we explore these destinations, it's crucial to spare a thought for local queer people who may face discrimination, persecution, and even violence due to their sexual orientation.
We might also have the opportunity to use our platform to amplify their voices and to support local organizations working to protect and advocate for LGBTQ+ rights – however, this is best done once you have left (and if you reside in a gay-friendly country!).
While it may not always be easy or safe to visit queer-illegal destinations, we believe that cultural exchange and understanding can help bridge divides and promote acceptance and tolerance. Let's continue to explore the world while keeping in mind the experiences, struggles, and restrictions on LGBTQ+ expression in this city and country.
Thankfully, it's still possible to enjoy the city's attractions and learn about its culture while being mindful of local laws and customs.
These are our recommended must-see attractions in Riyadh.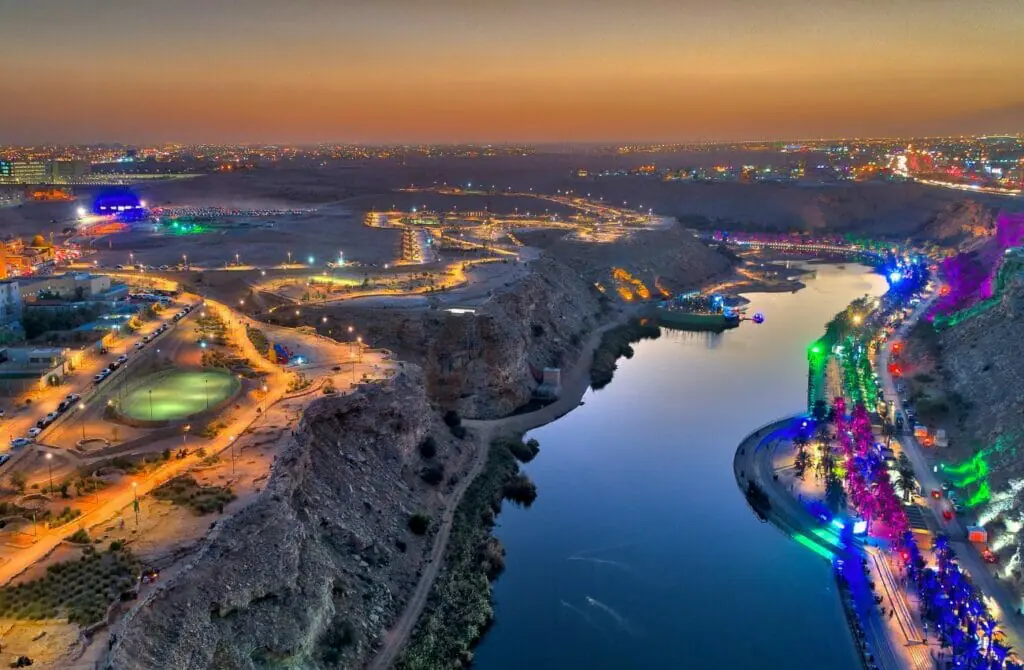 Al Thumairi Street in Riyadh is a veritable treasure trove for travelers searching for an immersive cultural experience. The street is a time capsule that artfully merges the past and present, offering a glimpse into the city's rich cultural heritage. Dotted with an array of traditional shops and markets, the visitors can find an assortment of wares, ranging from vibrant fabrics to exquisite handmade pottery here.
A visit to Souq Al-Zal is a quintessential experience that visitors should not miss. The bustling marketplace is a sensory delight that will ignite all of your senses.
Here, you can barter for an array of aromatic spices, flavorful herbs, and tantalizing teas or take home unique souvenirs that showcase the area's vibrant culture. Al Thumairi Street is also renowned for its lip-smacking street food, including crispy falafel and juicy shawarma, that will leave your taste buds joyful.
King Abdullah Park
Tucked away in the heart of Riyadh lies a hidden gem known as King Abdullah Park: a verdant oasis that beckons visitors with its natural beauty and diverse range of recreational activities.
Spread out over a vast expanse of land; the park boasts an array of attractions and amenities that cater to all interests and ages, from its picturesque gardens and serene lakes to its playgrounds and meandering walking trails that snake through the lush greenery.
For those seeking aquatic adventures, the park offers abundant water activities, such as boating and fishing, alongside breathtaking views of the park's mesmerizing fountains and water features. With an array of cultural and artistic events throughout the year, King Abdullah Park is more than just a park; it's a lively hub of entertainment and community engagement.
Ready for an adrenaline-filled hiking adventure? Nestled just outside of Riyadh is a natural wonder that will take your breath away – Jebel Fihrayn, also known as the "Edge of the World." This majestic rock formation stands at an impressive height of over 300 meters, providing unparalleled views of the vast and rugged desert wilderness that stretches as far as the eye can see.
If you're up for an exhilarating adventure, hiking through the rugged terrain will lead you to a breathtaking vista at the cliff's edge. The panoramic views are mesmerizing, especially at sunset when the sky is a beautiful canvas of vivid colors.
Whether you're a nature enthusiast or an adventure seeker, Jebel Fihrayn is a destination that cannot be missed, offering a unique and unforgettable experience that will stay with you for a lifetime.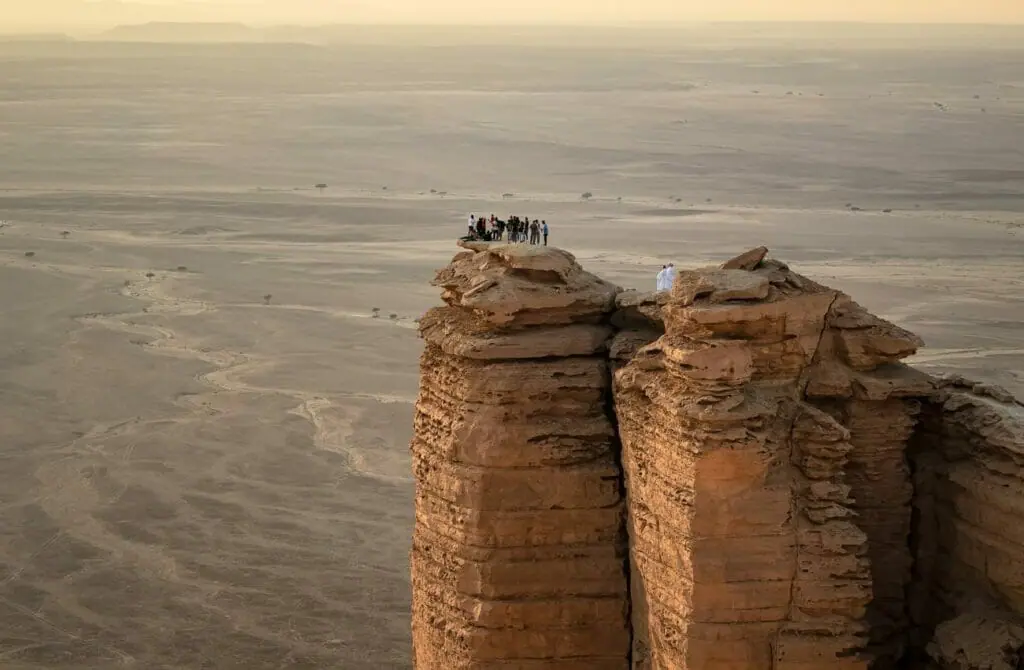 Amidst the bustling city of Riyadh in Saudi Arabia lies a majestic palace that exudes grandeur and elegance. Murabba Palace's history dates back to the early 1900s when King Abdulaziz Al Saud built it in 1936 as his residence until he died in 1953. The palace boasts a distinctive architectural style, blending traditional and modern elements.
Tourists who visit the Murabba Palace can appreciate its grandeur and sophistication in person. It underwent restoration and now serves as a museum showcasing the palace's original furnishings and decorations, including the king's bed, throne, and personal belongings.
Besides its historical importance, the palace's beautiful gardens make it a popular tourist attraction. The gardens are abundant with greenery, colorful flowers, palm trees, and citrus trees, creating a peaceful atmosphere for relaxation and rejuvenation.
The National Museum of Saudi Arabia
Upon entering The National Museum, you'll be greeted by a breathtaking exhibit of ancient relics, including prehistoric fossils, intricate sculptures, and antique pottery. The galleries are thoughtfully curated to narrate the story of Saudi Arabia from its earliest history to the present day, highlighting the diversity of its people and customs.
Renowned as The King Abdulaziz Historical Centre, the museum holds the largest collection of personal belongings that belonged to King Abdulaziz, the founder of Saudi Arabia. Alongside these impressive collections, visitors can enjoy interactive displays, audio-visual presentations, and guided tours that offer a comprehensive understanding of Saudi Arabia's rich history, culture, and traditions.
Whether you're an avid history buff, an art enthusiast, or simply a curious traveler, The National Museum in Riyadh promises an unforgettable experience that will leave you with a newfound admiration for Saudi Arabia's cultural heritage.
As you venture just outside the bustling city of Riyadh, a magnificent natural wonder that must be seen to be believed awaits you – the Red Sand Dunes. These towering dunes are a stunning shade of red that is especially breathtaking at sunset when the sky is painted in vibrant hues of pink and orange.
Explore the dunes on foot, or embark on a thrilling 4×4 desert safari and experience the thrill of driving up and down the steep slopes of the dunes. No matter how you choose to share it, visiting the Red Sand Dunes promises to be an unforgettable experience that will leave you amazed.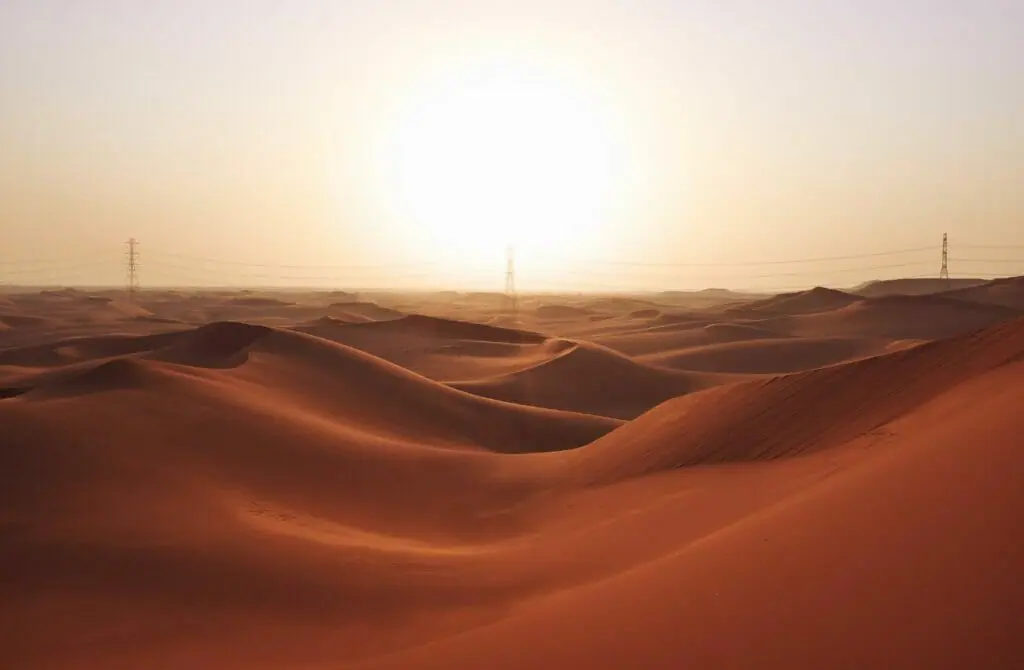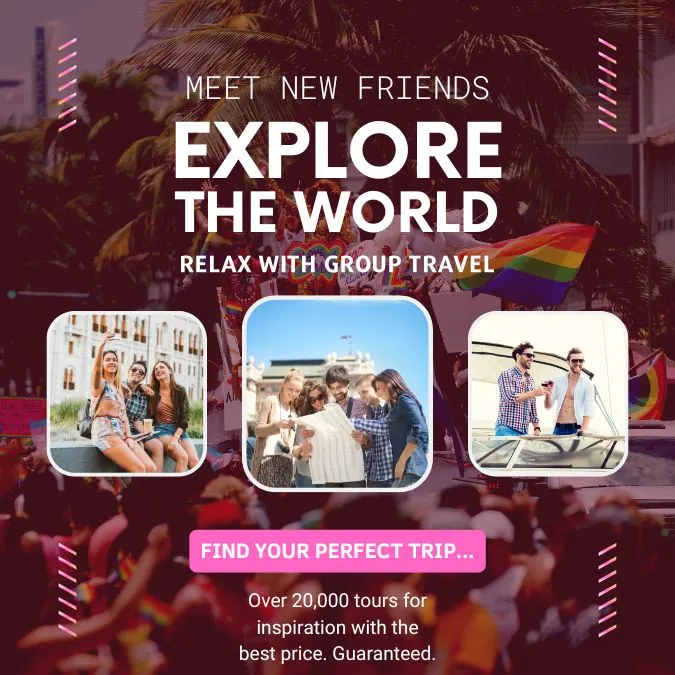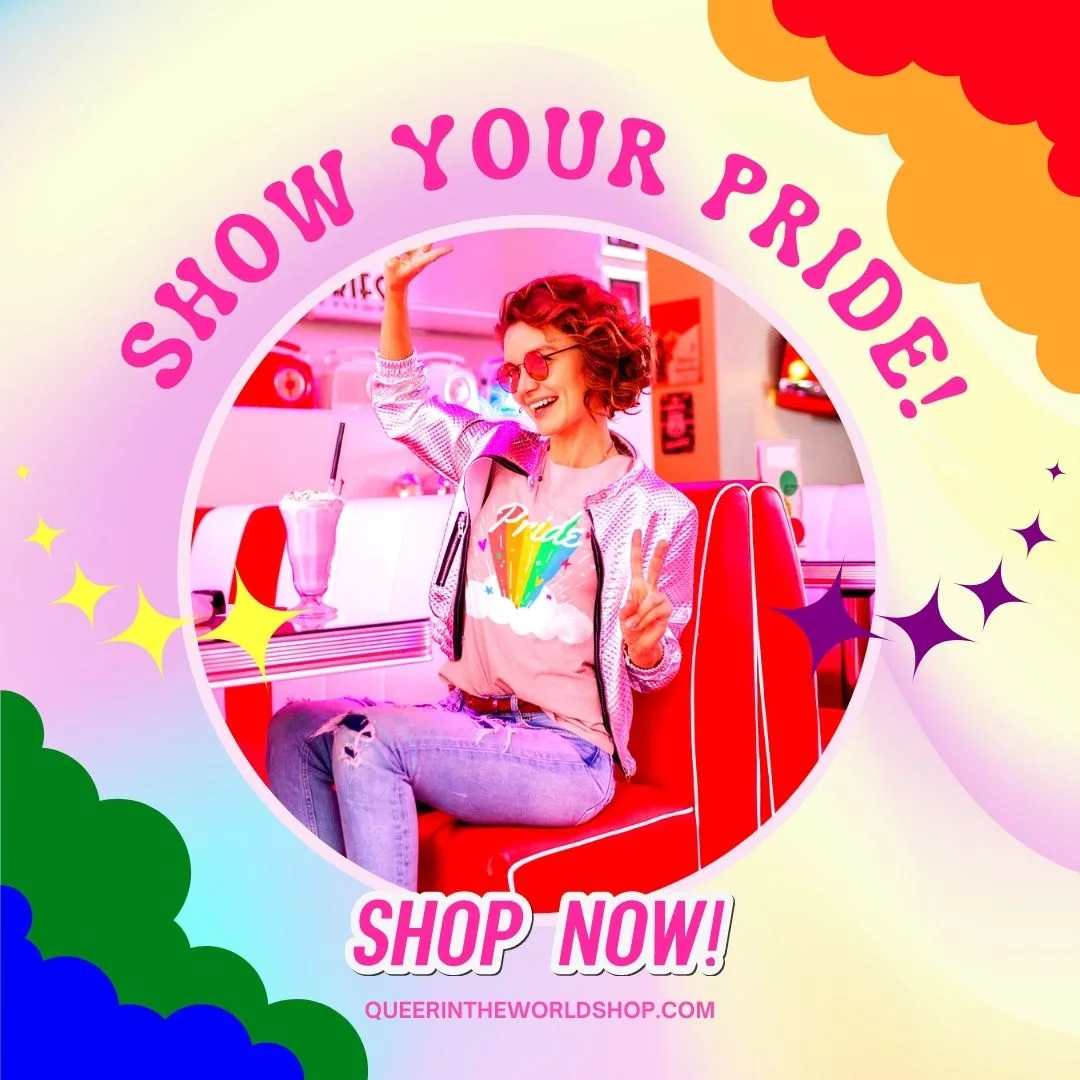 Gay-Friendly and Gay Hotels in Riyadh, Saudi Arabia
In lands where acceptance of the vibrant hues of the LGBTQ+ community is yet to see the light of day and being gay remains under legal scrutiny, it's of paramount importance for those brave, radiant souls planning a journey to be mindful of potential risks and adopt indispensable precautions. Among these precautions, selecting accommodations less likely to grapple with same-sex travelers shines significantly.
The wisdom often echoed is to secure accommodations featuring two twin beds and traverse your journey under the guise of friendship, artfully avoiding any same-sex activities that may potentially stir undue attention. While it may be a lamentable reality that Riyadh, a city of splendorous heritage and tradition, lacks openly gay-friendly accommodations, it is nonetheless home to a plethora of international and luxurious properties less prone to take issue with their LGBTQ+ guests.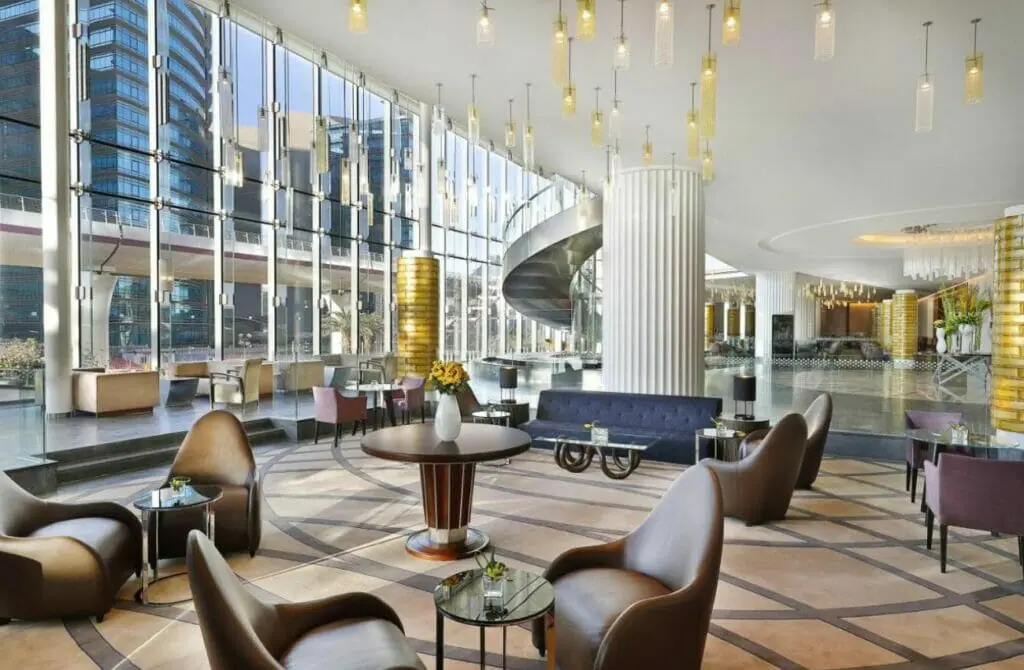 It's essential to underscore that these luxurious abodes may not brand themselves as gay-friendly and could potentially lack explicit policies or practices fostering a safe and inclusive environment for LGBTQ+ guests. However, they stand as the most resplendent hotels in Riyadh, as testified by other gay travelers and us, and are places we warmly recommend for your stay.
Though these accommodations might echo the inclusive ethos of their international western parent brands, it's vital to remember they are situated in a land where local laws take precedence. Therefore, respect and adherence to the laws of the land are absolutely essential.
Regardless of your needs, Riyadh offers a broad spectrum of accommodations to cater to a variety of preferences. While it may indeed be challenging to unearth gay-friendly options, adhering to these cautious measures can play a pivotal role in assuring a secure and delightful sojourn in the city. The importance of planning ahead and booking your chosen accommodations early cannot be overstated, allowing you to embark on your journey with a serene mind. Until the day when every corner of the world joyously waves the rainbow flag, we continue our travels with unwavering pride, caution, and an indefatigable spirit of adventure.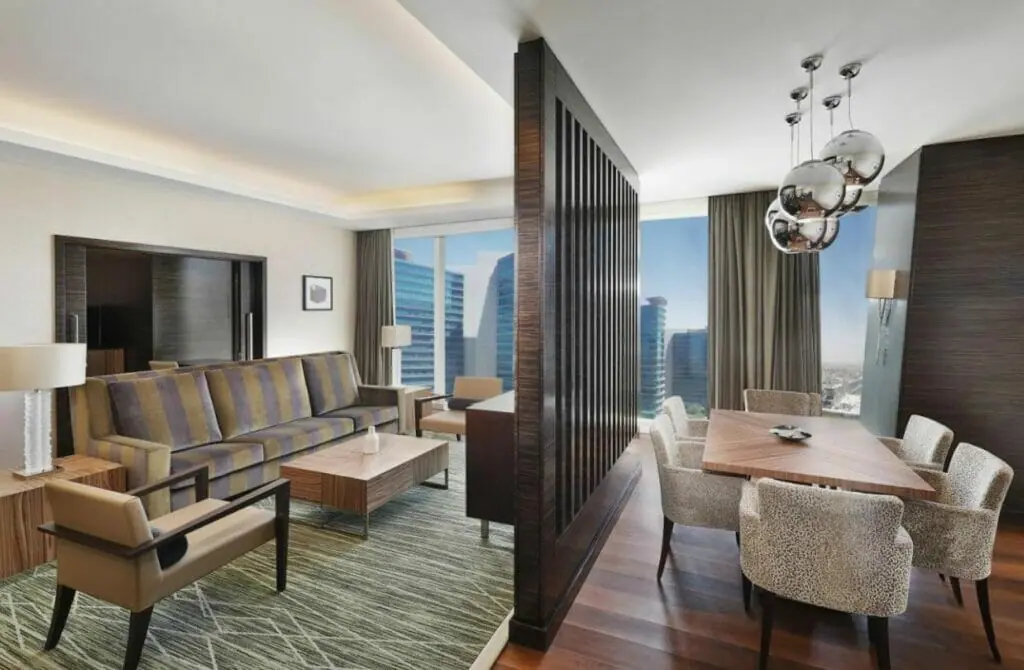 Hilton Riyadh Hotel & Residences ☆☆☆☆☆
Take a dip in the sparkling adult-only pool or indulge in a world-class spa treatment that will leave you feeling rejuvenated and refreshed, ready to take on the day at the Hilton hotel. The Hilton Riyadh Hotel & Residences is a luxurious hotel that boasts several unique features and amenities that set it apart from other hotels in the city.
Regardless, our favorite features of the hotel are the several on-site restaurants and bars, including the award-winning Al Khaima restaurant, which serves up delicious Middle Eastern cuisine in a beautiful outdoor setting.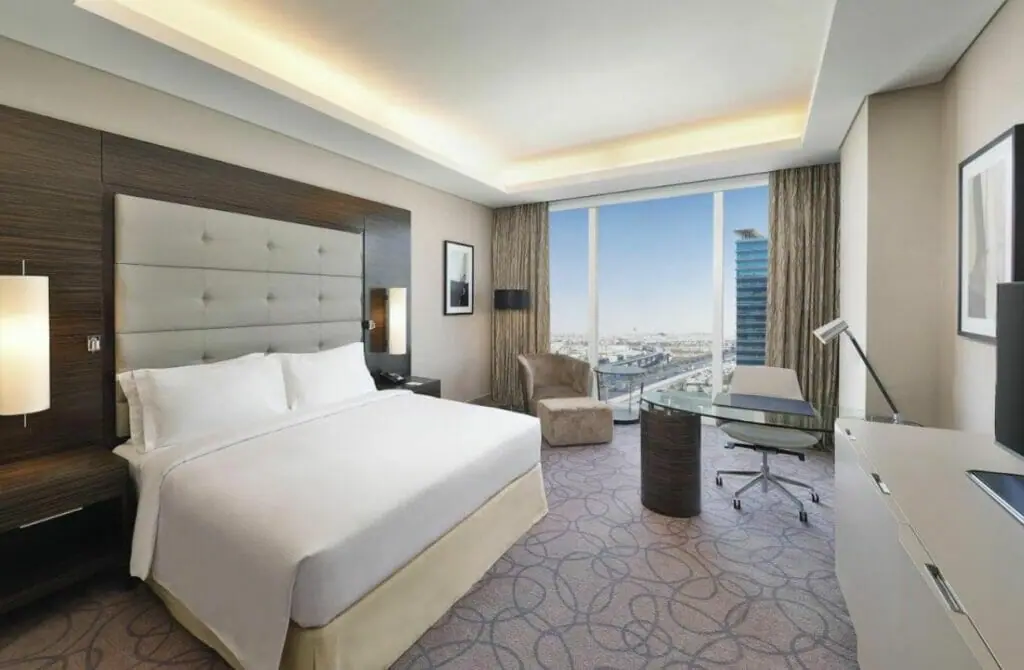 Crowne Plaza Riyadh Palace an IHG Hotel ☆☆☆☆☆
Crowne Plaza Riyadh Palace is the perfect choice for guests seeking a luxurious and comfortable stay in the city's heart. As an IHG hotel, it presents a range of world-class amenities and services, including spacious and elegantly appointed rooms, delicious dining options, and a state-of-the-art fitness center.
Guests can relax and unwind in the hotel's beautifully landscaped outdoor pool and terrace or explore the city's many attractions, such as the Riyadh Gallery Mall and the Kingdom Tower. With its prime location and impeccable service, the Crowne Plaza Riyadh Palace is the ideal destination for business and leisure travelers. Experience the height of luxury and hospitality at this exceptional hotel.
Radisson Blu Hotel, Riyadh ☆☆☆☆☆
The Radisson Blu Hotel in Riyadh is a haven of modern luxury and sophistication, where every detail has been carefully considered to provide guests with an unforgettable experience. One unique aspect of this hotel is its commitment to sustainability and eco-friendliness.
From its energy-efficient lighting and water-saving systems to its eco-friendly cleaning products and recycling programs, the Radisson Blu Hotel is dedicated to reducing its environmental impact and promoting sustainable practices. This commitment to sustainability and inclusivity sets the Radisson Blu Hotel apart as a truly forward-thinking and socially responsible hotel.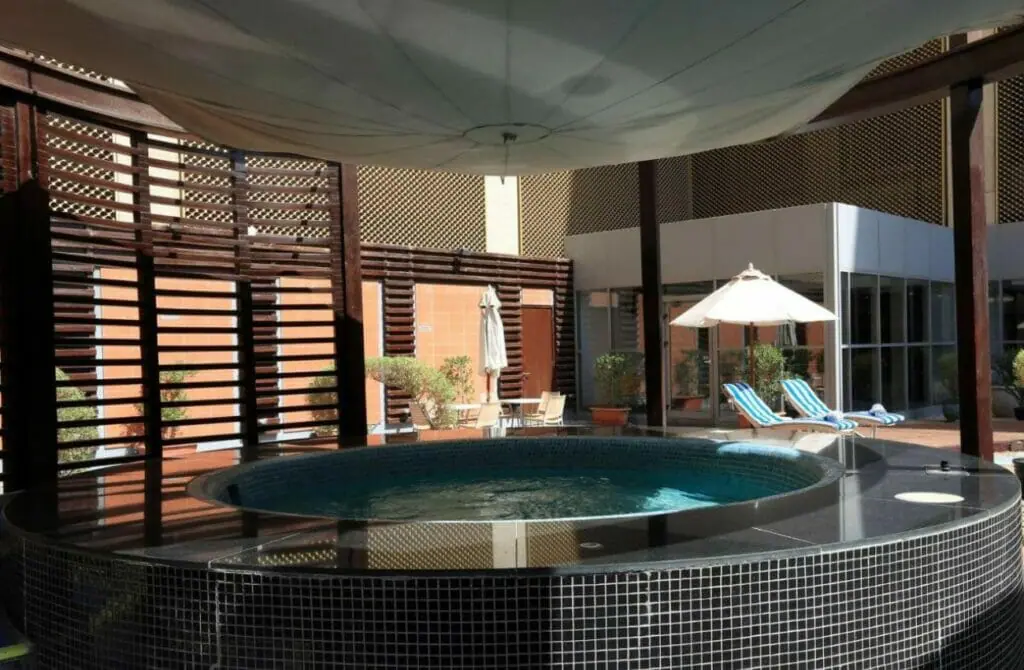 DoubleTree by Hilton Riyadh – Al Muroj Business Gate ☆☆☆☆
Next on our list is a gateway to a world of unparalleled hospitality and a cultural experience like no other. What sets DoubleTree apart from other hotels is its commitment to providing a warm and welcoming environment that makes guests feel right at home.
From the moment you step inside, you are greeted with a signature warm chocolate chip cookie, a symbol of the hotel's dedication to making your stay as comfortable and enjoyable as possible. But that's not all – the hotel's unique blend of modern luxury and traditional Saudi Arabian hospitality ensures that every guest's experience is unforgettable.
Executives Hotel Al Azizia ☆☆☆☆
Looking for an affordable hotel with excellent facilities? Look no further than Executives Hotel Al Azizia. This hotel offers essential amenities 24/7, making it the perfect choice for travelers who value convenience. The hotel's strategic location, immaculate rooms, and fantastic dining options come at pocket-friendly prices, making it an excellent opportunity for budget-conscious travelers.
However, the hotel's best feature is its responsive and accommodating staff. With a quick and efficient response to guest complaints, it's no surprise that many travelers choose to stay here.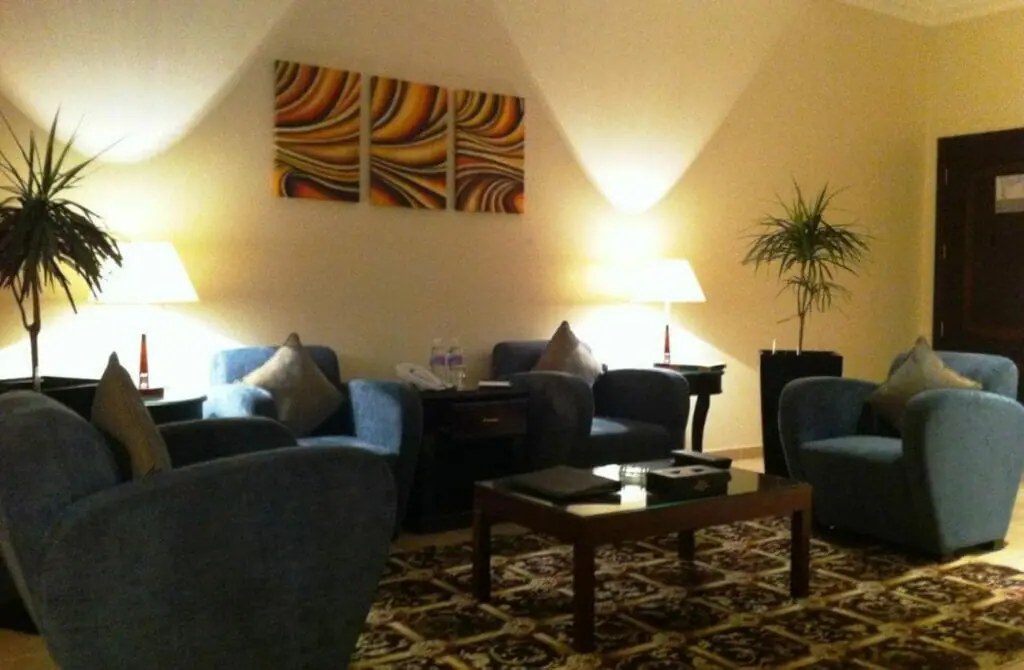 Four Points by Sheraton Riyadh Khaldia ☆☆☆
With its breathtaking views and prime location, Four Points offers the perfect base for exploring all this vibrant city has to offer. Enjoy near the private balcony or the floor-to-ceiling window and have your dinner while basking in the beauty of Riyadh. Get a variety of delicacies from their 24-hour international restaurant.
Another highly affordable and budget-friendly option that doesn't skimp on style or service for your stay in Riyadh is the modern Gloria Inn Hotel offering an affordable alternative to more traditional accommodations.
With its eye-catching design and colorful exterior, the Gloria Inn Hotel stands out among its peers. But don't let the budget-friendly price tag fool you – the hotel's amenities and services are top-notch.
Whether you need a quick snack or a drink, you can find it at the hotel's bar or take advantage of the friendly and attentive staff who are always on hand to assist with any request. So if you're looking for an affordable and stylish option for your next stay, book a room at the Gloria Inn Hotel.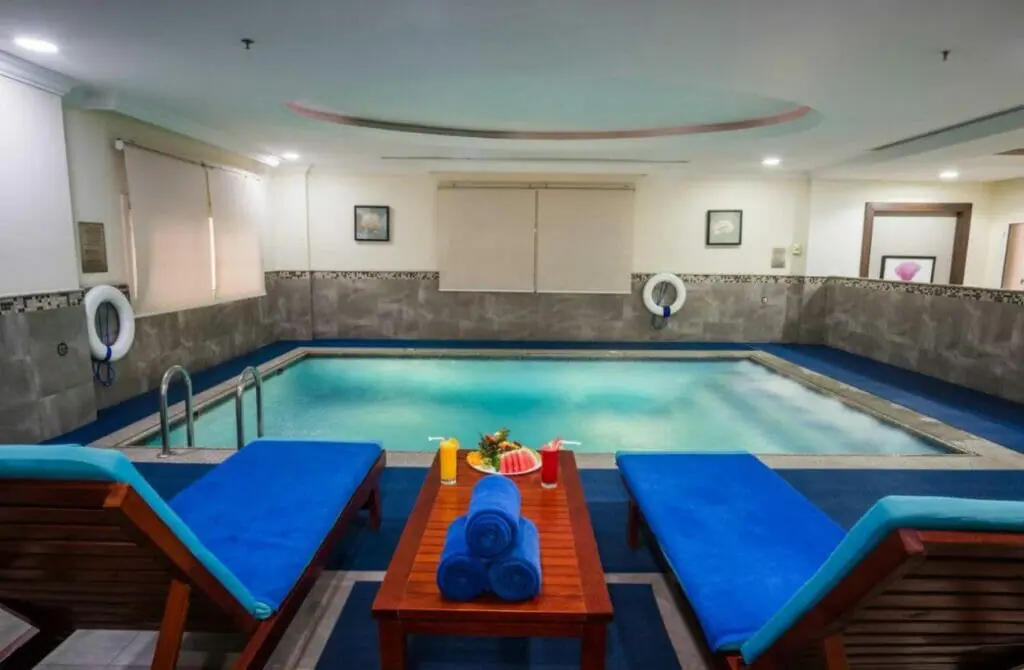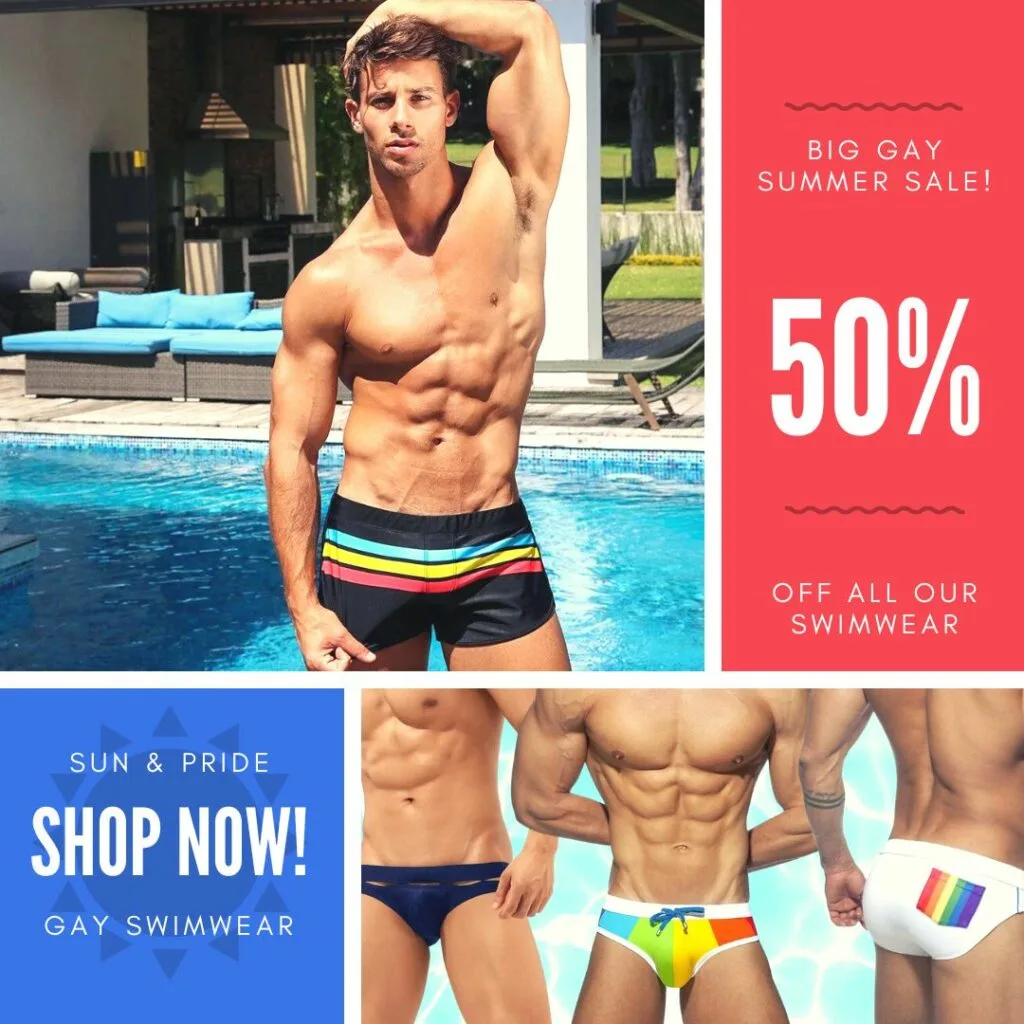 Gay Nightlife in Riyadh, Saudi Arabia
Riyadh is a fantastic global city for discovering contemporary Arabian nightlife. It operates in a different manner than Munich or New Orleans. It's like a hip-hop, world-class city full of excitement, nightlife, museums, and ultra-modern coffee shops. You'll have brand-new, lively, youthful moments and a perfect place to explore the after-hours here!
But keep in mind that there are no such bars or clubs in Riyadh since religious law restricts the sale and consumption of alcohol there and decriminalizes gay behavior. Keep control and avoid any sexual activity, whether someone is watching you or not.
Besides that, locals are happy for visitors to mix with them, and they enjoy meeting visitors from other countries. There are numerous well-known restaurants for every taste, designer stores, ultra-trendy cafes, and shopping centers that open till late.
Some Nightlife in Riyadh that will amaze you for sure is here!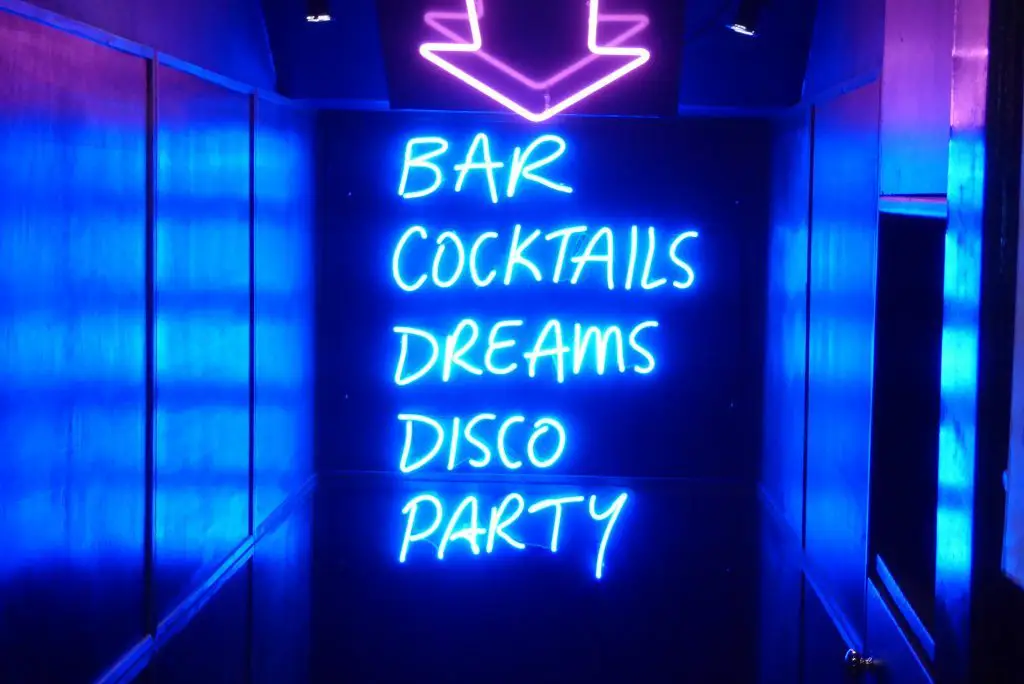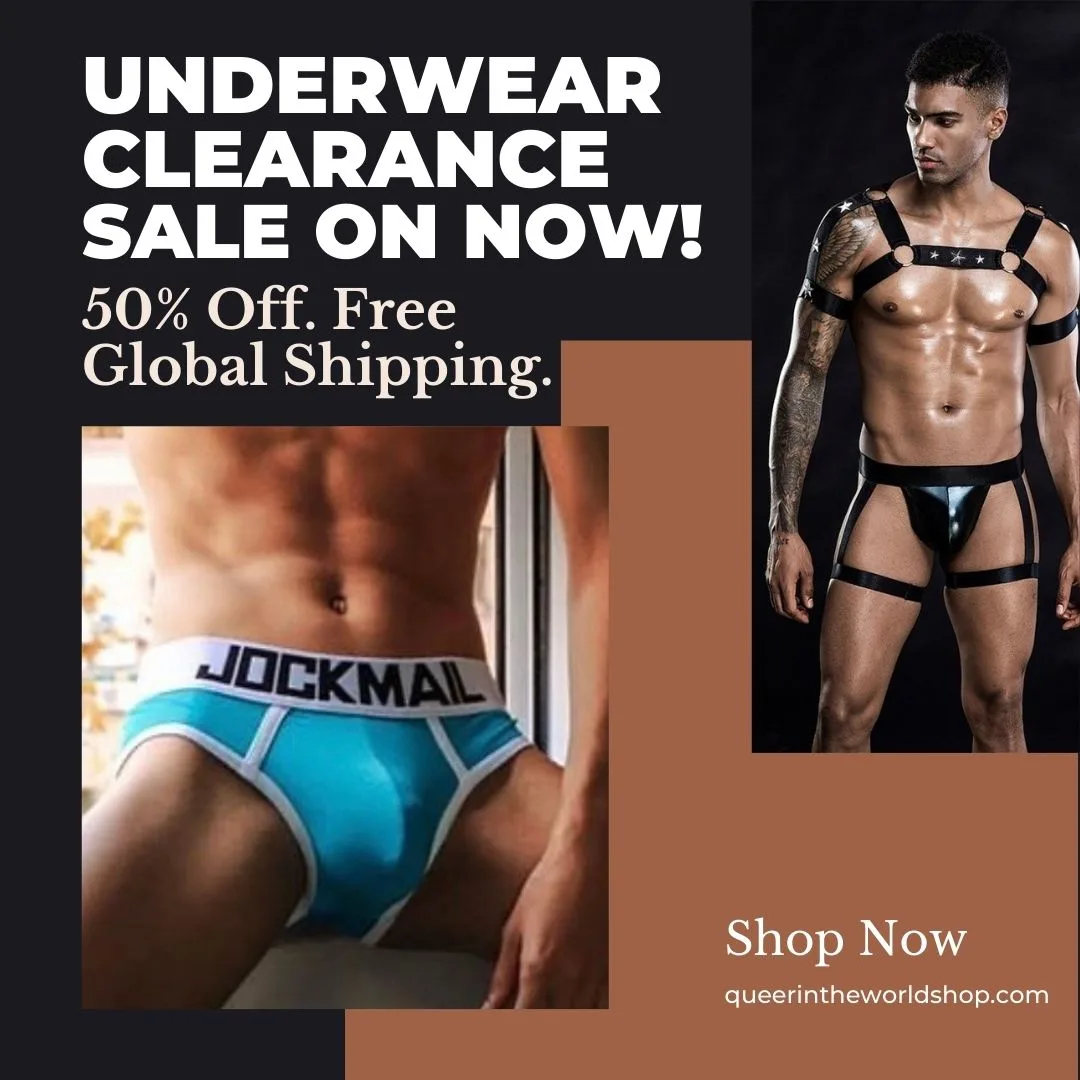 Solitaire is a wonderful choice if you're looking for an exclusive lounge in Riyadh. The cool drink selection and flavorful coffee in this lounge are well-known. The newest multi-use lifestyle destination in Riyadh has three floors of above-ground retail, food and beverage, entertainment, wellness, and sporting activities, as well as three levels of basement parking.
Solitaire is a wonderful location to unwind and ensures a first-rate eating experience by providing elegance and ease.
Lazurd Lounge is the ideal location if you're searching for fantastic food, good music, and a drink to unwind. Also, you can smoke a hookah while having a friendly discussion with your pals. For information on forthcoming events, visit their Instagram account.
In Riyadh, Attention is a fantastic spot to get a revitalizing cup of coffee and some delectable international cuisine. The menu of this café, situated in the Florins La Piazza shopping Centre, has freshly brewed coffee, drinks, sweets, sandwiches, and more.
The seating configuration allows people to enjoy hookahs both indoors and outside. Also, this location guarantees a fantastic experience for everyone with its cozy decor and helpful employees.
In Riyadh, Syrup is a fantastic nightlife lounge with warm vibes, helpful personnel, and a distinct personality from other entertainment venues. It provides you with room to discover your gift. It's all about the individuals who are passionate about music and art.
Together, they assemble talents, jam, perform, sing, record, and learn. Visit there and enjoy the journey if you love great music, art, and fun, whether you're a musician, performer, or just a listener!
You'll also be astounded by how events like Artist's Gathering, Kids Club, Arabian Night, Dancer's Gathering, and many more showcase the breadth and diversity of the arts that the Lounge supports and promotes.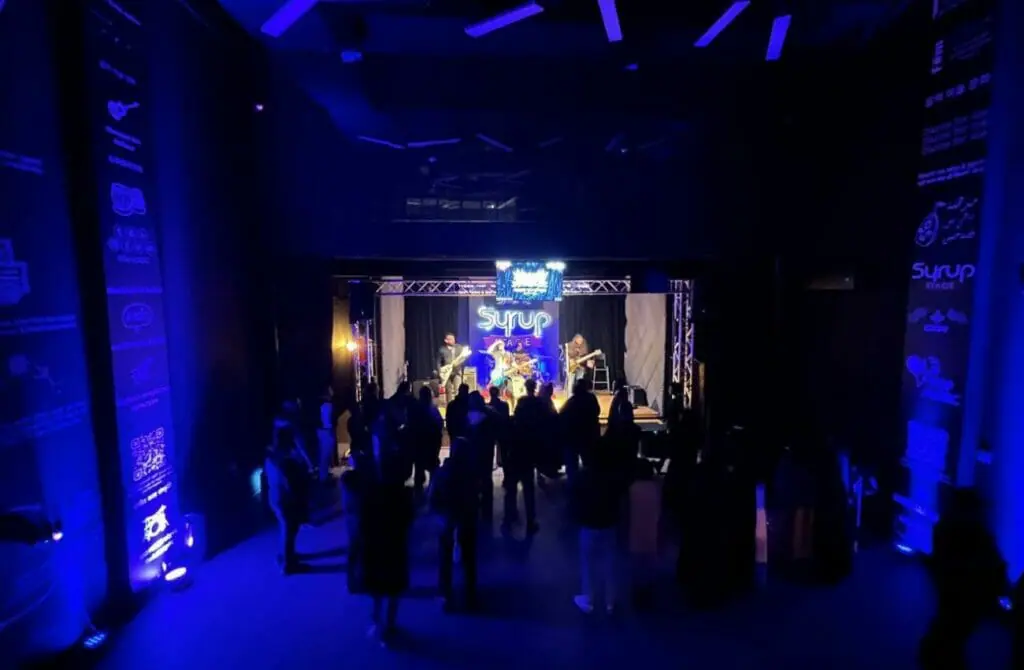 If you love to enjoy seeing stand-up comedy, pay your visit here in Comedy Pod Riyadh, It is an original Saudi comedy. They occasionally have professional comedians with their special talent to make you forget your worries and have a laugh rolling on the floor.
Abu Sarah, their manager, is pleasant and always works to put on the greatest performances. For information on upcoming shows, see their Instagram page.
Without a doubt, it's worth visiting for a nice laugh!
Riyadh Time Square offers everything, so you'll have no reason left to travel to New York LOL! The Boulevard Al Riyadh is a destination for socializing and enjoyment where the setting and furnishings transfer you to another planet.
It is eager to transport you into its 9 gorgeous subzones beyond your wildest dreams. Everyone can find something fascinating there, regardless of their age or interests, whether they enjoy shopping, sports, being adventurous, listening to music, or anything else.
The Paros Lounge and Café is the ideal spot for socializing with friends. Greek-inspired blue and white touches may be seen throughout this café. Paros is an excellent location for sports fans who want to watch their preferred team compete on television because it is open around the clock.
It's the ideal dining location in Olay due to its resort-like appearance and light but great food. Paros has done well to establish its reputation despite being open for only a short while.
MDLBEAST is a Saudi Arabian global media and entertainment platform that supports musical creativity and talent. The innovative Saudi company is well-known for Sandstorm, its annual flagship music festival in Riyadh, which attracts some of the biggest names in the music and entertainment industries.
Every once a year, the XP conference and Sandstorm music festival offer a week packed with entertainment and must-see performances as every time, MDLBEAST establishes itself at the forefront of the local entertainment industry. See its artist's site for a list of forthcoming MDLBEAST concerts, conferences, and other music-related events, and visit here with perfect timing.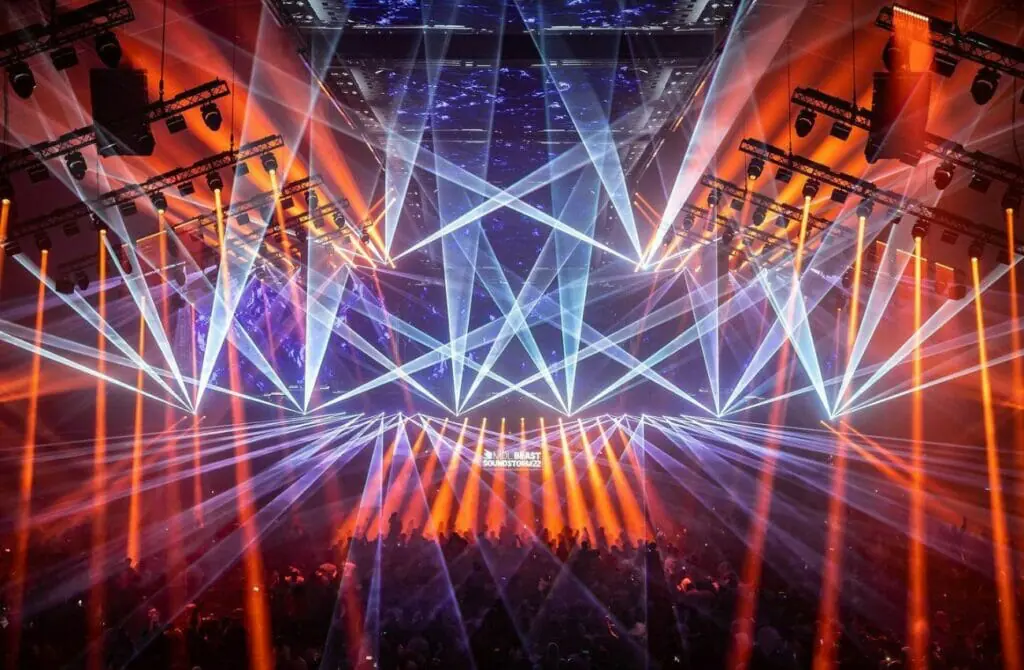 Gay Saunas & Cruising Clubs in Riyad, Saudi Arabia
In Saudi Arabia, any form of homosexual behavior is banned and punishable by imprisonment, fines, or even the death penalty. In public settings, public shows of affection, regardless of sexual orientation, are likewise outlawed.
Regarding spa and wellness services, Riyadh has several respected businesses that provide a variety of treatments and services. However, it is always a good idea to ensure that the institution you choose is licensed and legitimate.
As a queer traveler visiting Gay Riyad, it's important to remember that being gay is illegal in this country. While visiting some of the known gay cruise spots may be an exciting prospect, it's important to remember that any same-sex activity is strictly prohibited.
As such, we are choosing not to mention any here and do not recommend you try them unless you are with a trusted local (and even then, it isn't our recommendation).
We do not advise engaging in any illegal activity, including hooking up with locals or engaging in public cruising. If you choose hook-up apps, it's important to use a VPN and avoid giving away any identifiable information until you're certain it's safe. We also advise against visiting bathhouses or engaging in any sexual activity in public places.
Though, if you are out for fun, always practice safe sex and use protection to reduce the risk of contracting sexually transmitted infections. Queer public health campaigns are not a thing here – as you might imagine. It's crucial to respect local laws and customs regarding LGBTQ+ activities and to keep a low profile when it comes to queer movements.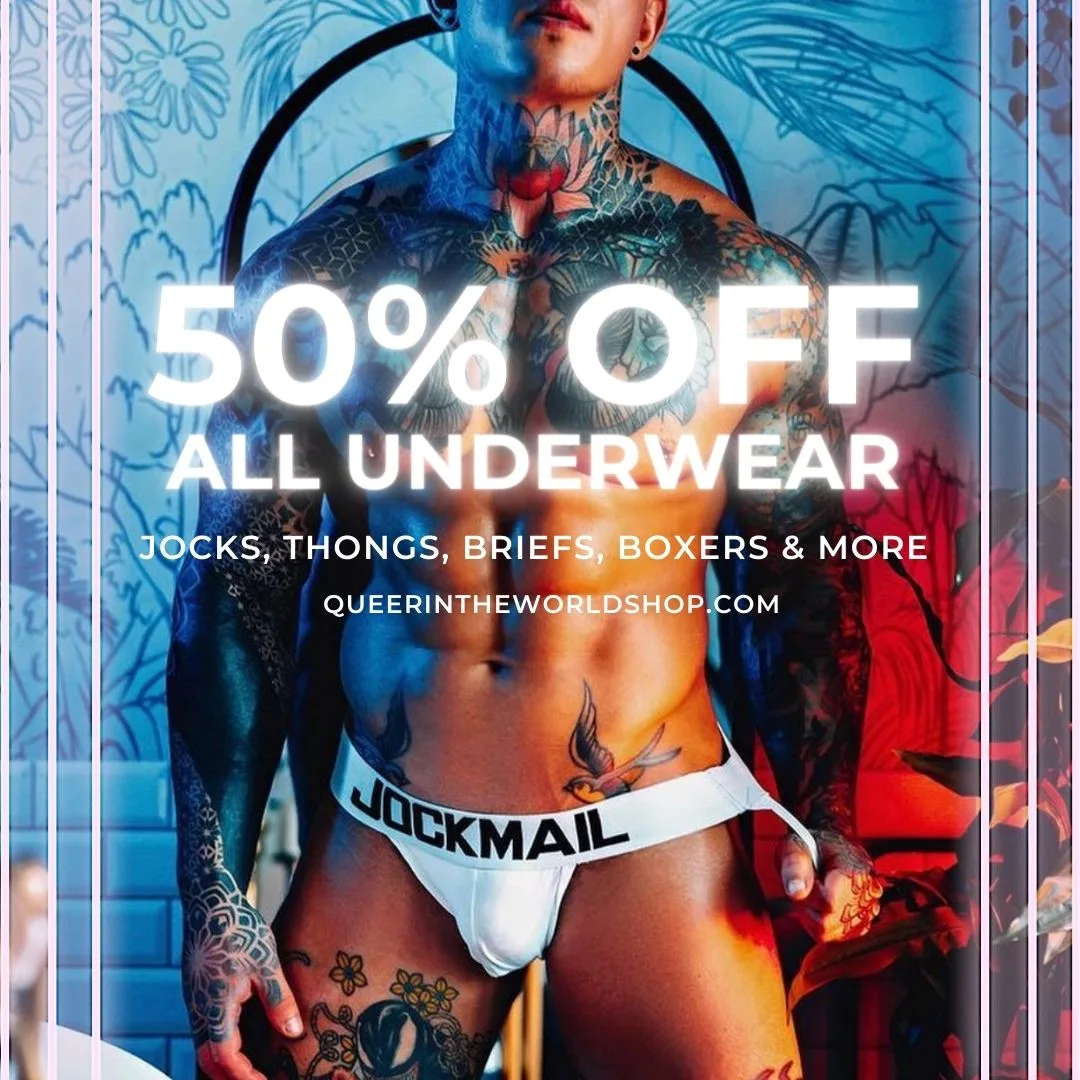 Gay Map Of Riyadh
Finding it hard to envisage where everything is in Riyadh? Hopefully, this queer-centric map helps where we have marked all the bars, clubs, parties, hotels, saunas, massages, and more will help you stay in the spot best suited to you!