Darlings, fasten your seat belts as we take a detour through Gay Lagos, Nigeria's most populous city, draped in a deceptive veil of teeming beach resorts, boutiques, and pulsating nightlife.
However, let us not be fooled, as Lagos has a shadow side. Beneath its vibrant skin lurks a stark reality that we, as a rainbow community, must face.
Lagos, the grande dame of Nigeria and indeed Africa, is a metropolis of tremendous proportions, rich in history and pulsating with economic vitality. And while the city promises an array of intriguing sites and a plethora of leisure choices, the primary reason one finds themselves in Lagos is usually tied to business engagements or familial obligations.
The facade of this bustling metropolitan might dazzle you, but make no mistake, it hides a deep-seated conservatism. Being gay in Lagos is a tightrope walk. As your flamboyant guide, I am here not to sugarcoat the stark truth: the LGBT community here is still grappling with rampant homophobic attacks.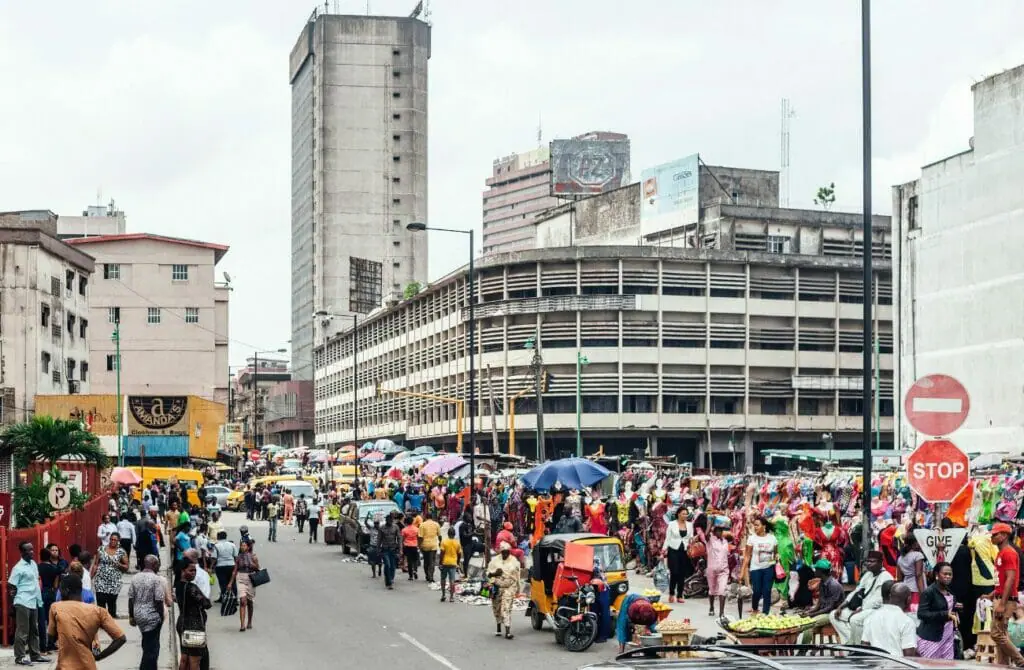 The legal landscape in Nigeria doesn't help either. The administration of former President Goodluck Jonathan enacted legislation that essentially criminalized homosexuality, reflecting the country's stringent stance against queer people. Therefore, any public expression of homosexuality in Lagos might land you in prison for a good 14 years, sans the option of a fine.
Nightlife in Lagos is lauded as one of the world's best, and it's true, as the sun sets, a different life emerges. Queer people in Lagos have developed subtle survival tactics to navigate the nightlife. Gay men and women often enter these pulsating spots together, cleverly evading unwanted suspicion.
And then there are the city's beaches, these sandy stretches have somehow morphed into clandestine gathering spots for gays and bisexuals. Private parties hosted here have an unspoken rule of nondiscrimination, providing a fleeting sense of freedom to the LGBT community.
But darling, let me reiterate, as a gay tourist in Lagos, it's crucial to keep the PDA at bay to avoid potential homophobic attacks. While you might find plenty of things to do, you're stepping into a city that unfortunately doesn't celebrate our beautiful spectrum. Hence, only consider this destination if an unavoidable obligation leads you here. Remain cautious, alert, and always respect the local customs and laws. Keep the rainbow flag flying high in your heart, darlings, even if it can't be waved in the open sky of Lagos.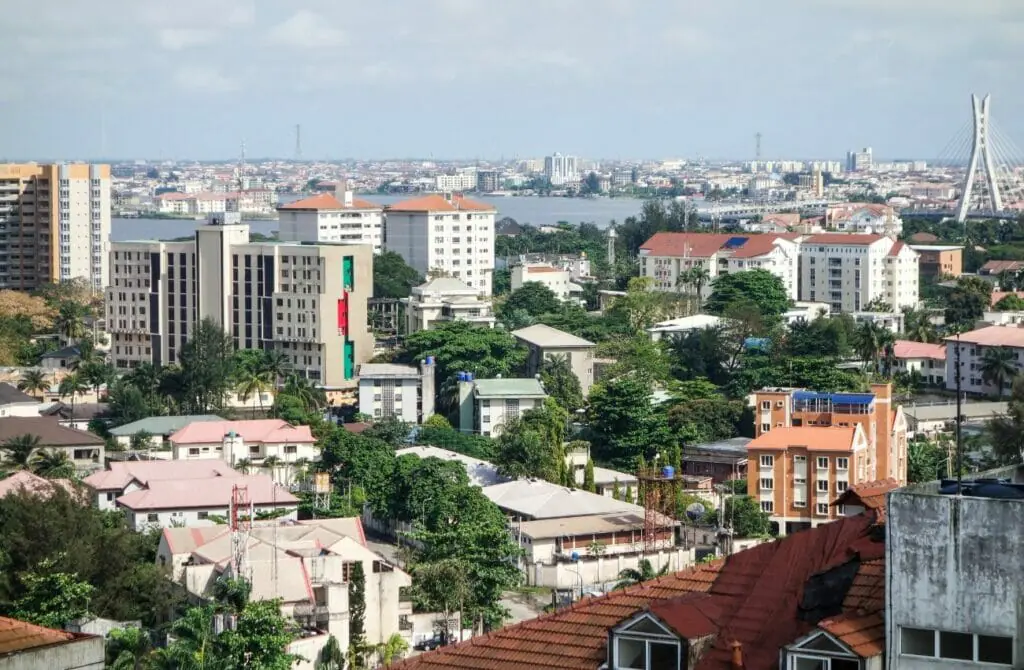 Attractions in Gay Lagos, Nigeria
As a new visitor to Gay Lagos, it's important to be aware that being queer is illegal in this city and country, and any same-sex activity should be avoided to ensure your safety. However, there are still plenty of things to see and do that do not involve expressing your sexual orientation.
One of the best ways to experience the city is to visit its most iconic landmarks and attractions, including historical monuments, museums, and art galleries. You can also admire the city's architecture, explore its parks and gardens, sample local cuisine, and visit local markets. Additionally, cultural events such as festivals, concerts, and shows can provide a glimpse into the local culture.
We feel it's important to acknowledge the challenges and risks associated with visiting destinations where same-sex activity is illegal. However, we still believe in the power of cultural exchange and the value of experiencing diverse cultures, even if we may not agree with their laws and customs.
Visiting queerphobic destinations allows us to learn about the local culture, history, and traditions and to gain a deeper understanding of the challenges faced by LGBTQ+ communities in those places. It also provides an opportunity to connect with local people, to hear their stories, and to show solidarity with the queer community.
It's important, however, to be mindful of the risks and to take steps to ensure our safety and the safety of local queer people. This may include avoiding public displays of affection, not discussing our sexual orientation with strangers, and being aware of local laws and customs.
As we explore these destinations, it's crucial to spare a thought for local queer people who may face discrimination, persecution, and even violence due to their sexual orientation.
We might also have the opportunity to use our platform to amplify their voices and to support local organizations working to protect and advocate for LGBTQ+ rights – however, this is best done once you have left (and if you reside in a gay-friendly country!).
While it may not always be easy or safe to visit queer-illegal destinations, we believe that cultural exchange and understanding can help bridge divides and promote acceptance and tolerance.
Let's continue to explore the world while keeping in mind the experiences, struggles, and restrictions on LGBTQ+ expression in this city and country. Thankfully, it's still possible to enjoy the city's attractions and learn about its culture while being mindful of local laws and customs.
These are our recommended must-see attractions in Lagos.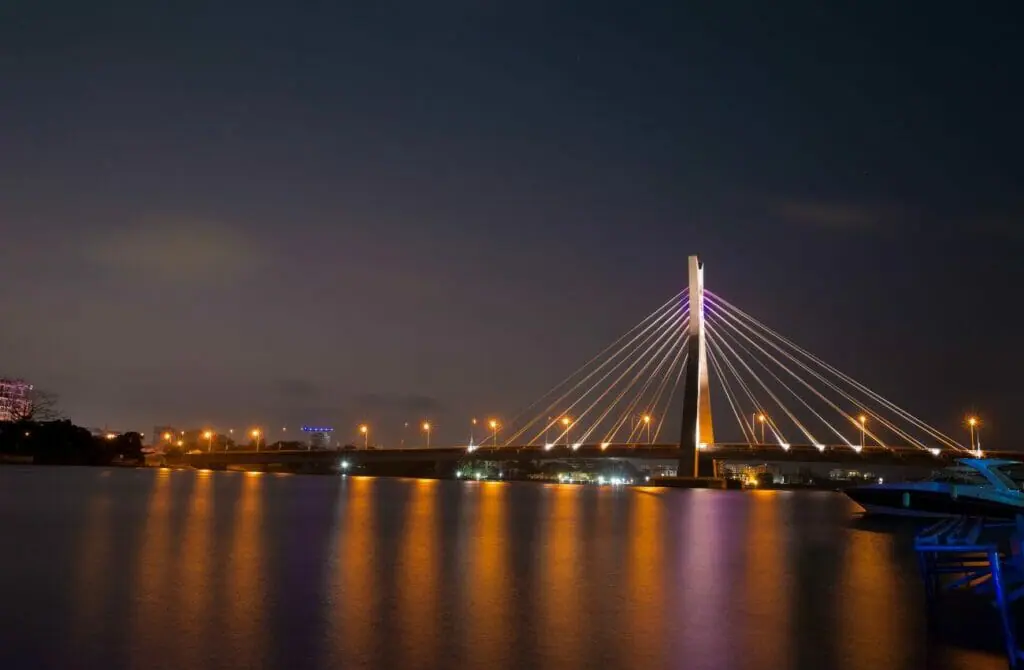 The Nike Center For Art And Culture
The Nike Center for Art and Culture combines an art gallery, artist retreat, workshop, and private apartment. The legendary Oyenike Monica Okundaye founded it. Inside are Nigerian artists, sculptors, and craftspeople honing their skills.
Moreover, there are numerous levels packed with one of the best collections of African art on the continent, and if you're lucky, you could even meet with Nike herself.
You won't have to pay anything to go inside, which is fantastic, and that fact alone makes it one of the most exciting and intriguing things to do in Lagos. Also, there are some lovely things for sale that you would like to acquire for yourself.
Since there are so many activities and chances to connect with nature at the Lekki Conservation Centre, it is routinely recognized as the best thing to do in Lagos, Nigeria. This vast swath of green land starkly contrasts the concrete that dominates the rest of the city. Amid one of the world's busiest cities, there seems to be a secret oasis of peace, nature, and wild creatures.
You may take a guided tour of the center, during which you will walk on planks hung above mangroves while learning about the region's natural flora and animals. There's a fair possibility you'll see monkeys, birds, and fish.
Make sure the monkeys don't take your camera. You could even see a crocodile or a snake if you're lucky. Moreover, for an amazing experience, take on the task of walking along Africa's longest canopy walkway.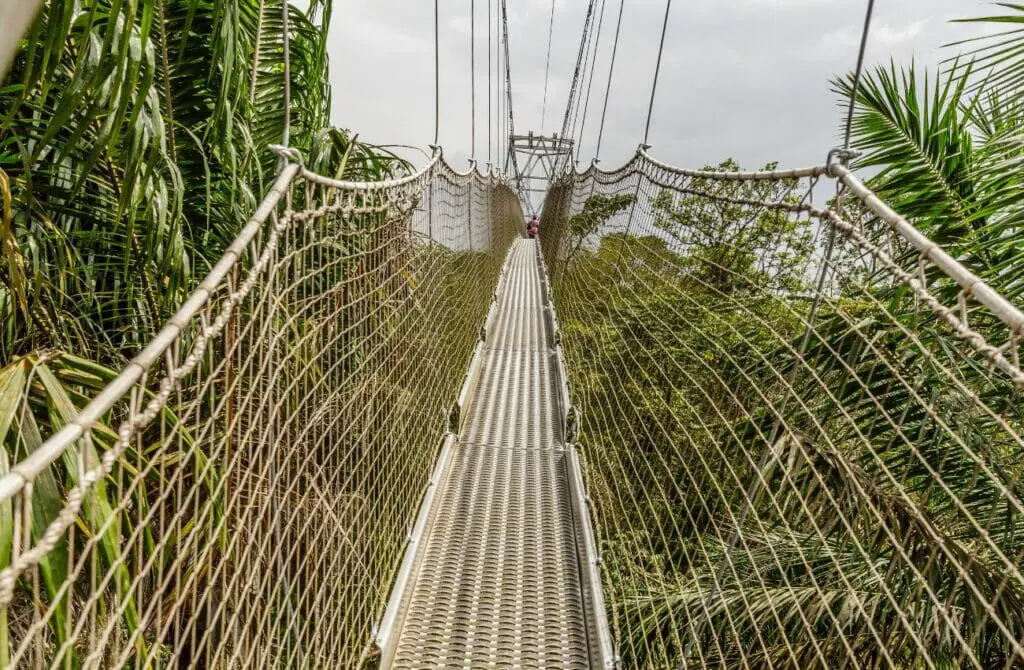 National Museum
The National Museum of Nigeria, founded in 1957, is situated in Onikan, Lagos. It was established before Nigeria's independence. In a nutshell, this national museum is regarded as one of the top tourist attractions in Lagos. This place has amazing and eye-catching archaeology, anthropology, and traditional art artifacts.
Moreover, it is home to some of the world's greatest galleries specializing in brass works from Benin City and surrounding environs. Moreover, this museum has a great bullet-riddled car that belonged to the country's former President of State, who was assassinated in 1976.
In addition, the museum contains a small, respectable crafts village where visitors may buy handicrafts and woodcarvings at reasonable prices. Also, if you are interested in history, you should visit this area since it contains some of the most intriguing histories ever.
Freedom Park, Lagos
This Lagos Island park functions as a leisure space and a memorial park. This area was once known as the Broad Street Prison for Her Queen. It was established with the express purpose of conserving Nigerian historical and cultural heritage.
The monument in this park throws light on Lagos's colonial past and Her Majesty's historical record. Yet, besides operating as a national monument, cultural site, recreation center, historical landmark, and arts venue, the park fulfills various additional functions.
Tarkwa Bay is putting Nigeria on the map, as even some experts are flocking to this secret but increasingly famous surfing jewel. Although Nigeria is not well-known for its surfing culture, Tarkwa Bay is helping to put the country on the map. Tarkwa can only be accessed from Victoria Island by a water taxi or boat journey that takes around half an hour due to its location on a relatively small artificial island.
It is a sheltered beach near Lagos Harbor. Tarkwa is a famous tourist location for individuals who like water sports and swimming. It is also the central location for welcoming and greeting the local community. Tarkwa, in contrast to the bulk of the city's public beaches, is neither crowded nor noisy.
You will also get to visit this gorgeous island, which is a long way from the hustle and bustle of Lagos. Moreover, whether you want to spend the day alone or with the people you care about the most, this is the ideal location for every circumstance.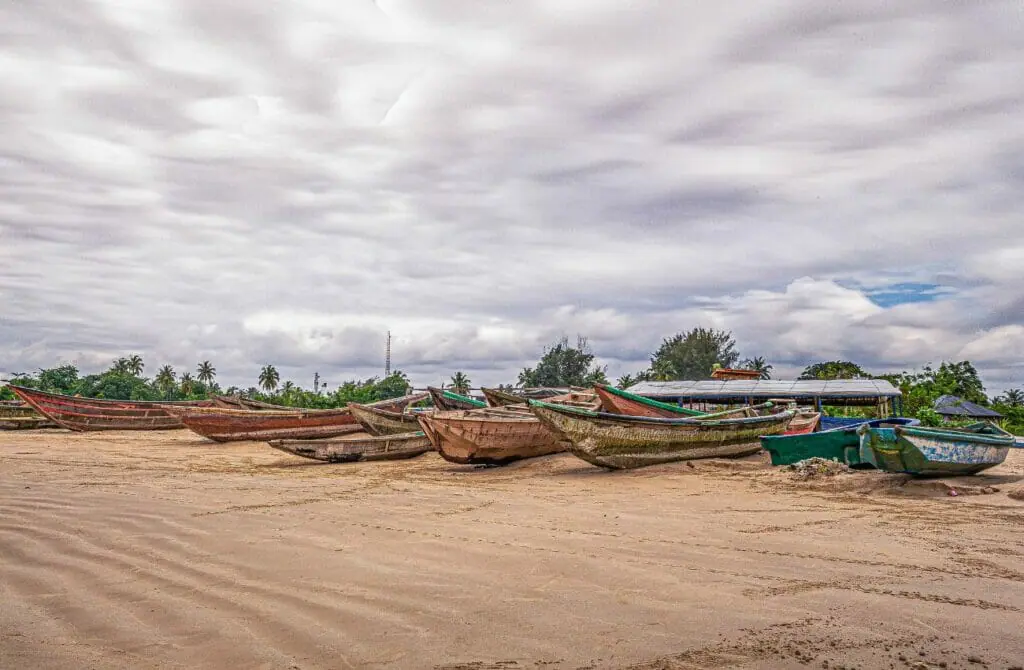 In 1970, Fela Kuta, a well-known artist and political activist, built the first Afrika Shrine. Its open-air entertainment space is the structure's next generation. It is a community center and has housed some of Fela's artwork.
If you visit during the day, you will be greeted by many pleasant and chatty locals eager to show you around. You may even stay all night at one of the shrine's weekend musical events; they will offer you a wild night out in Lagos. Come to Lagos during the annual Felabration festival to enjoy the full effect of the shrine being filled with African music sounds.
It is located in Ikeja, so if you are vacationing on the islands, you will have a long drive to get there; nonetheless, the journey will be well worth it. This is unquestionably one of the most entertaining activities available in Lagos.
Hi-Impact Planet
The high-impact planets give an excellent experience for visitors of all ages, especially those with little children. You'll have a blast at the various amusement rides, games, and other fun activities available here.
Not only will you and the people you care about have a good time here, but you will also make memories that will last a lifetime. Besides that, at Hi-impact Planet, you may get a croissant or a snack of fun and savor full-brown worldwide local cuisines at any of the park's three food courts.
The tower, which has stood for centuries and is a cultural and architectural wonder, is frequently named among Nigeria's most loved architectural masterpieces. The National Theatre is a tourist spot that allows visitors to learn about the history and the arts while enjoying a nice time in a cool and beautiful environment.
This facility was initially constructed in 1976 by General Yakubu Gowon's military dictatorship, and General Olusegun Obasanjo's military government later completed it. The National Theatre is a one-of-a-kind home for historical artwork, and it also grows by encouraging the careers of promising modern artists. You will love how this house's interior and outdoor designs complement one another.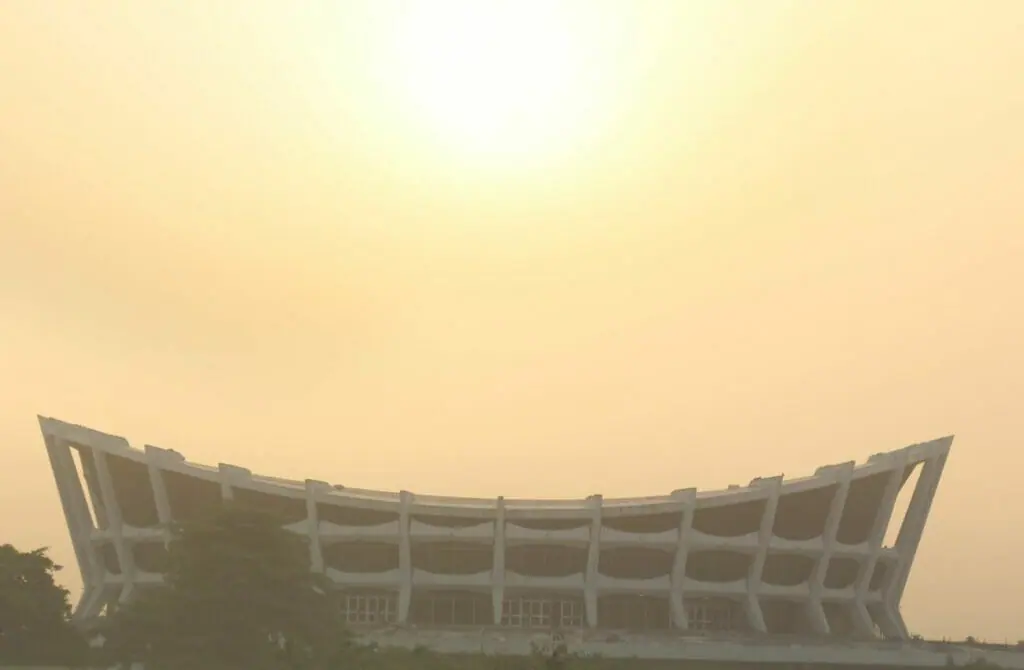 Ikeja City Mall
Both residents and visitors visit this commercial center regularly. In 2011, the best Broll property services handled the construction of this shopping center, which featured over a hundred brand-new stores. Ikeja Mall is home to various high-end companies, including premium banks, department stores, jewelers, hairdressers, restaurants, bars, an ice skating rink, and beauty salons, among many more.
A vast parking area and other businesses also serve enormous full dinners. This Ikeja mall has a lot of silver bird theatres, ShopRite supermarkets, and many other interesting places to visit.
Just beyond the gleaming splendor of Lagos Island lies the poor neighborhood of Makoko, which some claim to be the world's largest floating slum. Makoko is populated by people who are striving to make ends meet. You will see a community that is very marginalized yet resilient. This community lives only on the power of its determination.
You will need to do some preliminary preparation to ensure that your interactions with the people of the Makoko floating village are respectful and do not appear voyeuristic during your visit to the community. It is suggested that you travel with a local tour guide for this reason, even though this may be difficult to arrange.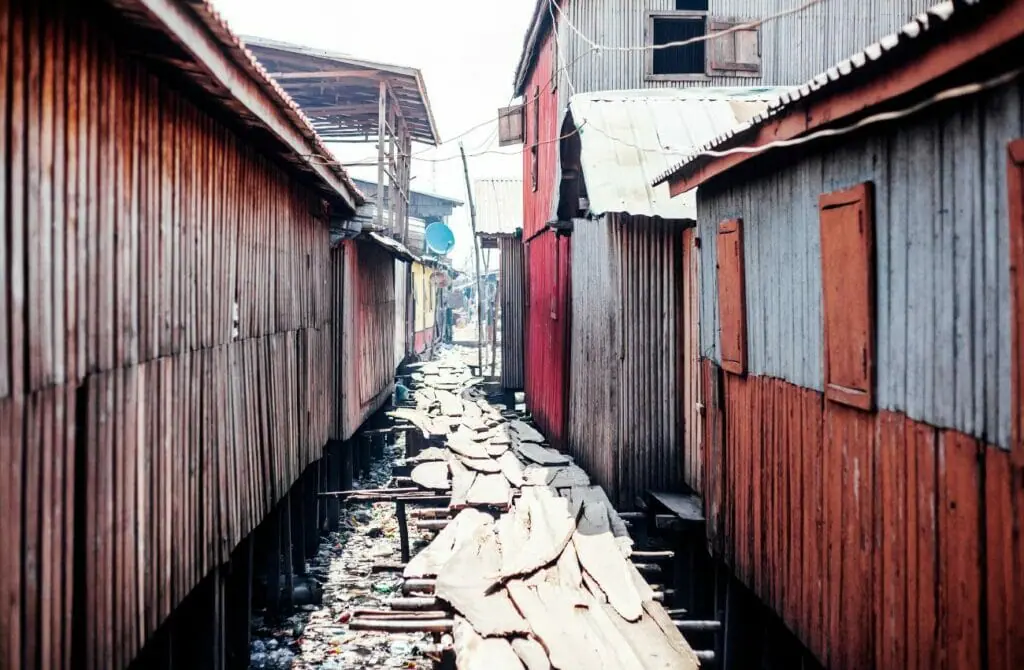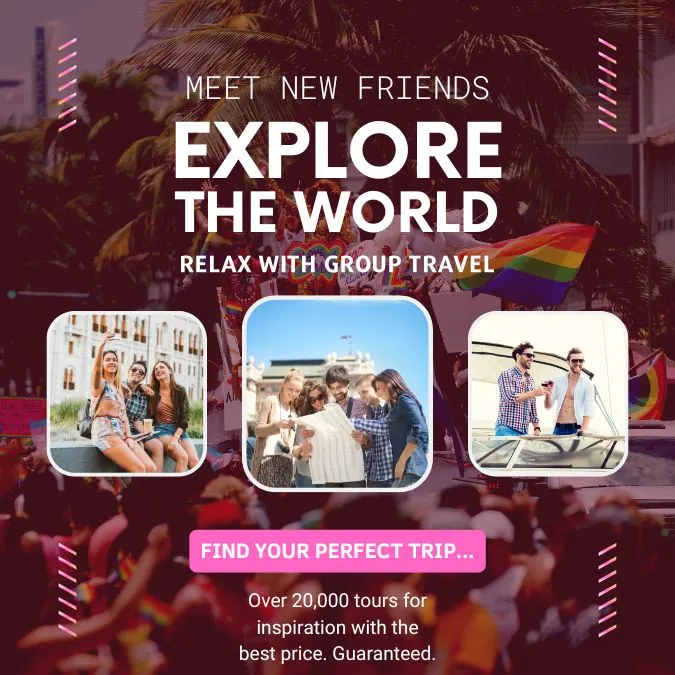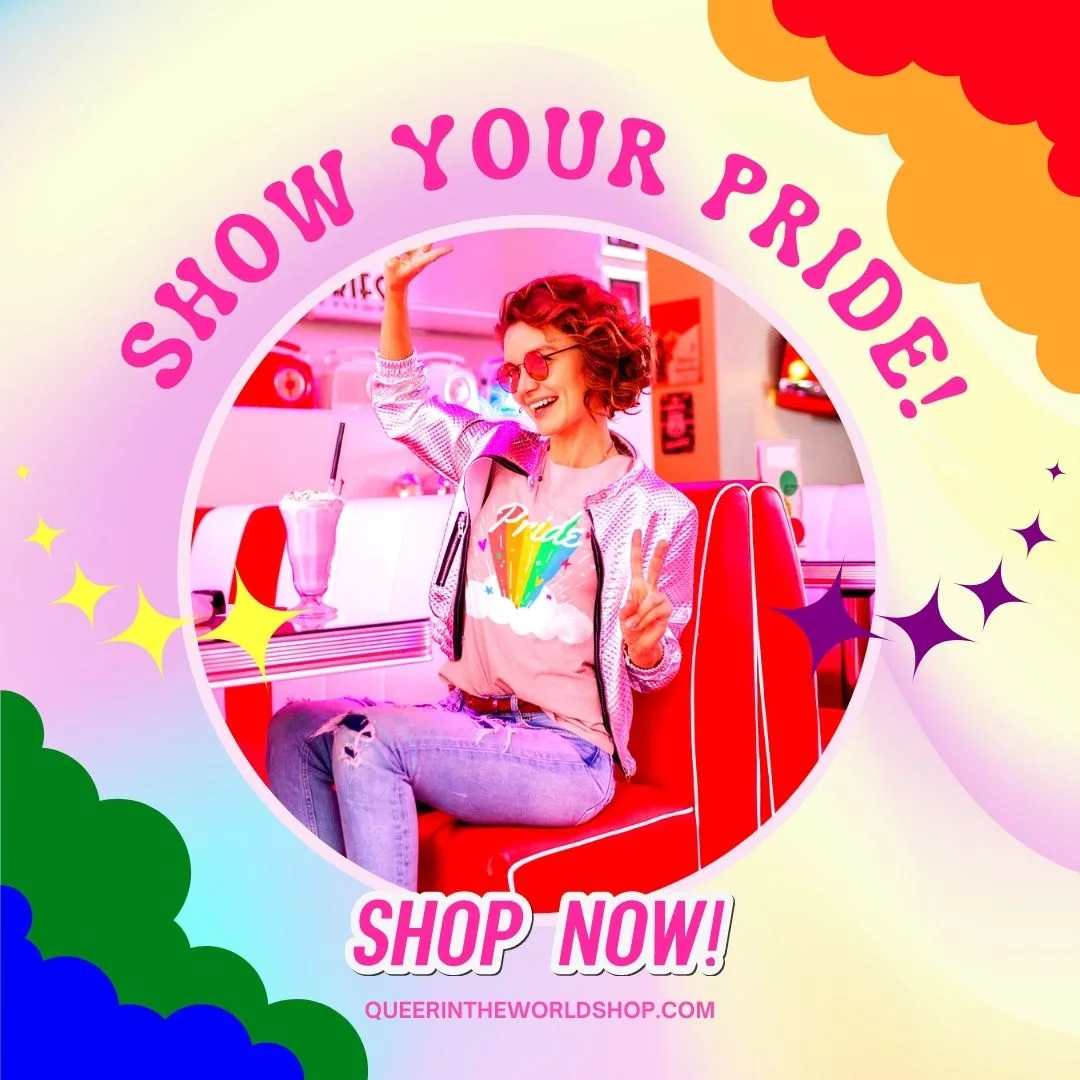 Gay-Friendly and Gay Hotels in Lagos, Nigeria
In territories where the rainbow's glow is yet to find acceptance and being gay is yet under legal scrutiny, it is of the utmost importance for those courageous souls embarking on a voyage to remain conscious of the challenges and adopt necessary measures to ensure their safety. Undeniably, this includes the selection of accommodations, particularly ones less likely to raise eyebrows at the arrival of same-sex guests.
The tried-and-true advice for this scenario is to secure two separate beds, maintaining an appearance of mere friendship, skillfully avoiding any same-sex activities that might trigger undesirable scrutiny. It's indeed a pity that Lagos, a city pulsating with vibrant life, lacks openly gay-friendly accommodations. However, the city teems with grandiose international and high-end establishments less likely to frown upon the presence of their LGBTQ+ guests.
Remember, although these luxurious accommodations might not officially brand themselves as gay-friendly, and perhaps lack certain policies or practices aimed at providing a safe and inclusive environment for LGBTQ+ guests, do not let your spirits falter. These are the most fabulous accommodations in Lagos, as endorsed by other gay travelers and us, and we cannot recommend them enough for your stay.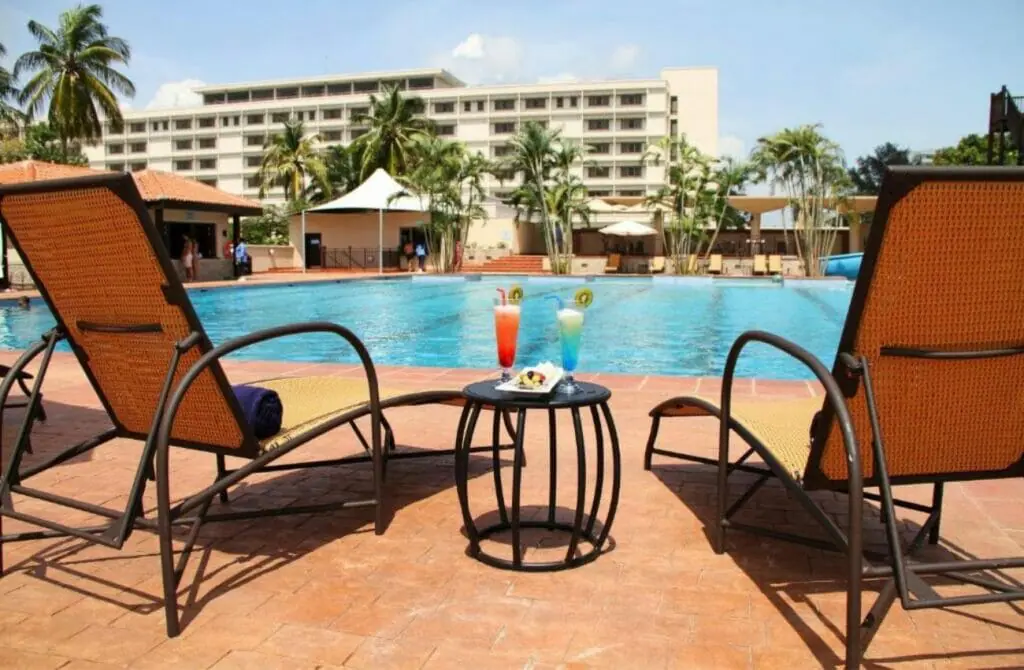 Despite these lodgings often being connected to internationally renowned western parent brands known for their inclusive philosophy, they exist in a land where the local laws take precedence. Hence, it's absolutely crucial to respect and abide by the laws of the land.
No matter your needs, Lagos offers a broad array of accommodations to cater to a variety of preferences. While it can indeed be a task to unearth gay-friendly options, these cautionary measures can play a significant role in ensuring a secure and delightful experience in the city. It goes without saying, but do remember to plan in advance and book your chosen accommodations early to secure your place. Until the day where the flag of equality is held high everywhere, we continue to travel with pride, wisdom, and an indomitable spirit of adventure.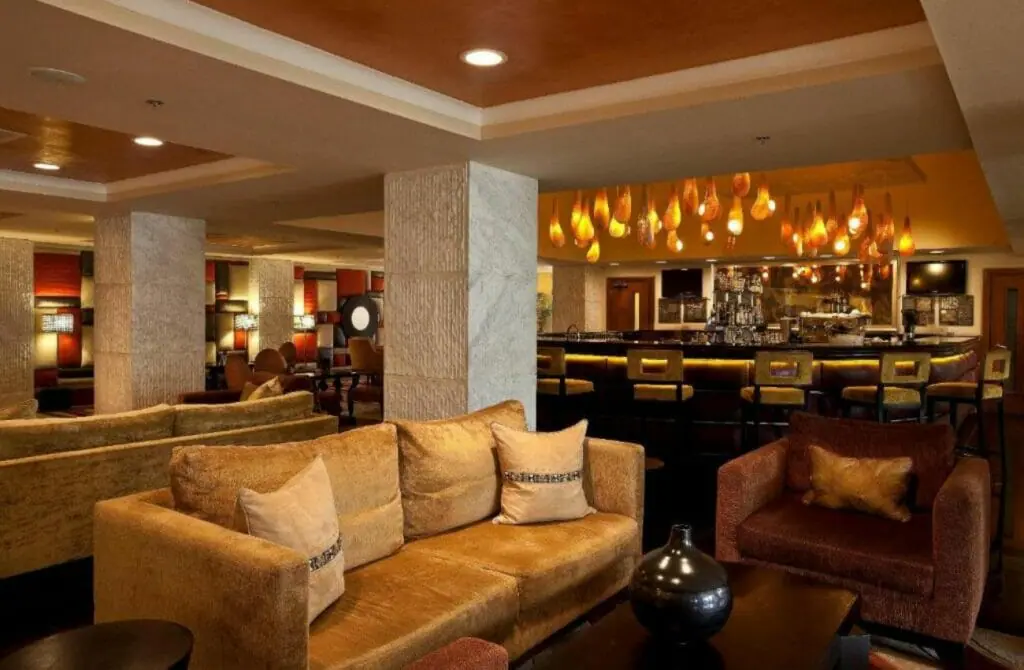 The Federal Palace Hotel ☆☆☆☆☆
The Federal Palace Hotel is located on Victoria Island in Lagos and is generally regarded as one of the best hotels in the city. The beautiful architectural design that has been painstakingly integrated into the creation of the luxury hotel will leave you stunned when you first set foot on its premises.
The hotel is well-known for having well-lit, spacious, air-conditioned rooms outfitted with contemporary facilities. Every room's interior design is stunning and has been provided with the essential amenities and services needed for a peaceful stay. All the rooms include comfy, sumptuous beds that allow you a good night's rest during your stay. Moreover, each room has a private bathroom with a jacuzzi and a work desk and chairs.
The Federal Palace Hotel is well worth both your time and your money. With the lodgings, visitors may use the hotel's various amenities and services, including a well-equipped restaurant, a heated outdoor pool, a casino, a bar and lounge stocked with fine wines, security, and a well-equipped fitness center. Visitors may use the fitness center to work out and burn calories while staying at the hotel.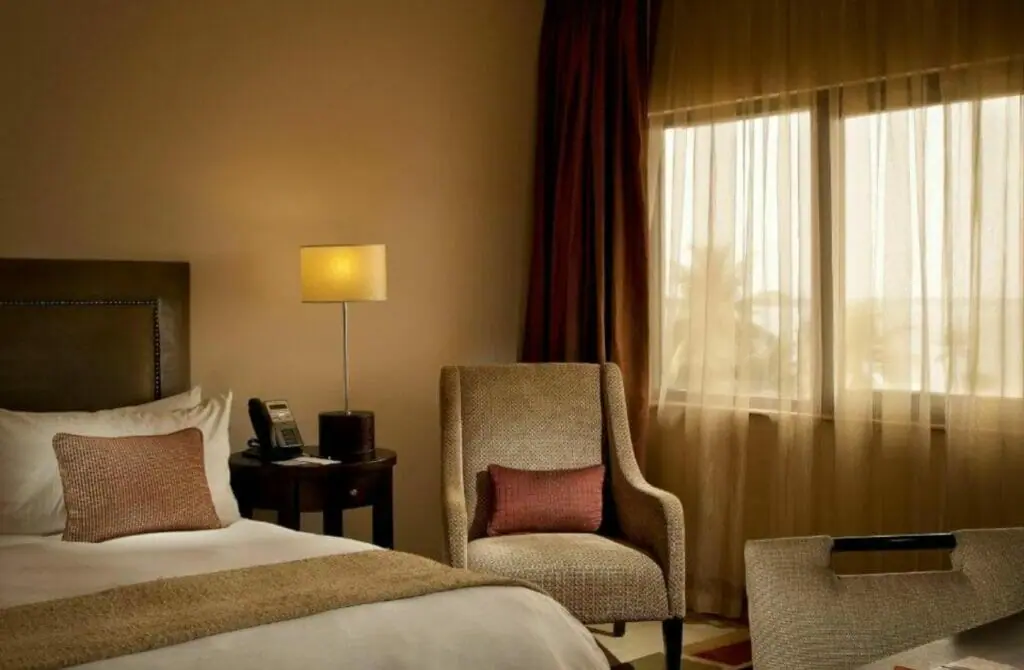 The Axor suit in Lekki is a fantastic choice for travelers looking for a lovely location to stay without spending a fortune. It has a great design both inside and out, making you wonder whether the activities inside are worth the money. A five-star hotel's rooms are expected to feature all the facilities required to make the room as faultless as the hotel promises.
You'll like the modern accommodations with plush pillow menus and other vital amenities to ensure comfort. Vacationers will never run out of things to do since there are so many enjoyable activities accessible outdoors.
The Landmark Hotel is another fantastic option for those seeking a place to stay in the city. The Landmark Hotel on Victoria Island has eighteen luxurious rooms to accommodate the needs of any tourist. The hotel claims to serve its guests with the best service possible by keeping a well-trained crew that acts fast.
The Landmark Hotel is one of the places on the island where visitors can get outstanding hospitality service that ensures comfort and convenience without jeopardizing their security.
The ergonomically built rooms have a work desk, a telephone, a minibar, a flat-screen TV with regional and international channels, a refrigerator, armchairs, a balcony, and total air conditioning. Visitors may cool down in the hotel's large pool and enjoy the breathtaking views of the Atlantic Ocean.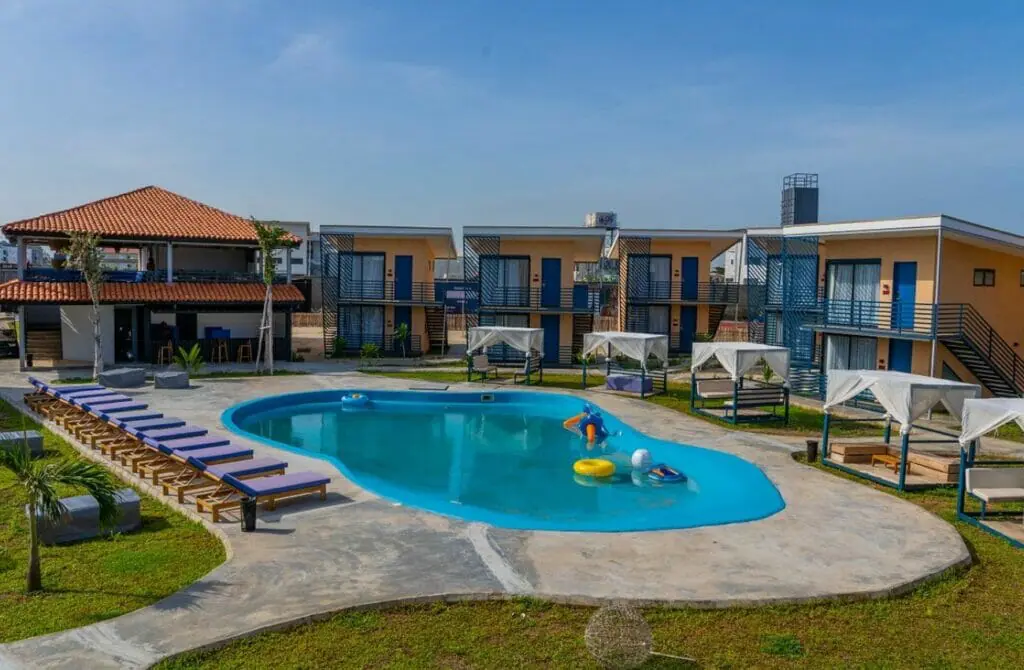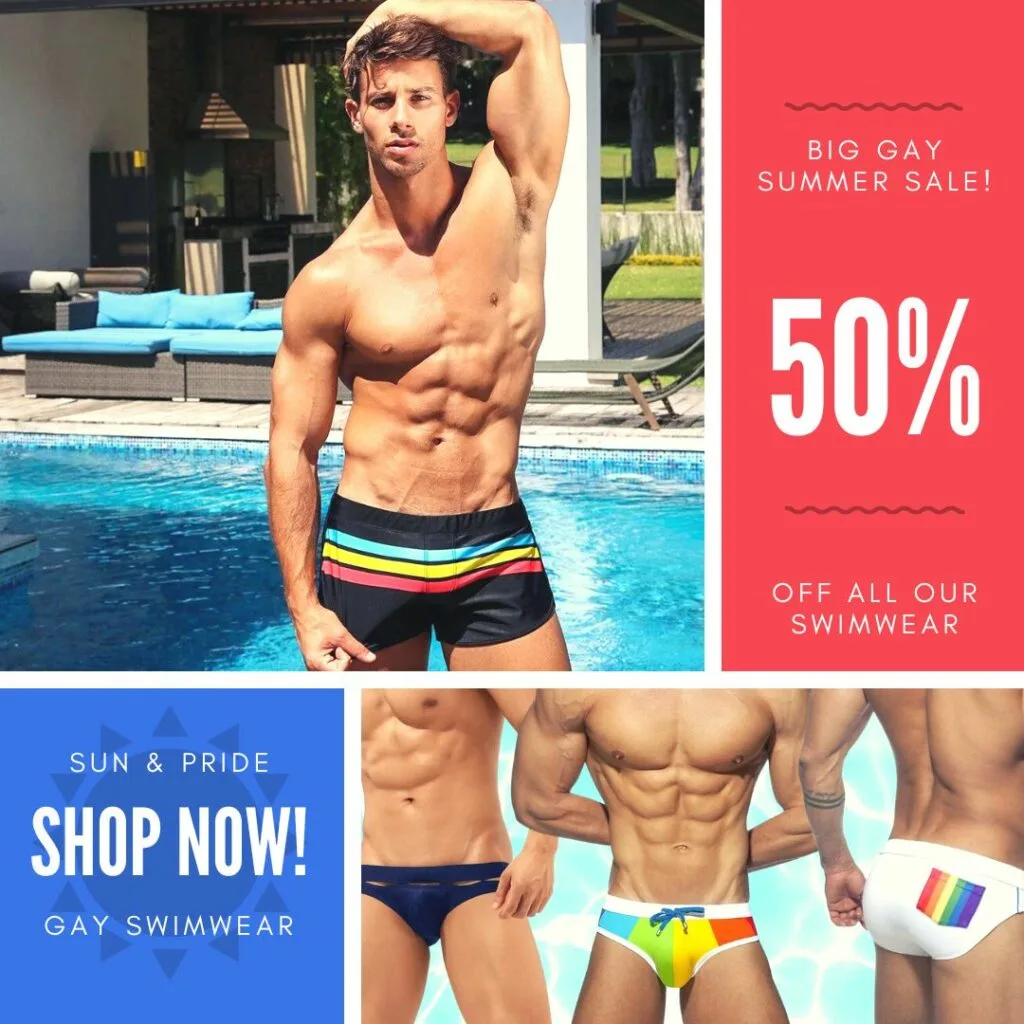 Gay Nightlife in Lagos, Nigeria
Since Lagos is a beach town with a distinct charm and a relaxed pace, the city's nightlife culture is one for the ages. Both residents and tourists are kept amused late into the night by the luxurious beach clubs, boisterous dive bars, and frantic dance clubs.
While out and about on the cobblestone streets, you may satiate your appetite with delicious food, rehydrate with refreshing drinks, watch sports, and dance to your heart's content. Because of the close vicinity of numerous notable pubs, clubs, and discos, many of which are easily accessible by foot, you'll have no problem choosing the appropriate environment. Relax, get crazy at a party, or talk with the friendly locals of Lagos at one of their favorite hangouts. Lagos has everything.
While exploring the nightlife of a new city can be exciting, it's important to remember that Gay Lagos is a city in a country where same-sex activity is illegal, and being queer is not accepted in public. As such, it's crucial to avoid any displays of queerness or same-sex activity in public.
However, you can still enjoy the 'straight' nightlife in Gay Lagos as you would in any other city. You can meet new people, try new things, and get a taste of the local culture without attracting unwanted attention.
Whether you're dancing at a club or mingling at a bar, remember to respect the local culture and avoid any behavior that may be seen as queer or same-sex activity. By doing so, you can have a fun and memorable experience while still being mindful of the local laws and customs.
So, step out of your comfort zone and explore the nightlife in Gay Lagos, but remember to do so as a non-queer traveler. Enjoy the city's nightlife while respecting the local culture and avoiding any displays of queerness or same-sex activity in public.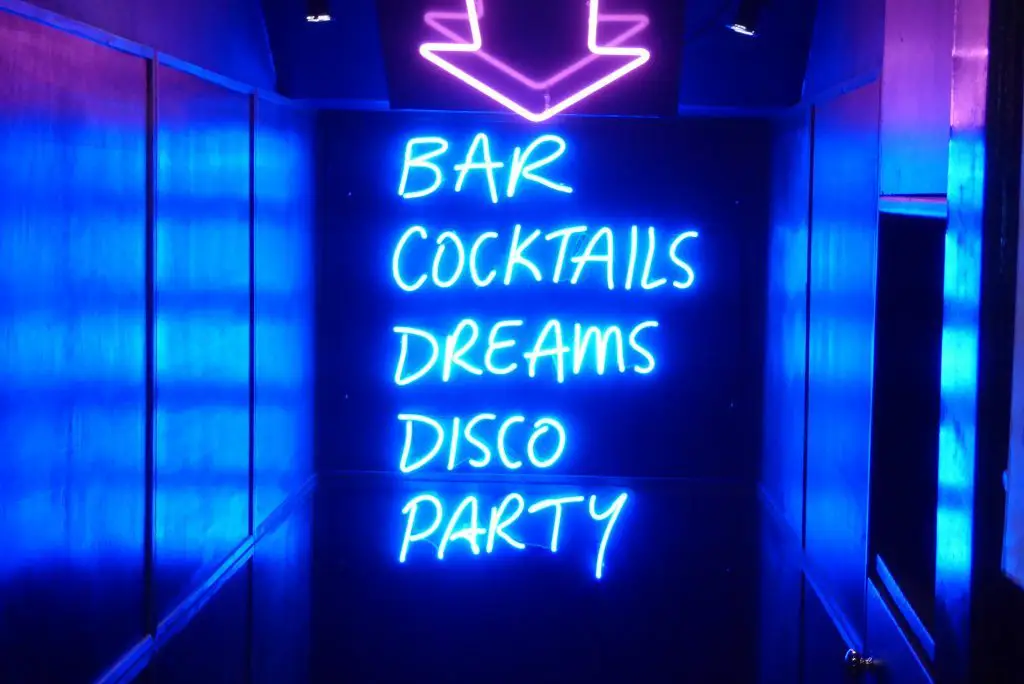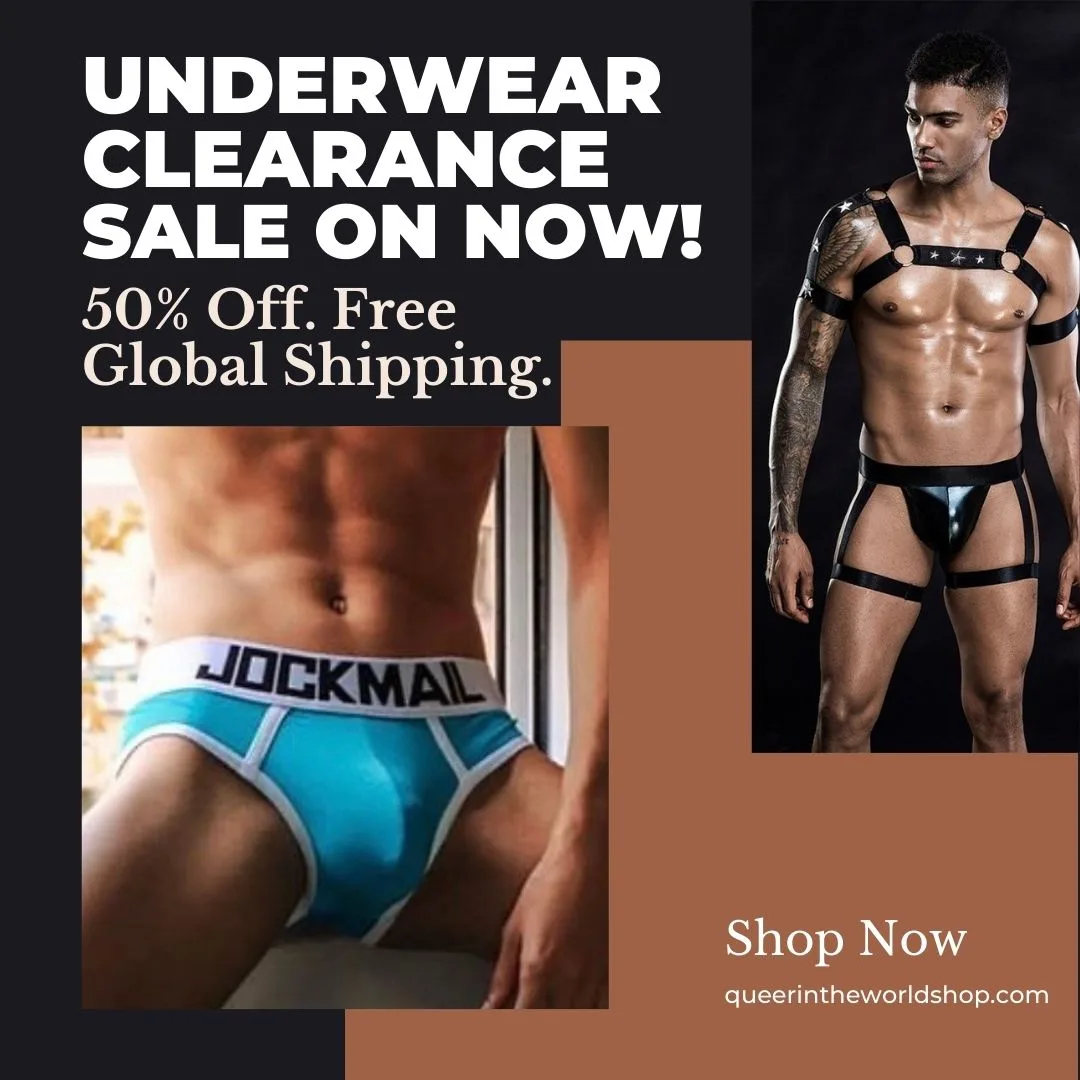 Bars and Clubs in Lagos, Nigeria
The Bature Brewery takes great pride in producing some of the most delightful craft beers in Lagos using local ingredients, but that is not the only thing that this relatively new hotspot has become known for.
The brewery, tucked away in the center of Etim Inyang Crescent, an area buzzing with nightlife-seeking foreigners, comes to life almost every evening and offers clients a broad choice of beers, cocktails, and wines. It is one of the city's most laid-back hangouts, so if you are new to the region, you will find starting a discussion with a new friend here much easier than elsewhere.
Quilox and Cubana, among others, are likely to be among the first names that come to mind when considering the best nightclubs in Lagos. Cubana has routinely rated second in lushness before its current revival. Cubana, situated at 1090 Adeola Odeku Street on Victoria Island in Lagos, is well-known for its abundant environment in the Lagos nightlife scene.
The Cubana is a huge property featuring a rooftop deck, restaurant, and bar staffed by world-class chefs and bartenders. Cubana also has a pool. It is a first-rate facility with architectural marvels, valet parking, and a terrific bar and lounge.
There is also a public bar named Cuban Hut Restaurant on the grounds. Patrons may expect high-quality service while relaxing in the atmosphere of a typical bush bar. The name of the nightclub housed within Cubana is Club Pablo.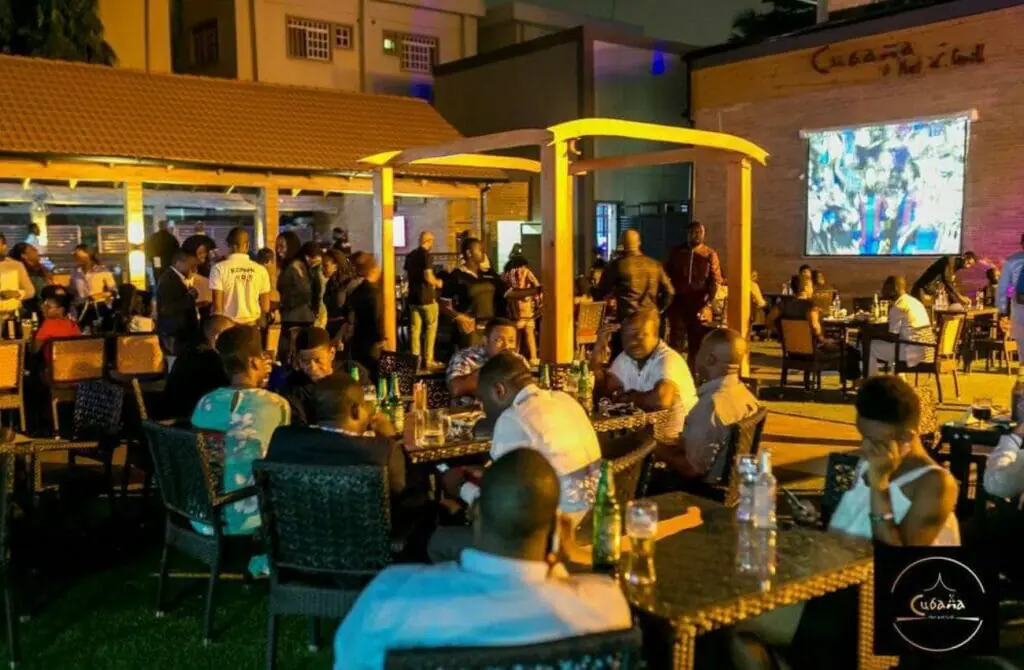 2face Idibia, a well-known Nigerian afro-pop singer, owns Club Rumors' island locations. Rumors Night Club is the place to go if you want to relax and have a nice time since it has many amusing activities. The club is noted for providing great service, including pleasant greets and memorable experiences with staff members. Consequently, it attracts many notable public figures and celebrities searching for a luxurious spot to relax and unwind.
Club Rumours' key attractions include a live band performance on special occasions, DJ rhythms that are magnetic to the ear, and other assured fun-filled activities. A stylish bar and beverage place, global meals carefully crafted by well-to-do chefs, and other fun-filled activities are also attractions.
Regarding Lagos' lively nightlife, the unrivaled Quilox bar will always be among the top five locations. It is regarded as one of the most exciting sites on Victoria Island in Lekki, Lagos State. It has been recognized as one of the top rave clubs in Lagos for nightlife. Therefore a private night party in one of its outstanding VIP or soundproof VVIP rooms will be more fun than any other location.
It comes alive at night with a varied clientele and a wide range of musical genres, and it has an amazing interior design in red, gold, and black. You can refer to it as a sanctuary of luxury and comfort; it also provides unparalleled late-night parties and hangouts for people who like having a good time.
The Quilox bar is the best place for an opulent and pleasurable night out. The nightclub is a model for numerous others in the Lagos metropolitan region. It's no surprise that many celebrities patronize this restaurant.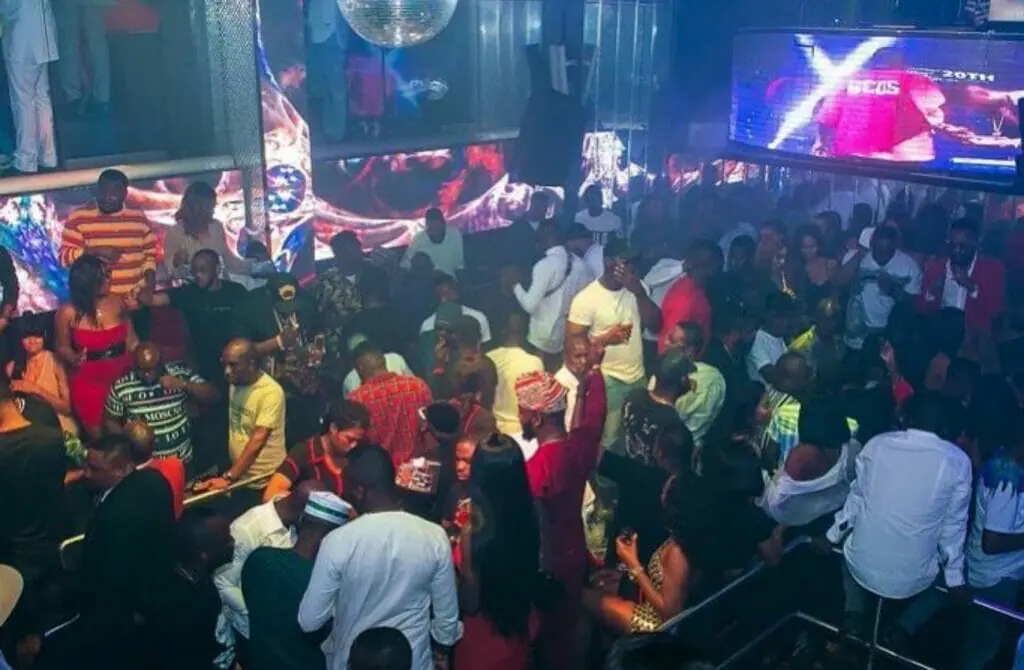 Nightlife in Lagos, Nigeria, has improved owing to Ember Creek knowledge. Tourists searching for a good time in Lagos come here for the bar and the views of the lagoon. The venue is open all day and night, from 10 a.m. to 1:45 a.m. Eating, dancing, swimming, and social networking are just some fun activities at the venue.
Although it has a bar, a restaurant, and a sophisticated café, the mood it radiates is rather pleasant and tranquil. If you're looking for somewhere to have a good time, you should head to Ember Creek. After spending the night at Ember Creek, you will wake up the following day with a fresh perspective on who you are. Every Thursday, for example, salsa and cocktail parties are hosted.
The Hard Rock Café Lagos, located in the heart of Victoria Island, is typically bustling with various activities and does its best to satisfy any cravings. This café's menu is something you must try, as it offers a broad range of delectable selections, from burgers and sandwiches to fresh salads and drinks.
There will also be live music and entertainment to watch as you sip your beverage. The Hard Rock Café is a famous drinking place and social area in Lagos. It is, without a doubt, one of the best bars you should visit in Lagos. It's a bustling spot where you'll be serenaded with some of the most beautiful music.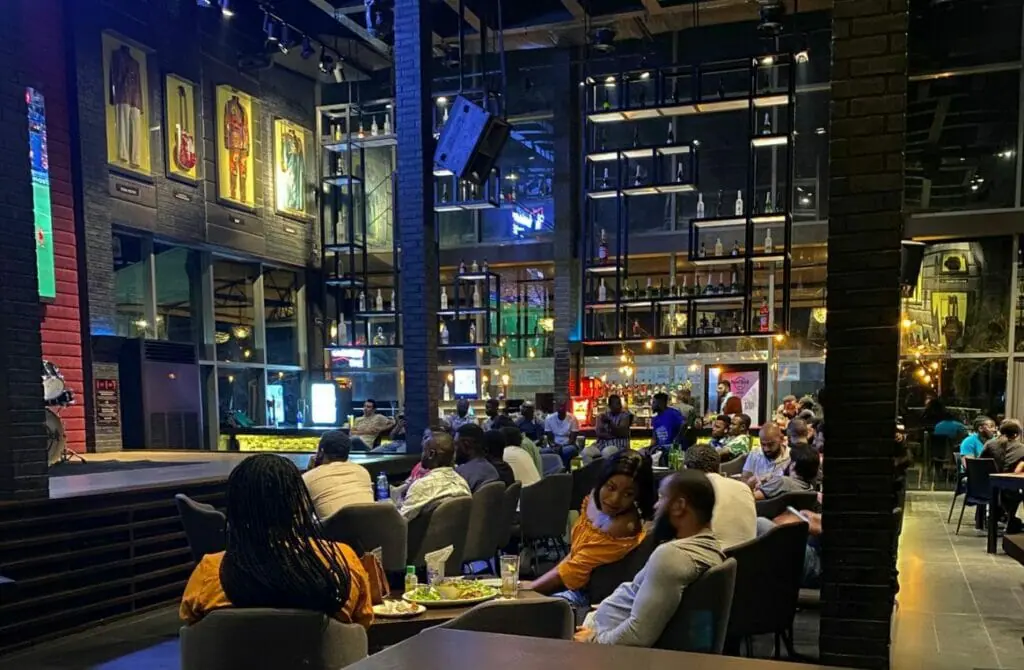 As you visit Farmcity, your mouth will start to water as you witness the food being served to the tables. This is due to Farmcity's food being a visual and gastronomic delight. Farmcity has established a considerable presence in Lagos by showing two facilities, one on the island of Lagos and one on the city's mainland. They may be in different places, but each provides a distinct ambiance, fashion, and assortment of alcoholic drinks.
Customers may enjoy beautiful fresh seafood and a wide choice of other high-quality cuisines at the restaurant. The drinks menu has delightful and refreshing new additions. This site is perfect for outdoor recreation since it is open 24 hours a day. Farmcity is a popular hangout place in Lagos that is open all year. In their Lekki location, they have a spectacular view of the Lagos Lekki Lagoon.
Vestar Coffee is well-known for its superb baked products, salads, and coffee. This restaurant offers a variety of amenities, including a warm and friendly ambiance great for mingling and enjoying brunch, exceptional service from the wait staff, and wonderful cuisine at affordable prices.
Since it is in Lagos, there is a chance you may have difficulty finding a parking space; nevertheless, this should not be a problem because there are lots of locations along the road where you can park without anybody disturbing you.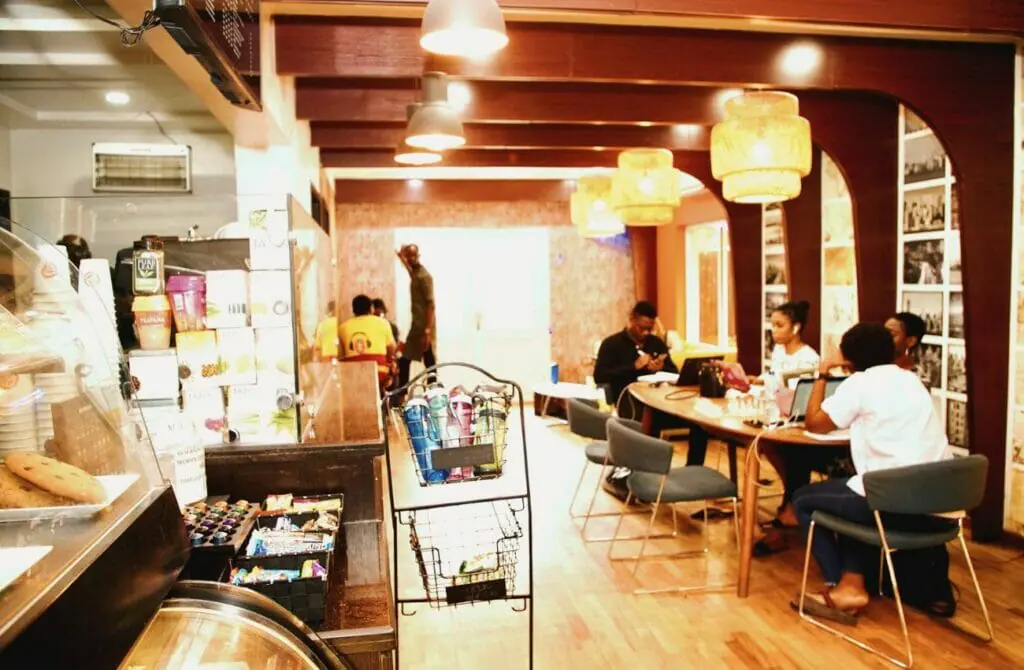 Cocktail Bars and Clubs in Lagos, Nigeria
W Bar is one of the most popular drinking establishments in Lagos because it blends aspects from a range of globally recognized restaurants, pubs, and clubs to create a distinct environment. Customers get a glimpse of how the city's upper crust likes to celebrate. Around six o'clock in the evening, tourists may let their hair down and dance the night away while savoring fresh seafood, Italian dishes, and traditional beverages at this institution, located just next to the tranquil waters of Lagos Lagoon.
W Bar is your best bet for celebrity sightings, and if you're lucky, you could catch a performance by one of your favorite bands or DJs, complemented by a fantastic light show. In addition to the nightlife, W Bar is the best place to see celebrities.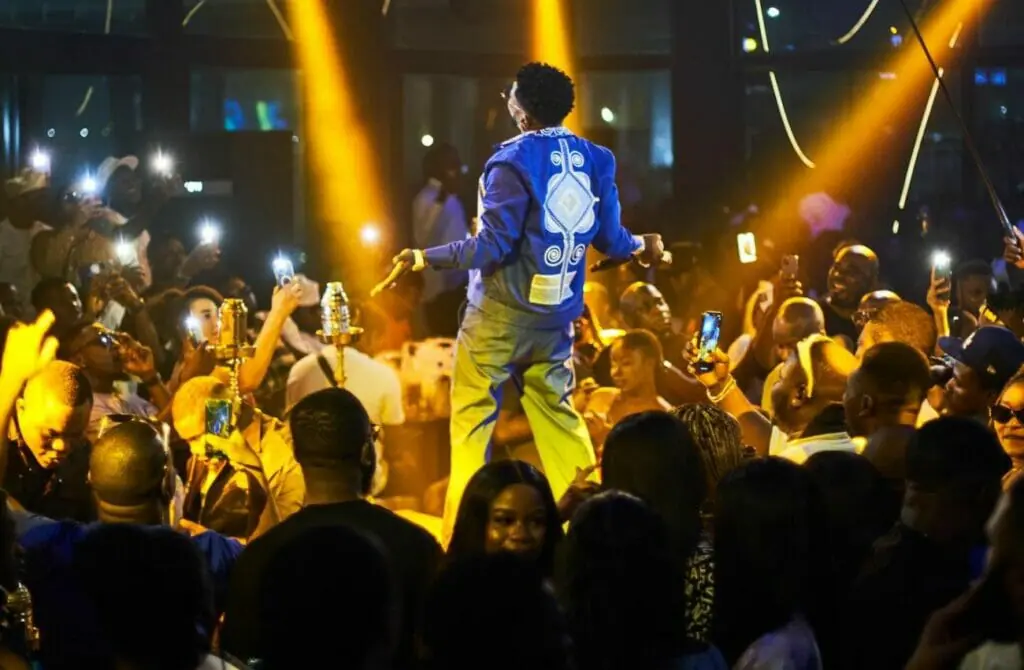 InsideOut Bar is a terrific place to get ready to dance the night away while taking advantage of their excellent drink specials. If you arrive before the bar shuts at midnight, you may enjoy two drinks for the price of one. Even if you cannot come today, the celebration will continue into the early morning. The club fills up quickly, but guest DJs are playing deep dance music to keep the crowd engaged, and there is also a pool table for those who want to take a break from dancing.
Since the pub is well-known for the delicious beverages it serves in fishbowls, you must order at least one fishbowl cocktail before the night is done. InsideOut is one of the few places in Lagos that stays until 4 a.m. Its boisterous ambiance was created with party animals in mind.
This open-air beach club and lounge, known as Moist by the locals, is recognized as one of the best bars in Lagos because of the breathtaking views of the Atlantic Ocean. This location is ideal for a delightful vacation, with a swimming pool, direct beach access, and a bar by the pool serving a broad selection of alcoholic and non-alcoholic drinks. During the day, you can almost always depend on finding calm, and when the sun sets, the lovely breeze will whisk you away to the rhythms of local and international DJs.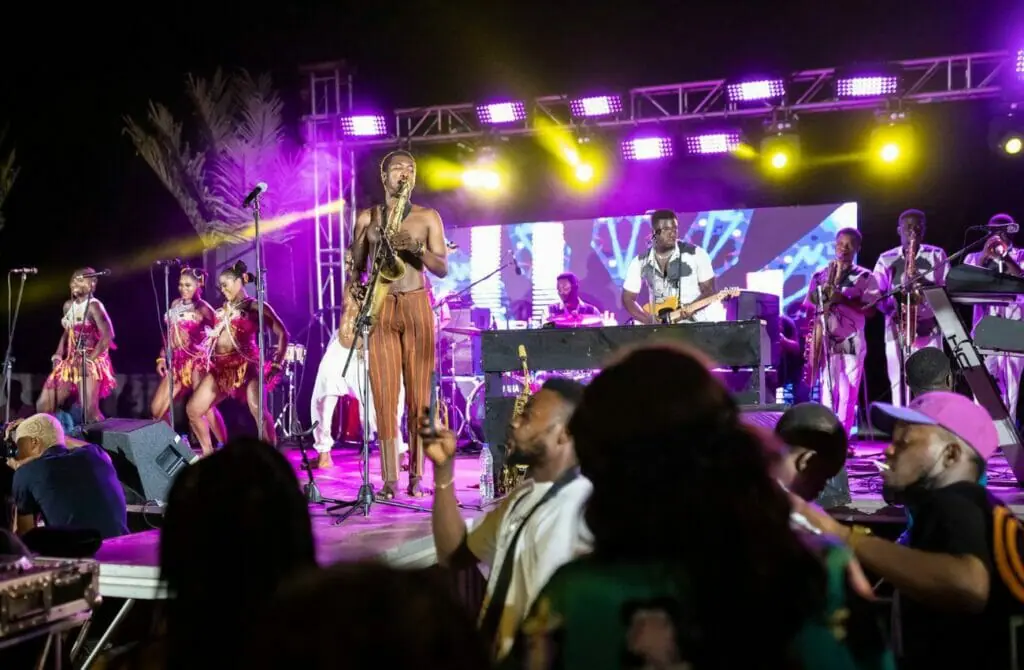 Club 57 is a fantastic high-end, exclusive club that opened its doors to provide you with an outstanding nightlife experience. At the three-story nightclub, exclusive clubgoers may enjoy dancing under the brightest lights, sitting at VIP tables while listening to fantastic music performed by the industry's most renowned DJs, and much more.
The venue was designed with a large dance floor to give its patrons a comfortable and expansive atmosphere in which to party like it's 1999 and get their groove on. While Quilox is only open on Wednesdays during the weeknights, you don't have to worry since Club 57 is open every night from Thursday to Sunday. In addition, they provide amazing cocktails.
Rhapsody's, located at the very top of Ikeja City Mall, the most popular shopping mall on the mainland, compensates for its uninspiring views of the parking garage below with excellent service and delectable beverages. Evenings in this metropolis are far from peaceful.
As the shopping center shuts for the day, this destination for nightlife comes to life with pulsing music played by Nigeria's most popular musicians. The ambiance at Rhapsody is unlike any other on the mainland, and the food is as fantastic as it has always been.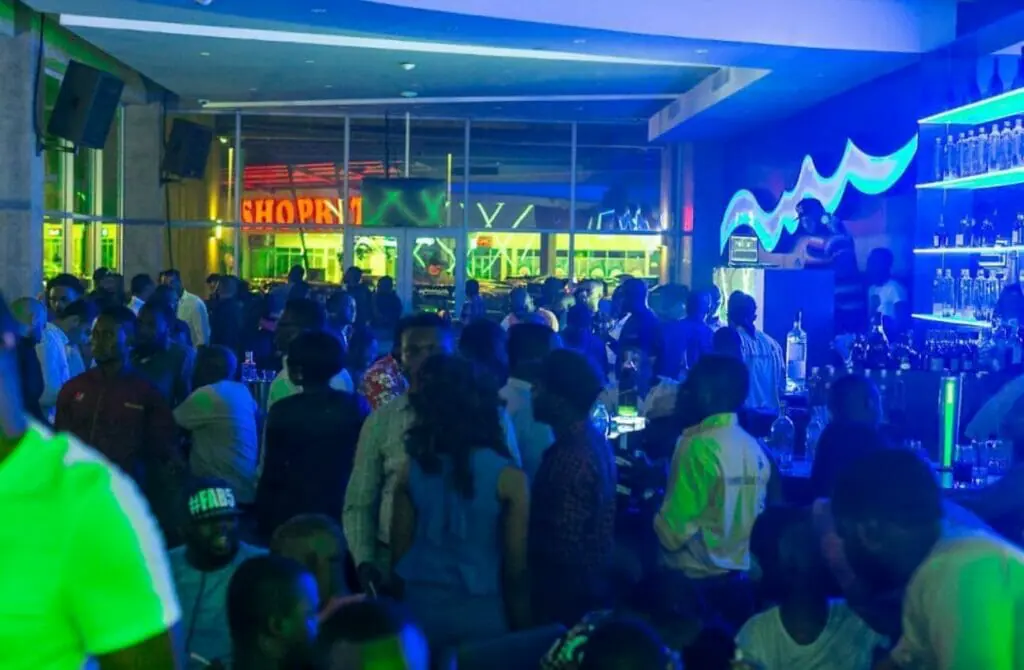 Rooftop Bars and Clubs in Lagos, Nigeria
Atmosphere Rooftop, a restaurant and a club in Lagos, features one of the city's largest and most diverse cocktail menus. The attentive bartenders are masters of their craft, and the sleek yet relaxed ambiance is ideal for Instagram.
Each night, Atmosphere Rooftop hosts a choose-your-own-adventure kind of event, offering participants various possibilities to have fun. You may watch a sports event on the massive screen, dine alone in an enclosed space, or enjoy your nighttime outdoors under the stars.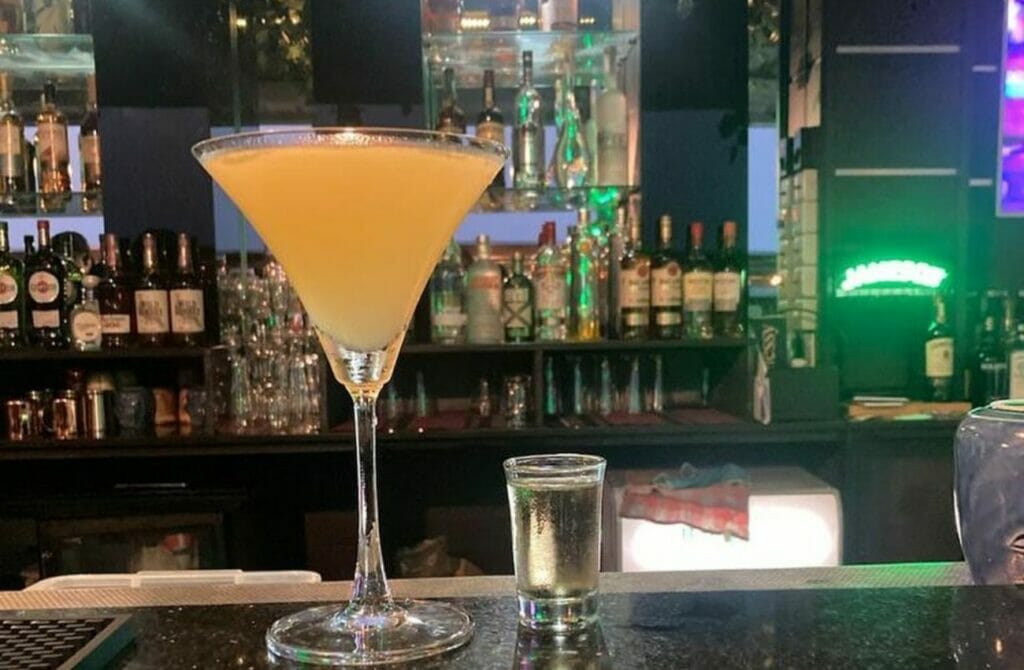 If the stunning views from the roofs aren't enough, The View also has the relaxing sounds of waves smashing along the Atlantic coast. It is located at the apex of the TwinWaters Entertainment Complex, which also includes two luxury dining places, a bowling rink, and a video game arcade. The View Rooftop is recognized as one of the best bars in Lagos because it offers comfortable seats, delicious cocktails, and access to fresh air.
Lagoon Restaurant — Seaside Terrace
The food is unabashedly diverse, and the waterside atmosphere is wonderful; nevertheless, the lagoon is unique, thanks to the incredibly jumbo-sized glasses they serve their beverages in, which may often be considerably more than one person can consume. Its drink menu is wide and humorous; cocktails with names like "nice fuzzy screw up against the wall with a kiss" is very popular among its customers.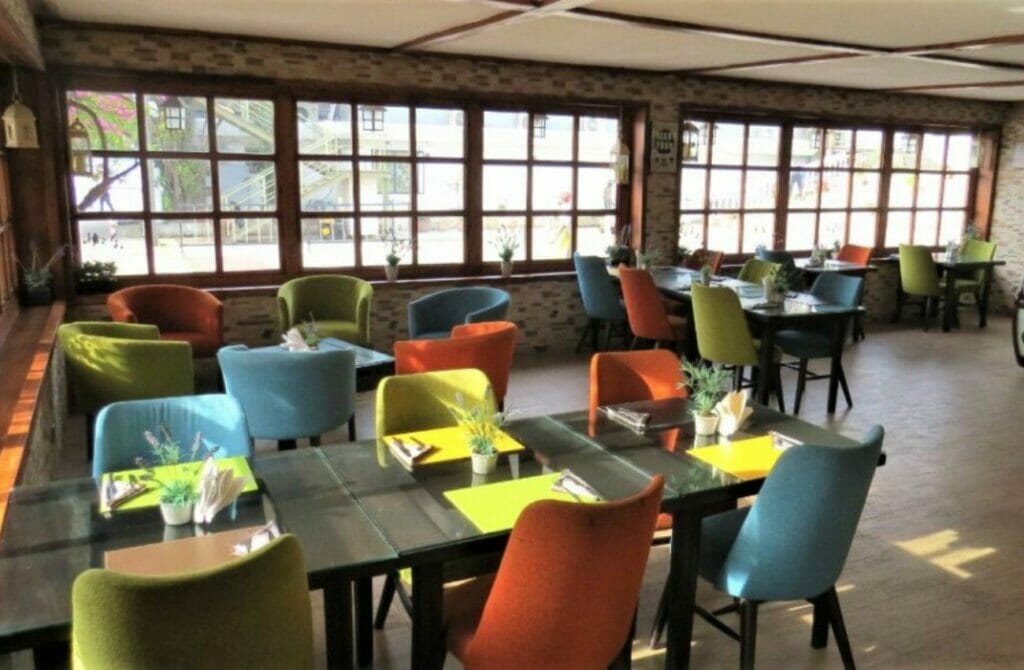 The five-story bar of Bon Vivant, one of the most prominent enterprises on the Lagos nightlife scene, hosts some of the city's craziest and most thrilling events. The rooftop balcony on the top level offers amazing views of the bustling streets below. Make your way to the lower levels of the club, where the DJs are driving up the intensity on the dance floors with their pulsing music.
You'll find one of the greatest drink and cocktail menus in Lagos right here, and the bartenders are well-known for creating unique twists on classic beverages. When creating your drink, the bartenders may even wow you with their remarkable talents.
The Sailor's Club is recognized as one of Lagos's most entertaining waterside spots due to its floating bar, including live music and comedy performances. This restaurant and bar are situated in Lekki Phase 1, and you will unlikely spend a quiet evening there. Since it is one of those few places where the workers are obviously and honestly having fun, the staff provides exceptional customer service.
The revitalizing air from the lagoon most likely aids this sensation. The Drunken Sailor Cocktail, a combination of bitter and sweet tastes that would make you wish you were sailing the seven seas, is one of the most well-known beverages.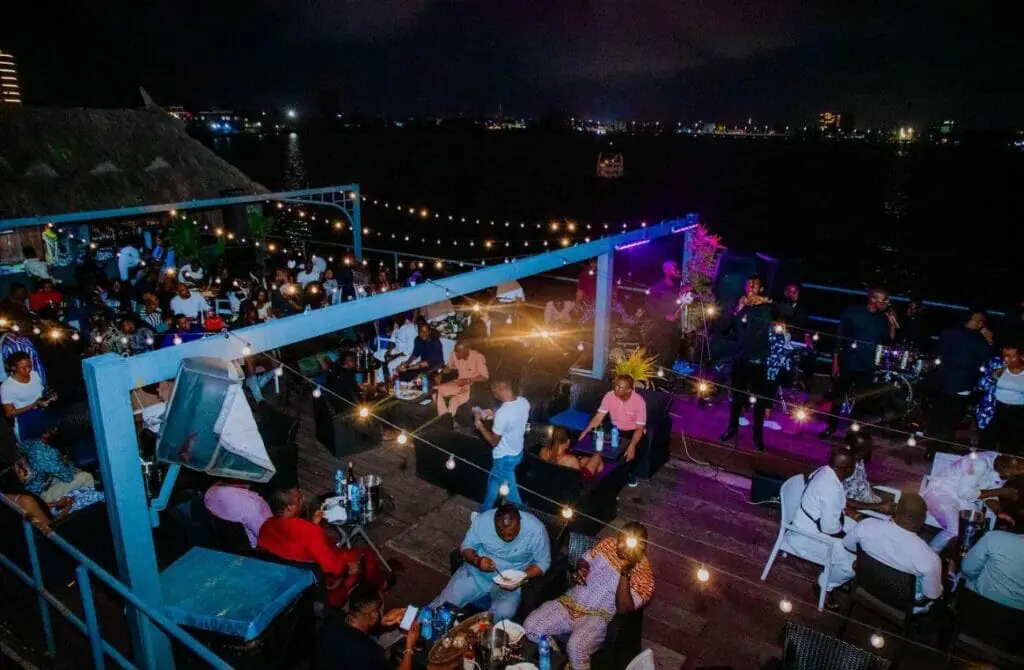 Gay Saunas & Cruising Clubs in Lagos
As a queer traveler visiting Gay Lagos, it's important to remember that being gay is illegal in this country. While visiting some of the known gay cruise spots may be an exciting prospect, it's important to remember that any same-sex activity is strictly prohibited. As such, we are choosing not to mention any here and do not recommend you try them unless you are with a trusted local (and even then, it isn't our recommendation).
We do not advise engaging in any illegal activity, including hooking up with locals or public cruising. If you choose hook-up apps, it's important to use a VPN and avoid giving away any identifiable information until you're certain it's safe. We also advise against visiting bathhouses or engaging in any sexual activity in public places.
It goes without saying though, that if you are out for fun, always practice safe sex and use protection to reduce the risk of contracting sexually transmitted infections. Queer public health campaigns are not a thing here – as you might imagine. It's crucial to respect local laws and customs regarding LGBTQ+ activities and to keep a low profile regarding queer activities.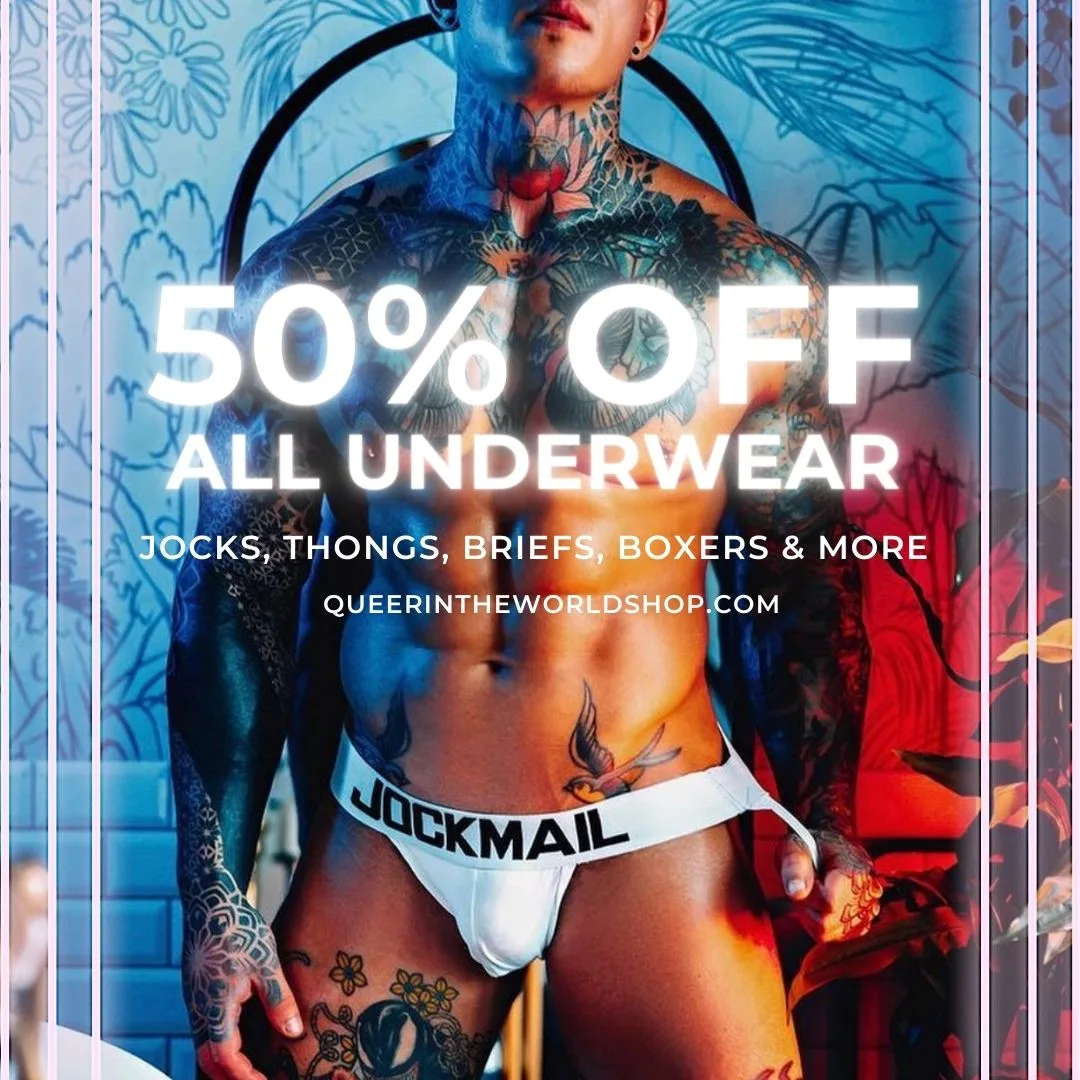 Gay Map Of Lagos
Finding it hard to envisage where everything is in Lagos? Hopefully, this queer-centric map helps where we have marked all the bars, clubs, parties, hotels, saunas, massages, and more will help you stay in the spot best suited to you!