Glamorously Gay Muscat, darling! Nestled against the Gulf of Oman, a symphony of mountains and deserts forming a stunning backdrop, lies Oman's bustling port capital. A city of serenity and intrigue, a juxtaposition of the unspoken and accepted, especially when it comes to our rainbow community.
Yes, darlings, you heard right! In contrast to many Middle Eastern societies where homosexuality is shrouded in veils of denial or repression, in Muscat, it finds a covert existence.
Muscat is an ode to extraordinary grandeur, a city at peace with nature's stillness and brimming with ancient forts and cultural attractions. Exploring Muscat is like traversing through a vivid canvas of wonders – the idyllic beaches, the majestic mountains, and the warm embrace of Omani hospitality – it's quite the treat, my lovelies.
However, let's not forget to adjust our rose-tinted glasses here, dear hearts. Homosexuality remains a legal conundrum in Oman, with possible prison sentences. On the flip side, enforcement of these laws is as elusive as a desert mirage, unless – and pay attention here – situations involving rape, violence, underage abuse, narcotics, or a severe violation of Muslim cultural norms arise.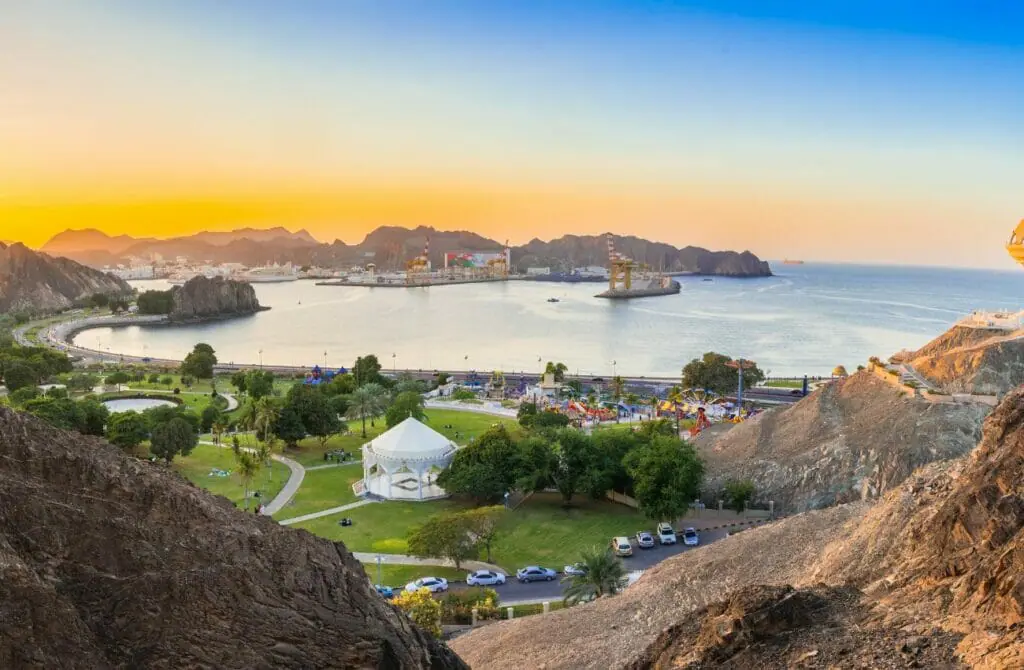 This conservative, religious nation views homosexuality not as a Western peril shaking the roots of tradition but as a quiet stream flowing alongside its culture, tolerated as long as it doesn't roil the waters of public sensibilities. The tricky part, darlings, lies in defining these public sensibilities – an ambiguity as complex as the splendidly woven Omani rugs. The culture here is a dance of love and respect, with warm hugs and kisses on the cheeks as commonplace greetings.
This city, a gem on the Gulf of Oman's coast, is quickly becoming a popular tourist destination, an Arabic belle that should not be missed. The rich cultural tapestry of Muscat offers both modern and traditional sights – a veritable feast for the senses. The city and its surroundings are a playground for exploration and adventure, even for our gay tourists, as long as they play it safe, and respect the local customs and laws.
Take note, my fabulous ones, while I paint these picturesque images of Gay Muscat for you, tread carefully and respectfully. This guide serves as a shimmering beacon of information, but it is in your hands to ensure your safety. After all, being fabulous also means being wise.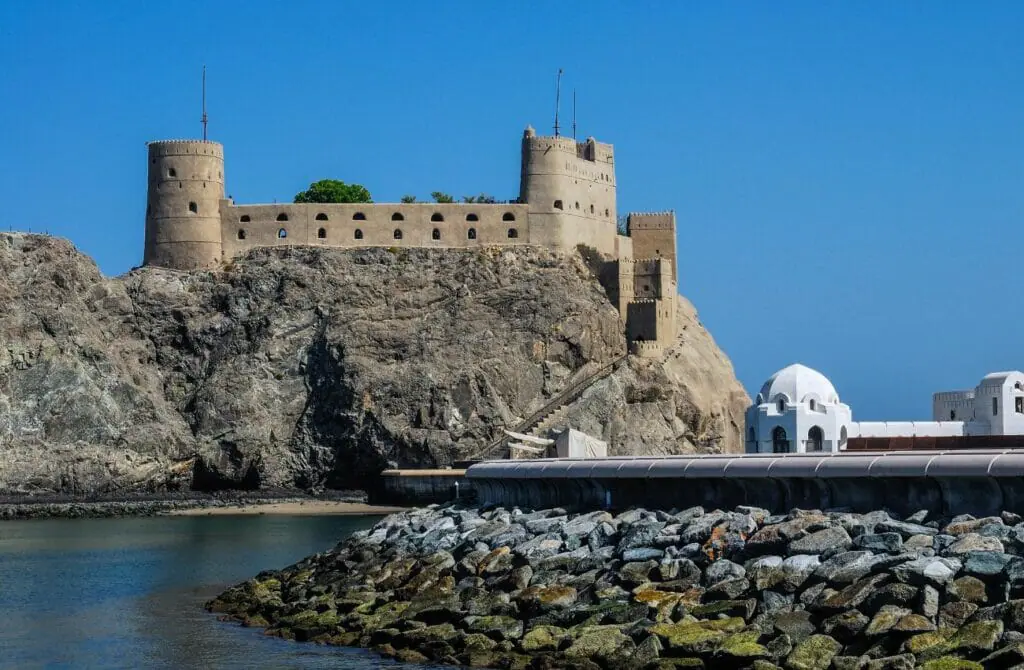 Attractions in Gay Muscat, Oman
As a new visitor to Gay Muskat, it's important to be aware that being queer is illegal in this city and country, and any same-sex activity should be avoided to ensure your safety. However, there are still plenty of things to see and do that do not involve expressing your sexual orientation.
One of the best ways to experience the city is to visit its most iconic landmarks and attractions, including historical monuments, museums, and art galleries. You can also admire the city's architecture, explore its parks and gardens, sample local cuisine, and visit local markets. Additionally, cultural events such as festivals, concerts, and shows can provide a glimpse into the local culture.
We feel it's important to acknowledge the challenges and risks associated with visiting destinations where same-sex activity is illegal. However, we still believe in the power of cultural exchange and the value of experiencing diverse cultures, even if we may not agree with their laws and customs.
Visiting queerphobic destinations allows us to learn about the local culture, history, and traditions and to gain a deeper understanding of the challenges faced by LGBTQ+ communities in those places. It also provides an opportunity to connect with local people, to hear their stories, and to show solidarity with the queer community.
It's important, however, to be mindful of the risks and to take steps to ensure our safety and the safety of local queer people. This may include avoiding public displays of affection, not discussing our sexual orientation with strangers, and being aware of local laws and customs. As we explore these destinations, it's crucial to spare a thought for local queer people who may face discrimination, persecution, and even violence due to their sexual orientation.
We might also have the opportunity to use our platform to amplify their voices and to support local organizations working to protect and advocate for LGBTQ+ rights – however, this is best done once you have left (and if you reside in a gay-friendly country!).
While it may not always be easy or safe to visit queer-illegal destinations, we believe that cultural exchange and understanding can help bridge divides and promote acceptance and tolerance. Let's continue to explore the world while considering the experiences, struggles, and restrictions on LGBTQ+ expression in this city and country.
Thankfully, it's still possible to enjoy the city's attractions and learn about its culture while being mindful of local laws and customs.
These are our recommended must-see attractions in Muskat.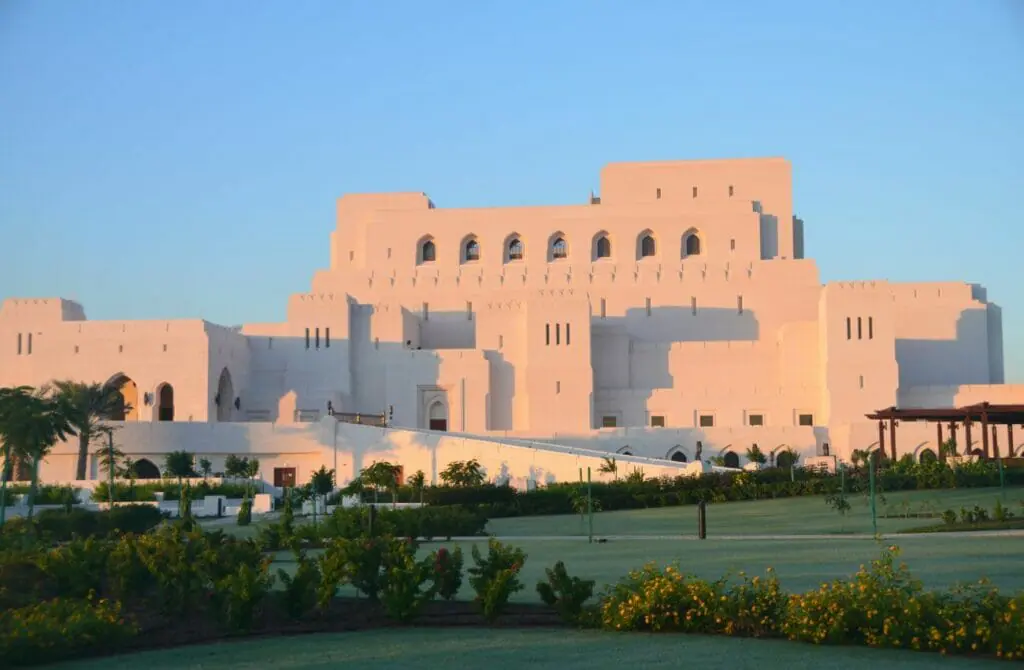 The Royal Opera House is an iconic landmark in Muscat and one of the best places to visit. It is a refuge for those interested in culture, art, and music. This venue honors the region's many cultures and heritages by providing a range of events and culturally meaningful programs. It features a theatre, an auditorium, high-end restaurants, and cultural markets, and it is elegantly built with lush greenery-filled grounds.
The facility can accommodate around 1100 people at any one time. This area's architectural architecture combines Italian and Islamic traditions with magnificent embellishments carved from Omani desert stone flowers.
The Royal Opera House's ceilings and walls are embellished with wood, gold, and glass, giving the structure an exquisite and royal aspect. Because of the exquisite aesthetics and interiors of the building, you will receive the feeling that you have entered a premium setting. Take advantage of all Muscat offers by taking organized tours of the city's various areas of interest to discover more about the region's rich legacy and interesting past.
Mutrah Corniche
When the reddish-orange dusk descends over the water, you can watch the dhow approach the shore from the Mutrah Corniche. The Corniche stretches over three kilometers and is generally recognized as one of Muscat's most attractive and peaceful locations. The water's edge is surrounded by various eateries, including cafés and restaurants, where guests may savor the wonderful flavors of local cuisine while admiring the lovely surroundings.
There are watchtowers, a fish market, and a dhow Dock at this Oman harbor, and one side of the Corniche is studded with unusual stones. While you're out on the Corniche, you may want to try something new, like going on a boat ride, or you could even want to plan a family dinner.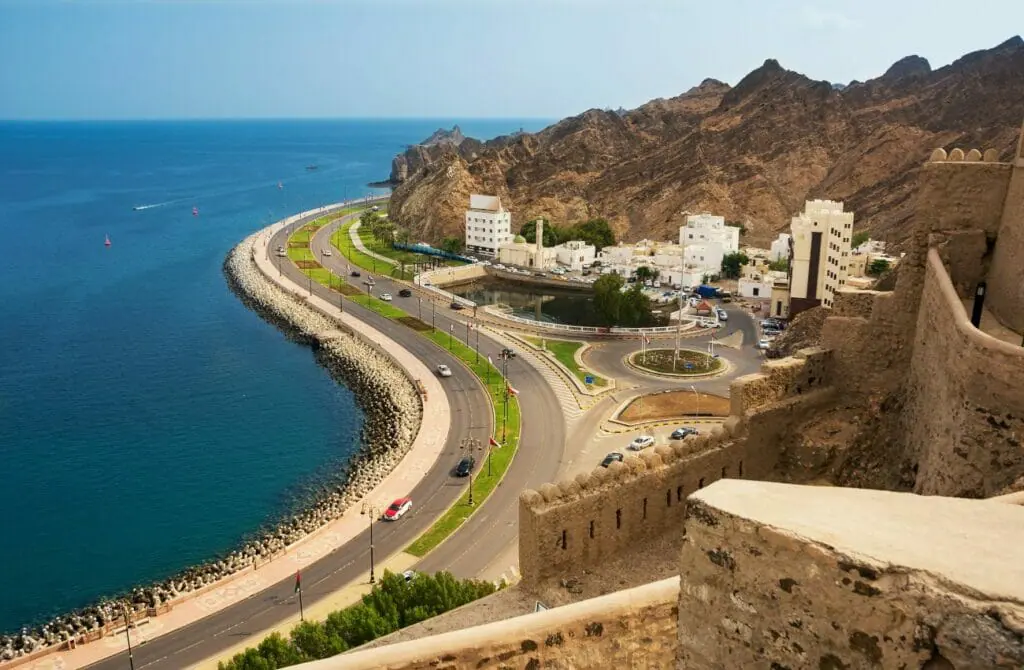 The lush flora and emerald colors of Wadi Bani Khalid's large pool make it an attractive destination for travelers in Muscat. This is one of nature's most magnificent panoramas, and it's all wrapped up in the fronds of towering palm palms. Because of its nature, the area is characterized by rough cliffs and gorges, making it a perfect site for exploration.
If you appreciate having interesting adventures, Wadi Bani Khalid is, without a doubt, the best location for you, and you should not miss out on it. Put on your finest hiking boots and prepare to go into every nook and crevice. Although there are restaurants, bridges, and seats for public use, nothing can take away from the amazing beauty of this panoramic sight.
Yitti Beach
Because of its peaceful and attractive environment, Yitti has become one of Oman's most sought-after beaches. The beach, which people have never built, is undoubtedly one of the best places to visit in Muscat for those who like solitude. With its powdery beaches and crystal blue oceans, the beach has become an excellent spot for strolls and water-based activities.
Plan to stay the night at the campground and have some sundowners to soak in all the colors, from the scarlet sunset to the tranquil tones of the water. Nevertheless, there are no facilities in the surrounding region, so you must carefully plan your vacation at the best time to visit Muscat for an unforgettable experience.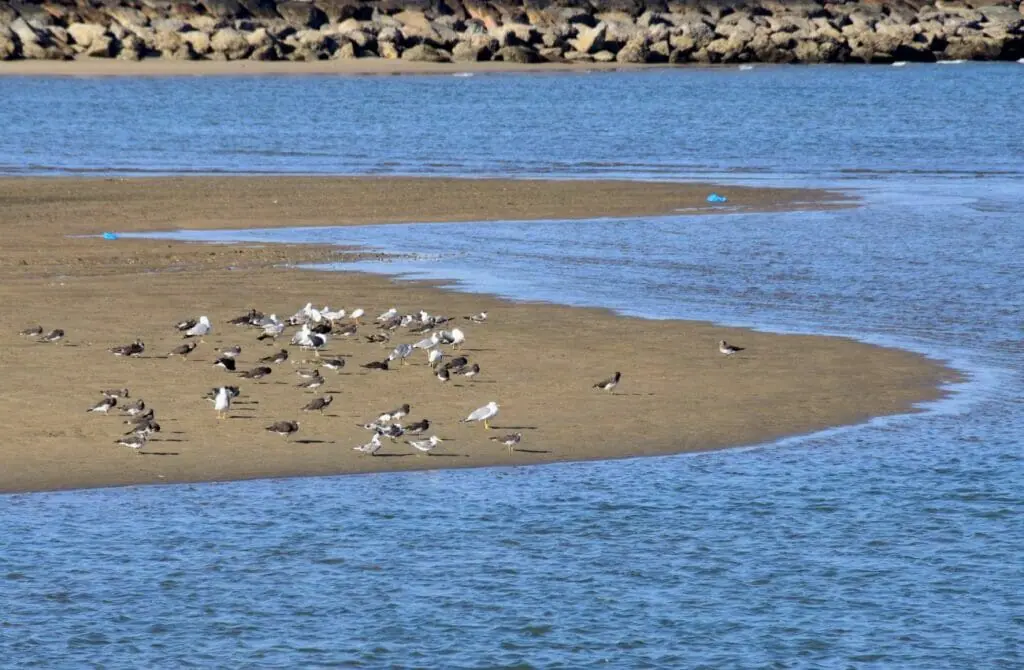 The Mutrah Souq is Muscat's oldest and one of the city's most popular tourist attractions. You may shop to your heart's delight here. Mutrah Souq is an excellent destination to purchase high-quality apparel, such as surwal, lihaff, and more, in addition to traditional works of art and handicrafts from Arabia, such as jewelry, pottery, and textiles.
Walk around the market to find the perfect souvenir among the many goods on sale. During the 1960s, Omanis would flock to the market to do business and ensure a consistent home necessities supply.
Al Mirani Fort
The Al Mirani Fort, which goes back to the 16th century and was built during that period, is regarded as one of Muscat's most significant historical attractions. Apart from Muscat, the Al Mirani Fort is one of Oman's most popular tourist locations since it provides visitors insight into the country's rich past.
Although the Portuguese built the fort, it played a key role in their downfall. The fort presently houses a public museum with a large collection of combat artifacts and weaponry. The fort, which overlooks the Gulf of Oman and is situated in Muscat, is essential to the city's rich history and heritage.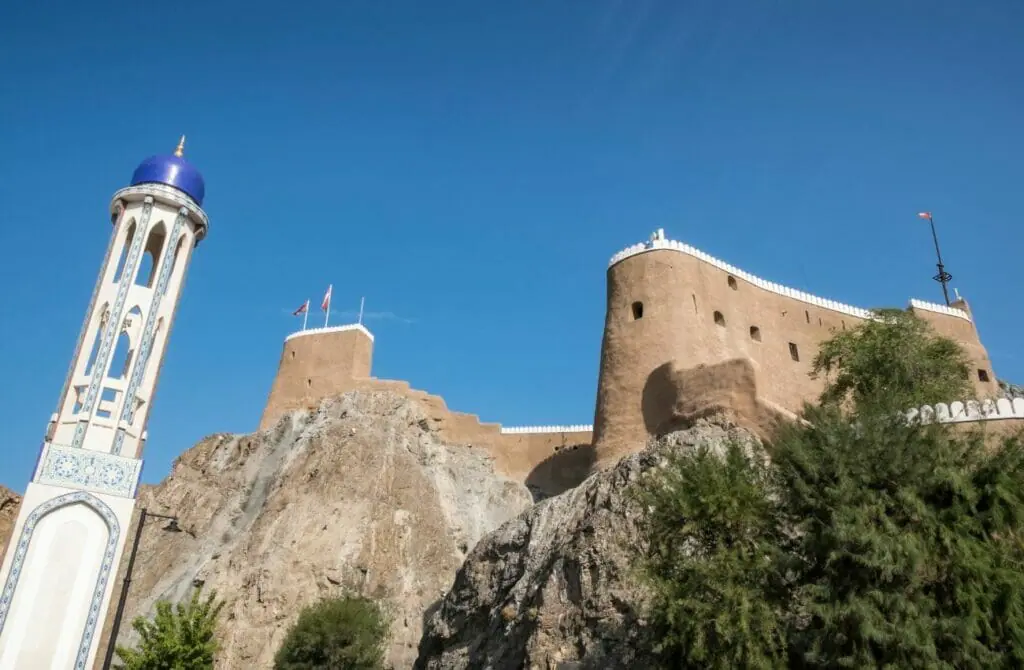 City Center Muscat
City Center Muscat, like a shoppers' paradise, is the best place to shop. Muscat's City Center Mall is home to over 142 international brands and some of the city's most interesting attractions and activities. You may include VOX movies and other types of entertainment in your holiday, go shopping for upmarket fashion accessories, sit at affluent cafés, and eat meals at excellent restaurants.
The city center is constantly regarded as one of the top tourist locations in the city due to its closeness to the Muscat international airport.
Burj Al Sahwa Clock Tower
The Burj Al Sahwa Clock Tower, which can be viewed in the heart of Muscat, is designated as a National Monument. The Burj Al Sahwa Clock Tower, built to honor the 25th anniversary of the Renaissance, is one of Muscat's most renowned tourist attractions.
Here, you can enjoy the beautiful beauty of Omani art. Oman is a powerful nation devoted to modernization and prosperity, and the tower symbolizes this dedication. The tower is 50 meters tall and is ornamented with four massive clocks with intricate patterns, Arabic numbers, and various mosaic art and themes.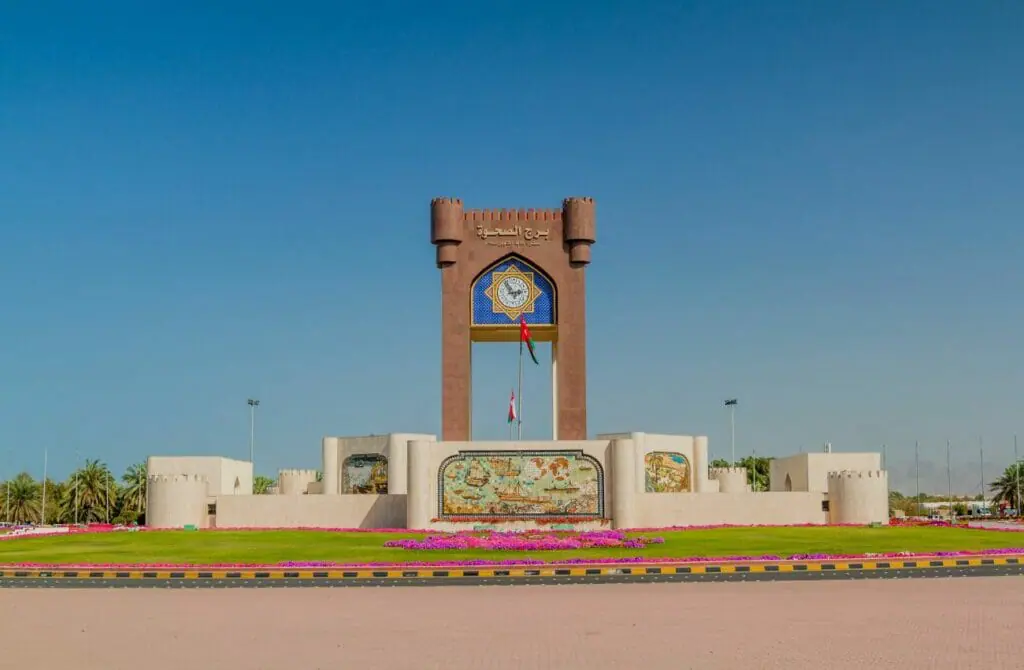 Bait Al Maqham Castel
Despite its remote location, Bait Al Maqham is recognized as one of the top tourist spots in Muscat. The Bait Al Mqaham covers a wide area, including an entire region and reaching the horizon. This location is not far from the capital city of Muscat.
The exquisite splendor of this walled house comes as no surprise given the lack of development in the neighborhood, which contributes to the property's charming rural feel. Bait Al Maqaham, one of Muscat's most prominent tourist spots, is nestled in the Hajar Mountains' foothills and depicts the plantation life that formerly lived there.
Grand Mosque Muscat
The Grand Mosque in Muscat is Oman's biggest mosque. It has a massive floor space of roughly 4,16,000 square meters and can house up to 20,000 worshippers. It is an excellent spot for admiring the harmonious fusion of contemporary buildings with traditional Omani traditions.
The Grand Mosque is regarded as one of the most famous tourist places in Muscat due to its chandelier and carpet. Each of these features is the world's second-largest of their sort.
The use of white marble with beautiful mosaic patterns adds to the splendor of this mosque. The mosque is made up of four main parts: an ablution room, a prayer hall, a separate structure known as the Musalla that is intended primarily for female worshippers, and an Islam Center where worshippers may get free refreshments.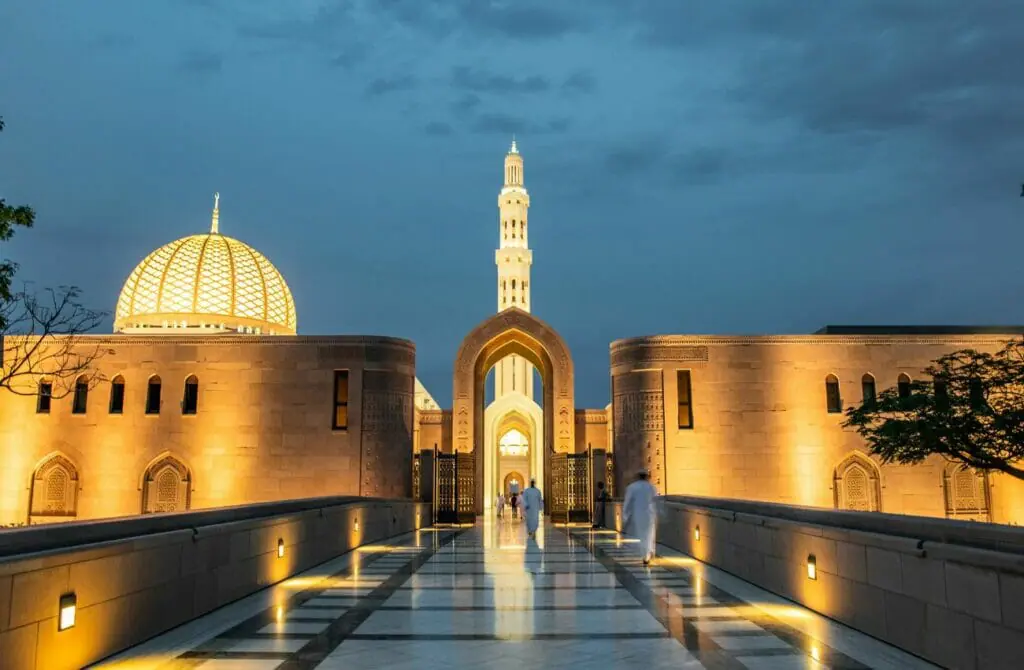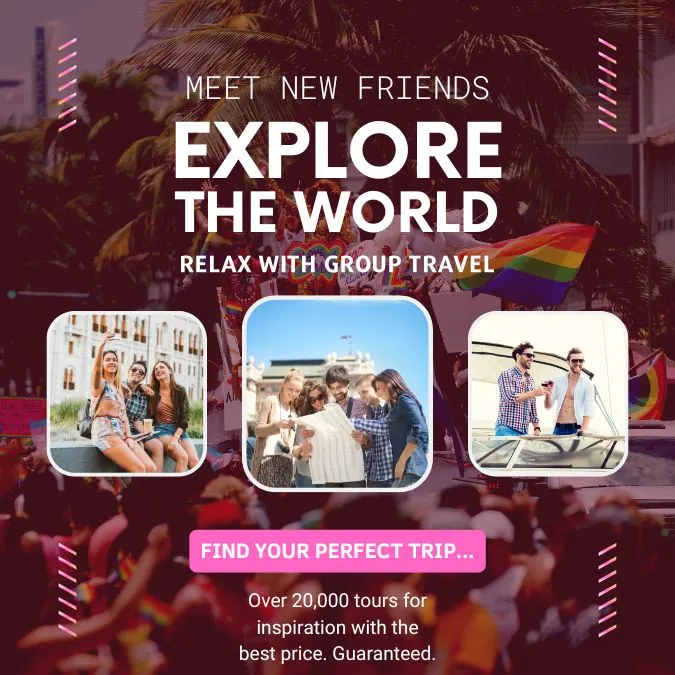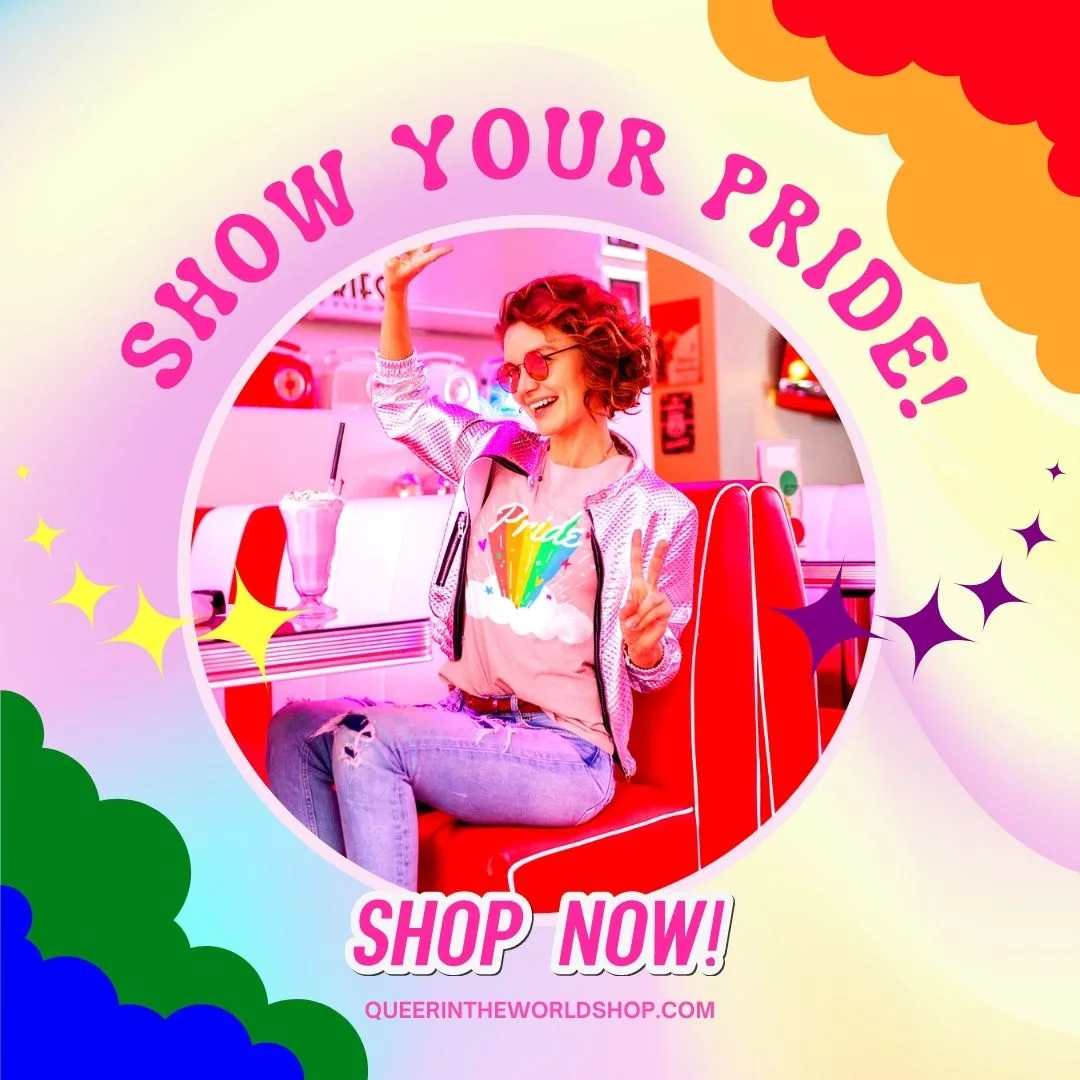 Gay-Friendly And Gay Hotels in Muscat, Oman

In regions where acceptance for the diversity of the LGBTQ+ spectrum is yet to gain traction, and where being gay remains unfortunately illegal, it's crucial for those audacious rainbow souls embarking on a journey to be keenly aware of potential risks and take all essential precautions. Among these, the choice of accommodations – those less likely to grapple with the presence of same-sex travelers – stands prominently.
The advice most often advocated involves securing accommodations with two separate beds, presenting as merely friends, deftly avoiding any same-sex activities that might draw unnecessary attention. Regrettably, Muscat, a city enriched with cultural splendor and tradition, does not officially boast gay-friendly accommodations. However, it is home to a vast array of international or opulent properties less likely to take umbrage at their LGBTQ+ guests.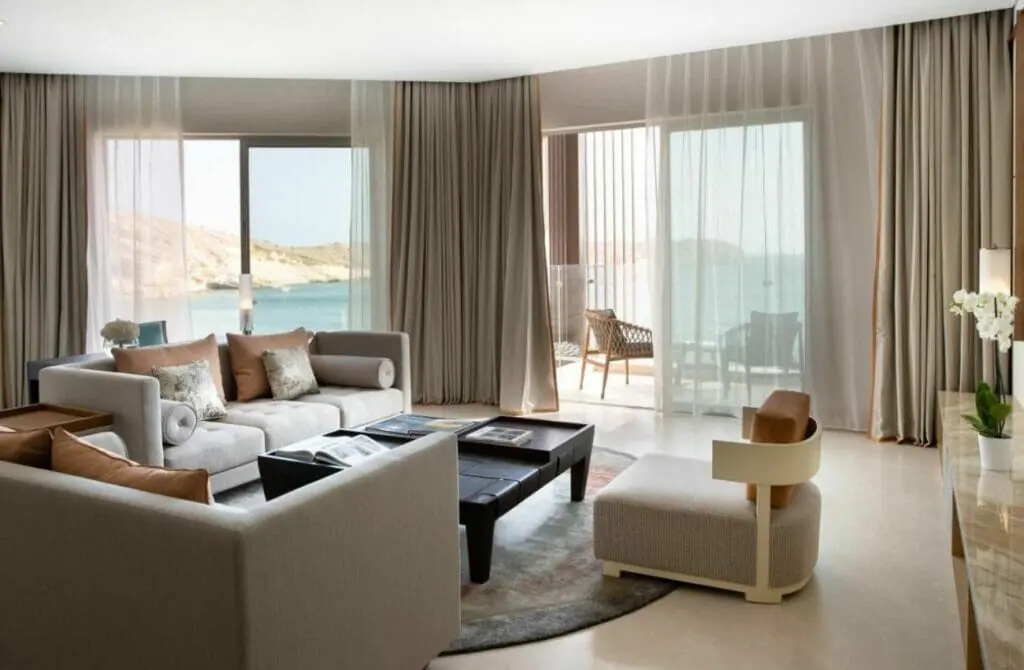 While these extravagant abodes may not officially brand themselves as gay-friendly, and may potentially lack specific policies or practices aimed at creating a safe and inclusive environment for LGBTQ+ guests, they are the most glorious accommodations in Muscat. Based on the testimonials of other gay travelers and our own experiences, these are the places we resoundingly endorse for your stay.
Remember, even though these accommodations might resonate with the inclusive philosophies of their western parent brands, they are situated in a land where the local laws reign supreme. Therefore, respect and adherence to these laws are of paramount importance.
No matter what your needs may be, Muscat offers a varied spectrum of accommodations to cater to a multitude of preferences. While finding explicitly gay-friendly options can indeed be a challenge, adhering to these suggested measures can play a significant role in ensuring a safe and pleasurable sojourn in the city. Always remember, planning ahead and booking accommodations early is key, providing a sense of serenity as you embark on your journey. Until that glorious day when acceptance of all the colors of the rainbow becomes global, we continue our travels with unwavering pride, caution, and an indefatigable spirit of adventure.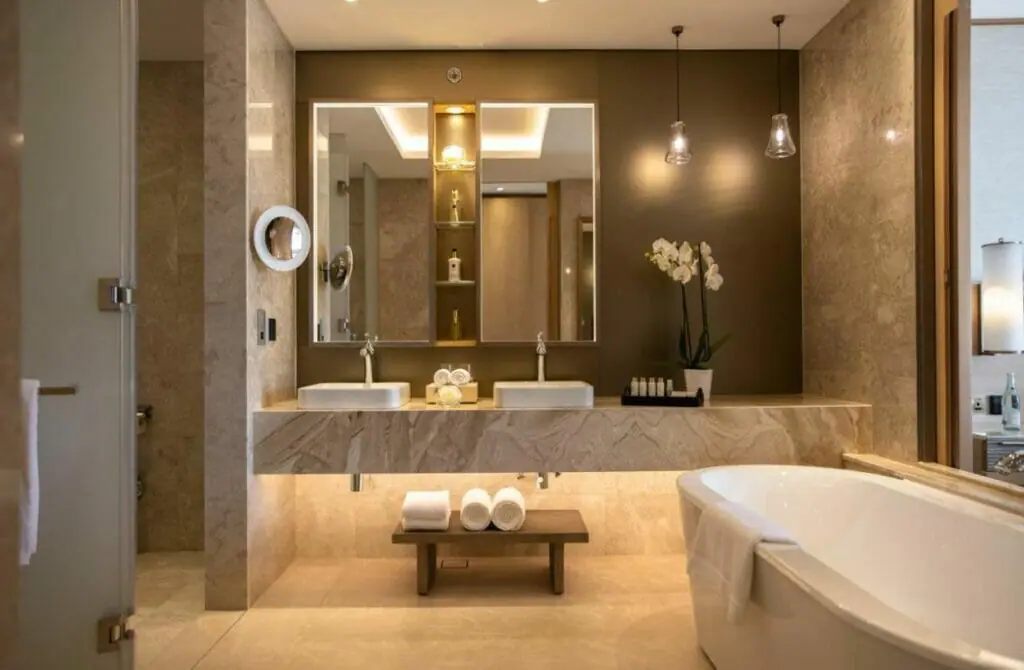 The Jumeirah Muscat Bay is a luxury accommodation option in Muscat that provides true peacefulness and a fantastic sense of escaping the city's monotonous day-to-day existence. It is nestled between mountains and the sea.
A great place to disconnect from the outer world and enjoy the delights of days spent relaxing on the beach, trekking in the nearby mountains, or scuba diving in the Arabian Sea. This magnificent resort is located in the secluded cove of Bandar Jissah, between the Al Hajar Mountains and the Gulf of Oman. Despite its solitude, the resort is not far from Muscat's core.
The famous Talise Spa concept encourages customers to stay on the path to well-being by providing treatments tailored to their requirements. Sports addicts may strengthen their endurance by indulging in long outdoor activities such as cycling, jogging, or swimming.
The rooms are spacious, and if you want to enjoy a great perspective of the city, you may stroll out onto the balcony, which offers an incredible outlook. You'll have no problem unwinding and getting a good night's sleep owing to the room's comfortable bed.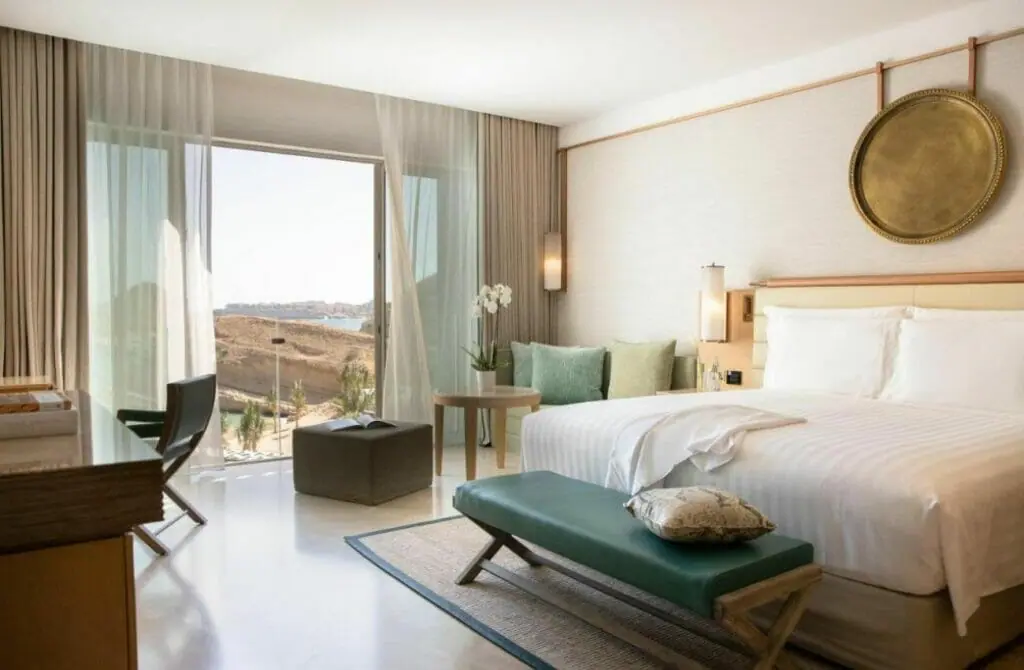 The Al Bustan Palace, a Ritz-Carlton Hotel, is the perfect spot for a fun-filled stay in Muscat, combining the beauty of a calm locale, extensive outdoor amenities, and a wide range of interconnecting rooms for visitors.
As a result, the Al Bustan Palace, a Ritz-Carlton Hotel, is an excellent choice for a fun-filled vacation to Muscat. It is tranquil and enchanted by the peacefulness of a lush garden, where the senses are gradually convinced to take a leisurely walk away from the city's rush and bustle. Guests staying at the hotel may rest in one of the two lagoons, chill in the tranquil infinity pool, or stroll along the Sultanate's longest beach.
This luxurious resort is nestled against the Al Hajar Mountains and overlooks the Arabian Gulf. It offers tourists a one-of-a-kind palace experience that exemplifies Omani hospitality. The Ritz-Al Carlton's Bustan Palace Spa offers a comprehensive range of spa treatments and boasts 17 big treatment rooms and a ladies-only member area with a private beach.
The resort also includes excellent accommodations with air conditioning, providing a restful night's sleep. Each room has a flat-screen TV, an electric kettle, and a minibar, so you can start the party anytime you want without leaving your room.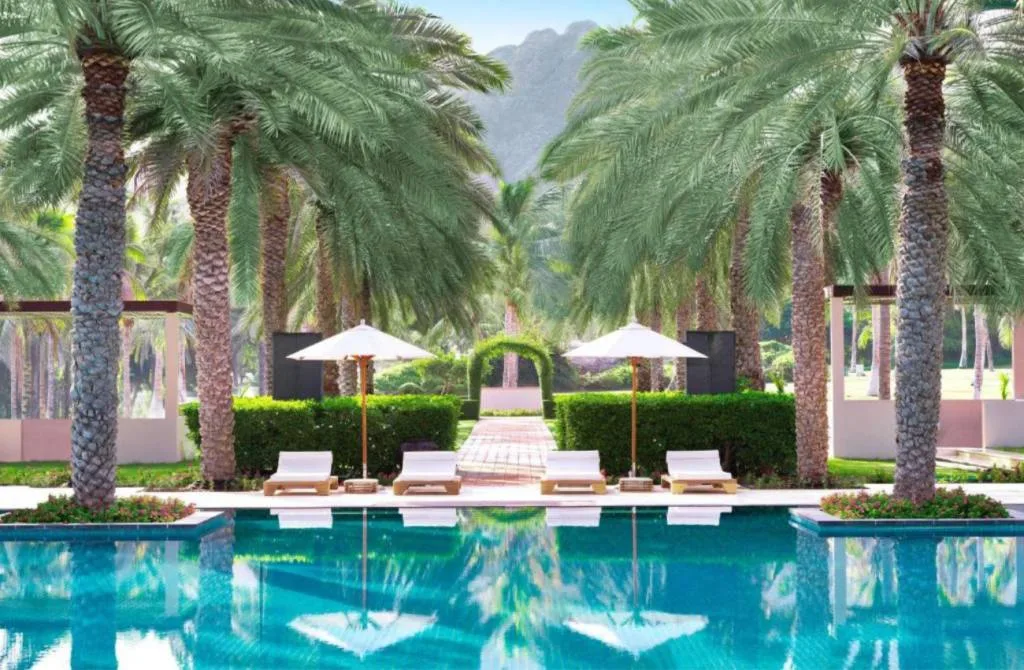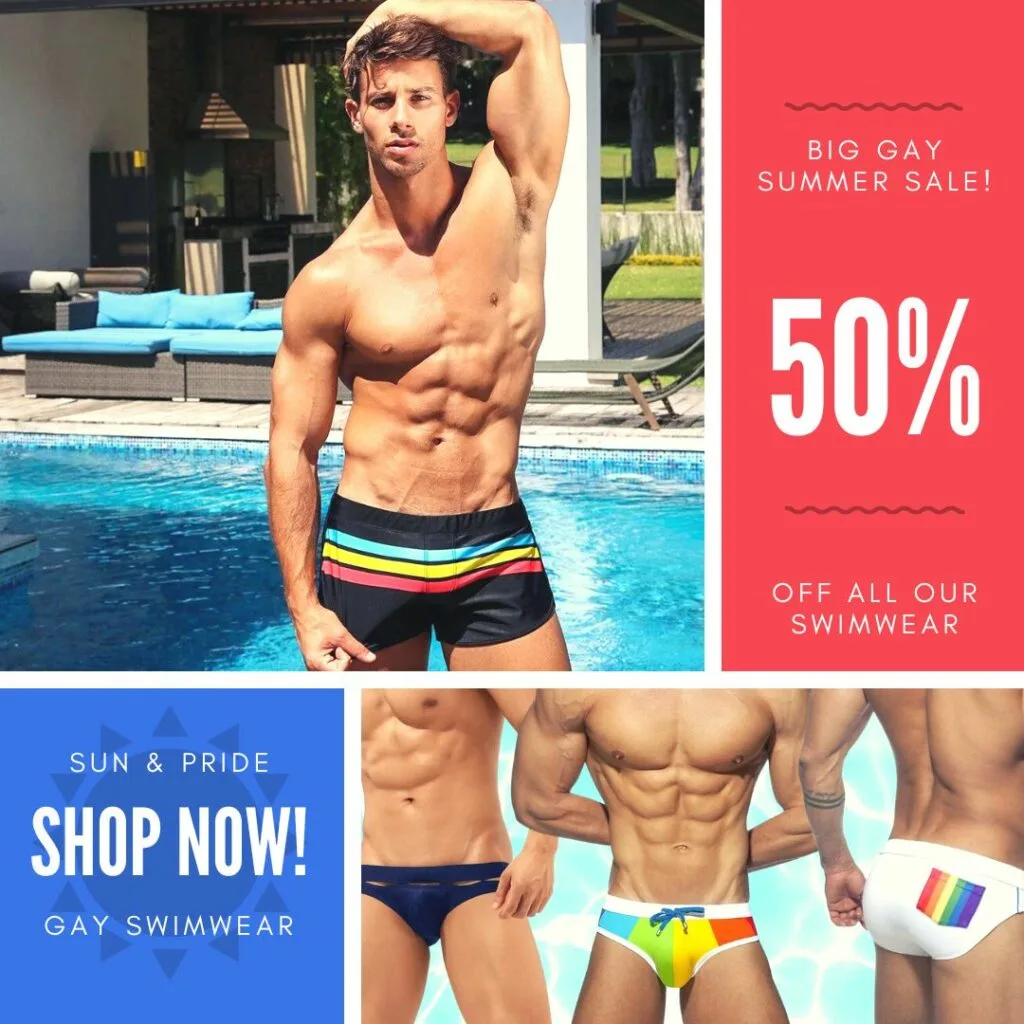 The Grand Hyatt Muscat is another option for those searching for a great hotel in the Muscat region. The hotel is an exceptional example of Arabian architecture, with a lovely setting on an unspoiled stretch of coastline in Muscat, the Sultanate of Oman's capital city.
Magnificent surroundings and traditional Omani hospitality combine to produce a stay that people who visit Shatti Al Qurm, situated in the city's Embassy and Ministry neighborhood, will remember for a long time.
The beautiful interior décor in the rooms will wow hotel visitors. The rooms of the Grand Hyatt are fully air-conditioned and designed in bright colors. These rooms' bathrooms are likewise rather huge. The supply of robes and slippers prioritizes the comfort of our guests.
There are several places to select from, including the Mokha Café, which offers traditional Arabic cuisine, and the rooftop restaurant, which serves grilled meals and overlooks the Gulf of Oman.
Visitors are encouraged to book appointments at the Grand Hyatt's beauty center for treatments such as massages and manicures. When the weather is beautiful, visitors at the hotel may relax in the indoor pool, which is maintained at a reasonable temperature.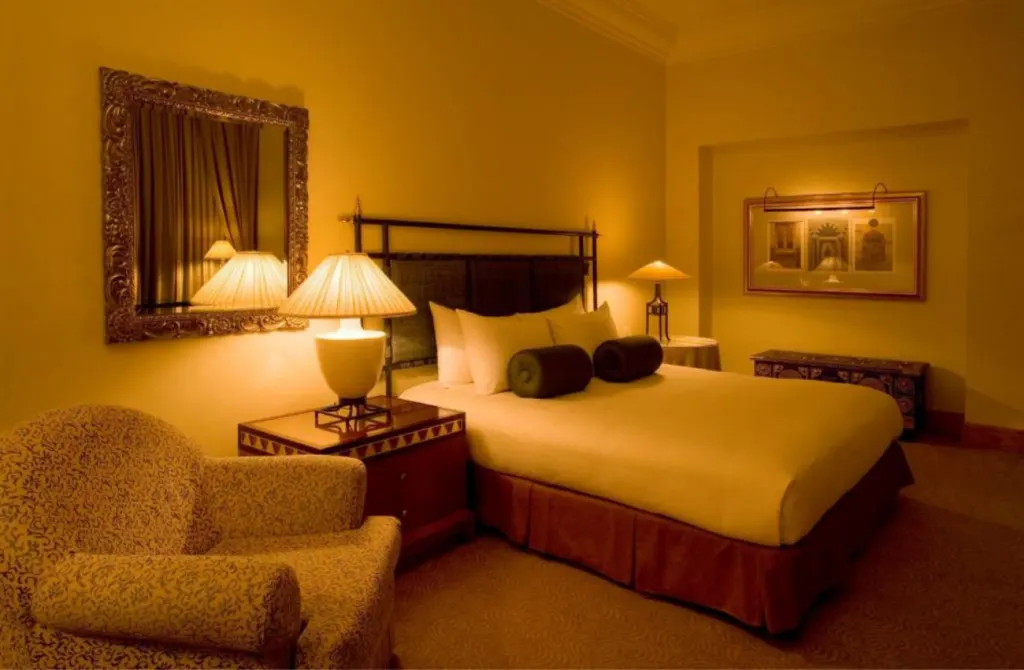 Gay Nightlife in Muscat, Oman
Although Oman is a conservative Muslim country, its capital city of Muscat has a diverse range of drinking venues, including pubs, nightclubs, and bars, all of which give a welcome break from the monotony of everyday life. Muscat's nightlife has grown dramatically due to the city's fast-increasing tourism economy and massive annual inflow of ex-pats.
While exploring the nightlife of a new city can be exciting, it's important to remember that Gay Muscat is a city in a country where same-sex activity is illegal, and being queer is not accepted in public. As such, it's crucial to avoid any displays of queerness or same-sex activity in public.
However, you can still enjoy the 'straight' nightlife in Gay Muscat as in any other city. You can meet new people, try new things, and get a taste of the local culture without attracting unwanted attention.
Whether you're dancing at a club or mingling at a bar, remember to respect the local culture and avoid any behavior that may be seen as queer or same-sex activity. By doing so, you can have a fun and memorable experience while still being mindful of the local laws and customs.
So, step out of your comfort zone and explore the nightlife in Gay Muscat, but remember to do so as a non-queer traveler. Enjoy the city's nightlife while respecting the local culture and avoiding any displays of queerness or same-sex activity in public.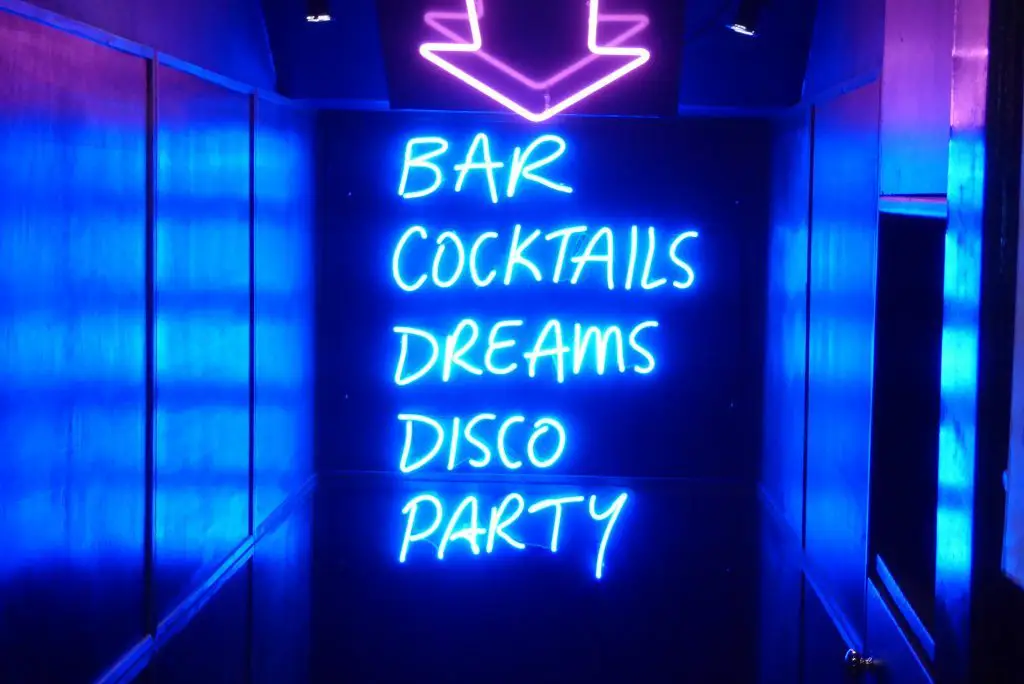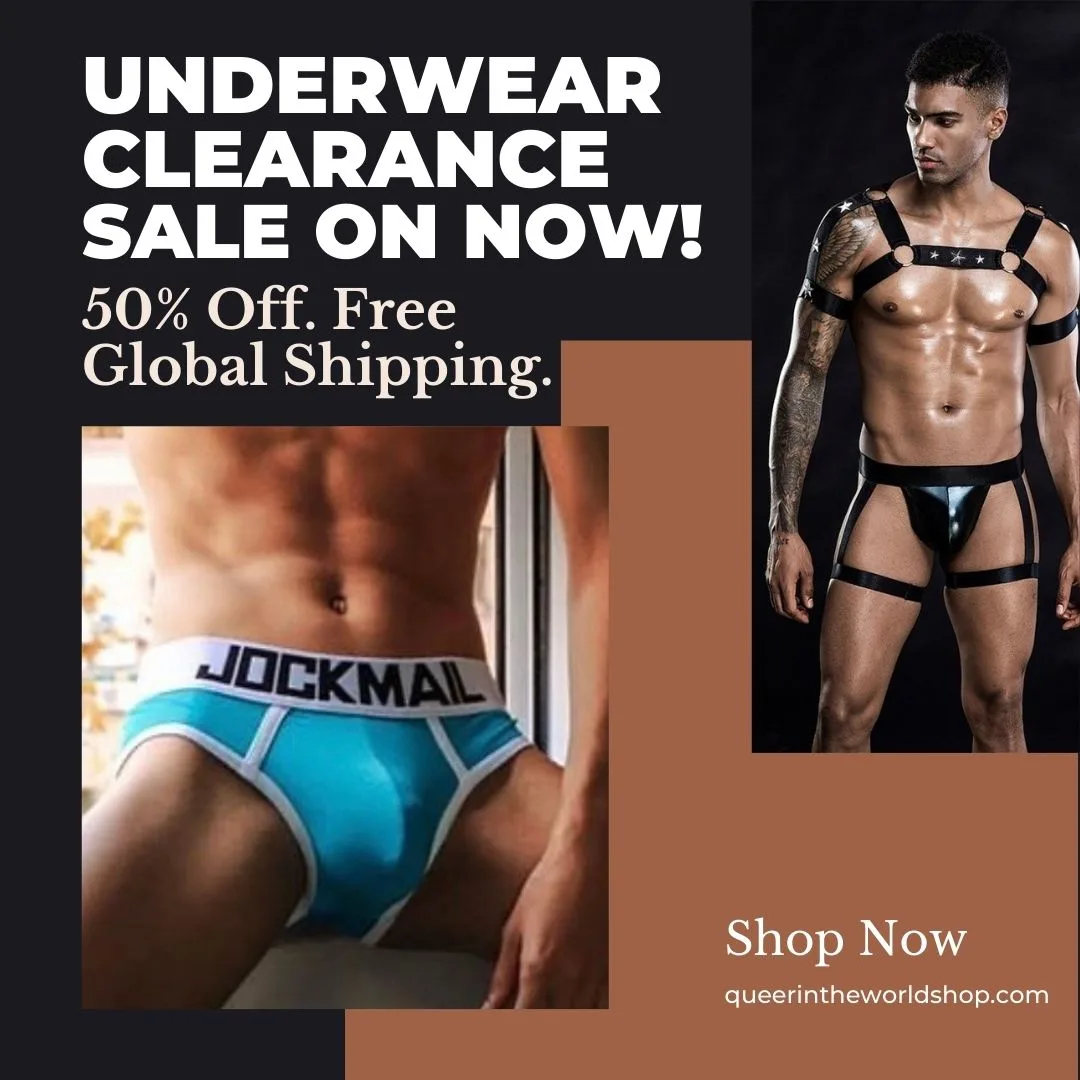 Bars in Muscat, Oman
O Malley's, a typical Irish bar, is located on the ground level of the Radisson Blu Hotel. It was erected in the area that used to be the basement, and it includes a large oak bar and a joyful ambiance that transports you to Dublin. It hosts subject nights throughout the week, including stand-up satire, DJ, and bar test evenings.
Club Safari and Habana are in the same building as the Hotel Grand Hyatt in Muscat's Al Khuwayr neighborhood. The theme of Club Safari is, as the name implies, the vast outdoors. Since a permanent DJ and a live band is playing there every night after 10 p.m., it is a fantastic spot to have a drink and hit the dancing.
Meanwhile, Habana is a gaming lounge with billiards tables and many TVs where clients can watch live sports. It is home to Muscat's younger population and reaches its zenith on weekends when most people are out and about.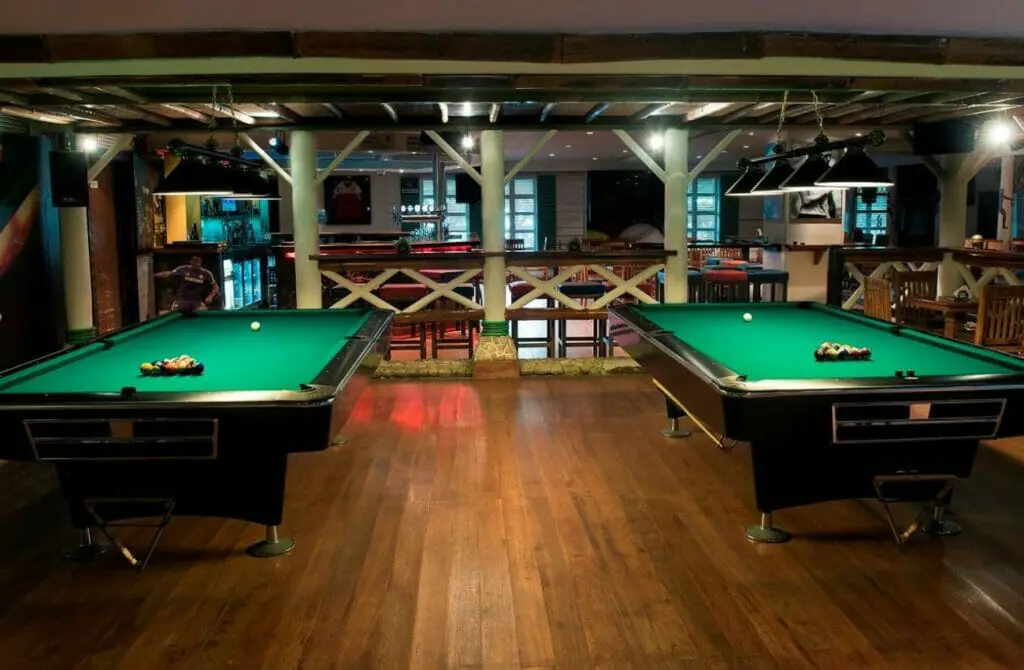 The legendary Copacabana Club is located at the Grand Hyatt Hotel and caters mostly to married or engaged couples. Via a strobe light corridor, you can go from the hotel to the club, which has a 150-foot-long dancefloor.
The local music culture includes diverse genres, from hip-hop and blues to Arabic music. Remember that they have a rule prohibiting wearing shorts inside as part of their cunning casual dress code.
Another English-style pub that attracts a substantial and recurring audience of expatriates due to its dependability and modest demeanor. The Dukes offers more than live sports broadcasts on enormous screens, which is already more than half the battle.
The weekly pub quiz draws a huge audience, and players enjoy friendly competition while having a wonderful time. The stained glass ceiling is lovely, but the views of the Gulf from outside are even more striking. While they drink and socialize, the regulars eat pub mainstays like fish and chips, burgers, and pies. Over the years, it has been one of the city's most popular drinking venues.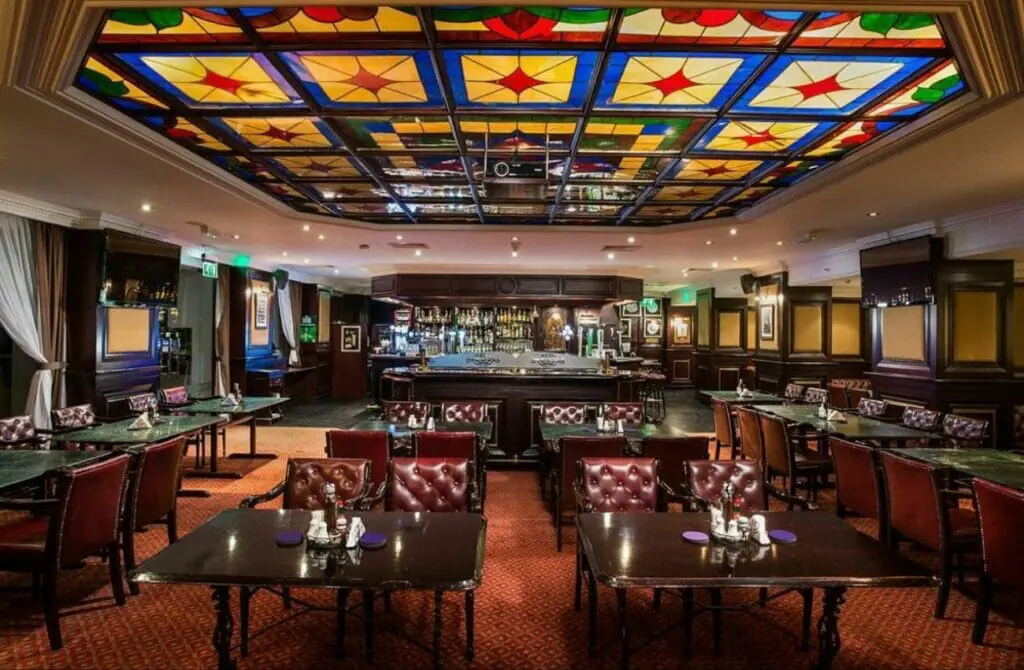 If Earnest Hemingway or Elvis Presley turned up in Muscat looking for a spot to play pool, sing karaoke, or watch live football on the big screen, we'd direct them here. It's on the bottom level of the Hyatt's Safari complex.
It has the potential to be rather dynamic due to the availability of live music, quizzes, DJ nights, and singing competitions. The ambiance is evocative of colonial Cuba, and happy hour promotions are available practically every day. It has a reputation for being popular with Liverpool football fans; however, fans of any team are welcome.
Amazing things may happen while you're at rock bottom. People looking for a good time have known this for years; consequently, a nightclub with an American theme is always one of the busiest.
Almost every night of the week, there seems to be live music or a DJ playing, and there are also regular pool competitions with tight qualifying rules. The biker style may be messy around the edges and not be especially attractive, but it has a committed fan following due to its distinct design.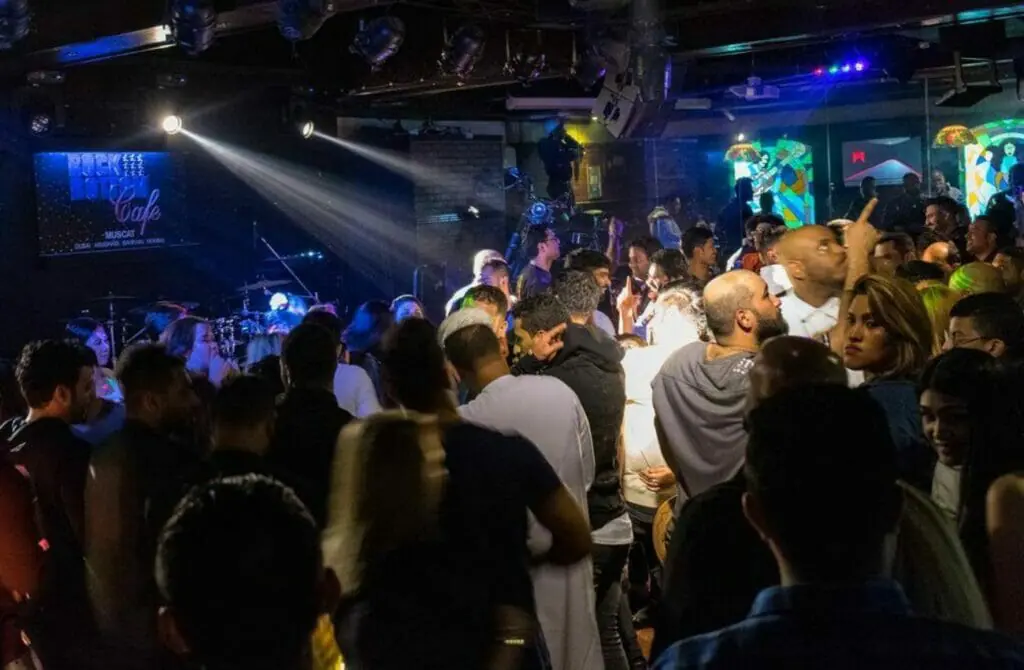 Cocktail Bars in Muscat, Oman
An extremely modern and ultra-chic lounge is in the heart of the posh Radisson hotel. It's where you'd rather be pouting and leisurely swirling a drink than chowing down on peanuts and watching live football. As a consequence, it came out considerably better.
The environment (which looked something out of a high-end fashion magazine) or the guests might be smooth, polished, and well-dressed. It's a terrific location to hang out and is open till late.
If you like wearing sunglasses on top of your head and owning vibrant flower-design shorts, you've arrived at your spiritual destination. The world-famous tiki-themed Polynesian nightclub brand is a place to have ridiculous fun without feeling embarrassed.
Mixed drinks come in various colors, styles, and sizes; some are even served in coconuts. A beach hut's environment lends itself to fun and vacation-like nights. To get the most out of a renowned setting, try not to take anything too seriously and enjoy the live music and grass skirts.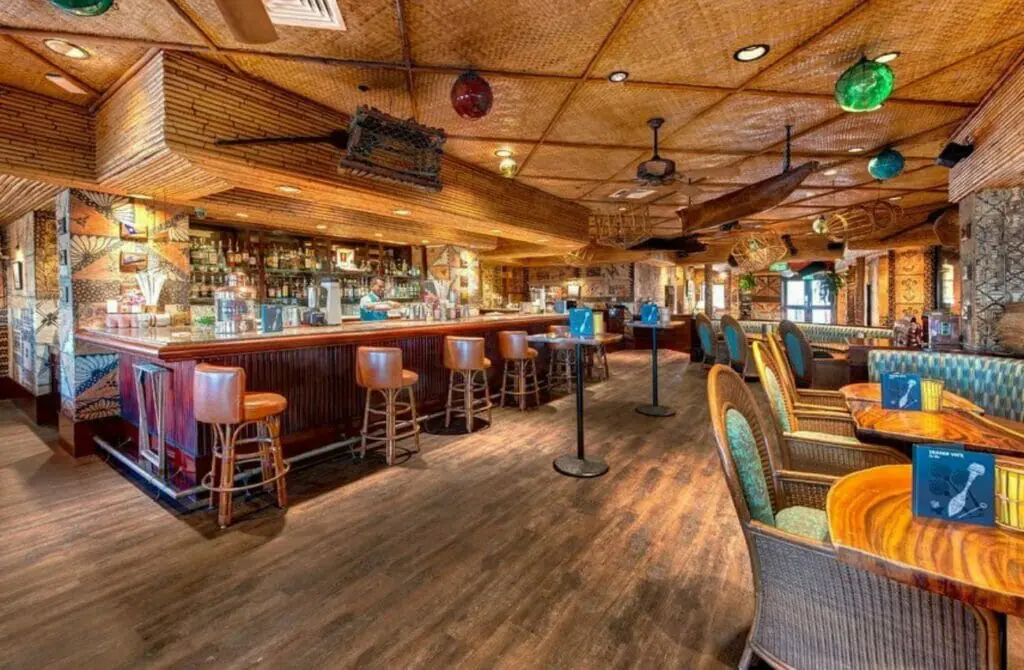 Left Bank is a Qurm neighborhood on a hill near the Sydney Opera House. It is advisable to reserve an outside table in advance since customers often remark how much they like the lovely view, the well-made drinks, and the contemporary modern food. Monday evenings are Ladies' Nights, while Sunday nights are Roast Nights, which are highly recommended.
Caramel is a café and parlor in Shati-al-Qutum that draws Muscat's business elite owing to its sumptuous food and luxurious bar. A mixed drink is expected to cost OMR 4, while a 16-ounce beverage will cost OMR 3. Even though the overhang zone is off-limits to guests, it offers a spectacular city perspective.
Customers are urged to arrange appointments as long in advance as possible on Tuesdays and Thursdays in Caramel. Although there is no dancefloor, the ambiance of the pub and the music will guarantee that you have a fantastic time here with a loved one or a close friend.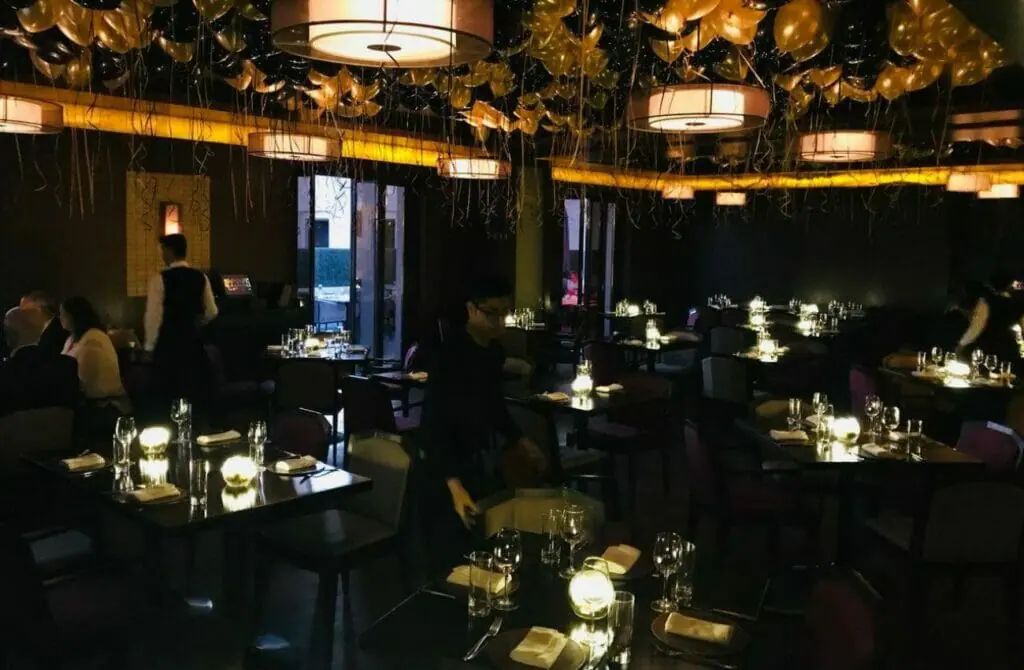 Rooftop Bars in Muscat, Oman
This is a mid-range hotel, so the rooftop bar is surprisingly elegant and gives enough pizazz beside the pool. The DJ-driven music complements the spectacular panoramic panoramas that exhibit the inner-city sparkle well.
Young people attend the restaurant due to the regular happy hours, lively atmosphere, and exciting promotions. Muscat residents will unwind by the pool to the latest Eurohouse music while dancing, playing loud music, and sipping mixed drinks. As the sun goes down, it's also a wonderful area to enjoy a drink.
The John Barry Bar at the Grand Hyatt is famed for its nautical atmosphere since it is named after the SS John Barry Ship. Its menu features tapas-style appetizers ideal for social gatherings, and its communal tables give excellent opportunities to talk with fascinating people.
Because of these two features, their restaurant is a fantastic gathering option. The alfresco dining area has couches with views of the gorgeous Hyatt gardens, offering a pleasant and cozy ambiance ideal for couples, including gay couples.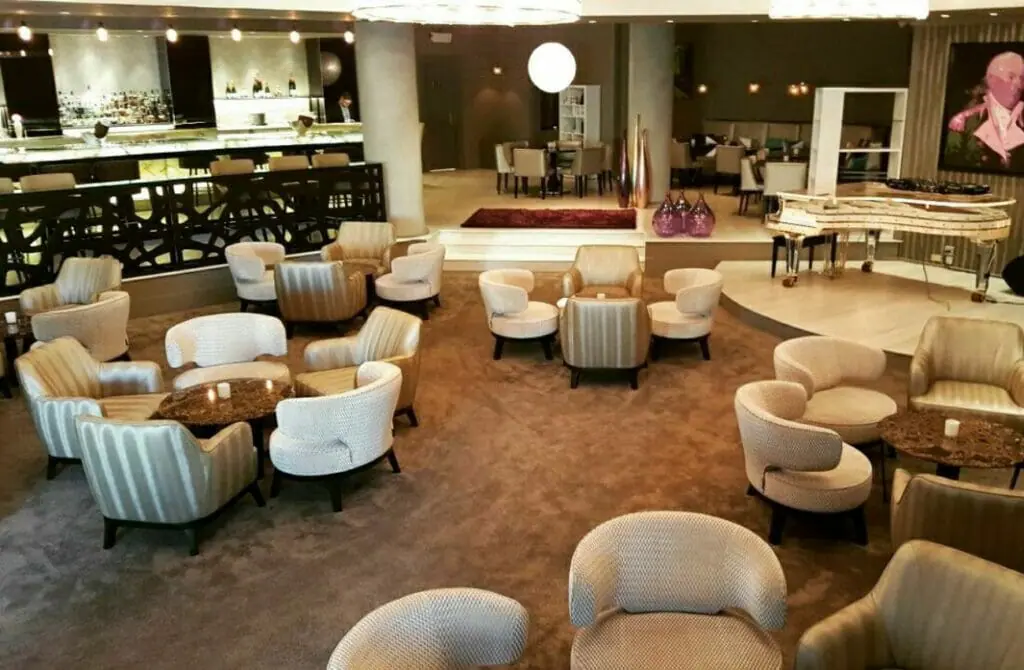 Gay Saunas & Cruising Clubs in Muscat, Oman
As a queer traveler visiting Gay Muscat, it's important to remember that being gay is illegal in this country. While visiting some of the known gay cruise spots may be an exciting prospect, it's important to remember that any same-sex activity is strictly prohibited. As such, we are choosing not to mention any here, and we do not recommend you try them unless you are with a trusted local (and even then, it isn't our recommendation).
We do not advise engaging in any illegal activity, including hooking up with locals or public cruising. If you choose hook-up apps, it's important to use a VPN and avoid giving away any identifiable information until you're certain it's safe. We also advise against visiting bathhouses or engaging in any sexual activity in public places.
Though, if you are out for fun, always practice safe sex and use protection to reduce the risk of contracting sexually transmitted infections. Queer public health campaigns are not a thing here – as you might imagine. It's crucial to respect local laws and customs regarding LGBTQ+ activities and to keep a low profile when it comes to queer movements.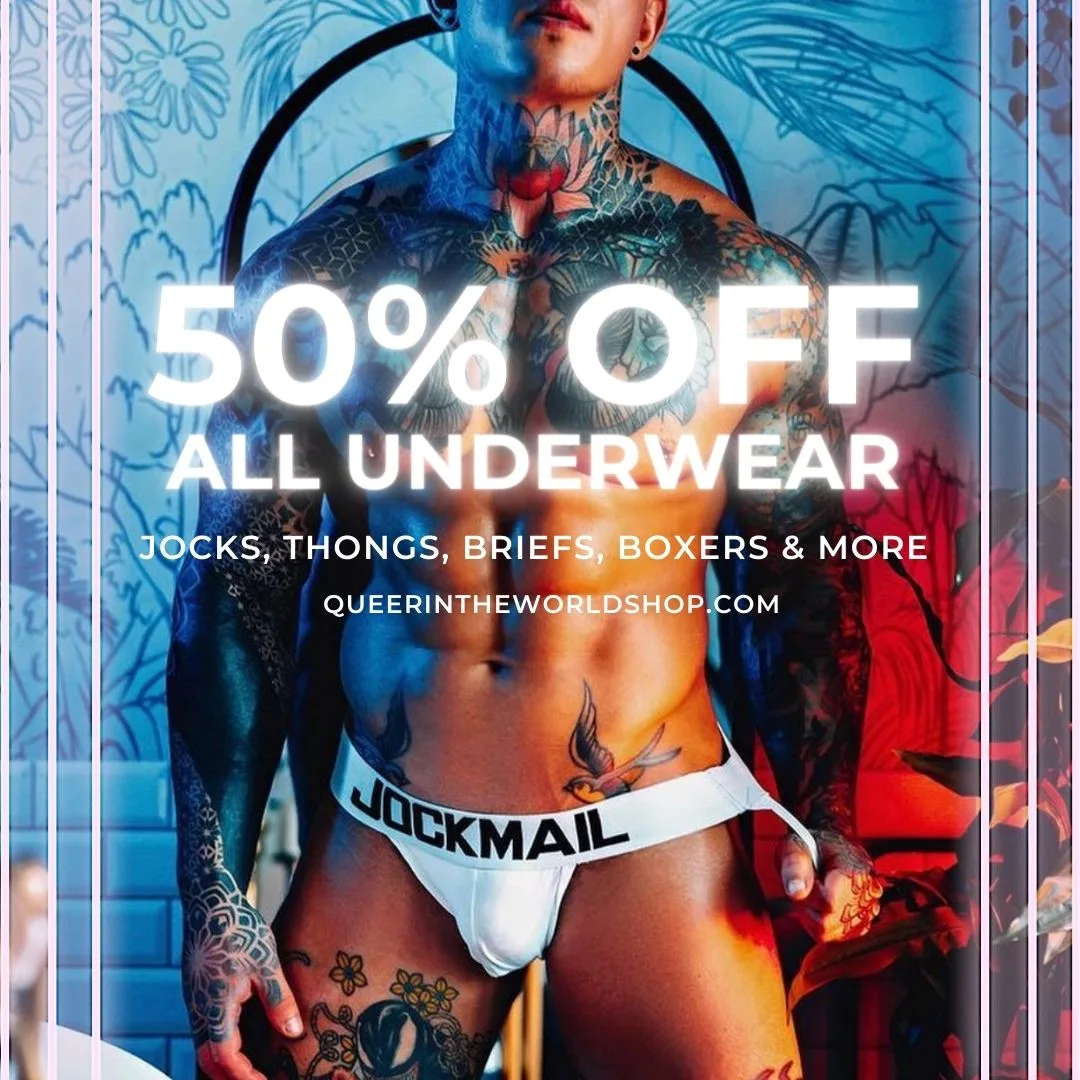 Gay Map Of Muscat
Finding it hard to envisage where everything is in Muscat? Hopefully, this queer-centric map helps where we have marked all the bars, clubs, parties, hotels, saunas, massages, and more will help you stay in the spot best suited to you!