Mérida, a cosmopolitan and traditional city, brings Mayan and Mexican traditions together. Although Mexico has a variety of LGBT-friendly sites, Mérida is quickly becoming one of the country's most popular gay vacations. The city has a vibrant gay culture. And as such, gay travelers visiting this beautiful city will discover a warm welcome in the picturesque downtown area under the pure blue sky.
Merida is a very beautiful vacation location, both inside and out. This lovely colonial city has earned the nickname "ciud blanca," meaning "white city," since many of its structures are white. The streets are organized in a grid style. However, the pastel-colored residences seem to outweigh the white ones, which gives a lot of vibrancy to Merida's colonial design.
Mérida, Mexico's most secure city, has a fantastic climate and is renowned as one of the most wealthy towns in Latin America. It is gradually becoming one of the world's most popular tourist destinations. It attracts visitors because of its fascinating history and the wealth of adjacent beaches, Mayan archaeological sites, cenotes, haciendas, and other sorts of attractions.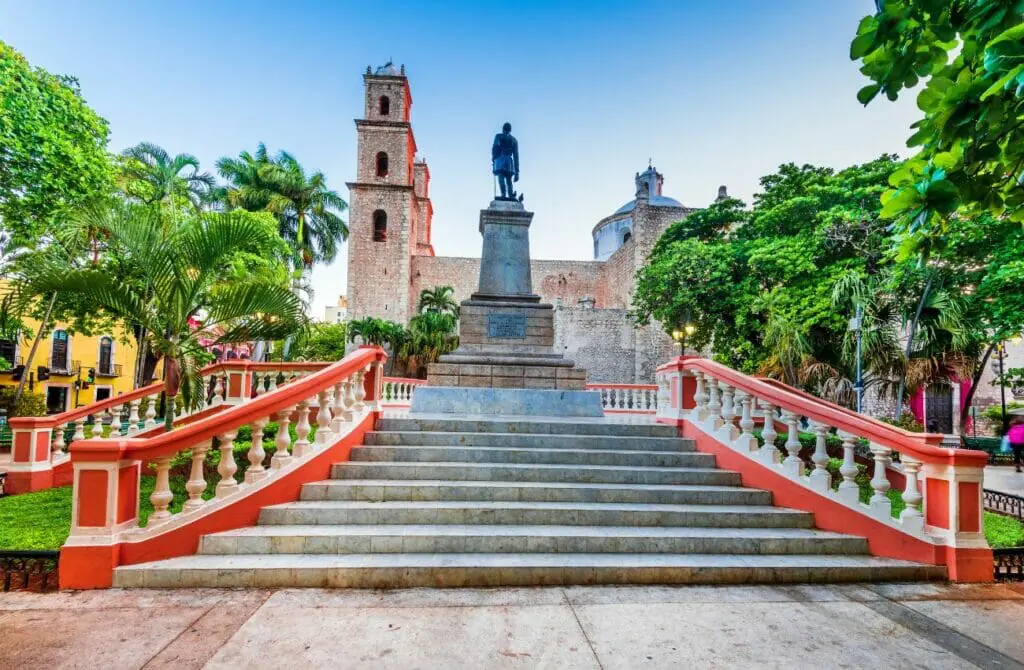 Mérida is one of Mexico's most popular tourist sites, with an estimated 3.5 million visitors annually. Its location on Mexico's gay-friendly Yucatán Peninsula makes it a great complement to a beach vacation in Cancun or Quintana Roo. In reality, LGBT guests who combine a trip to Gay Mérida with a visit to one of these well-known beach destinations will be rewarded with rich and authentic experiences.
Merida is the capital and largest city of Mexico's Yucatan State. However, despite its size, the city is fairly walkable and tiny, with most of its tourist attractions concentrated in and around the Centro Historico (historic center). It is only a three-hour drive from the Cancun airport, which provides airline options from major cities worldwide, it is just a three-hour drive from the Cancun airport to the hotel.
Merida is also home to various magnificent hotels noted for their exceptional customer service and traditional Mayan hospitality. Merida should be on your agenda for your next Mexico holiday since it offers a welcoming culture, delicious cuisine, fascinating bars and clubs, and plenty of opportunities to explore and drink in its Mayan historical monuments.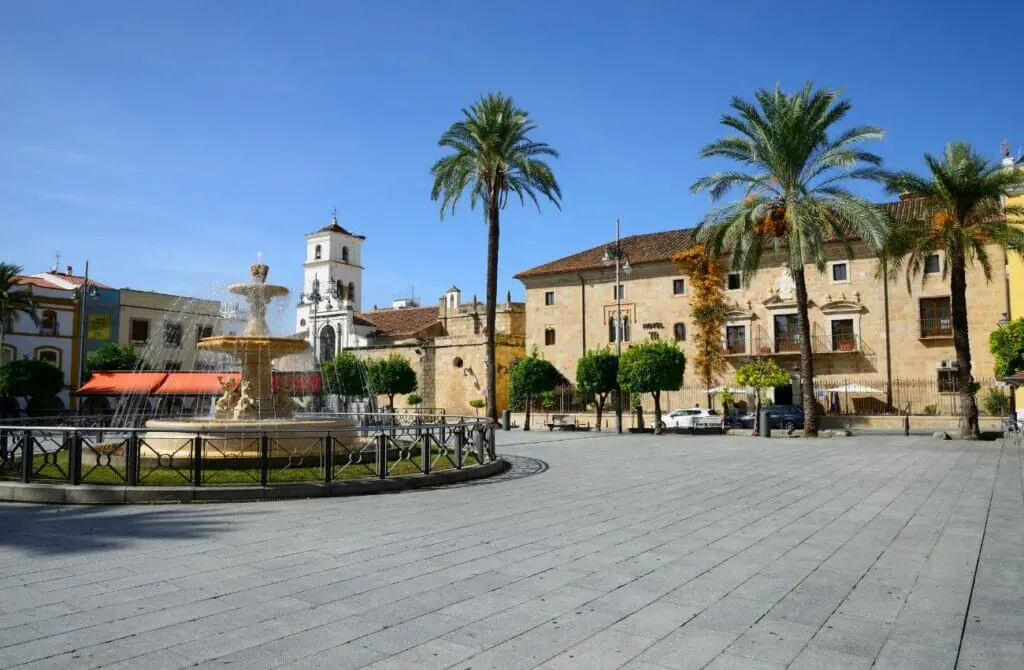 Attractions in Gay Merida, Mexico
Welcome to Gay Merida, darling! While the city may not be the most welcoming to the queer community, fear not! There are still plenty of fabulous things for you to do while keeping things low-key. First and foremost, you must visit some of the city's most iconic landmarks and attractions, dahling!
Take in history and culture by visiting museums, art galleries, and historical monuments. And don't forget to marvel at the stunning architecture, explore parks and gardens, and indulge in the local cuisine. But that's not all, darling! Gay or straight, there's always something to do in Gay Merida.
Immerse yourself in the local culture by attending cultural events like festivals, concerts, and shows. Trust us; there's always something fun and exciting happening in this fabulous city. Remember, discretion is key in a city that's not always welcoming to our fabulous community. So, keep it lowkey and enjoy all the wonderful things Gay Meroda has to offer!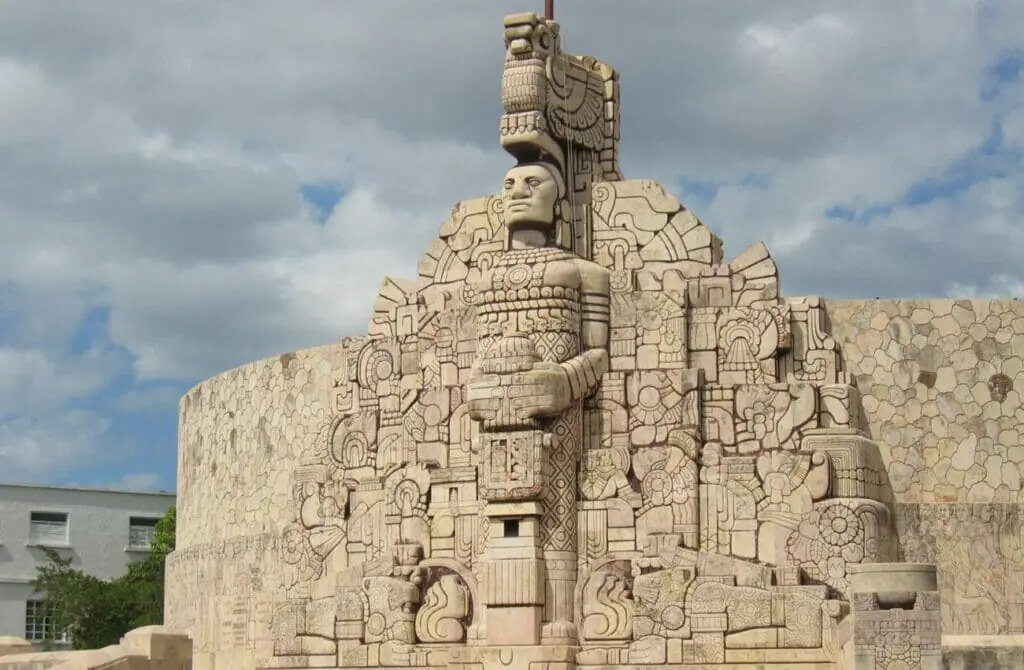 Chichen Itza is one of the New Seven Wonders of the World for a reason, and it is an ideal day trip from Merida. It should be on everyone's list of Mexico activities. These Mayan ruins, which have piqued the interest of many, may be reached by automobile in little over an hour and a half from Merida.
Chichen Itza, whose name roughly translates to "near the mouth of the well of Itza," was the Maya civilization's political and economic center between 750 and 1200 AD. Stunning cenotes and sinkholes surround it in Mexico, and its name translates as "at the mouth of the Itza well."
The Temple of the Warriors, the Great Ball Court, and the Sacred Cenote are three of Chichen Itza's most prominent attractions (believed to be an ancient site of religious sacrifice). El Castillo is a historic building dedicated to the Plumed Serpent that should not be overlooked. At the spring and fall equinoxes, the sun creates an unforgettable light show in the shape of a snake on the steps of the pyramid.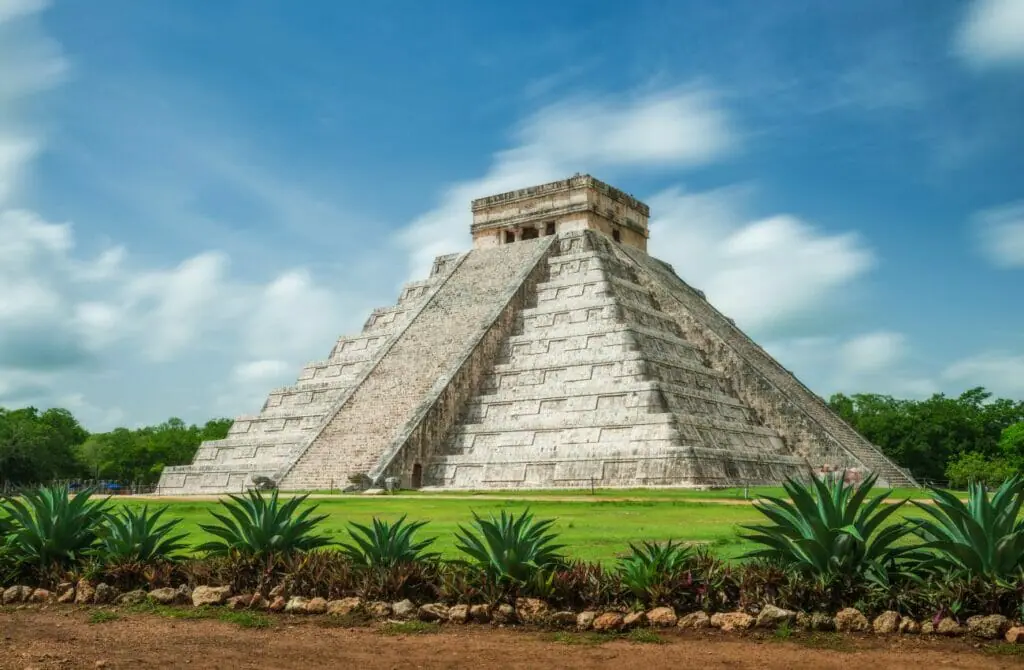 The Historic Plaza Mayor (Plaza Grande)
Plaza Mayor, commonly known as Plaza de la Independencia or Plaza Grande, is Mérida's commercial and cultural hub. It is a fantastic place to start a walking tour of the city's historic center since it is positioned in the heart of it.
It is surrounded by some of Mérida's most important landmarks, but it is also a very nice place to hang out due to its covered palm trees, magnificent flower beds, and fountains. This is due to the combination of all of these characteristics.
It is popular with city inhabitants and tourists since it covers a whole city block and has regular markets where vendors offer everything from food to crafts and souvenirs. Furthermore, it is flanked by several superb restaurants providing real Mexican food.
There's also the Municipal Market, which is only a short walk south of Plaza Mayor and worth visiting for its various sisal-based items. Hammocks and Panama hats are two examples, as are huipiles (Mayan-style gowns with brilliantly colored embroidery around the neck) and guayabera shirts for males.
All of these goods are simple to transport when you depart. The weekly Yucatecan Serenade, a wonderful outdoor dancing event accompanied by live music that has been a fixture of the surrounding Park Sta Lucia since 1965, is a must-see for anybody interested in Latin dance.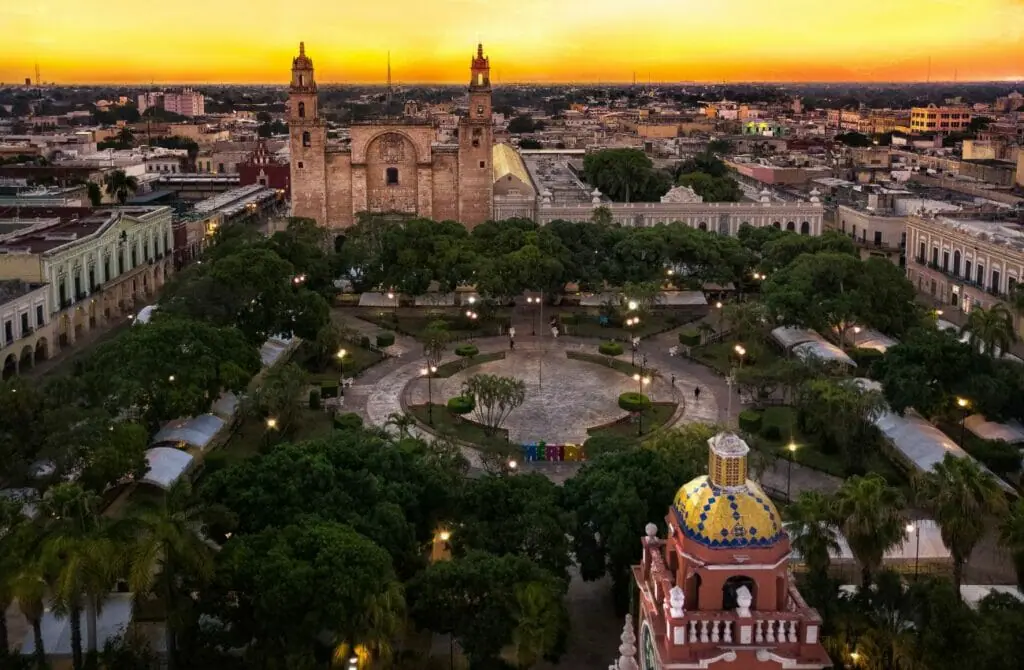 Mayan World Museum Of Mérida
The Mayan World Museum of Mérida, commonly known as the Grand Museo del Mundo Maya, is regarded as one of Mexico's most important museums. This cutting-edge museum is dedicated to the fascinating culture that can be found across Yucatán. The museum is organized into four large permanent exhibits that include approximately 1,100 objects.
This amazing collection includes pre-Columbian carvings and sculptures, historical documents, and textiles dating back to the advent of the Spanish. A wonderful high-tech audio-visual presentation that chronicles the lengthy history of the local people is projected onto the building's façade both during the day and at night. These exhibitions are fascinating, but the current Mayan culture portion is engaging.
The Merida Cathedral is situated east of the Plaza Mayor, on an ancient Maya temple site. This majestic monument was built between 1561 and 1598 and had the distinction of being Yucatán's largest church.
Despite its unimpressive façade, the building's interior features a beautiful design that is famed for its various references to the neighboring town's Mayan and colonial past. A picture of the Maya ruler Titul-Ki sits over a doorway at Tihó. Titul-Ki is shown talking with the Spanish conqueror Francisco Montejo.
The Chapel of the Christ of the Blisters, also known as the Capilla del Cristo de las Ampollas, was constructed in the 16th century and is notable for its Indian wood sculptures. These sculptures are notable for the blisters left on the wood after it had been burned in a fire. Since 1645, this section of the cathedral has housed significant holy relics celebrated every October.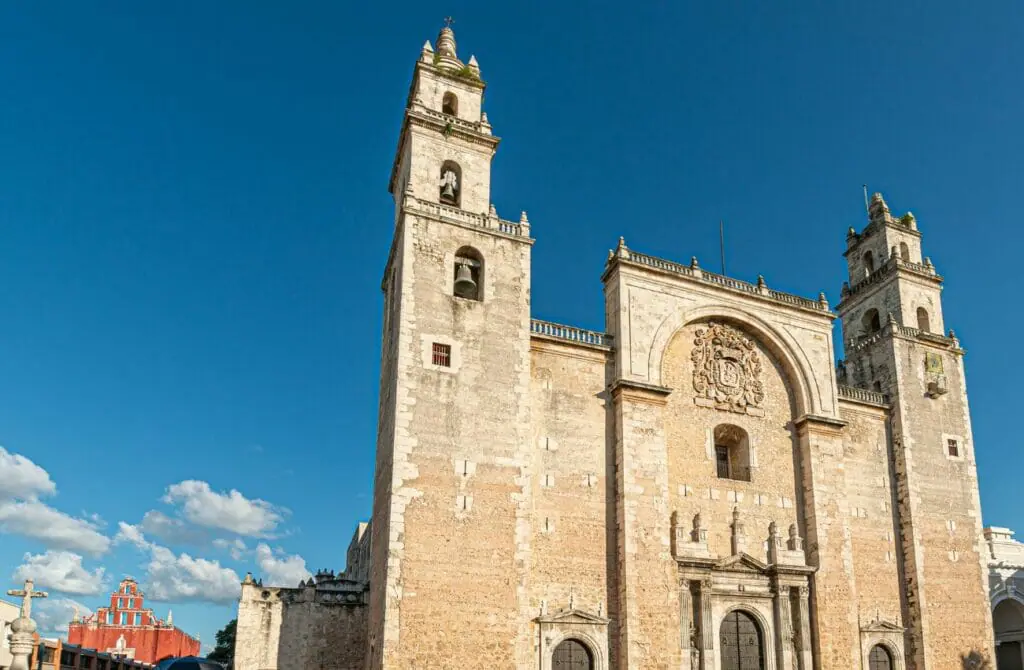 Uxmal is another well-known Mayan archaeological site on the Yucatan Peninsula, and it is one of Merida's most popular day excursions. It is also one of the most beautiful. Mayans lived in this ancient city built in the Puuc architectural style over three thousand years ago. Even in current times, the ruins are steeped in mystery.
Most of the structures at Uxmal may be climbed, except for the Pyramid of the Magician, which is about an hour's drive from Merida. Climbing the massive pyramid near the governor's home and the nunnery quadrangle is one of the tour's highlights.
Other highlights include going to the House of the Turtles and the Ball Court. It is strongly advised that tourists not miss the nightly light and sound performance projected onto the ruins' walls just after sunset.
Visiting Merida without taking a stroll along the gorgeous Paseo de Montejo is impossible. This sprawling avenue, built during the height of Merida's glory, is reminiscent of Paris' Champs-Élysées. The broad street is dotted with attractive cafés, restaurants, and antique homes.
There is also a nice Starbucks along the Paseo that blends in with the surrounding white city. However, given the abundance of fantastic nearby cafés, you can visit one instead. To break up the monotony of your trek along this lengthy street, stop for a cup of coffee at Sukra or Pistache.
Both will be visible on your left as you go east on the route. You may also go to Posheria, where they would blend a shot of pox, a native Mayan liquor, into your iced coffee if you ask for it. If you're in the mood for something sweet, stop into Dulcera y Sorbetera Colón and try some delectable regional delicacies.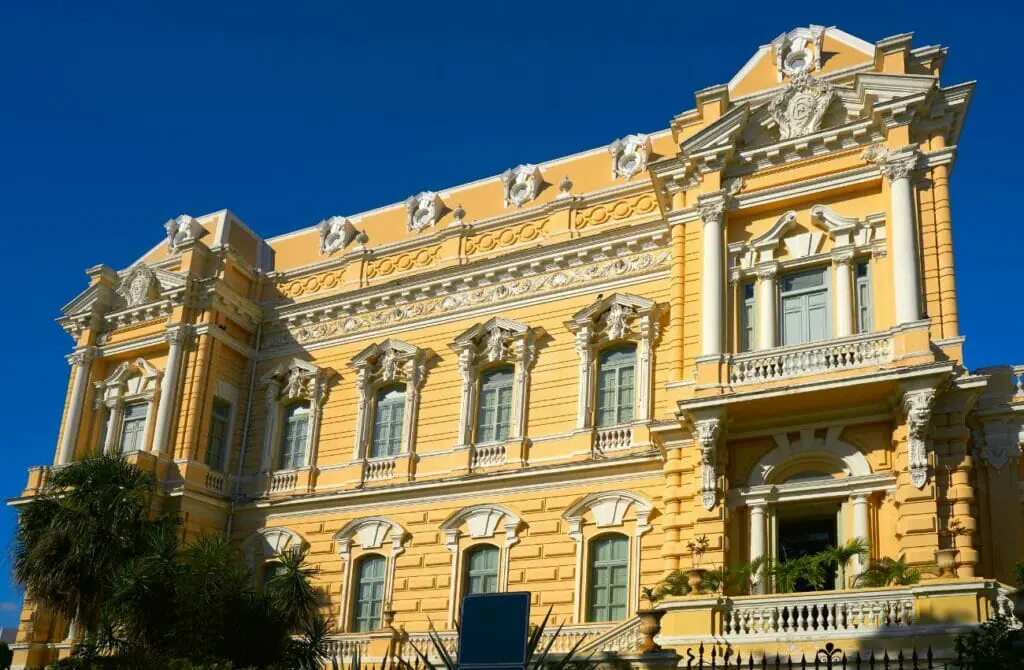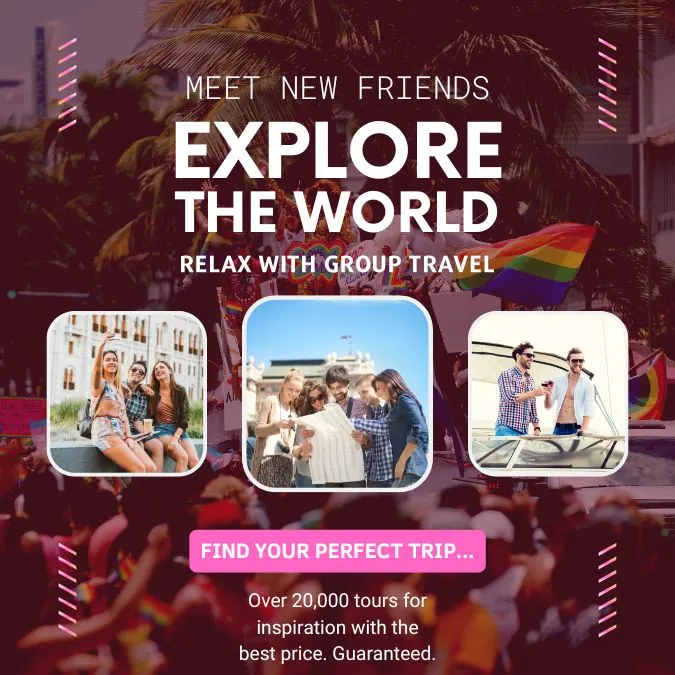 Gay-Friendly and Gay Hotels in Merida, Mexico
Oh, honey, let me tell you about being fabulous and feeling welcome at these hotels in Merida! Don't worry about other hotels that might not be as accepting; these gems are committed to being LGBTQ+ friendly and making sure that all guests feel like they belong.
Being gay-friendly isn't just about waving a rainbow flag or using the right pronouns; it's about creating a safe and inclusive space for all guests. From non-discrimination policies to providing resources for LGBTQ+ travelers, these hotels go above and beyond to make sure that you feel welcomed and supported.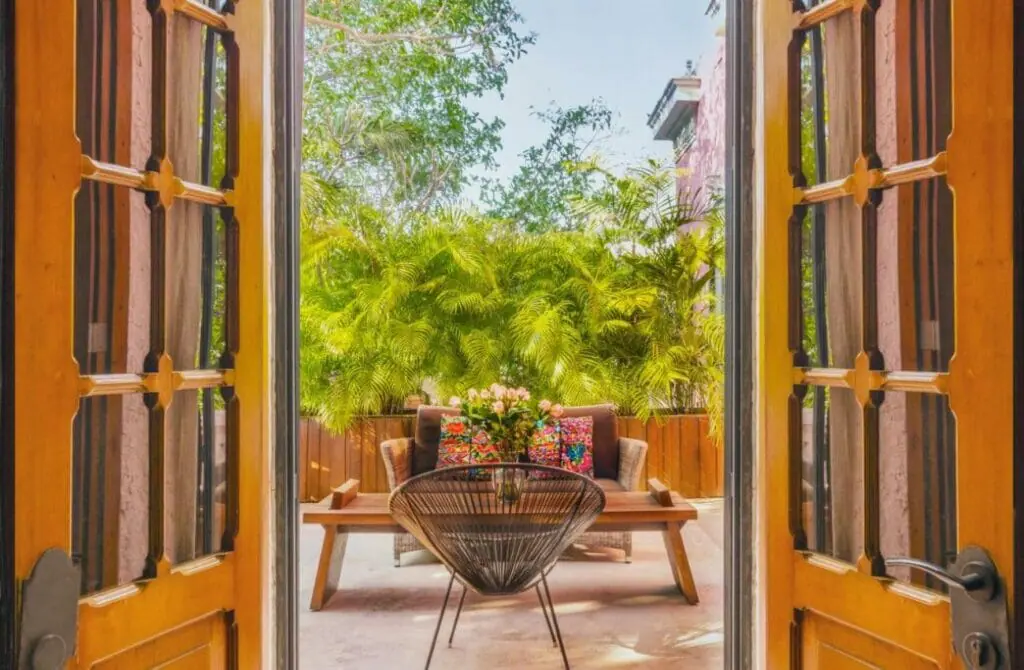 And honey, they don't stop there! Some of these gay-friendly accommodations have extra amenities and literature about local LGBTQ+ events and resources. Plus, they might even be located in an area that's known for being LGBTQ+ friendly. Now, let me tell you about these fabulous hotels in Merida. While there aren't any specifically gay hotels or resorts, these are the crème de la crème of gay-friendly accommodations.
And if these don't tickle your fancy, don't worry; Merida has hundreds of other options to fit your budget and needs. So pack your bags, put on your most fabulous outfit, and get ready to feel welcome and accepted at these gay-friendly hotels in Merida!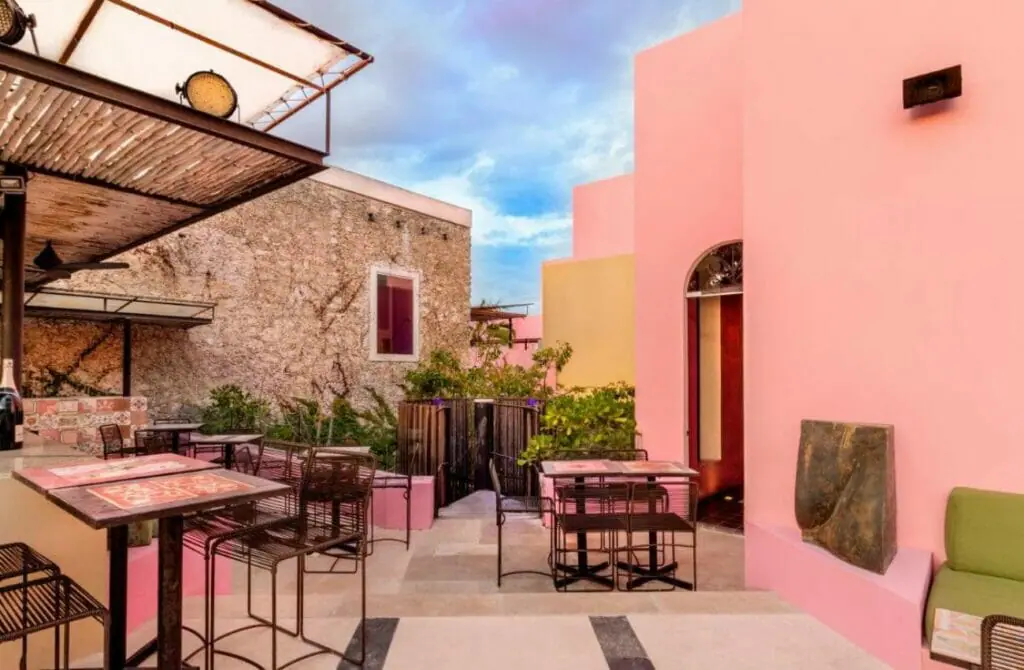 Roses & Xocolate is a gay-friendly boutique hotel that was previously two colonial residences. The first things you will love about this hotel are its luxury, tranquility, and beautiful art. The hotel is a home away from home; it is designed to make guests feel at home, thanks to the plethora of essential features in the rooms.
Great attention to detail was used in the interior decoration, and the chambers each have their distinct attraction due to their particular construction. When you are not relaxing on the comfy beds or watching your favorite movies, you can stroll around the property to immerse yourself in the beauty of the surrounding environment.
The environment is entirely creative, with a color palette ranging from pink to yellow, natural stone, and distinct atmospheres generated by natural light at different times of the day.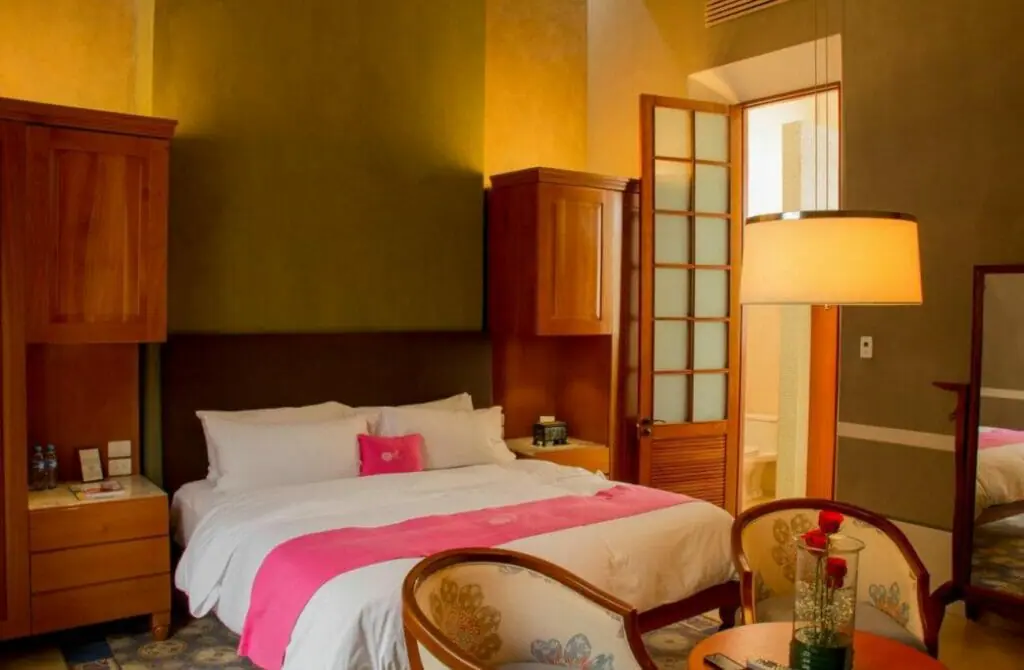 The Mansion Merida is one of the hotels you will be glad to check out when you visit Merida. The luxurious hotel meticulously recreates the elegance of the nineteenth century with superb facilities. And the Mansion Merida on the Park Hotel has an intriguing historical past to share with visitors.
The hotel offers a good selection of 14 beautiful suites designed to make guests feel that they are staying in a home.
You can still keep fit at the hotel since it has a modern gym facility where guests can go every morning or evening to work out and interact with other guests. So get ready to wear your sexy gym outfit and probably make some new friends in the gym.
Courtyard Merida Downtown ☆☆☆☆☆
The Courtyard Merida Downtown Hotel in Merida offers an amazing experience for guests, including gay visitors. After the day's hectic activities, you can relax and rest in the comfort of the big rooms and suites, which include free WiFi, flat-panel TVs, and complimentary Nespresso coffee.
You might start your day well at Napa, the on-site restaurant that provides entrées for dinner and drinks in the evening. The menu features a wide range of tasty meals from local and international cuisines. You may enjoy the gorgeous sunset from the rooftop pool.
You will always be able to indulge in an invigorating workout at a convenient time at the hotel's fitness center, which is available around the clock. The Courtyard Merida Downtown promises an experience you won't soon forget.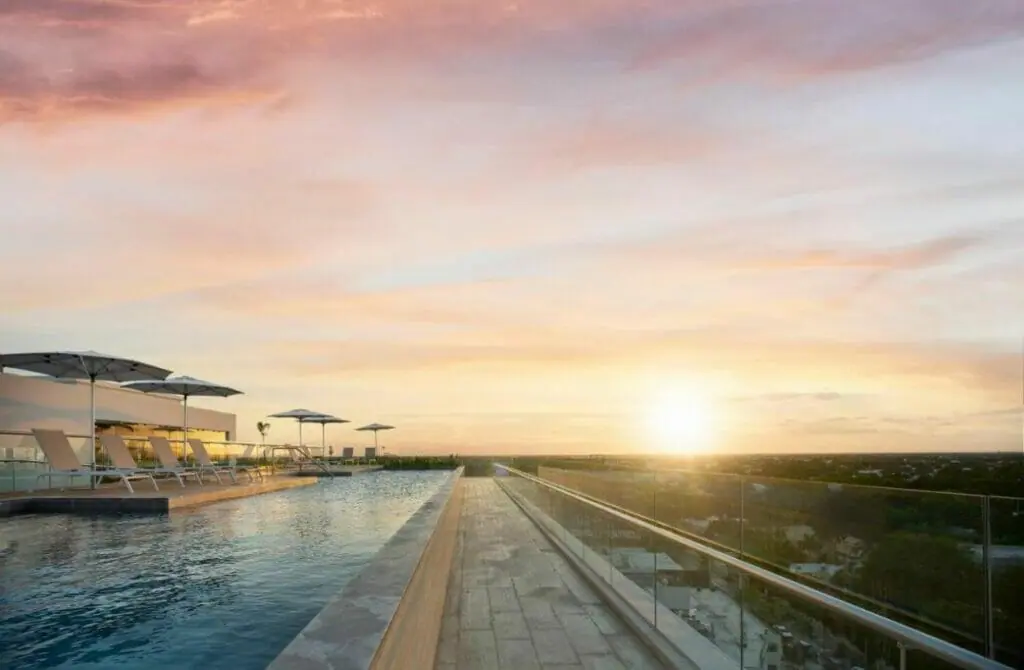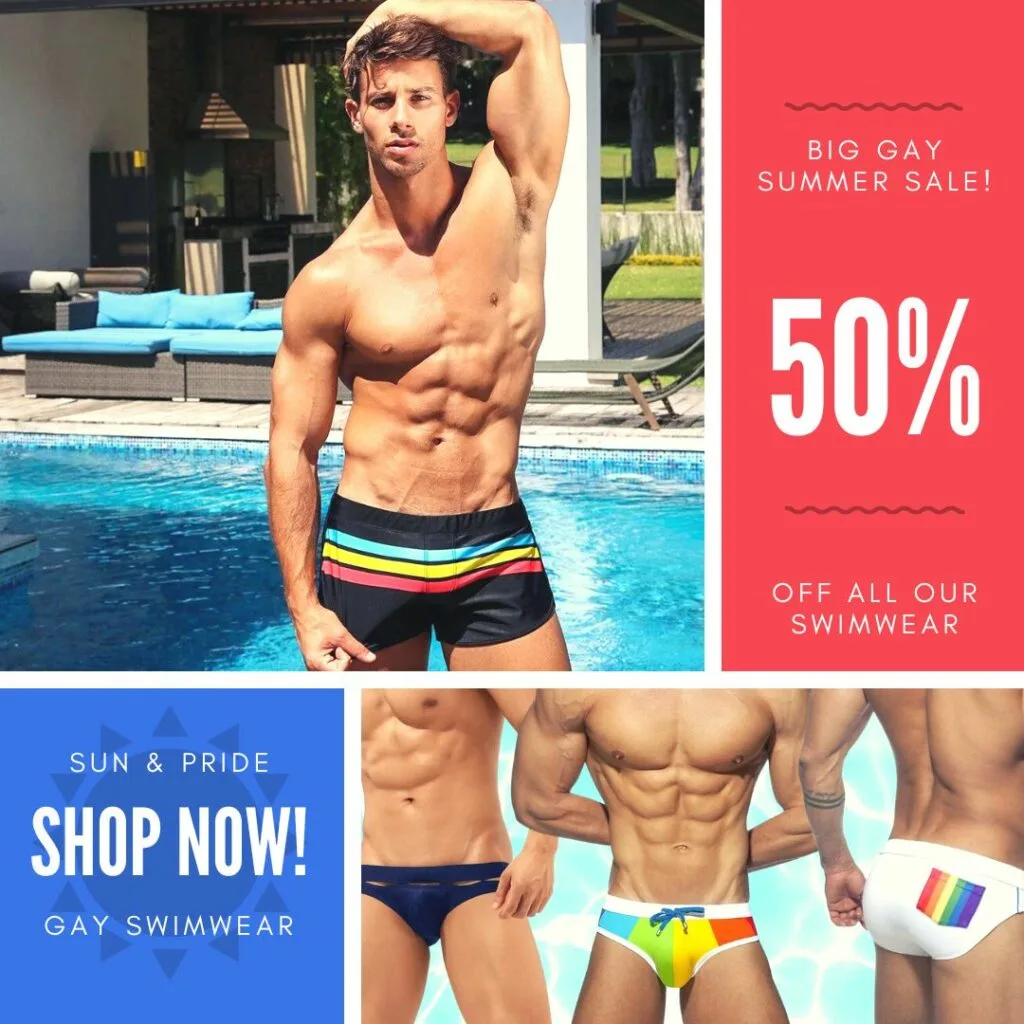 The Barrio Vivo Hostel is located in the wonderful city of Mérida. If you want a place where you will enjoy a high level of comfort, safety, and warm reception from the staff, then you should try this hotel. It's like having that special friend who never fails to make you laugh and feel better.
The objective of the friendly employees is to give you the best hostel experience possible and make you feel at ease when you walk into the establishment. Prepare to meet people from all around the globe and create memories that will last a lifetime.
One of the main things you will love about this hostel is the very high standard of cleanliness! The dorms have comfy hardwood bunk beds, curtains, private showers, toilet facilities, and en-suite bathrooms. Lockers are also available for keeping personal belongings.
You will be provided with bed linens, free wireless internet access, daily activities, and plenty of entertainment. And in the morning, you won't need to bother making breakfast as the hostel offers a complimentary breakfast to guests.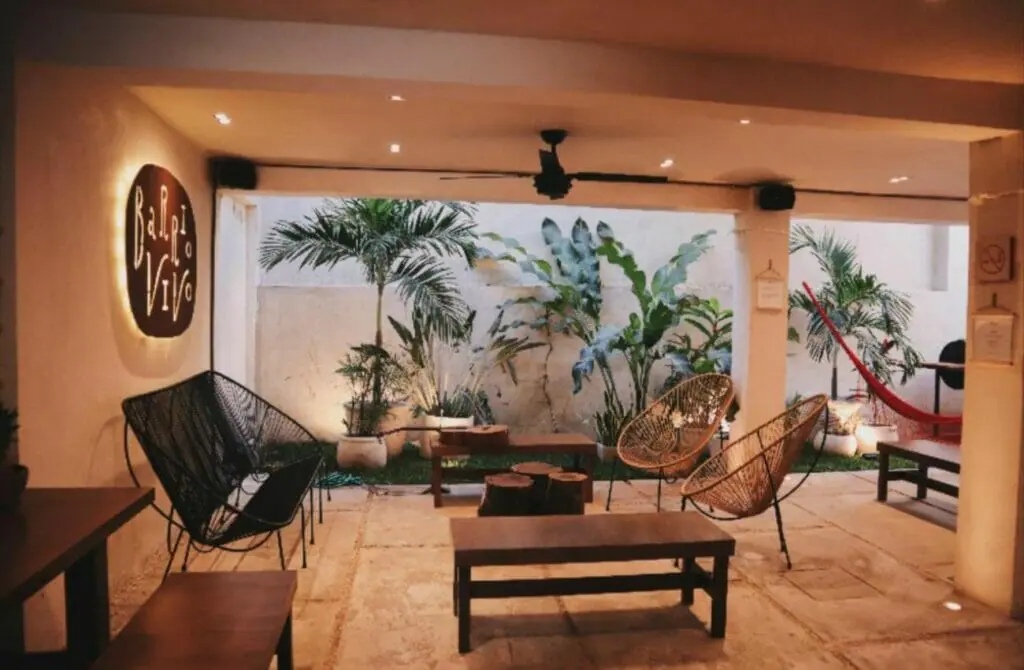 Gay Nightlife in Merida, Mexico
Merida is a popular weekend destination because of the excellent restaurants, cantinas, and cultural events available, and you can meet gay people simply by strolling along the scenic Calle 60. Merida is becoming a more liberal and tolerant city, and LGBT residents enjoy freely interacting with straight people at cantinas, bars, and other straight establishments.
Cantina culture is at the heart of Merida's nightlife, which starts around noon and lasts until 10:00 p.m. each night. No one core region in the city houses all of the city's gay clubs; instead, LGBT people are dispersed around the city. On the other side are several gay clubs, cantinas, and pubs. The following places are regarded to be among the best gay bars and clubs in Merida, Mexico:
Darling, let's talk about exploring the queer nightlife in Gay Merida, shall we? It's true this city might not be the most welcoming to our fabulous community but fear not! Being gay is perfectly legal here; just remember to err on the side of caution when outside of queer-friendly spaces.
But let's focus on the fun, shall we? Exploring gay nightlife can be one of the most thrilling and enriching experiences while on the go. From dancing up a storm at a gay club to sipping cocktails and rubbing elbows with the locals at a gay-friendly bar, you'll have a chance to immerse yourself in the local culture and make memories that will last a lifetime.
And darling, we've got you covered with the best gay and gay-friendly spots in town. So don't be shy; step out of your comfort zone and explore the queer nightlife in Gay Merida. Trust us; it'll be worth it!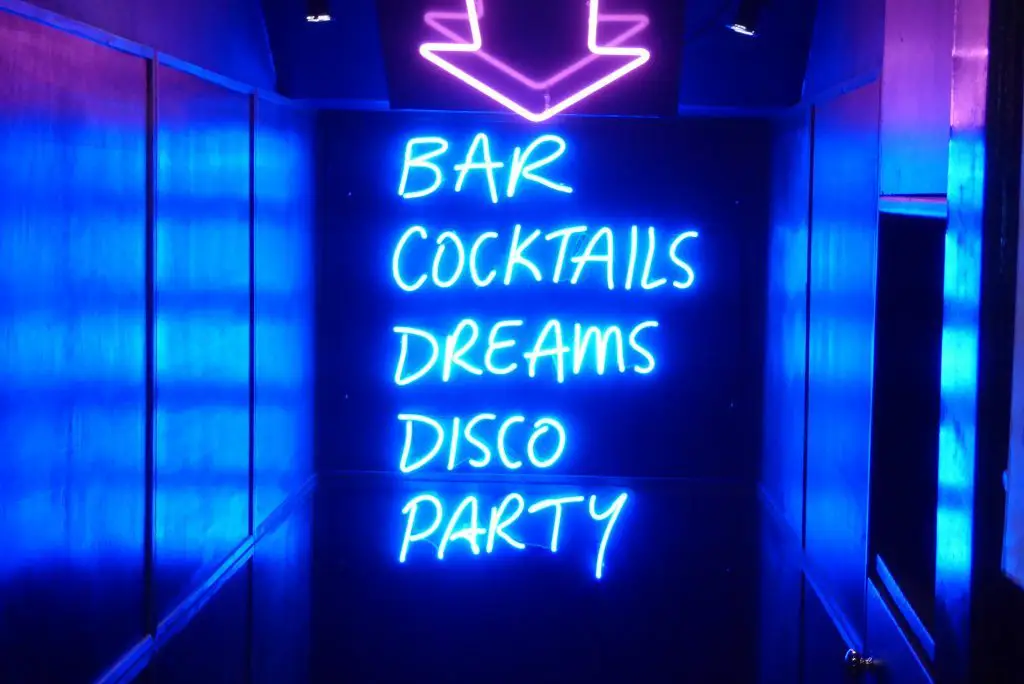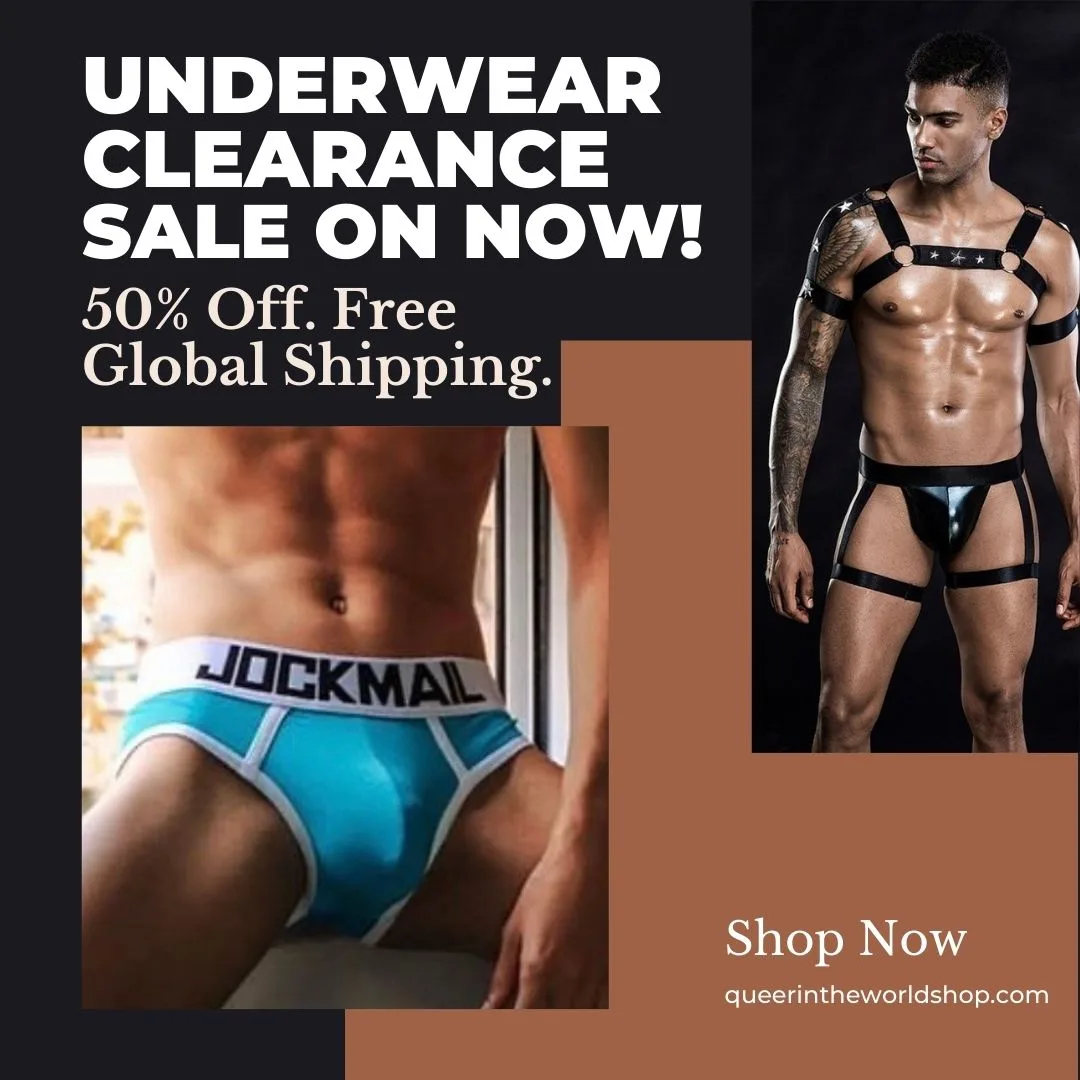 This small little restaurant and bar have been delighting diners with its unique variations on Mexican food since 1906. The vibrant atmosphere features live Caribbean music as well as DJ performances. Tables may be hard to come by, so make your reservations as soon as possible.
Although most Meridian residents have a favorite drinking spot in their neighborhood, La Negrita remains the city's most popular watering hole. You can expect fantastic live Cuban music, dancing, and a hospitable environment.
It's where you're fortunate enough to get a seat (and you should arrive early), and you'll quickly start a conversation with the person at the table next to you. The Caribbean has greatly influenced the musical culture of Merida, and salsa dancing is the most popular kind of dance here.
Cantina Bullpen was Merida's gay cantina, with go-go boys dancing throughout the day. It was the spot to go for a day of drinking and man muscle.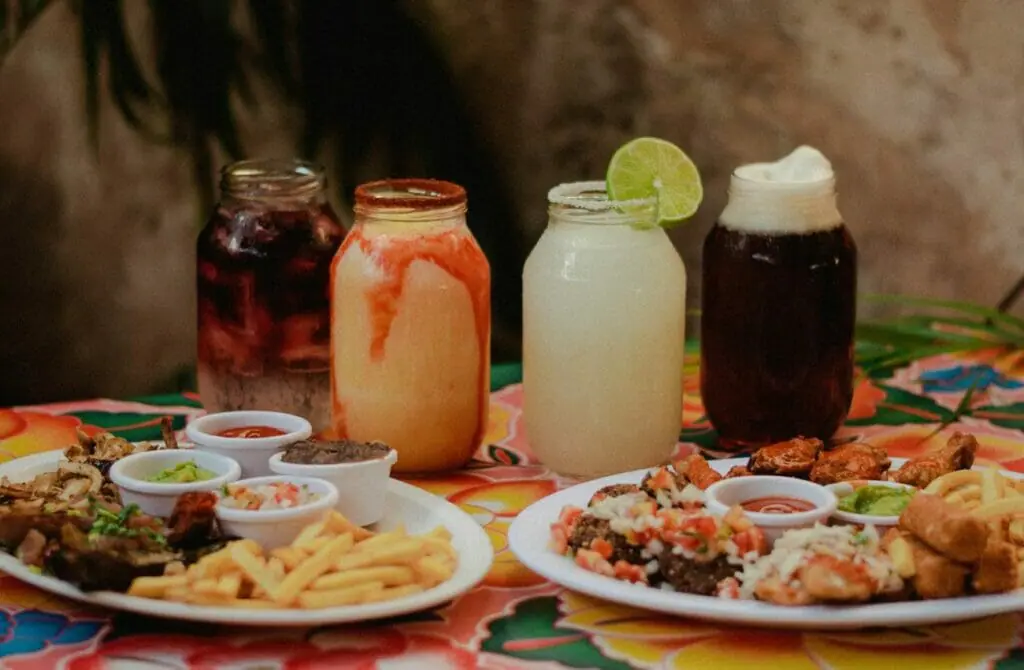 The drag queens are shady, and the dance parties are hot at this well-known dance and drag bar. No wonder the neon sign that welcomes guests reads "Welcome to Hell," given how hot it can get here.
Papis, the stripper bar, plays true to its moniker by delivering a plethora of ripped muchachos who parade on the bar, leaving little room for the imagination. The campiness of their attire contributes to their lovable appeal. This universe has nakedness. Most of those in the audience were gay men, but a strong number of loving ladies were also in attendance.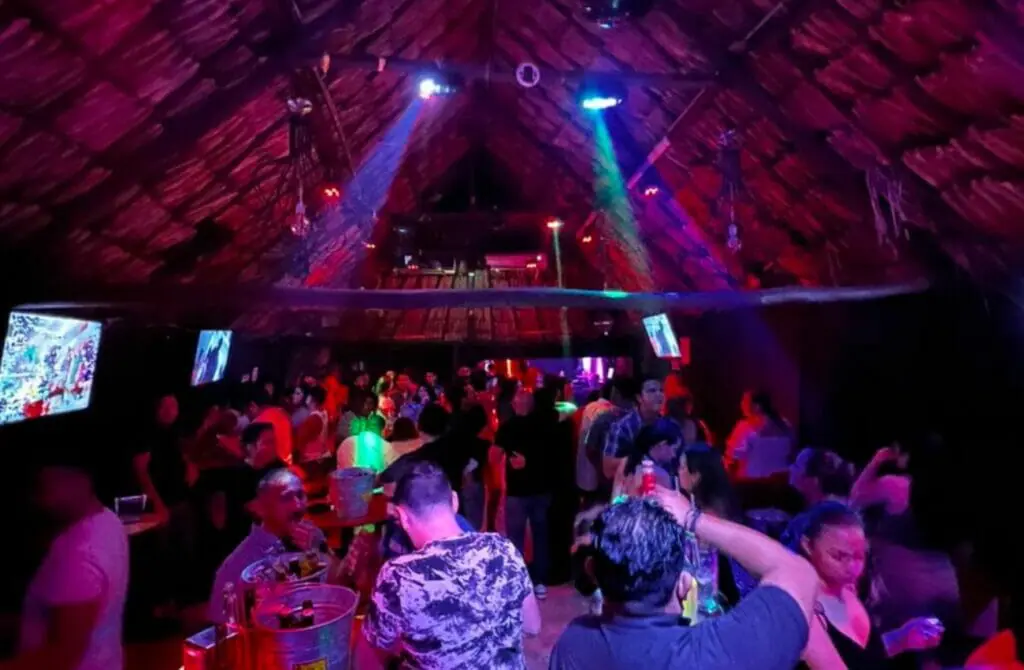 This is one of Merida's gay-friendly clubs. One of its characteristics is an underground dance club that embraces LGBTQ persons and provides international techno, house, and global music DJs. Guests may dance while drinking cocktails amid light art pieces in the middle of fascinating sceneries.
A fashionable bar and restaurant run by LGBTQ people that is well-known for the women's and feminist-led events it hosts. Queer karaoke, alternative drag acts, and dance parties are among the activities. Visit for brunch with your friends before heading out to mix and mingle in the heart of Mérida's gay nightlife.
You should start your evening with a drink at this local cantina specializing in mezcal. They often include live bands playing genres ranging from funk to reggaeton and DJs spinning music late into the night.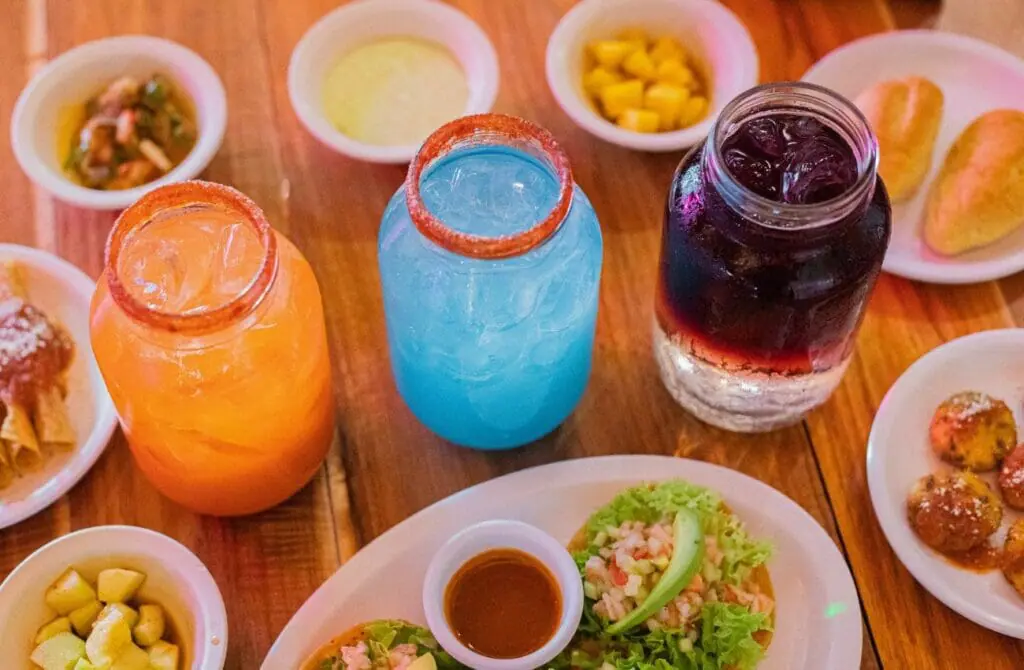 Cool Coffee Spots in Merida
You can visit one of Manifesto Manifesto's two locations, which is often considered the most basic coffee shop in the neighborhood. The Manifesto shop on Calle 59, which is closer to Plaza Grande, has a few tables where customers may work, and the store's big entryway allows a lot of natural light.
Manifesto Cold Brew is located on Calle 18 to the north, and what distinguishes it from the other sites is that it has seating outdoors for customers to enjoy the fresh air. If you need to get some work done in a café, any location is a good choice, and Manifesto's literal manifest, which is displayed on the wall and describes how to get the most out of your coffee, will give you the energy you need.
Marago Coffee, conveniently situated on Paseo Montejo, is a favorite among residents and travelers. Because there are so many people on weekends, you shouldn't be surprised if there is a wait to be seated or if there aren't any tables available where you can sit with your laptop.
Nonetheless, if you go to Marago during the week during less crowded hours or after the brunch rush, you'll discover it's a terrific place to settle down with a laptop and reliable WiFi. On the other hand, the menu is rather comprehensive. This meal is presented in the style of a book. They offer hot coffee drinks, cold coffee drinks, smoothies, and brunch items, and every time I see another table's order come out, it makes me want to order something myself.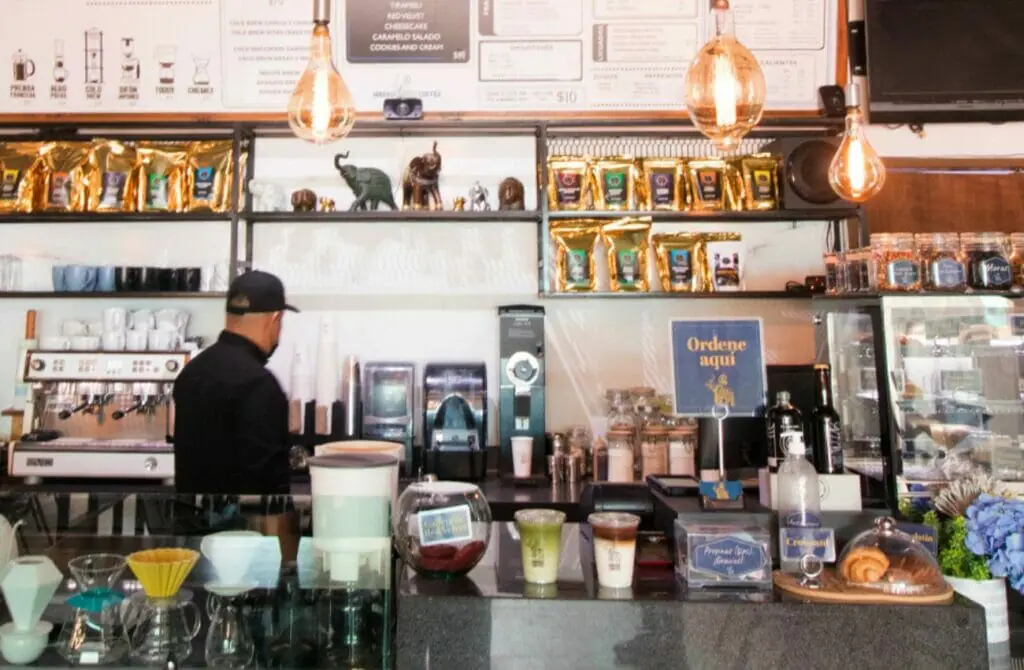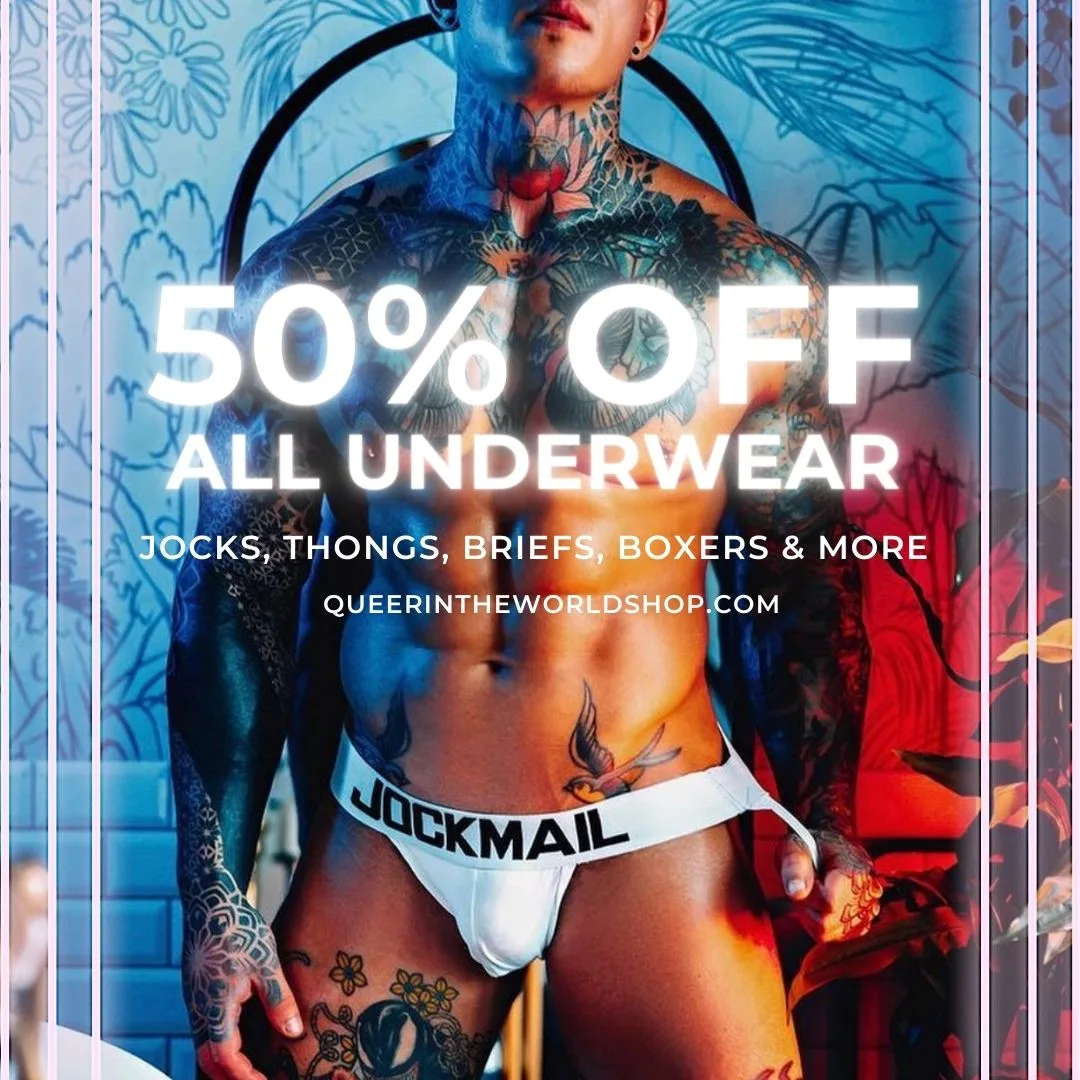 LGBT Rights in Merida, Mexico
LGBT (lesbian, gay, bisexual, and transgender) rights have grown in Mexico in recent years, mirroring trends in legal systems worldwide. The Napoleonic Code's decision to remove same-sex sexual practices from the list of criminal behavior was influenced by the intellectual impact of the French Revolution and the short French administration of Mexico (1862-1877).
This ruling, which resulted in same-sex sexual activities being legalized, resulted in same-sex sexual practices being legalized. On the other hand, those who participate in immoral or obscene conduct in public spaces may face legal consequences due to regulations that ban such behavior in public places.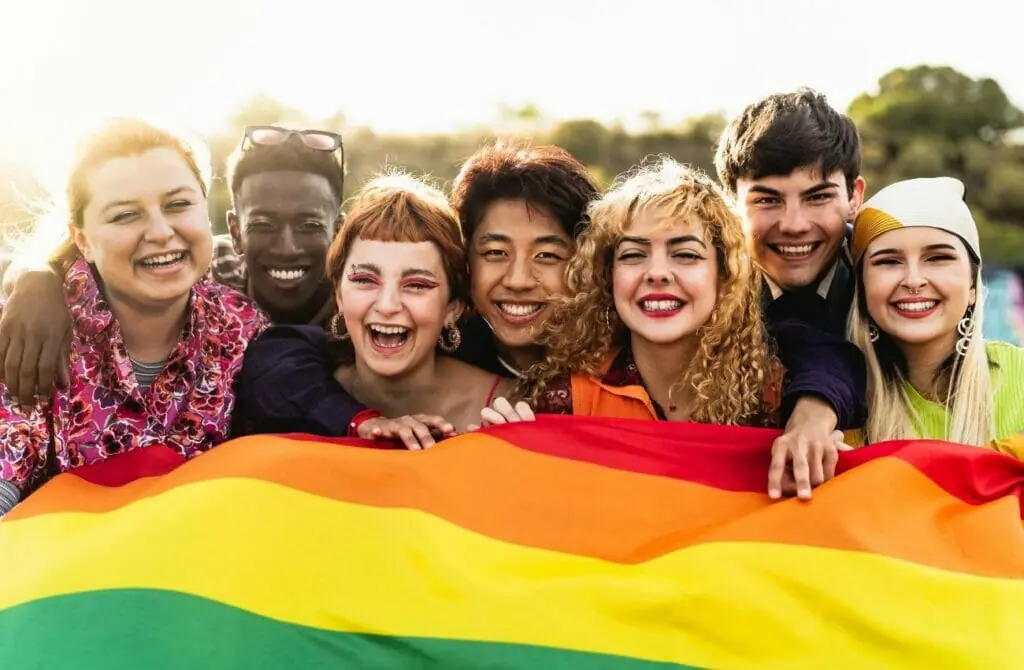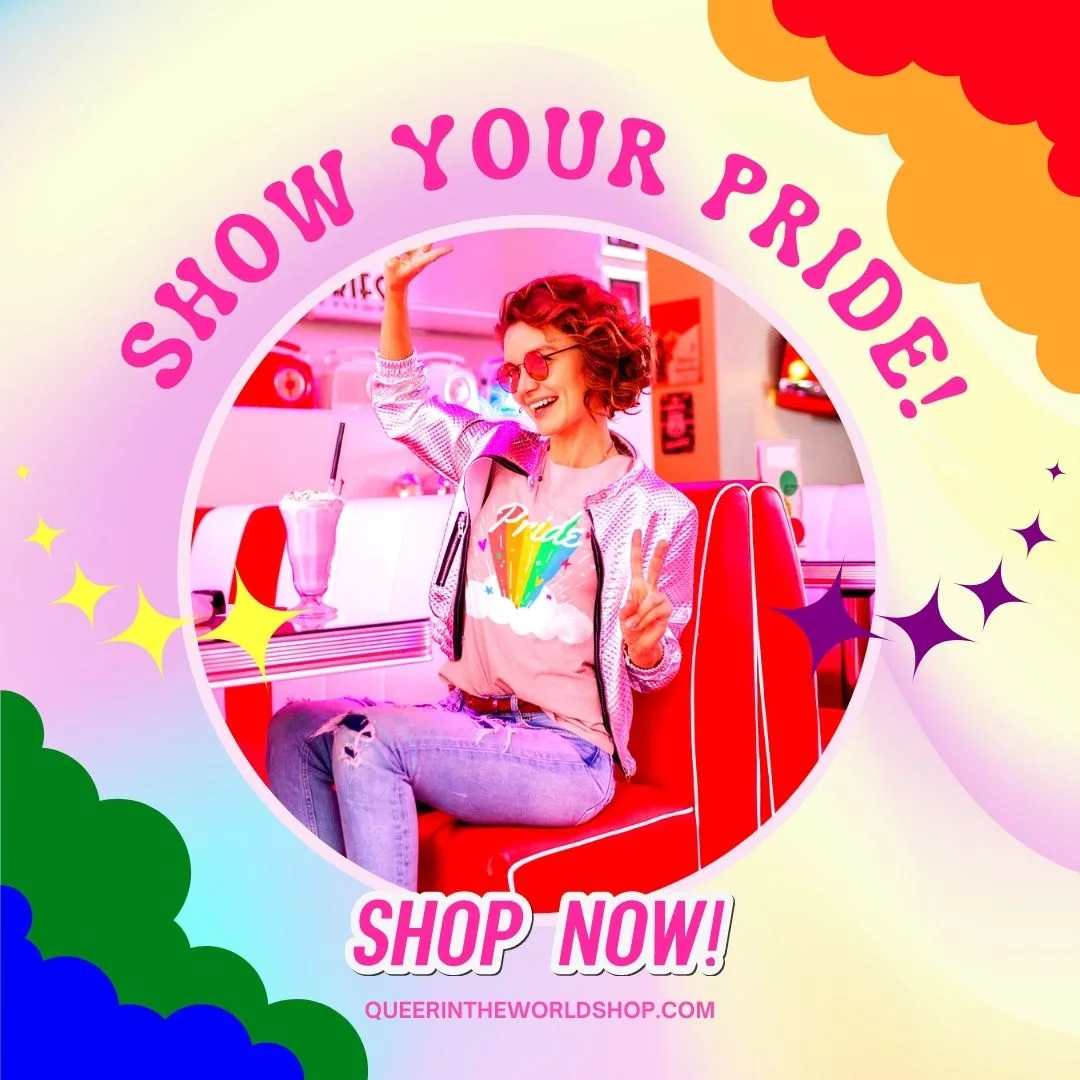 Gay Map Of Merida
Finding it hard to envisage where everything is in Merida? Hopefully, this queer-centric map helps where we have marked all the bars, clubs, parties, hotels, saunas, massages and more will help you stay in the spot best suited to you!