From walking along the exquisite Losari Beach with bare feet in pristine white sand to visiting the remaining bastions of colonial architecture – everything about Makassar brings it to the top of our tourist radar. This relatively modern city has traces of Dutch architecture here and there and is specifically known for its diving and snorkeling prospects off the reef of Samalona Island.
Indonesia's largest trade conduit, Makassar, is one of the most colorfully cosmopolitan cities in the country. Fly through Surabaya, Yogyakarta, Denpasar, or Jakarta to reach this historical city and take fascinating photos for your socials.
Being a Muslim-majority metropolis where religious festivals dominate the city's cultural life, Makassar, unfortunately, requires gay travelers to take special care regarding public displays of affection where many residents might get uncomfortable with LGBT culture and likely holds conservative attitudes.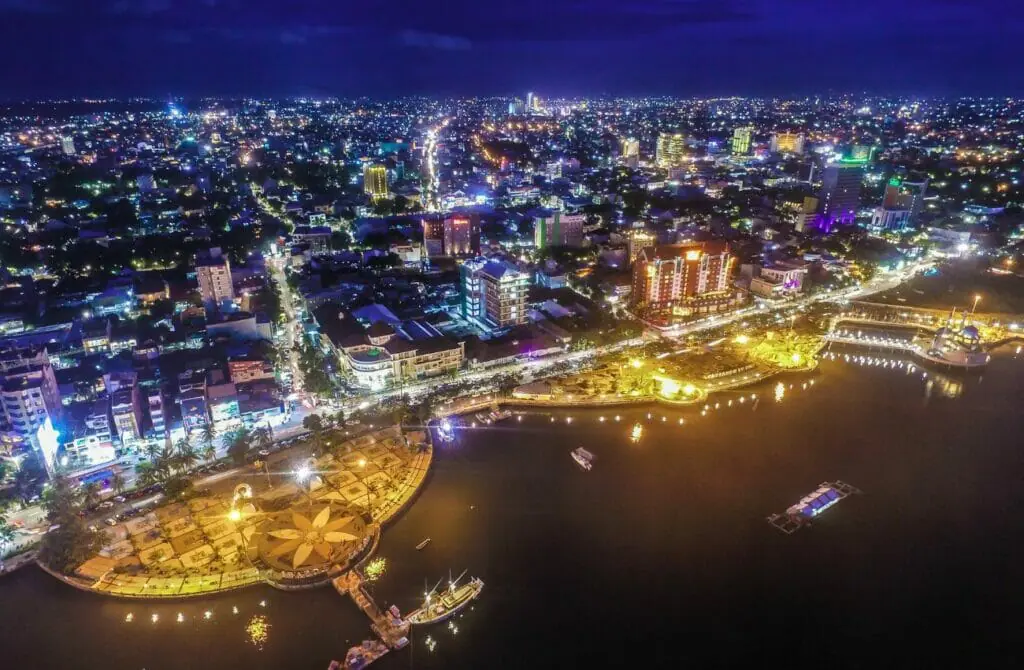 However, its tantalizing energy, wild nightlife, and elegant mix of Dutch architecture and devotion to modern capitalism make it an ideal locale for vacations.
For the precautions, it is essential to steer clear of any PDA and heed a common-sense approach that will guarantee that you have no issues exploring this captivating and diverse city.
We have combined a list of not-to-miss attractions, comfy and reasonable accommodations, and wild nightlife choices in Makassar to ensure this trip is the best of your life.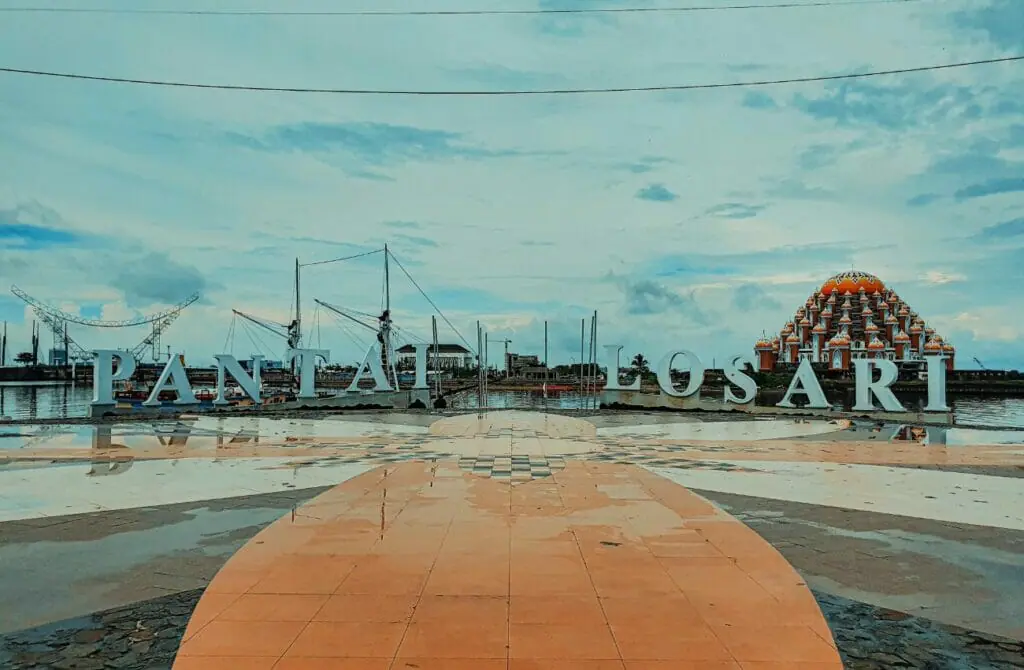 In this article we will cover...
Attractions in Gay Makassar, Indonesia
Honey, welcome to Gay Makassar! Now, let's spill the tea – this city may not be the most welcoming to our rainbow community, but don't let that dim your sparkle! There are still plenty of fabulous things to see and do here, no matter who you love.
As passionate travelers and members of the LGBTQ+ community, we believe that queer travel is about having fun and exploring new places, promoting cultural understanding, and spreading pride.
Through travel, we can learn about different cultures, histories, and perspectives and share our own experiences and identities with others. We can also support LGBTQ+ businesses and organizations and work together to create a safer and more accepting world for all members of our rainbow family.
Unfortunately, homophobia and discrimination still exist in many parts of the world, and it is important to be mindful of the laws, customs, and attitudes of the places we visit. But by being visible and proud and by supporting local LGBTQ+ communities and allies, we can help to change hearts and minds and make a positive impact wherever we go.
So let's keep exploring, learning, and sharing, and continue to work towards a future where all travelers can feel safe and celebrated, no matter where they are.
Check out the iconic landmarks and attractions, darling. Visit those historical monuments, museums, and art galleries like the true cultural connoisseur you are. And, of course, let's not forget about the architecture, parks, and gardens.
Trust us, the local cuisine will leave you gagging, and the markets are to die for. And, girl, let's not even start on the cultural events like festivals, concerts, and shows – they are simply sickening!
Now, while we are out and proud queens, we must keep it down low when we hit the streets, sis. Sadly, this city may not be as welcoming to us as we'd like. But no worries, we'll just have to slay discreetly, okay? Let's show these locals how to live our best lives, honey!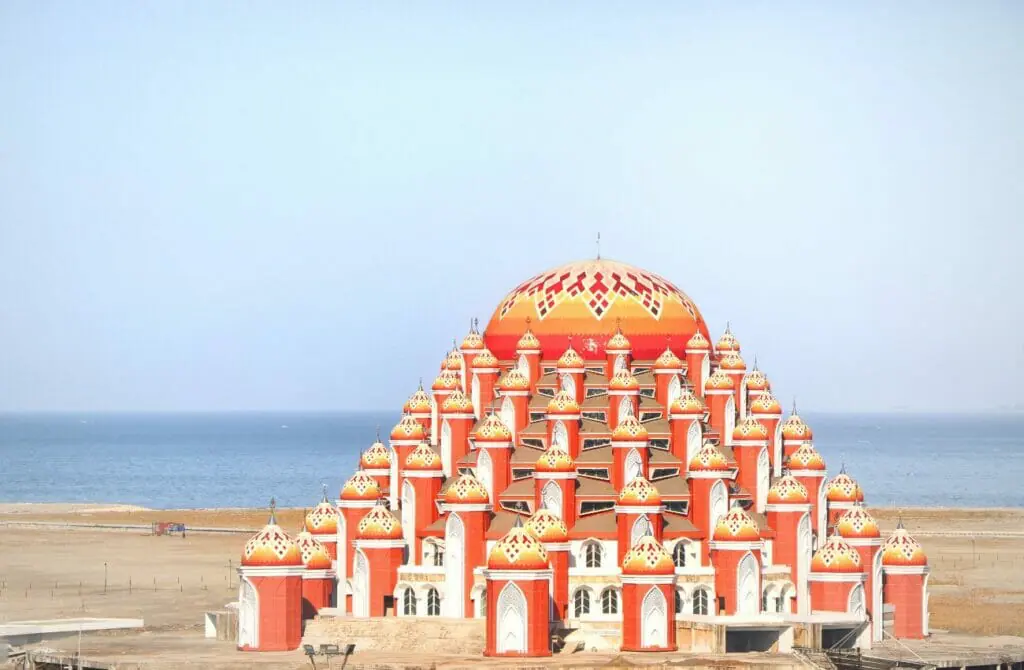 Enchanting butterflies, a natural waterfall cascading from the top of the cliffs, and a variety of flora and fauna – all enveloped by a lush tropical forest make this place look like heaven on earth.
This 35 meters tall waterfall is known as the "Kingdom of Butterfly" due to being the home of many species of rare butterflies. Under the water, a bathhouse built from the foundation of hard limestone and covered with a layer of minerals is perfect for massages to pamper yourself and your date.
Or sit under the waterfall and have a splash!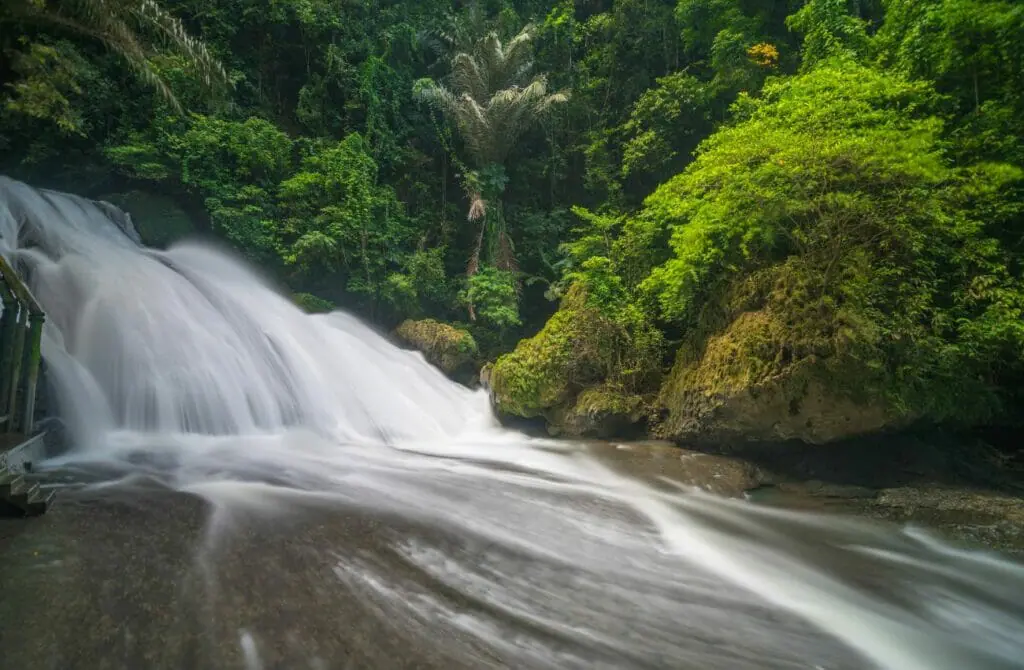 Penned in history as the favorite weekend retreat for the colonial Dutch, we understand the appeal after one look at the beauty of this place.
Situated in the elevated part of Sulawesi, these highlands provide an escape from city life and a chance to relax in a crispy clean region outside Makassar. Here's what you can expect from this place: hike up the mountains and en route, take swoon-worthy pictures of the lifestyle of the local inhabitants or the stunning scenery; take a splash in the cool waterfalls; or taste the delicacy of Japenese and Korean food from the cafes.
And if you fall in love with the place, look at its various hotels and resorts, and stay the night. Pro Tip: the temperature drops at night, so don't forget to pack your warm clothes.
Recognized as the city's most iconic landmark, Fort Rotterdam in the early 1900s was the Dutch regional military and governmental headquarters, although the historical traces date back to the Kingdom of Gowa from the 16th century.
The Fort has silently witnessed many episodes in Makassar's history and offers the visitors to explore the array of buildings and structures within the fort, including the historical Dutch administrative office, the prison, and the cannon storage room. A collection of artifacts and historical items related to its history is also on display in the museum.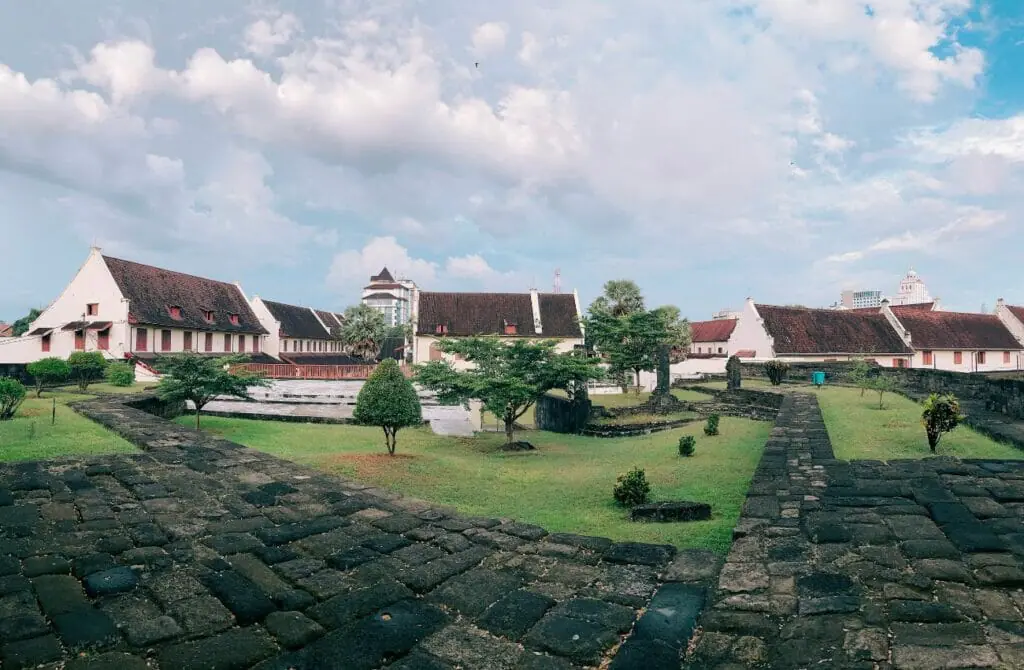 Ready to pretend like a king or queen and grab a royal bite? This museum, a one-time palace of past kings, looks like it's straight out of a fantasy novel. Balla Lampoa, literally translating to "house of greatness," is a dream for fantasy lovers. Not only can the visitors learn about the powerful kingdom that once ruled this ancestral land, but they also visit the interesting local museum, which too free of cost.
Divided into two parts, the museum has a main room with private chambers for the king and a storage for objects of historical significance, such as various traditional weapons from Bugis and Makassar. Don't forget to keep your camera and take pictures with machetes, spears, daggers, and everything royal.
How do pristine white sand beaches, breathtaking marine life, and crystal turquoise water sound for your next romantic date?
Make a bonfire, star gaze from your tent, go snorkeling, roast fish and potatoes for dinner, and if the weather is good, even sleep on the shore – the possibilities are endless when it comes to Samalona Island.
In addition to the captivating view of colorful fishes, coral reefs, and sea turtles swimming in the azure water, Samalona Island also has a rich cultural yore and several historical sites.
All this beauty calls up for laying under the sun all day long!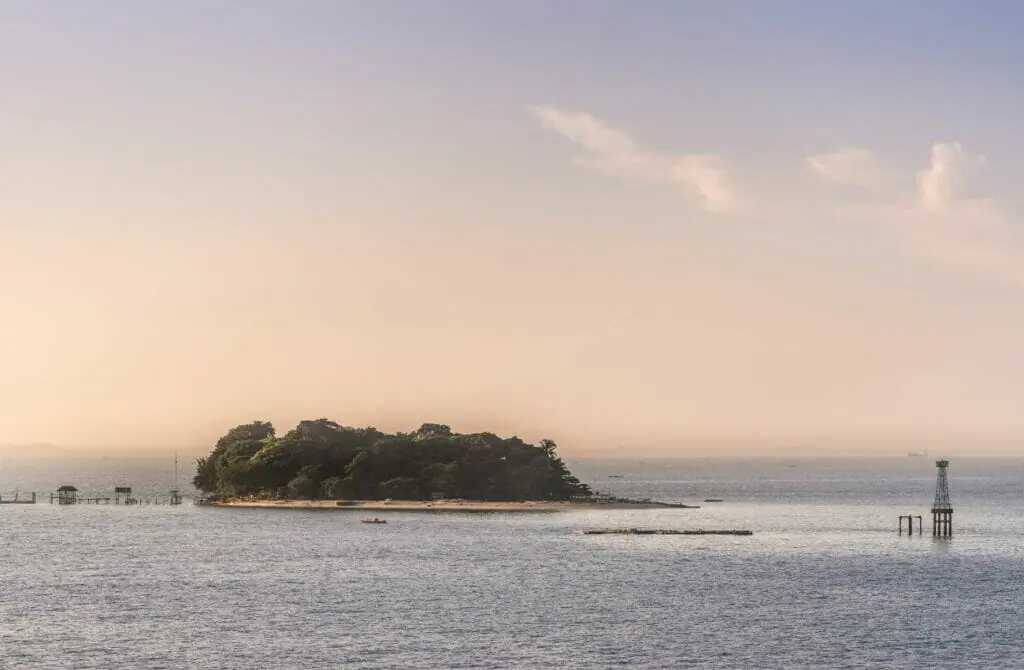 Trans Studio Makassar
From shopping to dining, movie theatre to wine store – the world's third-largest indoor theme park has it all. Trans Studio is a classy shopping mall that offers a wide selection of the town's best. Here are the most traditional Makassar souvenirs to bring back home: Bugis Sarong and Fabric, Toraja Handicraft, and Kue Kurma (Date Cookies). And while you are there, do not forget to try the delicious Toraja Coffee.
Known for its traditional Bugis architecture, Somba Opu Street has several shops and restaurants, making it a great place to find local souvenirs and try traditional Indonesian cuisine.
The entire street is filled with inexpensive food stalls, handicrafts, and antiques; however, their markets are famously renowned for the variety of gold jewelry shops.
Stop by the street and buy some stellar souvenirs to take back home.
This exotic destination for cultural tourism is on a 4-hour drive from Makassar; having said that, the lofty mountains, rugged granite cliffs, and the unique culture and tradition of the Toraja make it worthwhile.
Hidden from the world, Tana Toraja ended its long isolation only at the beginning of the last century and opened its gates to sightseers from all over the world. Their traditional houses called Tongkonan, stone tombs named Hakka, and elaborate funeral ceremonies make them one of the most intriguing cultures in the world. While there, don't forget to get their exquisite Arabica coffee on your visit.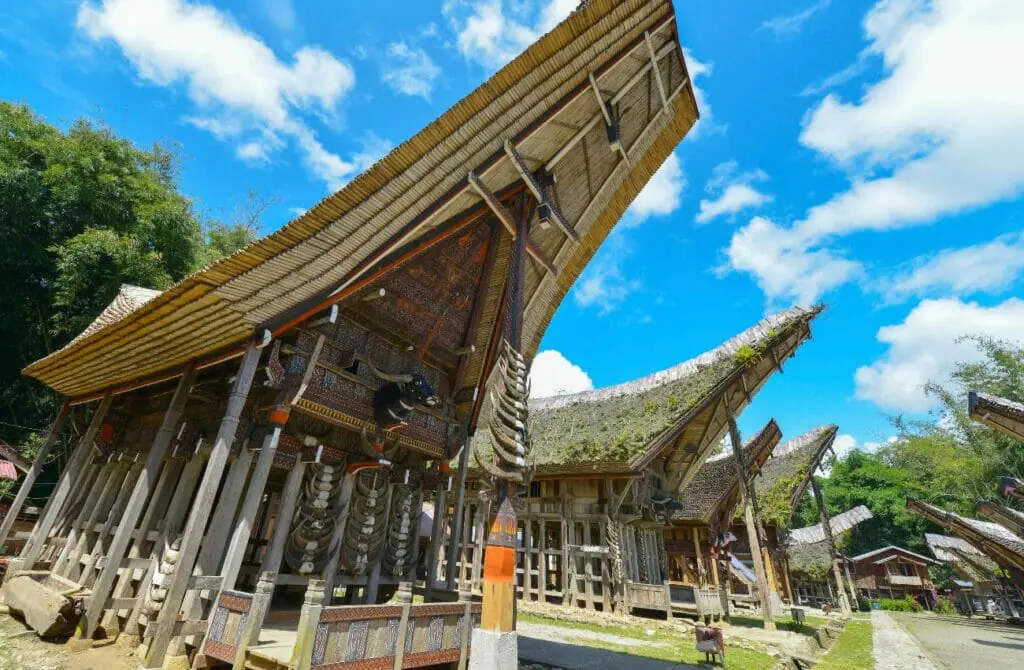 Malino Tea Plantation
Once a hill station resort for Dutch colonial residents in the area, Malino Tea Plantation is now the home of mountains rich with limestone scenery and various kinds of beautiful tropical plants that grow and thrive in this cold city.
Moreover, most people of South Sulawesi surmise that a mountain is a sacred place and practice local rituals here. But that's not the only reason it's crowded; its misty hillsides clad in emerald green tea shrubs present a remarkably beautiful and cool escape from the city's heat.
Paotere Harbour
Have you ever witnessed the hustle-bustle on a harbor? Dock workers loading and unloading cargo moored at the pier, the fleet of rainbow ships sailing here and there, the refreshingly fresh scent of water, and the general abuzz?
If not, then this is a must-stop for your visit. Paotere Harbour is the oldest dockyard in the country. The bustling boat activity, lively atmosphere of fish traders, and seafood markets have made many tourists come in daily. The additional benefits are the photogenic ships and genuinely friendly people.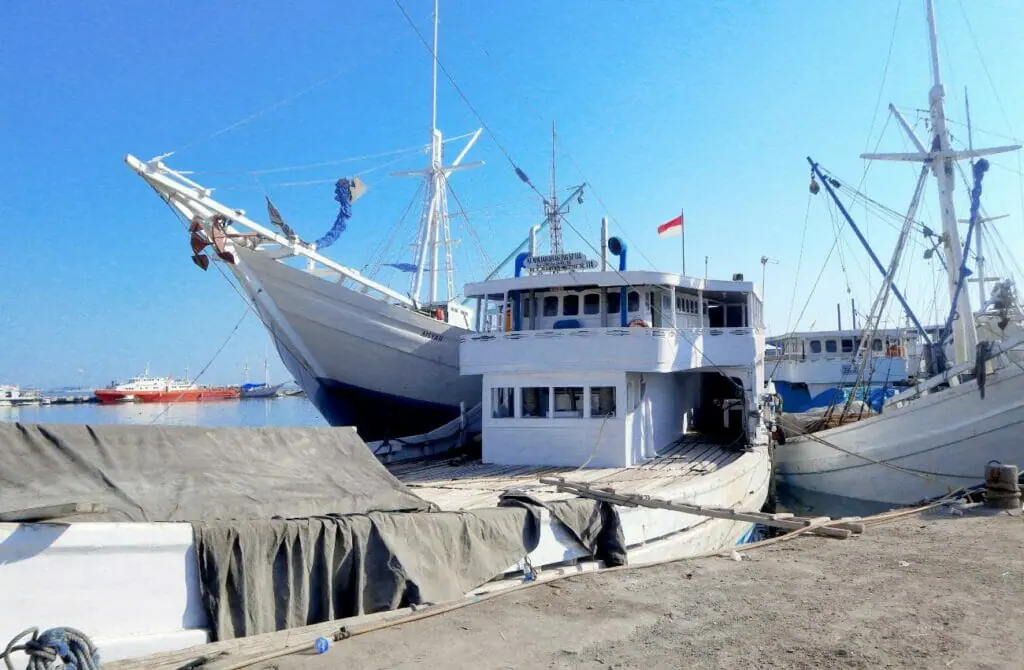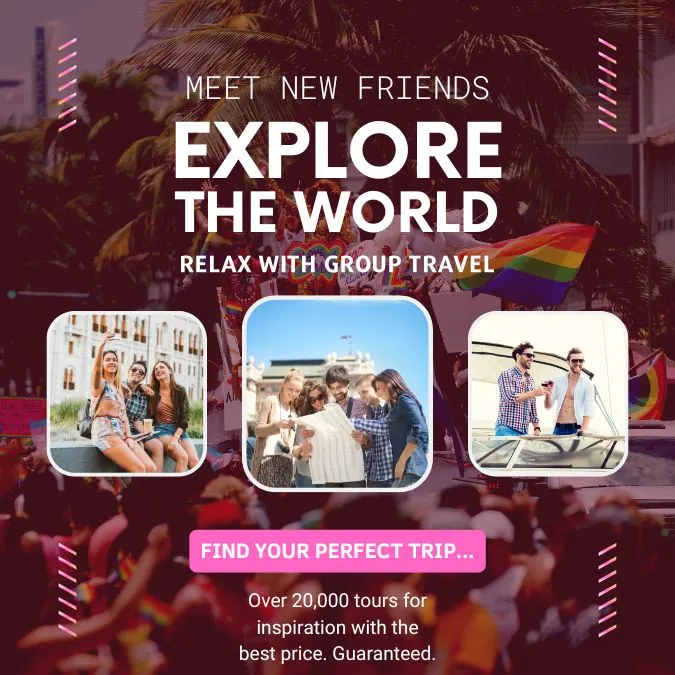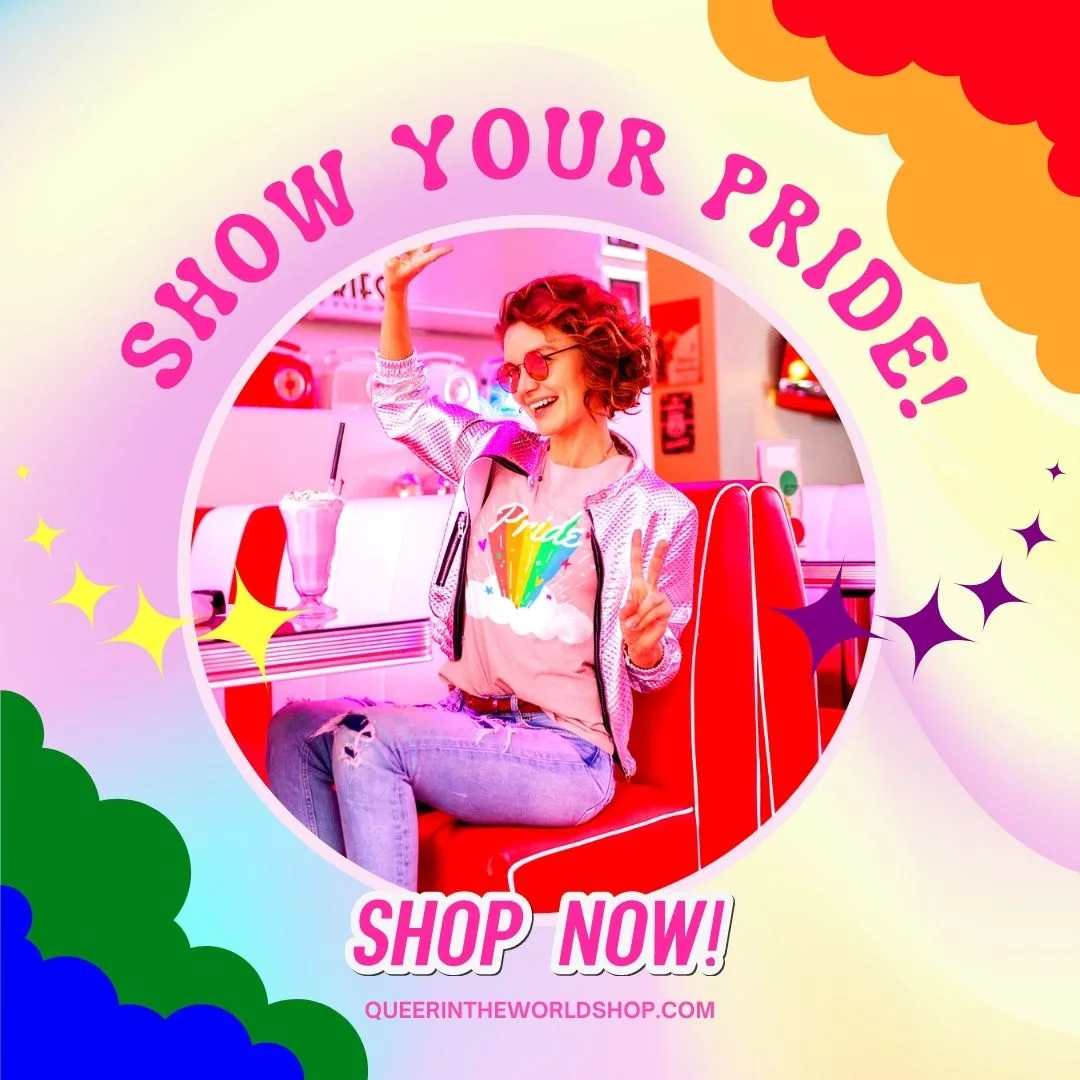 Gay-Friendly and Gay Hotels in Makassar, Indonesia
As a traveler in a homophobic country where being queer is illegal in some places, it's important to be aware of the risks and take necessary precautions to ensure your safety. This includes choosing accommodations less likely to have issues with same-sex travelers.
We recommend booking two twin beds and traveling as friends only, avoiding any same-sex activities that could attract unwanted attention. While it's unfortunate that there are no gay-friendly accommodations in Makassar, we suggest staying at international or high-end properties that are less likely to have issues with LGBTQ+ guests.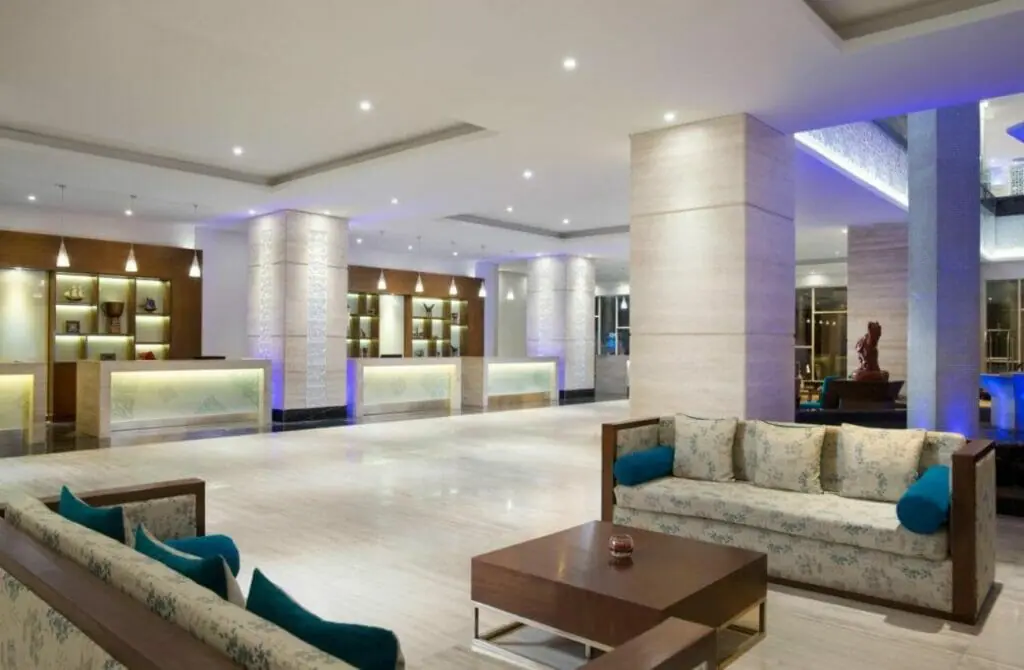 It's important to note that these accommodations are not gay-friendly and may not have policies or practices to create a safe and inclusive environment for LGBTQ+ guests. However, they are the most fabulous hotels in Makassar, according to other gay travelers and us, and where we recommend staying.
Remember, Indonesia is among the least gay-friendly places in the world, and should the ban on extramarital sex go forward, and it can be applied to all same-sex couples.
Whatever your needs are, Makassar has a wide range of accommodations. While it may be challenging to find gay-friendly options, taking these precautions can help ensure a safe and enjoyable stay in the city.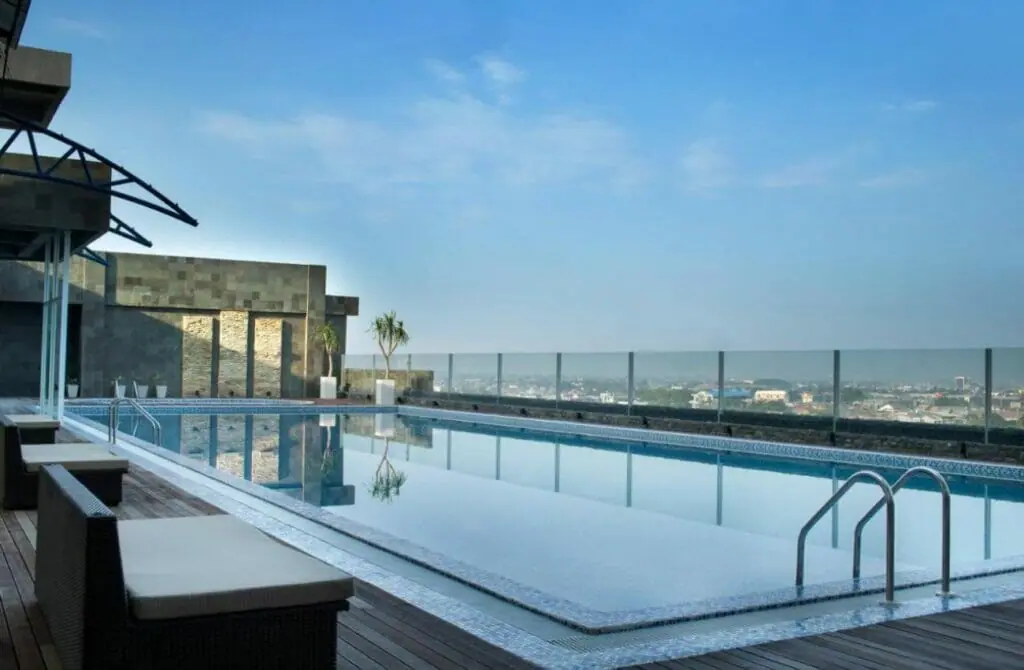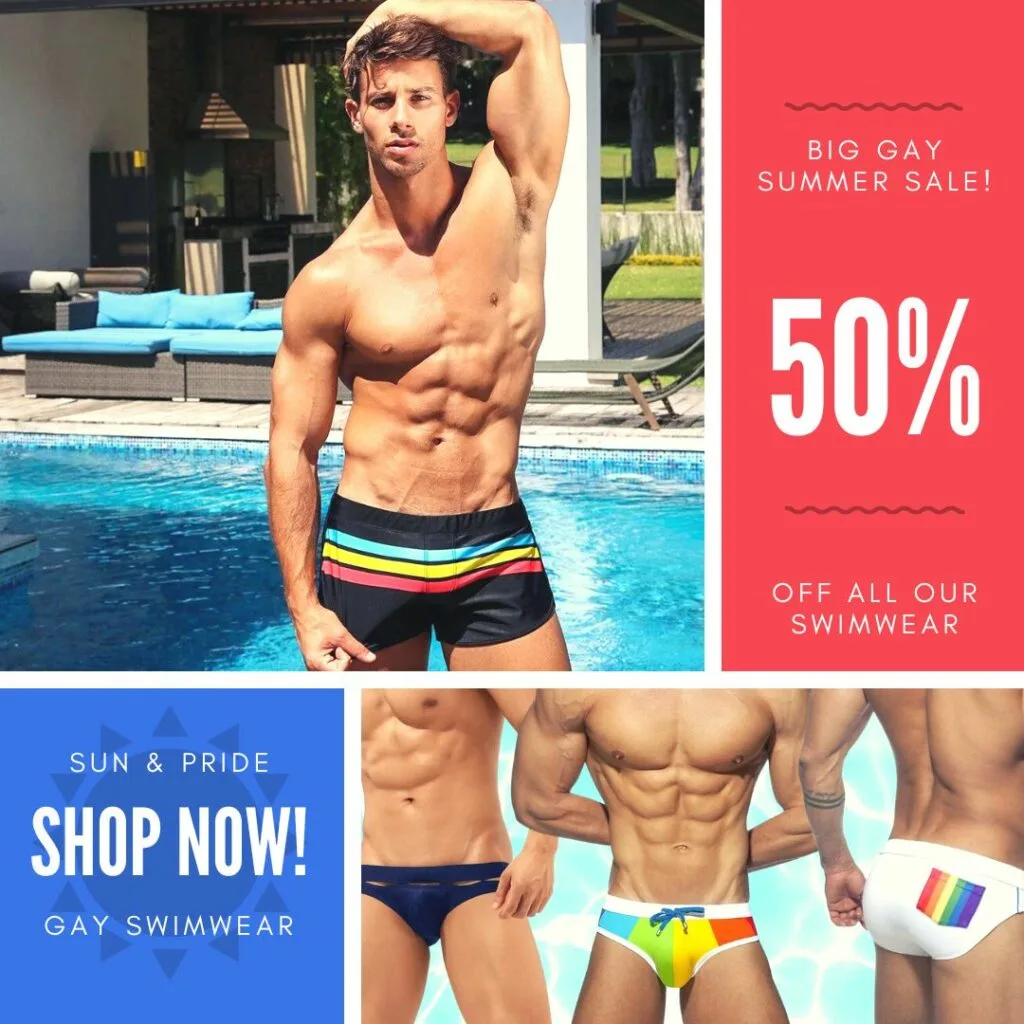 Four Points by Sheraton Makassar ☆☆☆☆
Four points by Sheraton provide everything you need for an unforgettable stay in Makassar. This ideally-located boutique hotel is situated at the apex of two main roads in Makassarso so that the guests can enjoy all the town's attractions a stone's throw away.
Recognized for its variety of scrumptious on-site restaurants, the dining options include a Pan-Asian restaurant and a buffet eatery serving Western cuisine. Take benefit of their free shuttle services to various destinations to make the most of their services.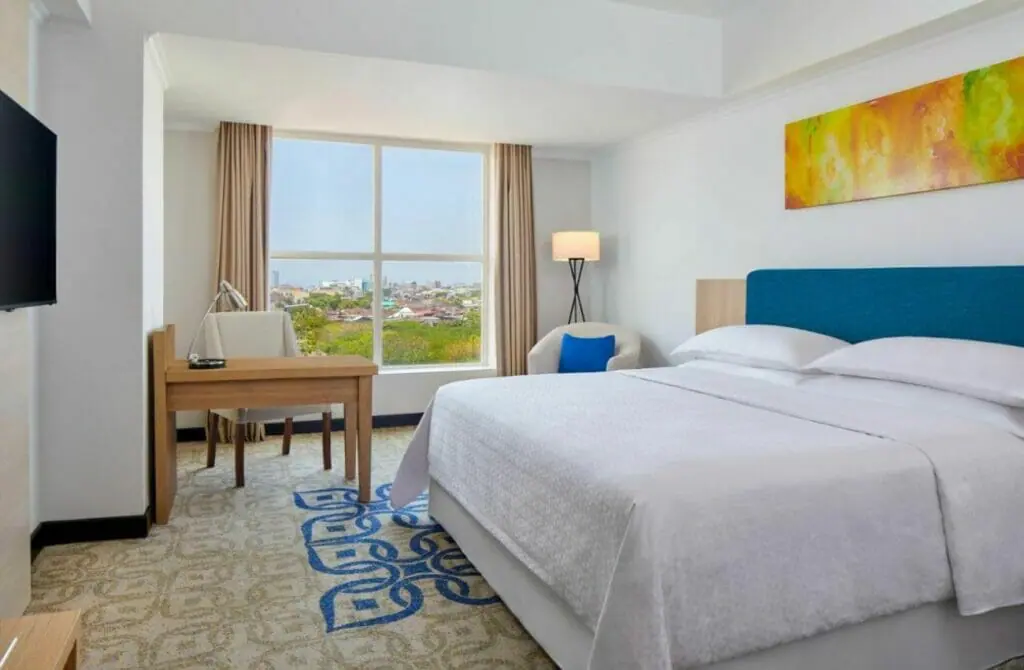 Mercure Makassar Nexa Pettarani ☆☆☆☆
If you plan to throw surprise dates for your partner in the comfort of your room, this modern-elegant urban hotel can help you set the vibes effortlessly. Mercure Makassar Nexa Pettarani's building results from the sleek local taste incorporated with Western style.
Besides many other grand niceties, the hotel is one of the few in town providing reflexology, specialized massages, and aromatherapy at their on-site health resort, Alaya Spa. In short, Mercure Makassar Nexa Pettarani is a contemporary landmark hotel in the heart of the town, offering unrivaled luxury and amenities.
MaxOne Hotel & Resort Makassar ☆☆☆☆
Next on our certified list is one of the trendiest and dapper sites in town. MaxOne Hotel & Resort is famously known for its unique combination of modern architecture with pop art culture.
Soak in the sun in the privacy of your room's terrace, or spice up your social media with pictures of the lovely outdoor garden worthy of all the likes. The bright marine-themed rooms feature air-conditioning, free WiFi, a private bathroom and colorful paintings of marine animals.
Enjoy a cooling dip in their outdoor swimming pool, or pamper yourself with a relaxing massage in the privacy of your room.
Set in a modern high-rise property downtown, the parent Swiss-Belhotel International is ranked amongst the world's top 125 international hotel management companies.
Their unique fusion of Swiss hospitality and Asian-inspired passion is what makes them locals and tourist favorites alike.
Their Swiss-Café, an on-site family restaurant, features al fresco dining and a menu of lip-smacking delicacies. Additionally, be it assisting with arranging transport or offering a sparkling laundry service, the staff is always there for your needs.
With all these lavish indulgences, you may never want to leave your new cocoon any time soon.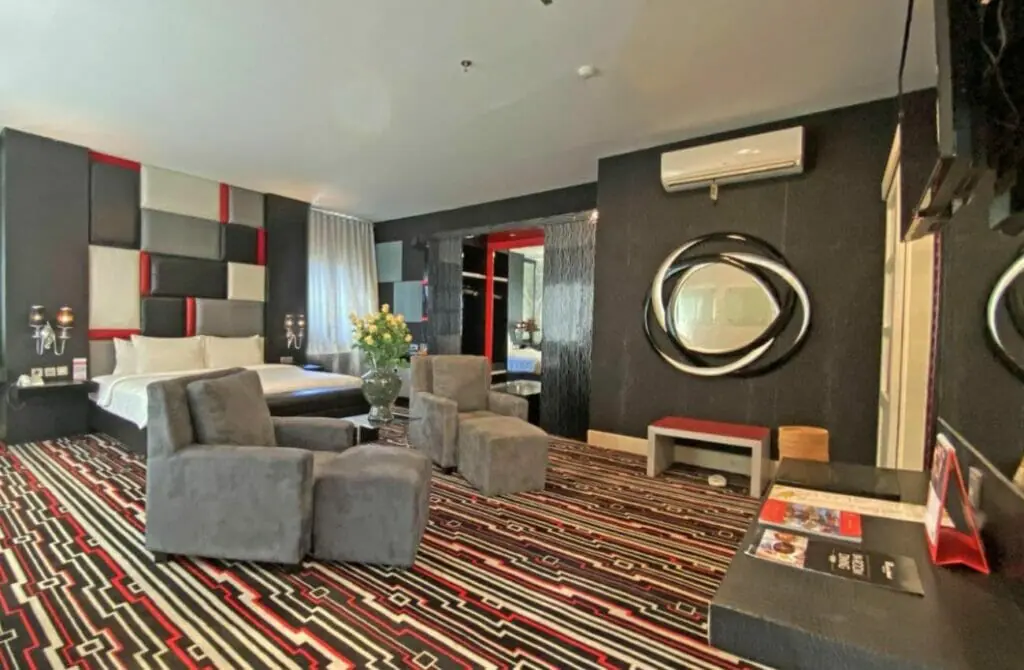 Whiz Prime Hotel Sudirman Makassar ☆☆☆
Looking for a reasonable hotel with all the essential facilities? Look no further, as the Whiz Prime Hotel has your basic amenities available every hour, all day.
The strategic location, hospital staff, spik and span rooms, and fantastic food – all at pocket-friendly charges have colored us impressed. Perhaps their best feature is the compliant staff – ready to respond to and rectify any complaints as quickly as the flash; it's no wonder many wanderers choose to stay here.
Searching for a room to stay in with a low budget? The parent company OYO is a multinational hospitality chain with economical hostels, homes, and more living accommodations.
OYO 848 Hotel Sutomo, located a little far from the city's major attractions, supplies essential amenities only with the best value, which is exactly why so many guests continue to come back year after year. During your visit, don't forget to check out the popular ribs restaurant, Sop Konro Karebossi, a short distance from Hotel Sutomo Makassar.
Expect free WiFi throughout the property, private parking, a lovely garden, and shared housing equipped with a closet, desk, and television screen.
Sure, Ibis is nothing exciting, but the basic accommodation at such a low price is surprising. Furthermore, the strategic location will ensure you have no issues exploring this enchanting city.
Still not enough? Here's more: the Ibis chain of hotels has signed the UNESCO Sustainable Travel Pledge and has committed to protecting the environment and culture. Furthermore, as you enter your room, look for the delightful personal note and oven-hot welcome cookies, an adorable gesture from the staff.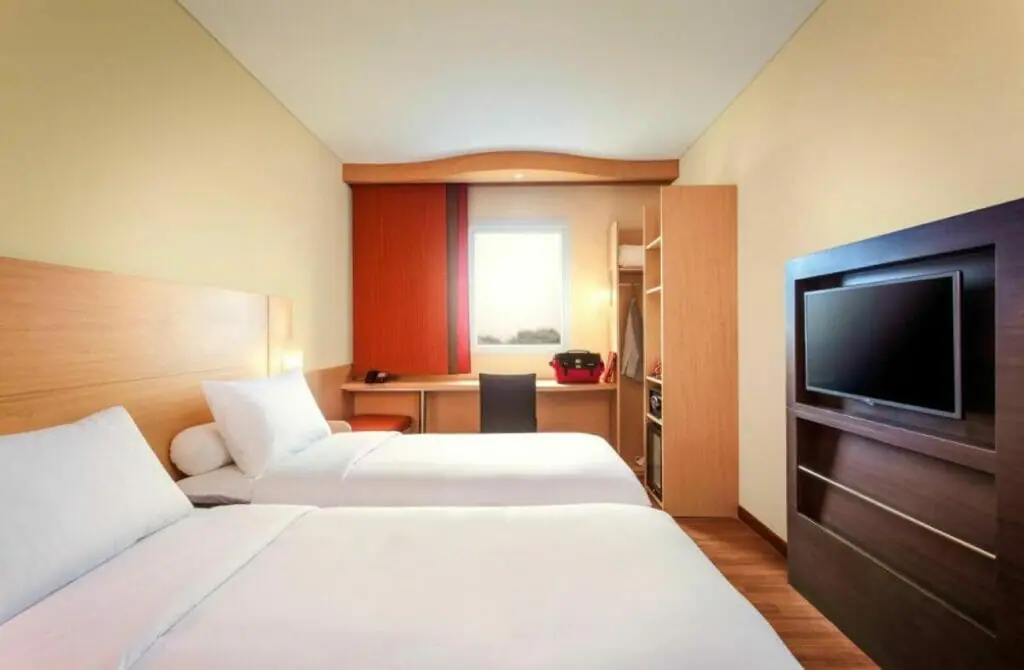 Makassar Cottage (Resort Hotel) ☆☆
If you are looking for a place to sleep after a day of partying and sightseeing, this is your stop. The cheapest Makassar resort might not have top-notch services, but you can count on a good night's sleep in the comfy rooms.
Amaris Hotel Pettarani Makassar ☆☆
This value-for-money hotel provides an adequate bed and breakfast. As your "home away from home," the small yet clean hotel rooms offer free breakfast, parking, High-Speed Internet (WiFi), restaurant, and airport transportation, which will help make your Makassar trip additionally gratifying. On top of that, to delight any personal preferences and pleasure, smoking and non-smoking rooms are available.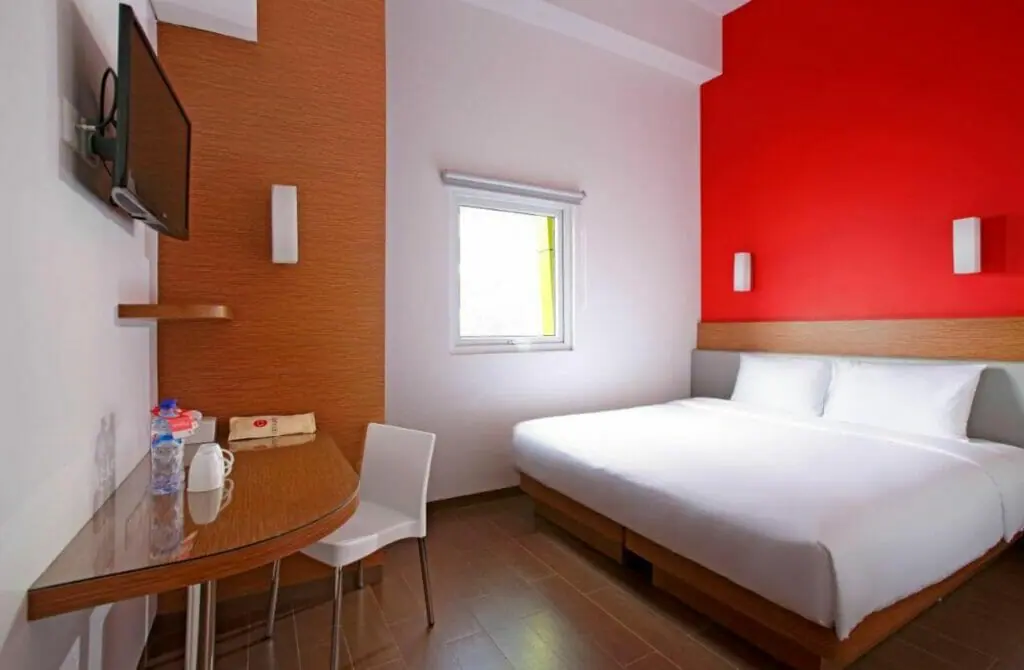 Gay Nightlife in Makassar, Indonesia
Electric music, creative concoctions at upscale bars, cheeky cocktails or cold beers at downtown clubs, all-night dance parties, karaoke rooms, and sing-alongs — Makassar's nightlife has something to cater to every taste. However, unfortunately, there aren't any bars or pubs we can guarantee are gay-friendly.
Nonetheless, this city grants night owls plenty of boozing and grooving options, letting vacationers create lifelong memories.
While varied sexualities are a key part of the town's cultural tapestry, the increasingly hostile climate makes the LGBT community keep a lid on their activities and PDAs. But the party never stops behind closed doors as Makassar is nothing, if not wild.
For our gay friends, we suggest getting in touch with local gays through dating websites or mobile apps to get their insights into the best gay bars and unofficial gay events that may not appear on official sites by using VPN. Also, be aware of hustlers and keep your drinks and valuable items under a watchful eye.
For now, these are our favorite bars, clubs, and hang-outs in Gay Makassar – as said before, none comes with a 'gay-friendly tag,' but you never know without experiencing. Just be discreet about your sexuality until you find your crowd to shake a leg in!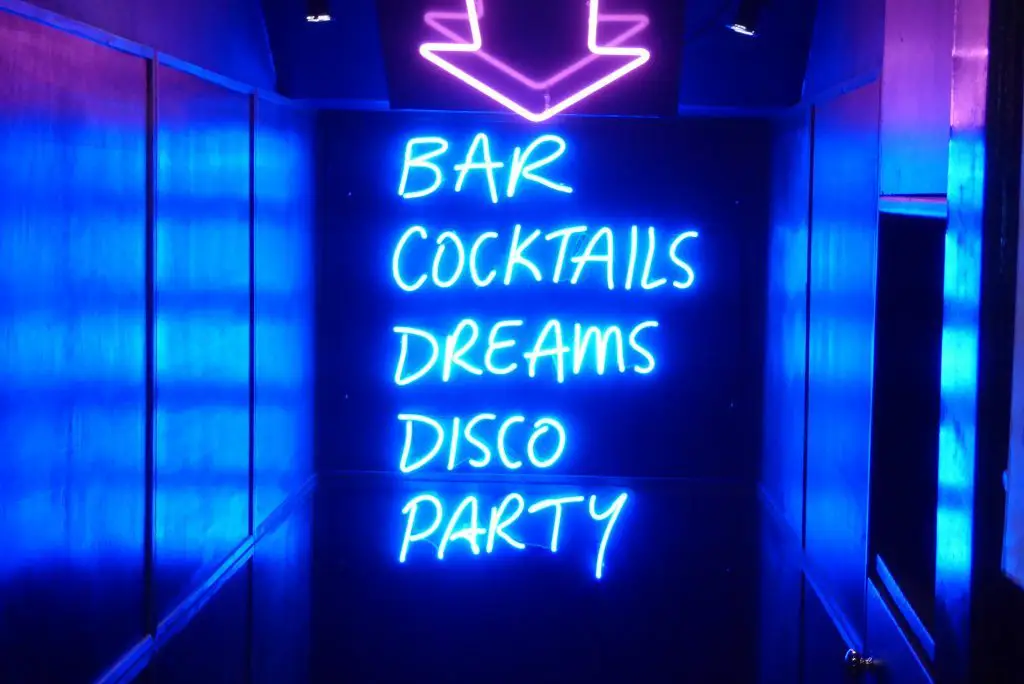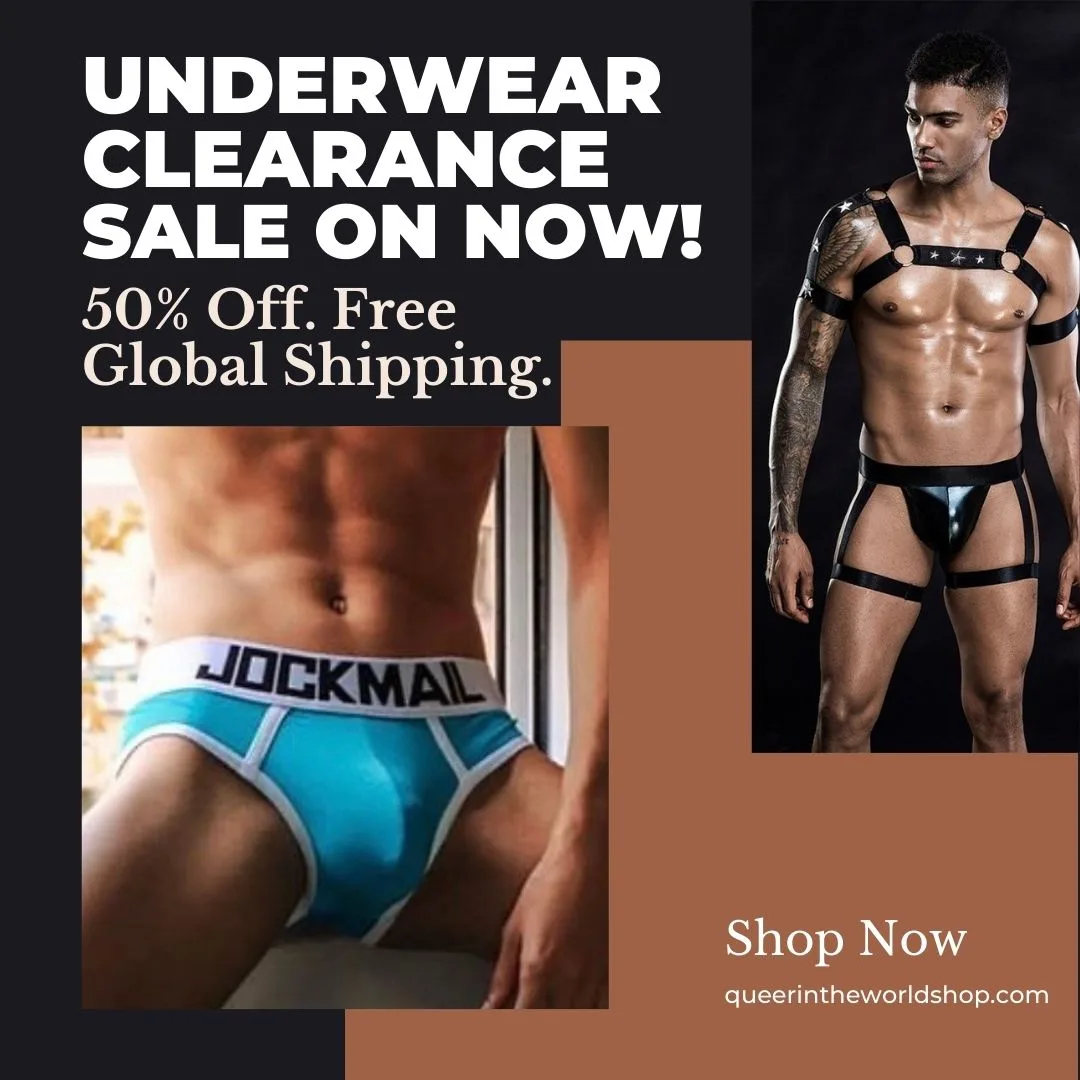 Too lazy to leave the bubble of your hotel? But at the same time, you might want to enjoy a sophisticated menu of food and drinks along with a dance floor for dancing the night away. The Almadera Hotel is here to make all your comfort dreams come true.
Situated within the hotel, the club offers a phenomenal new world where the stage is set for live performances, and the bars are filled with countless cocktails and mocktails.
Go for the strong drinks over the food and stay for the chic atmosphere. And if you are lucky, you might find Indonesia's best singers performing live.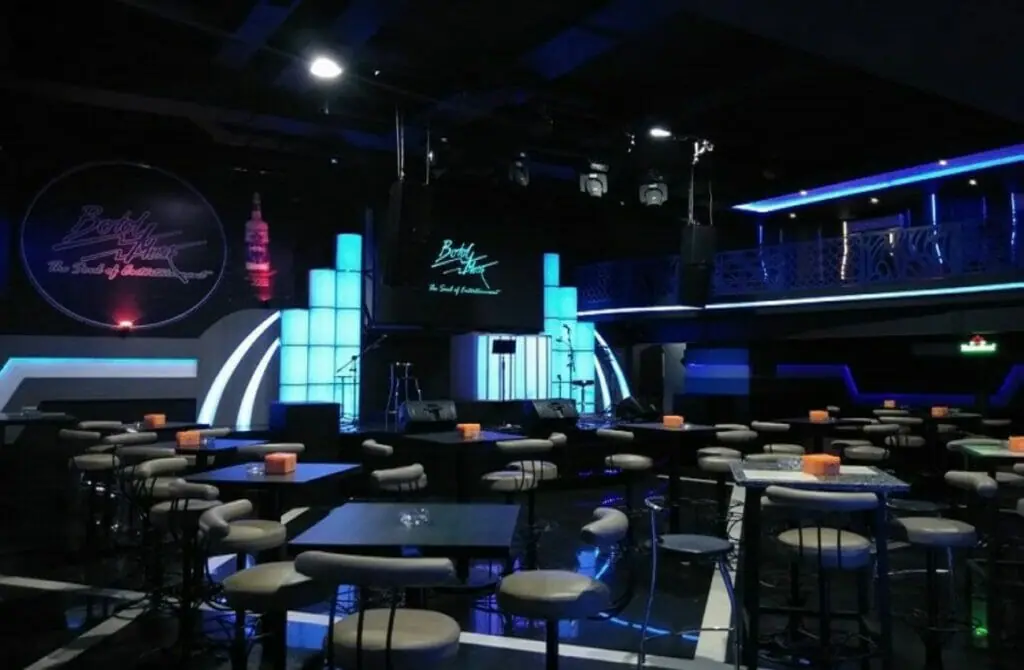 Downtown Chinatown's atmosphere glitters and comes alive after the sun sets. Located on the street that never sleeps, here you will find several hawker stalls and fresh fruit sellers. As the name suggests, Chinese-style architecture flourishes in this area.
The construction of Chinatown can be traced back to the 14th century when the Chinese ethnics first set foot in Makassar. Along with many stalls, the thriving Chinese culture and the bustling history add to the neverending magic.
Here's what you will find at this trendy cafe: on the 3rd floor, 10 spacious karaoke rooms are present for the wanna-be singers to sing their hearts out; further on the 1st floor, open from 10 am to 2 am, is a restaurant and coffee shop. While a bar, lounge, and terrace showcasing the spectacular skyline of
Makassar can be found on the 2nd floor. Lastly, a rooftop and club with a hot energetic crowd appear on the 4th and 5th floors.
With innovative cocktails and various activities, this is the hottest spot in Makassar.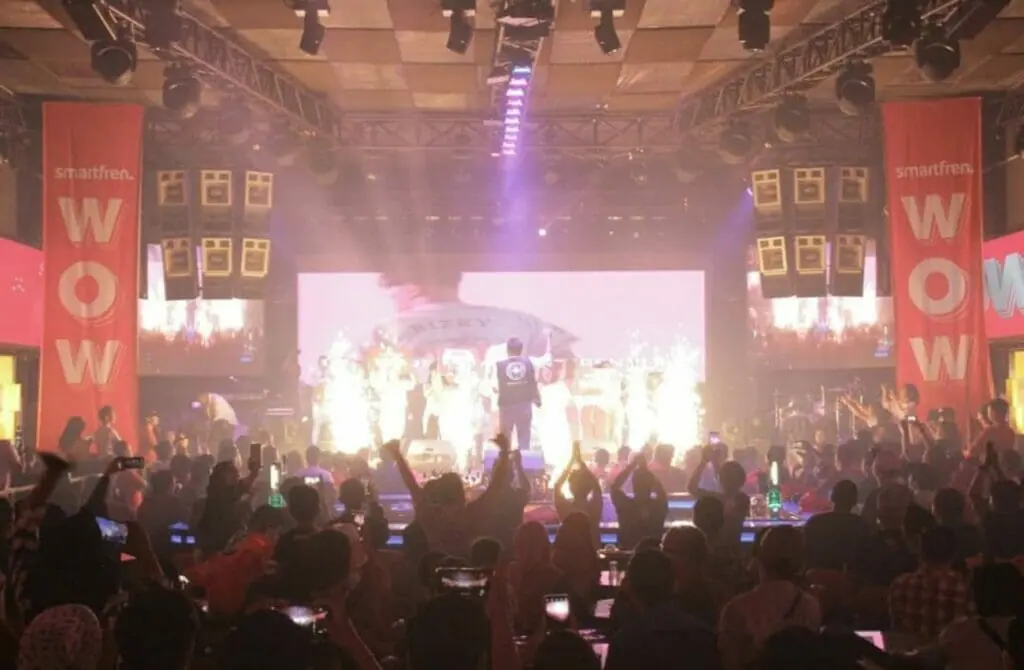 Nusantara Street
Next on our list is the street which is buzzing 24/7. Filled with extravagance and glamour, Nusantara offers thriving yet distinctive nightlife to locals and tourists alike. If you like to hop from one place to another and have the best of everything, this is your stop.
On this single street, you find bars, restaurants, pubs, accommodations, and much more – all waiting for your arrival. But be on alert, especially with thieves or bandits who target reckless tourists late at night.
Open all day, the street is busy in the evenings and most nights, and you can easily find locals here who love to mingle and welcome foreigners.
Known among the townies as the best rooftop bar in the city, Gravity Sky Lounge is on the 20th floor of the Swiss-Belhotel, a 4-star, highly recommended hotel.
Although the price is high, the ambiance of the sky lounge and electric band performances make it completely worth it. The DJs often sing pop and top 40 songs in English and Indonesian. On Saturdays, they have two bands playing until 2 am. And about once a month, the lounge invites a famous local artist or organizes a bigger special event.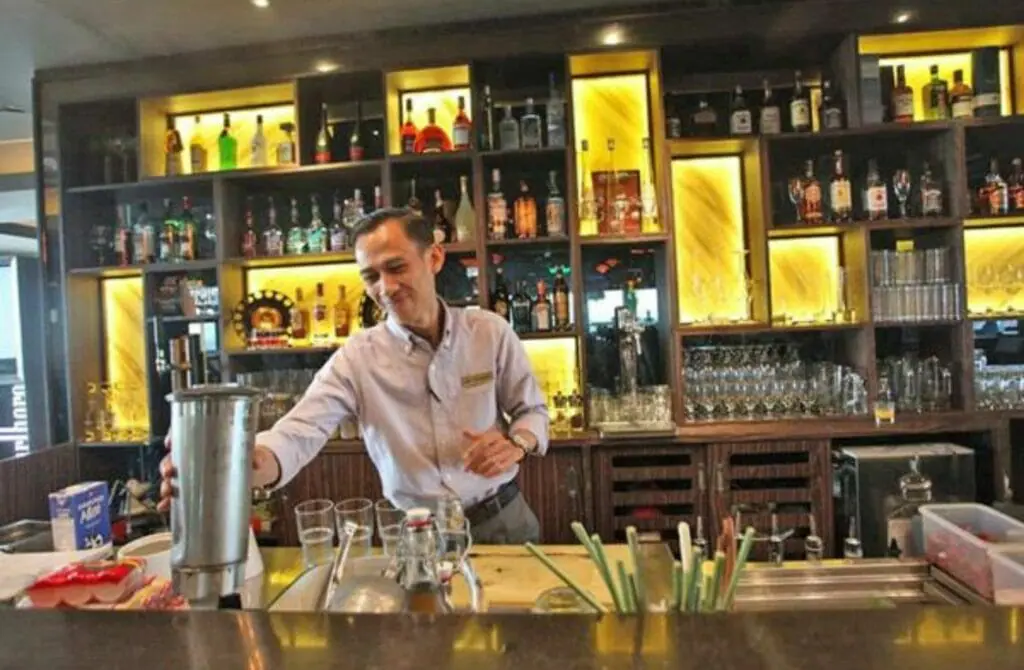 Losari Beach
Imagine the stunning rise of the sun above the horizon among the hues of pink, yellow, and orange while being in your lover's arms. We can not think of a more intimate and beautiful moment. Spend the night on the shore if the weather is suitable, witness the beauty of Makassar's sunrise, and return with extraordinary sensational memories.
An oh-so-trendy cocktail bar with a minimalist modern space and music which makes you shake a leg or two! At the Barcode, party animals flock to the 2nd floor to catch international DJs playing. Join the energetic crowd singing their heat out or playing electronic darts. If you are in the mood to chill on the couch, try Western or Asian food and watch sports games on the large screen.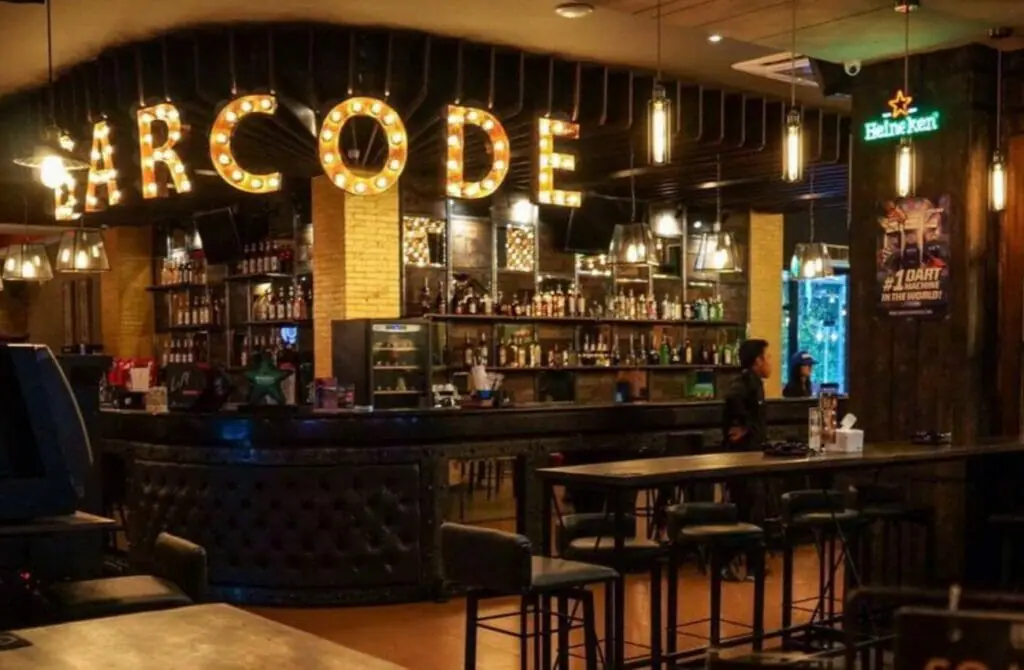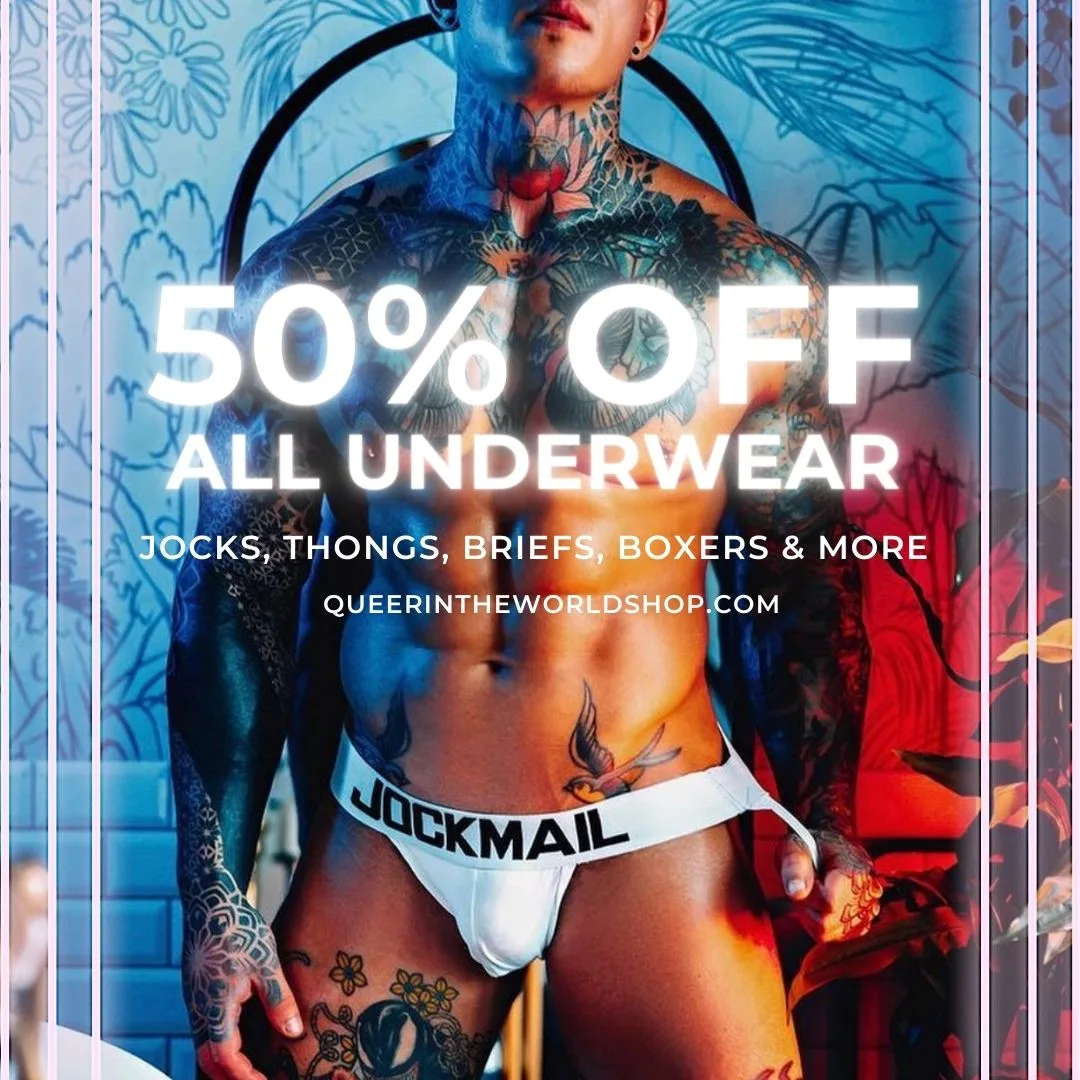 Gay Map Of Makassar
Finding it hard to envisage where everything is in Makassar? Hopefully, this queer-centric map helps where we have marked all the bars, clubs, parties, hotels, saunas, massages, and more will help you stay in the spot best suited to you!