One of the oldest continuously inhabited cities in the world, Madurai or the "City of Temples," carries a rich cultural heritage that is reflected in every nook and cranny of the city. While it is deeply religious, this city continues to make significant progress in spreading awareness about the queer community.
The third largest city in the Indian state of Tamil Nadu, Madurai, is located on the banks of River Vaigai and is often called "the soul" of Tamil Nadu. This city is one of the oldest continuously inhabited cities in the world, and its history can be traced back to as early as the pre-Christian era.
Being one of the oldest cities in India, it is said to be a metropolis that traded with ancient Rome and was a great capital in that period.
Centuries of history and culture are still reflected in the modern city of Madurai through its architecture and ancient temples. This city is visited by tourists worldwide, taking them on a journey into bygone eras through its religious and historical monuments.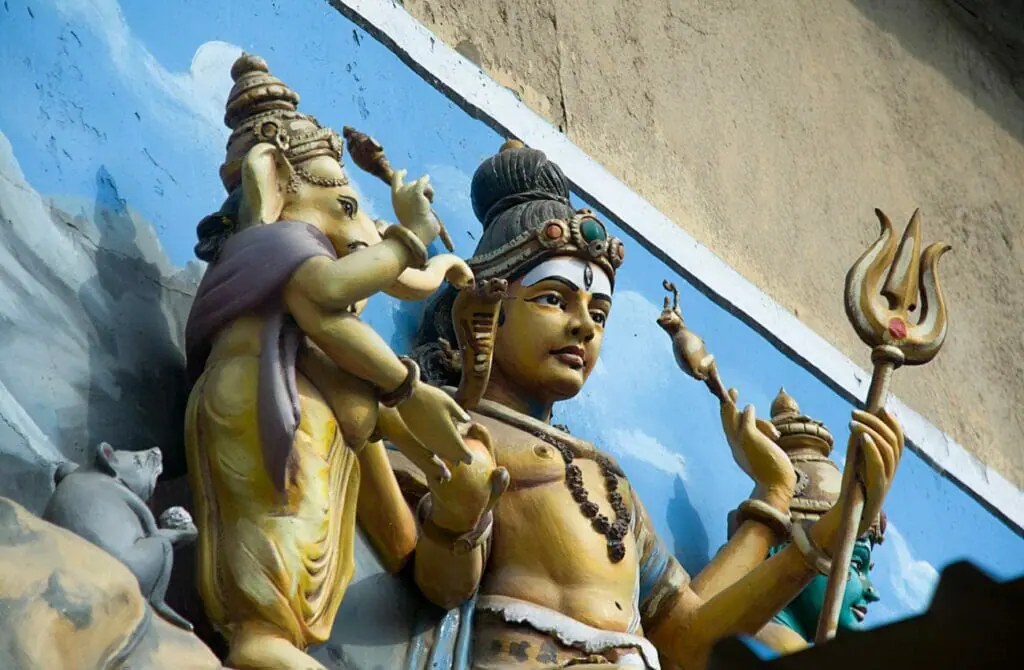 But while Madurai is deeply religious, it does not mean that it is backward or not inclusive of the queer community and alternative gender identities. This city is famous for hosting Asia's first Genderqueer Pride Parade in 2012. The city and its people are inclusive and ready to accept queer individuals and their right to love.
After the landmark decriminalization of homosexuality in India in 2018, the country has slowly been coming out of the closet, and queer individuals feel free to truly be themselves. Queer travelers are warmly welcomed in Madurai, despite it being a small religious city.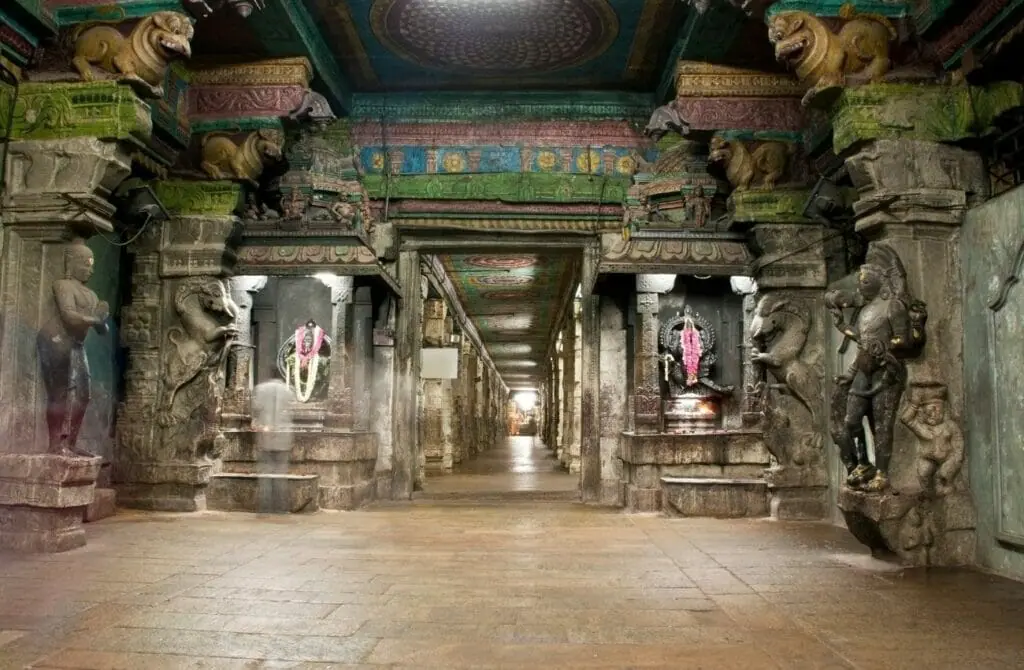 In this article we will cover...
Attractions in Gay Madurai, India
Welcome to Gay Madurai, darling! While the city may not be the most welcoming to the queer community, fear not! There are still plenty of fabulous things for you to do while keeping things low-key. First and foremost, you simply must visit some of the city's most iconic landmarks and attractions, dahling!
Take in history and culture by visiting museums, art galleries, and historical monuments. And don't forget to marvel at the stunning architecture, explore parks and gardens, and indulge in the local cuisine. But that's not all, darling! Gay or straight, there's always something to do in Gay Madurai. Immerse yourself in the local culture by attending cultural events like festivals, concerts, and shows.
In India, LGBT rights have made some significant strides in recent years, but many issues remain. In 2018, the country's Supreme Court overturned a colonial-era law that criminalized homosexuality and in 2023, the legal battle for same-sex marriage heated up, but societal attitudes towards LGBTQ+ people remain largely conservative.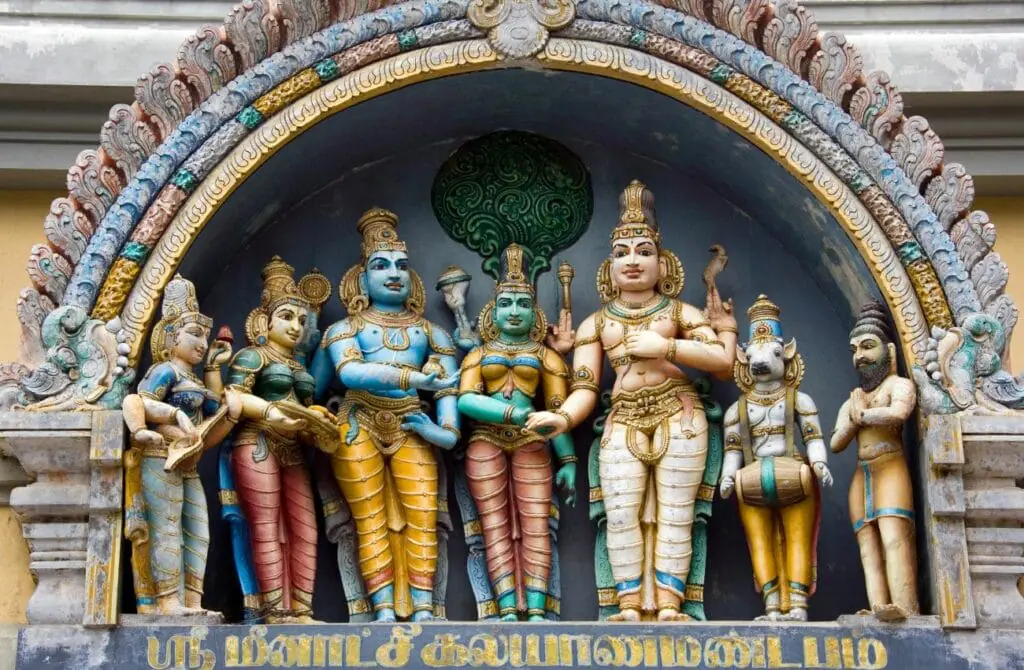 Discrimination and violence against queer individuals still occur, and there is still a long way to go regarding legal and societal acceptance.
As a queer traveler in India, exercising caution and being mindful of your surroundings is important. While larger cities like Mumbai and Delhi have more visible LGBTQ+ communities and venues, it is still important to be discreet in public spaces outside of these areas.
Holding hands or displaying affection in public may draw unwanted attention or negative reactions. Knowing local customs and dress codes is important, especially if visiting religious sites or rural areas. It's always best to err on the side of caution and respect the local culture.
Trust us; there's always something fun and exciting happening in this fabulous city. Remember, discretion is key in a city that's not always welcoming to our fabulous community. So, keep it lowkey and enjoy all the wonderful things Gay Madurai has to offer!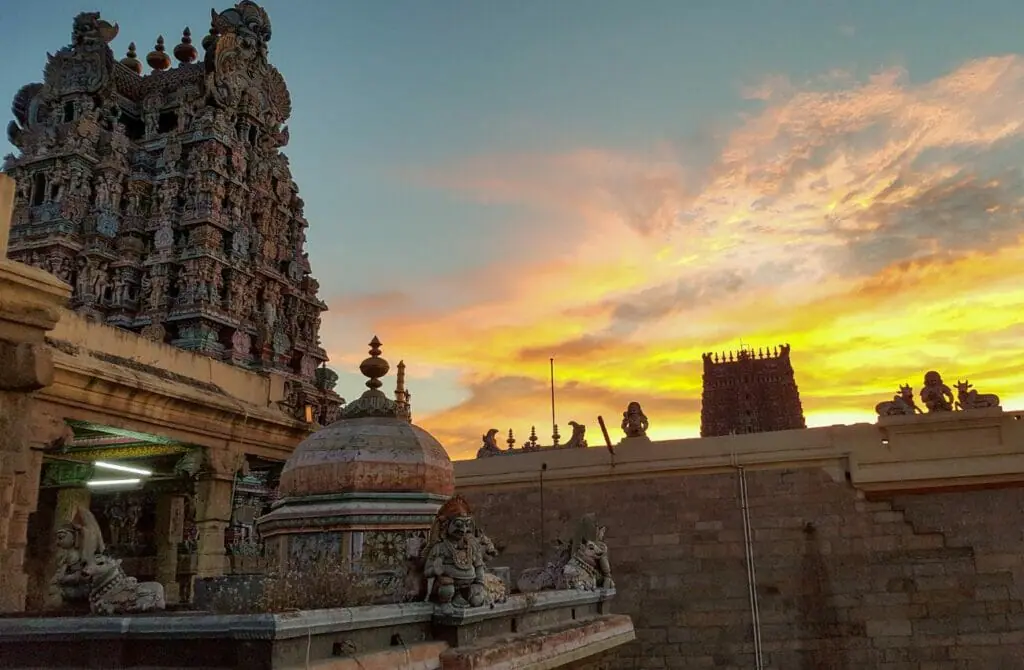 Samanar Hills
Samanar Hills or Samanar Malai are located in Keelakuyilkudi village, around 12 kilometers from Madurai. These beautiful yet largely unexplored hills are considered one of the most beautiful places in Madurai. This mesmerizing hill rock complex with caves represents a wonderful blend of nature and history, with ancient caves and carvings dating back to the 1st century A.D.
These caves were occupied by Jain monks and Tamil Brahmins over 200 years ago, and one can see numerous carvings and inscriptions on the walls that bear testimony to this fact. This fascinating historic spot has become an important tourist attraction in Madurai.
Over 2500 years old, the Meenakshi Amman Temple is a breathtaking sight to behold. The city's most iconic landmark, this temple is dedicated to Lord Shiva and Goddess Meenakshi, an incarnation of Shiva's consort Goddess Parvati. The majestic towers or Gopurams displaying intricate carvings will leave you completely awe-struck by their overwhelming beauty.
Another captivating part of this Dravidian-style temple is "The Hall of Thousand Pillars", the largest mandapam in the temple complex. The temple also has a museum within its complex which offers a glimpse into Madurai's cultural and historical past. You cannot say that you have seen the beauty of the "City of Temples" until you have visited the Meenakshi Amman Temple.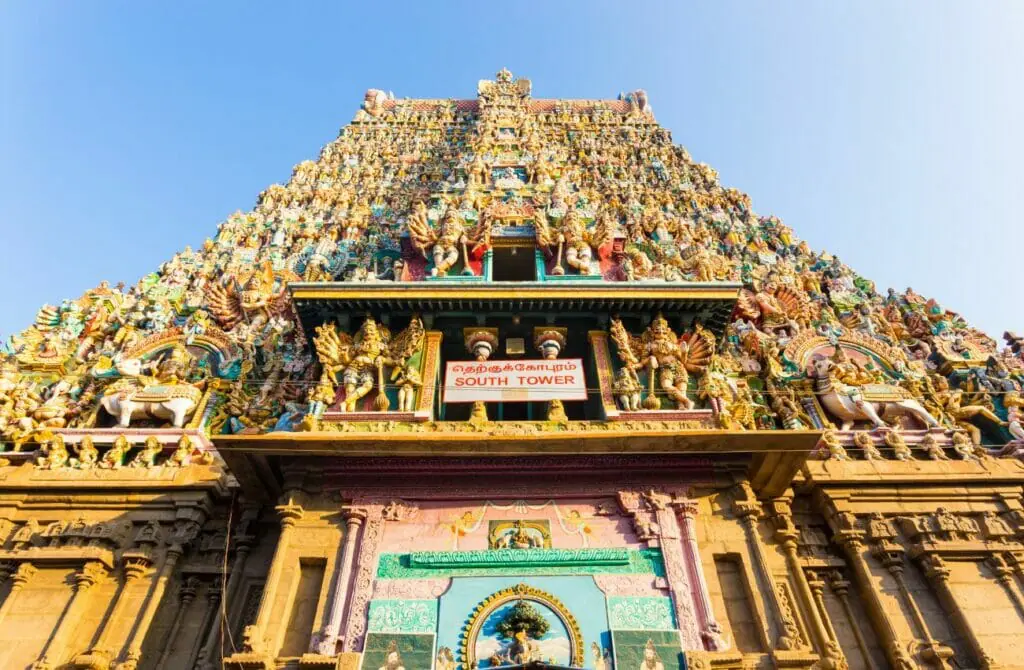 Koodal Azhagar Temple
Koddal Azhagar Temple, dedicated to Lord Vishnu's form of Sri Koodal Azhagar, is one of the oldest and most popular temples in the city of Madurai. Believed to have been built by the Pandyas during the 16th century, this temple's architecture and intricately detailed carvings leave a lasting impression on visitors.
Other major attractions in this shrine include the five-tiered gopuram and the three statues of Lord Vishnu in sitting, standing and lying down postures. Being one of the 108 Divya Desams, this beautiful temple remains crowded all year round, especially at the time of the auspicious float festival celebrated in the months of February-March in Madurai.
Now under the care of the Tamil Nadu Archaeological Department, the Thirumalai Nayakar Mahal is a fine specimen of Madurai's splendid architecture and rich history. This palace, built in 1636 by Kinig Thirumalai Nayak, is a blend of Dravidian and Islamic architectural styles, with majestic pillars and impressive stucco work done on its domes and arches.
The palace allows visitors access to the royal residence, workers' quarters, the throne room, ponds and gardens, religious places, and other areas. This beautiful palace is a must-visit spot for anyone coming to Madurai.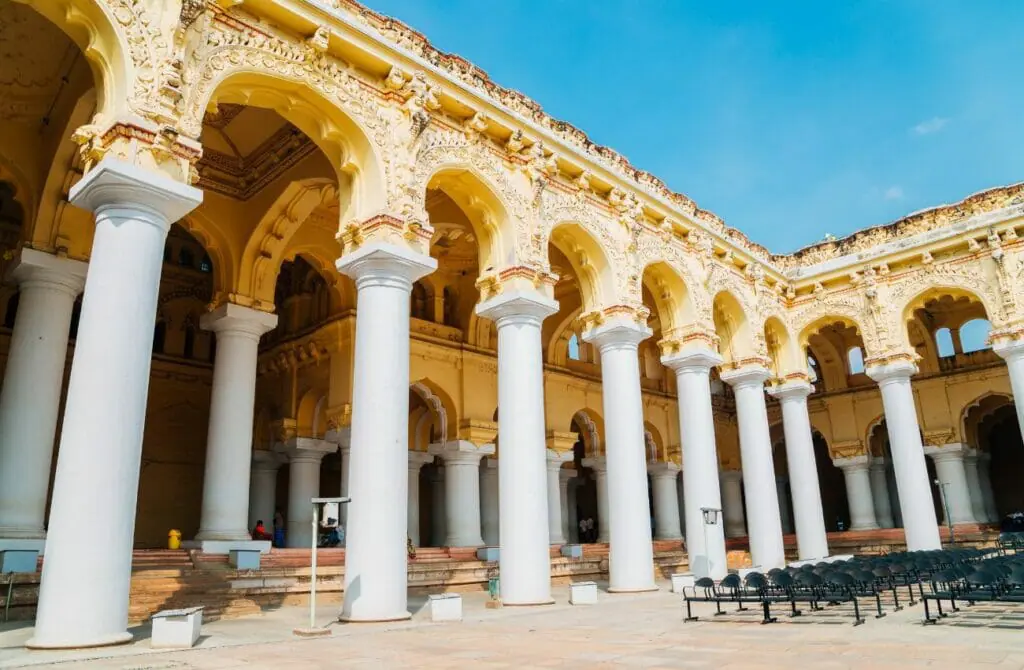 Established in 1959, the Gandhi Memorial Museum is a historical building. It was built inside the Tamukkam Palace, built about which was around 1670 and was once the residence of Rani Mangammal of the Nayak dynasty.
Spread over a huge area of 13 acres; this palace is also an example of architectural perfection. The memorial museum offers visitors a glimpse into Mahatma Gandhi's life.
The museum also conducts a range of different classes every day for visitors and residents, such as self-employment classes, yoga and pranayama classes, meditation classes, and Hindi and Sanskrit classes, among others.
Thirupparankundran Murugan Temple
Carved out of a rock, the Thirupparankundram Murugan Temple is yet another stunning sight to behold. Believed to have been built in the 8th century, this temple is a gorgeous kaleidoscope of colors with intricate carvings and sculptures decorating it.
The Thirupparankundram Murugan Temple is also one of the six temples in India dedicated to Lord Murugan, the son of Lord Shiva. According to legends, Lord Murugan married the daughter of Lord Indra at this site, which is why the temple is considered a sacred place for marriages even today. A visit to this gorgeous temple is a must!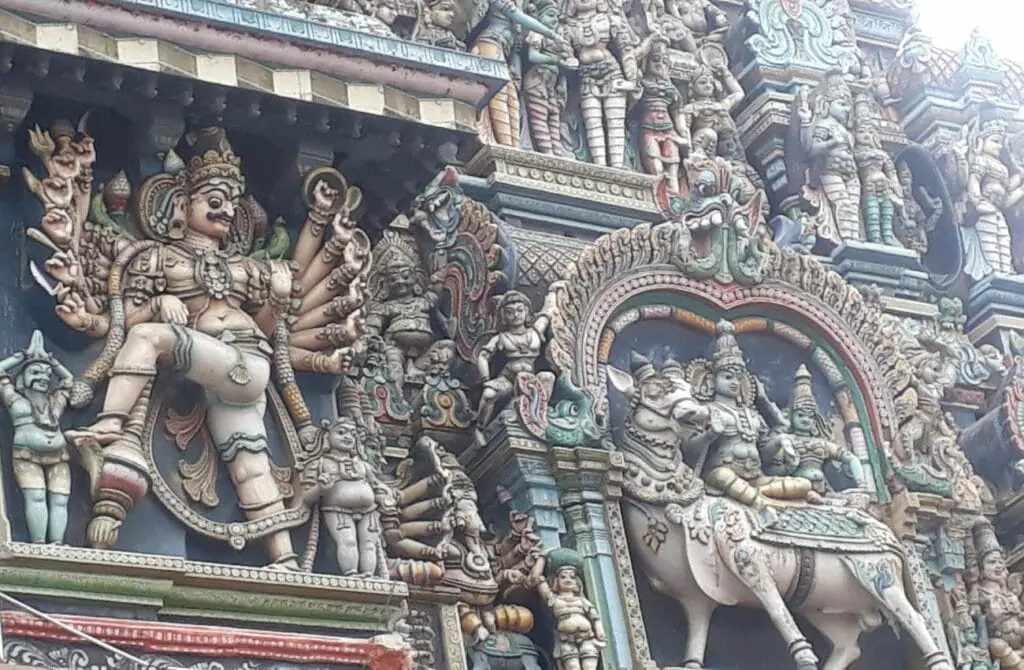 Kazimar Big Mosque
The Kazimar Big Mosque, considered the oldest mosque in Madurai, holds historical and cultural significance. This mosque was built in the 13th century by Hazrat Kazi Syed Tajuddin, who was a direct descendant of Prophet Muhammad.
The Kazimar Big mosque is known for its awe-inspiring architecture and intricate wall artwork. The mosque got its name due to its capacity to hold 2500 people in it at once. Visitors visit this beautiful mosque throughout the year, and tourists in Madurai should definitely include it in their tour of the city's cultural sites.
Mary's Cathedral
Mary's Cathedral, also known as "Church of Our Lady Dolores," is a breathtaking gothic-style cathedral in Madurai. Built-in 1841, the church is known for its impeccable amalgamation of the European, Roman and Continental architectural styles. A striking feature of the cathedral is the saree-clad statue of Mother Mary, attracting many visitors curious to see this figure.
The church also has two tall bell towers and a stunning facade. Due to these reasons, the church is frequently visited by architecture buffs and tourists, not just devotees. Add this cathedral to your itinerary when you are visiting Madurai!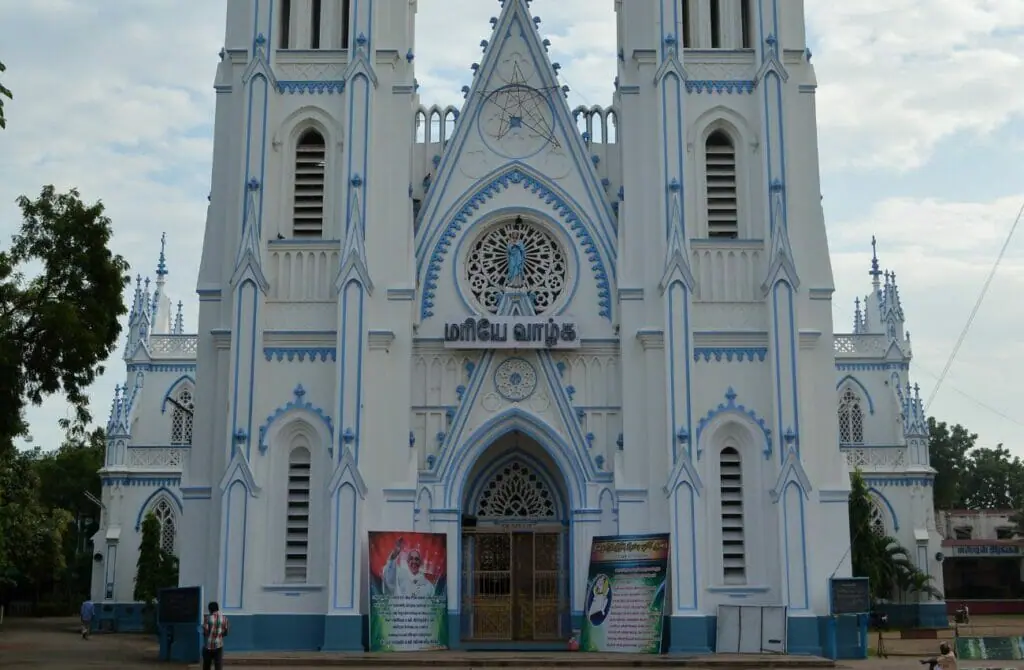 Heritage & Cultural Walk of Madurai (2-Hour Guided Walking Tour)
Visiting all the famous cultural attractions in Madurai and understanding their historical importance is no slight task. This guided walking tour of the city's top heritage and cultural sites makes this process much easier for tourists.
Amazing storytellers will introduce you to the city, its history and its people as they guide you through some of the city's highlights and some forgotten nooks in the old city during this walk. Experience Madurai authentically through this fun tour of the old city and major tourist attractions!
Madurai Genderqueer Rainbow Pride Parade
Madurai is known for hosting Asia's first Genderqueer Pride Parade in 2012. Aiming to bring more visibility to alternate sexuality and gender identity issues, Srishti, an LGBTQ group based in Tamil Nadu, organized the "Alan Turing Rainbow Festival".
It became the 10th city in India to celebrate the LGBTQ rainbow pride festival in 2012. This city of temples is slowly becoming more and more inclusive and accepting of queer individuals due to such events.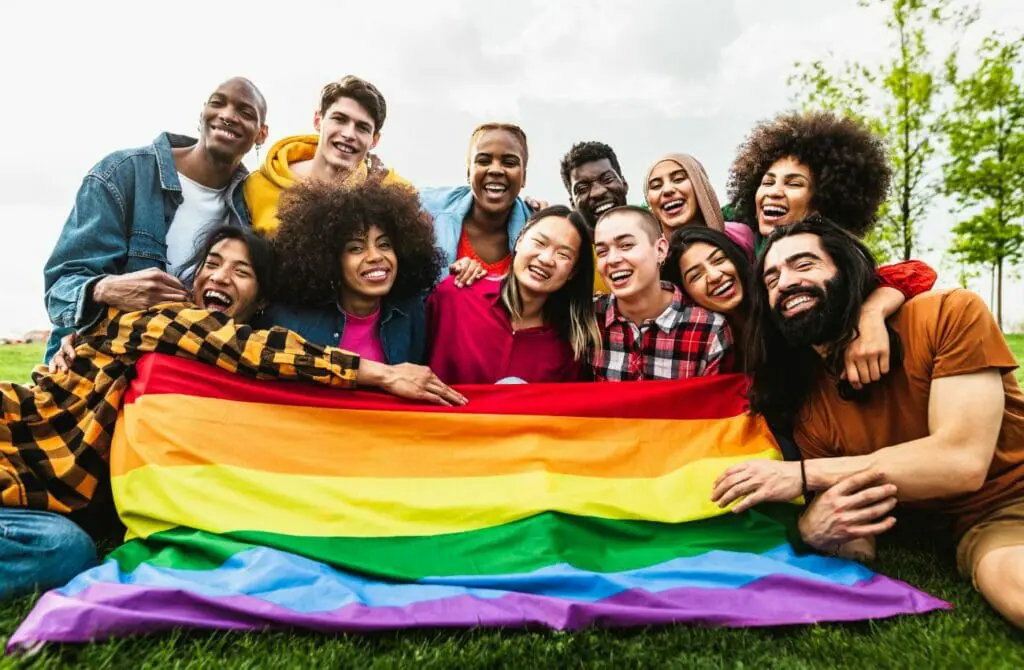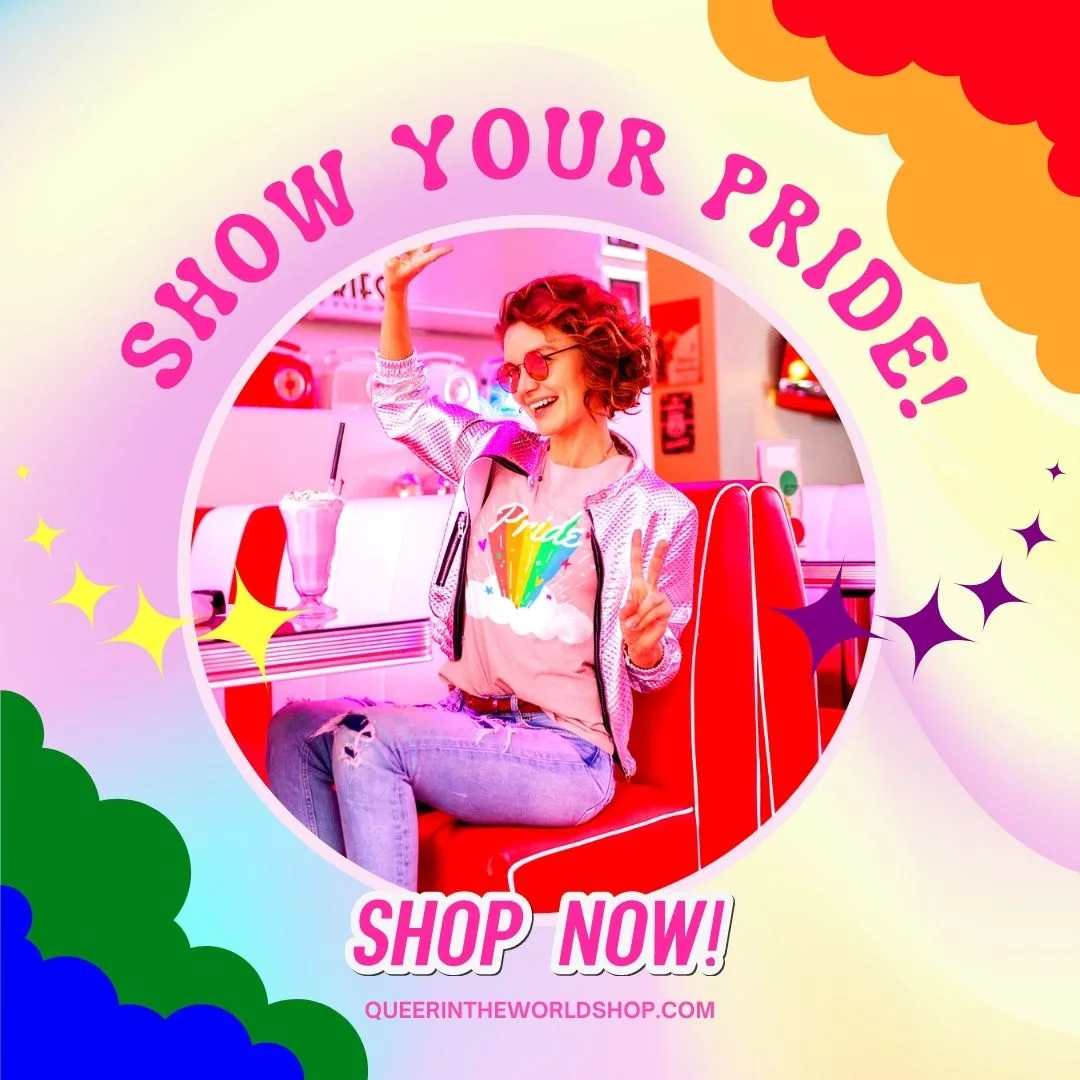 Gay-Friendly and Gay Hotels in Madurai, India
Don't wait another minute to book your stay at one of Madurai's most fabulously queer-friendly hotels! While many establishments in town might not welcome our rainbow family, these hotels have all pledged to embrace our queer spirit with open arms.
From non-discrimination policies to LGBTQ+ resources and amenities, these hotels go above and beyond to create a safe and inclusive environment for all guests who identify as LGBTQ+. And if you're looking for a place to stay in an area known for being LGBTQ+ friendly, these hotels have got you covered too.
In addition to the locally-owned gay-friendly accommodations in Madurai, international hotel chains can also be great options for LGBTQ+ travelers. Many of these chains have implemented policies and training programs to ensure that their hotels are welcoming and safe for LGBTQ+ guests.
They may also have LGBTQ+ affinity groups within the company, which can help to promote a culture of inclusivity and support for queer travelers.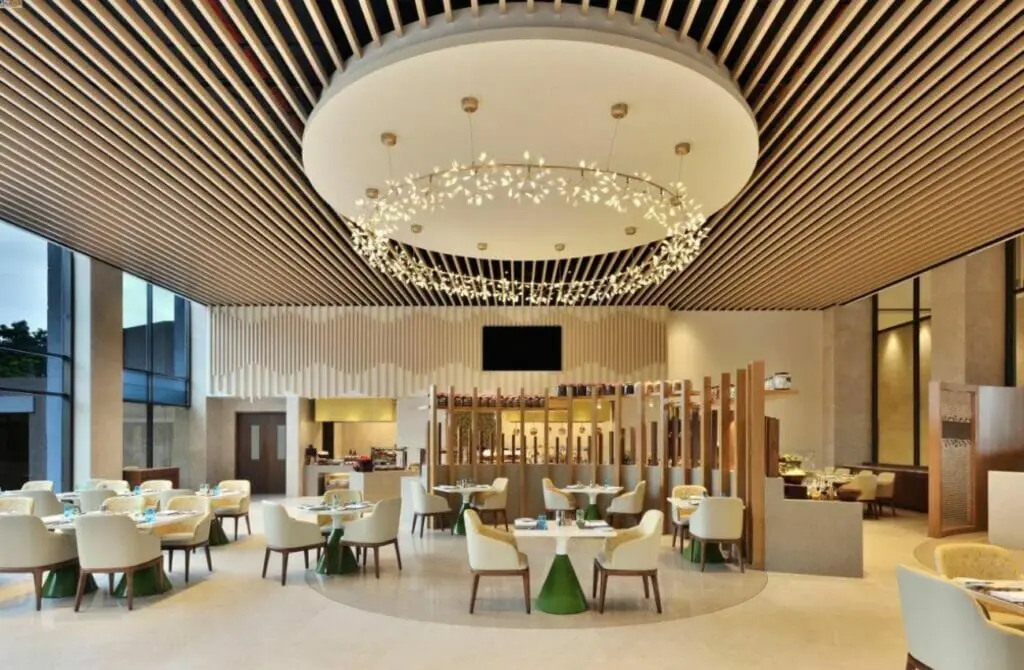 Moreover, international hotel chains are often known for their high-quality amenities and services, which can provide a more luxurious and comfortable stay for LGBTQ+ travelers. With a global presence, these chains can also provide a sense of familiarity and consistency for queer travelers who may be navigating unfamiliar destinations.
Whether you choose a locally-owned gay-friendly accommodation or an international hotel chain, it's important to do your research and choose a place that will make you feel welcome and comfortable during your stay in Madurai.
So why wait? Book now to experience the comfort, luxury, and acceptance these gay-friendly hotels in Madurai offer. With options to fit every budget and preference, you're sure to find the perfect home away from home.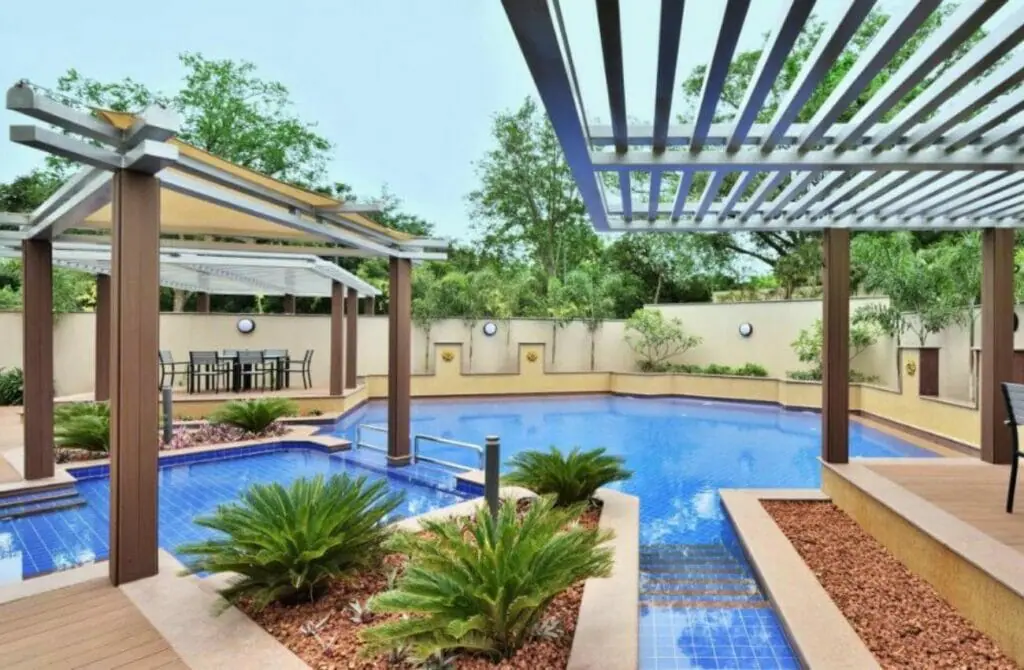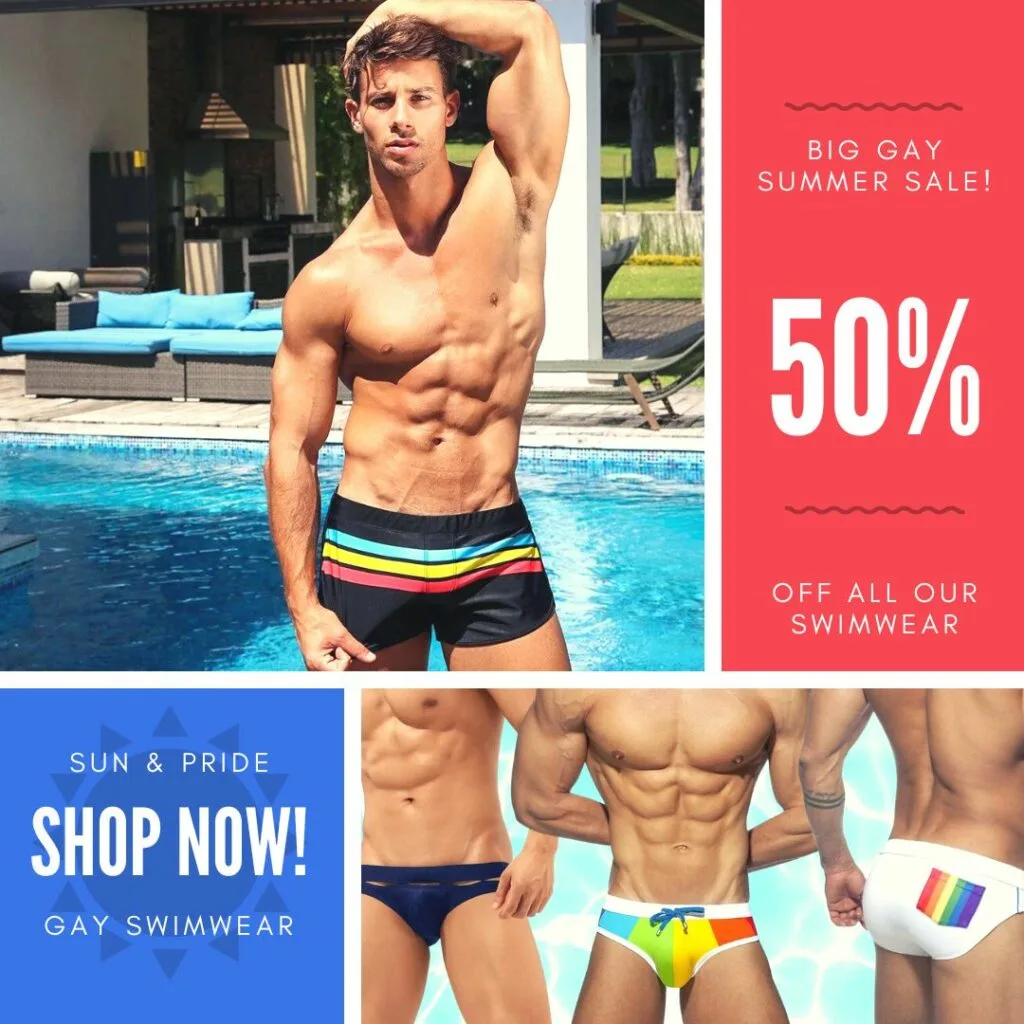 Courtyard by Marriott Madurai ☆☆☆☆
Courtyard by Marriott Madurai is a great place to stay, whether on a business trip or just visiting the city as a tourist. Boasting glowing reviews from visitors, Courtyard by Marriott is a 4-star hotel equipped with luxury amenities in this city. The hotel has an impressive exterior with elegantly stylish decor.
The amenities of this property include a huge outdoor pool, a garden and a terrace, and conference rooms for guests on business trips. The on-site restaurant, Madurai Kitchen, offers a wide range of international cuisines and a great drink menu.
Conveniently located in the city center, it gives guests easy access to different tourist attractions scattered throughout the city of Madurai. This hotel is definitely worth staying in if you are looking for a luxurious vacation where you want to unwind and enjoy yourself.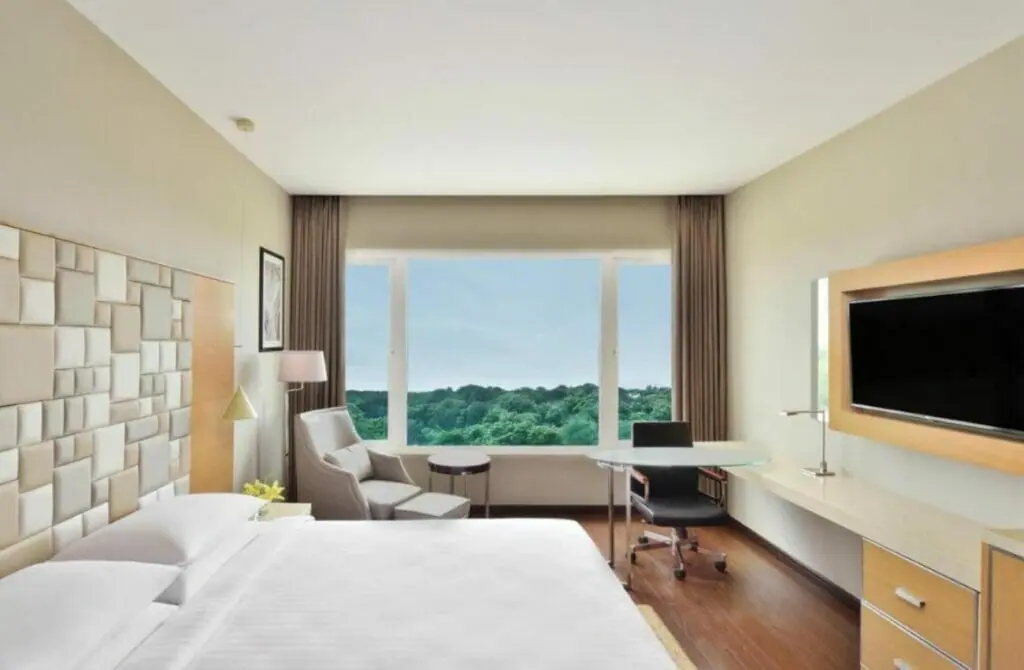 Heritage Madurai is a breathtakingly scenic property, a luxury 5-star hotel in the "City of Temples". It's a tranquil place tucked away among tall trees and nature, away from the hustle and bustle of the city of Madurai. This 17-acre property is an urban resort with all the amenities one would expect from a 5-star property, including a breathtaking outdoor pool.
The architecture of the hotel will take you back in time as it reflects the culture and heritage of the locals, thus getting the name "Heritage Madurai". The hotel has two on-site restaurants, and their bar, "Swig and Tee," is famous for being one of the top bars in the city.
The major famous temples and other attractions are located nearby, such as the Meenakshi Amman Temple and the Kazimar Big Mosque. Heritage Madurai should be your first option for a luxurious and peaceful stay in nature.
The Gateway Hotel Pasumalai Madurai ☆☆☆☆
A grand property spread over 62 acres of land; the Gateway Hotel Pasumalai is a 4-star eco-friendly hotel in Madurai. Sitting on top of Pasumalai Hill, this hotel has amenities like an outdoor pool, tennis courts, a library and an Ayurvedic treatment center where guests can treat themselves to massages and other healing treatments. Particularly highly rated by couples, this resort is famous for two-people trips.
The hotel also features a garden and an outdoor barbecue grill where guests can enjoy evenings with good company and laughter. GAD is the on-site restaurant, lounge bar, and cafe. Another amazing option for a stay in Madurai, this hotel will definitely leave you impressed.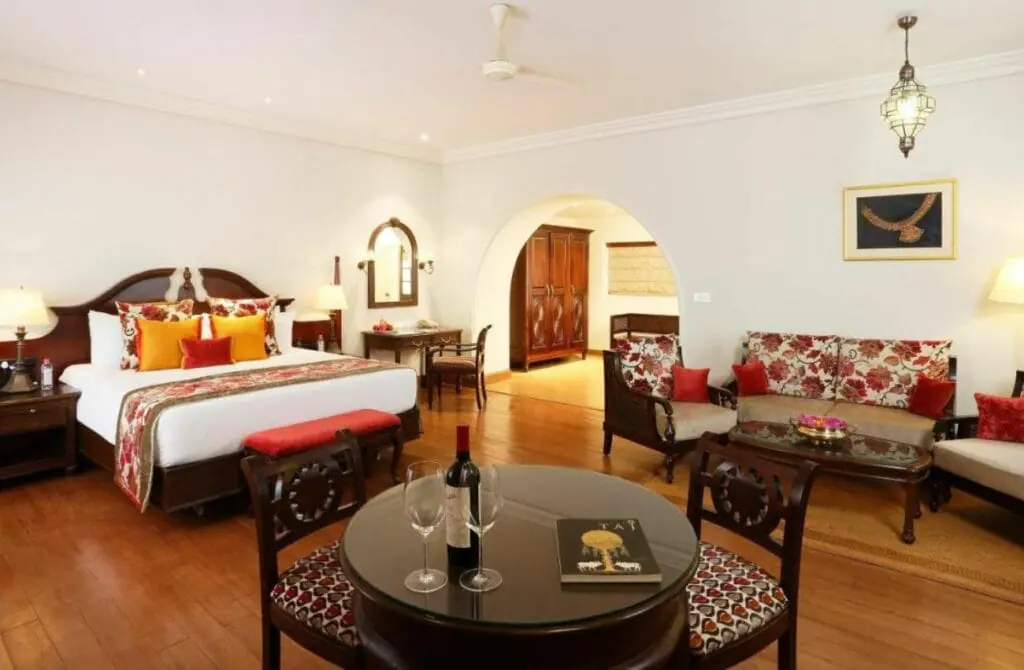 An amazing affordable option in Madurai, Amika Hotel is a highly-rated 3.5-star hotel. The word "Amika" means friendly in Latin, and living up to this name, this hotel has exceptional service and hospitality.
Located near the Madurai airport, this hotel is secluded and free from the rush of the main city. Equipped with beautiful decor and all the amenities one can need, Amika Hotel assures guests of a luxurious stay.
The highlights include a swimming pool, a free breakfast buffet, and a full-service on-site spa. The property has a lounge bar, a cafe and a restaurant on-site, a garden, a business center and a computer station. If you are looking for a quiet, comfortable, and affordable stay in Madurai, then Amika Hotel is the place for you.
Known for its spacious rooms and suites, Poppys Hotel is an affordable 3-star hotel in Madurai. The hotel has excellent amenities like an outdoor pool, garden, terrace, barbecue grill, and business facilities such as meeting rooms and a business center.
The on-site restaurant, Melting Pot, is a classy restaurant that serves mouthwatering appetizers and desserts and has a great selection of drinks. Poppys Hotel is a great option for those looking for affordable hotels with great amenities.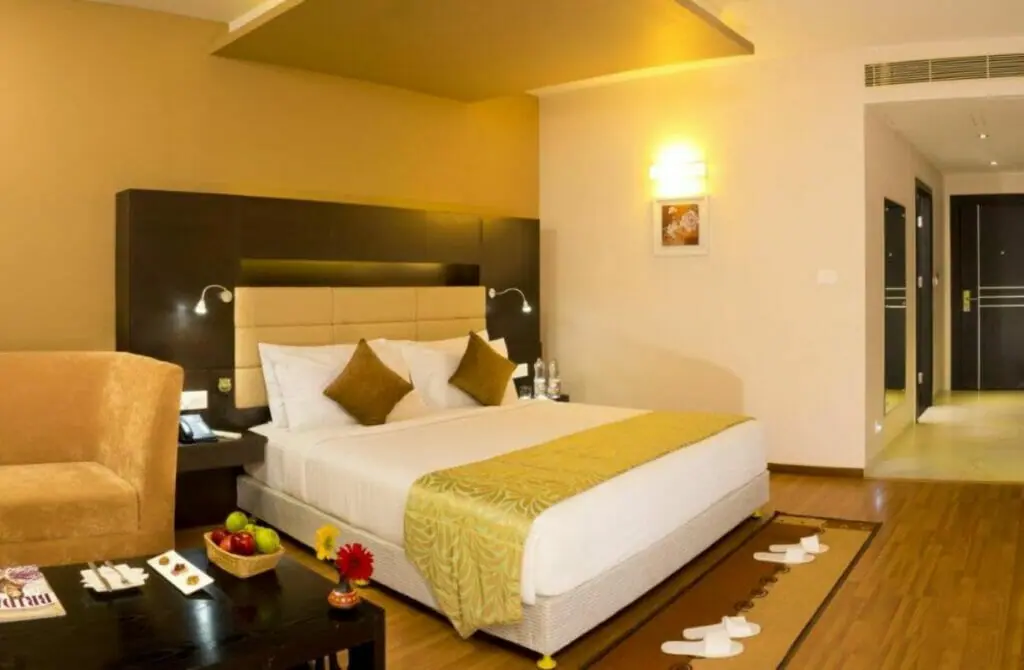 Gay Nightlife in Madurai, India
Despite being known for its temples and religious spots, Madurai has quite a lively nightlife. While it is not as party-oriented as those of the metropolitan cities of India, this city's night scene is more cultural but still quite alive. Despite this fact, Madurai does not have a specifically queer nightlife like the top metropolitan cities of India.
This "City of Temples" is still undergoing the process of accepting the queer community into society, but they have not reached that goal yet. The clubs and pubs on this list are the most popular ones in Madurai.
Their quality and hospitality ensure that they are safe spaces for queer people, and there is no threat to their safety. Queer travelers can easily visit these places and enjoy their night out with their partners and friends.
Darling, let's talk about exploring the queer nightlife in Gay Madurai, shall we? It's true this city might not be the most welcoming to our fabulous community but fear not! Being gay is perfectly legal here; remember to err on the side of caution when outside of queer-friendly spaces.
But let's focus on the fun, shall we? Exploring gay nightlife can be one of the most thrilling and enriching experiences while on the go. From dancing up a storm at a gay club to sipping cocktails and rubbing elbows with the locals at a gay-friendly bar, you'll have a chance to immerse yourself in the local culture and make memories that will last a lifetime.
And darling, we've got you covered with the best gay and gay-friendly spots in town. So don't be shy; step out of your comfort zone and explore the queer nightlife in Gay Madurai. Trust us; it'll be worth it!
Here is a list of the top pubs and clubs you should visit to enjoy Madurai's nightlife to the fullest!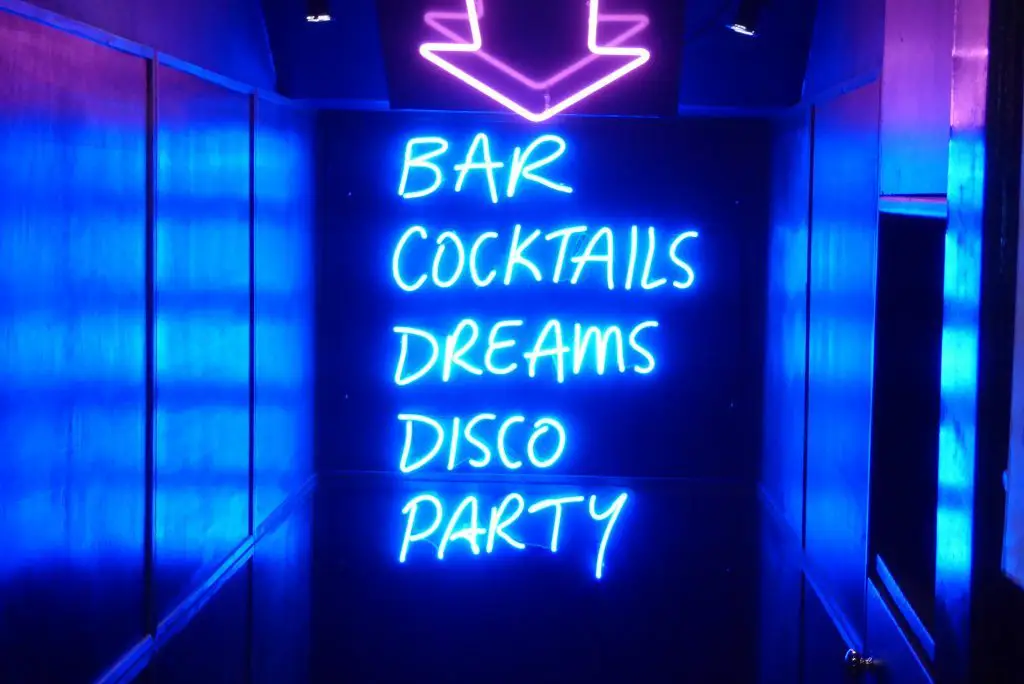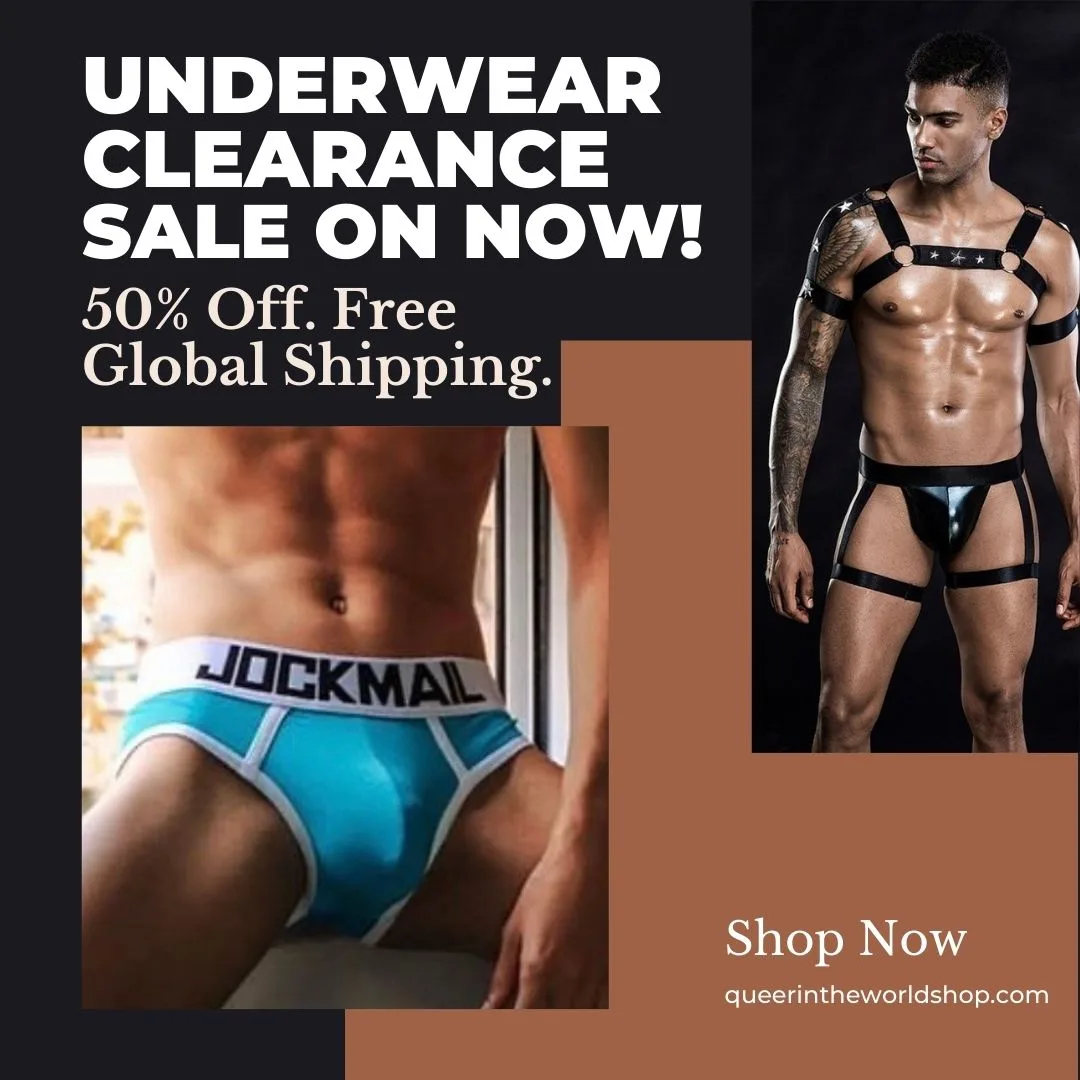 The Sangam Bar
(Temporarily or permanently closed. If you know something, please suggest an edit.)
A part of the Sangam Hotel, this bar is one of the most popular ones in Madurai. The Sangam Bar has excellent decor and a relaxing atmosphere with mood lighting to help people relax and unwind with drinks and laughter. Always having a great crowd, this bar is especially known for its vibrant dance floor and great live music.
The bar is well stocked with a wide range of drinks, from beers, wines, vodka and other spirits, to impressive cocktails, mocktails and soft drinks. The food is also well-liked and compliments the drinks very well. The vibe of this bar is unmatched by any other in the city.
Swig and Tee Bar- Heritage Madurai
The Swig and Tee Bar is a part of the luxurious 5-star hotel Heritage Madurai, and it definitely lives up to its name. This bar is a remnant of the colonial club culture of British Madurai, with one section of the bar being part of the main clubhouse building of the 1970s, while the contemporary bar counter is a newer addition.
The wide array of drinks this fully stocked bar offers makes it famous as one of the best bars in Madurai. This bar is definitely an iconic spot in Madurai's nightlife, worth visiting at least once.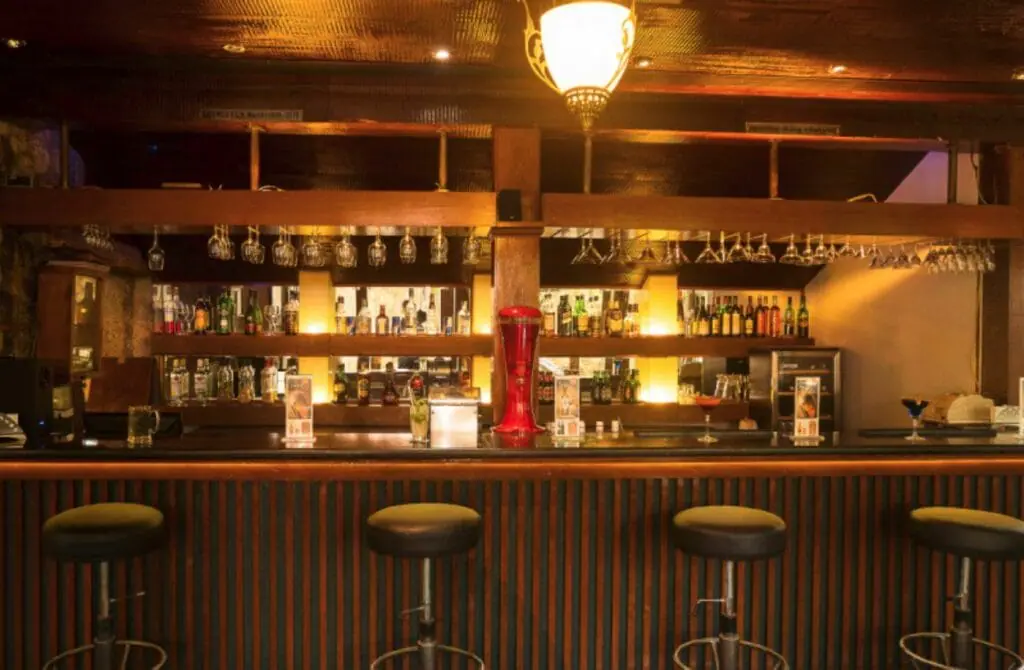 Vijay Disco
(Temporarily or permanently closed. If you know something, please suggest an edit.)
A happening discotheque in Madurai, Vijay Disco is the place you have to be if you want to show off your dance moves and let loose to party. Interesting interior decor, a fabulous dance floor and disco lighting set the mood of the discotheque perfectly. The DJs and their excellent remixing skills keep the dance floor alive all throughout the night as partygoers let their hair down and dance the night away.
Usually preferred by the younger crowd, Vijay Disco is one of the few places in this city where the dance floor buzzes with this excitement. The discotheque also has a range of different drinks that the guests can enjoy while they take a break from dancing.
Harveys Lounge Bar- The Gateway Hotel Pasumalai
Harveys Lounge Bar is a classical pub-themed lounge bar that elevates your drinking experience to another level. This lounge bar is neither restricted to drinking nor strictly falls under the category of nightlife. But, it is a great place to unwind and catch up with friends in a cozy atmosphere.
You can read a book in a quiet corner by yourself or take up a game of billiards with some friends. This bar has an old-world charm that seems to transport you back in time without your stresses and worries. With a careful selection of imported beverages, the Harvey Lounge Bar is perfect for sipping your drink and lounging out.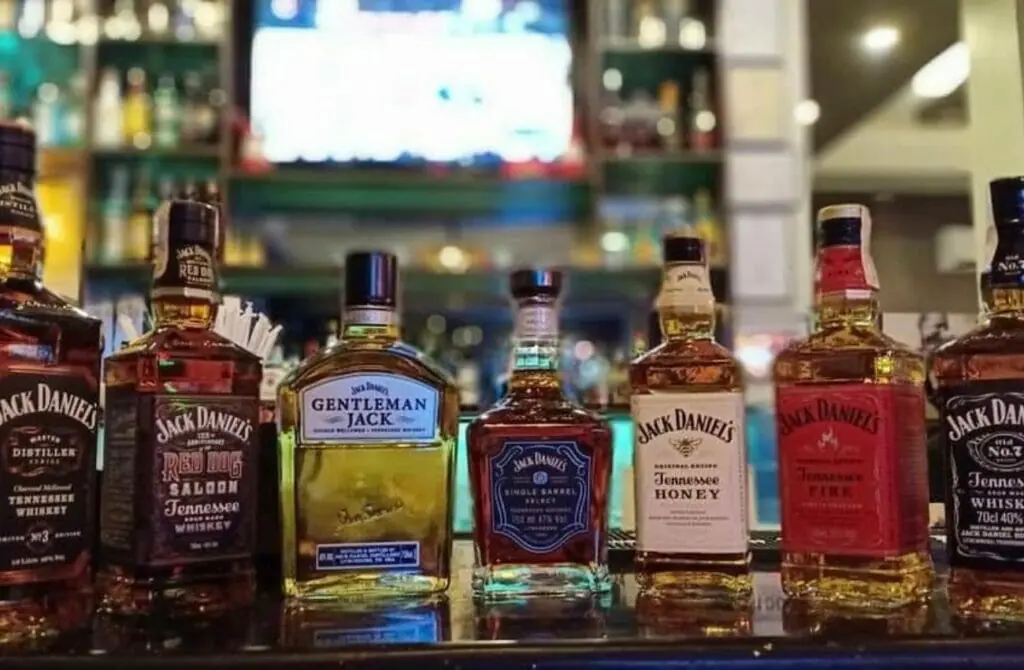 A part of Hotel Supreme in Madurai, Apollo 96 is a unique space-themed bar. A space with a fresh hi-tech feel to it; the bright neon lights, as well as the space-themed decor and seating of this bar, will transport you to what feels like a spaceship.
Apollo 96 has a good drink menu along with delicious food to complete the experience. This unique bar will be a fun spot to go hang out with friends and loved ones and immerse yourself in the space theme of this bar.
Cloud Seven is a part of the luxurious Hotel Germanus in Madurai, which is especially popular among international tourists. Among the top lounge bars in the city, Cloud Seven has a relaxing ambiance where guests can chill out with their friends and loved ones over a few drinks.
Juicy snacks and delicious food complement these drinks perfectly, and the dance floor is always alive. The seating is cozy, and the lounge bar's overall vibe is a low-key, chill place for people who want to hang out and drink with their friends.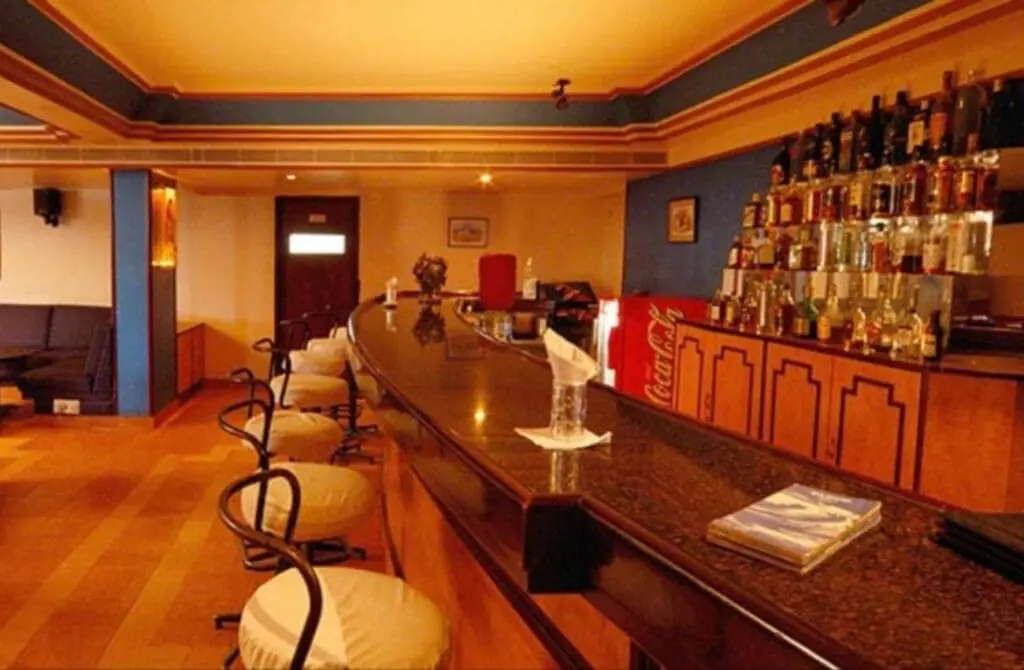 The Float Festival of Madurai
(Temporarily or permanently closed. If you know something, please suggest an edit.)
Definitely an unusual entry on a list full of bars and nightclubs, the Float Festival of Madurai is one of the city's most iconic and lavish celebrations. This 12-day festival reaches its peak on the full moon night of Thai, a Tamil month.
It includes taking the idols of Goddess Meenakshi and her consort, Lord Sundareshwarar, in a procession from the main temple to the lake, where they are taken on a boat or float. If you are in Madurai around the time of this festival, you cannot miss seeing this beautiful ceremony, especially at night when the float is brightly decorated.
Sky High Bar- Hotel Park Plaza
A lounge bar inside Hotel Park Plaza, the Sky High bar has a gorgeous interior with funky lighting that sets the mood for partying. It is an air-conditioned bar that matches the vibe of the hotel it is a part of.
The cozy seating and ambient lighting make the guests unwind and relax after a busy day of traveling and sightseeing around Madurai. Sky High Bar is fully stocked with a stunning range of liquors and non-alcoholic beverages. This lounge bar is definitely worth a visit if you are visiting Madurai!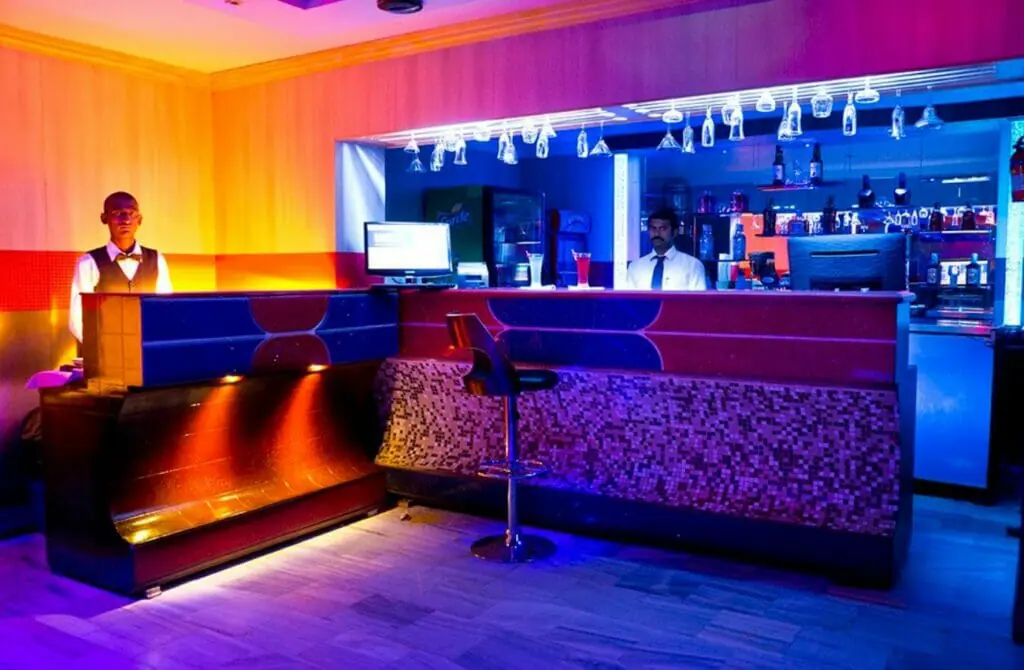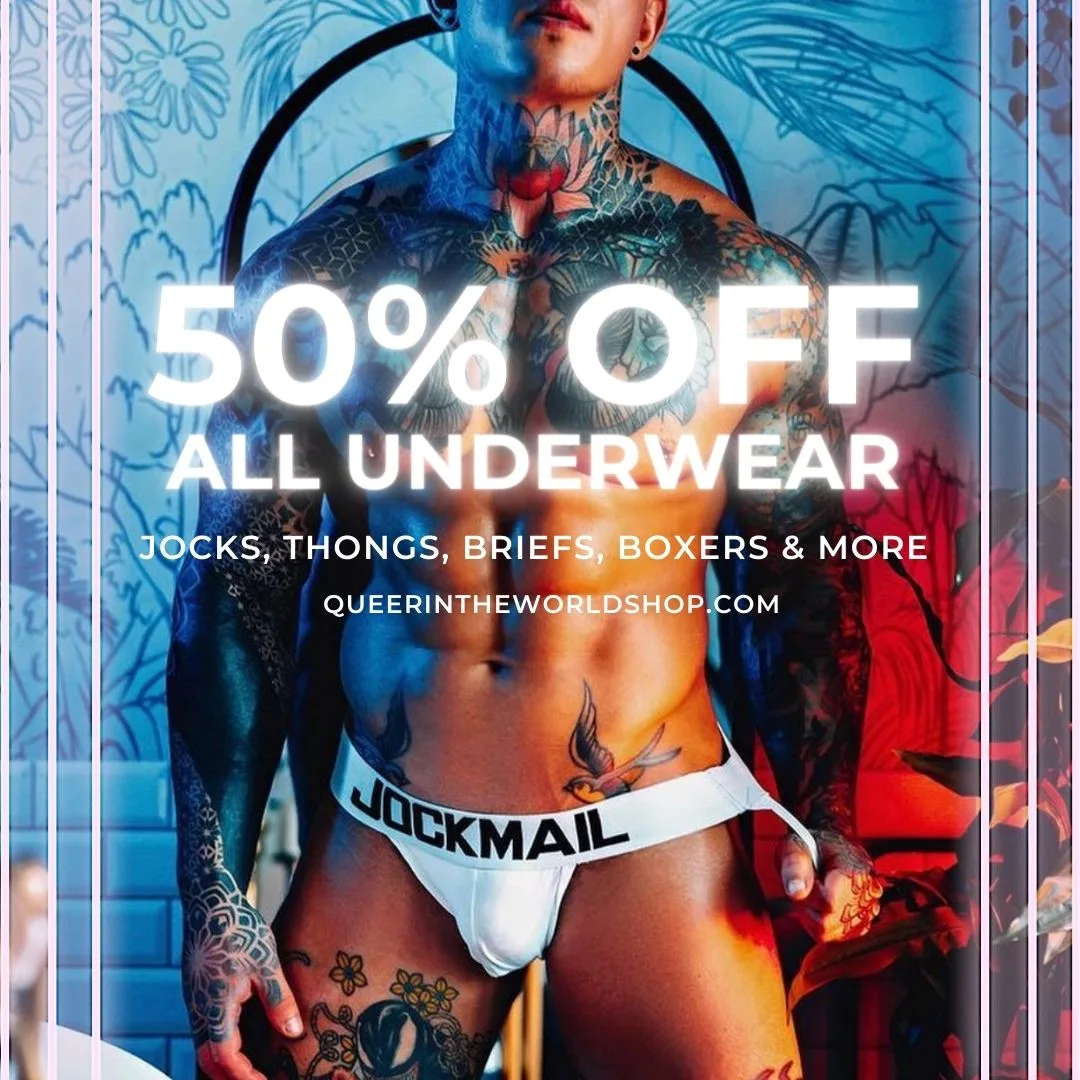 Gay Map Of Madurai
Finding it hard to envisage where everything is in Madurai? Hopefully, this queer-centric map helps where we have marked all the bars, clubs, parties, hotels, saunas, massages, and more will help you stay in the spot best suited to you!