As the capital city of the Czech Republic, Prague is one of the most vibrant and, at the same time, ancient cities in Eastern Europe. This quaint city is also a famous spot for gay travelers, given how progressive and liberal it is to gays as compared to other Eastern European cities.
Tourism has been booming in Prague since the 1990s, and the city's popularity still has not wavered for once. Given its ethereal and timeless beauty, it is quite easy to understand why. Considered one of the top destinations, this little city by the side of the serpentine Vltava River has long captured the heart and soul of travelers, gay or non-gay, since forever thanks to its quaint atmosphere and local beers, which some regard as among the best in the world.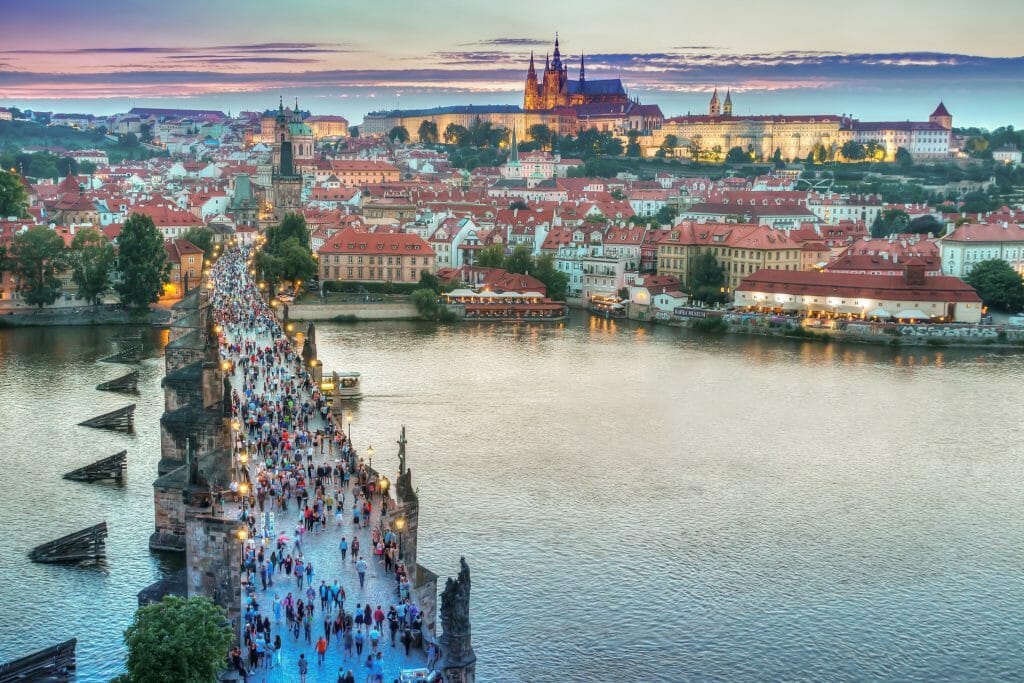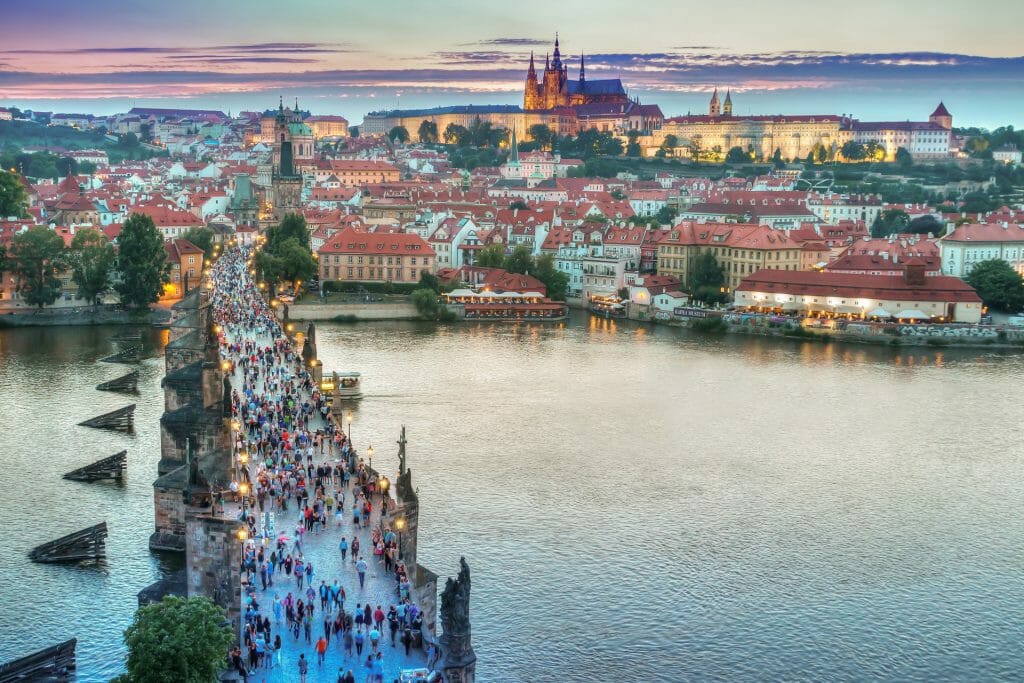 Aptly named the City of a Hundred Spires, architecture thrives in Prague. Founded in the late stage of Romanesque architecture style, Prague has seen the rise and fall of the Gothic, Renaissance, and Baroque eras, all of which have had certain influences to the city. As a result, Prague, as it is now, is not an epitomic representation of any architecture style, but rather a perfect harmony in which styles complement styles.
For long, Prague has been a famous gay-friendly destination for gay travelers around the world. Homosexuality is completely legal here, and in 2006, Czech citizens voted to legalize homosexual partnership. There are now serious conversations in the country to repeal a ban on same-sex marriage that has been in effect, and surprisingly, more than 75% of local citizens think this is a great idea.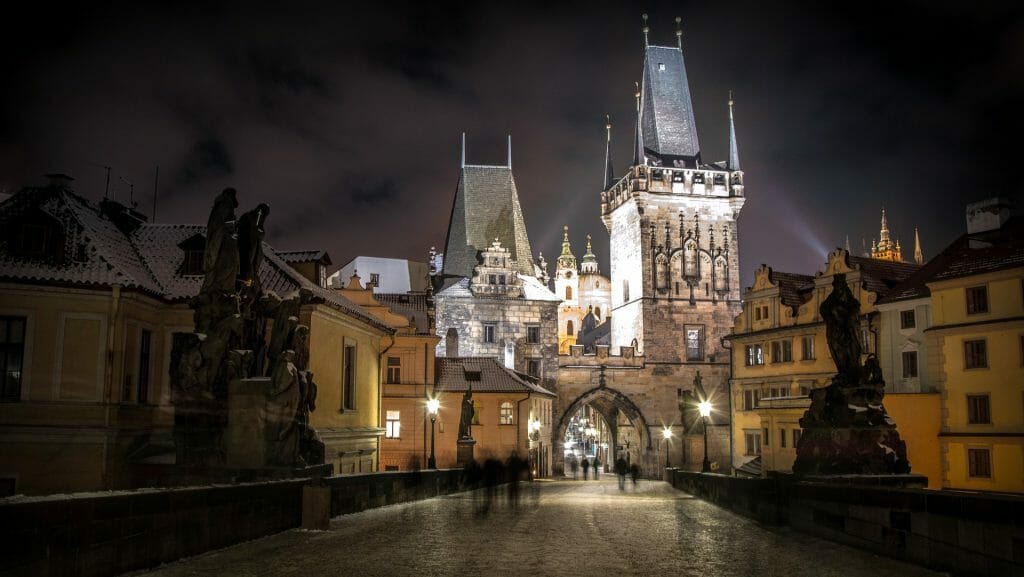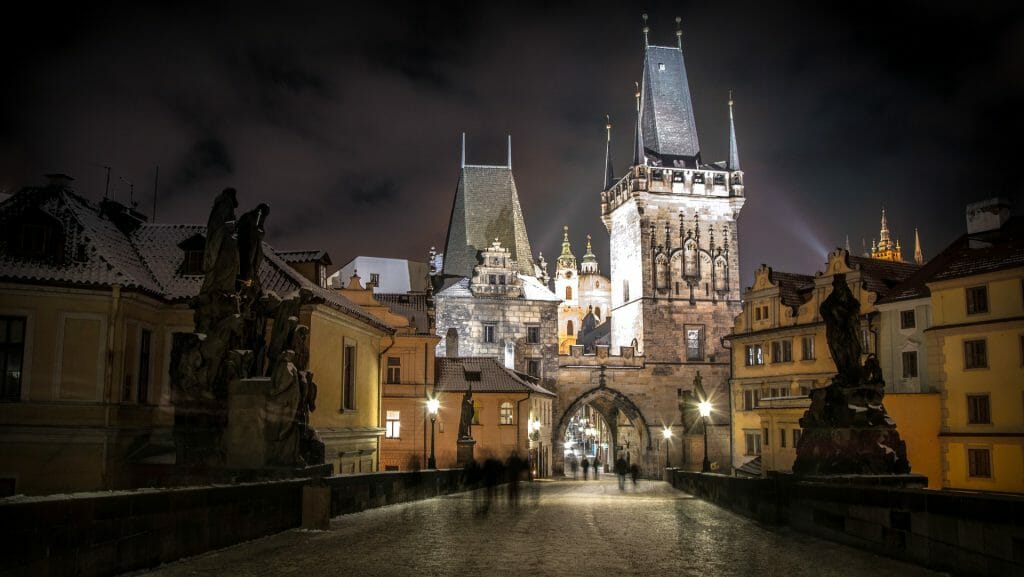 All of these factors have made Prague the biggest gay scene in Western Europe, surpassing even Budapest or Warsaw. In fact, it might not be an understatement to say that the local gay scene can be among the biggest in the world. The city's gay scene is mostly concentrated in Vinohrady, an area close to the city's centre, and it comprises of as much as 30 gay-friendly bars and nightclubs. There are also many fabulous local events dedicated to gays, including the annual pride parade in August, arguably the biggest one in the entirety of Europe. For gay travelers, Prague is definitely worth a shot.
After hours of promenading around the city's old quarters and bridges, or plunging yourself to Prague's endless nightlife fun, you will definitely need a bed and accommodations for the night. You are in luck, because Prague hostels are extremely friendly to gay travelers. As mentioned above, it is legal to stay with a same-sex partner in Prague, so you can enjoy your gay getaway here with your significant other without fearing any legal repercussions.
There is no gay-exclusive hostel in Prague at the moment, but there is no guarantee there will not be one in the future! Hostels in Prague are considerably cheaper than in other European cities, but it seems that the rent is on the rise. Without further ado, dive into your gay adventure with our top picks!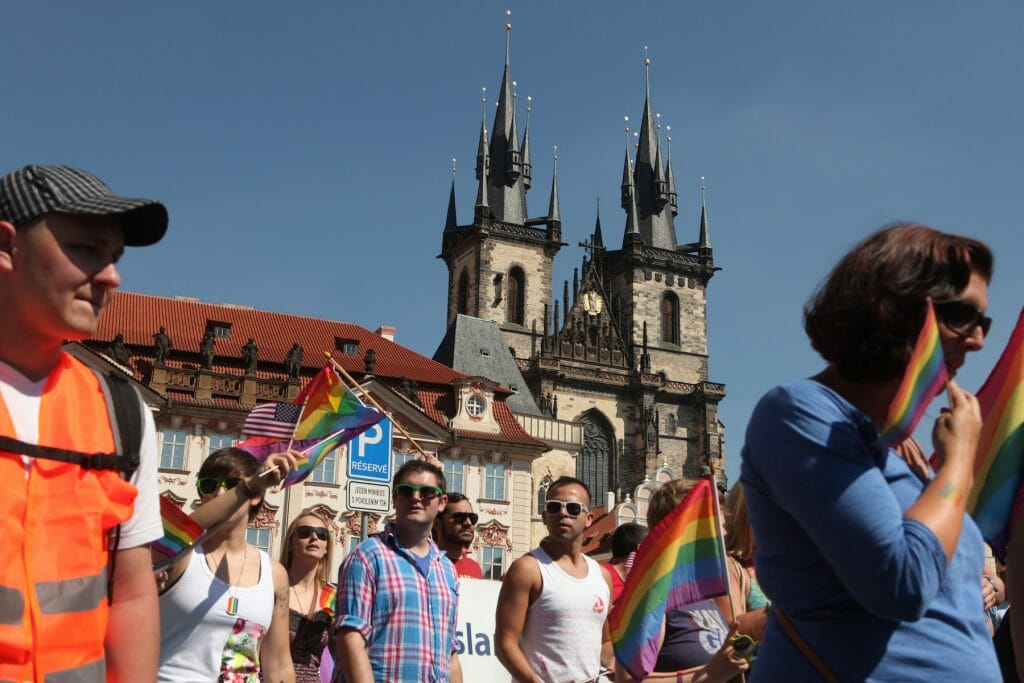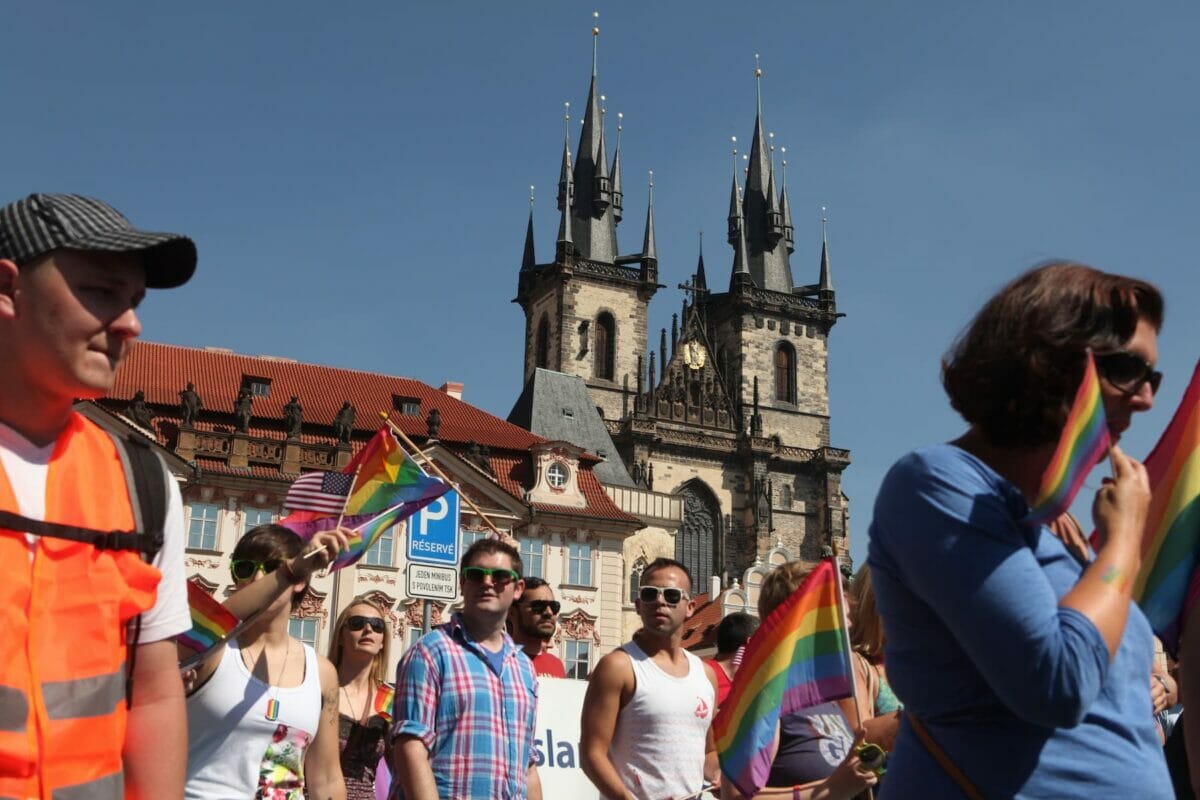 The Most Fabulous and Almost-Gay Hostels in Prague! 🇨🇿
The best hostel for gay travelers in Prague, MeetMe 23 always appears on the top of any list of hostel for gays. Featuring traditional decorations on the outside, but playful design within, the hostel is situated in a historic neo-renaissance building which has seen both world wars and a large part of Prague recent history. As you step through its entrance, be prepared to be impressed by the building's wide range of decorations. Old European statues and sculptures mingle perfectly with modern works of art, creating a space where time is frozen, where the old and the new effortlessly blend into one another. In itself, the hostel is not unlike a work of art.
The hostel's location could not be more convenient for gay travelers. Being just fifty steps away from the Main Train Station, the hostel offers quick access to a transportation hub which can take you anywhere in the city, including its airport. It is also very close to Wenceslas Square, one of the most famous town squares in Prague, and the hostel is only minutes away from the Old Town, where the ancient buildings of Prague still stand proudly. For gay travelers wanting to explore the full extent of Prague, this hostel is a perfect choice.
Another huge plus is the fact that the hostel employs a high-tech reception system which allows you to accomplish everything, from planning your trips or flights to simpler tasks such as locking and unlocking your room. There are a wide range of rooms available for your choice, including single-bed rooms, dormitory rooms, or even suites if you want to splurge a bit. All rooms come with a separate WC with toiletries for you to use, and there is also a flat-screen TV in each room. The accompanying amenities include an on-site bar/restaurant and a shared space.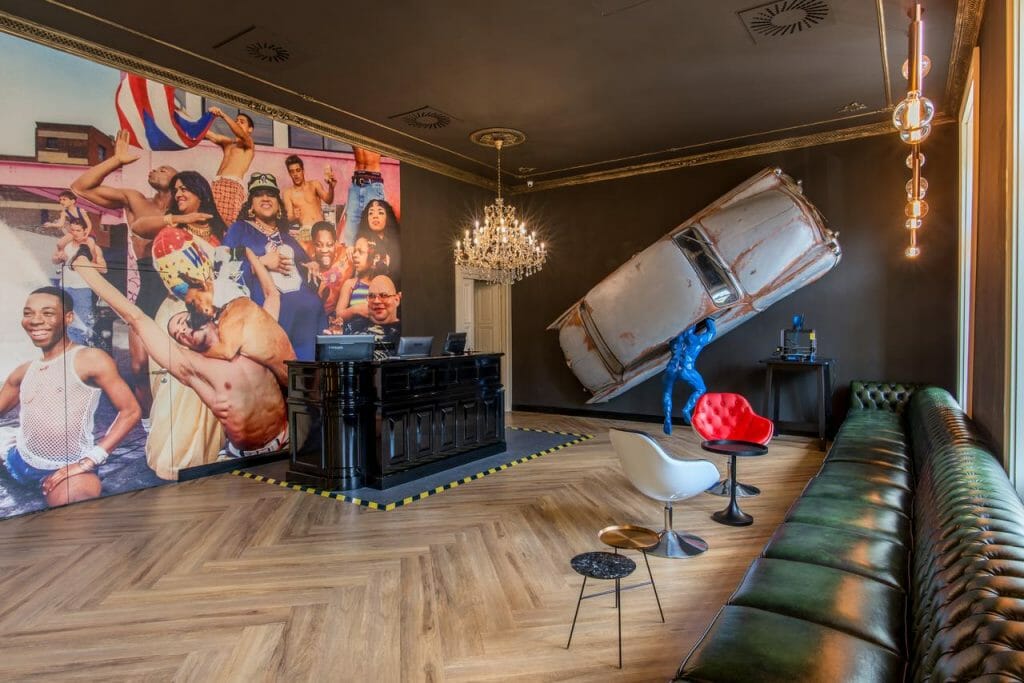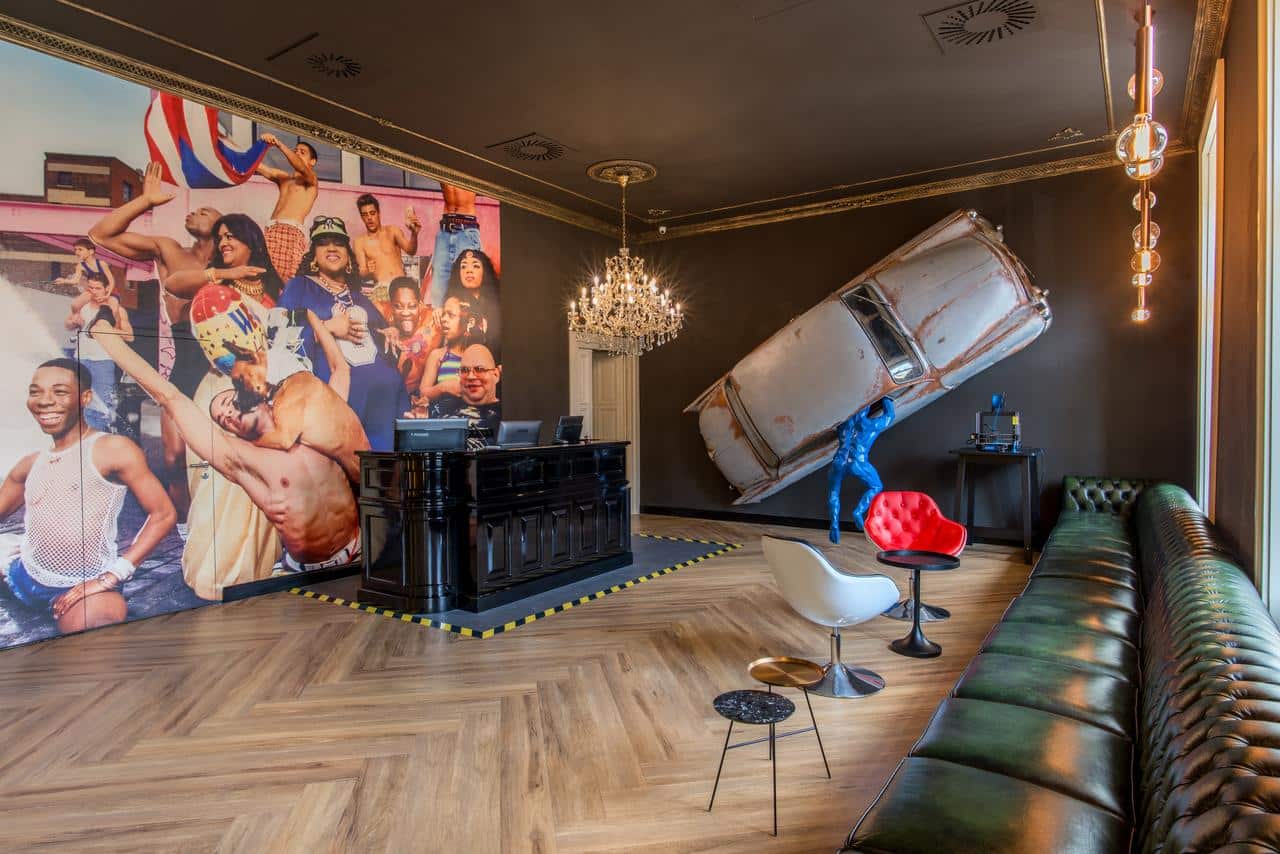 Simple and minimalistic with no clutters, Post Hostel Prague offers you high-quality accommodations for you and your friends on your gay adventure. Nestled in a beautiful old building, this hostel is only a 6-minute drive away from Prague National Museum and it is quite close to the famous Wenceslaus Square.
The rooms are mostly in dormitory style, and the bathrooms can either be shared or private, depending on the room type. As a plus, you can enjoy some great fun at the on-site fun room, where a PlayStation 4 and board games greet you warmly. There are also free tea and coffee in case you need refreshments.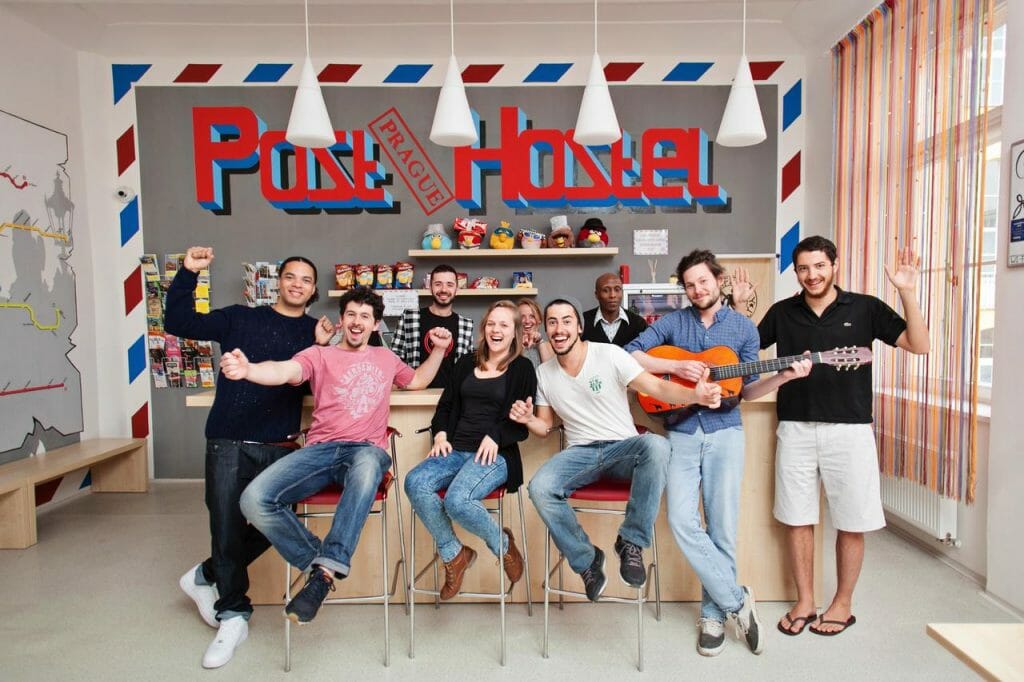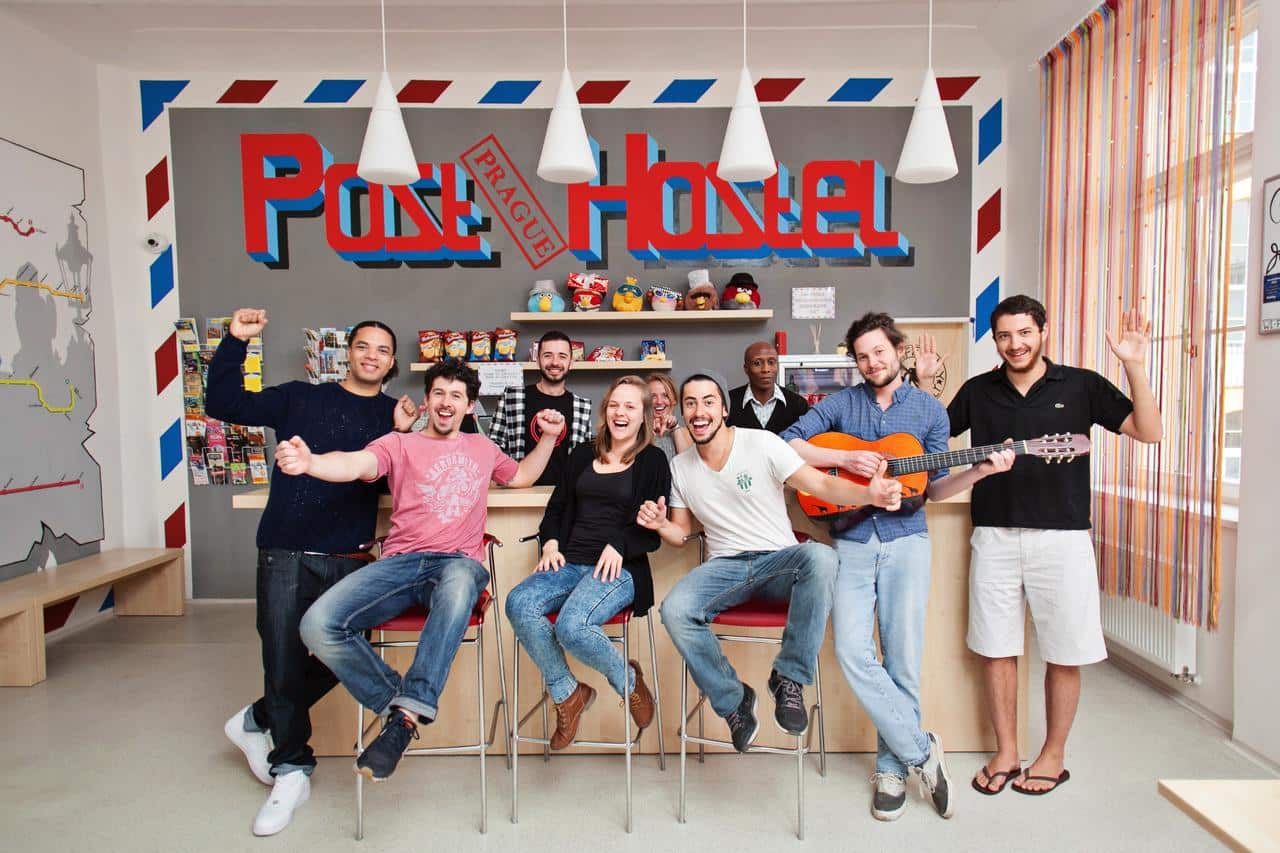 Nestled in a historic building on the famous Royal Route, Little Quarter Hostel offers you an unparalleled panoramic view of Prague's quaint skyline thanks to its lovely rooftop terrace. Being 200m away from Prague Castle, the hostel provides quick and easy access to this famous landmark which every tourist, gay or non-gay, must see on their tour. Wenceslaus Square is also close, being 4km away, so you can enjoy the famous restaurants, bars, and shops there quite easily.
The hostel features both dormitory rooms and private rooms. Each room will come with a private bathroom. There is a lounge where you can enjoy board games or PlayStation 4, or simply meet new gay travelers to share your stories together.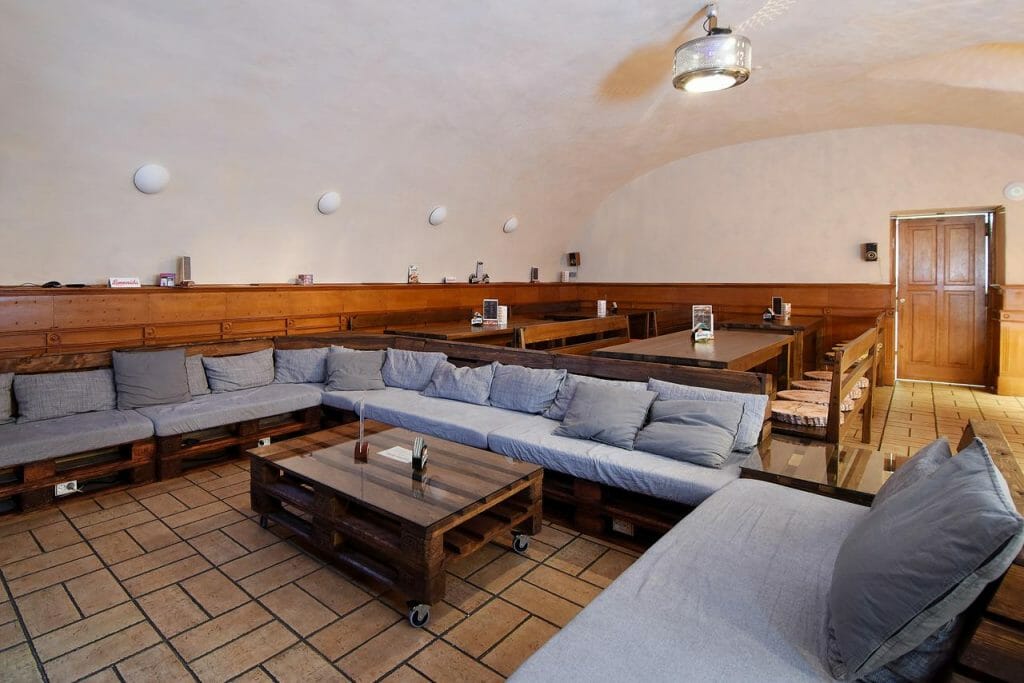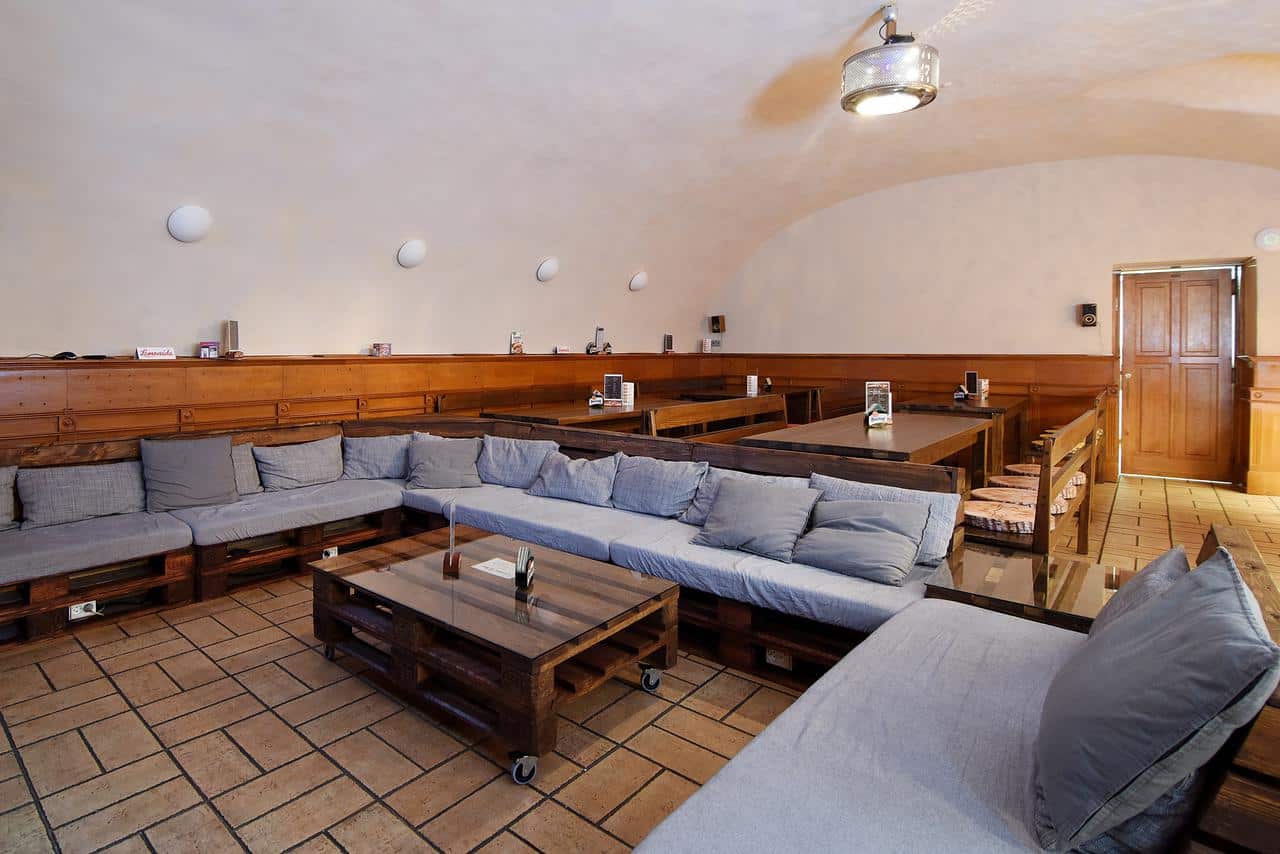 This is the hostel to go to if you have a special interest in Prague's famous Charles Bridge, a romantic bridge which crosses the Vltava River. Hostel Santini Prague is situated right next to the bridge, in a remodeled Baroque building which dates back to the 18th century . In fact, the hostel is so well-decorated that the essence of Baroque architecture is still there, mingling with modern amenities. The property is close to the Old Quarter, so it is very easy for you to take a stroll around Prague's finest neighborhood.
The hostel features affordable dormitory rooms with personal lockers for extra security. The entire property is fire-proof by a fire alarm system. The hostel has a strict policy regarding smoking.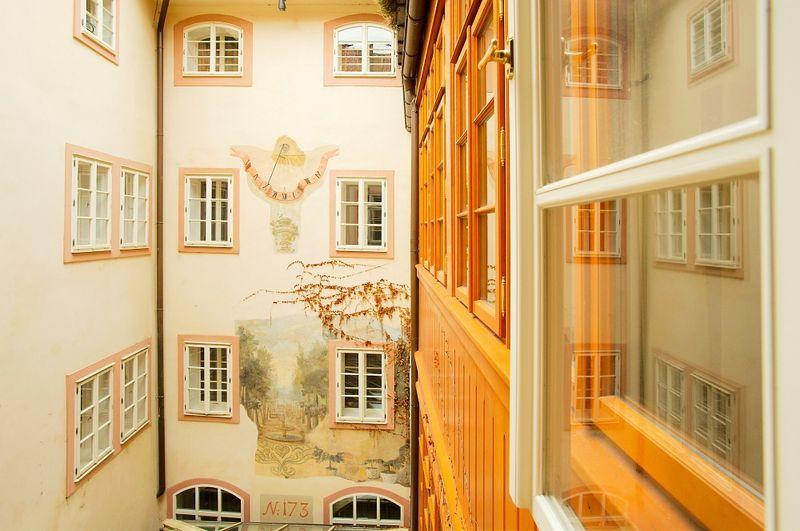 Modern and sleek, Mosaic House is where you can find new gay friends who will spice up your trip! This eco-friendly hostel is just a 10-minute walk away from the famous Charles Bridge, one of the most Instagram-worthy destinations in Prague. The surrounding area also includes La Loca Music Bar and Lounge, where you can enjoy the best of local or international dishes while the DJ plays the hottest tracks. You might even run into some great gay travelers here as well!
The hostel boasts 38 shared rooms and 55 private rooms. All rooms are air-conditioned and are designed to be as eco-friendly as possible. Each room will include a private bathroom with either a rain-dance shower or a bathtub.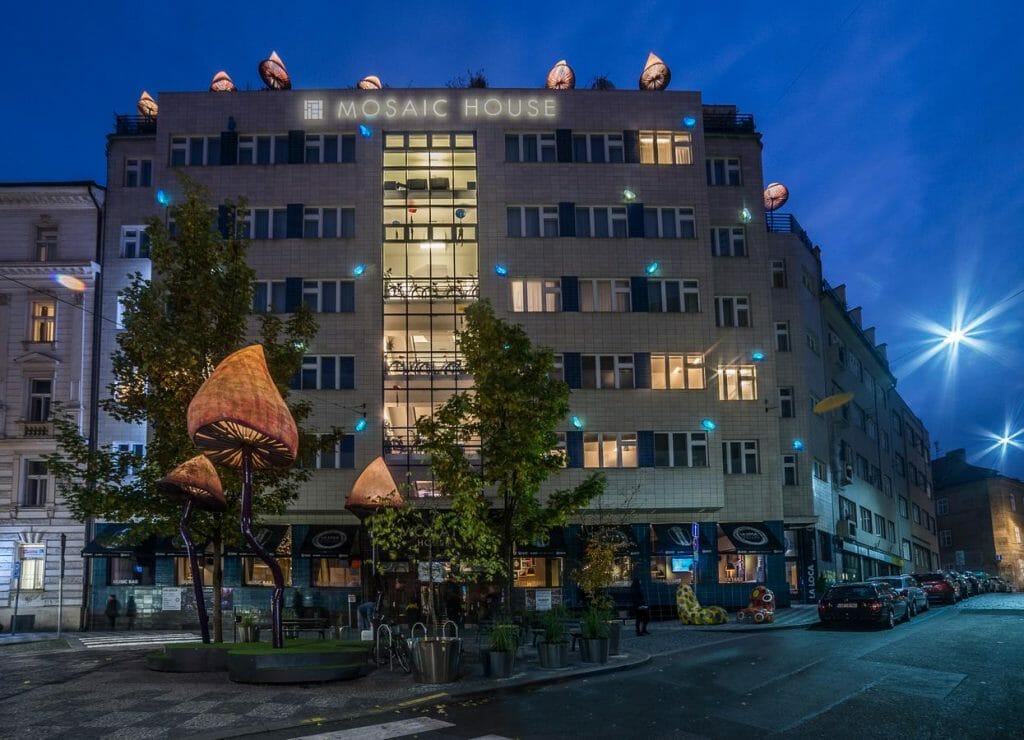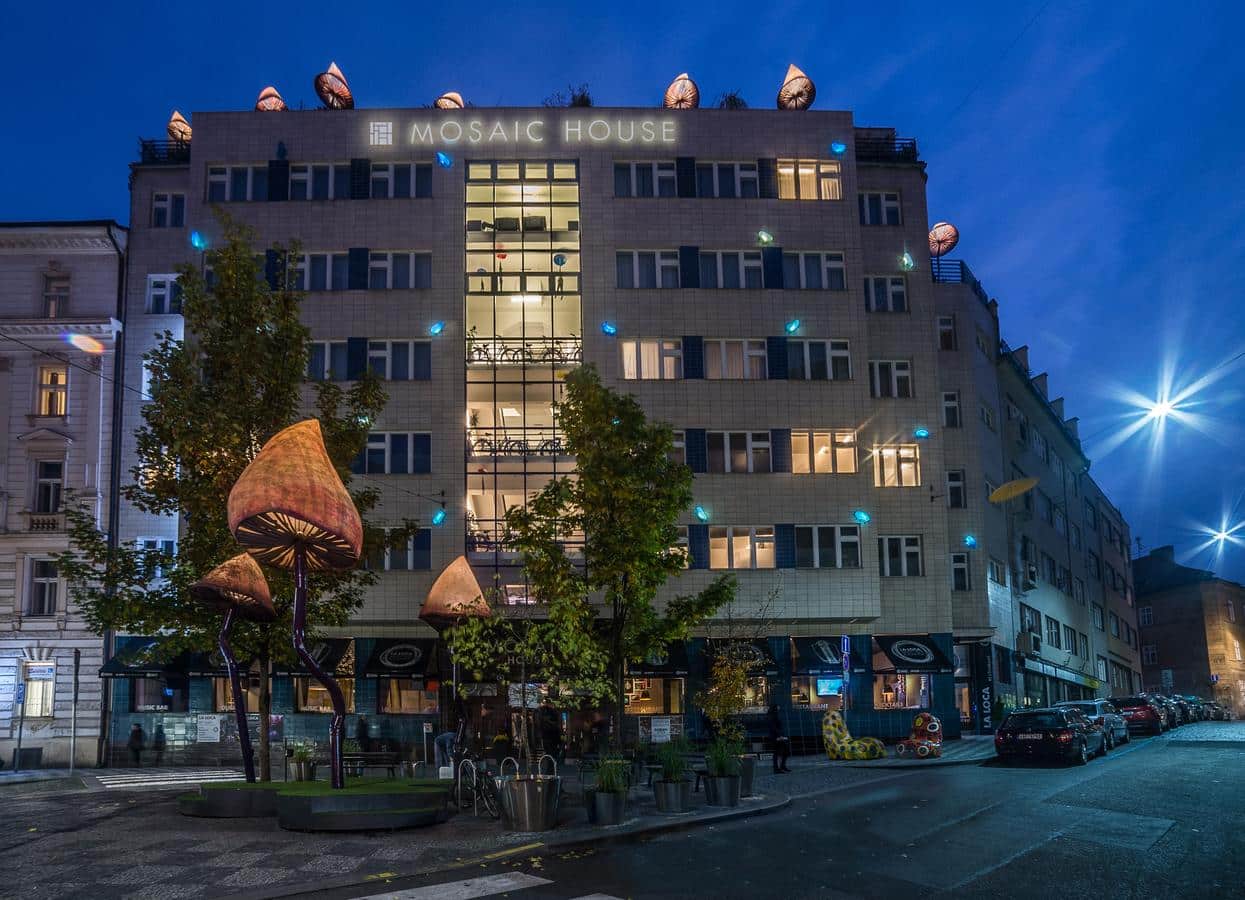 Weird and fabulous, Art Hole Hostel is definitely the destination for artistic gay travelers who want to find like-minded friends. Featuring a bizarre design which incorporates pop art, the hostel will quickly catch your eyes as it stands in contrast with the surrounding quaint and historic atmosphere. As a great plus, it is only 1 minute away from the best microbrewery beer in town, giving you the best chance to buy your new gay friends a good round.
The hostel features dormitory rooms with a shared area and a terrace. Free Wi-Fi is available throughout the property, and the reception desk is available 24/7.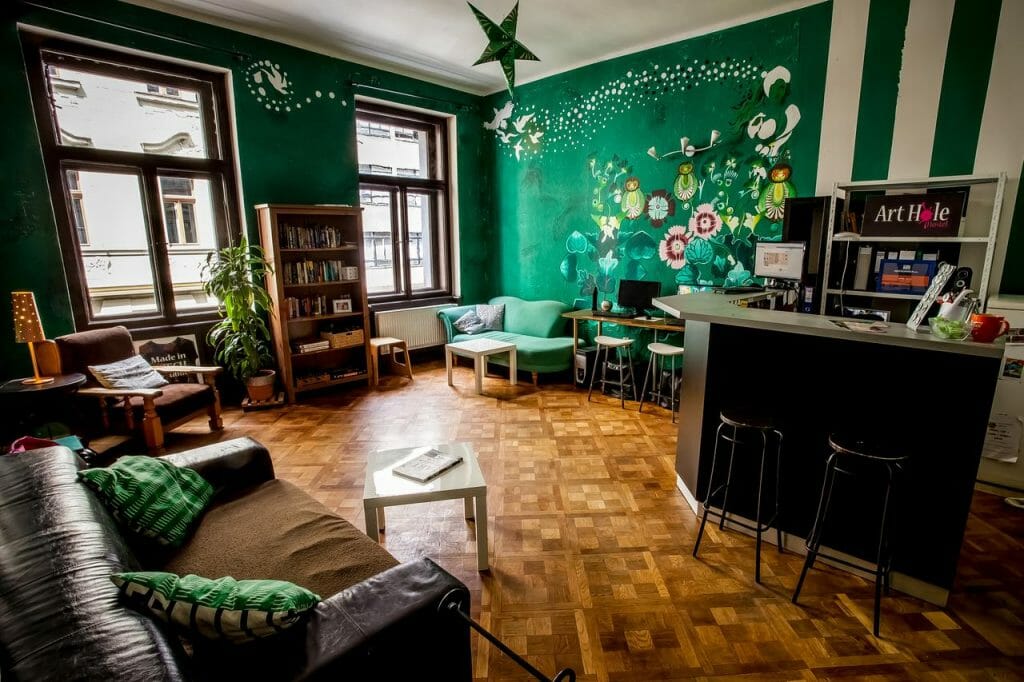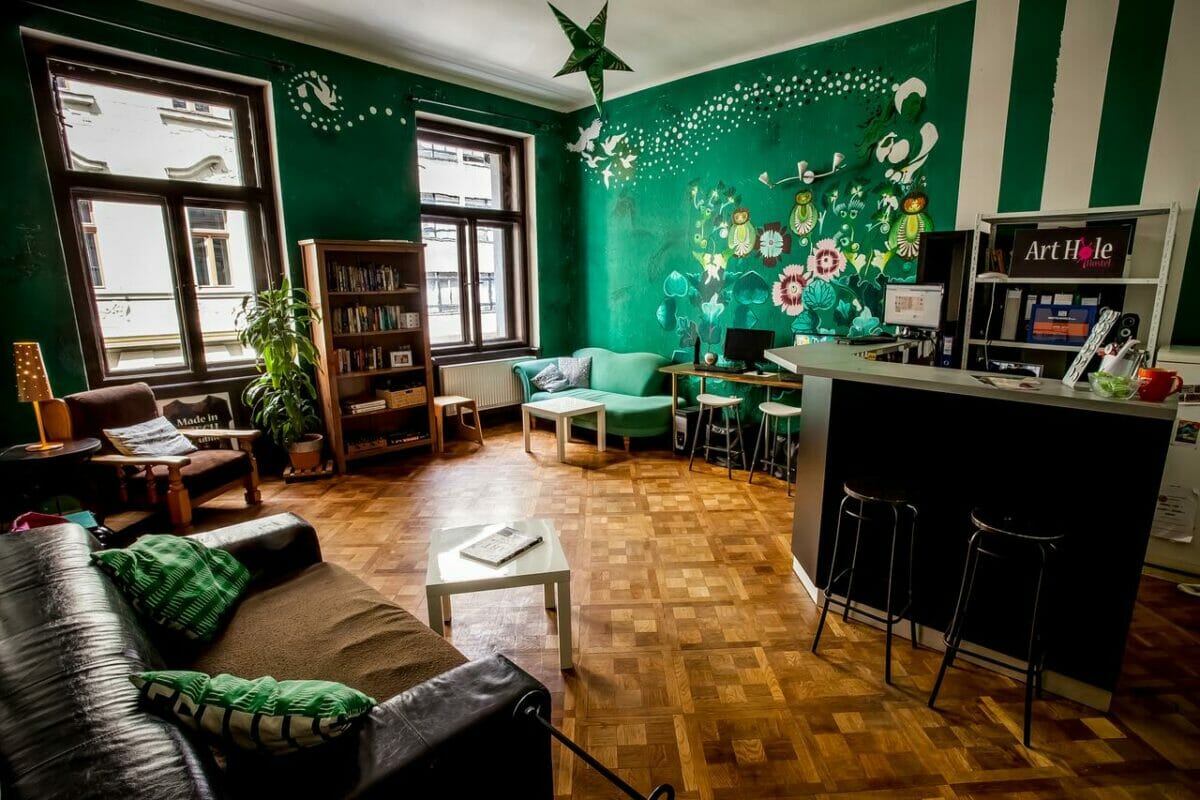 For those having a secret love for fabulous pink, Ping House is your go-to destination! Gay-friendly with flamboyant design, the hostel is located just a few miles away from the city's famous Astronomical Clock. Furthermore, you can enjoy the Old Town easily from the hostel, as the destination is only about 1.2 miles away!
The hostel offers dormitory rooms in a pinkish hue. Each room includes a seating area and a shared bathroom with shower and a hair-dryer. There is also a common area where you can do some cooking and a luggage storage room. You could opt for either continental or buffet breakfast here at the hostel.